So what's a good title for a post full of dark, spooky flowers? I settled on
Les Fleurs du Mal
(Flowers of Evil), the first and most famous collection of poems by Charles Baudelaire (1821-1867).
As usual, I have poets from my library and my own stuff. Not being so impressed about my new poems, I've used "old stuff" comes from eZine publications before I started putting my first book together in 2004.
One of my not so bad poems from last week.
just another spring
so here it is,
spring again and I could write
a spring poem in recognition of that entirely usual and predictable event
except this spring is entirely like all the springs I've written about
for the past fifteen years which leaves me wondering
how I'm supposed to write a poem that is
different from all the others
I have written for all
the other
usual
and predictable
springs exactly like this one
I'm supposed to write about today...
what's the point...
what's the deeper meaning to be delved here?
what philosophical,theological, sociological,psychological, poor Richard's Almanac lesson
can I draw from the usual and predictable event of green plants a'blooming, cold nights
a'warming, spring brides a'briding, etc. etc.etc. this that and the other poetic
poetic poetic stuff to fog the minds of men so that even the shadow
don't know?
but wait...
maybe that's the point, the very redundancy of spring is the point, the very fact that it comes
again and again and has come these green-leafed, blue-sky days again is the point...
perhaps the world turning on its axis, shifting its orientation to the sun on a seasonal
basis is worth writing a poem about...
a poem about life going on and on, boring as it is, boring being the point of it all, the usual,
boring, redundant, predictability of life...
the assurance that we have a place in the settled turning of the universe, that we have had such a place
and that we, or at least those who follow us, will have that same place unto the time too distant
to consider real to the limitations of our mind...
The book is
Late Wife
, published by Louisiana State University in 2005 and winner of the 2006 Pulitzer Prize for Poetry.
The poet is
Claudia Emerson
. In addition to her Pulitzer Prize, she was named Poet Laureate of Virginia in 2008. Born in 1957, Emerson died of cancer in 2014.
Buying the Painted Turtle
Two boys,, not quite men, pretended to let it go
only to catch it again and again. And the turtle,
equally determined, each time gave
its heart to escape them.We were near
the base of the old dam where the river
became a translucent, hissing wall, fixed
in falling, where by the size of it, the turtle
had long trusted its defense, the streaming
algae, green black, red - the garden of its spine -
not to fail it. they held it upside down,
the yellow plastron exposed; they hoisted it
over their heads like a trophy. I left it
to you to do the bargaining, exchange
the honey for us to save it, let it go;
fast, it disappeared into deeper
water, returning to another present,
where the boulders cut the current to cast
safer shadows of motionlessness. We were
already forgotten, then like most gods
after floods recede, after fevers break.
We did not talk about what we had bought -
an hour, an afternoon, a later death,
worth whatever we had to give for it.
As I mentioned before, I returned to writing in 1998 after I retired for the first time, then published my first book,
Seven Beats a Second
, in 2005. Until then, I had been having my poems published in a number of poetry journals, both print and on-line.
This was the first poem I had published during that period appearing in
Maelstrom, a Journal of Poetry, Fiction, Photography and Art
. The journal still publishes at
http://maelstromjournal.com/
.
cowboy movie
comecomecome
she said to me
in her low voice
and sighed
as I moved closer
comecomecome
she said to me
jjjjjjesus
stutter sam
crawled
into his corner
and sighed
and cried
in the shallow shadows
of his silver sombrero
comecomecome
she cried to me
The journal also published this longer piece a year later.
rethinking the probabilities of god
I approach
the conversion age
when old atheists
begin to peek
around the corners
of their lives thinking
maybe they'll find god
hanging out on the
doorstep after all
when memories are
friends more dead
than alive
alas poor Yorrick
not to mention
Bob and Ted and
Fred and Nancy
and Molly with the
long blond hair
and Rennie
whose breasts
I touched in the
back of the bus
and Rennie's
boyfriend Larry
who claimed her
breasts as his own
and who beat the
crap out of me the
next day and damn
thinking about it
makes my fingers
tingle even now...
it's not the fox holes
for we were all immortal
then and dumb
as the dirt that
grew wet with the
surprise of our blood
it's driving past
the old folk's home
knowing
they're making
a bed up for you
Fugitive Angels by
Jeanne Murray Walker
.
The book was published by Dragon Gate in 1985.
The poet was born in 1944 in Minnesota. In 1965 she won the Atlantic Monthly Award for both fiction and poetry. She attended Wheaton College and Loyola University and earned her Ph.D. at the University of Pennsylvania. A Professor of English at the University of Delaware and also and also teaches at the Seattle Pacific Low Residency MFA program.
Measuring Distances
While standing in front of Huber's Sunbeam Bakery
she thinks of how the bus will pull up,
how she will grab the stainless steel post,
swing on, and how the bus will roll
from block to block over strange black pavements,
near chain fences, by weedy lots,
through scattered neighborhoods,
over the distance she cannot walk.
The distance
she cannot walk rises in the air like
the smell of bread baking,
rises in her like
the quiet which fills her house when mid-morning sun
fires the vase on the commode and the heating teakettle
ticks ticks ticks in the vast silence
which cannot be broken except by
the hand which grasps the doorknob and runs,
the hand
which reaches across a distance she cannot walk.
Here's another new not-so-bad from last week.
doing what I'm doing
so what would I be doing now
if I wasn't doing what
I'm doing
now?
drinking a cup of Mississippi
moonshine with
the ghost
of William Faulkner...
racing my yacht off the coast
of Cameroon, chasing
down pirates
and random ne'er do wells of various
rogue nations....
diving the Mariana Trench,recording
the soft slow passage of the deep's
invisible life,
skeletal spirits of fish
who swim in
brighter waters...
crossing the parched desert
of Baja California,
leaving behind me trails
of dust between
sand hill
cactus...
floating the Amazon,
watching hungry piranhas school
as prehistoric crocodiles bask
on humid jungle
riversides...
meeting dark and exotic
women
for drinks in Dushanbe at the
mountaintop bar
where Soviet pilots drank
to their last farewell...
competing the 38th circuit
of the Pride of Dixie
stock car rodeo,
throwing up rooster-tails
of red Alabama gumbo
at every turn...
sleeping,
midnight dreams
of she who calls my name
whenever
I need to know the settled secrets
of life, doing
as I do here, pushing
the envelope of poetic
desperation...
The next two poems are by
Patrick Donnelly
, from his book
Nocturnes of the Brothel of Ruin
. The book was published by Four Way Books in 2012.
Donnelly, born in Arizona in 1956, is a poet, associate editor and professor.
In Gluck's Happy Ending
the gods relent, the lovers reunite.
Cue the key of D major, the ballet of shepherds
and shepherdesses, the tender crowns of day lilies -
for those who can't bear
the pure Greek truth:
no kind of singing can bring back the dead.
The Threat
He thumbs a corner of Verlaine,
plucks those pages like a dulcimer,
even when the train lurches
not looking up
but pawing the air for a handhold,
and my God! what a head -
stamped from some stuff lustrous
as the first coin from the first mint,
fresh and firm - as my love and I can't be,
bloom long rubbed off the plums,
our skin all mottled and creased,
bellies bloated with worry -
and the worst is, somehow
around this boy too
floats a threat,
young as he is, when he exhales
a scent of smoke and roses,
smoking roses,roses on fire,
like a flame surrounding a flame -
but as I disembark I swear
Early on I was able to connect with two on-line poetry journals,
The Horsethief's Journal
, and a sister publication,
The Green Tricycle
.
The Horsethief's Journal
seemed to prefer my longer, memory pieces, while
The Green Tricycle
use shorter poems.
Both journals ceased publication much too early.
This first piece if from
The Horsethief's Journal
.
El Mercado
Tourists crowd its cobblestone walk,
finding shelter from the summer sun
in the cool shadows of its air-conditioned curio shops,
sipping margaritas under multi-colored umbrellas
along its festive promenade.
Fearless bands of strutting pigeons
wait underfoot
for crispy bits of tortilla chips
to fall from the tables.
Mariachis in broad sombreros
and colorful, intricately stitched
traje de charro
sing the
corridas y rancheras
of the border region,
hot-blooded tales of men and women in love and apart,
oft told stories of pride ad jealousy, revenge and pitiless fate.
It is a marketplace of make believe and second hand experience.
Years ago it was a real marketplace.
My grandfather sold vegetables and fruit in open air stalls
within its stone-marked perimeters.
Some, he grew himself,
but most he bought in the fields and hauled to market
in an old truck held together by spit and baling wire.
He sold pepino and sandias from the Coastal Bend,
Pecos Valley cantaloupe,
fiery chaparral country chilipipin,
soft-shelled Quemado pecanas,
calabaza, sweet cebolla, corn and chili dulce
from the winter gardens of the Lower Rio Grande Valley/
My mother came with him sometimes when she was very small
and had great adventures among the crowds of buyers and sellers
who came early every morning and throughout the day.
The sellers were small timers, like her dad, with a little rattletrap
truck and a stubborn will to survive the bare subsistence
that was agriculture in those days. My grandfather and his friends
fed the city. Rich and poor, German, Irish, Mexican, Spanish, French
Comanche and Coahuiltecans, all the tribes of the city met at the market.
Restaurateurs and grocers, bankers and tradesmen and laborers and clerks,
housekeepers from the grand house of the King Williams District,
housewives shopping for their evening meals all come together
before the market stalls, with rumor and gossip and news of the city.
My grandfather and his friends brought them all together, feeding the heart of the city.
So it was
en tiempos posados
,
before my mother's time, before my grandfather's time,
back even to the time the the Spanish governor reigned, El Mercado
was the heart of the everyday lives of the people and the city.
Even now, sometimes in the early morning or in the first shadows of falling night,
before the tourists in their t-shirts and shorts and flip flop sandals overpower its essence,
it's possible to catch a glimpse of that beating heart as ghosts of those earlier days
on the banks of the muddy San Antonio linger in the corner of an observant eye.
The next piece is from
The Green Tricycle
There was a less than admiring comment in a recent post of a picture I took of a battleship. Well, it wasn't a battleship, it was the aircraft carrier Lexington, retired as historical reminder on a beach on Corpus Christi Bay.
watching the Lexington brought to final berth
Though small for her class,
she dwarfed the tugs that surrounded her,
three on each side to keep her on course
and two astern to push her to her final berth
between the art museum and the state aquarium.
Stormy weather and the limited maneuverability
of her dependent condition made the narrow passage
at Port Aransas risky, so she had been held in the gulf
for several days, her last days in an open sea.
On this day, under a sky blown cloudless
by the strong winds that sweep the Texas coast,
thousands of people waited to greet her,
cheering her at first sight on the horizon,
wondering at er size as she drew closer.
She was massive, larger than they had imagined,
like a city block of buildings painted navy gray,
afloat in the choppy bay, pushed through the waves
by tug boats that reached barely midway up her hull.
Delicately, she was turned by the tugs, then pushed
stern first into the sandy cradle made to hold her safe.
Not beached, yet not a sea, alive and whole, she was resting,
resting at last off a quiet beach in Texas.
Lorna Dee Cervantes
, a personal favorite. The poem is from her book
Emplumada
, published by the University of Pittsburgh Press in 1981.
Born in 1954, Cervantes is an award-winning poet of Mexican and Native American (Chumash) ancestry. A feminist, activist poet, she is considered one of the major Chicana poets of the past 40 years.
This poem is the first in her book and it sums up everything I like about her work. It also mirror's an experience in my own life when I was "uncle" age.
Uncle's First Rabbit
He was a good boy
making his way through
the Santa Barbara pines,
sighting the blast of fluff
as he leveled the rifle,
and the terrible singing began.
He was ten years old,
hunting my grandpa's supper.
He had dreamed of running,
shouldering the rifle to town,
selling it, and taking the next
train out.
Fifty years
have passed and he still hears
that rabbit, "just like a baby."
He remembers how the rabbit
stopped keening under the butt
off his rifle, how he brought
it home with tears streaming
down his blood soaked jacket.
"That bastard. That bastard."
He cried all night and the week
after, remembering that voice
like his dead baby sister's,
remembering his father's drunken
kicking that had pushed her
into birth. She had a voice
like that, growing faint
at its end; his mother rocking,
softly, keening. He dreamed
of running, running,
the bastard out of his life.
He would forget them, run down
the hill, leave his mother's
silent waters, and the sounds
of beating night after night.
When war came
he took the man's vow. He was
finally leaving and taking
the bastard's last bloodline
with him. At war's end, he could
still hear her, her soft
body stiffening under water
like a shark's. The color
of the water, darkening, soaking,
as he clung to what was left
of a ship's gun. Ten long hours
off the coast of Okinawa, he sang
so he wouldn't hear them.
He pounded their voices out
of his head, and awakened
to find himself slugging the bloodied
face of his wife.
Fifty years
have passed and he has not run
the way he dreamed. The Paradise
pines shadow the bleak hills
to his home. His hunting hounds,
dead now. His father, long dead.
His wife, dying, hacking in the bed
she has not let him enter for the last
thirty years. He stands looking,
he mouths the words, "Die you bitch.
I'll live to watch you die." He turns,
entering the moss-soft living room.
He watches out the picture window
and remembers running: how he'll
take the new pickup to town, sell it,
and get the next train out.
This is another new thing from last week.
it's just life the way I live it
so I write a poem every day
and so far have been writing a poem every day
for over three thousand days
and it's not as much fun
as it used to be
the problem with writing a poem
every day for three thousand
days is that the good ones
seem to be fewer
and fewer
and the bad ones seem to proliferate
like bunnies in the
briar patch,
and, this is the biggest problem,
bad becomes good
enough
as long as starts somewhere
and ends somewhere
and has stuff in the
middle
so that I can say lookee there
I did it
three thousand something and one
what
a prodigious success I am
again today
so, for the sake of real poets,
let's not say anymore
that I'm writing a poem a day
for three thousand something and X days...
let's say instead I'm writing a daily
journal for three thousand something and X days
all about my life as it passes
and like a life that passes
there are good days and there are bad days,
wonder, exciting days
and days
as dull as dirt
and so that's why my, as I used to call them, "poems
are occasionally okay to good
but mostly dull
as dirt...
it's just life the way I
live it
This piece is by
Frances Trevino
, taken from her book,
Cayetana
, published by Wings Press in 2007. The poem is the title poem from the book.
A multi-award winning author, Trevino currently teaches British Literature for the San Antonio Independent School District.
The Rio Grande Valley on the border is where I grew up. I don't remember it as nice as this poem.
Cayetana
I've decided to go south,
south to arroyos and resacas,
south to red fish and flounder,
grapefruit and melon.
I've decided to blanket myself
with fields of sugarcane
and groves of orange,
re-name myself Cayetana
patron saint of Highway 281
south to the Rio Grande Valley, patroness
of concrete, horizon, and palm,
freshly swept floors,
roasted chilies on the open flame,
fruit sand, accordion players,
cactus blossoms of the Coahuilan desert.
I've decided.
Tryst
was another poetry journal where some of my poems found a home. I'm almost positive the journal is still publishing but the only issue I could find via google was this one from February, 2011, at this address
http://www.tryst3.com/
. It is/was a great publication, with poetry, beautiful art and interesting photography. If it is still publishing I hope someone will let me know so I can mention the URL I couldn't find.
I included several poems from
Tryst
, including these two, in my first book,
Seven Beats a Second
.
ripples
the bay is flat
so still
that underwater currents
can be seen on the surface
like smoky streaks
on an antique mirror
so still
like time
and the earth's rotation
have stopped
and the sun
has stopped overhead
and the light
is sharp and clear
without
summer's
normal humid heaviness
and off shore
a small fish
leaps
and slaps the water
with a crack
that starts a small wave
radiating out in a circle
motion on the bay
from a small jumping fish
the only motion
spreading across the bay
to the gulf
small leaping fish pushing
against the Gulf of Mexico
and the Atlantic beyond
small
leaping
fish
making
ripples
in universal waters
an anti-tide
a nibble-surge
against the moon's orbit
and the rightness of all
there is and used to be
what's better than old chocolate milk
what could be better than a big glass
of ice cold chocolate milk
on a warm summer day
might be you
naked
up to your neck in a great big vat
of cold chocolate milk
could be you
naked
floating on your back in an immense bowl
of cherry jello
even you
naked
splashing like a puppy in a gigantic pot
of split-pea soup
or, hell, just you
naked
waiting for me
Next,
Rainer Maria Rilke
, from
The Sonnets of Orpheus
in translation by
Stephen Mitchell
published by Simon and Schuster in 1985.
XXV,
from
"First Part"
But you now, dear girl, whom I loved like a flower whose name
I didn't know, you who so early were taken away:
I will once ore call up your image and shoe it to them,
beautiful companion of the unsubduable cry.
Dancer whose body filled with your hesitant fate,
pausing, as though you young flesh had been cast in bronze;
grieving and listening -, Then, from the high dominions,
unearthly music fell into your altered heart.
Already possessed by shadows, with illness near,
your blood flowed darkly; yet, though for a moment suspicious,
it burst out into the natural pulses of spring.
Again and again interrupted by downfall and darkness,
earthly, it gleamed. Till, after a terrible pounding,
it entered the inconsolably open door.
There were a couple of journals that were especially fun to write for, even though they didn't last all that long.
The first of these was
Avant Garde Times.
The Zine's nine issues are still on line at
http://www.angelfire.com/on2/AGT/
. My stuff was in the 4th and 8th issues in January, 2001. I used all three of these poems in my first book,
Seven Beats a Second
, in 2005.
while a bald man burns
three gulls circle
while
a bald man burns
in the fierce island sun
while
I trace gargoyles
in the sand
with my toe
while
three gulls circle
in the fierce island sun
days when
wore
my cowboy hat today
to keep the rain off my head
and my boots, too,
for the puddles
reminded me of the old days
days when, as they say
when me
and my colored friend Toby
would shoot pool and drink Pearl beer
in little west Texas
highway honky-tonks
that didn't often see a black face
come in the front door
except by mistake
got some hard looks,
Toby did, and me too
cause we were together
but
I was a big sumbitch
and Toby
was mean as a snake
when riled and looked it
even when he wasn't
so we mostly got along,
drank some beer, played some pool,
made a dollar or two
to get us started at the next stop down
the road...
honky-tonk cowboys
is what we were
never punched a cow,
but we kicked some ass
in our better days
finding religion at 3 am
hanging my head over a dirty toilet
I wouldn't even piss in
on a better day,
gagging,
the smell of my own breath
and the taste in my mouth
setting off
another round of dry heaves
god
please don't make me sober
now
Beatnik
was another journal I had fun with, thought it was a short-lived fun. They published one of my poems and I never found them again to submit anything else. I used this poem in
Seven Beats a Second
.
cowboys and Indians
redskins on the warpath
whooping
chasing cowboys
across
bonyback ridge
down
sidewinder trail
past
that same big
saguaro cactus
look
there it is again
war bonnets streaming
cowboy hats flapping
in the wind
shooting forward
shooting back
whooping
horses falling
goddamn
ain't
it fun to be
a movie star
Lullaby (with Exit Sign)
, this poem is by
Hadara Bar-Nadav
. The book, published by Saturnalia Books, was the 2012 winner of the Saturnalia Books Poetry Prize.
Nadav is an Israeli-American multi-award winning poet currently Associate Professor of English at the University of Missouri-Kansas City.
Family of Strangers
Ghosts multiply, spreading
while I sleep.
Ghosts born two at a time, tearing
from my nostrils, and a large child
who bubbles from my mouth and suckles my chin.
Once-black eyes now alive
with iridescent fog.
Blue electricity needles.
Some ghosts are children who stare
at me while I sleep.
Some are fathers who can walk again,
smoke streaming from their hair.
In daylight I miss you.
I begin to miss you when
I am peeling from sleep, edges
reddening with sun/
Ghosts, I adore your absence.
Ghosts, I cannot lie to you
who are transparent. I
who am also transparent.
In daylight I pretend to stop
loving, to stop looking for you,
ghost children, ghost men -
Let us never be absent or calm.
Niederngasse
is another journal that was good to me. Published in English,German, and Italian, it went on line with excellent poetry, photography and art in 1998. Again, I don't know if it's still publishing, the most recent edition I found is here
http://www.poemsniederngasse.com/
.
It was a great journal and I hope it's still out there.
Unfortunately, and I say this with some degree of shame, but I work nearly full-time on my own stuff and haven't kept up with with current publications.
Again, several of my
Niederngasse
poems ended in my book
Seven Beats a Second
. I don't think this is one of them.
time was
time was
I was a racing car,
not one of those fancy European jobs,
but an all-American thunder-road muscle car
like Mitchum used to outrun the revenuers,
fast, sure,
quick on the hills
and tight on the corners,
with a low rumble at rest
that shook the ground,
the impatient rumble of a beast
held back, poised to spring.
now I dream
of empty rooms, of time
and power flowing away,
of grace and essence draining away,
leaving a void, an empty shoe box
in the corner of a dark closet
in a house, vacant,smelling of loneliness
and neglect, the odor of redundancy,
the closeness of stale air and suspended lives.
This poem, written and published in 2003 as the full disaster and stupidity of our war in Iraq was taking hold. This poem is in
Seven Beats a Second
. It was not written as a justification of the war but as an as an expression of irritation at the way moral judgements were being tossed around on both sides without any indication that they were the result of any deep or relevant moral examination.
anti-war poems are easy
the heart of the matter
is that
the heart of the matter
sometimes
doesn't matter much
ant-war poems are easy
since, in our hearts
we all know the logic of war
that says I will kill strangers
until a stranger kills me
is insane
and who can deny
that in our hearts
we all know
a human fetus,
no matter how small
and misshapen
and incomplete,
is a human-in waiting,
holding within its tiny bounds
all the capacity for love and laughter
as any of us
and who,
among even the most aggrieved
of us, could, without a tremor
of hand and heart
push the button
that drops the cyanide pellet
ending the life
of even the bloodiest
of our murdering kind
yet we kill those strangers
who might have someday
been our friend
and erase from the future
the love and laughter
of those we decide will never be
and we murder the murderers
with appropriate writ and ceremony
all these terrible things we do
because our heart cannot guide us
in choosing the lesser of evils
it is our lizard brain
we must turn to
when the heart of the matter
does not matter enough
Eclectica
is one of the few journals that used my work that still publishes. In fact you can read their latest January/February, 2016 issue at
http://www.eclectica.org/
. Plus, their archives go back to their first issue in 1996, so everything I did with them in the early 2000s is still there to read. This is one of them.
The dirty little secret of this poem is that it was inspired by a scene in
Ghostbusters
.
fever
I dream
of a glass house,
brightly lit,
a beacon amid
broad-trunked trees
in a dark forest,
velvet cushions
of brown and green
piled high
on all the floors
I am split in two,
one of me inside,
lounging
among the cushions,
and the other outside
peering in
there is something
we must tell our self,
we think, something
we must know
and we begin to shout
inside and out
but the glass is thick
and swallows all sound
frantic now
beware, we shout
beware
School of the Arts
, the seventh collection of poems by
Mark Doty
. It was first published in hardcover by Harper Collins in 2005, my paperback edition in 2006.
In addition to his poetry, Doty has published three books of nonfiction prose and has been honored by the National Book Critics Circle Award and many others. Though he lives in New York City, he is a professor at the University of Houston.
Oncoming Train
I hate the moment the train's coming
into the station, hurtling, inviting, so ferocious in its forward momentum,
the mos dangerous thirty seconds of my life, twice a day,
sometimes more; sometimes I have to steady myself against a pillar
on the platform,or stand at a distance, against the back wall,
in order to feel that I will more firmly resist the impulse.
Not that I want to be dead, exactly, and certainly not
that I want to suffer, I have a great deal to live for -
But the idea of simply stepping out of the forwardness
- that moment is the clearest invitation and opportunity
to strike against time, to refuse to accede, to win some power
over what no one controls. I'm not proud of this,
I wouldn't tell anyone, but I will tell you.
The train's a huge onrushing refusal,
and who has any power over time, save to refuse?
Or no:
to hurry time,
to make him run
- that is a radical form of submission.
Blaze/Vox
, which still publishes regularly at
http://www.blazevox.org/
, published several of my poems including this little thing which I often start readings with (usually to large laughter). It's also in
Seven Beats a Second
.
life is
life
is like a duck hut
every time
you really start to fly
some
asshole in the weeds
shoots
your feathered butt
right out of the sky
Tony Hoagland
is my next poet this week, with a poem from his book
What Narcissism Means to Me
, published by Graywolf Press in 2003.
Born in 1953 in North Carolina, Hoagland earned his BA at the University of Iowa and his MFA at the University of Arizona. I have a couple of his books and they are all, like this one, fun to read.
This is the title poem from the book.
What Narcissism Means to Me
There's Socialism and Communism and Capitalism,
said Neal,
and there's Feminism and Hedonism,
and there's Catholicism and Bipedalism and Consumerism,
but I think Narcissism is the system
that means the most to me;
and Sylvia said that in Neal's case
narcissism represented a heroic achievement in positive thinking.
And Ann,
who calls everyone Sweetie pie
whether she cares for them or not,
Ann lit a cigarette and said, Only miserable people will tell you
that love has to deserved.
and when I heard that, a distant chime went off for me,
remembering a time when I believed
that I could simply live without it.
Neal had grilled the corn and sliced the onions
into thick white discs,
and piled the wet green pickles
up i little stacks like coins
and his chef's cap was leaning sideways like a mushroom cloud.
Then Ethan said that in his opinion,
if you're going to mess with self-love
you shouldn't just rush into the relationship,
and Sylvia was weeping softly now, looking down
into her wine cooler and potato chips,
and then the hamburgers were done, just as
the sunset in the background started
cutting through the charcoal clouds
exposing their insides - black,
streaked dark red,
like a slab of scorched,rare steak,
delicious but unhealthy,
or, depending on your perspective,
unhealthy but delicious,
- the way that, deep inside the misery
of daily life,
love lies bleeding.
The next piece was from the short lived
Experimentia
. The journal used three of my poems before disappearing.
This is one of them - a tiny piece I wrote in 1969 while in the military stationed on a tiny base on Pakistan's Northwest Frontier. I don't suppose I every thought it might get published in 1999, 30 years after it was written on a drunk night in the desert.
platt kerplatt kerplatt
tennis ball sounds - far lit night
drunker than i thought
The last poem from my library is
Gary Soto
, one of my favorites and often used here. The poem is from his book,
A Simple Plan
, published by Chronicle Books in 2007.
Police State
I had faith in dogs
Until a husky pointed and said,
"That's him." I was carrying a translation
Of a revolutionary poet
In my heart. I touched
My heart and asked, "You mean me?"
The husky pointed again
And the cops frisked me,
Patting twice around my heart,
Suspicious because
My heartbeats were hot and loud,
Evidence that I had gotten the transition right?
"Where do you live?" a cop asked.
I could have told this badge
The clouds, in my frothy dreams,
In a townhouse at the edge
Of the Gaza strip.
I could have told him
A pile of wood shavings,
Under a tree, or
Possibly in the vapors
Of a heaven
That lets everyone in.
No, smart me, answered, "I live
In a house, sir" - a mistake.
For the first time
In my life I climbed
In the back of a cop car.
We drove noiselessly
Until the radio squawked -
The small tragedy of a boy
With his head
Caught between the slats
Of a picket fence.
We drove over
And they pulled him out,
Then let me free -
The sole of my left shoe
Was flapping
And I would cost the county
Money if they brought me in.
But the dog,
That traitor, caught up
And unleashed a couple of fleas
That had me scratching,
Punishment for
Hoarding poetry in my heart?
I was making my getaway
When I stopped to rip
The bothersome sole from my shoe.
A parrot, the neighborhood watch
Perched in the window,
Ordered, "Keep moving, buddy,
Keep moving."
The Poet's Canvas
was another eZine that used some of my stuff in the early 2000s.
This poem was from a photo my wife took of my son and I in our backyard in Corpus Christi when he was about two years old. The journal didn't use the photo but that doesn't mean I can't use it here.
I could feel his sweet breath
warm on my face,
his nose almost touching mine
as he leaned over me,
bracing himself with his hands on my chest
while I held him under his small arms.
dear lord,
I thought,
let me not forget this memory,
this bright moment
with my son
I finish the week with another new spring poem from last week.
the whitest white guy in San Antonio welcomes the spring
except for the three
Albanian albinos
on West Blanco
I'm
the whitest white guy
in San Antonio
and thus I welcome
the return of spring
and the bright sun
and the green trees
that shield my backyard
from spying neighbors
and the birds that flitter
in the green trees
and the hummingbirds
who suck the flower pollen
and hover inquisitively
in front of my nose
wondering perhaps
what kind of blossom
is this white protuberance
before them and the
honey bees humming
and the bumble bees bumbling
and most of all the bushy trees
that shield my neighbors
from the sight of my large
fish-belly white body
lying prone before the
benevolent mother sun
as it collects the tanning
rays of spring so that I
won't any longer be
the whitest white guy
in San Antonio except
for the three Albanian
albinos on West Blanco
As usual, everything belongs to who made it. You're welcome to use my stuff, just, if you do, give appropriate credit to "Here and Now" and to me
Also as usual,
I am Allen Itz owner and producer of this blog, and diligent seller of books, specifically these and specifically here:

Always to the Light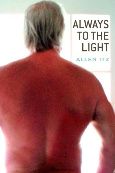 Goes Around Comes Around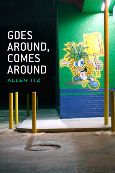 Pushing Clouds Against the Wind
And, for those print-bent, available at Amazon and select coffeehouses in San Antonio
Seven Beats a Second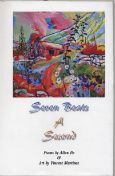 Fiction