More old photos this week, black-and-whites, mostly from downtown SA, several at the beginning from the Big Bend area, and one, far afield, from the redwood forests.
Instead of an anthology, I'm featuring,
The Tents of the Tribe
, a bilingual collection by a single poet,
Ibrahim al-Awaji
, of Arabic poetry. The book, bilingual in Arabic and English, was published by Echoes of London in 1996. The translations in the book from the Arabic are by
Maryann Ishaq Al-Khalifa Sharief
. Looking at the Arabic script in the book, so elegant and spare, makes me wish I could read it.
And all the regular stuff from me and others.
This morning before the evening of the pics and poems event I did at the IAMA coffeehouse. Not a big crowd, but high quality. (Mostly relatives.)
big time again
after two days and nights
of rain
the sky this morning is clearing
and the world is greening
and the aquifer
is filling
and such a great and wonderful morning it is,
so much better than months
past
and I am energized like the bunny
who goes on thump thump
when all others quit the race
and I look forward to a good day's work
in the rippling fields of poetry
and to tonight
when I will harvest a bit of the field,
show a few of my photos,
read few of my
poems
pretend
I'm big time
again...
The poet,
Ibrahim al-Awaji
, holds an MPA in Public Administration from the University of Pittsburgh and a PhD in Public Affairs (Government) from the University of Virginia. He has published several collections of poetry in Arabic and French.
The Tents of the Tribe
is the first of his works to be published in English.
This is the title poem of his book.
The Tents of the Tribe
I.
I once believed
That my beloved dwelt
In the desert.
Upon whose flanks,
All the stars drowsed and slumbered.
A desert,
Which awakened the
Hope of wanderers.
And, whose secrets are known
To the Prophets
And to the saintly.
A desert,
Which in Springtime is covered
In chamomile flowers
The color of dreams.
And, where the sweetness
Of breath draws on its cheeks
All kinds of kisses.
A desert,
Where the story of my past
Is drenched in fragrance of the
khozamah
flower.
And, when my passion
For the taste of affliction and
My very sense of being
Are felt like remnants
Of eternity.
II
I, frequently entered
The tents of the tribe;
To dance with the beautiful women,
To make battle with the Knights.
I, believed all beauties
To be one and the same.
For you were not there
In the tent with me,
On that day when,
Strained by exhaustion
I fell paralyzed.
III
I, voyaged in the sea
Searching in the wildness
For its very edge.
I, was not in a boat
And I knew not
How to swim,
Nor about the way
Of the waves.
I, pined for you
And longed to find you
Drunk in the abandon
Of a languorous mood.
I began to search
For your eyes.
I asked every shell
And every reef
In the sea
Until my strength
Was almost drained.
Suddenly, the ancient all
From the desert came to me
Reminding me, that desert
Flora such as myself
Know how to resist
The voice of ennui.
IV
Thus, in my firm stance
I found salvation.
For you came to me
Escorting all the gems
And pearls from the sea.
In your hands you held
A vessel of air,
A drink of water.
And you said that
The seas, like our desert
Are made of mystery
And of love.
And you are in love.
When I am near you,
I am like a fish
In the sea.
I, can swim now
Like I used to
In days of old
On the saddle of a camel.
Sunday afternoons, just so hard to think of something to do. This, from November, 2010.
naked rolling, parts rubbing
a slow Sunday
afternoon
and we were trying
to decide what to do
and I suggested we get
naked
and roll around on the grass
in the backyard
rubbing
body parts together
fiercely
but there's a bit of a chill
in the air,
probably too much chill
to be rolling around outside
naked
no matter how fiercely we
rubbed together
so
I was thinking
well we could go down to
the art museum
and take a look at the
impressionist
exhibition,
settle down naked
in front of the Monet
and give him and impression -
rolling around
on the carpet rubbing
naked parts together
impressionistically -
that might make the old guy forget
all about water
lilies
but they have those guards
down there,
that follow us around from room
to room
and I don't know why
except
maybe they can read minds
and don't abide
with
people rubbing naked parts
together
in front of the Monet -
maybe
if we moved over
in front of the
Duchamp,
he did a lot of his own
naked parts-rubbing, as I
understand it, and what's
that nude going to do after
descending the staircase
but some parts-rubbing, cause
why else go downstairs
naked as a jaybird
if there weren't some parts-
rubbing
intentions...
but the guards
are so guardedly attentive
the museum is out
and I was thinking we might take a drive
in the hill country - the way the leaves are changing
in our backyard, there must be piles
of red and orange and yellow and gold
leaves laying on the ground
under some of those big hill country
oak trees, ripe for some good old rustic naked parts-
rubbing rolling around, but it is even
colder in the hills than it is here
so there's the chill factor to consider,
plus all those rattlesnakes
who love to hide in leaf piles
on these chilly days, or maybe
up in the trees - they do like to climb
oak trees to sleep through the winter -
and I think they might not welcome
people waking them up, rolling around
naked in the leaves, rubbing parts
together with sylvan abandon, despite
the fact it was a snake in a tree
that started all this naked rolling about
and parts-rubbing in the first place...
or, we might just do what we always
do
on lazy Sunday afternoons, could
just take a Sunday afternoon
nap,
you in the easy chair
and me on the
couch
just
like we always
do
Anna Akhmatova
,
translated by
Judith Hemschemeyer
. It is from the book,
Anna Akhmatova - Selected Poems
, published by Zephyr Press in 2000.
Akhmatova is one of my favorite Russian poets. Born in 1889, she was one of the few widely known and admired pre-revolutionary poets to survive the revolution and the Lenin, then Stalin, oppression, including the murder of two husbands and her son, that followed. She finally died in Moscow in 1966 at the age of 76.
The poem was written at a time in World War II when, due to her popularity among regular Russians, she was temporarily rehabilitated to help the war movement. The poem refers to Vladimir Mayakovsky, Akhmatova's pre-revolutionary contemporary, a poet, playwright, artist and actor on stage and screen. An early, fiery Bolshevik, he became disillusioned during the Stalin purges and committed suicide in 1930, learning the very old lesson that it's easier for an honest person to start a revolution than it is to live through their consequences.
Mayakovsky in 1913
I didn't know you in your glory,
I only remember your stormy dawn.
But perhaps today I have the right
To recall a day from those far-off years.
How in you poems sounds hardened,
New voices swarmed...
Your youthful hands ere not lying idle,
You were constructing formidable scaffolding.
Everything you touched no longer seemed
The same as it had been before.
What you destroyed - was destroyed,
A verdict beat in every word.
Lonely and often dissatisfied,
You rushed your fate impatiently,
You knew that soon, joyful and free,
You would begin your great battle.
And the hum of the rising tide of response
Was audible as you read to us.
Rain slanted its eyes wrathfully,
You quarreled violently with the city.
And your still unheralded name
flew like lightning around the stuffy hall,
So that today, treasured throughout the land,
It might ring out like a battle cry.
March 8-10, 1940
This is the time of the year, about a month in the fall and a month in the spring, I look forward to all year, beautiful days and cool, clear nights. Almost enough to make me forget the other nine or ten months of the year.
the early morning sky
the early morning sky
a ruffled cover of white,
clouds like cotton pulled
from a just-picked bale, and in the cotton
shawl, the moon a silver pearl, full and bright,
resting amid the folds -
the clouds will clear we are told,
and the sun will shine and all those
most recently dancing in the rain
will laze in the bright day, celebrating
the best of all worlds, the rain and the sun,
cold mornings, cool days, and a light breeze
tickling leaves not yet turned and fallen...
it is at this time of the year I tell people to come,
if you ever think to come, the days and nights
a gift to those who visit, a reward for us
who survived the summer, our wits and our belief
in the underlying benevolence of our mother universe
intact, so easy to believe that this is the way it will always be
even though we know better
we welcome the lies of beautiful days
and peaceful nights, Barnum's fools again in
October, strolling along the banks
of the green river flowing, the past of water's graceful run
forever lost, the future subject to nothing but our
most hopeful illusions...
the reality of winter, then summer, will come
when it comes, in the meantime,
let us doze in the magic
of sunlight dreaming...
Next, by this week's featured poet
Ibrahim al Awaji
, a piece from his book
The Tents of the Tribe
. A native of Saudi Arabia, al Awaji obtained his Bachelor of Science degree from King Saud University before earning a Master's Degree and a PhD in the United States.
Rainbow
In between
Dreaming and wakefulness
And a million stars
You came to me.
In your eyes there dwelt
A rainbow.
How I love the brightness
Of colors.
How I love the rainbow!
This is the moment
Of my sailing.
In your world
Of enchantment,
Of incandescence
She comes,
Whilst I dance like one possessed
In a night of nuptials.
This is the moment
Of my adoration.
Against the tide I now swim
Amidst the swords
Of pure mercy
And of spiritual inebriation
Like a rainbow.
November, 2010, again.
sorting out another sunrise
night so bright,
strange this morning
to see only the barest
crescent moon
~~~
heavy set
man
at the table
next from me, bends,
with hand on blond
balding forehead,
and studies his breakfast
as if seeking secret
messages,
runes,
advice from the show-
sheltered graves
of his Nordic
ancestors
~~~
sun sneaks up
from behind the building
i'm in, stretching
shadows
outside my window
still dark,
but din decreasing
so announced,
the new day
will not catch us
by surprise
~~~
this early time
yesterday,
i was here as usual,
looking out on the new day
creeping around the corners
of dark, expecting
to put down
my cat before the day's end
old, declined,
barely able to walk
or lift her head,
seemingly facing the final
passage...
it was a mercy,
a last service I was
prepared to
provide
as i had done
for others
but after two days
at the vet, revived
at least enough to get
a few more days, or more,
at home, this early morning
asleep in her chair, where
i had not expected
to ever see her again...
all my life,
knowing with each new
dog or cat
that i would see them die,
knowing that i might some time
help them die
if they lived an otherwise
safe and healthy life
thinking of a new kitten
to replace Kitty
when her time soon comes,
i realize that this time, for the first
time, i will be bringing
under my protection
a creature who will
someday
see me gone and
buried
instead
~~~
sun
now bright enough
to turn the black sky
blue
while the small crescent moon
fades to
black
Stephen Dobyns
, from his book
Pallbearers Envying the One Who Rides
, published by Penguin Books in 1999. The poet, born in 1941 in New Jersey, is a poet, novelist and teacher.
His book makes no sense at all without explanation, an explanation so complicated that I'm just going to quote from the books back cover.
"In Stephen Dobyn's tenth book of poetry, we see the world through the melancholic eyes of Heart - blood-pumping organ, lover, poet and skeptical philosopher of the everyday...who reflects on the vagaries of love the cruelties of time" and other personal matters.
Logo of Fixed Bewilderment
In Fragonard's painting of the girl on the swing,
the young lady's stockinged foot points to the edge
of the canvas before, in one's fancy, she falls back.
Mood swings, mood swings, things Heart, I got
them bad. Sometimes up, sometimes elsewhere.
Not simply a pendulum of emotion, but three
hundred and sixty degrees of radical possibility,
a modal gyroscope of sensibility as Heart is whirled
fro melancholy to ecstasy to animosity in the time
it takes a sparrow to flop from a branch, but that
is only part of the story, because Heart's adrenalin
which determines his degree of activity may function
at cross purposes with his disposition, so he can be
gloomy while energetic or jolly while half asleep.
To help Heart sort this out he also has a horoscope,
so on a day when he feels great his chart may tell him
to stay in bed. In addition are Heart's boils, pimples,
warts, which may plague him or not, frequent colds,
allergies, perhaps the flue, as well as various externals;
e.g., he can only be cheerful if he wears his blue shirt,
but his blue shirt is in the wash. Heart feels fortunate
if he knows who he is from one moment to the next,
which brings up his memory which is like anybody's:
flawed. So if he recalls last Monday as happy or sad
he's often mistaken. As for last week, Heart has only
an indistinct idea, making past and future equally dim,
while subjectivity and shifting biases compose the filter
through which Heart sees the world, if he can be said
to see the world at all. Such is the mixture that is Heart,
and if he didn't have a file cabinet of paper form doctor,
plumber, butcher, and all the rest declaring who he was,
he would have to carry above his head, much as an angel
wears a halo, a question mark of silver, as if Heart's logo
of fixed bewilderment was only a halo bent out of shape.
Once he has this figured out such phrases as
To my mind
or
In my opinion
depend on the phase of moon, season
of the year, and what Heart ate for lunch, while an inquiry
like How's it going? can bring Heart to a halt, make him
check his pulse, take a peek in a pocket mirror and state,
I don't care to admit and just what to
you
think I look like?
Then, having posed the question, he'll await your definition,
hoping to take that day's interpretation of Heart from you.
More thinking about the last election, in a Sunday morning frame of mind.
abandoned to the flood
here's my concern
about the new people in charge,
representative of the many people I know
who put them in charge -
they seem to have no capacity
to see people unlike
themselves
as people of consequence
which is not an unusual characteristic
among us all, it being so easy to the the unfamiliar
as symbols of some secret resentment,
even me, who spent years
trying to help people achieve
a certain level of material and psychic
comfort, or, if not comfort, at least sufficiency,
had to work to find commonality,
to see, not the alien in the shadows of misunderstanding
but someone with whom all my own self
resides, though differently clothed, in their own unique
expression of all the essential parts of me...
it is that we see ourselves and all our necessities
so much more clearly than we see the same
in others, especially with whom we can find no obvious link...
it is the rare person among us who can see
in others what we see so easily in ourselves,
and I am not so rare
and so have to work at being the better person
I do so want to be...
~~~
it is Sunday morning
and soon this place will be filled
with the pious having just left their prayers,
a few will be the good people others claim them to be,
others will be strivers like me, seekers after a peace of inner goodness,
but most, I fear, will be seekers only of a celebratory breakfast, two eggs over easy bacon on the side,
finding in themselves only the peace of self-satisfaction, certain that they have earned it,
unable to even imagine the same for the outliers, the different, the ones
whose path will never merge with theirs, the divergence, the strange
the un-alike...'
that is my concern about the new people in charge, that they are of the third group,
never finding concern or comity with anyone unlike themselves, good people perhaps,
but blind to their own sightlessness, certain that their limited vision
defines an entire world of only others like themselves...
leaving the rest of us
like the centaurs Noah found no room
on his ark, abandoned
to the flood
The next poem is by
David Eberhardt
, one of several poets I know from Baltimore.
To Ida
(pronounced Ee-dah, 47 million year old fossil)
Bless all star voyagers from the Messel Pit:
The small Creodont, early Pangolin,
Marsupials,lemur like prosimians,
The Messel bird,enigmatic owl/hawk combo!
The Massillaropter, tiny hoopoes,hopping horses...
Bless these fossils, but bless especially
Ee-dah - Darwinius Masillae, my Ida!
Who stood at a fork in the road pointing HUMAN!
Bless Ee-dah who for 47 million years
Until pulled from the quarry on a shale slab,
Slept dreaming - bless all travelers! dream
Of a blue city in the distance - my home -
Purposeful, realized,, I can see it
Far away in blue haze, Oz-like from this rest stop
On the thruway in the mountains - I can't get there!
No access to on-ramp - stuck in the parking lot...
Like Ida on her bier, resin around me like amber.
O strange sad condition - endless travel, suddenly stopping,
Never getting anywhere! Ed-dah were you heading
Towards the apes-humans or the lemurs?
O Ida, Ee-dah where are we going? In what direction?
The asphalt of parking lots a calm, dark blue,
The blue city on the plains mirage blue.
Remember earlier times, four years ago this month.
some people
some people
end up
where they're supposed
to be,
and I've always thought
of myself
as one of those,
finding
to my complete and utter surprise
that I had stumbled early into the niche
meant for me -
one of the
lucky ones,
who find their place
by accident,
then spend the rest of their lives
walking in comfortable
shoes
~~~
thinking of that
on this quiet Sunday
morning,
I think of the guys
I worked with
when I was driving
a cab, sitting
at our dispatch center,
reading western paperbacks
passed from hand to hand
for months of reading
and re-reading,
waiting
for a call
to send us out -
(our dispatcher, another story,
a dentist from back east
caught gay
at a time when such was
cause for loss of profession,
loss of wife and family,
exile
to deep south Texas -
a quiet, gentle, educated man
with a 20-year-old greasy-haired pachuco, drop-out
boyfriend
who abused him -
a man who had lost his place
and lived on the only edges
of life
left for him)
but the drivers, all, except for me,
old, worn-down, small-town cabbies
locked in place, in a lousy job,
with lousy hours and lousy pay,
and impossible to imagine
anywhere else, and even though
just passing through, I could feel,
like concrete settling
the same thing happening to me -
sometimes
finding place means knowing
when to leave other places,
other people,
behind,
like I left
the newspaper behind,
like I left the military
behind,
comfortable places,
but with no spark to ignite me
~~~
thinking of that
on this quiet Sunday morning,
I realize I have not written a poem today
(though I will call it that)
but a note I might someday
read again
and remember all the favorable days
of my life
and how fortunate I was
to live them,
remembering how,
so many people float through life
and how luck I was in mine
to fly
Next from my library, a random selection of several haiku from
Chi-yo-Ni, Woman Haiku Master
, published by Tuttle Publishing in 1998.
Fukuda Chi yo-ni
was born in 1703 and died in 1775. She was a Japanese poet considered among the very best female haiku poets.
The poems were translated by
Patricia Donegan
and
Yoshie Ishibashi
.
the shimmering haze
above
the wet stone
~~
everything I pick up
is alive -
ebb tide
~~
squatting
the frog observes
the clouds
~~
roughed lips
forgotten -
clear spring water
~~
she also cups
the spring water
for her travel writing brush
~~
sixteenth night -
darkness drops
in the dew of taro leaves
~~
sleeping alone
awakened
by the frosty night...
~~
the passing year -
irritating things
are only water
~~
full moon -
stepping thorough the snow
the sound of the stones
~~
first winter rain -
the bamboo somewhere
in the dawn
The reason I write in public places - so many stories, all that is required is to watch and listen.
trials of a disgruntled mascot
fellas in front of me, talking,
one apparently a mascot of a local sports team,
not the big cheese mascot,
but one of a small stable of mascots, interchangeable
in role and costume, who perform during games
and at promotional events,
telling of his employment difficulties,
under-appreciated,
under-paid,
arrogant
unsympathetic bosses
who are not sufficiently appreciative of the level of
enthusiasm
displayed in his performances...
tough gig for a serious actor,
as he most certainly considers himself
to be...
Here's another piece by featured poet,
Ibrahim al Awaji
from his only book published in English,
The Tents of the Tribe
.
Love's Playful Child
If you wish me to remain
Like a river of love,
Then leave the child in me
To clamour
And play
In the manner of a river
On a stormy day.
If you wish me to remain
Like a morning
Which taunts obscurity,
Then leave the child in me
To run as it pleases
Free of cares.
Then, let it gather
Rays of sunlight
And make for itself
A wall of beams.
If you wish me to remain,
Like a promising cloud
Showering whispers,
Filling the earth with flower blossoms
then leave the child in me
To build sandcastles
And mould delicate tunes
From the rock of the desert.
I keep trying, just like this day in November, 2010.
I wanted to write something outrageous today
I wanted
to write something
outrageous
today
but it's still too close
to the election
and my outrage
gauge
is hung on empty
so I thought I'd write
something serious instead,
a serious consideration
of the nation and the world's
condition,
but that only ignites
panic
attacks
and howling hysterical
laughter
then I was thinking
I'd write about
sex,
but I'm getting kind of
old
and my memory isn't
as good as it used to be,
not so stiffly resistant to the lassitude
of time
so maybe I could write
about love,
no one's ever too old
for love they say, but that's
the problem,
poets young and old
have been writing about love
for ten thousand years, longer
than that, if you believe the drawings
on the walls in the caves of Poontanghia,
so how could I possibly
compete,
what new is there to be said
about love
except that I caught it and unlike
a three-day cold, it has stayed
with me, fevers morning and night,
for 36 years,
resistant through the liquid
flow of time
to all natural or supernatural events
that might deny
and discourage it
or
I could write about my lover's legs
and the amazing way
they join at the
hip
but I don't want to get too graphic
this morning,
because that would be outrageous
in this august company
and I'm completely out of outrage
since the last
election
Next, two poets from
Not For the Academy: Lesbian Poets
, published in 1999 by Onlywomen Press.
The first of the two poets is
Marilyn Hacker
. The poet, born in 1942, is a poet, translator, critic and professor of English at the City College of New York. She is widely published and honored, including among many others, the National Book Award in 1974
Languedocienne
for K.J.
This morning the wind came, shaking the quince tree,
making trouble in the chicken yard.
The attic door blew open, windows slammed their
casements,
notebooks and envelopes slid off my worktable.
A poplar separating vineyards, whispered over
olive and lavender cotton, to shades of summer brown.
Wind makes my head ache. I long for water
surfaces, light on four different riverbanks,
silver trembling on the edge, a waterfall
come up inside me as I come down to you.
Early to the train station; slow bus back through Monday-
shuttered towns;
nectarines under the poplar, wind in the quince tree.
And the second poet from
Not For the Academy
is
Judith Barrington
. The poet was born in England in 1944 and moved to the United States in 1976. Although she continues to live in the U.S. she spends time in Europe each year doing readings and workshops.
Why Young Girls Like to Ride Bareback
You grab a clump of mane in your left hand,
spring up and fall across her back;
then, pulling on the wiry black hair
which cuts into your palm and fourth finger,
haul yourself up till your left leg
swings across the plump cheek of her hindquarters.
Now you hold her, warm and alive, between your thighs.
In summer, wearing shorts, you feel the dander
of her coat, glossy and dusty at the same time,
greasing up the insides of your calves,
and as she walks, each of your knees in turn
feels the muscle bulge out behind her shoulder.
Trotting's a matter of balance. You bounce around
unable to enter her motion as you will when the trot
breaks and she finally waltzes from to to three time.
Nothing to be done at the trot but grab again the mane
that feels, though you don't yet know it, like pubic hair,
and straddle her jolting spine with your seat bones
knowing that when the canter comes, you will suddenly
merge - you and that great, that powerful friend:
she, bunching up behind, rocking across the fulcrum,
exploding forward on to the leading leg, and you
digging your seat down into the sway of her back,
your whole body singing:
we are one, we are one, we are one.
A little bit of local and personal history.
out for a drive yesterday
out for a drive yesterday
in Dee's new car, she even let me drive, with
or course, a lot of back seat help
into the hills, to Fredericksburg,
once one of many tiny German settlements
snuggled in green valleys of central Texas,
my father's home town, my great-grandparents
among the town founders in 1846, or maybe my great-
great-grandparents, I get confused sometimes
between the greats and the great-greats
many stories I was told when, once a year,
we would visit for a month during the summer...
a small town then, boosted to prominence
30 years ago by its long-time connection
to LBJ and the Johnson family - my grandfather,
unlike his six rancher brothers, an in-town merchant,
angry at Sam Johnson (LBJ's father) for years because
when he went broke he owed a lot off money to my grandfather's store
and, like many in the depression, did not pay his standing debt,
leading, in the end, to my grandfather's losing his store to the bank,
spending the rest of his working life as a poorly paid manager for the bank
of the store that had been his...
now a trade and tourist center, the sidewalks and wide streets (wide enough
to turn around a 16-mule train, I've been told) in the long downtown
always packed every day with tourists and the curious,
every building along the street preserved as it was when we came for the summer
sixty years ago, the Palace movie house, Dooley's Five and Dime,
the house my grandparents lived in, my grandfather's store
with the marble cornerstone (August Itz, 1903), the second-floor room
on the corner where my father slept before they moved into the house across the street,
and, directly below my father's old bedroom, the Itz Bed & Breakfast,
having nothing to do with any living Itz, but a historical reference to the old store next door...
everything the same outside as it was sixty years ago, everything different inside,
gift shops for the tourists, places to buy evidence of one's visit at prices one would never pay
otherwise, art galleries and German restaurants, bratwurst
with German potato salad and sauerkraut German food unlike the German food
of sixty years ago in the German-speaking Texas hill country
where barbecued brisket was invented and which, based on my long-ago visits,
defined "German" food in my own mind every since...
~~~
the clouds are breaking outside this morning and there is a strong wind blowing
and it will be a beautiful day soon, and those winds remind me
off how all we know is blown away in time, sometimes,
like the old buildings in Fredericksburg, with just enough left standing
to remind us of what is gone...
enough to remind us how much, not just buildings, but a whole life
is lost...
enough to remind us of the ephemeral nature of our own time,
as we are blown into a next generation,
the facade of ourselves still standing, for a while,
but the interior, gutted a little more each passing
day, becoming more each day another curiosity shop
on the busy streets of other lives...
Tony Hoagland
was a finalist in 2003 for the National Book Critics Circle Award in 2003. The next poem is from his book
Donkey Gospel
, winner of the 1997 James Laughlin Award of the Academy of American Poets. The book was published by Graywolf Press.
Hoagland was born in North Carolina in 1953 and was educated at the University of Iowa (BA) and the University of Arizona (MFA). He teaches in the University of Houston creative writing program.
Medicine
the black hair of my Chinese doctor
gleams like combed ink
as he leans over his desk,
with quick pen strokes writing my prescription
in the lingo of the
I Ching
,
characters so intricate and strange,
the page looks like a street
lined with sampans and pagodas,
rickshaws gliding though the palace gates
bearing Szechuan takeout to the king.
Daydreaming comes easy to the ill:
slowed down to the speed waiting rooms,
you learn to hang suspended in the wallpaper,
to drift among the magazines and plants,
feeling a strange love
for the time that might be killing me.
Two years ago I was so infatuated
with my lady doctor Linda,
I wanted to get better just to please her,
and yet to go on getting worse,
to keep her leaning toward me,
with her sea green eyes and stethoscope, asking
Does that hurt?
Does it hurt? Yes, it hurts
so sweet. It hurts exquisitely.
It hurts real good. I feel as I read it
in some Bible for the ill,
that suffering itself is medicine
and to endure enough will cure you
of anything.
So I want more injury
and repair, and ulcer
and a migraine, please
I want to suffer like my mother,
who said once, following a shot,
- her face joyful as the needle entered -
that she felt a train had been injected
straight into her vein. Day after day,
to see her sinking
through the layers of our care
was to learn something delicious
about weakness:
as if she had discovered
the train was bound somewhere:
as if the conductor
had told everyone on board
they never had to bear the weight
of being strong again.
Here's another from November, four years ago, from what I'm reading in my old poem, an early winter arriving, like this year.
crisp is what I'd call it
crisp
is the word
I would use
for this shivered-up
shriveled- up (for
those of us manly-types who go out
in the frigid dark
to feed the dogs while
claddishly inadequate)
37 degrees in the frosty
light of a moonless-night
morning...
some, those of us
not yet evolved from our
thin-blooded south Texas heritage
would probably call it
cold
as a witch's maternal
appendages
but
that's not me,
because I am one of the
evolved; because
I have high respect for
motherly appendages,
witch-bound or not,
and would not speak of them
so lightly;
and because, unlike
my south Texas ancestral
line, I don't like it hot
and find more commonality
with my north Alaskan ancestral line
which I am certain must be there
somewhere,
considering my affinity for
shivered-up,shriveled-up
mornings
just like this one today..
eeeehaaaaa!,
as us even more evolved
south Texans say when confronted
with a fancy-prancing horse, a dirt-dragging-dick bull,
a pretty girl in a haystack waiting,
and a beautiful, blue-skied, autumn
morning
eeehaaaaaa!!!!!!
My next selection from my library is by
Jose Emilio Pacheco
. It is from his book
An Ark for the Next Millennium
, published in 1993 by the University of Texas Press - Austin. The book was translated to English by
Margaret Sayers Peden
.
The poet was born in 1939 and died in 2014. A Mexican poet, essayist, novelist and short story writer, is regarded as one of the major Mexican poets of the second half of the twentieth century.
Lightning Bugs
In my childhood I discover lightning bugs
(I will learn much later they're called fireflies)
The teeming Caribbean night
offers me a wondrous world
I feel I am the first to witness glow-worms
To what can I compare the unknown?
I call them green stars skimming earth
lamps with wings, mobile lighthouses
grass that ignites and flies away
What arrogant pride in their nature
in the innocent fatuousness of their fire
Come morning I investigate further: I am shown
a nearly lifeless, pitiful beetle
A quenched insect devoid of radiance,
of the green aura night confers,
light that exists only in darkness -
wounded star in the prison of a hand
A great cold day. I like it; Bella loves it.
fantasies
a grim morning
gray clouds on a gray sky,
40 degrees
with a slice & dice north wind
that shivers my timbers
and Bella
with her long blond fur
thinks it's about the best day
ever and wants to jump
jump
jump
run and
leap while I
holding my hat with one hand and her leash
in the other just want to un-shiver my timbers
someplace bright and warm
a day that demands a weather poem...
and done that, what's next?
~~~
the tall blond who just came in,
exotic movie star face,
high cheek bones, maybe
a Russian movie star...
morning fantasies barely begun to boil
when a man comes in and joins
her
and once again
my timber shivers
~~~
back outside,
to-the merciless reality
of slice & dice north winds blowing
away all fantasies not involved with warm
and cozy, and golden-furred dogs
huddling close, asleep, with her own
fantasies of leaping and leaping,
legs pedaling as she runs
in her dreams
beside
me
Here's another by
Ibrahim al-Awaji
, from his book
The Tents of the Tribe.
O Trees of the Acacia
O Trees of Acacia
I am filled with boredom to the point of overflowing,
In this time of drought
and scarcity of rain.
You are without a shade to welcome or surround,
With stone-smooth branches
Void of leaves
There is nothing to hold on to.
Your denuded boughs
In their faded shabbiness
Can only evoke thoughts
Of tedium and despair.
Your stirrings of melancholy
In their utter dullness
Make tiresome symbols
That only feel like numbness.
This is another piece I wrote in November, 2010, thinking about a time in 1966, studying Russian for the military at Indiana University.
I get my daily Times these days on my Kindle. Something about that doesn't encourage leisurely reading.
the end as we come to know it
a dark
gloomy
Sunday morning,
coming down, as Kristopherson said,
just enough rain, mixed
with oil and dirt
gathered on the road
after a month
of no rain, to make the streets
slick
as an ice sheet in the Yukon -
some of my best memories of Sundays
from a time spent at Indiana U.
dragged into the morning
still puff-brained from
drinking
the night before,
by mid-day sun shining
through a window
by my bed -
a walk
through the small forest
on the edge of the campus,
(did it have a name - I can't
recall it)
breakfast
at a sidewalk cafe
on10th,
coffee
and the Sunday Times
spread
across the table...
comfortable
in my disregard of time,
a luxury of youth,
this stretching of every day
from dark to dark,
surprised
at each new sunset, the daily
revelation
that there was an end
to the day, not thinking
of ends
of anything...
now
it seems I think of not much else
but ends,
each day ending
a count against the future,
a subtraction
from an ever-shrinking sum -
wishing
to have again
the youthful ignorance
that made us all so brave
Deborah A. Miranda
. It is from her book
Indian Cartography
, published by Greenfield Review Press in 1999.
Miranda is a Native American writer and poet, born in Los Angles in 1961. She earned a PhD at the University of Washington in 2001 and currently teaches Creative Writing (Poetry), Native American Literature, Woman's Literature, Poetry as Literature and composition at Washington and Lee University.
While You Were in San Quentin
Eight years for my father
1
I became a stepdaughter.
We moved to Washington State
in a year of drought.
I didn't have a brother and sister anymore.
I lost my front teeth.
2
One teacher said I was too dark,
too quiet, too slow.
Another teacher cherished me.
I learned to read.
We moved again.
3
Hannah became my best friend.
My mother had an affair.
This man molested me.
This same man molested my best friend.
She told.
Our mothers believed us;
the sheriff didn't.
We moved again.
4
You sent three cards.
In each one you called me
Darling Daughter
.
I never wrote back.
Kittens were born under my bed.
We moved again.
5
I memorized tavern phone numbers:
Mecca, Ad Lib, sugar Shack.
I grew my hair long.
My step-father left;
then, he tried to sell the trailer we lived in.
We bought macaroni, hot dogs, and ice cream
with food stamps.
6
My mother studied all night at the kitchen table.
She had a new boyfriend named Joe.
He was kind to us. I hated him,
his Oklahoma accent, the way
he wanted me to trust him.
In the summer we picked berries.
I told people my father was a real Indian.
I told people I had six sisters,
named them.
7
A man walked on the moon again.
I failed the multiplication tables test over
and over.
I grew breasts, hips, and got my period in the fifth grade.
My grandmother bought me the ugly clothes
for fat girls.
I forgot what little Spanish I knew.
8
I took up drums instead of typing.
I waited for a new best friend.
I tried cigarettes.
I kept a journal of my dreams.
I began to wonder who I looked like.
I wondered if I looked
like you.
I think I may have been trying too hard on this one from last week. But, as always, it is what it is.
Invisible
a leaf falls
silently
to the street
of a slow residential morning
unseen
a tree falls
between its neighbors
in a thick mountain forest
unseen
a baby is born,
sickly,
to a sickly mother
in the deep border poverty
of Hidalgo, Texas
unseen
crying at the beginning
of a short
life
of pain
unheard
a man
falls
on a street
in a large inland city,
drunk
and demented,
screams of the pain
of a long life
lost
to
the ghosts and shadows
of a mind broken
by
circumstance
and malignant obsession
unseen
& unheard
the varieties of invisibility
invisibility
of the inattentive;
invisibility
of the absence of eyes to see;
invisibility
of revulsion and
evasion...
the truly unseen
and the unseen forced beyond sight
by the evasive witness
for morally-blinded bystanders -
the invisibility
of those who will not be seen
by those who will not see
The next two poems are from the 2005 Beatrice Hawley Award collection,
Here Bullet
. It was published by Alice James Books. The poet is
Brian Turner
. The book, his first, collects poems based on his experience as a soldier serving in the Iraq War. He has numerous awards since for his subsequent books.
Sadiq
It is a condition of wisdom in the archer to be patient
because when the arrow leaves the bow, it returns no more.
- Sa'di
It should make you shake and sweat,
nightmare you, strand you in a desert
of irrevocable desolation, the consequences
seared into the vein, no matter what adrenaline
feeds the muscle its courage, no matter
what crackling pain and anger
you carry in your fists, my friend,
it should break your hear to kill.
Jameel
Cowbirds rest in the groves of date palms,
whole flocks of them, white as flowers
blossoming into wings when the wind rises up
Thistleweed bursts open in purple
while honeybees drone and hover
over the yellowing, early-summer field.
They say to produce one pound of honey,
bees must travel from flower to hive
at least twelve thousand times.
Such patience, waiting for this storm
to be carried over far mountains,
when the earth darkens and the sky lowers
and cowbirds shield themselves under a wing,
the nectar swaying heavy with the closed flower,
the hive humming its prayer under the rain's falling hush.
San Antonio grows and grows. I did a photo series here a couple of weeks ago that showed the elimination of green pastures for new construction. The city is aggressive in saving green space and protecting the aquifer (upon which the city relies as its exclusive source of water), but, with the speed of growth, even everything is not enough. But that which we seek to displace has its revenge in the end. This is another poem from November, 2010.
having breakfast -
biscuits and gravy
hillbilly health food -
watching the sun
rise
orange
on the meadow
across the road
shadow here
cast from the building I'm in,
bright sunrise-shock
colors there,
red, brown,
orange, and green
from fat trunks
of five hundred-year-old
oaks
meadows
and pastures pocketed among
high-rise hotels and office parks,
still some of that
in the city,
though it's disappearing fast,
cattle grazing
one day, asphalt parking lot
the next, moms changing dirty diapers
on the backseat of their SUV, plastic
grocery bags waving from thorny
mesquite limb, hillsides leveled,
cattle gone to Burger King...
but the deer stay,
and the possums and skunks
and raccoons,
all making their way in civilization's
cracks -
the deer, especially, finding
high-priced plants from Lowes
or Home Depot every bit as tasty
as meadow grass and skunk weed -
"my place," they say to the red-faced
usurpers squatting on land where
the deer and antelope played
in better days, "but we're reasonable,"
they say, "keep bringing in
all this tasty grub
and you can stay as long as you want"
and raccoon agrees,
so many new garbage cans to raid,
and so little
tie
opportunity abides...
My last library poem for the week is by 1996 winner of the Nobel Prize for Literature, Polish poet
Wislawa Szymborska
. The book was translated from Polish by
Clare Cavanagh
and
Stanislaw Baranczak
.
Born in 1923, Szymborska died in 2012. I very much liker her poems, simple, direct and full of easy-going humanity.
A Little Girl Tugs at the Tablecloth
She's been in this world for over a year,
and in this world not everything's been examined
and taken in hand.
The subject of today's investigation
is things that don't move by themselves.
They need to be helped along,
shoved, shifted,
taken from their place and relocated.
They don't all want to go, e.g., the bookshelf,
the cupboard, the unyielding walls, the table.
But the tablecloth on the stubborn table
- when well-seized by its hems -
manifest a willingness to travel.
And the glasses, plates,
creamer, spoons, bowl,
are fairly shaking with desire.
It's fascinating,
what form of motion will they take,
once they're trembling on the brink:
will they roam across the ceiling?
fly around the lamp?
hop onto the windowsill and from there to a tree?
Mar. Newton still has no say in this.
Let him look down from the heavens and wave his hands.
This experiment must be completed.
And it will.
Mid-November - getting an early bit of serious winter (as defined here in South Texas)
it's cold
it's cold,
actual heavy coat
hat and gloves
cold
which would be defined
in these parts
as mid-thirties or colder...
it's cold,
especially walking my dog
in the north wind blowing,
but she loves it
jumping jumping jumping
jumping up
front paws on my chest,
isn't this something
she says,
smiling drooly doggie
smiles, let's run, let's jump,
she says,
let's chase our tails
just for the fun
of it...
and I'm thinking
how much I love cold weather
and how much I especially
love cold weather while
sitting inside
by my fireplace, window rattling
north wind blowing
outside
Here's the last this week by
Ibrahim al-Awaji
, from his bilingual collection of Arabic poetry,
The Tents of the Tribe
.
A Fairy and a Jar
I shall go on dreaming
of being a fairy
in the middle of a jar.
I shall go on dreaming
of being a fairy
forever.
And I shall go on
searching;
For a glimpse of your hands.
From your affections.
And for a feeling of sheer joy.
I shall go on dreaming
that to you - O! companion of my dreams
I am a raging ocean or
A garden of Paradise.
I shall go on being...being what?
I know not what path
Or jar you desire.
I am a drop from the breath
of dreams
Born without joy.
When shall I be what I long to be?
What you long me to be?
You, to whom I whisper
The secret of my dreams.
A morning this time of the month four years ago. (Except I'm not going anywhere.)
like a coastal morning
sun sneaking
up
on a damp day -
like a coastal
morning,
birds flying like pasted-on
cut-outs
against the wet sky, low fog,
warm
from a southerly breeze
blown across the coastal plains
form the rolling gulf,
streets
glistening with morning dew -
it seems a thousand thousand
mornings
like this from 50 years
living on the coast,
my escape 16 years ago
to dry winter hills
of cactus oak, and mesquite,
yellow-blossomed huisache
grown stubborn between granite rocks,
bluebonnets, cardinals, jays,
woodpeckers, and coyotes,
cedar on the hillsides, and
Indian paintbrush fields and
clear-running creeks...
stymied
by this pre-Thanksgiving
blanket
of coastal miasma,
preparing me, maybe,
for the trip back to the coast
later in the
week,
a fast in-and-out, fade-away
dodge'm drive,
5 hours down, kiss the babies,
eat the turkey,
8 hours sleep, then 5 hours
back
pushing all the way
against the arctic front
that will meet me at the door -
30 degrees
crisp and clear,
ice in the birdbath,
time to sleep
under a warm blanket
in a flickering orange
fireplace glow,
dog by my side, cat in my lap...
home...
Here's my last poem for the post, new from week, a memory brought on by a cold, wet morning.
for going on for ever
walking home
on a very late snowy night
the soft cushion
of snow on the soft bed
of night, streets, deserted, sounds
muffled
city lights
bright reflected on white
all around, white
falling in fragile cotton flakes,
white shadows falling
on fallen white
all alone
on a fairy-land night
a short walk
to university housing
from the small city's downtown center
all alone
but for stories heard
of the silence of winter night
stories
I will tell tomorrow
and again this
day
a short walk
remembered no
for going on
forever
As always,
I am Allen Itz owner and producer of this blog, and diligent seller of books, specifically these and specifically here:
Amazon, Barnes and Noble, iBookstore, Sony eBookstore, Copia, Garner's, Baker & Taylor, eSentral, Scribd, Oyster, Flipkart, Ciando and Kobo (and, through Kobo, brick and mortar retail booksellers all across America and abroad)

Always to the Light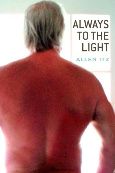 Goes Around Comes Around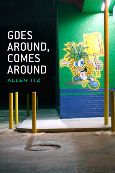 Pushing Clouds Against the Wind
And, for those print-bent, available at Amazon and select coffeehouses in San Antonio
Seven Beats a Second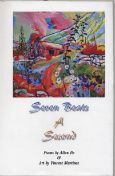 Short Stories