They did come out kind of interesting though, the beauty of lines and shapes replacing the beauty of color. That was the plan, anyway. And because, black and white are colors too.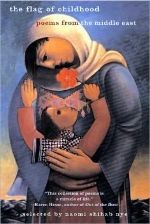 My anthology this week is
the flag of childhood, poems from the middle east
, selected by my favorite San Antonio poet Naomi Shihab Nye. The book was published by Aladdin Paperbacks in1998.
Nye, whose father was Palestinian and her mother, American, lives in San Antonio, but travels the world, including the Middle East, frequently.
My old poems this week are very early "relationship" poems, some published, some not.
I was, by the way, a very bad tuba player, which was a good thing in that it gave me lots of time to listen to the music, which, if it did nothing else, made me a lover of classical and most other types of music.
And, as usual, in addition to all of that, my own new poems and poems from my library.
Here and Now
, Margaret Mayberry - an invitation to other San Antonio poets on behalf of the San Antonio Poet's Association.Margaret invites new members to join the group. Annual dues are $25 and the group meets at Bethany Congregational Church on the corner of Panda and Pilgrim. She says that they have monthly contests, good food at their monthly meetings and fellowship with fellow poets. She specifies that they do the kind of poetry that you might read to children or mothers - no "slam" or "rap." (Though I maintain that Dr.Seuss is the best rapper ever and just right for kids - only need to add some beats.)
And, moving on here's what I have for you this week.
The lot I got:
Three Haiku
I had a couple of nights last week when, after a period of several weeks of sleeping poorly, I really slept well. A good night's sleep increases the loveliness of the world multifold.
that kind of morning
walking early,
cool but moist air
blown from the coast
where heavy rain yesterday
followed the gulf's arc from Brownsville
and into Louisiana, pinto beans to red beans and rice,
but none for us here, yellow and red on the radar
up into the coastal plains while the hill country stayed dry
despite the damp that clings like a wet t-shirt,
a good morning for dog-walking
as the worst of summer gives way to the first cool
of autumn, creeping ever so slow,
over the hills, the heat of the day delayed
until noon or sometimes later
after three months
of walking half our regular circular morning route,
we do it all today, feeling the cusp of season change,
hoping by our effort to push it over
the edge...
we encourage ourselves, I feel i in myself
and in the dog's gait, pushing with me
and then a full moon
cracks
the clouds
and dark night becomes bright in the glow
of the new moon
falling
it is remarkable
to feel one seasons
pass
and a new one rise...
it was that kind of morning
In addition to being a well-know voice for Palestinians and the Palestinian cause, she established, after being allowed to return to the West Bank in 1973, the English Department at the University of Birzeit, teaching, chairing the department and serving as Dean of the Faculty of Arts.
Tomorrow, the bandages
will come off. I wonder
will I see half a orange,
half an apple, half my
mother's face
with my one remaining eye?
I did not see the bullet
but felt the pain
exploding in my head.
His image did not
vanish, the soldier
with a big gun, unsteady
hands, and a look in
his eyes
I could not understand.
If I could see him so clearly
with my eyes closed,
it could be that inside our heads
we each have one spare set
of eyes
to make up for the ones we lose.
Next month, on my birthday,
I'll have a brand new glass eye,
maybe things will look round
and fat in the middle -
I've gazed through all my marbles,
they made the world look strange.
I hear a nine-month-old
has also lost an eye,
I wonder if my soldier
shot her too - a soldier
looking for a little girl who
look him in the eye -
I'm old enough, almost four,
I've seen enough of life,
but she's just a baby
who didn't know any better.
Here, from my old poems for the week, are two poems in a series I did tied to women's names in the poem titles.
I wrote the first of the three poems in 2001. It was published in a favorite journal of mine,
eclectica
, in 2002, and then, in 2005-2006, I included it in my first book,
Seven Bats a Second
.
flying a kite with katie
swirls
and dives
and loops the loops,
a blue and white kite
against a blue and white sky
katie
beside me,
brown on brown,
with white teeth
flashing in laughter
at the glory of the day
she holds the string,
pulls as the kite begins to stall,
lets loose when a gust of summer wind
lifts the kite and takes it toward the clouds
and I hold her,
not so tight, she says,
this is hard to do, she says,
back off so I can concentrate, she says
and I back away
as a great flurry of wind comes,
billows her dress against her back and legs
and she seems to fly like the kite a way from me
The second in this series was written in 2002 and published that same year in
Scope Journal
.
imogene gets away clean
imogene
comes and goes
in a swirl of sex and musky intrigue
leaving men of every age
to twist
in the vapors
of her libidinous wake
copulatory
imaginings burn
like a fever in their softened
brains
brains
made irrelevant
by the lower conscious
that hangs between their legs
rising
like a divining rod
rising
as those very night fantasizes
that have nurtured the growth
of a thousand fancied dissatisfactions
pass in the flesh
imogene
comes and goes
leaving a path of wreckage
like a summer storm
across the green and golden
pastures of well-ordered lives
wreckage
she leaves behind
like the wind leaves behind
a broken tree, like a flood
leaves behind sodden fields
unaffected untouched
imogene gets away clean
every time
Here's another of the series. I had a lot of fun doing these, though they did get less interesting as I went along and finally I just quit doing them.
This one I wrote in 2001 and it was finally published in
The Muse Apprentice
in 2004.
five minutes in the fire with fiona
under the table
her leg
against mine
moves
slowly
up and down
reaching for a paperclip
her hand
brushes mine
long red nail
leaving a trail
of fire a scar
smoldering
peering intently
at the paperclip
turns it over
passes
her fingertip
slowly over
the rounded
end tongue
pink against
her lip in
concentration
does she
sneak a
sidelong
glance
at me...
I hear my name called...
for the third time
I realize
and look to the end
of the table past
the double rows
of staring eyes
yes sir
I ask
your report
he says
we're waiting
for your report
a low laugh beside me
like a whisper
like a breath of
warm air in a
frigid room
later
she said
or
was it just
another
laugh..
.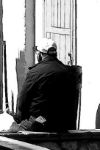 First from my library this week, I have the first three pieces from an on-line chapbook by my poet friend,
Anonymous
. The title of the chapbook is
Dead Letter Office
, originally published in 2012 by Rain Dog Press. This new edition is by Philistine Press.
Dear,
There's a mallard and his mate outside my window. The rose bushes
have been uprooted, ready to be replaced. Across the street the police
are in the process of arresting a woman. Her husband (boyfriend) leans
against the building like he's seen it all before. It's difficult. I think I'm
ruined. I'll take my chances in slivers; not brave enough to flat out ask
and too smart (afraid) to blow it all by being honest. If you were here
I couldn't fake it. But you're not. You're a handwritten letter; an untold
story. Tomorrow, the landscapers will be back.
Love,
Dear,
Now, there is nothing but dirt.They took the trees, bushes;
even part of the sidewalk.The police are gone.The flashing
red and blue a quiet promise of their return. I want to tell you
stories. I want to find one more way to turn the truth. I want
to be subversive. I'll confess my crimes. I'll take my chances;
tell you what you think you already know. I do plan to post this
bundle of letters. Maybe I'll redact them. As if they were sent
from a war zone or some Eastern Bloc country before the wall.
Love,
Dear,
Sometimes I no longer believe you're real; this letter
will sit in the dead letter office. Unopened and unread
until one rainy day, a bored employee will wonder who
it was meant for. They'll open it, read it aloud; create
their own narrative. I wonder will the be able to see
the curve off our hand, the spot on your wrist I used
to kiss; the freckle on your rib. On my window ledge
a petal, used to be a rose. It's a stamp that's fallen
off an envelope; one more letter unable to be delivered.
Love,
The day after the last poem, celebration in that poem premature.
I wait for rain
it did not rain
again
last night, or the night before
or the night before,
two and a half months that it did not rain
the night before...
like yesterday,
heavy rain on the coast,
sweeping across the plains,
then stalled and disappearing from the map
just fifty miles or so
from the hills that are my drying dusty
home...
close,
but like in horseshoes
close is not enough...
I think of 1952, I was
eight years old
Korea,
Ike had gone
and the war was about to be over,
meaning my brother,
gone two years,
would be home soon,
any day,
every day
my mother watched the dirt road
that led to our tiny town's
bus station,
while I fidgeted and squirmed
in my desk at school,
imagining him, waiting for the end of school,
waiting for me like we waited
for him
until one afternoon
about five, I was doing homework
and Mom was putting the finishing touches
on dinner, putting an extra plate
on the table as she always
did, we heard the whistle, the song
he always whistled on his way home from school,
and looking down the dusty road
we could see him coming,
still in uniform,
duffel bag resting on his shoulder
he was home again...
like the rain
that will sometime come,
not last night
or the night before,
but maybe tonight or the night after,
some night, like my brother
coming home
from the war, the rain will come,
and like with my brother's return,our
impatient waiting
will be rewarded in the cool wet
joy
of dreams
dreamed until at our doorstep
they stop
and become real...
I waited for my brother;
now I wait for rain
I had a lot of fun with this one too. It was written in 2000; published in
Avant Gard Times
in 2001.
while a bald man burns
three gulls circle
while
a bald man burns
in the fierce island sun
while
I trace gargoyles
in the sand
with my toe
while
you pretend to study
the book in your hand
while
three gulls circle
in the fierce island sun
Known as Turkey's first modern poet, he is considered one of the great international poets of the 20th century.
as a child he never plucked the wings off flies
he didn't tie tin cans to cats' tails
or lock beetles in matchboxes
or stomp anthills
he grew up
and all those things were done to him
I was at his bedside when he died
he said read me a poem
about the sun and the sea
about nuclear reactors and satellites
about the greatness of humanity
Overlord
, by Pulitzer Prize winner
Jorie Graham
. The book, published in 2005 by HarperCollins, speaks of the Allied invasion of Europe in the second world war through the eyes and voice of those who were there those first days and weeks.
It's a wonderful book, and I'm thinking of coming back to it for the longer poems that I don't have time to do this week.
Little Exercise
The screen is full of voices, all of them holding their tongues.
Certain things have to be "undergone," yes.
To come to a greater state of conscientiousness, yes.
Let the face show itself through the screen.
Let the organizing eyes show themselves.
Let them float to the surface of this shine and glow there.
The world now being killed by its children. Also its guests.
An oracle - a sniper, a child beater, a dying parent in the house,
so so overfed it cannot hold a root system in place?
Look - the slightest wind undoes the young crop.
Are we "beyond salvation"? Will you not speak?
Such a large absence - shall it not compel the largest presence?
Can we not break the wall?
And can it please
not be a mirror
lord?
heigh ho
wearing
my cowboy boots today
left my sloppy old slip-ons
at home today;
wearing my cowboy boots instead...
not for any particular
cowboy reason
don't imagine I'll be getting along any little dogies today
and surely don't expect to be pushing
any red-eyed devil herd through Bushwhacker Gulch
almost certain I won't be sitting
around
cookie's campfire
eating beans and bacon,
listening to him over in the chuck wagon
busting them pots and pans
won't be pushing past the swinging doors
at the Last Dollar saloon,
pulling tail feathers off high kicking floozies,
but will be saying
"Howdy, ma'am"
to the floozies cause I'm naturally cowboy-polite,
and also to any highfalutin ladies
I might see, and bronco-
busting cowgirls ad the pretty-little-library-lady
with high-swept hair and sweet little lips
and deep blue eyes and a virginal
air - I'd be
mighty lucky
to see that, but I doubt I will
and I'm not packing iron
so I expect I'll be OK at he shootout corral
and won't have any need to visit boot hill
either prone or standing
tall
if I see any injuns
I'll just say
"How"
and if they say
"Why?"
I'll just tell'um
that's the way it is in the movies,
Tonto,
and I"ll say it with great respect
because they'd be real Indians and all I know
about real Indians
is what I learned at the 25 cent movies
60 years ago
and I ain't a cowboy,
not even the singing kind
like Gene or Roy
and though I'm wearing cowboy boots
today don't mean I expect
to have a cowboy
day
it's just
it's nice here, riding the range on my drugstore saddle,
feeling like THE MAN
again
it's like heigh
ho, you
know
The Flag of Childhood
, I have a poem by
Kemalettin Tugeu
.
Born in 1902 in Istanbul, Tugeu was a very well known and prolific novelist, screenwriter and poet. He died in Istanbul in 1996. Based on a very bad Google translation from Turkish, this is all I can say about him with any certainty.
His poem was translated by
Yusuf Eradam
.
Mr. Ahmet's Shoes
He'd spare his shoes and wouldn't walk in them
Every evening he'd clean them for the next day
He'd knock at their bottoms and listen to the sound
He'd say this is pure French leather
His shoes had a special brush and cloth
He'd always keep them clean inside and out
Every evening as soon as he got home he'd put on his
slippers
His only concern in life was his shoes
He'd set out with a
bismillah
and walk the asphalt roads
He knew that this shoe nation would rot in snow waters
The shoes took their place reserved next to the door
Poor Mr. Ahmet would put them side by side
He'd say, "These shoes will last for so many more years."
He'd say so but unfortunately his life did not last that long
They did not throw his shoes away
Nor did they sell them to anyone as the shoes had great
memories

Okay, so this poem is not high literary art. It happens sometimes. Just don't stand in front of the fan.
The poem was written in 2000, then published a couple of months later in
The Melic Review
.
Gladly, in pursuit of his dream girl
Gladly,
in pursuit of his dream girl,
was not a boy easily discouraged.
Hopelessly
inept in the skills of the chase, he forged ahead
with the good-natured resolve of the blissfully
oblivious.
Gladly Abracadably
he would say
the man of mystery and magic.
He had a line for every girl.
How's the weather up there?
he'd ask the tall ones, or,
Let me help you out of that hole,
if they were short
lines for the big ones
small ones
bright ones
blonds;
lines for every day and time,
multilingual, multicultural,
multi-everything-imaginable,
lines for almost every one
But,
what he didn't have
was a line that led
any of them to give
him the time of day.
So, it finally came, one night, at a disco called
We're Way Too Cool For You
Basho, Buson,
and
Issa
, the three masters of the form. They are from the anthology,
The Sound of Water
, published by Shambhala in 2000. I exercised great restraint by doing only one poem from each poet. For me, with these poems I am like I am with Walt Whitman. Once I start I don't want to quit.
The poems were translated by
Sam Hamill
.
from
Basho
Gray hairs being plucked,
and from below my pillow
a cricket singing
from
Buson
The late evening crow
of deep autumn longing
suddenly cries out
from
Issa
In the midst of this world
we stroll along the roof of hell
gawking at flowers
I've been married approaching 40 years now. Cannot imagine how it would have been to have spent all those years with a person like the one in this poem, a new breakfast observational from last week.
small talk
old man, beard and pointy, waxed mustache,
sitting in the booth in front of me with his youngish wife...
never stops talking
professorial in tone, analyzing each bit of food
on his plate, where it came from
and how much it should have cost compared
to how much he's paying for it, and
how much the restaurant pays
in staff costs and electricity and rent and how much less
they could have charged for his breakfast
and still made a profit
and
about the liquid in his ear and how it's
sloshing from one side
of his head
to the other, and how their hotel
here compares
to their hotels elsewhere
and how the drivers here compare
to the drivers in other places
and the weather
here
compared to the weather
in other places
and the liquid in his ear
that's sloshing from one side
of his head
to the other and
on and on
and
on some more,
a 45 minute monologue
during which his wife speaks not once
as far as I can tell
and I wonder about living with this
pointy mustached narcissist,
listening to him through
all her waking
hours
and I want to stop as I pass their booth and pat her on
the shoulder
and say, never fear, dear, he has to run out
of words
or breath someday, with any luck,
forever
and
when
he does, look
me up, I don't hardly
talk
at all
Next, two short poems from this week's anthology,
The Flag of Childhood
.
The first of the two is by
Muhammad al-As'ad
.
I can't find a photo of the poet, the bio in the book says he was born in 1944 in Palestine and lived in a village near Haifa until his family moved to Iraq after becoming refugees in 1948. He has worked as a journalist in Kuwait and has published poetry, criticism and an autobiography. At the time the anthology was published, he lived in Cyprus.
His poem was translated by
May Jayyusi
and
Jack Collon
.
A Song
When we remember things
One string rings out.
Woman alone
Plays on all the strings
With one stroke
Because she is the entire homeland.
The second poet is
Quasim Haddad
, a Bahraini poet whose poems have been translated into several language, including English, German and French.
This poem was translated by
Sharif S. Elmusa
and
Charles Doria
.
All of Them
Everybody said it was useless
Everybody said, "you're trying to lean on sun dust"
that the beloved before whose tree I stand
can't be reached
Everybody said, "you're crazy to throw yourself
headlong into a volcano and sing"
Everybody said that salty mountains
won't yield even one glass of wine
Everybody said, "You can't dance on one foot"
Everybody said there won't be any lights at the party
That's what they all said
but everybody came to the party anyway.
Trying to remember where Bob Hall Pier is . Can't remember.
at the end of Bob Hall Pier
gulf winds
blow up
a briny
spray
that
chills
even
under
the Texas
sun
at mid-day
colder
still
now
mixed
with early
morning
fog that
leaves
me
alone
on a
wood
planked
island
bone froze
cold
and
alone
The next poet from my library is
Demetria Martinez
, from her book
Breathing Between the Lines
, published by The University of Arizona Press in 1997. The poet is a poet, novelist, journalist, teacher and activist. Born in Albuquerque, New Mexico she earned her BA at Princeton University in 1982.
We Talk About Spanish
Not in Spanish
Dream with dictionaries
Blood-thinners
Marrying out to whites
Damn good black beans
But so what?
Damn good politics
But so what?
Oh there were times
Like in the orange groves
Outside Phoenix
My task was to mark charts
To ask the guatemaltecas
When was your last period
And so on as they lined up
At the trailer to see a doctor
And that night in Harvard Yard
A North Vietnamese
Soldier-poet tested
Spanish he learned in Cuba
It worked
We found a third way
His voice a high wire
I crossed over to him
Fearless as a spider
If we didn't know a word
We filled in the blank
With a star
It is a light
That years later
I try not to curse

This next new poem from last week (I wrote it on the anniversary of the Washington march) is sure to offend some, maybe many. For which I cannot apologized since I know no way to honestly talk about offensive people without laying their offense out for all to see and being offensive myself in turn.
they'll know what we mean
so now
the crazies are saying
they want to
IMPEACH
him
not so clear as to why
possibly because
he's
a Kenyan...
or maybe because
he's a socialist, or maybe
a fascist...
or maybe
a Moslem, possible, as are most of that kind,
a Jihadist...
not to mention, of course, his war on
Christianity, burning churches,
hanging Episcopal preachers from every high tree,
gotta stop this man, they say,
before the collection plates run dry
and we have to put all the priests to work
at daycare centers
to earn their daily bread and water...
maybe
because of his war-mongering ways...
(not sufficiently war-mongering for their tastes,
hasn't started even one decent war
in five years)
could be because
of his budget-busting, deficit reduction success,
a clear and present danger
to their pretensions...
or maybe because of that Obamacare
thing,
healthy Americans, babies and mommas
and grandma and grandpa, the whole caboodle,
healthy and alive...
outrageous!!!
I imagine we'll hear all these reasons
even though
they haven't got around to tell them to us yet...
but the real reason, the one they'll never tell us
the truth of their deep, dark heart----
well, hell,
man,
he's a NIGGER,
THE GODDAMN PRESIDENT OF THE UNITED STATES
IS A GODDAMN NIGGER...
but can't be saying that,
they'll warn
their followers...
so let's just say he's a
Kenyan
Socialist/Fascist
Moslem-Anti-Christian-Jihadist
incompetent War-Monger
excessively competent Deficit-Buster
Socialized Medicalizer...
we can say all that,
but we don't need to say the other
cause everyone who
counts
will know what we really
mean
without saying
shhhhhh...
Next, I have three short poems from this week's anthology.
The first is by
Fadwa Tuqan
, a Palestinian born in 1917 in Nablus, where she still lived when the anthology was published. Taught by her brother in her early years, she later graduated from the University of Oxford. The poet died in 2003.
Her poem was translated by
Salma Khadra Jayyusi
and
Naomi Shihab Nye
.
Enough for Me
Enough for me to die on her earth,
be buried in her
to melt and vanish into her soil
then sprout forth as a flower
played with by a child from my country
Enough for me to remain
in my country's embrace
to be in her close as a handful of dust
a sprig of grass
a flower
The next short poem from the anthology is by
Fawziyya Abu Khalid
.
Born in Saudia Arabia in 1955, the poet grew up in Riyadh, studied sociology in the United States and has taught at the Girls' College of King Saud University. Her first book of poems was published when she was eighteen.
Here poem was translated by
Salwa Jabsheh
and
John Heath-Stubbs
Poem
Without paper or pen
into your heart I reach
Listening is more poignant
than any speech
Gokhan Tok
. Born in 1972 in Ankara, Tok graduated from the sociology department of the Middle East Technical University and works at The Turkish Foundation of Science and Research.
His poem was translated by
Yusuf Eradam
.
Talk
You never hear it
but at breakfast the sweetest talk
is between the jam and the honey.
I wrote this next poem in 2003. It was picked up and published very late that year after all the places who usually published my stuff showed no interest. I thought it was a very effective piece of work and included it in
Seven Beats a Second
.
the rules of silence
cold and silent
as a winter night,
a glance, sharp
like the crack
of breaking ice
sorry I'm late
I say
shh,
she says,
I'm listening
to what?
I ask,
I don't hear anything
I wouldn't think you would,
she says,
I wouldn't think so
and she turns her face
to the table, to the cold perfection
of the little squares she draws,
little squares, stacked atop
little squares, pages and pages
of little squares on little squares
I think of the warm summer night
I just left, the winking fireflies,
the summer sounds of children,
laughing, playing in the early dark,
the sounds of neighbor children, laughing,
playing in the warm summer night
shh,
she says,
I'm listening
and I listen with her
Zbigniew Herbert
with two short poems from the collection of his work,
Elegy for the Departure (and other poems)
, published a year after his death in 1998.
Born in 1924, he was a poet, essayist, drama writer and moralist. A member of the Polish resistant group during World War II, he is one of the most known and translated poets of the post-war period.
Principality
Designated in the guide by two stars (in reality three are
more), the entire principality - the city, sea, and a piece of sky -
at first balance looks wonderful. The tombs are whitewashed, the
houses opulent, the flowers fat.
All the citizens are guardians of souvenirs. Because of a
small inflow of tourists there is little work - an our in the
morning, and hour in the evening.
In the middle, a siesta.
Red as an eiderdown, a cloud of snoring hovers over the
principality. Only the prince is not asleep. He rocks to sleep the
head of the local god.
The hotels and boarding houses are occupied by angels who
have taken a liking to the principality for its warm spas, serious
customs, and air that is distilled by the labor of pens polishing
memory.
Chinese Wallpaper
A deserted island with the sugary head of a volcano. In the
middle of smooth water, reeds and a fisherman with a pole.
Higher, an island is spread out like an apple tree with a pagoda
and small bridges, where lovers meet under the blossoming
moon.
If that was all, it would be a nice episode; a history of the
world in a few words. But it is repeated into infinity with
thoughtless, stubborn exactitude: volcano, lovers, the moon.
One cannot make a greater insult to the world.
I'll wait to see what Jesus does
God
going spit-spat
on the sidewalk
may be our rain
for today
maybe not
just like
this might be my poem
for today
or
maybe
not
I'll see what God
has in mind for the rest of the day...
see what Jesus does
then follow his
lead
Yhudit Kafri
. Born in 1935 in Kibbutz Ein Ha Horesh, she has received awards for her poetry, children's books, memoirs, and biographies.
The poem was translated by
Lami
.
White Jacket
The white-wool knit jacket
With a decorative pin
Which my grandpa and grandma sent me from Kovel
When I was two
And it was sent to the communal storeroom
And I never wore it, not even once,
My God,
Grandma and Grandpa were murdered there
A whole Jewry destroyed
And I search throughout my life
For a white-wool knit jacket
Which my grandma knit for me and decorated
With a pin
And went down to the post office and sent it
In a package which my grandpa had packed lovingly
A small white hand-knitted jacket
For a little girl of two
All my life
And cannot find it.
(In communal Israeli settlements, kibbutzim, of the thirties, clothes for all the adults and children were kept in and distributed from a central storeroom.)
I could have used this next old piece several weeks when I posted a bunch of old poems from the coast., but I don't think I did. I wrote it in 2001 and it was published later in the year in
The Green Tricycle
.
lying with my lover on the beach at midnight
the beach was best at midnight,
when the day trippers were at home
nursing sunburns, or in a bar,
honky-tonk dancing in gritty flip-flops.
the beach was best at midnight
when its beauty was ours alone,
when its sand gleamed in white moonlight
and stars spread across the gulf sky,
a blanket of lights across the bed
of soft tropic night; when the surf,
breaking against the shore in ordered rows,
was the only sound in the airy silence.
the beach was best at midnight
when we lay together on a sandy towel,
enveloped in the star-lit whisper
of the rising, falling waves.
Kenneth W. Brewer
, from his book
Sum of Accidents
. The book was published in 2003 by City Art of Salt Lake City.
Brewer was born in 1941 and died of pancreatic cancer in 2006. He was educated at Butler University, Western New Mexico University, New Mexico State University and earned a PhD from the University of Utah where he taught for many years. Author of eight books of poetry, he served as Poet Laureate of the State of Utah.
At the Surface
I have hard talk
about the edge of the universe
from a physicist
whose imagination
skips past his tongue
directly to paradigms
on a blackboard -
the adventure of chalk-talkers
over the sermonist of the mount.
and I have heard
that some fish communicate by sonar
at a depth of ocean
where we cannot breathe,
where the sun dissipates,
sweetens the darkness
like a cup of tea.
And in Russia
a few infants swim
from the moment of birth,
from the watery depths of birth
in a pool with dolphins
who nuzzle them like midwives.
Alternately, I cup my ears,
dog-paddle, push my lips outward
to the edge of that
bubbling surface I cannot see.
I would consider this a large waste of time, except that it seems to work. I am still alive.
the creature lives
close encounter with my
phlebotomist
today...
our regular quarterly meeting
during which
sharp objects are thrust
into my unwilling parts
and my bodily fluids are hijacked
for analysis
to affirm that, yes,
the creature
lives,
and might continue
thus, at
least
until the next pincushion
party three months
hence...
so,
lying there bleeding copiously,
my thoughts turn to the
ancient past
when,
60 years ago,
in the little town where I grew up,
it didn't seem strange
to me
that the town pharmacist
would recognize me,
just a kid, ten years old,
on sight
after all,
everyone knew everyone,
he just happened to have a little extra
insight of the physical
limitations
of everyone, their health and hygiene habits
and which sixteen year olds
started
buying rubbers when they were fifteen
and which of those
seemed
passingly knowledgeable of how
to use them...
nowadays,
nobody knows nothing
about nobody
(unless they happen to work for the NSA,
which I almost did
once,
another story having nothing do do with this)
yet, still,
in a city of a million and a half,
all the pharmacists and pharmacy aides
where I go to get my prescriptions
filled
recognize
both my name and my face
when I walk in
and usually know what I'm due
to refill
thinking about this familiarity
suggests
to me
that I might be over-medicating
but then,
is is true, the creature does
still live
My last poet this week from the anthology,
The Flag of Childhood
, is
Sohrab Sepehri
. Born in Iran in 1928, he is considered by many to be one of the most gifted poets writing in Persian. He has published many books and is also a painter.
The poet died of leukemia in Tehran in 1980.
The poem was translated by
Massud Farzan
.
Every week I do this I hope to run across at least one poem that blows my mind. This is that poem for this week. As I read it, one name kept running through my mind - Walt Whitman. I find very many shadows of him in this piece.
from
The Sound of Water's Footsteps
I am from Kashan...
I am a Moslem
my Mecca is a red rose
my prayer-spread the stream, my holy clay the light
my prayer-rug the field
I do ablutions to the rhythm of the rain upon the
windowpane
In my prayer runs the moon, runs the light
the particles of my prayer have turned translucent
upon the minaret of the cypress tree
I say my prayer in the mosque of grass
and follow the sitting and rising of the wave...
I saw many things upon the earth:
I saw a beggar who went from door to door
singing the lark's song
I saw a poet who addressed the lily of the valley as "lady"...
I saw a train carrying light
I saw a train carrying politics (and going so empty)
I saw a train carrying morning-glory seeds and canary songs
and a plane, through its window
a thousand feet high, one could see the earth:
one could see the hoopoe's crest
the butterfly's beauty-spots
the passage of a fly across the alley of loneliness
the luminous wish of a sparrow descending from a pine...
I hear the sound of gardens breathing
the sound off the darkness raining from a leaf
the light clearing its throat behind the tree...
Sometimes, like a stream pebble, my soul is washed clean
and shines
I haven't seen two pine trees hate each other
I haven't seen a poplar sell its shadow
the elm tree gives its branch to the crow at no charge
where there is a leaf I rejoice...

I wrote the next poem in 2000. After several years and several trips around the world it was finally picked up by
mitachondria
in 2004, then included, along with one or two other poems of mine, in a small anthology they published a while later. I have it somewhere in my bookcase, but can't find it now so can't give any more information, like publication date.
in the soup
what's that fly doing in my soup?
she said
the back stroke
I said
And there you have it,
the
nub
of our relationship
she found flies &
I laughed them off
until
one
day
she invited a
s
p
i
d
e
r
to sit down
b
e
s
i
d
e
r
and I was in the sou
p
Reading the daily newspaper is enough to drive one mad.
to rant, to scream, to kick some ass
it is my job
to write a poem this very minute
but after
reading today's newspaper
piled on newspapers from the past several weeks
I don't want to write a poem...
I want to scream,.
to rant,
to register my discontent
with suitable
impolite action,
to raise hell,
to be offensive,
to shout obscenities,
to kick some ass,
to get into a bar fight with a pool cue
and a busted beer bottle as my
weapons of choice,
the one
for severe blows about the head of the subjects
of my rage
and the second to
castrate those same evil,political motherfucker lowlifes
so that there is no possibility
that the scourge they bring can be biologically reproduced...
that's what I want to do,
a rant, a scream, a waste of time
for me and for any reader
so unfortunate
as to stumble across it this early
beautiful day
when
rants should be restricted to crazy people...
which am not,
though greatly tempted
by this insane, paranoid time
to join the crowd
of loose
nuts
roaming like rabid dogs
through
the plains and woods and mountains high
of my country...