My pictures this week are just some odd things I found hanging around in my files.
My anthology this week is a collection by Wayne Miller and Kevin Prufer of
New European Poets.
The book was published in 2008 by Gray Wolf Press.
Seven Beats a Second
. As I write this, I am attempting to post the actual pages from the book, including the poem and the illustration that accompanied the poem. The illustrations are adaptations by me of original art (also included in the book) by artist,
Vincent Martinez
. These are the actual pages I sent off to the publisher for the book and cannot be altered so they are lighter and less vivid than in the book and I can't do anything to adapt them for better viewing here.
And here's the amazing part (well, it amazes me anyway) - from an initial run of 500 books, I am near to selling out all but several copies that I'll keep for myself. The books are also available on Amazon from my publisher on a print to order basis. I also have some for sale at a couple of coffeehouses here in San Antonio.
Wowsers!
And speaking off wowsers, here's who here this week.
With all the rain we've had since late April, ever plant in my yard is blooming. I looked out my window early in the morning last week, and there was the most beautiful red blossom I've ever seen. The immediate response, at last for my, when I see something like this is to run for my camera.
But my camera's busted.
no evidence
early morning
sunshine
bright
on the reddest
rose
I have ever seen
such a blaze
of red in my backyard,
a fire
by the young oak
aflame in a little patch of dirt brown
circled by grass green
and thick from the rain this year,
a green revelation
of the Mother's blessing,
her green party gown as she waits
for the ceremonies of summer
my camera is broken,
so I have no evidence to offer
but this little note, the best
I can do
you'll just have to take my word
that the reddest red
that ever was
red
is in my backyard
this morning
New European Poets
, my anthology for this week, is Serbian poet
Zvonko Karanovic
.
Karanovic was born in Serbia in 1959 and, at the time of publication, lived in Belgrade. He is the author of seven books of poetry and two novels.
His poem was translated by
Tomislav Kuzmanovic
.
Melancholy
It is almost painless
like loneliness
like the smell of blond, just-washed hair
caught accidentally while passing
water flowers keep on dying
until one
lives to see the morning
and then they disappear
I'll tell you once
about the wreath of dried up flowers
we left
on every birch tree
lost in the fog
on a muddy road somewhere in the country
about the girl whose hands shiver in the rain
for seven long years
I was looking for my sister
and found her one afternoon
behind the first row of books
on plants
her voice was metal
she swallowed coins
and joints
with chocolate
we never met
she slept in the walnut shell
and said that the conversations are
nothing but long good-byes
she used to enter my room often
and touch my hair until
she turned into dust
into hands that shiver
in the rain
Here's the first of my pages this week from my first book,
Seven Beats a Second.
I have several short poems now from my friend from Australia,
Jan Napier
.
Jan, who has published poems and poetry reviews in many journals in Australia and New Zealand, says that for twenty years she "traveled the length and breath of Western Australia working in Side Show Alley (the Oz term for a carnival midway) which she wrote about in her book,
All the Fun of the Fair
.
A Stay
at Home at Heart
She is American. Her poetry is prone to wolves.
She wears Youth Dew and a red hibiscus
is known as a read and weep page
says she's the sexiest woman she knows
cooks her husband rogan josh with fresh coriander
enjoys the fart factor of refried beans herself.
She calls her horse Silence because he's golden
has a panther with copper rosettes menacing
her glass and mahogany coffee table
pictures of her son in a gondola his sister cross legged
in booths the hue of Indian sapphires.
A map of the London underground
acts as a lampshade while a silver bullet kills time
on her mantelpiece near a juju doll
with pins through both legs.
She has an angel tattoo is rude to checkout chicks
travels to Istanbul in Spring and Autumn
once climbed Ararat in search of the Ark.
Mostly she says her life is boring
and she's a stay at home at heart.
Birth Koan
Thud drum thud drum.
Amniotic rhythms rocking swells.
An inner space man
docking cable doubling as life support
ingests nutrient soup floats.
Affinity grows and toenails
He changes co ordinates.
Kicks at limits imposed.
Dives headlong into a new world.
Breathes.
Is the koan of apart and a part of.
Screams love.
Calligraphy
My lover traces symbols and letters on my back
brushes my shoulder blades scrolls my flanks,
asks me to guess each kissable syllable.
Penned in spit and fingertip mandarin ducks adore,
tangled hearts visible only to their scribe.
He calls me his
xian he bai
writes white cranes upon my spine,
names me his little persimmon
slips parentheses off cinnabar around my throat,
pauses to dip his nib once more.
I his Tuesday bride beloved of fire sprites
know his hand
press closer
match his passion.
(author's note:
xian he bai:
the "white crane" peony.)
Childhood Diabetes
Snail shell spirals draw down the eye
prick color's center
my clever girl licks at a future
soon to fade ad lose its brightness
a lifeline smiled in lollipops
dazzy pinks urine yellows
treats to keep her forever young
in this place of no sweetness.
Too few years skip into the sucker's
concentric circles.
Stuck in traffic this morning, thought of this.
they are the problem
seems like
most of the people
I know under 30
are from somewhere else
and they are the problem
the reason reason the city has grown
in such a short time
to near
a million and a half people
the reason
the streets are always crowded
the reason the hills
and woods
and pastures and wildflower fields
are disappearing under
concrete and asphalt caps
that block rain water flow
into the aquifer
from which we drink
the reason
the animals are pushed back
until there is not back
for their further retreat
and then return to roam
city streets, thin and hungry
but they are also the solution
they are they who demand the hills
and meadows be protected;
the ones who demand
that clear-cutting for new development
be outlawed
they are the ones who demand
protection for thee deer
who roam our suburban neighborhoods
and the smaller woodland
creatures taking back
in their dumb and persistent way
that which
we took from them
they are the ones who demand
that we recognize
the limitations of nature, the ever-growing
dangers to our water supply
they are the ones who demand art
and music, close up and personal,
where you can watch
the artists sweat, the ones
who create and support our
arts districts and venues for all kinds of music,
from Bach to conjunto, rock and roll to grunge, country
to punk, new wave to old wave, electronica
to Ernest Tubbs and Patsy Cline
they are the ones who demand
our parks be large, varied and clean
that our creeks and rivers
be more than just a way to push urban waste
to the gulf, that we seek not with our city
to pollute the world beyond us,
the ones who demand that waste
be eliminated here
where it was crated,
that we recycle
all that can be adapted to further use;
it is they who say we will not bury
our trash in landfills that seep their poison
into the land we live on and the water
we count on
it is they who remind us who long have been here
that the Eden we imagined
was a false and frail illusion, that
everywhere, our gates are open
to the evil and decay that seeks always
every corner of life, that the world is larger
than our neighborhood, the block
we live on; that there is no single part of us
that is not essential to the whole
and that the whole is essential to every part of us
it is they who stir the pot
the rest of us are content to let simmer
they are the outside
who confront the inside, who force the inside
to confirm to the needs
of new times
they are the problem,
and they are the solution,
welcome
even as they make us uncomfortable,
the new blood
that stirs our own to new life,
that shows us the city
that we, in our comfort, had forgot
This poem by Danish poet
Niels Frank
is from this week's anthology,
New European Poets
.The poem was translated by
Roger Greenwald
.
Frank, born in 1963 published his first book in 1985. He has published five books of poetry since, a book of essays, two that mix genres, a collection of narratives about well-known artists and a volume of photos. He has also published poetry into Danish, most notably John Ashbery.
Conspiracies
The parrot kicks, you could say
that. The parrot answers himself
in a profound voice. You
could say that. In his own way
the parrot is a genius. But no one is
in his own way and least of all
him. But how do you tell him that.
My coffee is hiding
in the cup. You could say that.
But from whom? Some steam rotates vaguely
when I look into the depths, a kind of dread
that makes itself invisible right
before my eyes, the purest nothing
which in reality is water. But
how do you tell it that.
And that many mediocre dreams
just rumble blindly through darkness.
And hat the stars blossom in it,
high up.And that all the consequences of this
start quoting themselves brilliantly
as soon as you turn you back on them.
In he most taciturn language, for example
this, such enormities occur
all the time. The parrots start squaking.
The coffee keeps mum To my credit I repeat
its silence, a way of life I go around
bragging about. In this way the incantations
won't recognize each other, but will
constantly combine. Yes. You could say that.
They combine into a powerful theory.
Forgive me for continually proving it.
Here's another page from my first book,
Seven Beats a Second
, available in new and used copies at Amazon.
The next poem is from my library. The book is
Tactile Values
, published in 2000 by Western Michigan University. The poet is
Mark Scott
. Born in Denver, Scott studied at the University of Colorado, University College London, and the Universita per Stanieri in Perugia. He obtained his doctorate in literature at Rutgers, the State University of New Jersey, in 1992. He has taught literature at Mills College, San Francisco State and the University of San Francisco. At the time of publication, he lived in Colorado.
Field Test
Weeds are a wild success -
escapees, some of them,
from cultivation.
The get up on the learn cure
faster than you can know their names
or trace their network.
But today I mowed into perfume
a whole patch of pineapple weed,
and not by mistake.
It made a sweeter task
of raising beds
to plant the pepper starts.
Their roots had never been plugged
and hung bare,
dripping an orderless new hormone.
Designed and synthesized
to keep the stress of transplant
from Georgia to New Jersey low,
to keep the stomata opening slow,
it so times the life that, when it swells,
each start should end in bells.
The rain has been wonderful since mid-April, not enough to break the drought, but wonderful while it happens.
great rain
yesterday
quarter inch officially
at least twice that
at my house
grass
thick and green
every flower and plant blooming
red orange yellow pink purple violet
a Crayola box of
colors
too
muddy in the back
to work on the fence
today
as planned
too bad
how sad...
think I'll take a nap
instead
if I believed in God
I'd say thank you Lord
for the cool
rain
and the soft thick green grass
and the flowers
and
all their glorious colors
and most of all
for the stick mud
and the
pillow upon which
I will lay my head as
I
nap
New European Poets
. The poet is
Jose Tolention Mendonca
. Born in Portugal in 1965. He has published seven volumes of poetry, a play, a number of translations and two books on theological subjects. A Catholic priest, he is a professor of biblical studies at Catholic University in Lisbon.
His poems were translated by
Richard Zenith
.
Calle Principe, 25
Without warning we lose
the vastness of the fields
singular enigmas
the clarity we swear
we'll preserve
but it takes us years
to forget someone
who merely looked at us
The White Road
I walked with your through the exact afternoon
you gave me your hand, life seemed
hard to establish
above the high wall
leaves trembled
under the stronger invisible weight
I could die for just one of those things
we share and have no words for saying:
stars cross paths at a frightful speed
unmovable glaciers at long last shift
and in the only way it can accompany you
my hear beats and beats
This poem makes me think of the TV show,
Criminal Minds
, or maybe I'm just not properly understanding it. It's by
Larissa Szporluk
, and it's from her book,
Dark Sky Question
, published by Beacon Press i 1998.
At the time of publication, the poet was teaching at Bowling Green State University.
Libido
A hand has her hair.
Don't move, don't cry out
-
The odd foliage is shining in the light.
With the stealth of a wheel,
he rams against her knees
from behind. She falls
back into his purpose,
which is hers: to be provided for,
to find her insides altered
and grow huge.
But he runs off, done with her mouth,
leaving her dazed by the waste
of that kind of love.
She asks around, asks how,
where do we feel to find who we are
,
watches poppies freeze
in an orgy of plants,
their cold red gaze frown sideways.
She listens to parrots,
true inner birds, never at rest,
into whose breasts the world
blows pleasure,
shading the nests full of Indian bees -
To scream is to sing.
small
and
thin
and smiling-
eyed
she dances
across
the floor
to
me
wipes
the sweaty bottle
rings
from my table
and brings
me
the one more
too many
again
tonight
and
as she bends
over the table
to wipe the
wet
the top
of her thin
blouse
falls open
and I see
her small
breasts
dark
nipples
erect &
alert
like soldiers
on post
and
one more
too
many
I
fall in love
again
Now she's crept up on it from far
her breath is cut off by its horn.
It turns out that she's a mother.
Grey and distant, her eye looks
out from the antiquity of life -
the body molded out of earth
so little known that she herself
feels lost, no thread to lead her,
erring across the earth's surface.
Would she be a calf, would she
exist and be as heavy as she -
clad in thick leather lope slowly
into brush known for centuries?
She is rose on hills, clear gray water
she is the sun on its hands of gold -
no Aphrodite rising laughing on waves
No one is watching. What state is this
of languid rapture? Without any guide
skin scalp and beasts swim in the sea,
all silent in perfection. A breeze blows,
a wave arches, rock holds itself intact.
No word on duty here, she is nothing
but a single life, a morning in the sea.
At sunrise she turns and the world falls
back into itself. A sudden soprano sings
I'm having trouble finding these pages from
Seven Beats a Second
. Most of them are saved in an old Mac Mini that I can't access anymore. A few are in my photobucket file. But I think not but just a few.
My next book from my library is,
Ash
, a collection of poems by
Sharan Strange
.
Strange grew up in Orangeburg, South Carolina, was educated at Harvard College and received the M.F.A. in poetry from Sara Lawrence College. She has been frequently published in poetry journals, including in an exhibition at the Whitney Museum in New York and the Institute of Contemporary Art in Boston.
How to Teach Them
I. Grooming
Maybe she saw God the Father lurking
behind each seven-year-old's face -
thirty pairs of eyes watching her, judging.
For twenty-odd years the same crop of bad
and good - their mamas, uncles, cousins.
So many ruined. Insolent. Unkempt.
Thirty offspring every year,
she never wanted to push one
out of herself. What world
could they have outside her own?
How to teach them that happiness
would come only from acceptance,
that beauty begins with cleanliness.
Her classroom was as orderly
as her childless home.
II. Beauty
TV pageants had shown us
how to line up, be sorted.
I pitied the boys who had to pick us.
They must've seen those contests too.
What we saw had everything to do
with love, the promise of it.
The screen was a greedy mirror
withholding the goods,
reflecting our hunger. Desire
and denial, at once, our ration.
At school, we learned those adult dramas,
learned that our bodies would betray us.
Our teacher urging each one,
the boys chose eagerly,
shunning the darker girls, their moving
lips, their accusing eyes.
III. Economics
When Mrs. Harris slapped my brother
his nose bled - and instant protest.
It kept up for hours - at school, on the bus,
at home. Neither he silver key hung
down his back on a string nor the wad
of brown paper under his lip could quell it.
We didn't consider charges, a lawsuit,
but accepted the principal's astute
offer: a year of free lunch.
IV. Citizenship
One white teacher in a black school,
young and pretty her place assured.
We learned about belonging
from a civics assignment:
Find out the origins
of our family names.
My father's answer made perfect
sense to me, though it angered her:
They came from the slave master -
that's how our people got them.
Yours? From a white man called Strange.
This is a new piece from last week, a Saturday morning, written over my biscuits and gravy (and a sausage patty for my dog waiting in my car).
random thoughts and scattered memories
the guy
on Facebook
complaining
about how his privacy
is being taken away by the
government
am I the only one
who things
that's hilarious?
---
barrios
in South Texas,
tiny frame houses,
a homemade fence in front,
the home where abuelita y abuelito
have lived for sixty-five years,
visited every Christmas
by their children and grandchildren
from Detroit or Chicago, Minneapolis,
Los Angeles, all points north, the house
stuffed like a pumpkin empanada
with children
sleeping triple on every bed
and swarming the back yard, hanging
from a low limb of the mesquite
older than the house
they are visiting...
in front, a garden
fit for the queen, flowers, glorious
color broken only by a narrow gravel path
from gate to front door, a sight for
eyes sore from the cold winds
blowing off Lake Michigan,
swirling snow
of the north, and the dinge
drab of dead cities
moldering in their urban jungle graves...
welcome home
in Technicolor for the wandering
tribes
---
random thoughts
and scattered memories
on a Saturday
morning
like the rag bag
where my mother
kept
little strips of cloth
saved for the next quilting bee
---
girl
with me
in the back of some kind
of large vehicle
both fifteen
but she, at fifteen,
going on twenty five;
me
still trying to assimilate
fourteen
we could have had a great time
but I was scared
and she was
bored
---
drinking the morning brew
her at my coffeehouse/music academy,
listening to the proprietress
croon a sweet Mexican ballad off love and loss,
watching her and the emotion
she puts into each line and phrase...
thinking
what a great air singer
I could be
and what a great air band we would have
if I could only find the right air
guitarist and air drummer
and maybe someone
proficient
on the air accordion,
the toast of South Texas
we could
be
---
my friend
comes in, will sit with me,
have coffee with me,
work together
on our computes, doing the things
we do separately together
a fine Saturday morning
in the balmy month
of June
Gur Genc
(full name, Gurgenc Kkorkmazel), my next poet from this week's anthology, was born in 1969 in Cyprus. He attended university in Ankara, Turkey, but left his studies to write poetry. After publishing and living abroad for years, he returned to Cyprus, where he established B/6 publishing and the anarchist literary journal,
Nettle
.
He translated his poem from Turkish, with the help of
Stephanos Stephanides
.
A note regarding the photo: I know it's the poet's book, but not sure it's the poet picture on the cover. It's the only possible photo I could find, very tiny and in Turkish.
I Worshiped Too Many Gods
1.
I worshiped too many gods, but
After the long winters in the North I know now
Sun, you are the most real!
Ganged up with the Sea, in this
Arid paradise, what have you done
To the lost pieces of porcelain childhoods?
I'm back, and have little time, so tell me.
2.
The land, which gives seven, and takes nine
I'm back - against the proverbs
It's arthritis accumulating in my joints
I'm asking you about those who hide in oblivion
And what hides buried inside you
And others dumped in the bottom of the well
Crossing over the limits of conditions
Overturning the towers of light onto thorny Mesaoria plains
And with the feeling of guilt
I'm back, and have little time, so tell me.
This might be the last of the pages from
Seven Beats a Second
I can access. If I can't find more, this is it.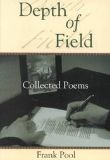 Next from my library, I have two poems by
Frank Pool
, from his book
Depth of Field
. The son of a geologist and registered nurse, Pool was born in Wyoming in 1953 and grew up in Texas. He graduated for Stephen F. Austin University in 1975 and earned a master's degree in philosophy at the University of Texas in 1982. Having lived a wide-ranging and varied life, the poet was, a time of publication, teacher of International Baccalaureate and Advanced Placement English in Austin.
The book was published in 2001 by Plain View Press.
Home and the Trai
l
Gray and overcast,
drizzle and leaves
shining in brownness
floating in the pool,
or sunken like
last summer when
it's not summer
and then
I go into the night
the blue light, the
water so cold, but
I must clean. Inside,
old backpack loaded,
clothes, socks,
oatmeal and Spam
and Aldous Huxley,
perennially setting out
for Big Bend.
Leaves crisp or soggy,
or dog-eared,
leavings to attend,
poem to a friend
never met, never mind,
the leaves take their course,
fall and forty all will pass;
trail beckons -
much still to be done
bore and even after
the fall.
The Gate of Ivory
In sleep I lost
my age, my work,
my wife and daughter,
all concerns but one,
and you came to me
in the guise of a goddess
in my only dream of you.
I froze, gasping,
heart pounding, in awe
of you, like being sixteen
again. You arched above me
in my bed. Your breasts
and ribs so white
the morning light
might bruise them,
and your nipples
and aureoles were transparent
liquid, shining with brightness
I recognized even then:
the gleam of tears
in the blue eyes
of a young girl.
Born in 1963, the English poet
Fiona Sampson
has published fourteen books of poetry, philosophy of language, and the writing process. She has won numerous of the most prestigious poetry prizes and, at the time the anthology was published, was editor of
Poetry Review
.
Hayfever portrait
Air-motes are stellar, iterations rambling
convection by convection through satisfied
evening. At dusk they gather under the tree by the septic tank,
fag-ends glow,
their group movement a conversation of forms
made out of elbow-space.
Imagine their planetary zoom.
Imagine (close up now) their toppling roll on air
as you and the dog head out past,
swishing currents.
And it's good not to be too apologetic about this -
you could fill up your brain with your self
that goes bruising and galumphing through the thigh-high meadow-sweet
(also brain -shaped) and nettles.
Here's my Father's Day poem.
breakfast on Father's Day
breakfast on Father's Day
apple granola pancake the size
of a Hudson hubcap,
sausage, two eggs
over easy...
this is how life ends
fat daddy,
slips into pancake coma,
dreams of skinny
days
he will never see
again...
then,
reborn,
pulse slowly recovers,
ka-bump, ka-bump, ka-bump-dee-bump
at noon, facing once again
the armies of obesity,
brisket
potato salad
cream corn, strawberry pie
and sweet tea...
asleep in front of the TV,
a holiday that,
unlike my pants tomorrow,
I can get into
ka-bump, ka-bump, ka-bump, ka........
Anise Koltz
, born in 1928 in Luxembourg, founded the "Journees de Mondorf," a biannual international writers' and poets' festival held in 1961-1974 and 1995-1999. At the time of publication, she lived in Luxembourg, writing in three languages (French only from the 1970s). She is the next poet from my
New European Poets
anthology. The poem is translated from French by
Pierre Joris
.
from
The Fire Eater
III
In the church's slaughterhouses
we are transformed
into vultures
we devour
the body of Christ
thrusting out necks
into his blood
with unavowed violence
---
I am looking for a baptismal font
to hand back my name
to drown it
in its holy water
I take original
sin upon me
once again
like a force
a carapace
that makes me invulnerable
---
None of our complaints
will be heard
God is a deaf-mute
No one has taught us
sign language
---
the fallen angel
who looked at himself
in the water
drowned
in his image
---
On the seventh day
God fell asleep
the earth is still trembling
from his snoring
---
God
lights a fire
in the darkness
to discover
in the blue of the flames
another darkness
---
I no longer believe in God
henceforth
He has to
believe in me
---
Wasn't it written
that he who'd drink
the blood of Christ
and eat his flesh
would be reborn like Him
But his blood coagulated
in our mouths
his flesh spoiled
under our eyes -
We will live on
dust
and rain
Because our death
will be a death
that lasts
I found a whole cache of pages from
Seven Beats a Second
. I may do more than I had planned on instead of less.
Sung Dynasty poet
Yang Wan-Li
, called "one of the four masters of Southern Sung poetry, has been largely unknown in West. The next poems from
Heaven My Blanket, Earth my Pillow
, a collection of Yang's poems translated by
Jonathan Chaves
, seeks to bring new attention to the poet.
The book was published by White Pine Press in 2004.
Chilly
I stuff the heater with wood,
and put on all my clothes -
but only drinking a cup of wine
makes me really warm.
People say the cold is unbearable after frost,
but they don't realize that there's springtime
in the wine pot.
Drinking at Night
I drink alone in my cold study,
huddled close to the brazier.
The wine is fresh - just strained this evening.
The candle is short - left over from last night.
I chew on a piece of sugar cane as big as a rafter
and eat tangerines sweeter than honey.
When the wine takes effect, a poem comes to me;
I grope for my brush, but I'm too high to write it down.
Eating Frost to Sober Up
Hung over from last night's wine -
my chest is heavy, my stomach upset.
Below the railing on Peony Bank
I break off a ball of frost
and roll it down my tongue.
In the Canal Locks at Hung-tse
Blocking the canal locks are cakes of ice
waiting for the people to open the gates.
When the gates are opened just two or three turns
the ice rushes through with a sound like splitting jade.
Shadows on an Eastern Window
No need to paint a picture of sparrows and plum blossoms:
the sun has shadowed them against the paper window.
The sparrows can fly and the flowers can dance -
such a picture has never been painted before.
Passing by Hsin-K'ai Lake
The fisherman's pole his boat across he lake.
My old eyes watch him closely,
until he does something strange:
he turns into a wild goose, standing on a reed.
Next, here are poems by
Wilfred Owen
, from the collection,
The Poems of Wilfred Owen
.
Owen is probably the best of all the poets from the trenches in the World War I, de-glorifying war and exposing all its horrors to a home-front who had entered into the "war to end all wars" seeing it as a glorious adventure. The war killed many of Europe's best and brightest, including Owen who lost his life in the very last days of the war. Almost all of his best known and most significant poetry was written in just over a year, only four being published before his death.
Soldier's Dream
I dreamed kind Jesus fouled the big-gun gears;
And caused a permanent stoppage in all bolts;
and buckled with a smile Mausers and Colts,
And rusted every bayonet with His tears.
And there were no more bombs, of ours or Theirs,
Not even an old flintlock, nor even a pike!
But God was vexed, and gave all power to Michael;
And when I woke he'd seen to our repairs.
Winter Song
The browns, tho olives and the yellows died,
And were swept up to heaven; where they glowed
Each dawn and set of sun till Christmastide,
And when the land lay pale for them, pale-snowed,
fell back, and down the snowdrifts flamed and flowed.
From all your face, into the winds of winter,
The sun-brown and the summer-gold are blowing;
But they shall gleam (again) with spiritual glinter,
When paler beauty on your brows falls snowing
And through those snows my looks shall be soft-going.
(Fragment: Cramped in that funnelled hole)
Cramped in that funnelled hole, they watched the dawn
Open a jagged rim around; a yawn
Of death's jaws, which had all but swallowed them
Stuck in the middle of his throat of phlegm.
(And they remembered Hell has many mouths),
they wee in one of many mouths of Hell
Not seen of seers in visions; only felt
As teeth of traps; when bones and the dead are smelt
Under the mud where long ago they fell
Mixed with the sour sharp odor of the shell.
Another from
Seven Beats a Second
.
diesel fuel
. The book was written by
Patrick Caliefia
, a bisexual transgendered man writing as
Pat Caliefia
before his transition. He was born in 1954 near Corpus Christi, Texas and is a writer of erotic fiction and poetry and essays about sexuality.
As Pat, she was a longtime SM community activist and a prominent anti-censorship feminist. Both as Pat and Patrick her work is very controversial, so much so that he was called the author most often banned by Canadian Customs.
I've picked one of his milder poems to use this week.
(I admit to having a little trouble figuring this out. The poems in the book were written when Patrick was Pat. And I wondering to what degree a persons poetry changes when his/her gender changes. So, did Poet Patrick inherit this book from Poet Pat, or, in all the most important creative ways, is this still Pat's book and not his.)
Women Are Not Enough For Me
Two lips opening,
Simple-minded as a blooming flower,
Wanting nothing but the wetness
Inside someone else's body
In return -
Why is it I can never enjoy
This kind of kiss?
I imagine kisses that feel like
One lion licking another's face or
Wild horses, crazy in the spring grass,
Nipping each other's ass or
A hawk laying its bloody beak
Against the falconer's cheek.
Women are not enough for me.
Passivity and meekness make me cringe.
I want heroes, Amazons who make love
Within reach of their weapons.
Warriors who would never destroy
A lover's honor
By coming between her and her enemies.
Women who know how to take a prisoner.
Women who know how to take a prisoner.
Women who know how to serve their betters.
Women who laugh at the sight of their own blood.
Women who kill with their eyes wide open.
The parts of my body
Are not candy for babies
Too coo over or slobber on.
If you cannot talk to me
As if you have bought and paid for your pleasure,
Go home. Write feminist poetry.
You don't want passion,
You want flattery.
You don't need a lover,
You need an electric blanket.
I don't come when someone whispers
Sweet euphemisms in my ear.
Tell me the truth.
It won't bite, but I can,
And I have more teeth than a four-letter word.
Eat me the way hungry animals eat.
climb me like a fire licking up a dry log.
Cling to me as if I were the edge of a cliff
And you were about to lose your grip
And fall into the sea.
Grapple with me as if
You were about to lose your championship.
Taste me as if it were your last request.
Handle me as if you had heard I was dead -
Or I will gnaw my way out of your arms
With the desperation of a fox
Who chews off her own paw
To escape the steel teeth
Of a trap.
From
Seven Beats a Second
.
For my last piece this week from the anthology,
New European Poets,
I have a poem by French poet
Andre Velter
.
Velter, born in 1945, is the author of fifteen books of poems and six books of essays. At the time of publication, he lived in Paris and was an editor at Gillimard and director of the Poesie Gallimard pocket paperback series.
The poem was translated by
Marilyn Hacker
.
I'll tell you that my mind mirror is red
and my lamp is red
and my mouth and my heart
with no comeback, no drama
red of stone and sun mixed together
I'll tell you that my past is red
brick of blood or dusk
less brittle than it might seem in ruins
with that shudder of red dust
on the abandoned guardpost
of reddened walls.
I'll tell you that my memory is red
against the red rocks
and rusted harrows
at the corner of the labyrinth
where fate changes from one commotion to another,
as archipelago, a seeding of red stars.
I'll tell you that my shadow is red
in blacksmith's hands
that rummage in red ash
that forge a bit of demon, a bit of angel
with no concern for what clings to the cutting edge
or the scarlet dream of an old fury.
I'll tell you that my soul is red
whittled from the fossil wood of a bauxite mine
and that it sings red
covers the world's murderous noise
mounts an attack on noble sentiments
which are in the red.
I'll tell you that my sky is red
wider than all the laundered territories
that unroll into the red valleys
and tell you that my fatigue is red,
red my migrations without start of finish
and finally that I see red.
Seven Beats a Second
, again.
My last new piece for this week - basketball again. Championship excitement, a bit of the human story.
going down together
so
the series is tied,
two games each,
the fifth game make or break
with the winner needing
to win only one
of the two remaining
to win the championship
one of your greatest-ever players
showing his age,
performing like a rookie
with bad legs
and incomprehensibly bad
decision-making
through the first four games
so
what do you do, Coach?
well,
bench him obviously, the team
just can't afford to have a stumble-bum
getting in the way during this most important game...
but,
not if you're Greg Popovich
you start your fading star instead, show your faith
in one of those who brought you
ten years of being one of the finest
teams in the league, decide, in this last game
he's likely to play at home, that if the team goes down
it's going down together
so you start the old fellow...
and watch him win the game
for you
go Spurs!