My next poems are by one of my favoites,
Wislava Szymborska
,
Polish poet, essayist, translator and recipient of the 1996 Nobel Prize in Literature. The poems are from her book,
View with a Grain of Sand
, which was published by Harcourt i 1995.
Born in 1923, Szymborska died early this year, working almost up to her last day on new poems for a book scheduled to be published later this year.
I enjoy the lyricism of her poems, as well as the humor she seems sometimes to pull out of nowhere, as with the first of these two poems.
The poems were translated from Polish by
Stanislaw Baranzcak
and
Clare Cavanugh
.
Bodybuilders' Contest
From scalp to sole, all muscles in slow motion.
The ocean of his torso drips with lotion.
The king of all is he who preens and wrestles
with sinews twisted into monstrous pretzels.
Onstage, he grapples with a grizzly bear
the deadlier for not really being there.
Three unseen panthers are in turn laid low,
each with one smoothly choreographed blow.
He grunts while showing his poses and paces.
His back alone has twenty different faces.
The mammoth fist he raises as he wins
is tribute to the force of vitamins.
Sky
I should have begun with this: the sky,
A window minus sill, frame, and panes.
An aperture, nothing more,
but wide open.
I don't have to wait for a starry night,
I don't have to crane my neck
to get a look at it.
I've got the sky behind my back, at hand, and on
my eyelids.
The sky binds me tight
and sweeps me off my feet.
Even the highest mountains
are no closer to the sky
than the deepest of valleys.
There's no more of it in one place
than another.
A molel is no less in seventh heaven
than the owl spreading her wings.
The object that falls in an abyss
falls from sky to sky.
Grainy, britty, liquid,
inflamed, or volatile
patches of sky,specks of sky,
gusts and heaps of sky.
The sky is everhwhere,
even in the dark beneath your skin.
I eat the sky, I excrete the sky.
I'm a trap within a trap,
in inhabited inhabitant,
an embrace embraced,
a question answering a question.
Division into sky and earth -
it's not the proper way
to contemplate this wholeness.
It simply lets me go on living
at a more exact address
where I can be reached promptly
if I'm sought.
My identifying features
are rapture and dispair.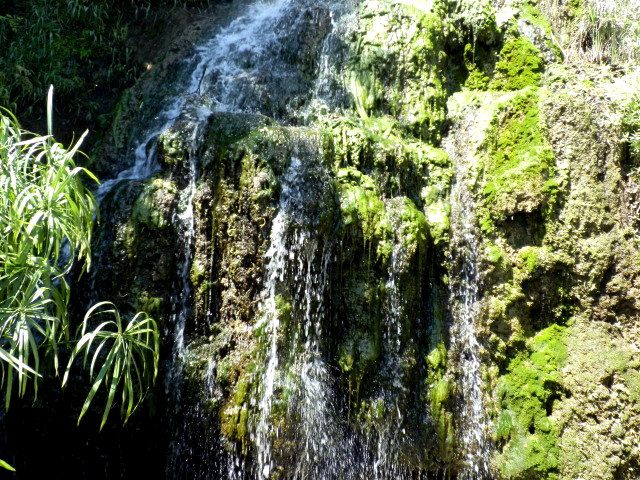 he's
a pretty standard old man,
a little taller than most,
but still,
the straw hat, the loose hanging
faux leather jacket,
the clatter of pills in his coat pocket
when he stood up, a pretty standard old man,
much like me, except I don't wear straw hats and
I don't have a faux leather jacket l and
wouldn't wear it even this late in the summer
if I did and I leave all my pills on a kitchen
shelf at home so the pocket of the coat
I don't wear wouldn't rattle
with pills
but
other than that
we could be twins,
that pretty standard old man
and me
~~~
but I digress,
even before I start I digress
because the standard old man almost like me,
sitting in front of me at the diner,
was just a target of opportunity, not the intended target
for this morning's poem
which is about standing in my backyard
at 5:13 this morning when the first cool breeze
of autumn cracked the back
of summer, the endless season too long lingering, finally set aside
for a day and night or two under the whisper
of wind-rustled trees and the bamboo chimes hanging
from those same trees, clock-a-clock, clock-a-clock, they sing
in their hollow-cane way, their sound
a welcome to the north-smelling morning…
I throw wide my arms
and embrace the beginning of the beginning
of a new season change
~~~
that was supposed to be my poem this morning,
until the standard old man
almost like me
jumped the line,
with his straw hat and faux leather coat
and pill-rattling pocket,
pushed ahead,
as if to remind me that autumn,
though welcomed for its fresh, cool nights,
is still sometimes called
"The Fall"
Next from the anthology I have this piece by Allen Ginsberg from his poem Howl.

I am of varying opinons as to whether or not, "Howl," with all its great elements is one of the most overrated poems of the last half of the twentieth century. There is no doubt though that, outside off Hiawatha, it inspired some of the worst imitator-poems ever. I should know, since I wrote some of them.
from Howl
I
I saw the best minds of my generation destroyed by madness,
starving hysterical naked,
dragging themselves through the negro streets at dawn lookin gor
an angry fix,
angelheaded hipsters burning for the ancient havenly connection to
the starry dynamo in the machinery of night,
who poverty and tatters and hollow-eyed and high sat up smokin gin
the supeprnatural darkness of cold-water flats floating across
the tops of cities contemplating jazz,
who bared their brains to Heaven und eht El and saw
Mohammedan antels staggering on tenement roofs illuminated,
who passed through universities with radiant cool eyes halucinating
Arkansas an dBlake-light tragedy among the scholars of war,
who were expelled from the academics for crazty & publishing
obscene odes on the windows of the skull,
who cowed in unshaven rooms in undersear, burning their money
inwastebaskets and listening to the Terror through the wall,
who got busted in their pubic beards returning through Laredo with
a belt of marijuana for New York,
who ate fire in paint hotels or drank turbentine in Paradise Alley,
death, or purgatoried their torsos night after night
with dreams, with drugs, with waking nightmares, alcohol and cock
and endless balls,
incomparable blind streets of shuddering cloud and lightning in the
mind leaping toward poles of Canada & Paterrson, illuminating all
the motionless world of Time between,
Peyote solidities of halls, backyard green tree cemetery dawns,
wine drunkenness over the rooftops, storefront boroughs of
readhead joyride neon blinking traffic light, sun and moon and tree
vibrations in the roaring winter dusks of Brooklyn, ashcan rantings
and kind king light of mind,
who chained themselves to subways for the endless ride from Battery
to holy Bronx on benzedrine until the noise of wheels and children
brought them down shuddering mouth-wracked and battered
bleak of brain all drained of brilliance in the dear light of Zoo
who sank all night in submarine light of Bickford's floated out and sat
through the stale beer afternoon in desolate Fugazzi's, listening to
the crack of doom on the hydrogen jukebox,
...
who studied Plotinus Poe St. John of the Cross telepathy and bop
kabbalah beause the cosmos instinctively vibrated at their feet
in Kansas,
who loned it through the streets of Idaho seekng visionary indian
angels who were visionary indian angels,
who thought they wre only mad when Baltinore gleamed in
supernational ectasy,
...
who demanded sanity trials accusing the radio of hypnotism & were
left with their insanity & hands & a hung jury,
who threw potato salad at CNNY lecturers on Dadaism and
subseqently presented themselves on the granite steps of the
madhouse with shaven headsand harlequin speech of suicide,
demanding instantaneous lobotomy,
and who were given instead the concrete void of insulin Metrazol
electricity hydrotherapy psychotherapy occupational therapy
pingpong and amnesia,
who in humorless protest overturned only one symbolic pingpong
table, resting briefly in catatonia.
returning years later truly bald except for a wig of blood, and tears
and fngers, to the visible madman doom of the wards of the
madtowns of the East,
Pilgrim State's Rockland's and Greystone's foetid halls, bickering
with the echoes of the soul, rocking and rolling in the midnight
solitude-bench dolmen-realms of love, dream of life a nightmare,
bodies turned to stone as heavy as the moon...
...
This is another old reject, dated by it's reference to an election in Iran, although I don't remember it it's the last Iranian election that wasn't really an election or the Iranian election that wasn't really an election before the last one.
green and purple pills
for some reason
i woke up this morning
thinking of Ray Stephens,
specifically
his song about A-hab the A-rab
which is probably pretty insulting
to Arab peoples
unless they have a senseof humor
which
from what i read in the papers
isn't allowed
in many Arab countries
i'm not sure why this was the morning
of A-hab the A-rab
except maybe it was the disappointing election
in Iran
but that doesn't make sense
since Iranians, including the Abbarabadaba guy,
are Persians, not Arabs
so everything i'm thinking about this morning
is just plain stupid
(it amazes me how other people can write
whole poems without saying something stupid
while it seems i have to say something stupid
at least once in every poem - oh well,can't
allow periodic stupid storms intefer with the
full expression of my art
or whatever)
anyway
they're rioting in Iran today
which demonstrates hows they're
such a primitive country
while we're so much more advanced
and how they could look to us
for guidance
on how to deal with stolen presidential
elections
since we had one of our own a few years back
and we didn't go rioting in the streets
and causing trouble
we just wrote nasty poems
and fiery letters
to mostly uninterested newspaper editors...
stuff like that
or, the Iranians could, maybe, just zone out,
meditate,
seek their center,
remember that from adversity
comes strength...
someday...
some say...
or just listen to some good music,
find relief in Stephen's recommended
rememdy for mental and physical distress -
"Jeremiah Peabody's Polyunsaturated
Quick-Dissolving
Fast-Acting
Pleasant-Tasting
Green and Purple Pills"
worked for me
Next, I have two poems from the book, Stone Garden, by Barbara Evans Stanush. The book was published by Pecan Grove Press in 1992. Apparently it was reissued in 1997 according to a listing on Amazon.
The biography included in the original publication of the book noted that, after her first thirty years living on the East Coast, she and her husband, Claude, also an author, moved to South Texas where she worked as an educational consultant, a poet-in-the-schools, a newspaper columnist, and a writer of both poetry and Texas history.

I could find no additional information beyond the original biography, other than a mention in 2011 as a surviving family member in her husband's obituary.
Tortilla Leap
and cover the sun.
Wraparound that
red hot pepper
and cool it down.
Keep that orb in
bounds so only
burning trickles
trail across
our face.
The sun's rays stab and
lose themselves in soil.
Fondle seeds of bedded
corn, soak kernels
in serape heat glowing
with colors of sunset.
The underground
swells to bugles,
trumpets pathways
back to sky,
swiings green, new
shafts of stalk.
Silver tassels
swaddle baby ears.
Kernel clones,
a white milk of bitrs
too tiny for teeth,
huddle a thousand eyes
bent on straightening
rows on rose.
Green corn,
soft gold.
Souls dance.
Mortals dry the host,
preserrve the promise.
To soak, to grind,
to pat, to clap,
to make a cake
a circle like the sun
to wrap aournd that
red hot pepperr
with rays dripping fire,
fire.
Eureka!
After all these years
Not blue, nor somber brown,
it's yellow. I never had
a yellow dress, a yellow car,
a yellow rug. I merely wrote
"in the yellow kitchen" to warm
a northern memory. The words
flooded me with light.
I alk through the house affirming.
Dots of butter leap out
of carrot pans, cereamic planters
glow. Sunset flares from a child's
stitchery.
On my desk a Faber Castell #2. Yellow
peelings swivel bold as I prime
the pencil point.
Doors crack yellow in the night.
Another hint this morning of the onset of seasons changing. Can't happen too soon for me.
clear-sky bright
70 degrees,
the sun this morning
clear-sky bright


and if you can find a cloud up there,
you get to name it, maybe after
your Aunt Eglich or Uncle Rooster,
or whatever you want to call it,
Grandpa Fern, you're second cousin's first kid,
Scramble -
it's your cloud
after all
so it's up to you...

it was 65 degrees
when I went out at 3
for my first-thing-in-the-morning check-around,
shrivelish weather, with that north wind
blowing - sending me out more man than when
I came back in…

the neighbors across the creek
having retired their fight for the night,
all was quiet, except for a rustling in the creek,
maybe a raccoon or a possum, probably
not a bear or a wallaby, though it is dark out there by the creek
and things unforeseen and unusual do lurk
when darkness falls

(and those neighbors, by the way,
lovely people, I'm sure they are, unfortunately forced
to cohabit with the spousal demon
their mother/father always warned them about -
listening to their nightly set-tos
imagining them on the other side of a wall
rather than across the creek,
causing me to rethink my long-time goal
of selling the house and moving
to an apartment downtown, that factor
and the other, the lost of my bare early morn
appreciation of the night
and its accompanying sky, likely since
I understand that kind of behavior is not authorized
on Durango Street or even on Main)

and while all this is interesting, I'm sure you'll agree,
it is, yet again, another digression
from the main point of the morning, which is,
for the next several days, summer is sent
to cowering in the corner and as long as it lasts
someone ought to be out frolicking
naked in the wood,
hallelujah chorusing as they twirl-around-twirl-around
and i suppose it's just going to have to be
me, though
you're welcome to come along if you
wish,
just bring good shoes
since ever reckless abandon has its rules
and the rocks are sharp in these rocky woods
and we don't want to ruin these lovely days
with a covey of broken toes

otherwise, pack
light...