Born a Palestinian Christian and raised in Jerusalem, Nye is a San Antonio poet who travels the world in support of poetry. In the introduction to the anthology she laments the fact that though people from all around the world follow American poets, while Americans rarely read their own country's poetry and that those who do, even more rarely read poet from outside their own borders. There is a world of great poetry out there, says Nye, and she has worked, not with just this book, but for many years to bring that poetry to us.
For myself, I think my offerings this week are all new poems written as part of my poem-a-day process. Using mostly old poems (all but one) last week, gave me a chance to catch up and get a little ahead with new stuff.
Here's all the stuff, mine and everyone else's.
By way of a warning - my "spellcheck" is not working, so I checked spelling this week the old fashioned way - myself. You should probably not be shocked if you run across occassional or more
spelling surprises.
I've decided that, at my age, I've had my full measure of excitement and change. Don't want no more, want to know what to do in the morning without going through a new instruction manual.
Oh, the dream! The dream!
My strong gilded wagon
has collapsed,
its wheels have scattered like bgypsies.
One night I dreamt of spring
and when I awoke
flowers covered my pillow.
I dreant once of the sea.
In the morning my bed was rich
with shells and fins.
But when I dreamt of freedom
sears surrounded my neck
with morning's halo.
From now on you will not find me
at ports or among trains
but in public libraries
sleeping head down on the maps of the world
as the orphan sleeps on the pavement
where my lips will touch more than one river
and my tears stream from continent to continent.
Not that of a cease-fire,
let alone the vision of the wolf and the lamb,
but rather,
as in the heart after a great excitement you can only
talk aboutt the weariness.
I know that I know how
to kill, that's why I'm an adult.
and my son plays with a toy gun that knows
how to open and close its eyes and say Mama.
A peace
withoug the big noise of beating swords into ploughshares,
without words, without
the heavy thud of the ruber samp: I want it
gentle over us, like lazy white foam.
Aittle rest for the wounds -
who speaks of healing?
(And the orphans' outcry is passed from one generation
to the next, as in a rely race:
the baton never falls.)
I want it co come like wildflowers,
suddenly, because the field
I wanted to know about love
and was told to see the bearded lady.
As she stroked her treasure, she
told me of the melding wells of Julia,
Of the kissing stone shaped
like camels,
Of the hair like linen
found among the cloistered,
And she stroked, and stroked, and stroked
He whipped his horses
To an incalculable speed
Racing against the undertaker's
Empty hearse-carriage
Sparrows in Pueblo perch on empty
elm branches cocking their heads
at each other or at each shadow
under the warming winter sun.
They watch each other watch
each other and seem, at times,
more passive than their shadows
under the warming winter sun
until a robin flights by to break
their bobbing trance. Another robin
joins the first. Both alight
on a chokeberry bush
scattering the flapping
sparrows to the pole lines above.
From the lines they watch
the robins on the cherry bush.
One robin picks at a drying cherry
while the silent other lays witness
to the act; so, too, the sparrows
under the warming sun.
It is morning
that cradles the
carriage of a
waning Mexican
and his black young bride;
opium and age
gauze his vision from
twisted legs and
fallen arches
of her stumped feet.
Tottering arm-in-arm
the mortal lovers move
toward Mitzey's Bar.
I accept your proposal
And it doesn't matter
That you are an undertaker.
Do you mind that I am
A midwife?
Wind shifts.
Nearby, a child sneezes.
Sea gulls fly in place.
A lone man rows his boat back.
Waves move southerly
the motherly move,
warm in winter.
Lone man, like wary,
is uselesss to the moment's shifts.
The sun's sparkles, scattered,
blown clear for the pelican't glide.
Mororboats are quickly coming in port.
In the distance, mists are making
islands disappear.
Reverently,
That is how he reproaches
us who are so long unloved.
As if he understood
Yet escaped love's
sacred, unrelenting need.
Like the sea's wind against
a solid tree uprooted,
he reassured saplings
That in the battle agains the wind,
the wind must com
to us.
From a couple of weeks ago, reflections on loss.
Next, I have several short poems from the anthology.
Born in 1962, Akin has published two books of poetry and lives in Istanbul.
I used to drop my pocket money
into the rain grates by the road
taking them for piggy-banks -
that's why it's the sea
that owes me most
Born in Chile in 1956, the poet is a member of the Society of Writers of Chile and is an editor and author of many books of poetry.
1
Childhood is the only lasting flower.
When I go to bed each night
I still keep an eye open to watch the cuckoo's departure.
2
The movie theater is empty.
I only sense shadows of Indians
sharpening their arrows for Saturday matainee.
3
I would have been many things when I grew up.
Today in old chests I search for pieces of bygone time.
Childhod is the only lasting flower.
You
Look a while at me,
Look a while at a cloud.
I feel
You are far away while looking at me,
So very close while looking at the cloud.
They shall be here on day
You are in the western hemisphere
And you are in the far Couth
Who are waiting alone and wearied
In the wintry North?
Now there's only a vast expanse of sand -
Dark waters in the distance, the deserted jetty
And snakeskins lying upside down.
The moaning wind roams about pining for human touch
Turns round and goes back again and again.
And yet this will come about, this meeting, one day
They will collect in a big crowd
Or in smal grops of twos and threes,
Sure of themselves and silently
On a moonless night or under a full moon in total eclipse.
The mysterious ferry stays awake, waiting.
Lots of poetry groups around the city. I don't engage in any of them, for reasons given in the poem below.
There's nothing less productive than a self-conscious poet.

About as empty
as sunlight against the side of a house, an embankment
stripped of dust and graffiti.
The days are short. The shadows longer than those of summer.
In the bright
between, a man in a blue suit rakes leaves.
And a car sputters. Doves flop into trees. And old woman
puts a cigarette to her mouth, then
turns from the window.
Up the street, houses go pale. The hill is splashed with color -
brown
and sienna, burnt orange, grey -
the entire sky a wisp of barely blue. And in some room,
somewhere, a neighbor
plays her piano. Two squirrels
chase and chatter, rooftop to balcony, to wire.
Incredible, the silence,
this flurry of notes that reflects it.
In the blink of an eye, a light rain.
Among the ten-thousand synapses, the sound of rain, but
delicately, the sound of leaves.
In the blink of an eye, a pure-cold air.
Were I swimming thre, how clearly I could see my hands and
everything they touch.
Among all shapes growing here and dying, a sweet
and earthy smell. The weight and feel spread thinly, my own
blue house below,
as if the port were sighing, the cliffs
hauled in from afar, a wave of rolling tiled roofs and lamp stain
splashed against the walls.
In the blink of an eye, now wonder.
In the blink of an eye, an empty room. The unreal paper.
The space I've cleared.
Intense and
sudden brooding. Echoing. The ceiling
and the walls and the floor.
Between you and me
the furnitue
gives ground. The hills
ease. Horizons
thin to the thin skies ofthe sea.
As a boat
to the window.
As anxious birds that seem always
to be starving.
On death. And
living. We can talk about living
between
islands.
On paper. Pure
glare. The string lanterns
cutting into it.
Murmured on terraces. Laughter
in the square.
Like footsteps. Like tourists
steaming toward
evening.
Their shouts are words too.
Page after page of
dark water.
There is a process for everything. I've been through this particular process several times. Never found it easy.
Born in Sweden in 1950. Olofsson earns his living as a poet and literary critic. He lives in the countryside outside the ancient university town of Lund.
I have my roots inside me,
a skein of red threads.
The stones have their roots inside them,
like fine little ferns.
Wrapped around their softness
the stones sleep hard.
For centuries they have rested
under the sun.
Old mountains
want to turn to sand.
They let themselves go
and open up to water.
After centuries of thirst!
Like language -
that great mountain broken up
by our tongues.
We turn language to sand,
immersing the tongue
in a running stream
that moves mountains.
A Greek, Ritsos was born in 1909 and is author of more than 115 books of poetry, translation, essays and dramatic works. He began painting, playing the piano, and writing poetry at the age of eight.
He died in 1990.
I hid behind simple things so you'll find me,
if you don't find me, you'll find the things,
you'll touch what my hand has touched,
our hand-prints will merge.
The August moon glitters in the kitchen
like a tin-plated pot (it gets that way
because of what I'm saying to you),
it lights up the empty house and
the house's kneeling silence -
always the silence remains kneeling.
Every word is a doorway
to a meeting, one often cancelled,
and that's when a word is true:
when it insists on the meeting.
I don't take myself too seriously when it comes to the poetry biz, which is good, since no one else does either.
I wrote this last week.
I say this as the continents continue to drift,
driven by an obscure heat inside treh Earth.
I've not been to Antarctica but can tell you
it's the most misunderstood continent,
an apparent imperfection on the globe,
like the bellybutton on a naval orange.
All naval oranges come from one mutant tree
that was grafted with other trees and so on.
This is the difficult life of a seedless fruit,
rescued from obliviou and perpetuated
not by itself bu human hunger.
Empires are meant to expand,
blank calendars absorb the stream
of appointments, but who, if not you
or me can digest that spongy climate,
ad when dusk officially exists,
when each thing becomes a fraction of itself,
who can make up the difference?
Tonight a book of names arranges us
in alphabetical order. Everyone is a genius.
The the sun rises and curiosity wanes,
wanting to be mutual but not always balanced
at the right angle to the ground.
By noon I've completed my trajectory,
returned to my crowded half-acre
to feel the fatigue of Presidents.
My ears fill with pressure,
my heart with little wings.
I slap a mosquito already injecting
my arm, welling for blood.
The authorities will be here soon
to shred my secret documents.
I hear a sneeze, then another.
It's my neighbor on her front porch.
Bless you, I say, although she can't hear me.
Been in kind of a dark mood for the past week or so. This news about the new science putting the dating of the cave paintings in Europe at 40,000 years of so ago, a time frame which strongly suggests they are not the art of modern man, but of the Neanderthals.
Suggesting our kinds earliest beginnings involved the first and greatest genocide of our history.
In the land of mists
always shrouded in mist
nothing ever happens
And if something happens
nothing can be seen
because of the mist
for if you live in mist
you get accustomed to mist
so you don't try to see
you have to hear things
for if you don't hear you can't live
so ears keep on growning
People like rabbits
with ears of white mist
live in the land of mists
I love this little piece.
behind a stone three
thousand years old: two
red poppies of today
There's a deep murmur unravelled,
the air is a song of feather,
a soft babble of grass.
There's a memory of heaven revived,
hum of life and a plea.
There's this need like a baby's, to be loved
Born in Holland in 1944, van Toorn has played tenor sax in a blues band and works as an English teacher in Montreal.
A crew took part of the big tree away
on my street. A poplar, it was throwing
its ashes, its dirty pillow stuffing,
around too much. So they said. Anyway,
people were tired of it. It was too grey.
It might drop a tired branch and hit something,
a power or phone line. What's still standing
they'll come for tomorrow and chop away.
It doesn't make much poplar talk now. The big
clatter's gone out of it. On the older
side of the street, the last tree stands, tall, big,
full, leafy - a fine shade and rain holder.
It leans to one side at a warm angle,
like Annie, whose door it covered last fall.
Perryman was born in England in 1950, but has lived in Germany for more than twenty years.
In the drizzle
the tractor pulls
the sea-gulls
in its wake
along a wet, black field
the furrows, pleats
opened by the plough
catch the light like waves.
One by one, the birds sheer
off abruptly,
but return to their place
in the sky, held there
like children's kites.
Still thinking about the Neanderthal art thing.
Wakoski was born in Whittier, California in 1937 and studied at the University of California, Berkeley and graduated in 1960 with a Bachelor of Arts. It was there that she first read many of the modernist poets who would influence her writing style. She was associate with Beat poets and cites William Carlos Williams and Allen Ginsberg as important influences.
She is best known for a series of poems collectively known as "The Motorcycle Betrayal Poems"
and received considerable attention in the 1980s for controversial comments linking New Formalism with Reaganism.
She
teaches creative writing at Michigan State University in East Lansing.
Inside Out
I walk the purple carpet into your eye
carrying the silver butter server
but a truck rumblers by,
leaving its black tire prints on my foot
and old images the sound of banging sceen doors on hot
afternoons and a fly buzzing over the Kool-Aid spilled on
the sink
flicker, as reflections on the metal surface.
Come in, you said,
inside your paintings, inside the blood factory, inside the
old songs that line your hands, inside
eyes that change like snowflakes every second,
inside spinach leaves holding that one piece of gravel,
inside the whiskers of a cat,
inside your old hat, and most of all inside your mouth where you
grind the pigments with your teeth, painting
with a broken bottle on the floor, and painting
with an ostrich feather on the moon that rolls out of my mouth.
You cannot let walk inside you too long inside
the veins where my small feet touch
bottom.
You must reach inside and pull me
lie a silver bullet
from your arm
c. 1964-65
My Trouble
my trouble
is that I have the spirit of Gertrude Stein
but the personality of Alice B.Toklas;
craggy, grand
stony ideas
but
all I can do
is embroider Picasso's drawings
and bake hashish fudge.
I am poor
and don't have much to say
am usually taken for
somebody's
secretary.
c. 1971
Here's my last thing for the week.
It's too damn hot to go through all the usual stuff.
So, simplify, simplify - these are my books. Buy one. Or more. Here.
Amazon, Barnes and Noble, Sony eBookstore and Apple iBookstore for iPad,iPhone, i-everythingelse, as well as Kobo, Copia, Gardner's, Baker & Taylor, and eBookPie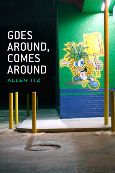 Pushing Clouds Against the Wind


And

For those of a print-bent, available on Amazon (both new and used)
Seven Beats a Second