This post is a replay of the post that got screwed up in transition two weeks ago, re-done as to be more (much) reader friendly. The post had a lot of really good stuff in it and it didn't want the poets to be shortchanged by my ineptitude.
So here it is again, all readable.
Seeking a theme for my photos this week, I settled on a study of the various manifestations of wet. So, there you are, wet it is.
I chose for my anthology of the week,
Poetry Nation: The North American Anthology of Fusion Poetry
. The editors, Regie Cabico and Todd Swift, define fusion poetry as:
The book was published by Vehicule Press in 1998.
Meanwhile, here's who I have for the week.
Me
dear companions
Hal Sirowitz
No More Birthdays
Does God Exist?
Two Burials for the Same Person
How to Wash Clothes
Me
chaos management
Jose Montoya
Rabia
Oh Y Oh
Gabby Took the 99
Two Letters
Me
undone
Cindy Goff
Appalachian Flood
The First Sober Morning
Me
communicating with the Obakabamba Galaxy
Marge Piercy
A Few Ashes for Sunday Morning
Now That I Am Free
A Cold and Married War
Me
don't expect any hot-diggity dancing
Michael Holmes
(Bramalea Limited)
Me
doing the flamenco stomp on Interstate-10
Quincy Scott Jones
T-Bone and Zeus
Julie Cooper-Fratrik
January Thaw
Me
it's complicated
Nancy Dembowski
Life on Venus Avenue
Philip Arima
Jane - Waiting for the Light to Change -
Me
I used to wonder about the purpose of life
Simon Armitage
Brassneck
Me
oatmeal and one bran muffin
Jason Camlot
Kit Discovers Sound
Me
just because this poem is about idjets doesn't necessarily mean it's a political poem though I'll admit it does make it more likely
Jan Napier
Allegorical Seahorses
Ask Tantalus
Bunyip's Pool
New Reels
Sour Note
Me
about the bird singing in my backyard at 4 am
Nick Carbo
Mal de Ojo
For My Friend Who Complains He Can't Dance and Has a Severe Case of Writer's Block
Me
the secret to long-term marriage and other revelations
This is my first poem for this week, a sentimental piece written last week.
dear companions
I once lived
on the banks of the Blanco River,
in a little trailer,
with a dog named Sam
who was born on my bed
on the Fourth of July,
who lived with me
for many years,
moving with me from place
to place to place
dying, finally, of old age
and a cancer that collapsed her skull
and left her demented
and frail
I haven't thought
of Sam
in many years, maybe thinking of her
this morning
after watching Reba roam the house
last night, lost and alone
in the dark
another old dog, Reba,
of 114 dog years
or thereabouts, a warm and constant
companion
and eager traveler, visiting with me
in the last ten years, at least twenty states
of these united, always up and ready
for the next day's ride
like Sam.
Reba is nearing the end, deaf, half blind,
hobbled in her hips by arthritis, and so
lonely
at night when she faces the darkness
confused and afraid,
wanting company in the dark passage
from dusk from dawn
and unable to find me
in my usual place, there
beside her
I look at Reba
struggling to rise from her bed
and I think again of Sam,
fierce chaser of wild rabbits,
running in great bounds
above high grass, tracking the passage
of her prey, my companion
for almost as many years as Reba,
with me through the hungry GI Bill
days
of pinto beans and cornbread,
late nights, sunrise on the river, proud at the prow
of my little rowboat, following me
through the small, thick forest
on the island mid-river, lying with me
beneath the trees, writing
with me my very first poems,
inspiring me to see true the night and the day
and the life and treasure of both
such dear companions
they were,
to me, first Sam, now Reba,
the memory of one, the approaching
memory
of the other, reminding me that we find our humanity
and human frailty when we find
the humanity in friends
we make in worlds outside our own,
reminding us through our relationships
that different beings do not lesser beings make
The first of my poets from the fusion anthology is
Hal Sirowitz
.
Born in 1949, Sirowitz first began to attract attention at the Nuyorican Poets Cafe where he was a frequent competitor in their Friday Night Poetry Slam. He eventually made the 1993 Nuyorican Poetry Slam team, and competed in the 1993 National Poetry Slam in San Francisco
Sirowitz would later perform his poetry on stages across the country, and on television programs such as MTV's Spoken Word: Unplugged and PBS's The United States of Poetry.
He has written six books on poetry and is arguably best known for the volumes
Mother Said, My Therapist Said
and
Father Said
.
The poet was a 1994 recipient of an NEA Fellowship in Poetry and is the former Poet Laureate of Queens, New York. He worked as a special education teacher in the New York public school system for 23 years.
I have four of his poems this week.
No More Birthdays
Don't swing the umbrella in the store,
Mother said. There are all these glass jars
of spaghetti sauce above your head
that can fall on you , & you can die.
Then you won't be able to go to tonight's party,
or go to the bowling alley tomorrow.
And instead of celebrating your birthday
with soda and cake, we'll have
anniversaries of your death with tea
& crackers. And your father & I won't
be able to eat spaghetti sauce anymore, because
the marinara sauce will remind us of you.
Does God Exist?
there's no proof that god is up there,
Mother said. But no one can prove
that he isn't . Only the dead know.
But they're too busy being dead
to tell us. So if I were you
I would go to temple, & play it safe.
If He's dead all you lose is the time
you spent praying. But if He exists
& you didn't go, you'll be in big trouble.
You won't like Hell.
You never liked hot weather.
And then how can I visit you?
Angels aren't allowed inside.
Two Burials for the Same Person
According to Jewish law, mother said,
if your arm gets chopped off,
you can't just throw it away, but
you have to bury it in a a cemetery, because
it's considered part of you. and
you can't have a tombstone for your arm
in New York, & then another one for your body
in New Jersey. All the parts of you
are supposed to be buried in the same place.
So, if you lost your arm when you lived
in New York, & then you happened to die
in California, your surviving relatives
couldn't buy you there, but would have to fly
you all the way back to New York,
so you'd be reunited with your arm.
And just because you're dead doesn't mean
the airline will let you fly for free.
How to Wash Clothes
Just before your mother died, Father said,
she took me into the laundry room,
& showed me how to do a wash. She
had me put the five quarters in the machine
then showed me the button to push.
She wouldn't let me go upstairs,
but made me wait until the machine
was finished. It was like being stuck
in a car behind an eternal red light.
Then she showed me how to operate
\the dryer. She wanted me to become
more independent. It worked. I don't
have to get married again.
I return this week to some of the poems I have set aside for my next book,
New Days, New Ways
that I hope to have out in 2013.
chaos management
"I am not afraid of chaos because chaos is the womb of light and life. What
I don't like is mismanagement of chaos"
- Franketienne, Haitian author, poet, playwright, painter
there are patterns to the
universe,
from the orbits of galaxies
to the circling
of the tiniest electron
around it's mother-neutron,
anchor
to the greening and falling
of leaves,
to the daily commute
of bankers and painters
and donut makers,
to the soft sleep of babes and the long
dry nights
of old and time-worn men,
all circling
all circling,
each circle a world within itself
inter-acting with its fellows in shadows
of confusion,
like looking at the color patterns
of gumballs
encased in glass,
patterns seen only through a one-eyed
squint from some great distance, the further away
the clearer becomes the organization
red upon green next to blue under yellow,
each placed in a structured chaos,
like the universe
in all it chaotic glory, structured truth
we can never get distance enough
to see, an incubator spewing chaos,
indestructible unalterable manageable
only through the indirection
of unseen hands
that must never fumble
or chaos will solidify and all the circles
will stop their spinning
and fall to the lethargy of inertia stilled
and all that is will, like Lot's wife,
turn to salt crumbling on a silent plain
in a steady wind of never-
again
I had to the the meaning of "Joda" in the urban dictionary. It's Spanish, more specifically familiar to Puerto Ricans and Dominicans than others. It means, depending on the emphasis you give it, something like "don't mess with me," or "don't fuck with me."
Born in 1932 in New Mexico in the foothills of the Manzano mountains, is best known as a poet and an artist from Sacramento, California. He is one of the most influential Chicano bilingual poets. He has published many well-known poems in anthologies and magazines. He is Sacramento's poet laureate.
Making his start soon after the Korean War when he entered San Diego City College as an art student, Montoya later transferred to the California College of Arts & Crafts in Oakland, California. He graduated with a Bachelor of Arts in 1962. In the early 1970s, he joined students and members of the Chicano community to found the Rebel Chicano Art Front, later renamed the Royal Chicano Air Force, which organized numerous cultural, educational, and political activities in the Sacramento area. He began his career by teaching High School until he earned his MA in 1971, at California State University. He then taught for 25 years in the Department of Art Education at CSUS.
I like this book very much. It includes both his poetry and two portfolios of his pen and ink drawings.
Rabia
I have seen
A rabid dog
Foaming
At the mouth
And I have
Been compelled
To offer up
A dozen Irish rosaries
For a malady
I keep misunderstanding
Because before
The church
It must have been
Sacred to be
mad.
Oh Y Oh
The story teller mans
tale comes in
spinning like flowing silk
entangling and lifting
happy prisoners
on journeys from joy
to sorrow.
Leaping over brooks
of lazy green frogs
sunning on floating carpets
obviously croaking joylessly
at an idiotic sun
fiercely burning
itself out
Thinking his
pale - dead
moon - bride
still looks sexy
because of the way
she smirks
so consistently.
And because the teller
is witty or perhaps
the tale well told
all that is related
seems credible.
And the marriage
of the tiny ant
to the giant giant
is not so absurd
after all.
Gabby Took the 99
Gabby took the 99
The 99 highway
El highway 99
EL JAIGUEY
The ninety nine
Donde se requio el troque
Con aquel jentio
The HIGHWAY
Down the 99
Up the 99
Ahi, por todo el 99
El noventa y nueve
As you leave the 99 -
WHO LEAVES???
...who ever leaves the
Cold
dry
hot slippery
bloody
Dirty
sleek
powerful
Ninety nine?
NOT RAZA, Okies, Arkies,
Chapos, Armenians - not even
THE MICHIGGENBOTHOMS!
The Impersonal 99. And
Not even crosses for the
Dead alongside this road
Of the timeless vanishing
Point.
And in that infinity
You dared to dream, Gabby.
The riches that passed
As you turned trays, loco,
Y el 99 te iba a llevar
Pa ya,Gabby...
El Gabby took the 99 -
La salvacio!!
...and he died in Viet Nam
Of an overedose, pa
Cabala de chingar!
And Visa laughs
And dina laughs
And Goshen and Cutler
Y el 99 laughs
And all do the
Tecato tattoo taps.
Two Letters
One day
I shall write
to each
a letter
explaining how
my own plight
is a blight
because they,
each in
her own way,
have made
in my life
the most
profound
upheavals
of my years
to date
And those
two letters
will become
historic and
scholars of
aplomb
and of very
astute insights
will try
to make much
of such an
important
episode and
miss the
whole point
Only we three
will ever know
who walked
away from this
damaged the
least of all
Another of my poems from last week. Kind of a downer.
undone
thinking of my father
near his end,
his knowing that death
was around the corner,
unknown only
how long and how hard
it would be, calling
my brothers and I together
to talk about the end, to
talk about my mother
and how hard it would be
for her, sobbing once,
as he talked about
how desperate he felt
to be leaving her behind,
how like a deserter he felt,
so much undone, so much
to tell her, time
slipping
away
with too much undone,
too much unsaid…
and I think
of myself, several years older now
then he was when he died, and about
how little time there ever
is for any of us,
how there's always
so much
left undone, the only
certainty
in life that it will end
and we will not be ready
when it does,
our lives finished
but incomplete,
always
so much left
to be done,
so much left to be said
…
life,
comes to us unbidden,
leaves us at the end
scratching for
more
Next from the anthology, two poems by
Cindy Goff
. Goff is originally from Chilhowie, Virginia. Her first book of poems, Appalachian Flood was released in 2009.
The first of the two poems this week appears to be the title poem from her first book.
Appalachian Flood
Rats scramble vertically on bricks.
A limp fox turning over and over
floats by clothing
caught in young dogwoods.
Windows are still windows
but with unrestricted access.
A wedding gown and a water snake
curl around a chandelier.
Beneath the water, objects move
but don't float: dictionaries, brass beds,
trampolines, tractors.
Beneath the flood, the earth is full
like it never had a backbone.
The First Sober Morning
No one is awake in the campgrounds
of the dismantled carnival. The hermaphrodite sleeps
with the leavers of her rollercoaster.
The nymphomaniac is curled up in a Ferris wheel seat.
The fat lady sleeps sitting up in front of a carrousel mirror.
And the young college student, who just wanted to earn money
for Europe, is middle-aged now. She snores on a straw bed
in the geek pit.
I'm so afraid of telling them
we will not be moving to a new town.
Here's another prospect for the 2013 book.
communicating with the Ombakabamba Galaxy
scheduled
for Mother's Day lunch in Austin,
but maybe not, email clarification
accidently deleted,
and further communication
akin to listening to signals from extra-
terrestrials in the Ombakabamba Galaxy…
not like the old days
when seeking to communicate
with a fellow being involved merely
picking up your heavy black Bakelite telephone
receiver
and twisting your finger around a dial
for the requisite number of numbers until
you heard, magically, from afar
the sound of what we accepted at the time
to be ringing, barickarickaringa, barickarickaringa,
until someone at the other end picked up the receiver
and you would ask
the answering party if they had Prince Albert
and the answering party would say, yes, we do, but he's in the can
and can't speak to you right now, after which both parties
would go har, harty, har, imagining that clever repartee
had just transpired, paving the way for whatever
business had, in the very first place, instigated
the call, and such business addressed,
that would be the end of that
and both parties would say good-bye
or tootle 'ew if they had seen too many Rudy
Valle movies…
nowadays there's nothing so simple as that -
you got your telephone, which also takes pictures,
performs web-searches, and calculates the orbits of the
furthermost planets in the Ombakabamba Galaxy,
and you've got your email and you've got your texting
and you've got your Facebook and all its predecessors and successors
meant to kill time for you and all your friends
whom you actually haven't met
and wouldn't recognize if you bumped into them
on the street,
and not to forget your
twitter-twatter and
probably a dozen other things fifteen-year olds
are doing right now that I won't know about
until sometime in September, hopefully, this year…
and all that information flowing
like the Mississippi over its banks,
information pouring from the skies like
a gale in the North Atlantic
and nobody can look at, much less absorb
it all, so that a voice mail or an email I send today
won't be found until next Thursday,
and I'm thinking I could send a good old-fashioned
US Postal Service letter and it would arrive before then,
and would surely be read immediately
since the sight of an actual letter in a mail box
is such a rarity it would be immediately
noticed
and maybe read -
and while that be an excellent option
in terms of long term planning
it does nothing
to help me figure out if we should be
leaving out for Austin in 2 hours
and 13 minutes
or not
My next poet is
Marge Piercy
, with poems from her book
Breaking Camp
, published in 1979 by the Wesleyan University Press.
The poet was born in 1936 in Detroit, to a family deeply affected by the Great Depression. She was the first in her family to attend college, studying at the University of Michigan. Winning a Hopwood Award for Poetry and Fiction enabled her to finish college and spend some time in France. Her formal schooling ended with an M.A. from Northwestern University. Her first book of poems,
Breaking Camp
, was published in 1968.
An indifferent student in her early years, Piercy developed a love of books when she came down with rheumatic fever in her mid-childhood and could do little but read. "It taught me that there's a different world there, that there were all these horizons that were quite different from what I could see," she said in a 1984 interview.
A fews ashes for Sunday morning
Uproot that burning tree of lightning struck veins.
Spine, wither like a paper match.
I am telling you, this body could bake bread,
heat a house, cure rheumatic pains,
warm at leas a bed.
Green wood won't catch
but I held against my belly a green stone
frog colored with remorse and oozing words
pressed to me till the night was fagged and wan.
Reek of charred hair clotting in my lungs.
My teeth are cinders,
cured my lecherous tongue.
Only me burnt, and warmed:
no one.
Now that I am free
Trees scratch at sky but can't get in.
In the knotted bole of my chest, what howls
but bad dreams where I run through a tunnel of eye.
Under Orion, the hunter with the wound,
the petrified landscape of his hate.
Shale fields where the sky bleeds frozen rain.
Tundra of salt and glass.
The wind's teeth comb his bones for crickets.
His hands were on my throat: I cut him.
Now I am rooted there.
Small red berries and long thorns
My hands are claws.
A cold and married war
Loving you is a warm room
so I remember
how I lived on the moon.
Ash and jagged craters
cold bright place under
a black steel sky.
The stars pierced me
stabbing my secret
aches and itches.
Torture off the witch with needles.
Am I worthy, eyes?
Never. Objects
came out of the silence
bizarre as medals
for unknown services:
chocolate cherries
rolling down from Sinai,
rosebuds pink as
girls' first lipsticks.
When I lay down
head on a rock
the rock
recited tirelessly
as a language record
my sins and errors.
The months bled slowly
out off us.
The landscape went bald.
The cold stayed.
One morning there
were regulations posted.
Where I had not known
boundaries existed,
first hedges, then stakes,
finally barbed wire.
His cock crowed
I know you not,
repent and other homilies.
My bones knocked.
Chessboard of dead volcanoes.
I had to go.
The only thing to do
with the corpse
was to eat it.
Now here's a longer poem by
Michael Holmes
.
Holmes is the poetry editor at ECW Press and editor of his own imprint, a misFit book, which publishes poetry and fiction. He is the author of four collections of poetry, including
Parts Unknown
, inspired by the world of professional wrestling. He has also written a novel,
Watermelon Row
, and two works of non-fiction. In the early 1990s, he helped organize the seminal Café May reading series and was one of the co-organizers of the first Scream in High Park in 1993. He lives in Toronto.
(Bramalea Limited)
"i like crazy people, especially those who don't see the risk"
- John Lydon
the premier & his boys manufactured us muppets a
bramalea Ltd. reality where and alphabet of infernal sesame
streets spell whole subdivision.
in nightmares it's their buddy paul, the more
mephistophelian of the moguls (the one that reminds me
of a megalomaniacal, paper-clip hoarding bert), whose
speculation relentlessly constructs the letter-of-the-day n
a viral pinwheel (your childhood, michael:brought to you
by the letters O & Y & the number 666). it was a
"planned community," the blueprint stolen from dante:
see, the residential inner circles feed the industrial
perimeter...
bramalea is the kind of cosmic joke you can play on
200,000 or so middle-class folks - on that only
mr.
snufflupagus
or
captain poetry
could fully appreciate.
i lived in the E-section. on earnsclife circle. just off
earl's court. one up from edinburgh. in bramalea,
geography is
very
important. at bss, my high school, there
were those from as far away as avondale & balmoral. an
interesting fact: you can fit the first five letters of the
alphabet into about four square miles. (now there's
something your primer won't teach you: it's not quite a
1:1 ratio.)
bramalea means that douglas coupland is never gonna
be
the "voice of the X generation." we might produce a
few cool-looking books - lots of black, complementary
colors, great design - but nothing that'll ever catch,
nothing truly
popular
.
every since watergate was broadcast to the sticks it's been
impossible to be urbane. there are stories from the 50s &
60s, that older writers can still get away with, but for the
most part you've gotta accept that kids who grew up on
the children's television workshop & movies about nam
- a classic film genre & the only one created by a US
president - we are gonna cringe at fond reminiscence. still,
i figure someone should write about bramalea (we called
it viet bram and brampucia), especially the libelous bits:
the best of all being the damp corduroy headiness about
her- allison in jodhpurs - always game for a dry hump.
cause if there's nothing deliciously cosmopolitan going
for rubick's cube, duran duran, or roller disco you can still
make it by japan's "adolescent sex": how the you that you
are never looks as ridiculous as those people in group
shots nostalgia dresses up.
bramalea is like this, sometimes the radio gets into your
clothes: but it's noticeable only after you've gone cold
turkey
bramalea is hen you erase all the pre-sets & the best lies
come sweetly: how the car shimmied with the weight of
fast friends & classes ditched; when savings-time meant a
summer boom of 1/2 bag highs cheap & demented, the
kind that work up the glow of immortal teen-aged
night-sweats & the ABC of cruising the streets with
grover & cookie
bramalea is about how there are two kinds of people
in the world.
it's simple: you either
choose
to be an
earnie
, or you're
gonna be a
bert
.
Another 2013 prospect.
doing the flamenco stomp on Interstate-10
I've been thinking
a lot
about the spider
I saw scuttling across
the floorboard of my car
yesterday as I was leaving
Barnes & Noble,
the black fuzzy ugly kind
that looks like a black widow but isn't
I hope...
actually not thinking so much about the spider
as about the 278,000 little baby spider
eggs
she's left ripening all around the interior
of my car,
all of them in cozy little nooks and crannies
where I can't see them,
all waiting to ripen and pop some
5:30 in the morning dark morning
when I won't see them before
they all go creepy crawly up my pant leg
and down the back of my neck
and I demonstrate the ability of a grown-up man
of mature and learned years
to scream
louder
even than that super-mega-car alarm
four blocks over
that lets wail at least once a week...
I'm thinking
I'm probably going to have to sell
my car
but in the meantime
I've become quite proficient at doing
the flamenco stomp
with my feet on the floorboard
while driving,
castanets
not included…
okay
I have to stop now,
I think
I feel something
crawling
on my leg
Next, I have two poets from
Runes, A Review of Poetry: Signals
, published by Arctos Press in 2005.
The first poet is
Quincy Scott Jones
. To quote from his website - "Jones earned a Bachelors Degree from Brown University, a Masters Degree from Temple University and $100 once working as a supermarket clown." His work has been published in leading journals and he co-founded No'easter Exchange, a multi-cultureal, multicity reading series. His first book,
The T-Bone Series
, was published in 2009.
T-Bone and Zeus
I.
Zeus will go 'cross the world for a good martini.
Zeus had a Chinese girl at the Berlin Wall
an Indian girl at the Liberty Bell
an actress in Vegas.
Started to tell him 'bout this girl named Kea,
Zeus didn't want to hear it.
Zeus shoots his mouth
after too many martinis
punches your shoulder
like he ain't the thunder god.
Zeus and I at this Goth club.
What's a black person suppose to do at a Goth club?
"Naw, Zeus,you need to come to this place I know.
Dey got a sea of good-hair girls
who'll step on a nigga for a Greek god."
Zeus like, "You for real, T?"
Lift my shirt, show him boot marks.
So Zeus on the dance floor:
somewhere between the Structure jacket
and Bandstand moves
finds the blonde in the room,
buys her a martini.
We're outside
blowing smoke in the cold
here comes Zeus all alone.
We're like "Zeus!
What happen to the girl ou talkin' to?"
An' Zeus is like, "We didn't work out.
I turned her into a cow."
We laugh; go for mash potatoes.
II.
My cousin rolls into town
in one of those slick black skirts
that looks good on any girl
that's not your cousin.
My cousin wore this smile
gave her eyes to guys
then she ask them to leave
when they wouldn't leave
she gave her eyes to me
and I
would ask them to leave.
but this is Zeus
and this is my cousin
and this is why they call it drama.
We're at the bar
and my cousin's laughing
and Zeus is laughing
and one leads the other to the dance floor.
Zeus:
Zeus is this hand moving up her arm
Zeus is this breath blowing in her ear.
Zeus is this body creeping on her
a cloud creeping on a summer day,
and this is Zeus
but this is my cousin
and this is whey they call it drama.
We're leaving the club
in the car
heading to the hotel
and I'm ready
ready for eyes
ready for thunder
ready to throw down 12 rounds
and do this thing
they call drama
and
nothing.
My cousin out the car
with a "call you tomorrow"
leaves as she came in.
I'm driving and Zeus
quiet Zeus
in the passenger seat
head in a drunken bow:
"She was all right, wasn't she?"
Who? My cousin?"
"No, the girl I turned into a cow
The second poet is
Julie Cooper-Fratrik
.
As is frequently the case with these journals, information on their authors is not provided. The best I could come up with else where is that the poet is from Philadelphia and has one book,
The Leap Years
, published in 2000. Her work appears frequently in journals.
January Thaw
The tulips are too excitable, it is winter here.
1.
Tulip in a glass
The napkin by your place
Your voice spreads out
Surrounding vase
And tulip. Night
Calls beyond
the pane.
2.
Threads you keep finding and fingering,
following back to their origins
(where do the threads begin?)
Taut strings encircling rundles,
the frangible stones of your sculptures,
irregular pendulums gathering seconds of light.
Threads of this day without turning:
warp/woof/weft.
The spider's frozen web.
3.
From the southeast, the bluebirds come. By the dozens, they come,
Swooping, swirling, stopping,bluing. This 11th day of January
stopping here, rising and falling. Circling lilac, alighting magnolia
on fire. Bouncing and buoyant, believing in blueness and bugs.
Little boys blue, boys blue.
4.
In the glass
A woman reads a tulip
Beyond the spreading vase
the night tied in a napkin
Inside the pane
Little blue sadness,
Be still.
Another poem from last week, a cry from the wildernes.
it's complicated
thing is,
I don't do complications
very well any more,
not like I used to, back in the day
when I reveled in complicated
detail, complicated decisions, complicated
personal relations, now,
I don't know
if it's age, or dementia, or metal
fatigue, but, I see an "A" I expect to see
a "B" right around the corner
and if a "P" or a "G" or a "Z" tries
to cut into line, or in any other way
tries to take it's turn
out of turn, I get really pissed,
because,
by god, "A-G" is just too complicated
and there's no excuse for it
when "A-B" is simple, natural,
and requiring no complicated re-booting
of alphabetic protocols
the thing is
I know the things I know
and find what I know quite
serviceable in navigating the shoals
of everyday life and see no reason
to confuse myself by having to deal with
something I don't know and have
to learn, or, in simplest terms
I know what I know
and don't want to know anything else
so I would be very happy
and at peace with the universe
if all you complicators
(you know who you are)
would just leave me the hell alone
and regarding all those new wrinkles
in the requirements of everyday
coping
you keep trying to push off on me,
Mr. Facebook, Mr. Apple,
Mr. Google, Mr. Health Insurance,
Mr. Taxman, Mr. Credit Card,
and all the rest of you
interlopers
into the free range simplicities
of my daily passage from dark to dark,
just know,
I ain't paying no attention
I'm a real hardliner
on this
Next, two poets.
The the first poem is by
Nancy Dembowski
.Dembowski was born in Cleveland, Ohio. She is the publisher of Plus Zero. Her work has been widely published and anthologized across North America. Her first book of poetry,
Ninety-seven Posts With The Heads Of Dead Men
, was published to critical acclaim in 1998. Her second collection,
Only The Ghost Has Lasted
was published in 2000.
She lives in Toronto with her two children
Life on Venus Avenue
Ran out of gas.
Stuck with a broke radio and two kids fighting in the back.
Make it to Rachelle's,
she is watching Life on Venus' Avenue.
We decide to drive to High Park.
Loading the trunk, Latino in sunglasses
posts himself to the mailbox in front of the Donut Cove,
arms and legs cross he's enjoying the view.
Park looks like a back-home cemetery
My daughter stands in line for the slide,
chickens out at the last minute.
A woman - rhinestones,painted fingernails, no sunglasses,
calls out to my girl who's hanging with one hand.
Her voice sounds like a poem.
Not Whitman or Plath,
but one of those poems that push the line,
one of those poems nobody prints unless the writer is famous,
sound too much a speech.
I love them in secret,
like the New York sound of her voice.
I'm brought back to rappers and ghetto blasters,
a drunk in the next apartment begging,
"Come to me baby,come to me."
She flies down happy.
the diner's littered with geriatrics;
twelve bucks buys drinks and to-die-for muffins with a slice of carrot
for decoration.
I head home to ten different ingredients, new and improved, and the
good old American blues.
The second poet is
Philip Arima
.
Arima is a Toronto-based writer and a well-known and respected performance poet. He has appeared on stages across Canada and in the United States. His poetry videos have aired nationally and his first collection of satirical fiction has received many favorable reviews. He co-organized and hosted The Basement Reading Series for two years and is currently on the Board of Directors for The Art Bar poetry reading series.
at the corner where cigarette filters cover the pavement
and little girls stoop to look through car windows
a woman smoothes her hair back over her ear
and waits for the light to change
she doesn't say a thing
as it goes from red to green and red again
then stepping out into the traffic her shrieks begin
worthless fucking slut bitch you don't deserve to live
take this and this and this and this
as cars honk and swerve the hand returns
to slap her face and turn the skin a swollen mauve
rip a lip so blood begins to flow
worthless fucking slut bitch uou don't deserve to live
the watchers seek each other out in eyes dry against the cold
see prophesy caught and denied as the woman
reaches the other side
she smoothes her hair back over her ear
and waits for the light
to change.
Again, 2013, maybe.
A Sunday breakfast poem, not a banquet of a poem, but it'll do for the morning.
It's my special pleasure this week to have five poems by my friend
Jan Napier
.
Jan spent fifteen years of her life as a gypsy. She travelled Western Australia from Derby to Esperance every year with The Western Australia Showman's Association. She also collects one hundred dollar notes, she says, and loves to wrestle with words.
Jan has published numerous poems in a wide variety of journals, including "Here and Now," as well as two books of short stories:
Smiles To Go
and her stories of her years in side-show alley,
All the Fun of The Fair
, which is available directly from Jan at PO Box 1127, Nedlands, WA.6909.
Allegorical Seahorses
Seahorses exist
within illusion
and refraction
reality is distorted
by tides
light and clarity
are relative
mirrored
by an ocean
of fantasy and flux
do pipe fishes
have pipe dreams?
Ask Tantalus
Wrists in thermoplastic my transformers.
I have become the albatross
the hanged man
the born again.
A delusion of belief
in ability
to nudify an orange
surf an escalator
pretzellock tumblers
sandbags grief.
It's the almost the must
the try againincreasingly
the angle of inclination.
Ask Tantalus.
Bunyip's Pool
Wishboning ghost gums
glim its waters
burnish dark glass deeps to rippled silk.
Crickets quiet their corroborees.
Log lapped, spindled with secrets,
frilled with frog spawn,
the pool irises around whispers
that blazon the taboo.
At moondark tell tale bubbles bell
and brewdraggle the channel.
'ware the fisher unbeliever,
'ware old iron claws the boomer.
Surface foams convulses
pitchy depths belch and thrash,
the backwash rocks red.
Engulfed by eel nosed ooze
scraps of plaid a torn sneaker.
(Previously published
DotDotDash
, August, 2011)
New Reels
An old crisis bites.
A tragedy made of mirrors
and the peppery dance of years
murdered by men
pianoed in newsreel and matinee.
Klieg lights click off.
The sound man laughs loudest.
Fatty and Charlie find solace in Venice
Seville Lucerne.
Eat OssoBuccoand Bulgarian Fetta
in establishmentswhere the creak
of celluloid dickies or a gesture
says it all.No one makes speeches.
(Previously published
Speedpoets
, November, 2011
Sour Note
They're not coming of course.
She says my music makes her sick.
He says that it makes his ears bleed.
They shout a bit about the cost
laugh clink glasses.
Jack looks me up and down
the way a dingo stares at a snared rabbit.
"Get to your room." mum yells.
I bite my lip on the insidewhere no one can see.
The key clicks in the lock.
I hugTeddles. Daddy gave him to me.
"A friend for when I'm gone," he said.
Daddy always came to watch me.
I miss his scratchy beard his stinky cigars
his terrible jokes.
Car doors slamit's Karaoke night at the pub.
I hide Ted in myviolin caseclimb out the window.
Rosin stars stick to my fingers smear my jeans.
I've been practicing a new piece down by the creek.
"The cows don't care and we can't hear," Jack says.
Sometimes in winter my fingers go purple.
The judge tells me "try harder and turn up in clean clothes."
Never mind Teddles still loves me.
I hope Daddy heard.
Here's my last new poem for the week.
about the bird singing in my backyard at 4 am
it's
4 o'clock in the morning
and a bird is singing
in the backyard
and it's still three hours
before sunrise
and the damn bird
is singing in the backyard,
a very loud bird
singing in the dark
in the backyard even though
it's damn near the middle of the night
and that's the way it's all going to end,
I think,
some lousy damn bird singing
in somebody's back yard
at 4 am,
the somebody being the somebody
who's in charge of quality
control
at the whizzerbidget factory
who be will drowsy and inattentive
when defective unit number 405,736 passes
on the
assembly line
and the whizzerbidget inspector
will not catch the defect
and the unit will be sent to
Ubagandabamamastan
where a child slave laborer who
would rather be playing baseball
or plotting the overthrow
of his slavemaster government
will put the defective whizzerbidget unit
into the quzzequacker module
(slave labor not being highly motivated
when it comes to Dr. Demmings'
quality control rules for quality customer
service)
which will be sent to Wastlandia
for final assembly of the whosamagatzit
that controls the whizzbanger
portal to the God-relay which controls
all the various and complicated functions of the
mechanical, electronic, and moral
system which sustains civilization, so that,
seven days after the collapse of it all
we will all be out hunting our next meal
with big rocks and sharp sticks
and human dominion
of the world and all its interrelated parts
will become a thing of the past
as the cockroach masters, waiting in the wings
for lo these billion years, take over
we will all blame the unattentive
whizzerbidget inspector
for the fall
of human civilization,
but in fact,
it's the damn bird
singing in my backyard
at 4 am in the pre-dawn
morning
that fucked up all the
multiplicious
works of man
and
ruined my day
Last from the fusion anthology, two poems by
Nick Carbo
.
Born in 1964, Carbo is the author of three books of poetry,
El Grupo McDonald's
published in 1995,
Secret Asian Man
from 2000 and
Andalusian Dawn
in 2004. He lives in Miami, Florida with his poet wife Denise Duhamel.
Mal de Ojo
In the market in Garrucha there are stalls
that sell herbal remedies for love sickness,
constipation, depression because of bad
grades in school, depression because your husband
is seeing another woman, depression because of illness
in the immediate family, gout, and bad breath.
A mixture of
matalahuva, canela,
and
perejil
to ward off the evil eye. From behind
small baskets filled with sticks of sandalwood,
the woman with large earrings points to a chart
marking its symptoms: stomach, severe cramps,
sores that won't heal, sudden broken bones,
insomnia, unexplained rashes, impotence.
Her mixtures are sought in cities as far
as Murcia an Barcelona - one thousand pesetas
for one bag. I ask if she has mixture that
will
inflict
the evil eye on someone of my choosing.
I buy two thousand worth, with thoughts of sprinkling
a pinch on the flaps of the self-addressed
stamped envelopes that magazine editors have to lick
to send back my rejected poems.
For My Friend Who Complains He Can't Dance and Has a Severe Case of Writer's Block
Then, take this tambourine.
inside the sheep barn,
listen to the anaconda's intestines,
the shark's walking stick,
learn the river insect's secret
neon calligraphy,
swim through Frida Khalo's hair
and come out smelling like orchids,
lift you appetite
towards the certified blue turtle,
feast on Garcia Lorca's leather shoes
nd taste the sun, the worms of Andalusia,
don't hesitate in front of a donute,
a ferris wheel, the crab nebula,
excavate diamond-eyed demons,
Chaucer's liver, Minoan helmets,
past anne Sexton's face on a $1,000 bill
and purchase a dozen metaphors,
beware of the absolute scorpion,
the iguana with the limping leg,
permit indwelling, white words around the eyes,
the confrontation of windows,
never feed your towel to the alligator,
he will eat you and eat you and eat you.
Here's one last 2013 possible, another of my poems that real poets hate. In fact, I'm pretty sure real poets hate most of my poems.
the secret to long term marriage and other revelations
he's the kind of
likable guy
who,
if arrested for lighting
his grandmother afire, would
get elected to congress
with a campaign slogan something like,
"reduce your heating bills and keep grandma warm
at the same time"
~~~
he's a likable guy,
energetic,
friendly -
a real meet-and-greet-shake every hand,
kiss the babies, sweet-talk the mommas kind of fellow -
and given the choices available
in this tea-party state,
I'd probably vote for him…
but I'd be sure
to keep grandma hid away inside
whenever he's in the neighborhood
not that I'm suggesting
he might relapse…
but him being an orphan
and all
a little extra effort at understanding
is not out of
line
~~~
speaking
of grandmas,
the whole restaurant
this Sunday morning is full
of people older than me,
grandmas
and grandpas all around,
enjoying their soft-boiled eggs
and wheat toast
dry
with extra marmalade
on the side…
(suckers
for their Smucker's)
I'm a strawberry jam man
myself,
I like that strawberry jam
thick as hot tar roofing on my
toast, except sometimes
I like my grape,
mixing it with my ham
and sunny-side-up eggs,
turning everything green, a great
Saint Pat's day breakfast
or good on any day
you feel like creating an appropriate homage
to the great Dr. Seuss,
which I used to do when having breakfast
with my nieces and nephews
when they were young, before they grew up enough
to recognize an older coot whose slipped his tether when
they saw one…
~~~
but
back to the old people,
about half of them in booths,
sitting together on the same side,
displaying,
in my opinion
the secret to a sixty-year marriage,
it being impossible
to talk to someone sitting next to you
in a booth, sharply restricting
the possibility
of having to have any kind of discussion
that might lead to each
recognizing
the shortcomings and unreasonable levels
of irrationality
in the other…
it's about 87%,
of marriage failures, in my opinion
that are the result
of couples sitting on opposite sides
of a booth,
leading to unwelcome revelatory discovery
of factors
that make it impossible
for each to live with
the other…
~~~
jeez
this place is full of old people,
I mean,
really old people…
time for me to get out of here,
just in case, you know
it's catching...
~~~
and
what a successful and wonderful poem this is,
as measured
by my usual standard
of how little
I can remember of the poem's beginning
when I finally get to the end
I hope it wasn't about
anything
important
That's it for this twice-baked potato of a post.
Everything in the first is in this one, too. Though I am adding one book to the list below, like the others, available now, or soon will be at all the eBook sellers listed below.
Amazon, Barnes and Noble, Sony eBookstore and Apple iBookstore, as well as others I mostly never heard of before, including Kobo, Copia, Gardners, Baker & Taylor, and eBookPie
Goes Around, Comes Around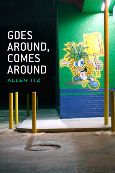 Pushing Clouds Against the Wind


And

For those of a print-bent, available on Amazon (both new and used)
Seven Beats a Second