Photos this week are from files I hardly ever look at, meaning there's a good chance I haven't used them lately.

Here's my first poem for the week, written last week.
My first library poet this week is
Bill Shields
from his book
Life Taker
, third in his series of unpurgable Vietnam memories. All three books in the series were published by 2.13.61. This last in the series was published in 1975.
These are the
Post Traumatic Stress Disorder
nightmare poems, selected at random from the book.
riding slack
my eyes never leave the body
I slid a round in the chamber like grease
watching the man
& his habits
sweated with him
brushed hair out of his eyes
my legs shook in fear too
I took a big gulp as he was looking to my right
& waxed his ass
wait...it's1992
I spent the day running forms on a printing press
8 hours of ink and noise
clutching a bullet
to my chest like a blanket
made in Saigon
yeah...these are
the stupid years
hearts, whole handfuls of hearts
it was so much easier when I was younger
those freshly-wrapped red scars thrilled
shrapnel is impressive on a twenty year old body
but on a middle-aged horse it feels like arthritis
dead nerves
& just plan pain
not even a wife got pity
for a man who outlives
his scars
see Blondie - a poem not about death
she gets very drunk before lying down with me
her hand reaches for my body vaguely
I laugh to myself
thinking - if this is what it takes
I'll take it
white trash
I followed my father's footsteps & left my kids
when they were sitting on the toilet
he did W.W.II
I did the Nam
he got remarried
me too
at 73 he found God
at 41 I find nothing
Dad shuffles his feet
& his wife harps at his alcohol
I've never asked him
if he sees dead German soldiers on his front porch;
maybe time has been good to him
& they faded like last winter's snow banks
He's never asked me if I'm seeing dead Viet Cong
I must be that obvious
hoping he sees the grave
before me
after a lifetime whining about Vietnam: a 4-word poem
my mistake: one coffin
Another of my poems from last week.

My first poet from the anthology,
A Day for a Lay
, is
Tennessee Williams
.
Born in 1911,Williams died in 1985. Considered during his lifetime as America's greatest playwright, he began as a poet and continued to write poetry all his life, publishing two complete poetry collections. His
Memoirs
, published in 1975, scandalized many with its open homosexuality and erotic reminiscences.
The Interior of the Pocket
It will not be necessary for you to look very far from the boy.
You will probably find him standing close to where you last saw him,
his attitude changed only slightly, his left hand removed
from the relatively austere pocket of the blue jacket
and thrust how into the more companionable pocket of the gray pants
so that the glazed material is drawn tight
over the rather surprisingly tenderly sculptured thigh...
The interior of the pocket is dark as the dark room he longs to
sleep in;
it is dark as obliteration of something deeper than sense,
but in it the hot white hand of the boy is closed in on itself
with a betrayal of tension his eyes have refused to betray,
for his eyes have not betrayed him. They are somewhat softer than blue
and they stay with the afternoon that fades about him, they take its
color,
they even face with its color as pieces of sky or water...
They show what nakedness is when a thing is truly naked,
and by the very completeness of its exposure is covered up,
when nothing being not seen makes nothing seen...
But while you watch him from your respectful distance,
as though he were an experiment in a glass, held over a flame,
about to change, to darken in color or cloud,
a motion occurs under the pocket's dark cover:
the hot white fingers unclose, they come unknotted and they extend
slightly sideways to offer again their gesture of reassurance
to that part of him, crestfallen, on which he depends
for the dark room he longs to sleep in,
the way small animals nudge one another at night,
as though to whisper,
We're close! There is still no danger!
Here's a poem from
Pushing Clouds Against the Wind
, my first eBook. Because it was my first, I did a lot of things wrong, beginning with trying to do my own cover because I was too cheap to have the publisher do it. There's also a number things that you need to do when preparing an eBook manuscript that I knew nothing about then and am still learning about now.
But, though the presentation is rough in spots, I'm still proud of the poems.
fast times in birdland
i hit a bird this morning
ran right over him
when he flew too low
and too slow
dumbass bird
i drove on
stuck in my Cadillac's
checkerboard grill
beak forward
feathers
around his black BB eyes
ruffling in the wind,
he dies
thinking,
goddamn, look at me go
I'm the fastest bird
in this whole freaking town
Next I have a longer poem by Texas poet
James Hoggard
, from his book
Two Gulls, One Hawk
.
The book was published by Prickly Pear Press in 1983.
Hoggard is a former poet laureate of Texas and also a past president of the Texas Institute of Letters. He was the Perkins-Prothro Distinguished Professor of English at Midwestern State University in Wichita Falls, Texas. He is a poet, short story writer, novelist, playwright, essayist and translator, with more than fifteen books and seven produced plays.
I've used the present tense above, even though there is no dates on the entries on the web about him. I did check the faculty list at Midwestern U. and found him no longer listed so he may have either retired or died.
The poem I've selected is number 8 of 9 pieces in his series poem,
Tornado's Eye
, in the book.
8
Home again where I was born,
I remembered best the second town
I'd ever lived in
We moved to Henrietta
when I was almost three
We left before I was five
That morning I drank
orange juice and sobbed
but on the train it rained
on only one side of the road
for a time, I even thought then
I might be inventing
A tree-house in our yard
Nancy Stine herself had built it for me
Cookies and chickens next door
a hole in the hedge
Movies at the theater
across the vacant lot across the front yard
where once on a walk with my father
I sat down and tried to stand up,
by pulling on my bootstraps,
a feat I'd heard
a worthy man could do
Straining my guts I learned
what the old folks said
was sometimes dumb
And getting pumped to Muddle Lake
where Mountain Boomers were
puffy-throated lizards,
they moved as fast as breath
rising from the hot rocks
they were sailing over
A circus on a neighbor's front porch
A backyard funeral for a goldfish
and I preached the sermon
while someone else took collection
in a grey Homburg hat
Then one day told Skipper Stevenson
that the dimple in his chin
meant the Devil had kissed him,
he was going to Hell
Going home crying
he thought I knew how to read sign
Rock of Ages,Satan's cleft,
let me fun myself in thee
but all I remembered
until 30 years later
was sitting on the curb with him
after breaking some eggs
we stirred in a hole
before we buried the mess
swiped from the hen house next door
and I had a cleft chin, too
He said he'd noticed,
assumed I was different,
my people having power,
my father a preacher and all
Mrs. Stine's back porch next door,
where the shade gathered breezes,
got painted one day
with dozens of eggs
Chuck, an infant then,
broke on his head
and smeared with this hands
on the red-plank floor
When she found him
he said, "Tookie"
and she gave him one, too
but probably prayed
for a dose of restraint
ordinarily her lips didn't quiver
or her temples' veins throb
I was swelling up fat
from breakfast at home
and another next door
until she discovered
my hunger came from something other
than Mother's neglect
even her Pontiac entertained me:
parallel chrome lines
bisecting the trunk,
and an Indian chief's head on the dash
and her older daughter
named her first son after me
and the other said one cloudy day
that FDR had died
Nancy Stine knew everything
They and their mother were magic
and also Judge Stine
who taught me to sing
"The Mademoiselle From Armentieres"
and plopped his helmet on my head
while showing me his photographs
of France in World War I
The church by t5he parsonage,
I was made a life-member
of the Woman's Society (hallelujah!)
of Christian Service
but quit crashing choir practice
when a sober man whipped me
with a ping-pong paddle
for singing loud another tune
and playing with the tempting cords
hanging from the ceiling fans
One day I rose from my nap,
took my clothes off
and joined the church-ladies naked,
unaware of the honor they'd give me
When they finally caught me
they wrapped a dish towel round me
and let me stay - I knew them all
for after church
I'd stand with my father
and greet all the members
it always felt good
to feel a woman's soft squeeze
Ours the first family
they'd had in years
with children in it,
and we got taken everywhere
Gladys Dickerson even taught me to drive
by holding me in her lap
while I sputtered enginely
and whipped back and forth
her blue ford's big steering wheel
and her husband let me crawl
all over his gigantic tractors
and time after time I charged
house-painting brushes at the lumber yard
catty-corner from the church
though I had to take them back
and get another one,
lying I'd picked out the wrong size
And during church Shorty,
our laughing Sunday cook
who always dressed in white
and wore a great chef's hat,
tried teaching my brother to jig::
"That boy don't need," he said,
"just to know how to walk
A man's got to learn how to dance"
This one, also new from last week.
Reading your book
I see you now
again in your Alexandria,
leaning
toward the window of a shop
where the light
catches the dust and touches
the features of a young man within. Watching,
you catch sight of your reflection
mottled in the glass,
and move away,
last words of a poem
rising in your mind:
"Later, in a happier time,
a man just like me
will appear, and act freely."
Sometimes,
remembering my silences,
my lost moments,
the line of burnt-out candles,
I despair with you, Cavafy.
And then, sometimes,
I think: this is the happy time;
I am the man.
Was thinking about books, my longest and most constant companions.
During World War II Kunitz was drafted into the Army in 1943 as a conscientious objector, and served as a noncombatant at Gravely Point, Washington in the Air Transport Command in charge of information and education. He refused a commission and was discharged with the rank of staff sergeant.
After the war, he began a teaching career at Bennington College, then went on to teach at New York State Teachers College in Potsdam, New York, New School for Social Research, University of Washington, Queens College, Vassar, Brandeis, Yale, Rutgers, and a 22-year stint at Columbia University.
He was the New York State Poet Laureate from 1987 to 1989 and continued to write and publish as late as 2005, at the age of 100.
He died in 2006 at his home in Manhattan.
The season stalls, unseasonably fair,
blue-fair, serene, a stack of golden discs,
each disc a day, and the addition slow.
I wish you were here with me to walk the flats,
toward dusk especially when the tide is out
and the bay turns opal, filled with rolling fire
that washes on the mouldering wreck offshore,
our mussel-vineyard, strung with bearded grapes.
Last night I reached for you and shaped you there
lying beside me as we drifted past
the farthest seamarks and the watchdog bells,
and round Long Point throbbing in its frosty light,
until we streamed into the open sea.
What did I know of voyaging till now?
Meanwhile I tend my flock, small golden puffs
impertinent as wrens, with snipped-off tails,
who bounce down from the trees. High overhead
on the trackless roads, skywriting V and yet
another V, the southbound Canada express
hoots of horizons and distances....
I have walked through many lives,
some of them my own,
and I am not who I was,
though some principle of being
abides, from which I struggle
not to stray.
When I look behind,
as I am compelled to look
before I can gather strength
to proceed on my journey,
I see the milestones dwindling
toward the horizon
and the slow firs trailing
from the abandoned camp-sites,
over which scavenger angels
wheel on heavy wings.
Oh, I have made myself a tribe
out of my true affections,
and my tribe has scattered!
How shall the hart be reconciled
to its feast to losses?
In a rising wind
the manic dust of my friends,
those who fell along the way,
bitterly stings my face.
Yet I turn, I turn,
exulting somewhat,
with my will intact to go
wherever I need to go,
and every stone on the road
precious to me.
In my darkest night,
when the moon was covered
and I roamed through the wreckage,
a nimbus-clouded voice
directed me:
"Live in the layers,
not on the litter."
Though I lack the art
to decipher it,
no doubt the next chapter
in my book of transformations
is already written.
I am not done with my changes.
Miss Murphy in first grade
wrote its name in chalk
across the board and told us
it was roaring down the storm tracks
of the Milky Way at frightening speed
and if it wandered off course
and smashed into earth
there'd be no school tomorrow.
A red-bearded preacher from the hills
with a wild look in his eyes
stood in the public square
at the playground's edge
proclaiming he was sent by God
to save every one of us,
even the little children.
"Repent, you sinners!" he shouted,
waving his hand-lettered sign.
At supper I felt sad to think
that it was probably
the last meal I'd share
with my mother and sisters:
but I felt excited too
and scarcely touched my plate.
So mother scolded me
and sent me early to my room.
The whole family's asleep
except for me. They never heard me steal
into the stairwell hall and climb
the ladder to the fresh night air.
Look for me, Father, on the roof
of the red brick building
at the foot of Green Street -
that's where we live, you know, on the top floor.
I'm the boy in the white flannel gown
sprawled on the coarse gravel bed
searching the starry sky,
waiting for the world to end.
Gwendolyn
i named her
and i love
to watch
her talk -
American Sign Language,
with flashing eyes
and Gwendolyn
body
English
that seems to involve
every
movable
part of her physical being
as i watch
i have no idea
what she's talking about
but, by God,
it looks exciting
Cavafy was born in 1863 and died in 1933. He spent most of his life in Alexandria, Egypt, where he worked as a civil servant.
He studies it carefully now,
the painting he completed
yesterday noon.
He has painted him
in a coat of deep gray, unbuttoned,
no vest or tie,
a rose-coloured shirt open at the collar
to show the beauty of his chest and neck.
His hair falls over his right temple,
his beautiful hair
parted in the fashionable manner.
The sensuous feeling is there
that he wanted to portray
when he painted the eyes,
the lips...
That mouth, those lips
so made for consumption,
for choice love-making.
They stood among many others
near the lighted window of a tobacco shop.
By chance their glances met
and timidly, halting,
expressed the illicit craving of their flesh.
then a few tentative steps along the street,
until they smiled and discreetly nodded.
And after that the enclosed carriage,
the physical closeness of their bodies
the joining of hands, the meeting of lips...
He must be barely twenty-two, and yet
I am certain that just so many years ago
I enjoyed the selfsame body.
No, it isn't merely inlovement,
I only entered the tavern a moment ago and I've
hardly had a thing to drink -
but I have enjoyed that very body.
And if I can't recall where - one lapse of memory proves nothing.
There, see, now that he has sat at the next table,
I'm familiar with every move that he makes -
and beneath his clothes, I can envision those
naked limbs that I have loved.
The consummation of their deviant, sexual
delight complete, they arose from the mattress
and quickly dressed without speaking.
The left the house one at a time, furtively,
and as each walked uneasily up the street, it seemed as if
something about himself perhaps did betray
into what sort of bed he had fallen mere moments ago.
But the the life of the artist, look what's been gained -
tomorrow, the next day, or years hence, the powerful
verses will be composed that here had their beginning.
This poem from last week, the 30th poem of my 71st daily series of 30 poems, 2,130 poems in 2,130 days. Damn, maybe I am a superhero after all.
The bedroom fills with memories as you shake
Your head and curls come rippling down your neck:
O golden mane,O perfumed nonchalance,
What passions waken as I stroke that fleece!
Another world lives in those depths: wild, far,
Fiery and languid: Asia or Africa.
Imprisoned in that aromatic tent,
I swim upon the music of your scent.
Somewhere, far off, sap flows abundantly
In men and trees: O sea of ebony.
Carry me there, dazzle me with your dreams
Of oars and masts and sails, of suns and flames.
I gulp the scents, the colours and the sound
Of a great port: the sea a golden ground,
The ships with open arms, the trembling air,
Eternal sunlight pouring everywhere.
An ocean lurks within the ocean of
Your tresses, and I dive, drunken with love,
In search of sloth and its fecundity.
Darkness encloses and caresses me,
A dark blue tent of hair that nonetheless
Reveals the sky, and twisting, tress by tress,
Intoxicates with odours - musk and tar
and coco oil, the perfumes of your hair.
I shall sow rubies, sapphires, diamonds,pearls
- How long? Forever! - in your heavy curls.
Never be deaf to my desires, but be
My dreams' oasis, a distillery
From which I drink long sips of memory.
some say
my lines
are too
short
and
s
k
i
n
n
y
and my poems
too long
and
it takes too
forever
to get past
the foreplay
and into the
good stuff
and i say
hey
foreplay's
not so bad
and how can
you have a third
act
if you don't have
a first
and a second
i mean after all
consider if
Shakespeare
(and i don't mean to com-
pare
myself
to him though we do face
similar
problems at our own
levels)
but
what if he wrote like they
said i ought to write with
long lines
that got to the point just
right away without that
messy stuff up
front and those silly rhymes
that slow things down and
that
really weird English and so
many characters with all
those
strange names and like who
cares about Benvolio,
anyway,
i don't....
well,
maybe like this
Romeo and Juliet...
no...
too long
just
Roy and Julie
boy thinks girl is dead kills
self girl finds boy dead kills
self too
curtain
applause
applause
applause
that wouldn't be
any good
at all

Unto my bed last night, methought there came
Our lady of strange dreams, and from an urn
She poured live fire, so that mine eyes did burn
At sight of it. Anon the floating flame
Took many shapes, and one cried, "I am Shame
That walks with Love, I am most wise to turn
Cold lips and limbs to fire; therefore discern
And see my loveliness, and praise my name"
And afterward, in radiant garments dressed,
With sound of flutes and laughing and glad lips,
A pomp of all the passions passed along,
All the night through;till the white phantom ships
Of dawn sailed in. Whereat I said this song,
"Of all sweet passions Shame is the loveliest."
Here's another poem from last week. It is probably fair to say that reading some of my poems is like trying to unscramble an egg. I kind of like that and hope it doesn't bother others too much.
In addition to being a poet and translator, Lozano has spent many years teaching and writing about the ancient philosophy and religion of pre-Hispanic cultures.
Her work has been translated to English, French, Italian and Romanian. At the time this book was published, she was working on an anthology of contemporary American poets.
While the book includes some very fine longer poems, I'm going to stick this week to some of the poet's shorter works.
the house, that uncertain place. The girl-child
without a lamp, white
the beginning, the revelation
burns in silence.
All beginning is white,
the composition
of the form, silent
the fog, the tree. The girl-child
silent, the height, the
air. All beginning
is writ, the unforeseen disaster. The silent
fog, whose
music is silence, dispersed
syllables.
You submerge your body in the brilliance
foreseeing that which the sand has written for you.
In pain the breeze encodes destiny.
Better not to resist, the water never errs.
You will hear a strange flare, the fire and the falling of branches.
Brilliance chiseled in the droplet, this is eternity,
reflection of a sphere
where thoughts cannot dwell.
A strand is the entire universe.
Against the window of your car, the same droplet you seek to erase with the windshield
while you drive to the assigned site.
But the crystal marks an unbreakable barrier, that you cannot reach.
Three hours and the chill can not deprive it from what it is.
It shivers, remains. time of water that velocity cannot change.
In the suspended sea, it stays.
Like a diamond, the glance of the water seals the brilliance in the stone. Water,
wrested by water, water, water with no end.
Your eyes, that is the truth. The rest,
burns and does not know. A sun
hugs me in your caresses,
illuminates
the glow of petroleum
in the corridors.
I have the pleasant thought of ceding
to the transparency of a carnal joy:
I obey the lights of the wind,
but my voice does not listen,
only yearns.
My ground loves your eyes,
each kiss on my body,
Beneath the bed sheets
evaporating the fleeting permanency of days.
The sea is alone, like us,the newly born, in water.
In it, the night sinks beneath the waxing moon
(its powder on our faces).
Spring is the season of death.
We inscribe the epitaph, on high our names,
to make believe to the denuded skies that at least a wise word
slipped from our narrow mouths, near a few flowers.
We come to pluck the petals, not to take of a count of heartbeats.
Our heads entangled,
our bodies mistreated
return to the voracious melancholy.
I'm a people watcher; get a lot of poems that way. But sometimes, you see what you see and even though you know you saw it, you can't believe it.
business suit
charcoal gray,
pin
striped,
red necktie
on pristine white shirt
whispers to himself
as he picks
at his Blackberry
with his plastic stylus
i read his lips -
"beam me up, Scottie"
i swear
Cologne - like innocence that lasts too long
- wafts about his shoulders
This vanity of odor is surely someone wifely's purchase.
And inch of flesh beyond the athlete seemly
garlands at his buckle:
Insouciance of his figure is the man's estate
he's earned; he's learning to flaunt it.
Your are certain now the tautness
in his trousers is available - and worth it.
A sense of suited comfort in his universe
where male is male and always first
Supports him through the annual round of crises.
Heir to ritual and position
He has given up ideals for calm and compromise
Let paychecks and martinis
tame the rebel-child adored by all, admired
In each mirror - transform him
into diaper-folder, bill-disburser, plumber.
Surprised by your attentions, shy, defenses
up, yet feeling proud he still attracts
(if only guys) he broadcasts by his stance
he may be open to indiscretion
If the come-on is original, the consequences nil.
He yawns, then straightens out his creases
Forgets about he roast at home
Those checkbook calculations two weeks late
Eccentric railroad schedules.
As still as prey in gunsight, he rises
to your challenge with inside debate you can almost see:
Rage, disdain, dismissal re the obvious moves -
yet all too final. He wonders if an odd touch
Of adventure wouldn't add
a private glamour. It's years since he has dared
A dark and selfish deed. And so he smiles
at you - eighteen and horny once again...
And after sex, he always shows you
photos of the wife and kids.
I wrote this earlier this week, trying to remember what I know and what I remember.
Stone was born in Roanoke, Virginia in 1915.. In 1959, after her husband committed suicide, she raised three daughters alone. For twenty years she traveled the US, teaching creative writing at many universities, including the University of Illinois, University of Wisconsin, Indiana University, University of California, Davis, Brandeis University, and finally settling at State University of New York Binghamton. She died at her home in Ripton, Vermont, late last year.
To reach the University
you park your car on Rapist Hill
and walk slipping over fallen sweet-gum leaves
to a shared cubicle.
You're hired for the year.
In the evening, ten miles back to Earlysville.
Since renting this tin-roofed farmhouse
from a cattle broker who lives in town,
these long weekends on the dry acreage
you study the worn out fields,
chicory-starred stubble.
The buzzards in their ecological niche
always there, circling.
The house, two hundred years old,
has no veranda.
A small graveyard from that earlier time,
boundaries marked with rough quartz,
fallen headstones, faded names and dates.
What lies here were young women and infants:
a year by year ledge of replacements.
In contrast, the new back steps,
almost flush to the door;
like the ready-made entrance to a trailer.
You sit here. Doves throttle;
dragonflies, blue against blue.
A bird, in quick parabolas,
swoops in and out of the walnut tree.
the great drought-struck walnut, its maternal shade,
green compound tiny heart-shaped leaves,
the leaves cutting their losses,
fluttering loose,
stripping the branches naked.
While the cattle
gather at the gate;
strings of glistening spittle,
ruminating empty cuds, uneasy shuffling.
A woodchuck lives under the shed.
On the dirt road, only rednecks;
guns across the back window of their pickup trucks.
Still, things being as they are,
the woodchuck has a back door
and sometimes you see her sitting on her stoop,
warming herself in the sun;
her fat belly, her paws resting on her front
like a grandmother.
Then her quick over and under
when nearby penned-up hounds
yammer and bay.
She seems old and devious.
Not like these ear-clipped, blue-stamped,
condemned cattle who are starving on thin grass,
who huddle near the fence , near the loading ramp.
it's not
an exciting life i lead
but i'm not such an exciting guy
and that's just fine with me
so no scary movies or conflict for me
no rushing to and fro chasing dreams
or demons or wealth or power
over events
that used to be me but now i prefer
to start slow in the morning and keep
that pace for the rest of the day
nobody cares much for what i think
of the issues of the day
especially
not those who could make things
different
so i prefer smaller thoughts
closer to home and closer to me
i like sitting in little coffee shops
writing little poems that come and go
like saltine crackers
crunchy
a little salty on your tongue
then gone
and mostly forgotten
i like keeping my decisions small
that's enough excitement for me
The best war poet ever in my opinion, Owen took the slaughter of WWI to readers most often before him buried under epic poetry extolling the glory and honor of war. He was killed on the battlefield one week before an armistice was declared.
His poems included in this anthology is a revelation to me since, as far as I can remember, I'd never before heard any suggestion that he was gay. One of many things, I suppose that many people know that I didn't.
In that I loved you, Love, I worshipped you.
In that I worshipped well, I sacrificed.
All of most worth I bound and burnt and slew:
Old peaceful lives; frail flowers; firm friends; and Christ.
I slew all false loves; I slew all true,
That I might nothing love but your truth, Boy.
Fair fame I cast away as bridegrooms do
Their wedding garments in their haste of joy.
But when I fell upon your sandalled feet,
You laughed; you looked away from my lips; you rose.
I heard the singing of your wings' retreat;
Far-flown, I watch you flush the Olympian snows,
Beyond my hoping. Starkly I returned
To stare upon the ash of all I burned.
His face was charged with beauty as a cloud
With glimmering lightning.When it shadowed me
I shook, and was uneasy as a tree
That draws the brilliant danger, tremulous, bowed.
So must I tempt that face to loose its lightning.
Great gods, whose beauty is death, will laugh above.
Who made his beauty lovelier than love.
I shall be bright with their unearthly brightening.
And happier were it if my sap consume;
Glorious will shame the opening of my heart;
the land shall freshen that was under gloom;
What matter if I all men cry aloud and start,
And women hide bleak faces in their shawl,
At those hilarious thunders of my fall?
Between the grown hands of a server-lad
The silver cross was offered to be kissed.
The men came up,lugubrious, but not sad.
And knelt reluctantly, half-prejudiced.
(And kissing, kissed the emblem of the creed.)
Then mourning women knelt: meek mouths they had,
(And kissed the Body of the Christ indeed.)
Young children came with eager lips and glad.
(These kissed a silver doll,immensely bright.)
Then I, too,knelt before the acolyte.
Above the crucifix I bent my head:
The Christ was thin, and cold,and very dead:
And yet I bowed, yea, kissed - my lips did cling
(I kissed the warm live hand that held the thing.)
My last for the week, in old codger giving advice mood.

Goes Around, Comes Around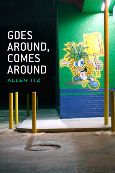 Pushing Clouds Against the Wind


And

For those of a print-bent, available on Amazon (both new and used)
Seven Beats a Second