Dan & Kathy Take a Vacation
Thursday, May 26, 2011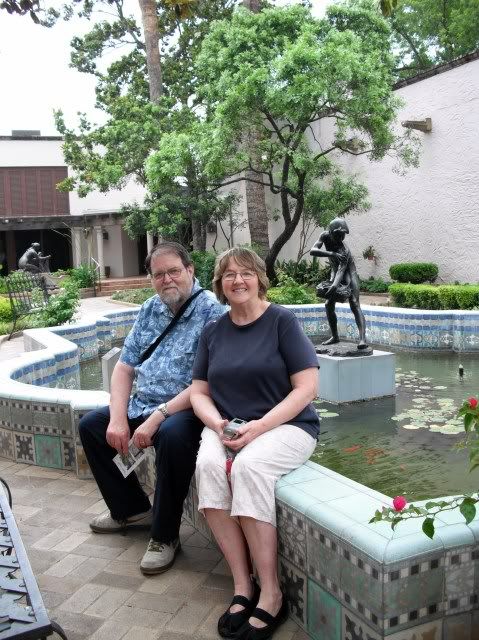 Dan & Kathy in San Antonio
(Photo courtesy the Itz (we'll never get lost more than once a day) Touring Service
VI.6.1.





Lots of good poems this week, with two special events. First, I have photos by my poet friend from Baltimore,

Dan Cuddy

and his wife

Kathy

. Dan and Kathy took a little trip last month, visiting New Orleans, Austin, and San Antonio, and taking pictures along the way.

And my second special event is more pre-publication excerpts by

Alex Stolis

, from his book in progress,

Stanzas

. I appreciate Alex giving us this early look and hope as soon as the book is published to be able to tell "Here and Now" readers how to get a copy.


Here's who you'll get to read this week:



Yosano Akiko


13 Tanka from

River of Stars





Me




maybe some duct tape…





Ana Castillo


Saturday
Poem 13
Paco and Rosa



Me




facing change is an integral part of successful living





James Fenton


In a Notebook
Vucceria



Me




I used to wonder about the purpose of life





Alex Stolis


Naked you are as blue as a night in Cuba
You've vines and stars in your hair
Naked you are spacious and yellow
As summer in a golden church



Me


big news
echo
I investigate brevity
small dreams slip past unnoticed
bubble
family jewels
algebra 1



James Gavin


Upslope
January Thaw



Me




unreliable fictions



From

Poetry Daily




Linda Pastan




Shadblow




Bei Dao




Landscape Over Zero




Wang Ping




Syntax





Me




a scatter of clouds





Piotr Sommer


Short Version
Sometimes, Yes
Don't Worry, It Won't Get Lost



Me




the hefty woman has a hearty breakfast





Gerard Malanga


The Property
Remembering the Berkshires



Me




all my creations



From

The Best American Poetry, 2003




Louise Gluck




Landscape




Ishle Yi Park




Queen Min Bi





Me




touring with Dan and Kathy





Ismael Reed


To a Daughter of Isaiah
Al Capone in Alaska
Untitled
Mystery 1st Lady



Me




solving the Puss-n-Boots problem





William Childress


Antelope Child
Apache



Me




Little Darlin'





Nikki Giovanni




Atrocities





Me




random passes at self-knowing





Gabriel Celaya




The Life One Leads





Me


a brief history of cats and the human race




Richard Brautigan


against conformity and averageism
maggots eating my brains
all the cities at once
a memory of life will be frozen in my eyes
phantom kiss
white tiger and enchanted cave
the death of time



Me




road sign





Daniel Donaghy




Fresh Start: Staining the Pool Deck





Me




here come da judge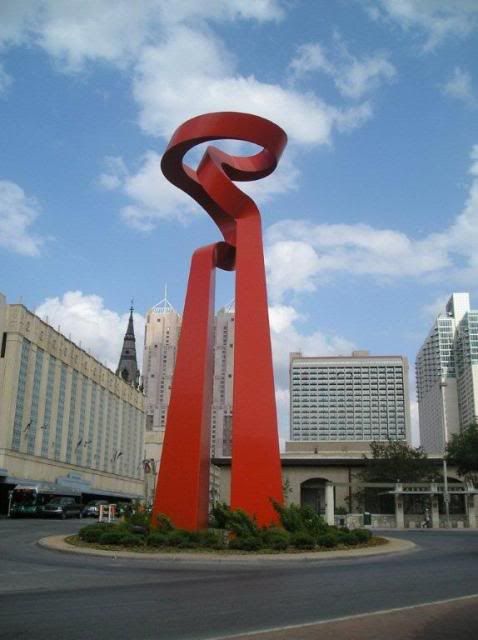 San Antonio, Downtown
Photo by Kathy Cuddy





I start this week with the poetry of

Yosano Akiko

, from the collection of her work,

River of Stars

, published by Shambhala in 1996.

Akiko was the pen-name of a Japanese author, poet, pioneering feminist, pacifist, and social reformer. She was active in the late Meiji period as well as the Taishō and early Showa periods of Japan. Her real name was Yosano Shô. Born in to a rich merchant family in 1878, she is one of the most famous, and most controversial (for her erotic poetry), post-classical woman poets of Japan. She died in 1942. As her death occurred in the middle of the Pacific War, it went largely unnoticed in the press, and after the end of the war, her works were largely forgotten by critics and the general public. However, in recent years, her romantic, sensual style has come back into popularity and she has an ever increasing following.

The poems in the book were translated by

Sam Hamill

and

Kieko Matsui Gibson

.

Although the book includes some of her longer work, Akiko was most widely known for her tanka. Those are the poems I will concentrate on this week. I'll look to the longer poems in future weeks.



Immersed in my hot
bath like a lovely lily
growing in a spring
my twenty-year-old body -
so beautiful, so sublime.

~~~

Fresh from my hot bath,
I dressed slowly before
the tall mirror,
a smile for my own body/
Innocent so long ago!

~~~

Wet with spring rain,
my lover finally comes
to my poor house
like a woman in love
under trees of pink blossoms.

~~~

Gently, I open
the door to eternal
mystery, the flowers
of my breasts cupped,
offered with both my hands.

~~~

Following his bath
I gave my handsome lover
my best purple robe
to protect him from the cold.
He blushed, and was beautiful.

~~~

So all alone
beside the temple bell:
I stole away
to secretly meet you here.
But now the fog has cleared.

~~~

By a nameless stream,
small and very beautiful,
last night spent alone -
those broad, desolate fields
in the harsh summer dawn.

~~~

Raindrops continue
to fall on white lotus leaves.
While my lover paints,
I open the umbrella
on his little boat.

~~~

Like a summer flower,
fragile as its slender stem,
love wastes me away.
Yet I shall blossom, crimson
under the bright noonday sun.

~~~

Don't complain tome,
don't hesitate, just hurry
to meet those soft hands
that are patiently waiting
to help you out of your clothes.

~~~

His hand on my neck,
he whispers softly of love.
Dawn. Wisteria.
No way I can detain him,
my one-night-only lover!

~~~

Testing, tempting me
forever, those youthful lips
barely touching the
frosty drops of dew
on a white lotus blossom.

~~~

A handsome oarsman
and an impeccable young
priest aboard - oh,how
I despise the bright moonlight
on our lotus-viewing boat.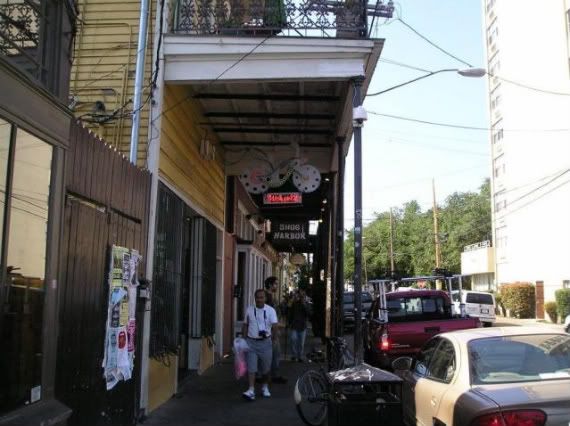 New Orleans
Photo by Dan Cuddy





Every old redneck-hippy-beatnik-cowboy has to come down some time.





maybe some duct tape...



it was about
1:30 in the p.m.
and I'd had my lunch

- tomato soup
and a grilled cheese sandwich
with a side of Fritos -

and I was thinking, jeez,
I can't think of a damn thing to do
this afternoon,
having watered the
flowers
and taken my daily dose of mid-day sun
and washed the dishes
and swept
and vacuumed
and planned the menu
for dinner tonight

- that
being not a big issue, involving
only a quick
check
on the computer
to find the shortest route
to the nearest Popeye's -

and there I was
in the bathroom, trimming my beard

- having
decided a couple of weeks ago
to cut it down
to bristle level every three
or so days,
it doesn't involve taking
up a major portion of a dead
afternoon -

and looking at my near-naked face
in the mirror
the thought came to me
that I hadn't see my head,
that is,
the shape
and curvature of it,
and the various bumps and hollows
usually hidden under my hair,
since the first day of basic training
at Lackland Air Force Base, San Antonio
a little more than 45 years ago

and the thought occurred to me
that a fella ought to see
his head,
size
and shape
and bumps and so forth,
more than once every 45 years
and
that having done all my chores
with nothing else to do,
it only made sense
to go down and get all my hair cut
off

and I did

and now I can say it's
positively true
that there's absolutely nothing especially
interesting
about my head
except for all the skin
showing through
which I don't remember
from 45 years
ago
and I'm already suspecting
I
really don't like my head
all that much
at all…

but I figure
what the hell, hats are cheap

- free,
actually,
in many places if you promise
to buy a John Deere
tractor
next time you need a farm implement -

of course,
the hat won't do anything
about the ears …

maybe
some duct tape…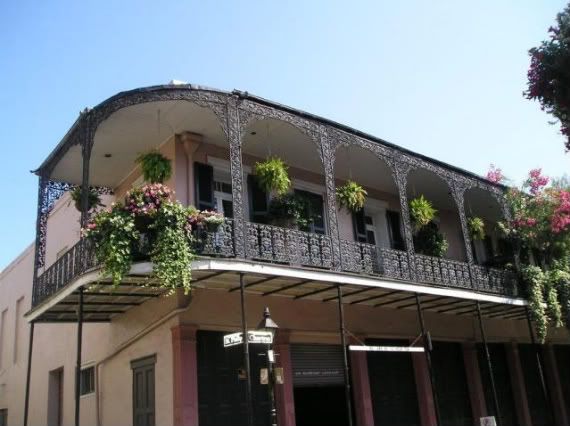 New Orleans
Photo by Dan Cuddy





Here are three poems by

Ana Castillo

from her book

My Father Was a Toltec, Selected Poems 1973-1988

. The book was published W.W. Norton in 1995.

Born in 1953, Castillo grew up speaking Spanish in a working-class Italian neighborhood in Chicago. Her parents sent her to a secretarial high school, but her lack of interest and poor typing skills led her to pursue higher education at Chicago City College and then Northern Illinois University where she completed a bachelor's degree in liberal arts in 1975. Supporting herself by serving as a college lecturer and a writer-in-residence for the Illinois Arts Council, Castillo then worked toward her master's degree in Latin American and Caribbean studies at the University of Chicago, where she completed her degree 1979. The years that followed were filled with a variety of short-term college teaching positions, until 1991, when she received a doctorate in American studies from the University of Bremen in Germany.

She has received many awards and honors for her poetry and her novels.





Saturdays




c. 1968



Because she worked all week
away from home, gone from 5 to 5,
Saturdays she did the laundry,
pulled the wringer machine
to the kitchen sink, and hung
the clothes out on the line.
At night, we took it down and ironed.
Mine were his handkerchiefs and
boxer shorts. She did his work
pants (never worn on the street)
and shirts,pressed the collars
and cuffs, just so -
as he bathed,
donned the tailor-made silk suit
bought on her credit, had her
adjust the tie.

"How do I look?"
"Bien," went on ironing.
That's why he married her, a Mexican
woman,, like his mother, not like
they were in Chicago, not like
the one he was going out to meet.




Poem 13



i too
can say
good-bye
effortlessly
silently
remove
myself
from an undesired
space
turn about face
march forward
never
look over
my shoulder
control
memory
erase unnecessary
experience
deromanticize
romance
wind tomorrow
around me
without company
(freeze my womb)
publicize my birth
given name
i too
can be my
mother's child
become my father's
extension
improved upon
gesticulate courage
profess pride
am worth
that much
i too
could live satisfied
with all my acts
content
amidst my ignorance.




Paco and Rosa



"AS SOON AS THE CHILDREN
ARE OUT OF SCHOOL.
I'LL COME," Rosa shouts
over static
from La Barca to Chicago.
"GOOD." says her husband,
hangs up,sighs.

Tonight he won't
shave, slap on Christmas
cologne, press down his hair.
He won't go to the Paraiso Club
with his brother or to the
corner tavern where a man gets
lost in the smell of hairspray
on a woman whose name he'd
rather not know.

Instead, hands behind his head,
he thinks of Rosa
who smells like his children
the meat-packing plant where
she worked between babies,
the summer they met, La Barca
by the sea. Rosa,
who smells like home.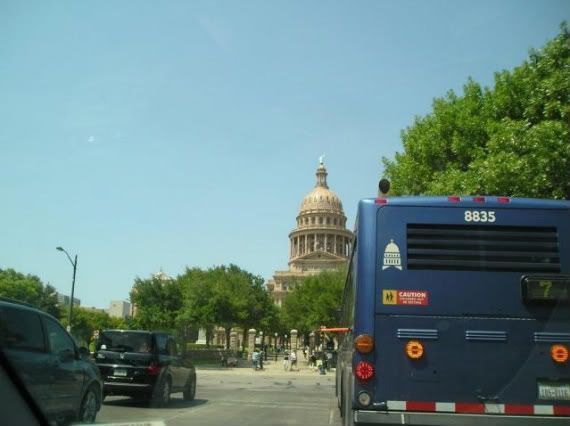 Austin
Photo by Dan Cuddy





It's an old poem, but still I seek the surety I did not find in this instance.





facing change is an integral part of successful living



bought new boots
yesterday,
down at Sears,
high top
lace-ups,
the kind you'd
wear
for some un-
serious
hiking
while trying to look like
you're just fooling around,
taking
a break after
crossing
the Kilimanjaro
or some deep
African
jungle

they were on sale
which makes them
look pretty good
even though they're
tight,
stiff and
unyielding
and pinch my toes
like briar-thorn
socks

but
wore
them all day
anyway

breaking them in

cause
that's what you
gotta
do with change
in all aspects of your life

face it

stare it down

make change your
friend.....

bullshit!

my feet hurt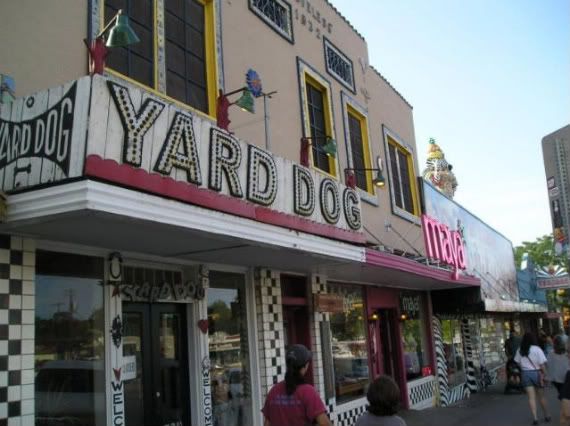 Austin, South Congress
Photo by Dan Cuddy





My next two poems are by

James Fenton

. They are from his book,

Children in Exile, Poems 1968-1984

.The book was published by The Noonday Press in 1994.

Fenton, born in 1949, is an English poet, journalist, literary critic, and former Oxford Professor of Poetry.

His first collection of poems,

Terminal Moraine

won a Gregory Award in 1972. With the proceeds, he traveled to East Asia, where he wrote of the U.S. withdrawal from Vietnam, and the end of the Lon Nol regime in Cambodia which presaged the rise of Pol Pot. From that experience, he wrote

Memory of War

, which earned his reputation as a major war poet.

He returned to London in 1976 where he became political correspondent of the

New Statesman

, where he worked alongside Christopher Hitchens, Julian Barnes and Martin Amis.





In a Notebook



There was a reiver overhung with trees
With wooden houses built along its shallows
From which the morning sun drew up a haze
And the gyrations of the early swallows
Paid no attention to the gentle breeze
Which spoke discreetly from the weeping willows.
There was a jetty by the forest clearing
Where a small boat was tugging at its mooring.

And night still lingered underneath the eaves.
In the dark houseboats families were stirring
And Chinese soup was cooked on charcoal stoves.
Then one by one there came into the clearing
Mothers and daughters bowed beneath their sheaves.
The silent children gathered round me staring
And theshy soldiers setting out for battle
Asked for a cigarette and laughed a little.

From low canoes old men laid out their nets
While on the bank young boys with lines were fishing.
The wicker traps were drawn up by their floats.
The girls stood waist-deep in the river washing
Or tossed the day's rice on enamel plates
And I sat drinking bitter coffee wishing
The tide would turn to bring me to my senses
After the pleasant war and ;t;he evasive answers.


There was a river overhung with trees.
The girls stood-waist deep in the river washing,
The night still lingered underneath the eaves
While on the bank young boys with lines were fishing.
Mothers and daughters bowed beneath their sheaves
While I sat drinking bitter coffee wishing -
And the tide turned and brought me to my senses.
The pleasant war brought the unpleasant answers.

The villages were burnt, the cities void;
The morning light has left the river view;
The distant followers have been dismayed;
And I'm afraid, reading this passage now,
That everything I knew has been destroyed
By those whom I admired but never knew;
The laughing soldiers fought to their defeat
And I'm afraid most of my friends are dead.




Vucceria



Maybe this summer I shall visit Palermo
And see if the Shanghai restaurant is still there
And if you can still buy cartons of contraband
Cigarettes in the triangular square
Beneath. At evening the horses are undressed
From top to toe, in the nude light-bulbs glare.
They leave their skeletons ever so neatly folded
And piled. Look ! there's a pair of socks,
Crimson with two black clocks.
O no it isn't.
It's a flayed head on a a bedside chair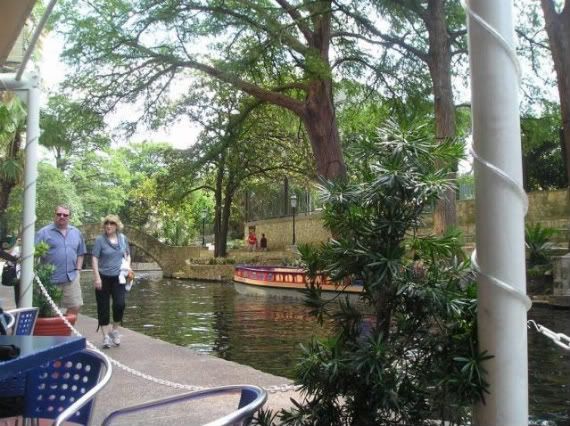 San Antonio, Riverwalk
Photo by Kathy Cuddy





Big questions - that's what my poetry is about, the big questions.





I used to wonder about the purpose of life



I used to
wonder about
the purpose
of life
and my place in
it…

now
I wonder
why I'm standing in front
of the Frigidaire
at 6:30
in the morning,
door open,
refrigerated light illuminating
all the staples,
ketchup
mustard
Miracle Whip
Stubbs BBQ sauce
liver sausage and
punkmunster cheese
along with a week's worth of
leftovers
in varying shades of green…

then I see them…

my keys...

and now I wonder
how my keys got into the
refrigerator
and why I knew
to look
for them there
in the first
place

and thus begins
another week
in a life of
mystery,
my purpose in it
clearly
to appreciate the ever-expanding
horizons
of my
confusion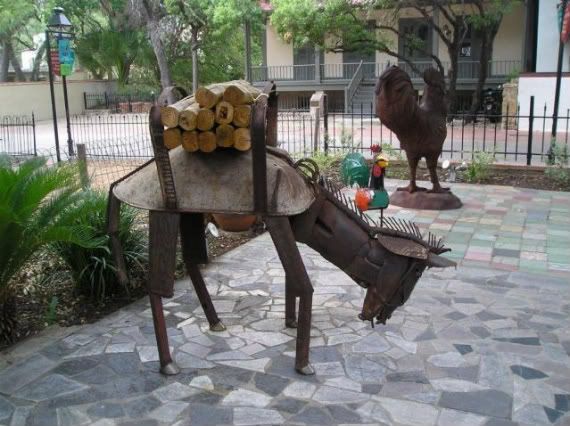 San Antonio
Photo by Kathy Cuddy





Here's another treat, poems by my friend,

Alex Stolis

, from his book in progress,

Stanzas

, based on the love poems of Pablo Neruda. As I told Alex at one point, I was not a big fan of Neruda until I read his love poems, some of the finest, I think, ever written. Alex has taken one of Neruda's sonnets, brilliant in its own right, and used it as inspiration for his work.

Each of these poems and each poem in his in-progress book (including both English and Spanish stanzas) is/will be based on a line from Neruda's sonnet,

Morning-Sonnet - XXVII

.





Naked you are blue as a night in Cuba



Durmiendo a mi lado:
que son de color azul oscuro como el cielo al atardecer
antes de que las estrellas tienen la oportunidad de despertar.
Usted es azul como el mar de verano, cuando
toma una respiración profunda.


Our first date: a park on the corner of Chicago and 34th ,
it was the first real week of spring, the sun barely awake.
You say you like wide open spaces: plenty of room to make
the really big mistakes. You are leaning against a tree, reading


Veinte poemas de amor

. I approach and you tuck your hair
behind your ear, stuff the book in your back pocket, walk
toward me. You wear a pair of faded Levi's, a threadbare
sweater your grandmother made for you, the top button
missing. I didn't know then she was dying. Your hair
is loose, just past your shoulders, there is a whisper of gray
among auburn I hadn't noticed before. Not knowing quite
what to do I give you an awkward hug. In that one second
I notice: your hair has the scent of fresh cut lilacs, there's
a heart-shaped mole on your hairline, a robin flies overhead,
your hands are delicate, the nail on your right middle finger
bitten down, your skin is a smooth white, your eyes are pale
with thin, long lashes. As my hand slides down your back
two children jump off a swing and run by us, you turn
to watch them as my hand falls away, smile and ask me
a question I forget before you are even finished. We walk
and you tell me how you like to paint: quiet greens for past
sins, gravel roads and unplowed fields; dull yellows for loss,
for your grandmother's house and the memory of your father;
brilliant blues for a lover you have yet to meet and soft grays,
not the gray of sadness but of a sleeping sky, of a path once
forgotten then rediscovered in spring.


**Sleeping next to me:
you are dark blue as the sky at dusk
before stars have a chance to awake.
You are blue as the sea when summer
takes a deep breath.




You've vines and stars in your hair




Quiero dormir con sus pensamientos, sueños
vivos, persiguen su piel, la caricia de su ronda
pezones con la palma de mi mano, sentir el roce
de los labios sobre mis nudillos.


your hands are of the earth, your hips
round as the moon, your breasts, ripe
and full. But first, let me tell you how
I love you: how you are spring, words

that fill a blank page, you are the branch
of a tree, the beautiful small moment before
a kiss. Let me tell you how I want to share
my skin, my blood with you, every breath.

How I want us to make love gently;
fuck, fiercely as if we are the last two
lovers on earth. I want to be still, aware,

feel the beat of time on your smooth thigh;
know that our future is an origami swan
we unfold again and again.


**I want to sleep with your thoughts, dream
them alive; haunt your skin, caress your round
nipples with the flat of my palm, feel the brush
of lips over my knuckles.




Naked you are spacious and yellow



Si alguna vez me olvide lo que su voz suena como
el cielo se abrió de golpe y me va a envolver el
memoria en su caparazón; sueñan el mismo sueño
una y otra vez.


I wake in the middle of a dream, it's ten minutes
before the alarm goes off: we're in Mexico, rock
hounding and beach combing, upsetting buckets
of sand. After one week: lipstick traces on empty
glasses, every cliché in the book seems brand new
and still, we don't believe it as it happens. You run
your fingertips along my forearm and its all I need
to forget what we came through. We don't have to
hide because the world will never find us in plain
sight. Doubt evaporates with the dew. On the fringe
of the city is a tavern with vinyl covered bar stools,
rust colored tiles and beer in long neck bottles. Friday
becomes a layer of dust covering the floor, a neon clock
flickers in 4/4 time and cash is king. We wait for last
call, one last chance before night is ready to fall into
bed. Believing becomes simple and we are the last hope
in town. Week two: every night, much of what you say
is unexpected, it is what I want to hear but didn't really
know until it was said out loud. Late turns into too early
and we are armed and ready for anything. There is the
garbage truck alarm clock, the smell of cooking, sounds
of the city morning combined with exhaust. Dirt and grime
mixed with laughter at our pigeon Spanish asking quietly
for

the time of the hour

or

where is the blue of the sea

.
Silence opens up doors and you prop open the windows
for good karma; we make love as two weeks folds itself
into three. At four we decide we've collected enough luck
to stretch into the next two lifetimes. We've shared every
bit of honesty between the sheets Everything is just right,
baby. Morning songs roll into evening songs, then comes
the rain; by the time we're finished, we'll have plenty of
time to catch up with ourselves.


**If I ever forget what your voice sounds like
the sky will burst open and I will wrap your
memory in its shell; dream the same dream
over and over.




As summer in a golden church



Imagínese nosotros, junto al mar, en una casa
de los depósitos. Usted podrá degustar la sal
en mi piel, coloque su mano en mi
corazón y escuchar el mar.


When someday becomes today: it will be quiet,
the wind will scoop up our every thought. I will
feel the round of your breasts against my back
as you sleep. The oceans will become silent;

salt water and sand sifts through our fingers.
You will laugh and tell me there is still so
much time but kiss me quickly to save
the moment. Night coughs to an empty

start, the dense breath of summer colors
your cheek. My fingers run through your
hair, trees watch, in silent prayer.

We become still. Wrapped in each other's
bodies, we create a new language; vowels
and consonants no longer necessary


**Imagine us, by the sea, in a house
of shells. You will taste the salt
on my skin, place your hand on my
heart and listen to the ocean.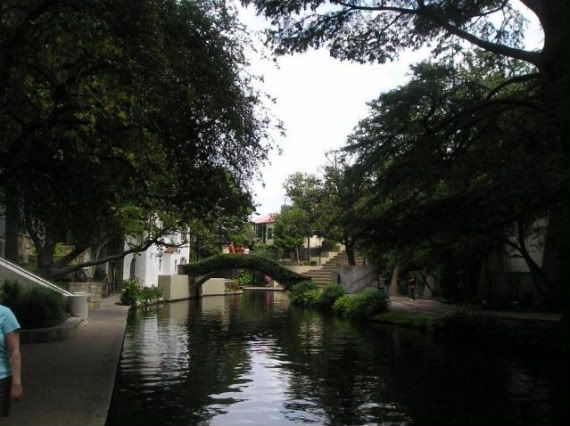 San Antonio, Riverwalk
Photo by Kathy Cuddy





Here a few more of my little short poems from 2007.





big news



giant
prehistoric bird
found
no sign yet
of companion
Sylvestesaures




echo



dry well
echoes

with memories

of water
precious and sweet
.
.
.
.
old man
sleeps

dreams echo

with memories
precious and sweet




I investigate brevity



I've
been getting
really tired
of my going
on and going
on poems
and think maybe
readers are also
so I decided I
oughta
write a short
one

this is it




small dreams slip past unnoticed



don't
dream
too large
tonight

they know
who
the dreamers
are

and
they are
watching




bubble



dark clouds
all around
while we
in a
sunshine
bubble
bask




family jewels



flames
illuminate
as they
burn
as
secrets
unfold
in the brilliance
of combustion




algebra 1



I remember
my algebra teacher
in 1959
writing equations
on the blackboard
her back to the class

at least 40 years old,
ancient, still,
the most perfectly
beautiful
legs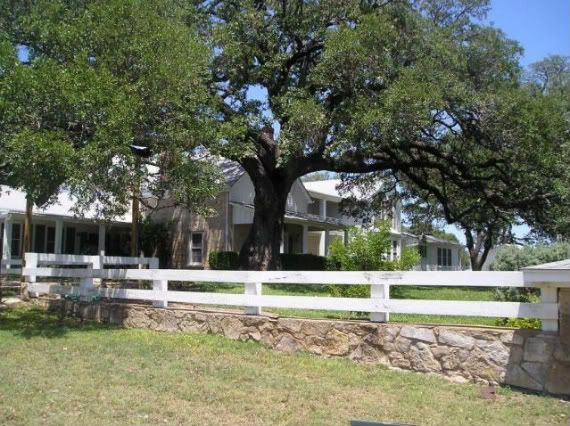 LBJ Ranch
Photo by Kathy Cuddy





Now I have two short poems by

James Gavin

, a Colorado native now living in Wyoming, winner of numerous honors and awards for both his poetry and his prose, and a member of the permanent faculty of the University of Iowa Writer's Workshop.

The poems are from his book

X: Poems

, published by Copper Canyon Press in 2003.





Upslope



To say that you exaggerate would be an understatement.
Cars lick the rainslick street.
Author, authority,
Master, mastery,
If I wear glasses am I more spectacular?
Tweezer-brain causality.
When you left
I woke, and it was my whole life I woke from.
Upslope, geography offers history few options.
We are something's awareness,
Awareness of for, for instance.
God saves us in the sorrow of knowing him.




January Thaw



Winter snowpack is not your jazz.
You can't riff it over and you can't take it back
Once it's out of the horn.
Bright as tears but much more boring,
Your constants without variants
Mewl from the eaves.
That's why the fish is full of the sea.
Just out of curiosity,
How many times did you kiss me
Without meaning it?
Don't be shy, it's out of the horn.
Turn your back on the past
And you're gone.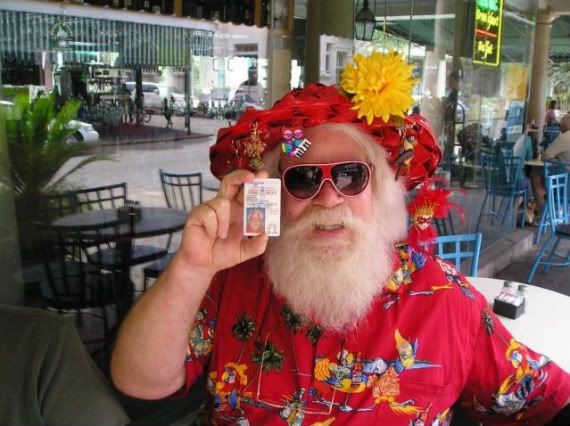 New Orleans
Photo by Dan Cuddy





One of my housemates on Bluelines House of 30 wrote a poem which led me to thinking, which led to this.





unreliable fictions



so,
amid
all the unreliable
fictions
we tell ourselves
to define the lives
we live, lived, want to live,
sometimes,
it is a stable platform we seek,
some place to stand
that doesn't blow in the fictive winds
of illusion, or
disillusion, all the things
we believe one week
and mock the next, as the winds
blow…

where is the center,
we think,
where is the true hub
around which all the elements
flail in contradiction…

we make stories
of our lives
to better endure them,
the days of our lives
unreeling,
as we, creatures of confusion,
creators of clarity
through
constantly re-juggling
of plot
and character,
abide in rewrites and edits
until something makes
sense…

and for a day or two
we know a new self,
until the elements start to stir
and spin again
and we have to re-hem our stories
to fit

until
next time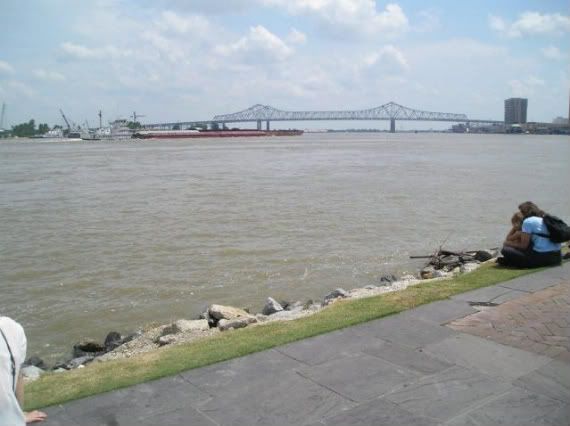 New Orleans, on the Mississippi
Photo by Dan Cuddy





Next, I have three poets from the anthology

Poetry Daily

, a collection of 366 poems from different poets taken from the Poetry Daily website, poems.com. I spend my web time at a similar site, "Blueline's House of 30," the difference being, I think, that at the Blueline every housemate is expected to post a poem a day in 30-day cycles. Some poets come for a cycle or two, then leave, never to return. Some come for a cycle, check out to take care of other business, then come back for more. Some of us just kind of hang on. By the time this is posted, I will have completed my 59th 30-day cycle of poems and I'm not the one with the longest string of daily poems. That honor of stick-to-it-tiveness belongs to the Hawaiian (fomerly L.A.) poet Alice Folkart who is indefatigable and a constant amazement every day.

The book includes no biographical information on the various poets. Considering that there are 366 of them, I guess I can understand that. But, if the poets agreed to appear there with no bio, I'm guessing the same is acceptable here.

So, for those who feel you must know, I'm turning you over to Wikipedia. I'm interested and will do a Google search myself; I'm just not going to share the information here.



The first poet from the anthology is

Linda Pastan

.




Shadblow



Because the shad
are swimming
in our waters now,

breaching the skin
of the river with their
tarnished silvery fins,

heading upstream
straight for out tables
where already

knives and forks gleam
in anticipation, these trees

into flower - small, white
flags surrendering
to the season.


The second poem is by

Bei Dao

.




Landscape Over Zero



it's hawk teaching song to swim
it's song tracing back to the first wind

we trade scraps of joy
enter family from different directions

it's a father confirming darkness
it's darkness leading to that lightning of the classics

a door of weeping slams shut
echoes chasing its cry

it's a pen blossoming in lost hope
it's a blossom resisting the inevitable route

it's love's gleam waking to
light up landscape over zero


And now, my last poem from the anthology is by

Wang Ping

.




Syntax



She walks to a table
She walk to table

She is walking to a table
She walk to table now

What difference does it make
What difference it make

In Nature, no completeness
No sentence really complete thought

Language, like woman
Look best when free, undressed.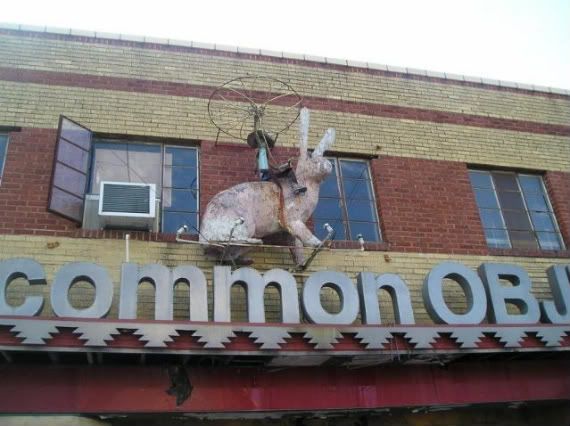 Austin, South Congress
Photo by Dan Cuddy





It was a particularly nice day, and I remember the clouds.





a scatter of clouds



a scatter of
small white clouds
on the horizon,
white,
the whitest clouds
I've ever seen,
white,
like little flags
against the blue
sky,
white flags,
like the sky
is surrendering
to the earth,
the eternal war
of earth against sky,
heaven against earth,
concluded,
won by the base
elements
of earth,
the grass
and trees,
oceans
and rivers,
animals
large and small,
earthworms
burrowing in the dirt
and humankind,
self-proclaimed
master
of all that won
and the birds,
with their split
loyalties
circling
in confusion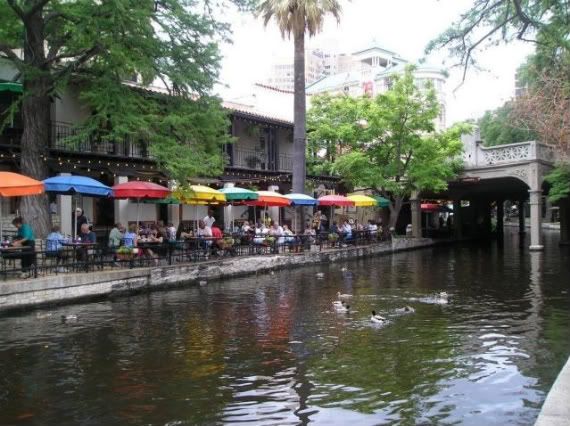 San Antonio Riverwalk
Photo by Kathy Cuddy





I picked up two very interesting books at the half-priced bookstore today. I'll use poems from both this week, beginning with

Continued

, a book of poems by Polish poet

Piotr Sommer

.

Born in 1948, Sommer grew up in Otwock, a small town outside o Warsaw. He studied English at the University of Warsaw, and now edits

Literatura na Swiecie

(World Literature), a Polish magazine of international writing.

He is a poet, translator, anthology editor and essayist. He regularly gives lectures at American universities and has gained various awards. As well as eight collections of poetry in his own language, he has had two collections published in translation.

He also translates from British, Irish and American literature, including works by Allen Ginsberg and Seamus Heaney.

His anthology of work by the American poet Frank O'Hara is seen by many as one of the most important of his translations. This publication appeared in 1987 and led to a small poetical war between the young experimental group of poets influenced by O'Hara, known as "The Barbarians", and their opponents "The Neo-Classicists", who defended more traditional Polish poetry.





Short Version



I couldn't be with you when you died.
Sorry, I was toiling day and night
on the title of a poem I didn't have time to show you.
You really would have liked it.

Even if the poem itself
wasn't the strongest, I was counting on the title
to prop it up from above,
to set it right even, and to sanction it

as sometimes happens, I don't know
if the muse ever had time
to give you the news

because when I called it was
already late, through finally
she took the whole message.




Sometimes, Yes



After reading certain young authors
I too would like to be an author
and turn out works.
Right now I'm thinking of J.G.-
his happy rhymes, cinematic sentences and
the heroes in his poems, the real ones
and those made up. Because of course
poems have their heroes as well.
some not even all that
likable. Of the real ones
for instance, I recall
Ezra Pound, whose name
appears in one of the titles,
or that Mid-November Show
which, before it melted, the akurhor thinks
had blanketed all the evil.
Of the unreal ones Kirillow, a suicide
and yet a builder, or that
professor, what's his name,
a scholar of seventy now.

And I, what would I write poems about?
I'd have to think,
because in fact I'm fed up with them.
I ask my wife but she just repeats
"What about?" a if she weren't there.
And a moment later adds, "But if
I tell you what about, you'll say
we both wrote it, all right?"
I muse - she says - remind her
about it in the future, since a person
may sometimes really get hold of an idea,
but most of the time it flies off.




Don't Worry, It Won't Get Lost



How could I fail to understand how you feel
even if personally I never lost
a PKO bankbook with my life
saving in it. Yet meanwhile
the radio's on, and glancing through the window
I see, on the empty street,
a forty-year-old with whom yesterday
I sat for a few years
on the same school bench, the knocking of the mangle
is heard under the floor, and even
on the balcony clothesline
a brown-and-white butterfly has landed.I have
some shopping to do, a train to catch,
there's only a few dozen zlotys
in my pocket, but the keys
jingle when I brush them,
the street is getting peopled, pockets
are filling up.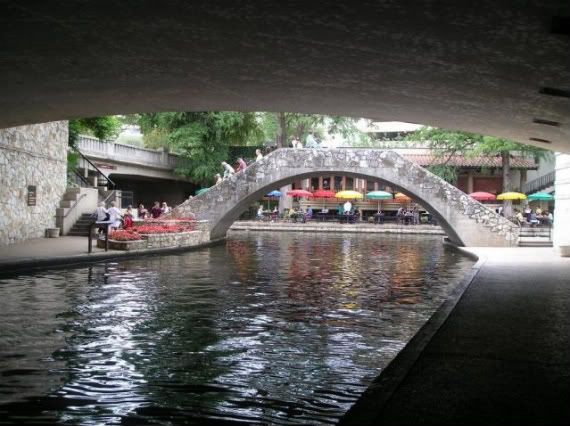 San Antonio, Riverwalk
Photo by Kathy Cuddy





Ranging now between 235 and 240 pounds I feel much better than I did at my peak 280. But that doesn't mean I eat whatever I want whenever I want. I remember how easy it was to go up and how hard to come down. So, being always aware of my own intake, I'm also conscious of what others eat, often what I'd like to eat, but don't.





the hefty woman has a hearty breakfast



she's
kind of hefty,
well north of stout,
I'm saying,
but judging from the three eggs,
scrambled,
and stack of buttermilk pancakes
she's packing in for
breakfast,
it doesn't seem to bother her

meanwhile,
being no lightweight
myself,
I stick to my more
responsible
nature
with porridge
in skimmed milk
and a single piece
of dry toast

and
feel quite
at peace with myself
for it,
judging not
the stout woman
for her pleasure in the morning,
finding it admirable
in fact
to see her fortitude
in the face
of such tribulation
as her continued absence
of a view of her feet,
jealous, a little,
of her full and hearty breakfast
in comparison
to my prisoner-of-war
ration

and though she seems
such a healthy happy person,
despite
her disregard for her own well-being
and the feelings
of all the stoutish people
around her
sticking to their
dank dungeon swill
while she engages breakfast
like a skinny person,
it seems she mocks our own efforts
at adipose reduction,
which is why
we all
hate
that fat woman and
her three eggs, scrambled,
and full stack of buttermilk pancakes

damn
fat woman!

and
on top of everything else
she will probably
outlive us
all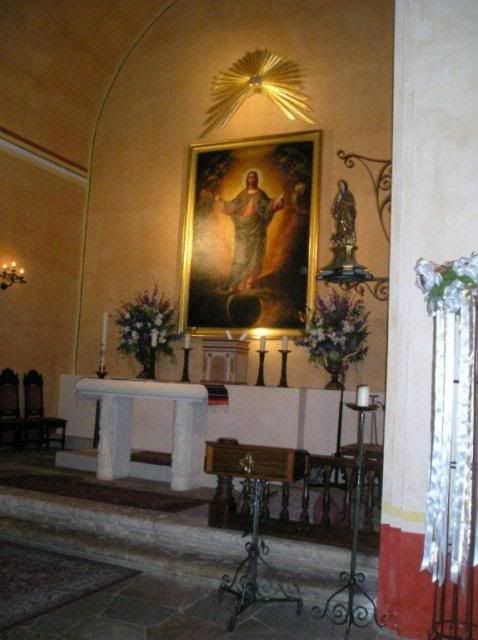 San Antonio, Mission Concepcion
Photo by Kathy Cuddy





The second of the books I mentioned earlier is

No Respect - New and Selected Poems, 1964-2000

by

Gerard Malanga

.

Malanga, born in 1943 in the Bronx, is an poet, photographer, filmmaker, curator and archivist. He graduated from the School of Industrial Art in Manhattan and attended Wagner College on Staten Island.

In addition to his many books of poetry, Malanga was Andy Warhol's assistant from 1963 to 1970 and as an actor, had lead parts in many of his early films. He danced with the Exploding Plastic Inevitable, Warhol's multimedia presentation of the Velvet Underground and claims to have created some of the works attributed to Warhol. In 1970, he left Warhol's studio to work on his own.

He is also known for his photography of 60's celebrities, including poets, rock stars, and actors.





The Property



What happened to the frost on the pipes?
the windows of the cottage darken
In another reality children's voices enter and then disappear
for a moment it is morning in late summer
Benno is pulling up weeds
Don waiting for the water to boil for a cup of coffee to start the day
Irene walks across the lawn to the Stone House or she doesn't
an occasional car pulls up to the driveway

the scene changes
there is snow on the ground almost blue in the moonlight
the end of the driveway touches darkness
the kitchen is an absence
What happened to the children's voices
What happened that I should see the changes
I think I become invisible
I am mistaken. I am correct.




Remembering the Berkshires



I think of the third day snow had fallen
it was still falling at night when I returned

the snowbound tracks and bridges are a dream
the embankment is black
the log of a fir tree uprooted

though only oe year has gone by
a stream has emerged from the thicket at night

in a house on a mountain someone is turning out the light
some one is going to sleep at last

now the moon is in Capricorn
shadows fade toward morning
the days move on like a diary
everything is still
the same but something is different
and it is myself

and the pressure of the wind increases.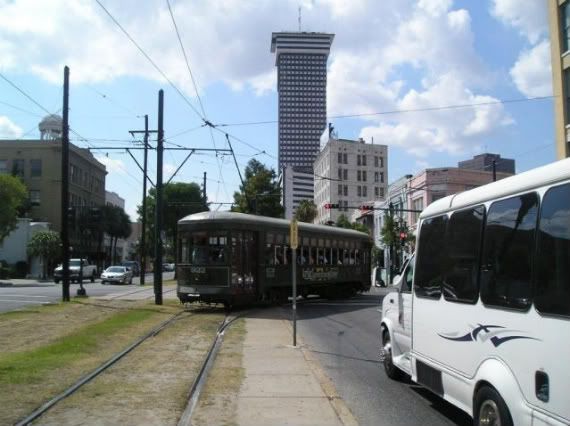 New Orleans
Photo by Dan Cuddy





A lesson from me to me for me.





all my creations



I am
sometimes
one of those
who sees the world
and all that's in it
as mere constructs
of my own ego,
creations
that ebb and flow
according
to my attention -
all the bloody
bright
and banal things
of this world,
a spring breeze
a summer sneeze
autumn leaves
that fall
to winter freeze -
all products
of my needs
and predilections,
and all of you,
shadows
cast
to populate
my shadow land,
formed
by my need
for structure,
solidity,
reality
as defined
by me,
all ending
at my end,
a world crashing
as I begin to fade

I saw today,
as I was stopped
at a traffic light,
a young man
at a bus stop
get up from his
bench
to kneel and pull
stray weeds
from cracks in
the sidewalk
cement,
creating a new
world
in a small,
but true way

and I was shamed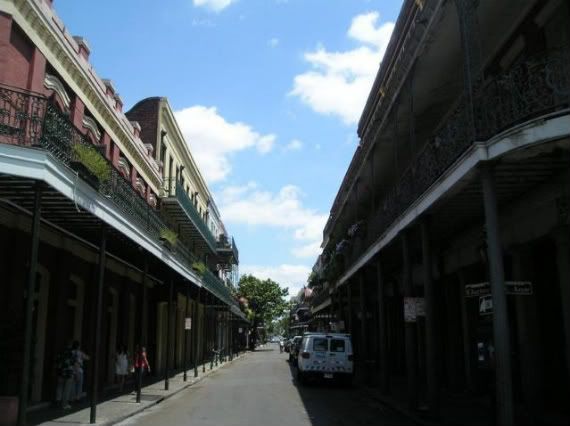 New Orleans
Photo by Dan Cuddy





Next I have two poets from

The Best American Poetry - 2003

, publised by Scribner Poetry.



The first of the poets is

Louise Gluck

.

Born in New York City in 1943, is the author of ten books of poetry. Her collection of essays,

Proofs and Theories

, won the PEN-Martha Albrand Award. She has also received the Pulitzer Prize, the Bobbit National Poetry Prize, the National Book Critics Circle Award and the Bollingen Prize. She teaches at Williams College. She was one of the anthology's guest editors.




Landscape



Time passed, turning everything to ice.
Under the ice, the future stirred.
If you fell into it you died.

It was a time
of waiting of suspended action.

I lived in the present which was
that part of the future you could see.
The past floated above my head,
like the sun and moon, visible but never reachable.

It was a time
governed by contradictions as in


I felt nothing

and


I was afraid.



Winter emptied the trees, filled them again with snow.
Because I couldn't feel, snow fell, the lake froze over.
Because i was afraid, I didn't ' move;
my breath was white, a description of silence.

Time passed and some of it became this.
And some of it simply evaporated;
you could see it float above the white trees
forming particles of ice.

All you lie, you wait for the propitious time.
Then the propitious time
reveals itself as action taken.

I watched the past move, a line of clouds moving
from left to right or right to left,
depending on the wind. Some days

there was no wind. The clouds seemed
to stay where they were,
like a painting of the sea, more still than real.

Some days the lake was a sheet of glass.
Under the glass, the future made
demure, inviting sounds;
you had to tense yourself so as not to listen.

Time passed, you got to see a piece of it.
The years it took with it were years of winter;
they would not e missed. Some days

there were no clouds, as though
the sources of the past had vanished. The world

was bleached, like a negative; the light passed
directly through it. Then
the image faded.

Above the world
there was only blue, blue everywhere.


The second poem from the "best of" anthology is by

Ishle Yi Park

, a young Korean-American poet featured often in "Here and Now" with poems from her own book.




Queen Min Bi



Queen Min was the bomb. Smooth forehead, perfectly
parted thick hair, and plum lips at fourteen
enough to make any pedophile happy.
So the King handpicked her,

orphan Korean girl born in Yulju, stringless,
to ba a royal marionette - who would hav guessed
she owned a wooden heart to match any politician's?

Maybe she abused her handservants.
Maybe she pumped into her husband
doggy style with an early bamboo Korean
strap-on and that's why she never had children.

Maybe that made Hwang so happy even after
she died, throat sliced open by invading Japanese,
he carved her name into a slab of man-sized marble
by hand, honoring a woman who snatched his kingdom

without a glance back at history,
what those scrolls dictated for female behavior.
I want to be like her befriending pale-
skinned foreigners and infuriating her father-in-law

enough for him to conspire toward her death
while commoners rested head to stone pillow
and dreamt of her brow-raising power;
16 when she married, 32 when she died -

before Japanese flags cloaked our country,
before Korean housewives lay beaten
without domestic violence laws to halfway shield
their swollen faces. Half a world away

nisei Korean children flinch at the smack of skin
on skin, memorize the hiss of curses like bullets,
and I wish she were more than dust and legend,
more than a sold-out opera at Lincoln Center

or part of a wistful poem; I want to inherit
that tiger part of her, the part that got her killed,
the part that inflamed my eyes and had me tracing the
clay walls of her birthplace with fingers in the rain, wanting

to collect and construct a woman out of myth.
So by Chinese calendar she's a rabbit, her favorite
drink was macculi, the moonshine of Korea,her
left breast slightly heavier than her right

and maybe she kissed her husband Kwang
on the forehead before overtaking his kingdom,
Queen Min Bi, so loved by all they called her Mama.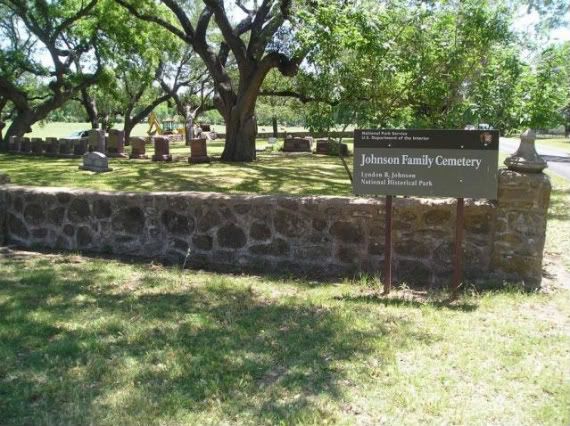 LBJ Ranch
Photo by Kathy Cuddy





And another lesson.





touring with Dan and Kathy



lunch
with a Housemate
and his spouse,
and dinner
and a city tour
in
between -

art museum
and missions and favorite
coffeehouse
along the way

a city seen
for the first time
for them;
seen anew by me

all the places
I knew yesterday, known
better to me to
day…

as I celebrate
my
home
through its showing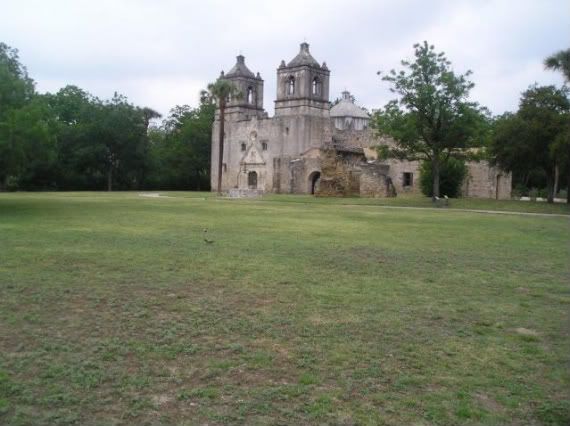 San Antonio, Mission Concepcion
Photo by Kathy Cuddy





Here's a couple of short poems by

Ismael Reed

, from his

News and Collected Poems

published in 1989 by Atheneum.





To a Daughter of Isaiah



I saw your drumming lover
On the tube last night
His wrists had been riveted
He made faces, like Jazz
Was a dentist
His gutbucket was
Straight from the Academy
That is, you couldn't
Grind to it
(Matthew Arnold, blowing
His nose)

He drummed, I summed
You up while helping white
Wine get better:
Your juicy Ethiopian art
Lips (my, my)
Your moans. What moans!
Even the ceiling over the bed
Got hard

This happened way back in a book
You were my daughter of Isaiah
I was your flail and crook




Al Capone in Alaska



or
hoodoo ecology vs the judeo-
christian tendency to

let em


have it!

The Eskimo hunts
the whale & each year
the whale flowers for the
Eskimo.


This must be love baby!


One receiving with respect
from a Giver who has
plenty.
There is no hatred here
There is One Big Happy
Family here.

American & Canadian Christians
submachine gun the whales.
They gallantly sail out &
shoot them as if the Pacific
were a Chicago garage on
St. Valentine's day




Untitled



law isn't all
The driver's test
Says nothing about
dogs, but people
stop anyway




Mystery 1st Lady



franklin pierce's wife never
came downstairs. she never
came upstairs either.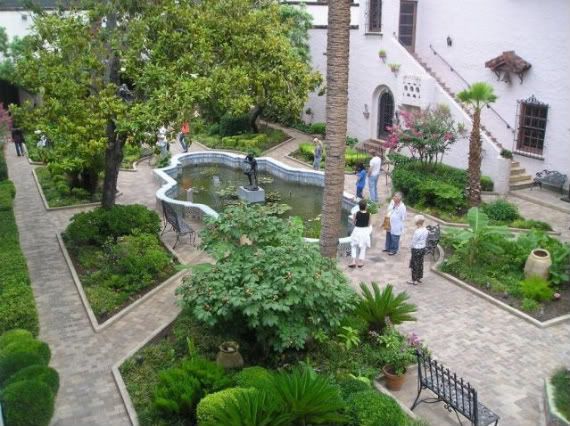 San Antonio, Garden, McNay Art Museum
Photo by Kathy Cuddy





It's the little mysteries of life that make it so interesting.





solving the Puss-n-Boots problem



I've seen
the little
Puss-n-Boots
action figure
on the counter
for several days,
always
lying on its side
or back
and I tried
several times
to set it upright
but it is
top-heavy
and always falls
down
and I finally
admitted defeat
and don't
bother
with it anymore

so
I am surprised
when I come in
this morning
and see it standing
on its feet,
leaning against
the tip jar

I am curious
so I look
closely,
and finally
see it is taped
with nearly
invisible
scotch tape
to the jar
itself

the young
oriental
barista
sees me looking
and knowing
what I'm looking
for, whispers,
"Asian engineering,"
as he handed me
my change
and he laughs
and I laugh
and consider
that had it been
American engineering
that solved the problem,
ol' Puss-n-Boots
would have been
wrapped
in duct tape
from his puss
to his boots

but that's about
economics
and everyone
knows
economics
is boring
and not for
poetic
examination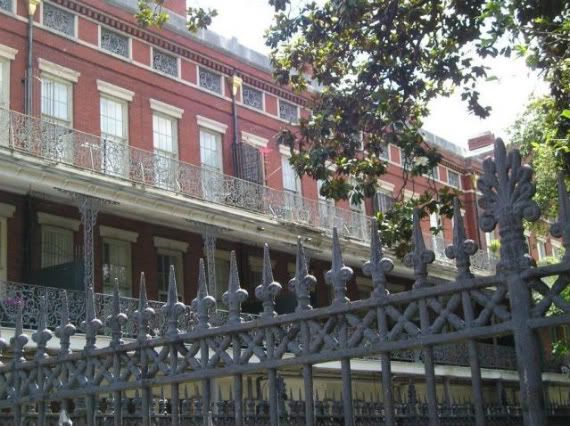 New Orleans
Photo by Dan Cuddy





I have two poems by

William Childress

from

Burning the Years/Lobo

, a re-publication in 1986 by Essai Seay Publications of two of Childress' previous books in one volume.

Childress was born Oklahoma in 1933, the oldest son of a poor family of migrant sharecroppers. An accomplished writer, author, poet, and photojournalist, he joined the Army at age 18, serving in the Korean War as a demolitions specialist in 1952. After the war he reenlisted as a paratrooper, making 33 jumps. Three honorable discharges later, Childress attended Fresno State College in California, studying English and Journalism, and set a record as the only undergraduate to publish poetry, fiction and photojournalism in national magazines. This helped him get two fellowships to the University of Iowa Writers Workshop and a Master of Fine Arts degree. His thesis later became his first book of poems,

Lobo

.

The two poems I'm using this week are from his second book,

Burning the Years

. The inspiration for the poems come from a time, as a ten-year-old, he lived with his family in Arizona near and Apache Indian Reservation where he spent most of his time, learning and loving the culture and the stories. "Many years later," he says in introducing the poems, "I romanticized what was, as I look back, a bleak and poverty-stricken way of life" that,nevertheless, continued to fire his imagination for many years after, to the point that, some years later, he began to imagine himself as an "Indian poet."





Antelope Child



Hell is the southwestern
desert in August;
the crack of wind
against hot rocks,
the birds who won't light
for fear their feet
will remain.
It is tdhe lime-green
of Spanish daggers
peeled and split
by the sun; air that
burns the lungs like smoke,
and hollow rocks
where stagnant water simmers.

It was here in such summers
that I ran,
a brown child
mocking the desert
antelope, nor was I part
of the white and pampered
world,
for I was wild.
In a hut of dry withes,
my fat mother
and somber father
fed me stewed coyote,
and I grew.
Nothing more need be said.




Apache



Mescalero I am,
Athapascan I speak,
a language as dead
as my people are dying.
I ran as a youth
past the Reservation bounds,
only finding again
as a man. For garden,
the desert, the walls,
the hills, and beyond,
horizons as wide as the sun.
A nomad for decades,
I saw many things,
but the red, severed gorges
still bled in my dreams
and the serrated ridges
near the hut I was born in
were the clouds
of each moonrise,
the flesh
of each sunrise.
So I went back one time,
but the hut had decayed,
and the hard earth grew
only jade prickly-pear.
And I ate the sweet buds
of that green plant,
and the walls fell again
and again I was gone.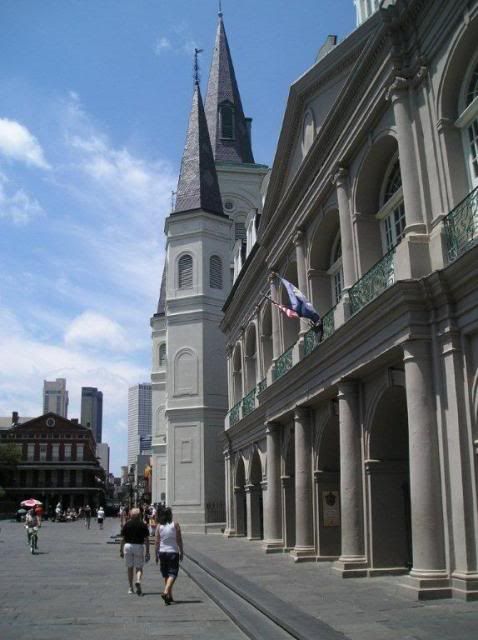 New Orleans
Photo by Dan Cuddy





I am, truly, a lover of children, I promise. Usually.

I posted this poem somewhere and got an very angry response from a mother who had just lost a child. Made me feel terrible, but, you know, it's just a poem and it really was a very bratty kid.





little darlin'



there's this kid
who has started
to come in with
her mother
every afternoon
about two o'clock
who,
within her skinny
little five year old body,
harbors the loudest,
sharpest, most
fingernail-on-the
blackboard voice
to ever assault
the tender parts
of my ears

I'm not normally
one
to contemplate
violence
against children
but this kid pushes
me to the brink,
the very edge of
my tolerance,
to that point where
the nice
kindly
peaceful
cherub cheeked
animal-loving
child-doting
man
I by nature
am
could easily
explode
in a moment
of bloody
slavering
murder and mayhem

basically
after a minute
and a half of
what has become
a daily ritual
of curly haired
doe eyed
cacophonic
squawking
like a myna bird
with a heavy metal
amp
I want to strangle
the child
or the mother.
either one
really,
I don't care,
as long
as the kid shuts up

now I realize
this little monster
is someone's
beloved
daughter
and granddaughter,
the apple,
likely,
of many eyes,
somebody's sun
on cloudy days,
another's moon
on a starless night,
a new little
life
placed on this world
to someday take
the place of old folks
like me and maybe
you,
a new life
sent here maybe
to save the world
from the careless
hands
of the likes of you
and I

I understand
all this
and in recognition
of it
I will not chase
the kid down
and apply
to her skinny
little neck
the
boa con-
strictor trick
I learned while trekking
alone
through the steamy
jungles
of Borneo

no,
I will not do that,
at least not
as long as
she remains
on the other side
of the room

but
if the little ogre
ever comes within
arm's length
she will experience
the epiphany of
her young life
as the fearsome wrath
of an old man
disturbed
in his afternoon
nap
becomes plain to
her






San Antonio, Garden, McNay Art Museum
Photo by Kathy Cuddy





An old book is like a time capsule. Here's one from the capsule by

Nikki Giovanni

. The book,

My House

, was published by Quill in 1983.

The poem, written in 1971, is from a darker, more dangerous time, when conspiracy and counter-conspiracy ruled the day. The problem with that kind of environment is that, just as paranoids sometimes have real enemies, conspiracies are sometimes real conspiracy. Unfortunately, it takes forty years to begin to figure out which were which.





Atrocities



in an age of napalmed children
with words like

the enemy is whatever moves


as an excuse for killing vietnamese infants

at a time when one president one noble prize winner
one president's brother four to six white students
dozen of Black students and various hippies
could be corralled maimed and killed

in a day when the c.i.a. could hire Black hands to pull
the trigger on malcolm

during a decade that saw eight nurses in chicago
sixteen people at the university of texas along with
the boson strangler do a fantastic death
dance matched only by the murders of john coltrane
sonny liston jimi hendrixs and janis joplin

in a technological structure where featherstone
and che would be old-fashioned bombed

at a moment when agnew could define hard and soft
drugs on the basis of his daughter's involvement
with them

in a nation where eugene robinson could testify
against his own panther recruits and eldrridge cleaver
could expel a martyr from the martyr's creation
where the president who at least knows
the law would say manson who at least tried
is guilty

it is only natural that joe frazier
would emerge

[8 mar 71]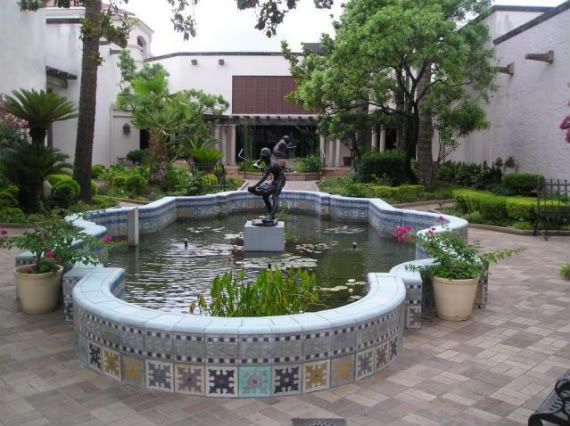 San Antonio, Garden, McNay Art Museum
Photo by Kathy Cuddy





This poem was the source of the title I chose for my recent Ebook, "Pushing Clouds Against the Wind." I remembered the line when thinking of a title for the book, but couldn't remember the poem and couldn't find it when I looked for it. If I'd found I suppose I'd included it in the book.





random passes at self-knowing



1
I'm not one
to look far
for adventure

not anymore

I like closer
to home
things

familiar things
prized
for their
knownness

I like
the people
I know,
people
who know
me
and calibrate
their expectations
accordingly

2
I have been the
center
of attention,
a familiar
face
to many
whose faces
I did not know

the cheap seats
are for me, now,
the ones in the
shadows
where all faces
blend to gray
and indivisibility

3
I want
to be a cloud
that passes
through the sky,
impressed
no more
by the appearance
of my shadow
below

I want
to feel the truth
of my insubstantiality,
that I only am
what the winds
make of me

I would have fought
that knowledge
in days past, but
there's another truth
I know now -

no one
can push a cloud
against the wind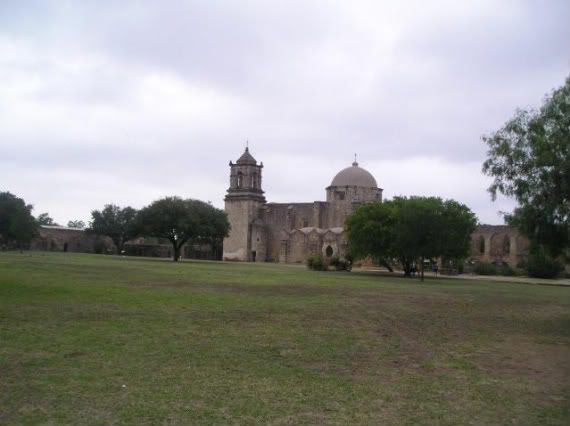 San Antonio, Mission San Jose
Photo by Kathy Cuddy





The next poem is by Spanish poet

Gabriel Celaya

, taken from the anthology

Roots & Wings, Spanish Poetry 1900-1975

. The book was published by White Pine Press in 1976. It is a bi-lingual book, Spanish and English on facing pages. The poem I selected was translated by

Robert Mezey

and

Hardie St. Martin

(who also edited the anthology).

Gabriel Celaya, pen name of Rafael Mugica, was born in 1911 and died in 1991. He was a novelist, essayist and translator, as well as a poet. He received numerous awards for his poetry, even though his simple and direct language was disdained by his generation of poets in Spain.





The Life One Leads



The cabin gives off the odor
of scrubbed wood and strong kitchen soap.
Outside, the sun buzzes
like a dense swarm of mad mosquitoes.
Te door carves out a blinding square of light
and lays it down as proof on a Euclidean pine table
where it burns orange and glazes an edge of porcelain,
leaving the rest of the shack
in a blackness of greens and violets.

On a narrow mattress, warm in its stench,
someone named Pedro is snoring monotonously.
His sour idiot spittle broods sadly over the world
with toothless gums and stale wheezes,
with tattered blasphemies and a long slow tongue.

At six in the evening
when the Express goes by, waking nostalgia
(bright steel, flashes,
burning road that mounts the emptiness),
the man Pedro gets to his feet,
hitches his suspenders, splashes some water on his face
and stares into his rough hand with its short clumsy fingers
at ten small coins, ten glasses of cheap wine.

Down at the ruined house, when he comes back drunk,
Adela may be waiting for others who have more money
(you understand, a little more).
And Adela's a good chick.
Adela will come to Pedro's shack if he wants her to,
and he's sure to, if he's been drinking.

Beautiful slow moon,
night like a river seen from its bed,
the soft heavy breeze,
Adela's hips and thighs when she starts to tremble,
and th ice inside him that no one has ever thawed,
and the cheap wine,
and Adela who wordlessly fixes breakfast.

One day he finally says, "Adela,let's get married"
(Adela is frightened, but she always says okay.)
And the man Pedro listens to the Express roar by
(bright steel, flashes,
burning road that mounts the emptiness),
and he feels a tenderness,
and the immense chill deep inside,
and vague longings, and disgust.
And he thinks that's Adela, white, sweet, in her slip.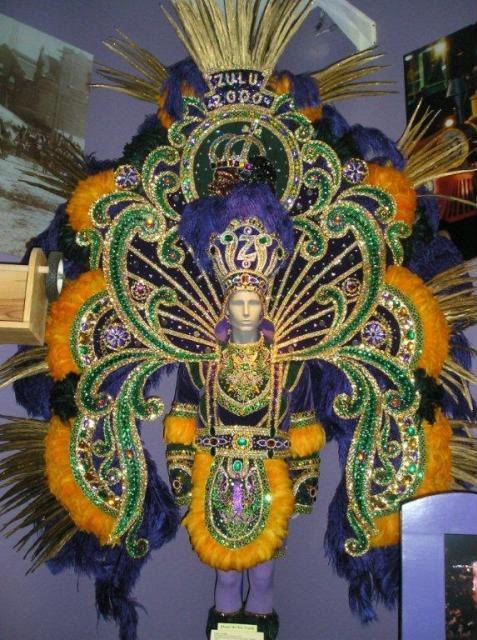 New Orleans
Photo by Dan Cuddy





They're smarter than we are, so what can we do about it?





a brief history of cats and the human race



there are 600
million
housecats in the
world
spread
from pole to pole
from all the way
east
to all the way
west
and they all
descend
from one of five
female
wildcats who
in the barely
historical
mid-east
noticed
that filthy-
living human-kind
were vermin
magnets
and that living
off the vermin
who lived
wherever
humans lived
was a hell'uv
a lot easier
than trying
to chase down
prey
in the wild

and
thus did
the cat
domesticate
itself
on its own
terms
&
conditions
and thus
did little
pussy-
puss
assume her
smart-ass
air of feline
superiority
and
if you know
the whole story
it's hard
to argue
with
them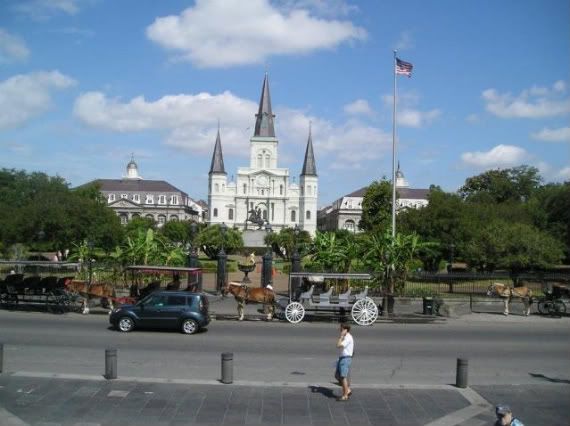 New Orleans
Photo by Dan Cuddy





Here are several short poems by

Richard Brautigan

from

The Edna Webster Collection of Undiscovered Writings

, published by Houghton Mifflin in 1999.

Brautigan, who was born in 1935 and died in 1984, was author of ten novels, including his best known

Trout Fishing in Amerrica

and nine books of poetry.

The poems in this book were given by the young Brautigan to Edna Webster, the mother of his best friend and first girlfriend as he left Eugene, Oregon for literary success in San Francisco. He told Webster that the gift would be her "social security."





against conformity and averageism



I hate,

because
they are evil
as habitual hunger
in a child's stomach,

people
who try
to change man
the hunter for truth
into
a castrated cow
grazing
in the peace
of mental death.




maggots eating my brains



The maggots
will eat
the brains
that felt
and wondered
and wrote
these poems.

Let the maggots
have their fun.

They
only
live once.




all the cities at once



Pretend
is
a city
bigger
than New York.
bigger
than
all the cities
at once.




a memory of life will be frozen in my eyes



The heads
of white chickens
lie in the mud and rain.

A memory
of life
is frozen in their eyes.

I wonder
what their last thought
was
as their heads
were chopped off.




phantom kiss



There
is no worse
hell
than
to remember
vividly
a kiss
that
never occurred.




white tiger and enchanted cave



I am
a white tiger
made out of peppermint.

There is an enchanted cave
in your body
that I must enter,
so
that chills
will travel
in new buses
up
and
down our spines
as
we stare
at our
very own baby




the death of time



Someday
time
will die,
and
Love
will
bury it.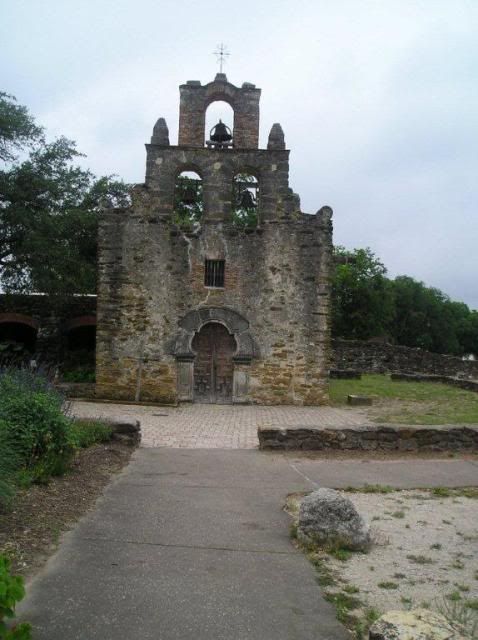 San Antonio, Mission Espada
Photo by Kathy Cuddy





Here's another road poem, a short one this time. It looks like I was probably on the road somewhere in West Texas.





road sign



1
driving due east
directly into the early sun
on a flaming sea of
orange glare
and haloed silhouettes

2
vulture circles
overhead
rising with desert
heat
falling between
shadowed
canyon walls

3
snake
crosses ahead of me
head swaying
left and right, pulling
its long body
behind,
slowly slithers
behind a boulder
beside the road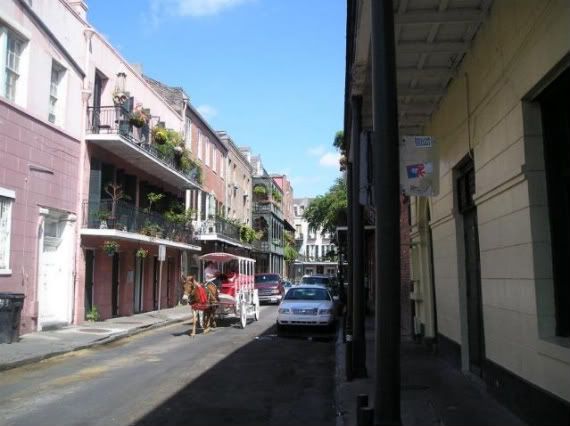 New Orleans
Photo by Dan Cuddy





The next poem is by

Daniel Donaghy

, from his book,

Street Fighting Poems

, published in 2005 by BkMk Press of the University of Missouri-Kansas City.

Donaghy's poems have appeared in numerous journals and he has received a number of honors and awards, including from the National Endowment for the Humanities, the Cornell Council for the Arts, and the Constance Saltonstall Foundation for the Arts. He received a B.A. fromn Kutztown university, an M.A. from Hollins College, and an M.F.A. in creative writing (poetry) at the University of Rochester. At the time his book was published, he completing a Ph.D. in English at the University of Rochester.





Fresh Start: Staining the Pool Deck



Again I set aside half the day
to put another coat on the pool deck,
again the gloves, again the stain can
and the beer can, fingers only half
an ache because I passed the brush
between hands each twenty strokes,
one useful thing my father taught me
while I whitewashed the hall steps
in the rowhouse I left half my life ago,
house of nicotine and dog hair,
house he left us alone in
on a street of houses rotting
against each other like teeth,
house so far from this half-acre
I have to squeeze my eyes to see it -
ripped linoleum, cracked walls,
dirt cellar of rats and mold,
nights of yelling behind doors...

Hal a life later I'm trying to get
to the next day, after the deck dried,
when we swam in the finally blue water.
I'm trying; to work the float into this,
and th;e inner tubes, the handstands,
the red and yellow beachball.
Enough about my long-dead father,
food stamps, government cheese.
What about my wife asleep
cross-legged in the Adirondack chair,
my daughter's brilliant pink suit,
the gray fox panting at the wood's edge?
And what about how cold the beer was,
how bright the sun over the crab apple tree
when I sank to the soundless bottom.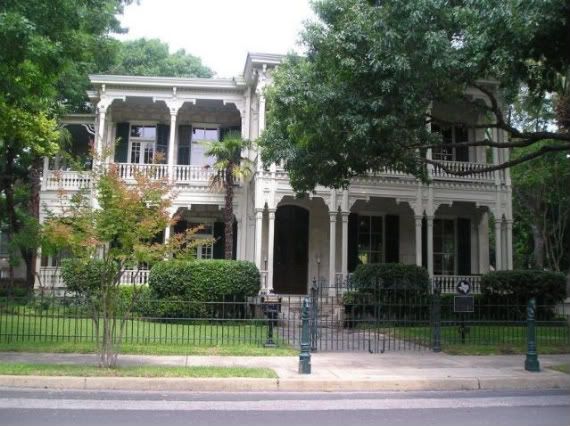 San Antonio, King William District
Photo by Kathy Cuddy





I close this week with thoughts of a kind of friendship.





here come da judge



turns out
I was thinking of the judge
on my way here
and when I get here
there he
is

haven't seen him
or his lady-friend here
in a couple of months, and
was wondering what happened to them

turns out the lady-friend
got converted to the Weight Watchers
creed
and goes to meeting every morning
and the kind of breakfast
she used to have every morning
is a kind of blasphemy
to the svelte and hungry congregations
and she's trying to be true
to her oath
of constant craving
and restricts herself in the morning
to tiny portions of scrambled tofu
and carrot juice
and the judge, believing still
in the wolf theory of dietary
responsibility - eat all you can
whenever you can,
bloody, if possible - has been stopping
by her place for coffee
every morning, and, today
after watching her
tofu-torture as long as he could
stomach it, returned here
to his good-old-days feed lot
for three fresh eggs and several varieties
of pig on a platter
and I'm happy to see him
cause, you know,
I've missed the competition
of who could get here first in the
morning,
as well as the four or five words
we said to each other
every morning
when we got here
because he's a friend,
on the friendship scale, somewhere
slightly above or slightly below
your Facebook friend who is
the friend of a friend of a friend
who you never heard of
before
you got his "be my friend" message
and so he's got 7,000, working on 10,000,
other Facebook friends
but a friend is a friend, and you can
never
have too many
friends
so I went over to the judge
and said howdy-do
and heard the story of his
gradually diminishing
girl-friend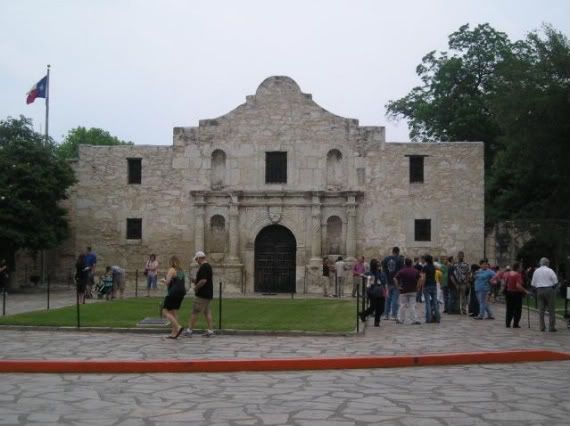 San Antonio, Mission San Antonio de Valero (The Alamo)
Photo by Kathy Cuddy





That's all. Everything belongs to them who made it.

I'm allen itz, owner and producer of this blog since Issue 1, May, 2006. (Funny, I could have sworn it was May, 2005.)