Chisos Basin
Friday, April 29, 2011

VI.5.1.





Nothing new in the poem department this week, just me and my library poet pals.

The photos are special to me though, old photos, used in bits and pieces here before, of one of my favorite places on the planet.

The photos were taken around, but mostly in, the Big Bend National Park, and, of those in the park, mostly in the Chisos Basin high in the Chisos Mountains.

Founded in 1944, Big Bend National Park is mostly a backcountry park. It contains more than 150 miles of desert and mountain hiking trails, with overnight accommodations ranging from primitive camping to RV parks to the lodge and cabins in the basin. Being someone who sees making my own bed as pushing the envelope in "roughing it," I have no experience with the primitive camping, though my son does and the park is one of his preferred places for doing it.The Rio Grande River (118 miles of it) marks the boundary between the park and Mexico. (The Rio Grande can be seen at the bottom of a canyon in one of the pictures below.)

Covering approximately 700,000 acres, the park is located in one of the most remote and uninhabited areas of the United States.

The pictures in this post were taken by me over course of a number of visits, in different years and seasons and with different cameras. We haven't been in a couple of years and I miss it. No phone, no TV, no internet and, I have to admit, as much as I love it, three days and two nights is about the most I can take before lusting for my normal diet of electronics.

That's the pictures; these are the poets.




Me




Chisos Basin





Joanna M. Weston


Trees
Loss
Studio Portrait, 1942
Soft Answers
Like Other Peoples' Fathers



Me




paying for the pick-up





Lawrence Ferlinghetti




Populist Manifesto





Me




dreams





Peggy Zuleika Lynch


Aunt Nettie, a true pioneer
living
Aunt Oma's way for earning her pay
Della



Me




the dead rise, and prevail





Simon J. Ortiz


A Barroom Fragment
Four Years Ago
Horizons and Rains
Leaving America
Washyuma Motor Hotel
Passing Through Little Rock



Me




fire brigade





Frederick Seidel


Years Have Passed
The Girl in the Mirror
November 24, 1963



Me


on the death of Audrey Hepburn
clarification
omen
the master
the shortest poem
when the gate finally opens
while walking in the neighborhood, late

From

The Anchor Book of Chinese Poetry




Lin Huiyin




Sitting in Quietude




Dia Wangshu




Written on a Prison Wall





Me




where does justice draws the line





Susan Griffin


Tiredness
Chile



Me




china silk





Pablo Neruda


From "

The Heights of Macchu Picchu

- Part XII

Arise to Birth with me, my brother





Me




time's up





Leroy V. Quintana


Poem for Marilyn Monroe
Poem for Toby Lee
Poem for Pancho Gonzales
Poem for Grandpa



Me




champions fall, heroes fade





Siegfried Sassoon


Glory of Women
Autumn
Remorse



Me




the woman with the interesting hair





Wendy Barker




On the Subject of Jackets





Me




rubbing elbows





Robert Pinsky




Inman Square Incantation





Me




chaos management





Me




if I could walk on water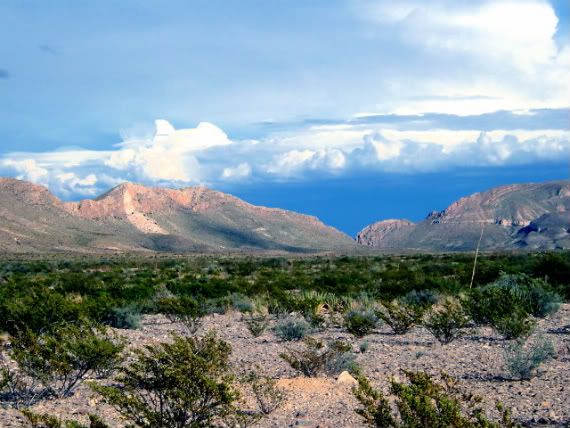 Beginning this week with an appreciation of a place.





Chisos Basin



Chisos Basin,
lush haven high in the Chisos Mountains,
the mountains lapped by
the Chihuahua Desert to the south and east
where, after a damp winter,
colors carpet the gravel desert floor

and in the mountains, high trees,
bear, cougar, families of javelinas who walk
the same trails up and around the mountain
all of their lives and birds
of every persuasion

and in the basin,
peace in the mountain shadow
of the rising sun; peace
in the evening as the sun sets
through the westward facing notch
between mountain peaks,
a high, clear eye
to the purple desert below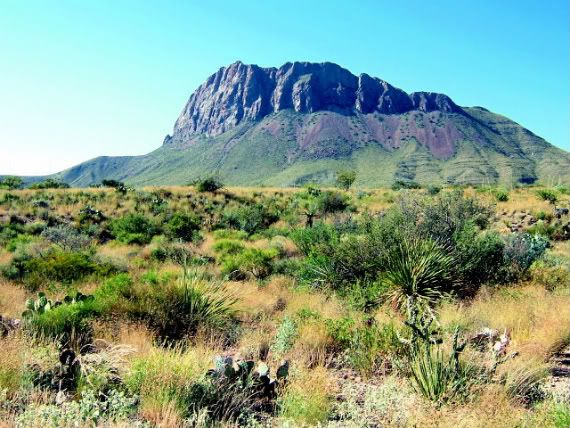 I begin this week with several poems from my friend and frequent "Here and Now" contributor,

Joanna M. Weston

.

Joanna grew up in North Downs of Kent, under one of the main bombing runs to London. She left England at age 18 for Canada where she has lived every since, becoming a Canadian citizen on February 15, 1965, the same day the maple leaf flag was adopted. She is a full-time writer of poetry, short stories, children's books and poetry reviews. She has published internationally in journals and anthologies and has two middle-readers in print,

The Willow-Tree Girl

and

Those Blue Shoes

.

Her latest book, from where I borrow these poems, is

A Summer Father

, published in 2006 by Frontenac House.

Joanna dedicates her book to father, Major John William Fletcher Jarmain, who died on June 26, 1944 in Normandy, France.





Trees



did he remember
the apple trees
and the willow
at the end of our garden?

did he remember
how his children
ran to touch and touch
silver-grey bark?

he is recorded
in one photo
with his son
framed by leaves
and fruit




Loss



Mother lost
the green glass brooch
Father gave me

dropped it
between apple tree and lavender
somewhere on the path
to becoming an emerald

I clipped grass with scissors
turned soft earth
found a knife patterned with fish
and a spoon engraved with leaves

she sketched patterns of bark
details of miniature:
an ant on a grass stem
a speed of red spiders
while I wept
the emptiness of green




Studio Portrait, 1942



two children
caught in a black and white
photograph

my brother in shorts
and Fair Isle sweater
and me in smocked dress

frozen eyes
and tight mouths

dare not smile

we might break
spill onto the carpet

turn it red




Soft Answers



between all the mornings
and "good nights"
lie questions
a child would ask
and a father answer




Like Other People's Fathers




Had he been hiding in all my childhood moods....?



would he open
the curtains
for his daughter
and let starlight in?

break the blackout?

catch bombs
before the fell?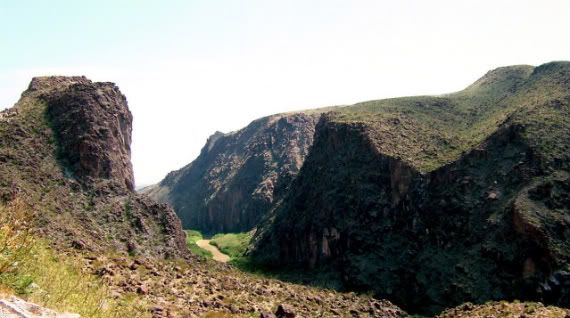 The last, harder than usual, winter killed just about everything in my back yard, and the last lack of rain since makes it equally hard to get anything new started. So, I've been spending a lot of time out there, trying to develop something growing that will bring in some color than brown. I sat about 20 minutes last week, watching the struggle against futility as it occurred.





paying for the pick-up



the squirrel
is determined and persistent

as he tries
again and again

to jump onto the birdbath -
because, I suppose, he thinks there's something there

he wants -
poor, misguided rodent,

there's nothing there but water,
hot-from-the-sun, grainy, blackbird

feathers floating and stolen dog food crumbs,
not nearly so refreshing

as right on the other side of the fence where
the creek flows clear and cool

~~

but who am I to judge a creature's
intentions, could be

it is not the water he seeks, but the
ceramic figure in the center, little Eeyore

dancing,
splashing in the water,

a friend-seeking adventure, maybe,
a new kind of friend the squirrel seeks,

like in Christopher Robin's woods
where all creatures furred and feathered

play together in the light
of a child's innocence…

~~~

but, I speculate -

the main fact is whatever the squirrel wants
on top of the birdbath, he is bound,

he is sure,
to get it, jumping over and over again,

some times from directly under the rim, sometimes
with a running start, and always with the same

result - he can reach the top,
head and shoulders over the rim,

but, sharp-fingered little paws scratching at the concrete,
he finds no hold, slipping, like a man slipping

from a precarious perch into deep, unforgiving
waters, panicked eyes and flailing tail

as he falls backward,
rolls, stands again, upright, paws

folded across his gray stomach,
as he considers the challenge anew,

gathers the muscles in his powerful legs,
preparing for another jump…

~~~

is there a moral to this, I don't know,
but there was always a moral in the 100-acre-wood

so maybe here as well, maybe something like
the old saw,

"a man's reach often exceeds his grasp"
or "if at first you don't succeed….etcetera, blah, blah"

or, in a more south Texas lingo -
any fool cowboy can jump on a bull,

it's the riding him
that pays for the pick-up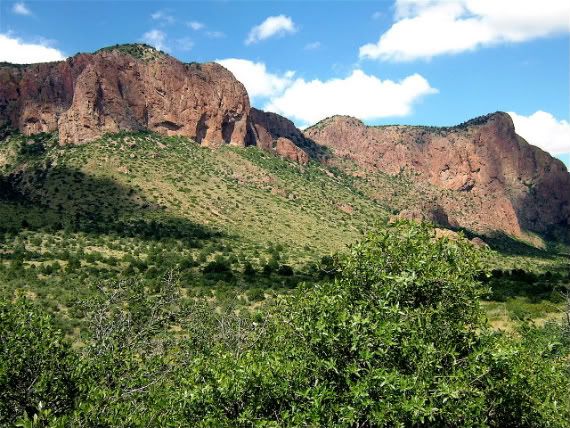 Next I have a poem by

Lawrence Ferlinghetti

, one of the few survivors of the beats. The poem is from his book

Wild Dreams of a New Beginning

, a collection of poems of the 1970's published in 1988 by New Directions.

Ferlinghetti says many things in this poem, some clearly foolish, hard to read this far from the Nixon era he wrote in. But what I read to be the heart of the poem it rings all the bells for me, a call, relevant even today, to rescue poetry from academia, a call for poets who have done something in their life beyond just studying poetry, writing poetry and teaching other people how to spend their lives studying and writing poetry.

People like me, in plainer words, who, whatever the quality of our product, write from a full life in a world that cares little for poetry and less for poets, writing for those people in that world. That's a connection, if it can be done, worth the making.

A little long, this poem, but what a great reassurance for my shy and retiring poet friends.





Populist Manifesto



Poets, come out of our closets,
Open your windows, open your doors,
You have been holed-up to long
in your closed worlds.
Come down, come down
from your Russian Hills and Telegraph Hills,
your Beacon Hills and your Chapel Hills,
your Mount Analogues and Montparnasses
down from your foothills and mountains,
our of your tepees and domes.
The trees are still falling
and we'll to the woods no more.
No time now for sitting in them
As a man burns down his own house
to roast his pig.
No more changing Hare Krishna
while Rome burns.
San Francisco's burning,
Mayakovsky's Moscow's burning
the fossil -fuels of life.
Night & the Horse approaches
eating light, heat & power,
and the clouds have trousers.
No time now for the artist to hide
above, beyond, behind the scenes,
indifferent, paring his fingernails,
refining himself out of existence.
No time now for our little literary games,
no time now for our paranoias & hypochondrias,
no time now for fear & loathing,
time now only for light & love.
We have seen the best minds of our generation
destroyed by boredom at poetry readings.
Poetry isn't a secret society,
It isn't a temple either.
Secret words & chants won't do any longer.
The hour of

om

ing is over,
the time for keening come,
time for keening & rejoicing
over the coming end
of industrial civilization
which is bad for earth & Man.
Time not to face outward
in the full lotus position
with eyes wide open,
Time not to open your mouths
with a new open speech,
time now to communicate with all sentient beings,
All you "Poets of the Cities"
hung in museums, including myself,
All you poet's poets writing poetry
about poetry,
All you poetry workshop poets
in the boondock heart of America,
All you house-broken Ezra Pounds,
All you far-out freaked-out cut-up poets
All you pre-stressed Concrete poets,
All you cunnilingual poets,
All you pay-toilet poets groaning with graffiti,
All you A-train swingers who never swing on birches,
All you masters of the sawmill haiku
in the Siberias of America,
All you eyeless unrealists,
All you self-occulting supersurrealists,
All you bedroom visionaries
and closet agitpropagators,
All you Groucho Marxist poets
and leisure-class Comrades
who lie around all day
and talk about the workingclass proletariat,
All you Catholic anarchists of poetry,
All you Black Mountaineers of poetry,
All you Boston Brahmins and Bolinas bucolics,
All you den mothers of poetry,
All you zen brothers of poetry,
All you poetry reviewers
drinking the blood of poets,
All you Poetry Police -
Where are Whitman's wild children,
where the great voices speaking out
with a sense of sweetness and sublimity,
where the great new vision,
the great world-view,
the high prophetic song
of the immense earth
and all that sings it
and our relation to it -
Poets, descend
to the street of the world once more
and open your minds & eyes
with the old visual delight,
Clear your throat and speak up,
Poetry is dead, long live poetry
with terrible eyes and buffalo strength.
Don't wait for the Revolution
or it'll happen without you,
Stop mumbling and speak out
with a new wide-open poetry
with a new commonsensual "public surface"
with other subjective levels
or other subversive levels,
a tuning fork in the inner ear
to strike below the surface.
Of you own sweet Self still sing
yet utter "the word enmasse" -
Poetry the common carrier
for the transplantation of the public
to higher places
than other wheels can carry it.
Poetry still falls from the skies
into our streets still open.
They haven't put up the barricades, yet,
the streets are still alive with faces,
lovely men & women still walking there,
still lovely creatures everywhere,
in the eyes of all the secret of all
still buried there,
Whitman's wild children still sleeping there,
Awake and walk in the open air.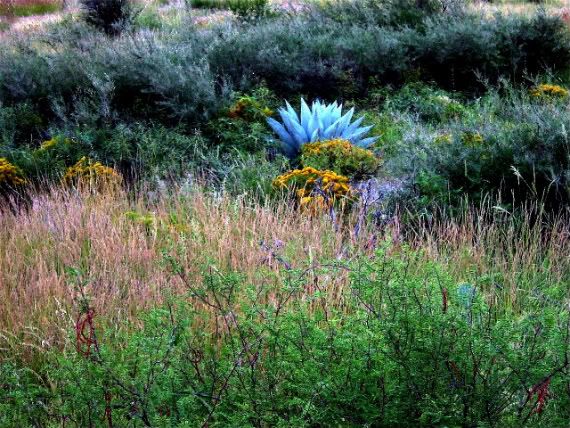 This is something I wrote in January, 2008.

It's true, I almost never remember my dreams, but when I do, it's almost always about some very specific places I'm sure I've never been.

This is one of those places.





dreams



i say
i never remember
my dreams
and mostly I don't,
even though I know
some of the ones
i remember best
are dreams
about a house, complete
in every detail,
where no house
has ever been,
a house of many rooms,
a maze of rooms
that take me, always,
to where i began,
with wood,
lots of wood,
floors of polished
hardwood
that gleams
in a kind of yellow light,
one wooden chair
in a corner,
high-backed
and arms,
old fashioned lamps
in an old fashioned house
with high ceilings
and polished wooden beams
and everything is brown,
a house, i have been inside,
walked on its polished floors
through every room that
all lead back
back to the first room,
a room always one door
away from every other room,
i know this place
even though
i know
it does not exist









Next I have a poet,

Peggy Zuleika Lynch

from the

Feeding the Crow

, a collection of eight Austin, Texas, poets published in 1988 by Plain View Press.

Frequently published in journals and anthologies, as well as author a number of books, Lynch is a three time Pushcart Prize nominee.





Aunt Nettie: a true pioneer



tall, thin
graced by wind
a bonnet tied under her chin
arms flying
back and forth
up and down
happily hoeing
her garden
apron and skirt
unfurled, billowing
a gaunt figure
windswept image
returns to my memory




living



Grandfather sits
her on his knee
she being only three
merely accepts
this kindly step
of where to sit
while he chatters
on various matters:
kitty cats, bears,
dogs with long hair
she being feisty
twists and squirms
turns
as kids usually do
trying all the while
to slide through
to the floor
and play some




Aunt Oma's way for earning her pay



pedal pushing
needle flying
up and down
in and out
bent over
concentrating
making miracles of design
for the wealthy ladies
with fabric, lace and tape
moment after moment
day after day
year after year




Della



her life was a teapot
constantly pouring out
an essence of warmth
until her whole being
emptied, leaving
flecks of unread tea leaves
patterning her end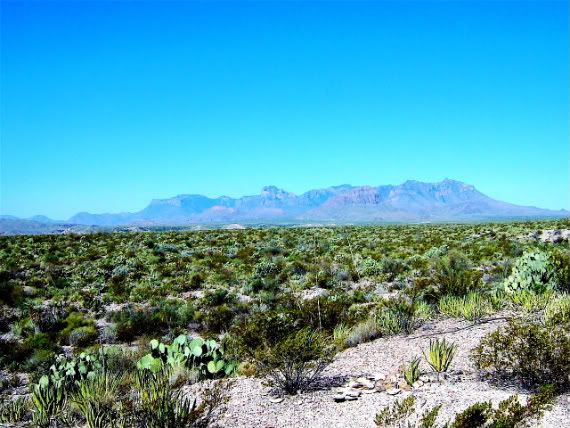 This is a follow-up to the basketball poem I posted last week, this poem written before the final story is told.





the dead rise, and prevail



a miracle shot
with only half a second
left on the clock
and the battle is won

but not the war -

the war will not be
won
in seconds, but through
96 long minutes on a
hardwood court -

two more battles,
and neither can be lost
and the odds
are not good for our heroes

but last night,
hope was reborn

last night was an ascension,
like Christ
rolling back the rock,
his wounds still fresh from the cross,

it was a night for the dead
to arise
and prevail

and I could not sleep
after
so rapid
did beat my heart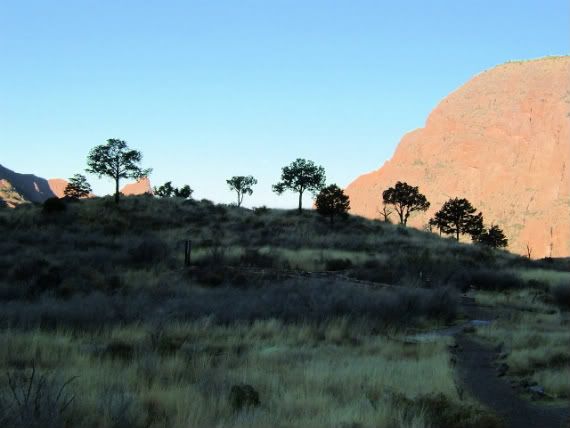 I've lived most of my life straddling a cultural and linguistic and geographic line between the American South and the American Southwest. I find, in the way I think, some congruence with the cultures of the south, particularly when it comes to the foods, but it is the ethos of the Southwest where I feel the greatest kinship. It is in the poetry of many Native Americans that seems to best incorporate that ethos and no Native American poet more than Simon J. Ortiz.

I have four of his short poems from his book,

Woven Stone

, a very large collection of his work published in 1992 by the University of Arizona Press.

Born Albuquerque, New Mexico, in 1941, Ortiz is a Native American writer of the Acoma Pueblo tribe, and one of the key figures in the second wave of what has been called the Native American Renaissance. He is one of the most respected and widely read Native American poets.

So many of his poems seem to start in or near a bus or a bus station, it almost convinces me to take a long bus ride. But I don't think it would work for me like it works for him. He's a talker and a listener; I'm a watcher and only ever see half the story.





A Barroom Fragment



He was talking,
"I invited her to Las Vegas,
and when we got to the hotel
she asked for a separate room."
I told her, "Shit, if you
want a room to yourself, why baby
that's alright, have it"
I had brought her up there
on a four-million dollar airplane,
and I told her, "You can
go across the street
and take a thirty-thousand-dollar bus
back to Burbank."
That was Coyote talking.




Four Years Ago



Four years ago
I was in Wisconsin
somewhere,
making for the stateline,
crossing,
heading homewards.
I wondered
in what period of history
I was then.

I wonder that now.

Yesterday
I told my wife
"You must see me
in the perspective
of my whole life."

It all adds
ups and downs.




Horizons and Rains



Interstate 40 from Albuquerque
to Gallup -
witness to the brown people
stumbling Sunday afternoon
northwards -

"Where's the rain that feels so good?"

and to Tsaile, the mountains, dark buttes -

"Maybe if the Hopis and Navajos
quiet messing around," Ackley says.

"Where it has always been."

The brown people losing trails
and finding trails and losing them
and finding again -

the horizons
and rains
in the far distance




Leaving America



That time in Kansas City bus depot,
met Roy.


"Yaahteh, shikis."
"Where you from?"
"Arizona."
"Where you coming from?"
"Moline."

Jus' got paid,
laid off by the Rock Island Line.

Going home.
It's got red and brown land,
sage and when it rains
it smells like pinon
and pretty girls at a Squaw Dance.

I know.




Washyuma Motor Hotel



Beneath the cement foundations
of the motel, the ancient spirits
of the people conspire sacred tricks.
They tell stories and jokes and laugh
and laugh.

The American passersby
get out of their hot, stuffy cars
at evening, pay their money wordlessly
and fall asleep without benefit of dreams.

The next morning they get up,
dress automatically, brush their teeth,
get in their cars and drive away.
They haven't noticed that the cement
foundations of the motor hotel
are crumbling, bit by bit.

The ancient spirits tell stories
and jokes and laugh and laugh.




Passing Through Little Rock



The old Indian ghosts -

"Auapaw"
"Waccamaw" -
are just bill board words
in this crummy town.

"You know I'm worrying a lot lately,"
he says in the old hotel bar.

"You're getting golder and scared ain't you?"

I just want to cross the next hill
go through that clump of trees
and come out the other side

and see a clean river,
the whole earth new
and hear the noise it makes
at birth.









This piece is from early 2007, brought to mind by the weather today, which is strangely weird, being the first of May, cooler even than the early January day this poem was written.





fire brigade



fire brigade

fifty degrees
today
and a little damp,
perfect
for sitting around
a fire
outside
and contemplating
the larger questions
of life
and the universe

so i got me
some of the wood
i keep for such
contemplating
sessions,
just enough
to fill the
chiminea,
and carefully
built
my fire base

a big problem
right off

i only have about
a half a squirt
of lighter fluid
and i knew that
wasn't enough
so i set out
to apply my
boy scout
experience
only then
remembering
i wasn't ever
a boy scout
causing a quick
transition to plan
"b"
which involved
picking my backyard
clean of small twigs
and branches
and that pile
of natural fuel
combined with
the entire sunday
edition of the
newspaper of the
7th largest city
in the united states
(smaller than phoenix
by just two thousand
parched
and dehydrated
souls)
and i had a fire
not a roaring fire
by any means
but a fire at last

a smoky fire

a very smoky fire
in fact
such that my
entire backyard
was smothered
in clouds of gray
and black smoke
leading me to worry
that one of my neighbors
might panic at all the
smoke
and call the fire department
but that turned out not
to be a problem
when it started to rain
putting out the fire
and eliminating
its smoky
output

my hot chocolate
had gone cold
while I had been
attending
to the fire so
i took it inside
and popped it
into the micro
wave until it
was steamy hot
again
then sat down
at the kitchen table
and watched it
rain
all the while
contemplating
the larger questions
of life and the
universe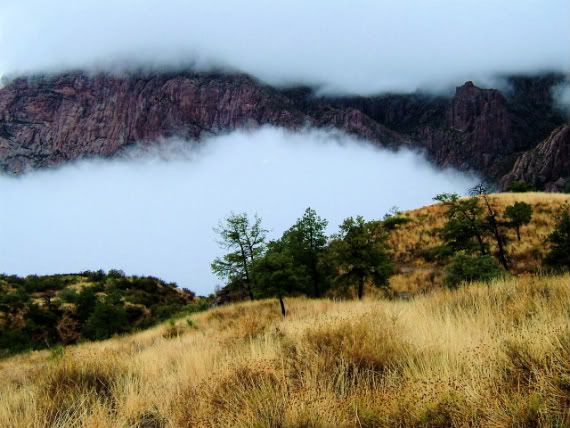 I have several poems by

Frederick Seidel

, from his collection,

Poems, 1959-1979

, Knopf in 1989.

Born in 1939 in St. Louis, Missouri, Seidel is author of many books and recipient of numerous literary prizes and honors.





Years Have Passed



Seeing you again.
Your glide, your gaze.
Your very quiet voice.
Your terror. Your quiet eyes.




The Girl in the Mirror



Oh never to be yourself,
Never to let be
And simply be there.

The same
Morning ink blot in the mirror
Making a face up,

Making up a face. You need
All your strength
Never to be yourself.

Skirt, boots and sweater
Green as a stem.
I'll wear them.

Take me down from the shelf.
Oh never to be yourself
And always to be the same.

Like the air and the wind,
The wind and the air.
I hear a very quiet voice,

Emphatic like a flower,
Saying
It is I.


Before the next poem, a memory from me.

Everyone over the age of 4 on that day remembers it, either as a child's dream or in the sharp, slicing light of black and white TV. Twenty years old on that day, near to twenty-one, for me, like for many, it was the day innocence died and today was born. I wasn't a believer in the Camelot myth, and later learned much to justify that disbelief, but it made no difference then and makes no difference now.




November 24, 1963



The trees breathe in like show dogs, stiffening
Under the silver leases of light rain
To spines. A Cyclone fence that guards the moire
Embankment of the shrunken reservoir
Bristles with rain barbs, each a milk tooth, sting
Of stings, where fall began. The park's a stain,
The black paths shimmer under cellophane.

It is so real. Shy ghosts of taxis sniff
And worry in the empty park streets, lost
And misted lights, and down Fifth Avenue:
The flags soak at half-staff, bloodshed and blue;
Bloodletting stripes repeating their mute riff;
Gray stars, wet union sky of stars, crisscrossed
With petrifying folds and sparks of frost.

The rain points prick th lake and touch the drought,
The dusk blue of a sterile needletip.
The brightness and the light has been struck down.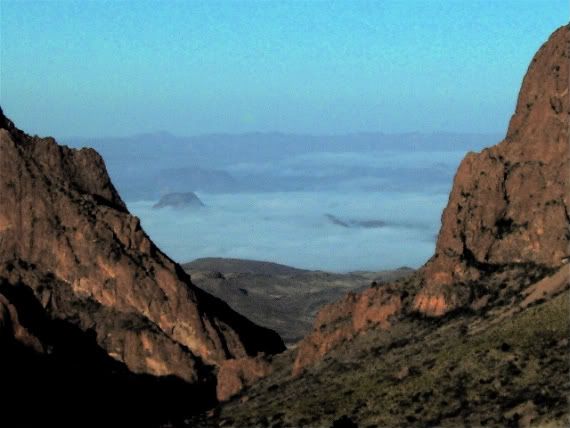 I was on a roll early in 2008, writing some pretty good short poems.





on the death of Audrey Hepburn



lord
she was
beautiful

but we were
adolescent boys
in a time of
mammillary
obsession
and
never
noticed




clarification



young girl
maybe twenty
not much more
fiery
in speech
and manner
says

there ain't no
country
called Hispanica
so how can I be
Hispanic

and there ain't
never been no
country
called Latin
and if they was
they been dead
a couple of thousand
years
anyway

so no way
I'm
Latin

but there is a
Mexico
and that's where
my blood roots lie
so that makes me
Mexican -

you got a problem
with that?




omen



been here
before

vision blurry
equals
sugar
high

i look to the
future
and hope
to
see




the master



i just let
the cat out
to do her morning
duty

it's 35 degrees
and raining

she was back
at the door
again
wanting in
before
I could leave
the room

she is a master
in the winter
flash
poop-n-cover
competition




the shortest poem



the shortest
poem
is

the
sigh
in a lover's
farewell




when the gate finally opens



the hardest part
is the sitting
still
and waiting -
watching
for the moment
the image
the word
the stray
thought
that opens the gate
to the poem,
lurking
like a riled bull
waiting to be rode,
to dance
to your command...

if you're poet
enough




while walking in the neighborhood, late



the few leaves
still clinging to the trees
rustle in the breeze
like water over rocks

the cold north wind
bracing -
like drinking
from a mountain stream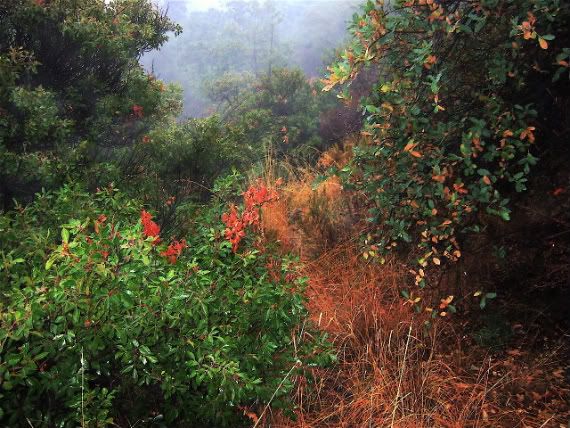 Next, I have two poets from the anthology

The Anchor Book of Chinese Poetry

, subtitled "From Ancient to Contemporary, the Full 3,000 year Tradition." published in 2005 by Anchor Books.

This week I have chosen to stick to a couple of contemporary, or near contemporary, poets from the book.



The first poet is

Lin Huiyin

who was born in 1904 and died in 1955. She was the daughter of a powerful governor and traveled with him to Europe and the United States. She and her husband studied together at the University of Pennsylvania, where she was forced to study art instead of architecture because the School of Architecture was not open to women. Nevertheless, she became an important designer and architect in China and both she and her husband taught architecture at Qinghua University, where her husband founded the architecture program. The both also worked together as architectural historians, attempting to preserve China's heritage. She was involved with the Crescent Moon Society and wrote fiction, drama, and essays in addition to poetry.

In the Communist era she and her husband helped to design the national flag, the national emblem and the Monument ot the People's Hero in Tianamen Square.

This poem was translated by

Michelle Yeh

.




Sitting in Quietude



Winter has a message of its own
When the cold is like a flower -
Flowers have their fragrance, winter has its handful of memories.
The shadow of a withered branch, like lean blue smoke,
Paints a stroke across th4e afternoon window.
In the cold the sunlight grows pale and slanted.
It is just like this.
I sip the tea quietly
As if waiting for a guest to speak.


Next, I have a poem by

Dai Wangshu

. Born in the Zhejiang province in 1905, he and a friend founded the Blue Society and published a literary magazine called

Friends of the Blue Society

. Studying the Chinese language and Literature at Shanghai University and then French at Zhendan University beginning in 1923, he and friends began publishing another literary journal,

Jade Stone

in 1926. He had joined the Communist Youth Corps in 1925, then the Left-Wing Writers League in 1930 and was arrested for revolutionary activities. He published his second book in 1933 and returned to China in 1935 as editor in chief of

Modern Literature

. After the Sino-Japanese war, he returned to Hong Kong and continued to work as an editor. After the Japanese invaded Hong Kong in 1941, he was sent to prison briefly and it was while in prison that he wrote the poem below. He died in 1950.

The poem was translated by

Gregory B. Lee

.




Written on a Prison Wall



If I die here,
Friends, do not be sad,
I shall always exist in your hearts.

One of you died,
In a cell in Japanese-occupied territory,
He harbored deep hatred,
You should always remember.

When you come back,
Dig up his mutilated body from the mud,
Hoist his soul up high
With your victory cheers.

And then place his bones on a mountain peak,
To bask in the sun, and bathe in the wind:
In that dark damp dirt cell,
This was his sole beautiful dream.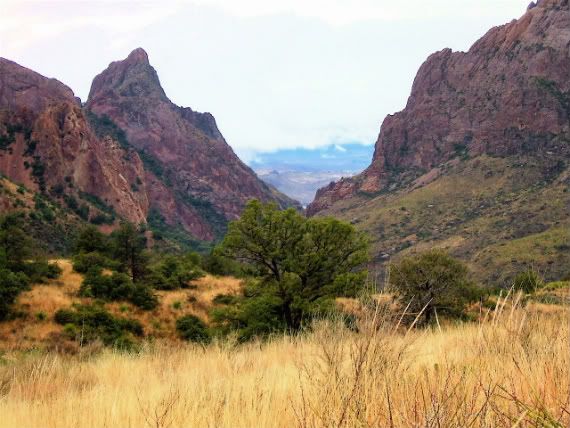 I had a rant here on the necessity for us to get past our 9-11 obsessions, irrelevant today as this is the day we killed bin Laden (Justice, at last!).

I decide to delete that poem and use the following instead, another rant about another kind of justice and another kind of atrocity.

Some years ago, in another city, I was appointed by the county judge to fill an unexpired term on the County Welfare Board. After a year or so, the term was up and I was asked to accept reappointment.

The plight of so many children suffering from vicious abuse by their parents, sometime unto death, made the task of serving on that board the most heartbreaking and impossible task I had ever undertaken. I had taken many such community service appointments in the past and had never faced anything as hopeless as this one.

Basically, I cut and ran, declining reappointment. I was not accustomed to futility and had, in that position, taken on more than I could accept.

That story is background to this poem, another rant, written a couple of years ago after a particularly bloody two weeks for children in San Antonio.





where does justice draw the line?



i want to write
about the four
children
murdered
by their parents
in this city
in the last two weeks,
to memorialize them
somehow,
but cannot

i don't have the language
to say what i want to say
and my mind drifts
to other things
to evil,
for example

i don't believe
in god
but i do believe
in evil,
the diabolic
evil
of mass murders
and the casual
evil of parents
who kill
their children -
the mother who
smothered her baby
because it would not
stop crying,
the father,
angered to madness
by his wife,
who shoots their
two daughters,
age 10 and 5,
in the head,
then kills
himself,
the woman
who swings her
baby like a baseball bat
to strike her lover -
what do we do
with these people?

i'm a believer
in capital punishment,
i believe humanity
has the right and obligation
to protect itself against
the most evil among us,
some born that way,
i am convinced, evil
from the moment
they leave their mothers'
womb, others who learn
their evil from the circumstances
of their life,
born or made, i don't care,
it is the consequence
of their act
not the consequences
of their lives that matter,
as a consequence
of their act
they do not deserve
our solicitude,
maintaining the life of
Charles Manson
for a year
costs as much as or more
than sending a needy
student through a year
of college -
I say kill the bloody
son of a bitch
and send the money
to the kid

but that's an easy case

it's the drawing of the line
that makes these questions hard

three parents killed four children
in this city in the last two weeks

where do we draw the line
for them?

where does justice
draw the line
for these four
children?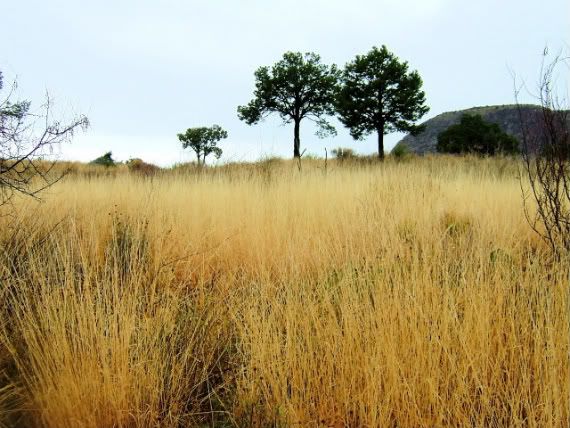 Now I have two poems by

Susan Griffin

, from her book,

Like the Iris of an Eye

, published by Harper & Row in 1975.

Griffin is a poet, essayist, playwright and screenwriter. She was born in Los Angeles California in 1943





Tiredness



Tiredness licks
at my heels
an old
dog
walking across
the patio;
the belly is gone,
the hair
faded.
I have traveled
from
patio to patio, pool to pool
dipping my feet
in various seas
(Aegean, Atlantic, Pacific)
waking each
time as if
now I would
stay awake
and my feet
would not
doggedly shuffle
in the same circle
looking at
each point
for the sunlight
on the water.
Tiredness,
I give it to you.
I am making a
house for you.
I will love you
like an old dress
become worn and soft.
I will smile on you
with your hair
turning dull and old.
I will welcome your aching and
your half-open eyes
because tiredness at least
you
have always been
faithful




Chile



My daughter pleads with me
for the life of our goldfish
souring in a tank
of ancient water,
"I want them
to
live," she
says. Late at night
I pass the green tank
still full of guilt.
I have chosen
in the hierarchy of my life
to go to work,
to shop,to cook, to
write these words
before saving fish;
choices surround me.
Nothing is ever right.
Every breathing space
asks for help;dust multiplies in the
hallway;
lecture notes fly away
through windows which
need glass and paint
and in the back of my mind
somewhere
is a woman
who weeps
for Chile
and shudders at the
executions.
All along she
has been
pondering the social order
and her
worried thoughts
slow
my
every movement.









One reason hy I like those Chinese samurai movies.





china silk



everything
I know about
Mandarin Chinese
I learned
by listening
to Chinese movies

there is a soft sound
in that language
that holds for me
a little piece
of the mysteries
of the orient

it's a musical sound,
something like



sssha



that purses
the lips in a way
to me
most delightful

the Cyrillic alphabet
has a similar sound



ssscha



but it's harsher
and harder
with something
of the Russian winter
in it,

while the Mandarin



sssha



seems soft and intimate
as china silk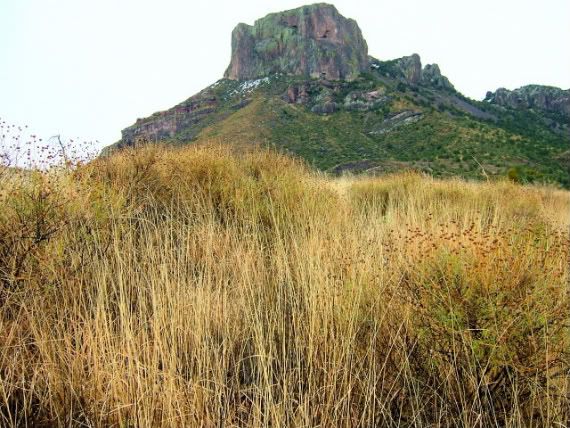 Next I have work by

Pablo Neruda

, the twelfth and concluding section of his epic poem

The Heights of Macchu Picchu

. My copy of the book is a twentieth printing by Noonday Press in 1994.

In this section, Neruda speaks, as described by Robert Pring-Mill of St. Catherine's College, Oxford, to "all the men who died building the city so that they might rise again to birth - with him and through him as his brothers."

This is a bilingual edition, Spanish and English, translated by

Nathaniel Tarn

, on facing pages.





XII



Arise To Birth, with me, my brother.

Give me your hand out of the depths
sown by your sorrows.
You will not return from these stone fastnesses.
You will not emerge from subterranean time.
Your rasping voice will not come back,
nor your pierced eyes rise from their sockets.

Look at me from the depths of the earth,
tiller of fields, weaver, reticent shepherd,
groom of totemic guanacos,
mason high on your treacherous scaffolding,
iceman of Andean tears,
jeweler with crushed fingers,
farmer anxious among his seedlings,
potter wasted among his clays -
bring to the cup of this new life
your ancient buried sorrows.
Show me your blood and your furrow;
say to me: here I was scourged
because a gem was dull or because the earth
failed to give up in time its tithe of corn or stone.
Point out to me the rock on which you stumbled,
the wood they used to crucify your body.
Strike the old flints
to kindle ancient lamps,light up the whips
glued to your wounds throughout the centuries
and light the axes gleaming with your blood.

I come to speak for your dead mouths.

Throughout the earth
let dead lips congregate,
out of the depths spin this long night to me
as if I rode at anchor here with you.

And tell me everything, tell chain by chain,
and link by link and step by step;
sharpen the knives you kept hidden away,
thrust them into my breast, into my hands,
like a torrent of sunbursts,
an Amazon of buried jaguars,
and leave me cry: hours, days and years,
blind ages, stellar centuries.

And give me silence, give me water, hope.

Give me the struggle, the iron, the volcanoes.

Let bodies cling like magnets to my body.

Come quickly to my veins and to my mouth.

Speak through my speech, and through my blood.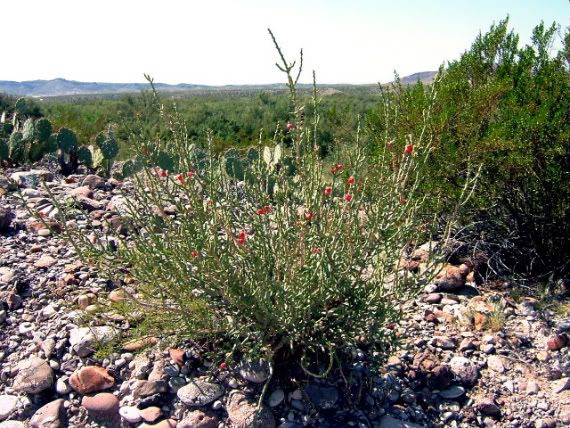 Caution, personal pet peeve ahead.





time's up



I'm never without
my timepiece,
but, if, on some dark day,
the universe
goes into a skid
on icy rails
and I
am without my watch
and ask the time
of some imperturbable soul,
I don't want to hear
"about three"
or "a little past six"
or "almost noon,"
I want to know what
time it is,
exactly

or when Dee calls
and wants me to meet her
downtown for dinner
and I ask when
I don't want her to say
"oh, sevenish, "
which is not a time at all
but an anti-time,
I want to know
is that seven, seven-fifteen,
six-forty eight or quarter to eight,
cause I don't want to be late
and I hate to wait when I'm early

but i am
time
compulsive
and Dee
is more attuned
to ancient spirits
who understood time, if at all,
only in terms of dark times
and light, moons, seasons,
events, heroic feats that mark
a particular memorable period
as in - oh, yes that was when
Uncle Hawk-Flies-Straight
killed the grizzly bear
which was before
Leaping-Fish
stole fourteen horses
from the Kikapoos,
but after
Eyes-of-Gray-Wolf
married
that hussy
Little-Green-Meadow
in the snow
up to their
knees

you have to ask
yourself
how did those guys
ever
get to dinner
on time?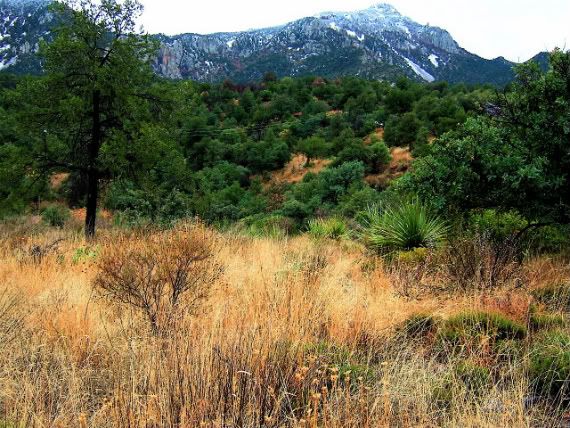 So here's another of my favorite poets. (Amazing how the number of my favorite poets have multiplied since I started this blog six years ago.)

In this instance, the favorite poet is

Leroy V. Quintana

, born in Albuquerque, New Mexico in 1944 and presently Professor of English at San Diego Mesa College. Quintana served in Vietnam in 1967-68, where he kept a journal that became the source of many of his poems.

The poems I have selected for this week come from his book,

The Great Whirl of Exile

, published by Curbstone Press in 1999.





Poem for Marilyn Monroe



Proof is what mathematicians' wives contend with,
the more proof you require the better the whiskey.


Therefore, if there is a storm, or say
your minimum wage pays for three weeks and a couple of days
out of the month and electricity turns its back on you,
you need only to pull three socks out of five
from your dresser drawer to find a match.

The owner agrees; he posed the question,
but no matter what brand of truth you offer,
the chap next in line for the best fish an chips
in Albuquerque, or New Mexico, in other words, the world,
is harder to convince than an enraged tax collector.

It's an easy world; all that needs to be done to be considered
an adult is to lift the plastic sheet over that picture
of hers on the calendar, and her clothes come off Easy.
Nobody has to worry about what thirteen-year-olds
have to say or what miracles they pray for.




Poem for Toby Lee



Today, water is not worth all the blood
that has been spilled over it.

Fish have learned to weep.

The Rio Grande swallows its tears.

Mermaids look to the heaven sand proclaim "Fraud!"

A new law should be enacted: a lifetime must
last longer than eighteen months.

I drink from her lips,
her first love.

The ambulence arrives; the driver wraps her
in

The Las Cruces Sun-News






Poem for Pancho Gonzales



this was th world of white lines, a game
unlike any other, where the object was to win,
only you used words like "please"
if your aim ended up improperly
in the next court, "Thank you" when
the ball was returned and "Love"
after you scored first.

Yours was the name that survived
the hatred only California can inspire,
strong enough to be etched in fire
on tennis rackets redeemed
by thrifty mothers who built a life
on S&H Green Stamps a dish,
a dish, a lamp, and ashtray at a time.




Poem for Grandpa



Grandpa had a furious temper; when angered
cursed fiercely. Even though he knew
only a few words of English
started out by taking the Lord's name in vain
which was followed by what was clearly Spanish,
and then with what would have been fluent English
had he been born in Brooklyn and not New Mexico.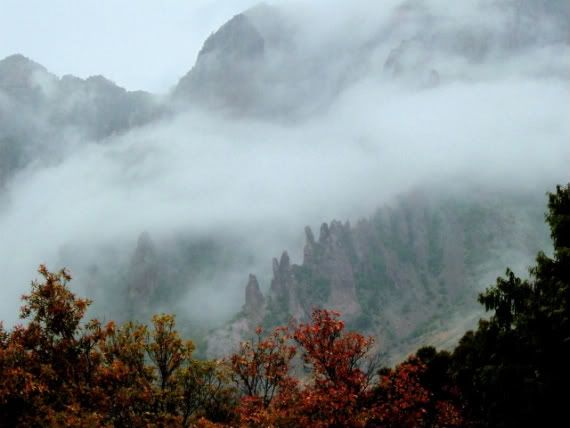 The answer to the early question is in. The Spurs lost, an almost perfect season lost to the 8th seed team.





champions fall, heroes fade



champions fall
heroes
fade -

memories
of the quest sustain us -
the years when brave
were our hearts
and valor our shield…

still, there is pain
in acceptance,
and pain in the knowing
that
in the end
we all grow old
and tire
and learn the gunslinger's
creed -

for every fast hand
there is a faster hand coming,
the dark truth
lingering
at Black Rock Junction,
waiting for the train to our extinction..

arriving soon
in the falling hours
of our dim afternoon

~~~

broken champions
sad heroes
falling……fading











Siegfried Sassoon

became a poet in the bloody, muddy trenches of World War I. He was one of the lucky ones, coming out of those trenches alive in the end, part of a generation of truth-telling poets who did not survive the bloood, finding their glory in their poems instead.

Here are three short poems from the collection of his work then,

The War Poems

, published by faber & faber, first in 1983, with my edition published in 1988.





Glory of Women



You love us when we're heroes, home of leave,
Or wounded in a mentionable place.
You worship decorations; you believe
That chivalry redeems the war's disgrace.
You make us shells. You listen with delight,
By tales of dirt and danger fondly thrilled.
You crown our distant adours while we fight
And mourn our laurelled memories when we're killed.
You can't believer that British troops "retire"
When hell's last horror breaks them, and they run,
Trampling the terrible corpses - blind with blood.
O German mother dreaming by the fire,
While you are knitting socks to send your son
His face is trodden deeper in the mud.



Craiglockhart, 1917






Autumn



October's bellowing anger breaks and cleaves
The bronzed battalions of the stricken wood
In whose lament I hear a voice that grieves
For battle's fruitless harvest, and the feud
Of outraged men. Their lives are like the leaves
Scattered in flocks of ruin, tossed and blown
Along the westering furnace flaring red.
O martyred outh and manhood overthrown,
The burden of your wrongs is on my head.



Craiglockhart, 1917






Remorse



Lost in the swamp and welter of the pit,
He flounders off the duck-boards; only he knows
Each flash and spouting crash, - each instant lit
When gloom reveals the steaming rain. He goes
Heavily, blindly on. And, while he blunders,
"could anything be worse than this?" he wonders,
Remembering how he saw the Germans run,
Screaming for mercy among the stumps of trees:
Green-faced, they dodged and darted: there was one
Livid with terror, clutching at his knees...
Our chaps were sticking 'em like pigs..."O hell!"
He thought - "there's things in war one dare not tell
Poor father sitting safe at home, who reads
Of dying heroes and their deathless deeds."



Limerick, 4 February 1918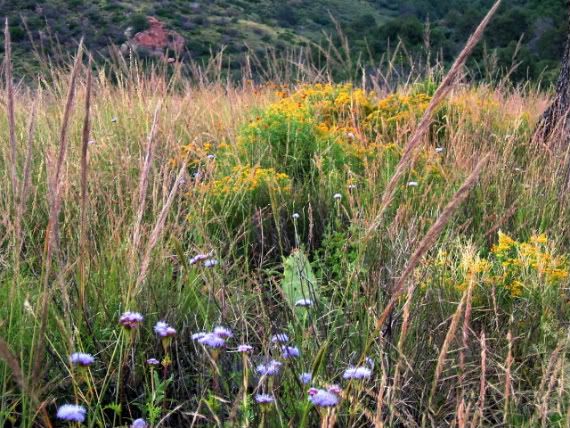 Sunday morning at breakfast, look around the room who might have a poem behind their over-easy eggs and bacon.

Look, there she is.





the woman with the interesting hair



she's older than middle-age
but not yet old,
with retro-hair, at first glance,
war-bride hair,
tightly-permed bun up front
and one more on each side
and my first thought
was Betty Davis in one of those
40's movies where she's a haughty bitch
who gets brought down to earth
by a strong man's good kissing and other stuff
unmentioned
at the time

and though this look
is what I always think of first
when I think of Betty Davis, I do the Google-dance
and can't find a single picture of her
with that hair style

so I think to myself, goodness sakes,
if it's not Betty Davis who am I thinking of, then it hits me,
Little Orphan Annie,
but I Google-dance again
and see that it's not the triple-bun look she has
but a kind of red/orange afro, a helmet thing,
like the motorcycle guys wear, thick, covering forehead
to the nape of her neck, with bumper guards on each side
sticking forward almost to her chin

so, wrong again

then, all of a sudden,
(sudden, being this not a poem where things happen slowly)
suddenly, way back in the most dusty corners of my brain,
where the oatmeal
has turned to redi-mix concrete plugs of
almost forgotten memory,
(like the pretty yellow-haired girl who played with me
on the sidewalk in front of a house
I don't even remember)
way-back stuff, in other words,
concrete shifts, cracks,
and breaks through it all my to my first
fictional
girlfriend, Lil' LuLu,
except instead of one brillo-pad bun
centered up front
she has two, along with the two sticking out
behind her ears,
not exactly right, but hell
I've already spend 30 minutes thinking
about this, and the woman with the interesting
finished her breakfast and left
long ago, so I don't even have anymore the real model
to compare my memories to, so anything more
falls into the dead horse beating category,
which I would never do, beat a dead horse or any other animal
alive or dead,
and to avoid beating such dead horse, or any other animal,
dead or alive,
I am satisfied to label this the "Lil' Lulu" simile,
or metaphor, I never can keep those too straight,
which one is which one, which one is "like"
and which one is "is"
and you could
probably
help
here by taking over
while I finish my
coffee
and flapjacks,
except I didn't really have flapjacks

I just like the word,
has a kind of Rocky Mountain
Bunyon and Babe
flannel shirt
feel to
it
that jump starts my testosterone flow
and pumps up my masculine
imagination
of tall trees and soft grasses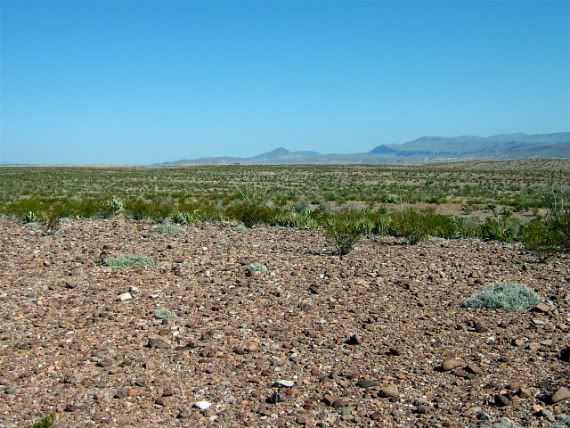 Next, I have a poem by

Wendy Barker

, from her book,

The Way of Whiteness

, published by Wings Press of San Antonio in 2000.

Barker, born in 1942, is Poet-in-Residence and a professor of English at the University of Texas at San Antonio, where she has taught since 1982.She received her B.A. and M.A. from Arizona State University and her Ph.D. in 1981 from the University of California at Davis. Barker also taught high school English in Scottsdale, Arizona, between 1966–68 and in Berkeley, between 1968-72.

She has published five books of poetry and three chapbooks as well as a selection of poems with accompanying drafts and essays about the writing process. Her translations (with Saranindranath Tagore) of Nobel Prize-winning poet Rabindranath Tagore received the Sourette Diehl Fraser Award from the Texas Institute of Letters.

Another one of my favorite poets, simple words, a deep, but simple, story.





On the Subject of Jackets



Toward the last, my father asked for his tweed
jacket, described the tie, the striped shirt
he wanted to wear to the hospital, not knowing

he would be strapped to a gurney, dressed
only in a short cotton gown for the winding
ambulance ride on New Hampshire roads

across the river. I followed in the car with
my mother, snug behind the wheel, sun through
the windshield. A thermos of tea beside us.

He asked for his jacket in the voice he had used
to a secretary on the other side of his polished desk.
People signed their names to his words.

Today you tell me your grandfather, seventy years
ranching in the Texas hills, is dying. Matter of fact,
you say when it happens you won't know who you are.

Clean blue of a New England September sky
as my mother and I pushed through the glass
entrance from the shop-lined street where

I decided to buy a jacket. Soft, same blue
as the skirt I wore that he had touched,
saying, "Pretty, this is pretty."

Every morning I pressed that skirt,
stroked the iron over the blue
cloth of the jacket, color of his eyes.

Wore it when I walked into his room
unable to talk because he couldn't.
For weeks the jacket covered me

as I met my classes. And then one afternoon,
I left it in the room where I met you
that fall my father died. You blue eyes, like his.

You talk now of the way your grandfather
wielded a knife for castrating calves.
The jacket's cloth was smooth from all that ironing.

I never got it back. I have nothing left to prepare you
for the cold, except what I cannot give. Stroking
of skin on skin. the clothes we can never wear.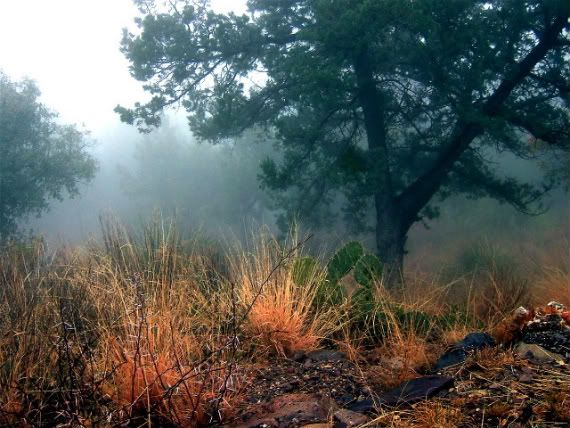 Once, with nothing to do (not a rarity in my life) I decided to make a list of famous people with whom I had had an encounter.

Not many, but here they are.





rubbing elbows



I bumped into,
literally,
Chet Huntley
in the Indiana University
library and David Brinkley
about twenty-five years later
at a chamber of commerce dinner;
I saw Dwight Eisenhower
and Charles de Gaulle
as they passed in a motorcade,
Ike in Texas and de Gaulle
in Paris; I sneaked into
a lecture by LBJ at Texas
State University and had
several close interactions
with George Bush while
he was governor; I was
on the University of Texas
campus when the crazy guy
started shooting people
from the UT Tower, but
I was on the north side
while he was mostly shooting
south, all the way downtown,
and didn't know anything
was going on until it was
almost over; I saw Freddy
Fender once when he was
visiting a friend of his who
was a coworker of mine; I've seen
David Robinson at the bowling
alley and at a bookstore, and
I saw Popovich once at the same
bookstore looking at wine magazines

that's pretty much all the famous people
I've had any kind of contact with

I've seen a bunch of unfamous
people, too, but I don't
remember their
names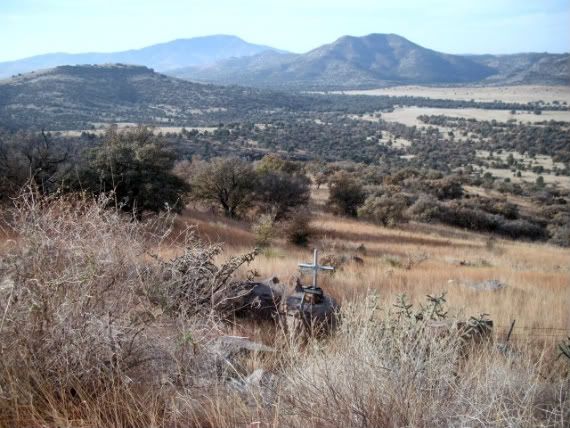 My last poem from my library this week is by

Robert Pinsky

and it's from his book

Gulf Music

. The book was published by Farrar, Straus and Giroux in 2007.





Inman Square Incantation



Forgive us, we don't exactly believe or disbelieve
What the President tells us regarding the great issues
Of peace, justice and war - skeptical, but distracted

By the swarm of things. The young Romanian poet in L.A:
She said, "In Romania, bums are just bums, but here
In America the bum pushes a cart loaded with his

things

."

With a mean elfin look one of the homeless carters
in Alfred Vellucci Park sometimes bets using
A stuffed dog, bear or bunny as a prop: the paper cup

Panhandled toward us passing marks puppetwise -


Can you spare a little for Teddy?

Or

The Doggie's hungry

-
Crooning maternal parody, a wheedling mock-innocence.

The noseringed leather kids who haunt the T station seem
The reverse - feigned menace.But one bashed some black girls
On the train, using the kind of metal rod called an "asp."



Some money to feed the bunny?

his little poetry reading.
And the plush animal a street sign among signs, his ad
For something more personal and abounding than just need.

His smirk knows a thing sharper than pity to block my way by
The brazen ten-fot tenor saxophone that markes

Ryles

,
To

Top Cleaners

, the bank machine and

Patel Quick Food Mart

.

Thedictionary says that a

thing

is first of all an assembly.
Forgive the word "bums." Forgive "homeless," our sheepish
Euphemism. "Derelict" is better for these forsaken.

Across the street from

Cherveija e Vinhos

and

Boston Improv

,
The Romanesque firehouse's arches from bas-reliefs
Of horse-drawn ladder & hose. Amid thee signs of civic

Rescue and cleansing, diversion and provender, let's
Remember, you rat-faced beggar: I dislike you. Forgive me.
And if as I pass again from where I've been I choose to take

A dead president from my breast pocket where I stowed the thing
To put it in your cup, it isn't Charity, but superstition - a provisional
Wishful conspiring with the artist in you, son of a bitch, bastard.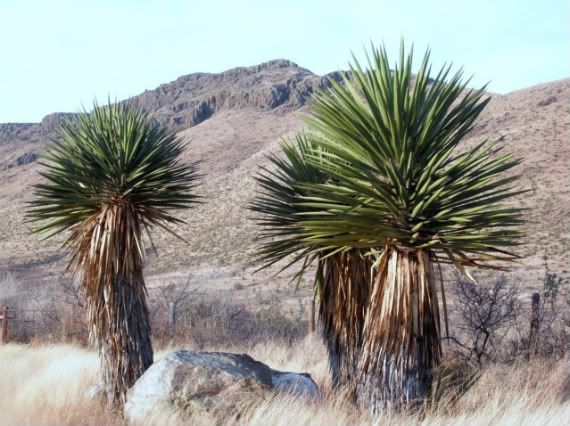 I wrote this last week after reading the quote that leads the poem and on the same day that, as mentioned earlier, the weather seemed to be surrendering to the forces of chaos. It's my last poem for the week.





chaos management



"I am not afraid of chaos because chaos is the womb of light and life. What I don't like is mismanagement of chaos"
&nbssp; - Franketienne, Haitian author, poet, playwright, painter

there are patterns to the
universe,
from the orbits of galaxies
to the circling
of the tiniest electron
around it's mother-neutron
anchor
to the greening and falling
of leaves
to the daily commute
of bankers and painters
and donut makers
to the soft sleep of babes and the long
dry nights
of old and time-worn men
all circling

all circling
each circle a world within itself
inter-acting with its fellows in shadows
of confusion,
like looking at the color patterns
of gumballs
encased in glass,
patterns seen only through a one-eyed
squint from some great distance, the further away
the clearer becomes the organization
red upon green next to blue under yellow,
each placed in a structured chaos,
like the universe
in all it chaotic glory, structured truth
we can never get distance enough
to see, an incubator spewing chaos,
indestructible unalterable manageable
only through the indirection
of unseen hands
that must never fumble
or chaos will solidify and all the circles
will stop their spinning
and fall to the lethargy of inertia stilled
and all that is will, like Lot's wife,
turn to salt crumbling on a silent plain
in a steady wind of never-
again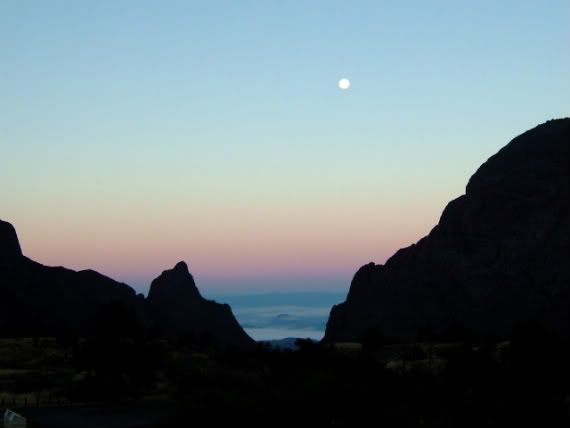 I know I said the above poem was my last for the week, but here's one more, in celebration of a very good week.





if I could walk on water



he's dead
shot in the head
dead
by Fred
the stalking
Seal

(really big deals
those Seals
who made him
dead
with a shot to the
head)

and
if
I could walk
on water I'd dance
on
his grave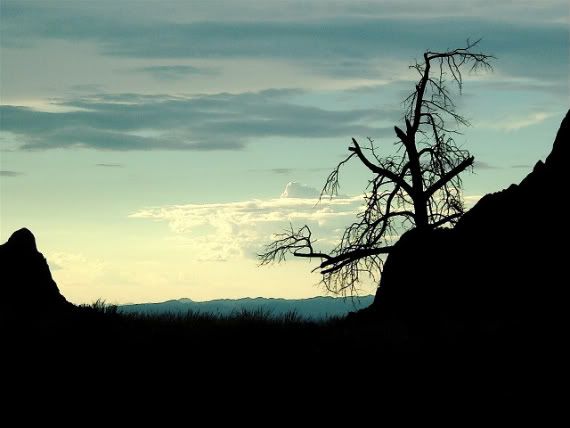 dat's it.

Not sure why I do this every week, but I'm told it may protect me from being sued and having all my vast profits from "Here and Now" seized by indignant poets. (How much is 100% nothing?)

Anyway, I am appreciative to all the poets whose work I borrow and it certainly should clear that they are just borrowed and never claimed as my own. All others should respect that as well, recognizing that all the material in the blog remains the property of its creators. My stuff, as I've said before, is available to anyone who wants it merely for the courtesy of proper credit for me and "Here and Now."

And the me in this case is, me, allen itz, owner and producer of this blog and frequent visitor to my fellow poets' well of goodwill and encouragement.