Introducing Doreen Peri
Tuesday, March 22, 2011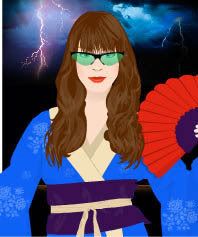 VI.4.1.





This is one of my longest posts in a long time, but before that I want to mention

Kevin McCann

, my poet friend from across the sea has just published a new book,

I Killed George Formby

.

For more information about Kevin's book, go to:



http://www.erbacce-press.com/#/kevin-mccann/4529477342



As to this week's post, I very pleased to introduce artist/poet

Doreen Peri

, who is both my featured poet and featured artist this week. You'll find more information about Doreen later, when you get to her poems. In the meantime, and throughout this post, enjoy her very varied talents as a photographer, painter and graphic artist.

Here's the poet-posse for this week.




Rodney Jones

-
Small Lower-Middle-Class White Southern Male
Bofus
First Fraudulent Muse



Me




winner in the end





Ani DeFranc

o
tiptoe
subdivision



Me




too late





Coleman Barks


Easter Morning, 1992
An Up To Now Uncelebrated Joy
Light, Many Footed Sound in the Leaves



Me




I dreamed last night





Jack Cooper




The Turtles of La Escobilla





Laura Horn




Parting





Me




watching a squirrel hide his nut





Doreen Peri


Infinite. One
Maslow's Slave
I Misunderstood My Shrink



Me




the squirrel ate my homework





Jane Hirshfield


Ukiyo-e
Recalling a Sung Dynasty Landscape



Me




not a poem, or maybe its - I'm still thinking about it





Marge Piercy


The miracle
The simplification



Me




come, Lord Jesus, be our guest





Belle Waring




Gringos





Me




what we do until we can think about sex again





Gary Soto


Some History
Notes for Sociology
The Skeptics



Me




scant skits





Naomi Shihab Nye




Living Where We Do





Me




you have a really good day





Alberto Rios




A Simple Thing to Know





Me




and this is why





G.E. Patterson




Remembrance





Me




I'm sure you'll think of something





Diane Glancy


Kemo Sabe
Portrait of the Artist as Indian



Me




morning





Joshua Clover




The Autumn Alphabets (3)





Me




back then





Yorifumi Yaguchi


A
Words
A Military Song
Many Winds
A Woman
In the Wods



Me




avoiding the void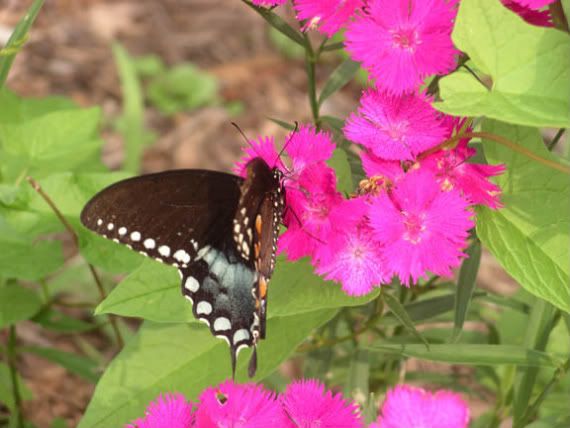 Photo by Doreen Peri




First this week, I have poems by

Rodney Jones

, a native of Alabama who, at the time of publication, was a professor of English at Southern Illinois University at Carbondale. Among other honors, Jones was a finalist for the Pulitzer Prize and has won a National Book Critics Circle Award, a Southeast Booksellers Association Award, and a Harper Lee Award.

The poems are from

Salvation Blues - One Hundred Poems, 1985-2005

, the poet's eighth book, published in 2006 by Houghton Mifflin





Small Lower-Middle-Class White Southern Male



Missing consonant, silent vowel in everyone,
pale cipher omitted from the misery census,
eclipsed by lynchings before you were born,
it cannot even be said now that you exist

except as a spittoon exists in an antique store
or a tedious example fogs a lucid speech.
Your words precede you like cumulus
above melodrama's favorite caricatures.

In novels, you're misfit and Hogganbeck;
in recent cinema, inbreeding bigotry
or evolving to mindless greed: a rancher
of rainforests, and alchemist of genocide.

You're dirt that dulls the guitar's twang,
blood-soaked Bible, and burning cross.
You cotton to the execution of retards,
revile the blues, and secretly assume

Lindbergh's underground American that sided
with the Germans in World War II.
Other types demand more probity;
you may be Bubbaed with impunity.

This makes some feel prematurely good.
They hear your voice and see Jim Crow.
But the brothers wait. Any brother knows
that there are no honorary negroes.




Bofus




We have founded anew kind of frog:
three-legged, one-eyed; or one-legged with three
eyes. Hops backward. Spongiform
tentacles creep its spine. Odd
to describe, like tubing around the heart,
an off

la

in the elemental rag.

Is Earth already whacked? How
address a prayer: "God Junior"? "Ms. God"?
The iron heats, the waffles pop.
But grace stings the meat. What a strange
duffel Brother Esophagus unpacks.
Taste quick. It's sewage down the pipe.

void once meant filth. Frogs hopped
what grew from it. Now the jig's up.
Elimination spawns a myth.
Frogs lollygag under a rainbow
scrim of antifreeze and PCPs
or leap to prophets in songs.

Cinema sci-fi loves anthro-frogs,
orange planets of tight clothing
where cyber-sleuths glibly concoct
the quantum physics of a hop.
Ideal frogs are rainforest cancer cures.
The default frog's a caricature.

The default human's real, but how
weird to live in a body-looking out
but always staying in, not
knowing what's there and not,
and all the while beating against
the limits of perception like a moth.

I'm happiest, frog-like, is in a tub,
ballooning a wash of ticklish bubbles.
Money swallows men and excretes cartoons,
the central dodge. Everything
shed comes back as drinking water.




First Fraudulent Muse



Not seventeen, she dumped me.
No one has to tell me
A thing about the sorrows,
Aches, indiscretions,
And calamities of young poets
Of the United States
In the late twentieth century.
The poem I wrote then,
The one that would make her
Want me, either for my wry
Sensitivity or the scholarly erudition
Of my heart, is not this one.

It made some obscure reference
To the goddess Diana
while drizzling bad terza rima
About some poor decrepit wino
Eviscerating a garbage can.
My good friend looked at it
And made me know what
Kind of damn idiot I sure was.
His maxims come back - read
Evereything, love language, revises,
Abide in the transforming fire -
And hers, mutated by distance.

While I was attaching syllables
Of a certain mulberry tree
To an adjective I loved,
She went and married an electrician.
Still I had to make a living,
Mindful of the preserving
Potential of the art,
And language clattering
Onto the platen like the small
Dark horse of the embalmer's table.

Always it is the same night
I called her lily of the valley
And named her in many songs.
She keeps turning
Her cold beautiful shoulder
Into someone else's words.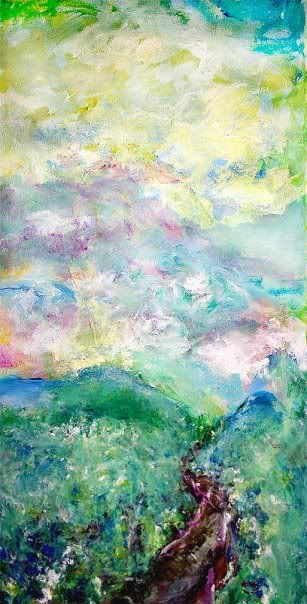 Painting by Doreen Peri




I'm really writing crap these days, so here's another poem from 2008, another story from something that happened more than 40 years ago. This poem highlights just about the most conflict to ever appear in any of my "war stories."





winner in the end



it was January
1966
when through some
military blunder

i was made squad
leader
for about two
and one half weeks

this was at Lackland
Air Force Base
during the short time
between
the end of
basic training
and the beginning
of our first training
assignment -
in my case
nine months at Indiana University,
an assignment
i wished to do nothing
to jeopardize
in a way
that might cause me to
to be sent to cook or military police
school instead

men
know
that in every group
of several or more men
there will be at least one who
is determined
to be king
of every hill,
at least one who will declare
war
on anyone who might have
authority over him,
certain as he is that he is the only
deserving leader
and that anyone who denies him
that position
has stolen from him that which
is rightfully his

i had
one of those in my squad,
an ROTC dropout
who could never understand
how someone so
blatantly
civilian
as I
could
end up his superior,
no matter how short that period
of superiority might be

what he never figured out
was that i
didn't give a shit,
that all i wanted to do
was get through the next
two and a half weeks
without screwing up
my training assignment
and beyond that, the next
four years after which my blatant
civilianism
would again be fact
and not just theory

so he baited
and i ignored
and the more i ignored
the more he baited
and so on
until
he finally developed
migraine headaches and
signs of personality disorder
and was sent home as medically unfit
to serve
making him, i guess,
winner
in the end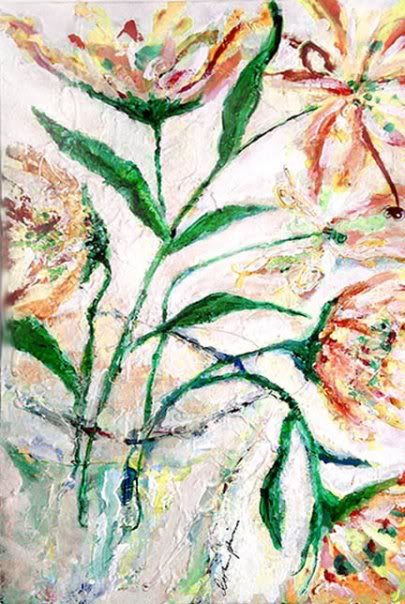 Painting by Doreen Peri



Next, I have two poems by Grammy Award-winning singer, guitarist, poet and songwriter,

Ani Difranco

. Born in 1970, she is considered a feminist icon by many.

The poems are from her book

Verses

, published in 2007 by Seven Stories Press, in cooperation with DiFranco's production company Righteous Babe

It is a beautiful hardcover book with with numerous water color and pen and ink illustrations. The art is not credited, so I assume that means it is DiFranco's work.





tiptoe



tiptoeing through the used condoms
strewn on the piers
off the west side highway
sunset behind
the skyline of jersey
walking toward the water
with a fetus holding court in my gut
my body hijacked
my tits swollen and sore
the river has more colors at sunset
than my sock drawer ever dreamed of
i could wake up screaming sometimes
but i don't

i could step off the end of this pier but i got
shit to do and an appointment on tuesday
to shed uninvited blood and tissue
i'll miss you,i say
to the river to the water
to the son or daughter
i thought better of

i could fall in love with jersey
at sunset
but i leave the view to the rats
and tiptoe back




subdivision



white people are so scared of black people
they bulldoze out to the country
and put up houses on little loop-dee-loop streets
and while america gets its hart cut right out of its chest
the berlin wall still runs down main street
separating east side from west
and nothing is stirring, not even a mouse
in the boarded-up stores and the broken-down houses
so they hang colorful banners off all the street lamps
just to prove they got no manners
no mercy and no sense

and i'm wondering what it will take
for my city to rise
first we admit our mistakes
then we open our eyes
the ghosts of old buildings are haunting parking lots
in the city of good neighbors that history forgot

i remember the first time i saw someone
lying on the cold street
i thought: i can't just walk past here
this can't just be true
but i learned by example
to just keep moving my feet
it's amazing the things we learn to do

so we're led like lambs to the slaughter
serving empires of style and carbonated sugar water
and the old farm road's four-lane that leads to the mall
and our dreams are all guillotines waiting to fall

i'm wondering what it will take
for my country to rise
fires we admit our mistakes
and then we open our eyes
or nature succumbs to one last dumb decision
and american the beautiful
is just one big subdivision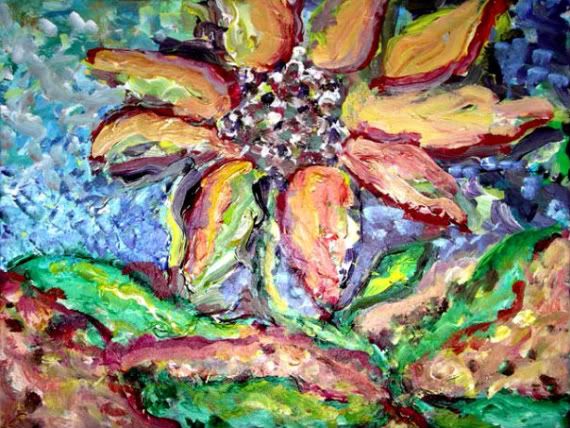 Painting by Doreen Peri




I originally had here a very strong political poem (it was written in 2008, remember) that included, among other things, expression of a desire to see a righteous and most well-deserved lynching of a right-wing sleaze-ball by the name of Todd Zirkle, but decided at that last minute that it was much too fierce for a friendly little blog like this one. If you see Mr. Zirkle, impress upon him how narrow his escape, as I delete that poem and replace it with this much gentler piece about some old fellows, the youngest in his early eighties and the oldest somewhere in the mid-nineties, I used to see at coffee every morning.





too late



the geezer table
is one short today

Robert,
of the long white
sideburns
who can quote
from memory everything
Rush has said
for the past 15 years,

is absent

which is a worry,
given the average age
at the table
is at least 15 years older
than me,
all subject
to the miseries
and unexpected calamities
of old age

it is not good
when one
does not appear
where and when
on always appears

is he wandering
in his car
lost on I-10,
heading for El Paso
when all he wanted to do
was make his regular short trip
to the coffee shop

or is he stroke-afflicted,
lying
on the cold tile
in his bathroom,
unable to get up, unable
to call

or is he dead

telephone calls
are made,
tracking begins

should they do more?

would he be embarrassed
if they went to his house
and he came to his front door
in his pinstripe Hugh Hefner pajamas, awakened from
a long-overdue late-sleep?

but what if the worst has occurred,
should they risk their own
and his embarrassment?

men,
decisive
in their youth,
cannot decide what to do

but
then,
Robert comes in and takes his seat

howdy, fellas,
what's up, he says
as he sits

you're late, they say,
we were going to buy your coffee today


but
you're too late


!!!!!!!!!!!!!!!!!!!!!!!!!!!!!!!!!!!!!!!!!!!!!!!!!!!!!!!!!!!!!!!!!!!!!!!!!


Being well ahead of my blog production schedule, almost all done except for pictures, feeling quite pleased with myself until about three minutes ago, when I deleted every thing from here to the end. The deletion accidently, saved permanently by the automatic save before I could undo.

Now behind schedule rather than ahead, I'm going to someplace private and say many bad words very loudly for a while, then will come come back and redo.


!!!!!!!!!!!!!!!!!!!!!!!!!!!!!!!!!!!!!!!!!!!!!!!!!!!!!!!!!!!!!!!!!!!!!!!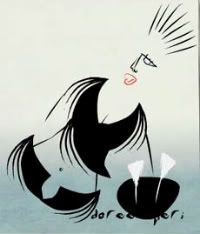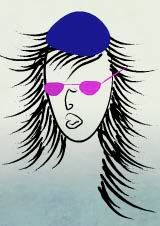 Digital art by Doreen Perry





Here,for the second time, three poems by

Coleman Barks

, from his book

Gourd Seed

, published by Maypop Books in 1993.

The book is a collection of Barks' poems written over the previous fifteen years. Though best known for his work as a translator of Rumi and other Persian mystics, Barks published his first book of his own poetry in 1972.





Easter Morning, 1992



A bright copper and brown striped lizard,
big for this area, seven inches long,
has taken over my mop
drying on the back fence.
Here four hours, bent over
like some clearly crazed old man
humping the back of the head of his goddess,
his goddess, who has only the back of a head all round.
Not that there's pelvic motion,
but he looks tranced, the perfect five-fingered
hands spread for pleasure and grip.
He neverminds my face so near, nor I his.
It may not look like love but it is
that that keeps us in this head
over head over head,eons.




An Up Till Now Uncelebrated Joy



There's one book, a 1988 volume,
and it's here, never been checked out,
and flipping through, I sniff the carefulness,
the guarded assertions this Oxford guy
spent twelve years considering, so that now
I can have the rest of the Spring afternoon
finding out what's been known, and what
will remain secret a while longer
about the Sixth Dalai Lama.

Good scholarship gives me such delight that I kiss
the book alone in the stacks, and I almost kiss
the checkout girl, and I savor the length
of the Bibliography walking through
the self-opening double doors, and I skip
going back to my truck,because Miichael Aris
has sustained his interest in Tibetan mystics,
and I want to kiss the bald pate of research
like a n'er-do-well daughter going out on a date,
who before leaving, thoughtfully brings
some green tea for a little break.




Light, Many-Footed Sound in the Leaves



This is what Benjamin heard in the pre-dawn,
studying at his dining table with the windows open,
of the graduate student triplex he shares
with his wife and new child, as he was
mine, as I was, and she, theirs,
a rain of water oak acorns
in no even slightest breeze, overflow
gratitude so early, an elegance,
harpiscordy, to string necklaces of,
and say these are tiny toboggan people,
much loved and touched, and always losing their hats.
Hello little darling smooth face, forming close
to the mother's throat and the forehead of the father.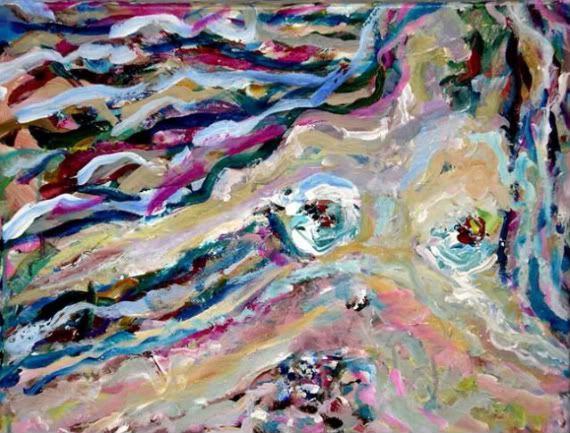 Painting by Doreen Peri




Here's a three-year-old poem going back fifty-two years.





i dreamed last night



i dreamed last night
i was a kid
again
fifteen
tolerating school
sacking groceries
on saturdays
mowing yards
during the week
making a little money
where i could
working hardest
at containing
my inner dork
sure
the rest of my life
stretched
before me each
day just like
the one i was trying
so hard to get through
with some sense
of self
struggling
to break through
mostly losing
to the here's-your-life
rules
of the time and place
i lived in
bravado
substituting for the
real person
i wasn't and
wouldn't be
for some years
yet
bittersweet years
in retrospect only
in real time
mostly
years of scared
shitless
day
to day
hunkering behind
self
delusion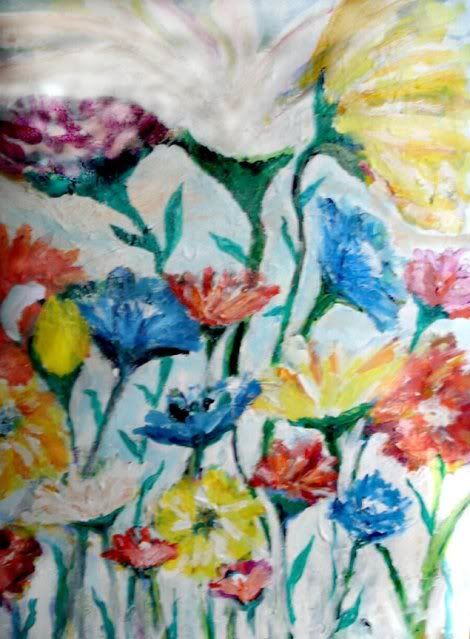 Painting by Doreen Peri




Next, I have two poets from the anthology

Runes, a Review of Poetry -Signals

published in 2005.

The book includes no information on its poets. I found the first poet on the web, but could find nothing on the second.


The first poet is

Jack Cooper

. Since this is my second time through this, I'll leave it to you to do your own Google search.




The Turtles of La Escobilla



With machetes, the men hack
at the green sea turtles.
They shoot them with long rifles.
They take them away on their horses
whole and squirming in the moonlight.
They did their eggs out of the sand.
They laugh and drink tequila.

Still, the turtles come back,
ciphers of the earth,
tsunamis of creation,
for 200 million years
a pattern in the void,
raw wet shoulders rising
from the broken shells.

Rising as each man stumbles
in the house to hang up his belt,
rising like the fires of flesh,
crates of carapace,
rising bright and willing because,
like the moon, for most of time
the earth has been theirs.


The second poet is

Laura Horn

. I could find nothing on her. Possibly, you'll have better luck. If you do, use "Reader Comments" to tell me what you found.




Parting



The bear returned to her dreams after years of absence.
It begins the same: the tug of his desire and her longing for danger

hold them fast. As Always, she escapes in a twist
of wrists and hips. This time a spear of rib bone grows from her hand

and she kills the bear, fearing for her mind. He smells grass
and crushed olives. Daily bathing in underground pool of minerals and coal

has made him sleek as an otter. She reaches to touch him,
only to be hurled into space, wheeling through a future

bound by dunes and sea water. Here she revives the bear
with pomegranate seeds and hovering moths. He wails at the water's edge

and slips in. She wakes in an astonished looseness, walks
as a foreigner through her day. From the hills she views the bay through breaks

in the branches of pines and redwoods. Below, cranes lifting
containers of tankers ae tender and beautiful, the pulleys oiled and silent.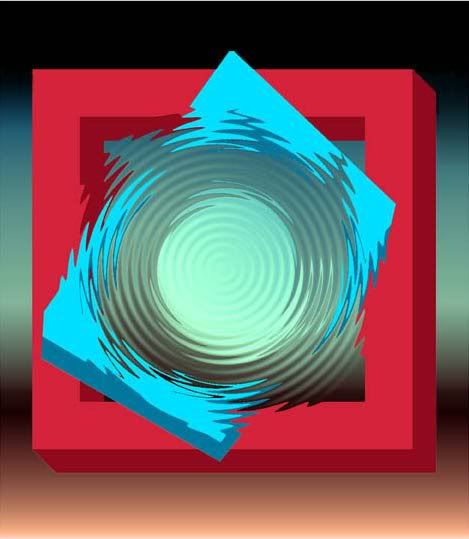 Digital art by Doreen Peri




Here's another from 2008.





watching a squirrel hide his nut



it's 9:30
still cool and breezy
on the porch at Casa Chiapas

i was thinking about my morning poem
something about Dave Brubeck
who i saw last week at Travis Park

when a squirrel
walked by with a very large
pecan in his mouth

he stopped very quickly
as squirrels do
looked at me then went on

again
very quickly
as squirrels do

to a little patch of grass
by the sidewalk
did some sniffing

a little tentative
digging
then on to more sniffing

and more tentative digging
looking
obviously

for a suitable place
to hide his
nut

on his fifth try
he stood up straight
watching out for spies

who might raid his cache
if they see
where he digs it

then bends back down
and places his nut
gently

into the little hole
he had scratched in the dirt
stood up straight again

checked once more
for spies
then scampered across the street

as squirrels scamper
looking very disjointed
legs going every which a way

but moving very fast
never the less
jumping

on the picket fence
in front of the bright red roses
in the garden

of the little limestone house
across the
street

perhaps
there is something of Brubeck
in this poem after all

the unique scamper
of the squirrel
like the unique way Brubeck

played
with time signatures
5/4 6/4 7/4

even 9/8
in Blue Rondo a la Turk
stuff

that like the scampering squirrel
seems like it ought not work
but does

and the whole experimentation
of jazz
like the squirrel

sniffing and digging
sniffing and digging
until just the right elements

come together
for new sounds in
unexplored territory

and that is why...
oh,wait,
the squirrel is back

with another nut
two nuts one squirrel
a very successful squirrel

indeed







Digital art by Doreen Peri




Next, I have three poems by

Doreen Peri

, who is, as I said in the beginning, both featured artist and featured poet this week. You have been enjoying her art, now here's your chance with her poetry.

Doreen is a graphic designer, marketing copywriter, poet, visual artist and pianist. She lives in Virginia with her daughter. Her poetry has been published in multiple literary journals as well as all over the web. She is a self-taught painter and founder of the website Studio8, a site for poets, story writers, visual artists, musicians and spoken word artists to showcase their work. Doreen is a spoken word poet herself, often performing at various venues in the Washington DC area, sometimes accompanying herself on the piano keyboard. She has also performed in NYC. Doreen is the organizer and host of a variety show called Cabaradio which includes live music, spoken word poetry, stand-up comedy, dance, and skits. The show was performed several times in the DC area including at the Capital Fringe Festival, the Warehouse Theater, and the Arlington Independent Media TV station.

She is the founder of Studio8 - Uniting the Arts at http://studioeight.tv.

You can visit the Studio8 forums at http://studioeight.tv/phpbb and you can view more of her artwork and commercial at http://dperi.mosaicglobe.com.

Doreen also hosts an online radio show at called Radio8 @ http://studioeight.tv/radio8/radio8.html and, coming soon www.radio8.org




Infinite. One.



1.

Infinity divided by zero,
infinity divided by one...
these are concepts I often explore.
I love the mathematical metaphors.

2.

I've used infinite numbers
to round off equations
into a finite figures so I could
better get a grasp of them,
scribbled my heart in notes
on multiple napkins,
the backs of paper bags,
tossed out rags found in the trash,
stashed them away in boxes
piled as high as the sky is high...
infinite poems asking infinite whys,
fluent seemingly never ending tries
to determine the distance of love,
the length of it, the breadth of it,
the circumference, the illumination
of its permanent tail, sailed from one
galaxy to the next, each heart connecting
like an investment, a gamble, a bet
it wouldn't end, the sending of my spirit
past the vast universe into the wherefore
art thous, the seeking of paths, each starshine
vast and almost impossible to comprehend
and i often send myself messages again
and again, as if when i receive them, i could
begin for just one tiny moment to spend
my entire finite inhales and exhales,
lifting veils of doubt, my shouts running
out of time, my music to the beat of a lost
rhyme seeping through wormholes into einstein
theories, always nearly getting there, but not
quite nearly, never quite reaching the destination
because there is none, really, and so I feel my way
around, a blind woman with a cane too short to reach
the infinite space I attempt to track and trace between
one heartbeat and the next, tapping out text on the
infinite surface of the back of my mind's eye and i
cannot see, i'm masked, i'm crashing into the center
of the atom, the sun being a vast expansion of a nuclei,
and oh god how i wish i could touch the surface of the moon,
place my fingers on saturn's rings, dream the infinite dream
of awakening.... take the vacant stares and turn them into light,
invite the purpose of it all into connecting starlit constellations,
until orion's belt envelopes me and i can see again all the possibilities
in plain view, all love encompassed, all trust surfacing on a mobius strip
plane, the tip of my vanity raining down until it disappears entirely to become
a grain of sand won by the beach, so hand-in-hand we could reach
the infinite wonder of dreams,
beams of light so tight inside our irises,
wise to the connection between beings,
enlightened with the orbit of each of our
individual solar systems, each being the
center of theirs surrounded by loved ones,
each being being infinitely humanly connected,
each being being one because we all are all one,
you know, we all are all one, infinitely one,
and so i thank you for the inspiration, take my place
here at the station, awed by the creation of it all,
awed by the evolution of spirits combined,
entwined in unity, free to be complete,
infinitely sweet like a nectarine, succulent
as a peach.... please tell me please how
i can teach infinity? how i can learn its methods,
its ways? please tell me how i can succumb
to the oneness of infinite purpose! please tell me
where to turn when the infinite path is spurned onto
another unexpected route! I turn my shout into a whisper
now... hushhhhhhh.... hushhhhh.... I feel the infinite
rush of such truths begin to soar and more than that
i am sure i am meant to be saying every word i say
while daylight plays on the horizon like a paintingmade by the hand of the universe itself, watercolor
dreams, infinitely dripped and seamed together
just as they're supposed to be.
just as they're supposed to be.
infinitely.
infinitely.
One.
.
.




Maslow's Slave



I pour coins from the jar, count
them up, put them in a plastic bag.
I walk to buy a jug of milk. I spill
the coins on the counter. The clerk
is seated, then rises at my insistence.
I am thirsty. I buy milk with coins.
My skin is dry, overheated.

I breathe with the assistance of an inhaler
almost depleted. I sleep sporadically.
My dreams are cinematic. There are empty
houses with brightly colored rooms, pets
which demand my attention, cars without
steering wheels, tents and floods, people
with vacant stares, people I do not know.

I grow tired of the dream.
I awaken. I lock the deadbolt.
I return to bed. I drink a glass of milk
to wash down aspirin. I want to sleep.
I wrestle with the sheets.
My legs are wrapped tight.
I am cocooned.

The dreams come again.
I am at the bottom of a pyramid.
I try to tip the pyramid on it's side.
It is heavy but I push it until it topples.

I push again to stand it
on its tip but it is unsteady.
The pyramid teeters.
It turns inside out and inverts
itself. I am Maslow's slave.
I lie in a shallow grave,
inhaling dirt.

I awaken, thirsty.
I drink a gallon of water then piss
out my waste. I chase myself in and around
equilibrium.

It is summer. I get dressed and go outside.
I lie prone on a sun-heated rock.
I am a reptile. I blend into the earth,
my ecological niche.

It is not Maslow's fault. Do not blame
the illustrator. I have ceased to be the
creator of will. I want to but I cannot.
I am deficient – a paralyzed
low- level dweller.

The philosopher wants a woman to teach.
I am Maslow's lover. He hates me.




I Misunderstood My Shrink




My shrink told me
to concentrate on my diary ...
He was suggesting relieving stress
through the written word.
But I misunderstood
and thought he said
to concentrate my dairy!

And because I didn't hear him right
I stay up all night
(I know this may sound absurd)
drinking Borden's condensed milk,
eating super thick yogurt
and sharp cheddar cheese.

My bad cholesterol's gone up,
my temper's turned fiery,
but my hair feels like silk
and I'm feeling alert –
plus I've ample yummy choices
to enjoy for dessert.

I haven't written one word
like the wise man suggested
but the edam and goats milk
are fully digested.

I've got havarti on the brain
which keeps me quite sane,
and the calcium in the cheese
is great for my knees.

Though I suffer from agoraphobia
I imagine myself dining at the Waldorf Astoria.
I rarely see the sun but I'm having a lotta fun
and get plenty of vitamin D!

He also said,
"A little culture would be good for you"
implying I should take in a concert or two,
but I get my culture from the yogurt
plus it wards off the stomach flu.

I misunderstood my shrink.
But it turned out much better than you might think.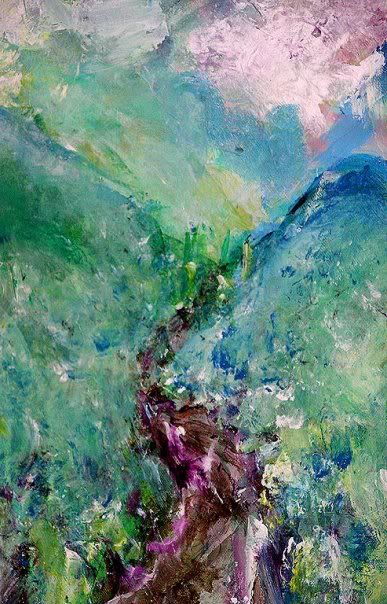 Painting by Doreen Peri




One good squirrel deserves another - that's what I always say.





the squirrel ate my homework



she comes slowly
quietly
stealth
in a fur coat
jumps
to the flower pot
on the edge of the patio
flicks her tail
flick
flick
flick
wildly
up down
left right
and all points
of the compass
between

then stops

tail
so wildly thrashing
held high and still
in mid-flick

she as seen me
standing
inside
watching her
through the french doors

she waits

judges the threat level
decides to wait me out

frozen
together
we stare at each other
little black eyes
to my green eyes
magnified
by my glasses

eventually i give up
turn back
to my chores

returning
a few minutes later
i see
she has made it
to the bowl of dog food
by the door
watch her again
as she grabs one of the
dry nuggets
and scurries back to the
flowerpot

meanwhile
feigning sleep
Peanut, The Greedy
has been watching
the dance
with one eye open

now
enough is enough
and she jumps off her chair
but the squirrel-sense of danger
is intact
and she is off the patio
and up a tree
before Peanut can get
even close

from the tree
she swishes her tail
and calls to the dog
hack hack hack hack
it sounds like

treetop
arboreal laughter
of the fast
mocking the not fast
enough

Peanut returns
to his chair
and sleeps again

one eye open
still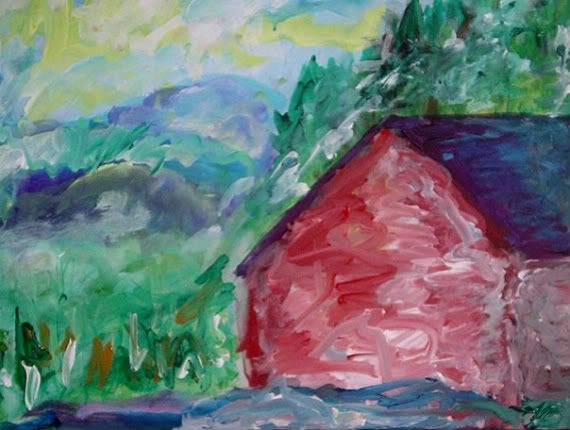 Painting by Doreen Peri




Here are two poems by

Jane Hirshfield

, from her book, published in 1988 by Wesleyan University Press,

Of Gravity & Angels

.

Hirshfield was born in New York City in 1953. After receiving her B.A. from Princeton University in their first graduating class to include women, she went on to study at the San Francisco Zen Center. Work as a freelance writer, editor, and translator, she has published eight books of poetry, including this one, her seventh. She has also taught at the University of California, Berkeley, University of San Francisco, and as the Elliston Visiting Poet at the University of Cincinnati, as well as at many writers conferences, including Bread Loaf and The Napa Valley Writers Conference and has served as both core and associate faculty in the Bennington Master of Fine Arts Writing Seminars.





Ukiyo-e



The blues' plunge
the oranges edging towards dun
catch the eye - a certain perspective,
singular,
a certain weathering of inks.

I think of the Floating World
as the prints themselves,
not the district where they sold:
landscapes, actors, and geisha unmoored,
the paper flimsy and cheap,
be trying the subjects' own quickness
to change:
the sumo wrestler's fierce eye will grow mild
his black hair grey,
while passing from hand hand for a hundred years
the sky of Edo deepens,
readies itself for the first pale stares
that will not come.




Recalling a Sung Dynasty Landscape



Palest wash of stone-rub bed ink
leaves open the moon: unpainted circle,
how does it raise so much light?
Below,the mountains
lose themselves in dreaming
a single, thatch-roofed hut.
Not that the hut lends meaning
to the mountains or the moon -
it is a place to rest the eye after much traveling,
is all.
And the heart,unscrolled,
is comforted by such small things:
a cup of green tea rescues us, grows deep and large,
a lake.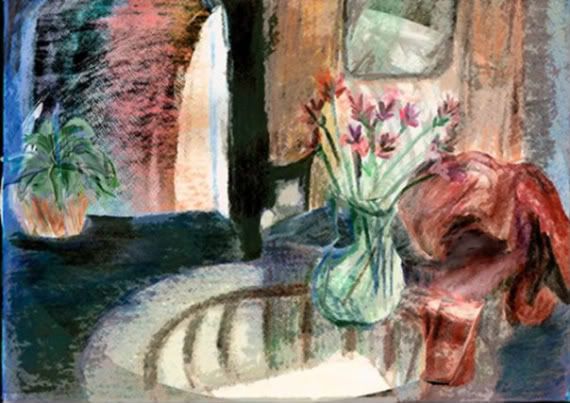 Painting by Doreen Peri




Still thinking about this one.





not a poem, or maybe it is - I'm thinking about it



anybody have any idea when we're going to get past this debug hassle. also, when we're going to get email notification back, when i'm going to get back to 180 lbs and the 32 inch waist i had when 18, and when the bald spot on the back of my head is going to be reforested, and when john mccain is going to realize he's too old and quit and when the irs is going to forget about the money i own it and when the gang at the house is going to pull together a book, sell 17 millions copies and make us all rich and other stuff?

that's what i'd like to know!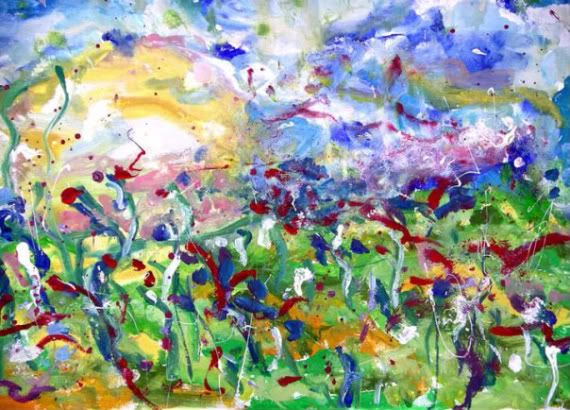 Painting by Doreen Peri




Next, two poems by

Marge Piercy

, from her book

Breaking Camp

, another book from the Wesleyan University Press, first published in 1968, my copy from its fourth printing in 1979.

Piercy was born in Detroit to a family deeply affected by the Great Depression. She was the first in her family to attend college, studying at the University of Michigan. Winning a Hopwood Award for Poetry and Fiction (1957) enabled her to finish college and spend some time in France. Her formal schooling ended with an M.A. from Northwestern University.

Seems I remember using a couple of Piecy' poems from another book just a couple of weeks ago. But since she has published seventeen books of poetry, it doesn't seem unlikely for me to have more than one of them.





The miracle



Your ghost last night
wiped from my sleep
as clean as chalk.
I woke. Moon ribbed the floor.
A hand wrote, Quit this mourning.
Driftwood of dreamspar
message torn from
the screams of gulls
told me you
had been born again.

A wasp stands in
heat soggy air
above beige glasses
dry as woodash.
I have lain here so long
my chest
is numb from the earth.

Somewhere hair of gauze
eyes of a frightened jay
you are kicking
your shrill new hunters
and sucking watered milk.
Somewhere they are just starting
to tease your arms
with pins.




The simplification



A rolling tank of man, ramparts of flesh,
a capitalist, a federal reserve of food,
a consumptive disease fed with crane and bucket,
he trundled in a gnatswarm of obscene joke
with his wife slim and grave as a nursing doe
with children ripe at every stage in his globe of home.
Truly a happy fat man is loved and not envied.
Then his luck fell in. A mushroom minded doctor;
sweeping undertow; a clash of warlords after
a game and broken bottle uneyed his daughter.
His wife died slowest, an organ at a time.
He burrowed into work and having no god,
cursed no one. His labors flourished as the light
drained star by star from his world, and the cold settled:
complex useful works like steel limbs.
And he like an ancient wooden trunk is becoming agate.
His face is burnished and dark, eclipsed sun
whose eerie silver mane of corona shimmers.
He is perhaps fatter. His cold touch burns,
and he is reluctant to touch and gentle with words.
Rooms revolve around him into silence.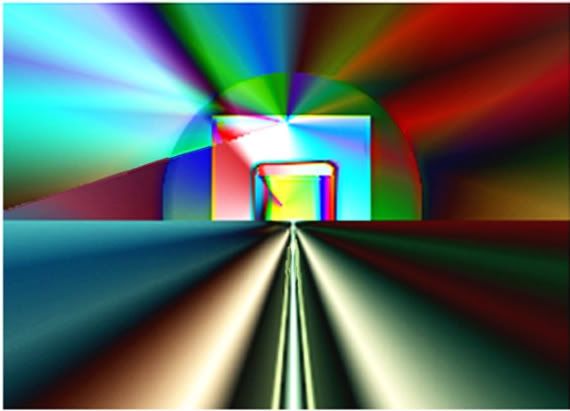 Digital Art by Doreen Peri




Another 2008 poem remembering the old days.





come, Lord Jesus, and be our guest



we said a prayer
every night
before dinner
when i was a kid,
just dinner,
breakfast and lunch
were apparently not qualified
for Jesus' blessing

when we stopped
and why
i don't remember

a strict German morality
ordered the family -
one did not lie
one did not curse
children
honored and obeyed
their parents
and wives
honored and obeyed
their husband,
one did not wear
loafer shoes
because loafer shoes
implied
someone
was loafing
and one must always
work hard
and never surrender
to laziness and loafing
around
and as i became
a teen
one must not
allow his hair to grow
in the form of
a duck's tail
because duck's tails
were the preferred style
of the queers and drug addicts
and petty thieves
and pachucos
one saw in the courthouse
while doing one's duty
as a juryman.

and religion
like all these rules of morality
was mostly rooted in the basics -
there is a God
and He keeps track of what you've done
and not done
and if He doesn't like what you've done,
He'll send you to hell -
all else was details, which,
if you stuck with the essentials,
wouldn't matter
much -
just your basic
conservative Lutheran dogma
and rules of proper
worship,
no shouting
no dancing in the aisles
no holy rolling
no testifying from the floor
no fancy singing, just
your basic hymns
sung slow
and not too loud
and no amens while the preacher
is doing his preaching,
amening at the end
is his job
and not something
for people to do willy-nilly -
God likes decorum,
you know,
so that's what we need
to give Him

and a for the prayers
before dinner
it could be everybody
just got tired
of fooling with it -
plus, that kind of stuff
was for the kids
anyway
and not for grown-ups
who had a hard day
and wanted
to get to eating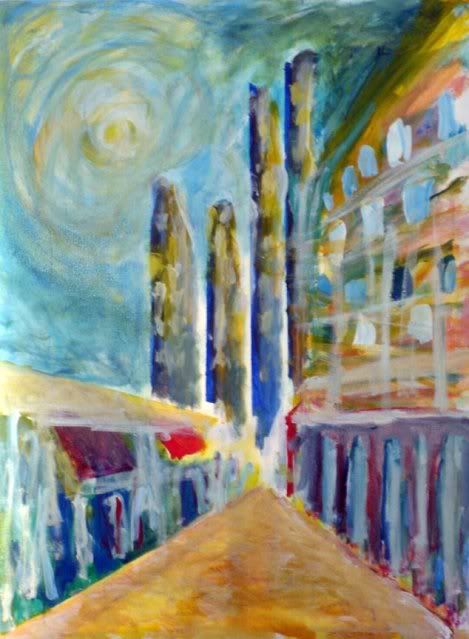 Painting by Doreen Peri




Now I have a poem by

Belle Waring

, from her book

Refuge

, published in 1990 by the University of Pittsburgh Press.

I don't remember using any Waring's work before, but as I looked through her book, I liked what I saw. She was born in Virginia in 1951 and holds degrees in nursing and English. In 1988 she received her MFA in Creative Writing at Vermont College. At the time of publication, she was on the Field Faculty of the Vermont College MFA Program, while also working as a Registered Nurse.

I think I like her because she writes like a blue-collar poet, which is how I would describe myself and most of the poets I like best, from Whitman to Williams to Bukowsky.





Gringos



What gives - this morning the sun ceases to please
with its waltz over the sash and you
hear organ music (not a good
prognostic sign) by a player very heavy
on his feet. Your sweetheart's gushing
how the sun's angle slices
the dish drain to a postmodern are object,
aquamarine. Sue you love her but you'd like her
to shove it. A little morning light has
blown her mind so she suddenly sees
da Vinci in some stainless steel
ladle on a book.
But you my friend
wish the sun would take a skydive in the hillside.
Memory is the wrong word for the vision that slaps you
crack across the chops like a mean drunk and you're
back on the bus in a hilltown
across the border where the precisely right
moment makes you turn
to see the sun smack its lips over a rude rose
coffin about two feet long. Your own
sister is dead at q similar age, and although
political circumstances differ, your heart
curls up like a fist.
Your sweet sweetheart
smells of fine English talc and offers you a good
cup of gunpowder tea, but your eyes peel
back like a panicky cold. You can't help
it. You start to holler. You want coffee! Coffee!
Coffee! No cream! No, goddammit. No sugar.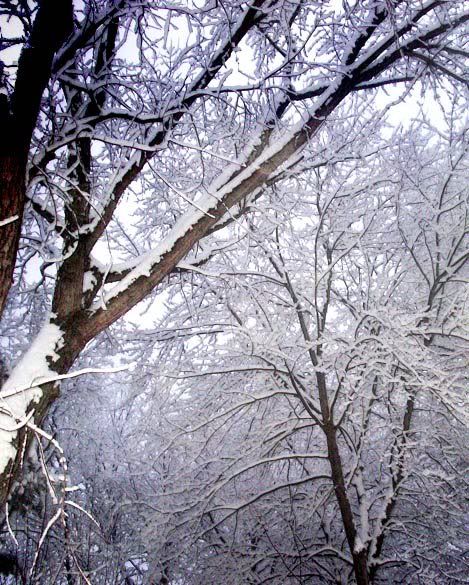 Photo by Doreen Peri




Here's a more recent poem; this one from 2009, mid-year.





what we do until we can think about sex again



i was working
away
at my poem
of the day
when
she walked
in, about five-
four, long dark
hair, long, long
hair hanging
almost to the
beginning curve
of her butt -
and a very nice
butt it is i notice
as she passes -
tight white dress,
short, about mid-
thigh, and did i
mention
tight
so tight
i can see
indentations
of the freckles
on her rear,
yes, that same
rear end, the
very same
slightly above
which
hangs her dark
straight hair

i know
it is a moment
in her life
when every man
she passes
has to stop
and breathe
deep, lost
temporarily in the
momentary
fantasies that
male nature
produces
at even the
slightest
provocation,
the natural
horniness
of the human
male firing
on all eight
cylinders, the
secret of our
rise from the
brutishness
from which
we came, the
lingering imp
of that brut
that hides behind
all our best
intentions
and will not
leave us
until the day
we die

i don't think
women
get this about
us, rational
beings that
they are, they
view life
as an entirety,
sex a part
of that whole
thing called
life and living -
men see life
as what
you do to
kill time
until you can
think about sex
again

like me
this morning -
i could have
written a poem
deep in meaning
and purpose,
in fact i really
meant to do
just that -
but
one young woman
in a tight dress
with a well-shaped
rear twitching
when she walked
and long hair
and legs
up to, well,
you know where
walks past me
and i end up with
this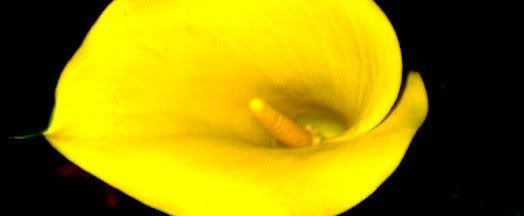 Photo by Doreen Peri




Here are three poems from one of my favorites,

Gary Soto

. The poems are from his book,

Junior College

, published by Chronicle Books in 1997.





Some History



Sumerians carried really long swords,
And Aztecs handled clubs with glassy rocks
Serrating the tips. Pygmies hid
In the savage grass
With blow darts as tall as they.
Bad-ass Genghis Khan had no second thoughts
About fitting your head onto a stick -
You the missionary,
Now the bloody head looking westward,
Lids half-closed and in view of the praying Pope,
His thoughts something like, "Mama mia!"
I swallowed some of this history
And turned the page. Incas threw
Really good-looking nymphs from temples,
And the gentle Chinese poet with incense curling
Around his beard was dangerous - bamboo worked
Under your fingernails
While he talked about the long life
Of oxen. I knew Germans stomped through Europe
And the Japanese could push a bayonet
In the left breast
Of the woman tattooed on your back.
(You the corporal from Missouri caught by surprise,
Your tin can of spook-eyed sardines
Spilling into the Asian earth.)
Where is it same? I thought. The Eskimos
Harpooned huge whales,
And the Moors brought down swords on the necks
Of stubborn camels. The French priests
Skipped over rivers of blood,
And in Nagasaki
The shadows of children were blown onto walls.
This scared me, too - disease in pitted molars.
I turned the page and began to worry.
My best friend was a boy in an iron lung
And two girls in leg braces
Devouring pamphlets about presidents
We never heard about. My arms failed to respond
To push-ups. I coughed a lot at night.
I knew God let people die when it was
The best thing to do. I knew
The river people
Flowed west on the Tigris
And that little beauty existed in our yard,
Not even in the apple tree, where blossoms
Were torn by the greedy hunger of bees.




Notes for Sociology



These boys own the sun-bleached grass,
Spiked with bees and mosquitos.

These old men own a strip of sand
Where horseshoes are tossed.
They stand with hands on hips,
Faces pleated, heads square as loves of bread.
These are working men with sand at their feet.

I'm in the bleachers blistered from the heat,
Thinking of the shoe I stupidly lost
In a wave at Pismo Beach.
(The moon had gone crazy the night before,
And when we woke, the waves were huge,
White-tipped like teeth.
My shoe floated off without my foot
And was sucked down like all we'll ever know.)
I peel green paint from the bench,
Grit under my fingernails. I watch the skirts
Of the eucalyptus rattle in wind
And chrome wink from the fender of a passing car.
I watch a dog hurry across the lawn,
Something like a shoe in its mouth.
It hurries away, and we can't keep up.

Grass or sand or even sea.
The playing slows as the body thickens.
Lead pits our teeth, dirt clots our hearing.
We spit into white handkerchiefs.
A horseshoe is tossed,
Not unlike our bones. But when we come down,
We come down on the iron spike.





The Skeptics



Pyrrho of Elis and Sextus Empiricus were Skeptics,
Two big-shot thinkers who argued
Over figs, wine, and the loveliness of their sex.
I crowed to my brothers about them,
and one evening,
With Fig Newton crumbs in our mouths,
Iwas Pyrrho and rick was Sextus,
Both of us skeptical about getting good jobs.
I said, "Brother Sextus,
What will you render on the canvas
When you're all grown up?" He chewed
On his Fig Newton and answered "Pyrrho,
My young flame, I will draw the reality
Of dead dogs with their feet in the air."
I crowed, "Wow, Rick - I mean Sextus - that's awesome!"
In sandals, we went down to the liquor store,
Each of us in our imaginary Greek robes,
And stole a quart of beer. Neither of us
Was a skeptic when we swigged on that quart
And walked past the house
Where a woman hammered on walnuts,
the rise and fall of her buttery hand quivering
The two hair on my chest. We had figs and wine,
And what we Skeptics needed
Was three strokes of that hammering,
I flowed over in my robe
And said, "We're Brother Skeptics
Ruled by cautious truths." She smiled,
Hammer raised, and said, "Sure you are."
Right away we got along, a womanly skeptic
With a nice swing. I sat on the steps,
A young man with his figs, his wine,
And, with my Greek name shed,
Reverent believer in a woman with hammer in hand.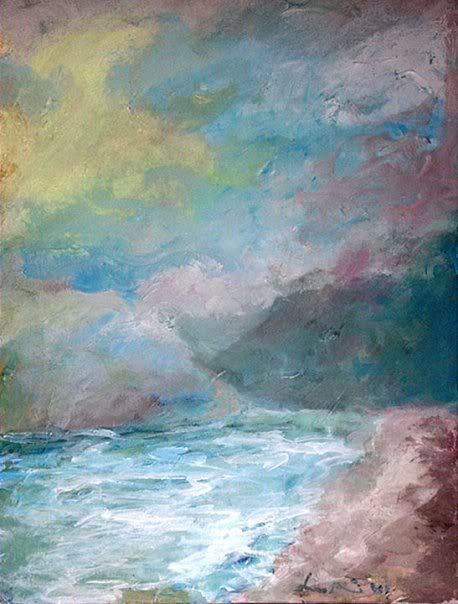 Painting by Doreen Peri





Here's some little short takes from 2009, a morning when I could only write in hiccups.





scant skits



the back door
is the front door
to those
who dawdle in
kitchens

~~

politics
is the art
of what can i
get away with
today

~~

superheros
never have to take
a whiz - part
of what makes them
super

~~

the short man
has a tall hat, which
are you going to believe

~~

the girls all look better
at closing time -
silly ideas
all seem wiser
in a panic

~~

that woman
has crooked toes
pointing in all different
directions
no matter which way
she goes

~~

the girl with the sly smile
crosses
her tanned legs
repeatedly - she
knows i am
watching and
likes it

glad
to be of service
i think

~~

three old men
read their newspapers

hah,
they think,
could'a told'em so

~~

sex
can light up
both night and day

as i remember
it

~~

enough of this

time to write a real
poem

tomorrow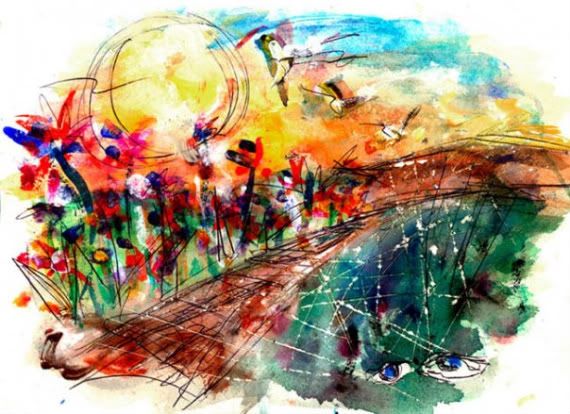 Painting by Dooren Peri




Next I have a poem by

Naomi Shihab Nye

, from her book,

Red Suitcase

, published in 1994 by BOA Editions, Ltd.

Nye is an internationally known poet who moved to San Antonio with her photographer husband and took it, among all her travels. as home.





Living Where We Do



I like to think of the man under the house
who failed to place a post beneath one corner,

perhaps so he could pass by 20 years later
waving a rag and humming,
to see if the house had fallen in.

When it hadn't, when he found it sitting firm
in the glaze of the western light,
I think he reconsidered all that time
on his knees, with jacks and hammers,
the bubble of the level leaning tipsy left,
the undersides of boards.

*

Julia said - Never live
in a place that's new.
She said it could shrink you.

Find a roof and walls that sang
of joining and cracking
before you were born.

Each time something topples,
each time you send out the small cry with
no home, no healing,
an echo will help pick it up.

*

Evenings the houses inhale,
let go. Each one emitting
a different little cloud;
today they started school again,
today the woman with wings
and crooked hip came home.

*

Consider the smells
absorbed by walls,
garlic, eggplant,
Molly's pork chops next door
drifting into plaster,
the sweet slow cooking of beans.

Each old house with a baby in it
has a secret.

The hundred year old house we slept in
the first year we were married
pretends not to know us.

I don't mind.
I've seen what vines do
to railings.
Even the telephone wire
we talk over
wreathed in floral pink,
and leaves.

The ex-owner left he wedding gifts
sealed in boxes, stuffed
in a shed. Fifty years - the platter,
the rusted juicer, each card
crumbling inside its envelope

In a creaky trunk, her husband's clothes.

So many good wishes so late -
then we heard he died in the bathroom
by his own hand.

His white woolen socks
rolled into balls.

*

Go away, the house will wait.
All it ever did was wait,
while crisper villages rose and fell.

Strangers drive our neighborhood
on weekends, waving.

"That doesn't look so bad.
Think what you could do to fix it up."

What i could do to fix you up.

Cold floors,
the little seam around windows
letting in weather -
a vine that snaked inside at night
and wrapped around a pillow -
your head, stem of brief blossoms,
its root lodged deep in the ground.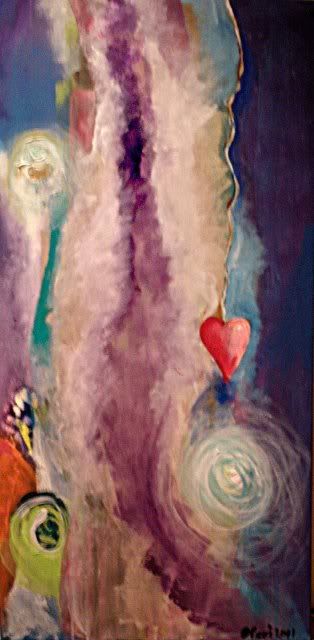 Painting by Doreen Peri




Here's something from 2008.





and you have a really good day



think
of this...

you're driving
down
a country road
one day,
a little two-lane
blacktop,
and you come
to this field,
this calm
pastoral
scene
of clean
green
grass waving
gently
in the breeze
and a herd of cattle
just standing around
munching away
and you stop
and walk
to the fence
and all the cows
come running
cause they know
that when the rancher
comes and stands
by the fence
he's probably going
to have something for
them, maybe some
nice dry crispy hay,
something good
they're thinking
so they come running,
great sad brown eyes,
innocent eyes,
like the eyes
of a fallen angel
watching,
cud chewing, tail swishing,
waiting
for you, and you say,
hello, cows,
i just thought i'd mention
that one of these days
i'm going to eat you,
a few minutes
over a hot grill with
a little salt and pepper
and maybe some A-1
if i leave you on the fire
to long and all your
juices
dry up and you're
going to taste
really great

until then,
you all have a really
good
day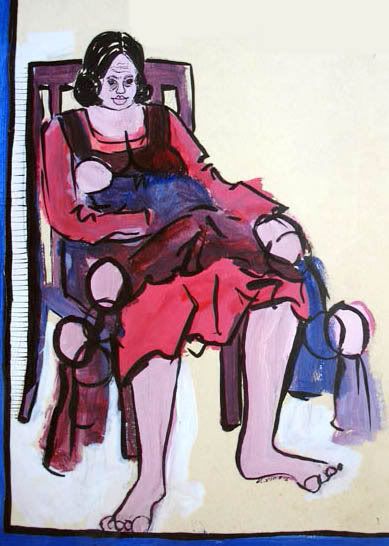 Painting by Doreen Peri



Next, I have a poem by

Alberto Rios

, a poet I'm just beginning to read. The poem comes from Rios' book

The Smallest Muscle in the Human Body

, published by Copper Canyon Press in 2002.

Rios, born in Nogales, Arizona, is the author of eight books and chapbooks of poetry, three collections of short stories, and a memoir. A recipient of many awards and honors, His work has appeared in over 175 national and international literary anthologies and has been adapted to dance and both classical and popular music. When the book was published, he was Regents' Professor of English at Arizona State University.





A Simple Thing to Know



The whole thing is not much: A man
On the border between Douglas and Agua Prieta,

This man, on instructions from his wife -
For the family and because she couldn't,

He went shopping.
He crossed from Mexico to the United States,

Walking past the officials, who looked busy.
He didn't want to bother them

And he didn't want to wait.
He walked past them, just a little.

But a little is enough.
They caught him and put him in jail.



It was a nice jail,

he said later.
He thought they fed you better, though.

He thought they gave you food.
The man had come shopping for some tuna.

He thought of it now.
They put him in jail on a Thursday,

Then they forgot.
Nobody checked, nobody brought food.

He was so quiet
Nobody knew he was there.

It's a small jail.
The arresting officer forgot to tell the next shift.

On Saturday the janitor found the man
Sitting on his bench.



Why didn't you say something?


The man shrugged his shoulders.

The shrug said he was a good guest.
It said he knew how to behave.

It said the question was a trick.
The man would not be fooled.

The man had manners.
He knew going in what was right.

Speak only when spoken to.
And in jail, in jail especially.

It was a simple thing to know.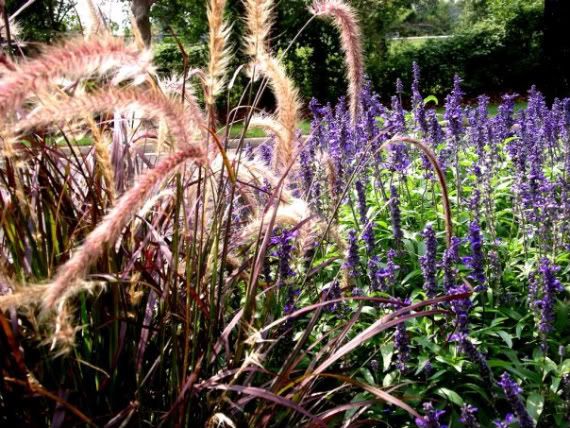 Photo by Doreen Peri




So many poets are way to serious. That's not me.





and this is why



when i woke up
at 5:55 this morning,
i...

wait,
this story requires
a little bit of
set up

important
it is
first
to know
that i am a head-west
feet-east
sleeper, that is, i sleep
better if my head
is oriented to the west
and my feet are oriented
to the east

that explains
why i was sleeping at
the foot of my bed

important
also
it is to know
that, at a hair
over six feet tall
i used to be tall, though
no longer, because
people younger than me
got fed better than me
so they got taller
than me,
(my brother, for example
is six three and his son is
six five - all fed better
than me
and i try not to resent it)

anyway,
i sleep on an old bed, the bed
my father was born on
it's probably 110-120 years old,
an important fact
since it was built back when
i was still tall or would have been
had i been around
in 1880 or 1890

that explains why
i sleep on a pillow half
hung over the end
of the bed

finally
also important
it is to know that my cat
often sleeps with me,
actually, more on top of me
than with me

and that explains why,
when i woke up at 5:55 this morning
with a cat hat, the cat, that is,
sleeping on the top half
of the pillow
on top of my head which she had pushed
to the bottom half of the pillow,
i was not surprised

but i was a bit surprised,
though not as much as the cat,
when i lifted my head
from the bottom half of the pillow
causing the cat on the top half of the pillow
and the pillow itself
to fall off the bed
and drop to the floor

and that's what happened
at 5:55 this morning
and it's also the reason
my cat
has ignored me all day

not a big story, perhaps,
but a funny start to what has been
a very tough day otherwise






Painting by Doreen Peri




Here's a poem by

G.E. Patterson

, from his first book,

Tug

, published in 1999 by Graywolf Press.

A poet, critic, and translator, Patterson grew up along the Mississippi River and was educated in the mid-South, the Midwest, the Northeast, and the western United States. He currently lives and teaches in Minnesota.





Remembrance



My parents, being race people, taught me
by example: stand tall, speak up & look
straight in a man's eyes; there is real honor
in keeping the back of your head well-combed,
in old shoes you've polished to a hard shine,
in knowing your history and not telling your business.
My parents, being race people, saw that
things Black were put forward - pushing me on
to copy out the lives of Black heroes:
Benjamin Banneker, Ida B. Wells,
James Forton and Charlotte Forton, John Jasper,
Fannie Lou Hamer, Mary Church Terrell;
Marian Anderson, Henry O. flipper,
Roy Wilkins. W.E.B. Du Bois;
Jackie Robinson, John C.Robinson,
Paul Roberson, Mary McLeod ethune;
Major Taylor, Matthew Henson,Ralph Bunche.

My parents, being race people, knew things,
in this world, would be changed only by work. Hard work,
they told and told me, was the rock of faith.
Hard work, the whipstich that kept cloth from fraying.

My parents, being race people, believed that
whatever I need to know I'd learn
best from those who looked like, and looked out for, me.
There was no good reason to outside
the neighborhood. Our one hope for salvation -
as a race, as a people - was ourselves.
Men and women fighting for more respect
lived up and down the block in well-kept homes
and low-rent apartments near the new Center
for Black Power. They worked long days and nights
at jobs I knew almost nothing about,
except for their lawfulness. They were black
in every imaginable way - yellow,
brown, redbone, blue-black (which we called inky),
oatmeal - colors lumped together like light,
a spectrum of miscegenation, broken
and united by love, like a family.

My parents, being race people, told me,


Everything good in them is good and Black

,
I would do well if I learned to be like them.
I would do well to call them

Sir

and

Ma'am.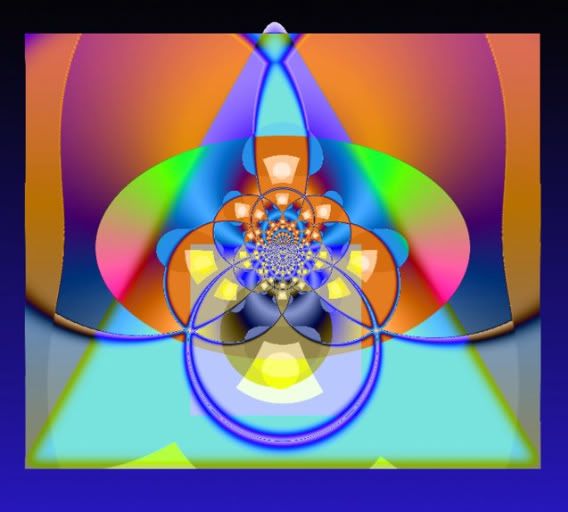 Digital art by Doreen Peri




Holy Cow!

A new poem that doesn't suck so much.





i'm sure you'll think of something



in a time of flux
and uncertainty
I wrap myself
in my daily routine

thinking,
like a turtle
crouched in his shell,
to escape notice

by doing nothing
of any interest, like
the ugliest moose on the
tundra

that no one wants
to eat
or display as a mounted head
on their wall,

to escape the attentions
of fate
and misfortune
by appearing already their victim…

that's the plan -
so if anyone asks, just
say you haven't seen me
in a week or two or that the last

you saw of me
I was standing out on I-10
hitchhiking
to Fargo, North Dakota

or, maybe
Whatsaloosa, Alabama
or maybe, you saw me down at
the Army recruiting office

signing up to join the fight against
Gdaffy's forces before they pillage
Palm Beach, California on the way to
Los Miassnmore, Nevada
where they plan to take over
the roulette concession from Howard
Hughes and his Mormon henchmen or maybe
you heard I was joining a band

of traveling Saint Benardadine monks
seeking wider horizons, grander airports
when we can commune with ancient sky spirits
and don Lady Gaga g-strings and glitter-crusted pasties,

beg quarters and demonstrate hip hop
dances
to soothing stains of Snoop Dog
chants,

although
it might be that no one will believe that
since every one knows
I can't dance…

but I'm sure you'll think of something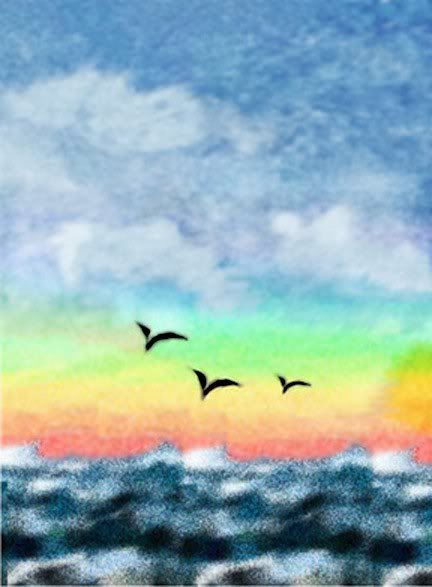 Painting by Doreen Peri




I have two pieces now by

Diane Glancy

, from her book

Lone Dog's Winter Count

. The book was published by West End Press in 1991.

A Cherokee poet, author and playwright, Glancy was born in 1941 in Kansas City, Missouri. She earned a Bachelor of Arts, with a major in English literature, from the University of Missouri in 1964, then continued her education at the University of Central Oklahoma, where she obtained a Masters degree in English. She followed that with a Master of Fine Arts from the University of Iowa. Glancy is now an English professor and teacher of Native American literature and creative writing.





Kemo Sabe



In my dream I take
the white man
slap him
til he loves me.
I tie him to the house
take his land
& buffalo.
I put other words
into his mouth
words he doesn't understand
like spoonfuls
of smashed lima beans
until his cheeks
bulge.
Chew now, dear
I say.
I flick his throat
until he swallows.
He works all day
never leaves the house.
the floors shine
the sheets are starched.
He wipes grime
from the windows
until clouds dance
across the glass.
He feeds me
when I'm hungry.
I can leave whenever
I want.
Let him struggle
for his dignity
this time
let

him

remember
my name.




Portrait of the Artist as Indian



She severs the buffalo hide down the backbone
pulls the skin to the belly.
She separates the muscles, knifes along the grain.

She lifts the white flower-patches of fat to her nose
licks the blood from the wound in the hide.
She slices into the hot belly
loosens the pouches, vessels, the stomach,
bladder, the bands that hold them.

Now she scrapes the skull, pulls the teeth,
stretches the meat on sticks to hang on the drying line.

The ribs like rungs of a rocker the wagons carry
across the land.
She dismantles the carcass
the way old stories are carried into the heart.

The entrails washed at the creek,
the hide tanned.

Finally a medicine pouch sewn from 2 little tufts
of the ears.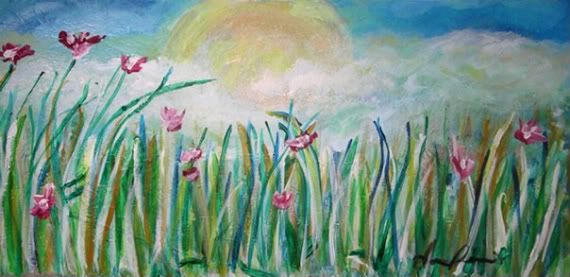 Painting by Doreen Peri




Back to 2008 again, with these short morning portraits.





Morning



morning

birds call
in the still-
dark

announce
the day

claim the
sun

*****

morning breeze
rustles trees

the tender
passing
of leaf
on
leaf

*****

alarm sounds

Debussy
whispers

awake awake

Mussorgsky
up
next

*****

cat
asleep on my arm
purrs

a gentle feline
snore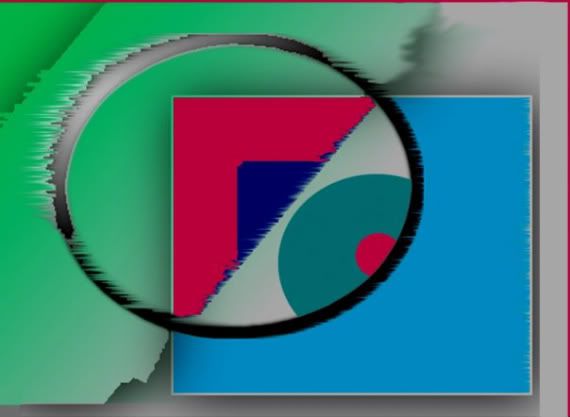 Digital art by Doreen Peri




Here's a poem by

Joshua Clover

, from his book,

Madonna anno domini

, The book, winner of the Walt Whitman Award of the Academy of American Poets, was published by Louisiana State University Press in 1997.





The Autumn Alphabets (3)



When they put him to work
he wrote that fatigue is holy.
When they wouldn't let him sleep
he wrote that insomnia is a kind of love,
an unwilled attention to the world.
When they took away his city he fell
he fell in love with his wife. When they
took away his wife he fell in love
with his overcoat, and every dawn
before the guards whose work it was
to wake the Jew awoke he danced
through the papery stalag with his cheek
in the cheek of the overcoat's collar
He named the overcoat Janine
after his wife and in October
when his lungs began to fill with a nebulous joy
he wrote and

alef

in the margin
of a postage stamp meaning "Janine.
Janine, I will die without you."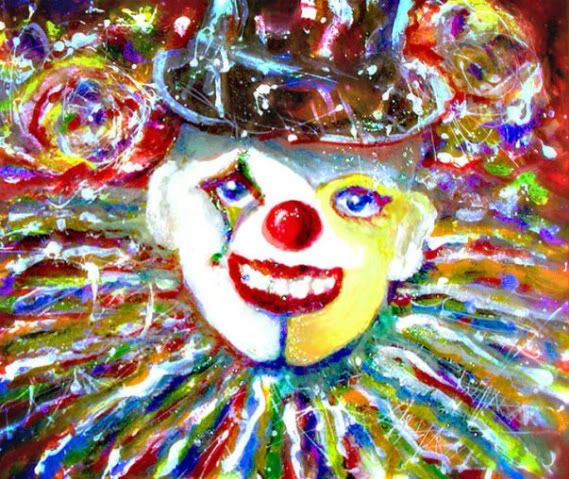 Painting by Doreen Peri




This one I also wrote in 2008, about a time fifty years earlier.





back then



back then

27 years old
in 1971,
i finally graduated
from college
9 years from when
i started

after
using my last
GI Bill check
to pay off
the friendly grocer
who had been holding
my hot checks,
i enjoyed
total assets of
one Bachelor of Arts degree
(Sociology & English),
a tank
of cheap gas,
and 35 cents,
36 if you count
the lucky penny
i found in the parking lot
while walking back
to my car

i went
where one goes
with 36 cents,
a tank of cheap gas,
and a Bachelors Degree
of limited
immediate
applicability
to any employment likely
to greatly increase
my fortune -

- i went home
to the only place
i knew
where i was likely
to eat free
for at least a couple
of weeks

i had misunderstood
the benevolence
of my father
and within three days
of arriving to the
welcoming arms
of family
i had a temporary job
delivering frozen chickens
for a company
owned by the parents
of an old girlfriend
i wanted
very much never
to see again

and within
two days of
that job's ending
i was back
to driving a taxi,
2 am to 2 pm
7 days a week
for a 33 % commission
which, more than once,
amounted to
$3 in earnings
for a 12-hour day

i had a few more
jobs like that,
offering little pay
but a lot of material
for a couple of good poems,
until, eventually,
rescued from literary
exploration
i found
a temporary job
lasting 30 years
and 10,000 neckties

......

this personal history
came to mind
two weeks ago
when i attended a
college graduation
featuring graduates
who will probably, by
the time i finish this poem,
be employed and earning
3 times what i made
in the best of those 30 years

so it was
and so it is
for this pre-boomer
born to early
or born to late






Painting by Doreen Peri




For my last piece from my library this week, I have several poems by

Yorifumi Yaguchi

, from the anthology,

Three Mennonite Poets

, published in 1986 by Good Books.

Yaguchi, who writes poetry in both English and Japanese, was born in 1932 in Ishinomaki, Japan. He has a B.A. in English from Toboku Gakuin University, an M.A. in Education from International Christian University, and a B.D. in theology from Goshen Biblical Seminry. He is a widely known poet and has taught in the United States, Japan, and China.





A



withered leaf
hanging on a twig
heavy as the earth.




Words



Leave them there
in the darkness
as they have been
from the beginning.
It's their silences
that speak to us
and not
the combined sounds




A Military Song



When I am alone in a quiet place,
I find myself humming
to myself a military song
learned when I was a child.
I think I am a Pacifist
but in spite of my intention,
the song springs up
naturally out of my depth...
whenever I am unguarded or absent-minded




Many Winds



Many winds
swarm to
a wounded word,
picking at it
like vultures
until it becomes
a white bone,
half buried in the
sand, and sharpens
into a razor.




A Woman



naked
is lying
deep
in the grass
on a mountain
with the red
full
moon
between her
thighs




In the Wood



Leaves piling up at their feet,
the trees stand naked. There is no
wind shaking the branches, no birds chirping.
Standing there, I hear a streamlet
creeping quietly like a snake,
a sound I never noticed during green times.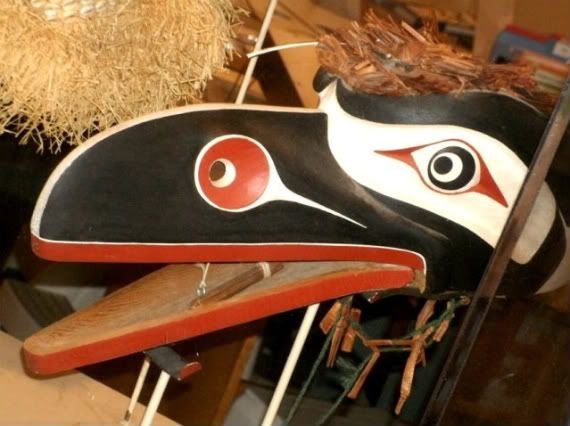 Photo by Doreen Peri





Well, how about this, a new, not so bad poem to close out the week.





Avoiding the Void



thinking
about going there
and getting there
and being there

thinking
about how empty
being there is
without the experiences
of going there
and the joy of arriving there,
travel done,
the going done, the rituals of arrival,
stretching, reaching high for clouds as they pass,
the clouds, always going,
forming, passing,
fading,
the rituals of arrival,
hugs, kisses, or just a hot shower
and an easy chair,
a cup of hot black coffee,
a different newspaper, the latest from a different place,
the being there
earned
by the rigors of the road,
the being there meaningful
because of all the pieces of life
seen, absorbed along the
way,
pieces of other lives
joining you
on

the way,
the tao, the good life,
the passages
that make us human
and humanly aware of the life
within
and outside self

it's
why
I don't fly -

because
there is no passage
just a being here
followed by a being there,
separated only by
void

and I am not made
for void

~~~

the squirrel
outside my window
chasing a leaf across the parking lot

the squirrel
outside my window
in constant-going-always-in-the-moment
of going

the squirrel
outside my window -

living the good
life
not knowing
where he goes, just going,

not knowing what he sees,
just seeing

the unexamined life
just living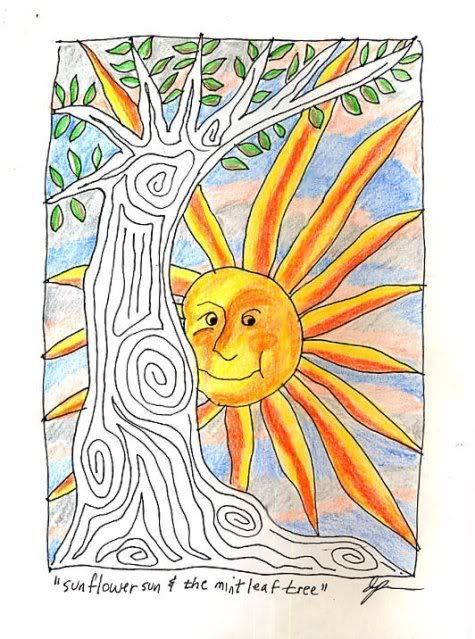 Doreen Peri, From her sketch pad





That's it for this week. One of my better posts, I think. I hope you enjoyed it.

As usual, all the material in this blog remains the property of those who created it. My stuff is available to anyone who might want to use it. Just properly credit me and "Here and Now."

I'm allen itz, owner and producer of this blog, sitting by a wiindow, enjoying the last breath of winter.