Sun Come Up - Sun Come Down
Monday, September 06, 2010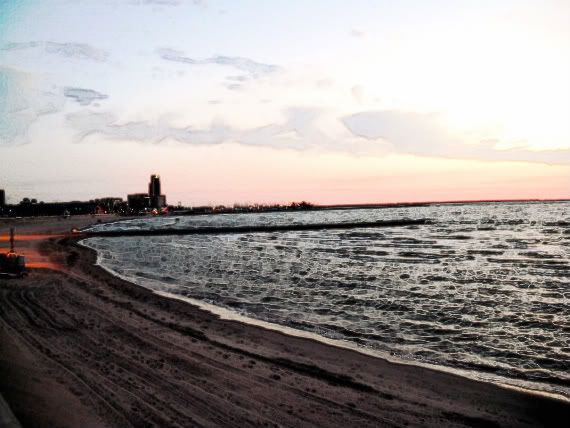 V.9.2.




No art this week, so I had to make my own, mostly old sunup/sundown pics with a little twist.

I do have a couple of poems from featured poet

James Hutchins

. Jim was 58 years old and driving trucks last time the subject came up. He says he started writing when he was in high school, writing songs for his band, then transitioned to poetry.

Here's the complete line-up I have for the week.




Bartomeu Rosello-Porcel




For Majorca, During the Civil War





Pere Quart




Songs of Exile





Miquel Desclot




She, the Immortal Fairy, Appeared to Me Suddenly and With Her Harpoon of Lionbone Pierced My Drowsy Pupils





Me




crazy-drunk cowboy





Haiku Mind


Fifteen Haiku



Me




friday night football





D.K. Jones


Getting One's Ears Lowered
The Climber



Me




summer grasses





Lorraine Marwood




Ned Kelly





Carmen T.Bernier-Grand




Quetzalcoatl





Lam Thi My Da




The Color of Phai Street





Me




rules suck - a libertarian's manifesto





Gene Fehler


Coloring Outside the Lines
In the Back Seat



Phillis Mignery




Top Kat





Alan Berkelbach




Way Outside and Beyond the Box





Me




rain falls; sun rises; mind watches and wanders





Diane Wakoski




Breakfast at George and Molly Wickes'





James Hutchins


Down the Crimson Path
The Milky Way



Elizabeth Seydel Morgan




Singapore Art Museum in the Rain





Me




fortunately, i've had emergency preparedness training





Sarah Patton


The Joy of Old Horses
Late February



Me




lying with my lover on the beach at midnight





Wislawa Szymborska


Water
View with a Grain of Sand



Me




oh my, what a crappy day for poetry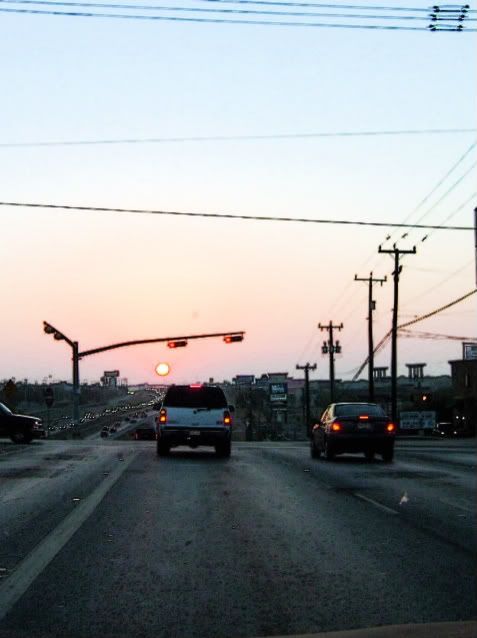 I start this week with an anthology,

Modern Catalan Poetry: An Anthology

, published in 1979 by New Rivers Press. The poems were selected and translated by

David H. Rosenthal

.


The first poem is by

Bartomeu Rossello-Porcel

. Born in Palma de Majorca in 1913, when he died of tuberculosis iin 1938 he was considered one of the most promising young Catalan poets. The poem was written shortly before his death in a sanitorium and has become almost like the Catalan national anthem.




For Majorca, During the Civil War



Those field still turn green,
those groves remain,
and my mountains are etched
above the same azure.
The stones always invoke
the difficult rain, the blue rain
that comes from you, bright ridge,
my mountains, pleasure, brightness!
I'm greedy for the light, lingering in my eyes,
that makes me tremble when I remember you!
Now the gardens are like music;
they trouble and tire me, like some slow tedium.
Autumn's heart already fades
fixed with delicate smoke-clouds.
And the grass turns brown on hunting party
hills, among September dreams
and dusk-tinted fogs.

All my life is bound to you,
like flames at night to the darkness.

September, 1937


The next poem is by

Pere Quart

, pen name for

Joan Oliver

, who was born in 1899 and died in the mid-1980s. He was born into a wealthy mercantile and banking family and was an active leftist from his twenties. Occupying several high positions during the days of the Republic, he fled the country at the end of the Civil War, first to France and then to Chile. He returned to Catalonia in 1948 under a government amnesty, but for many years after was denied a passport and couldn't legally leave Spain. In addition to his poetry, he was also a translator of Becket, Chekhov and Shaw and a playwright.




Songs of Exile



One night when the moon was full
we crossed that hill,
slowly, not saying a word...
If the moon was full
so was our grief.

~~~

My beloved is beside me
of dark skin and serious air
(like a Virgin Mary
found in the mountains).

~~~

In Catalonia,
the day of my departure,
I left half my life slumbering;
the other half came with me
so as not to leave me lifeless.

~~~

Today in French territory,
and perhaps still further tomorrow,
I won't die of longing
but longing will make me live.

~~~

In my country of Valles
three hills make a mountain range,
four pines a thick wood,
five towns to big a world.
"There's no place like Valles."

~~~

Let the pines ring the inlet,
the hermitage on the hill,
and on the beach a cloth to cover fish
beating like a wing.

~~~

A hope undone,
an infinite regret.
And a homeland so small
that I dream of it whole.


My last poet from the book this week is the youngest.



Miquel Desclot

, pen name of

Miquel Munoz

, was born in 1952. He's published several collections of his poetry and several children's books. No longer poems of exile and lost homelands; instead continuation of the Catalan's experimental traditions.


She, the Immortal Fairy, Appeared to Me
Suddenly and With Her Harpoon of Lionbone
Pierced My Drowsy Pupils

I'd board the train
and be off
to the North, swiftly
seeking a star
that might fill
this empty glass.
I'd take another
and slide
forever towards the South,
including palmtrees
on the parched earth's
brown behind.
And yet another
to be able to flee
towards the light of the East
and enter the womb
of summer days
of winter and fall...
I'd push on to the end
and doze
along Western trails,
till I reached the tomb
of sunny days
and moonlit nights.
All these trains of mine
would derail
in a chaos
of total fantasy.
The immortal fairies
would console me.












Here's my first poem for the week. It was the first approach of rain since July, foreboding, but welcome.





crazy-drunk cowboy



thunder clouds
crowd the horizon

their approach
flattening the hills

as the dark
slides toward us -

complete still -
silence...

then
dry leaves fly

from trees,
hit the street with a crack

then blow down the pavement
with little snaps -

little baby fingers
popping

little baby hipsters
snapping their fingers

to a nursery rhyme
beat...

then rain,
washtubs of rain,

soaking the trees, branches low
and heavy from the wet

and as i watch the rain fall
i know at home

the creek is already full,
roaring now

like a crazy-drunk cowboy
on payday...

late summer storms,
wild harbingers of change

that stir the crazy-drunk cowboy
in all of us...

on Labor Day weekend, summer's
swinging door to fall












Next I have some pieces from the book

Haiku Mind

, published by Shambhala in 2008.

It's 108 haiku, or, 108 three-line poems, with over 200 pages of explanation. I don't want to prejudge, having not read the 200-plus pages of explanation, but it does clearly seem to me a case when less would have been more.

Haiku have become popular as writing exercises, mainly because any half-assed poet like me can write three lines to catch a moment. But finding the three lines to catch the universal moment, that's the difference of great.

These are great.





I kill an ant
and realize my three children
were watching



Shuson Kato



~~~

summer grasses -
all that remains
of warriors' dreams



Basho Matsuo



~~~

violets here and there
in the ruins
of my burnt house



Shokyu-Ni



~~~

this world of dew
is yes, a world of dew
and yet...



Issa Kobaysashi



~~~

a heavy cart
rumbles by -
peonies tremble



Buson Yosa



~~~

after the rain
bomb craters filled
with stars



John Brandi



~~~

first light
everything in this room
was already here



Christopher Herold



~~~

picked
by an old woman's hand
herbs green and glowing



Soen Nakagawa



~~~

letting go
of a slanderous heart -
while shelling the beans



Hosai Ozaki



~~~

the homeless man
takes off his shoes before
his cardboard house



Penny Harter



~~~

after the riot -
such a perfect
moonlit night



Hekigodo Kawahigashi



~~~

The gull
giving loneliness
sound.



Alexis Rotella



~~~

Ever lingering
in the taste of the walnut:
deep autumn.



James W. Hackett



~~~

shown a flower
the small baby
opens its mouth



Seifu-Ni














It's September so it must be time for Friday Night Football, the last level at which the game ought to be played, in my opinion.

But what do I know - I spent high school football games trying to climb out from under my tuba.





friday night football



friday night
football, black and white

guys
against red and white guys

and the black
and white guys are getting

they butts whipped
and they're also "my" team

or at least my cheerleader niece's
team which makes them

my team
by adoption

and they're getting
their butts whipped, 21-0,

and it's still the 2nd quarter...

it's a new school, first year,
new team

no seniors
and they never played together

until their first game last week
when they also got their butts kicked

and the red and white guys'
quarterback is six and a half feet

tall and two hundred fifty pounds
great passer

bulldozer of a runner, five black
and white guys

and the full force of gravity
barely enough to take him down

when he's got the ball in his hands
largest, but not by a lot

of the red and white guys
except for one of their ends

tiny little guy
weighs less than his shadow

on a cloudy day
and runs like his feet are on fire

and he's heading for a bucket of water
in the end zone

and the black and white guys
are getting their butts kicked

and their coach his bald head
well past the red danger zone

looks like it might explode any minute
and the guys getting their butts kicked big time

but my cheerleader niece -
she's doing
great












Here are a couple of poems by

D.K. Jones

, from his book,

Next of Kin

.

The book is autographed, so I guess D.K. Jones must exist, but google mostly doesn't know about it. I like his poems, so I guess I'll quit worrying about it.





Getting One's Ears Lowered



Is what we called a haircut back then
and perhaps it is called that still.
Maria born in Italy cuts mine now,
when she's finished it's a Roman work of art.
Yes - a long magic carpet ride to reach her -
an extravagance I am allowed.

At last a corrective to the frusty decades
in which I lived - the barber shop
of men and boys, smell of putrid soap and sickly lotions
waiting your turn for the strong-armed chair
to lock you down, your half sleeved sheeted
self strangled inside a neck-tied cope,
the men sweating through their starched
white shirts, hats fedora and straw
still and dreary side by side hung on pegs
at the door, outside my dog,
denied entry
tied to a rail, twisted and trapped knew
every man jack of us was dumb as a post
trimmed and fine for faithless females,
or more likely, felt abandoned.

To hell with it.




The Climber



One year in Brazil I let my beard grow.
The locals took it for a badge of grief.
Had someone died? Not yet, I tried to joke.
Of course, beards came in every format -
Dapper, avuncular, deadbeat...
It is gone.
No longer can I carry the extra weight.
No longer do I long to lead everybody's life,
Die everybody's death.

To reach the pass, I must follow,
Like it or not,
Trails of loam and leaf glassed in ice.
By concentrating on what's ahead,
Each climber sweats his own salt concentrate
Of grit. Innumerable, fast-stabbing pains
Assert themselves with the substance

I have become. So let us not
Act like children. These are steps. High time
For the next deep breath. My hand
Where the bugger all did it go?
...In m pocket, gone fishing
For only God knows what.












I was inspired for this next poem by one of the haiku I above.





summer grasses



summer grasses-
all that remains
of warriors' dreams

- - - - - Basho Matsuo


reading this morning
about
the little village

of Berg's Mill
that grew up around
San Juan Mission

in south San Antonio -
dismantled
and removed when

the missions became
national
historical sites -

nothing left now,
but little pecan trees
grown big

and memories
of those
who grew up there

- our front door was right
here, says one, and momma's
kitchen was over there -

and so i've found it
in my life,
the monuments i thought

i was building,
disappeared, faint
imprints in the sand, fading,

like a doodlebug
hole
in fine dry dust,

an inverted nipple
in the ground
filling

as time brushes
past it
and the doodlebug

and it's hole
become
forgotten history...

somewhere
a doodlebug remembered
then died

as i remember,
the only monument
to my monuments

an old man's memory,
an inverted nipple
in the sand

fading,
swept by history's
broom

due
in time
to go black

in the inevitable
night












I have a couple of poems now from a really neat book,

Side by Side

, published in 2008 by Harry N. Abrams, Inc. The subtitle of the book is "New Poems Inspired by Art From Around the World."

It's a picture/poetry book on fine slick paper with beautiful color images, a picture on one page and a poem of the facing page. It's a really beautiful book. I can't reproduce the art here, but i'm sure you can find the paintings on-line.



The first poem is by

Lorraine Marwood

from the painting

Ned Kelly

by

Sidney Nolan

.

Marwood is a writer and performer of poetry from rural Victoria, Australia. The artist, Nolan, was born in Melbourne, Australia in 1917 and died in 1992. He was fascinated with the Australian landscape and used the legendary Ned Kelly as inspiration to explore it in new ways.




Ned Kelly



I am stepping out into the open
the trees and hills of my bush cover
ahead, just like the clouds of my dreams.

I am Ned Kelly, expert Bushman
Marksman, Horseman, fit and strong
riding for justice, my last stand.

My torso is now armour, blacksmithed
from plough parts, every river
an echo of dust, drought and hunger.

I have tried every avenue
but cattle thief and cruel accusations
have branded my family.

Here then I ride, horse hoof up
striding into Glenrowan
onto the hangman's noose.

But for one ochre sunset, I am
still riding 1878 and beyond
I am legend and ghost, a mirage of justice.


The next poem is by

Carmen T. Bernier-Grand

, from the mural

Pan American Unity

by

Diego Rivera

.

Bernier-Grand was born in Puerto Rico where she obtained her master's degree in mathematics from The University of Puerto Rico Mayaquez Campus, then moved to study advanced math at the University of Connecticut. She is the author of five books for children and young readers.




Quetzalcoatl



In teh beginning he Plumed Serpent
saw that the earth was under water.

Undulating his quetzal feathers,
he flew down from the heavens.
His breath of life divided waters from waters.
Dry land appeared on earth.

On earth, he took the form of a fair-skinned man
with a beard like the rays of the sun.
He invented books and the sun calendar,
abolished human sacrifices, gave maize to mankind.

Upon his death, he ascended to the heavens.
His heart became the morning star of our dawn.


My last poem from this collection is by

Lam Thi My Da

and was translated from Vietnamese by

Martha Collins

and

Thuy Dinh

. The poem was inspired by the painting

Small Street

, by the artist

Bui Xuan Phai



The poet was born in 1949 in the south central part of Vietnam and spent the Vietnam war in Quang Binh province, near the scene of much heavy fighting. She is author of five books of poetry and is widely recognized as one of Vietnam's major poets.

The artist was born in 1920 and died in 1988. A graduate of the Ecole des BeauxArts of Indochine in Hanoi, he was familiar with the European masters, yet developed his own style. He was famous for his street scenes of Hanoi.




The Color of Phai Street



At Tet, people buy chickens in the market
I bought a clay rooster when I was a child
Although that earthen rooster lies in the earth
His crowing still echoes brightly in the sky

Suddenly a rainbow sweeps before me
Many beautiful flowers speak dreamy words
In the flowers a small angel keeps appearing
Her dark eyes waiting, full of anticipation

Sometimes I think the soul is the color of Phai Street
Its silent mossy tiles, its silent walls
The morning weather, like being seventeen
The leaves waking up, releasing their strange scent












.Like most semi-educated people, I read Ayn Rand when young and thought she truly knew the secret of all secrets.

But I outgrew it.





rules suck - a libertarian manifesto



rules suck,
that's my conviction

except for those
that protect me

from bank robbers
and serial killers

and international
assassins
and incompetent motor
vehice operators
and rogue cops

and islamic terrorists
and communist terrorists
and canadian terrorists
and lutheran terrorists
and morman terrorists
and zen terrorists
and people for the ethical
threatment of animals
terrorists
and pat boone fan club
terrorists

and illegal mexican aliens
who want to behead people
and smuggle drugs
and steal my job
picking grapes for 89 cents
an hour

and cemetery plot
salesmen

and term life insurance
salesmen

and poison spinach...

- wait,
i don''t eat spinach
poison or otherwise
so that rule sucks too..
but the rule that protects me
from poison peas and corn
and poison pork chops,
that's another story -

and the rule that says
my employer
has to pay me when i work
and that my landlord
has to fix my plumbing
when it leaks
and that i can take
my ak-47 to church
to protect myself against
international assassins
and terrorists
and devil worshipers
and homosexual hippies
from harvard square
and california surfer boys
and lebanese switchboard
operators
and gangsta' rappers
and chinese tongs
and those damn mexican
narco-terrorists
and other nasty nabobs
of nefarious negativity

it's just the way it is

rules suck
that's my conviction...

mostly




(Incredible to me is that about half the people who read this poem didn't get the joke. I lay that to Fox News and other such places where the silliest, most ridiculous things are said with a straight face as if the product of serious and deep thought...and believed)














Back to another anthology, this one the Austin Poet Society's

Golden Jubilee Anthology, 1949-1999

. I have three poets from the book.



First, here are two short poems from

Gene Fehler

. In 2000, when the anthology was published , Fehler was teaching poetry in South Carolina. He had, at that time, published six collections of poetry.




Coloring Outside the Lines



got me kept after school
in first grade,
especially when Mrs. Dobbish
found I was
doing it on purpose, running
the orange
crayon all the way across
my page
and onto my desk, where
I drew a
flat nose, big eyes, smiling
mouth on a
bright round sun that Mrs.
Dobbish, in spite
of the smile, thought looked
like her




In the Back Seat



In the back seat
of my '54 Ford
on my ninth date
with petty Julie Mae
on Potter's Road
down where the leaves
danced
under a romantic May moon
nothing much happened

again.


Next, a poem by

Phyllis Mignery

, a native of Maryland, an artist, and an active Austin Poetry Society member from 1988 to 1922.




Top Kat



He claims my open brief case for a bed
and rearranges the contents before he sleeps.
(I let him stay)

Small grey ears twitch, like radar
tuned for dangers he cannot escape in sleep.
Or could it be because a careless robin
has strayed too near his dream?
(I forgive)

Sometimes scowling with intimidating eyes
when denied his due, he dares me
in spite of my humongous size
to challenge him his right to be.
(to Whom does the Who belong?)


And one last poem from the anthology, this one by

Alan Berkelbach

, a graduate of North Texas State University with a bachelors degree in English. When the anthology was published, he had just completed his second book.




Way Outside and Beyond the Box



Grandpa claimed that Grandma had turned feral.
She'd been let go, turned loose he said,
thrown out the door like qn outcast house cat,
when in truth she was eighty years and seventy-two years old
and not getting older
and at least ten hymns deep
in the sticky clay of the Holy Jesus Carry Me Home
I'm Longing for the Pearly Gates Graveyard.
Grandpa had never been known for seeing straight down the furrows
like everyone else
but still it made everyone want to talk about the weather
when he would shout to no one in particular that
maybe things ain't what they seem to be
and hen he would up an scare the grandchildren,
make them start boo-hooing and twitching,
about how he'd seen Grandma
down at the stream, furtive and wary
her scouring the creekbed for a froggy snack
and how he'd seen her climbing a tree,
her gingham hanging on the branches,
and how he'd have to chase her away with a broom
before she got the bird eggs,
and how he most enjoyed just sitting and peering through the curtain
to see Grandma bent over,
twitching and crouching and alert,
lying in wait i the bushes
for a chance to pounce and nibble
on the mailman.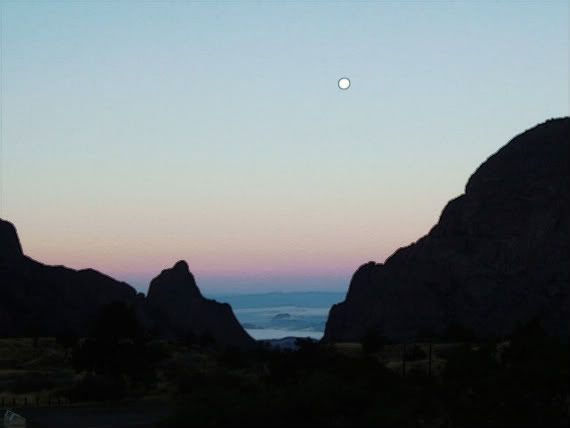 Here's another poem that I came to by way of one of the haiku posted earlier in this issue.





rain falls; sun rises; mind watches and wanders



first light
everything in this room
was already here

......Christopher Herold


believing
the reality of only
what i see

and living as we all do in the
dark obscure,
seeing less than there is,

much that is real
is beyond
my ken

leaving me
to only imagine
the contours of life

that escape my lighted view -
but how am i to believe
in the reality

of what i imagine
when i can imagine so many
fantastical things,

like the christians who say there is
a light, the light of christ
who illuminates all,

revealing
all that has always been there
unseen -

but why should i imagine the truth of
their imaginings
any more than my own -

perhaps
best
to accomodate the dark

accept the reality
of dark ignorance,
hope

for clarity
in some lucent future,
like a child

tossing pennies
into a fountain
of bright and innocent wishes

eyes closed,
fingers crossed,
belief a luminous glow about him












Here's a poem by

Diane Wakoski

, another of my favorites, from her book

The Rings of Saturn

, published in 1986 by Black Sparrow Press.

Wakoski was born in Whittier, California, in 1937. She received a bachelor's degree in English from the University of California at Berkeley. She has published more than forty collections of poems. Her honors include a Fulbright fellowship, a Michigan Arts Foundation award, and grants from the Guggenheim Foundation, the Michigan Arts Council, the National Endowment for the Arts, and the New York State Council on the Arts. She lives in East Lansing, Michigan, where she has taught at Michigan State since 1976.





Breakfast at George and Molly Wickes'



The checked cloth,
the muffins,
ad the tea. The marmalade
and jams
in the woodsy edge
of an Oregon town
telling me
morning is a time
I need to get
acquainted with,
I associated it with fatigue,
days I wish did not have to lived through,
not accomplishment
but endurance.

This, my own attitude
of impatient forebearance,
New England
not in my blood,
the West, dust, the desert of another day.
How I want to rise each morning,
overlook the ocean (to the West)
drink my tea with a view
Balboa might have had.

At your table
morning itself, apart from landscape,
presented fingers and toes,
the cram new with possibilities,
the jams, not death (poison sugar)
but just the right
sweetening for a day. Was John Cage joking
when he said
there's just the right amount
of evil in the world?
If only I could perceive that Truth
and find each morning
new and clear
as Jeffers' view of our Pacific
Ocean.

* * *

And my memory of the peaceful
clear
tree-filled morning
with breakfast at your satisfying
table.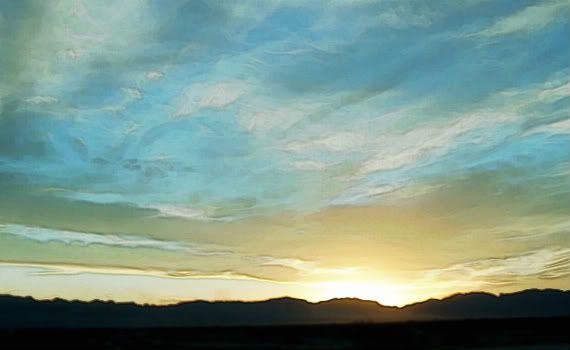 Next, I have two poems by

James Hutchins

, my featured poet this week.





Down The Crimson Path



a wash and wear existence
where wrinkles get filled
with Botox wishes
age doesn't matter unless
you are having a heart attack
or you have arthritis so bad
you can't even stroke
the only true friend you have
funny how it creeps up on you
you in your jeans and t-shirt
have expanded to plus sizes
while you contribute to society
working with torn back
slashed up ego trying to address
those who only applaud themselves
handicapped from beginning to end
dealing with 100 calorie remarks
from the locally famous
and the dance is almost over
small talk of God becomes redundant
but it goes on and on
someone asked me why I don't smile
I haven't smiled since 1965
when I was able to get drunk
before a football game
and still play next day
a young girl could
walk by and arouse me
thoughts of joining a live band
still puts me nostalgic
living in my short dreams
doesn't carry me far
the small things excite me
can this be nirvana?




In The Milky Way



the beer wet sawdust
the drunks and barflys
cigarette ashes and spit
the truth of the moment

mounting that barstool
legs crossed in boredom
one shoe hanging half off
foot jerking rhythmically

sipping the bloody mary
like it's the last drink
waiting for mister right
satisfied with bribes

neon slut jeans stilettos
groping at new heartbreaks
smoky stale boozer breath
slurred words of regret

resigned to getting naked
grunting in the dark
smeared lipstick passion
and waking up alone

giving away the thing
for the aloneness
the lust of man
everything else gone

number one tonight
he slips out early
leaving dirty sheets
and hungover guilt

her dreams sun bleached blonde
buys that color boxed
an hour at the mirror
tear grabber runny mascara

Saturday taquila warmth
Sunday church hypocrisy
Monday back to the real
Tuesday blue tomorrow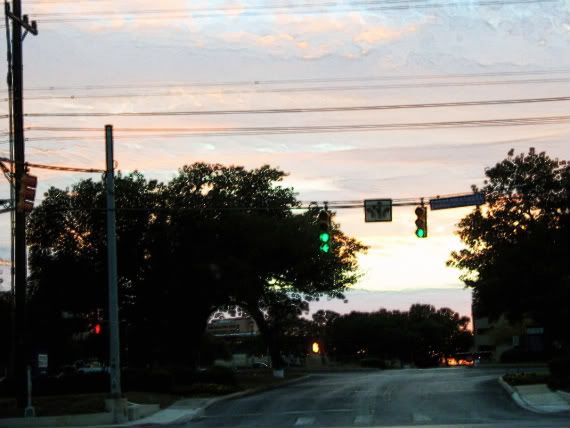 Here's a poem by

Elizabeth Seydel Morgan

, from her book,

Without a Philosophy

, published in 2007 by Louisiana State University Press. Morgan, a native of Atlanta, is author of several collections of poetry. She earned a master of fine arts degree from Virginia Commonwealth University in Richmond in 1986 and has taught poetry writing at the University of Richmond, Washington and Lee University in Lexington, the Virginia Museum of Fine Arts in Richmond, and the Virginia Correctional Center for Women in Goochland.





Singapore Art Museum in the Rain



More than a century of sticky boys
and Christian Brothers sweating in long robes
raised their faces to the open arches
when a hot wind blew across the Straits
rattling the palm fronds that clicked
like marbles in a bag, or bamboo sticks played
down louvered shutters by students out
to make a clatter.

Now the boys and the brothers are gone,
the old verandas have been glazed
with ultraviolet-blocking windows
that in this gallery protect the replica
of Leonardo's flying man.

A guard barks twice, a black-eyed child
from Thailand withdraws his starfish hand
from an invention of the man of Vinci
who couldn't keep his hands off anything.

Suddenly outside the graygreen glass
the famous rain of Singapore
spills down the afternoon,
pours through glistening frets of palm leaves,
glazes the black taxies on Bras Bashah Road.
And when the gutters meet the corners,
water arcs like fountains.

Inside, the priceless Leonardo painting
flown over the Red and Arabian Seas,
the tip of India, the Bay of Bengal:
John the Baptist as a Youth,
a curlyhaired Italian with a secret smile,
a boy could be gazing out the window
contemplating the water.












So, yesterday, an interesting day.





fortunately, i've had emergency preparedness training



was having lunch with a friend
at Cappy's, a little bistro
on Broadway

near
Incarnet Word Univesity -
braised lamb,

something i can only call
a lettuce tamale,
and 12 white beans

scattered,
with care and
artistic intention

around the plate
in some vinergy, spicy,
runny, avacado-looking sauce -

and i was about mid-way
through enjoying my meal,
or the lamb, at least,

(which i calculated at about
$3.87 per standard American bite -
not too dainty, not to pig-at-the-troughish)

when wait-staff
started circulating around the room,
informing diners

that cars had begun to float
out of the parking lot, which
as you might imagine,

emptied the restaurant
in about a spiff and a half,
my friend and i not far behind,

and by the time
i got to my car i was ass-deep
in a brisk cross-current...

but, thank the gods of greater detroit
for suv's, even little ones like mine,
that sit higher off the ground

allowing persons in a deep-water pinch
to, as i did, start up and
drive with the current to higher ground -

enough excitement for one day
i was thinking
as i headed home, soaked head to toe,

avoiding all the short-cuts
that tend to flood
in this kind of weather,

but then,
barely home a minute
when the electricity went off,

including all the civilized amenities
like phone, tv, and internet,
leaving me stranded in prehistory...

oh, no, i thought,
another crisis, but fortunately,
i've had emergency preparedness

training, so i knew what do do
in just such dire circumstances as this,
the only thing, really, that can be done -

i ate the melting ice cream
and watched it
rain












Now I have two poems by

Sarah Patton

from her book

The Joy of Old Horses

, published in 1999 by Scopecraeft Press.

I've used Patton's poem before and I'm sure I found biographical information on her before, but I can't find it again. The best I can do is that she's an accomplished poet from Texas and that although she had published widely, this was her first book.

The first of the two poems is the title poem for the book. I truly do like this poem's opening lines.





The Joy of Old Horses



The moon is for horses
that cannot sleep.

I've seen them
on October nights
gathering that light.

I've seen the joy
of old horses,

the sudden flare
of eyes like matches
in the dark,

seen them take
from these dying leaves
the weight of autumn
without protest

as if to have
reflected the full face
of the moon was not enough.

I've seen unbridled hair
the color of roan horses
in rain.




Late February



The sparrows
don't know what
they're watching,

a purse of bones,
a bag of feathers,
terrible windows
trembling with tears
and roses.

you all stone
and singing roots,
I slow in my savvy bones,

the way the chairs
won't move,

and your eyes reflect me
as if sending me away.

The trees
have lived it all
and will stay
to live it again

as will forsythia
already bearing yellow stars
on its arms.

Gaunt fingers
probe the iron sky
for a fissure
through which
to thrust
a root.









Here's another old "beach at night" poem. I wrote this one about 10 years ago and published in

The Green Tricycle

, a very nice journal, now gone, that used a number of my poems early on. I'm kind of leery about going back to old work, especially published work, because I always end up rewriting them, as with this one. But, you know, I've learned stuff since the poem was new.




lying with my lover on the beach at midnight



the beach is best at midnight
when the day-trippers are at home
nursing sunburns, or in a beach bar
honky-tonking in gritty flip-flops

the beach is best at midnight
when it is ours alone,
when its sand gleams in the moonlight
and stars spread across the gulf sky
like a blanked of lights across the bed
of a soft tropic night; when the surf,
breaking against the shore in ordered rows
is the only sound in the humid night

the beach is best at midnight
when we lie together on a sandy towel,
enveloped in the starlit whisper
of the rising, falling waves











Wisyawa Szymborska

is my last poet this week from my library. I have two of her poems from her book

View with a Grain of Sand

, published by Harcourt Brace & Company in 1995.

Szymborska, winner of the 1996 Nobel Prize for Literature, was born in Poland in 1923. Her poems have been translated into more than a dozen languages. She lives in Krakow, Poland.

All of the poems in the book, taken from a number of previous collections, were translated by

Stanislaw Baranczak

and

Clare Cavanagh

.





Water



A drop of water fell on my hand,
drawn from the Ganges and the Nile,

from hoarfrost ascended to heaven off a seal's whiskers,
from jugs broken in the cities o Ys and Tyre.

On my index finer
the Caspian Sea isn't landlocked,

and the Pacific is the Rudawa's meek tributary,
the same stream that floated in a little cloud over Paris

in the year seven hundred and sixty-four
on the seventh of May at three a.m.

There are not enough mouths to utter
all your fleeting names, O water,

I would have to name you in every tongue,
pronouncing all the vowels at once

while also keeping silent - for the sake of the lake
that still goes unnamed

and doesn't exist on this earth, just as the star
reflected in it is not in the sky.

Someone was drowning, someone dying was
calling out for you. Long ago, yesterday.

You have saved houses from fire, you have carried off
houses and trees, forests and towns alike.

You have been in christening fonts and courtesans' baths.
In coffins and kisses.

Gnawing at stone, feeding rainbows.
In the sweat and the dew of pyramids and lilacs.

How light the raindrop's contents are.
How gently the world touches me.

Whenever wherever whatever has happened
in written on waters of Babel.




View with a Grain of Sand



We call it a grain of sand,
but it calls itself neither grain nor sand.
It does just fine without a name,
whether general, particular,
permanent, passing,
incorrect, or apt.

Our glances, our touch men nothing to it.
It doesn't feel itself seen and touched.
And that it fell on the windowsill
is only our experience, not its.
For it, it is no different from falling on anything else
with no assurance that it has finished falling
or that it is falling still.

The window has a wonderful view of a lake,
but the view doesn't view itself.
It exists in this world
colorless, shapeless,
soundless, odorless, and painless.

the lake's floor exists floorlessly,
and its shore exists shorelessly.
Its water feels itself neither wet nor dry
and its waves to themselves are neither singular nor plural.
They splash deaf to their own noise
on pebbles neither large nor small.

And all this beneath a sky by nature skyless
in which the sun sets without setting at all
and hides without hiding behind an unminding cloud.
The wind ruffles it, its only reason being
that it blows.

A second passes.
and second second.
A third.
But they're three seconds only to us.

Time has passed like a courier with urgent news.
But that's just our simile.
The character is invented, his haste is make-believe,
his news inhuman.









There are days when it just doesn't seem a poem will survive. But that's the challenge.





oh my, what a crappy day for poetry



it feels
like a crappy day

for poetry
and the challenge

of the discipline is
to make even the crappiest

day for poetry
not a day for crappy poetry

and i toil in the fields
of that discipline

and thus
i sharpen my tools

of wit and beauty
and wisdom

aiming to carve
from the void a collection

of words sufficient
to declare,

zounds!
it is alive

it is a poem!

oh, well...

~~~~~

stopped
in at the supermarket

this morning
to use their ATM, there being,

as with lunch,
no free breakfast,

and passed
in the parking lot

a posse of youth,
the dumb-ass kind, too stupid

to know the front of their hats
from the back of their

hats
wearing them, always,

with the front pointing back
and the back pointing

front, like a duck
with a twisted neck...

not being a hat wearer
myself,

though i do wear a western
type hat in the winter

sometimes because
a bald-headed man once

told me that 85% of your body heat
escapes through the top

of your head in the winter,
and, though i'm not a bald-headed

man myself, it seems wasteful
to allow all that heat to escape

out the top of your head, and,
as i was a saying, though i do wear

a hat sometimes in the winter
for the reason given, i, who, in no way,

consider myself an expert among
the haberdashery set, am fairly

certain the front of a hat should
point to the front and the back to the back

and that's the deal this morning
about hats...

~~~~~

but i read this haiku this morning
that i found to be deeply

enlightening - it's by a japanese
fella by the name of Buson Yosa

who lived a long time ago and wrote
myriad enlightening haiku

and the poem goes
like this

a heavy cart
rumbles by -
peonies tremble

and it is about, i believe,
the inter-connectedness of all things

in life and in this world -
everything a consequence

of the consequence of another
thing, itself a consequence,

leaving open only the question
of what was the origingal thing

that was it's own cause
and its own consequence -

all of this having nothing to do
with this poem, bravely written

on this crappy day for poetry
but i include it becauses i believe

even on a crappy day for poetry
every poem should contain something

worth
remembering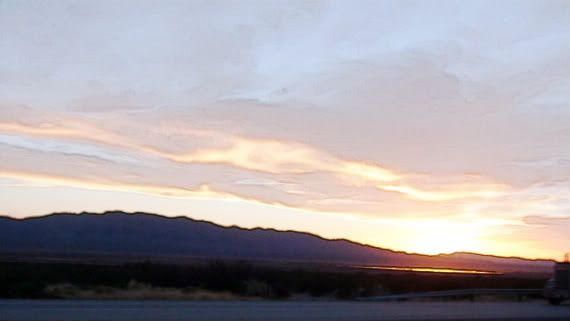 That's it. Come back next week and we'll do this again.

All the work featured in this blog remains the property of its creators. I'm no picky though - if you want any of my stuff, take it, just give proper credit.

I'm allen itz, owner and producer of this blog and i'm wet and tired.