The ABC's of the XYZ's
Thursday, September 09, 2010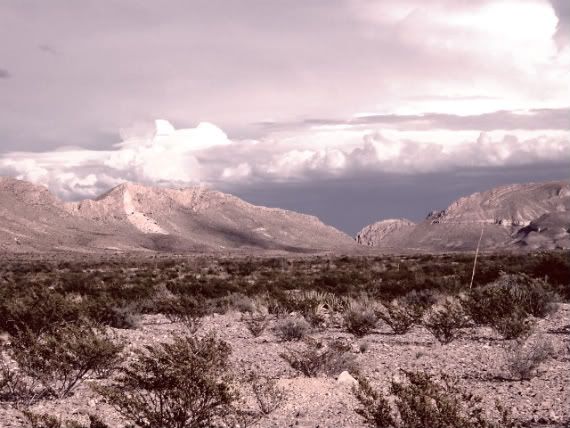 IV.9.3.





I'm on my own this week, no featured artist, no featured poet, just me and my library friends, pulling all the strings by ourselves.

Photos are a problem. Not only do I, once again, have a find a way to make old pictures look new, but, since iphoto won't open on my laptop, i've lost half my pictures and have less to work with.

I decided I'm going to try to go the other direction, make new pictures look old. I mention the Texas Big Bend in this issue. I'm using pictures from there, which I did not loose, and will try to make them look like they might be photos Civilian Conservation Corps workers from the 1930s who built Big Bend National Park (and most of our national parks) might have taken with their little box cameras and sent home (with a little stop at the photo lab for hand tinting as was often done in those days). About half the photos are from within the park and the rest are taken along a little two-lane highway that runs from Study Butte, just outside the west entrance to the park, to Presidio. It's about an hour/hour and a half drive sometimes alongside, sometimes above the Rio Grande River. Rough country and no place to be without a good horse and a snakebite kit, but beautiful all the same.

Somebody save my from myself. Send me you photos, your art, your doodles of consequence.

Here's who we are.




Ted Kooser


Mourners
Skaters
Walking on Tiptoe
A Happy Birthday



Me




i took a pill





Charles Simic




Evening Walk





Me




the dark





Mary Rose O'Reilly


Clearing Land for the Lotus Pool
The Zen Master's Instructions



Me




what's the big idea





Fu Tianlin




Sweat





Li Qi




In the Rain





Mei Shaojing




The Greens





Me




no second act





Ursula K. Le Guin


The Lorelei to Heinrich Heine
The Woman in the Attic



Me




a partly cloudy day





R.G. Vliet


After the Lone Ranger Died
For Sex



Me


cowboy movie
burning



Brian Blanchfield




Two Moons





Me




night falls in the mountains





e.e. cummings


XV
XVI



Me




intimate moments





William Everson/Brother Antoninus


A Winter Ascent
The Approach
Do You Not Doubt



Me




caravan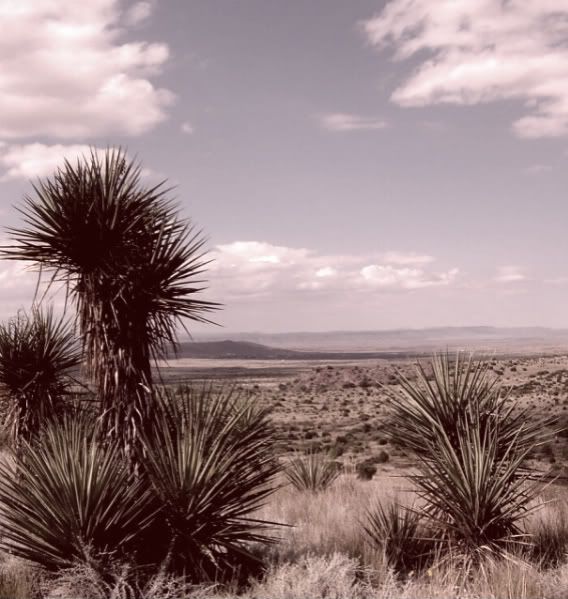 i start this week with former Poet Laureate of the United States

Ted Kooser

. I have four poems from his book

Delights & Shadows

, published in 2004 by Copper Canyon Press and winner of the Pulitzer Prize for Poetry. This is a book I just picked up today at the used book store.

Kooser is a retired life insurance executive and author of ten books of poetry. In addition to the Pulitzer, he has won a number of literary prizes for his poetry and nonfiction, including two NEA fellowships. He currently lives on an acreage near the village of Garland, Nebraska.





Mourners



After the funeral, the mourners gather
under the rustling churchyard maples
and talk softly, like clusters of leaves.
White shirt cuffs and collars flash in the shade:
highlights on deep green water.
They came this afternoon to say goodbye,
but now they keep saying hello and hello,
peering into each other's faces,
slow to let go of each other's hands.




Skater



She was all in black but for the yellow ponytail
that trailed from her cap, and bright blue gloves
that she held out wide, the feathery fingers spread,
as surely she stepped, click-clack, onto the frozen
top of the world. And there, with a clatter of blades,
she began to braid a loose path that broadened
into a meadow of curls. Across the ice she swooped
and then turned back and, halfway, bet her legs
and leapt into the air the way a crane leaps, blue gloves
lifting her lightly, and turned a snappy half-turn
there in the wind before coming down, arms wide,
skating backward right out of that moment, smiling back
at the woman she'd been just an instant before.




Walking on Tiptoe



Long ago we quit lifting our heels
like the others - horse, dog, and tiger -
though we thrill to their speed
as they flee. Even the mouse
bearing the great weight of a nugget
of dog food is enviably graceful.
There is little spring to our walk,
we are so burdened with responsibility,
all of the disciplinary actions
that have fallen to us, the punishments,
the killings, and all with our feet
bound stiff in the skins of the conquered.
But sometimes, in the early hours,
we can feel what it must have been like
to be one of them, up on our toes,
stealing past doors where others are sleeping,
and suddenly able to see in the dark.




A Happy Birthday



This evening, I sat by an open window
and read till the light was gone and the book
was no more than a part of the darkness.
I could easily have switched on a lamp,
but I wanted to ride this day down into the night,
to sit alone and smooth the unreadable page
with the pale gray ghost of my hand.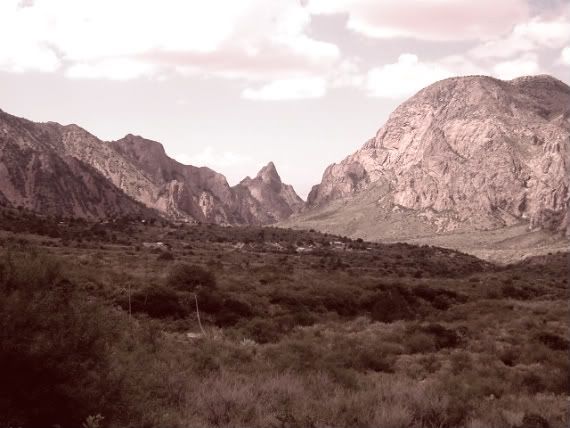 I have trouble sleeping because of various aches that get worse the longer I stay in bed. Usually, I put up with it, but sometimes, I really want a good night's sleep and take something.





i took a pill



i took a pill
last night to ease
the nagging aches and pains

that keep me up and down
all night,
favoring this part or that

back
hip
knees

chair to bed bed to chair
left side right side back,
each sleeping position

good for some aches,
aggravates other -
it is a dance of tender joints

that keep me rocking
and rolling
through the dark hours,

leave me pining
for first hint
of light...

cat
deprived of the stillness
of her kind

leaves me by midnight,
finds her cushion
in the den

and i watch her sleep and
admire the quality of her repose,
and, jealous of a cat, wish i could be her

for just one night
and sleep the sleep of the wild,
sleep with the natural intensity of the beast...

but the pill works
and i sleep like the deep of a storming sea,
undisturbed by surface tensions,

dream the dreams,
disquieting dreams i cannot remember
but feel the sly taste of

like the tingling nerve
that makes a leg want to jump
or an eyelid twitch

dreams
that do not end when i wake,
lurking

like a shadow
behind my ear, fogging my morning
with a lethargic mist,

a dislocation, a star
off its orbit, circling still
but in a cosmos slightly foreign...

i need another pill, i think,
a pill to break the dreams, a pill
to bring me back to earth

a pill
to wake me
up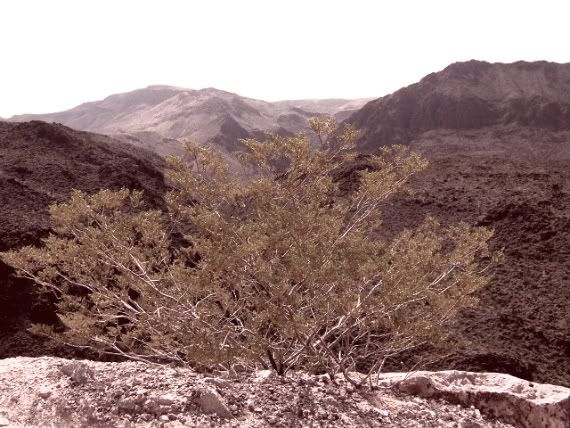 One of my favorite poets, another former Poet Laureate of the United States

Charles Simic

, has a book,

Sixty Poems

, published by Harcourt in 2007. Here's one of them.





Evening Walk



You give the appearance of listening
To my thoughts, O trees,
Bent over the road I am walking
On a late summer evening
When every one of you is a steep staircase
The night is slowly descending.

The high leaves like my mother's lips
Forever trembling, unable to decide,
For there's a bit of wind,
And it's like hearing voices,
Or a mouth full of muffled laughter,
A huge dark mouth we can all fit in
Suddenly covered by a hand.

Everything quiet. Light
Of some other evening strolling ahead,
Long-ago evening of silk dresses,
Bare feet, hair unpinned and falling.
Happy heart, what heavy steps you take
As you follow after them in the shadows.

The sky at the road's end cloudless and blue.
The night birds like children
Who won't come to dinner.
Lost children in the darkening woods.









As the anniversary of the Twin Towers attack came near, I was determined not to write a 9-11 poem, first because I knew everyone would be writing a 9-11 poem and because it's my opinion our country has become obsessed by that single historical event and that, vicious attack that was, the greater national tragedy was not the attack itself, but the unnecessary war in Iraq that it led us into and all the unnecessary death that ensued, many, many more dead, innocents mostly, as were those who died in the towers and the pentagon, than were killed in the event that bought on the cycle mis-directed violence.

But then, there it was 6:30 a.m. on the morning of September 11, 2010, and I was writing a 9-11 poem. Some events are too much in our psyche to be denied.





the dark



i've lived my life
in a doomsday world

where everything is
expendable

from razor blades
to the human race

but as i scan ancient times
i see they were also

the beginning
of the end of things

that mattered -
walls breached

barbarians
at the gate, always,

libraries burned,
people burned for seeing

what others did not,
could not...

today ,
the anniversary

of a specific insanity,
towers burning

racing clouds
of smoke and dust

like death snakes
curling through city streets,

more insanity following,
more buildings burning

more people burning,
children burning,

more death snakes
curling,

our children,
grown,

burning,
boiling in their own

bursting blood,
other children, real children

babes in arms
burning, bursting,

pieces
strewn on bloody streets,

innocents,
theirs, ours

strewn in precious pieces on bloody
streets

exploded,
imploded, hanging like burnt

meat on bridges,
boiling in the bloody cauldron

of war
while the guilty hide in caves

and plan more
atrocity, watch their plan unfold...

barbarians at the gate,
breaching the walls,

invading our souls
as the dark stain spreads

even among our own,
even within ourselves,

becoming the atrocity,
surrendering to the cave,

the dark
within us that threatens to

become us









I have two poems now by

Mary Rose O'Reilley

. The poems are from her book

Half Wild

, published in 2006 by Louisiana State University Press and winner of the 2005 Walt Whitman Award of the Academy of American Poets.

O'Reilley was born in Pampa, Texas, and educated in Roseville and Saint Paul, Minnesota. She was raised a Catholic, and served as a novice in a religious community. She graduated from the College of St. Catherine and completed graduate work at the University of Wisconsin at Milwaukee. From 1978 to 2006, she taught English and environmental studies at St. Thomas College where she is currently Professor Emeritus. She lives in Saint Paul, Minnesota.

Active in Quaker ministry, she has also taken Buddhist precepts as a lay practitioner.





Clearing the Land for the Lotus Pool



Wherever you lean
on a spade
in this earth of Duras
you strike the shells
of old houses

bones no one remembers
and, if you are quiet,
the spaces between
the bones.

"This land gives birth
to stones,"
my neighbor calls
as I pass
with the dogs.

He tosses the rocks
in a pile.
They roll together,
exchanging the names
of men and women,
stories of wounds,
a few notes of music
stones know.

These red tiles of Duras -
each holds
like a clay cup
the whisper we need
to sustain
our silence.

Do what you've
listened to -
says the cup
in my hands, smiling:



obey






The Zen Master's Instructions



The meadow has become
a like of rime;
another mirror.

In the dry stream bed
a white tail
flags its fear
some young one
unwilling to rest
with whatever rises
before the heart's eyes
as these other
watchers
have learned to do.

Stand like the deer
knowing the hunter
is in the woods
knowing here tremor
will bring the shot.

In your stillness
surrender
the hunter
over and over.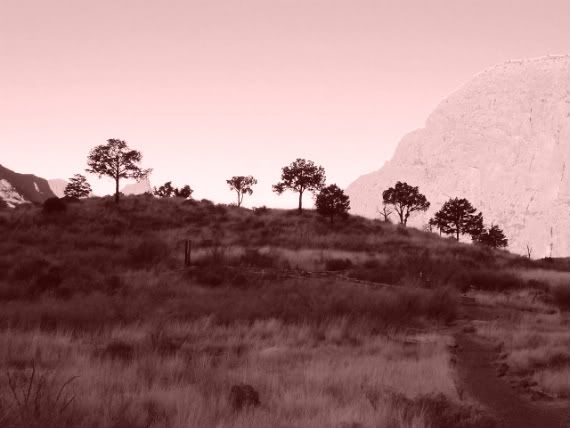 The temptation of pontification lures everyone who takes pen in hand, a sure path to self-delusion and embarrassment.





what's the big idea



was on the verge
of thinking big thoughts
this morning -

wondering
about the seemingly
oxymoronic idea

that young men
are often more willing
to die for a cause

than old men, who,
practically speaking
have fewer years to lose,

but it is that which
makes them
hesitant,

for the more rare a thing is
the more precious
it becomes

and an old man
with few years left
will kill for every living

moment of it
but will not die
for any cause but their own

survival - it is age
that makes cowards
of us all...

but that reminds me
of a Nash Rambler station wagon
i bought back when i was in college -

made it six blocks
from where i bought it
before the engine froze up -

a pile of crap
is what it was, just like most
so-called "big ideas"

except that the Rambler
was a pile of crap
on wheels

while most big ideas,
though they could use
a good set of training wheels,

usually
have no wheels at all,
they just sit there and stink...

it should be hung up on a flagpole
somewhere,
written in fancy big letters -

"if you ain't Einstein,
don't fuck around with big ideas
cause you ain't got it in you" -

reminds me of Bill Moyers,
fairly good preacher, politician
and journalist, with his Southern Baptist

voice on the TV
talking well over his own head,
like he'd never seen that Eastwood movie,

Clint saying,
"a man's got to know his limitations."
but it seems, just like Moyers,

none of us know that, which seems
so simple,
and so we end up, like in

Cool Hand Luke with a "failyorrr
to commicate"
saying things we didn't mean to say

to others
hearing something else
entirely

and our big ideas
mostly end up
big embarrassments

like this whole business
of young men being more willing
to die

while old men are willing
only
to kill

so could you just forget
you ever heard that
from me

and pretend this poem
was about frogs in a pond
or birds in a tree

or bears in the woods
doing,
what bears do in the woods,

something simple like that,
something
not remotely pretending to be a "big idea,"

its just
so
embarrassing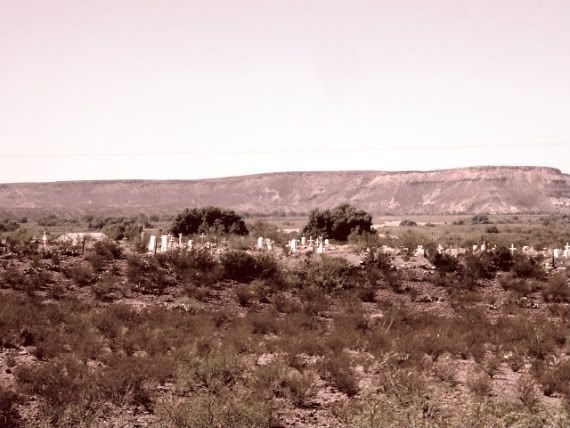 Next, another anthology. This one,

Women of the Red Plain

, is a collection of contemporary Chinese women's poetry was published by Penguin Press in 1992.

The poems in the book were translated by

Julia C. Lin

.



The first of the three poets I selected from the book is

Fu Tianlin

.

Born in Sichuan Province in 1946, Fu graduated from electricity school in 1961, then worked in the orchards while pursuing a writing career. Her first book won a national poetry prize in 1981 and subsequent collections have followed. When this book was published, she worked for the Chongqing Publishing House.




Sweat



I've praised you with such sincerity
- your glistening sweat!
You're like dewdrops on grass at sunrise
Reflecting sun's radiance
Mirroring hills' jewelled greeness.
I've glorified you with such fervor.
- You glisten with sweat
Like streams cruising through cliffs
You cling yourselves to my forehead,
You slide down my back.

Today tractors dash across the field
A thousandfold more efficient than the hoe!
I see the workers faces sweltering
With the same glistening sweat.
You trudge close to all lives that toil,
Sometimes you're exalted, sometimes disdained.
When hard work is combined with wisdom,
Your round glowing pearls,
When hard work is joined by ignorance,
You are only tears, bitingly bitter.


Next, I have a poem by

Li Qi

.

Born in the Heilongjian Province in 1956, Li became a chinese instructor in the Athletic College of Harbin upon her graduation from college. She began writing poetry when she was fourteen years old and began publishing in literary journals in 1978 when she was twenty-two. Her first volume of poems was published 1985.




In the Rain



In the chill of an autumn rain
I shivered uncontrollably
Suddenly, overhead
A piece of house eave seemed to fly past -
Behind me, there's a strange girl
Eyes like new moons,
Her umbrella rose pink.

I'm thankful
But she shyly moves out of my sight
As though her arrival
Is as natural as raining

Silently we stroll along
- That opened umbrella
Is like a wheeling sun -
Toward the world before us
Radiating
Illimitable warmth.



My last poet from the anthology is

Mei Shaojing

, born in 1948 in Chongquing. She worked in the area of Yan'an in the Shaanxi Province after her graduation from the middle school that is affiliated with Beijing University. She enrolled in the Chinese Department of the Shaanxi Teachers' College, but withdrew due to illness. She returned to her former job, doing promotion work for a radio factory. In 1981, six years after publication of her first poem, she was transferred to work for the Federation of Literary and Art Circles in the Yan'an area. Beginning in 1984 she attended the Lu Xun Academy in Beijing as well as the Chinese Department of the Beijing University for advanced studies.




The Greens



Oh this poor, bony land
As fire flares in the black night,
The greens also flare up the day.

When will the greens
Forever sheathe this yellow earth?
A, in those days when even the sky was yellow,
I've fancied
A fabulous green sun.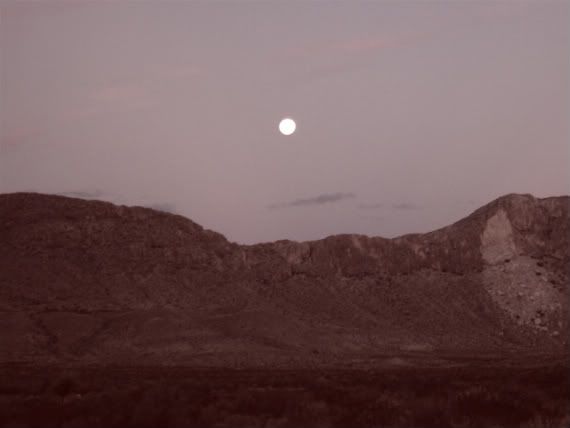 Great beginnings are always disappointing when they lead nowhere. Sometimes, I'm so pleased when I come up with a great line to start a new poem that I stick with it, even when I have nothing to add to it.

Making lemonade - sometimes that's the best you can do.





no second act



i have a dozen
great first lines running
through my head this morning

but i'm saving them
until someday
when maybe i'll have second

lines to follow -
my situtation much like that
of the religiosos babosos

that used to sit near enough to me
to eavesdrop
on their conversation

great conversations at the beginning
learned discussions,
theological arguments

about matters philosophical
and moral,
bible study for the intellect,

and it was pleasure to listen in
and develop the arguments
in my own mind and in my poems...

but lately,
the guys might as well be cost accountants
or shoe salesman,

football, basketball, baseball
all examined
in their seasons

and church politics
and gossip, like
which voices in which pulpits

are up
and which are down,
who's aheard; who's behind,

who's sleeping with someone
else's dogma
and who's been true to the faith,

who's got a shot at that opening
at Northside Methodist
and who doesn't have a shot

in hell,
he he, they say, figuratively
speaking...

journeyman talk,
laborers in the field
talking about crop conditions...

like so many of us,
no second act -
that's the problem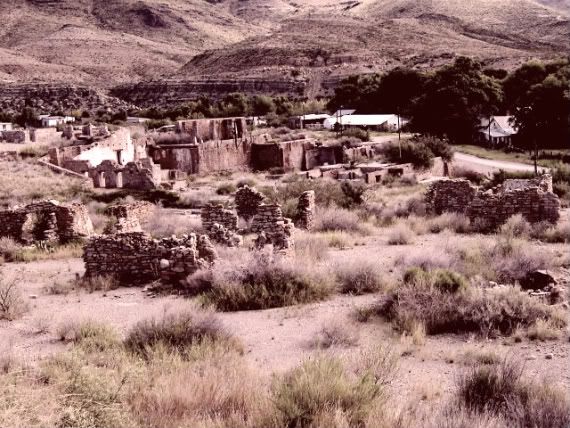 Next I have two poems by

Ursula K. Le Guin

. The poems are from her book,

Incredible Good Fortune

, published in 2006 by Shambhala.

As a reader of all science fiction from my very early teens, I had read Le Guin. Though her more fantasy directed style was not my favorite. she was one the writers whose every new book I read. I never knew, in my science fiction world that she was also an accomplished and award-winning poet.

I have two poems from the book, both including a touch of the sensibility that made her great at her kind of science fiction.





The Lorelei to Heinrich Heine



I don't know why I am so sad,
I watch the river ships go by
and see a harmless sailor lad
and call him and he comes to me
into my arms to die
and we sink down and down
he to drown, not I,

for what I breathe is not the air
when I sit lonely in the sun
and comb my hair and comb my hair
till there comes b another one,
some boy a mother had,
to sink with me and die.
O why am I so sad?




The Woman in the Attic



I am the mad woman in the attic,
professionally frantic. Hear my laugh?
Loud, singularly mirthless, automatic.
I am the first and worthless wife.

My heart is not in this poem.
How could it be? My lie
is contingent, like that of the Golem
or the Golden Calf,

on a word written on my forehead,
or a popular belief.
I am boring, I am bored.
Ha ha I say to joy, ha ha to grief.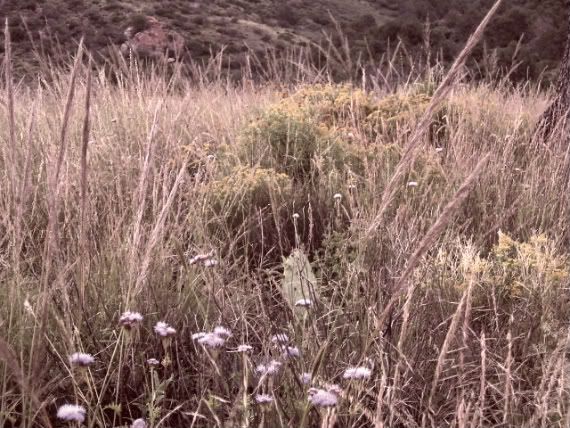 Sunshine and an old friend return.





a partly cloudy day



overcast skies were mostly cleared
yesterday, a partly cloudy day,
bright sunshine
broken at times by slow-moving clouds,

sending me out for an hour
to my private sunshine spot
in the back yard...

having heard
that a person's buttocks
are the hardest part of the body
to tan, i diligent moon the sun
when it passes from behind a cloud,
then quickly switch over on my back
when a cloud returns, bringing with it
the pleasure of a cool breeze
passing over parts normally sequestered..

i spied my hummingbird again,
preoccupied,
perched,
wings folded,
on a mesquite branch high over my head,

a tiny creature,
framed
against the morning sky,
meditating, perhaps,
or maybe just wondering about
the return of the pale hulk splayed below,
washed up again on the green shore
of his blue-bright sea










Poet, novelist, playwright, and short story writer

R. G. Vliet

was born in Chicago in 1929. His father was a Naval medical officer, and the family lived in many parts of the U.S., largely in the south, and in American Samoa. R.G. Vliet attended high school in Texas City, Texas, just south of Houston, and attended Southwest Texas State University, where he wrote and acted in his own plays. While at the university, he met his future wife and had one child, a daughter, Brooke. Both he and his wife received their B.S. degrees in Education in 1952. He went on to complete his Master's thesis in 1953, then taught English for two years in central Texas high schools. Even though many of Vliet's novels, plays, and poems would be set in Texas and would win awards from Texan literary institutions, Vliet would not live in Texas again, except for a six-month period near the end of his life, in 1983.

In 1955, after a year and a half studying playwrighting at the Yale University School of Drama, he left to start his own writing career, which began with a string of award winning plays. In 1966, at the age of 37, Vliet published his first book of poetry, then, in 1970, he published a second, both honored by the Texas Institute of Letters. Then, from 1971 to 1982, Vliet worked a small farm in Stamford, Vermont, where he wrote then published his first novel. Despite the novel's relatively low sales, Vliet was paid $25,000 from the sale of movie rights to the work. It was the most money he would earn from any of his literary efforts. He continued to write novels, completing his last one, considered to be his best, shortly before his death from cancer in 1984.

I have two poems from Vliet's book,

Water & Stone

, published by Random House in 1980.





After the Lone Ranger Died



they put him in a cave.
For eight weeks Tonto carried the series
Then the Masked Raider resurrected, a mite slower
than Jesus, perhaps, but just as reliable. The world
unloosed its bindings and straps and I slapped my horse's
rump through the sweet grass and the sour grass.
Such hoof pounding till m feet hurt.
I reared and neighed with the sweet iron bit
in my mouth, I was sexual and the sky burned blue. The white
light of a slake desert hurt my eyes.
I rode up the hill to the hanging tree and the bound
leather- skirted maiden until I was called in to dinner.




For Sex



I could go clear out of myself.
It lights a window in the thickening wood.
White grubs glow at its roots.
The poplar bends in the wind of it,
in wetness shining like a green sleeve,.
When your face turns to me it is
your self, and more than the meaning of yourself,
down birchbright corridors. Such a luminous waste.
The deer stare out of shimmering thickets,
the happy Chinese hermit dances
under the pines and in the steams trout
sing. We are such joyful commoners.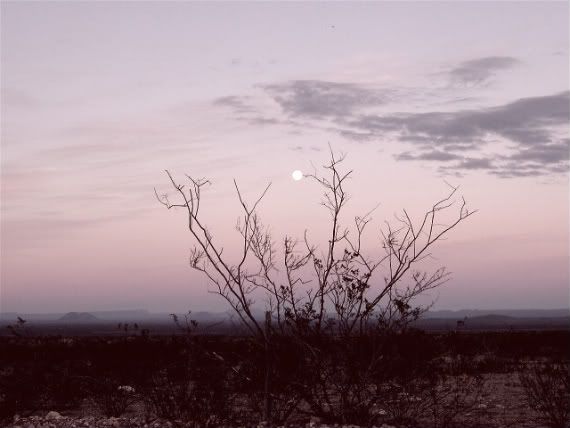 Next I have two of my early poems.

The first is very early, written in 1970, I remember the night I wrote it. I had returned to college after completing my military service and was near to finishing up. I lived in a small trailer on the banks of the Blanco River and had driven into town to wash some clothes at a laundrymat. There was a heavy storm blowing in and I tried to write about that, but it went nowhere. In frustration I did this poem. The poem was finally published nearly 30 years after it was written in 1999 in a print journal,

Maelstrom

, which made me very proud, since it was the first poem I had seen published since 1971 and the first since I had returned to writing after my first retirement.

The second poem was published in 2002 in

The Melic Review

. Although I had published several poems in the intervening years, I was especially pleased to see it in print (on-line, actually) because I liked the poem very much. I also used the poem in 2005 book,

Seven Beats a Second

.

I haven't submitting my work for the past several years because I've been so busy with "Here and Now," plus, my work, as it has developed, is pretty much outside the mainstream of what the journals look for and I doubt it would do much good to submit anyway.

Here are the two poems.






cowboy movie



comecomecome
she said to me
in her low voice
and sighed
as I moved closer

comecomecome
she said to me

jjjjjjjesus

stuttersam
crawled
into his corner
and sighed
and cried
in the shallow shadows
of his silver sombrero

comecomecome
she cried to me




burning



though
hot
i'm not

you truly set me burning
when you walked out those swinging doors
in your skimpy white short-shorts

tight cheeks flexing against the soft cotton
like two little monkeys in a velvet bag

waving goodbye

seismic
is the word that comes to mind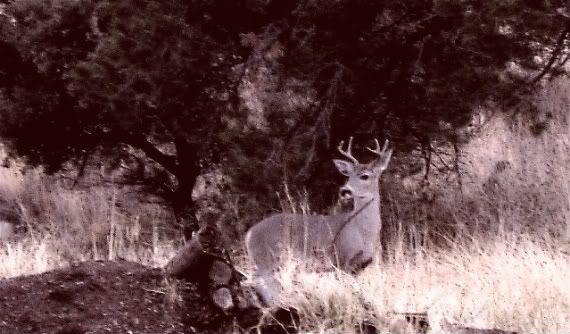 I'm back to the place in my bookcase where the first books I bought when I started "Here and Now" are stacked. This one,

Not Even Then

, by

Brian Blanchfield

, was published by the University of California Press in 2004.

Blanchfield is currently Adjunct Associate Professor at the Otis School of Art and Design. He has a BA from the University of North Carolina, Chapel Hill, and an MFA from Warren Wilson College. At the time of publication of his book, he taught in the BFA creative writing program at Plat Institute of Art.

I have one poem from the book.





Two Moons



The moon will all but disappear, which is to say the world is in the way
again. It will take two hours to return to full, which is what we, in or
way, call a whole half lit.

The last eclipse I didn't understand what I do now.

I was stunned by lawn sculptures of waves outside the long lobbied
Delano on South Beach, its oceanside wide open, its twenty-five-foot
billowing white drapes sucked to my back and then not and then sucked
again, its cavity fighting mine.

The galaxy is all wring with nine-dollar cosmopolitan. I couldn't get
daylight's alibi. Someone said gimme and O. I said gimme another. We
couldn't get the bartender's attention. Obtundity nearly knocked me
over.

Dennis said he didn't know about lunar ones but the wind that rushes
in when the sun goes out brings the scent of you secret desire.

At Grand Army Plaza, by nine lanes spinning into fewer, I make it to
the middle. The moon is already phased to the size of an eyelash, or
someone's distant hand cupped at his sunned brow, making you out.
Poor white parenthesis, is everything inessential? Should everything
come between? Someone cheer the sidereal.

But no on has outsprinted our coverlet to star in a warmth on rock. I
imagine it new, another tournament beginning, an open, an invitational.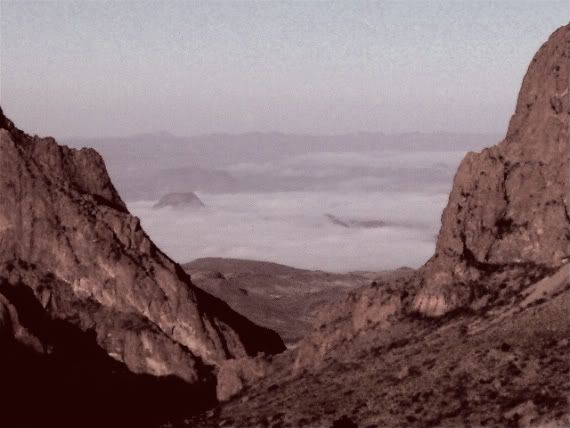 We have a break scheduled in mid-October to the Big Bend National Part. It is beautiful and it is wild and with no TV, internet or cell phone coverage, it is isolated.

I love it while I'm there, but, city boy that I've become, can't take more than two days of it.





night falls in the mountains



night falls in the mountains,
the sun dropping
behind ragged peaks

on one side
of the Chisos Basin
while the moon rises

from behind high ridges
on the other,
dark, light to dark

while your attention
turns
from one to the other...

below the mountains,
on the desert floor,
sunset is a slow

and stately progression,
a soft glide
through all the colors

of yellow and orange,
lying at the end
like a bloody red ball

on the west horizon,
as, in the east, the moon rises
over the flat, dry plain,

soft custodian of the desert night,
it is in it's reflected glow,
like a counterweight to the sun,

bringing paler light to sunburned
sand and night-blooming cactus,
reds and yellows and orange blooms

restating in pastel shades
sunset's vivid
colors...

though each within sight of the other,
they are different worlds,
these mountains and this desert,

each bringing it's own rise and fall
to the day
and to its ever-lost companion, the night










I have two poems now by

e.e. cummings

from his collection,

is 5

, published by Liveright in 1985.

I've always enjoyed the fun of cummings, but never appreciated him as a poet until I read some of his intermediate period poems, after his early classicism and before he became the poet-jester of later days. This book and these poems are from the poet-jester period.





XV



ITEM


this man is o so
Waiter
this;woman is

please shut that
the pout And affectionate leer
interminable pyramidal,napkins
(this man is oh so tired of this
a door opens by itself
woman.)they so to speak were in

Love once?
now

her mouth opens too far
and:she attacks he Lobster without
mercy.
(exit the hors d'oeuvres)




XVI



it started when Bill's chip let on to
the bulls he'd bumped a bloke back in fifteen.
The she came toward him on her knees across the locked
room. he knocked her cold and beat it for Chicago.

Eddie was waiting for him,and they cleaned up a few
times-before she she got the info
from a broad that knew Eddie in Topeka,went clean
daffy,and which was very silly hocked

the diamond he gave her. Bill was put wise
that she was coming with his kid inside her.
He laughed. She came. he gave her a shove
...she exactly lay,looking hunks of love

in The Chair he kept talking about eyes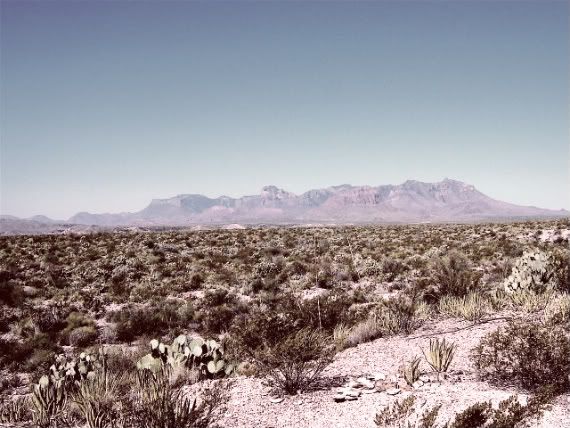 I was asked if I thought a good poem could be written using only dialogue. I responded that I didn't know. Still don't.





intimate moments



that tickles - she says

not exactly the idea - he says -
but it's a start

shall i do it again - he asks

let me get the light - she replies


~~~


the dog's watching - she says

what! - he exclaims -
but it's dark, she can't see anything

then it must be the cat - she says -
they can see in the dark,
you know


~~~


it is the cat - she says -
i can hear her snoring

then she's asleep - he says -
and can't be watching

she might wake up - she says

so let's be very quiet - he says

shhh- she says


~~~


the dog's here, too - she says

how do you know - he asks

she licked my toes - she replies -
she's gonna wake the cat

down, boy - he says

no, not yet - she says

i'll put the dog out - he says

quietly - she says - so you don't
wake the cat


~~~


OK - he says - the dog is
outside

you got a snack while
you were out, didn't you - she says

how do you know - he asks

you left the refrigerator door
open - she says - i can see the
light

i'll go close it - he says

and turn off the fan
in the den - she says


~~~


all done - he says - now
where were we, a near-miss
tickle, if i recall

you woke the cat - she says
and she's watching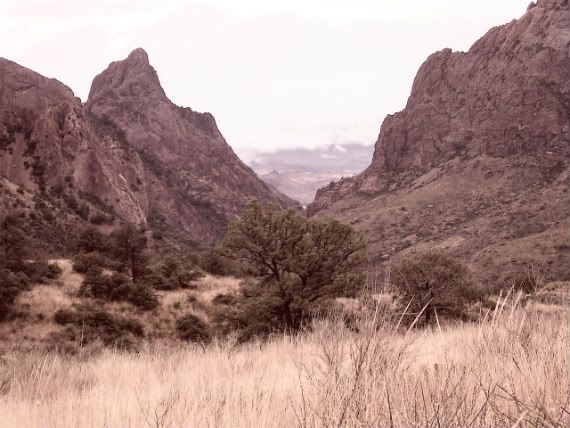 Brother Antoninus

was born

William Everson

in Sacramento, California in 1912. His Christian Scientist parents, both of whom were printers, raised him on a farm outside the small fruit-growing town of Selma. He played football at Selma High School and attended Fresno State College.

When his book,

The Residual Years

, was first published by New Directios in 1948, he was a young man working in California, not long after he had been released from a work camp for conscientious objectors. While in the camp, he joined with a few other workers and a mimeograph machine to create the Untied Press, publisher of some of the most influential protest poetrry of the Second World War.

He joined the Catholic Church in 1948 and soon became involved with the Catholic Worker Movement in Oakland, California. He took the name "Brother Antoninus" when he joined the Dominican Order in 1951 in Oakland. A colorful literary and counterculture figure, he was subsequently nicknamed the "Beat Friar."

He spent most of his years living near the central California coast a few miles north of Santa Cruz in a cabin he dubbed "Kingfisher Flat". He was poet-in-residence at the University of California, Santa Cruz during the 1970s and 1980s, where he founded the Lime Kiln Press, a small press through which he printed highly sought-after fine-art editions of his own poetry, as well as of the works of other poets, including Robinson Jeffers and Walt Whitman.

He continued to travel, write and perform readings until his death in 1994.

I have three poems from a New Directions re-issue of

The Residual Years

in 1968.





A Winter Ascent



Climbed, ,up stone slope and its runneled rifts,
The shade-heavy side of a winter hill.
Under our feet the rain-ruined flints,
Over our heads the birds scarce in the air
And the air widening,
The air spreading about us -
Time-eaten England, her handing doom
Washed from out brows.

So blood beat;
So backs rising stone over stone
Bore the full sky;
So sight sprang, when, gaining the crown,
Knew in the valley its first farm,
Shrouded, as in some airman's straining eye
The Orkneys, small on the sea, draw him down.




The Approach



Breaking back from the sea we ran through low hills,
The long deserted pavement falling and winding,
Lonesome farms in their locked valleys,
The coastal range, ancient even as mountains,
Moulded by wind,.

Till inland we curved to the far converging city,
Seeing it laid at the hill's heel,
Whirlpooled, the long lines of its power,
Beacons for planes revolving he dusk,
The black trails of concrete slipping down grade
To the first clusters of the city,
Thick in the gloom with its few lights showing,
And its heavy pounding heart.




Do You Not Doubt



Do you not doubt, being lonely of heart,
And bleakly alive on a wrinkling world,
The fate that so forces?
Men doubling on death
Deny with their eyes the job that drew them;
And the cursing girl,
Twisting about her central hurt,
Breathes oath on black oath
Before she fails.
These turn at the crux;
But one whole of mind and firm of flesh,
Flinch as he does his aching eyes,
May yet bear brunt,
Unholy and harsh through it beat against him,
May yet bear brunt.

For the scope, the sweep,
The balancings and continuations of our lives
Extend beyond us.
However we spaniel to wedging fate,
The inherent choices of human attempt
Are opening yet.
What has to be taken take with mind wide,
Dragging wholesale armies into its maw,
Sorting the masses of heaped confusion,
Dealing with doubt and that lonely fear.
And through the spectacular agitation of pain
Quench you at last,
Be yet at last,
Be yet prepared to use as you can
The augmentation and heritage of the race.
The continuity of mind beyond mind
Grappling with truth,
As if all who have hammered against the dark
Beat from your brow -
Then hard-handed force,
The exactitude of that final fate,
Such even as they may be faced.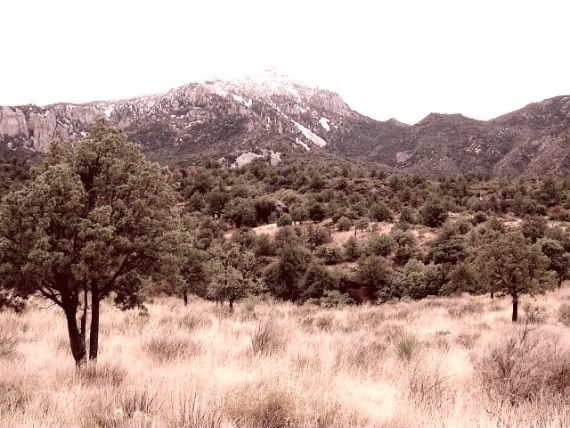 I'm going to finish this week with one of two poems I had published forty years ago in a little literary journal in Austin. Outside of an annual thing the university did, these were my first published poems.

I spent a year of my military service on the northwest frontier of Pakistan, on the edge of the desert, with the Hindu Kush on the far horizon. The poem is about what I woke up one morning as I crossed the road from our living compound to our operations center, a wondrous sight to my truly foreign eyes.





caravan



i awoke one morning and there was a



camel

camel

camel

camel

camel

camel

camel

camel

camel

camel

camel

camel

camel




caravan
marching single-file
across my back yard,
the beasts were



brown&ugly

brown&ugly

brown&ugly

brown&ugly

brown&ugly

brown&ugly

brown&ugly

brown&ugly

brown&ugly

brown&ugly

&nbsp ;brown&ugly

brown&ugly



and all the trade goods
piled on their backs
made the clatter clang clatter
that had awakened me



clang

clang

clang

clang

clang

clang

clang

clang

clang

clang

clang

clatter



they went their way
and i went back to sleep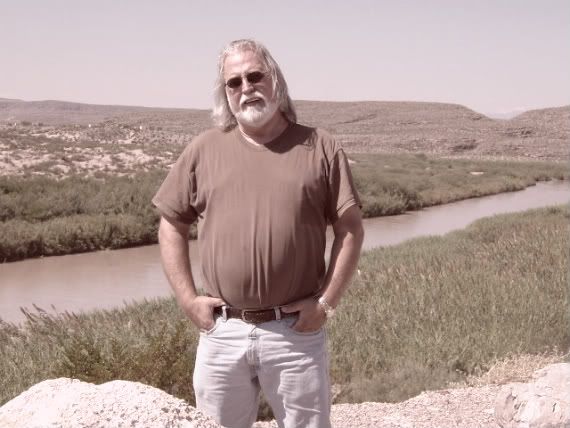 I'm done.

Until next week, please read the notice posted at the door, i.e. a material presented on this blog remains the property of those who created it. My stuff you can have - though proper credit would be nice.

I'm allen itz, owner and producer of this blog and I sure hope I have a featured poet and someone else's art next week.