Introducing "Watercolors" by Don Schaeffer
Friday, June 04, 2010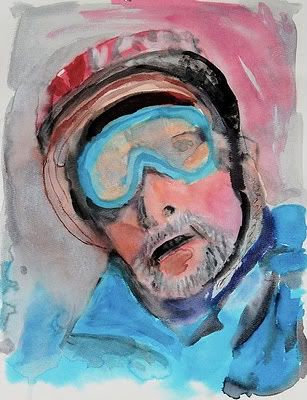 "Scooter Rider: Self-Portrait"
Don Schaeffer
V.6.1.





It's another double feature week this week, with both a featured artist and a featured poet.

The artist is Don Schaeffer, a retired psychologist from Canada. You've read Don's poetry here a number of times, but this is his first appearance as an artist.

I also have featured poet, Kevin McCann, who has also appeared here many times.

Kevin has been a full-time writer for 16 years and has published six limited edition pamphlets in England. He also writes for children.

Here's the list of everyone for the week:




Robert Hass
Dragonflies Mating

Me
bones-jumping blonds and their place in the practice of poetry

Robert Pinsky
Louie Louie

Me
cast your fate

Marge Piercy
The cats of Greece
Clinic hallway
Lipsky on Ninth Avenue
Kneeling at the pipes

Kevin McCann
Last Year's Beach
Melancholia
Eat a peach
Deluded
I pass my nights

Demetria Martinez
Not by the Gun but by the Grant Application

Me
why it's tough to be a man in the company of mostly women

Diane Glancy
E Wa Coo Me's Conversion
She Was Spinning in Space

Me
a Saturday morning in June

Paula Rankin
the Clothesline Body

Me
the incomplete evolution of god

Siegfried Sassoon
Return

Me
marching as to war

Seamus Heaney
Red White and Blue

Me
ever-true and ever-lasting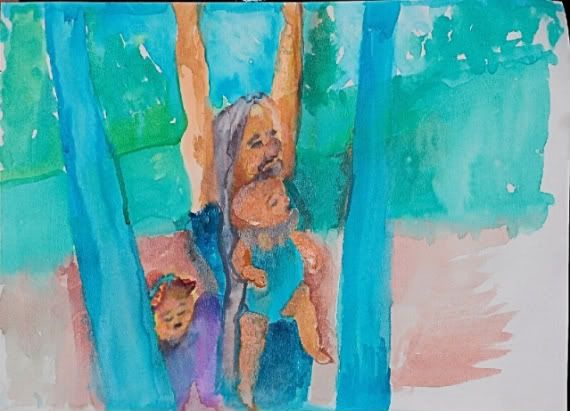 "Man with Two Children"
Don Schaeffer





I start this week with Robert Hass, from his book, Sun Under Wood, winner of the Pulitzer Prize and the National Book Award, was published in 1995 by The Ecco Press.

Hass, born in San Francisco in 1941. attended St. Mary's College in Moraga, California and received both an MA and Ph.D. in English from Stanford University. Poet, editor and translator, he served as Poet Laureate of the United States from 1995 to 1997 and as a Chancellor of The Academy of American Poets from 2001 to 2007. He lives in California and teaches at the University of California, Berkeley.



Dragonflies Mating

1.

the people who lived here before us
also loved these high mountain meadows on summer mornings.
They made their way up here in easy stages
when heat began to dry the valleys out,
following the berry harvest probably and the pine buds:
climbing and making camp and gathering,
then breaking camp and climbing and making camp and gathering.
A few miles a day. They sent out the children
to dig up bulbs of the mariposa lilies that they liked to roast
at night by the fire where they sat talking about how this year
was different from last year. Told stories,
knew where they were on earth from the names,
owl moon, bear moon, gooseberry moon.


2.

Jaime de Angulo (1934) was talking to a channel Island Indian
in a Santa barbara bar. You can tell me how your people said
the world was made. Well, the guy said, Coyote was on the
mountain
and he had to pee. Wait a minute, Jaime said,
I was talking to a Pomo the other day and he said
Red Fox made the world. They say Red Fox, the guy shrugged,
we say Coyote. so, he had to pee
and he didn't want to drown anybody, so he turned toward the
place
where the ocean would be. Wait a minute, Jaime said,
if there were no people yet, how could he drown anybody?
The Channelleno got a funny look on his face. You know,
he said, when I was a kid, I wondered about that,
and I asked my father. We were living up toward Santa Ynez.
He was sitting on a bench in the yard shaving down fence posts
with an ax. and I said, how come Coyote was worried about
people
when he had to pee and there were not people? The guy laughed.
And my old man looked up at me with this funny smile
and said, You know, when I was a kid, I wondered about that.


3.

Thinking about that story just now, early morning heat,
first day in the mountains, I remembered stories about sick Indians
and - in the same thought - standing on the free throw line.

St. Raphael's parish, where the northern-most of the missions
had been, was founded as a hospital, was named for the angel
in the scriptures who healed the blind man with a fish
he had laid across his eyes, - I wouldn't mind being that age again
,hearing those stories, eyes turned upward toward the young nun
in her white, fresh-smelling immaculately laundered robes. -


The Franciscan priests who brought their faith in God
across the Atlantic, brought with the baroque statues and
metalwork crosses
and elaborately embroidered cloaks, influenza and syphilis and the
coughing disease.

Which is why we settled an almost empty California.
There were drawings in the mission museum of the long, dark
wards
full of small brown people, wasted, coughing into blankets,,

the saintly Franciscan fathers moving patiently among them.
It would, Sister Marietta said, have broken your hearts to see it.
They meant so well, she said and such a terrible thing

came here with their love. And I remembered how I hated it
after school - because I loved basketball practice more than
anything
on earth - that I never knew if my mother was going to show up

well into one of those weeks of drinking she disappeared into,
and humiliate me in front of my classmates with her bright,
confident eyes.
and slurred, though carefully pronounced words, and the
appalling

impromptu sets of mismatched clothes she was given to
when she had the dim idea of making a good impression in that
state.
Sometimes from the gym floor with its sweet, heady smell of
pine

I'd see her in the entry way looking for me, and I'd bounce
the ball two or three times, study the orange rim as if it were,
which it was, the true level of the world, the one sure thing

the power in my hands could summon. I'd bounce the ball
once more, feel the grain of the leather in my fingertips and shoot.
It was a perfect thing: it was almost like killing her.


4.

When we say "mother" in poems,
we usually mean some woman in her late twenties
or early thirties trying to raise a child.

We use this particular noun
to secure the pathos of the child's point of view
and to hold her responsible.


5.

If you're afraid now?
Fear is a teacher.
Sometimes you thought that
Nothing could reach her,
Nothing can reach you.
Wouldn't you rather
Sit by the river, sit
On the dead bank,
Deader than winter,
Where all the roots gape?


6.

This morning in the early sun,
steam rising from the pond the color of smoky topaz,
a pair of delicate, copper-red, needle-fine insects
are mating in the unopened crown of a Shasta daisy
just outside your door. The green flowerheads look like wombs
or the upright, supplicant bulbs of a vegetal pre-erection.
The insect lovers seem to be transferring the cosmos into each
other
by attaching at the tail, holding utterly still, and quivering intently.

I think (on what evidence?) that they are different from us.
That they mate and are done with mating.
They don't carry all this half-mated longing up out of childhood
and then go looking for it everywhere.
And so, I think, they can't wound each other the way we do.
They don't go through life dizzy or groggy with their hunger,
kill with it, smear it on everything, though it is perhaps also true
that nothing happens to them quite like what happens to us
when the blue-backed swallow dips swiftly toward the green pond
and the pond's green-and-blue reflected swallow marries it a
moment
in the reflected sky and the heart goes out to the end of the rope
it has been throwing into abyss after abyss, and a singing
shimmers
from every color the morning has risen into.

My insect instructors have stilled, they are probably stuck
together
in some bliss and minute pulse of after-longing
evolution worked out to suck the last juice of the world
into the receiver body. They can't separate probably
until it is done.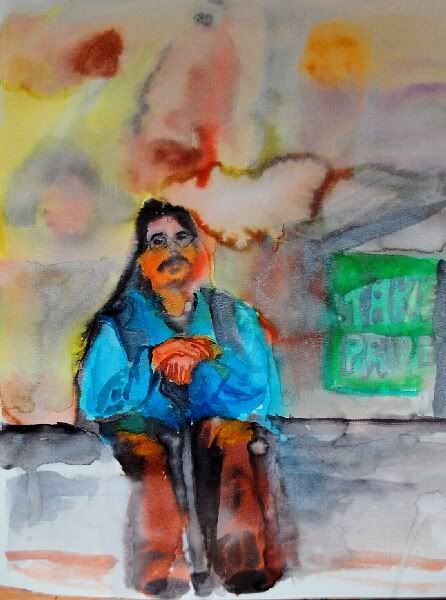 "Man with a Cane"
Don Schaeffer





Here's my first poem of the week, suggesting that, as in all other aspects of life, art is a question of proper incentives.



bones-jumping blonds and their place in the practice of poetry

it's
not
like i have some
holy
obligation
to write a poem today

not
like
i swore on a stack of bibles
i would write a poem
every
day

not
like
the powers of poetry
are holding hostage my first born
and my collection of Batman comics,
threatening
to shred the one
and trade the other
for tattered and smudged Archies
unless i write a poem right now
this minute

not
like
there's a bomb
tick-tocking under the Tower of London
and set to go off if i don't release a poem
into the atmosphere
within
45
minutes

not
like
the president
is being held hostage
by a band of killer republican literary super-agents
demanding an immediate poem from me -
or else!

not like
someone's going to give me a bunch of money
if i get that poem written
and that wouldn't work anyway
since
as a true poet
i know not much of money or other material reward
for the dribblings of my self on paper

and it's also not like
some blonde with generous curves
and giggly breath
is going to jump my bones
if i write a poem, right now - though
that does seem like a damn good reason to write a poem right now

in fact,
i'm going to try real hard
right now,
really really hard,
to write a poem
just in case there's a blond
in the neighborhood eager to jump a poet's bones

the secret of creativity

one third perspiration
one third dedication
and three thirds bones-jumping
blonds
with generous
curves

i
await,
bones atremble






"Man with a Purple Hat"
Don Schaeffer





My next poem is by Robert Pinsky, and it's from his book, Gulf Music, published by Farrar, Straus and Girouix in 2007.

Pinsky was Poet Laureate of the United States from 1997 to 2000. His many awards include the William Carlos Williams Award, the Ambassador book Award, the Leonore Marshall Poetry Prize, and the Academy of American Poets' Harold Morton Landon Translation Award. He is the poetry editor of Slate and teaches in the graduate
creative writing program at Boston University.



Louie Louie

I have heard of Black Irish but I never
Heard of White Catholic or White Jew.
I have hard of "Is Poetry Popular?" but I
Never heard of Lawrence Welk Drove
Sid Caesar Off Television.

I have heard of Kwanzaa but I have
Never heard of Bert Williams.
I have never heard of Will
Rogers or Roger Williams
Or Buck Rogers or Pearl Buck
Or Frank Buck or Frank
Merriwell at Yale.

I have heard of Yale but I never
Heard of George W. Bush.
I have heard of Harvard but I
Never heard of Numerus Clausus
Which sounds to me like
Some kind of Pig Latin.

I have heard of the Pig Boy.

I have never heard of the Beastie
Boys or the Scottsboro Boys but I
Have heard singing boys,what
They were called I forget.

I have never heard of America
singing but I have heard of I
Hear America Singing, I think
It must have been a book
We had in school, I forget.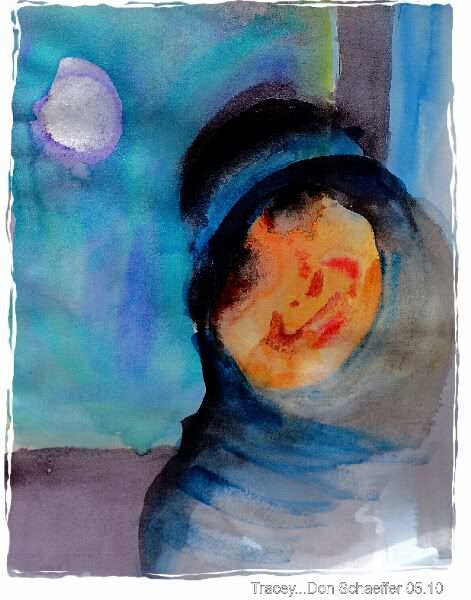 "Woman on the Sky Train"
Don Schaeffer





I heard the song and flashed right back to another time and place - Albuquerque, Peace Corps training at the University of New Mexico, 1963, 19 years old.



cast your fate

i hear it now
from the speakers
overhead -

heard the first time
nearly 50 nears ago

between
the mountains
and the brown sandy desert

at a coffee shop
across Central Avenue
from the university campus

"Cast Your Fate to the Wind"

1960's jazz,
like a cradle,
carrying dreams
through its smooth flowing lines -

at the time,
a thousand miles or more
from home,
in a new place
where i knew no one
and no one knew me,
adrift
for the first time in my life,
with youth
and high expectations,
i truly thought i had
cast my fate
like a web of the rest of my life
far and wide
and the song was like an anthem
as i heard it -

little i knew then
that the wind is not a passive force,
that it blows back
against
even the surest dreams

that there was to be
much more
to the story than i knew
at the time

but still
i hear it today
and for a moment
i am thrilled
with possibility
and memory of possibility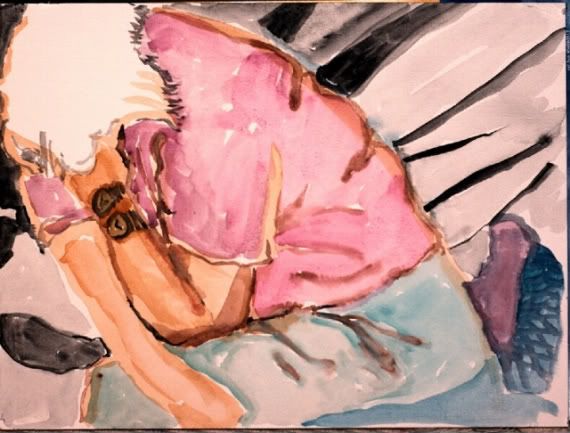 "Woman with Two Watches"
Don Schaeffer





I have a poem by Marge Piercy, from her first book, Breaking Camp, originally published in 1968, my edition in 1979 by Wesleyan University Press.

Piercy was born in 1936 in Detroit to a family deeply affected by the Great Depression. She was the first in her family to attend college, studying at the University of Michigan. Winning a Hopwood Award for Poetry and Fiction (1957) enabled her to finish college and spend some time in France. Her formal schooling ended with an M.A. from Northwestern University.

Since Breaking Camp, she has published sixteen additional volumes of poems, as well as fifteen novels, one play, one collection of essays, one nonfiction book, and one memoir.



The cats of Greece

The cats of Greece have
eyes grey as plague.
Their voices are limpid,
all hunger.
As they dodge in the gutters
their bones clack.
Dogs run from them.
In tavernas they sit
at tableside and
watch you eat.
Their moonpale cries
hurl themselves
against your full spoon.
If you touch one gently
it goes crazy.
Its eyes turn up.
It wraps itself
around your ankle
and purrs a rusty millennium,
you liar,
you tourist.


Clinic hallway

Six cubicles side by side.
In each the flat bed
of sheeted table,
chair, clothesrack,
receptacle for soiled gloves:
whorehouse parody.

death is a present hum
like airconditioning.
A nurse pushes a cart
neatly loaded with
paper Dixie cups of feces:
twenty-four diseases
going past my feet.
I am waiting
for the doctors
to assign mine.


Lipsky on Ninth Avenue

You look like a mad but polite Odessa angel
lost somewhere off the Cape of Random fogs.
Perhaps a battleship sank you.
Perhaps you got tired.
Or a boy with a slingshot took you for a stork.
You had a message to deliver that you have forgotten;
prophecy? revelation? revolution? vision?
That is why you are hurrying.
That is why you walk so fast:
you used to have big grey wings like a sea gull.


Kneeling at the pipes

Princely cockroach, inheritor,
I used to stain the kitchen wall with your brothers,
flood you right down the basin.
I squashed you underfoot, making faces.
I repent.
I am relieved to hear somebody
will survive our noises.
Thoughtlessly I judged you dirty
while dropping poisons and freeways and bombs
on the melted landscape.
I want to bribe you
to memorize certain poems.
My generation too craves posterity.
Accept this dish of well aged meat.
In the warrens of our rotting cities
where those small eggs
round as earth wait,
spread the Word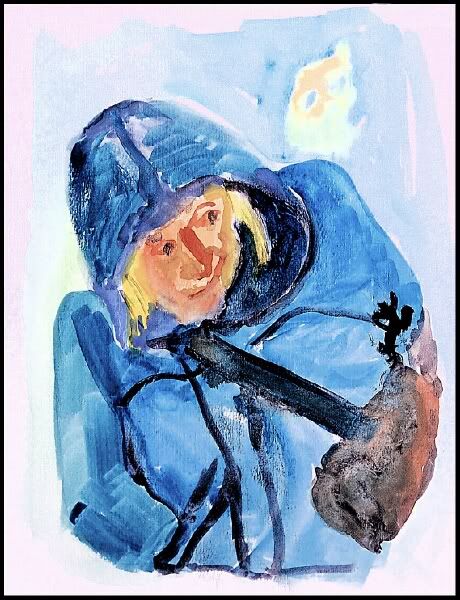 "Woman in Blue"
Don Schaeffer





Here are five poems, as promised, from featured poet, Kevin McCann.



Last Year's Beach...

Was shoals of fish
Rainbow snaking through
A sunken hull's outline
And manta-rays that
Flap-glide their shadows
Across the sea-bed
And above it all

A glass-bottomed boat
Just drifting

But this year's beach
Is shoals of fish
Belly up and shedding scales
Into engine-oil
Pumped and dumped
Feather clogging gullet gagging
Rainbows that smear the shingle

And no boats drift
And there's no-one singing.


Melancholia

Ten years since she first came to us,
Skeletal, believed that cows were people
Who'd been bewitched and that her food
Was tampered with, believed her mother
Was a changeling and that her brother
And father, both recently deceased,
Were still alive, enchanted into statues,
Living Waxwork Exhibits, believed
That cats and dogs were lost babies
And that she herself had cared for six.

She was bruised and quiet excepting
For odd laughing fits, would sometimes
Talk of a man who wronged her
With his threats of violence,
His demands for marriage :
Now she is often dirty
And says, that at night,
She has ghosts for company,
Thinks she was brought here asleep
In a glass coffin – I very much doubt
Her eventual release.


Eat a peach

Few clouds. Full moon. A scarecrow shuddering.

Further along the path, a hare sitting up on its hind legs. As he takes just one step, it's gone in a scuffle of dust.

A dry stone wall. Just beyond that is the – Grandma's – derelict cottage.

In front of him is the one story cottage. Roof, doors and windows are gone.

He climbs over into the garden, reaches up into the tree, plucks a peach, bites into it. Juice rivers down his chin. He picks another.

His proof.

In the far corner of the garden is a birch tree, silvery bark smeared with lichen and as the moon emerges from the obscurity of clouds,

a woman emerges from its trunk. Long hair, impossibly honey coloured in the monochrome night, falls forward covering her face.

Her head moves back in an arc until she's looking straight at him. Eyes blueblackgreen shifting, skin white as moonlight glancing off a/ frozen sea, lips an open wound.

Another scurry and a hare's racing across the lawn. When he turns back – like looking through a mirror - she's gone.


&nbsp &nbsp &nbsp &nbsp &nbsp &nbsp Deluded

&nbsp &nbsp &nbsp &nbsp &nbsp &nbsp Listen !
&nbsp &nbsp &nbsp &nbsp &nbsp &nbsp It was going dark
&nbsp &nbsp &nbsp &nbsp &nbsp &nbsp When they came
&nbsp &nbsp &nbsp &nbsp &nbsp &nbsp With, "Come on old pal,
&nbsp &nbsp &nbsp &nbsp &nbsp &nbsp It's all for the best,"
&nbsp &nbsp &nbsp &nbsp &nbsp &nbsp So I didn't resist
&nbsp &nbsp &nbsp &nbsp &nbsp &nbsp As they bound me
&nbsp &nbsp &nbsp &nbsp &nbsp &nbsp Hand and foot,
&nbsp &nbsp &nbsp &nbsp &nbsp &nbsp Mocked my silence
&nbsp &nbsp &nbsp &nbsp &nbsp &nbsp And brought me up
&nbsp &nbsp &nbsp &nbsp &nbsp &nbsp Before a man
&nbsp &nbsp &nbsp &nbsp &nbsp &nbsp Who questioned everything
&nbsp &nbsp &nbsp &nbsp &nbsp &nbsp Then washed his hands.

&nbsp &nbsp &nbsp &nbsp &nbsp &nbsp Listen !
&nbsp &nbsp &nbsp &nbsp &nbsp &nbsp It was dark
&nbsp &nbsp &nbsp &nbsp &nbsp &nbsp When they left me
&nbsp &nbsp &nbsp &nbsp &nbsp &nbsp Laid out in this cell,
&nbsp &nbsp &nbsp &nbsp &nbsp &nbsp Left me to burn
&nbsp &nbsp &nbsp &nbsp &nbsp &nbsp For three days in hell,
&nbsp &nbsp &nbsp &nbsp &nbsp &nbsp But the voices came back,
&nbsp &nbsp &nbsp &nbsp &nbsp &nbsp Rearing up in my head.

&nbsp &nbsp &nbsp &nbsp &nbsp &nbsp Listen !
&nbsp &nbsp &nbsp &nbsp &nbsp &nbsp They told me
&nbsp &nbsp &nbsp &nbsp &nbsp The weft and weave
&nbsp &nbsp &nbsp &nbsp &nbsp That binds clay to blood
&nbsp &nbsp &nbsp &nbsp &nbsp And wood to bone,
&nbsp &nbsp &nbsp &nbsp &nbsp They told the seven secrets
&nbsp &nbsp &nbsp &nbsp &nbsp That only a magpie knows.

&nbsp &nbsp &nbsp &nbsp &nbsp Listen !
&nbsp &nbsp &nbsp &nbsp &nbsp Soon I'll go to a place
&nbsp &nbsp &nbsp &nbsp &nbsp Where the moon's made of glass
&nbsp &nbsp &nbsp &nbsp &nbsp And the stars fall like snow.



&nbsp &nbsp &nbsp &nbsp &nbsp I pass my nights...

&nbsp &nbsp &nbsp &nbsp &nbsp With angels and demons.

&nbsp &nbsp &nbsp &nbsp &nbsp It's all the same thing.

&nbsp &nbsp &nbsp &nbsp &nbsp I share my breath
&nbsp &nbsp &nbsp &nbsp &nbsp With rock, spider,
&nbsp &nbsp &nbsp &nbsp &nbsp Fish and tree
&nbsp &nbsp &nbsp &nbsp &nbsp While they,
&nbsp &nbsp &nbsp &nbsp &nbsp By way of courtesy,
&nbsp &nbsp &nbsp &nbsp &nbsp Share their breath
&nbsp &nbsp &nbsp &nbsp &nbsp With me.


&nbsp &nbsp &nbsp &nbsp &nbsp But that's only
&nbsp &nbsp &nbsp &nbsp &nbsp Smoke and mirrors.

&nbsp &nbsp &nbsp &nbsp &nbsp When the whistling comes
&nbsp &nbsp &nbsp &nbsp &nbsp I'm balanced,
&nbsp &nbsp &nbsp &nbsp &nbsp Can fly a thousand miles
&nbsp &nbsp &nbsp &nbsp &nbsp In seconds :

&nbsp &nbsp &nbsp &nbsp &nbsp Arabian Nights
&nbsp &nbsp &nbsp &nbsp &nbsp With a clean east wind.






"The Rapids"
Don Schaeffer





I have a poem now by Demetria Martinez, from her book, The Devil's Workshop, published in 2002 by The University of Arizona Press.

Martinez is an author, activist, lecturer and columnist. Her books include the widely translated novel, Mother Tongue, winner of a Western States Book Award for Fiction. Her autobiographical essays, Confessions of a Berlitz-Tape Chicana, won the 2006 International Latino Book Award in the category of best biography. She is also the author of two books of poetry, Breathing Between the Lines and The Devil's Workshop, both of which I have in my library. Grandpa's Magic Tortilla, a children's book Martinez co-authored with Rosalee Montoya-Read, will be released in 2010 by the University of New Mexico Press.



Not by the Gun but by the Grant Application

for the Southern Arizona People's Law Center,
tenth anniversary celebration, Spring 2000

Not by the gun but by the grant application
Which was due at midnight.
You stare at your screen as if through
A windshield at a body mangled beyond recognition.
Your are not amused when I say that Che
Would have hired a computer tutor.
Go ahead, blame me for dawdling
Over your shoulder, a ballpoint poet
Who should stick with her day job.
Blame the full moon for popping
And gumming up the works
Like a modern day Luddite,
Go ahead, rage against the machine.
I will write the goddamn grant in sand.
Winds will overnight it to the Ford Foundation.
Fire ants will assemble each grain in plaintext
On the desk of a stunned bureaucrat who will
Write a check, only too happy to divest himself
Of dollars that this plague might pass over.
Peace will spread like shade over Tucson
Where we will sell horchata on the sidewalk,
Those quarters in the coffee can, the keys
That turn the water back on, the lights back on.
Come the monsoon the sky will spit diamonds
On the repaired roofs of your clients.
For this grant cycle at least, the letter
And the spirit of the law will be one.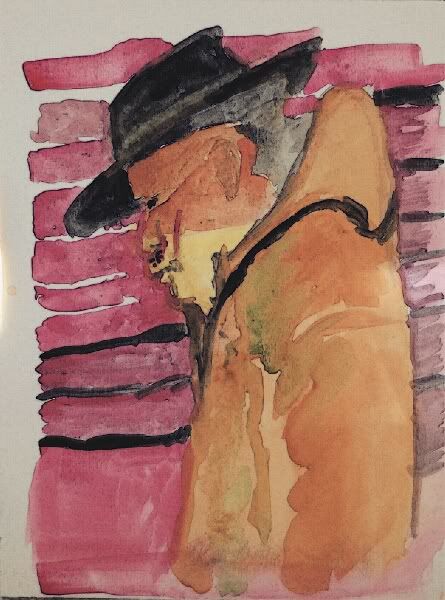 "Man with a Scar"
Don Schaeffer





It is a long and difficult path we men trod, when shut off from our own kind.



why it's tough to be a man in the company of mostly women

the problem with being
a man
in the company of mostly
women
is that while they
are truth-seekers and truth-tellers,
men are mostly
bullshitters

it's not that we don't know the truth
when we see it -
it's that we fear it, consider it
a weapon
too dangerous
to be waved around in the air
where it might hurt someone

truth
has caused war,
jeopardized peace,
divided father from son,
mother from daughter,
wife from husband
and husband from wife,
truly a fearsome thing
when
misused by those
who see too much, say to much,
drink too much

it should be regulated,
licensed, like motor vehicle drivers,
its proper use
taught
in classrooms
like the gun-safety classes you're supposed to take
before you can purchase
a hand gun

this is something
that men,
by their nature,
understand -
it is why you should never
believe
too much of what we say

because though
we might say
we're protecting you
from harsh true vision,
that's bullshit too,
it's our own rear we're
covering
almost every time -

and that's why
it tough being a man
in the company
of mostly women -
because,
though it is against our nature
to succumb,
truth-telling is contagious

leaving us
always
on guard
lest we let some of it slip out
in a moment of truth-besotted weakness...






"Constructing the Human Rights Museum"
Don Schaeffer





I haven't used anything by Diane Glancy in a while, so here she is, with poems from her book, Long Dog's Winter Count, published by West End Press in 1991.

Glancy, a Cherokee poet, author and playwright, was born in 1941 in Missouri. She received her Bachelor of Arts in English literature at the University of Missouri in 1964, then later continued her education at the University of Central Oklahoma, earning her Masters degree in English in 1983. In 1988, she received her Master of Fine Arts from the University of Iowa. Glancy is currently an English professor at Macalester College in St. Paul, Minnesota, teaching Native American literature and creative writing courses.



E Wa Coo Me's Conversion

She twirls & twirls
on the dance floor
her skirt higher & higher
off the ground spinning round
& round first her knees show
then her thighs
soon the lace on her panties.
The skirt rises higher over her head.
It sucks her up into itself,
her shoulders waist hips knees
ankles her little red toes.
She dances inside her skirt.
The starch in her crinoline
twinkles like stars in the universe.
Ah! that's where she moves now,
the black space of herself where
all memories put on white faces,
ribbons hanging from the ears,
bright red spots on the cheeks.
They come alive & speak now,
their Bible open
The Saints pouring out
Paul Peter Mary Joseph Jesus.


She Was Spinning in Space

the little soul twirling
at last like a leaf on the sycamore,
her absolute level best.
Ah yes this was the turning that was squashed,
this was the life ripped from her
like the beginning of a feeling
that rises but was chopped.
& all the while longing to rise again,
to dance to say ya sota to the Spirit,
to speak his language,
to feel the pines beneath it.
The dancing bedrock the frilly edge of Timothy
& Johnson grass.
To weave back the separation the split in the head,
the braids released over her two feet dancing,
the blessed will of her passage
to mere space
with a wedge of certain life.
The pure drive to come from the back room
long the clear air enfolding he hall,
the sycamore leaves snake-dancing
on her lovely yellow dress.






"Inuit Man"
Don Schaeffer





It was one of those early summer mornings, so good, and knowing what's ahead, you don't want to see end.



a Saturday morning in June

laptop
forgotten at home -
a hand-crafted poem
fingers
bent
in near-forgotten contortion

~~

even so

~~

dark sister
banks its reflected glow
bows
before the bright queen
of light

~~

garden ambition
blown in
by soft morning breeze

blown out again
by harsh facts of afternoon

~~

cardinal crosses
red
against green

~~

cooing dove calls;
mate responds -
soft whispers between
pale leaves

~~

yesterday's trimmings
piled high
for today's shredding

rotted fence
exposed
to truth
of morning sun

~~

motorcycle
rumbles across the bridge

pricks
the balloon of morning
illusion

~~

we wait
for the day to carry us
where it will

~~

not yet

please...

not yet

~~

but it cannot be denied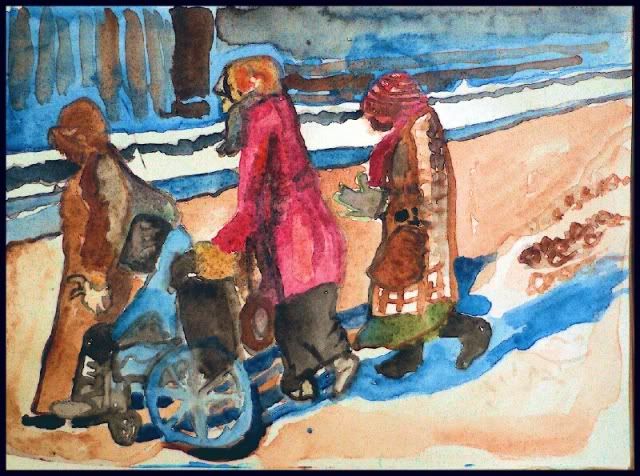 "Four Women"
Don Schaeffer





Next a poem by Paula Rankin from her book Augers, published by Carnegie-Mellon University Press in 1981.

The only information in the book about Rankin is that, at that time, she lived in Tennessee and that her first book By the Wreckmaster's Cottage was published in 1977.

It's been a long time since then, but the only information I can google on her is mention of her, but no biography.



The Clothesline Body

Each night I leave my dress on the line
between the Sumacs.
I unbutton the bodice and cuffs
so the dark can fall in easily,
taking my body's place
without the limits my hands
put on reach, my feet put on movement,
my head puts on knowing and loving.

The body's mouth fills with fireflies
and leaves, a broth of lichen,
mothwings. This body's hair is so long
it wafts the hills. Part of it lies
in the creek, filling with mayflies
and algae. A crayfish cracks out of its shell
and hides under a rock in my eardrum.
My tongue turns into wind.

Morning, I go out and put on the dress,
buttoning it clear to the neck and wrists,

and wake the children with the touch
that barely knows where it's been.






"The Couple"
Don Schaeffer





A disbelief in deity does not preclude continued search through the big questions. If anything, the search is intensified, since disbelief disallows all the easy answers.



the incomplete evolution of god

first
there was
the god of the sky

distant
and remote
from the affairs of man,

the cause
of all effects, but capricious
when it came to those effects -

doing what they did,
as all gods do
as they do, with little regard

when their incidental creations were roiled
in their wake,
being only byproducts, after all,

of the supreme ego
at play,
toys left scattered on the floor

until time to play
again...

and man was not pleased
with such indifference and thought
how much better it would be

if the gods were more like man,
they would surely love man more and provide
for him because he was like them -

and they created such gods
and demigods
and gave them all names

and domains
and power over all the different aspects
of the world

and soon learned
that the gods like them
were too much like them

with all of a god's power
and all of a man's weakness
and the value of a distant

and disinterested god,
totally unlike man
was clear to them again

and some men decided that
given their choices, they were better off
with no gods at all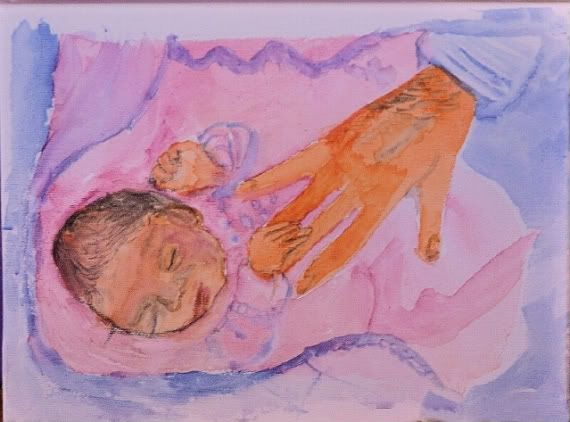 "First Day"
Don Schaeffer





This being the week that began in the United States with Memorial Day, here is a poem by Siegfried Sassoon from the collection of his work, The War Poems, published by Faber and Faber in 1983. Sassoon was one of the soldier-poets of World War I who debunked the myths of battle glory.



Return

I have come home unnoticed; they are still,
No greetings pass between us; but they lie
Hearing the boom of guns along the hill,
Watching the flashes lick the glowering sky.

A wind of whispers comes from sightless faces;
"Have patience, and your bones shall share our bed."
Their voices haunt dark ways and ruined places,
Where once they spoke in deeds; who now are dead

The wondered why I went; at last returning,
They guide my labouring feet through desolate mud.
And, choked with death, yet in their eyes discerning
My living strength; they are quickened in my blood.

11 March 1917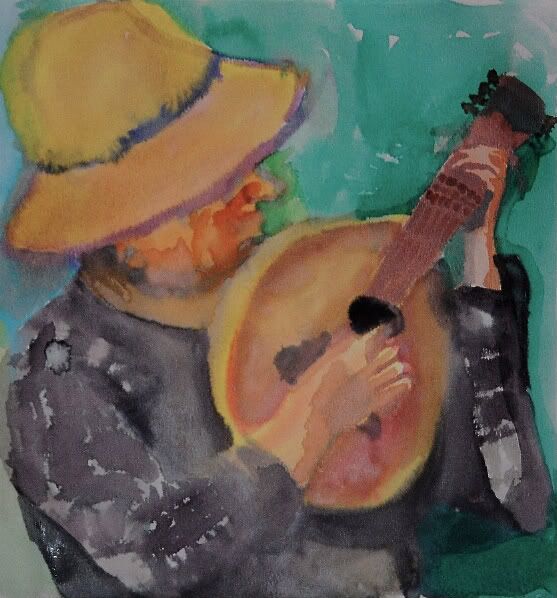 "Man with a Mandolin"
Don Schaeffer





Though I never fired a shot, nor was I ever shot at, I did serve during "the war," January 1966 - May 1969.

I was one of the fortunate.

I wrote the poem several years ago, after driving past Lackland Air Force Base on San Antonio's south side, where I received the training described in the poem.



marching as to war

on this day
forty-three years ago
newly shorn
and uniformed
in the middle
of another
bloody
useless war,
i was in my
fourth day
of learning
the arts of combat
which seemed
at that early point
to be mostly about
getting up
at the very dark
of morning
and marching
in god-awful winter
weather
to places we did not
care to go

many of us
would soon learn
more advanced
and terrible lessons
while others,
like me,
would find safe haven
in specialties
that involved
neither shooting
nor being shot
at,
veterans,
now,
of the they-also-serve-
who-only-stand-and-wait
brigade.
we
honor those
who fought then
and those
who fight now,
and thank
god
again and again
we were not
them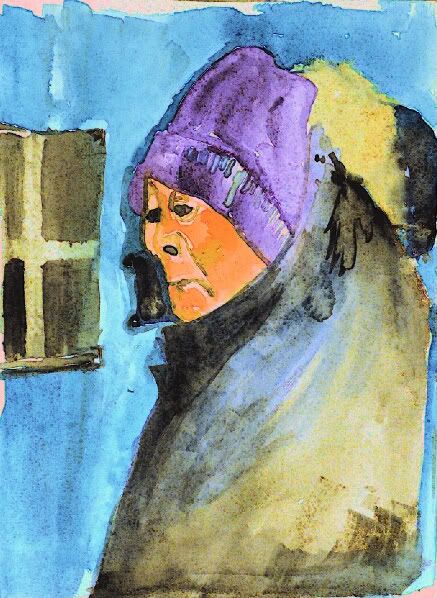 "Japanese Man"
Don Schaeffer"





Now here's a poem by Irish poet Seamus Heaney from his book Electric Light.



Red, White and Blue


Red

What I loved about the much-snapped scarlet coat
Was the hunting jacket look of fitted waist
And tailored shoulder, the nifty, tricksy bounce
Of hemline hitting off you knee behind
And your knee in front.

"She's like a wee pony!"
Butter wouldn't melt in that smiler's mouth
so I smiled straight back, as who should say, "Good god,
You know you're absolutely right.
I love the go and gladsomeness of her,
Something unbroken, her gift for pure dismay
At shits like you."


And had the good fortune
To smile again into his peeky face
Later that night, as you jived with me hell for leather
In the Students Union, the cleared floor like a paddock
Where we gave each other rope and scope and snaffle.

"Redingote!" you'd cry.

And me, back, "Giddy up!"


2. White

The screaming from the pool was bad enough,
Busloads of schoolkids coming in on rota
Toe the baths next door, the banshee acoustic
Of the glass-and-iron dome upping the wildness.
But in your state you thought the screaming came
From the labour ward.

At last-kiss, time-to-go time,
You were dry on the lips, hot-cheeked, already gone
Drifting away on the high berg of the bed.
They had given you a cut-off top of sorts,
Plain as a flour-bag, orphanage issue stuff,
White calico demure at the neckline
But unmistakable made for access
Elsewhere.

Through its laundered weave
I tried to call you back but your quarantine
Was making you touch-proof and my hand
That thought it knew its way got lost and shied.
O where was the thick of thickets, the hug and birl
Of pleasures wrought to anger and beyond?
Ahead of us, my love, the small hours tournaments,
But that afternoon I left the list and rode
From the sun-daunting keep of Castle Childbirth
And even though you knew as you lay contracting
Behind its bastions that the lilied moat
Was uncrossable, the drawbridge drawn up,
The battlements secure and audience
With the chatalain denied, behind your eyes
Eye-tooth-tightened shut against the pangs,
What you still could not help making yourself see
Was the Knight of the White Feather turning tail.


3. Blue

"Yes, pretty, veh pretty." How many times
Have you mimicked the entire unaffected
And veh genuine touch of class she showed
In her praise of he gate-lodge and the avenue
At Castlebellingham. She was deigning
To bestow that much attention, and in the whim
Of her bestowals we felt ourselves included -
Hitchhikers who must have taken her fancy
Or her husband's, whom I then took to be
Officer class in civvies on weekend leave
In southern Ireland, as he called it.
"Tell me,
I mean, you know, in southern Ireland,
Houses like that, are there many of them left?
Your crowd burnt the lot down, did they not,
In the nineteen twenties?"

It then being
1963, we simply dived for cover,
("We're from the north,") or might surprise attack
With a quick torrent of the names of towns
Burnt in reprisal. But her "Pretty, veh pretty,"
Said with the half-interest she might display
Later that night, letting her warm silks fall
In the lamplight of some coaching inn in Wicklow,
Was like a reminder a goddess might vouchsafe
To recall a hero to his ardent purpose.

Doves or no doves, It was a Venus car
We had thumbed down after more than half an hour
On the bridge outside Dundalk. You rose before them
In a Fair Isle tank-top and blue denim skirt
And denim jacket. And much blue eye make-up.
A Botticelli dressed down for the sixties.
So their big waxed Rolls flows softly to a halt,
The running board comes level with the footpath
And we are borne - sweet diction - south and south.






"Red River at East Kildonan"
Don Schaeffer





And the exploration continues.



ever-true and ever-lasting

in the Tao Te Ching
it is said

(and we know not
for sure by who)

that there is more
to existence

than earth
and the heavens

something
that came before

the earth
and all the gods of heaven

something
that will remain when all else

is gone
to memory lost,

the earth and all it's pretensions;
the gods with all their powers

gone -

the mother of universes,
this thing

that is not
in any way we know it,

but still above and below
and within and beyond

all we know, this tender
of universal graves -

tao, sometimes called "the way,"
a name given

to this all
beyond all

this path
through being and not,

available to minds
that see

by disbelieving
all they can see,

understanding that everything
that is real and worthwhile

is in the void-not-void between
the what we know,

the beyond-universal nothing
where all souls float

together as one,
the source

of all birth,
all destruction and rebirth

outside of space and time
and all the rules

of relapsing reality...

ever-true and
everlasting

god,
without need of god






"Infant Regards Things"
Don Schaeffer




Another week. Until the next one, of course, all the material presented in this blog remains the property of its creators. My stuff is more free-floating. If you want it, take it, just credit me and "Here and Now" properly.

I'm allen itz, owner and produce of this blog. It's my toy box, but you're welcome to look inside if you want.