California Dreaming - In Black & White
Thursday, June 10, 2010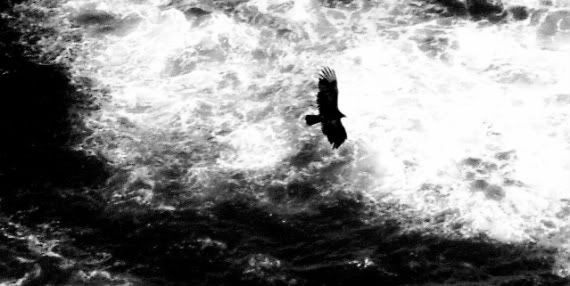 V.6.2.





My featured poet this week Joanna M. Weston.

Joanna has been with us here many times before. She is Canadian, living on Vancouver Island. She has had poetry, reviews, and short stories published in anthologies and journals for twenty five years. Her middle-reader, Those Blue Shoes, published by Clarity House Press; and poetry, A Summer Father, published by Frontenac House of Calgary.

No featured artist this week, so I'll be making do with my black and white photos.


That said, here are my poets for the week.



Charles Baudelaire
The Giantess
Exotic Perfume
The nightly heavens are not more beautiful
Autumn Song"

Me
Thursday morning theology

Stanley Kunitz
The Lincoln Relics

Me
Presbyterian Devil-Worshipers

Gilbert Sorrentino
Coast of Texas

Me
what a stupid idea that was

Joan McBreen
Fall 1987
My Space
The Woman and the Igloo
Classibawn

Me
the kind of poet i want to be

Bill Shields
war
wish upon a dying star
the honest poem
the night of the gargoyle

Joanna M. Weston
In Tom's Shopping Cart
Mad North-North-West
Waiting
The Textures of March

Richard Howard
Further Triangulations

Me
why i de-friended Buddha

Naomi Shihab Nye
West Side
The Passport Photo
Getting through the Day

Me
implications of the decline of corn tortillas

Lorna Dee Cervantes
Raisins

Me
the promise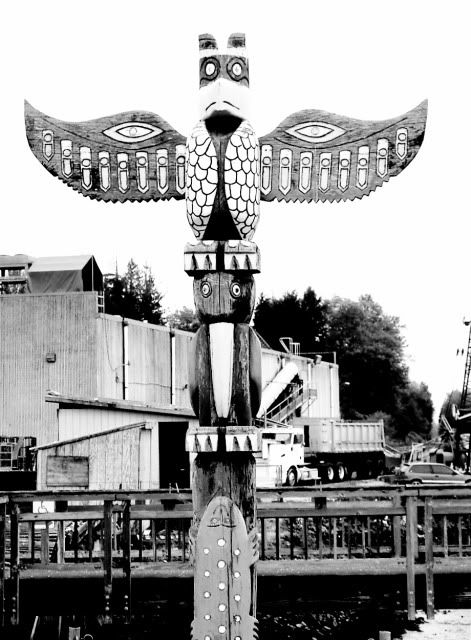 I begin this week with several short poems by Charles Baudelaire, from a collection of his work, Selected Poems, published in 1999 by Orion Publishing for Barnes & Noble.

Baudelaire, considered by some as the finest French poet, was literary sensation in his youth. His small output of poems came mostly from his first book, Les Fleurs du mal, which led to his prosecution for blasphemy and immorality. A nineteenth century rock star, he led a twenty-first century rock star life which led to poor health and, ultimately, his death at the relatively early age of 46.

All the poems in the book were translated by Laurence Lerner.



The Giantess

If I had lived in that wild early world
Where each day saw new monstrosities,
I would have fawned upon a giantess, curled
Voluptuous as a cat around her knees.

I would have watched her soul and body both
Take form from her perverse, athletic joys,
Guessed at the sombre flames that lurked beneath,
Watching the wet mists swimming in her eyes.

I would have scrambled up her sloping thighs,
Explored her limbs - and when, some languid June,
She stretched beneath a hypochondriac sun
Along the fields, I would have slept as well
Casually shadowed by her dropping breasts
- a peaceful village underneath the hill.


Exotic Perfume

Eyes closed against the autumn heat, I lean
My head on your breasts and dream of tropic strands,
Of the heavy smell that drifts from the tamarinds,
Of the slow caress of an exotic sun,

Of islands paced by slender, muscled men,
By girls with come-hither eyes and beckoning hands,
Where the strange trees shake their strange fruits to the
winds:
This is the world I enter, breathing you skin.

You smell of distance. Battered masts, and sails
Exhausted from their struggle with the deep
Crowd in the harbor as I drop asleep,
Feeling your breathing while my soul is winging
Its way above strange shores and distant hills.
Listen. Far off. Hark to the sailors singing.


The nightly heavens are not more beautiful

The nightly heavens are not more beautiful
Than you, beloved, sorrowful and still,
My vase of ears; and when you turn away
My love grows stronger. Night displacing day,
I love you for the leagues of irony
You place between my pleading and the sky.

I crawl across your body like a horde
Of worms across a corpse. O beast, adored
The more you show me, to augment my pain,
Your splendid and implacable disdain.


Autumn Song

I love your shadowy eyes, your olive skin,
Your tender loveliness, but all's dark today.
Not home or heath nor even love can win
My thoughts from where the sunlight strokes the sea.

But mother me and love me all the same,
Sweetheart and sister: be that brief delight,
That glimpse of joy, ungrateful as I am,
That autumn gives before the fall of night.

Just let me lay my head upon your knees:
It won't take long: the grave is waiting; death
allows one torrid summer. Not let's seize
The golden sweetness of its aftermath.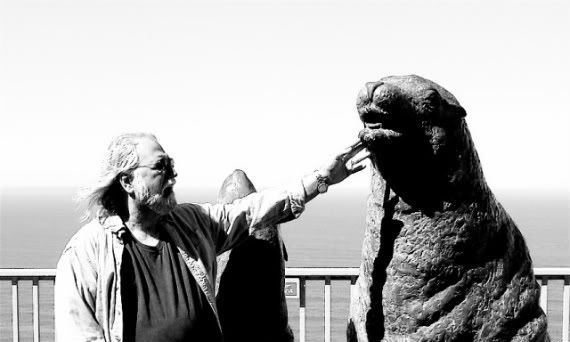 Forever interesting, the mysteries of faith.



Thursday morning theology

a couple of Catholic priests
this morning,
little short guys
with big ears and perfect
haircuts,

their black suits
and black socks
and shiny black shoes
and spiffy Roman collars
a sartorial cut above
my normal
Protestant religiosos
mosos babosos -

they're sitting
in a booth
way across the room,
too distant for eavesdropping,
so i'll not be able
to consider the theological
implications
of their NBA finals
prophecies
as compared to the
expectations
of the regular babosos

i suspect they all agree
it will be an epic
7-game
battle
between the forces
of dark and light, good
and bad, purity
and debauchery - now
if they will only agree
on which side is which

i suppose i'll never
know...

which is my only
disappointment this very
fine
day

it being the morning
after
very strong storms
last night

thunder
lightning
strong winds
and heavy rain
blowing
in
from the north,
sweeping down
from the hills, storms
from the north
that bring in their wake
cool mornings and air
so clear and clean
that every color of light
has a bright vividness
you feel you've never
seen before, like you've
rediscovered color
after years of black
and white seeing...

unlike
south storms
that bring all the muggy
heat of the coast
and strap it across
your shoulders
to carry around all day

the babosos
might say it's like
the NBA finals, north-south
rather than west-east
division, north storms
the indubitably good
good guys,
and the south storms,
well,
i hate to call a force of
nature
bad,
but, whether the babosos
agree or not,
it is just the way i see
it - south
storms bad,
north storms good

case closed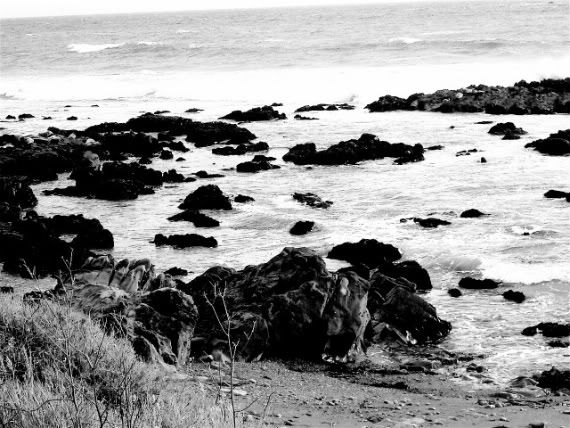 Next I have a longish poem by Stanley Kunitz from his book Passing Through - The Later Poems, published in 1995 by W W Norton and Company. This is his ninth book of poems, published in his ninetieth year.

Kunitz, recipient of many awards, including both the Pulitzer and the Bollingen Prizes, was appointed Poet Laureate Consultant in Poetry to the Library of Congress twice, first in 1974 and then again in 2000.

He died in 2006, at the age of 101, still an active poet.



The Lincoln Relics

"A Lincoln exhibit on view in the Great Hall makes the 16th President of the United States, born 167 years ago, seem very real. Displayed are the contents of his pockets the night he was assassinated, a miniature portrait never before exhibited, and two great documents from the Library's collections, the Gettysburg Ad dress and the Second Inaugural Address"
- Library of Congress Information Bulletin,
February 1976

1

Cold -eyed, in Naples once,
while the congregation swooned,
I watched the liquefaction
of a vial of precious blood,
and wondered only
how the trick is done.
Saint's bones are only bones
to me, but here,
where the stage is set
without a trace of gore,
these relics on display -
watch fob and ivory pocket knife,
a handkerchief of Irish linen,
a button severed from his sleeve -
make a noble, dissolving music
out of homely fife and drum,
and that's miraculous.

2

His innocence was to trust
the better angels of our nature,
even when the Union cracked
and furious blood
ran north and south
along the lines of pillage.
Secession grieved him
like the falling-out of brothers.
After Appomattox he laid
the white flower of forgiving
on Lee's crisp sword.
What was there left for him to do?
When the curtain rose
on Our American Cousin
he leaned forward in his chair
toward the last absurdity,
that other laughable country,
for which he was ready with his ransom -
a five-dollar Confederate note
in mint condition, and nine
newspaper accolades
neatly folded in his wallet.
It was time for him now
to try on his gold-rimmed spectacles,
the pair with the sliding temples
mended with a loop of string,
while the demon of the absolute,
who had been skulking in the wings,
leaped into focus,
waving a smoking pistol.

3

In the Great Hall of the Library,
as in a glass aquarium,
Abe Lincoln is swimming around,
dressed o the nines
in his stovepipe hat
and swallowtail coat,
effortlessly swimming,
propelled by sudden little kicks
of his gunboat shoes.
His billowing pockets hang
inside out; he is swimming
around, lighter at each turn,
giddy with loss,
while his memory sifts
to the sticky floor.
He is slipping away from us
into his legend and his fame,
having relinquished, piece by piece,
what he carried next to his skin,
what rocked to his angular stride,
partook of his man-smell,
shared the intimacy of his needs,
Mr. President,
in this Imperial City,
awash in gossip and power,
where marble eats marble
and your office has been defiled,
I saw the piranhas darting
between the rose-veined columns,
avid to strip the flesh
from the Republic's bones.
Has no one told you
how the slow blood leaks
from your secret wound?

4

To be old and to be young
again, inglorious private
in the kitchens of the war
that winter of blackout,
walking by the Potomac
in melancholy khaki,
searching for the prairie star,
westward scanning the horizon
for its eloquent and magnanimous light,
yearning to be touched by its fire:
swirling at my feet, faces
blowing in the wind
around me where I stand,
withered, in the Great Hall.

5

He steps out from the crowd
with his rawboned, warty look,
a gangling fellow in jeans
next to a plum-colored sari,
and just as suddenly he's gone.
But there's that other one
who's tall and lonely.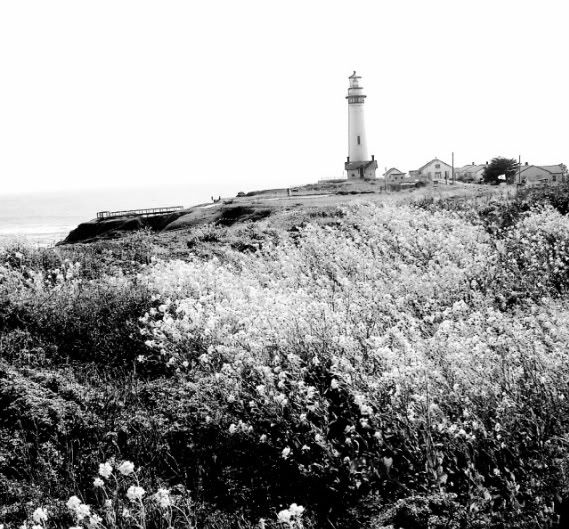 This one pissed off a couple of people. Oh well...



Presbyterian Devil-Worshipers

reading a book
on the world's religions,
comparing the different beliefs
and histories and rituals

i've always wondered how,
out of all the vast wealth
of nonsensical things available
for a person to believe in, believers
seem able to choose only one unbelievable option
and condemn all the rest as fantastical
and probably evil as well -

how is it, for example
that Christians, for whom the Devil,
seen by them as almost as powerful as God
and, according to their most impassioned sermons,
a greater presence in the world than God, don't find
anything in common with the Santarias who recognize
that duality and organize their religion around it -

the primary difference between the two sects -
who a person prays to for help
in their daily lives and loves, a reflection merely
of who the believer expects to win
the celestial struggle between Heaven and Hell
and picking the one seen most likely to emerge on top...

Presbyterian Devil-Worshipers - makes a lot
of sense if you could just convince
both sides
to call it a draw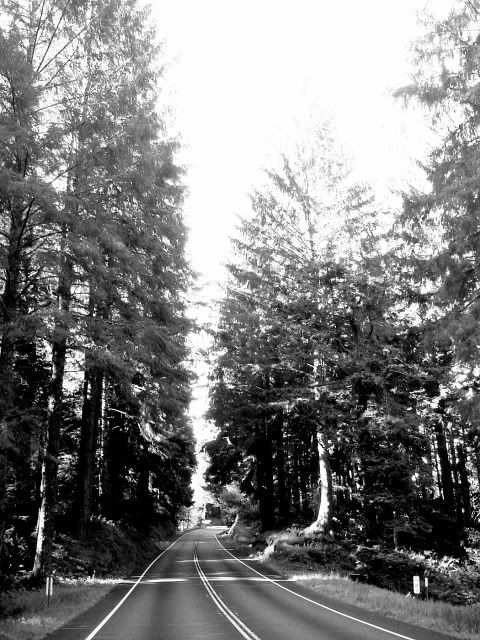 Now I have another long poem, this one by Gilbert Sorrentino, from Selected Poems, 1958 - 1980, published by Black Sparrow Press in 1981.

Sorrentino was born in Brooklyn, New York in 1929. In 1956, he founded the literary magazine Neon with friends from Brooklyn College and edited the magazine from 1956 to 1960, then served as editor for Kulchur from 1961 to 1963. He worked closely with Hubert Selby on his manuscript of Last Exit to Brooklyn in 1964, then became an editor at Grove Press from 1965 to 1970, where one of his editorial projects was The Autobiography of Malcolm X.

He eventually took up positions at Sarah Lawrence College, Columbia University, the University of Scranton and the New School for Social Research in New York before being hired as a professor of English at Stanford University, where he served from 1982 to 1999.

Sorrentino died in 2006.

This poem caught my attention for personal reasons, having spent most of my life on the coast of Texas, knowing all the places he refers to in the poem, even having lived Corpus Christi for many years.

It is interesting to see another view of places so familiar.



Coast of Texas

Sur la cote du Texas
- Apollinaire

1.

Although the sky
was bright blue and clarity
the exact love

That blank city allows
at time: so that it
did not seem I was

In Hell
I was in Hell. O
love. That impairs my song.

2.

Corpus Christi
is no place to spend Christmas
notwithstanding those avenues
of palms, the white houses on the green Gulf.

The old Mexicans fish off
stone quais, and fish off stone quais.
I ate chili and drank rhy whisky.
A whole novel wrote and discarded in my head.

Notwithstanding those avenues of green
palms, Corpus Christi on the coast
of Texas is no place to spend any time.
Apollinaire himself avoided this blank city.

3.

He never knew it could
be so cold in the streets
of that white city. Walks around
insane the wind tears water
from his eyes.

He thinks he sees her face
in the palm trees, love breathed
out of a bad hotel. In his madness.
His hand that touches him
is hers.

The palm trees the palm trees
are moonlight. His heart id drowned
in the gulf. O let down
your hair you.
You blue water.

4.

In that sunny room dreamed
he lay with her, book open, his hand
on his crotch.

He woke to the bright day and
smell of weak coffee. Walking
around the room, he went walking
around the room, briskly.

Fuck this sun, O fuck this rotten sun,
O fuck this sun, O sound of gentle bluish waves
pilling up. Glanced in the closet
and saw her.

5.

Here they are all running down in the night into the sea
off the Coast of Texas. Bad dreams, yellow.
He wrote stories on hotel stationery
and wept into the pillow. It serves him right
he says in someone else's voice. Dream
of fame. Well the wind
is very wet blowing out of Mexico. She
walked out of his life dragging
his heart along. In her fucking yellow blouse.

6.

A man with a battered
bluish face stands in the sun
on the dock and tells him
about books.

What books! What a vision
of America he has he says, a style
so sweet that. The young man
burning thinks of the woman he loves.


All in the burning sky
she is, all in the burning
sky. and a whiff of orange cunt
come out of Florida.

7.

The interminable novel
between the lines green eyes.

The sheets were rumpled
and he read.

god they twisted their
way through the pages.

There was one simple arrow
of a line in her voice.

Coming from the dead
center of each o.

This is a resort town,
blanco.

8.

She is almost unbearably
nubile. And when I reflect
on the place

Where her slender legs join
in absolute silk I find
myself walking

Around in circles
outside Galveston, sure that
I'll be arrested

But too out of my mind
to care, crazy
in the flash from the Gulf.

9.

When he walked around
he wished. He could see a woman. To
take her place, to be with him
to his imagination that spare
odor.

Well.

He watched himself narrow in
the eye, a slender young figure
in a faded field
jacket.

A year later he was happy. Then
he was unhappy for a long long time.
In that wash of fearful wet air
thick in the moonlight

off the Gulf received the poet's
true guerdon.

Unhappy. A coal. A live coal
burning through and through
his life. He was given them

all what he can give them
the rest

died in a hotel room
with no radio

10.

In the pale light he sees her mouth
open and the tongue come out
in her heat.

Nothing there but the spot
where the road turns
east toward Galveston.

He sees her eyes catch the light
catch the light. Over her his bare knees
in the sand.

Two cars with Louisiana plates
gone up toward the glow
from some diner.

Her breasts free of her blouse
up toward his lips a small pearl
button cold against his cheek.

To live through this
is to live through anything. He
shouts directly out of the
whiskey thinning his blood.

Under the streetlamp waiting
for a bus her face is
gentle in the beginning rain, that
was another seacoast. Grey water.

11.

Everyone knows Apollinaire
went mad on that hazy coast, dazed
under the blue. I went mad
there too.

Particular articles of apparel certain
girls should not be allowed
to wear. Stuck in the mind.

I though of her with the bell
ringing behind her voice. I thought
of her with the bell.

I wrote down the precise colors
in an old notebook lately come across.
Scent of Castile.

No thing for a grown man
to be up to. Well, her smile
anyway was a crooked one.

Crash and bang from bar
to bar, fall in the water, if you
could see my whole face suddenly

"You'd know just how I've been"

12.

The sun off the dusty palms
clumped around the Greyhound
station. He goes from the Coast of Texas
to another city

soon. His cigarette smoke creamy.
Fur. Long before he touched her
breasts stoked the fur collar
of her coat

and smelled the cool lining.
When he touched her breasts
they were clearly as knew they were
cool in his hands

he looks at the yellow in the sun.
No reason to leave this
white city she is walking through
white cold humming

a metal carol
the snow of course melting
of course on her hair
and fur

13.

Why have you done this? wrote
and crumpled the letter. don't you
believe that I could have died for you?
and crumpled the letter.

The liquor store still open but
he had plenty of liquor, my fingers are
cramped holding the air that is you.
said that.

It is impossible (I'm sorry
for me not to write here in my blue
sport shirt in this holiday time
at least to say how much I

He left the paper on the little desk
and leaned his hands against the wall,
nothing to make or tear down
this hands on the wall. Vague and broken

14.

Matagorda, Seadrift, Corpus Christi.
Went back into time into clear cold and
a true spring. Actually smelled his fingers

Later, he understood Lorca's despair, that
white and waxy lemon. That was his heart.
It was No.

You can squeeze it one way or
squeeze it another, smother it in the warmest
of wind

Once the blood has fallen out of it
the blood has fallen
out of it (Kline smiling.

15.

It was cinnamon that she liked?
Liked Fidelio. Yellow skirts, bit
her nails. Under the limes
he remembered and invented memory.


A woman in a tailored suit too
warm for the day smiles at him
moving from shade to brightness under
the trees.

He smiles back, certainly licorice...?
Probably sweating a little under
the arms, old enough to be his mother,
a gracious fuck. Waft of cloves.

16.

He would come back out
of this butter sun, walking the
2000 miles. Her hip leaning
against a tree her foot pointed in.

Crawl through the snow and
kiss her stockings and the collar
of her blouse. Even through Georgia.

He will listen to opera and Jewish
jokes, get the fuck down
in the slush and touch
her shoes.

Do without a hat in the wind
off the Atlantic and weep
into her crotch.

He could sleep in pajamas get up
to a job and eat lunch with
fascists and morons, buy her
boxes of Tampax.

She had a crooked smile put
his hands between her garters
and her thighs.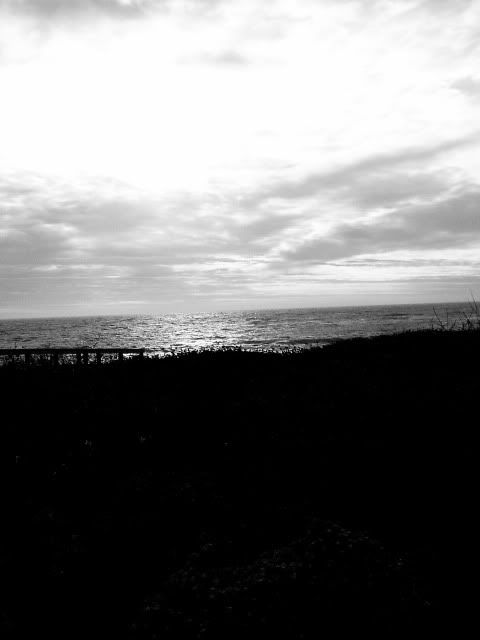 Still stuck in the theology rut.



what a stupid idea this was

Sunday morning,
bright and clear, and my mind
is a swollen stream of bad ideas
as i try to write a poem about
Presbyterians and Hindus
and the similarities of their
philosophies on the consequences
of good karma and bad
when it comes to the after-life,
or what the Hindus would call
next life - they, more forgiving
than the Presbyterian, assigning
people not to heaven or hell,
but to another life and
and another chance to get it
right

all this struggle because, i have
this vision of George W. with his
accumulate bad karma leaving
this world for his next life
as a donkey pulling a plow
for a bombed-out Iraqi farmer
and, after life as a good and faithful
donkey, another life,
another chance, this time as
Assistant Walmart Manager
in Pass-the-Biscuits, Texas, and
maybe then, if he meets his sales quotas,
finally a chance in another time for the life
he always wanted most - Major League
Baseball Commissioner - a gift of the Hindu
belief that we all have within us the capacity
to become our best self if we just keep
plugging away at it for as many lifetimes
as it requires

but the poem goes nowhere

and what a stupid idea it was anyway,
and what a waste of a beautiful day
when i could have written a poem about
bright sunshine, and birds and butterflies
and deer frolicking in green meadows
and shit like that my grandmother would have
loved and might still, depending on her karma
ratio and where it's taken her in this lifetime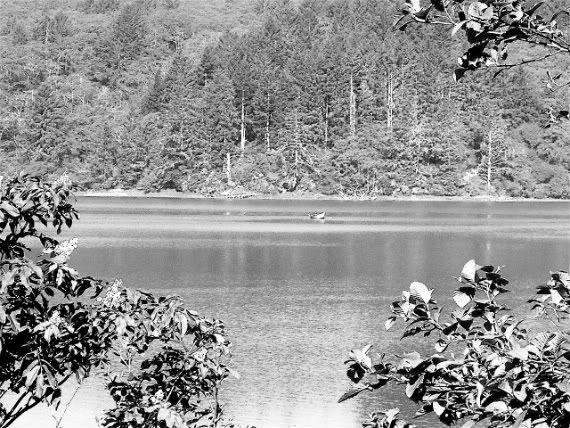 Next, I have several short poems from The Wind Beyond the Wall, a collection of poetry by Irish poet Joan McBreen. The book was published in 1990 by Story Line Press.

McBreen, mother of six, trained as a Primary Teacher in Dublin and taught for many years. Her poetry has appeared in every poetry magazine in Ireland an on the radio. At the time this book was published she was beginning to make an impact in North American poetry circles.



Fall 1987

Autumn crawls into the house
where we go on reading,
lying on the bed, chain smoking,
tired working at trying to return
to where we were.

We reach
for one another's hands,
holding on until the fingers whiten,
changing us into skeletons.

We are the worse for wear, old ghost.
Remember summer? Nothing caught fire.


My Space

is somewhere
under our waking
from nights' oblivion,
small bodies diving
for the warm space

between us,

under black crumbs
spilt milk,
mounds of sheets,
or hanging in silence

between me,

the telephone receiver
and my tone deaf
mother.


The Woman and the Igloo

My time, she said, has never been my own.
I have so much to do
and do again tomorrow.

Between all of you
I am exhausted, she said,
I will take time off and go away.

So she built an igloo in her head
and found it cold
but private.

She often goes there now
but still hears the lean wolves howling
far across the tundra.


Classibawn

We tied ropes to poles on the street,
and the length of the swing
was the length of the rope.
We drew hopscotch squares there too
and swore at the meat factory girls
who let the water drip from tin buckets
spoiling the chalky game.
We were sent on walks to the Holy Well
because it used to take us ages
and my mother thought the air
and the prayers good for us.
Then one summer my father hired a Ford car
and drove us to Mullaghmore
where I saw Classibawn for the first time.
After that nothing was the same.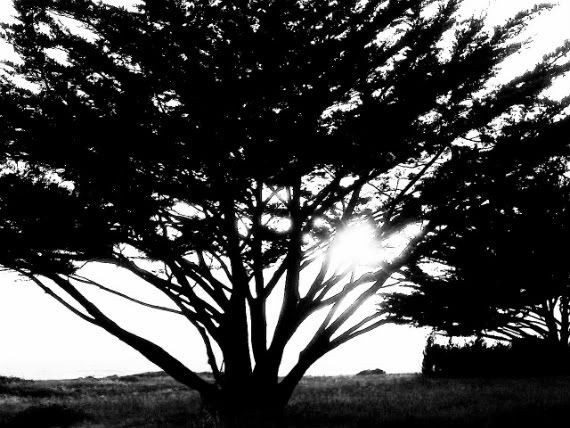 Meanwhile, back at the ranch house, that other kind of theology - poetry.



the kind of poet i want to be

there are poets
who string together
all those fine and beautiful
and high sounding lines that,
upon examination,
don't say a damn thing

such a frustration it is
to read
and think you're reading
something deep and great,
only to discover
along the way of reading
that you have wasted your time
on such a hollow shell -
promises
of revelation
lost to the thud
of shallow cliche,
poems written only
to impress the careless reader

there are other poets
who like to give the reader
little puzzles
that only they know
how to solve, like
a four page poem
all about an event
in their life that happened
when they were in the third grade
in Gerald Ford elementary school
in Upper Slobodinsky, Pennsylvania
and you can't possible understand
their poem without knowing the secret
of what they did in the little boys room
on their second day of school
and in the whole four-page poem
they never tell you the secret
and so nothing in the poem makes sense
and you can hear them as they write,
laughing, ha, ha, at their readers,
those dummies who confuse being
confused with purpose and substance

and there are poets
who do the exact same thing,
except they do it in four words,
usually unrelated in any rations sense,
instead of four pages, but the principle
is the same, marvel at my mystery
they seem to be saying, mistaking
incoherence for mystery

such are not my favorite poets

Bukowsky said,
write the way you like to read

and since i don't like to read
gibberish
or fake and empty eloquence
i prefer other writers than these,
the plain speakers,
who lay down in plain words
what they want the reader to see,
then get the fuck out of the way
so the reader can read and see it

that's the kind of poet
i want to
be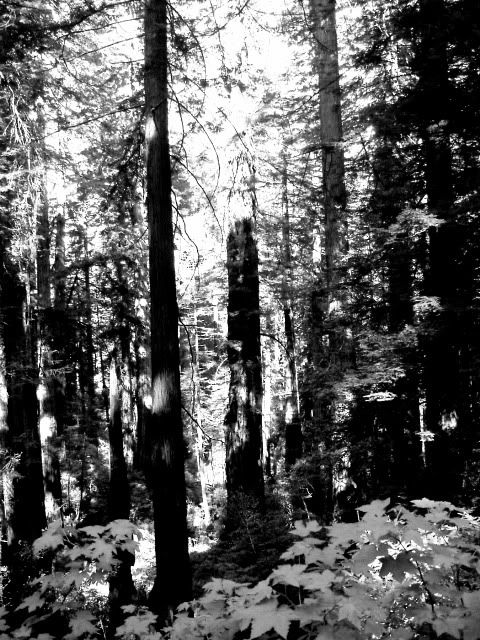 Now a couple of poems from Lifetaker, third in a trilogy of poetry collections by Bill Shields. The first two parts of the trilogy based on Shields' experiences as a Navy Seal in the Vietnam War, are Human Shrapnel and The Southeast Asia Book of the Dead. This final chapter was published in 1995 by 2.13.61 Publications.

In 1995, Shields lived in Pennsylvania. Although he's continued to write and publish, I can't find any information on what's happened to him since then.

A book of tough poems. What I'm presenting this week is two pages out of about 120.



war

the sound comes
an explosion among the wet kissing

the grind of bones
a thump of bodies
flesh stuck together seared

& I'll listen, shake w/breathing & sobs

close my eyes
cover my soul

mountains of sperm fall on me
& the urine washes me away


wish upon a dying star

wash me away
the gutter isn't full yet

tonight I feel like a sweeper bag full of bluebottle flies

dead
drawn out

come here
I want to hold your face

till enough people wail at me from the grave

baby

rock my cradle w/your fingernail
till the blood runs down the bag

I might even forgive myself
for an hour


an honest poem

I've destroyed myself enough
so many years chewing on a lead bullet

poisoning myself w/myself

I don't want to die
but I don't want to feel any better

my ass cheeks have dented a coffin
comfortably half-dead


the night of the gargoyle

the face of a stranger stares out from my face
babies squirm at my touch
I shit blood & snakes

ghosts appear only for me to kill them

give me cold blood
cold rain

silence crossed by flies
& a world drowned
by degrees

I am prepared
there are bits of eternity in my intestines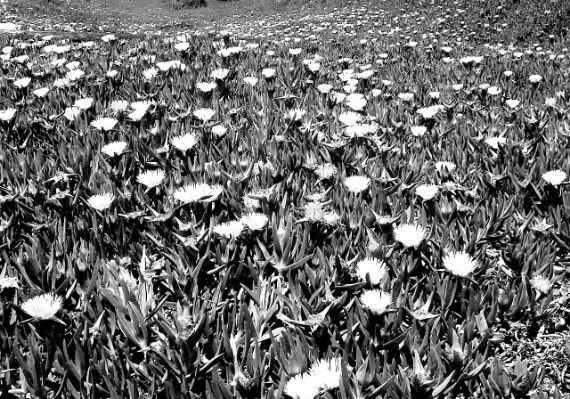 As promised, here's Joanne M. Weston, featured poet for the week, with four poems.



In Tom's Shopping Cart

a sweater from the ditch
four mismatched socks found outside the
&nbsp p; health spa
a pair of jeans flown off a washing line
half a packet of hot-dogs out of a garbage can
an almost-empty bottle of rot-gut wine
flattened cardboard for shelter
a worn sleeping bag, found at the campsite
&nbsp p; outside town
and eighty-five cents in his pocket
under a thin blanket


Mad North-North-West

Abe lost his shoes
when he slid off
his motor bike

left them in the gutter
with three dimes
and a lemon drop

thought them washed
out to sea
with the "Nina"

went barefoot
for a week or five
until winter came

when he bought boots
from the second-hand store
and wore them on his hands


Waiting

set signatures
in amber

weave harmonies
with rose petals

while I sing
shrouds of appeal

listening for welcome
and farewell


The Textures of March

rain-beaded branches
fold against pearl-grey velvet
smoothed by a forgotten sun
scarved with ashen silk
behind piercing trees

birds fling
lines of flight
leaving no mark
on earth's fabric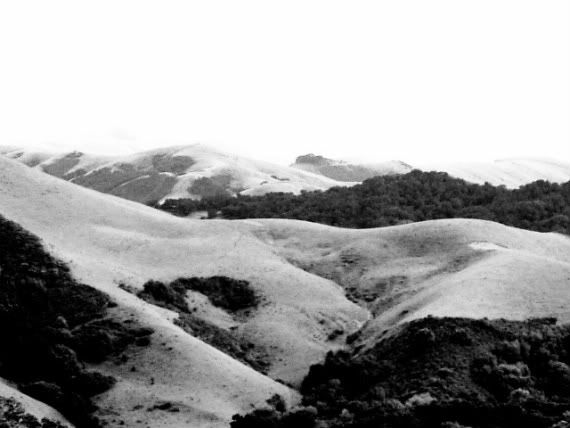 The next poem is by Richard Howard, from his book Trappings - New Poems, published in 1999, by Turtle Point Press.

Howard, born in 1929, is a poet, literary critic, essayist, teacher, and translator. He was born in Cleveland, Ohio and is a graduate of Columbia University, and where he now teaches.

A long-time poetry editor of The Paris Review and current poetry editor of The Western Humanities Review. He has received, in addition to many other awards, a Pulitzer prize, the Academy of Arts and Letters Literary Award and a MacArthur Fellowship. He is former Chancellor of the Academy of American Poets.

Professor of Practice in the writing program at Columbia's School of the Arts. He was previously University Professor of English at the University of Houston and, before that, Ropes Professor of Comparative Literature at the University of Cincinnati. He served as Poet Laureate of the State of New York from 1994 to 1997.

He lives in New York City.



Further Triangulations

after an initial three, some years back

I've almost finished papering the whole
of what you, in your florid way, would call
the foyer and the little downstairs john

with all your recent letters (yellowing fast).
That way I'll keep the record straight without
- quite - having to get rid of them or you:

In almost every case they're wrong side up,
and even when, to fit them round the pipes
behind the toilet, they've been pasted so

the words can be made out, you can be sure,
with handwriting as prodigal as yours
(florid, let's say), the risk of prying eyes

is pretty low...and who would want to pry but you
and me? Besides, according to the old
Florentine master, time will darken it.

Talk, my dear, about darkening! every since
Elizabeth died, there's been a general
loss of light - haven't you noticed it?

She lived with you (if you want to call that living),
she lived with me (whether you want to or not):
from which I deduce, a woman must have the strength

to choose what she prefers and cling to it:
otherwise, better die. And Elizabeth died.
I think you left her because she could not give

precisely what she was able to give to me:
the gratifications of vanity. That must be why
I was so faithful. And you never were,

unless you count your episodes with me
as a kind of faith to her. Do you? Can you?
It certainly takes some calculating our

entanglements, and that's what I intend
doing a while, unless I am cut off
in the flower of my middle age. I must have said

all this too you, but hear it once again:
the past is past because it forms a part
of our present, of what we are by having been;

because, in short, it is OUR past. I guess
that means you'd better come. Don't write again,
letters are no use now, just come. I'll wait.

So often the best solution, or the only one,
is to abandon the problem. The way she has
abandoned us. She left me...quite will-fixed.

as I guess you know. Fixed is the operative
word. By coming, you can release us both
(and probably unstick your letters too).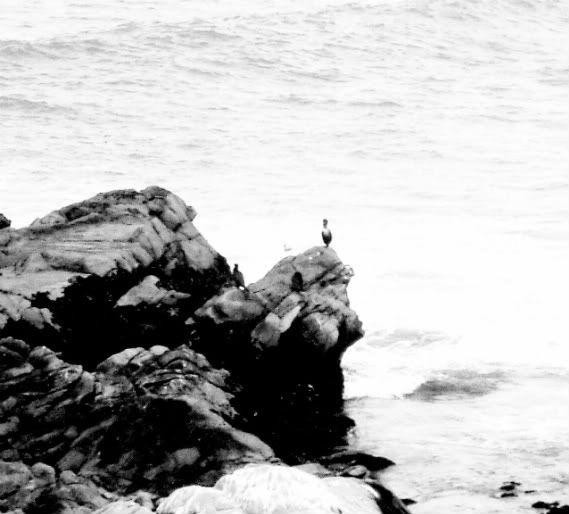 The profound truths of life, as seen through modern eyes.



why i de-friended Buddha

in seeking to understand
the truth of existence,
Buddha
sat under his
fig tree
for three days and three nights
not saying a word to anyone,
meditating
on the path to enlightenment,
before deciding
he had something
worth telling people
about

like,
awesome in his own way,
but totally
inadequate
as a Facebook
friend

totally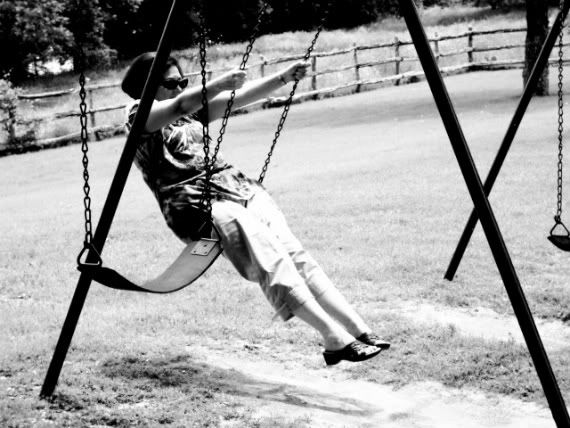 Here's San Antonio poet, Naomi Shihab Nye, with several poems from her Words Under the Words, a collection of poems from several of her earlier books.

These poems were originally published in her book Hugging the Jukebox.



West Side

In certain neighborhoods
the air is paved with names.
Domingo, Monico, Francisco,
shining rivulets of sound.
Names opening wet circles
inside the mouth,
sprinkling bright vowels
across the deserts of
Bill, Bob, John.

The names are worn
on silver linked chains.
Maria lives in Pablo Alley,
Esperanza rides the Santa Rosa bus!
They click together like charms.
O save us from the boarded-up windows,
the pistol crack in a dark backyard,
save us from the leaky roof,
the rattled textbook which never smiles.
Let the names be verses
in a city that sings!


The Passport Photo

"The Passport Office welcomes photographs which depict the
applicant as relaxed and smiling"
- Passport Application

Before they shoot, I think of where I am going,
Chile, the world's thinnest country,
the bright woven hats on the Indians of Peru.

I swallow the map of South America tacked to my kitchen door,
the swarm of strange names, blue rivers
like veins in an old woman's leg.

A continent I know little about, except what I have read
or my Bolivian neighbor's tales. "A School of thieves,"
she tells me. "I'd stay home if I were you."

Trapped in front of the hot lights,
I try to forget distances,
how far I will be from the ones who loved me longest.

I do not think anything familiar or cozy.
I think coastlines, jagged edges, roads ahead of me
cracking open like coconuts, and then I smile

Because this face you are snapping
is a map to another continent
I have barely begun to learn.


Getting through the Day

From the corners of the city
men are riding toward us on bicycles,
whistling happily.
It is evening.
The streets are ripe bananas.

Our hands had vocations
before they learned to peel and scrub.
No one had to t each them how to love,
where to touch.

This is the hiss the iron makes,
steaming the collars of shirts.
The me are bringing kisses,
a folded not describing our eyes.

It is the message the birds
click in the trees,
someone is coming,
there are people yet to meet
whose names are not written
in the world of the dead.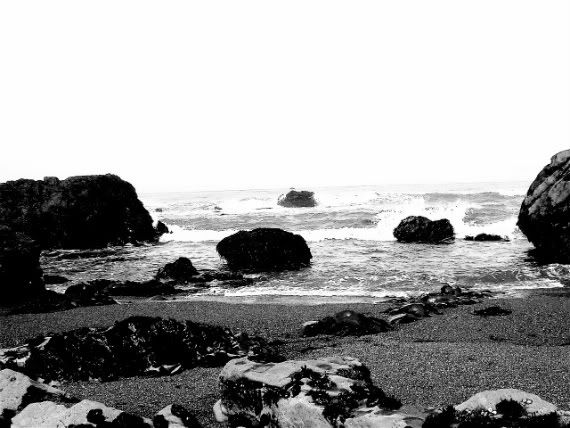 A big part of culture is what we eat. When we lose a traditional staple, we lose part of our culture.



implications of the decline of corn tortillas

i was going
to write a poem
about corn, not just because
i love a good buttery ear
of corn grilled on a pit, though
writing about things one loves
is not a bad idea - it just wasn't
my idea this time around

this time around i was going
to write a poem
about corn as a nod to it's passing
in the place where it was
invented - Mexico, or, at least,
in the South Texas side of Mexico,
where the corn tortilla, the
tortilla de maize, is being
replaced by flour tortillas, a development
in which no one but me seems see
the tragedy of a 9,000 year-old
cultural and dietary tradition being replaced
by the gringo grain
wheat

but that's just the way it is
in a world on the move -
Captain Kangaroo is dead
and so is Howdy Doody and
Mr. Rogers and Roy and Dale
and time and icons pass on
and we are left instead
to a purple dinosaur with
a Tinkerbell voice -

i believe the world
was a better place when tortillas de
maize were the rule
and tortillas de harina still festered
only in a few perverted minds
and our children were not being
raised by purple dinosaurs
with girly voices...

but then, i'm old,
and the world moves on
and pretty soon i will too
and purple dinosaurs
and flour tortillas
will rule the world without
me -

in the meantime,
hell...
if you're going to eat
flour tortillas,
you might as well move
to Arizona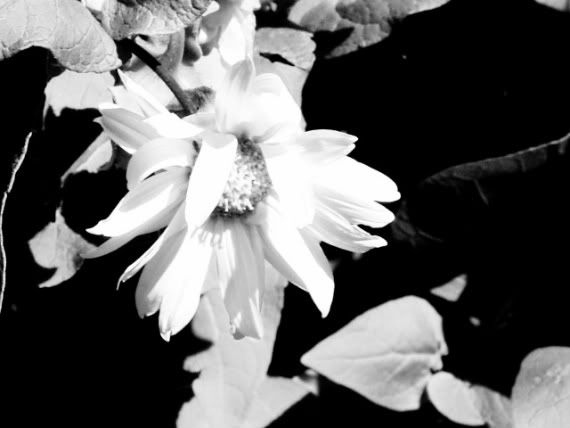 Now I have a poem by Lorna Dee Cervantes, from her book From the Cables of Genocide: Poems on Love and Hunger, published by Arte Publico Press in 1991. It's an interesting book, the poem mostly unlike anything of her's I've read before.



Raisins

Raisins are my currency
to date - slightly seedy,
prickled as my nipples,
black as pubis, colored
as my opened eyelids.
I tongue you
fricatives into vowels.
I suck you
to he scabs
your were, forbidden
fruit. Reminders.
Never mind
the way I found you
deserted in the depot
stall. No matter
how this small red box
was once a child's.
Lost wonder, you're
the gift of grace
swept up off
the bathroom floor.
You're my only food
today, the day I left
you, paper husband,
widowed name.
Our final meal
was sweet, you
hovered over me,
and empty package,
beating blades
to froth, teething
me the way I like it,
both lips bit and shriveled
as our last fuck you.
Your are black with rust
and will restore my blood.
You're my prize of faith,
stave against stave.
I eat it. Grateful
for the brief exchange.
Twenty eight tips
of fate. Three good sweats
they soaked in sun
as you now soak
my spit, sweet as acid, damp as rot.
This hunger, as your
memory, feeds
by chance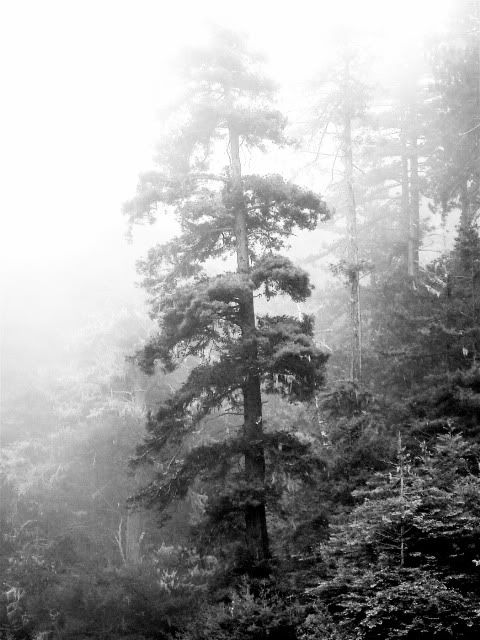 Why not end on a positive note?



the promise

it was one of those days
when, to get anything done,

it had to be done three times,
each time

the hardest way
possible,

but today
will be better -

for it is my nature
to believe this - that

as long as my heart
beats it's life-embracing

rhythms, and my brain does
its ziggedy zaggedy

tricks, popping little
electrical circuits here

and there and everywhere
through the bone

encircled
gooey mass of me -

the passing
of each old day

includes
expectations of another morning

coming
behind the next sunrise,

the reddening sky a promise
of a new day rising

for those who choose to live it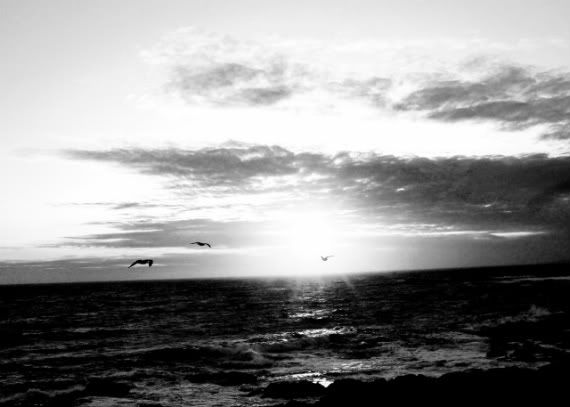 Until next week, adios, vaya con happy poets.

All the stuff here belongs to the people who created it. You can have my stuff, just tell people it's my stuff and we'll all be OK.

i'm allen itz, owner and producer of this exercise in poetic amplitude.