Double Feature
Thursday, May 13, 2010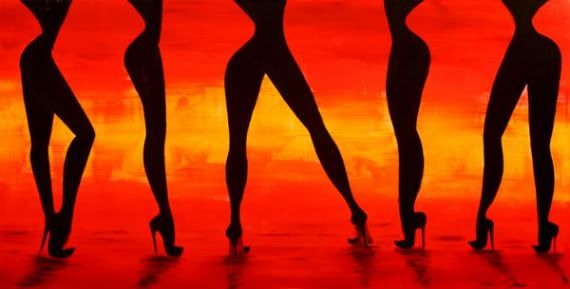 "Fuck Me Pumps"
Katie Sottak





I'm posting early this week. Tomorrow (Friday) is full of things I have to do and other things I want to do instead of posting "Here and Now."

Beyond that, the good news is I have two features for you this week, featured artist Katie Sottak and featured poet R.D. MacManes

Katie is the daughter of Michael Sottak, poet, friend, contributor to "Here and Now" and traveler of the seven seas. Katie is a bit a traveler, as well, traveling throughout South Florida to paint and show her art. Beyond that, Katie has now traveled to Melbourne, Australia, to complete her senior year of college at Monash University. Katie is dedicated to her art, having presented her first gallery show when she was only 18 years old. Her dream is to eventually become and internationally acclaimed artist, and, beginning with her graduation next year, a teacher of art at the college level.

Katie has been with us at "Here and Now" once before. Most of the paintings I show this week are new, though some may have been included her previous appearance.

You can check out her web site at:



www.Katiesottak.com



Born in December,1953 in McAlester, Oklahoma, our featured poet this week, R.D. McManes is the author of seven books of poetry. Mac has had over one-hundred poems published in magazines and web-zines across the globe. He has conducted poetry workshops and related writing presentations for the Kansas Author's Club. He resides now near Scranton Kansas.

His website is at:



www.macpoetry.com



Mac has appeared in "Here and Now" frequently.

Here are our poems and poets for the week.




Matsuo Basho
8 Haiku

Yosa Buson
8 Haiku

Kabayashi Issa
8 Haiku

R.D. MacManes
faster food

Me
good news/bad news

Thomas Lawrence
The Battle of Zero Sum
Questions from an Alien
Lunch for 15
La Villa Strange
Djinn
Vulture Wait

Me
a-roaming the sub-conscious plain

R.D. MacManes
apples for sale

Rodney Jones
Postmodern Christians

R.D. MacManes
high definition

Me
from the foxhole, still unconvinced

Tim Seibles
Meep
A Jitterbug for Spring

Me
habits of mercy

R.D. MacManes
reality's sleeve

Alice Walker
Compulsory Chapel
The Kiss

Me
this poem includes foul, disgusting and offensive language but it's not my fault

R.D. MacManes
between the ears, music blooms

Jack Myers
Club Fighters

e.e. cummings
2 poems

Me
4 Haiku
Introducing Luny
Milly, Billie, Lolly, Lou and Lester

Art throughout by
Katie Sottak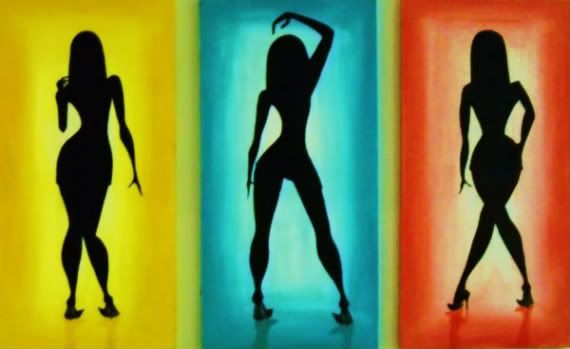 "Ism"
Katie Sottak



I start this week with haiku from the masters, taken from the book, The Essential Haiku, part of "The Essential Poets" series published by Ecco Press. This collection, edited and with commentary by Robert Hass, was published in 2004. His selection of poems illustrates the Japanese literary criticism truism that these three poets represent three types of poets, the ascetic and seeker, the artist, and the humanist.


The first of the poets, Matsuo Basho is the ascetic seeker. Born in 1644, Basho died in 1664, at forty-nine, still a relatively young man. He is credited with reinvented the forms of both the haiku and linked verse beginning in his thirties, bringing them power and seriousness they rarely had before. He studied Chinese poetry and Taoism, and at least for a while, Zen. In his forties, dissatisfied with his life, he began to travel and wrote the travel journals, mixtures of poetry and prose, that have become classics in Japanese literature.


A snowy morning -
by myself,
chewing on dried salmon.


On the way to the outhouse
the white of the moonflower
by torchlight.


The crane's legs
have gotten shorter
in the spring rain.


The sea darkening -
the wild duck's call
is faintly white.

Awake at night -
the sound of the water jar
cracking in the cold


A cold rain starting
and no hat -
so?


Cats making love -
when it's over, hazy moonlight
in the bedroom.


This autumn -
why am I growing old?
birds disappearing among clouds.


Yosa Buson was born in 1716 and died in 1783. The "artist" according to the Japanese formulation, was actual a distinguished painter in addition to being a great poet and was primarily known for his paintings at the time of his death. It was only near the end of the nineteenth century that he began to be recognized for his poetry.


Coolness -
the sound of the bell
as it leaves the bell


White blossoms of the pear
and a woman in moonlight
reading a letter.


Sparrow singing -
it's tiny mouth
open


His Holiness the Abbot
is shitting
in the withered fields


Blow of an ax,
pine scent,
the winter woods.


Autumn evening -
there's joy also
in loneliness.


Washing the hoe -
ripples on the water;
far off, wild ducks.


My arm for a pillow,
I really like myself
under the hazy moon.


The last of our three masters is the humanist, Kobayashi Issa. Born in 1763, Issa died in 1827. A much-loved poet in his time, his name means "a cup of tea" or "a single bubble in steeping tea." He is compared to Whitman because of his intense attention to creature life, the smallest detail of the physical being, as well as his humor, intense pain and fierce objections to injustice.


Don't worry, spiders,
I keep house
casually.


Goes out,
comes back -
the loves of a cat.


Climb Mount Fuji,
O snail,
but slowly, slowly.


Under my house
an inchworm
measuring the joists.


Naked
on a naked horse
in pouring rain!


Under the evening moon
the snail
is stripped to the waist.

Don 't know about the people,
but all the scarecrows
are crooked.


Even with insects -
some can sing
some can't.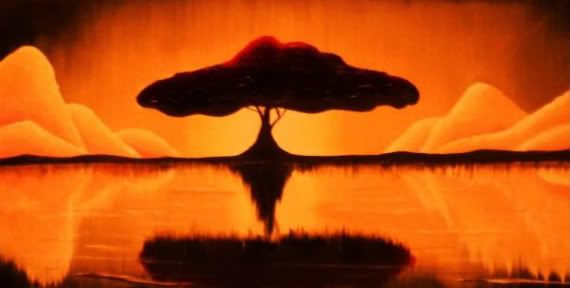 "Amber Reflections"
Kati Sottak





Here's our first poem from R D MacManes, a frequent contributor to "Here and Now" and this week's featured poet.



faster food

sex is a fast-food
long enough and only so long
to satisfy the hunger
of each or both
sometimes it's your way
sometimes it's not

i'll have a number one
hold the cheese
make mine with mustard
no mayonnaise for me
don't get me started
on special sauce
which one to dip
which one to not

breasts will be breasts
thighs will be thighs
but exactly what is a nugget
and can I get that with fries
then they always ask the question
do you want that super-sized

value is a calculation
too much or too little
perfection is a moment away
but you can't be late
can't stir a drink
without a straw

and one sip
will never do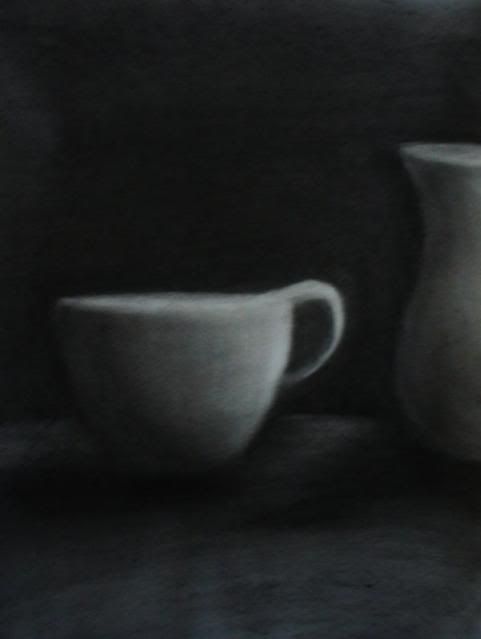 "Clasico"
Katie Sottak





Here's my first poem for the week, a gentle little rant about people who can never find any good thing to say.


good news/bad news

the good news is
we only have 5,113 nuclear
bombs
in our arsenal, 25,000 fewer
than we had forty years ago

the bad news is
in the whole world of our
present and projected enemies
there are only 73 legitimate targets,
which means we are going to have to
send specialists from Kellogg Brown & Root
to build about 5,000 additional targets in
Iran, North Korea, Bottledallagramarama,
and several other such countries we had never
heard of before we discovered their target-poor environment

it's the way things are

always good news/bad news,
never good news/good news
or good news/better news
or good news/better news/best news
or good news/not so bad news or
even no news is good news

the way people are - unable to face
unalloyed pleasure
because...
well the devil will notice we are happy
and everyone knows
a happy face is the devil's workshop

so -
it's a beautiful morning,
the kind of morning when deer ticks love
to come out of the forest
to attach themselves to humans
so that humans can have some kind of horrible
wasting
deer tick disease

or -
wow, we won a jillion squillion dollars
in the lottery and you know what that means
to our taxes, what did we ever do to deserve
such tribulation, oh woe, God must be mad
at me,
again

i know these people

people who can't rejoice in the glory of another day,
alive in the sunlight and cool breezes,
cause, you know, it's just going to get dark,
again!

people who can find no upper
without a downer

people whose soul is eaten alive
by fear

contagious, these people,
worse than deer ticks

so stay away if
you can - embrace
any good news that comes into your life,
live and die a happy human
being -

make joy your best revenge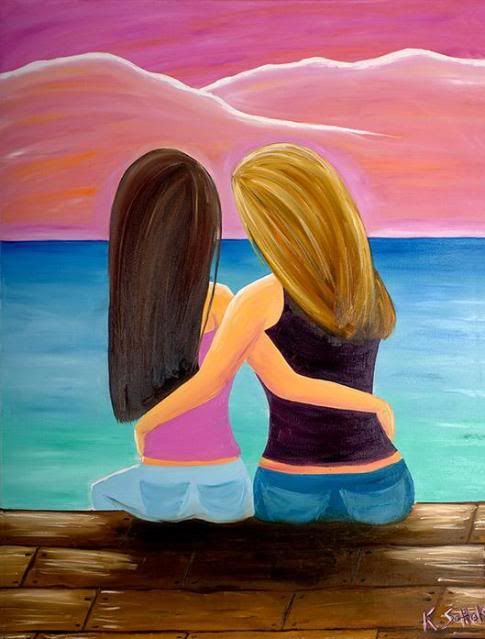 "Sisters"
Katie Sottak





My next poems are by Thomas Lawrence from his book, Deflections, published by Makedonska reznika of the Republic of Macedonia in 2007.

Lawrence was a businessman in a previous career who changed careers to become an educator and linguist, teaching in English language programs in the US and around the world. Many of the poems in his book are snippets of observation in many of the countries where he lived and visited.



The Battle of Zero Sum

Achieve it all get it all, move and shake it all
Make it all happen now
Don't wait
Capitalize
Live it all
Until it's all in the bag, man.

And your reward once you get there is
THAT
You battle sinister boredom.
What a mean trick!

Were it not for the children,
To wind us up again.
they give us hope.

Kosovo, 2006


Question from an Alien

Hank had to twice smack hard his dog to get it to shut the heck up. He used a dry t-shirt
for in his own way he loved the animal.

The dog quit barking for the rest of the night.

Tell me, is it the same with people?

Island of Thassos (Greece) 2005


Lunch for 15

Skilled surgeons wearing their Navy whites masterfully dissected and ate small oily fish. They removed the miniscule bones and lined them up on their plates from left to right (by size). With the bones they built cages and dropped them into their glasses of white wine to watch it fizzle (while they discussed Mozambique). They had already finished while I struggled to start. I confused my utensils, three or so of each. I broke into a sweat. I used the bread to mop my face.

Lisbon 2003


"La Villa Strange"

Basically,
Heavily armed men standing close to a pallet of yellow soda outside of a restaurant
serving raw orange fish near a monolith of an embassy guard ATM machines covered by
brown natives with black hair and blue expressions in silver fog on a typical summer day.

Lima (Peru) 2004


Djinn

A dust devil abruptly changed course and made a beeline for Felix, savaging him until he coughed and covered his face with the bottom of his blue polo shirt. then it headed for the cafeteria but dissipated before getting there. Flies stuck to fly paper hovered over lunch.

Kabul 2003


Vultures Wait

Someone played a trick on us today, Texas passers-by, Texas passes, polite rubber roars,
Three javalinas dead by he road, with no one to claim them,
Lined up on their sides, hooves brush backs, intending to perform a macabre circus stunt,
No visible body marks, no punctures, eyes shut peacefully, they left life winking,
Under the halogen lamp, smothering wild flowers, immune to fire ants in their devil
cones that resemble moist coffee grounds.

Who flipped the switch?

Cuero (South Texas) 1999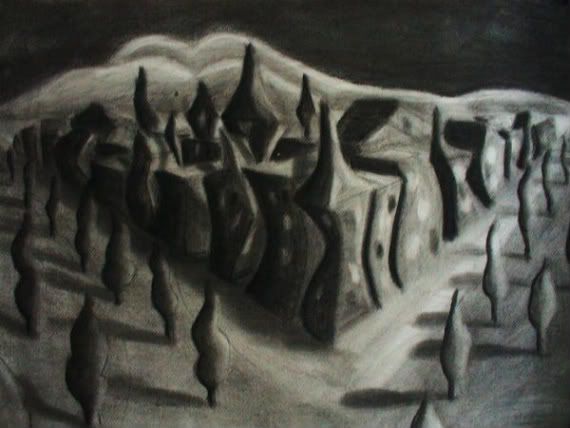 "Whimsical"
Katie Sottak





Your brain is not that different from you favorite dog. Every once in a while you have to let it out to roam.



a-roaming on the sub-conscious plain

surfing the web
while my subconscious brain
is surfing
all the various permutations of the universe,
sifting through all the billion
poetic possibilities
for the one that'll make me famous
today

or
i think that's what my subconscious
is doing -
i try not to slip to far into the
consciousness
of my subconscious
lest it become
sensitive to my monitoring
and shift into memory phase
like an old man's privates
when the weather turns nippy

because it is my experience
that when a subconscious slips
into consciousness
it is like Superman putting on his glasses
and all of a sudden the wild and crazy
super-guy is morphed into that dweeb
Clark Kent who would never even consider
leaping over tall buildings
in a single bound
or outrunning speeding locomotives
or catching bullets
in his bare hands, though what Kent
might do with that x-ray vision
could very easily cause warts and
psychological scars to last a lifetime

- i've seen the way Kent looks at Lois
when he thinks she's not looking,
and i've always had some suspicions about him,
that big hat and all and you know what
they say about big hats like that as sublimation
for feelings of inadequacy in the physiology
department, you know, big hats, little cattle -

and that appears to be the best my subconscious
can come up with today -
little bitty cattle
a'roaming on the subconscious
plain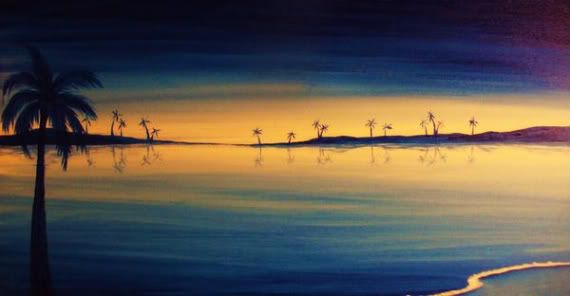 "Tranquil Reflections"
Katie Sottak





Now, I have a second piece from featured poet R D MacManes.

Lots of people think you ought to get wiser as you get older. A lot more of us are excited to just get older.



apples for sale

the styrofoam cowboy
drinks whiskey from a flask
shuffles his handcrafted boots
rubs his calloused hands
and shouts "best peep-show in town"
i imagine he was a serpent
hawking over-ripe apples
in a previous life

this scene is a memory
ripples in life's stream
that have already
rounded the bend
i would have been tempted
by the sales pitch
thirty odd years ago
thinking entrance
through eden's fabled gates
could be bought and sold

now the ripples are waves
the moments are fewer
i've lived more years
than I have left
the styrofoam cowboy
is still alive, his corner
exists on the internet
selling the same apples
with an improved
virtual sales pitch

it's much easier
to hide a bruise
with an airbrush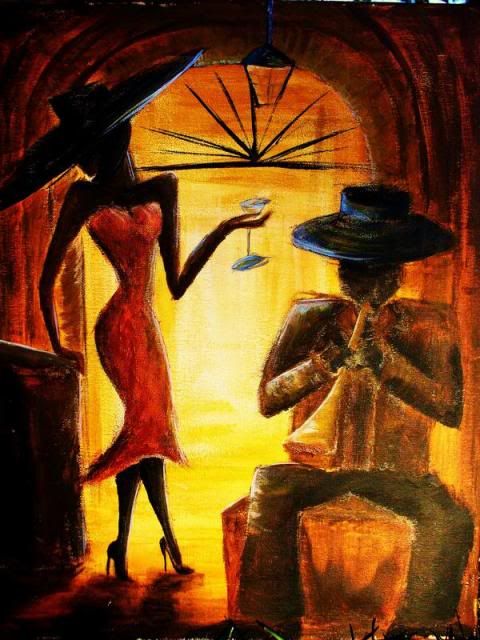 "Casa Blanca"
Katie Sottak





Here's a poem by Rodney Jones from his book, Salvation Blues: One Hundred Poems - 1985-2005, published by Houghton Mifflin in 2006.

Jones, a native of Alabama, is a professor of English at Southern Illinois University at Carbondale. Salvation Blues is his eighth book of poetry. His many honors include, a finalist for the Pulitzer Prize, a Nation Book Critics Circle Award, a Southeast booksellers Association Award and a Harper Lee Award.

This is the first poem of his I've read. I'm looking forward to the next 99.



Postmodern Christians

Men with holes in their heads,
children with gouged-out eyes,
rape victims, substantial people
with ripped-out tongues
in silent attempts at prayer.

Our mother who are in heaven,
why is there no gentleman
of sorrows of perpetual suffering?
Little boys need smaller fathers
than Mohammed, Moses,
Jesus Christ, and Joseph Stalin.

Little girls who blow themselves up
should never be referred to
as cowards or martyrs.
Men and women become ideas badly,
but the soul is a good idea,
even if it's not original or real.

the angels come to comfort us,
mother superior of agony,
because we know, every one of us,
only the unborn will judge us,
and they can't tell the difference
between a lifeboat and a leak.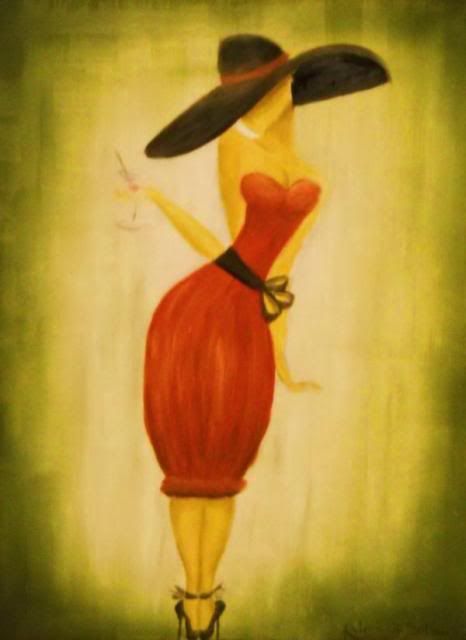 "Faire la Nouba"
Katie Sottak





Here's another poem by featured poet R.D. MacManes. Every poet deserves a rant now and then. Here is Robert, taking his turn.



High definition

the minds of a new generation
flipped
like an illumination switch
madness
replaced by calm
hunger becomes sated
naked hysterical
suddenly clothed
the streets
full of people
drawn by the need

a new political fix
the experience a designer drug
of historical significance

and I watched in awe
from the comfort
of my living-room

millions inhaled
live coverage
of this generation's
Woodstock
All in HD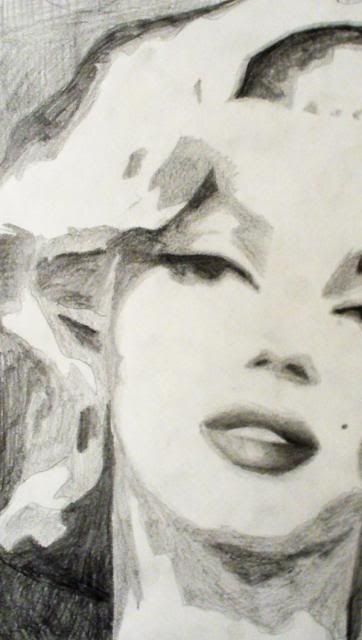 "Monroe"
Katie Sottak





Do your worst, Summer. you can't beat me now.



from the foxhole, still unconvinced

today
i will spend most daylight hours
spending money,
dollar bills stacked knee-high
to the moon, over 7,000 of them,
all for the comfort of a new
central air conditioner, the old one,
a relic from the mid-80s, to finally
take it's rest in some re-cycle center
where it will be destroyed, rendered
like a pig at slaughter,
old made new

and as a result -

i will be cool, 72 degrees at 3pm
on the hottest
South Texas afternoon

i will be frugal, cutting my electric bill
by at least one third

i will be environmentally friendly, cutting
my carbon footprint by more than half

i will be poor

i will be trying all day to think of something
to take my mind off
the mile-high pile of dollar bills

like right now

the religiosos mosos babosos,
here for their normal Monday morning
religious retreat over eggs over easy,
have stopped talking about basketball
(GO SPURS!!)
long enough for a brief discussion
of religious music -
a subject upon which
i am greatly opinionated and
loudly ignorant

church music written after
1950 is responsible for driving more people
into atheism
than any other factor except common sense,
stripped of all poetry and depth, just as was stripped
all the elegance and grandeur of old King James' version
of the story of the creator and his son

while the earlier music written during the reformation,
has all the power
and militancy
of the religious wars of that time

on the more peaceful side,
if Buddhist monks had been into music
rather than minimalist poetry they would have
explored the deep and intricate minimalism
of Gregorian chant

gospel music expresses well and sometimes
beautifully the frenzy of religious rapture,
and if i was a believer
rather than just an observer it might move me
as well

like the old fashioned praise music
of the Appalachians moves me -
like slave-music, humble expressions
of rock-solid belief, simple music and elegantly
poetic expression, stating deep, unconflicted commitment
to the fact of a better life, despite daily lives of earthly sorrows

On the wings of a snow-white dove
He sends His pure sweet love -
A sign from above
on the wings of a dove

that kind of song

the power of such poetry, like the revelatory foxhole
that makes even me
wish i could put my reason aside
and revel in the grace of a heavenly father's arms

but, alas, that is not to be -
more likely i find dollar bills
stacked knee-high to the moon
than my good sense
surrenders
to the the power of i-wish-it-were-so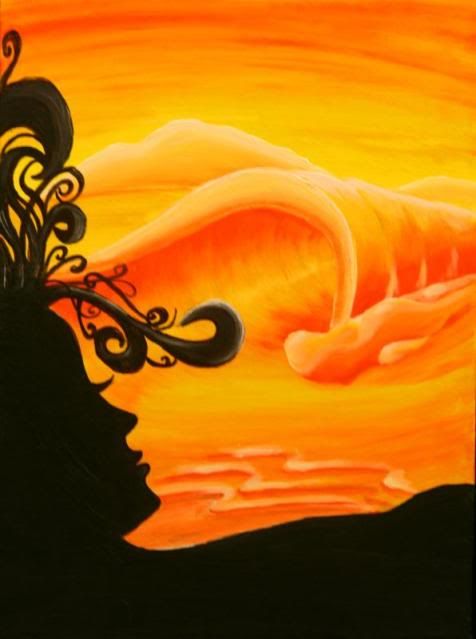 "Serene"
Katie Sottak





Here's another poet I like who is new to me, Tim Seibles with two poems from his book, Hurdy-Gurdy, published in 1992 by the Cleveland State University Poetry Center.

Seibles was born in Philadelphia in 1955 and grew up there. He attended Southern Methodist University in Dallas and remained in Dallas after graduation, teaching high-school English there for ten years. In 1990 he earned an MFA from Vermont College and, in the same year received a grant from the National Endowment for the Arts. In 1991 he received a writing fellowship from the Provincetown Fine Arts Work Center, which allowed him to continue his work while living on Cape Cod. Currently he is a professor of English and creative writing at Old Dominion University, as well as teaching in the Stonecoast MFA Program in Creative Writing and teaching workshops for Cave Canem.



Meep

I used to root for the rabbit
in his sneaky quest for that fruity cereal -
"Raspberry red, Lemon yellow, Orange orange" -
and I hated those big-headed little brats,
especially the boy when he'd say,
"Silly rabbit, Trix are for kids."
I always wished he'd smile Okay, one bowl
won't hurt because it really wouldn't have.
I used to console myself believing
the silly rabbit swiped a bunch
between commercials.


And I used to cross my fingers
for the Coyote too - sometimes running
like a maniac, his legs bulging from
ACME muscle builder, he'd get so close
I could feel the Road-Runner's tail feathers
tickling his nose, but suddenly "Meep meep"
and the road was smoke all the way
to the horizon. The coyote seemed
so ruined, the way he'd knot his brow
while his pointed face went slack.
I would shake my head and wonder
if he ever got to eat anything ever -
and why didn't he give up on the bird
or occasionally go for something slow?

Being six or seven, I guess I understood
the difference between cartoons and my life,
though I admit I couldn't figure out
why they never talked about needing
to go to the bathroom: even the wise
Mr. Peabody must've had to wet a tree
sometime and Sherman
was a little boy like me.

It's amazing the way I believed so well
in the world - that basically
it was a placed to live happily
ever after, that the only hard part
was waiting to get old enough
to stay up late and go outside
whenever you wanted. I don't know
about the world anymore - it doesn't
look like anybody actually gets
what he wants. But last Saturday
I was watching cartoons with my niece,
and when the Coyote started gaining
on the fast-assed little bird, I leaned
forward in my seat just enough
to catch myself feeling hopeful.


A Jitterbug for Spring

All along the lake the larks
send their sweet scat through the air.
It's April. New weather jazzes the leaves.
the late sun - a long note blown
across the water. Near the shore
a tadpole itching for legs.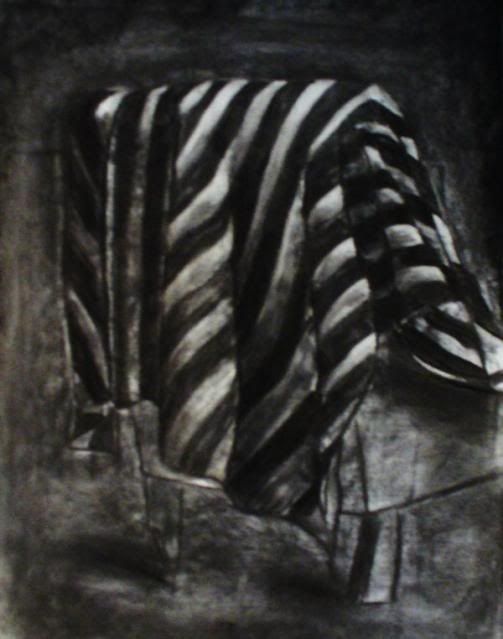 "Chair"
Katie Sottak





I'm not a fan of "forgive and forget" because forgetting everything is the reason the human race has, though surviving, never gotten much ahead of where we started.

Forgiving is another thing. Life is so much cleaner and clearer when forgiveness becomes a habit of mind. Those who do not forgive shortchange their life, never living entirely in the present, some part of them always stuck in past grudges.

Not the way I prefer to live.



habits of mercy

i was thinking this
morning
about what i want to do
with the rest of my
life

and decided
it's the same thing
i want to do
with the rest of my
day -

kiss
my wife at least once or twice

eat
some good food

write
some good poems

sleep
a nice nap

communicate
with my better nature

& forgive myself
for all recent sins, known, as well as
secret, even to me

easier for some
than for
others, those

with no true love
to kiss -

no food to
eat -

no bed to sleep
in -

no poetry
in their soul -

those
with no key
to unlock the door to self, their
true self as unknown to them as
a stranger passing dark
on the street -

and most difficult of all for
those who can't find within
themselves
forgiveness of themselves

poor
miserable
ego-obsessed creatures that we are,
sinners almost from our first thoughts,
if we cannot forgive ourselves
how will we ever learn to forgive
others

and if we cannot forgive others,
how can we ever live
in this world
that needs cleansed hearts
as much as it needs clean air and water

habits of mercy
are what will save this world;
human sins
forgiven
by human sinners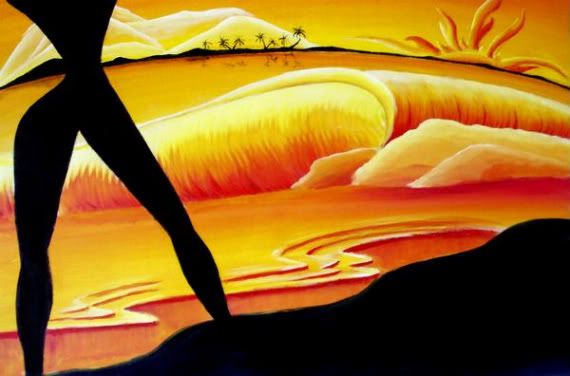 "Sunset Silhouette"
Katie Sottak





Here's another interesting piece from R. D> MacManes, my featured poet this week.



reality's sleeve

between the misty myths
and sexual fantasies
reality licks cracked lips
and smiles
"pass the chap-stick please
the day before
can never be tomorrow"
it says in a james dean voice
and promptly wipes
the drooling rhetoric on metaphoric sleeve
then toddles down the road
muttering this mantra
"i have no ruby slippers
and therefore have no home"
but homeless isn't a concern
when compared to immortality
and red is a basic color
in the standard crayon box
"third one on the left"
reality is sometimes a position
sometimes a place
but one may never assume
that reality is anything
other
than what it seems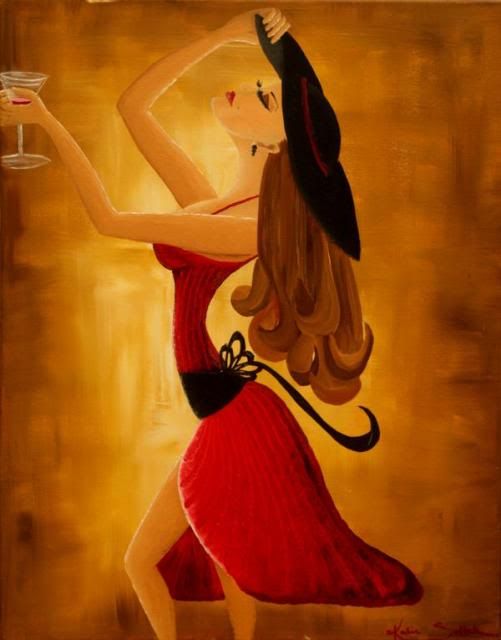 " A Night in Paris
Katie Sottak





Next I have two poems by Alice Walker , from her collection of poems, Once, published by The Women's Press in 1986.



Compulsory Chapel

i
A quiet afternoon
the speaker
dull
the New Testament
washed out
Through the window a lonely
blue-jay
makes noisy song.

ii
The speaker crashes
on
Through his speech
All eyes are
upon him
Over his left
ear
the thick hair
is beginning
to slip

iii

I would not mind
if I were

a sinner,

but as it is
- let me assure you -
I sleep alone


The Kiss

I was kissed once
by a beautiful man
all blond and
czeck
riding through bratislava
on a motor bike
screeching "don't yew let me fall off hear naow!"

the funny part was
he spoke english
and setting me gallantly
on my feet
kissed me for
not anyhow looking
like aunt jemima.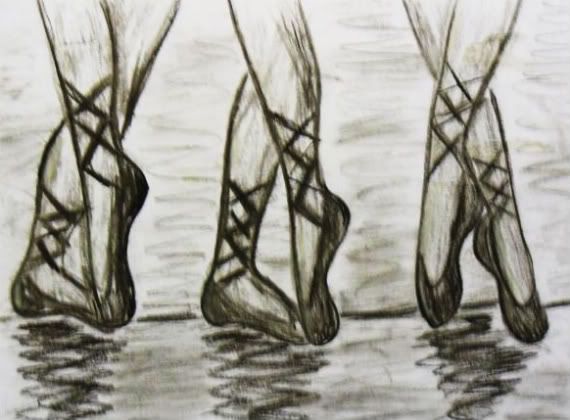 "Ballet"
Katie Sottak





The disgustingly offensive and racist joke in question was told by the aptly named Earl Butz, Secretary of Agriculture in the Nixon administration, on a political trip with a plane-load of fat-cat Republican Donors, including Pat Boone, at the time, the right-wing religiosos answer to Elvis Presley. The joke concerned the three things it takes to keep a black man happy.

I had originally planned to include the joke, in full, in the poem, but decided spreading more filth on the internet was unnecessarily gratuitous, with no real purpose that served the poem.



this poem included foul, disgusting and offensive language but it wasn't my fault

this poem included foul,
disgusting and
offensive language
but it wasn't my fault
i thought

but then i read it again
and decided
it would be my fault
if i posted it
and that, even though,
it was merely a re-telling
of a particularly racist
and offensive joke about
the three things it takes
to make a black man happy
told by a high official in the
Nixon administration

used
in my poem to point out
a parallel between all the foul
jokes a white boy like me
used to hear from other
white boys less like me
than they thought and a
particularly foul, racist
comment by a Facebook
"friend"
that set my blood to boiling

thinking i could shame
my Facebook racist
by drawing that comparison
then remembering that, while
there are decent people who
suffer from foul, racist thoughts,
they can usually be shamed into
being better people, while those
pathologically racist are creatures
of their pathology and immune
to shame;

remembering
that unlike real friends
who might shame themselves
and your friendship by foul
and racist comments

- i mean
what can you do when someone
you like says something you despise -

Facebook friends are more easily
dealt with, one little icon clicked
and, with no trauma or conflict,
they are de-friended
and you never have to hear from them
ever
again

and that's exactly what i did
and i feel better already, and i did it
without inflicting on anyone
the foul and racist language of the twit
who is now my Facebook un-friend

and i can get back to writing that poem
about our Neanderthal cousins
that i wanted to write in the first place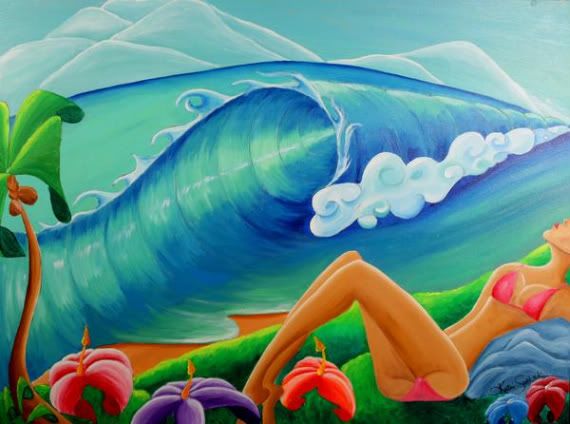 "Escape"
Katie Sottak





And here's this week's last poem from R.D. MacManes, our featured poet for the week. Mac talks in this poem about the music we all carry in our minds, the best music because were making it up.

Something entirely different from all the kids who spend 95 percent of their waking hours with music banging straight into their ears through their earbuds.

Two things worry me about that, first, i wonder how it could be possible that they won't be deaf by the time their thirty and, second, how disappointed they will be when they find out that real life doesn't come with a continual soundtrack of someone else's creativity.



between the ears, music blooms

been listening
been thinking
about the music
(in my mind)
the curve
that bends
and never breaks
beyond the rhythm
past the beat
never to vanish
a paradox for mother goose
and all her old rhymes

sometimes it's loud
a big brass band
other times soft
like the whisper
between rains
occasionally it fades
and I think
it's going away
but it never does

and I think
it never will

after all
this is my music
(not just any band)
perfection only i
can hear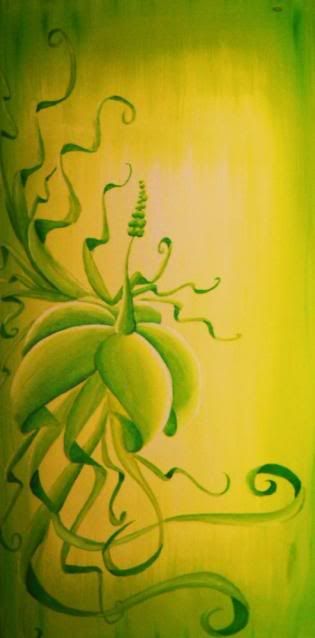 "Lime Blossom"
Katie Sottak





The next poem is by Jack Myers, from his book, One on One, published in 1999 by Autumn House Press.

At the time this book was published, Myers was director of the creative writing program at Southern Methodist University as well as a faculty member of Vermont College's low residency MFA program. This book was the last of seven poetry books he's written. One of the earlier books, As Long as You're Happy won the National Poetry Series open competition for 1985.

From the poems in his book, it does not appear he had much of a happy childhood.



Club Fighters

When mother lost it
and turned insideout
with anger, she'd hit me
with whatever came to hand,
her hand, a boom, a brush,
whatever domestic weapon
an unhappy housewife used
to clean things up
around the house.

But I was a survivor too.
I could add things up, roll
all those terrifying, mantric blows
into one death-defying punch,
then figure, proudly, if this were
real life then I'd be dead.

I said let me do it for you, mother,
I'm good at this, Watch how
I don't blink. This is how
a boxer trains, staring down
barrages in a corner,
welcoming punishment
into his body
like nourishment
while he goes somewhere else.
I felt like a punch drunk fighter
who never throws a punch,
a journeyman who, night after night,
guts it out while everyone
in the house screams like a mob
of angry mothers, "Do something!"
meaning, do something else.
Well, I'm doing it for you, mother,
I'm beating myself up, putting in
my solo, unconscious appearance
to honor your unhappiness
with me and everything else.
Maybe I'll be cleaning the house
when it begins, but it begins
with a feeling that's immense,
then ends gradually and vaguely
and badly, with me standing there
in the absence of ruins,
feeling I am someone else.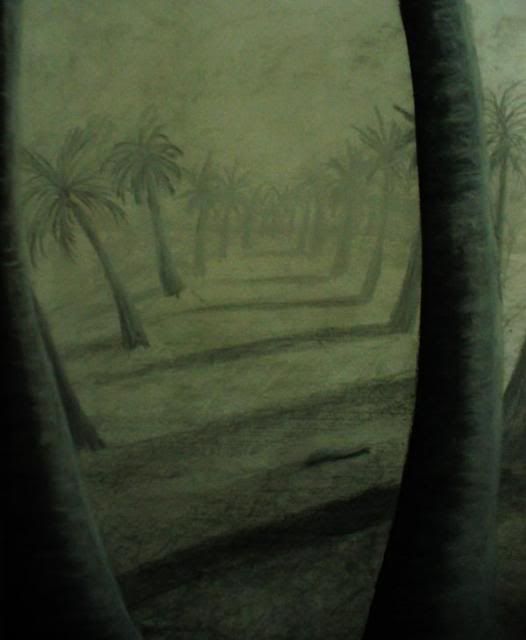 "Atmospheric"
Katie Sottak





Here's another of my, well, hell, it's time to write a poem and I'm not sure I have anything to write about poems. I do what I can to make failure interesting, kind of like the way Johnny Carson often got more laughs out of his lousy jokes than his good ones.


chicken bones and other poetic impediments

i have this poem i wrote
last night,
not so good, but
stuck
like a chicken bone

in my throat
and i can't get anything else
around it
except a little nothing
like this

an exploration,
actually,
a tripping through the
tulips of my
shriveled up poet-brain

looking for a rock
to stumble on, falling
into some fairy dust of
an idea,
a heimlich maneuver of the brain

stem that'll
make me say something
like holy macaroni
what an idea,
pulitzer prize a-percolating

in the grey
whorls and ridges
between my ears, signs of life
pulsating,
promising signs of poem

after death - could be,
maybe not -
tentative, but hopeful,
we'll see, que sera,
sera - signs of something pending

i'll get back to you
later -

maybe not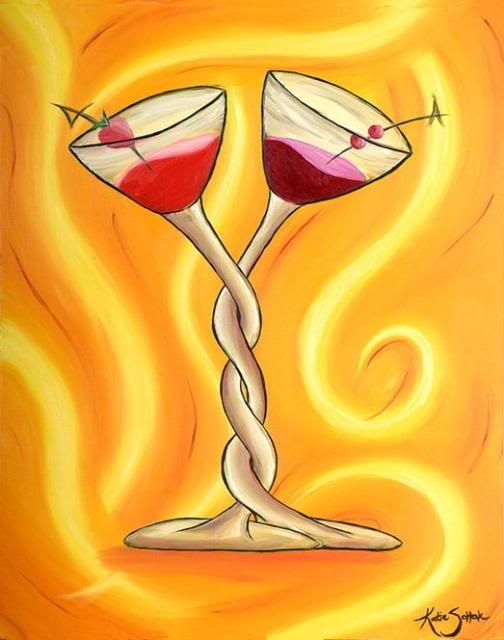 "Twisted"
Katie Sottak





Here's a couple of little puzzles from e.e. cummings who's always fun to have around. The poems are from cummings' book, 50, first published in 1939, with my reprint coming out in 1970.

The hardest part of using cummings in "Here and Now" is the proofing, when I have to decide what are my typos and what is cummings at play.

As usual, his poems are not named, but numbered.



19

there is a here and

that here was a
town(and the town is

so aged the ocean
wanders the streets are so
ancient the houses enter he

people are so feeble the feeble go to
sleep if the people sit down)
and this light is so dark the mountains
grow up from

the sky is so near the earth does not
open her
eyes(but the
feeble are people the feeble
are so wise the people

remember being born)
when and
if nothing disappears they
will disappear always who are filled

with never are more than
more is are mostly
almost are feebler than feeble are
fable who are less than these are least is who
are am(beyond when behind where unde

un>


32

newlys of silence
(both an only

moon the star

one moving are twilight
they beyond near)

girlest she slender

is cradling in joy her
flower than now

(softly wisdoms

enter guess)
childmooon smile to

your breathing doll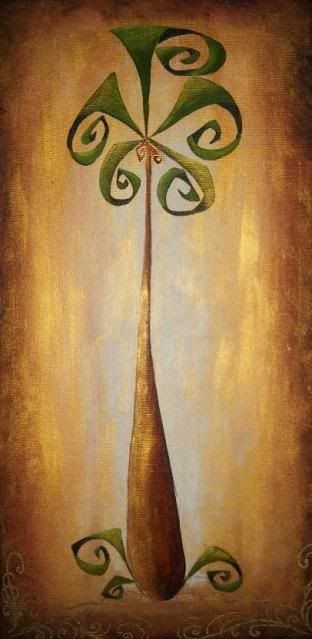 "Coconut Spice"
Katie Sottak





I ended last week with some of my old poems. I do the same this week, beginning with these.

I started this issue with some haiku from the masters. Well, now here are four from the un-master me. At this time, I don't remember if these are actually haiku, and, since I don't remember and don't want to look up the actual line and syllable count for an official haiku, I'll just call these "poems in the spirit of the haiku."

All four were written in 2003, a while after I had returned to writing, and published in 2004 in the web-zine Liquid Muse


cloudless sky
after summer rain -
air neon bright


fly high little gull
challenge the limitless sky -
surf on wet gulf winds


summer morning dew -
rivulets on sunstained glass
blue through water falls


summer clouds glower -
trembling leaves in sunlight shimmer
waiting winds whisper


OK, two more old poems then we'll end it for the week.

The first poem I really liked, but was pretty much alone in that assessment. It's a kind of character thing, inspired by a plumber-friend of my father's. They had a beer together every day after work, two blue collar workers on their way home. I often joined them, beginning when I was in High School, when I had to stick to 7-Up.

The second poem is a follow-up to the first, moving the character into a turning point in his life that had nothing at all to do with the plumber whose character got me started in the first place.

The first poem has never been published; the second was published in 2001 in the web-zine Hawkwing as part of a second collection of 30 or so poems that I ended up calling "Notes in the Key of Gee!"


Introducing Luny

Luny says,

Hit's a big sombitch,
ain't hit.

and I nod
because it really is very, very large.

Seen one like hit onct in Tupelo.

He scratches and spits and scratches again.

Hit was almost as big as his,
but not quite.

He takes off his hat and wipes sweat from his head.

Black, too,
just like this'un

We circle it, in opposite directions,
me at a distance, intimidated
as any normal person would be.

But not Luny.

Luny doesn't give a damn,
he just wants to look.
He walks right up to it, sticks
his face right up to it,
pokes at it with his finger.

Lookeehere, you ever seen sucha thing?

And I look at Luny, climbing
over all the wonders of the world, sticking
his fingers into every crack in the universal order
of things as they should and always will be, saying,

Well, wouldja look at that!

then moving on to the next curiosity to grab
a hold of his always hungry hillbilly mind.

And I think, ,nope, I never did see such a thing.


Milly, Billie, Lolly, Lou and Lester

Luny met Molly on a Sunday evening
in Tuskaloosa at a potluck supper
at the First Corinthian Baptist Church.

I was there talking to Luny
when Molly walked in, a slender little girl
in a flower dress carrying a big bowl
of country cornbread dressing.

Didja see that girl,
he asked,
the pretty one in the flowerdy dress?

I said I did.

Do you know'er?

I said I did.

Can I meet'er?

I'll introduce you, I said,
I think she'll like you.

So, I did and I could tell
right away, she did,

Pleased to meetcha, Mr. Luny,
she said.

Jist call me , Luny,
he said,
most everybody does.

And you can call me, Molly,
she said.

He did and pretty soon they wandered off,
heads together, talking and laughing,
leaving me to spend the rest of the evening
with Brother Borchuck, talking about
the cane bottom benches out front and the need
to get them repaired before one of
the heavier brothers or sisters of the church
busted right through them and sued us all,
including the Lord.

I didn't see Luny again until I was leaving.
He was in his pickup, smoking one of his
roll-your-own Bugler cigarettes,
spitting stray tobacco from
his lower lip like you have to do
when you roll them as loose as he does.

That Molly sure is pretty,
he said,
blowing tobacco from his lip.

I agreed and added,
I think she likes you.

I know she does, he said.

Luny took another drag from his cigarette
and blew it out and pulled on his left ear.

Says she likes kids,
says she'd like to have a bunch.

A bunch of kids, I said,
that's a lot of responsibility.

Yeah, I don't think I'd want more than five.


I started working on a third Luny poem way back then, Luny teaching Sunday School at the First Corinthian Baptist Church, but never could get it right.

Maybe I'll try again some time.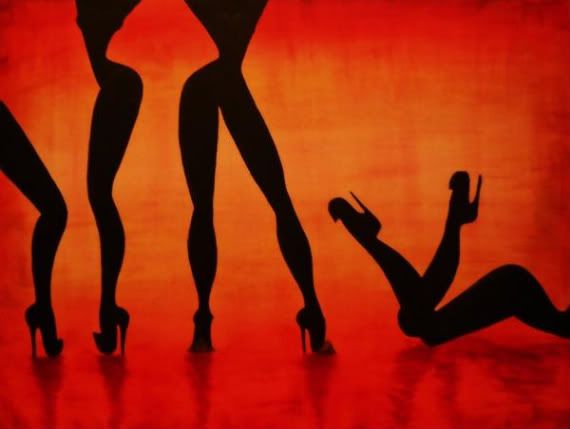 "Fuck Me Pumps II"
Katie Sottak





Another week - a million weeks, a million dollars. A million dollars, that when I'm going to quit this and move to a mountain top in Colorado.

In the meantime, remember, as usual, all the material I borrowed for this issue remains the property of it's creators. My stuff is available for us, as long as I'm properly credited.

I'm allen itz, owner and producer of "Here and Now" - my mess and clean it up when I get good and ready.