Street-Side
Thursday, October 22, 2009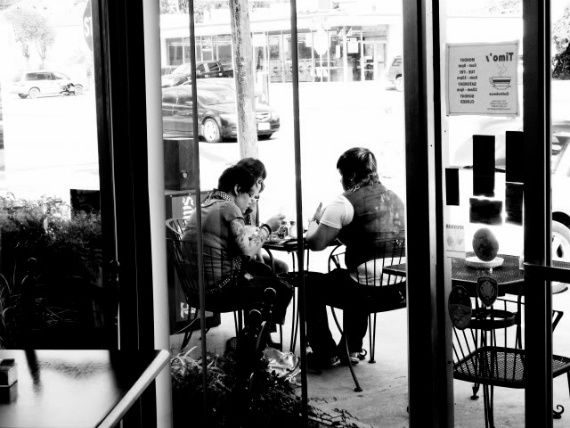 IV.10.4.





Busy week - no time for chitchat.

Here's this week's crew.




Lorna Dee Cervantes
Beneath the Shadow of the Freeway

Me
reading Li Po

Federico Garcia Lorca
New York (Office and Denunciation)

Thane Zander
Welcome Back

W. S. Merwin
Exercise

Me
fat man dancing
who knows
old times to come

Adrian Castro
Hoodoo Whisper

Thane Zander
Becalmed

Samuel Hazo
Tortoise Time
For Which It Stands

Me
885th poem on the 885th day

Renny Golden
Ad Sum

Thane Zander
Mother Reprise

Amiri Baraka
When We'll Worship Jesus

Me
Thursday

Thane Zander
The Thumping

Me
old pals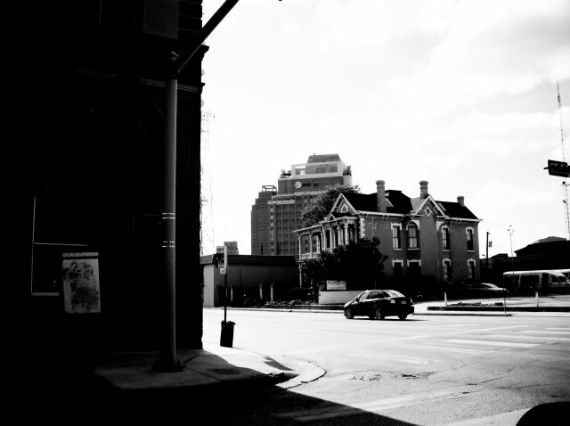 I begin this week with a longish poem by Lorna Dee Cervantes, from her first book Emplumada, winner of the 1982 American Book Award published by the University of Pittsburg Press. I have several of Cervantes' books and use her work frequently.



Beneath the Shadow of the Freeway

1

Across the street - the freeway,
blind worm, wrapping the valley up
from Los altos to Sal Si Puedes.
I watched it from my porch
unwinding. Every day at dusk
as Grandma watered geraniums
the shadow of the freeway lengthened.

2

We were a woman family:
Grandma, our innocent Queen;
Mama, the Swift Knight, Fearless Warrior.
Mama wanted to be Princess instead.
I know that. Even now she dreams of taffeta
and foot-high tiaras.

Myself: I could never decide.
So I turned to books, those staunch, upright men,
interpreting letters from the government, notices
of dissolved marriages and Welfare stipulations.
I paid the bills, did light man-work, fixed faucets,
insured everything
against all leaks.

3

Before rain I notice seagulls.
They walk in flocks,
cautious across lawns; splayed toes,
indecisive beaks. Grandma says
seagulls mean storm.

In California in the summer,
mockingbirds sing all night.
Grandma says they are singing for their nesting wives.
"they don't leave their families
borrachando."

She likes the ways of birds,
respects how they show themselves
for toast and a whistle.

She believes in myths and birds.
She trusts only what she builds
with her own hands.

4

She built her house,
cocky, disheveled carpentry,
after living twenty-five years
with a man who tried to kill her.

Grandma, from the hills of Santa Barbara,
I would open my eyes to see her stir mush
in the morning, her hair in loose braids,
tucked close around her head
with a yellow scarf.

Mama said, "It's her own fault,
getting screwed by a man for that long.
Sure as shit wasn"t hard."
soft she was soft

5

in the night I would hear it
glass bottles shattering the street
words cracked not shrill screams
inside my throat a cold fear
as it entered the house in hard
unsteady steps stopping at my door
my name bathrobe
slippers outside at 3 A.M. mist heavy
as a breath full of whiskey
stop it go home come inside
mama if he comes here again
I'll call the police

inside
a gray kitten a touchstone
purring beneath the quilts
grandma stitched
from his suits
the patchwork singing
of mockingbirds

6

"You're too soft...always were.
You'll get nothing but shit.
Baby, don't count on nobody."

- a mother's wisdom.
Soft. I haven't changed,
maybe grown more silent, cynical
on the outside.

"O Mama, with what's inside of me
I could wash that all away. I could."

"But Mama, if you're good to them
they'll be good to you back."

Back. The freeway is across the street.
It's summer now. Every night I sleep with a gentle man
to the hymn of mockingbirds,

and in time, I plant geraniums.
I tie up my hair into loose braids,
and trust only what I have built
with my own hands.









Reading Li Po to make a selection to include in "Here and Now" last week led me to thinking about why I like him, and many of the other poets from long ago as well.

That led to this.



reading Li Po

each poem
proof
that we haven't
changed so much
over the past thousand
years; that
there is a common thread
stretched through the past
that will continue to stretch with us
into the future - this string
of yous and mes extending
through our collective existence,
providing sustenance
to this spirit not directed
to supernatural
reassurance
that,
though created
by the same long line
of accidents
that created all
the other creatures of our planet,
something happened to us,
some special accident that
could have happened to the
elephant or the sand shark
or the mosquito or the toad
or to any of the other creatures
who live or have shared
this earthly space with us,
but happened to us instead

and made us special

not because we were the special
creation of some higher power,
not because it was within us alone
to rise from the ooze
and separate from all the others
who did not

but only because some primitive
predecessor
happened to be at the right place
at the right time

leaving us to find, like Li Po,
a humble celebration
in the joy
of being human









The next poem is by Federico Garcia Lorca, from the book, Poet in New York, published by The Noonday Press in 1988. It is a bilingual edition, with Spanish and English, translated by Greg Simon and Steven F.White, on facing pages.

Lorca, a Spanish poet, dramatist, theater director and patriot, was born in 1898 and murdered in 1936 at the beginning of the Spanish Civil War by persons affiliated with the Nationalist cause.



New York
(Office and Denunciation)
To Fernando Vela

Under the multiplications,
a drop of duck's blood;
under the divisions,
a drop of sailor's blood;
under the additions, a river of tender blood.
A river that sings and flows
past bedrooms in the boroughs -
and it's money, cement, or wind
in New York's counterfeit dawn.
I know the mountains exist.
And wisdom's eyeglasses,
too. But I didn't come to see the sky.
I'm here to see the clouded blood,
the blood that sweeps machines over waterfalls
and the soul toward the cobra's tongue.
Every day in New York, they slaughter
four million ducks,
five million hogs,
two thousand pigeons to accommodate the tastes of the
dying,
one million cows,
one million lambs,
and two million roosters
that smash the skies to pieces.

It's better to sob while honing the blade
or kill dogs on the delirious hunts
than to resist at dawn
the endless milk trains,
the endless blood trains
and the trains of roses, manacled
by the dealers in perfume.
The ducks and the pigeons,
and the hogs and the lambs
lay their drops of blood
under multiplications,
and the terrified bellowing of the cows wrung dry
fills the valley with sorrow
where the Hudson gets drunk on oil.

I denounce everyone
who ignores the other half,
the half that can't be redeemed,
who lift their mountains of cement
where the hearts beat
inside forgotten little animals
and where all of us will fall
in the feast of pneumatic drills.
I spit in all your faces.
I the other half hears me,
devouring, pissing, flying in their purity,
like the supers' children in lobbies
who carry fragile twigs
to the emptied spaces where
the insect antennae are rusting.
This is not hell, but the street.
Not death, but the fruit stand.
There is a world of tamed rivers and distances just
beyond our grasp
in the cat's paw smashed by a car,
and I hear the earthworm's song
in the hears of many girls.
Rust, fermentation, earth tremor.

You yourself are the earth as you drift in office
numbers.
What shall I do now? Set the landscapes in order?
Order the loves that soon become photographs,
that soon become pieces of wood and mouthfuls of
blood?
No, no: I denounce it all.
I denounce the conspiracy
of these deserted offices
that radiate no agony,
that erase the forest's plans,
and I offer myself as food for the cows wrung dry
when her bellowing fills the valley
where the Hudson gets drunk on oil.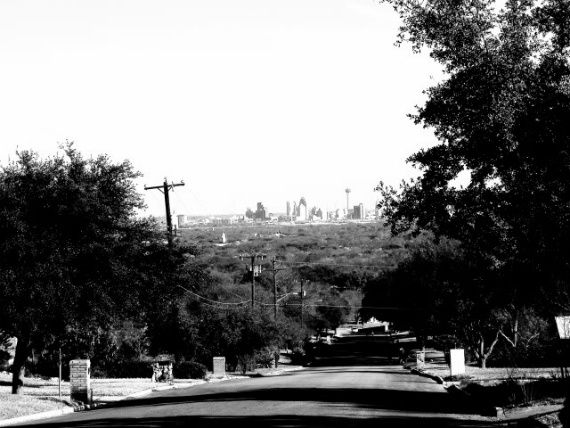 Our friend Thane Zander had been out of contact for a while before returning recently to rejoin us at the Blueline poem-a-day forum, writing as well as ever. After reading his new stuff, I decided I'd feature his new work on "Here and Now."

The next poem is the first of four i include in this week's post.

Thane, for those who haven't read him here before, is a New Zealander. He says he is a latecomer to writing, poetry, short stories and novels, having served 27 years in the Royal New Zealand Navy as a surveyor's assistant before being invalided out with a diagnosis of Bipolar Disorder. He turned, he says, to writing as a means to come to terms with his disability and to express years of built up knowledge and feelings. He now has eight volumes of poetry awaiting publication, has written over twenty short stories and is 1/3 of a way through writing his first novel. In the last two years he has been doing Creative Writing papers at University working towards a BA in English. He has been published (both poetry and short stories) in Loch Raven Review, Blackmail Press, Windjammer Press, Times Online, and, of course, Here and Now. He has also been featured in a poetry book called the Bouquet of Poetry. Thane is separated and has, he says proudly, "two darling girls, Amy and Ashleigh."



Welcome Back

Winds blow
through
open portals
masking the scent of murder
the taste of Thyme
in a Shepherds Pie
asking to be devoured.

The lactose intolerant
don't cry
over the spilt variety,
buskers with hickory
guitars
splash ballads,
mimic Chuck Berry,
receive money
as if the heavens were their domain.

Her bus was red today
(blue yesterday and the day before)
it didn't stop her
sitting
in the window seat
third row back
from the smelly driver,
she applied mascara.

Today the World Time Clock
(the atomic one)
lost a second of sleep,
most blinked
not missing a beat,
no disregard for wife beaters,
scant regard for egg beaters,
the memory stick
now full
now empty
now filling
now deleting,
Children!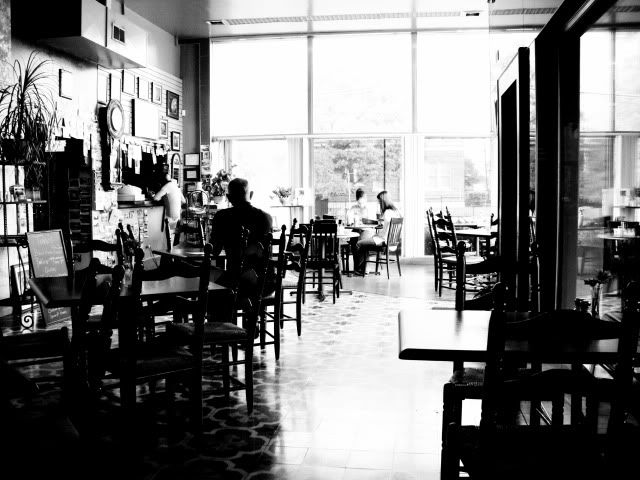 Here's a relic, a piece by W. S. Merwin from the May, 1972 issue of Poetry, purchased at my favorite used-book store for $1.98. The original price was $1.25, which doesn't seem like much, but then, thinking back, in May, 1972, I was in the early stages of the work that became my professional career, earning a grand salary of $500 a month (more money than I had ever earned before), so maybe a buck twenty-five was more than it seems today.

I makes me think about how great it would be if I could write a poem someone would be interested in reading in 2046, thirty seven years from now. Just one would be enough.



Exercise

First forget what time it is
for an hour
do it regularly every day

then forget what day of the week it is
do this regularly for a week
then forget what country you are in
and practice doing it in company
for a week
then do them together
for a week
with as few breaks as possible

follow these by forgetting how to add
or to subtract
if makes no difference
you can change them around
after a week
both will help you later
to forget how to count

forget how to count
starting with your own age
starting with how to count backwards
starting with even numbers
starting with Roman numerals
starting with fractions of Roman numerals
starting with the old calendar
going on to the old alphabet
going on to the alphabet
until everything is continuous again
go on to forgetting elements
starting with water
proceeding to earth
rising in fire

forget fire









Here are several shortish poems I wrote over the course of several days a couple of weeks ago.



fat man dancing

fat man
dancing throwing
his arms to the
cool
clear
sky -

the kind
of bright autumn
day
when
that sort of thing
happens



who knows

i know
what this poem means
and so do you

but it would be
so great
if we could get together
some rainy afternoon
in a coffee house
on a tree-lined boulevard
in a quiet neighborhood
and talk
and
talk
until you understood
what i wrote
and i knew what
you read


old times to come

dreamed
last night of
old
times

days filled

nights
dark
and free
of bed-churning
dreams

young people
don't know of old times
never
having had them
yet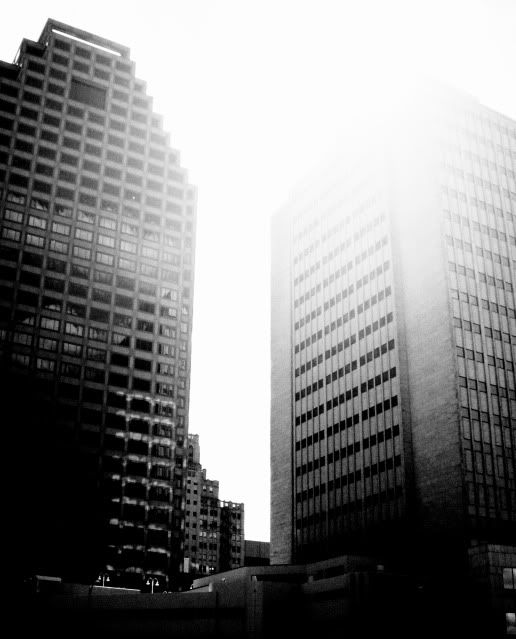 The next poem is from the book bum rush the page a collection of work from the new performance poets. The book was published by Three Rivers Press in 2001.

The poem I selected from the book is by Miami performance poet Adrian Castro.



Hoodoo Whisper
for Quiney Troupe

Say it in sheets of sound
power of language with big fists of teeth
singing secrets from the crossroads
saying secrets from the hoodoo
way up in East St. Louis soil
the groove of alphabets
in the blues of a new atlas
way up in a silent way
like the sho enuf shaman man you am

Say it because
the pact was sealed in the other world
There are some
who could claim the word for hisself
who would wrap it red cloth
could caress it along fire
like the marriage between flame & light
who dip it in a repique of thunder
make yr head flicker with the spirit of rhythm rhythm of spirit
as if Shango hisself
had weaved you a red kufi

And there are some
who trap the odu way up in them bones
who spill the past & therefore future
between blood & honey
divine what ain't nobody seen
And this here is an oriki
in praise of the possibility of
ka-ka-ki-tak turn of tongue
in praise of those
claiming their language
tonal y todo
with a hoodoo whisper
like Miles Dewey Davis III
like the sho enuf shaman man you am
sho enuf shaman man you am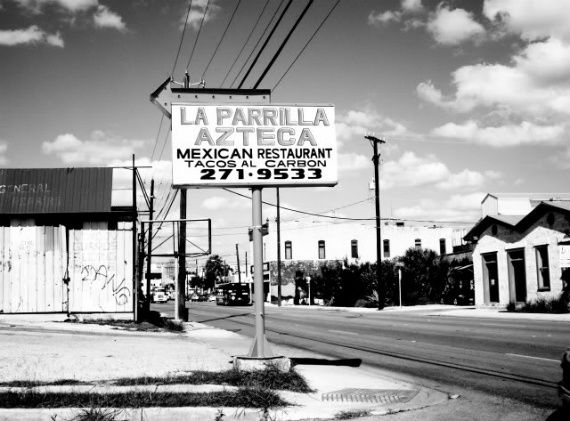 Here's the second of my three poems this week by our friend Thane Zander.



Becalmed

On a beach,
you dip your toes
in the milky white of existence.

You married young,
divorced many times since,
the liquidity of your life left empty.

There is a space,
where children and love flowed,
but a space is a space taken to honor.

In the challenge,
your widowness aches aplenty,
the bath spills over and floods your carpeted shoes.

The angels call,
you look at the mirror in horror,
you were once twenty a mere lifetime ago.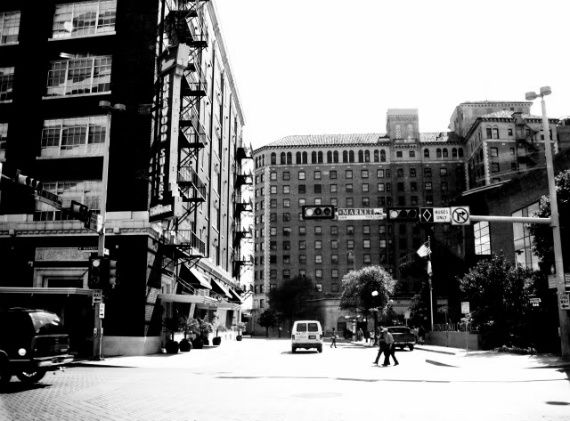 Here's a couple of poems by Samuel Hazo from his book A Flight to Elsewhere, published by Autumn House Press in 2005.

Hazo is the author of books of poetry, fiction, essays, and plays. He is the Founder of the International Poetry Forum in Pittsburgh, where he is also McAnulty Distinguished Professor Emeritus of English at Duquesne University. He was chosen the first State Poet of Pennsylvania in 1993 and has been awarded many other honors.



Tortoise Time

So small, so matched with turf
he can be taken for a stone
until he stirs.
Hunkered
in his hull like pain, he plods
on toes of slow-motion feet
Robins can flock to the tropics
swallows return to Capistrano,
grizzlies snooze in the Yukon,
and wild rabbits hanker
for their holes.
At peace in place
he comes from where he was
to where he'll be like afterthought's
caboose
What's the distance
or weather to one whose there
and here seem always the same?
While rabbits flee, he mimes
Diogenes beneath his hood
and sidles forward slower
than the time of day.
If home
is where he's at, he's home
to start with since he never goes away
Aesop understood.



For Which It Stands

Crosswinds have slashed the flag
so that the thirteenth ribbon
dangles free or coils around
the flagpole like a strip.
What's left
keeps fluttering in red-and-white
defiance.
Somehow the tattering
seems apropos.
The President
proclaims we'll be at war forever -
not war for peace but war
upon war, though hopefully not here.
Believers in eternal reelection
hear his pitch and pay.
In Washington
God's lawyer warns we stand
at Armageddon, and we battle
for the Lord.
Elsewhere, California's
governor believes in California's
governor, and football bowls
are named for Mastercard, Pacific
Life, ConAgra and Tostitos.
Out west a plan to gerrymander
Colorado (Texas-style) falls,
but barely.
Asked why no flag
is studded in his coat lapel
or decorates his aerial, a veteran
responds, "I wear my flag
on my heart - I don't wear
my heart on my sleeve."
Today
for once we're spared the names
of Occupying soldiers shot
or rocketed to fragments in Iraq.
Collateral damage?
Two boys,
their mother and both grandparents.
No names for them...
Just Arabs.









Sometimes, you just take an idea and let run on it's own, like a housebound dog unleashed. And sometimes it goes where you don't expect or even want.

But there it is, like this one i did last week.



885th poem on the 885th day

what should
i write about in this
885th poem
on the 885th day
of the poem-a-day ritual

nearly two and a half years,
that's what it comes down to,
and i feel i must have accomplished
something in all those months and days,
i must have grown -
for gods' sake, it's expected that
as human beings
we will grow into better
more complete persons as time passes

but i don't feel any different,
any wiser,
any more complete
than i remember being 885 days ago,
if anything i feel more unsure
about most of the certainties i would
have sworn to back then - a devolution
of truth into questions, a process
making the world more mysterious
with every day i live

and there's the key,
the one thing i know for sure,
the one thing i can apply to the known
column, at this point, 885 days
into the poem-a-day process,
it is clear only that i am 885 days
closer to dead than i was
when i started - but that's no big
news, everybody knows that, every
day you live brings you a day closer
to death - it's only when you start adding
those days together that it turns into
something different, a kind of countdown

such as this

on January 10th, 1966,
the first day of my military basic training,
i was issued the raincoat
i wore today in our seventh-straight day of
rain, seven days closer to dead
than i was when the rain started -
15,710 days closer to death
when the raincoat was issued to me
than i was the day before, when
i was still a fresh-faced civilian -
my whole life a countdown, it seems,
beginning 23,090 days closer to death
the day after i was born

such futility,
this whole business of living
when all it does is take you closer
to dying

there would be some compensation
for all this extended dying
if along the way we did something
that amounted to something, made something
a little better than it was, like, i'm thinking
if this poem, number 885 on the 885th day
of writing was even just a little better than
the first poem on day one

happily
i have no idea what poem i wrote
on that first day,
making the whole process
of believing there has been progress
in my life
easier









Renny Golden grew up on Chicago's south side. In the 1980's, she co-founded the Chicago Religious Task Force on Central America. She is a professor in the department of Criminology and Sociology at Northeastern Illinois University.

Next a poem is from her book The Hour of the Furnaces, published by Mid-List Press of Minneapolis in 2000. It is a long poem that must be told in its full length - it is history, though still not history in some places.



Ad Sum

for six Jesuits and their housekeepers assassinated in El Salvador, November 16, 1989

Three a.m. Night unclenches
the day's fist of heat,
cools the campus lawn.
Colonel Benavides orders thirty-five men
through the university gate.
They crush carnations, tear
ground ivy. Dew glistens
on their black boots.
A brush of pine colognes
their wrists, their ankles.
The Atlacatl brigade runs
toward the priests' compound,
shadows in the moonfall

Inside, a thread of breath
pulls the sleepers' muscles.
Colonel Benavides turns away
Nothing could have been done,
he says, stroking his jaw.

Lucia Barrera de Cerna
Lucia wakes to drillos of gunfire jack-
hammering the air, slamming
into adobe walls, poles, sheds,
the barrio itself a body, shattering .
She knows this ending,
already imagines each convulsive
jolt of the priests' bodies.
She must witness, be pulled
to the furnace's open door.
Oh, Padres, this I can do.

President Alfredo Cristiani
The president twists under
damp white sheets, wrestling
a presence that pins
each move. The winner speaks:
"Expect no witnesses."
The moon will not tell.
If it does, there are solutions.
If the moon were a lily,
it could be trampled in the dark earth;
or, if, say, a horse prancing
the starry fields,
it could be brought down,
hit clean between the eyes,
its huge flanks pumping.
Sleeper, dream on.

Celina Ramos (Notes from the Dead)
Mama prays in the dark.
Monsignor stares from the photo
into her black eyes like a mirror
or some angel
who knows her
better than we do.
Monsignor this, Monsignor that.
Me, I watch her hands,
roll the dough,
pinch the crust
as if it were wafer.
Padre Amando Lopez teases: "Professor."
But I don't know books.
What I know
is an intelligence of hands.

The Jesuits
Lt. Espinosa calls each name,
orders them to lie face down.
Some are dragged;
others walk forward, answering
a call that has reached them
across years, oceans, the heave
of grave upon grave.
The answer: Ad Sum, spoken
on ordination day so many years before
as young deacons lying prostrate
on a church marble floor
drenched with incense, rose lupine,
young men who answered a God
who would escape their adulation
ingenious as Houdini handcuffed
in a trunk of water -
A God who reappears as a campesina,
hungry and exhausted,
with a child on her hip,
a God of the despised,
of peasants, of women.

Prostrate again, the Jesuits lie against an earth,
heavy with mulch of seeds and crushed flowers.
"Bishop, Lieutenant, my people,
Ad sum. I am here."
Faithful despite betrayal
by Christian nations
that watched stranglers' hands
at the throats of children,
heard their screams for
ten years and did nothing.

Oh, how demanding the light
has been, knifing its cold shaft
into the heart's dumb secrets,
touching the dark floor where
El Mosote, Rio Lempa, and Sumpul
lie torn open.

The executioners - Sergeant Avalos,
(nicknamed "Satan") and
Private Oscar Amaya - step forward,
lift AK 47s into firing position.
One last voice is heard.
It is "Nacho" Martin-Baro.
He does not beg. Shouts
last judgment: This is barbaric!
Nothing more.
Close range AK47s split craniums
fragile as porcelain.
As if ideas were muscle,
gristle, bone, meat,
as if an eternity of desire will end with this.

In the morning soldiers march
past the Bishop's residence, shouting:
"We'll go on killing communists.
Ella curia and Martin-Baro have already fallen."
A fifteen-year-old cups his hands to mouth,
checks for a running path, then shouts back:
"Risen! Ella curia and Martin-Baro have already risen!"


Joaquin Lopez y Lopez
Ad Sum.

Ignacio Ella curia
Ad Sum.

Amando Lopez
Ad Sum.

Elba Ramos
Ad Sum.

Celina Ramos
Ad Sum.

Segundo Montes
Ad Sum.

Juan Ramon Moreno
Ad Sum.

Ignacio Martin-Baro
Ad Sum.









And here's Thane Zander's third poem for this week, maybe the best tribute to a mother I've ever read.

Take special note of these so sad lines:

I didn't call
surely a piece of me in you was dying.

That line calls to me as it must call to all guilty sons who let their mothers sit at home, alone, far to often and far to long, until it was too late.



Mother Reprise

Your womb was a room with no view,
the company of your heartbeat
and the steady breathing of your copious lungs
soothed a soul building.

Through the gates of hell we struggled
my cry music to your worn out ears,
my nurturing proof it was worth it.

We fed each other at the breast,
my suckling mouth,
your soothing strokes,
a team for eternity.

You helped me walk, stumble, succeed,
Dad was there too, but your hand
was always the one that steadied,
that nudged me in the right direction.

You drove me to run, to play, to laugh,
even when I started to rebel,
your soothing touch, words, love
drove me to do the right things.

I grew, left home, succeeded on my own,
we missed each other, I didn't call
surely a piece of me in you was dying.

Then it was your turn, cancer,
and I soothed you, calmed you, loved you,
helped you to handle the coming door,
the portal you pushed me through
was now opening to take you back.

We laughed, we cried, we felt the pain together,
and when your eyes closed,
I was the last to kiss you alive.

I didn't throw anything on your coffin,
my womb carried your seed, your love,
and that is what I passed on
to all my children,
You.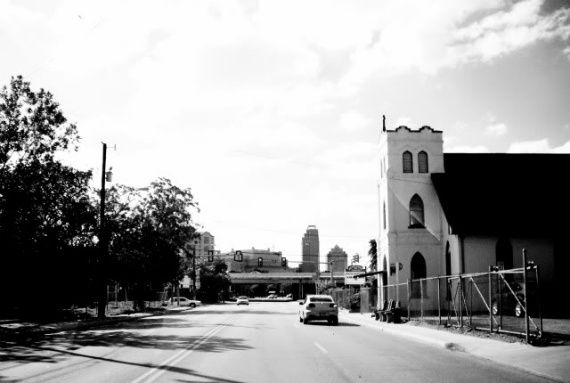 Next, I have a poem by Amiri Baraka, from the anthology American Poetry Since 1950, Innovators & Outsiders, published by Masilio Publishing in 1993.

Baraka, formerly known as Leroi Jones, is a controversial American writer of poetry, drama, essays, and music criticism. He was born in Newark, New Jersey, in 1934. His father worked as a postal supervisor and lift operator, and his mother was a social worker. In 1967 He adopted his new African name Imamu Amear Baraka, later changed to Amiri Baraka, in 1967.

Baraka studied philosophy and religious studies at Rutgers University, Columbia University and Howard University without obtaining a degree. In 1954 he joined the US Air Force, reaching the rank of sergeant but was dishonorably discharged when an anonymous letter accusing him of being a communist led to the discovery of Soviet writings in his quarters.

In 1984 he became a full professor at Rutgers University, but was subsequently denied tenure. In 1989 he won an American Book Award for his works as well as a Langston Hughes Award. In 1990 he co-authored the autobiography of Quincy Jones, and 1998 was a supporting actor in Warren Beatty's film Bulworth.

Baraka collaborated with hip hop group, The Roots, on the song "Something in the Way of Things (In Town)" on their 2002 album Phrenology.

In 2002, scholar Molefi Kete Asante listed Amiri Baraka on his list of 100 Greatest African Americans.

For good reason he was, and continues to be, highly controversial.



When We'll Worship Jesus

We'll worship Jesus
When Jesus do
somethin
When jesus blow up
the white house
or blast nixon down
when jesus turn out congress
or bust general motors to
yard bird motors
jesus we'll worship jesus
when jesus get down
when jesus get out his yellow lincoln
w/the built in cross stain glass
window & box w/black peoples
enemies we'll worship jesus when
he get bad enough to at least scare
somebody - cops not afraid
of jesus
pushers not afraid
of jesus, capitalist racists
imperialists not afraid
of jesus shit them making money
off jesus
we'll worship jesus when mao
do, when toure does
when the cross replaces Nkrumah's
star
jesus need to hurt some a our
enemies, they we'll check him
out, all that screaming and hollering
& wallering and moaning talkin bout
jesus, jesus, in a red
check velvet vine + 8 in. heels
jesus pinky finger
got a goose egg ruby
which acutely bleeds
jesus at the apollo
doing splits and helpin
nixon split niggers
jesus w/his one eyed self
tongue kissing johnny carson
up the behind
jesus need to be busted
jesus need to be thrown down and whipped
till something better happen
jesus ain't did nothin for us
but kept us turned toward the
sky (him and his boy allah
too, need to be checkd
out!)
we'll worship jesus
when he get a boatload of ak-47s
and some dynamite
and blow up abernathy robotin
for gulf
jesus need to be busted
we ain't gonna worship nobody
but niggers gettin up off
the ground
not gon worship jesus
unless he just a tricked up
nigger somebody named
outside his race
need to worship yo self fo
you worship jesus
need to bust jesus (+ check
out his spooky brother
allah while you heavy
on the case
cause we ain' gon worship jesus
we aint gon worship
jesus
we aint gon worship
jesus
not till he do somethin
not till he help us
not till the world get changed
and he ain, jesus ain, he cant change the world
we can change the world
we can struggle against the forces of backwardness, we can change the world
we can struggle against our selves, our slowness, our connection with the
oppressor, the very cultural aggression which binds us to our enemies as
their slaves.
we can chang the world
we ain't gonna worship jesus cause jesus don't exist
xcept in song and story except in ritual and dance, except in slum stained
tears or trillion dollar opulence stretching back in history, the history
of the oppression of the human mind
we worship the strength in us
we worship ourselves
we worship the light in us
we worship the warmth in us
we worship the world
we worship the love in us
we worship our selves
we worship nature
we worship ourselves
we worship the life in us, and science, and knowledge, and transformation
of the visible world
but we aint gonna worship no jesus
we aint gonna legitimize the witches and devils and spooks and hobgoblins
the sensuous lies of the rulers to keep us chained to fantasy and illusion
sing about life, not jesus
sing about revolution, not no jesus,
stop singing about jesus,
sing about, creation, our creation, the life of the world and fantastic
nature how we struggle to transform it, but don't victimize our selves by
distorting the world
stop moaning about jesus, stop sweating and crying and stompin and dyin for jesus
unless thats the name of the army we building to force the land finally to
change hands. And lest not call that jesus, get a quick consensus, on that
lets damn sure not call that black fire muscle no invisible psychic dungeon
no gentle vision strait jacket, lets call that peoples army, or wapenduzi or simba
wachanga, but not gon call it jesus, and gon worship jesus, throw
jesus out yr mind. Build the new world out of reality, and new vision
we come to find out where there is of the world
to understand what there is here in the world!
to visualize change, and force it.
we worship revolution.









Is there any day of the week more useless and no-count than Thursdays?

I don't think so.



Thursday

air
damp and thick;
heavy,
like the curtains
at movie theaters
they used to close
then open as the film
began, credits like ghosts
on the curtain
passing

like the cars on I-10,
outrunning their headlights
in the white fog - ghost fish
in a fast, dark current
passing

the day before
the day of the week's
passing

too far
from the week's beginning
to remember why it matters -
the day when nothing
counts,
just more dead hours
passing









Now, here's a final poem from Thane Zander.



The Thumping

Thump, thump, thump,
the incessant rhetoric
of a girl high on Crystal Meth,
low on self esteem,
riding the White Lightning
into a room dark green in texture,
and black in outlook,
she pours her life story
onto a radio station that drips envy,
commonsense long lost in a haze of losing oneself.

Thump, thump, thump,
the sound of a maul busting hinges,
the hurried shouts of Policemen and women,
guns pointed in fear, calm fear,
steady fear, the junkies in the rooms
all shot to pieces, too poor to carry,
except maybe Marge and her 3 month old hump,
hump, hump, hump,
the sound of wasted life creating wasted life.

Thump, thump, thump,
the finality of the gavel, as a judge sentences
a boy who no longer knows himself
to a secure unit at Porirua Hospital,
the mind switched to supermania,
climbing walls, doing the burgs, escaping
the trick cyclists, the mercy wagons,
playing life to the very edge
and back again,
17 now, fuck, the mind went when his Dad beat him,
trust issues they said, screw trust,
what about the right to life?

Thump, thump, thump,
the resonance of a head bashing a table,
the onset of guilt, the realization
that abuse comes from the Animal within,
the reality check that comes with disbelief,
the mind long gone and wasted, diseased, crooked,
the PDocs will fix it, no one left in an empty house to help.






>




And, now, a final poem from me for the week. I wrote a bunch of really dark poems the last week or so. Didn't want to end the issue dark, so I have this, kind of grayish.



old pals

old cat,
blind in one eye
and hardly seeing
out of the other,
sleeps just about
all day, curled
up on her pillow,
head hidden
under her front feet,
snoring like thunder
on the near horizon,
rising from her lap
of luxury several times
a day to go stand by
her food dish, confident
someone will notice
and if we don't, reminding
us with a scream at a pitch and
volume possible for only
the oldest and wisest
of old cats, taking her
exercise on her way back
to bed, boxing with the
shadows on the wall
as she passes

old dog,
with her creaky rheumatoid hips
and cataract-dusty
eyes, sleeps most of the day
as well, as near to us as she can,
beside me on the floor in my office,
on the couch with us as we watch TV,
or, when we're not there, in her little
bed at the foot of our bed - old
and slow but still treasuring her morning walks,
a chance to sniff out the latest news
of the day, impatient to start, beginning
to bark when we turn on the road that leads
to the road that leads to our walking
area

it's a slow and leisurely walk we do, no rush,
no hurry, bush to bush, tree to tree,
old cat, old dog, and me, old pals,
wearing out together, seeing no reason
to race ever faster
to the end of our trail









That's it for this week. A nice week, in fact, with our first sustained cool weather. Come back next week and see if it holds.

In the meantime, all the material presented in this blog remains the property of those who created it. As producer and owner of the blog, I release any of the work in the blog created exclusively by me to whoever wants it - just spell my name right...allen itz.