El Nuevo Camino del Rio de San Antonio
Thursday, October 29, 2009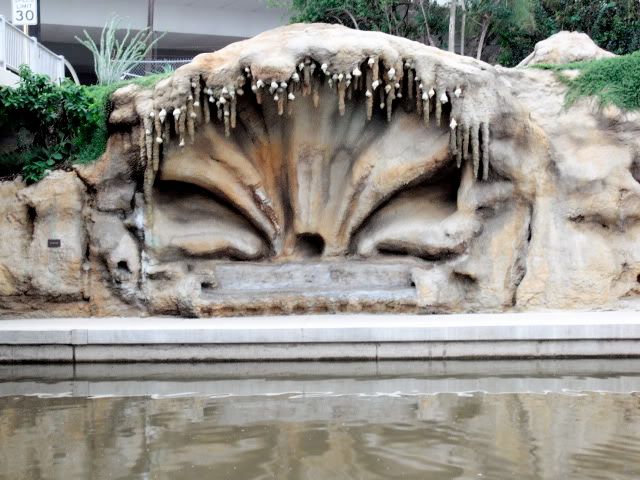 IV.10.5.





My photos this week are from a walk I took down the recently extended portion of the San Antnio Riverwalk, which goes north from the original downtown section, past the San Antonio Art Museum and on to the Zoo and the Witte Museum. I haven't done all of the new part yet (it's a very long walk), but will soon, while the weather's cool. Eventually the Riverwalk will also be extended south, presentng a hike-able, bike-able paved path along the rive all the way to Mission Espada, the furhermost of the old Spanish missions.

As to our poetry, here's the cast and crew for this week.




Gregory Orr
Origin of the Marble Forest
A Moment
Dark Night
The Vase
The Hinge
Looking Back

Me
midgetly lurking vulture pigeons

Dana Gioia
The End of the World

Paul Mills
Amazonas

Cornelia DeDona
Dim Sum in Chinatown

W. S. Merwin
Unknown Age
My Hand
What the Bridges Hear
Long Afternoon Light

Me
a great night for football

Ryokan
The Inn at Tamagawa Station

Cornelia DeDona
Golden Tilapia

John Ashbery
Lost Footage
The Red Easel

Me
tough love

Paul Celan
Deathfugue

Cornelia DeDona
What Color Do You Breathe

Janice Gould
The Day of the Dead

Me
all together, now

Cornelia DeDona
Boogey Fever

Me
fini

Philip Larkin
Annus Mirabilis
Cut Grass

Me
about the politics of grumpity crapity old men











I start this week with several poems by another poet new to me, Gregory Orr, from his book City of Salt, published in 1995 by the University of Pittsburgh Press.

Born in 1947 in Albany, New York, Orr grew up in the rural Hudson Valley and, for a year, in a hospital in the hinterlands of Haiti. He received a B.A. degree from Antioch College, and an M.F.A. from Columbia University.

He is the author of nine collections of poetry, including City of Salt, which was a finalist for the L.A. Times Poetry Prize in 1995.

He is also the author of a memoir, The Blessing, which was chosen by Publisher's Weekly as one of the fifty best nonfiction books the year, and three books of essays.

Orr has received a Guggenheim Fellowship and two poetry fellowships from the National Endowment for the Arts. In 2003, he was presented the Award in Literature by the American Academy of Arts and Letters, and was a Rockefeller Fellow at the Institute for the Study of Culture and Violence, where he worked on a study of the political and social dimension of the lyric in early Greek poetry.

He teaches at the University of Virginia, where he founded the MFA Program in Writing in 1975, and served from 1978 to 2003 as Poetry Editor of the Virginia Quarterly Review.

I really do like this poet.



Origin of the Marble Forest

Childhood dotted with bodies.

Let them go, let them
be ghosts.

No, I said,
make them stay, make them stone.


A Moment

The field where my brother died -
I've walked there since
Weeds and grasses, some chicory
stalks; no trace of the scene
I can still see: a father
and his sons bent above
a deer they'd shot,
then screams and shouts.

Always I arrive too late
to take the rifle
from the boy I was,
too late to warn him
of what he can't imagine:
how quickly people vanish;
how one moment you're standing
shoulder to shoulder,
the next you're alone in a field.


A Dark Night

How I long to pull the old man in;
he's thrashing out there in the water,
he's drunk and can't swim.

Then again, maybe it's a dog
and he'll claw and bite me
as I lean from the small boat
to haul him up.

The splashing
so near and those sounds -
are they growls
or a humans choaked sobs?
How dark it is, how far I am from shore.


The Vase

Boredom and terror, and the older
I get the more terror arrives
dressed as boredom, wearing
the same clothes I wear to work
each day.

Returning, I empty
my pockets into a large vase
in the hall; bits of lint, scraps
of paper, loose change, a piece of string.

The vase is taller than I am,
blazoned with white chrysanthemums
and green, exotic birds in flight.


The Hinge

On it the whole world turns
if the world is a door,
and if the world is not a door
how to explain the movement
seen in the butterfly's
stiff wings
as it flutters
on a purple bush,
or the arms of lovers
thrown open
on their equally precise
pivots

And the hinge
screams as it yields
though no one's there.,
though it's only the breeze.


Looking Back

Marble pillars
of palace
or temple -
so what?
I've seen them
tumbled by vines

And our beautiful
bodies -
how long
will they last?

Shallow valley
where we
lay down
crushing a circle
in tall grass.

Above it
our ghosts
drifted
in rowboats
among low clouds,
letting it down
lines
of sunlight with
tiny golden hooks.









Feeling a little silly a few days ago, and not so deeply inspired when it came time to write my poem of the day.



midgetly lurking vulture pigeons

pigeons
ledge-lurk
like midget
city vultures

waiting

for an Iowa-farmer
to swoop through
the city streets
in a brilliantly-red
biplane, dropping corn
for midget-vulture-pigeons

or a puffing-steaming
locomotive
spewing pink popcorn
from its puffy-steamer
smokingstack

or a grimly-grimy
trawler crawling on
little ballooning-tires
from street to street
shaking pinkly-pretty
popcorn shrimp
from its net all for
midgetly-vulting pigeons
lackadaisically ledgly-lurking

or Mr. Theodore Roosevelt-Shrimp
primly passing
in his permanently pressed
plaid shirt and
grey-spackled
fedora
given to him on his 63rd
birthday by the late Mrs. Shirley
Simpson-Swindle-Shrimp,
the love of his Shrimply life

all this
those pigeonly midgeted vultureous
lazy ledged lurkers
could be awaiting from their ledgerous lair

or it could be for something else
entirely

who knows what they might be
thinking
as they lurkishly ledgisly perch

not me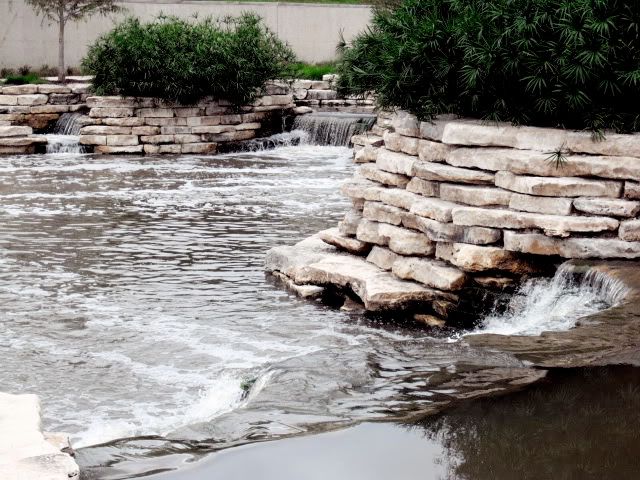 Next, I have two poems from Earth Songs, an anthology of contemporary eco-poetry, published by Green Books in 2002.


The first poem is by Dana Gioia, a poet and critic who retired early from his career as a corporate executive at General Foods to write full-time. From January 29, 2003, until January 22, 2009, he was chairman of the National Endowment for the Arts, our Federal arts agency, working to revitalize an organization that had suffered bitter controversies about the nature of grants to artists in the late 1980s and early 1990s. Gioia sought to encourage jazz, which he calls the only uniquely American form of art, to promote reading and performance of William Shakespeare and to increase the number of Americans reading literature. Before taking the NEA post, Gioia was a resident of Santa Rosa, California, and before that, of Hastings-on-Hudson, New York.


The End of the World

"We're going," they said, "to the end of the world".
So they stopped the car where the river curled,
And we scrambled down beneath the bridge
On the gravel track of a narrow ridge.

We tramped for miles on a wooded walk
Where dog-hobble grew on its twisted stalk.
Then we stopped to rest on the pine-needle floor
While two ospreys watched from an oak by the shore.

We came to a bend, where the river grew wide
And green mountains rose on the opposite side.
My guides moved back. I stood alone,
As the current streaked over smooth flat stone.

Shelf by shelf the river fell.
The white water goosetailed with eddying swell.
Faster and louder the current dropped
Till it reached a cliff, and the trail stopped.

I stood at the edge where the mist ascended,
My journey done where the world ended.
I looked downstream. There was nothing but sky,
The sound of water, and the water's reply.


The next poem from the book is by Paul Mills, the poet, performance artist, rock journalist, and civil rights lawyers, known, I think, early in his career as "Poez."


Amazonas

Straight out of the Pacific
grooves of rock that peak the clouds with ice
splinter into rivers running East.
Cloud-forests melting in July,
the Amazon at its source,
jungle of island-fringes a horizon
dividing water and sky: two azures,
evolving soft ephemera of trees
through which monkeys crash, birds cry out,
howls liquefy, great white egrets
coil downward into extreme sculpture.
Here is where he river begins to move
headlong at terrible speed
into the earth.

Thrilling with Andes snow
delivering rainclouds, fruit, vines, water,
the vast drainage of Amazon seeks every outlet
inlet and lake, and moves through it
sometimes will not move
sometimes like to drift in a still depth fringed
by insect-floating growth, peacock fish
slothlike green canopies of trees.
But will reach salt water.
Dying into the earth's future,
Amazonas - living with its trees a few million years
together in their best of times secretly.

Alert to floating damage, torn-off roots
the shaman steers crouched,
a human rudder,
then in a liquid wilderness of glints
steering us through needles of black palm,
knowing where the simple secrets grow
trance-inducing vines,
eyes like beetles running among leaves
where trees flower -

So that night we drank his drug of bark
growing in our ears the drumming
of millions of insects, nightjars, frogs,
seemed like a city's steady traffic hum
heard from an open skylight or a street,
all sound vacuumed from the trees
into a jet of planet-circling air,
as over mountains our small plane
broke through the seal of mist
into a wide entrance of green heat,
rivers coiled like empty asphalt tracks.

father and son
- steering words,
moving upstream.
Alligator eyes
caught red in flash-beams in the reeds.
Upstream to the coolness of our camp.
The moment being given to us again -
that we were here and saw the rim of the galaxy,
a shapely arc,
huts on the shores,
after-sunset handling of nets,
all of it blowing through us gusts of elation,
sharp joy -
the Milky Way,
slant of the Southern Cross,
riding in that boat against the wind









I have four poems this week from our friend Cornelia DeDona. They are from her new book, Boogey Fever. You can read more about this book, as well as her previous two books at



http://www.blurb.com/user/Connied.



Born in Germany and raised in New York. Cornelia, or, Connie, has lived for the past 32 yrs. with her husband in Hawaii. She has traveled extensively both here in the U.S. and abroad. She is a "Friend" to the National League of American Pen Women and the Friends of the Library in Honolulu. She subscribes to Blueline Poetry, an online poetry forum, where she posts a poem a day. She is also a member of the Academy of American Poets.

This is the first of our four poems from Connie. The other three will appear later.



Dim Sum in Chinatown

We met at ten thirty
on a Sunday morning
for Dim Sum - a bit of heart,
in a busy
Chinatown restaurant.
The Yum Cha
(drinking tea)
experience
took me back to China.
To a trip of a lifetime.
To an industrious
dynamic people with
backs bent in two
using simple tools
to rebuild modern cities
reeking of
inadequate plumbing
and garbage strewn
harbors.
To discern
these proud inhabitants
of decay
from five star hotels
with a hazy blackened view.
Where east encounters west
and rich confronts poor
devoid of
birds and trees
to block out the sun,
face to face.

Somewhere
inside the debris
lies the heart
of these proud
people as
inside
a wrapper
of
translucent
rice flour
stuffed
with pork
shrimp
and
cabbage.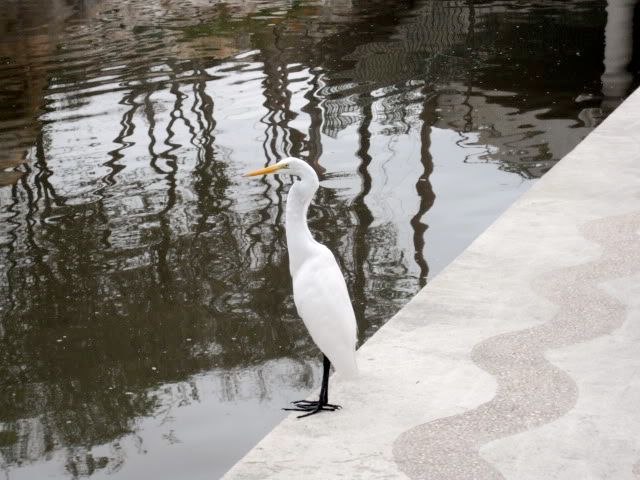 Seems like I'm doing a lot of M. S. Merwin, maybe because he is great to read, especially good at finding the truth of things in very few words. The next several short poems are from his book, The Shadow of Sirius, published by Copper Canyon Press in 2008.



Unknown Age

For all the features it hoards and displays
age seems to be without substance at any time

whether morning or evening it is a moment of air
held between the hands like a stunned bird

while I stand remembering light in the trees
of another century on a continent long submerged

with no way of telling whether the leaves at that time
felt memory as they were touching the day

and no knowledge of what happened to the reflections
on the pond's surface that were never seen again

the bird lies still while the light goes on flying


My Hand

See how the past is not finished
here in the present
it is awake the whole time
never waiting
it is my hand now but not what I held
it is not my hand but what i held
it is what I remember
but it never seems quite the same
no one else remembers it
a house long one into air
the flutter of tires over a brick road
cool light in a finished bedroom
the flash of the oriole
between one life and another
the river a child watched


What the Bridges Hear

Even the right words if ever
we come to them tell of something
the words never knew
celestial for sunlight
or starlight for starlight
so at this moment there my be words
somewhere among the nebulae
for the two bridges across the wide
rock-strewn river
part way around the bend from each other
in the winter sunlight
late in the afternoon more than half
a century ago with the sound
of the water rushing under them
and passing between them unvarying
and inaudible it is still there
so is the late sunlight
of that winter afternoon
although the winter has vanished
and the bridges are still reaching across
the wide sound of being there


Long Afternoon Light

Small roads written in sleep in the foothills
how long ago and I believed you were lost
with the bronze then deepening in the light
and the shy moss turning to itself holding
its own brightness above the badger's path
while a single crow sailed west without a sound
we trust without giving it a thought
that we will always see it as we see it
once and that what we know is only
a moment of what is ours and will stay
we believe it as the moment slips away
as lengthening shadows merge in the valley
and a window kindles there like a first star
what we see again comes to us in secret









We had four beautiful days in a row last week - the challenge, to think of what to do with them.



a great night for football

another blue-sky
no-cloud day, cool
and calm, third
in a row, traffic on
San Pedro flows
like a rush of white water,
a river of urban escapees
in a hurry to take in
what looks like the best
weekend in the past and probably
future twelve months

Chris
is off for several days
of hiking and camping
in the Guadalupe Mountains,
dry and remote, hanging out on the
Texas/New Mexico edge between
high desert and mountains

the promise of a great football
night enticing us, Dee and i just
have to decide who we want to see
crushed tonight - both our preferred teams
in the cellar, fresh meat for the bloody maws
of this year's Goliaths - no Davids in our stable,
no deadly slingshot, no hand of God directing our aim -
it's a win/don't win situation, they win,
our guys don't, serving, instead,
only to be slain, to be smashed,
to be strewn in bloody body parts between
forever-out-of-reach
goal posts....

to be examples, in a political/philosophical sense,
of the fate of weakness in this land of tough and ready,
this field of great hits and end runs, this grand
wail of stomp the muthafuckers till they bleed
through their toes

a great day today and a great night ahead,
a great night for sleeping in the desert,
a great night for dinner and drinks
and some nookie under a midnight canvas
of more stars then there is time to count,
a great night for football,
a great night for some good Friday evening's
entertainment watching our children
beat the crap out of each other









Though born in Japan in the eighteenth century, the hermit-monk Ryokan lived and wrote firmly in the tradition of the great Zen eccentrics of China and Japan. The following poem is from a collection of his works, One Robe, One Bowl, published in it's fifteenth printing in 2005 by Weatherhill of Boston and London.

The poems in the book were translated by John Stevens.



The Inn at Tamagawa Station

Mid autumn - the wind and rain are now at their most
melancholy.
A wanderer, my spirit is inseparable from this difficult
road.
During the long night, dreams float from the pillow -
Awake suddenly, I have mistaken the sound of the river
for the voice of the rain.

~~~~~

Carrying firewood on my shoulder
I walk in the green mountains along the bumpy path.
I stop to rest under a tall pine;
Sitting quietly, I listen to the spring song of the birds.

~~~~~

Early summer - floating down a clear running river in
a wooden boat,
A lovely girl gently plays with a crimson lotus flower
held in her white hands.
The day becomes more and more brilliant.
Young men play along the shore
and a horse runs by the willows.
Watching quietly, speaking to no one,
The beautiful girl does not show that her heart is broken.

~~~~~

Since I came to this hermitage
How many years have passed?
If I am tired I stretch out my feet;
If I feel fine I go for a stroll in the mountains.
Following my destiny, for this body I have received
from my parents
I have only thanks.

~~~~~

Near a Kannon temple, I have a temporary hermitage;
Alone, yet the intimate friend of a thousand green poems
written on the surrounding foliage.
Sometimes in the morning I put on my priest's mantle
And go down to the village to beg food for this old body.

~~~~~

At night, deep in the mountains I sit in zazen.
The affairs of men never reach here.
In the stillness I sit on a cushion across from the empty
window.
The incense has been swallowed up by the endless night;
Unable to sleep, I walk into the garden;
Suddenly, above the highest peak, the round moon appears.

~~~~~

Day and night the cold wind blows through my robe.
In the forest, only fallen leaves;
Wild chrysanthemums can no longer be seen.
Next to my hermitage there is an ancient bamboo grove;
Never changing, it awaits my return.

~~~~

Once again, many greedy people appear
No different from the silkworms wrapped in cocoons.
Wealth and riches are all they love,
Never giving their minds or bodies a moment's rest.
Every year their natures deteriorate
While their vanity increases.
One morning death comes before
They can use even half their money.
Others happily receive the estate,
And the deceased's name is soon lost in darkness.
For such people there can only be great pity.

~~~~~

My hut, located in a distant village, is little more than
four bare walls.
Once I was a mendicant monk, wandering here and there,
staying nowhere long.
Recalling the first day of my pilgrimage, years ago -
How high my spirits were!

~~~~~

The autumn nights have lengthened
And the cold has begun to penetrate my mattress.
My sixtieth year is near,
Yet there is no one to take pity on this weak old body.
The rain has finally stopped; now just a thin stream
trickles from the roof.
All night the incessant cry of insects:
Wide awake, unable to sleep.
Leaning on my pillow, I watch the pure bright rays of sunrise.









Now here's the second of our four poems from Cornelia DeDona.



Golden Tilapia

Your muscles are
tanned
and lean
Your piercing blue eyes are
patient
and see
everything.
It is morning.
The throw net
is draped
over
your left shoulder.
As you
wait for the
precise moment
to hurl the net.
The first throw
directs the next
and with each pass
more and more
are harvested
and released
onto the dew soaked grass.
In their final struggle
to stay alive
they arch
and flip back and forth
across the void
to escape back
into the cool dark water
beneath the lily pads.

However their fates are set
filleted without delay
resulting in
one last swim
breaded
in hot oil.









Here are two poems by John Ashbery from his book Where Shall I Wander, published in 2005 by HarperCollins.

Ashbery is a modern poet about whom much has been written. I don't see a need for me to add to it.



Lost Footage

You said, "Life's a hungry desert."
or something like that. I couldn't hear.

The curving path escorts us
to Armida's pavilion. The enchantress.
She had everything built slightly smaller
than life size, as you'll find
if you sit in the chair at that table.

And clean - everything is terribly clean,
from the crumbs casting long shadows
on the breadboard, to the gnats churning in the open window.

We can't mask the anxiety for long,
but we can produce good and cherishable deed
to be ransacked by those who come after us.
True, no one visits anymore.
I used to think it was because of him, now
I think it's because of him and us.

We grow more fragile at our posts,
interrogating vacant night. "Who goes there?"
And he goes, "Nay, stand and unfurl yourself."

I thought, in the corner, in the canyon,
in the cupboard, was something that seized me
in a terrible but approachable embrace.

All was silent except the pedals
of the loom. from which a tapestry streams
in bits and pieces. "I don't care how you do it."

I can see the subject, an eagle with Ganymede
in his razor-clam claws, against a sky
of mottled sun and storm clouds.

From that, much vexation.


The Red Easel

Say doc, those swags are of the wrong period
though in harmony with the whole. You shouldn't take it too hard.
Everybody likes it when the casual drift
becomes more insistent, setting in order the house
while writing finis to its three-decker novel. Only when the polaint
of hens pierces dusk like a screen door
does the omnipresent turn top-heavy. Oh really?
I thought they had names for guys like you
and places to take them to. That's true, but
let's not be hasty, shall we, and pronounce your example
a fraud before all the returns are in? These are,
it turns out, passionate and involving, as well as here to stay.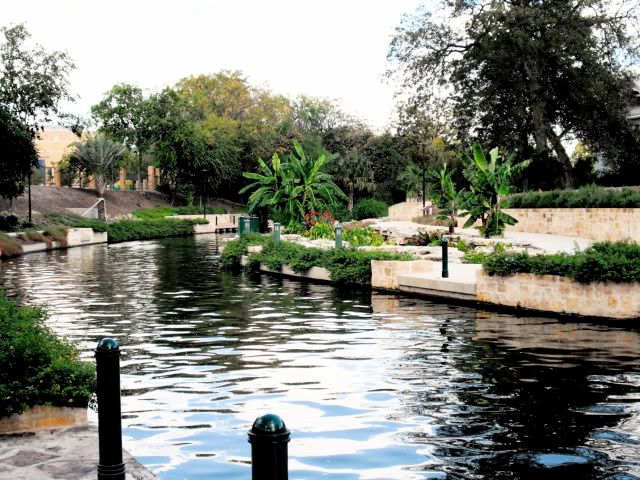 I'm tired of putting up with grumpy people. Might have to get grumpy myself.



tough love

sometimes
i think i must be an exception
since it seems every person
i see over age 40 is pissed off
about something,
everything

85 percent of my relatives,
republicans, democrats, sinners,
saints, welfare mothers, business
chiefs, main street, back street,
side street, Wall Street, blue collar,
white collar, pink collar, all of them
pissed about one thing or another,
often at each other, about each other

like the guy
in the chair ahead of me at the
barbershop, getting his ears
lowered, pounding Armando,
the barber, with a litany of
sonsabitches screwing him one
way or another, down on
everything and everyone
but his wife, that single exception
probably only because she was
in the chair next to me, within
hearing distance of the verbal
rampage, probably accustomed
to hearing it all, the reason she's
always pissed off at him and
everything that pisses him off
because that's the reason
she has to spend days and nights
listening to his monologue - oh,
would that it would be internal,
crap, crap, crap, always living
with it, all the better things, the
beautiful things of life, pushed
into the shadows by his unending
rush of crap, knee deep
in his drivel all the days and hours
of her
life

i understand - 15 minutes of listening
to him while i wait my turn in the chair
and i'm ready to go slap the shit out of him
myself - grow up, man,
it's not the world's fault you're a dipshit,
i'd like to tell him, it's because of your
dipshitting ways, so quit complaining
and put on a happy face, a smiley face
like mine, see me smile, that's
the way you ought to be living, don't
let things get to you, follow my lead,
be like me,
smile

pass it on









The next poem by Paul Celan, from the book of poems selected and introduced by Robert Hass from the anthology Poet's Choice - Poems for Everyday Life. The book was published by HarperCollins in 1998. The introductions by Hass are especially well done and helpful.

Celan was a Jewish poet born in 1920 and educated in the traditions of German poetry. He lost both his parents in the concentration camps and barely survived them himself.

He struggled most of his life with the contradiction of writing in a language he loved that was also the language of his family's murderers.

He committed suicide in 1970 when he was 49 years old.

Hass praised the translation of this poem by John Felstiner, particularly the way Felstiner allowed the poem to slip back into German at the end, a symbol of the poet's lifelong struggle with the language.



Deathfugue

Black milk of daybreak we drink it at evening
we drink it at middday and morning we drink it at night
we drink and we drink
we shovel a grave in the air there you you won't lie too cramped
A man lives in the house he plays with his vipers he writes
he writes when it grows dark to Deutschland your golden hair
Margareta
he writes it and steps out of doors and the stars are all sparkling
he whistles his hounds to come close
he whistles his Jews into rows has them shovel a grave in the
ground
he commands us ply up for the dance

Black milk of daybreak we drink you at night
we drink you at morning and midday we drink you at evening
we drink and we drink
A man lives in the house he plays with his vipers he writes
he writes when it grows dark to Deutschland your golden hair
Margareta
Your ashen hair Shulamith we shovel a grave in the air there you
won't lie too cramped

He shouts jab this earth deeper you lot there you others sing up
and play
he grabs for the rod in his belt he swings it his eyes are so blue
jab your spades deeper you lot there you other play on for the
dancing

Black milk of daybreak we drink you at night
we drink you at midday and morning we drink you at evening
we drink and we drink
a man lives in the house your goldenes Harr Margareta
Your aschenes Haar Schulamith he plays with his vipers

He shouts play death more sweetly this Death is a master from
Deutschland
he shouts scrape your strings darker you'll rise then as smoke to
the sky
you'll have a grave then in the clouds there you won't lie too
cramped

Black milk of daybreak we drink you at night
we drink you at midday Death is a master aus Deutschland
we drink you at morning and evening we drink and we drink
this Death is ein Meister aus Deutschland his eye it is blue
he shoot you with shot made of lead shoots you level and true
a man lives in the house hour goldenes Haar Margarete
he looses his hounds on us grants us a grave in the air
he plays with his vipers and daydreams der Tod ist ein Meister
aus Deutschland

dein goldenes Haar Margarete
deil aschenes Haar Sulamith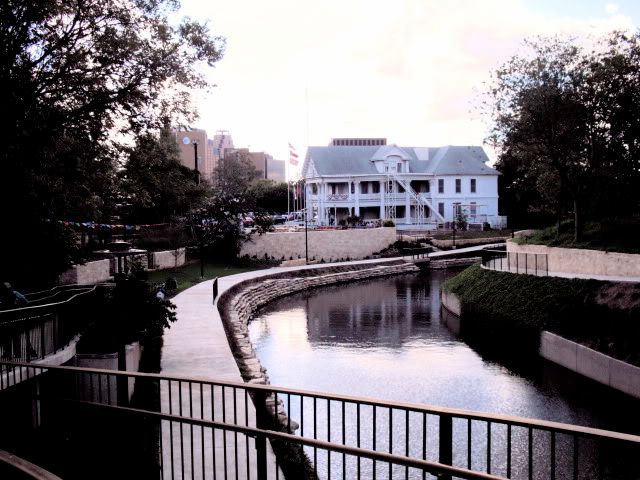 Now, here's number three of the four poems by Connie DeDona in this issue.



What Color Do You Breathe

I exhale a blue language
of nouns and verbs.
My syntax
frozen, in the atmosphere
hidden, on a cloud high above
Mauna Kea.
In search of exclusive metaphors
while observing the Nene
as it forages for food, between
the cracks and crevices of black and gold
lava flows, hardened by decades of cooling.
Now joined by violet joy bushes
and a profusion of bright green tree ferns,
still erupting into red phrases
congealing into the deep blue pacific,
crimson orange tongues ablaze.









No way I can publish on the day before Halloween without a poem for the occasion. This one was written by Janice Gould and it is also taken from Poet's Choice.

Gould is a poet from California of European and Koykangk'auwsi Maidu ancestry. She lives in Santa Fe and has taught American Indian literature at the University of Santa Fe in Albuquerque.



The Day of the Dead

I wish it were like this:
el dia de los muertos comes
and we fill our baskets with bread,
apples,chicken, and beer,
and go out to the graveyard.

We bring flowers with significant colors -
yellow, crimson, and gold -
the strong, hungry colors of life,
full of saliva and blood.

We sit on the sandy mounds
and I play my accordion.
It groans like the gates of hell.
The flames of the votives
flicker in the wind.

My music makes everything sway,
all the visible and invisible -
friends, candles, ants, the wind.
Because for me life ripens,
and for now it's on my side
though it's true I am often afraid.

I wear my boots when I play the old squeeze-box,
and stomp hard rhythms
till the headstones dance on their graves.









Here's some thoughts I came up while not sleeping one night.



all together, now

i lack
the imagination
to convince myself
of the existence of any kind of god,
but i am willing to consider there might be
more than one realm of being -
an earthly dimension where we, as
moral, thinking flesh-creatures, are
responsible
for all the outcomes of our life, entities
of blood and bone accountable
to the moral and civil standards of our time,
for how we treat ourselves and others - no one
to blame or praise but ourselves
for the course of our
actions

however we imagine the dream of it,
this first dimension could be
only a temporary flesh-life,
just a phase we go through, both
product and precursor of
some communal existence,
a collective consciousness of all living things,
from stones in the field who grow and diminish
through the passage of time, to the sizzle
of lightning in a thunderstorm at night,
to tiny creatures whose flesh-life is limited to minutes,
to all the creatures of the forests and fields and
jungles and seas, and, finally, to you and me

the life most know, maybe
only a small portion of the life-eternal
unknown to all but the very few
of our blood and gristle kind,
the great masters, the root-finders, who
follow the path that puts them
in the flow of time
and life
never-
end
ing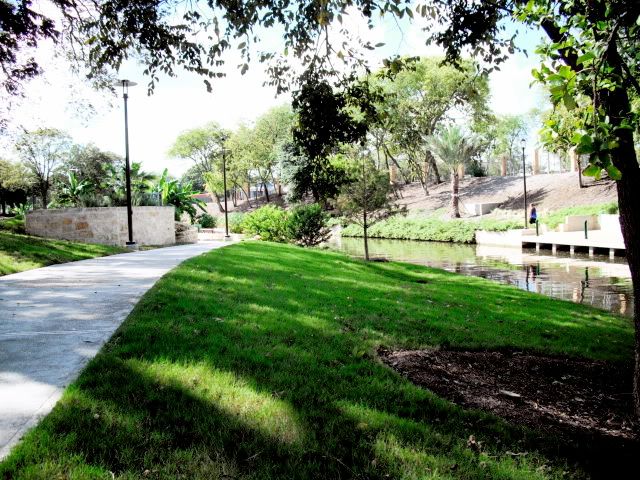 Here's my final piece by Cornelia DeDona for this week, the title from her new book Boogey Fever.



Boogey Fever

I feel brash like a samoan crab
my limbs splayed,
tan skin pelted by fine sand.
The air warm and humid, as I
prepare for the adventure.
Lavender Oakley's perched
lizard like on the bridge
of my nose,
starting at the Mokulua;
I race into the crush.

I manage to escape
where the eager jellyfish
wait - to cling to ankles and thighs.
Quickly now
up to my chest,
I press forward and sideways
to watch for the swell.
I listen
to the pulse and pummel
against the shoreline.
Riding a locomotive
over the crest of a wave
thrust back to shore
over and over again.
Occasionally caught in a tunnel of water,
I somersault with the board
in a turbulent washer - spinning through past lives.
It releases me plunging and bobbing into the present
with sand dredged pores - old cavities filled.

I take a deep breath and roll onto my stomach
and paddle back out to savor another set.
Until finally I return,
eyes shining, wrinkled and blue,
to collapse
on that hot sand
and straw mat.









I wrote this one in a moment of utter desperation last week.



fini

i have seen the
future
and it looks like the past

fins

fins
everywhere

fins
on cars

fins
on houses

fins on animals

puppy dogs
with ears trimmed
like fins
then starched to stand up
straight
like little puppy-sharks
lurking in gray waters

fins
on kitties
with pointy ears
and tails sticking straight out back
like a '57 Plymouth

fins on squirrels
chattering in trees

fins on opossums
that sneak over your fence at night
to eat your pomegranates

fins on birds,
sparrows and pigeons and buzzards
and hawks and eagles
with little fin-tufts
on their heads like jays and cardinals

fins on horses and moose and bison,
elephant, lizard, penguin and emu

furry fins, feathered fins, scaly fins,
fins of angora wool,
and even peach fuzz fins

even babies
genetically modified
to have pointy ears like Spock
fins
laid the side of their heads

like werewolf ears
just
not so hairy

all animals have fins
but fish
who adopt a more streamlined
'62 Porsche look

all of it,
world government
and the patterns of nature
run
by Finns from Finland

the only music allowed
on the radio from 7 a.m. to 11 p.m. -
"Finlandia"
by Finnish composer
Sibelius,
the new patron saint of all music
as dictated by the world government
in Helsinki,
capitol now not just of Finland,
but everywhere...

the final
authority
on everything

i have seen the future
and it is not good

i have seen the future
and it is too much like the past

i have seen the future
but that's all i have to say
about it
so now i'm

finished









Next I have a couple of poems by Philip Larkin from his delightful little chapbook, High Windows, first published by faber and faber in 1974.

Larkin was born in 1922 and grew up in Coventry. In 1955, he became Librarian of the Brymor Jones Library at the University of Hull, a position he held until his death in 1985. He received numerous awards for his poetry, including the Queen's Gold Medal for Poetry and the W. H. Smith Award.



Annus Mirabilis

Sexual intercourse began
In nineteen sixty-three
(Which was rather late for me) -
Between the end of the Chatterley ban
And the Beatles' first LP.

Up till then there'd only been
A sort of bargaining.
A wrangle for a ring.
A shame that started at sixteen
And spread to everything.

Then all at once the quarrel sank:
Everyone felt the same,
And every life became
A brilliant breaking of the bank,
A quite unlosable game.

So life was never better than
in nineteen sixty-three
(Though just too late for me) -
Between the end of the Chatterley ban
And the Beatles' first LP.


Cut Grass

Cut grass lies frail:
Brief is the breath
Mown stalks exhale.
Long, long the death

It dies in the white hours
Of young-leafed June
With Chestnut flowers,
With hedges snowlike strewn,

White lilac bowed,
Lost lane os Queen Anne's lace,
And that high-builded cloud
Moving at summer's pace.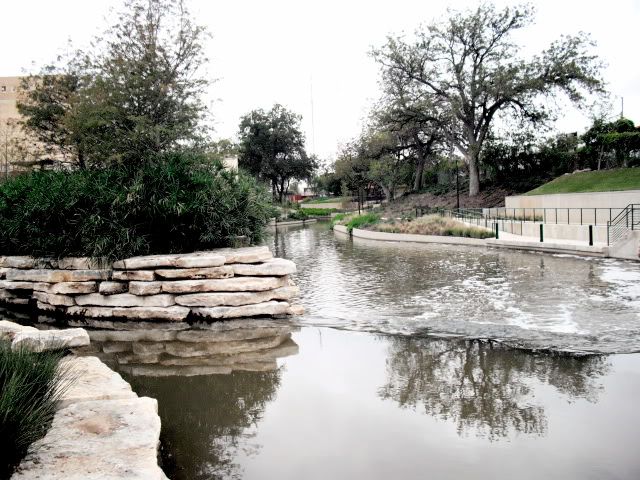 Here's a little closing essay i wrote just a couple of days ago on the politics of politics.



about the politics of grumpity crapity old men

was exchanging
some political contentions
this morning
with a very conservative
young woman
who prefaced her remarks
by saying she was part
of the Reagan youth movement
of the 1980s, a matter of evident
pride with her though i find it strange
that people might show such
pride in not learning anything since
they were children - as for myself,
when i was the age she was in the
1980s i loudly and passionately
proclaimed the truth of some really
stupid ideas, but not just stupid ideas,
a few pretty good ones as well, and
at least my ideas, good and bad, were
the ideas of my generation, not the
preoccupations of a bunch of
grumpity crapity old men who claimed
to solve the world's problems over coffee
every morning without ever demonstrating
any personal knowledge
of the difference between shit and shinola
and now that i, myself, am among the
legion of grumpity, crapity old men
saving the world over coffee in the
morning i at least have, despite
a few remaining shit and shinola issues,
the comfort of knowing i have lived now
for 66 years in the wild and wicked
gales that are the real world, the gales
that over the years blew away most
of my stupid ideas and reinforced
my confidence in the good ones
and i'm sorry my dear but the idea
that i might be as clueless now
as i was 40 years ago is not an
outcome i would wish
or boast about









So much for the Halloween. No big plans, may go to a costume party, dress up like a Republican, scare the crap out of everyone. But whatever happens on that dark night, we will be back next week.

In the meantime - usual disclaimer: all the material in the blog remains the property of its creators, the exception being anything created exclusively by me which you can do with whatever you want as long as you spell my name right...allen itz.

As producer and owner of this blog I so decree it.