Introducing Christina Hymes
Thursday, July 09, 2009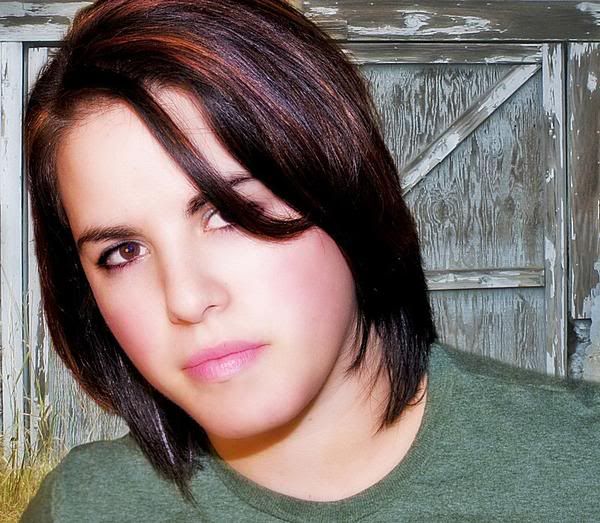 IV.7.2.




I am featuring Florida artist Christina Hymes this week.

Chris says she first started her creative endeavors by writing in 2005. Then, in 2006, she started working in photography. Recently, she expanded her interests again to include painting. With her painting she is attempting, she says, to find a way to express what she cannot in words or photos.

Her poetry appeared in "Here and Now" some time ago. This is the first time we get to see what she's doing as a painter.

Here's who we have this week in addition to Christina.



Mark Nowak
moje swiadectwo
Strazak

Me
Solzhenisyn didn't know how good he had it

David Ray
At the Washing of My Son

Rumi
Someone Digging in the Ground

Charles Levenstein
Bees
Window of Desire

Arthur Munoz
From a Cop's Journal
Guadalupe Street
"Hey, Kid"
Let's Walk

Me
thinking about religion
in the dark

G.E. Patterson
I Used To Go to Church
Poem Without a Title
And

Dan Cuddy
Random Morning Images

Pablo Neruda
From Air to Air

Me
disquieting medical news

Lester Paldy
Wildflowers at Babi Yar
Swallows

Gary Blankenship
Pilot

Laurie Lico Albanese
Blue Suburbia, Aerial View
Moon over New York

Me
hope

Alice Walker
Gift
Thief
Rage

James Hutchings
Killing Sorrow

Me
elephant walk

Edgar Lee Masters
Ann Rutledge
Peleg Poague
Rev. Abner Peet

Me
fugitive from the poetry police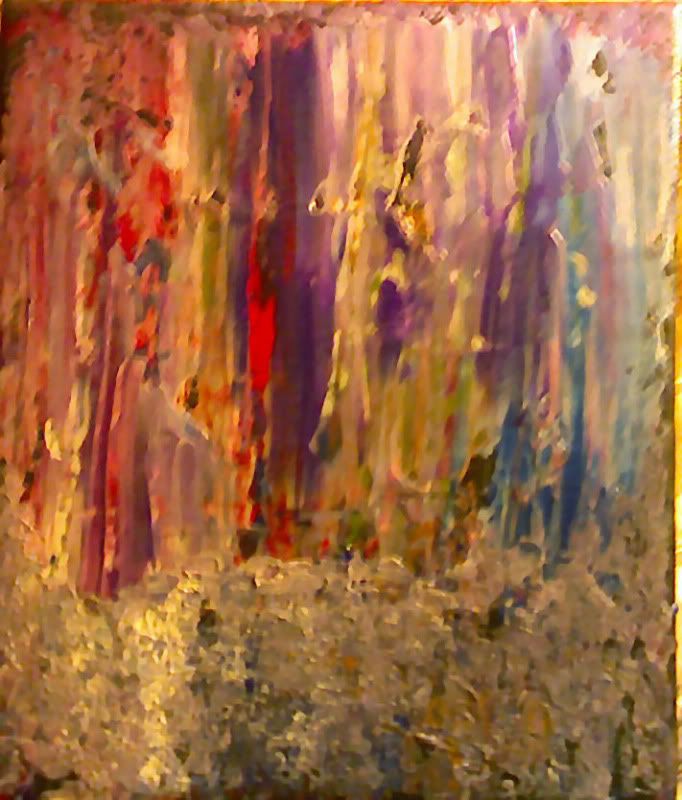 "Waterfall"
Painting by Christina Hymes





My first two poems this week are by Mark Nowak from his book Revenants published by Coffee House Press of Minneapolis in 2000. This was Nowak's first book length collection of poems, exploring in this case the Polish American neighborhoods in and around Buffalo, New York. He is an associate professor at the College of St. Catherine in Minneapolis.

I like just about everything I read in the book, but because of the way it's put together in a nearly continuous flow, with additional material inserted from several different sources, this look like the only two poems I can use here. I really hope I can figure out a way to use more material from this book in future posts.

I almost forgot to add, the titles of the poems are in Polish. The first title translates to "my testimony" and the second to "scarecrow."



moje swiadectwo

Northern fields, a half-
dozen pears, one yellow jacket
caught between
the storm window and the storm.

The sunlight is over

and over again




Strazak

cast into
the firepit.

"He'll get
religion

from this."
Women

look for
cups of

rain. Men
order flame

-proof
clothes.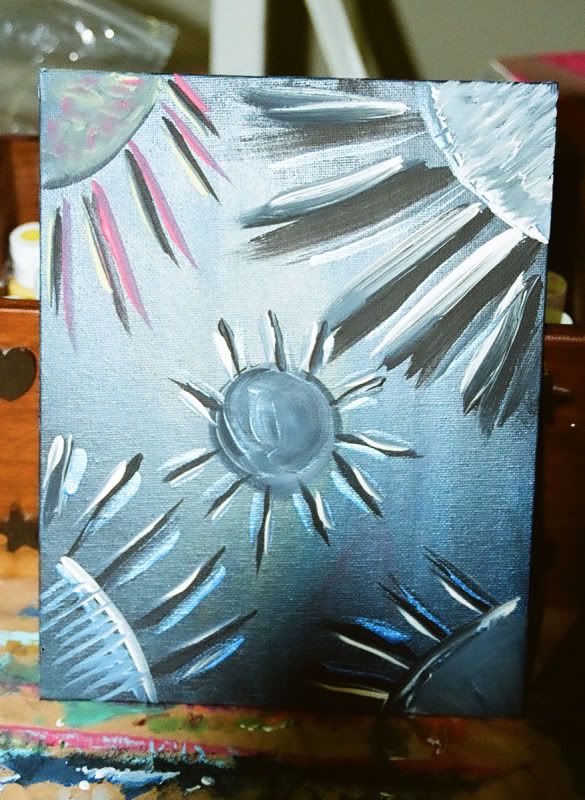 untitled
Painting by Christina Hymes





The weather has been awful here, triple digit temperatures five or six days a week, with an average for the week of 102 degrees. No rain, no relief.



Solzhenitsyn didn't know how good he had it

103 degrees
day
after
day
and who
knows
how hot
in the sun
and i don't know
why
i'm here
when i
should
be home
soaking up
some cool in
my easy chair
sleeping
dreaming
of iceberg
lettuce
broad green
leaves
slightly damp
from icebox
dew
laid cold across
my face
dreaming
iceberg
poems
in my easy
chair
that's where
i was and that's
where D is
and why
the hell i left
to come here
to try
and write
a real poem
is beyond my
understanding
when i ought
to know by now
that i can't write
crap
when it's 103
degrees
day
after
day
it
just sweats
it
right out
of me
you
know
creativity
i'm talking
about
wilts right
down
to a soggy
sobbing
nub
of i don't
know nothing
never knew
nothing
don't wanna
know
nothing
leave
me along
when it's
103 degrees
day
after
day
Solzhenitsyn
didn't know
how good
he had it
out there
on that frozen
cold
cold
cold
gulag
where it
may have been
a bit nippy
but was
never
never
never
103 freaking
degrees
day
after
freaking
day






"Depression23"
Painting by Christina Hymes





My next several poems are from The Rag and Bone Shop of the Heart, a poetry anthology put together by Robert Bly, James Hillman, and Michael Meade. The book was published in hardcover in 1992 by HarperCollins.



The first poem is by David Ray. Although he's published 21 collections of poetry, I couldn't find a bio for him. I did find this endorsement from Studs Terkel: "David Ray's poetry has always been radiant even though personal tragedy has suffused it."

As a father, this poem speaks to me.


At the Washing of My Son

I ran up and grabbed your arm, the way a man
On a battlefield would recognize a long-lost comrade.
You were still wrinkled, and had a hidden face,
Like a hedgehog or a mouse, and you crouched in
The black elbows of a Negro nurse. You were
Covered with your mother's blood, and I saw
That navel where you and I were joined to her.
I stood by the glass and watched you squeal.
Just twice in a man's life there's this
Scrubbing off of blood. And this holy
Rite that Mother Superior in her white starched hat
Was going to deny me. But I stood my ground.
And then went in where for the first time you felt
Your mother's face, and her open blouse.


Here, also from the anthology, is a poem by Rumi, translated by Coleman Barks.


Someone Digging in the Ground

An eye is meant to see things.
The soul is here for its own joy.
a head has one use: For loving a true love.
Legs: To run after.

Love is for vanishing into the sky. the mind,
for learning what men have done and tried to do.
Mysteries are not to be solved. The eye goes blind
when it only wants to see why.

A lover is always accused of something.
But when he finds his love, whatever was lost
in the looking comes back completely changed.
On the way to Mecca, many dangers: Thieves,
the blowing sand, only camel's milk to drink.
Still each pilgrim kisses the black stone there
with pure longing, feeling in the surface
the taste of the lips he wants.

This talk is like stamping new coins. They pile up,
while the real work is done outside
by someone digging in the ground.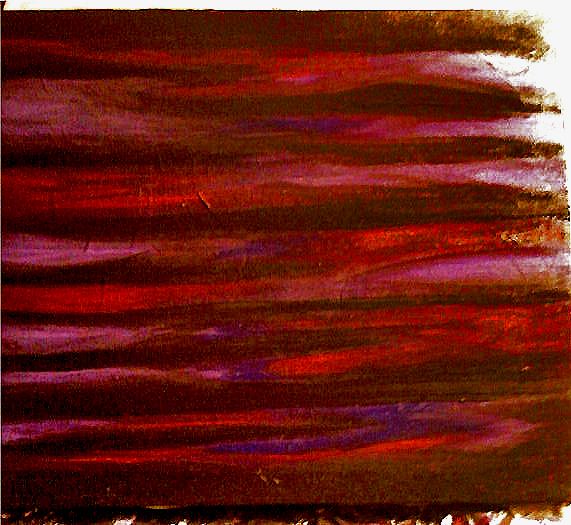 untitled
Painting by Christina Hymes





Next, I have two poems from a friend new to "Here and Now," Charles Levenstein.

Chuck is professor emeritus of work environment at University of Massachusetts Lowell. He has published poems widely in e-zines and has two books available now' Poems of World War III and Animal Vegetable.

Both of these poems are from the Fall 2007 issue of Loch Raven Review, an excellent web-zine, which, before I quit spending most of my time on my own little blog here, also published a couple of my poems.



Bees

(Thanks to Elizabeth Kolbert)

Maintaining this hive,
an enterprise started as a divine joke
or, at most, an explosion of interest
in the otherwise dreary void,

requires more of my time
and less of hers, she seems to have lost
interest, preferring hard bodies
or growing minds to an old honey -

Possibly standards have risen,
in the beginning, "dirty" was without substance,
but with germ theory and profit centers,
leaving well enough alone won't do.

Perhaps we/I have been dropped off
in a distant suburb, too much bother,
loving care of an untrainable, slothful
swarm, best returned to the no-kill pound

which is where I find myself
considering honey in a superannuated apiary.


Window of Desire

If you sit in the same place each morning,
The blind cat snoozing on a leather hassock,
The wild one prowling for Cinderella moths,

Seasons walk by, slowly enough
To document colors and preeminent wildlife,
The urban skunk ever present,

Squirrels from fat to lean and back again,
Sparrows and starlings, songbirds and cranks,
Until winter, a time for theory, not practice.

We migrate then with more ambitious fowl,
Find a beach where mango daiquiris are served
And a pile of novels consumed without interruption;

Or we remain at this window of speculation,
Watch endless snow cover our mistakes,
Contemplate the dimming landscape of desire.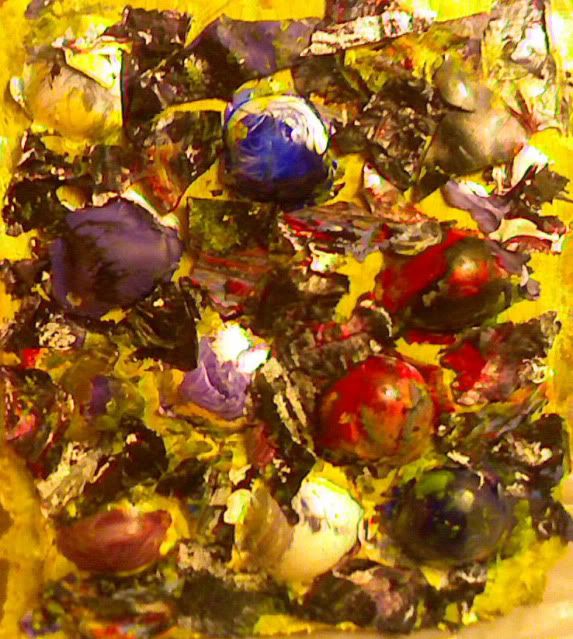 "Bubble Painting"
Painting by Christian Hymes





Next, I have probably the most unlikely seeming poet you'll read this week.

Arthur Munoz was born in Los Angeles in 1924. After two stints in the Marine Corps (during World War II and in Korea), Munoz moved to Corpus Christi, Texas, completed high school, attended Texas A&I University and, briefly, St. Mary's Law School and began what would be a 23 year career as a patrol officer, investigator, and homicide detective with the San Antonio Police Department. He later worked as an investigator with the Texas Department of Human Services and finally as a Poet in the Schools with the San Antonio Independent School District. He wrote through it all, publishing his first book, In Loneliness in 1975. The next poems are from his book, From a Cop's Journal & Other Poems, published by Corona Publishing of San Antonio in 1984.

I haven't been able to get any current information on Munoz so I don't know if he's still active or even still alive. I do like his work though.

I have three poems from the book, beginning with the title poem.



From a Cop's Journal

Mass was read tonight.
He was 22
killed with a .38
in the hands of one
also 22.

Now one is being mourned, while
the other cries in jail.

They had been pals -
served in the Marines together.
Later, one took the oath
to uphold the law;
the other
the street's cred.

When their paths would cross
they talked of old times,
shared a beer,
helped each other
if there was need.

Last night the two met
inside a store
closed hours before...

They used to play catch
together!


Guadalupe Street

It has no super stores
with aisles of food,
no drive-in cleaners,
stations with rest rooms
or fast-food chains.
But if you want to dance
in the afternoon,
drink a beer,
score -
it's all there.

You want to eat?
There's Mexican bakeries
two blocks apart
and taco joints side by side
where you get more
for your money
than any place in town.

If your Chevy is down
with a flat
and you're short on change
a dollar will get it fixed,
or a recap sold
and guaranteed!

More artisans are at work
in one block on this street
than you'll find
in your largest mall:
grillwork moorish style
pottery
custom cabinet makers
stone cutters
still chiseling by hand
candy makers
and artists designing paper flowers.

This the street where
the football hero
and the addict meet
shake hands and smile
while the cheer leader and the whore
share a smoke.
And why not? They're brothers and sisters,
not one good and one bad,
meeting for news from home
or some friend in jail.

Guadalupe Street is the heart
of San Antone,
the barrio's main line
where the mamas and the papas
swear by their kids
and the church bells ring
announcing births and marriages,
turning everyone into family.


"Hey, Kid"

It was always,
"Hey, Kid,
I need a shine."

In his pocket he carried
his extras:
rags, cans of polish,
and a brush.
In the homemade box
one of each
plus water for that spit shine

He worked the street
like a pimp works his girls,
relentlessly.
From the cop shop to the bank
to the basement bettors,
he walked it all -
the business man
in tennis shoes and jeans,
barefoot in summer.

He played the street
to his tune
smart,
smiling,
a real con,
banking all on his knowledge
of shoes: blacks, two-tones, whites,
and browns
in their seasons.

The ten-year-old rascal
had money
and he loaned it for a fee
to waitresses, winos,
gays, or whores.
To him they were all the same:
just pay me!

Sunday morning he was dead
behind the M.P. depot.
No one knew where he came from
and no one knew where he went.



I said i was going to do three poems from the book, but I ran across this one and liked it too much, so let's call it four.


Let's Walk

I want to see your reflection
in the river
as you stand by its edge,
looking soft
like a Spring cloud,
strong as Winter's reed,
and still,
tuned to be touched -
then let our sigh
and the magic of childhood
undress us.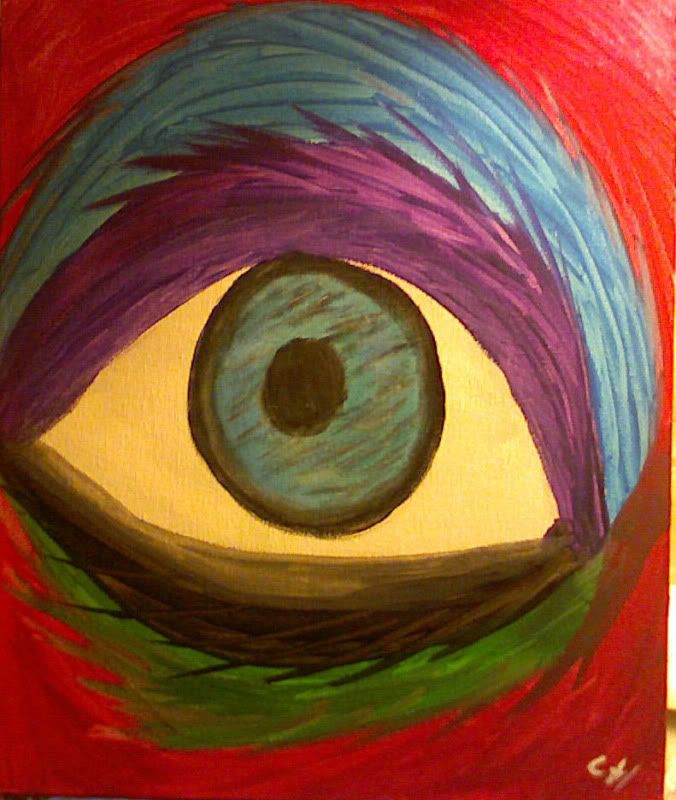 "Eye Abstract"
Painting by Christina Hymes





As the result of a little appetite suppressant pill, Ol' Doc gave me (sleep suppressant, more like it, speed is what it is) i spent a sleepless night some days ago, brain racing and nowhere to go. The product of the night was four poems, two which made no sense at all and these next two, connected, in a way, to each other and the subjects of God and life, and all that kind of stuff that leaks out when your brain won't stand down.



thinking about religion

thinking
about religion this evening
for some reason

it is a mystery to me,
the whole business of the thing,
of praying and looking for omens,
of denigration of self
if favor of a higher power
who follows you around all day
checking on you
seeing if you're being naughty or nice

the biggest mystery to me though
is not the belief
but the people who believe

as an intelligent atheist
it's hard for me to understand
how an intelligent being can be
anything but an atheist

and i'm talking about really smart people
people smarter than me,
not just word-smart people,
but really smart people, astrophysicists
who study the cosmos every day, people
who every day deal with the rigid requirements
of reason and science, people who
in the everyday corporal world require
evidence as a precursor to knowledge
but then toss it all away, toss away
all evidentiary requirements for truth
and accept the realm of magic - willing
to believe things that in their regular lives
they would never accept, divine hands
that can overrule all rules, a divine mind
that creates from nothing, a divine being
who was there to create when there was no there,
when there was nothing at all

i am left to believe that there are people,
no matter how smart, who cannot accept,
will never accept, the outcome
of nothingness, of no greater meaning
to anything other than those paltry meanings
that can be seen, of no long term plan,
an accidental existence the truths
of their minds predict and require

as for me, i am
incapable of the denial of self
that blind and untested faith requires,
making me, i suspect the loser in this,
living with this inability to set aside
reason for the comforts of belief


in the dark

i believe in a physical universe
because i can see it
but my seeing it is only
a matter of perspective

from a different perspective,
through the lens of an electron
microscope, perhaps, i see
that the hand i thought i saw
in front of me is really
mostly empty space

and what of other perspectives
unavailable to me, what
might i see from there

this could be an area
for metaphysics,
an explanation for,
if not the existence of God,
at least the existence of
the possibility of God
among many possibilities
we have not yet imagined,
suggesting a hallway of many
unopened
doors

or it could just be a dark room
where we still fumble to find
the light switch

a student of zen might say
we fumble
in the dark because
we look for light
in the wrong places, true
illumination,
the student might say,
can only come from within

taking us back
to a physical universe
of mostly empty spaces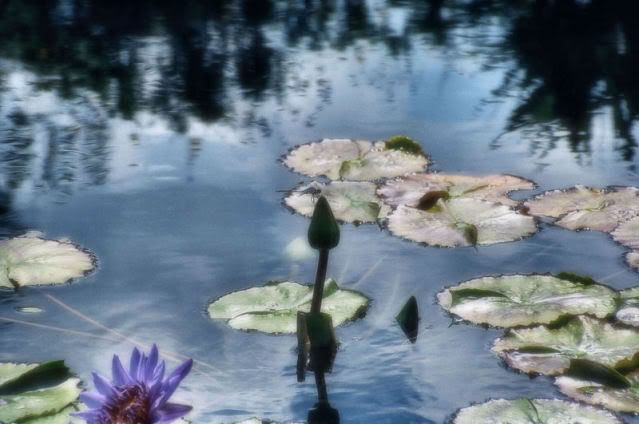 "Dragonfly"
Painting by Christina Hymes





The next poems are by G.E. Patterson from his book Tug, published by Graywolf Press in 1999.

Patterson, poet, critic, and translator, grew up along the Mississippi River and was educated in the mid-South, the Midwest, the Northeast, and the western United States.

Tug, his first book won the Minnesota Book Award. His most recent collection of poems is To and From was published by Ahsahta Press last year.

His work has also appeared frequently in magazines and anthologies. His awards include fellowships from the Bread Loaf Writers Conference, Cave Canem, the Djerassi Foundation, the MacDowell Colony, and the Minnesota State Arts Board.

After living in the Northeast and on the West Coast, he now makes his home in Minnesota, where he teaches.



I Used To Go To Church

When my doctors thought
I was dying
I saw my father
slumped over
in a painted chair
in 6 A.M. sunlight
wearing faded paisley
boxer shorts

Before I was sure
if I should call
out to him
he got up
& moved through the room
looking at everything
picking up photographs
of my friends
cupping the mug
I'd used for tea

His hands ran
along the edge
of the dining table
as if the objects
he touched
could tell him
the few things
he wanted to know
about my life

My old man
opened a window
& the wind rushed in
bringing birds
Pigeons perched
on his outstretched arms
& on his head

Each one cooed
a single note
but the sounds mingled
together
like a chorale
of bell ringers
& my father
he did nothing

to stop it


Poem Without a Title

A shadow rises

From the pile of leaves I made

And it follows me


And

One Friday, when I was in love with Dan,
we went out to see friends of his perform.
We had dinner first at a little place
on Haight Street, Cha-Cha-Cha. We drank sangria.
I drank sangria that whole spring and summer
with everyone I had a small crush on.
I was desperate to be festive and loved.
After eating we drove around 'til dusk,
then headed for the projects below Grove
where he anarchistic play would be staged.
In a city of high-rent Victorians,
some of the prettiest were here, Dan said,
but most were torn down in urban renewal.
tenants were paid to move across the Bay.
Soon, of course, they saw the house prices rocket.

I began to think about his mind more
than his eyes, or his ass, or even his dick
- the dick i'd dreamt about the night before.
So when he drove me home, we just kissed.
We didn't call it a date, but it was.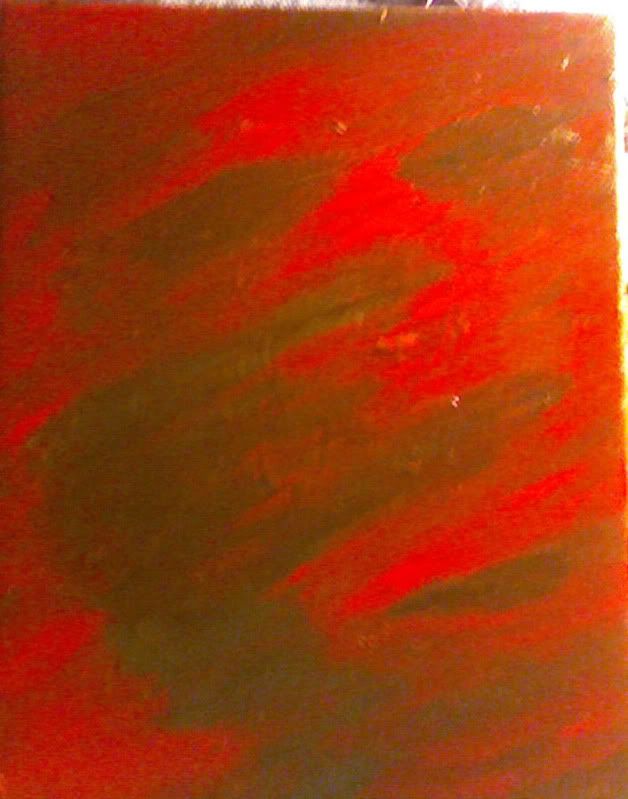 "Motion"
Painting by Christina Hymes





Here's a poem from our friend, Dan Cuddy, one of our regulars here.



Random Morning Images

dawn is a cold washcloth
the breath of chimneys

feathered warriors attack
scraps of bread

machines grumble
half-asleep drivers

last night's lights beacon still
but fade like the moon enlightened

how un-uniform the color of sidewalks
undeciphered history adheres like cement

neighbors that never greet in the winter
thaw out of their houses

depressing mist
evaporates with the sizzle of eggs, bacon

soon morning will be an office of gray faces
in chairs, looking at screens, conversing in sign on language

soon egotists demand loyalty
darkness becomes metaphorical, seeps into brains

outside trash trucks grind
yesterday compacted

few newspapers to spread
still fewer trees grow
circumstances are bound to a power-grid
yesterday's sci-fi arrives at breakfast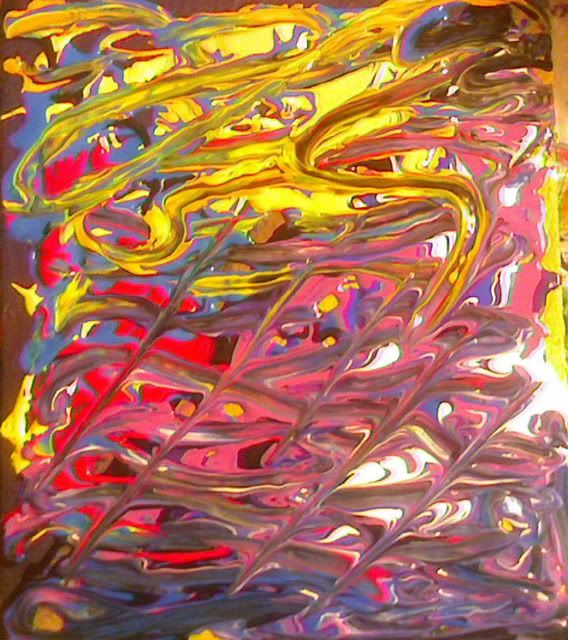 "Horizon"
Painting by Christina Hymes





This is piece is by Pablo Neruda from his book The Heights of Macchu Picchu, first published by Noonday Press in 1966. The book's translation from Spanish to English (it's a dual language books, the text in both languages on facing pages) are by Nathaniel Tarn.

The piece is from Section I of the book. Actually, it is Section 1 of the book.



From Air to Air, like an empty net,
dredging through streets and ambient atmosphere, I came
lavish, at autumn's coronation, with the leaves'
proffer of currency and - between spring and wheat ears -
that which a boundless love, caught in gauntlet fall,
grants us like a one-fingered moon.

Days of live radiance in discordant
bodies: steels converted
to the silence of acid:
nights disentangled to the ultimate flour,
assaulted stamens of the nuptial land.)
Someone waiting for me along the violins
met with a world like a buried tower
sinking its spiral below the layered leaves
color of raucous sulfur:
and lower yet, in a vein of gold,
like a sword in a scabbard of meteors,
I plunged a turbulent and tender hand
to the most secret organs of the earth

Leaning my forehead through unfathomed waves
I sank, a single drop, within a sleep of sulfur
where, like a blind man, I retraced the jasmine
of our exhausted spring.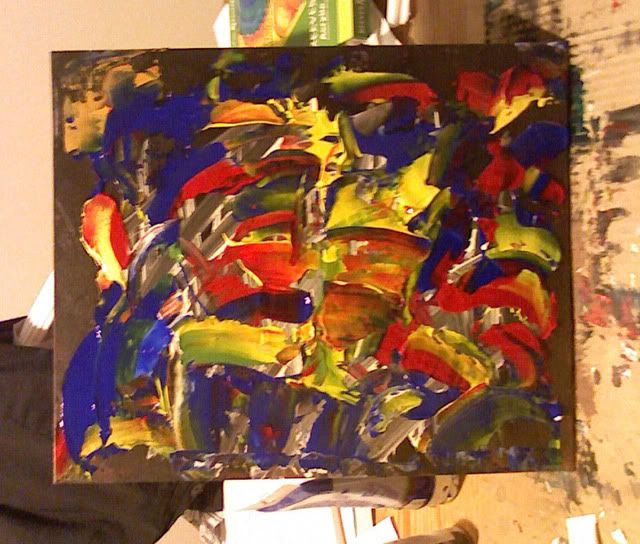 "The Rush"
Painting by Christina Hymes





I had my regular quarterly visit with my doctor a couple of weeks ago.

Had a real scare.



disquieting medical news

visited Ol' Doc
last week,
my regular
every three months
check-in to see
if all the parts
are in place and
working

Ol' Doc
poked and prodded
as he is prone to do
and declared me good
for another fifty years

disquieting
news it was

i had
given myself ten
years on the outside,
planning to spend
all ten daily writing
my poem
of the day with
my comrades on
Blueline's House of 30

but fifty years,
gawd man,
do you know
what that means?

i may have to go
back to work!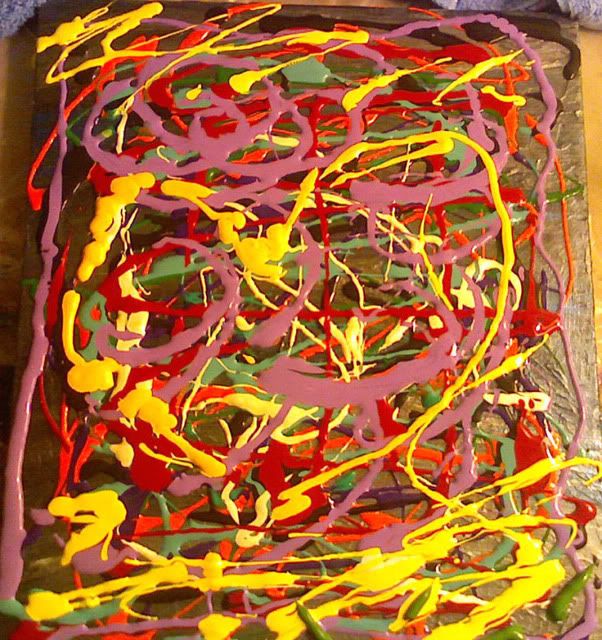 "Heart"
Painting by Christina Hymes





My next poems are by Lester Paldy from his book Wildflowers at Babi Yar, published by Night Heron Press in 1994.

Paldy is Distinguished Service Professor at he State University of New York at Stony Brook where he has taught since 1967, with occasional leaves to serve on US arms control delegations in Geneva and at the UN.

He published his first book of poetry, for an okay free woman, in 1992.



Wildflowers at Babi Yar

June is parched this year in Kiev
with dust lying on the city like a pall,
but the unmowed grass
at Babi Yar is green and fresh
where its roots touch deeper springs.
A little girl in a red dress
slips from her mother's side
and picks violets which pierce
the meadow floor
like stars mirrored in a calm sea.
She places them on the stone
where her mother gestures
pausing for only a moment
before turning away
with a toss of braids
to skip along the path
that leads back to the crowded street.
Even a trolley's sharp metallic clamor
pales against the great stillness
at Babi Yar
where wildflowers speak.


Swallows

Rush hour is over
but gray fumes still shroud
the grimy church
at Piazza San Eustracio.
Cars double-park
across the curbside
but no one seems to mind.
Swallows wheel in the twilight
calling in very high pitched chirps
as if they have more on their minds
than finding moths
in Rome's summer heat.
There is nothing left for me to do
but imagine what it would be like
if you were here
having a biscotti
or at least a iced of mine
along with your coffee
at Piazza San Eustachio
with the swallows
calling overhead.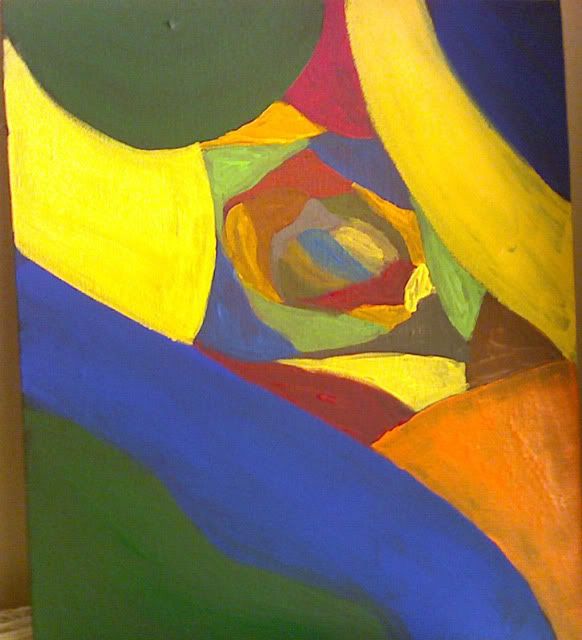 "Abstract"
Painting by Christina Hymes





Gary Blankenship is a retiree from Bremerton, Washington, whose avocation is poetry. He edits, moderates forums, and writes, but still says he is lazier by the day and does not publish enough.

I would agree with that, not the lazy part, but the not publishing enough part. Gary is a long time friend of "Here and Now," appearing here frequently with poems from his book and poems from the various series he has worked on.

The next poem is from a series he completed a year or so ago, a series of poems bringing to new life characters/occupations mentioned in Section 15 of Walt Whitman's Song of Myself, the first truly American poem by the first truly American poet.



Pilot

The pilot seizes the kingpin, he heaves down with a strong arm

I grab another
and another
truncheons juggled
as my tug pushes a barge up the river
past deadheads
sunken boats
rotten wharves

and an old black man
asleep on the river bank
as the world's largest catfish
nibbles his hook clean

I juggle
a wife in Orleans
mistress in KC
another at Natchez

dodging cannonballs
from a lost rebel regiment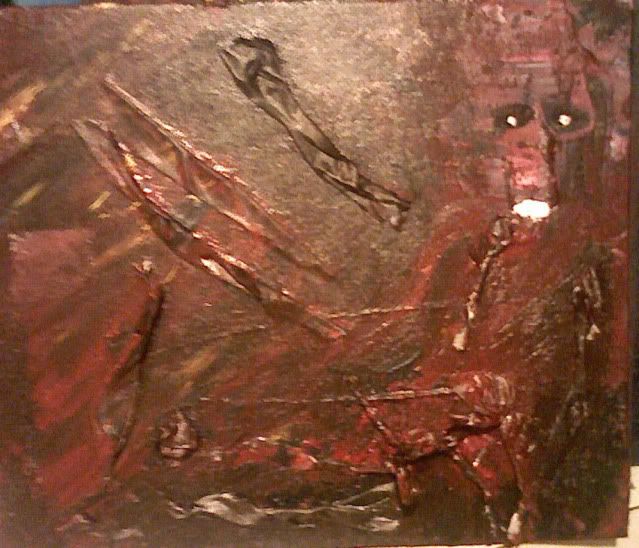 "Depression"
Painting by Christina Hymes





The next poem are by Laurie Lico Albanese from her book Blue Suburbia, Almost a Memoir, published by HarperCollins in 2004.

Albanese teaches creative writing in the Montclair, New Jersey, school system and was awarded a 1997-1998 New Jersey State Council on the Arts Fellowship in fiction. She has one novel out and her poetry has appeared in a number of journals.

It's hard to describe this book, except it has a narrative that flows through the collection from first poem to last. To give you an idea of that narrative, here are those first and last poems.



Blue Suburbia, Aerial View

Follow the highway
from Kennedy Airport
out to Grumman's old factory

see the used car lots,
strip malls, body shops,
rusted swing sets,
red rooftops, yellow
school buses

come closer,
peer in through our kitchen window
on Christmas Eve

Watch Dad
putting together a tricycle,
Mom frying sausage
for turkey stuffing

listen to my sister snoring
baby whimpering
Dad cursing
neighbors shouting
with whiskey in their blood
see me putting out
a plate of snacks
for Santa

waking up
to find stacks of presents
under the tree

hear me asking
how the fat man
and his reindeer
fit through our window

see my mother
puffy-eyed
dragging on her cigarette

saying never you mind
you are too damn smart
for your own good.


Moon over New York

My father looks at the moon
and wonders if I am looking at it, too.

Can you imagine
the man who threw me down
the basement stairs
sent me barefoot into the snow
beat red stripes into m legs
and locked me out of the house
loves me so much now

that he pumps oxygen
into his fragile lungs
opens his front door
looks up at the night sky

and a hundred miles away
in my own backyard
I think of him
while I watch the moon
wane and fae
disappear

and come back again
ad again and
again.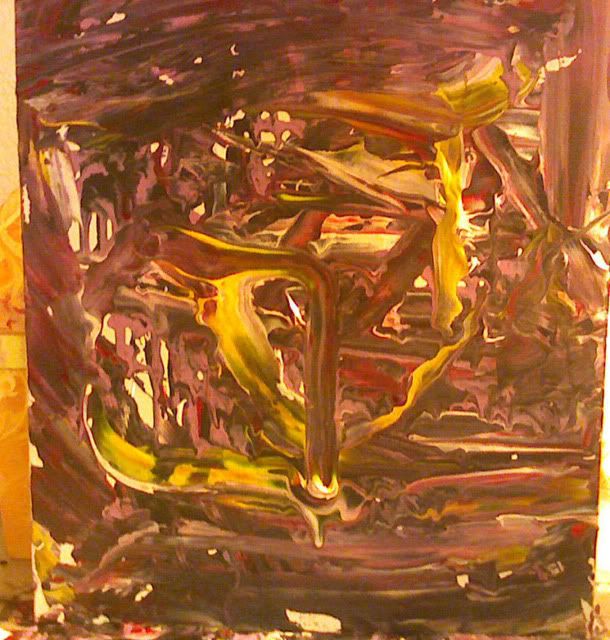 untitled
Painting by Christina Hymes






I was having breakfast last week at The Egg and I, sitting behind a couple of kids that set me to thinking.



Hope

they're sitting
in the booth in front of me
at the restaurant
having breakfast, sharing
an omelet, it looks like

a young man and woman,
could be sixteen,
maybe a little older, i
can't tell anymore,
though i lean more toward
sixteen

all i can see of the boy
is the back of his head, buzz-cut
hair, like my Aunt Josie
used to give me in the summer
when i was a kid,
and ears,
what ears this kid has,
sticking out the side of his head
like wings, if he could flap those ears
i think he might just fly

and the girl -
a beauty, dark hair drawn back,
a thin face, with sharp features,
combining the Aztec/Oriental look you see
sometimes in the ethnic and DNA soup
of the Hispanic Americas

in a large city
you can tell where kids are from
by how they look and how they dress
and knowing where they're from
can tell you where they've been
and where they're likely to go in their life

these are west side kids, barrio kids
up late from yesterday or up early for today,
i could make up a story
for them, but it's hard to know
how it should end
since nothing is sure for them
except that the way will be hard

whatever the story,
i must be sure to include
a large measure
of hope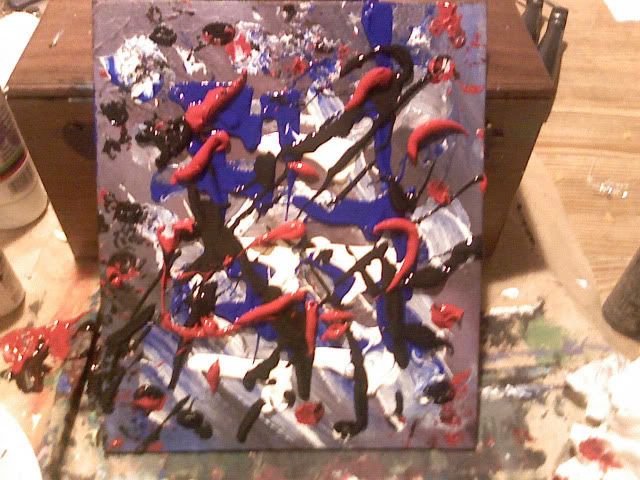 "Dance of Life"
Painting by Christina Hymes





Best known for her novels, The Color Purple among others, Alice Walker is also a fine poet. The next poems are from her second book of poems, Revolutionary Petunias, published by Harcourt Brace.



Gift

You intend no doubt
to give me nothing,
and are not aware
the gift has already been
received.
Curse me then,
and take away
the spell.
For I am rich;
no cheap and ragged
beggar
but a queen,
to rouse the king
I need in you.


Thief

I wish to own only the warmth
of your skin
the sound your thoughts make
reverberating off the coldness
of my loss
to love you purely
as I love trees and
the quiet sheens and
colors
of my house
my heart is full
of charity
of fair play
although on other
occasions
it has been acknowledged
I am a thief.


Rage

In me there is a rage to defy
the order of the stars
despite their pretty patterns.
To see if Gods who hold forth now
on human thrones
can will away my lust
to dare
and press to order the anarchy
I would serve.

The silence between your words
rams into me
like a sword.






"Birth"
Painting by Christina Hymes





Here's another of our Friends, James Hutchings, 58 years old, a a truck driver and a poet. James says he started writing poetry when he was in school, where he played in garage bands and wrote the songs. A sort of natural progression to poetry followed.



Killing Sorrow

The flower withers and falls from the stem
taken back to the earth to start anew
a grandfather passes, and a grandson begins
a heavy heart healed by fresh smile

it seems as if I have mourned a lifetime
from one goodbye to another, endlessly
the weight of loss too much to take
I beg for release and understanding

as the dreamer, the fantasy monger
I can conjure up a scene from the past
but, it is temporary, and fades
leaving me with a taste of sadness

photographs sometimes bring a moment
a peaceful respite from mundane existence
but, gone all to soon, as with life
bringing me back to truth and realness

I know I have to push this plowshare alone
tilling the soil of forever, my tiny minute
trying to gain the upper hand on death
pretending to stay a step ahead

but, it was so good when they were here
those shapers of my soul and heart
brothers and friends, blood of my vein
father and icon, giver of my spirit

the trail, once long, is now too short
strength wanes, eyesight fails
wrinkles from laughter and tears
legs struggle to hold my burden

I give in to the thoughts I chased away
unimaginable before, too easy to accept
it is said that time heals all wounds
but, how much will be enough....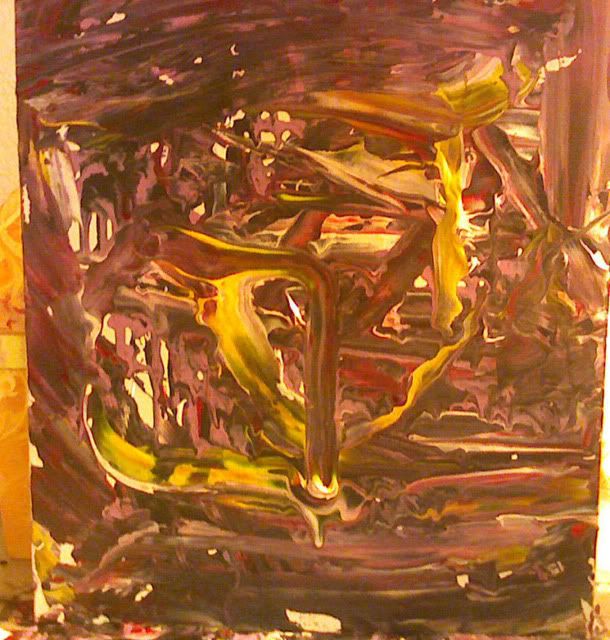 untitled
Painting by Christina Hymes





Like I said earlier, it's very hot here, triple digits in the afternoon common for weeks now, and very, very dry.



elephant walk

i sat on my front porch
last night,
cross-legged, back
against the wall,
watching the sun set
behind the hill
on Inspiration Drive

the mama cat
sat beside me, eating,
along with her two shy kitties,
the braver one
with a little black spot
looking like a most dapper goatee on his chin
and his scardy-cat sister,
the beauty queen, a line
of black fur
under each eye
like sharply drawn eyeliner

they watched every slight move
i made,
ready to jump and flee
at the slightest sign of threat, like
if i adjust my legs
or scratch,
my ear,
little hind ends high in the air
as they leap

waiting for the rain,
the four of us,
along with the farmer
in Uvalde
watching his summer grain wither,
and the rancher in Medina,
cutting la tunas
from the hillside, burning off
las espinas, so the green paddles
can replace burnt pastures,
feed for the big-boned cattle
of the brush, tough animals
accustomed to adversity,
even they in distress
during these hot dry days

and the river guide,
with his inner tubes for rent
at a time when walking
the Guadalupe makes more sense
than trying to float
its shallow,
rocky
flow

and the restauranteur
dependent on the summer influx
of river floaters
and the hotel keeper
and a whole city rationing its water-use,
little things like fewer and larger
washer loads and
relearning the sweet relief
of a glass of cold aquifer water

all of us, farmers, ranchers,
suburban gardeners
watching for the rain, 30 percent
chance they tell us, the best chance
for rain in weeks, and we hope
as the temperature slips from 104
to 84 and the wind picks up
with an electric smell of rain
and the red and yellow swirl
on the radar edges closer

and then is gone,
just like that,
and, as usual, those
who bet on the 70 percent odds
win again while the rest of us
go back inside, settle down
to wait for tomorrow
when there's a 20 percent
chance of rain, another
long-shot bet, the best
we have to pin our hopes on
in these dry, dry days..........

meanwhile
the circus is in town
and elephants
are marching head to tail
down Houston Street
in a long line of gray inevitability,
like storm clouds that come and go
and some day come again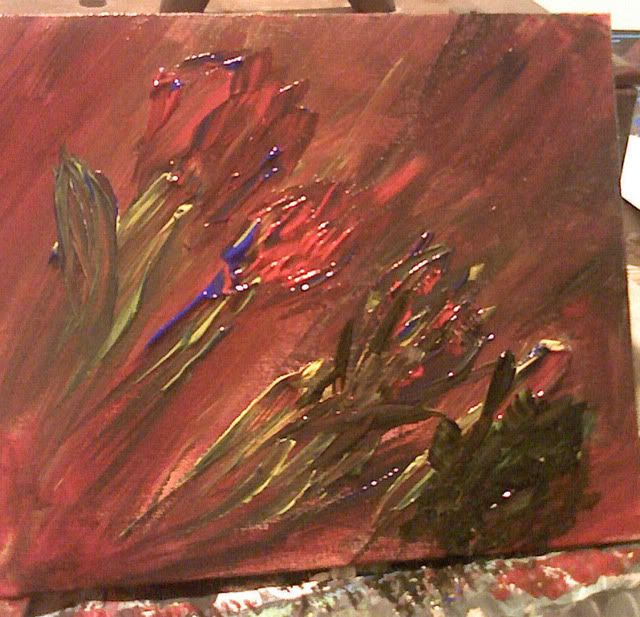 untitled
Painting by Christina Hymes





Reading Edgar Lee Masters and his book Spoon River Anthology and I think at first what a gamble it must have been, what poetic courage, to put out a whole book of poems about common, everyday people.

Then I remember Chaucer and think, maybe not.

Here are three poems about those common, everyday people from the book.



Anne Rutledge

Out of me unworthy and unknown
The vibrations of deathless music;
"With malice toward none, with charity for all."
Out of me the forgiveness of millions toward millions,
And the beneficent face of a nation
Shining with justice and truth.
I am Anne Rutledge who sleep beneath these weeds,
Beloved in life of Abraham Lincoln,
Wedded to him, not through union,
But through separation.
Bloom forever, O Republic,
From the dust of my bosom!


Peleg Poague

Horses and men are just alike.
There was my stallion, Billy Lee,
Black as a cat and trim as a deer,
With an eye of fire, keen to start
And he could hit the fastest speed
Of any racer around Spoon River.
But just as you'd think he couldn't lose,
With his lead of fifty yards or more,
He'd rear himself and throw the rider,
And fall back over, tangled up,
Completely gone to pieces.
You see he was a perfect fraud:
He couldn't win and he couldn't work,
He was too light to haul or plow with,
And no on wanted colts from him.
And when I tried to drive him - well,
He ran away and killed me.


Rev. Abner Peet

I had no objection at all
To selling my household effects at auction
On the village square.
It gave my beloved flock the chance
To get something which had belonged to me
For a memorial.
But that trunk which was struck off
To Burchard, the grog-keeper!
Did you know it contained the manuscripts
Of a lifetime of sermons?
And he burned them as waste paper.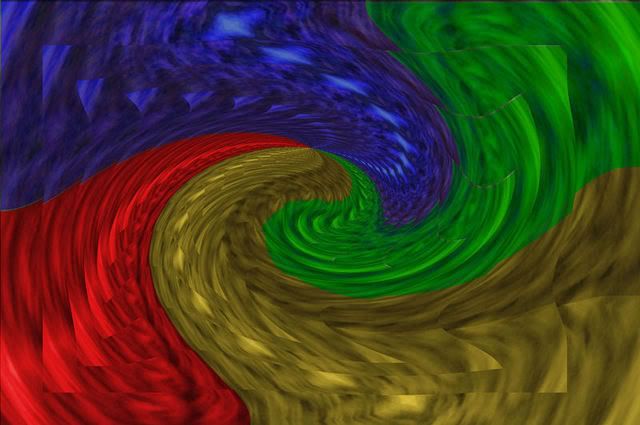 "Swirlies"
Painting by Christina Hymes





Being on the lam again, i close out the week with this next poem.



fugitive from the poetry police

being less than
satisfied
with my recent output
i decide
today is the day i'll unleash
that deathless poem
i've been holding in reserve

now
if i can just remember
where i left it....

meanwhile
i need to clear my head
of the book i was reading
before i went to bed last night

happens to me
all the time

i stay up late
reading a book
then go to bed and dream
a continuation
of the story i was reading
so that when i return to the book
in the morning
i can't remember what plot
and character development
i read
and what i dreamed

and it's always a disappointment
when i sort things out
and realize
what i dreamed
is better than what i read
and since i can't go back to bed
and pick up on the dream
i'm stuck
with the story i'm reading,
not nearly as clever
as the one i dreamed

and talk about discouraging
i was just beginning a new line
to continue this poem
and i did it without looking at
the keyboard,
distracted, as i was,
by a young woman and man
who just came in and immediately went
all snuggly huggly
together on one of the faux leather chairs
they have by the window
and if i was her father i'd be saying
"watch out" because this guy looks a little hinky,
to me and maybe she ought to put off the
snuggle huggly
until we know a little more about him
probably sells drugs
is what i'm
thinking
because he has the look
or maybe some kind of terrorist
he has that look too

scraggly-looking goddamn
terrorist, pervert, drug dealing
chump...

but as i was saying i was distracted
by all the questionable snuggly huggly
on the faux leather chair
and wasn't paying attention
as i typed the first two characters
of whatever the next line was supposed to be
and then i looked down
and saw that i had typed
BS,
capital letters, just like that,
and decided this was my subconscious
talking to me
telling me something my conscious
wasn't ready to accept
that being
basically that this is another BS poem
and i ought to quit
while the quittin's good

before the poem
police
catch up with me
again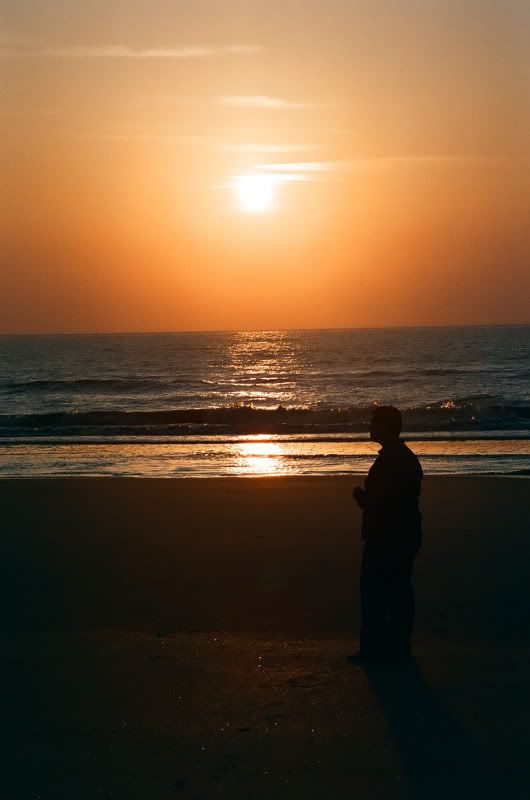 "Sunrise May 9"
Photo by Christina Hymes





If Christina stays with me on this, we'll be featuring her photos sometime in August. Since I miscounted and ran out of paintings for this issue, i serve you up the photo above, a preview of what's to come in August.

Before then, for next week, I'm working on poems by Tony Hoagland, Paul Durcan, Jane Hirshfield, along with a variety of poets from several anthologies.

Until next week, remember, all of the work presented in this blog remains the property of its creators. The blog itself was produced by and is the property of me...allen itz.