Introducing Lawrence Trujillo
Thursday, May 21, 2009

Tribute to Barnette Newmann
by Lawrence Trujillo
IV.5.4.





All the images in this issue are by friend , former coworker, and San Antonio artist, Lawrence Trujillo.

Lawrence was born in 1971, in Albuquerque, New Mexico. After studying art at New Mexico State University, he traveled extensively throughout the Western and Midwestern U.S. to promote his experimental visions. Using his numerous sketchbooks as source material, his paintings evolve arbitrarily, and tend toward the geometric. In addition to galleries, he has exhibited in a deli, a library, a liquor store, at home, and portably, using lightweight displays and easels. His work is in a growing number of collections, including those of The University of Texas at San Antonio and the New Mexico Department of Transportation, and various private supporters. In 2009, Lawrence has upcoming shows in New Orleans, Louisiana and Rio Rancho, New Mexico, as well as several ongoing exhibits in San Antonio.

A visit to his San Antonio studio is chronicled in the online literary magazine, invasivethoughts.com: From Event to Studio. More art can be found at Lawrence Trujillo's Artsite, now listed in YourArt.com, and also in myspace, at www.myspace.com/lawrence_trujillo.

In talking about his vision as an artist, Lawrence says "I combine colors, lines, and shapes at will to achieve vibrant, layered, and highly contrasting oil and acrylic paintings. Though the subject matter may sometimes vary, a common thread of all artworks is my outright refusal to use rulers or straightedges; I believe that the sanctity of the drawn line is paramount."

.....

I'm going a bit longer than usual with this issue, mainly because it got done in bits and pieces, right in the middle of a bunch of other stuff, and it just kind of grew while I wasn't watching.

So, in addition to Lawrence's art, here's the list of our poets for the week:



Chiyo-ni
Selections from the book Chiyo-ni, Woman Haiku Master

Me
as the cookie crumbles

Rose Becallo Raney
Fresh

Marilyn Kallet
Fireflies

Joan Shroyer-Keno
Knowing

Susan B. McDonough
Flower Bits

Federico Garcia Lorca
from Lament for Ignacio Sanchez Mejias

Me
apology

Arlita Jones
January
Meatwrapper's Lyric

Alice Folkart
Pure Trash
Chinatown Sunset
Last Night in Chinatown

Rose Romano
So I Lost My Temper

Laura Boss
At the Nuclear Rally

Alan Chong Lau
The Upside Down Basket

Me
stirring in the mist

Edwin Arlington Robinson
Mr. Flood's Party

William Shakespeare
When in Disgrace with Fortune and Men's Eyes

Percy Shelley
Ozymandias

Barbara Moore
Dares go first, diana rigg

Me
the NRA is ascared of me

Thomas R. Smith
Com in From the Rain

Me
on this Mother's Day
start with biography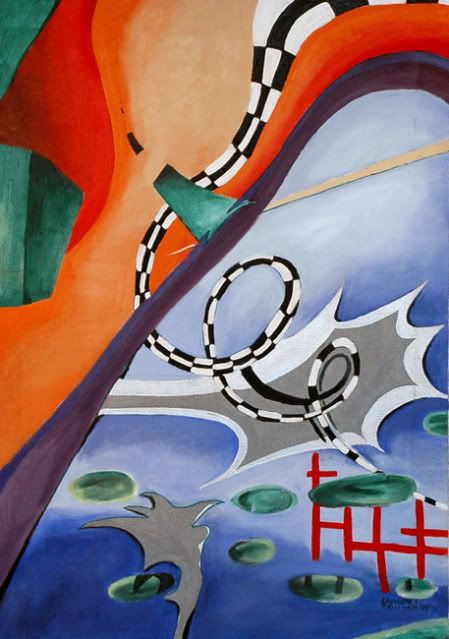 Painting by Lawrence Trujillo





I begin this week with a little gathering of haiku from the book Chiyo-ni, Woman Haiku Master, published by Tuttle Publishing in 1998.

This is the first book in English on a woman haiku poet. Chiyo-ni, the poet was born in 1703 and died in 1775. She is Japan's most celebrated female haiku poet. A student of two of Basho's disciples, she worked in an age when haiku was largely a male domain. She was a poet, painter, and Buddhist nun.

All the poems in the book were translated by Patricia Donegan andYoshie Ishibashi.

The book's poems are divided into seasons.





New Year

flying of cranes
as high as the clouds -
first sunrise


one mountain after another
unveiled -
the first mists


Under New Year's sky
holding Mount Fuji's
smile


New Year's sake -
until the next,
this first delight


first dream
even after awakening
the flower's heart the same


Spring


wrapped around
this world's flower -
hazy moon


green grass -
between, between the blades
the color of the water


to be in a world
eating white rice
amid plum fragrance


butterfly -
what's it dreaming
fanning its wings?


morning and evening
the dew swells
on the buds


Summer


the moon's coolness -
on that leaf, this leaf
not only light


keeping cool -
in the deep night
strangers on the bridge


the coolness -
of the bottom of her kimono
in the bamboo grove


change of kimono:
showing only her back
to the blossom's fragrance


moonflowers -
the beauty
of hidden things


autumn


at the crescent moon
the silence
enters the heart


twilight
is left
in the maple leaves


moon viewing -
after coming home
nothing to say


first wild geese -
the nights are becoming long,
becoming long


moonlit night -
a cricket sings
out on a stone


winter


snowy night -
only the well-bucket's
falling sound


sleeping alone
awakened
by the frosty night...


sewing things -
I fold in dreams
on a December night


the passing year -
irritating things
are only water


anyway
leave it to the wind -
dry pampas grass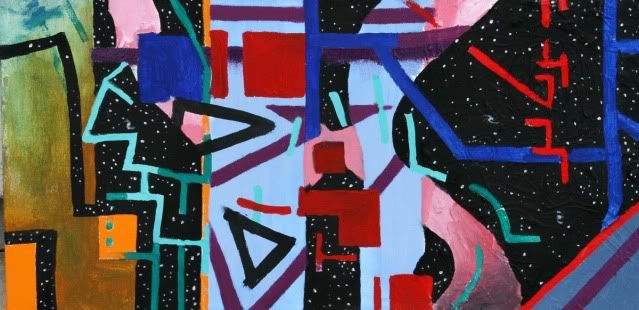 Painting by Lawrence Trujillo





You know how it is, sometimes you just have to kick loose all the traces chase down some excitement.



as the cookie crumbles

having a chocolate-chip
cookie
with my latte this morning,
leaving me
aquiver with the excitement
at such a foray
into the world
of wild and crazy guyhood

it's a sign,
these palpitations are,
of my normally serene
and laid-back heart, that

i'm on a tear for sure,
set to become again the
adventurer
of my youth when
a bottle of Lone Star
for breakfast,
followed by pancakes
three eggs, sausage
and a gallon of coffee,
was the start of many a day

(i knew it was breakfast
because the light hurt my eyes)

i'm ready

this getting old and creaky
crap
has run it's course

it's time to fight back
against the deprecations
of excessive birthdaying,
smoke inhalation
from all those candles
a major source of deterioration
of elders' respiratory functions

..........

the cookie's finished,
every last crumb,
and, though dizzy now from the
big chocolate chunks,
i'm still up to the fight

but i'm going home first
to take a nap

after that,
those mattress tags
better beware

cause i'm on a
crazy
desperado
law-busting
tear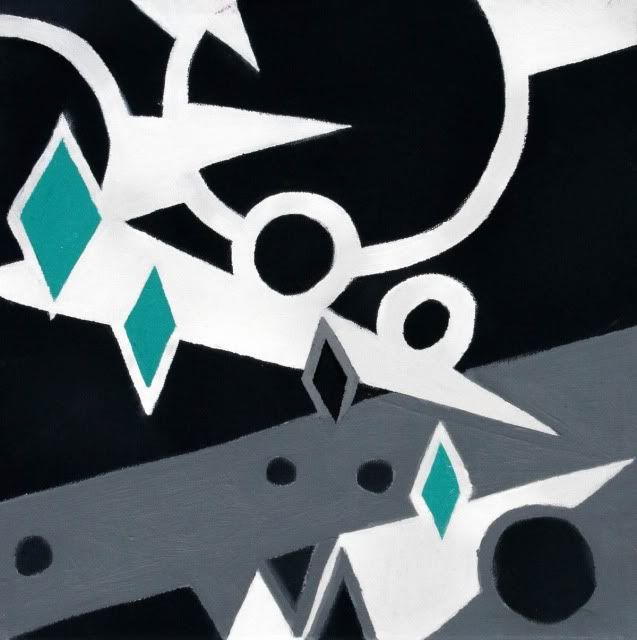 Painting by Lawrence Trujillo





The next several poems are from All Around Us: Poems from the Valley published in 1996 for the Knoxville Writer's Guild by Blue Ridge Publishing. This the second anthology of poems from their region by the Guild, the first being titled Voices from the Valley. The new anthology includes the work of 72 poets.

The first of the poems I'm using this week is by Rose Becallo Raney, a senior technical writer and editor for a scientific and engineering management firm in Oak Ridge. She completed her MA in English with emphasis in creative writing in 1992 at the University of Tennessee in 1992 and was one of two first-place winners in the 1994 Tennessee Writers Alliance poetry competition.

It is getting close to dinner time as I write this and I was very hungry, even before I read this poem.



Fresh

He stands by the wheelbarrow full of sweet potatoes.
"Big as your arm," he says, turning
tubers over in their dust and soft clods.

Fuzzy root hairs hang down from them - fresh, ripe,
snapping with harsh orange in brown dirt skins.
He scrubs them down, sloughs off warm mud,

gnarled fingers knuckling in the knots of his work
as he dreams the steaming baked potatoes
mashed across with butter, yellow running

with some of the white corn and those beefsteak
tomatoes: wavering rinds, sliced-through sleeves.
The smile wrinkles as his shirt billows soft.


The next poem from the anthology is by Marilyn Kallet, a professor of English and director of the Creative Writing Program at the University of Tennessee, Knoxville. A poet, translator, essayist, and editor, Kallet is widely published, including six books of her own, and winner, in 1988, of the Tennessee Arts Commission's Literary Fellowship in Poetry.


Fireflies

In the dry summer field at nightfall,
fireflies rise like sparks.
Imagine the presence of ghosts
flickering, the ghosts of young friends,
your father nearest in the distance.
This time they carry no sorrow,
no remorse, their presence is so light.
Childhood comes to you,
memories of your street in lamplight,
holding those last moments before bed,
capturing lightning bugs,
with a blossom of the hand
letting them go. Lightness returns,
an airy motion over the ground
you remember from ring-around-the-rosie.
If you stay, the fireflies become fireflies
again, not part of your stories,
as unaware of you as sleep, being
beautiful and quiet all around you.


My last poem this week from the Knoxville Writer's Guild anthology is by Joan Shroyer-Keno who published frequently in area literary journals.


Knowing

Crickets, feather pillow,
old soft sheets against my cheek.
My mother, does she sleep
or turn and bend fourteen
hours on the night shift?
My grandmother curled
on her side, snoring. My great
grandmother flat on her
back. Stomach rising, falling.
Like her mother and her mother
before her: rising, blooming,
enduring, falling back to earth.
I see them in their fields, kitchens,
factories. Under their moon-white
sheets darned and bleached
their eyes in darkness, blinking.
Each seeing the lives of their mothers
longed for, but never had.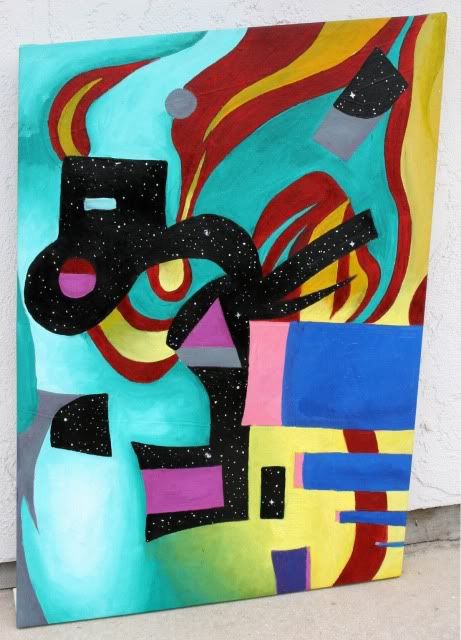 Painting by Lawrence Trujillo





Here's a series of little poems about flowers by our friend Susan B. McDonough. Sue is a master gardner who creates gardens for a living and enjoys the journey of transplanting words into poetry. She has one foot in Arizona and the other in Maine. Her poems can be found both on-line and in print.

If I have my timing right, she has just left Arizona and is busy preparing her gardens in Maine now. What a great life that must be, except for all the hard work.



Flower Bits

1

Bachelor buttons
lust for Evening Primrose
her soft pink petals
exposed to twilight


2

The clover that refused
to grow: lays lush covering paths
in a thick abundant emerald
carpet now that the plan
has been scrapped.


3

I wonder where tiny
grains of pollen land
(besides in our nostrils)
I envy imagined voyages
adrift on the whim
a late morning's wind.


4

I pretend I am
from another
planet, It is May
and I have discovered
bright yellow flowers;
something called
Dandelions. I find
them exquisite.


5

My woods were someone else's
once. The first fresh air camp
for kids with juvenile diabetes.
Each spring I find their flower
memories greening again;
day lilies from beneath dry oak leaves
and I know that their giggles
and summer shrieks rest here too.


6

I watch African Daisies
react to light. They
blink through wind blown
dappled. They telegraph
sun to shade, sun to shade
I watch for a few minutes
while they open a bit and close
and wonder how it is they know.






Painting by Lawence Trujillo





I have a poem now, actually a part of a poem, by Federico Garcia Lorca from the book In Search of Duende, published by New Directions in 1998. I'll leave it anyone unfamiliar with Garcia Lorca do their own google search.

The following are two sections from a long poem lamenting the death of a matador. The poem was translated by Stephen Spender and J. I. Gili.



from Lament for Ignacio Sanchez Mejias

2. The Spilled Blood

I will not see it.

Tell the moon to come
for I do not want to see the blood
of Ignacio on the sand.

I will not see it!

The moon wide open.
Horse of still clouds,
and the grey bullring of dreams
with willows in the barreras.

I will not see it!

Let my memory kindle!
Warn the jasmines
of such minute whiteness!

I will not see it!

the cow of the ancient world
passed her sad tongue
over a snout of blood
spilled on the sand,
and the bulls of Guisando,
partly death and partly stone,
bellowed like two centuries
sated with treading the earth.
No.
I do not want to see it!
I will not see it!

Ignacio goes up the tiers
with all his death on his shoulders.
He sought for the dawn
but the dawn was no more.
He seeks for his confident profile
and the dream bewilders him.
He sought for his beautiful body
and encountered his opened blood.
I will not see it!
I do not want to hear it spurt
each time with less strength:
that spurt that illuminates
the ties of seats and spills
over the corduroy and the leather
of a thirsty multitude.
Who shouts that I should come near!
Do not ask me to see it!

His eyes did not close
when he saw the horns near,
but the terrible mothers
lifted their heads.
And across the ranches,
and air of secret voices rose,
shouting to celestial bulls,
herdsmen of pale mist.
There was no prince in Seville
who could compare with him,
nor sword like his sword
nor heart so true.
Like a river of lions
was his marvelous strength,
and like a marble torso
his firm drawn moderation
The air of Andalusian Rome
gilded his head
where his smile was a spikenard
of wit and intelligence.
What a great torero in the ring!
What a good peasant in the sierra!
How gentle with the sheaves!
How hard with the spurs!
How tender with the dew!
How dazzling in the fiesta!
How tremendous with the final
banderillas of darkness!

But now he sleeps without end.
Now the moss and the grass
open with sure fingers
the flower of his skull.
and now his blood comes out singing;
singing along marshes and meadows,
sliding on frozen horns,
faltering soulless in the mist,
stumbling over a thousand hoofs
to form a pool of agony
close to the starry Guadalquivir.

Oh, white wall of Spain!
Oh, black bull of sorrow!
Oh, hard blood of Ignacio!
Oh, nightingale of his veins!

No.
I will not see it!
No chalice can contain it,
no swallows can drink it,
no frost of light can cool it,
nor song nor deluge of white lilies,
no class can cover it with silver.
No.
I will not see it!


(This next, and final section of the poem follows part 3, The Laid-Out Body


4. Absent Soul

The bull does not know you, nor the fig tree,
nor the horses, nor the ants in your own house.
The child and the afternoon do not know you
because you have died for ever.

The back of the stone does not know you,
nor the black satin in which you crumble.
Your silent memory does not know you
because you have died for ever.

The autumn will come with small white snails,
misty grapes and with clustered hills,
but no on will look into your eyes
because you have died for ever.

Because you have died for ever,
like all the dead of he Earth,
like all the dead who are forgotten
in a heap of lifeless dogs.

Nobody knows you. No. But I sing of you.
for posterity I sing of your profile and grace.
Of the signal maturity of your understanding.
Of you appetite for death and the taste of its mouth.
Of the sadness of your once valiant gaiety.

It will be a long time, if ever, before there is born
an Andalusian so true, so rich in adventure.
I sing of his elegance with words that groan,
and I remember a sad breeze through olive trees.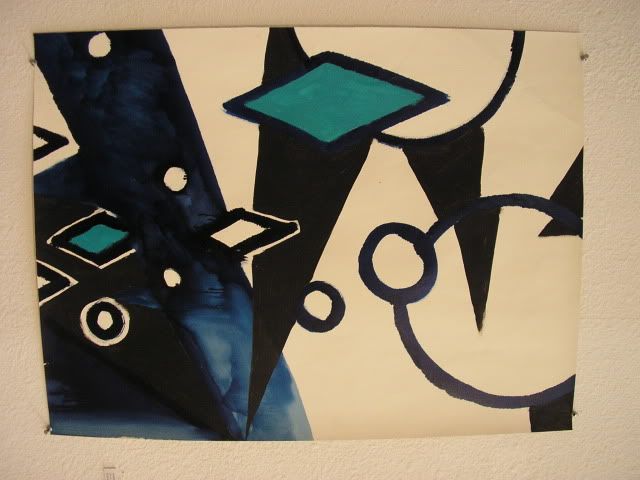 Painting by Lawrence Trujillo





Every once in a while a newspaper headline hits close to home, even when home is a little bitty place few others have ever heard of.



apology

the first swine flu death
of an American
in the US
was a 33-year-old
woman from Harlingen, Texas
who taught school in Mercedes, Texas,
both cities very familiar to me
as the bracket my old home town
on Highway 83, one the west
and the other to the east,
7 miles in either direction

both important to me in their
proximity as places
we could go to do the things
we didn't dare do
in our little home town
where everyone knew us
and our parents
and where we lived
and we couldn't get away
with nothing without hearing
about it at home

Mercedes
is a little town
about the same size as
La Feria,
where i grew up, famous
for it's annual live stock show
and rodeo, bringing in "big names"
in the country-field for it's midweek
musical performances,
the old singing cowboy, Gene Autry,
one year, and most notoriously,
Dan Blocker, the big guy who played
Hoss on the tv show Bonanza, who
got drunk in Mexico before the show
and had to be tied to his horse
to keep him from falling off during
the his ride around the arena

(some cowboy skills were required
of all performers, singing cowboy
or tv actor, as well as rodeo riders)

we didn't have much else to do
with Mercedes except for a couple
of fights with Mercedes kids over
a swimming hole about halfway
between the two towns

(a great swimming hole, right beside
a field of watermelon
which we stole until the farmer finally
wised up after three summers
and planted cotton instead -

what i
wouldn't give
for a watermelon
that tasted that good again)

Harlingen was where we
most hung out, a larger city
of 30-35 thousand, with
several movie theaters,
English and Spanish, and
two drive in movies, for when
you had better things to do
that watch a movie; two
drive in restaurants about
fifteen blocks apart, good
for 60-70 miles a night
cruising
back and forth, to see,
to be seen, important in
equal measure

(hard as it is to believe
as i look at the pictures,
but i looked a little older
than my friends and was usually
the one to supply the alcohol
that helped fuel the cruising -
bought it in a little town called
Bluetown,
a few miles south of home,
almost right on the Rio Grande
neither blue nor much of a town,
but with at least one little cantina
with a healthy disrespect
for gringo law
and Constable Pinky who preferred to stay
well north of Bluetown
where he might have to prove the existence
of several personal characteristics
like toughness and personal grit he'd
prefer to have just assumed by one and all)

other times,
we crossed the river to buy
hard liquor, a hassle, since,
being underage we couldn't
declare it and had to smuggle
it across - our greatest coup
when we smuggled 25 pints
of rum across the river inside
the front seat
of a friend's '61 Ford station
wagon, becoming famous
among our rum drinking friends)

the city also hosted an Air Force
base, closed after the 1960 election,
bringing hardship to many families,
including some of my friends',
leaving a ghost town of grass-grown
streets and derelict barracks
that i helped dismantle several
years later while on a summer job,
tearing apart the skin and bones
of the former lifeblood of many
workers and their families

..........

all this remembering
from the death of one person
unknown to me and unborn
for many years
after these memories
were created

would she care about any of this -
very unlikely,
few will i would suppose, making this
a poem to myself

(as most are)

a poem extended to myself
even more blatantly that usual,
with apologies
for dragging you along
but, you know,
it's what i do and if i didn't do
what i do, well,
i'd hardly be doing anything
at
all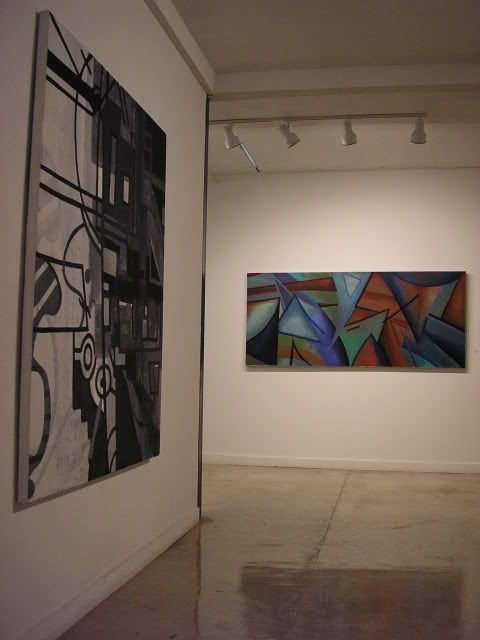 Painting by Lawrence Trujillo





Alaskan butcher's daughter, meatwrapper, and poet, Arlitia Jones, won the 2001 Dorothy Brunsman Poetry Prize with her first collection of poems, The Bandsaw Riots, published by Bear Star Press.

Here are two poems from that book.



January

Morning is a black wing flaring
at a window feathered with ice
through which there's nothing
to be seen but Anchorage
hunkered under halogen limps.
Industry stops. Too cold
even to work inside
at Wholesale Tendermeats where
the butchers move like slow bears
dazed in the chill of the cutting room,
white luggers stretched over
bulk of winter coats and longjohns.
At break the coffee in their cups
turns cold before they drink it.
They pass sections of newspaper -
a well-worn currency between them.
I see they're selling health insurance
for pets now, says the bookkeeper
behind the counter who, at age forty-eight
and uninsured, could finally pay
cash for her first mammogram.
And the butcher scrabbling
his fingers in the candy dish
set out for paying customers swears
These fucking people drive me nuts,
and tells about the border collie
he had when he was a kid. Smacked
by a car, not bad enough to kill it.
I had to hide him under our porch
or my dad would've shot him.
we never heard of a veterinarian.
Says his father worked swing
at he railroad, coupling, un
coupling the cars, In his house
nothing went to the animals.
Hardly anything to the kids.
In the office black and white
floor tiles tell the lie: wrong and right
remain distinct, one from the other.
It's the cold platform they stand on
every day. Their break
stretches to a half hour and still
they're reluctant to hit it.
With four hours and twenty-six
minutes of light, dark rules
the beginning to every year
and appetite sets the price
for red meat. Out of Nebraska
beef tenders run twelve bucks pound
when you can get them. For months
Americans have been stockpiling
New Yorks and Tenderloins
to prepare for the barrenness
of a new century. They pay dearly
to avoid hunger, to avoid chicken.
One of the butchers worries
about pipes on the outside wall
of his house. In weather like this
something always bursts. Every
thing shuts down. In her reflection
in the window glass the meat-
wrapper watches her self trying
to breath warmth into her hands.
You never think it'll come to this.
The kid who once believed
she would fly, vowed
to throw herself to the wind,
is hunched in a chair, conserving
body heat, cold and grouchy
as the thought of getting up.


Meatwrapper's Lyric

Out of the corner of my eye I peg her
to be the pretty wife of an important man.
Always, it's ones like her who ask, "How can you
stand the sight of blood?" She watches me
weigh out the three pounds of extra lean ground round
and wipe my hands on my apron to keep
from spoiling the clean white butcher paper
I wrap it in. "You get used to it," I shrug
and think of the blood's aged color -
not that hot red shock of a life leaked out -

more brown and watery as old coffee,
blood dull as engine oil on the cutting floor
where we've tracked through with our heavy boots.
Thursday night must be her night to cook
for husband and two kids. Her recipe, from a magazine,
will clutter her kitchen with forty-eight separate ingredients,
an electric chopper and, I'd bet money, a double broiler.
I smile. Count back change. "It's no big thing.
I wash my hands a lot and when I get home
the kides dog goes apeshit licking my feet."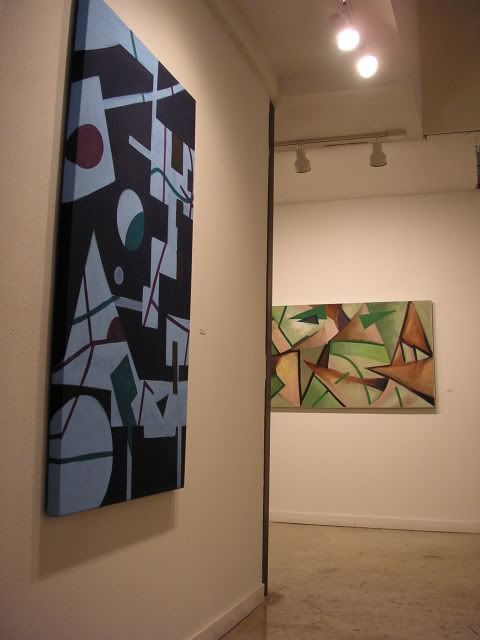 Painting by Lawrence Trujillo





Here's a kind of a series of poems by our friend from Hawaii, Alice Folkart.

Alice was involved in a spoken word project that had its rehearsals in Chinatown. From her observations and impressions, came these poems.

I'm hoping to see more because I really like these and the sense of time and place that makes them so real.



Pure Trash

Pure trash,
that's one thing
you can count on
in Chinatown.

Nothing
with any life
left in it
is ever thrown away.

Unsmiling old women
in black cloth shoes
eye even banana peels -
they must be good for something!

Piled high on lava curbstones,
yellow, pink, blue and white,
plastic bags bulging with nail parings and
dead rats, wait for Monday pick up.

Even the orange striped cat
walks past without sniffing.


Chinatown Sunset

Orange striped cat
sniffing in the drain pipe
in a Chinatown gutter.
Are you someone's idea of a meal,
cat meat with lobster sauce,
in this haven of the poor?
Is that why you won't look
when I call, "Pretty cat!"

Woman on a blue-plastic stool,
gold front tooth glinting in
the setting sun that
a mile away, on Waikiki Beach
sends tourists ohhhing and ahhhhing.
Seated on the dirty sidewalk,
tossing grain to filthy pigeons
to entertain just-learned-to-walk son.


Last Night in Chinatown

Crooked little man
in a boy's striped tee shirt
orange and brown,
sitting on a produce box
in a dirty doorway in
the bad part of Chinatown,
peel the rotten leaves
off yesterday's Brussels Sprouts
to make them new for tomorrow.
What were your dreams?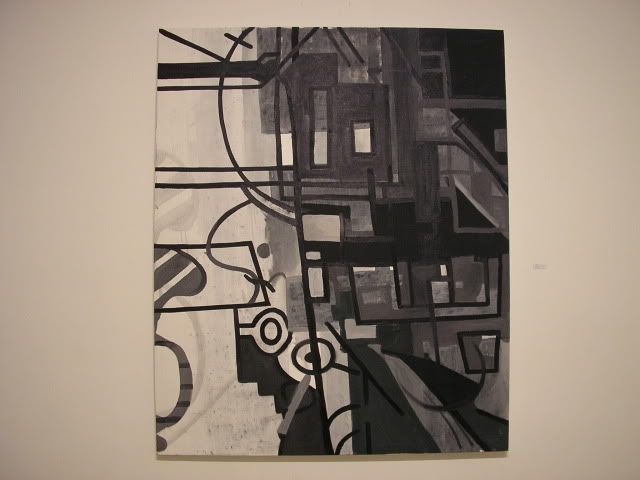 Painting by Lawrence Trujillo





My next couple of poems come from a book I just picked up at Half-Price Books.

The book, Unsettling America, An Anthology of Contemporary Multicultural Poetry, was published by Penguin Books in 1994. A great buy, this book, at $3.48.


My first poem from the book is by Rose Romano, poet, editor and publisher. The granddaughter of Neapolitan and Sicilian immigrants, she was born and raised in Brooklyn.


So I Lost My Temper

Another one was coming toward me
yelling and wagging his finger
in my face. So I lost my temper.
I yelled louder than he could.
I backed him into a corner. His wife
tried to console him. It's an Italian
trait, she explained. I went out
and bought a votive candle and
a little glass cup to put it in. Then
I went home and made a big pot
of spaghetti.

Another on said he didn't believe
I could be that way, that Italian women
are much to sexual to be like
that, that he was sure I knew
how to make a man feel appreciated.
I went out and bought some tomato
seeds and a small clay pot. Then I
went home and lit the votive candle,
planted the tomato seeds, and made
a big pot os spaghetti.

Another one assured me that all women's
bars are owned and operated by the
Mafia, that the women who signed
the papers, redecorated the place,
stand behind the bar every night,
serve the drinks, sweep up at
closing time, and count the money,
are just a front. I went out and bought
a statue of the Sacred Heart of Mary.
Then I went home and put her on my
dresser, lit the votive candle in front
of her, watered the tomatoes, and made
a big pot of spaghetti.

I'm walking down the street
and I hear the words - garlic eater.
I tuck holy cards into the corners
of the mirror over my dresser.
I hear the word - greaseball.
I staple a tiny palm cross on
the door frame in my bedroom.
Dago - I put a red and white
checked tablecloth on the little
round table in my kitchen.
Guinea - I redo my bathroom in
green, white and red.
Wop - I stop shaving the little
black hairs growing out of my chin

If this trend continues,
when I'm eighty years old
I'll wear black shapeless dresses,
black stockings, black chunky shoes.
and my hair in a bun at the back
of my neck.

Now I'm thinking maybe
this is how Italian women
become grandmothers.

Now I'm thinking maybe
this is how Italian grandmothers
last long enough to become
boss of the family:
they lose their temper.


The next poem from the anthology is by Laura Boss. Her books of poetry include Stripping and the Alta Award-winning On the Edge of the Hudson.


At the Nuclear Rally

thinking of my father
who died of cancer of the pancreas
now linked to radiation

thinking of my father
who worked for the Atomic Energy Commission
that ran security checks on him
questioning our neighbors in Woodbridge

thinking of my father
with a pen in his pocket
who could add four columns of figures
in his head but stayed poor
working for the OPA
while colleagues took
expensive presents

thinking of my father
who embarrassed me, singing in the car
with the radio on as I now do
who returned from government trips
with marzipan strawberries, bananas, grapes
who cooke Sunday breakfast of chocolate
French toast (his special recipe)
and let my mother sleep late

thinking of my father
who was born Jewish
but never went to temple
never was Bar Mitzvahed

thinking of my father
who smelled of Chesterfields
who never hit, never spanked me
told me he was glad I walked home
with the only black woman
in my high school class

thinking of my father
who would have been at this rally
next to me tonight.


My last poem from Unsettling America is by Alan Chong Lau, whose books include a collection of poetry entitled Songs from Jadina.


The Upside Down Basket

For Connie Young Yu,
Chinese American Scholar

"the chinese came to california for gold, they worked on the railroad and wore
hats that looked like upside down baskets."
- from a california state history textbook now in use


my grandmother
rakes up chicken shit
mixed with mud
to feed her roses

head protected
by and upside down basket
dares the sun to get closer

her shirt ablaze
with hawaiian pineapples
she imitates the cackle of hens
as they run merry off nests
wings flapping dust

an egg
still warm
cuddles the round
of my chin

a tickle unbearable
so i laugh
and she does too
so hard

the upside down
basket trembles
as though shaking
a fist
at the heat

we walk home
the musk of rotten apples everywhere
incense curling into skin

on the porch the upside down basket
sits rightside up

we drink gallons
of lemonade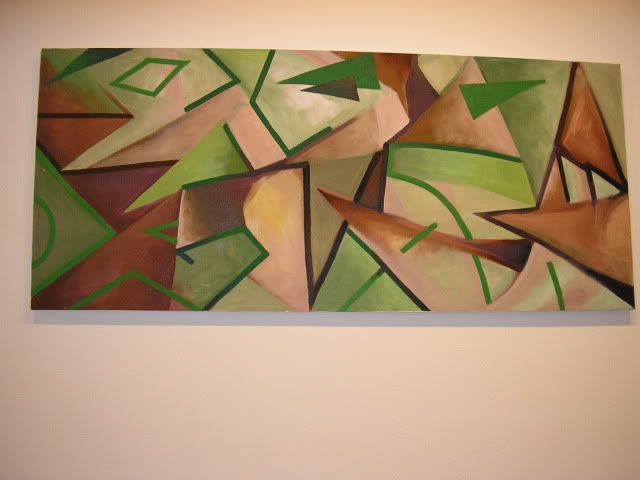 Painting by Lawrence Trujillo





Strange things afoot. If you don't believe me, look at this.



stirring in the mist

heavy haze
weights down the air

thick and gray
days
for the past week,
the buildings downtown
like tall-walking ghosts
at midday

a time for sussing out
mysteries, opportunities
to discover new delights
abounding -

pledge week
on public radio, a chance
to investigate the rest of the dial,
alternating between NPR, the all-jazz
format of KRTU at Trinity University until late at night,
the eccentric, eclectic mix of KSYM at San Antonio College,
and, every once in a while, the "golden oldies"
at 101.1, where the good old days are now starting
in 1980; that's the reason i don't stop in there often,
i'm looking for Jerry Lee and Chuck Berry and Little Richard
and they're giving me early Madonna, no different from late Madonna,
except not as buff and stringy and that's the way it is about getting old,
all the good stuff either dies or gets stringy, it's all about change,
mostly bad, but sometimes good, sometimes even amazing,
like Kumar,
going from "White Castle" and "House" to the White House,
and Harold,
now new helmsman on the SS Enterprise,
boldly going anew where no one has gone before

that's the way it is
on these dim and hazy days, strange things
stirring in the mist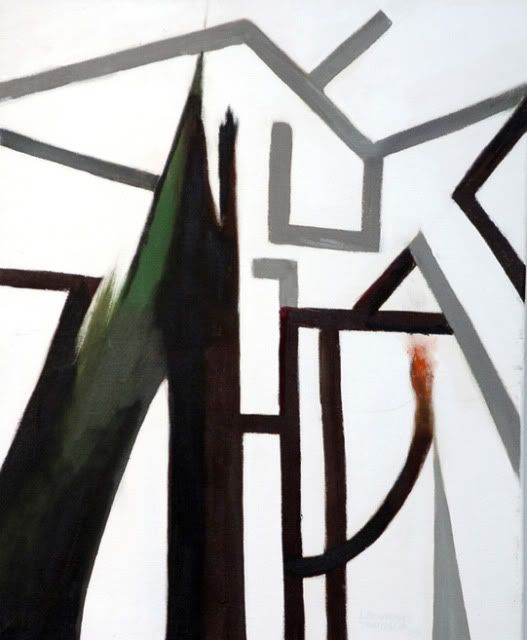 Painting by Lawrence Trujillo





Next, I have a couple of poets from another book I found at the used book store, A Pocketful of Poems, Vintage Verse, Volume. one in a series of anthologies directed at students. This first volume was published by Thompson Advantage Books.


My first poet from the book is Edwin Arlington Robinson.

Born in 1869, Robinson grew up in Maine, describing his childhood later as "stark and unhappy." His parents, having wanted a girl, did not name him until he was six months old, when they visited a holiday resort and other vacationers, deciding that he should have a name, selected a man from Arlington, Massachusetts to draw a name out of a hat. Although he endured a slow start to his literary career, he eventually won the Pulitzer Prize for Poetry for the years 1922, 1925 and 1928. During the last twenty years of his life he became a regular summer resident at the MacDowell Colony in New Hampshire, where he maintained a solitary life. He died in 1935.


Mr. Flood's Party

Old Eban Flood, climbing alone one night
Over the hill between the town below
And the forsaken upland hermitage
That held as much as he should ever know
On earth again of home, paused warily.
The road was his with not a native near;
and Eban, having leisure, said aloud,
For no man else in Tilbury Town to hear:

"Well, Mr. Flood, we have the harvest moon
Again, and we may not have many more;
The bird is on the wing, the poet says,
And you and I have said it here before.
Drink to the bird." He raised up to the light
The jug that had had gone so far to fill,
And answered huskily: "Well, Mr. Flood,
Since you propose it, I believe I will."

Alone, as if enduring to the end
A valiant Armor of scarred hopes outworn,
He stood there in the middle of the road
Like Roland's ghost winding a silent horn.
Below him, in the town among the trees.
Where friends of another day had honored him,
A phantom salutation of the dead
Rang thinly till old Eben's eyes were dim.

Then, as a mother lays her sleeping child
down tenderly, fearing it may awake,
He set the jug down slowly at his feed
with trembling care, knowing that most things break:
And only when assured that on firm earth
It stood, as the uncertain lives of men
Assuredly did not, he paced away,
and with his had extended paused again:

"Well, Mr. Flood, we have not met like this
In a long time; and many a change has come
To both of us, I fear, since last it was
We had a drop together. Welcome home!"
Convivially returning with himself,
Again he raised the jug up to the light;
And with an acquiescent quaver said:
"Well, Mr. Flood, if you insist, I might.

"Only a very little, Mr. Flood -
For auld lang syne. No more sir; that will do."
So, for the time, apparently, it did.
And Eben evidently thought so too;
For soon amid the silver loneliness
Of night he lifted up his voice and sang,
Secure, with only two moons listening,
Until the whole harmonious landscape rang -


"For auld lang syne." The weary throat gave out,
The last word wavered; and the song being done,
He raised again the jug regretfully
And shook his head, and was again alone.
There was not much that was ahead of him,
And there was nothing in the town below -
Where strangers would have shut the many doors
That many friends had opened long ago.


I don't I've ever featured this particular poet before, but here he is, from A Pocketful of Verse,, William Shakespeare.

When in Disgrace with Fortune and Men's Eyes

When, in disgrace with Fortune and men's eyes,
I all alone beweep my outcast state,
and trouble deaf heaven with my bootless' cries,
and look upon myself and curse my fate,
Wishing me like to one more rich in hope,
Featured like him, like him with friends possessed,
Desiring this man's art, and this man's scope,
With what I most enjoy contented least,
Yet, in these thoughts myself almost despising,
Haply I think of thee, and then my state,
Like to the lark at break of day arising
From sullen earth, sings hymns at heaven's gate.
For thy sweet love rememb'red such wealth brings
That then I scorn to change my state with kings.


Having done Shakespeare, why not Percy Shelley, also from the anthology and also a poem we learned to recite in high school. I wonder if they still do that.


Ozymandias

I met a traveler from an antique land
Who said: Two vast and trunkless legs of stone
Stand in the desert. Near them, on the sand,
Half sunk, a shattered visage lies, whose frown,
And wrinkled lip, and sneer of cold command,
Tell that its sculptor well those passions read
Which yet survive, stamped on these lifeless things,
The hand that mocked them, and the heart that fed;
And on the pedestal these words appear:
"My name is Ozymandias, king of kings:
Look on my works, ye Mighty, and despair!"
Nothing beside remains. Round the decay
Of that colossal wreck, boundless and bare
The lone and level sands stretch far away.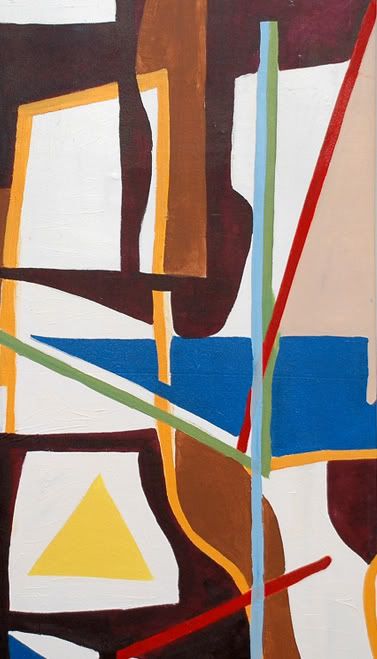 Painting by Lawrence Trujillo





Here's a poem by our friend from New York, Barbara Moore.

Barbara was born in Danville VA. in 1948. She earned a B.A. from Hofstra U., majoring in English, and an M.S.W. from Fordham U. She has been a research assistant at Reader's Digest
as well as a substance abuse counselor at Long Island College Hospital. Now writing full-time, Barbara is awaiting publication in a
Goldfish Press anthology.



Dares go first, diana rigg

We were in bed
as we usually were
back then,
a regular yoko and john
without a cause,
in your boyhood bedroom
in your parents' house
(independent were we)
watching and half watching
emma peel and john steed
avenge with a vengeance
of elegance and grace
you said something
or failed to say something

Feeling ignored, discounted
and jealous of diana rigg
i pouted; you kidded
with your usual
"got your goat, barbs
got another one
here's another
look at all these goats, barbs
you're losing all your goats
you're not smiling. barbs"
and I wasn't smiling
i was not amused this time

Throwing back the bedcovers
all high drama now
i walked with dignity
toward the bathroom
tossing in my wake
"you don't care about me
i'm going to off myself."
closing the bathroom door
i pushed in the flimsy lock
and began my search
through the medicine cabinet

Q-tips, craig martin toothpaste
the one without fluoride
you insisted on using,
(as our teeth cried for mercy)
because it had pepto bismol,
cheap seconal chaser,
that soothed your stomach.
you wouldn't buy a bottle
of pepto. That was for people
with more serious problems
not for junkies-in-training

Your parents kept the cabinet childproof
murine, guest soap, stool softener
vicks vaporub, emory boards
but on the top shelf
behind the lavoris
lurked bayer aspirin
bottle of 100, nearly full
mindlessly, i began to swallow pills
a few at a time with water
my attention span waned
this would take forever

In a light bulb moment
i emptied the bottle
into the waste paper basket
coverng the pills with tissue.
i unlocked the door
and called for you
before stretching out
on the cold bathroom floor
feigning a death pose
worthy of ms. rigg

Forced to leave daring dianna
you approached with annoyance
that swiftly turned to fear
enough to awaken your parents.
you and your dad
carried me back to bed
shook me and talked at me
while your mom mixed together
some concoction in the kitchen
something to swallow
dry mustard was in it
i remember that much

I was supposed to vomit
but I never did
your mom got suspicious
she looked for and found
the unswallowed pills
in the trash
she was not pleased
you defended me though
took all the blame
said you'd double dared me
they believed you
because they needed to
because they wanted to
go back to sleep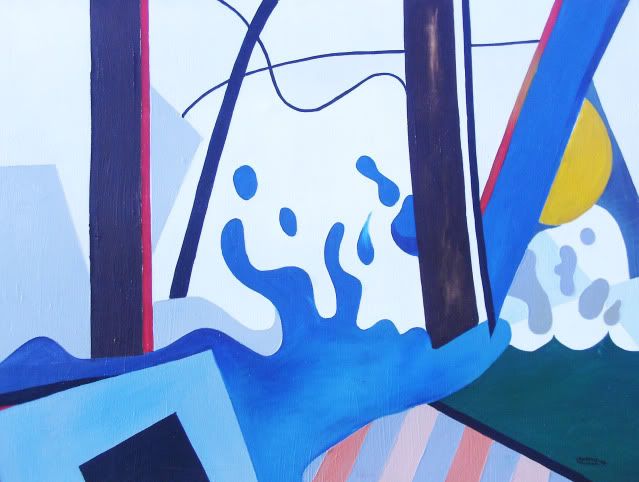 Painting by Lawrence Trujillo





Sometimes, after a triple dose of classical, it just feels great to bust loose. Like this.

(Thin-skined gunowners with heart conditions and no sense of humor should avoid this next poem at all cost - save yourself a lot of heartburn and just skip on to the next poem.)



the NRA is ascared of me

been reading
the NRA people
are scared that i'm gonna
take away
their pistols
and their hunting rifles
and their AK47's
and their machine guns
and their grenade launchers
and their anti-tank mines
and their bunker buster missiles
and whatever, if it makes
a bang they want it -
makes their dicks grow,
you know, and they're sure
i'm going to take it all away
and leave them alone with their
inadequacies,
and i would of course, if i could,
but i can't, and the the lily-livered,
chicken-gizzard politicians in Washington
sure as hell aren't going to risk their weekly
pay-offs by doing it, so that's the way it is,
at some point, you or me or both of us
are going to be blown away by some
NRA card-carrying pencil-dick wacko
with mother issues and a NRA certified
shoot-all-the-motherfuckers-with-one-trigger-pull
50 calibre machine gun

all because his mother dressed him
in little girlie-panties and didn't
quit breast-feeding
him until he was twenty-six years old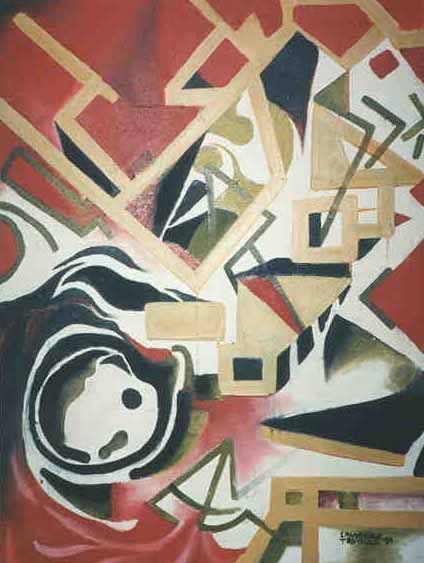 Painting by Lawrence Trujillo





The next poem is by Thomas R. Smith, from his book Horse of Earth, published by Holy Cow! Press of Duluth, Minnesota in 1994.

Smith is the author of three books of poems, most recently The Dark Indigo Current . He writes criticism for Ruminator Review and teaches at the Loft Literary Center in Minneapolis.



Come In From the Rain

Many remain mute. This one kneels
on a folded blanket sodden with rain
and sways toward the wall, his face
floating in the long bay of his hands.

He is one of the sad beggars of Barcelona
who kneel on sidewalks barefoot, hold out
cigar boxes, display some deformity or wound.
Some grip signs saying merely, "I am hungry."

Coins dropped on his laboriously printed plea
glisten, kings' faces drowning. He seems
oblivious of the winter wind on the alley,
the great stains devouring his shoes.

Such men turn up without explanation
or history on the streets of every city
of the world, delivered in our path
as if ejected by some shabby womb

to be rained on or frozen drunk
under a viaduct, without dry clothes
or honor. For God's sake, man,
it's time to come in from the rain!

But I do not say it. Beneath my
umbrella, I'm unsure whether I'm addressing
this Gypsy - master of cruel discipline -
or my father, my brother, men of my country.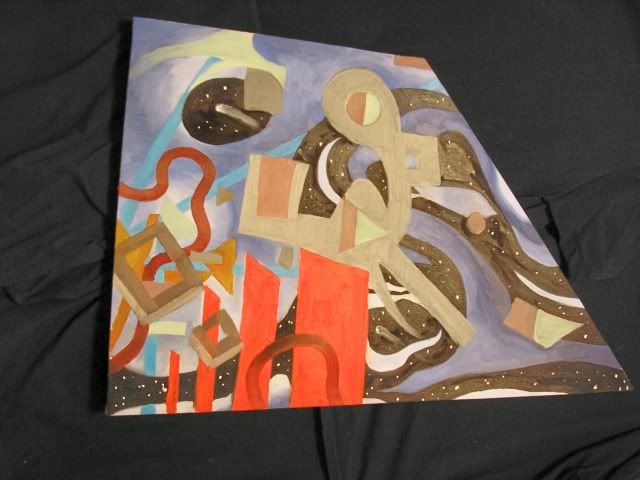 Painting by Lawrence Trujillo





Every year I try to write a Mother's Day poem and am never satisfied. This year I tried two, one light, one not, and neither worthy of their subjects.

Another year of failure...



on this Mother's Day

early start
on this Mother's Day

at the supermarket
to buy flowers,
chocolate
and a card preprinted
with sincere
and humorous sentiments

the crowds
and long checkout lines
demonstrating
the demographic fact
that there are, indeed, one heckuv
a bunch
of mothers and
procrastinators
in the world today

rushed my hard-won sentiments
home
and presented them to
a mother of my long acquaintance
along with a kiss
that truly did Hallmark proud,
then treated
the same mother of my long acquaintance
to her favorite breakfast,
that being my specialty, world-famous
french toast
and extra crispy call-the-fire-department-honey
bacon

- truth in poetical reporting
requires me
at this point to admit that the fire department
has never actually been called
on behalf of my bacon
and, while it might be a stretch
to call my french toast world famous,
many who have experienced it might declare
it should be so -

following breakfast
we continued with our regular Sunday morning
routine of caffein-enhanced
newspaper wallowing

the news of the day digested
- best done, as usual, on an
empty stomach -
we hopped into my little red truck
and hied ourselves off to Austin
for a mid-afternoon brunch
with our first-born
at a little Mexican cafe not to far
from his house, blackened fish tacos
for the mother-of-my-long-acquaintance
and our more gastronomically sophisticated
first born, while i enjoyed my standard
enchiladas, rice, and beans

the meal complete, the after dinner conversation
about all those things that never quite get said
on the telephone duly explored,
we dropped F.B. off at his house and,
after hugs and proper motherly nagging,
made out way back to San Antonio
where we noticed, driving in from the heights,
that the haze downtown had lifted, a result,
it could be, of a day of rest taken
by those in Mexico burning their fields,
or a gift, it could even be, from Mother Nature
on this, her special day


start with biography

start with biography

youngest child,
mother dead at her birth

father
an independent produce man,
he bought fruits and vegetables
in the fields and orchards
of South Texas,
hauled his produce
to city markets in San Antonio
and Houston
and sold his truckload
for what the market allowed

a hard
day to day
hand to mouth way to support
five children with few good years
and many poor as crops failed
or abundance caused prices to fall
so that a truck load this year
might be worth only as much as a half load
last year, the years few
when supply and demand balanced
and better times left money
for a pair of winter shoes
to be proudly worn and shown
on the buckboard ride to school

widowed
with a young son
while still in her teens,
years struggling to feed the child,
marriage finally to the man, my father,
with whom two more sons were born

more years of struggle, working at home
to supplement a blue collar income, making
prom corsages out of discarded hosiery,
dyed the color of leaves and roses,
baking, wedding cake, birthday cakes,
skillfully decorated with her sure hand,
always better and cheaper than the
professional competition - she worked
at such a bakery during the years of struggle
with her first son, and, as always, never
let a day pass without learning something new -

living through the decline and death
of another husband, nursing him, caring
for him like the nurse she'd learned to be
raising three sons, holding his hand
as he died - finding new life then

days spent as a hospital volunteer, learning
to paint, supporting the hospital gift shop
with her flower arrangements, then managing
the gift shop as a volunteer, taking music lessons,
learning the basics of auto repair, carpentry
and plumbing, learning the joys travel, sometimes
on her own, or with her friends, or with her sons,

always on the move, until the Thanksgiving Day
in her 81st year when she finally lay down to rest
and did not rise
again

and beyond
this biography, what
do i know of this woman

i know that, though poorly educated
herself, she taught me to read and write
before i attended my first day of school

i know that, though often hungry, her
children were always well fed

i know that, though stern when discipline
was required, she was gentle in her comforting

i know that, though a simple country woman
at heart, she could always calm
the most complex storms of the heart

i know that there were four deep
and abiding loves
in her life, and one of them was me

i know
that, once again
on this mother's day
as on the last,
i have failed
to write the poem she deserves








When I introduced Lawrence Trujillo at the beginning of this issue, I neglected to mention that, in addition of his primary work as an artist, he is also a poet. For a period of time, he and I were meeting for weekly poetry sessions at a local restaurant. Eventually, when we were unable to gather a consistant crowd, we gave it up. I thought I might close this issue with a picture showing another side of Lawrence's talent as he reads at one of our gatherings.

And with that, once again, "Here and Now" is done for the week.

One last thing though

As I was finishing up on the issue, I got word that a very old friend and patron passed away, which means I'll be going back to the coast for his funeral on Friday, which means, in turn, that I'll be posting this either early, like Thursday, or very late, like Sunday or Monday.

So, this will be posted when it gets posted. When it does, let it remind you that all of the work presented in "Here and Now" remains the property of its creators. The blog itself was produced by and is the property of me...allen itz.