Introducing Katie Sottak
Friday, May 01, 2009

Photo Provided by Katie Sottak
IV.5.1.



I was very pleased with my "Introducing Thomas Costales" issue two weeks ago and am doing it again, this time introducing young artist Katie Sottak. All of the images in this issue are Katie's work, including the lead photo of her standing in front of her mural "Midnight Magic."

Katie is currently studying art at Florida Atlantic University. She plans to obtain her masters degree in visual arts with a primary focus in painting. She got into her first gallery at the age of 18, and since then her work adorns the walls of coffee shops as well as Pineapple Grove Arts District of South Florida. She travels all around South Florida to display her work at art shows and events. During a show, she usually does a live painting in front of an audience. She plans on teaching at a college level when she obtains her degree and she will continue her goal of becoming an internationally known artist.

Also , I am sure that Michael Sottak, the poet whose work appears here frequently, wouldn't mind if I mention that Katie is his daughter.

So, we have Katie, and then here's the rest.



ROBERT WRIGLEY
Discretion

ALISON MARSH HARDING
The Night of the Full Moon

ME
just having a bad day

CARTER REVARD
My Right Hand Don't Leave Me No More

JIM BARNES
An ex-Deputy Sheriff Remembers the Eastern Oklahoma Murderers

WENDY ROSE
Leaving Port Authority for the St. Regis Rezz

THANE ZANDER
The Day God's Balls Were Captured by Satan

CZESLAW MILOSZ
Vini Creator
Encounter
A Meadow
December 1
If There Is No God
Meaning

ME
poesis interruptus

LANGSTON HUGHES
I Dream a World

BOB KAUFMAN
Cocos Morning

GEORGIA DOUGLAS JOHNSON
Your World

GARY BLANKENSHIP
oozing through th joints of the stone

COLEMAN BARKS
Tu Fu Rephrased, and Kittsu
This
Spring Lizards

Me
on my own

LOPE DE VEGA
Various Effects of Love

VICENTE ALEIXANDRE
The Visitor

MIGUEL HERNANDEZ
The Train of the Wounded

BARBARA MOORE
Uncle Johnny

LORNA GODISON
Garden of the Women Once Fallen

RACHEL MANLEY
Marquez' One Hundred Years of Solitude

KENDEL HIPPOLYE
Poem in a Manger

ME
seeing what there is to see








"Tranquil Reflections" acrylic on canvas
by Katie Sottak





From 180 More Extraordinary Poems for Every Day, the anthology of poems selected by Billy Collins, I have, first, a poem by Robert Wrigley.

Wrigley teaches in the creative writing program at the University of Idaho. A former Guggenheim and two-time National Endowment for the Arts fellow, he has published six books of poetry.



Discretion

Wearing only moonglow
and the fire's final shawls of smoke,
she made her way from the tent
at 2 a.m., then squatted to pee.

and the heavenly light showed me everything:
its cool tongues of silver lapping mountain
stones and the never-motionless leaves
of aspens, licking her back, her hips,

haunches and more, illuminating even the deep
green eyes of whatever animal it was
that watched her from the forest then -
a deer, I believed, and still believe,

though I confess I did not rise that night
to make sure, did not shine my light or murmur
but waited, letting my head
as she returned settle slowly back

down to the pillow made of my clothes
and welcomed her shivering
back into the tent, from which
I had sworn I would not look.


Also from Collins' anthology, I have this poem by Alison Marsh Harding, a native of Montana who now lives in California. Her poems have appeared in a number of fine journals.


The Night of the Full Moon

On Highway 5 the moon
is low and bright in the sky, a natural headlight.
It is not the orange globe of my childhood,
when the dish ran away with the spoon,
nor the oyster of last month,
pearlizing my walk through the lily garden.

It is the moon the general talked
about on the radio station Sunday morning,
when he said, "the night of the full moon,
is perfect to begin a war."

Now, I imagine the man in the moon
strobing the cannon of light,
across a field of soldiers and dust riddled road,
down the mountain and into the valley,
past abandoned clothes hanging on the line,
to the darkened house, a blazing guide.






"Shadows over Addingham Village" oil on canvas
by Katie Sottak





Ah, hell. What a rotten day! Don't talk to me.



just having a bad day

yesterday was nice,
fog over sun
in the early morning
bathing the world in a yellow light,
a mysterious light
suggesting forces were at work
laying our surprises
in the corners of the day

today it's just a dreary
April day
perfect for my mood

i grumble and grouch
and have done so
since waking,
embracing this dark day,
the north wind
cutting,
as i walk Reba,
right through the thin
short sleeved shirt
i slipped on this morning,
forgetting the vagaries of April weather
when 30 degrees one night
is followed by 101 two days later
then back to the 50s two days past that

...............
.
.
..... perhaps a burst of honesty
by the poet
at this point will bring some truth
to this stumbling exercise

this poem has been much to much work
to be any good

its prime difficulty
being
that the poet wants to blame a day
a little darker
and a little cooler than usual
as the cause
of his own rotten mood

a dodge he hates in other people,
the kind of people who apologize
for being an asshole
by saying things like - geez
i'm really sorry, but
i'm just having a bad day

we make our own bad moods
just as we make our own bad days
and the plain truth is
our whiny poet has decided to have a lousy day
today
and will accept no
substitutes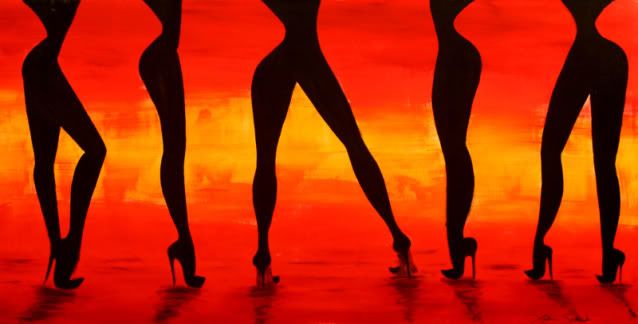 "Pumps" acrylic on canvas
by Katie Sottak





Next, I have several poets from Harper's Anthology of 20th Century Native American Poetry, published in 1988,

The first of the poets is Carter Revard, born in Oklahoma in 1931 and raised on the Osage reservation. After earning his undergraduate degree from the University of Tulsa he went to England as a Rhodes scholar to study at Oxford University, where he received his Masters degree. Revard received his doctorate in English in 1959 at Yale. He is currently a professor of English at Washington University in St. Louis, Missouri. Revard is also a Gourd Dancer, and has served on the Board of the American Indian Center in St. Louis. His Osage name is Nompehwahteh which means "Fear-inspiring."



My Right Hand Don't Leave Me No More

When you were drunk you could always whip Joe Louis -
Lucky he never stopped by Bartlesville
On a Saturday night in the Green Lantern Saloon,
Or he'd have been forced to let you knock him out.
I think he'd have done it; not even the local bullies
Would take advantage when you were fighting drunk
And sober, you were so goddamned meek and truthful
You once outfaced the big fat deputy star
Who came to take our bootlegging uncle away.
My uncle was holding his breath up in our attic.
The sheriff believed he'd been around out place
but thought he'd hid out back somewhere in the hills.
The laws all knew that you never told a lie,
So when they'd searched, this one came out and asked,
"Now Alex, is your boy anywhere around here?"
"Wellsir," you said, straightfaced, "He was around."

One time though, I didn't think you'd make it.
Out in the chipstrewn yard beside my window
I saw you face the drunk with his butcher knife:
He raised it over your deprecating hands
And weary eyes that held its point with meekness -
I saw him halt and scowl, then stumble close:
"Old man, your time has come, you hear me old man?"
One thing you did kept his knife from slashing;
You did not meet his eyes. i saw him turn
Bewildered eyes to me; you took the knife
From his passive hands. I heard drunken apologies,
Then brought him into the house and had a drink with him.
You dealt with time, that way, and better ways:
You fixed he broken farm. Your hands once drove
A shining nail, squeaking under the hammer, into
The massive gatepost's new-peeled oaken bulk;
I marveled how those huge things yielded to you
Under strapegong blows of the hammer's bluesteel are
In the grip of your hands -
I thought your hands that held off shame and poverty
From all of us, could keep off death from you,
My grandfather, but I was gone when he came
And did not help. You died bringing in wood for the fire.


Jim Barnes is my second poet from the anthology.

Barnes, born in 1933 in Oklahoma, is of Choctaw-Welsh descent. In the 1950s, after high school, he migrated to Oregon, where he worked for ten years as a lumberjack. He returned to his home state to take a B. A. at Southeastern Oklahoma State University. Later, he earned an M.A. and Ph.D. in Comparative Literature at the University of Arkansas. He has taught American and French languages and literatures, as well as world literature in translation, at Truman State University since 1970. In 1978, two years before the publication of his first book, he was awarded a National Endowment for the Arts Fellowship in Poetry. Since 1980, he has published eight books of poetry, two of poetry in translation, one of criticism, and an autobiography. In 1980 his translation from the German of Dagmar Nick's Summons and Sign won the Translation Prize from The Translation Center. In 1990 he received a Rockefeller Foundation Bellagio Residency Fellowship. In 2003 he enjoyed another Bellagio Fellowship. In 1993-94 he held a Senior Fulbright Fellowship in Switzerland (University of Lausanne). The City of Munich (Germany) awarded him a two-month Translation Residency at Villa Walberta in 1995 to continue translating poems by the Munich poet Dagmar Nick. From January through May 1996 he held a Camargo Foundation Fellowship to Cassis, France, to continue work on a volume of poetry. On Native Ground: Memoirs and Impressions won an American Book Award for 1998. He was awarded a second Camargo Foundation Fellowship for 2001. For three months in 1998 and three months in 2000, he was Guest Writer at Akademie Schloss Solitude, in Stuttgart, Germany. He is presently Writer-in-Residence and Professor of Comparative Literature at Truman State University, where he also edits The Chariton Review, an international journal of poetry, fiction, essays, and translations.


from An ex-Deputy Sheriff Remembers the Eastern Oklahoma Murderers

i. Summerfield

They took a tire tool to his head,
this gentle stranger from Wyoming.
Oh, we caught them over
at Talihina drinking beer
at Lester's place, calling
the myna bird bad names
and shooting shuffleboard.
I'm telling you
they were meek in the muzzle
of our guns. They claimed innocence
and: why, they went fishing
with the Cowboy just he other day.
We said we knew, knew too
the way they stole him blind
that night. We spoke of blood,
the way the dogs had lapped his face.

The youngest of the three had brothers,
barely thirteen, began to cry:
"He told us everything was all right
and we hit him till he died."
And that is how it was ,
a simple thing like breathing,
they hit him until he died,
until he bled Wyoming dry
there on the road
to that part of Oklahoma
no stranger has ever owned.


ii. Red Oak

We shot the Choctaw way back in '94,
last legal execution by firing squad.
He didn't die, through the heart, square
and he didn't die.
The high sheriff, my old boss,
stuffed his own shirt down
the Choctaw's neck
to sop the rattle in his throat.
You couldn't shoot a downed man
no matter what and he had to die.
Damned good Choctaw, I'll say that.
Red Oak had no jail and it was too
blasted cruel to execute him
before his crop was in. The judge
scheduled it for the fall, first Saturday
after the corn was in the Choctaw's crib.

That damn fool Choctaw gathered
his corn like any other dirt farmer,
dressed clean, and kept his word.
"I'm ready" is all he said that day.
You got to admire a man like that,
Indian or not, murderer or just plain fool.
He'd shot three men for sleeping
in his barn and taking the milk bucket
away from his little girl, though she
wasn't harmed at all, and he showed up
just like he said he would.

There
was a picnic in the shade after we choked
the Choctaw to death and took the rifle home.
First time I'd ever seen a camera,
big damned black thing on legs,
smelled like seven kinds of sin every time
it popped. Had fresh hominy and chicken and the last
of some damned fine late sweet red watermelons.


My next poet is Wendy Rose.

Born in California in 1948 of Hopi and Miwok heritage, Rose grew up in an environment which placed little regard on her Native roots. She received her B.A. and M.A. at the University of California, Berkeley in 1976 and 1978, respectively. Her teaching career includes instructor in Native American and Ethnic Studies at the University of California, Berkeley, 1979-83, California State University, Fresno, 1983-84, and Fresno City College, 1984-. She is also an anthropologist.


Leaving Port Authority for the St. Regis Rezz

I saw a mesa
between two buildings,
a row of tall
thin houses on top
bare like the desert I know,
the roofs occurring
in clumps like greasewood. Oh Wendy, he said,
looking at his fingernails,
that's Weehawken.

Well
one way or another
we'll get some
where soon
for I have seen crows
dancing on the snow,
a hawk on Henry Street,
smoke plumes on the lips
of streetkids,
mesas
along the Hudson.
I am getting ready.






"Serene" acrylic on canvas
by Katie Sottak





Over the past eight-ten years, I've posted poetry on the web with lots of poets. Many are good; some are not. But most of us are what we are, doing essentially what we've done since we started.

Thane Zander, our friend from New Zealand, is a different case. The truth is, when I first started reading his work years ago, it wasn't among my favorites. But it seems with each new poem he writes, Thane becomes a better poet, reaching further, digging deeper and, finally, producing amazing work, like this next piece, one of his latest.

The imagery and passion and fire and unique Thane-Zander-voice of this poem astounds me.



The Day God's Balls Were Captured By Satan

The blue painted and wearing balustrade
counts the memories of several thousand
pliant and placated hands,
washed
unwashed
the dirty nails scratching and bending
into a music hall delivered from the Halls of Hell.

Suck a Lemon child, your viscous tongue beholds the demon,
your yellow spoiled frock the blood
of a thousand infantrymen,
a hundred thousand Blessed Virgin Mary's,
your lollipop stick holds succor
to a baby with teeth
and a little boy with no balls yet.

You see the eyes of Beelzebub shine like coal pits
and the frozen North Wind pockets the eight ball,
a sullen party goer kissed by a female vixen
runs with the ochre of life running from his groin,
the passenger passes,
the passerby seeks passage,
the red headed ex-blonde smiles a perfect smile,
paid for with several years of massaging God's Balls
in a church whose spire hides bells,
the time chimed;
the duck fucked;
with a shotgun blast in a protected park;
who says the winners dresses in pink?

In the Halls of Valhalla, the Norsemen drink to Odin
in a Vatican in it's own city, the Pope prays,
in a reservation in West Idaho, the boneshaker rattles,
in a street of Main and Third, a drunk shits in a corner,
each with a mission in life,
the purple of damnation
sex starved
demented
rejected
over and over and bloody over,
the licorice green/black from years of practice
indicates it's time to chew the stuff
to spit with dark green teeth,
to perpetuate the myth
that God got his balls caught by Satan - in a fair fight.

Today, life would seem that way inclined.






"Escape" acrylic on canvas
by Katie Sottak





My next poems are by Nobel Prize poet Czeslaw Milosz from his book Selected Poems, 1931-2004, published by HarperCollins in 2006.

Miloz was born in 1911 in Lithuania. He survived World War II in Warsaw, publishing in the underground press. After the war he served as cultural attache from Poland in the United States and France. He defected to France in 1951 and accepted a position at the University of California at Berkeley in 1960. Although his writing was banned in Poland at the time, he was awarded his Nobel Prize for literature in 1980. He died in Krakow in 2004.



Vini Creator

Come, Holy Spirit.
bending or not bending the grasses,
appearing or not above our heads in a tongue of flame.
at hay harvest or when they plough in the orchards or when snow
covers crippled firs in the Sierra Nevada.
I am only a man: I need visible signs.
I tire easily, building the stairway of abstraction.
Many a time I asked, you know it well, that the statue in church
lift its hand, only once, just once, for me.
But I understand that signs must be human,
therefore call one man, anywhere on earth,
not me - after all I have some decency -
and allow me, when I look at him, to marvel at you.

Berkeley, 1961


Encounter

We were riding through frozen fields in a wagon at dawn
A red wing rose in the darkness.

and suddenly a hare ran across the road.
One of us pointed to it with his hand

That was long ago. Today neither of them is alive,
Not the hare, nor the man who made the gesture.

O my love, where are they, where are they going -
The flash of a hand, streak of movement, rustle of pebbles.
I ask not out of sorrow, but in wonder.

Wilno, 1936


A Meadow

It was a riverside meadow, lush, from before the hay harvest,
On an immaculate day in the sun of June.
I searched for it, found it, recognized it.
Grasses and flowers grew there familiar in my childhood.
With half-closed eyelids I absorbed luminescence,
And the secret garnered me, all knowing ceased,
Suddenly I felt I was disappearing and weeping for joy.


December 1

The vineyard country, russet, reddish, carmine-brown this season.
A blue outline of hills above a fertile valley.
It's warm as long as the sun does not set, in the shade cold returns.
A strong sauna and then swimming in a pool surrounded by trees.
Dark redwoods, transparent pale-leaved birches.
In their delicate network, a sliver of the moon.
I describe this for I have learned to doubt philosophy
And the visible world is all that remains.


If There Is No God

If there is no God,
Not everything is permitted to man.
He is still his brother's keeper
And he is not permitted to sadden his brother,
By saying that there is no God.


Meaning

- When I die, I will see the lining of the world.
The other side, beyond bird, mountain, sunset.
The true meaning, ready to be decoded.
What never added up will add up,
What was incomprehensible will be comprehended.

- And if there is no lining to the world?
If a thrush on a branch is not a sign,
But just a thrush on a branch? If night and day
Make no sense following each other?
And on this earth there is nothing except this earth?

- Even if that is so, there will remain
A word wakened by lips that perish,
A tireless messenger who runs and runs
Through interstellar fields, through the revolving galaxies,
And calls out, protests, screams.







'Ultramarine' acrylic on canvas
by Katie Sottak





As I think I've mentioned before, I don't much like holidays because of the way they interrupt my life.



poesis interruptus

i stopped off
at my friendly local
gas-grocery-beer-cigarettes
convenience store
for money
after my morning coffee
and newspaper read
at my usual table
at my usual diner
with the usual Sunday morning
dueling churchfolk
to the behind and either side of me,
including an extra place or two
at each table
filled by the twice-a-year
Christians
who, it would seem,
get all the saving they need
on Christmas and Easter,
securing all other Sunday mornings
for sleeping late or golf

discovering,
after my third cup,
that i had no cash
but for four pennies
three dimes, two quarters
and a canadian coin
i've been trying to pass
for two weeks now
leaving me to pay
my $1.94 coffee tab
with a credit card.....


.....it is at this point in the story
that the poet is interrupted
by life outside the poem -
poesis interruptus -
and the question is 4 hours later
as to whether
he can get it up again
to finish
what he had most ardently
begun

at first you might think
that returning to the poem
half finished is a process of
separating
the wheat of earlier inspiration
from the chaff
of the humdrum interim,
but that's not the case
because with proper
poetic recognition
of reality
all could be one and
each could be the other
with no separation
necessary or
possible

integration the need instead,
finding the wheat in the
essence
of all chaff
and the chaff that infiltrates
all wheat

like the small strip shopping center
by the gas-grocery-beer-cigarette store
where i stopped to use the ATM machine,
anchored by a large vacant "$1 Store"
close up to the "X-treme Impact Church"
next to "Alive MMA - Brazilian Jiu Jitsu"
adjacent to the "Gathering of Grace Church"
neighbor to "Fantasy Nails and Tan"
snuggled up tightly to "Tattoos and Piercings"
sharing a common wall with "Gin's Chinese
Restaurant"

it's all
like that shopping center,
all the disparate bits and pieces,
all the wheats and chaffs
of everyday urban life,
swirled together by the mix master
of every day living,
making....
the single and complete
here and now
of this particular
and unique
Easter Sunday morning

another party
to which i am not invited
because i will not pay the price
of admission -
separation of sinners from the saved
rather than the embracing unity of all mankind,
some sinner
in every saint and a bit of saint
in every sinner

wheat from chaff
i am one
and i am both
and cannot separate my one self
from the other
or either
from
you






"A night in Paris" oil on canvas
by Katie Sottak





Next I have a couple of poems from the anthology American Negro Poetry, published Hill and Wang, a division of Farrar, Straus and Giroux, in 1974.

The first of the poems is by Langston Hughes who was born in Missouri in 1902. He was a poet, novelist, playwright, short story writer, columnist and one of the earliest innovators of the new literary art form jazz poetry. Hughes is best-known for his work during the Harlem Renaissance. He died in 1967.



I Dream a World

I dream a world where man
No other will scorn,
Where love will bless the earth
And peace its path adorn.
I dream a world where all
Will know sweet freedom's way.
Where greed no longer saps the soul
Nor avarice blights our day.
A world I dream where black or white,
Whatever race you be,
Will share the bounties of the earth
and every man is free,
Where wretchedness will hang its head,
And joy, like a pearl,
Attend the needs of all mankind.
Of such I dream -
Our world!


My next poet from the American Negro Poetry anthology is Bob Kaufman

Kaufman was a Beat poet and surrealist inspired by jazz music. In France, where his poetry had a large following, he was known as the "American Rimbaud." Born in 1925, he died in 1986.


Cocos Morning

Variations on a theme by morning.
Two lady birds move in the distance.
Gray jail looming, bathed in sunlight.
Violin tongues Whispering.

Drummer, hummer, on the floor,
Dreaming of wild beats, softer still,
Yet free of violent city noise,
Please sweet morning,
Stay here forever.


Finally, from the anthology, I have a lesser-known poet, Georgia Douglas Johnson, born in 1880 and died in 1966. Johnson was an important figure in the Harlem Renaissance of the 1920s and 1930s.


Your World

Your world is as big as you make it.
I know, for I used to abide
In the narrowest nest in a corner,
My wings pressed close to my side.

But I sighted the distant horizon
Where the sky line encircled the sea
and I throbbed with a burning desire
To travel this immensity.

I battered the cordons around me
And cradled my wings on the breeze
Then soared to the uttermost reaches
With rapture, with power, with ease!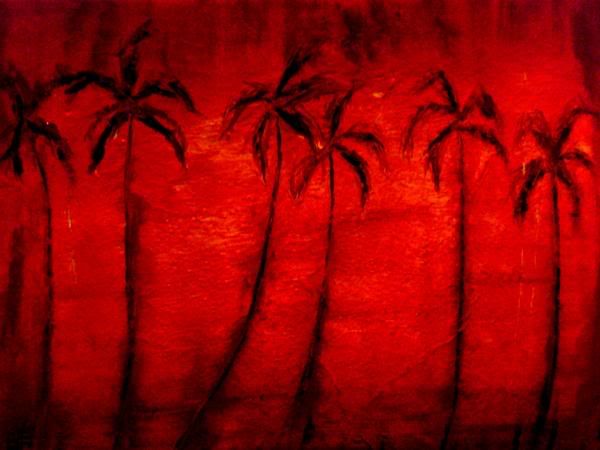 "Crimson Horizon" acrylic on canvas
by Katie Sottak





Gary Blankenship wrote this very tight poem last week and posted it on Blueline's "House of 30." I like it very much.

The title is a quote from Henry Fuseli writing about slave forts in Africa. Gary says he found it in the book The Decline and Fall of the British Empire by Piers Brendon.



oozing through the joints of the stone


The stones seep blood
like rock struck by Moses' staff,
the stain as dark as a slaver's heart

steel
concrete
asphalt
plastic
rubber

leach
humanity

until those who protect
as stone hard
as the destroyers

deep in the dungeons
of old forts
the sound of whips continue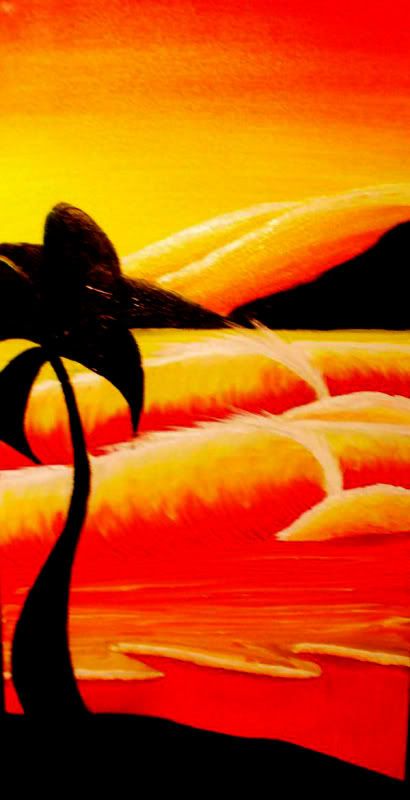 "Sublime Spot" acrylic on canvas
by Katie Sottak





Coleman Barks published his first book of poetry, The Juice, in 1972. Since then, he has been know primarily for his translations of the 13th century mystic, Rumi. The poems that follow were selected from his book, Gourd Seed, a collection of his own work, published by Maypop Books of Athens,Georgia in 1993.



Tu Fu Rephrased, and Kittsu

A drizzling rain feeds the moss on the rocks
and slows down the mail.
Inside the mountain's cold afternoon shadow,
a black bull makes a lowing noise.
By the river a white gull
screams out how hungry.

Inlaid hairpins drop to the floor.
She's sitting by her loom, almost crying.
This will not come untangled,
all day staring at threads.


This

After a long time of not, I light a cigar I'm given
for a baby girl, and sit like my father used to sit

on the porch, late, in the dark, in underwear.
Mother had gone to bed. I would sit with him.

We didn't talk much, or whatever we said was
just part of being inside a summer night,

with its one orange focal point,
the breath-lit sun of his silence


Spring Lizards

Where the filter of the hill
empties, I dig a miniature circular lake,
a foot across and a foot deep,
and leave to let it clear and come back,
to arrange creek rocks around the edge
and leave to let that clear and come back
to fill a mason jar and a coffee carafe
with spring water.

I have never been so slaked
with the mystery of freshness.

And now I've left for two weeks and come back
to find tiny spring lizards
living in the well-place I dug,
little waterbaby salamanders
under the sweetness of galax
and rhododendron around the opening,
that leads up through reticulated rapids
and invisible passageways smooth with giving
the patience and hallucination
of groundwater into this mouth where
beings play in the clear
like tongues, like sounds that hide
so instantly, or pretend to hide.

Nothing can actually hide
its fear or its wiggly joy
in so transparent a pool.






"Sippin on Seduction" oil on canvas
by Katie Sottak





Getting thing in order - the hardest part of leaving for me.



on my own

it was heaping plate of frustration
for breakfast this morning,
scrambled,
with a mix of crisp-fried angst
and three dollops of most wretched
resignation

twelve things to do before
Reba and i set out Wednesday
in our little red RAV
for Denver, a dose of mountains and snow
sorely needed as the seasons here
begin their change
from not-so-bad to gates-of-hell

twelve things
on nobody's agenda but my own






"casa blanca"
by Katie Sottak





I picked this interesting book at a used book store for the grand price of $1.98. It is Introduction to Spanish Poetry, published in 1965 by Dover Publications. It is one of a number of dual-language publications by Dover, intended for use by students of the various languages it's publications covered, from Arabic to Swahili.


One of the poets in the book is Lope de Vega, born and 1562 and died in 1635. A writer of all types of materials, de Vega was, in his day, best known for his plays. He claimed to have written 1,800, of which 500 survive today, and was instrumental in the creation of Spain's national theater.

Born in Madrid, he enjoyed a number of lovers, as well as two wives, and was a volunteer in the great Armada that threatened, unsuccessfully, England. He was ordained a priest in 1614, which did little to curtail his various love affairs.

I like this poem - a little 16th century tongue-in-cheek. I can't find credit anywhere in the for the translation of this or any of the other poems.


Various Effects of Love

To be fainthearted, to be bold, to be raging mad,
surly, tender generous, aloof,
courageous, near death, dead, alive,
loyal, treacherous, cowardly, spirited.

Not to find, beyond your lover, satisfaction or peace.
To look happy, sad, humble, arrogant,
irate, valiant, self-effacing,
satisfied, offended, distrustful.

To turn your face from clear proofs of deceit,
to drink poison as if it were a soothing liquor,
to disregard gain and delight in being injured.

To believe that heaven can lie contained in hell;
to devote your life and soul to being disillusioned;
this is love; whoever has tasted it, knows.


The next poet from the book is Vicente Aleixandre. Born in 1900 in Seville, Aleixandre lived most of his life in Madrid. Because of frail health, he lived a mostly secluded life devoted primarily to writing. He belonged to a group known as the Generation of 1927, When the Civil War started, many of the group went into exile. Aleixandre stayed and mentored younger poets and, in time, became a link between them and the older Generation of 1927 exiles.

Aleixandre died in 1984.


The Visitor

Here too I entered, in this house.
Here I saw the mother sewing.
A girl, almost a woman (one would say: how tall, how beautiful she is
becoming),
raised her large dark eyes, that were not looking at me.
Another child, a tiny shadow, hardly a cry, a small noise on he floor
touched my legs gently, without noticing me.
Outside, near the door, an unworried man was hammering on a piece of
iron.

I entered, but nobody noticed me.
I entered through the door to go out through another.
A wind seemed to shake their clothes.
And the girl raised her face, her big, vague eyes, and raised her fingers to
her forehead.
A deep, quiet sigh escaped the mother's breast.
The child felt tired and softly closed his eyes.
The father stayed his hammer and set his gaze on the blue line of the
twilight


My last poet from this book is Miguel Hernandez.

Hernandez was born in Orihuela in 1910. He was a shepherd for some time and was mostly self-educated. He began to read poetry, then began to write it. He died in 1942 in prison after the end of the Civil War. He was only 32 years old and in his short life became a strong influence for younger generations of Spanish poets.


The Train of the Wounded

Silence shipswrecked in the silence
of the mouths closed at night.
It does not cease to be silent or to traverse it.
It speaks the drowned language of the dead
Silence.

It opens roads of deep cotton,
gags the wheels of the watches,
stops the voice of the ocean, of the dove:
it stirs with emotion the night of dreams.
Silence

The rainy train of flowing blood,
the fragile train of the bleeding,
the silent, painful, pallid train,
the hushed train of suffering.
Silence.

Trains of the mounting mortal pallor:
the pallor coating the heads,
the cry of pain, the voice, the heart, the ground,
the hearts of the badly wounded.
Silence.

They are spilling out legs, arms, eyes -
they are spilling out fragments all over the train.
they pass, leaving a wake of bitterness,
a second Milky Way of starry limbs.
Silence.

A hoarse, faltering, reddened train:
the coal is dying, the smoke sighs,
and the engine sighs like a mother
and pushes forward like a long dejection.
Silence.

This long mother would like to stop
in a tunnel and lie down to sob.
there are no stations to stop at,
except in the hospital of the heart.

To lie, a fragment is enough:
a man can squeeze into a corner of flesh.
A single finger, a single piece of wing
can support the total flight of the entire body.
Silence.

Stop that dying train
that never ceases to cross the night.

And even the horse remains unshod,
and sand gets into its hoofs and breath.






"Sunset silhouette" acrylic on canvas
by Katie Sottak





Here's another character piece, this one by our friend Barbara Moore.



Uncle Johnny

My dad and I observed him
taking prisoners
at Joan McGrover's wedding
in the hotel suite

From our corner, drinks in hand
solitary companions
in mute dismay
we watched him work the room


Uncle Johnny to me
four flusher to my dad
he glad-handed all
beguiling his prey

Pumping hands, flashing teeth
he moved from clique to clan
flattering the flappable
goosing the glib with gab

working every angle
tweaking each detail
for "a sure thing, easy money"
his tongue silver, never still

He was always "on"
and folks were always fooled
"Just look at him," I said
"What a piece of work" my dad replied.






"Island Fusion" acrylic on canvas
by Katie Sottak





The next poems are from the anthology Crossing Water - Contemporary Poetry of The English-Speaking Caribbean, published by the Greenfield Review Press in 1992. The book's editor, poet and novelist Anthony Kellman, selected the poems included in the book. Born in Barbados, he attended graduate school in the United States
and is currently a professor of English and Creative Writing at Augusta College, Georgia.


The first poem is by Lorna Goodison, Jamaican poet, painter, fiction writer, art teacher and public relations consultant. Her first collection of poems, Tamarind Season, appeared in 1981. She is one of the best know poets in the Carribean.


Garden of the Women Once Fallen

I
Shame Mi Lady

Lady, what could you have done so
to make you close in on yourself so?

The lady folds her arms across her chest
The lady droops her head between her breasts.

The lady's eyes will not answer yours
Lady, if I tell you my crime
will you tell me yours?

Mine are legend and all to do with love misplaced
yet I've been replanted in this arboreal place,
now, if I can find favour (me with my bold face)
you bashful you shy you innocent lady
must/bound to find absolution/grace.

Come lady, tie bright ribbon-grass around your waist
Let you and I bloom redemption in this place.

II
Broom Weed

You exhaust yourself so
O weed powerless
your life devoted to sweeping, cleaning
even in your blooming.
You pull dust balls from the air
whisk away bee-droppings
with your coarsened hair.
And in your fullness
they bundle you
without so much
as a by-your-leave.
Drudges, make a coat of arms
wear broomweed on your sleeves.

III
Poui

She don't put out for just anyone.
She waits for HIM
and in his high august heat
he takes her
and their celestial mating
is so intense
that for weeks her rose-gold dress
lies tangled round her feet
and she don't even notice.

IV
Sunflower Possessed

Her folded neck-skin
reveals her age
but the face powdered
is limned by myriads
of mirrors and gold-washed frills.
This display for the benefit
of the perfect one in the sky.
To the ragged coterie of weeds round her
she says, "In my first bloom I was
the tender honey-skinned mamma
of that great golden one on high."
The ragged weeds
never knowing glory
(for this reason some weeds are evil)
shiver their rags and hiss
"sure"
she semaphores, hoping
the golden circle of her unmaking
will give her they go round once more.


The next poem is by Rachel Manley a Jamaican poet born in England, raised in Jamaica, and currently living in Canada. She is a daughter of former Jamaican Prime Minister Michael Manley.


Marquez' One Hundred Years of Solitude.

Old men tell better tales.
Somewhere in exile
Between rumour
And the slow revenge of memory
The veins of a continent
Crawl like snakes between stones

You laugh from the belly
Of the tribe's womb,
On the vocabulary of blackbirds
Words fly to meet carnage;
Black black Orpheus.
Before these cities
That have come to look the same
Truth had its own shape,
Magic was magic...
Those whose eyes are windowless
live chained to a tree
And she is love
Who wanders through the generations
collecting bones
For the library,
Listening to the returning confessions
Of the broken rosary of blood...
It is the knowledge
And the mercy of the mind
That are insomniac.


My last poet from Crossing Water is Kendel Hippolyte. Born in St. Lucia in 1952, he is a teacher, playwright, actor, director, poet, and musician.


Poem in a Manger

where is the poem?
not on this page i'm looking at and reading from.
where is the poem?
not here, not in these miserable words i'm writing now
though i have to write them, though you have to
read them, see them, hear them.

cause really, if i could, i'd make this page
howl at you, the paper burn crisp, the letters burst
like pustules and pressurized blood vessels, so you
would see
on opening this inadequate irrelevant book
flipping this ridiculous bit of paper
not a "poem"
but a baby blackening and charred and smoking still
cindered by its private holocaust-to-come

if the baby
(that's its ear you're holding at the corner of the page -
let go!)
could curl and stretch and stiffen
one last time like a burnt page in a still wind
if this baby
would show its blackening sooty teeth
like letters hitting a page
without a w o r d
if it would turn over on its back
contracting to a bitter foetus, regretting every screaming
moment it was in the blank book of the living
if you'd see this
hear this, touch the wincing flesh of it
just as you turned this page
if you'd see - goddamn it, why don't you! -
that the baby on this page, disguised as a raving poem
'is you, really all the time is you
then how
would there ever be again another war
another flash of nitroglycerine
another tin soldier flashing tin-medalled teeth
another jack-booted "yes-i'm ready" puppet in the box
another and another and another
wall-eyed uniformed somebody's son to press or pull or
push or ram
the triggers, switches, levers, plungers, pins, parapher-
nalia of the
weltering world-waste of another war?

how would there be
if this baby, swaddled in words, lying on this inade-
quate page
would burn alive
before your eyes and howling all the time
that it was you?

if you would see, they you'd see why
the poem isn't on this fucking page
then you'd see where the poem has gone
and why i'm trying to use these useless goddamn
words! to catch it, and
why i need you to
help me do that

look at the page again:
these are just words

let us go find the poem.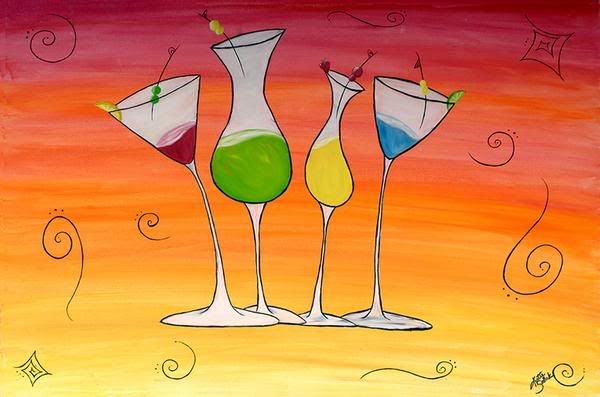 "Wine Glasses of Funk" acrylic on canvas
by Katie Sottak





Here I am, getting things a little backward, ending this week where I started last.



seeing what there is to see

dropped Reba off
at the beauty parlor
for a bath
and stink-abatement

we'll be driving together
for ten days
beginning tomorrow
and her addiction
to rolling in anything
offering the slightest promise
of disgusting

- it's her jones, you know -

makes her not the most pleasant
traveling companion
in a small SUV

de-rankafication
before we leave is a
pre-journey requirement

if all goes to plan
we'll be in Roswell
tomorrow night and
Denver the night after,
D joining us Friday
via the magic of human flight

- being non-disposed to magic, i do not fly -

four days
of the sights and sounds of Denver
and D will head for home
via that old black magic
she know so well while i
take four or five days
to do the same,
enjoying along the way
the essence of the Southwest
from ground level - no scurrying
ants for me - stopping when i want
for a Pepsi Cola and a Moon Pie
or a walk in a park with Reba -
other things you can't do
at 40,000 feet

having been to Denver
only once, and that for
the sole purpose of driving
200 miles out of the way
to worship at the Shrine of Red Rocks,
enshrined, according to my son,
by the several times the natural
amphitheater provided venue
for the Dave Matthews Band

i assume
there is something else to do in Denver

whatever it is,
we'll have four days to find it






"A Day of Fishing"
by Katie Sottak





That's it for another week.

I'm back now from my travels for a while. Tired though; 3.000 miles driving in 6 days wore me like it didn't used to. Still game for the next one though.

Until next week, I remind again - all the work included in this blog remains the property of its creators; the blog itself was produced by and is the property of me...allen itz.