City Light
Friday, February 20, 2009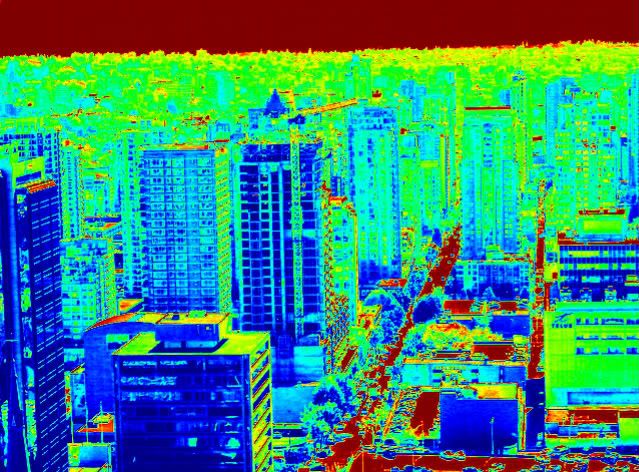 IV.2.3.





Here we are, back again with more poems and art.

This week's treats are -

From friends of "Here and Now"

Michael Sottak
Don Schaeffer
Coleen Shin
Dan cuddy

From my library

David St. John
Rabindranath Tagor
T.S. Eliot
Elizabeth Seydel Morgan
Ted Hughes
Pamela Kircher
Deborah Garrison
Tito Lespier
Gaving Moss
Alvin Eng
Issa

And, as always, me.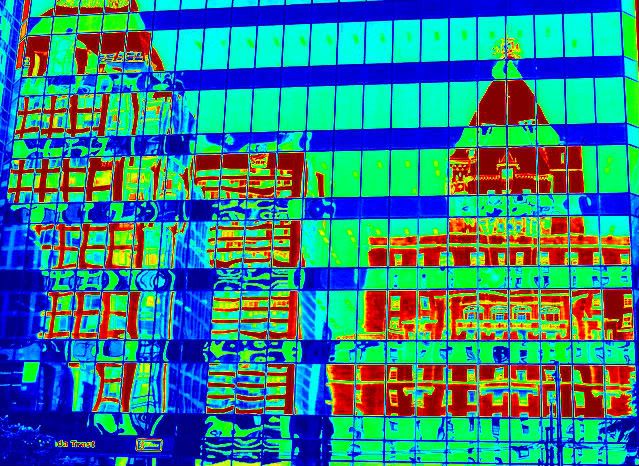 My first poems this week are by David St. John, from his book Study For the World's Body published by HarperCollins in 1994.

St. John taught creative writing at Oberlin College and John Hopkins University. At the time the book was published, he was teaching at the University of Southern California and had been editor of The Antioch Review for twelve years. He had won a number of significant poetry prizes, appeared in numerous literary journals and had published several books of poetry to excellent reviews.



Song Without Forgiveness

You should have known. The moon
Is very slender in that city. If those
Letters I sent,
Later, filled with details of place
Or weather, specific friends, lies, hotels -
It is because I took the attitudes of
Shadow for solitude. It is because you swore
Faith stands upon a black or white square,
That the next move
Is both logical and fixed. Now, no shade
Of memory wakes where the hand upon a breast
Describes the arc of a song without forgiveness.
Everything is left for you. After the bitter
Fields you walk grow deep with sweet weeds, as
Everything you love loves nothing yet,
You will remember, days, you should have known.


The Avenues

Some nights when you're off
Painting in your studio above the laundromat,
I get bored about two or three A.M.
And go out walking down one of the avenues
Until I can see along some desolate side street
The glare of an all-night cafeteria.
I sit at the counter,
In front of those glass racks with the long,
Narrow mirrors tilted above them like every
French bedroom you've ever read
About. I stare at all those lonely pies,
Homely wedges lifted
From their moons. The charred crusts and limp
Meringues reflected so shamelessly -
Their shapely fruits and creams all spilling
From the flat pyramids, the isosceles spokes
Of dough. This late at night,
So few souls left
In the pace, even the cheesecake
Looks a little blue. With my sour coffee,
I wander back out, past a sullen boy
In leather beneath the whining neon,
Along those streets we used to walk at night,
Those endless shops of spells: the love philters
And lotions, 20th century voodoo. Once,
Over your bath, I poured one called Mystery of the Spies,
Orange powders sizzling all around your hips.

Tonight, I'll drink alone as these streets haze
To a pale grey. I know you're out there somewhere -
Walking the avenues, shadowboxing the rising
Smoke as the trucks leave their alleys and loading
Chutes - looking for breakfast, or a little peace.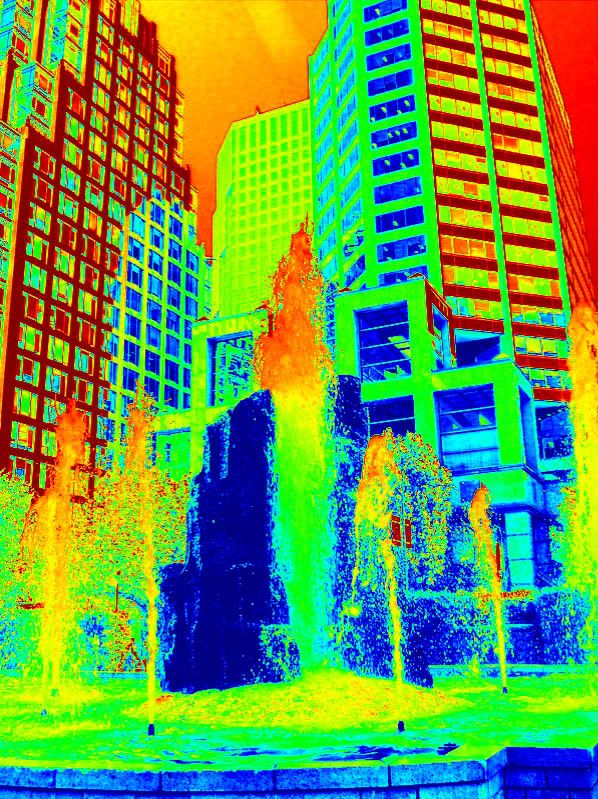 This piece is from my ramble around west of San Antonio a couple of weeks ago.



on the river

two eggs,
one pancake,
and four sausage links

4:30 in the very early morning

breakfast in
Del Rio,Texas,
County Seat
of Val Verde County,
on the river
150 miles west of
San Antonio, and 400
southeast of El Paso, with a population
of about 45,000,
the largest collection
of Texas bodies and souls
between the two,
not counting Cuidad Acuna
on the Mexican side
of the Rio Grande
where the lights in boystown
make cigarettes glow
a sparkly, shimmering gold
and a slender young whore dances
naked in a dim-lit courtyard, through scattered tables
with 16 year old boys, college carousers,
oil-tattooed roughnecks, whip-thin cowboys and fat businessmen
belching beer and three for a dollar cigar smoke watching every slow,
sweat-oiled move, every one of them, man and boy,
looking for something at a place where they're sure to never find it

look
but don't touch
for touching costs more
than the price of a bottle of Mexican beer...

but
not a lot more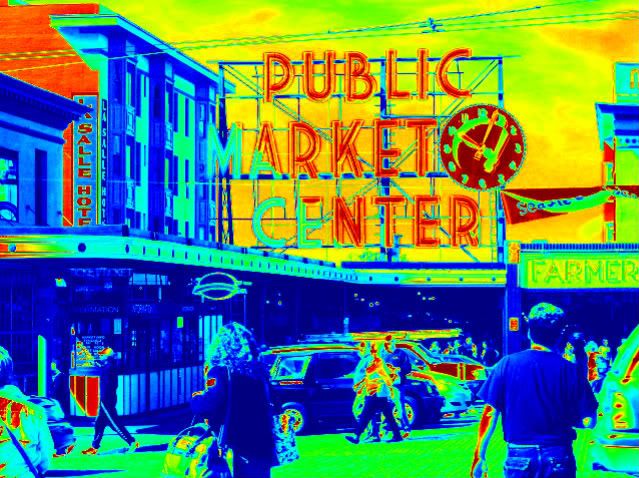 Here's a treat, someone I never heard of, Rabindranath Tagore, Bengali mystic, Brahma poet, visual artist, playwright, novelist, and composer who became Asia's first Nobel laureate in 1913 when he won the Nobel Prize in Literature.

Born in 1861, Tagore first wrote poems at the age of eight. At the age of sixteen, he published his first substantial poetry under the pseudonym Bhanushingho ("Sun Lion") and wrote his first short stories and dramas in 1877. In later life he protested strongly against the British Raj and gave his support to the Indian Independence Movement.

Tagore wrote novels, short stories, songs, dance-dramas, and essays on political and personal topics. Two of his songs are now the national anthems of Bangladesh and India.

This poem is from the book Rabindranath Tagore, Selected Poems, published in its fifth reprinting by Penguin Books in 1994.

The poems were translated by William Radice.



Bombshell

The sinking sun extends its late afternoon glow.
The wind has dozed away.
An oxcart laden with paddy-straw bound
For far-off Nadiya market crawls across the empty open land,
Calf following, tied on behind.

Over towards the Rajbarpsi quarter Banamali Pandit's
Eldest son sits
On the edge of a tank, fishing all day.
From overhead comes the cry
Of wild duck making their way
From the dried-up river's
Sandbanks towards the Black Lake in search of snails.

Along the side of newly-cut sugar cane
Fields, in the fresh air of trees washed by rain,
Through the wet grass,
Two friends pass
Slowly, serenely -
They came on a holiday,
Suddenly bumped into each other in the village.
One of them is newly married - the delight
Of their conversation seems to have no limit.
All around, in the maze
Of winding paths in the wood, bhaji-flowers
Have come into bloom,
Their scent dispensing the balm
Of Caitra. From the jarul-trees nearby
A koel-bird strains its voice in dull, demented melody.

A telegram comes:
"Finland pounded by Soviet bombs."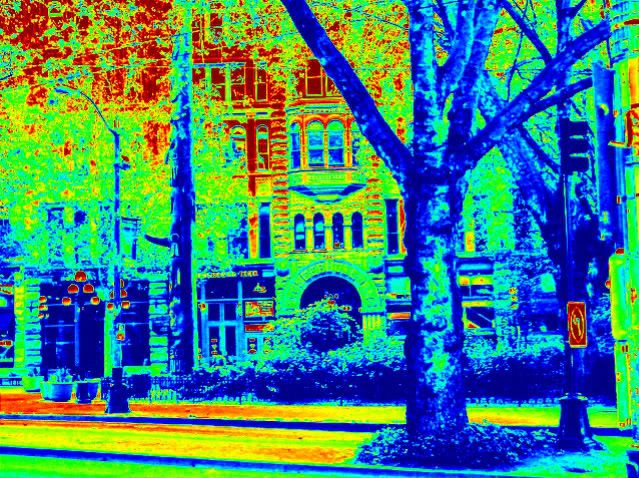 Here's a character piece from friend and frequent contributor, Michael Sottak.



anna mae

colonel greene was a fly boy
anna mae his wife
to understand this
you must follow the path
of arrogance
the military smartness
and demands upon military wives
the husbands gone for months
the wives left alone
to carry on the business of family
meals school church
alone
refinement and character
all built from the wife
and colonel greene expected
his 1964 MGB in perfect running condition
when he came home
anna mae needed three phone books
to get her high enough to see over the dash
of her Cadillac
and the colonel would come home
wrap a white scarf around his neck
and drive off in his MGB
when he died my mother became her best friend
she also a military wife
they had that commonality
the aloneness of running a family
her children were grown
then my mother was gone too
so i gave her my number
kept my sailboat in the canal
behind her house...
she liked the antics
the giggling women at four a.m.
the moon on the water
and she'd call me
"Mike i just had new carpet installed,
my doors won't shut."
"Anna Mae, i'm going to have to trim
a half inch off the bottom of these."
"Oh, Michael, do you know how to do that?"
"Yes, Anna Mae."
"May an old lady offer you a drink?"
"Of course you may."
"Here, sit down and watch Emeril with me.
Don't mind Boo Chee, he's glad to have company."
and the scottie jumps into my lap

my answering machine says
"Michael?..."
i recognize her voice
walk across the street
knock on her door
Boo Chee is barking
at the front door
around to the back door
i just walk in
"Anna Mae?"

"Oh, Michael, I've fallen down.
Can you help me up? ...Thank you.
Have a wine cooler with me. Emeril
is coming on in a minute."

Boo Chee jumps in my lap...
"Oh, don't mind him.
He just loves company...
I want you to have the MGB
it was the colonel's favorite thing."

"Thank you, Anna Mae, but I can't accept."
"Why not?"

"Because only an Air Force Colonel
can drive that machine!"

and she sits back
sips her wine cooler
and smiles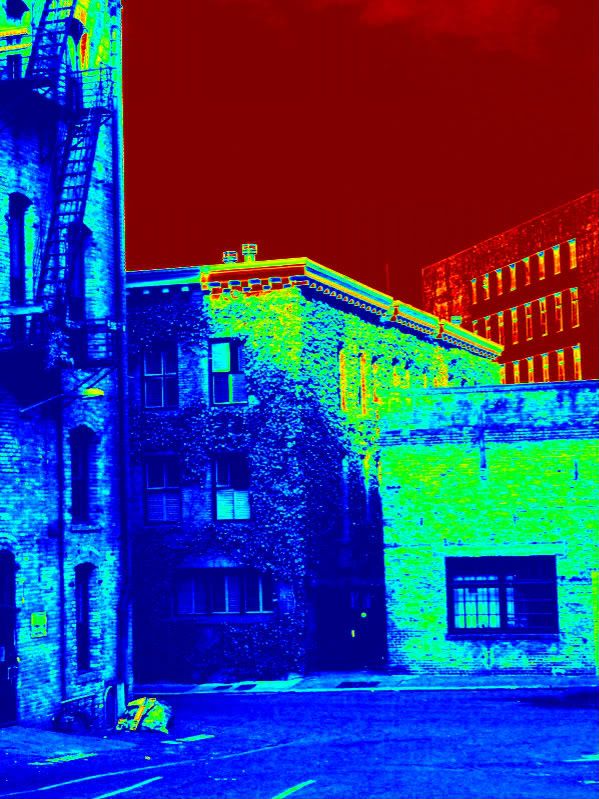 That poet before Michael, Rabindranath Tagore, might be as obscure to most people as he is to me, but here's a poet obscure to no one, T.S. Eliot, with a poem from his equally non-obscure Old Possum's Book of Practical Cats.



The Naming of Cats

The Naming of Cats is a difficult matter,
It isn't just one of your holiday games;
You may think at first I'm as mad as a hatter
When I tell you, a cat must have THREE DIFFERENT
NAMES.
First of all, there's the name that the family use daily,
such as Peter, Augustus, Alonzo or James,
Such as Victor or Jonathan, George or Bill Baily -
All of them sensible everyday names.
there are fancier names if you think they sound sweeter,
Some for the gentlemen, some for the dames:
Such as Pluto, Admetus, Electa, Demeter -
But all of them sensible everyday names.
But I tell you, a cat needs a name that's particular,
A name that's peculiar, and more dignified,
Else how can he keep up his tail perpendicular,
Or spread out his whiskers, or cherish his pride?
Of names of this kind, I can give a quorum,
Such as Munkunstrap, Ouaxo, or Coricopat,
Such as Bombalurina, or else Jellylorum -
Names that never belong to more than one cat.
But above and beyond there's still one name left over,
And that is the name that you never will guess;
the name that no human research can discover -
But THE CAT HIMSELF KNOWS, and will never confess.
When you notice a cat in profound meditation
The reason, I tell you is always the same:
His mind is engaged in a rapt contemplation
Of the thought of the thought, of the thought of his
name:
His ineffable effable
Effanineffable
Deep and inscrutable singular Name.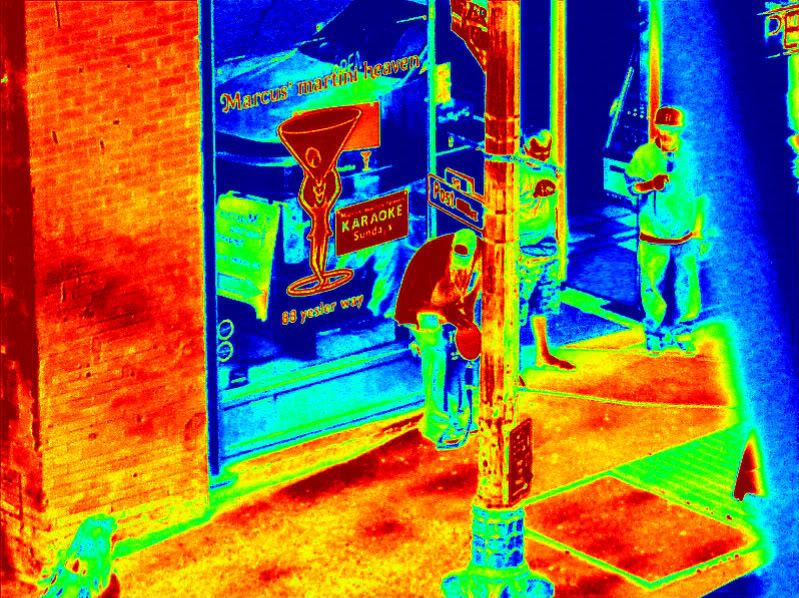 It's a different river for this poem than the earlier one i posted. This one, the San Marcos River, flows out in the country about a mile or so from the property we've been trying to sell. (And maybe finally have!)



the river flows

drought
and winter freeze
have stripped the trees and brush
and i can see the river below the bluff
on either side off the low-water crossing

although i've taken this road many times,
i can see features i haven't seen before,
like the jag right
about a quarter mile past the bridge
and the flow from there
through open fields
before
closing in again
a little further down
through hackberry and pecan

the river begins
clear and cold even in hottest summer
with springs at the base of the escarpment
separating the Edwards Plateau
and the hill country
from the coastal plains
that slope for a hundred miles
to gulf beaches

- what a day
it must have been in prehistory,
when the earth parted,
part rising
and part falling to the sea,
perhaps even then
creating these springs
that have watered
red, brown, and white
civilizations for a thousand years -

now
the springs feed the river
that flows
through the university
and the town
and finally here in the country
where i am now,
still clear, still cold

how constant
and consistent are the forces
of earth and water,
finding their way, always,
from high to low,
from wet to dry, always,
that is, until they face the greed
of man,
the exploiter and despoiler,
turner of purity to filth,
clarity to the sludge waste
of our ever-growing,
ever-abasing
breed

i lived by these waters
40 years ago, swam in them,
as did my son in his own time

now i stop at this bridge
every time i cross it
just to look,
just to remember
for the future
the better world i lived in
than the world i left behind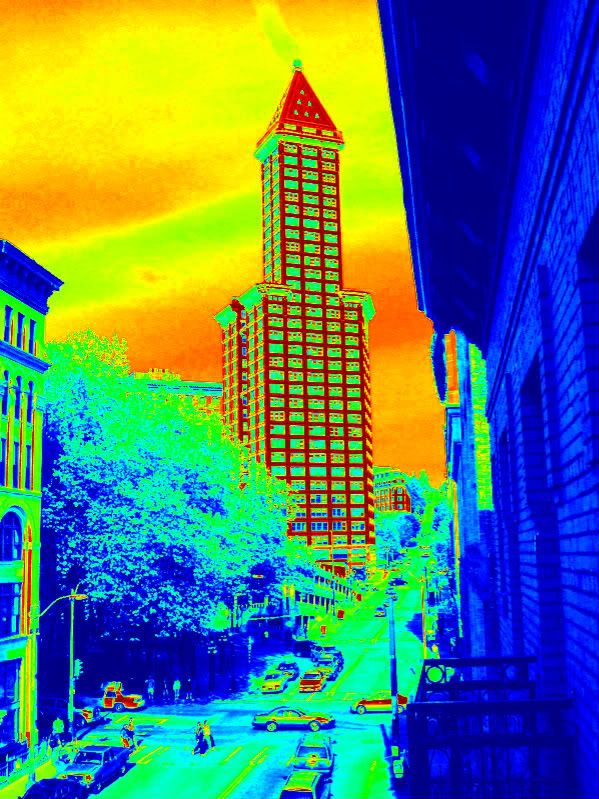 The next two poems are by Elizabeth Seydel Morgan from her book Without a Philosophy, published by Louisiana State University Press in 2007. She has three previous books of poetry from Louisiana State University Press: Parties, which I've used on "Here and Now" before, The Governor of Desire, and On Long Mountain.



Cow Bone Clearing

From down in the hollow all afternoon
cows moan and bellow. How
could I know. On Long Mountain
I've heard their voices, the lowing,
the call and response of one cow
to another, a calf to a mother,
a mother to a calf. But still from below
into the gold of the walnut's falling,
evening of first month of fall, still
the chorus of bellowing rises
like earth turning dark behind me
and now
in an hour before dawn I sit at the window
and look down the unceasing
sound in the dark and I know
the ache of a mother.
The loss like no other.
We allow even cows our pity for hours,
for the gorging milk, the unsuckled bloat,
the absence below,
in a meadow of shadows.

Not long ago I followed
a trail off the old Bough Road
down through thick laurel and cedar
and discovered a clearing where
flickers of sunlight fell on white bones -
cow skulls staring, a score of white skulls,
a row of curved ribs,
pearled pelvic rounds -
and though not a bird or a cricket called
it seemed that the sound I hear now from the hollow
rose from that bone ground, long and low.


Everybody's Coming in for the Winter

The slick furred mouse scratches and stumbles
somewhere between the walls of my bedroom
and the sheathing of this old house. Between
the ceiling and shingles a squirrel gallops.
Damn them, noises in the dark, invisible squatters
it's taken me years to identify -
it's the groundhog under the flooring
who bumps and grinds to deepen his burrow.
But why so early, gnawing around in my inner mazes,
when summer's long season has not let go?
I'm listening, sleepless alone in our bed,
to the sounds of aliveness moving in:
How do they know
in the summery southern middle of night
that it's time to leave the kudzu caves,
the grassy banks, the fields and trees?
How do the creatures clambering around me
know it's time, know it's time, know it's time
to come in .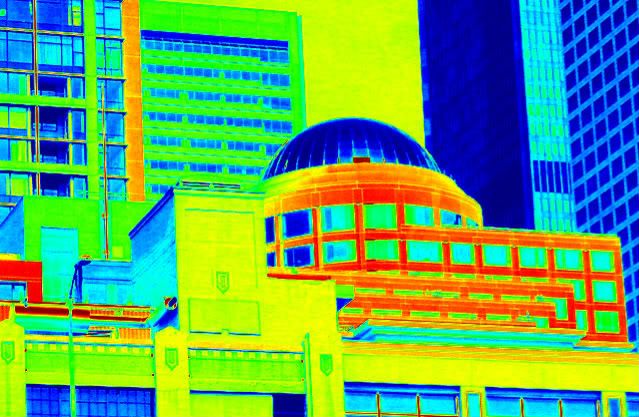 Here's a poem now from our friend in Winnipeg, Don Schaeffer.



Rescue

Every day in Zellers,
I watch where they sit
and move to a place
out of ear shot.
The poor girl
talks a blue streak
about her mother and her health
and all her theories about crime.
She is a viewer of American
television and loves
murder.

I know her
from shopping in the mall.
She is a cleaner of tables.
At 35 years old,
She lives under the cobwebs
somewhere in the house of her mother
who doesn't let her go out.

They enter the cafe together
the unadorned blond
and the small balding man
whose english is broken by
a european tongue. He buys her
breakfast every day.
They sit opposite and he
listens to her stories.

And as she talks,
crashing through the silence,
she straightens her hair and
elaborates on her split ends.
I can see the heat of her womanhood
redden under her skin. She
moves with bright eyes
like a star.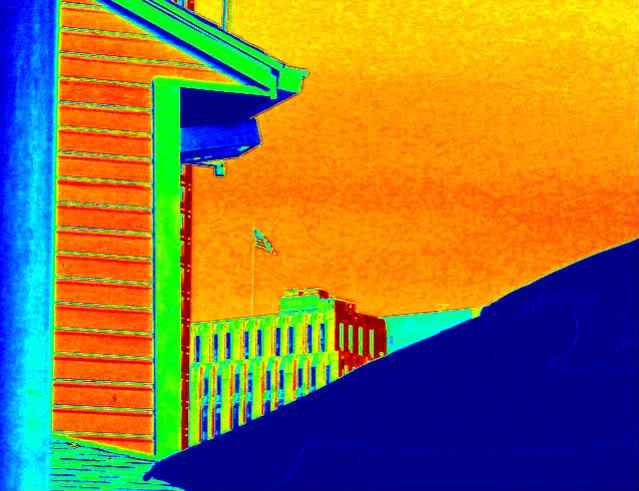 Here are two pieces by Ted Hughes from the book Crow, From the Life and Songs of the Crow, a very small book first published in 1972 by Faber and Faber.



Crow's Fall

When Crow was white he decided the sun was too white.
He decided it glared much too whitely.
He decided to attack it and defeat it.

He got his strength flush and in full glitter.
He clawed and fluffed his rage up.
He aimed his beak direct at the sun's center.

He laughed himself to the center of himself

And attacked.

At his battle cry trees grew suddenly old,
Shadows flattened.

But the sun brightened -
It brightened, and Crow returned charred black.

He opened his mouth but what came out was charred
black.

"Up there," he managed,
"Where white is black and black is white, I won."


Crow on the Breach

Hearing shingle explode, seeing it skip,
Crow sucked his tongue.
Seeing sea-grey marsh a mountain of itself
Feeling spray from the sea's root nothing on his crest
Crow's toe gripped the wet pebbles.
When the smell of the whale's den, the gulfing of the
crab's last prayer,
Gimletted in his nostril
He grasped he was on earth.
He knew he grasped
Something fleeting
Of the sea's ogreish outcry and convulsion.,
He knew he was the wrong listener unwanted
To understand or help -

His utmost gaping of brain in his tiny skull
Was just enough to wonder, about the sea.

What could be hurting so much?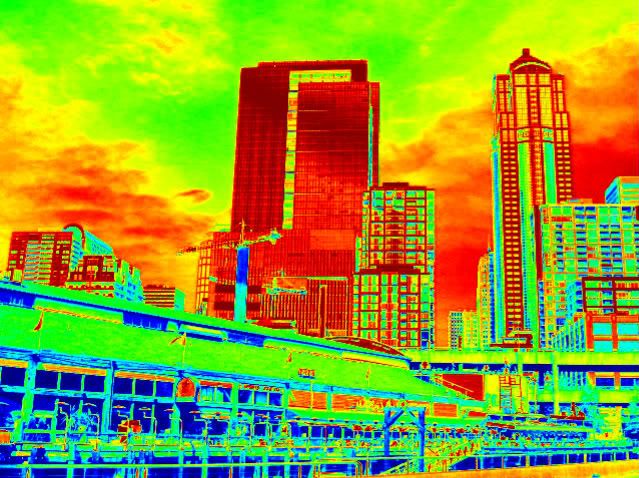 The damn weather has been weird around here, one day 30 degrees, the next 75 or 80. Never know what weather to dress for in the morning until you're right out in it.



situational awareness

i fed the dogs
this morning, out on the patio

what a nice day
i thought

forgetting
the patio is sheltered from the wind

"situational awareness,"
i read that phrase in a story about combat training

it's a kind of hyperawareness
of place and time

that allows soldiers
to protect themselves against surprise

i near froze my winnabageos off this morning
taking Reba for a walk

it was the wind that surprised me,
the lack of situational awareness on the patio

causing me to go for a walk
without my coat

damn good thing
it was just wind blowing and not someone

shooting
at me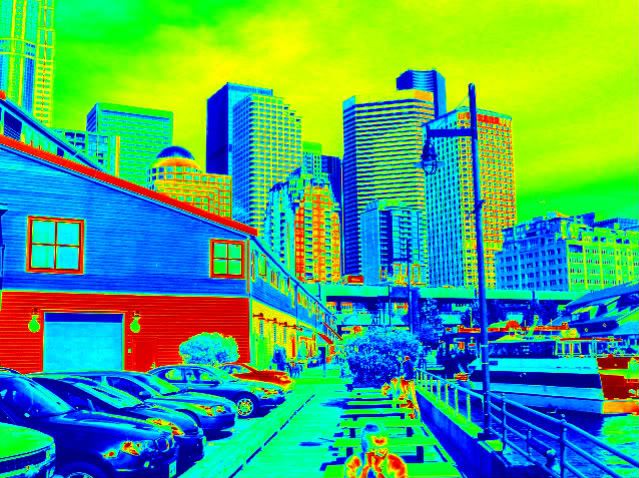 Pamela Kircher lives in rural Ohio, and holds a MFA degree from Warren Wilson College's MFA Program for Writers. Her poems have appeared widely in literary journals including Best American Poetry, 1993. Her awards include three Ohio Arts Council Individual Artist Fellowships and a resident fellowship at the MacDowell Colony.

The next two poem are from her book, Whole Sky, published by Four Way Books in 1996.



Perfect in Its Purpose

Only two sounds: wind chimes
trembling at the ends of strings like fingers
searching he skin of something new
and across the street a chain
swings inside the graveyard.
Not scary for once,

for once the night has nothing
to hide. Slick obelisks
and small arched stones stand
in a street light's diaphanous light.
The stones glow softly,
just enough to show

they have no words
for the dead who want nothing
from this world anyway
since the body is gone
and with it the chance
of picking up a crow's dropped feather
and giving it back to the wind.

Such a little loss
because with tongue and teeth you can't say anything
to make the iron dog leave
the grave it's lying on.

perfect in its purpose

like sorrow, to be there
long after the moon has washed the streets
and left them drifting
in other people's forgetful sleep.


Dream of the Rest of My Life

Last night
I dreamed I had been alone
all of my life:
it was evening by railroad tracks,
a brick building, a window I looked in
at myself. The woman I saw there was not happy
but used to the empty white room

where nothing was ever given
or taken away. I could tell
this was a woman who never woke in the night,
went to the window and looked up the road
for the person who should have been home
hours before. Since I have chosen you

I stand at the window and watch a turn in the road
until it becomes a blur, a wish for headlights
pushing the night aside.
For the rest of my life
I will wake in the morning and wonder
as the sun lays a ribbon across the floor,

what can I use it for
quick before it goes
and why do I want it so much
when it means your shadow and mine
will be less like ourselves
as the days pass on, will be longer,

mare like a cloth to step into
and draw about our shoulders, faces, heads,
when we each, alone, are tired.






"Red River Girl"
by Coleen Shin





Next, here are six paintings (one above, five that follow) by Coleen Shin, a poet, artist, and new friend of "Here and Now."

Coleen lives near Dallas with, she says, her husband and a house full of unruly free range pugs. Coleen enjoys nature up close, the city, from a distance and has bonded in a truly spiritual way with the hammock swing under the pine trees in her backyard.

I know that part of the state and can confirm it is a world leader in pine and hammock swing bonding.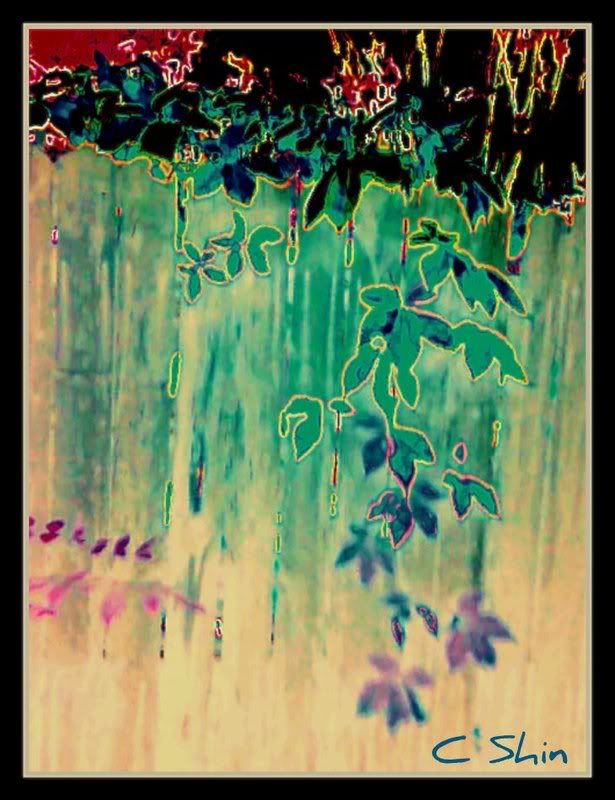 "The Fence"
by Coleen Shin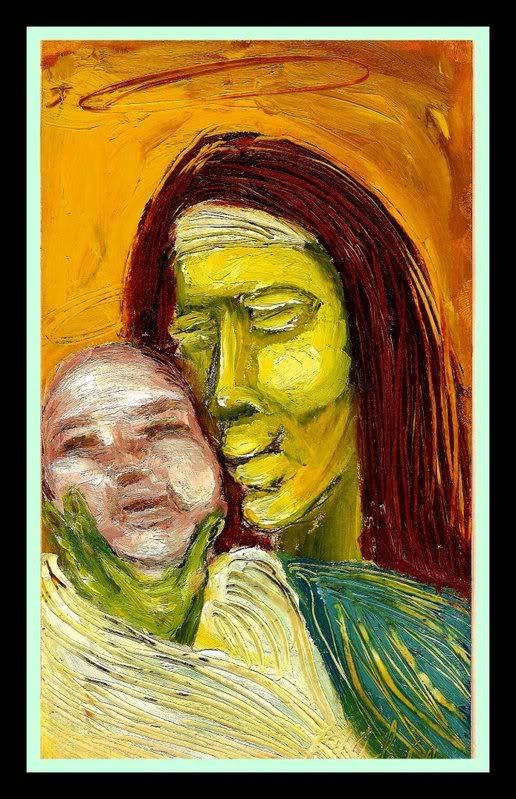 "Coleen's Digital Art 002"
by Coleen Shin

"Losing My Religion"
by Coleen Shin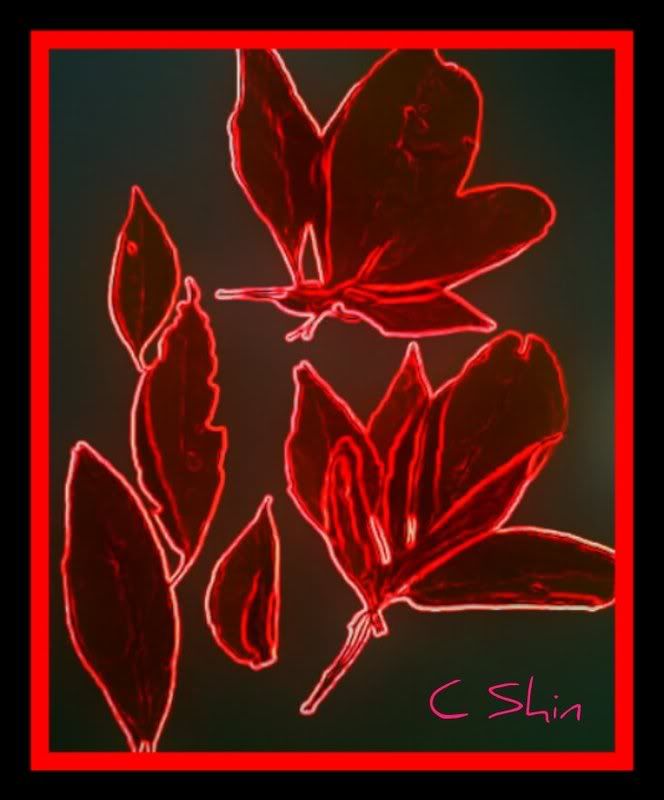 "Leaves"
by Coleen Shin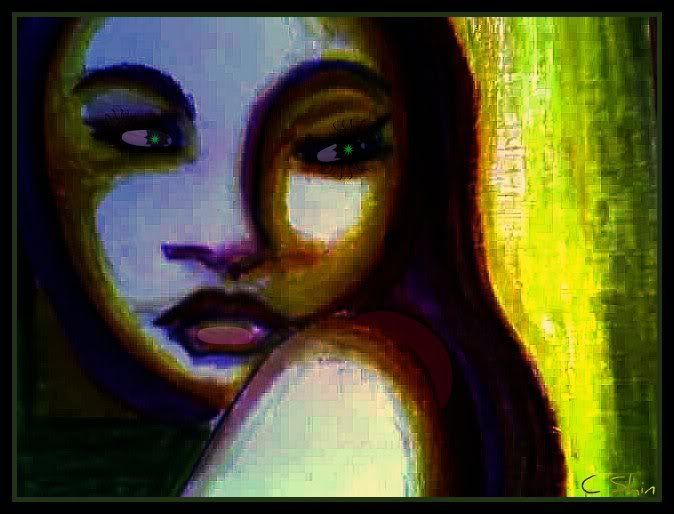 "Mercy"
by Coleen Shin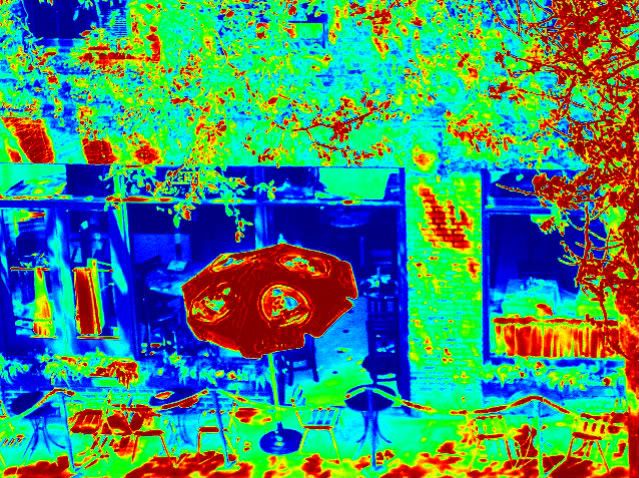 Deborah Garrison worked on the editorial staff of The New Yorker for fifteen years and is now the poetry editor af Alfred A. Knopf and a senior editor at Pantheon Books. The next poem is from her first book, A Working Girl Can't Win, published by The Modern Library in 2000.



You Prune Your List in Summer

Where I am the sky has been trying
to clear all morning.
At noon the sea is sparking
green, a giant coin flipped and

falling, and there are warnings:
a plane towing and ad for cigarettes
(pleasures are dangerous),
the sun's fuzzy mouth sucking the day back

in through the haze.
I am in search for the perfect stone
for you - as if it would help!
What good are stones to you

now, rose or black,
pointed, smooth?
Why remind you? Why be
heavy in your hand?

Where you are -
the truth is I don't know
where you are.
Maybe the city:
lunch dates with a noisy woman,
rainstorm, the umbrella forgotten.
And more phone messages!
All afternoon you prune your list,

and I can see you crossing us off,
peeling back layers, working
down to the ribbed, worn
pit of your self, then

setting out, tons lighter,
like the prow of a boat without
it's boat behind, and ladyless
in front, no more breasts to the wind,

no more long, carved hair.
Don't worry. Already it's weeks
I lie in bed mourning your loss,
already I remember this summer

like a summer gone, and myself
like a woman who rented here years ago -
her radio and sunscreen, her stack
of paperbacks. It was she
paddling the warm wave of getting away,
she slender, on a diet from love,
who was free. Free!
Best self, lost sister, I start

to forget her, wondering
if at the corner of your day
my colors don't still go up,
a small disturbance, a tat of flag,

nicking the morning at the edge of your view.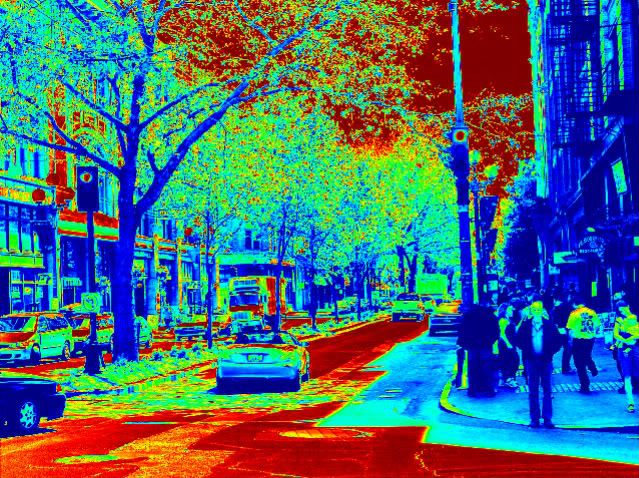 I was listening to a thing on NPR about random music, that is, when writing music start with a series of random notes or phrases, then build from that to a composition. It sounded interesting and I was thinking I might try something like that with a poem. I had my chance the next morning when i woke up with this stupid phrase - mechanical warrior chickens - stuck in my head.

I decided to try the random music thing but couldn't come up with a poem about mechanical warrior chickens It turned out it was a little bit too random for me to find a connection, but I was able to structure the poem around the phrase, writing what I think is called an acrostic.




mechanical warrior chickens

many folks believe
end times are near,
churchly people mainly,
heaven their aim,
annihilation of the rest of us
necessary and of little importance
in the overall scheme of things -
crazy people some might say
angels say others
leading all who wish to follow to heaven's gate

well,
argue with me as they might,
rationalize as they must,
redefine rationality as mere evasions of the devil
incarnate as they will
only the most misguided would seek to
reduce the beauty of all that is to ash

camouflaging their self-interest in an imagined
heavenly reward, wrapping
it the robes of a
celestial choir just waiting, they claim to
know, to welcome us to that place where
eternity waits and
never will we ever know
sin again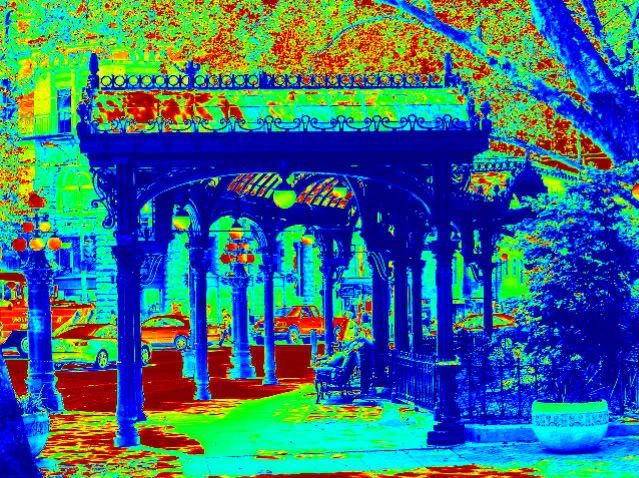 Aloud, Voices from the Nuyorican Poets Cafe is an anthology published by Henry Holt and Company in 1994 and edited by Miguel Algarin and Bob Holman. This week, I have three of the book's poets.



The first is Tito Lespier, a poet from Louisiana.


I Heard the Bird

It came to me
In a mellow tone, in a softly hued vibration
Almost mysterious to the human ear.
I wasn't sure...not certain if I should
Respond to such an emotional cadence.
Then all of a sudden SKIDDIDLY-OOH-BOP-SKIDDIDLY-BOOP
Yeah! As abrupt as that might have sounded
Man it was okay, I mean, how was I supposed to
Understand what Sassy Sarah was saying?
I wasn't old enough for romance the way she
Sang it. Oh! But I heard...then Ella came to me
Fast, without warning, in tiskets & taskets with
Scatfilled baskets...intelligible syllables
Made me smile as a child and I haven't stopped
Since. What more do you need to appreciate
A jazz singer's deed? Listen to Anita baking emotions
Or Bobby McFerrin with his 501-don't-worry-be-happy self.
I'll never forget Bird, and so glad that I heard
The rainbowfilled magic of the jazz singer's word.

It came to me
In a series of rapid salt, peanuts, salt, peanuts
Rhythm go 'round and 'round
Honk, trap drum cymbal bass line
Straight from the kitchen to the table
Fusion, bebop willin' and able to
Withstand MUZAK...
Let's go back, dip into that link that
Led to the words, "THE BLUES HAD A BABY
AND NAMED IT ROCK & ROLL," and Jelly told
you so, but you still misbehavin'. If you're
Hip and you hop remember what gets
You to the top. Look back and check it out.
Don't bury the wings that brought us
This far. Let a yardbird fly high
I'll never forget Bird
So glad that I heard...


My next poet from Aloud is Gavin Moses, a former reporter for People magazine. At the time the book was published he was a student at Harvard Divinity School.


Boomerang

Walking down 9th ave.
depress bout a love
gone one hour past despair,
a six-foot-three nappy-headed
prostitute, in broken-down brown heels
approaches, "Need a date?"
No, but thanks, I said, waiting
for the light to flash its
emerald eye.
"Where you going?"
Home.
"Can I come?"
Well -
What you need, she said, is to
be good to you and treat yourself.
She meant to her. I understood it
to mean spend more time with me.
Love you, I retorted. Catching her
reflection offguard in my eyes
she smiled like a kid comin' out the
circus holdin' a balloon in one hand,
cotton candy in the other, thinkin' bout
eatin' some ice cream. The light winked.
She turned the corner on cue. We both needed
to hear what we said to each other. What we said
to each other, we needed someone to say to us.


My last poem from Aloud is by poet, screen writer, dramatist, actor, and teacher Alvin Eng. He was born in Flushing, Queens, NYC. The fifth of five children. His parents emigrated from Toisan, Guangzhou Province, China, and ran a Chinese Hand Laundry. He says he was named after the Chipmunk cartoon character.


Twas the Night Before Chinese New Year's
for Vincent Chin

Twas the night before Chinese New Year's
& all throughout Chinatown the word was out:
The old man was being hunted down
like the other from another planet.
His believers at the Pagan Pagoda knew he was gone
but they hung out all night anyway,
with hopes that he would return.

Twas the night before Chinese New Year's
& a dirty kind of quiet ripped up East Broadway in search of a storm,
but found only the old sewing woman
taking the moon out for its nightly walk.
The birdman of the Bowery
left his cages wide open but the birds would not fly
for they knew the tedium of surviving on the inside
was much easier than trying to get their wings out
there in the sweet and sour sky.
But how would the old man survive?

Twas the night before Chinese New Year's
& the red noise of the new year had not yet begin
but in a sense had already ended.
Nobody could fall asleep but no one could wake up
as visions of the old man danced in and out of the broken neon
shadows hovering over everybody's bed.
Twas the night before Chinese New Year's
and all thought chinatown all the traffic lights stayed yellow
but all the people saw red.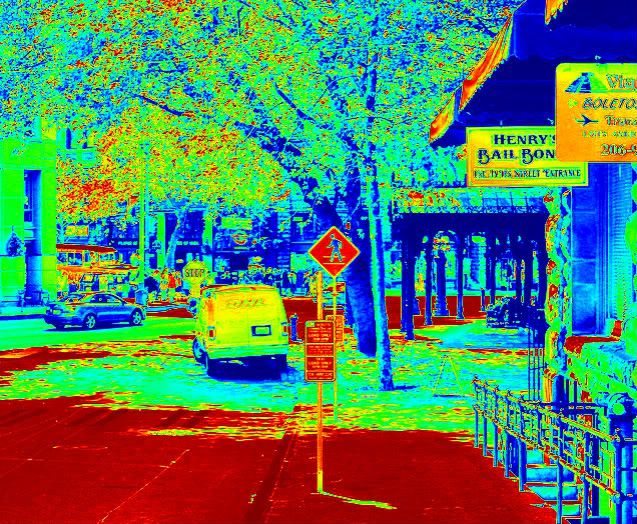 Now here's something by Dan Cuddy a friend who poems appear here frequently.



Special Effects

1

so much depends
on shattered windows
tumbled cars
slo-mo bullets
sculpting punctures through
simulated flesh
the rain of red droplets
the flash of vast incendiaries

so much of our imagination
is filled with killing

not being killed
but killing

2

are we psychological types
to be manipulated

are we Pavlovian dogs

are we putty to mold

our morals
our memories
our abstractions

3

earth revolves around the sun
sun around the galaxy
galaxy dances within the "local group"
"the local group" within the star-breeding thread
the thread within ?

the eyes of God or nothing
look on the special effects

do they ooh and ah
at the inhuman drama
scripted by a human tongue
lashing its own flame
out into the
dark
3-D

4

is God above all
this built-in mayhem
this zany script
where coincidences rule
and clues are arbitrary inkspots

is Nothing
a person
like the Three

though there is only
Being and Non-being
nothing in-between

does Nothing
delight
in chaos

and how can something that isn't
be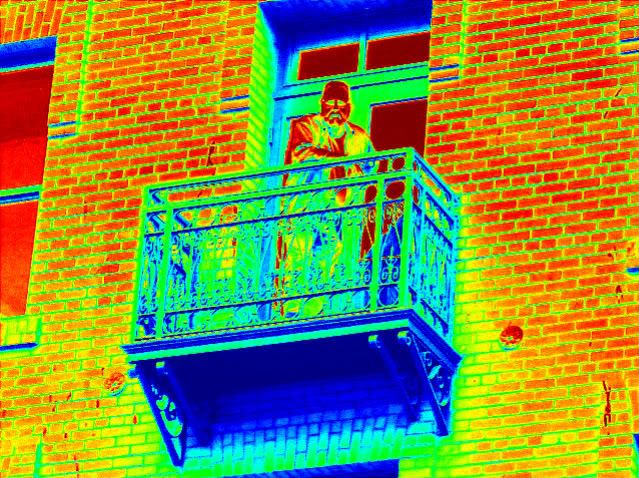 Here's my Darwin's birthday poem.



happy birthday Mr. Darwin

happy birthday,
Mr. Darwin

father
of fatherless creation

some
strongly object

to accepting
a monkey in their line

not to mention
a sea slug and amoeba

with neither mind nor soul
nor cellular differentiation

it is a creator they claim to worship
but it is themselves that they enshrine

as the be-all end-all
of all creation

such a false pride is theirs
to refuse

a humbler origination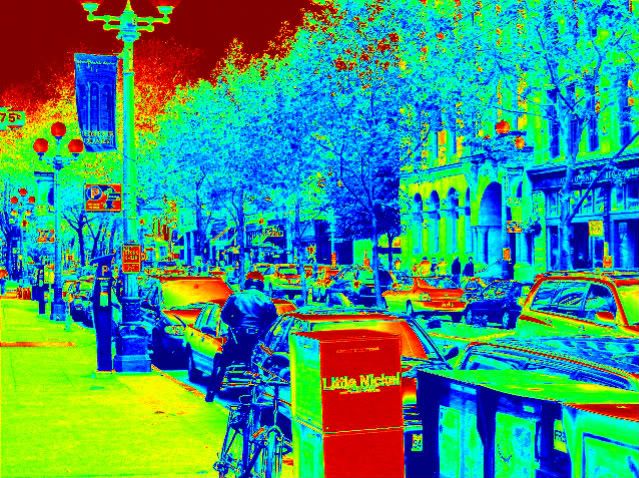 Time for a little break for ten poems by Kobayashi Issa, one of Japan's most prolific poets, leaving in his journals over twenty thousand "one-breath poems." He was born in the little village of Kashiwabara in the mountains of Japan's Shinano Province in 1763 and died in the same village in 1828.

These poems were translated by Sam Hamill.



Just beyond the gate,
a neat yellow hole -
someone pissed in the snow


In the midst of this world
we stroll along the roof of hell
gawking at flowers


Give me a homeland,
and a passionate woman,
and winter alone


A world of trials,
and if the cherry blossoms,
it simply blossoms


As the great old trees
are marked for felling, the birds
build their new spring nests


A faint yellow rose
almost hidden in the deep grass -
and then it moves


The old dog listens
intently, as if to the
worksongs of the worms


My spring is just this:
a single bamboo shoot,
a willow branch


A world of dew,
and within every dewdrop
a world of struggle


My noontime nap
disrupted by voices singing
rice-planting songs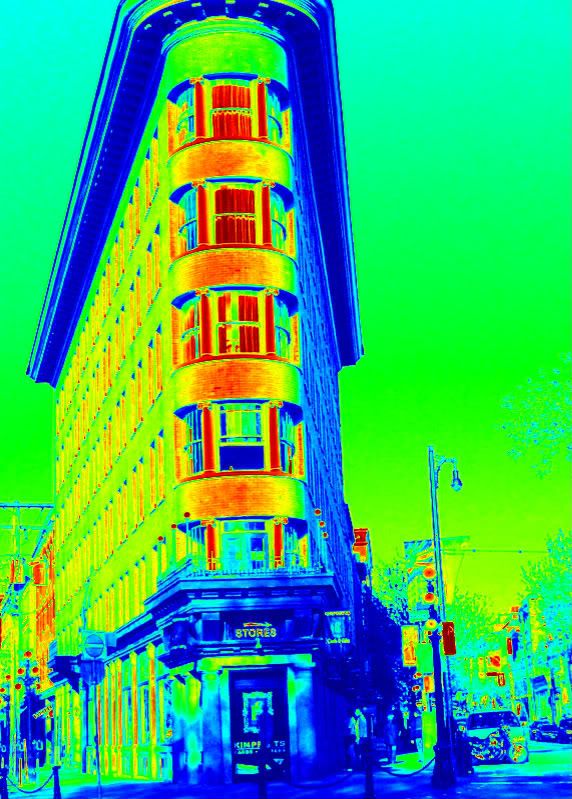 And, having done Darwin's birthday, here's something for Valentine's Day



happy Valentine's Day

it's
the day before Valentine's day
and i'm trying to work up
a huff
about holidays invented by greeting card companies
but the more i think about it the more
i recognize that most of our holidays were invented
by greeting card companies
and most of them
encourage
behavior
that should be encouraged anyway
like
you know
saying i love you once a year
to your significant other
or thanks a lot mom and dad for putting up with me
during the most obnoxious phases
of my life
and sucking up to your boss or your secretary
once a year
is worth doing even if you don't buy some ridiculously
expensive
card
to do it with

besides
however we may get impatient
with these greeting card company holidays
it is at least true
that they are usually a lot cheaper
than most of the holidays invented by the
priests and magicians particular
to your faith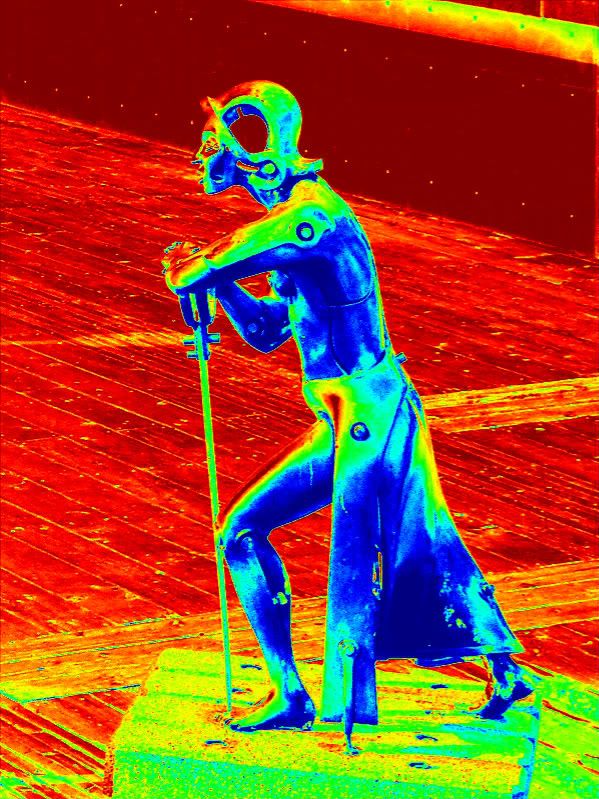 Time to march on off into another week.

As we tramp, tramp, tramp along, remember, all of the work in this blog remains the property of its creators. The blog itself was produced by and is the property of me...allen itz.