Mariposa
Friday, October 10, 2008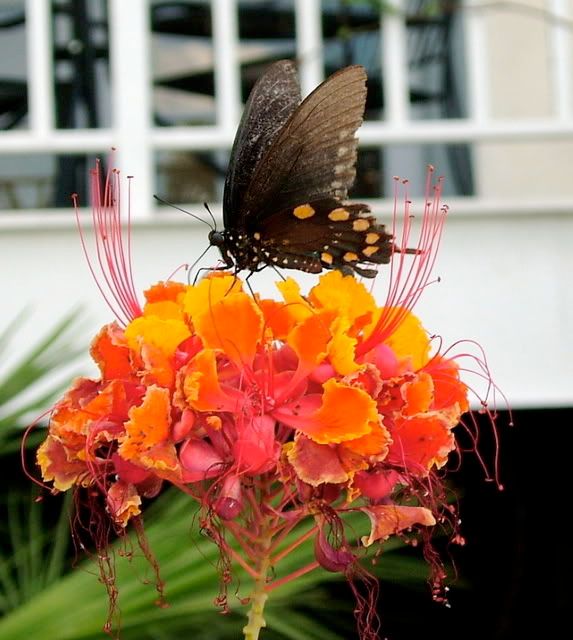 III.10.2.





The past week as been a busy one for me, making, as mentioned in a couple of this week's poems, a trip to the coast where I took some pictures (including some in this issue) and arranged to do a signing and reading next week in Corpus Christi. I invite all my friends from that area to join me. I'll be at Half-Price Books on South Padre Island Drive, Saturday the 18th. More information is available at the store.

Anyway, for this week, this is what I have.

From my library

Langston Hughes
Hanna Howard
Seitu J. Hart
Sandra M. Gilbert
Federico Garcia Lorca
Brian Branchfield
James Laughlin
Andrey Voznesensky
Cornelius Eady
Tao Lin

From friends of "Here and Now"

Joe Miller
Katie Sottak
Mary Jo Caffrey
Christopher George
Gary Blankenship

And the usual several from me.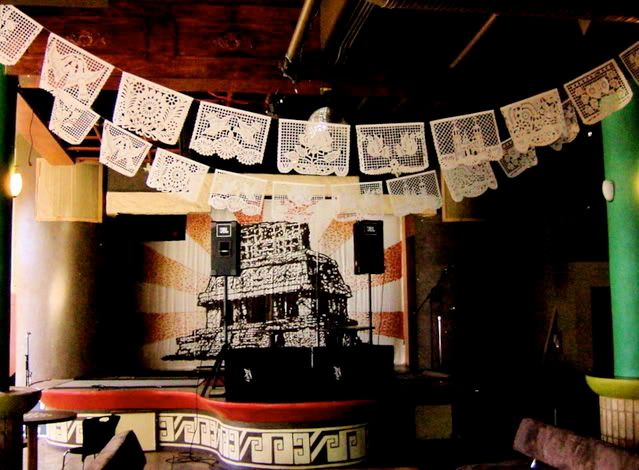 I begin this week with several poems by Langston Hughes from the book Selected Poems of Langston Hughes, published by Vintage Classics in 1990.

Hughes, born in in Joplin, Missouri in 1902, was a poet, novelist, playwright, short story writer, and columnist best known for his work during the Harlem Renaissance.

Due to the separation of his parents, Hughes was raised by his grandmother, whose storytelling skills he claimed to have influenced the rest of his life. After her death, he lived for two years with family friends and later returned to his mother after she had remarried.

While in grammar school, he was designated class poet, because, according to Hughes, he was one of only two black students in the class and the teacher, who always emphasized the importance of rhythm in poetry, assumed he, as a black person, must surely have it. During high school in Cleveland, Ohio, he wrote for the school newspaper, edited the yearbook, and began to write his first short stories, poetry, and dramatic plays. His first piece of jazz poetry, When Sue Wears Red, was written while he was still in high school.

Despite a difficult relationship with his father who had left the United States because of it's racism and refused to return, Hughes went to him for help paying for college. Initially, his father had hoped for Hughes to attend a university abroad, and to study for a career in engineering. He did not support his son's desire to be a writer. Eventually, the son and the father came to a compromise agreement. To get the support of his father, Hughes agreed to study engineering, so long as he could attend Columbia. While at Columbia in 1921, Hughes managed to maintain a B+ grade average but left in 1922 because of racial prejudice within the institution. At the same time, his interests had come to revolve more around the neighborhood of Harlem than his studies, though he continued writing poetry.

After leaving Columbia, Hughes worked various odd jobs, serving a brief tenure as a crewman aboard the S.S. Malone in 1923 and spending six months traveling to West Africa and Europe. In Europe, Hughes left the S.S. Malone for a temporary stay in Paris.

After becoming part of the black expatriate community in Paris in the early 1920s, he returned to the United States in 1924 to live with his mother in Washington D.C., eventually gaining white-collar employment in 1925 as a personal assistant to the scholar Carter G. Woodson within the Association for the Study of African American Life and History. Not satisfied with the demands of the work and time constraints this position placed on the hours he spent writing, Hughes quit this job for one as a busboy in a hotel. It was while working as a busboy that Hughes would encounter the poet Vachel Lindsay. Impressed with the poems Hughes showed him, Lindsay publicized his discovery of a new black poet, though by this time, Hughes' earlier work had already been published in magazines and was about to be collected into his first book of poetry.

The following year, Hughes enrolled in Lincoln University, eventually receiving a B.A. degree in 1929 and a Litt.D. in 1943. Except for travels that included parts of the Caribbean, Harlem was Hughes' primary home for the remainder of his life.

Langston Hughes died in 1967 at age 65 from complications after abdominal surgery related to prostate cancer.



Song for Billie Holiday

What can purge my heart
Of the song
And the sadness?
What can purge my heart
But the song
Of the sadness
What can purge my heart
Of the sadness
Of the song?

Do not speak of sorrow
With dust in her hair,
Or bits of dust in eyes
A chance wind blows here.
The sorrow that I speak of
Is dusted with despair.

Voice of muted trumpet,
Cold brass in warm air.
Bitter television blurred
By the sound that shimmers -
Where?


Old Walt

Old Walt Whitman
Went finding and seeking.
Finding less than sought
Seeking more than found,
Every detail minding
Of the seeking and the finding

Pleasured equally
In seeking as in finding,
Each detail minding,
Old Walt went seeking
And finding.



Desert

Anybody
Better than
Nobody.

In the barren dusk
Even the snake
That spirals
Terror on the sand -

Better than nobody
In this lonely
Land


One

Lonely
As the wind
On the Lincoln
Prairies.

Lonely
As a bottle of licker
On a table
All by itself


End

There are
No clocks on the wall,
and no time,
No shadows that move
From dawn to dusk
Across the floor.

There is neither light
Nor dark
Outside the door.

There is no door!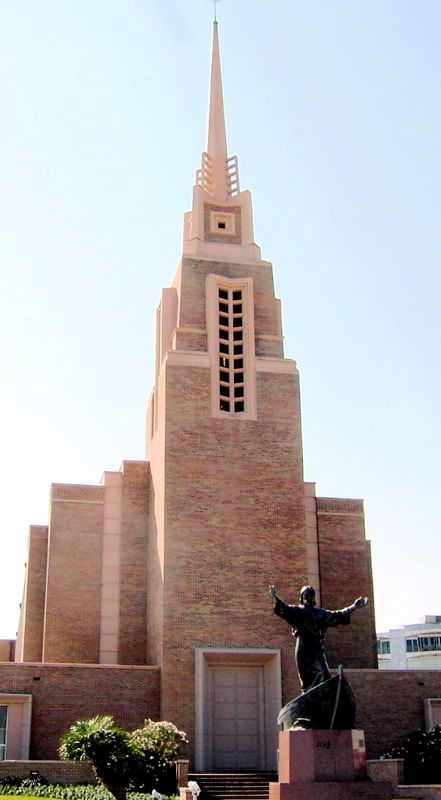 This is something I wrote a week or two ago. I suppose it could be a companion piece to "come, Lord Jesus, be our guest" piece I used here a couple of issues ago.



if i believed

if i
believed
in Jesus Christ
as my lord
and savior
i'd try not to be
an asshole about it
as so many are
and i wouldn't be
one of those
staid and dour
churchgoing
stiff-upper-lip-
pew-potatoes
that populate
all those grand
chuches
with robed priests
and high-rise
steeples

none
of that corporate
salvation
for me

i'd be
a holy-rolling
hell
on wheels
singing
dancing
look-at-me-lord
fool
every minute
of every hour
of every day
of the year
and not
give a shit
what
people thought
of me

i mean
for christ's sake
pious
is ok
but
resurrection
and eternal life
that'd be
something to jump
and shout about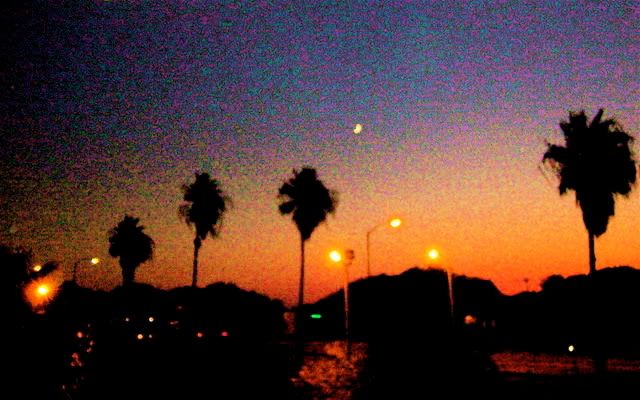 bum rush the page is a book of poem by performance poets published by Three Rivers Press in 2001.

Here are two poets from the book.

The first poet is Hannah Howard from Brooklyn.



soulgroovin ditty #7

little green men play a samba in my mind
maddening little rhythm
it gets me every time
i dance the bossanova to appease them
the funky disco elves in my head
i find myself singing
just to please them
snatches of songs long forgotten
still they play incessantly
forever and ever
pestering me
forcing me to move my feet keeping time
i whip
i whirl
throw in the bump
do a little grind
they keep me dancing
twirling
prancing
body movin
funky groovin
the loco little disco elves
the people/party/happening elves
the soultrain/getdownboogie elves
that gyrate in my mind



And a second poet from the book, Seitu J. Hart from Bridgeport, Connecticut.



Sundays

I went to the church and walked by niggas dealin
got in the church and watched single mothers give 10% of their income to the
upkeep of the church and pastoral homes in the suburbs while they reside
in chic urban projects
where pastors rarely drive their
lexuses, benzes or town cars
I watched folks like me lose their inhibitions and praise the Lord,
reminding me in the small
ways of my ancestors and their spiritual discourses.
I sat open-mouthed and watched homos sing and direct revenue generating
mass choirs while
being castigated.
Chided.
CONDEMNED.
I laughed loudly catching the eyes of stern ushers.
Their looks forced me to concentrate on the "WORD" and the sounds of the
Pastor's AMEN
CORNER as he made the connotation that all PHARAOHS were evil, satanic,
based on the tales
of MOSES and the PHARAOH down in EGYPT LAND making
me to go home to ponder, chant, meditate, stand before the tree PRAY.
Light candles Speak with
the CREATOR consult my astrology books touch my stones reread my
favorite bibical passage
to figure out this madness
Then the answer came: WRITE A POEM.









Next, I have Joe Miller a new friend of "Here and Now" making his first appearance here.

Joe is an 18 year old country-folk singer/songwriter and poet from Dallas, Texas. He says you can listen to some of his music on his My Space page.



myspace.com/joemiller155292





from my hotel window

I watched the night sink its
coyote teeth into gutted cat meat.
Shadows under street lights stood prouder
than the objects they reflected.

The odor of human smells and
the melody of human songs climbed
to my window like bacteria from a rotten peach.

The asphalt-black hours rolled on.

As the sun started her morning coffee
a man hid behind the proud shadows.
His heavy, green eyes rested in wooden
hands.

As the sun finished her morning coffee,
he had embraced his mortality with aching
solitude.

From my hotel window,
I watched him cheer for every
mundane detail dawn had to offer.


Black Crow Blues

For the last few nights
I've watched a black bird
land on my porch to drink
out of flower pots and
eat worms and june bugs.

But tonight when I opened
my window the poor bird
was lying under a bush.
I had a dead bird on my porch.

After a moment of silence
I scooped him up in a trash
bag and threw him over my
fence so a mindless black dog
could eat a mindless black crow.

I'm giving back to the natural
order of things,

but I've been feeling a little
lonely lately and thinking
that I want to be like that bird.
Eat, sleep, pro-create and
never question anything.

I changed my mind today.

At least when I die
I may or may or not find
what I'm looking for.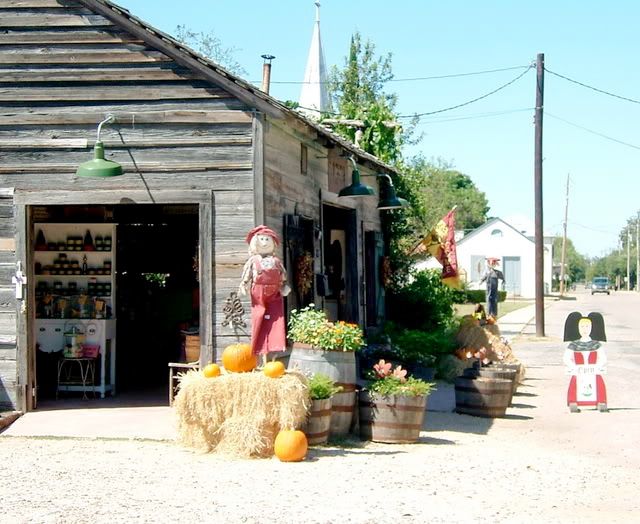 Born in 1936 Sandra M. Gilbert, Professor Emerita of English at the University of California, Davis, is a literary critic and poet who has published widely in the fields of feminist literary criticism, feminist theory, and psychoanalytic criticism. She is perhaps best known for her collaborative critical work with Susan Gubar, with whom she co-authored, among other works, The Madwoman in the Attic in 1979, considered a landmark in 1970s American feminism.

Gilbert received her B. A. from Cornell University, her M. A. from New York University, and her Ph.D. in English literature from Columbia University in 1968. She has taught at California State University, Hayward, Williams College, Johns Hopkins University, Stanford University, and Indiana University. She held the C. Barnwell Straut Chair of English at Princeton University from 1985 until 1989. She was named the M.H. Abrams Distinguished Visiting Professor at Cornell University for the spring 2007 semester. Gilbert will be the Lurie Distinguished Visiting Professor for the Creative Writing MFA program at San Jose State University in the Spring 2009 semester.

The mother of three and grandmother of four, Gilbert lives in Berkeley, California, and in Paris, France.

The next several poems are from her book, Kissing the Bread, published by WW Norton in 2000. I selected the pieces from a sub-section in the book titled Some Definitions.



Some Definitions

1.Aperitif

Take a cup of breath,
stir in a silence, stones on a shore,

twirl, whip -
add glinting, minnows,

groan of oars
and beat in.

and beat in
the darkness that creeps from the inland mountains,

the darkness that clots the eye of the tiger,
the rat, the pig.

Beat in one clump,
the another.


5. Fog on the Coast

Lid on thin
milk across the light,
skin of mist

above the waters,
weight
of vacancy pressing

against the eyes, great
shapeless
throat of silence

swallowing everything:
here's where
trawlers disappear, black

bluffs melt, ambitious
summer houses
step into nowhere

and only
the closeup has a chance,
the mouse and her grain,

the jagged
pebble, the nettle
standing its groudn

among a few spare
outlines of sound -
the faint
hint of a gull, the sea
still hungrily
thumping its table.


7. Enormous Wind

buffets the sea, creasing the blue-
green shine, rock-polishing
the dazzle cast by billows
of light, by bursts of sudden
uncoloring, un patterning

the waves that just an hour ago
were staid and shapely
in their mild arc and spray,
their falling hopes.
their rising expectations


8. Mexican Sage

Purple but minimal,
as if the curled-up
hardly daring petals

were so embarrassed
by the thread of reddish
pink desire pumping

through the long coarse
stems they ride
that they'd grow smaller

rather than grow at all.
yet nonetheless they
have to keep on

beading the gray-green
quiet with this
humiliating

flush, have to
love the touch of
touch, the quiver

in tiny silence,
have to be
plush in the cold.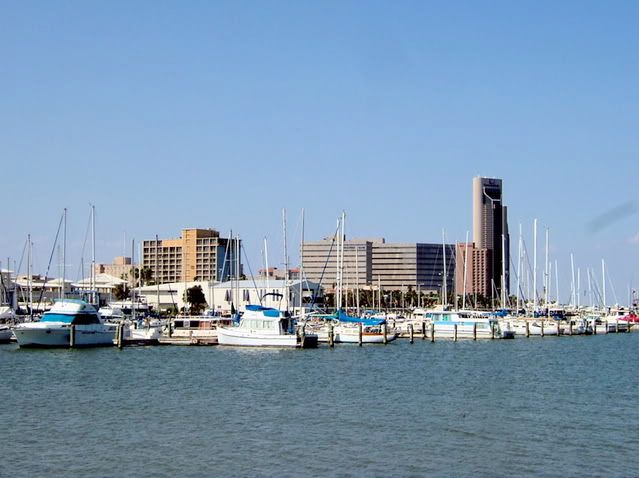 Here are two poems I wrote on successive days last week. They kind of go together, so I'm posting them together.



to the coast

heading
for the coast

short trip

overnight

take some
pictures
maybe
sell a book
or two

thinking
again how good
were the years
i lived there

a smaller
but fuller life
there
than the one
i moved to

but life
is like that
full
of choices
that
once chosen
can never be
undone

each new
day
a new page
blank
waiting
to be filled

no way
of knowing
how different
the new page
might become
had a different
story
been told
four pages
back

best
to remember
with a smile and
a small heart tug
rather
than the false
nostalgia of
regret


back home

the dogs
acted
like they were glad
to see
me
and the cat
was like she didn't
give a damn
but then rubbed
against my leg
when the dogs
weren't looking

good trip

sold a couple
of books

made arrangements
for a signing
and reading
in a couple of weeks
where i might
sell some more

enough outcome
to justify
the hotel bill
to IRS
anyway

took
some pictures -
just a few -
not much can be done
with a large flat
body of water
unless a fish jumps
or something
and you happen
to catch it

had to walk
way the hell
out on a jetty
to get it but
did get a nice
shot
of the marina
and downtown
from out in the bay

damn near fell
off
at one particularly
slippery point
proving once again
that i'm just too damn old
to be climbing around
on rocks stuck out
in Corpus Christi Bay

saw some old buildings
that didn't used to be old

talked to some old people
who haven't held up
any better than the buildings

buildings
or
people -
funny how we see the wrinkles
first
then after a while
you're back
to seeing
what you saw
thirty years ago

the only thing
that saves us from ultimate
final
depression
i think

the capacity
to look past the present
and see the past
as if things were still
the way the were

back
home in time
for lunch

checked the fridge

found some fried
talapia
left over
from night before
last

smells
a little fishy
but
that's why God
invented
ketchup

it'll
fix
most anything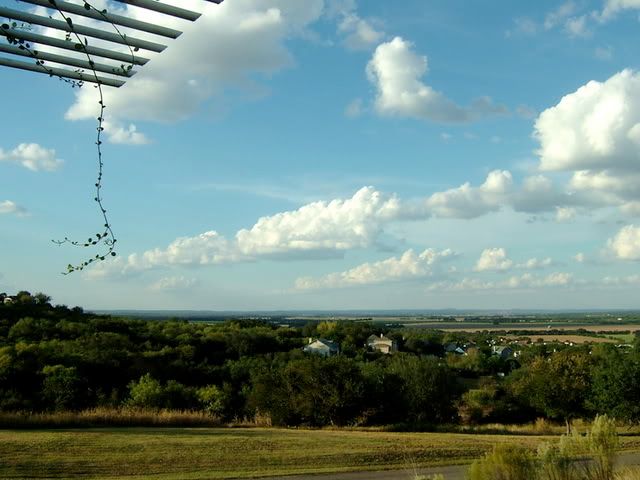 Next, I have several poems by Federico Garcia Lorca from the book In Search of Duende.

Garcia Lorca, born in 1898, was a Spanish poet and dramatist, as well as a painter, pianist, and composer. He was a member of the Generation of '27, a group, including Luis Bunuel and Salvador Dali, who would become influential artists in Spain.

He was killed by Nationalist partisans in August, 1936, at the age of 38 at the beginning of the Spanish Civil War.



Night

Candle, lamp,
lantern, and firefly.

The constellation
of the dart.

Little windows of gold
trembling,
and cross upon cross
rocking in the dawn.

Candle,lamp,
lantern, and firefly

(English translation by Jaime DeAngulo)


Seville

Seville is a tower
full of fine archers.

Seville to wound.
Cordoba to die in.

A city that lurks
for long rhythms,
and twists them
like labyrinths.
Like tendrils of a vine
burning.

Seville to wound!

Under the arch of the sky,
across the clear plain,
she shoots the constant
arrow of her river.

Cardoba to die in!

And mad with horizons,
she mixes in her wine
the bitterness of Don Juan
and the perfection of Dionysys.

Seville to wound.
Always Seville to wound!

(English translation by Lysander Kemp)


Early Morning

But like love,
the archers
are blind.

Over the green night
the arrows
leave tracks of warm
lilies.

The keep of the moon
breaks purple clouds
and the quivers
fill with dew.

Ah, but like love,
the archers
are blind!

(English Translation by W.S. Merwin)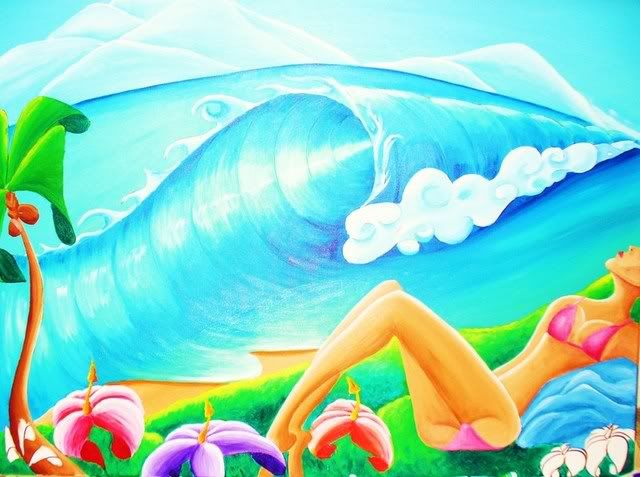 Painting by Katie Sottak





We extend the "Here and Now" family this week with these three pieces (one above and two below) by artist Katie Sottak,

Katie is currently working on her bachelor of fine arts degree in visual art at Florida Atlantic University. Her work has been featured in a gallery in Stuart, Florida and adorns the walls of cafes in that area. She is very active in the numerous art festivals presented in south Florida.

I meant literally what I said about extending the "Here and Now" family. Katie is the daughter of poet, friend, and frequent "Here and Now" contributor, Michael Sottak.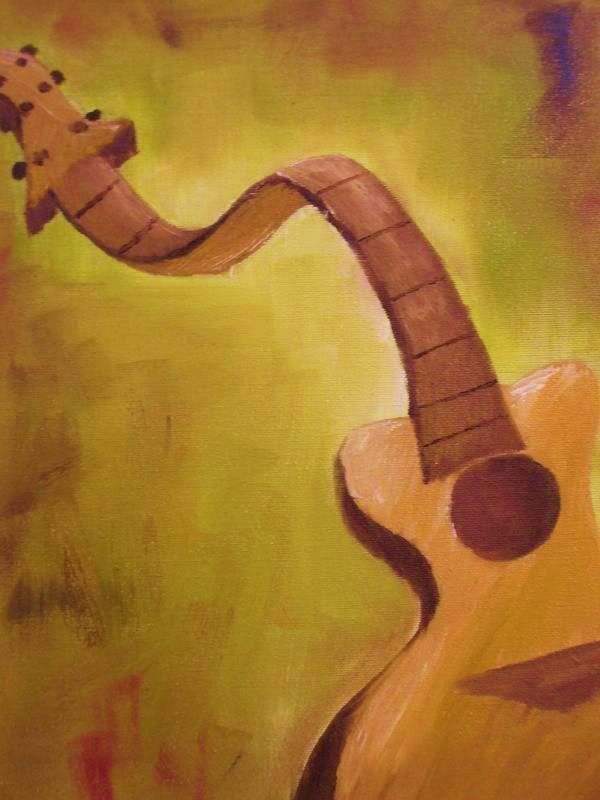 Painting by Katie Sottak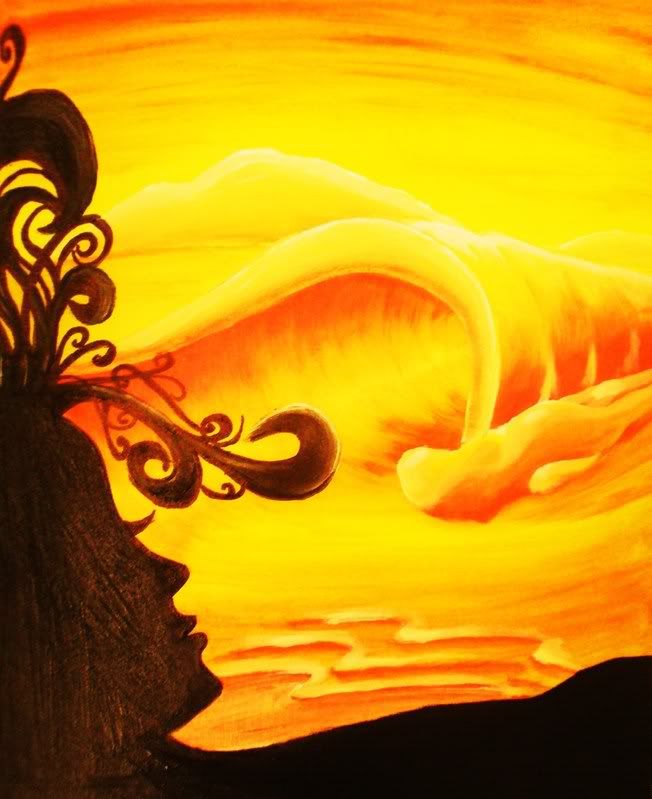 Painting by Katie Sottak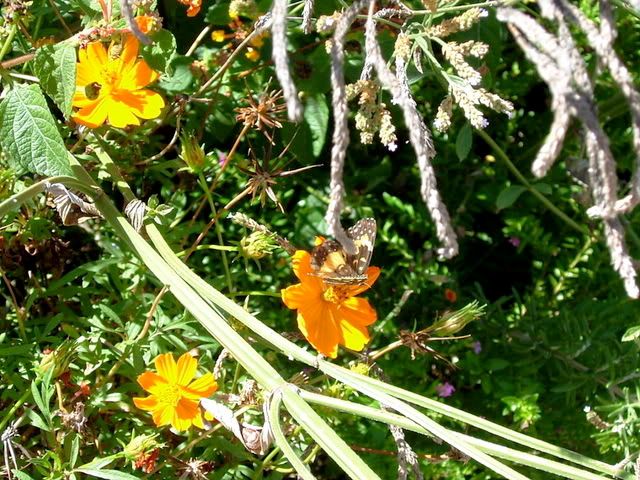 Brian Blanchfield was born in Winston-Salem in 1973. He grew up in Charlotte and Paris, Tennessee. Now in New York he teaches creative writing and literature at Pratt Institute of Art. His poems have appeared in anthologies and magazines big and small, and he writes reviews and essays for Talisman and American Book Review. He lives in Brooklyn, New York, and sometimes Tucson.

The next poem is from Blanchfield's book Not Even Then, published by the University of California Press in 2004.



Two Moons

The moon will all but disappear, which is to say the world is in the way
again. It will take two hours to return to full, which is what we, in our
way, call a whole half lit.

The last eclipse I didn't understand what I do now.

I was stunned by lawn sculptures of waves outside the long lobbied
Delano on South Beach, its oceanside wide open, its twenty-five-foot
billowing white drapes sucked to my back and then not and then sucked
again, its cavity fighting mine.

The galaxy is all wrong with a nine-dollar cosmopolitan. I couldn't get
daylight's alibi.someone said gimme and O. I said gimme another. We
couldn't get the bartender's attention. Obtundity nearly knocked me
over.

Dennis said he didn't know about lunar ones but the wind that rushes
in when the sun goes out brings the scent of your secret desire.

At Grand Army Plaza, by nine lanes spinning into fewer, I make it to
the middle. The moon is already phased to the size of an eyelash, or
someone's distant hand cupped at his sunned brow, making you out.
Poor white parenthesis, is everything inessential? Should everything
come between? Someone cheer the sidereal.

But no on has outsprinted our coverlet to star in a warmth on rock. I
imagine it new, another tournament beginning, an open, an invitational.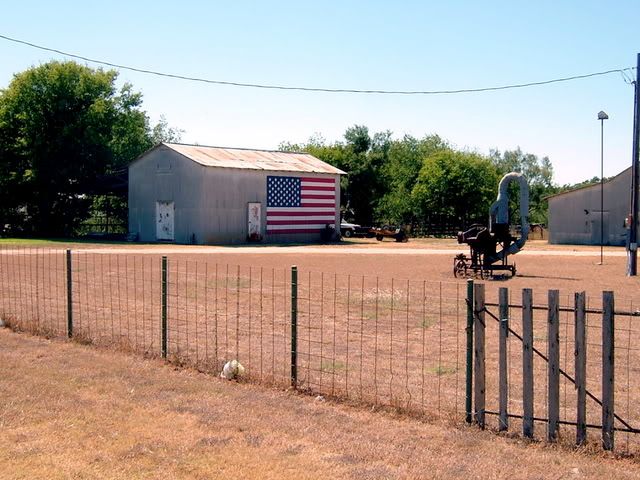 This next piece comes from my people-watchinig, an observational piece, source of much of what I do.



friends

chipmunk-cheeked
from the
chemo

she
lunches
with friends
on a hamburger
and rings

laughter
and loud talk
interrupting
each other
to finish sentences
as friends often do

there
is a relish
to every moment
every laugh
every interruption

friends
for now

friends
forever

no matter
what happens...

friends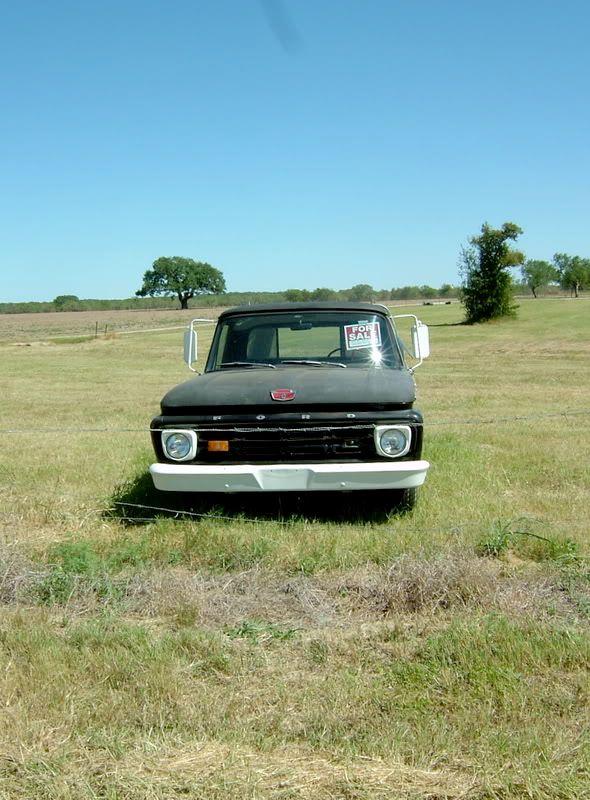 James Laughlin 30 October 1914 – 12 November 1997) was a poet and literary book publisher who founded New Directions Publishers after being told by Ezra Pound, "You're never going to be any good as a poet. Why don't you take up something useful?" Following Pound's suggestion, he founded New Directions with money from his wealthy family. Despite Pound's suggestion, he continued to write poetry.

Laughlin died in 1997 of complications related to a stroke in Norfolk, Connecticut, at age 83.



The Longest Journey

As a young man, full of eagerness,
I set out to conquer my little
sphere. If it were only a finger's
width, it would be mine, all mine.
And I walked, as the old poet said,
"multas per gentes et multa per aequora"
in pursuit of the voices that called me.
And some were where I expected
to find them and some were not.
And as I drew near to them many
faded away and were no longer audible.
Now, in old age I think back to those
I loved rather than to anything
I took from anyone for my enrichment,
for I know now that "the beauty is in
the walking; we are destroyed
by destinations."









Mary Jo Caffrey is a retired Air Force member living in Gretna, Nebraska. She enjoys writing poetry for children and adults. she is a member of the Nebraska Writers Guild and Nebraska Writers Workshop.

After one of my general solicitations for poems, Mary sent this really beautiful piece to me and it got stuck in a crack or something and I just found it again.



A Good One

God knows I miss him,
for all our jawing about money and food
and children scattered like apples from a barrel.
Can't see much any more,
this old house dim inside
with echoes of him.

If I sit quietly in my chair
and the wind isn't rattling the window,
just beyond the beat in my ears, I hear that laugh
buzzing round my head,
can feel his breath on my cheek
and that tickle.

Too flighty, ma said, look at those legs,
long, and feet like beaver paddles,
meant for walking.
Oh, but that smile!
How it beguiled, sweet scent of something good
on his skin, a man bubbling greatness and me great, too,
by association.
Glory! He danced on that old dirt barn floor
like it was air and he gravity-free under
the spell of strings on Pa's violin.

On our wedding day, Mamma cried and hugged me tight,
her advice, "keep a good coop,"
my dowry sure enough.
Our farm prospered through three boys and one girl,
his joy like light rain through all the good that passes through -
in marriage, in life, on our farm.

Why he left I suppose is just nature,
sirens on every rock, behind every hill
too much for me, just a plain farmer's wife
with only the dream to live and grow old
with my man and sown seeds.

In time, when I'm ready to go -
that lasting part of me
will follow a wandering bee
lilting on a soft westerly breeze
to blossom-full branches
promising summer's great bounty
and shading the grass where he rests.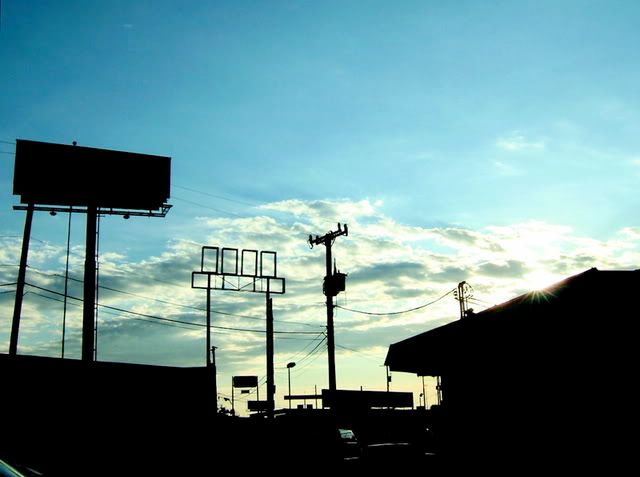 Andrey Voznesensky was born in 1933 in Moscow, where he still lives and works.

Early in his life, he was fascinated with painting and architecture and, in 1957, graduated from the Moscow Architectural Institute. His enthusiasm for poetry, though, proved to be stronger than architecture. While still a teenager, he sent his poems to Boris Pasternak who became a friend and strong influence.

His first poems were published in 1958 and, in the mid-1960s, when the Cold War began to show signs of thaw, he was one of several Russian poets, including Yevgeny Yevtushenko and Bella Akhmadulina, who attained a kind of pop star status in Russia and drew large crowds in Europe and the United States. (I think I remember Yevtushenko even appearing on television's Ed Sullivan Show, which had to have been a first.)

In 1978 Voznesensky was awarded the USSR State Prize. He is an honorable member of ten academies, including Russian academy of learning (1993), the American Academy of Arts and Letters, Parisian Académie Goncourt and others.

A minor planet 3723 Voznesenskij, discovered by Soviet astronomer Nikolai Stepanovich Chernykh in 1976 is named after him.

These next two poems are from the book, Voznesensky - selected poems, published by Hill and Wang in 1966. The poems were translated into English by Herbert Marshall.



Bikes

To Victor Bokov

The bikes are lying
in the wood in the dew
the road is shining
through birch trees new

they reached there, they fell,
handlebar to handlebar
pedal to pedal
mudguard to mudguard

you'll never stir them -
not on your life -
those torpid monsters
with chains intertwined

so big and surprised
stare from the earth
at hazy-green skies
resin oozes
bees purr
amid clamorous plenty
mint and camomile deep
they lie
forgotten and sleep
and sleep and sleep


The next poem was first dedicated to Leo Tolstoy, but to everyone in the know at the time, it was clearly meant to honor Boris Pasternak, the great Russian author and poet in such ill flavor with the authorities that he turned down his Nobel Prize out of fear that if he left Russia to collect it he would be stripped of his citizenship and not allowed to return.


Crowns and Roots

They carried him not to entombment.
They carried him out to enthronement.

Browner than bronze,
Greyer than granite,
smoking like a locomotive,
the artist lived,
dishevelled,
To him more divine were shovels
Than sacred like lamps!

Languished his lilac tree...
Like starfall
in sweat,
His back so steamed
As in the oven - bread!...

His house gapes wide open.
Floors yawning holes.
In the kitchen no one.
In the district - not a soul.

The artists are departing,
As in a cathedral,
bareheaded,
To birch trees and oak trees
Through humming green meadows.

Their flight - a victory
Their departure - a sunrise
To plains and planets
From tinselled lies.

Crowns fall from the woods.
But powerfully beneath the land
Twist and turn the roots
Of gnarled and wrinkled hands.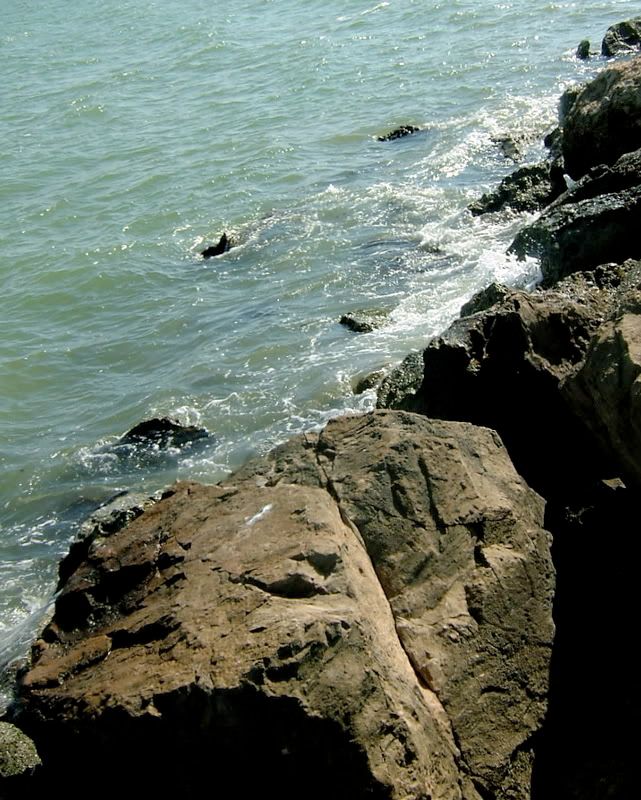 This is another piece from my brief visit to the coast last week.



that's all there is to it

Fred's
Fresh
Fried Fish

on a little spit
of sand
sticking out
into
Oso Bay

fish
anyway
you like it
as long as you like it
fried

and the beer
of your choice
as long as you choose
Lone Star or
Tecate

big
windows
on either side
suck gulf breezes
across scarred wood tables

in the kitchen
the sound of grease bubbling
at the tables
fried fish on paper plates
rings

of beer bottle dew
hot sauce
ketchup
plastic forks
and jalapenos

lots
of talk
mostly loud
mostly
profane

a place
to eat fried fish
Fred says
and that's all
there is to it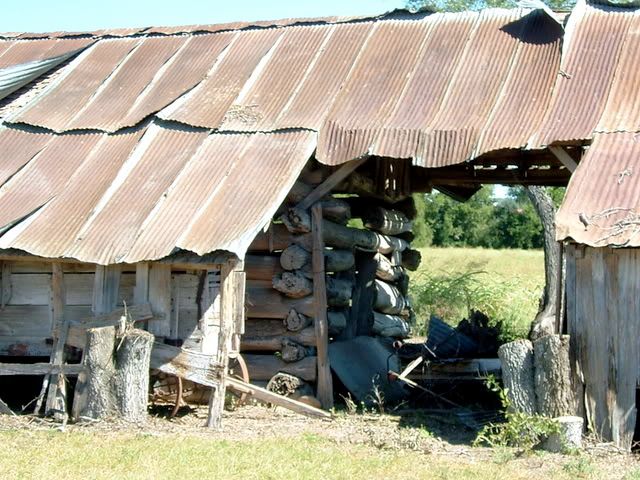 Cornelius Eady was born in 1954 in Rochester, New York and is an author of seven volumes of poetry. His first book of poetry, Kartunes was published in 1980, with several books of poetry following it. Recently awarded honors include the Strousse Award from Prairie Schooner, a Lila Wallace-Reader's Digest Award, and individual Fellowships from the Rockefeller Foundation, the John Simon Guggenheim Memorial Foundation, and the National Endowment for the Arts. Eady has also recently collaborated with jazz composer Deidre Murray in the production of several works of musical theater, including You Don't Miss Your Water, Running Man, Fangs, and Brutal Imagination. In 1996, Eady and fellow poet Toi Derricote founded Cave Canem, a nonprofit organization for black poets. Cornelius Eady has taught at Sarah Lawrence College, New York University, The Writer's Voice, The College of William and Mary, and Sweet Briar College. Formerly an associate professor of English and Director of the Poetry Center at State University of New York at Stony Brook and Distinguished Writer-in-Residence at the City College of New York, Eady currently lives in South Bend, Indiana and is on the faculty of the Creative Writing MFA program at the University of Notre Dame.

The next poem is from his book Brutal Imagination, published by G.P. Putnam's Sons in 2001. The book includes two cycles of poems. The second, Running Man, was drawn from his libretto for the music-drama by the same name. The poems in the second cycle are written as if narrated by the black kidnapper Susan Smith invented to cover up her killing or her two sons.

In this poem, Eady notes that the sections in itallics are taken directly from Smith's handwritten confession.



Birthing

When I left home on Tuesday, October 25, I
was very emotionally distraught

I have yet
to breathe.

I am in the back of her mind,
Not even a notion.

A scrap of cloth, the way
A man lopes down a street.

Later, a black woman will say:
"We knew exactly who she was describing."

At this point, I have no language
No tongue, no mouth.

I am not me, yet
I am just an understanding.

__________

As I rode and rode and rode, I felt
Even more anxiety.

Susan parks on a bridge,
And stares over the rail.
Below her feet, a dark blanket of river
She wants to pull over herself,
children and all.

I am not the call of the current.

She is heartbroken
She gazes down,
And imagines heaven.

__________

I felt I couldn't be a good mom anymore, but I didn't want
my children to grow up without a mom.

I am not me, yet.
At the bridge,
One of Susan's kids cries,
So she drives to the lake,
To the boat dock.

I am not yet opportunity.

__________

I had never felt so lonely
and so sad.

Who shall be a witness?
Bullfrogs, water fowl.

__________

When I was at John D. Long Lake
I had never felt so scared
and unsure.

I've yet to be called.
Who will notice?
Moths, dragonflies,
Field mice.

__________

I wanted to end my life so bad
And was in my car ready to
Go down the ramp into
the water

My hand isn't her hand
Panicked on the
Emergency Break.

__________

And I did go part way,
But I stopped.

I am not Gravity,
The water lapping against
The gravel.

__________

I went again and stopped.
I then got out of the car.

Susan stares at the sinking.
My muscles aren't her muscles,
Burned from pushing.
The lake has no appetite,
But it takes the car slowly,
Swallow by swallow like a snake.

__________

Why was I feeling this way?
Why was everything so bad
In my life?

Susan stares at the taillights
As the slide from here
to hidden.

__________

I have no answers
To these questions.

She only has me,
After she removes our hands
From out ears.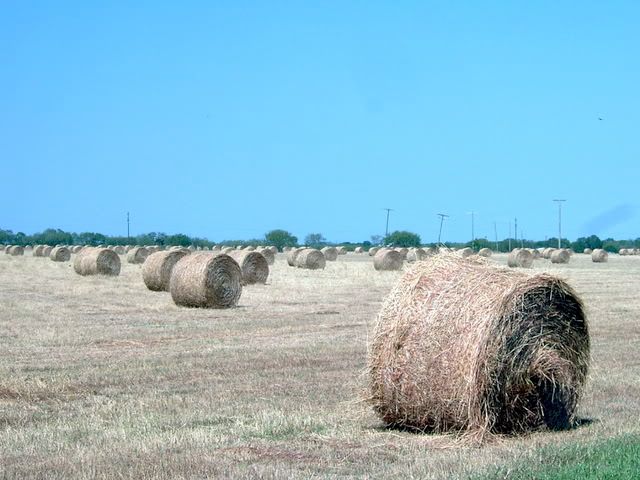 Our Liverpool born, Baltimore residing friend, Christopher George is back with us this week with two short reports from the center of the financial storms about to chew out or rear ends all the way to our neckbones.



Black Tuesday in Washington, D.C.

The stock market crashes,
politicians vie and fuss,
neglect to reach a solution;

still, this autumn morning,
a mockingbird springs onto
a "No Entry" sign, tail up,

and fall crocus thrust
pinkly through the loam.


Red, White, and Blewy

While Congress debates
the Stock Market bailout, a
kite bobs above the Mall.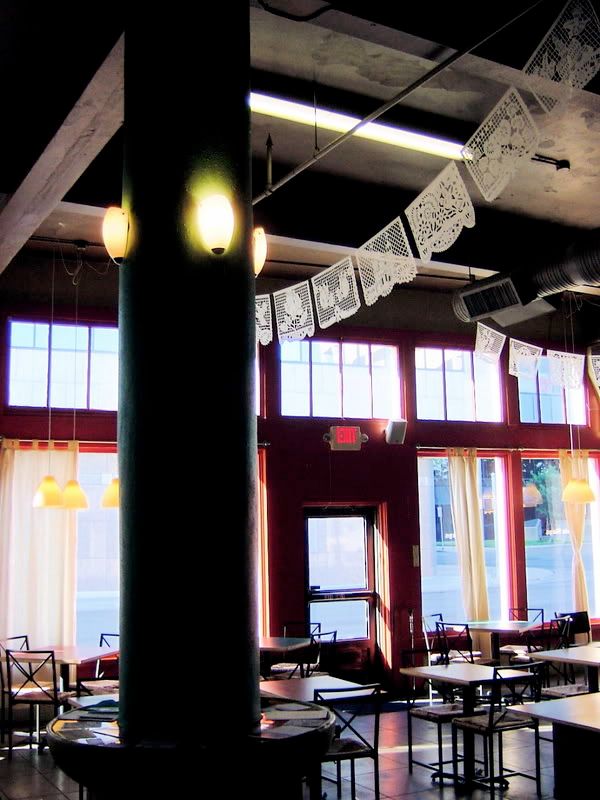 As I foraged through the poetry shelves at Half-Price Books, I ran across this strange pink little book of poems by 23-year-old poet Tao Lin titled Cognitive-Behavioral Therapy. His other work includes a novel, Eeeeee Eee Eeee, a short story collection, Bed, and an earlier poetry collection, You Are A Little Bit Happier Than I Am. He also maintains a blog, Reader of Depressing Books.

It's a fascinating book. And funny, too.



I know at all times that in four hours i will feel completely different

when you kill yourself
the universe learns how to console you
nothing i type is true; for example
i am going to go outside
and meet interesting people
actually i will never meet an interesting person
if you ask me what happens to me i will tell you
that after coffee my brain is harder and shinier
my face is less worried and my eyes move faster
if you ask me what happened to sad people
i will tell you that pieces of water move
from the inside of their heads to the outside
and then i think the water evaporates
when my brain thinks it makes squishy noises
not all brains are like this
i like to point my worried face at different areas
of the physical world, and this is a mischievous thing
my face is at the front of my head
do you believe i am a good person?
i am going to go away for two hours
when i return i will accurately predict the actions of everyone i know
for the next three weeks,because that's how i am: industrious
severely disillusioned
pass me the organic sesame seed salt substitute
industrious people who are severely disillusioned
enjoy squishy noises more than the average person
i laugh at the average person
i don't know why i do that
i will never squish a human brain
with both my hands
looking down at the brain inside the skull
i have bought and sold over three hundred things on ebay
ebay is incredible
three word sentences console me
and this is a dangerous thing
the most dangerous weapon in the universe is the sphere-shaped knife
let me explain about the sphere-shaped knife
the insanity of the sphere-shaped knife
i am going to sleep now
i am going to turn off the light now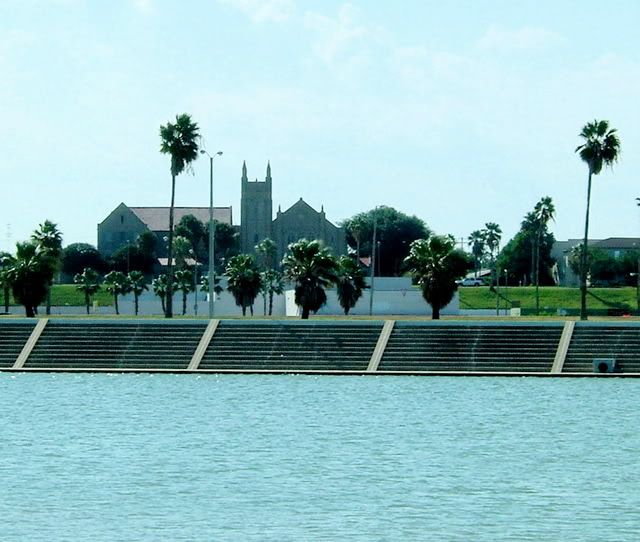 I'm going to finish up this week with more religion. Many would say, anti-religion, but i don't mean them that way. I don't have the right to fault anyone on faith terms, but thinking our own thoughts out loud is what this whole writing thing is about.

I don't think you can think about the big questions without considering God, eternal entity who created it all and may or may not watch over its ongoing operation, even if, in the end, you dismiss him/her/it as farfetched.

God-belief as come up with some pretty wild ideas and has been used to justify both good and evil. A light in the sky indicates God's favor or disfavor (take your pick) with King Whatsakaneezer so he must be exalted or beheaded (take you pick). We've read that story before.

But science/reason, in trying to answer the big questions, comes up with some pretty far out stories of its own. (So what does this gravity stuff look like, what shape, what color, how much does it weigh?)

The difference, the one approach burns heretics at the stake, while the other accepts, in fact requires, questioning and critique.

I'm basically a anti-burning-at-the-stake-guy. (Also an anti-burning-the-steak-guy, but that's a different issue.)

It all comes down in the end to a question of faith and how much faith you have in faith as a way to explain the universe and it's meaning, including whether it even has a meaning.

Here are two poetic responses to "faith," first by me and second by our friend and frequent contributor, Gary Blankenship.

Here's mine.



believe it or not

so
they found this way
ancient
bowl over in Israel
where they find all this
way ancient
stuff
and an inscription
that circles the bowl
makes reference
to a
Jesus the Magician

and
i'm reading this
and all of a sudden
think
zounds!
there's the nub of it

there's lots of magicians
around
past and present
and if you're gonna
believe
in the magic of one
how can you not believe
in the magic
of all the rest i mean

what's our criteria here

if Jesus the Magician
has the right mojo
what about
the Great Oz
or The Great Waldo
or Moola the Magnificent

myself
i like Waldo
especially his black tux
and yellow spats
but that's like showmanship
do i have to believe in his
magic
as well


seems to me
you have to believe them all
and that includes
Tinkerbell
Snow White
and Little Red
from the hood
or you gotta believe
none of them

i choose
none

it just gets too damn
complicated
otherwise



And now here's Gary's take on the question of faith. more subtle, as usual, than mine.



Believes

(thanks to Neal Stephenson)

I believe in tangerine dragons,
plaid,
who belch undiluted bleach -
but not those spotted,
striped,
red, white or blue
who fart acid...

I believe in dragons of any shape
or color found in nature,
who excrete every toxin
in a mad scientist's lab -
but not in flying turtles,
unicorns,
angels
or horned devils...

I believe in dragons,
airborne turtles,
and all matter of creature,
humanish or not,
but not in gods who thunder,
dabble in the affairs of men,
or care about more
than where's the next party
and when does it start...

If I believe in a profusion of gods,
creeds, cults
and superstitions,
then I can believe anything
including that you will someday return
the hedge clippers
you borrowed...

(inspired by his Anathem)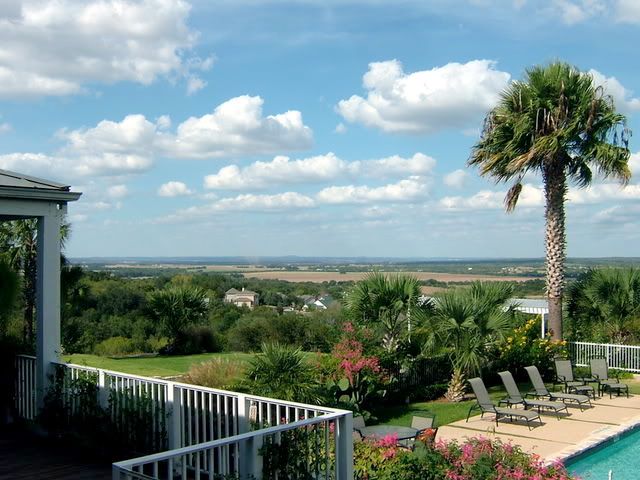 And that's the story for now. Come again next week, when all the material presented in the blog will continue to be the property of its creators and the blog itself will still be produced by and the property of me...allen itz.