Early Riser
Friday, September 12, 2008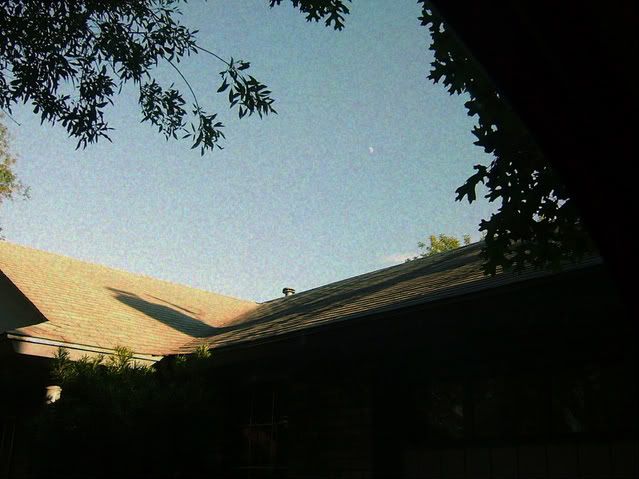 III.9.2.





Places to go, things to do this week, so here it is, our menu for the week.

From my library

Gwendolyn Brooks
Charles Bukowski
Zbigniew Herbert
Manuel Blas De Otero
Steve Healey
William Blake
Ishle Yi Park
Julia B. Levine
Susan Holahan

From friends of "Here and Now"

Jim Corner
Christopher George
Kathy Paupore
RatAva
Pam Hauck

And me.

So here we all are.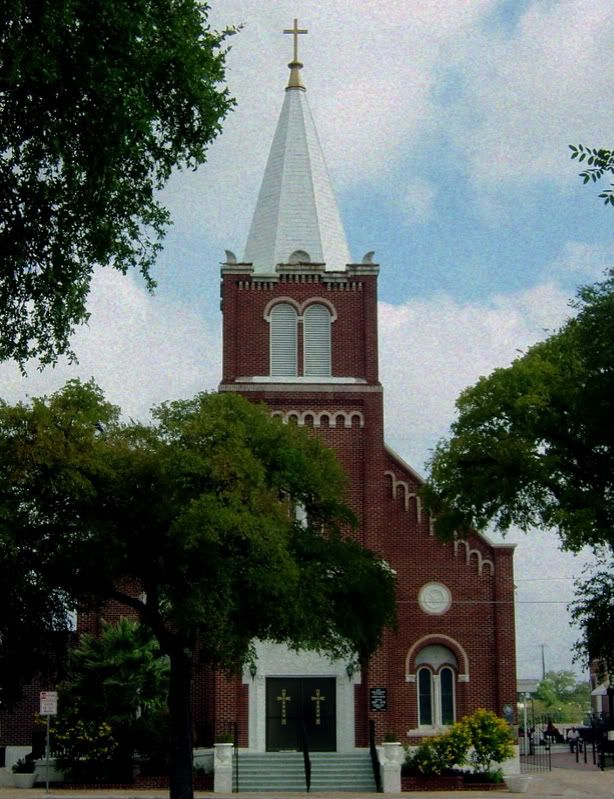 First, here's a poem by Gwendolyn Brooks, recipient of the National Book Foundation Medal for Distinguished Contribution to American Letters. The poem is from the collection of her work, Selected Poems, a Perennial Classic published in 1999 (first published in hardback in 1963).

Brooks was born in 1917 in Topeka, Kansas and grew up in Chicago. She first attended Hyde Park High School, a leading white high school, before transferring to all-black Wendell Phillips and eventually attended an integrated school, Englewood High School. Her enthusiasm for reading and writing was encouraged by her parents. When she was in High School, her mother took her to meet Harlem Renaissance poets Langston Hughes and James Weldon Johnson.

Brooks published her first poem in a children's magazine at the age of thirteen. When Brooks was sixteen years old, she had compiled a portfolio of around seventy-five published poems. At 17, she began submitting her work to "Lights and Shadows," the poetry column of the Chicago Defender, an African-American newspaper. During this same period, she also attended Wilson Junior College, graduating in 1936. After publishing many poems and failing to obtain a position with the Chicago Defender, Brooks began to work a series of typing jobs.

She published her first book of poetry, A Street in Bronzeville, in 1945 by Harper and Row, brought her instant critical acclaim. She received her first Guggenheim Fellowship and was one of the "Ten Young Women of the Year" in Mademoiselle magazine. In 1950, she published her second book of poetry,Annie Allen, which won her Poetry magazine's Eunice Tietjens Prize and the Pulitzer Prize for poetry, the first given to an African-American.

After John F. Kennedy invited her to read at a Library of Congress poetry festival in 1962, she began her career teaching creative writing. She taught at Columbia College Chicago, Northeastern Illinois University, Elmhurst College, Columbia University, Clay College of New York, and the University of Wisconsin.

Brooks died in 2000.

This poem honors her father, the son of a runaway slave who fought in the Civil War, who gave up his ambition to attend medical school to work as a janitor because he could not afford to attend medical school.



In Honor of David Anderson Brooks, My Father
July 30, 1883 - November 21, 1959

A dryness is upon the house
My father loved and tended.
Beyond his firm and sculptured door
His light and lease have ended.

He walks the valleys, now - replies
To sun and wind forever.
No more the cramping chamber's chill,
No more the lingering fever.

Now out upon the wide clean air
My father's soul revives,
All innocent of self-interest
And the fear that strikes and strives.

He who was Goodness, Gentleness,
And Dignity is free,
Translates to public Love
Old private charity.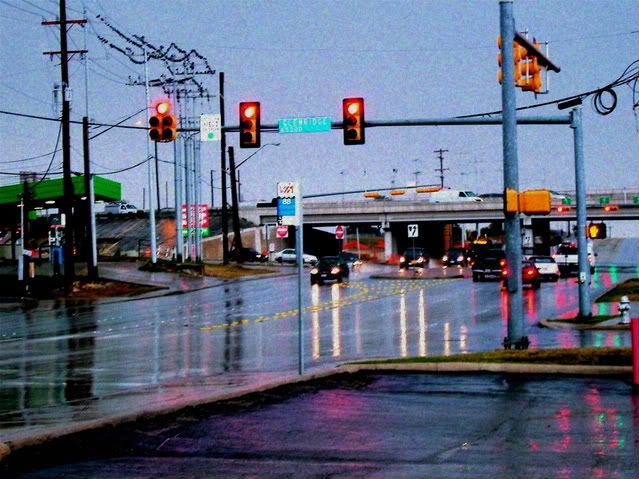 Next, I have a nice short poem from frequent "Here and Now" contributor Jim Corner.

Jim is owner and publisher of Desert Moon Review, on the web now for the past seven years going on eight. He holds a Master's in English, Theology and Philosophy. He is widely published on the web and sometimes in hardcopy and is completing his first book: My Life In Several Seconds, A Collection of Poetry.

He lives in Mesa, Arizona with his wife Kathy and dog Trudy.

You can take a look at Desert Moon Review by clicking on the link in the link section on the right.



Working Weathers

A cool breeze has taken over
monsoon's territory. Sea of Cortez
has lost it's humid stasis, Gulf
of Mexico is battling Fay,
Valley of the Sun struts its dry heat
on this yellow-orange Sunday
for time and a half.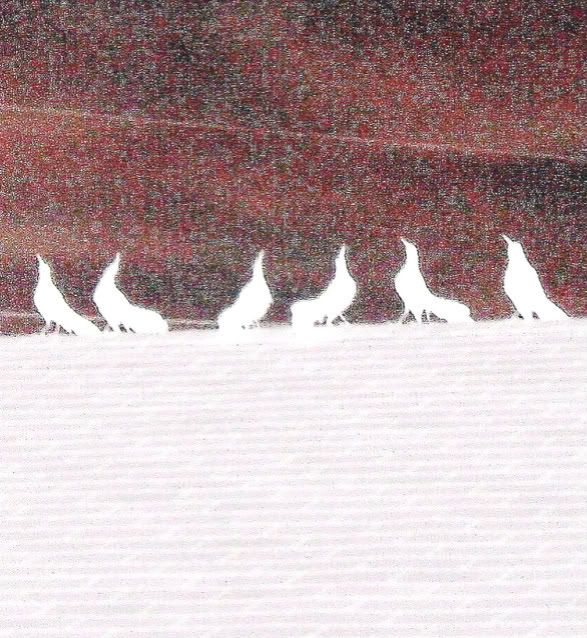 So, back to Charles Bukowski with a poem from his book what matters most is how well you walk through the fire, published by HarperCollins posthumously in 1999 from a selection of poems written between 1970 and 1990.



4 Christs

when I went up to Santa to read
they had the four of us
in the restaurant first
at an elevated table
with placards;
Ginsbin', Beerlinghetti, G. Cider and Chinaski.
it wasn't even the reading yet.
it was dinner first.
it looked like the Last Supper to me.
I arrived late
sat down
a thin man
with a scarf around his throat
got up and stood over me:
"guess you can't guess who I am?"
I looked.
"no."
"I'm G. Crider."
"ah, hello, Garry, I'm Chinaski."
he went back and sat
down.

Ginsbing and Beerlinghetti looked like they
were used to all the attention
we were getting.
they sat
impervious.

Jack Bitchelene hollered from the scumbag
crowd of minor poets also eating there
that night:
"hey, Chinaski, start some shit!"
"you are shit, Jack!" I hollered back,
"eat yourself and die!"
Jack loved it. he opened his dirty Brooklyn
mouth and laughed all over Santa
Cruz
his filthy grey uncombed hair
hanging in his face.
"look" I asked Beerlinghetti, "don't they
serve drinks up here?"
"we're waiting for dinner," he informed
me politely.
I got up from the table and went
over to the bar.
"give me a vodka-7," I told the
barkeep.
I got it down fast, ordered
a beer
and went back to the Last
Supper.
on the way a guy grabbed my arm:
"Ginsbing says he doesn't know how to
relate to you," he said.
I sat down at the table.
dinner came.
we ate it.
then before our transportation to the reading
arrived
we were given orders:
each was to read
20 minutes.

I read 15 minutes.
Beerlinghetti read 25 minutes
Ginsbing read 30 minutes.
G. Cider red one hour and
12 minutes
then it was over.

and now the others say
I am the
Judas
among us.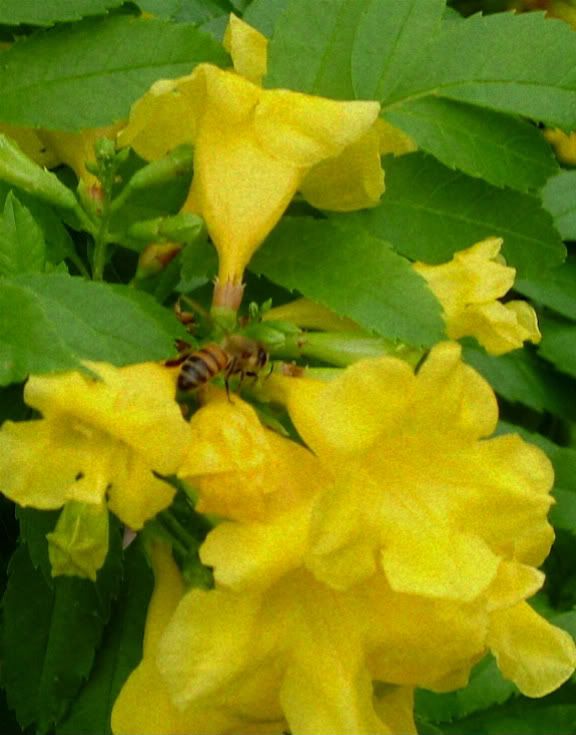 I got to thinking, you know, I have Google which, though not perfect, is right probably more often than me, so why the heck do I need to know anything.

Which leads into this piece from last week.



knowing things

i'm not one
to act as if i know everything
but i'm starting to think
i might know everything
i want to know

in fact,
as i age
and begin forgetting
things
i'm learning
the pleasures of
guilt-free ignorance

i used to know
all the state capitols,
for instance,
but i don't know them anymore
and haven't seen that lack of knowing
having any negative
effect
on my quality of life

i used to be able to name
all the kings and queens of England
from Arthur forward,
don't know that anymore,
just like i used to know all the books
of the Bible, King James version,
old testament and new, but
can't get past Ruth now

i used to know a lot of really useful things

like i used to know how to tune
my car's engine,
set the points,
adjust my carburetor,
and reline my brakes

can't do any of that now

everything's got too complicated
and learning how to do the stuff
you do now instead of the stuff
i did then
would take much more time
and mental exertion
than i'm willing
to expend

there's lots of things
like that,
things i used to know and
forgot
and things i never knew
and don't want to learn

there's just not enough time
to learn and relearn,
i'd rather spend that time
thinking a bit more,
thinking
maybe even deeper,
about stuff i already
know

besides,
it's truly amazing
how much ignorance
you can get away with
these days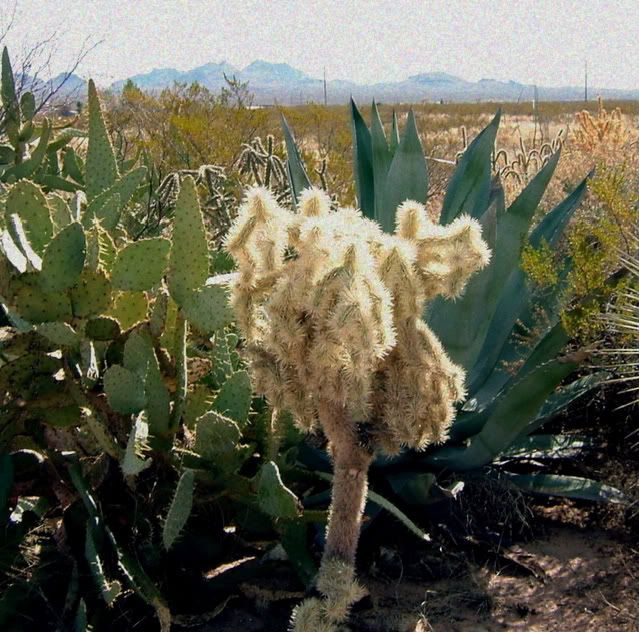 Zbigniew Herbert, born 1924, was known as a spiritual leader of the Polish anti-communist movement. A member of the Polish resistance movement during World War II, he is one of the best known and the most translated postwar Polish writers.

Herbert was a bachelor of the Order of the White Eagle (Poland's highest decoration awarded to both civilians and the military officially instituted in 1705) and was educated as an economist and lawyer. In the 1980s Herbert was the main poet of the Polish opposition. Starting in 1986, he lived in Paris, returning to Poland in 1992 and died in Warsaw in 1998.

In July 2007 the Polish Government decided that 2008 would be the Year of Zbigniew Herbert.



The Nepenthe Family

Did Jean-Jaques the Tender know about the pitcher plant
- it was described by Linnaeus he should have known it -
so why was he silent about this scandal of nature

one of many scandals but perhaps
beyond the capacity of the heart and tear glands
of the one who sought only comfort in nature

this criminal grows in the dark jungles of Borneo
and lures with a flower that is not a flower
but the main vein of a leaf fanned out in the form
of a pitcher

with a hinged lid and very sweet mouth
that draws insects to the treacherous banquet
like the secret police of a certain empire

for who can resist - fly or man -
the sticky nectars orgy of colors glowing with hues
of white of violet of meat like the windows of a red tavern

where a kind innkeeper with a beautiful daughter wife
sends the company of drunken guests drained of blood
to heaven or hell depending on their merits

it was a favorite of the Victorian decedents
combining the salon of debauchery with the
torture chamber
everything was there - rope nails venom sex the knot
the coffin

and we lie peacefully with the pitcher plant
among gulags concentration camps with no concern for the
knowledge
that innocence in the world of plants - does not exist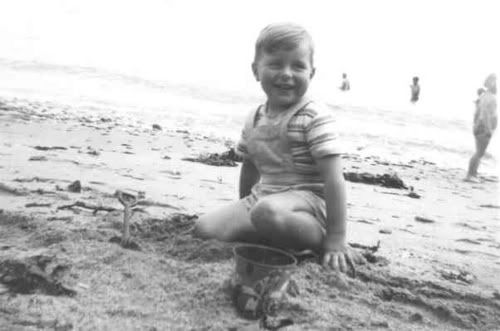 Photo by Gordon B. George




We have a treat now, a poem by Christopher George, a good friend of "Here and Now," accompanied by the photo above of Chris on the beach. The photo was taken by his father, Gordon B. George.

Chris was born in Liverpool, England in 1948. He first emigrated to the United States with his parents in 1955. He went back to Liverpool for a refresher on his Scouse accent, living with his grandparents while attending Rose Lane and Quarry Bank Schools. Chris returned to the U.S.A. in 1968 and has lived there ever since. He now lives in Baltimore, Maryland, near Johns Hopkins University with his wife Donna and two cats.

I have to note that, though a couple or so years older than Chris, I was born and grew up just a few miles from Boca Chica beach, on the very southern tip of Texas and the United States where the Rio Grande River dumps it's muddy waters into the Gulf of Mexico, and have some beach pictures of my own. I was not nearly as photogenic as Chris at that age, nor as well dressed - bare-assed in the sand is what I was.

Anyway, my own misadventures aside, this great picture, taken by his father so many years ago, and the poem below make a wonderful combination.



Boy on the Beach

August 1951, era of the Festival of Britain,
which I do not remember...do you?
As the British pulled themselves up
by their shoelaces after World War II -

I was on a brisk beach at Laxey, Isle of Man,
dressed for warmth: shorts and tee-shirt.
Although some brave souls ventured
into the rolling Irish Sea...not me,

content to dig the wet sand
with my bucket and spade.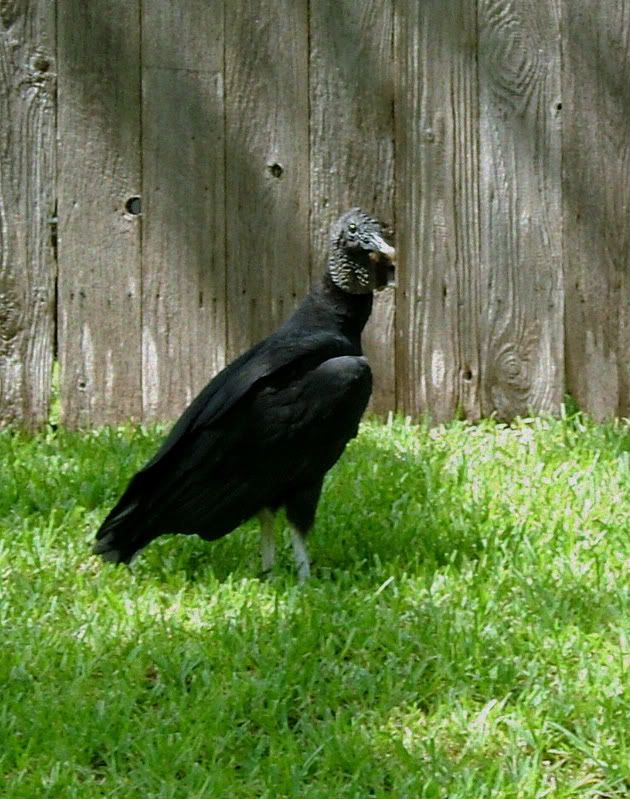 Manuel Blas de Otero was born on March 15, 1916 in Bilbao. At the age of 7, he entered a preparatory school for later education under the Jesuits. Compared to the peace of his home, it was a harsh, repressive environment.

Because of family financial problems, he moved with his family to Madrid where de Otero found new freedom and a new sense of self-identity and in this environment, he began to write.

I took these two poems from The Steel Cricket, Versions 1958-1997, a collection of "translations" by Stephen Berg. Actually, unlike Robert Bly who claim to translate in a dozen languages he does not know or read, Berg makes no claim of translation. Instead, he applies his own poetic sensibilities to poems translated by others. It's a kind of rewriting, rather than translation, leaving me somewhat unsure who I should credit for these poems. Though it takes considerable nerve (or maybe just good sense of humor) for a translator to slip his own name into the text of someone else's poem, I don't think there's anything inappropriate about what he does. (Can't say the same for Bly's translations, even though I like the heck out of most of them I've read and have noticed in a recent book that he has become more circumspect when describing what he does.)

The original language of these poems is Spanish.

Unfortunately, Berg provides no biographical information about the poets he interprets and the most I could find on the web about de Otero was several pages of Spanish very poorly translated into English. Out of all that, I got the little bit of information above. (Actually, even with my poor grasp of Spanish, I learned about as much from the Spanish as I did from the English translation.)



Inquest

I walk around everywhere, I have to find out what causes suffering,
the one reason for suffering that's
bloody, tearful, but mostly dry,
cause of all the horrible things
done to men.

Not to Blas de Otero or Charlie, not Jeff, not to
Kulik or Berg, not Vallejo, no, that's not
what I mean. I go around looking
only for the cause, for the one cause
and the one suffering that's
always ready to begin

What I'm asking is who gets pleasure from men's suffering?
Who shaves for the sake of the pointless wind?
We know so little about what suffering is,
we're so proud of our pride,
but nobody can tell me anything about this when I ask.

Read the telephone book
or the Bible, it's easy to find something there.
I grab the telephone bible,
I hold on to
the Fisherman's Guide with both hands - and the dishes hit
the floor.

Since age six
I've been hearing the same every hour - holy sky,
holy, holy - as if issued from God at the end of His great work.

But when it comes to suffering, it's like the first day -
silences and welts of the double column. I can't stand it!


Enough

Imagine for a minute how miserable I felt
when I thought God, the only living thing, doesn't exist,
or if He does is made of nothing except
earth, water, shadow, and wind,

and that death - Oh I'm shaking like crazy -
is an emptiness without even the light from a staircase,
a colossal hole that sinks endlessly
into a nothing of moist silence.

They why live, sons
of mothers, at what windows be, crucified ones
and all you others? Enough death.

Enough. God, stop killing us wrong like this
of if you can't, just let us dangle way up
above you - howling river that overflows -.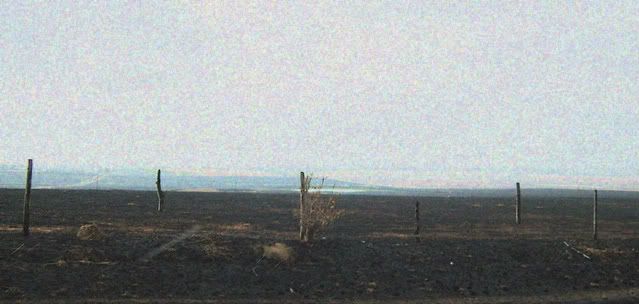 It's a political season, towards the end of a race much tighter than I hoped it would be by this time. Us political junkies, and I think that describes me pretty well, tend to get a bit obsessive at such a time as this, which means a lot of political poems.

People that know me and my views might be surprised by this poem.



George Bush

i was listening
to Prairie Home
Companion
tonight
and Keillor
was telling one
of his trademark
stories and mentioned
the name "George Bush"
and his audience of
Vermonters
roared
with rage,
a sound of hatred
so intense
it shocked even me

it seemed somehow
unfair, unseemly even,
this hatred,
this abhorrence,
for George Bush is
what he is, your
basic West Texas
doofus,
seeming
a genial man
with a common touch
on the two occasions
i was able to observe him
up close, in a small room
with a small group of people,
a man who thinks -
a man who will always think -
he has done good, a man
who does not understand,
who will never understand,
the magnitude of ruination
he has brought to his country,
a hard man for me to hate,
even if i was
the type to nurse
hatreds,
which i'm not

he is what he is,
and does
what a person
like he is
is likely to do
and so, cannot
be entirely blamed
for the mess he made,
he did not,
after all,
take his position by coup,
not the second time
anyway,
he was elected in the end
with the careless votes
of those easily moved
by superficialities
or through the arrogant
nearsideness
of those who couldn't see
past their own narrow interests
or through sheer lassitude,
all of these
among the many
who scream his name
in rage today

perhaps it is time
to remember the words
of that great poet -

"blame not the gods,
cassius,
for we have made them"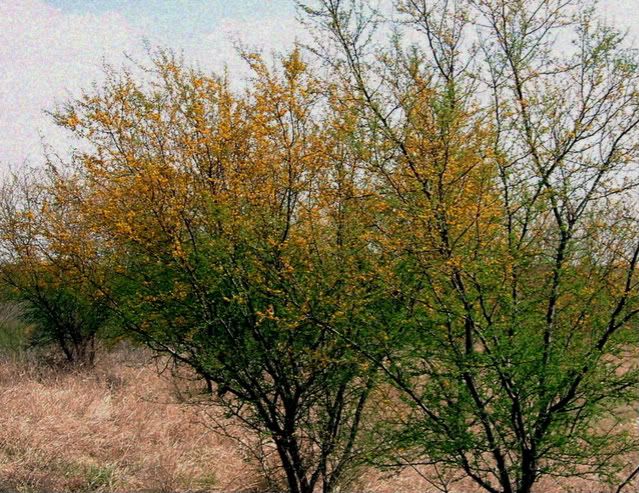 Steve Healey earned a Bachelors Degree from the University of Virginia and a Master of Fine Arts Degree at the University of Massachusetts - Amherst.

He is Associate Editor of Conduit Magazine. His poems have appeared in numerous journals, including LAmerican Poetry Review, Fence, Jubilat, Open City, and Verse.

The next poem, from his book, Earthling, was published by Coffee House Press in 2004.



things we say

in unison, to resemble a cathedral,
to be pretty and healed,

not worthy to receive you,
flesh wafer and blood grape.

You the star of what we say
after swallowing, sucking teeth,

considering how the priest shaves
his face, still hungry, multiplied
by zero, divided by scars,

thin enough to exit and say things
in motion. Like a wheel turning north
from a parking space under scarlet skies.

driving through air across a bridge
not found on a lipstick map.

Like branching toward an electric vacancy
to hear the silent things we say
bathing, soaking our breasts.

Because we don't die at the same time,

we don't stay here to see this time zone
weep the way a sleeping pill
sees water surrounded by clear glass.

The way water is fireproof,
fire marries what keeps it alive.

the way we say things burning papers,

to a parent dying ungracefully
with cosmetics and old movies,
to avoid being abandoned or infected

Things we don't mean to neglect
today, the birthday of no one

who recalls the things we said about
what still hurts for the wrong reason,

ex-lovers and ventriloquists
of tomorrow, jazz molecules above lips,

the whole planet curving away
like embryonic light.









Kathy Paupore is a new friend of "Here and Now" making her first appearance with us this week.

Kathy lives in Upper Michigan with her family. Her poetry has been published in several ezines including Sol Magazine, Amaze Cinquain Journal, Fireweed, and Loch Raven Review. She has won an IBPC Honorable Mention and her poetry has been anthologized in Poets Gone Wild (Wild Poetry Press, 2005).

She is currently a moderator at Wild Poetry Forum.



Menominee River Songs
after Li Po

1.

A long hot summer, deserted water
Menominee River will return your sorrow.

Unable to gauge the grief of the families,
I climb the train bridge to Wisconsin's side

gaze into Michigan, the distance of loss.
I look down at the river flowing past,

it never ceases unless the dam breaks.
I ask the water: will you remember

nothing of them as you carry their names
and each fistful of tears so very far?

2.

Menominee River's white-tail deer are countless,
a flurry of leaps, colored leaves falling

coax spotted fawn out of the autumn woods
they frolic, drink the sun from the water.

3.

Meandering river, in sadness I gaze
into blossoms of red, sorrow follows you

under the bridge, no matter which side,
the water flows, but I can no longer look.

4.

Along the Menominee River banks
Michigan's woodlands are unforgettable,

the blue sky open, granite spilling ridges,
white water washes the rumble of stones.

5.

Hundreds of white pines spread away here,
a hundred stands of maple trees ignite,

broad-winged hawks fly the endless ridges,
unseen, gray wolves night after night howl

stay away from the Menominee River,
the great-horned owl cries, warns of sorrow.

6.

The burning sun heats up the river
scorches the sands, three crows gather.

He heard them laughing together
near the water, made them take flight.

7.

On a slab of concrete at the train bridge,
three white crosses and bouquets of flowers.

On the sand abandoned clothing strewn,
on the waves wilted petals ebb and tide.

8.

The river's a bolt of blue silk,
the shoreline stretches toward heaven

on the banks where children scattered
Only hoof prints of the white deer.


9.

Train bridge mid-river at the swimming hole,
the Menominee's depths pass underneath,

in rough waters, a boat rocks, deserted,
a round hole near the bottom, trying to sink.

10.

Campfire lights up the night sky,
from a leafless tree an owl whoos

on silent wings it whooshes by,
ghost stories are passed around.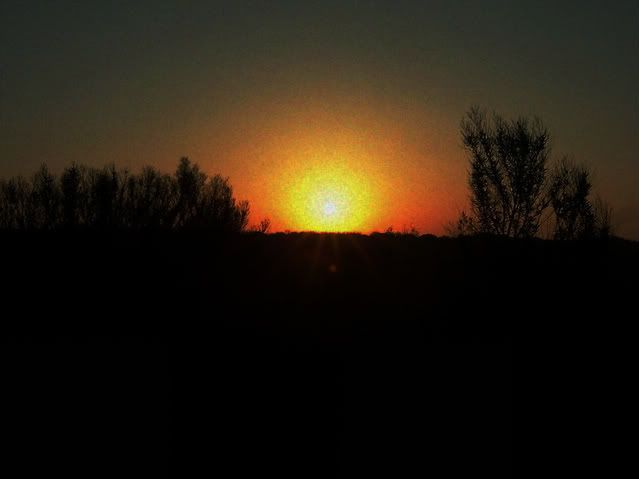 Here's a poem by William Blake from the Penguin Classics collection William Blake - Selected Poems.



Night

The sun descending in the west,
The evening star does shine.
The birds are silent in their nest,
And I must seek for mine,
The moon like a flower
in heaven's high bower;
With silent delight
Sits and smiles on the night.

Farewell green fields and happy groves,
Where flocks have took delight;
Where lambs have nibbled, silent moves
The feet of angels bright;
Unseen they pour blessing,
And joy without ceasing,
On each bud and blossom,
And each sleeping bosom.

The look in every thoughtless nest,
Where birds are covered warm;
They visit caves of every beast
To keep them all from harm:
If they see any weeping
That should have been sleeping
The pour sleep on their head
And sit down by their bed.

When wolves and tygers howl for prey
They pitying stand and weep;
Seeking to drive their thirst away,
And keep them from the sheep.
But if they rush dreadful,
The angels most heedful
Receive each mild spirit
New worlds to inherit.

And there the lion's ruddy eyes
Shall flow with tears of gold:
And pitying the tender cries,
And walking round the fold:
Saying, "Wrath by his meekness
And by his health sickness,
Is driven away
From our immortal day.

"And now beside thee, bleating lamb,
I can lie down and sleep;
Or think on him who bore thy name,
Gaze after thee and weep.
For wash'd in life's river,
My bright mane for ever
Shall shine like the gold,
As I guard o'er the fold."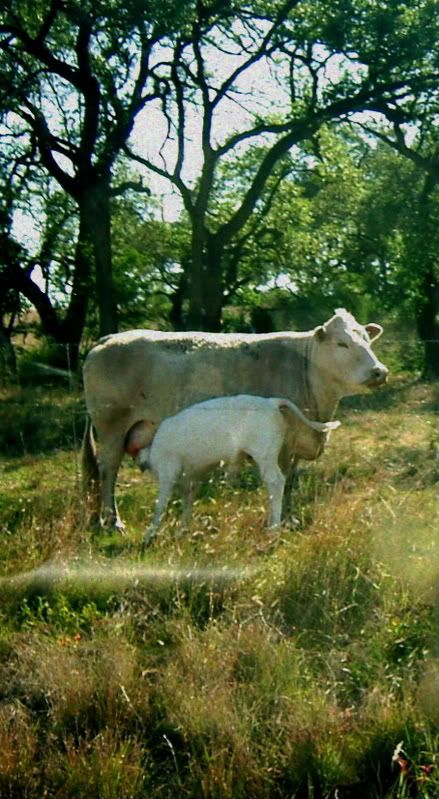 It's funny, I have the poem and a distinct memory of hearing something that set me to thinking along these lines, but can't for the life of me remember what.

Probably something on NPR - getting a lot of my material from public radio these days.



have a really good day

think
of this...

you're driving
down
a country road
one day,
a little two-lane
blacktop,
and you come
to this field,
this calm
pastoral
scene
of clean
green
grass waving
gently
in the breeze
and a herd of cattle
just standing around
munching away
and you stop
and walk
to the fence
and all the cows
come running
cause they know
that when the rancher
comes and stands
by the fence
he's probably going
to have something for
them, maybe some
nice dry crispy hay,
something good
they're thinking
so they come running,
great sad brown eyes,
innocent eyes,
like the eyes
of a fallen angel
watching,
cud chewing, tail swishing,
waiting
for you, and you say,
hello, cows,
i just thought i'd mention
that one of these days
i'm going to eat you,
a few minutes
over a hot grill with
a little salt and pepper
and maybe some A-1
if i leave you on the fire
too long and all your
juices
dry up and you're
going to taste
really great

until then,
you all have a really
good
day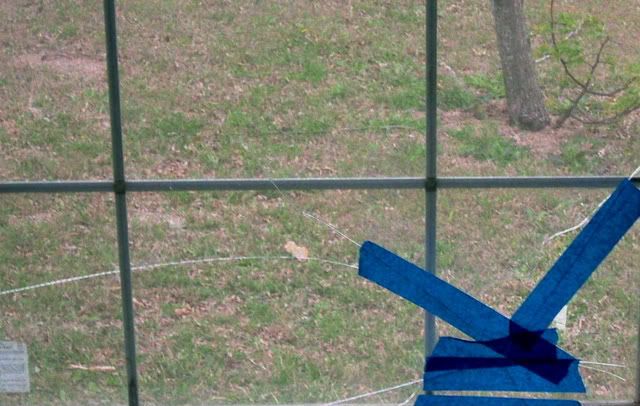 Ishle Yi Park is a young Korean American poet, singer, and the first woman to be named the Poet Laureate of Queens. Dubbed "the Queen of Queens" by her fans, the Borough President declared Park's birthday as "Ishle Yi Park" day in her hometown.

Park's poetry has been published in literary magazines such as Ploughshares, Wasafiri, The Best American Poetry of 2003, and Century of the Tiger: One Hundred Years of Korean Culture in America.

Her poetry CD, Work is Love, includes tracks with Korean traditional drums, Spanish guitar, beatboxing, and music produced by Japan's critically acclaimed DJ Honda. She has been featured at literary and music festivals, performing her unique blend of poetry and song at over three hundred venues around the world, including Cuba, Jamaica, Singapore, Korea, and New Zealand.

Park is also a regular on HBO's Russell Simmons Presents: Def Poetry Jam and was a touring cast member of the Tony-Award winning production of Def Poetry Jam.

The next poem is from her first book, The Temperature of This Water, published by Kaya Press in 1994. It is the winner of three literary awards, including a Pen America Award for Outstanding Writers of Color and the Member's Choice Award of the Asian American Literary Awards.

She has been one of my favorites since I first ran across her book, one of the few in my library I bought new and paid full price for.



Uma

My mother was the biggest love of my life. Before I could
speak english, I'd curl into the pleats of her khakis. I'd hang up
phones so people wouldn't wake her. I wedged my body
between her and the pillow when my father once tried to
smother her. All my early intelligence, I think, was born of the
intense desire to please her. I held in my piss. Stopped wearing
diapers. Twitched a shoulder-raising dance to make her laugh
instead of scratching off my chicken pox.

After my father beat her and retreated to the hot silence of his
room, filled with the fuzz and glare of tv, I would sit near her
in the soft corners. But not too close, I learned Such times
she'd flinch from my touch.

I knew her responsibilities intimately: to cook, to clean, to
stay home, scrub tub, set table, make dinner, stay home, stay
home, stay home. Once I sat through a children's play about
leprechauns with an audience full of other kids, my stomach
tight with fear because it was 5:30 and cutting close to dinner.
The green felt costumes with sharp, pointed edges, the painted
faces and frenetic children running on stage dizzied and
terrified me. What time is it? Let's go. Let's go home

Another afternoon: fallen leaves and a series of wooden
balancing beams stacked higher and higher around a rusted
playground in Bayside. I balanced on them, fingers latched
lightly in my mother's hand until, high above her head, I let
go and ran. She'd let me run reckless.

She possessed that serrated, metal tinge that bared its edges
when he wore her down. His endless hisses and epithets -
shangnyunah, shibhalnyun! - left us lying on our sides like dull
knives. Then she'd bark something harsh and exacting, about his
mother being a dog. His face would startle awake, a streak of
hurt and shock flashing across his cheeks before he pummeled
into her. A rush of bile and water filled my belly. For her.

Funny, he'd never hit us, just lift and carry us by our pajamas,
gently, to the next room. Hit me, I'd cry. Hit me. My father
would look at me with disgust and surprise before shaking his
head and locking the door.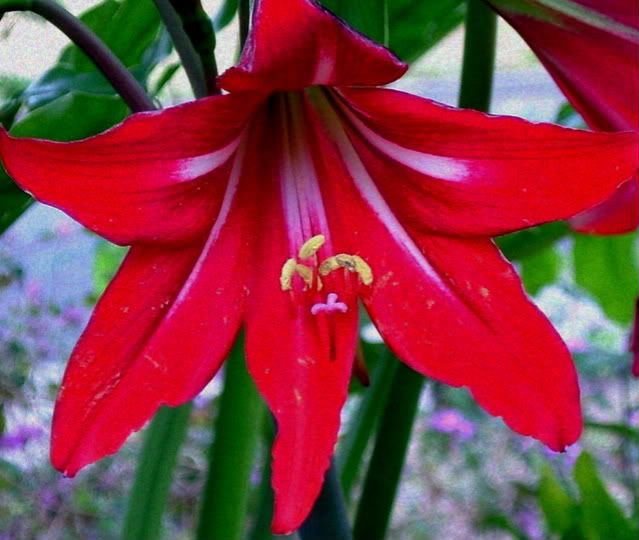 My next poet, a friend of "Here and Now," writes under the pin name RatAva.

I first met her at a weekly poetry gathering at La Taza coffee shop on San Antonio's north side. She is a native San Antonian who wandered around awhile before returning home in 1984. She says that, although she wrote while attending high school, she only began writing seriously a few years ago when she discovered that writing about her feelings helped her to deal with them.

You find out more about RatAva, read more of her work, and get the scoop on her chapbook, Fragments, by visiting her website, "Wrong Planet...Right Universe." You can get there by clicking on the link in the link section on the right.

This is her first appearance in "Here and Now."



Exacerbate

I love the word exacerbate
The way it rolls off the tongue
The sexy little x
Snuggling between e & a
The way it just stops
At the end
With the mere hint of emphasis
On its final syllable

I love its c, masquerading as an s
Tripping up misspellers
The way a flirt
Makes a married man think twice
About whether or not
To try this one
Only to find that things aren't always
As they seem

But most of all I love
That so many other words rhyme
And some of them
Express an opposite meaning
And it's like a gift
To the poet
Who mixes the words
That transform exacerbate into ameliorate









I discovered a poet new to me last week at one of my friendly local used bookstores. The poet is Julia B. Levine and her book is Ditch-tender. Actually, it's not such a used book, published last year by the University of Tampa press.


I couldn't find a biography on her anywhere on the web and the bio-blurb on the back cover is less than intensive. She is, it says, author of Ark, winner of the 2002 Tampa Review Prize for Poetry, and Practicing for Heaven, which won the 1998 Anhinga Prize for Poetry as well as a bronze medal from Fore Word magazine. Her other awards include the Discovery/The Nation Award for Emerging New Writers and the Pablo Neruda Prize.

I did learn from the web that she received her Ph.D in Clinical Psychology from the University of California, Berkeley and lives and works in Davis, California.



Dark Carpenters

I'm not sure what the ants were waiting for -
the right heat or darkness,
a certain kind of silence turned up high.

But the night their wings broke through,

you cut your engine, the heat of your voice
leading me further down the dock.

Imagine stepping through a door into sea.

Imagine loving anything the way we do,
words poured onto the world's cold table,
and no language to name the shyness inside my desire.

A trawler shone its one light across the water's gun metal.
Above us, I remember corridors of stars,

and closer in, bats lacing up the passageways of sky
as we turned and drove the coast highway south.

Did you take me there, only to see that door?

Did you want me to know we fall
and fall again,

into the black, black water of a life
we did not choose?

Or was it later, in that damp room,
a broken river of ants coursing through the walls,
your boots on the cement landing,
your hands on every door my body hid,

that you felt it too: all those wings unfurling,
love's dark carpenters
husking the absolute carapace of being,

breaking apart the old body
just to make it new?


My daughter tells me she is
no longer a virgin,

just before Benicia on 680,
the Pacific glassy and wild in sun,

slow descent of the coastal mountains
gaining speed through the stunning green,

a flock of wrens
rushing to wake the dark between the trees.

Sure, there's plenty to be afraid of:
her future, spilling as it is carried forward.

How, already she knows
anyone can dream anyone into being,

his hand on the gorgeous swell of her thighs,
his hand anywhere he wants.

And there, above the freeway, a line of Holsteins
plodding home, udders swollen,

as if the entire horizon had ripened
into a sweetness asking to be let down.

There are tears in her eyes, in mine.
There are places no one ever expects to leave,

tiny nothing of her laid against my chest;
the everything that I was with her,

in those unmoored hours before dawn.


Silence Prepares Us for the Fields

That's what you said the day it was clear
we were no longer young,
the hillsides stunned with drifts of lupine.

Wild iris split apart the meadow
with purple blades, and though damage
was a word I didn't want to use,

a hundred grebes dove at once;
a floating graveyard slipping underneath
the distant sea, and you beside me,

mumbling, This how the sky will look
when we are gone. As if all that mattered
was that it did:

and endless rush of swallows
dragging shadows across the perfect quiet,
until there was nothing,

finally, but my hand
brushing slowly across your hair.
It was April. It was the argument

we had lost.
Not even touch to prepare us
finally, for the silence
of a body standing deep inside the fields,
listening to the little ivories of fescue
rising up, lying down, in wind.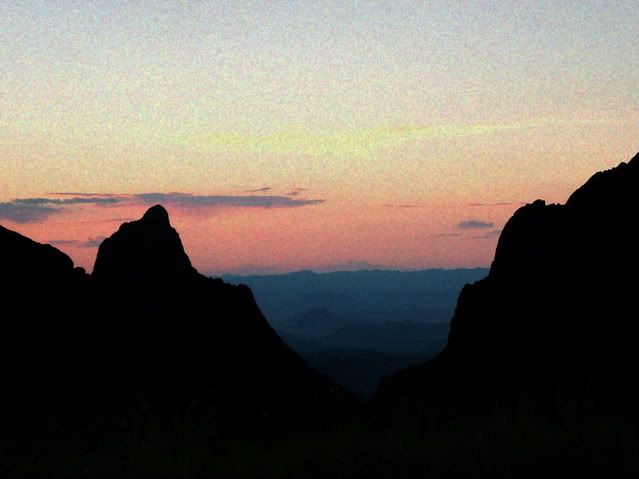 For everyone grown tired of my long rambly stuff, here's a short, very unrambly thing I wrote last week. Those who like long and rambly are just going to have to wait their turn.



morning

birds call
in the still-
dark

announce
the day

claim the
sun

*****

morning breeze
rustles trees

the tender
passing
of leaf
on
leaf

*****

alarm sounds

Debussy
whispers

awake awake

Mussorgsky
up
next

*****

cat
asleep on my arm
purrs

a soft feline
snore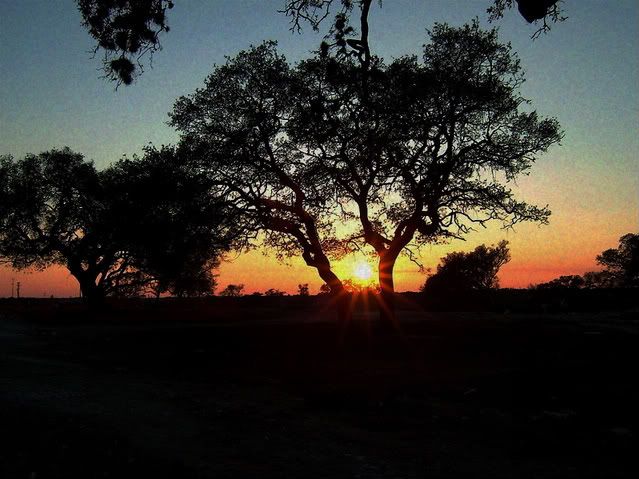 Susan Holahan was born in New Jersey and grew up on Long Island, New York. She received her Ph.D. in English and her J.D. from Yale University. She taught creative writing at Yale College to pay law school tuition and daycare. Briefly, she worked at New Haven Legal Assistance and from the late 70s through the early 90s worked as a journalist in New York and Connecticut. In the mid-90s she taught writing at the University of Rochester. Currently, Holahan writes poetry, essays, reviews and lives in rural Vermont.

My next poem is from her first collection,Sister Betty Reads the Whole You published by Gibbs Smith of Salt Lake City in 1998, which was winner of the 1997 Peregrine Smith Poetry Competition. Her poetry has appeared in Agni, Black Warrior Review, Crazyhorse, Women's Review of Books, and Seneca Review. She has been nominated twice for the Pushcart Prize.



What Fire Has to do with Sorrow

Widowed, waiting in a chair to die, she traced on the table
before her, on the chair arm, on her thigh, shapes like letters
with her thick-nailed

index finger, her crabbed hand looping around, back, over
calligraphically. I lick the word. I make the flourishes myself.
I can't read my messages.

Desire - aslant, each word placed far from the last. And one
project after another she begins then stores: squares cut for
a quilt she'll never piece.

When he left her again last night, cold as he leaves her
only in dreams, she stumbled in his slippers, struggling
to parse a sentence

he would never utter for signs of his return. In joy words
flash upward, not like flames but like the graphic images
of flames.


Dead Letter

to Lore

Cousin, removed - a stranger
in the family, you let them

let you see their clothes, their
houses, eat their food. they called

you poor. When all I knew was
poor was ugly, Germans killed

Jews like us, and Jews like us
couldn't say Jesus or have

cats, they told me your husband's
mother called you that German

Woman. No one told me
German Jewish. Later they'd

say you lost your family; you
dropped them by some German road?

I studied you. I'm taking
your place in my family.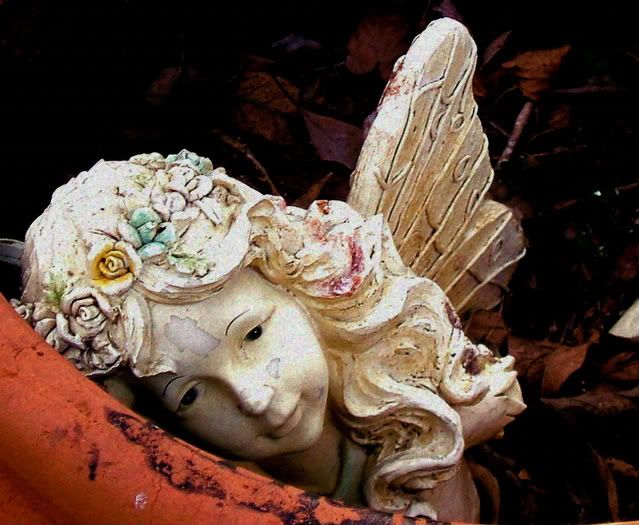 Now, here's Pam Hauck, another new friend of "Here and Now" appearing here for the first time.

Pam lives in the foothills of the Appalachian Mountains. Her creative nonfiction, fiction and poetry have appeared in The Phoenix, flashquake, storySouth, The Southern Scribe, Blue Magnolia, The Tactile Mind Quarterly, The Hiss Quarterly, From the Heart 2: Stories of Love and Friendship, Women of the Web Anthology of Poems, The Dead Mule, The War Journal, Pen Pricks, and various other venues.



Bath of Bane

I soak in a balsam bath,
drown my memories of you.
The way you said, Dammit woman,
don't you know I love you
the night you saved me from myself
when my blood sugar dropped.
Candlelight shadows my silhouette
against wallpaper of wild roses.
I feel fragile, stripped
of your protective armor.
Juice from a peach
you picked in the south orchard
trickles down my chin like tears
too torpid to turn loose.
A pit of pain remains
between my breasts
as though it's all that's left of you.
I scrub my sins, wash away
reasons you left me,
the bitter bile of my betrayal.
I sit in a tub of cold dirty water
bathed in guilt.









Now here's a last poem for the week from me, a return to political mode.



i have this awful feeling

lies
slander
and right-wing bullshit,
lacking any talent
for governance,
it's all they can do,
ever do,
and
i have
this awful feeling
that they're going to get away with it
again
just like they did
four
years ago
and eight years
ago

it's like the abused wife
i once knew,
the abused wife
who worked for me -
after marrying three times
in twelve years
to three different
abusive men
it was hard to see her
as an entirely
unwilling
victim

it-s the same
with this election -
if the same old drivel
prevails again
for the third time
in a row,
i'll hold no sympathy
for those persistent
enabler-victims
who elect them,
then get what they deserve

it just seems
unfair
that i'll get
what they deserve
as well









Who the hell has time for subtlety - the bad guys are fighting back hard and the good guys have to do the same.

Between bouts, if you happen to be in downtown San Antonio, along the Riverwalk, and feel a desperate need to buy a book of poetry, my book, Seven Beats a Second, is now available at Ruta Maya, above the river at Martin and Soledad. Also available, great coffee, wide smiles, and lunch specials as good as it gets.

In case I don't see you there, remember all of the material presented in this blog remains the property of its creators. The blog itself was produced by and is the property of me...allen itz.