The Past Struggles Never To Let Go
Friday, August 15, 2008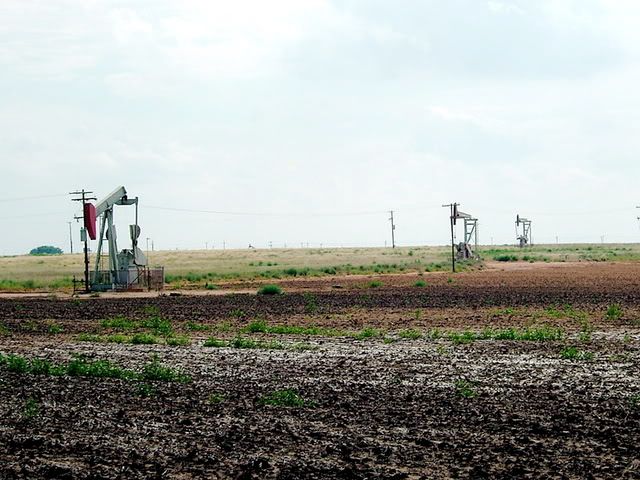 >
III.8.3.




I'm starting this week off with some exciting (to me, at least) news.

Some of my photos, originally from "Here and Now," are up at a local Starbucks, for show and for sale. I understand a couple have already sold.

Do I think that's pretty darn ok?

You betcha.

The store is one of the six hundred Starbucks locations due to close soon, probably by the end of the month. My photos had nothing to do with it.

Meantime, here's the lineup for this week.

From my library:

Michael Van Walleghen
Brooke Bergan
Naomi Shihab Nye
William Matthews
Gary Soto
Tino Villanueva
Sudeep Sen
Elizabeth Seydel Morgan

From Friends of "Here and Now"

Susan B. McDonough
Arunansu Banerjee
Jim Comer

Several poems by me

And photographs by San Antonio artist Rose Cosme.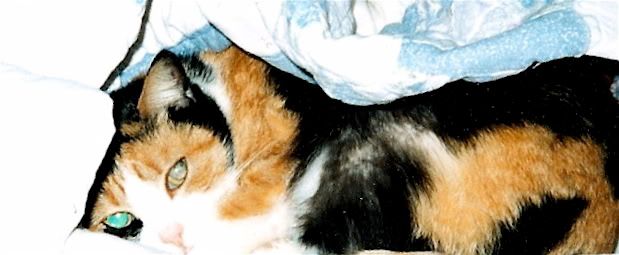 I start this week with a poem by Michael Van Walleghen from his third book, Blue Tango, published by The University of Illinois Press in 1989.

Born in 1938, Van Walleghen has published five other books of poetry, The Wichita Poems, More Trouble With the Obvious, Tall Birds Stalking, The Last Neanderthal, and In the Black Window. He also published translations of Russian poet Dmitri Bobyshev in the anthology In the Grip of Strange Thoughts: Russian Poetry in the New Era.

Before retirement he was a Professor of English at the University of Illinois at Urbana-Champaign and was the first director of the MFA in Creative Writing program created there in 2003.



Sneaky

Someone doesn't like cats -
he thinks they're "sneaky"

so cats start disappearing
all over the neighborhood.

Even our own cat disappears
and then, some weeks later

her mutilated body turns up
in an abandoned farmhouse -

because that's what she gets.
Someone doesn't like cats

so he stabs their eyes out
and cuts them into little pieces.

Maniacs behind every tree.
Maniacs, child molesters...

But Emily, my five-year-old
has different notions entirely.

She thinks her cat's in Florida
on vacation - because it's winter

and "that's where the birds go."
It's winter, it's after supper

and a small moon, a cat's eye
follows us down our dark street

all the way to the liquor store -
then dimly, dimly back again...

Nevertheless, because she's eaten
so many raw carrots lately

my daughter informs me
she can see in the dark now

like the animals - whereupon
she leaps unerringly, catlike

over and ice-filled gutter -
at which, even the trees

seem stirred, clattering
their sudden applause

all round us for a moment -
then falling still as trees

near a house without windows
in the middle of winter.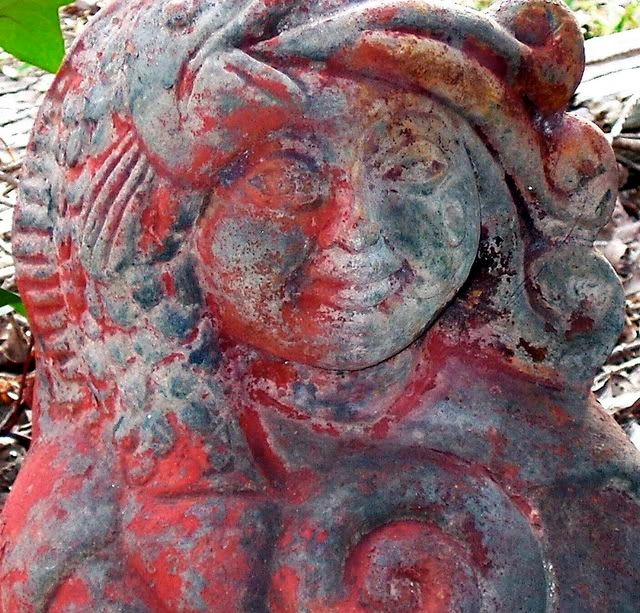 There I was, just sipping my latte and writing a poem in the most poetic of moods and in a manner most genteelish, and, zap, they came along and started closing my coffee shops.

This'll show'em.




culture clash

i'm an early
riser
who doesn't
like to face any
new day
without coffee
and the New York Times

so i always look
for the familiar
green sign
when i travel -

even going
85
on the interstate
i can spot them
and if i don't
spot'em directly,
i can spot
the kinds of place
they usually are

i'm seldom
wrong

now,
out of the thousands,
600
will be closed
and one of those 600
is right here in San Antonio

one of the originals,
designed
to be more than a place
to shove $4 coffee drinks
out a drive-thru window

it's a larger place
where people can sit,
designed
to be a place
where community can be
built,
a place to make friends
and talk to neighbors,
a place to read and,
if
you
have a mind to,
a place to write a poem,

the kind of place that
created
the coffee culture
it's corporate culture
seems ready
now
to deny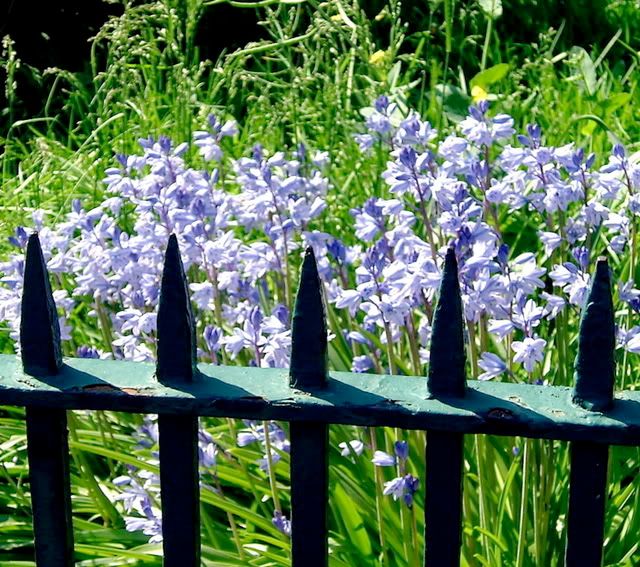 I've used poems from Storyville; A Hidden Mirror by Brooke Bergan a number of times, so if you read "Here and Now" with any frequency you're probably familiar with the book and the approach Bergan takes to the story of Storyville and its whores and Ernest Bellocq, an otherwise run-of-the-mill commercial photographer with an obsession who, almost inadvertently, saved it all for history.

In brief, Bergan uses Bellocq's photos as a departure point for her poems, sometimes even writing in the imagined voice of Bellocq, bringing the place and time to life again. As to the details of Storyville and Bellocq, a google search will give you the whole interesting story of how government sanction red light district became a fascinating piece of New Orleans history.

Bergan has an MA and a PhD in creative writing from the University of Illinois at Chicago. She has taught writing classes and workshops for nearly twenty years in grade schools, high schools, libraries, colleges and universities to widely diverse audiences around the country.

Her publications include three critically acclaimed books of poetry as well as fiction, reviews, essays, translations and a play. She has given numerous readings and performances; appeared on radio, television and video programs about literature; and made presentations at national conferences. She has also served as a literary editor for several journals, is the founding editor of Persiflage Press and was the director of publications at the University of Illinois at Chicago. She has won awards for both her scholarship and her poetry.

Here are two poems from the book, imagining Bellocq speaking to one of his favorite models as he prepares her photo.



Plate 21: Adele In An Evening Gown

Adele, Adele
of the violent
violet eyes, you
are my favorite.
Only for you do I
hang the black scrim
so that there is nothing but you
pale against it
as a pearl on black velvet.

Someone else gave you
the silk gown hung with
pearls, the marabou
shawl, you feather out
against the black scrim,
the lavaliere at you neck,
the pinching sadness
of your eyes.

But I give you this:
A universe that is only
you

My Adele.


Plate 28: Adele Wearing A Locket

Adele, you are so real
without clothes, the lens
falters at the soft
curve of stomach,
soiled feet, ribbons
of hair you've let fall
down your back, like my
locket, a kiss between
your breasts.

If I put you against
the filigreed wall, let
your hand rest
on the carved back
of this chair,
will the world
see what I do?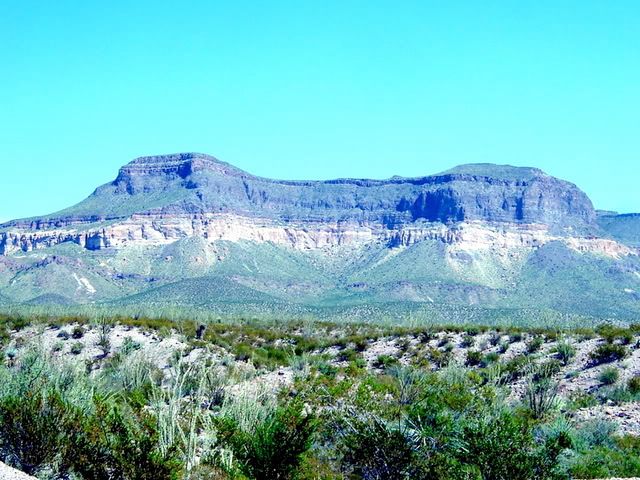 It's been a while since we've heard from our friend Susan B. McDonough, but here she is, back again, with a wonderful poem of the great American Southwest.

Susan creates gardens for a living and says she enjoys the journey of transplanting words into poetry. She has one foot in Arizona and the other in Maine, living some months of the year in both places.

Her poems can be found both on-line and in print.



Just West of Black Mountain

It isn't the breath of dry air carried
on the ambiguity of a tumbleweed
or that Cactus Wren perched on the edge
of the screen door propped open to the patio,
her mouth comically brimmed in blue-gray bits
of the neighbor's dryer lint
that makes this desert feel like home.
It's not the luminance of a million stars
tumbled on the spurs of a sultry desert night
floating above a thousand silent
armed and unarmed saguaros.
No it's none of that.
It's the way the land is so hard,
so endlessly unforgiving,
what it might take from you and the way
a single tiny seed can find its way
to be a wildflower.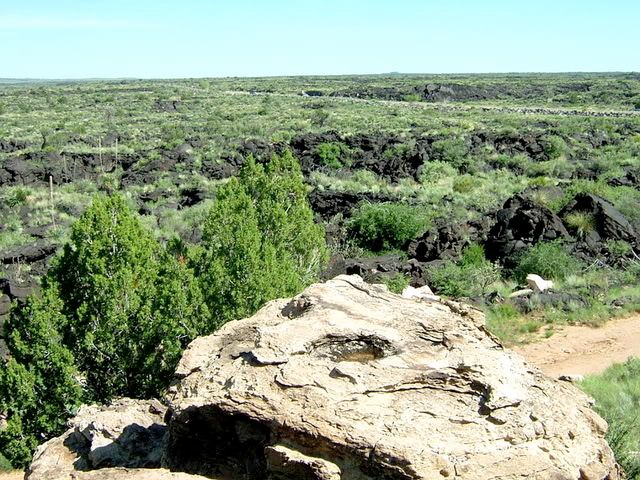 My next poem is by Naomi Shihab Nye, from her book 19 Varieties of Gazelle: Poems of the Middle East, published by Greenwillow Books in 2002.

Nye, born in 1952 to a Palestinian father and American mother, is a poet, songwriter and novelist. A graduate of Trinity University in San Antonio, she continues to call that city home.

This is the first poem in the book.



Different Ways to Pray

There was the method of kneeling,
a fine method, if you lived in a country
where stones were smooth.
Women dreamed wistfully of
hidden corners, where knee fit rock.
Their prayers, weathered rib bones,
small calcium words uttered in sequence
as if this shredding of syllables could
fuse them to the sky.

There were men who had been shepherds so long
they walked like sheep.
Under the olive trees, they raised their arms -
Hear us! We have pain on earth!
We have so much pain there is no place to store it!
But the olives bobbed peacefully
in fragrant buckets of vinegar and thyme.
At night the men are heartily, flat bread
and white cheese,
and were happy in spite of the pain,
because there was also happiness.

Some prized the pilgrimage,
wrapping themselves in new white linen
to ride buses cross miles of sand.
When they arrived in Mecca
they would circle the holy places,
on foot, many times,
they would kiss the earth
and return, their lean faces housing mystery.

While for certain cousins and grandmothers
the pilgrimage occurred daily,
lugging water from the spring
or balancing baskets of grapes.

These were the one present at births,
humming quietly to perspiring mothers.
The ones stitching intricate needlework into
children's dresses,
forgetting how easily children soil clothes.

There were those who didn't care about praying.
The young ones. The ones who had
been to America.
They told the old ones, you are wasting your time.
Time? The old ones prayed for the young ones.
They prayed for Allah to mend their brains,
for the twig, the round moon,
to speak suddenly in a commanding tone.

And occasionally there would be one
who did none of his,
the old man Fowzi, for example,
who beat everyone at dominoes,
insisted he spoke with God as he spoke with goats,
and was famous for his laugh.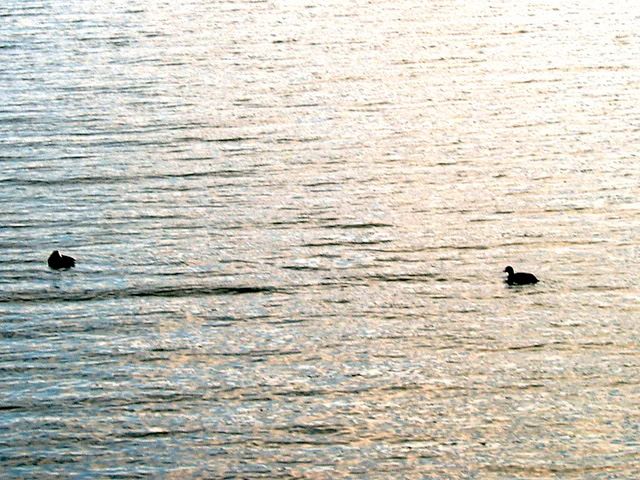 I wrote this a couple of weeks ago, a short piece brought to mind by a line from another poet and a feature on NPR about dreaming. I was also struck by the idea of a nightmare about not being able to dream.



i dreamed

i dreamed
i could not dream

and made insane
by a
never-dream world

i huddled
in a dark, dreamless
corner

logic
pounding
like hailstones

on my roofless
dream-starved
head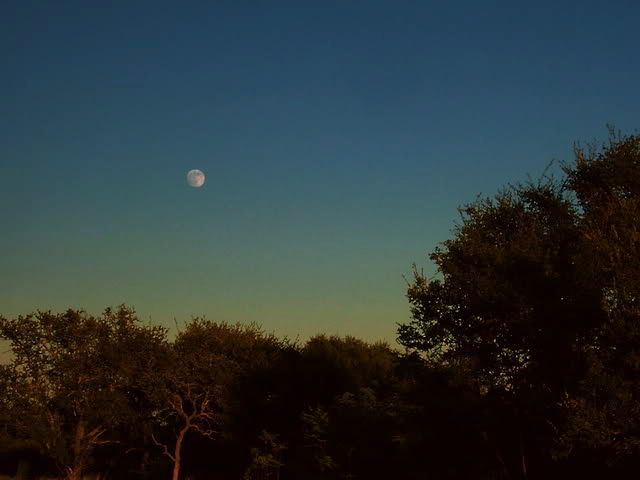 Born in Ohio in 1942, William Matthews earned a bachelors degree from Yale University and a masters from the University of North Carolina at Chapel Hill. In addition to serving as a Writer-in-Residence at Boston's Emerson College, he held various academic positions at institutions including Cornell University, the University of Washington - Seattle, the University of Colorado at Boulder, and the University of Iowa. At the time of his death in 1997, he was a professor of English and director of the creative writing program at City College of New York.

Matthews published 11 books of poetry, including Time & Money which won the National Book Critics Circle Award in 1996 Blues If You Want, published by Houghton Mifflin in 1989, and from which the next poem was taken.



What A Little Moonlight Can Do

It's spring. Lilacs and ginger the humid air.
Next thing you know it's summer - hollyhocks
and fireflies in a pickle jar (seven running down
their dusty batteries and two are already dead).

A rash of lichen chafes across the lakeside
rocks he loves to sprawl on after swimming.
What animals, those shadowy siblings,
will he not see this year? The moose. The loon.

The fox, for whose insouciant gait a dance
was named that swept this lovelorn parents
like a wave about break across dance floors
they still dream of, disguised as bay and meadows.

The boy not quite asleep on the third floor
of a strange house looks out over the undulations
of the golf course, its pockets of shadow,
its moon-washed mounds. He can smell

people dancing. Perfumes and shampoos rise,
shoe polish, and the creamy purr the saxophones
lavishly emit, and many a remark.
A woman laughs from low in her throat.

She's not on he porch and not in the car.
The stars and tolerant moon let down
their tarnished light and we send back,
like a constant exclamation of balloons,
our sounds and fervent odors. We'd be aloft
if our bodies didn't hold us down,
and everything that memory can get
its clumsy hands on. The boy watches a dog

skulk out of the rough and dark to lift
its moon-silvered leg - that's not a dog,
it's a fox! and its fur is not silver but gray -
and pee distractedly into a sand trap. and then

it's gone. Soon the band and summer will disperse.
The lake rocks mildly in its bowl. It's late,
it's almost dawn. But what the sun elicits
from the lake, the rain will surely return.









Arunansu Banerjee, from Calcutta, West Bengal, India. He says he has been writing poetry only a few years but the art and craft were rooted in him long before he started posting poems on different web forums and having his work published on some web journals. Arunansu says that, since childhood, he has been a prolific painter and a bookworm.

Arunansu is a teacher by profession, with a degree in physics and specialized expertise in softwares. He says his primary love is listening to Indian Classical music. His favorite poets are Emily Dickinson and Rabindranath Tagore.

This is his second appearance in "Here and Now."



Stargazing

"On the eastern side it will be!"
pointed a middle-aged person.

"Papa, will they burst like crackers?"
"No Dodo, comet showers are mere streaks
flying across the sky."

"Sir, what's the expected time, 2 am?"
"One-thirty! Only an hour left!"

Kolkata maiden looked a strange graveyard
with the street lamps. Groups of people nestled
in their woolens, tea sellers did brisk business.

An old beggar, bent as her wooden
stick, moved in a snail's pace. One gentleman
seated on the grass, scribbled in the light
of a lantern.

I sat beside him.

Night progressed amid words and laughter.
Stars disappeared into the brume.
So did the people.

Morning awoke with hostile crows
and stray dogs, nibbling litter.
My companion had finished his write.

He recited lines from his poem
"Stargazers."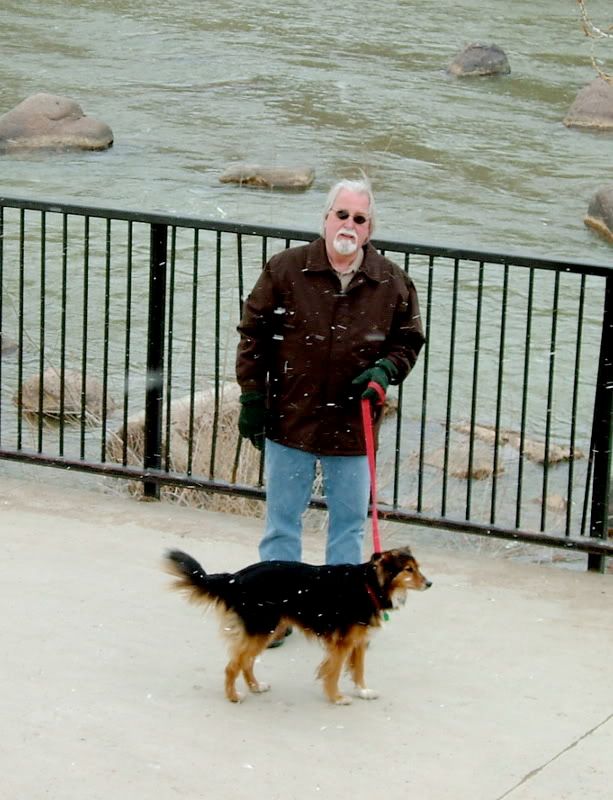 Gary Soto was born to working-class Mexican-American parents in 1952 in Fresno, California. He had very low grades throughout school, but became interested in poetry in high school and began writing poetry while he attended Fresno City College. Soto moved on to California State University, Fresno for his undergraduate degree, and then to the University of California, Irvine, where he earned a Master of Fine Arts degree in 1976

His work earned recognition in the late 70's, when he won an Academy of American Poets Prize. His first book of poems, The Elements of San Joaquin, which contains grim pictures of Mexican American life in California's Central Valley, was published in 1987.

In 1985, he joined the faculty at the University of California, Berkeley, where he taught in both the English department and Chicano Studies department. He stopped teaching in 1994 to write full-time, but returned to teaching in 2003 with a post at University of California-Riverside.

The next poem is from Soto's recent book, a simple plan, a National Book Award Finalist published by Chronicle Books in 2007.

I had intended to use another poem from the book, but I'll get to it in some future issue. I'm a dog lover and, for this issue, couldn't pass up this poem about a dog a lot like my own.



Nelson, My Dog

Like the cat he scratches the flea camping in fur.
Unlike the cat he delights in water up to his ears.
He frolics. He catches a crooked stick -
On his back he naps with legs straight up in the air.
Nelson shutters awake. He responds to love
From head to tail. In happiness
His front legs march in place
and his back legs spark when they push off.
On a leash he knows his geography.
For your sake he looks both ways before crossing,
He sniffs at the sight of a poodle trimmed like a hedge,
And he trots the street with you second in command.
In the park, he ponders a squirrel attached to a tree
And he shovels a paper cup on his nose.
He sweeps after himself with his tail,
And there is no hand that doesnt deserve a lick.
Note this now, my friends:
Nelson can account the heritage of heroic dogs:
One, canines lead the blind,
Two, they enter fire to rescue the child and the child's toy,
Three, they swim for the drowning,
Four, they spring at the thief,
Five, they paddle ponds for the ball that got away,
Six, for the elderly they walk side by side to the very end,
Seven, they search for bones but stop when called,
Eight, they bring mud to all parties,
Nine, they poke among the ruins of a burnt house,
Ten, they forgive what you dish out on a plate.

Nelson is a companion, this much we know,
And if he were a movie star, he would do his own stunts -
O, how he would fly, climb the pant legs of a scoundrel
And stand tall rafting on white-water rivers!
He has befriended the kingdom of animals:
He once ran with wolves but admittedly not very far,
He stepped two paces into a cave and peeked at the bear,
He sheltered a kitten,
He righted a turtle pedaling its stumps on its back,
Under the wheeling stars he caravanned with the mule,
He steered sheep over a hill,
He wisely let the skunk pass,
He growled at the long-bearded miser,
He joined ducks quacking with laughter,
Once he leaped at a pheasant but later whined from guilt.

Nelson's black nose is a compass in the wilds.
He knows nature. He has spied spires of summer smoke,
He circled cold campfires,
He howled at a gopher and scratched at the moon,
He doctored his wounds with his tongue,
He has pawed a star of blood left in snow.
He regards the fireplace, the embers like blinking cats,
This too we know about Nelson.
True, he is sometimes tied to parking meters
And sometimes wears the cone of shame from the vet's office.
But again, he is happiness.
He presents his belly for a friendly scratch.
If you call him, he will drop his tennis ball,
Look up, and come running,
This muddy friend for life. When you bring your nose
To his nose for something like a kiss,
You can find yourself in his eyes.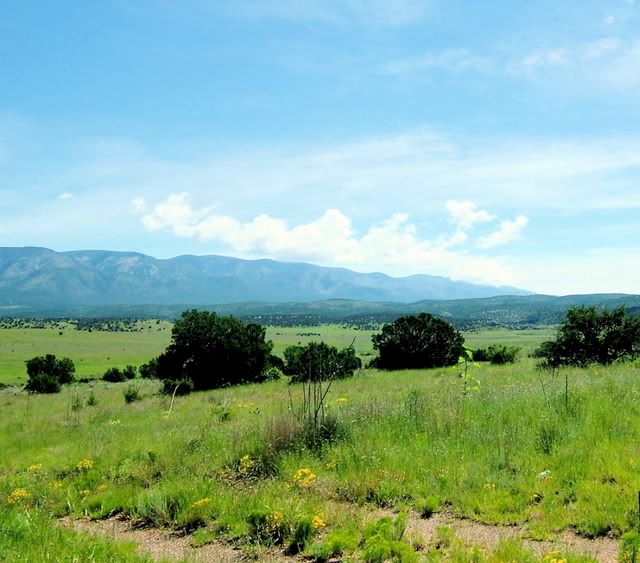 We drove up to Lubbock, Texas last Friday for the graduation of a nephew at Texas Tech. (Congratulations Alfredo M Ramirez II.)

It was supposed to be an overnighter, but when we got ready to head back Saturday afternoon, we decided, what the heck, let's go back the long way. So we looped up through New Mexico, about a thousand extra miles, and got back Tuesday. I wrote this poem along the way, a little travelogue of parts of Texas and New Mexico.



four days on the road


Fredericksburg, Texas 78624

dad's home town,
visited
every summer
until my seventeenth year

from a world
where Spanish flowed
around me
to a world where
it was German

all around -
the only place
in the world where
the telephone book

includes a page and a half
of people
with my same short
last name

cousins all
to one degree or another,
but the only ones i know
are mostly dead

so i don't stop anymore
when passing through
except at Opa's
Meat Market

for a few week's supply
of koch kasse,
liver sausage,
and hill country peaches


Mason, Texas 76856

little Mason, Texas,
barely 2,000 German
Irish and Mexican souls,
county seat of Mason

County

a town with a busy
square,
functioning businesses
on every side

a historic stone
courthouse
in the center
surrounded by

oak and pecan green

little towns all around
wither
and die
from the rot

of modern times

while
this one grows
more gracious and serene
like a woman

whose youthful beauty

is defined
and deepened
by age


Brady, Texas, 76825

on the way to Brady,
between Dry Shunt Draw
and Cannibal Creek
the geology changes

gone are red rocks
and rich red earth

as the hill country
begins to flatten
to high caliche plains

of cactus
and low brush
and rocky fields

with dust devils,
diablitos,
two or three at a time
pacing us,

twirling caliche dust
swirls,
outriders
on either side

Brady
a casualty
of the dusty
plain

is passed through
and left behind
with no regrets


Eden, Texas 76837

tiny Eden
Texas

don't go there
for
you'll surely be
disappointed

but if you must

don't pick the
apples


Lamesa, Texas 79331

high plains,
cotton,
grain,
a town dried up,
old buildings'
former glory
tattered,
brick dingy,
windows blank,
empty eyes
like old men
in decline
wanting just
a quiet place in an
uncrowded
corner
to die in peace

wanting just
to be left
alone


Lubbock, Texas, 79401

Bush country

god-fearing,
red-voting rednecks
with money,
sons of Birchers
back
when they were
still fighting the communist
conspiracy
with Impeach Earl Warren
billboards
and Rotary Club
luncheons

in appearance,
the kind of town
old Sam Walton
would have built
if he'd been into
building
towns


Fort Sumner, New Mexico, 88119

going west
on US 84, you
crest a hill
and see
the village of Fort Sumner,
population 1,100, give or take
a dozen, nestled
in a green and wooded
valley
on the Pecos River

a true Eden
in the desert,
a garden not yet
spoiled -

at least, not
as seen from this
hilltop


Santa Rosa, New Mexico 88435

the desert is green this year

like a New England pasture
between even greener
hills


Albuquerque, New Mexico 87101

1
i remember
a night
camping on a trail
near the crest of Sandia
Peak
looking out under
a cloudless moon-soaked
sky
to the desert
like an ocean
stretched
below,
city lights
all the ships at sea

thinking

i will never see
anything this beautiful
again

and looking back
now

over all the years
since
that night

and all the sights i've seen,
i think i might have been
right


2
i rode this area
on horseback
many years ago

through its rough
arroyos,
across
its dusty flats

now
the asphalt tide
that engulfed it twenty-five
years ago
has shifted as the city
moves in new directions

leaving behind the derelicts
of an ebbing civic tide,
vacant buildings,
empty lots,
as all starts the slow fall
back to nature
one weedy tuft at a time

someday
long past my time
someone else
will ride this desert prairie,
leaving hoof prints
beside these ruins


Capitan, New Mexico 88316

just inside
the National Forest,
about six miles east of
Carrizozo
and the scrambled strew
of black volcanic rock
called the Valley of Fires,
is Capitan, a one-street village

its single street
shaded the full length
by large cottonwoods,
bounded on either side
by art shops,
a grocery market-gas station,
Amy's Coffee House
and antiques,
new adobe homes,
and hundred-and-fifty-year-old
adobe ruins

quiet

cool
in the summer
and quiet

an old man
on a horse
checks his mail,
waves
as i pass


Roswell, New Mexico 88201

intergalactic way station

little
green men everywhere

stopping over,
like me,
for a plate of green
enchiladas

before leaving out
for home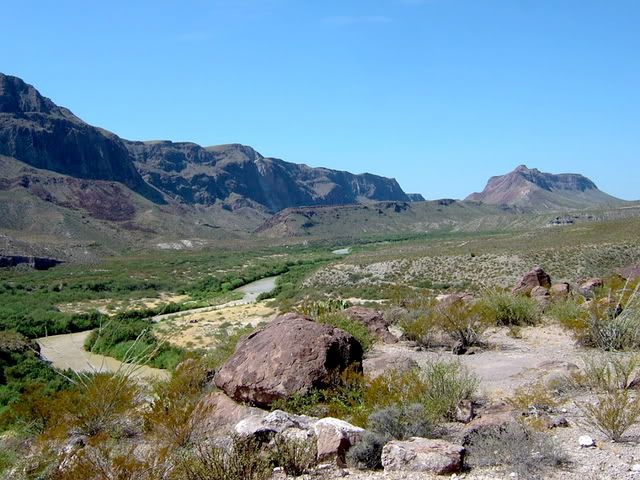 Using a poem from Scene From the Movie Giant, by Tino Villanueva, like using a poem from Storyville, requires a lot of setup.

I have told the story several times now. This time I'll try to cut it to a minimum.

It begins with Villanueva as a 14-year-old boy watching the movie Giant in a darkened theater and seeing a scene of such bleak racism that it stays in his mind until, as an adult, he wrote this book of poems around that single scene not more than a couple of minutes in duration.

Villanueva was born in 1941 in San Marcos, Texas to a family of migrant workers. Because of the demands of traveling to harvest crops, Villanueva was never able to attend school regularly. Despite that he managed to graduate from San Marcos High in 1960 and began working on an assembly-line at a local furniture factory. In 1963, he was drafted into the United States Army in 1963 and spent two years in the Panama Canal Zone. Upon returning to San Marcos, he took advantage of the GI Bill to study English and Spanish at Texas State University-San Marcos. He completed his B.A. in three years and then moved to Buffalo, New York to attend the State University of New York. He finished his M.A. in 1971 and moved to Boston University, where he began his doctoral studies.

Villanueva has published several books of poetry since earning his Ph.D. He continues to teach, lecture, and research, and to develop his interest in painting. Villanueva currently serves as Preceptor in Spanish, Modern Foreign Languages and Literature in the College of Arts and Sciences at Boston University.



The Serving of the Water

Tell the portly waitress to stay overtime and
She will do it. Dressed in white, she is a
Version of Sarge...Who follows orders well
...Who may have it in her mind she is "The

Sweetest little rosebud that Texas ever knew."
Her whole embodiment is whatever she is doing -

At a booth, here, on the warm sketchy plain
Of day, it is water she sets out for the
Benedicts: the measurement of water is ritual
That isolates a race from the many colors of the

Day, and she does so with her eyes aimed at
Anyone she has give a harsh name to - like Juana,

And her child, half-Anglo, who in Juana's womb
Became all Mexican just the same. The waitress,
Entirely conscious of her act, whose eyes, quick,
Flee back to Sarge and now call out in silence,

Brings this moment to the edge of something tense
That spreads to everything. Her sudden look of
Outward regard - then Sarge, stirring dense cloud
Gathering (entering left), standing over everyone
In tallness almighty. Ice-cream is what Rock Hudson
Wishes for his grandson: "Ice-cream is what it shall be,"
His words a revelation of delight: "Give the
Little fella some ice-cream"...Summer is one long

Afternoon when Sarge, moved by deep familiar
Wrath, talks down: "Ice-cream - thought that kid'd
Want a tamale." An angry mass of time travels
Back and forth the distance between Sarge and

Rock Hudson, as I sit, shy of speech, in a stammer
Of light, and breathe a breath not fully breathed...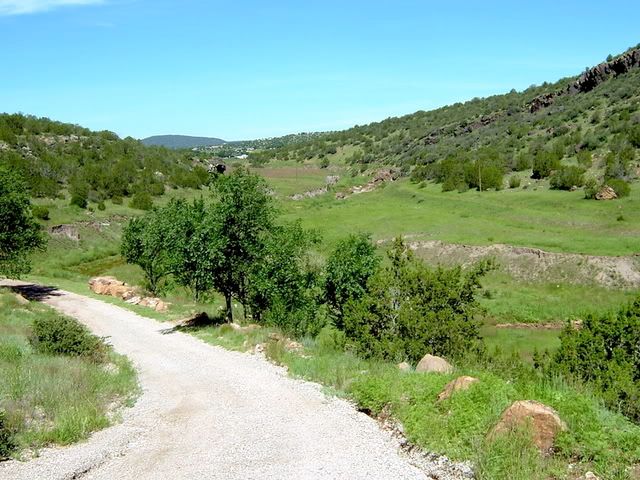 The next piece comes from our friend and frequent contributor, Jim Comer.



Legs of Summer

Our stride is courageous
on two black corded seats
of an aging, but audacious
red sports car.

The weary distance shimmers
its distorted desert images
on the hood - shapes our dreams
of destinations - the meter
of the four cylinders remind us
of the stretching eras.

In and out of overdrive, the valleys
and peaks demand a burly foot
on the pedal - the brake.

In a high valley, a window opens
between two crests - exposes
ranges beyond the naked eye,
layer after stratum of magenta,
faded orange and violet -
in our hearts we've arrived.

Javelinas, bears and pumas
guard a natural treasure -
we favor scarlet summer tanagers,
vermillion flycatchers, gray hawks
in the cottonwood trees.

In the grassy hill country off Texas,
our youngest daughter awaits -
we spin our memories and dreams.

The Ozarks wind us through Arkansas
and southern Missouri. Mom's ashes
rest among white pink petunias -
two brothers step away
with her blessings.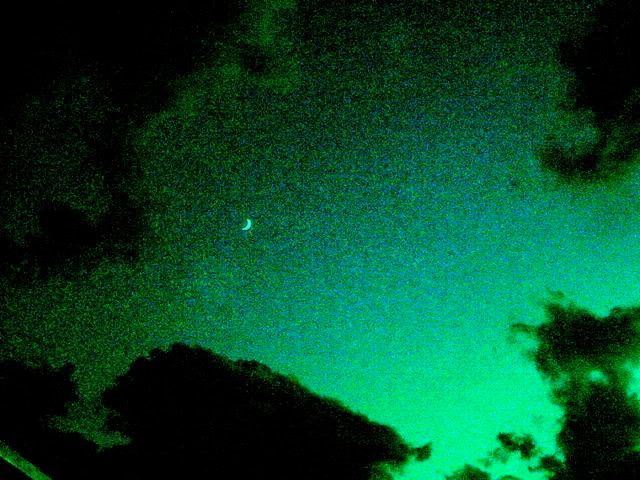 Sudeep Sen was born in New Delhi in 1964 and studied literature there and in the USA. As an Inlakes Scholar he completed an MS from the Graduate School of Journalism at Columbia University in New York. His writings have appeared widely in leading publications, including: Times Literary Supplement, Guardian, Independent, Financial Times, Evening Standard, Scotsman, Scotland on Sunday, London Magazine, Poetry Review, Washington Post, Boulevard, Harvard Review, Poetry , Times of India, Indian Review of Books, Telegraph, and Statesman.

Sen has been an International poet-in-residence at The Scottish Poetry Library in Edinburgh and a visiting scholar at Harvard University. He lives and works in London and New Delhi.

The next poem is from his most recent book, Postmarked India: New & Selected Poems published by HarperCollins in 1997. The book was awarded the Hawthorne Fellowship and nominated for the Pushcart Prize.



The Lovers and the Moon

1

some lovers, obscure lovers
sat in a lonely park

on a secluded old marble bench
where the moon made love

to this white stone,
flooding it with milky luminescence

until it grew
hard and cold, beautiful and serene.

clear, so clear that it reflected
the moon,

so when the obscure lovers sat,
sat in the lonely park

on the secluded marble bench,
they knew they weren't alone.

they knew they weren't alone.
a large myth was looming all around.

2

the lovers were engaged
some years later - a moonstone ring.
they never spoke
through all their lives.

even as they loved
they were aware of the orb,
its intense radiance
that bound them together.

some years later they had a child.
it was full moon night,
through just before its conception
there was a great storm.

amidst all the clamour and diffusion,
the lovers perceived a strange
through familiar apparition
that approached them from the sky.

a mirage - the marble bench,
solitary, but glowing.
all was dead still,
stark, the earth was cold.

on the same bench now appeared
a fresh green sapling, its roots
emerging from the lifeless stone,
life from an inanimate womb.

when this new voice screamed
amidst the stillness
it echoed a shudder
whose force disengaged two leaves

from a Banyan tree over the bench
weakened in the recent storm.
they glided, fluttered downwards,
softly perching on the earth.

3

the lovers,
the father and mother of the child

died.

near the marble bench
was a grave, a tombstone,

and the Banyan tree above it.

as an offering was placed:
two leaves, the moonstone ring, and

an epitaph

containing the lyrics
of the whole song.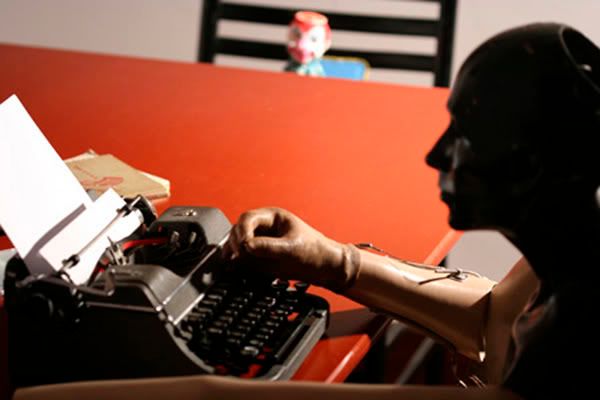 Photo by Rose Cosme




I introduced San Antonio artist/photographer Rose Cosme to "Here and Now" readers several months ago. I'm glad to have her back this month with some additional photos, the one above and the ones below.

Rose choose protheses as her subject for her M.F.A. portfolio and has continued to work with them as the focus of her work since, producing strange, sometimes unsettling, images that are, at the same time, quite beautiful. That is the challenge, she says, to using that subject.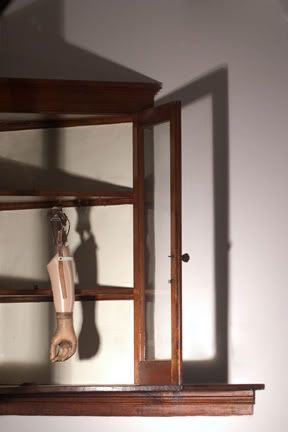 Photo by Rose Cosme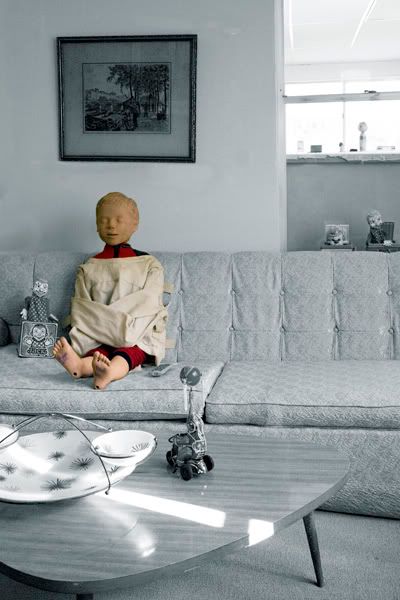 Photo by Rose Cosme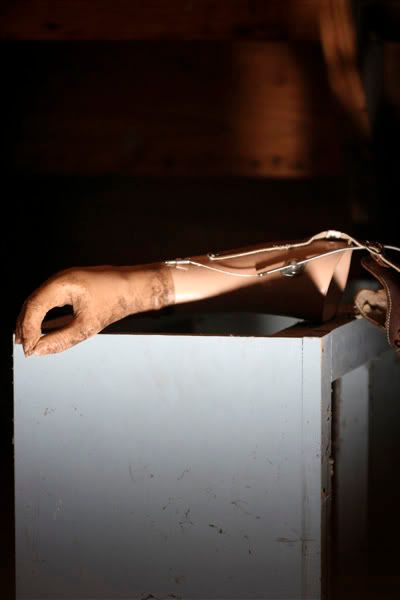 Photo by Rose Cosme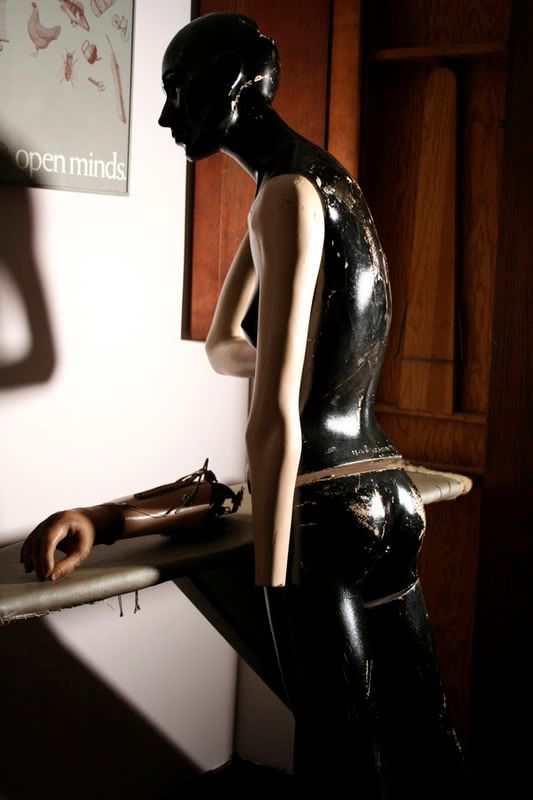 Photo by Rose Cosme




Thanks, Rose, for the use of your photos.









A science fiction geek in my youth, it doesn't take much to get me thinking about science things that intrigue me that I don't understand.

This time I think it was an NPR piece that got me started.



now

there
is no difference
einstein said
between past
present
and future

they are all
the same

i think
of a deck of cards

i pull a king
off the top
and lay it down

i pull a queen
and place it on top
of the king

the king
is not gone

it is still
there

and a nine of diamonds
atop the queen
does not eliminate
either the queen
or the king

they are not gone

the are still part
of the deck

as are all the cards
i have not uncovered yet

they are there
though
i have not seen them yet

it is not my seeing
that makes them exist

they are not the future
just
as the cards already seen
are not the past

they are all now

the deck is now

the past
the present
and the future
do not exist in the real world

they are just constructs
of my human mind
built
to make sense
of a quantum
universe










Here's a mother's poem by Elizabeth Seydel Morgan from her book Parties published by Louisiana State University Press in 1988.

Morgan is the author of three books of poetry in addition to Parties. They are, Language, The Governor of Desire On Long Mountain, a finalist for the Library of Virginia Poetry Prize. Morgan is a graduate of Hollins College and received her MFA from Virginia Commonwealth University.



May Tenth

Ten on May tenth,
you think it's fine:
two numbers in your age
till you're a hundred

You've learned to flip
your silky hair in such a way
your unsure eyes don't show.
Your unruly arms and legs
most often seem askew,
but you can still curl up
like a touched caterpillar
and suck your thumb.

Ten years ago this hour
you uncurled from me.
Weak and silly from ether and relief,
I took you
into the cook of my arm,
felt the rush of blood
that cleared the blurring gas.

Satisfied,
I kissed the spot on your bare head
that throbbed.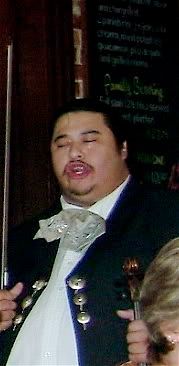 Now, from me, one last poem for this week, a poem about something that happened to me for the very first time. And a wonderfully grand experience it was.



watching my book be read

for
the first time
ever
i'm watching someone
read my book today

someone
i don't know;
someone who
doesn't know me

someone
on the other side
of the coffee house
who doesn't know
i'm watching

it's a young couple
boy and girl
who stopped at the free
reads
table by the door

i was watching
idly curious
to see what they would do

i could tell
it was my book they picked up
by the colors on the cover
so i paid close attention
as they took the book
to a table
in the far corner of the room

they read together
handing the book back and forth
pointing to a page,
a poem,
talking about it

reading sometimes
very quietly
laughing loudly
at others

watching their concentration,
hearing their laughter

it was like the first time
i saw my son
hit a homerun over the fence
or the first time i heard him
ace a solo with the city youth
symphony

(except i can't stand up and cheer)

my book has serious
poems in it,
as well as many meant
to be funny

so,
though there may
in some peoples' minds
a question,
i'm choosing to
believe
they were laughing
at the right places

and don't
try
to tell me different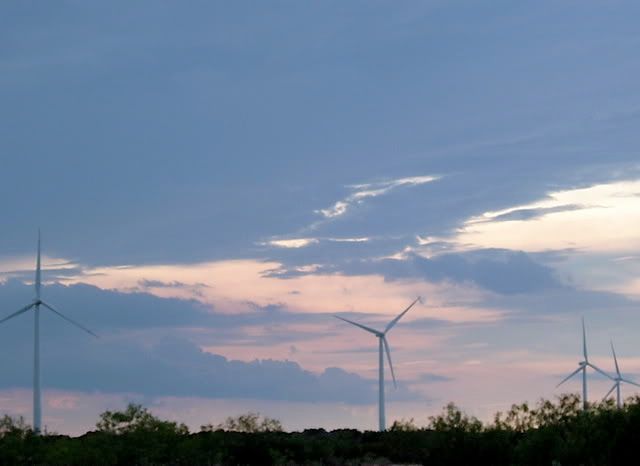 As the past struggles to hold on, the future awaits. There will be a chance to choose one or the other in barely more than two months. Don't miss the chance to make your choice known.

Until then, remember that all of the material included in this blog remains the property of its creators. The blog itself was produced by and is the property of me...allen itz.