Let The Rains Come Down
Friday, July 11, 2008

III.7.2.





A busy Friday afternoon and evening ahead, again, so welcome everyone, a little bit early, to another week of "Here and Now."

This week I have,

From my library -

Charles Hazo
Nicole Higginbotham
Gerald Manley Hopkins
Basho
Simon J. Ortiz
Claire Kageyama-Ramakrishnan
Jane Kenyon
Rikki Ducornet
Bucky Sinister
Danny Shot
Jack Wiler
Klipschutz
R.G. Vliet
Lawrence Ferlinghetti


Friends of "Here and Now" -

Alex Stolis
Dan Flore
Beau Blue
Jane Roken
Teresa White

And several of my own.

So let's get started.










Saying Samuel Hazo is a poet new to me is not saying much, since, not being particularly well read in poetry, most poets will be new to me when I find them. Perhaps better if I just say, I found this guy's book last week and I really like what I read.

The book is A Flight to Elsewhere published by Autumn House Press in 2005.

Hazo, the poet, has published thirty books of poetry, as well as appearing in many literary magazines and anthologies. He was also the commentator and narrator on National Public Radio, KDKA, based in Pittsburgh, Pennsylvania. Hazo has received nine honorary degrees and was appointed the first state poet for Commonwealth of Pennsylvania by Governor Robert Casey in 1993. He held this position until 2003.

He was born in 1928 in Pittsburgh, Pennsylvania to Lebanese and Assyrian immigrants Sam and Lottie Hazo.

Hazo began studying law, but soon changed to English, earning his B.A. degree in 1948 from the University of Notre Dame, He enlisted in the United States Marine Corps where he served as a captain. After leaving military service, Hazo returned to Pennsylvania to continue his education. He earned his M.A. from Duquesne University in 1955 and two years later his Ph.D. from the University of Pittsburgh. He then returned to teach at Duquesne as a professor of English, where he stayed, from 1955 to the present.



On The Stroke of

1

Is life equivalent to digits
nicked across a gravestone?
Or is it more?
Or both?
Or neither one?
Or something
else entirely?

At two
plus fifty Shakespeare was over.
Scholars agree while others
claim he lives in forty plays,
a sequence of sonnets, seven
poems and a handwritten plea
for money.

Believers claim
that Shakespeare lived and wrote
as God intended.

Cynics
say what difference does it make?
The sick still suffer, wars
keep happening, and everyone
who dies dies disappointed...
Four views of a single Shakespeare...
Just one of the four is true.

2

If he had gone the day
before or not at all,
these words would not exist.
If he had turned one block
before he turned, nothing
would have happened.

Had he
but looked, the impact might
have been avoided.

Instead,
we woke to one less driver
in the world, a father in grief,
and a sister and brother bereft.
We said the place and time
were wrong, but these and all
the laws of physic worked
as they should.

The traffic lights
kept flashing red and green
in sequence.

Seated riders
passed at fifty miles per hour
in their designated lanes to prove
that bodies in motion stay
in motion unless another body
in motion's in the way.

Granted,
the impact cost one life,
but the logically lethal laws
of physics worked to perfection.

3

Why are all sculpted profiles
on a coins and every printed
face on every paper currency
on earth so serious?

There's not
a smile in the lot.

Why does
"The Star Spangled Banner"
start and end on a question?
Why are the four months
from September through December
two months out of order?
Why not call ceilings nothing
but inverted floors?

What
are the implications here for money,
country, time and architecture?
Answers, if they exist or not,
are not the point.

The point
is why these questions leave
so many people quietly
amazed and, after a pause,
confused and ready to argue.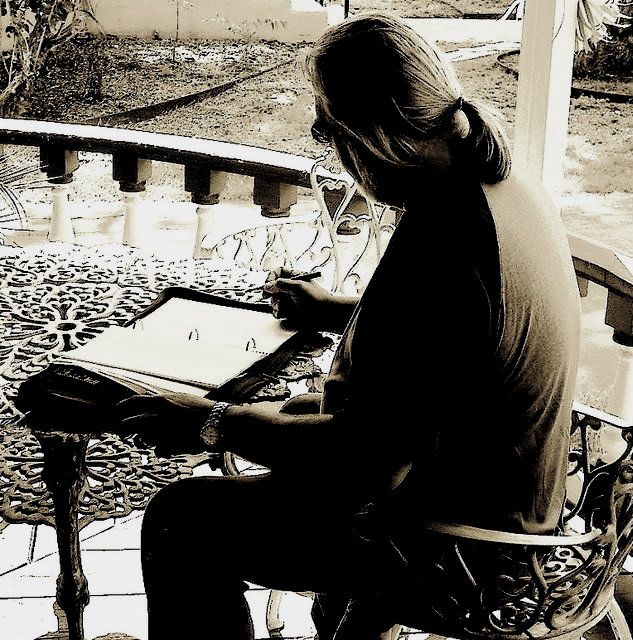 Doing most of my writing, as I do, in coffee shops and other public places, I guess I shouldn't be surprised that, occasionally, someone is watching me as closely as I'm watching them.



being a writer

being a writer
or
at least
appearing
to be a writer
by writing
all the time
in a little black book
leads to conversations
like this -

"what do you
do?" he asks, "i see
you writing all the time."

"i'm a writer,"
i say.

(note -
i'm hesitant
to say i'm a poet
cause hearing that
some might say, "oh, a poet, huh,
well mr. so-called poet,
rhyme something for me,"
and me being a poet
who does not rhyme,
who cannot rhyme,
who does not even want
to rhyme, would be stuck,
leaving at question my claim
to the poetic title)

so i stick with
"writer"
which is self-evident
and demonstrably true
since i'm writing all the time
in my little black book

(although truth to be told
they're not all black, some
are brown and some are
a kind of a pale flesh color
and one is a very nice vermillion,
as i understand the term)

"you're not
some kind of damn
professor,
are you?" he says,

and i say,
"wouldn't think
of it."

and he says "Okay! Good!"
and, satisfied,
returns to his table,
"i'm almost a writer,"
he adds as he leaves, "i'm
a reader."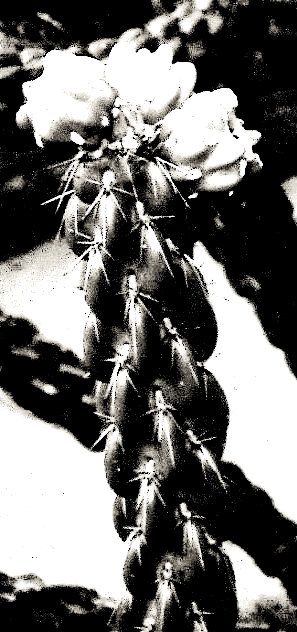 My next piece is a love poem from a book of love poems by Nicole Higginbotham. The book, Mahal Kita at Miss Na Kita is from lulu.com. I could find the lulu listing, including a photo of the poet, but could find nothing else about her. A google search suggests an unexpectedly large number of persons by that name on the web, with nothing I could find indicating which, if any, was the poet.

So, a little mystery and romance music, please.





First Touch

In one moment
We changed time
Leaving all
We knew behind
In that kiss
That subtle touch
I had never
Felt so much
And with her heartbeat
Clothing mine
We worked as one
Intertwined
Searching all
With none to spare
There was nothing
Left to bear
She superseded
My discontent
In not knowing
How it went
And once I'd learned
The line of red
I turned her over
On the bed
And as my lips
Grazed such skin
My curious fingers
Wandered in
As her sigh
Escaped her lips
I journeyed mine
between her hips
and ecstasy
It pounded through
Knowing what
I had to do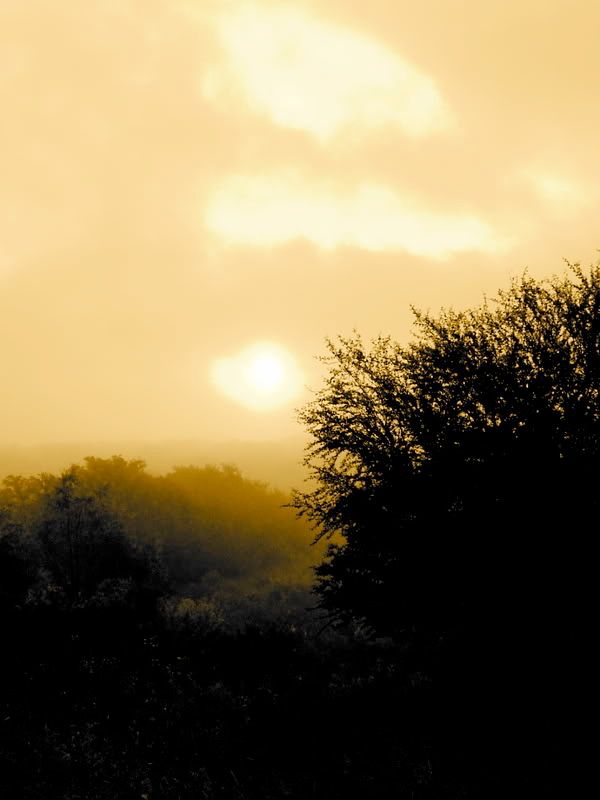 I posted one of these poems last week, credited to the wrong person. It was one of two poems I had slipped into the wrong computer file. Both poems are by Alex Stolis and I should have recognized them as such because they reflect both his sensibilities and style.

To make up for my public mistake on one, I'm posting both this week, excellent poems by an excellent poet.

I also want to mention that Alex got some good news this week. His chapbook, How to drink yourself sober, will be published by Amsterdam Press in November.



michael gause wants to drink

with henry baitaille, wants to be the last man
to hold truth in the palm of his hand.
he thinks about writing notes to strangers

telling them how one day the sun will melt and fall
slowly from the sky. there seems to be no end
to the american myth

its birth, life and death cut and paste into a fabric
to wrap up day to day minutia.
tomorrow morning will bring its rush

hour traffic, blank stares and the blurred
visionary will make up a prayer
small enough to fit in a shot glass


How to fall in love without breaking - one part (3) of ten

write her
grown-up name
under

your skin
be determined to get lost
and found
on your way to the edge of the earth

but don't believe
your eyes

as they track the sun
even when you see its legs get weary and slowly
sink
to the ground

take whatever's left of the horizon
put it in your pocket
now your prepared for rain that will never come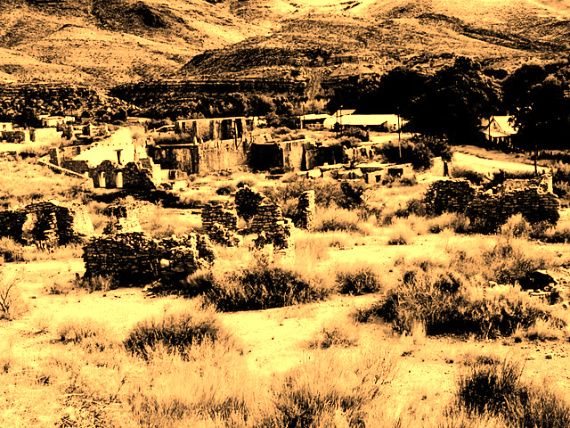 Now here's a piece from Poetry For The Earth, a collection of poems from around the world that celebrate nature, edited by Sara Dunn with Alan Scholefield and published by Fawcett Columbine in 1991.

The poet is Gerald Manley Hopkins. Born in 1844, he came from a High Anglican family but converted to Roman Catholicism under the influence of Cardinal Newman while a student at Oxford. As a Jesuit priest, he spent four years in Wales as a professor of rhetoric and a student of the Welsh language. Later he held a post at University College, Dubin, where he became ill and eventually died of typhoid in 1889.

He poetry was not published until 30 years after his death.



Inversnaid

This darksome burn, horseback brown,
His rollrock highroad roaring down,
In coop and in comb the fleece of his foam
Flutes and low to the lake falls home.

A windpuff-bonnet of fawn-froth
Turns and twindles over the broth
Of a pool so pitchblack, fell-frowning,
It rounds and rounds Despair to drowning.

Degged with dew, dappled with dew
Are the groins of the braes that the brook treads through,
Wiry healthpacks, flitches of fern,
And the beadbonny ash that sits over the burn.

What would the world be, once bereft
Of wet and wildness? Let them be left,
O let them be left, wildness and wet;
Long live the weeds and the wilderness yet.


And here's one more tiny piece from the same book. This, by Basho.



Years End

Year's end,
all corners
of this floating world, swept.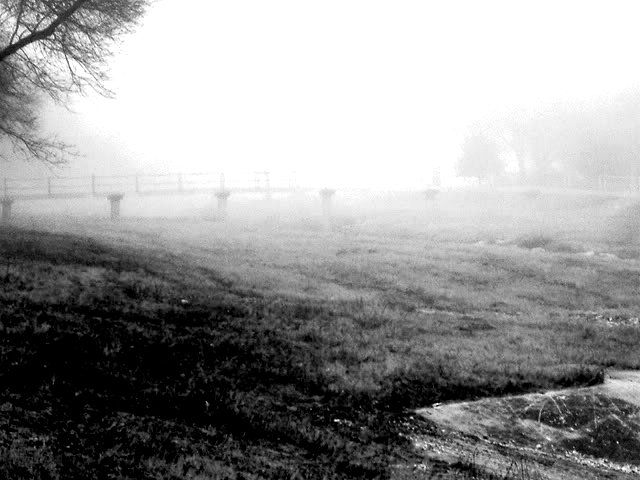 It's been really dry here in San Antonio, I mean, as in the driest since 1870 something, so it was a great relief when we finally got a little rain around the fourth. Here's a poem I did while enjoying the long-missed sound of rain on my roof.



finally

finally!

RAIN!!!

not enough
to break the drought,
a week from now
the grass will be brown
again
and trees
will droop their
branches
low
again
over park trails
returned to powdered dust

but
for a day,
for right now,
the smell of
fresh rain,
the cool mist
of it as it splashes
on the screen,
and puddles

godamighty,
puddles!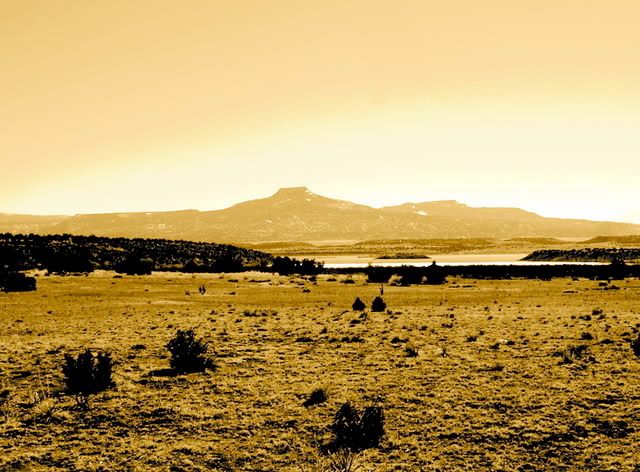 I found Simon J. Ortiz in an anthology of Native American poetry. Since then I found a collection of his work titled Woven Store. The book is divided into three major sections, "Going for the Rain," "A Good Journey," and "Fight Back: For the Sake of the People, For the Sake of the Land."

Ortiz, born in 1941 in New Mexico, is a Native American writer of the Acoma Pueblo tribe, and one of the key figures in the second wave of what has been called the Native American Renaissance. He is one of the most respected and widely read Native American poets.

Ortiz originally studied at Fort Lewis College as a chemistry major with the help of a BIA educational grant. While enthralled with language and literature, he says never considered pursuing writing seriously. At the time, it didn't seem to him a viable career. For Native people, it was perceived as "a profession only whites did."

But, after a three-year stint in the U.S. military, Ortiz returned to college at University of New Mexico where he discovered few ethnic voices within the American literature canon. He began to pursue writing as a way to express the generally unheard Native American voice that was only beginning to emerge in the midst of political activism.

Two years later, in 1968, he received a fellowship for writing at the University of Iowa in the International Writers Program.

In 1988 he was appointed as tribal interpreter for Acoma Pueblo, and in 1989 he became First Lieutenant Governor for the pueblo. In 1982, he became a consulting editor of the Pueblo of Acoma Press.

Since 1968, Ortiz has taught creative writing and Native American literature at various institutions, including San Diego State, the Institute of American Indian Arts in Santa Fe, Navajo Community College, the College of Marin, the University of New Mexico, and Sinte Gleska University (one of the first U.S. tribal colleges). He currently teaches at the University of Toronto.

I selected this poem from the "Going For The Rain" section of Woven Stone.



Many Farms Notes

taken on a Many Farms, Arizona, trip, Spring 1973

1
Hawk circles
on wind roads
only he knows
how to follow
to the center.

2
Hawk's bright eyes
read trees, stones,
points in horizon,
movements, how wind
and shadows play
tricks, and sudden
rabbit flurry
which reminds him
of his empty stomach.

3
A Tuba City girl asks me
if I ever write from paintings.
I tell her that I write
with visions in my head.

4
I'm walking out of Gallup.
He calls, "Hey, my fren,
where you going too fas?"
"Many Farms."
"Good lucks."
I smile for his good thoughts.

5
A wind vision
if you look into the Chinle valley,
you will see the Woman's cover,
A tapestry her Old Mother worked
for 10 million years or so.

6
On the way south to the junction,
I looked to the northeast
and couldn't decide whether that point
in the distance beyond the Defiance uplift
was Sonsela Butte or Fluted Rock.

7
The L.A. Kid was a city child
and a Navajo rodeo queen,
who said she'd seen me on the road
coming out of Window rock,
said her friend had said
"I think that was him
we just passed him up,"
and felt so bad,
said she was born in L.A.
but wasn't really a city girl
and visited her homeland
every Summer, and said
her mother was from Lukachakai.

8
Bear occurs several times, of course:
The day before I went to Many Farms,
received a card from Snyder,
said he'd "spent a day watching grizzly bear"
grizzling at the San Diego Zoo.

Navajo girl had a painting of Bear.
He was facing east and looking up.
A line was drawn through im,
from chest to tail, rainbow muted colors,
and I said, "That line seems to be both
the horizon and the groundline where you start."

She told me what the people say.
Don't ever whistle at night where bears are,
because female bears do that
when there are courting bears around.
Remember that: don't whistle
in the dark, horny Bear night.

That Navajo girl asked me
what I thought about polygamy.
I told her I thought it was a good idea
but not for keeps, and we laughed.
I wonder how many wives Bear has?

9
For Monday night supper, we had
mutton ribs, round steak,
good Isleta bread, tortillas,
broccoli, green chili, potatoes,
gravy, coffee, and apple pie.
The mutton was tough and Francis said,
"You gotta be tough
to live on this land."

10
After I got out of the back
of a red pickup truck,
I walked for about a mile
and met three goats, two sheep and a lamb
by the side of the road.
I was wearing a bright red wool cap
pulled over my ears,
and I suppose they thought I was maybe weird.
because they were all ears and eyes.
I said, "Yaahteh, my friends,
I'm from Acoma, just passing through."
The goat with the bell jingled it
in greeting a couple of times.
I could almost hear the elder sheep
telling the younger, "You don't see many
Acoma poets passing through here."

11
"What would you say the main theme
of your poetry is?"
"To put it as simply as possible,
I say it his way: to recognize
the relationships I share with everything."

I would like to know well the path
from just east of Black Mountain
to the gray outcropping of Roof Butte
without having to worry
about the shortest way possible.

12
I worried about two women discussing how
to get rid of a Forming Child
without too much trouble, whether
it would be in the hospital in Gallup
or in Ganado.
Please forgive my worry and my concern.

13
"Are you going to Gallup, shima?"
"Yes."
"One dollar and fifty cents, please."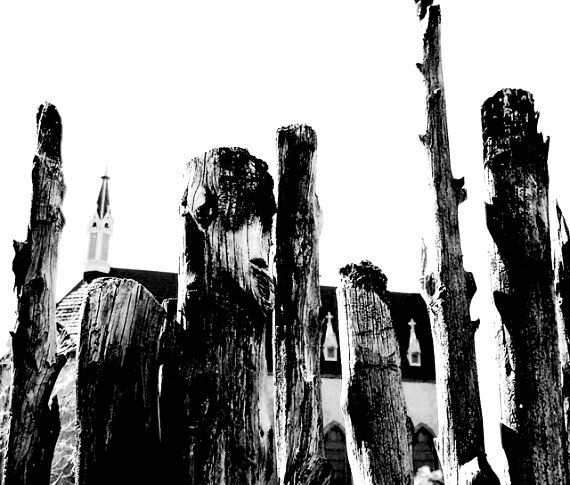 Dan Flore was an early friend of "Here and Now," and here he is now with a new poem.

Dan is 30 years old and lives in Pennsylvania. He has led many poetry therapy groups for people with serious mental illness and hosts a writer's circle. He plans to put out a chapbook. I'll have more on that when it's available for purchase.



the conscious scalpels

the conscious scalpels
doctors that cut viciously in the street
believing their moisture is glue
to stick themselves with washable options
places to cleanse their embattled drama once winter love
charisma exudes from their motion
but it itches their fast treading sun glare on skin
the knives get broken
by the pouring hail
the doctors drift into asylums of wonder
their winter love turns into fall
than finally a burst of paths, purples and mornings without nights
there on a wooden road
everything grows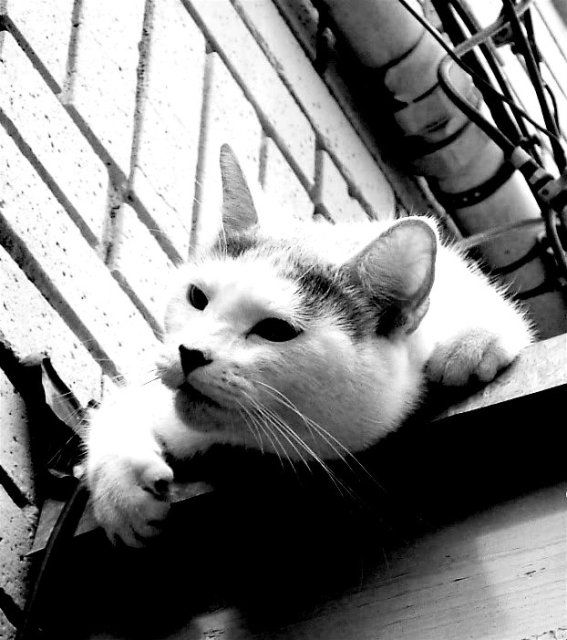 Claire Kageyama-Ramakrishnan was born in Santa Monica and raised in Los Angeles. She received her B.A. in English from Loyola Marymount University in Los angeles, earned an M.F.A. in poetry from the University of Virginia, where she was a Henry Hoyns Fellow, and completed her M.A. in literature at the University of California at Berkeley. At the University of Houston she was a Cambor Fellow and earned a Ph.D. in literature and creative writing. She lives in Houston and is a full-time instructor at Houston Community College, Central Campus.

The two poems I've selected for this week are from her first book, Shadow Mountain, Winner of the Four Way Books Intro Prize in Poetry. The book was published by Four Way Books just this year.



The Day After

I saw him staring at me under the neighbor's parked car,
caught the blue tag dangling from his collar, light and shadow
flickering, his tongue grooming his paw, his tail swishing
its black and beige rings, as he licked each individual
claw clean, I saw him staring at me, his eyes narrowing,
oblivious to the spider near him, his amber-eyed
persistence following me over the speed bump, concrete
courtyard littered with acorns and withering crepe myrtle.
The look in his eyes said, Carpe Diem. Tabula Rasa.
I don't love you, I don't love you at all...I don't love you -
I want to erase, silence the words, the long vowels mouthed
that night. To think of tabula rasa, starting from scratch -
What an alluring thought to start life all over again:
nine lives and no loyalties.


Sonnet

It's a light gesture to meet for coffee, a big comfort
when the will aches in the wake of fall from the last lover,
and the mind ruminates over the eve of the breakup,
the eaves of wisteria trailing down the wet white wall,
an abandoned dove at a cold nest, dandelion globes,
frail globes blown apart without a chance for a late spring wish,
flood waters rising, as if the weather knows, wind knows each
broken window of the house, the aching will breaking free,
involuntarily, of wrought embellishments, the mind's
missing evening logic, the iron splinters festering.
The question of how to remove them, like the lover's last
words, incubating in the air with the ears that felt them
wrest inside the canals, as small daggers, scraping the wax,
filling he insides with flood waters - this absence, this lack.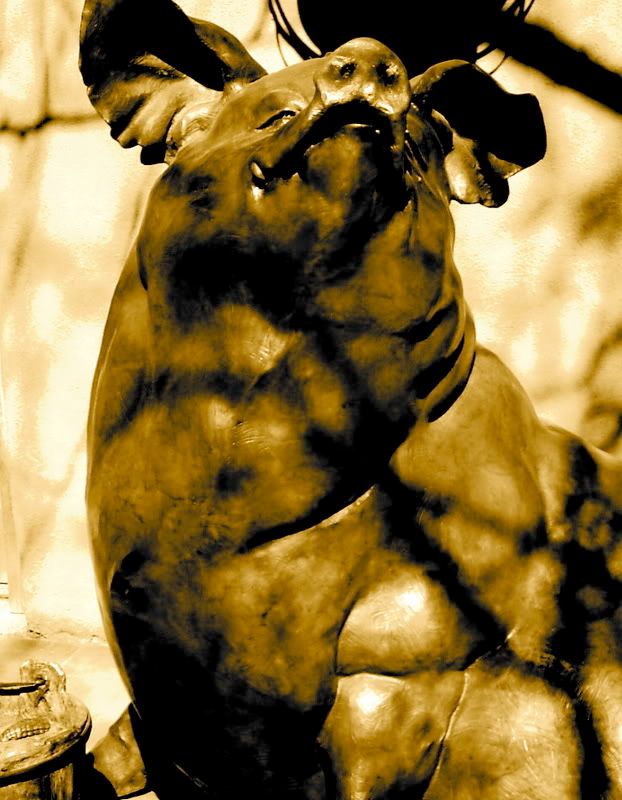 Nothing like paying taxes to really screw up a day, especially if you sit down and think about what you're getting for your money.



tax day

we always owe
the government
money
so i always put off
the day of reckoning
until finally that day comes in July
when i can't put it off
any longer

today's
the day
so i've gathered everything
together
and called H&R Block
for an appointment

it's going to be bad

i know
it's going to be bad
because it always
is

i look
at the total
already withheld
and wonder
how many dead soldiers
i've bought so far
and how many more
they're going to want
before i'm
done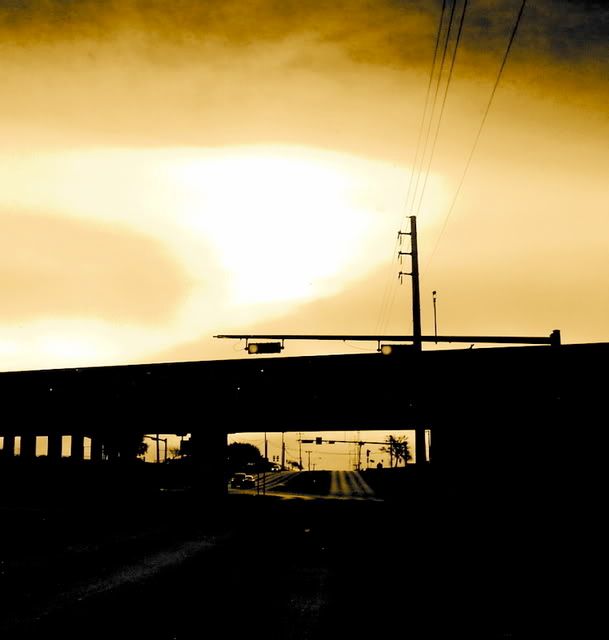 Jane Kenyon was born in 1947 in Ann Arbor, Michigan, and grew up in the midwest. She earned a B.A. from the University of Michigan in 1970 and an M.A. in 1972. She won a Hopwood Award at Michigan. Also, while a student at the University of Michigan, Kenyon met the poet Donald Hall; though he was some nineteen years her senior, she married him in 1972, and they moved to Eagle Pond Farm, his ancestral home in Wilmot, New Hampshire. Kenyon was New Hampshire's poet laureate when she died in 1995 from leukemia.

The poem I'm using this week is from The Boat of Quiet Hours, the second of her four books, published by Greywolf Press of St. Paul in 1986. She also worked as a translator, including years she spent translating the poems of Anna Akhmatova from Russian into English (published as Twenty Poems of Anna Akhmatova, 1985).



Sun and Moon

For Donald Clark

Drugged and Drowsy but not asleep
I heard my blind roommate's daughter
helping her with her meals:
"What's that? Squash?"
"No. It's Spinach."

Back from a brain-scan she dozed
to the sound of the Soaps; adultery,
amnesia, shady business deals,
and long, white hospital halls...
No separation between life and art.

I heard two nurses whispering:
Mr. Malcomson had died.
And hour later one of them came to say
that a private room was free.

A chill spring breeze
perturbed the plastic drape.
I lay back on the new bed,
and had a vision of souls
stacked up like pelts
under my soul, which was ill -
so heavy with grief
it kept the others from rising.

No varicolored tubes
serpentined beneath the covers;
I had the vital signs of a healthy,
early-middle-aged woman.
There was nothing to cut or dress,
remove or replace.

A week of stupor. Sun and moon
rose and set over the small enclosed
court, the trees...
The doctor's face appeared
and disappeared
over the foot of the bed. By slow degrees
the outlandish sadness waned.

restored to my living room
I looked at the tables, chairs and pictures
with something like delight,
only pale, faint - as from a great height.
I let the phone ring; the mail
accrued unopened
on the table in the hall.










I have a poem now by Beau Blue, but before doing that, I want to encourage you to click on Beau's link under the link listings on the right side of the page to go to his wonderful and entirely unique website, Blue's Cruzio Cafe.



Quinn McMillan's Morning


a string of blue

Firing,
barrels blazing,
the shotgun's BOOM was heard
all the way to Coldman's Mountain,
his home.

His home,
her jewelry,
his son, her son, his car,
her car, but their daughter can't split
in two.

Into
the vacuum came
Quinn, and his darlin' smile,
charmed the girl into a teenage
joy ride.

"Joy rides
shotgun ev'ry
where we go, you know, babe,
'cause we're each other's 'lookout
angels!'"

"Angel,
I won't con ya,"
Quinn's arm curled around her,
"we havta find a quiet place
to sleep."

To sleep?
Perchance a dream?
But this story doesn't
end happily I'm afraid; preg-
nancy!

Nancy's
dad left Coldman's
Mountain with his shotgun
and then he went to find cad Quinn,
who died!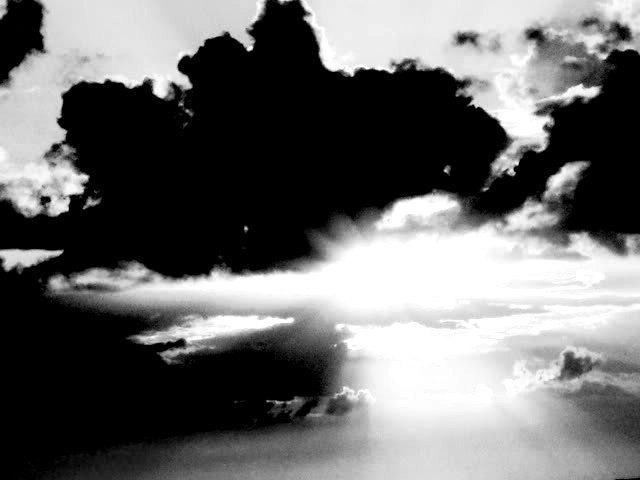 The next several pieces are by Rikki Ducornet from her thoroughly strange book The Cult of Seizure, published by The Porcupine's Quill, Inc. in 1989.

Ducornet, born Erica DeGre, was born in 1949 in Canton, New York is described as a postmodernist, writer, poet, and artist. Her father was a professor of sociology, and her mother hosted community-interest programs on radio and television. Ducornet grew up on the campus of Bard College in New York, earning a B.A. in Fine Arts from the same institution in 1964. In 1972 she moved to the Loire Valley in France. In 1988 she won a Bunting Institute fellowship at Radcliffe and in 1989 she moved back North America after accepting a teaching position in the English Department at The University of Denver. In 2007, she accepted a position as Writer in Residence at the University of Louisiana at Lafayette.

It is suggested that she was the inspiration for the 1974 Steely Dan hit "Rikki Don't Lose That Number."

The Cult of Seizure was the last of her seven books of poetry. After that she turned her attention to prose, resulting in seven novels. The Cult of Seizures is a somewhat strange book, a narrative written in poetry and prose. I'm using the first several pieces in the book to give a sense of it.



1. Monkeywind

Erzsebet Bathory, the "Bloody Countess," was born in Hungary in 1560 and died in 1614, walled into her bed-chamber in the castle at Csejthe by order of the King. By the time she was brought to trial by her cousin Thurzo, she and her servants - the hag Jo Ilona and the gnome Ficzko - had murdered over 600 young women.

Between seizures, Erzsebet spent her time gazing at her reflection in a mirror. Her deadly narcissism was rooted in an overwhelming dread of decay. Her hags assured her that baths of fresh blood would keep her young; murder was her strategy for survival.

Her last victim, the fair Doricza, was discovered in Thurzo flayed alive the morning after the feast of Christmas.


Prologue

Havoc accelerates
And Time a sigh
Blowing through a hollow bone.
In the sky, the zodiac impaled
Petrifies.

This is not a celebration.
It is the sound the door makes when
The monkeywind of seizure
Shuts us in.


0 | A Wheel Of Eels

She slides from the womb
dragging cyclones, thumb-screws and sparks.
She snuggles beneath the caul with a rattlesnake
and snarling, barks.

The midwife sees the stellar eel
traced upon the infant's skull.
The thirteen puncture marks are peculiar.
The knotted cord tenses to strike her.

The midwife breaks out in hives
as wasps slam against the glass.
Cloaks and daggers!
She kisses a crucifix worried by weasels.

An achon - the first of seven -
holds the smoking candle.
The turquoise flame hisses and reels.

The midwife is drowned in a sack of stones.
Her bones agitate with eels.


1 | This House In Wolftime

This house in wolftime
an island inhabited by demons.
Not he, nor she, but it and it
that like the moon shed scales
causing things to decompose.

This is not the folly of wine
but the brine of Death.
Desperate coupling
of demons come unsexed.
And hit and hit
hard in mind.
And hearts adrift
in devil-rhyme.


2 | The Ugly Mazes

Infirmity circles the mountain.
In the air the wings of Grim
a clamour in the valley of Stealth.
Pin. Razor. Flame. Finger.
The clatter of butchery. Hunger.
The ugly mazes of mind and mirror.

Convulsed the countess chokes on breath
temple pierced by arrow, body by spire
and everywhere fire
and Death.

The Golem of her heart lisps: linger.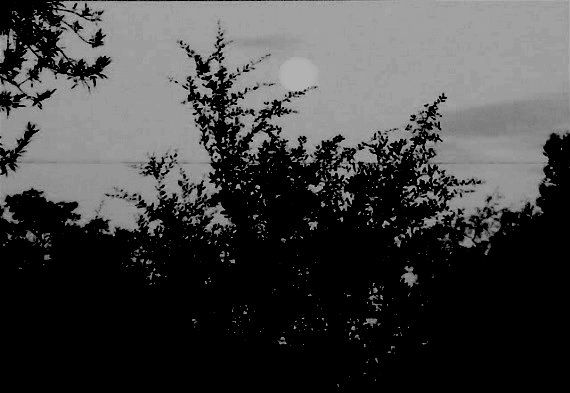 Every morning, my dog (Reba) and I take a walk around one of our local shopping centers. Reba gets her physical and intellectual (sniffing and smelling) exercise of the day while I'm waiting for Borders to open so I can start my day with a New York Times and a medium latte.

We were attacked a couple of mornings ago by an angry mockingbird, which led me to this thought.



there be monsters up there

shrieking
her best imitation
of a hawk's hungry cry,
she swoops repeatedly
at my head,
coming closer each time,
until we're passed whatever
she was protecting

what long ago
genetic memory
of an ancient predator
diving from the sky
causes the chill
that runs
down my back
at the attack
of this small
gray and white
mockingbird


Since that's a pretty short poem, here's another one, an observation from inside the coffee shop.


Gwendolyn

Gwendolyn,
i've named her
and i love
to watch
her talk -
American Sign
with flashing eyes
and Gwendolyn
body
english
that seems too involve
every
movable
part of her physical being

i have no idea
what she's talking about
as i watch her
across the coffee shop
but, by God,
it looks exciting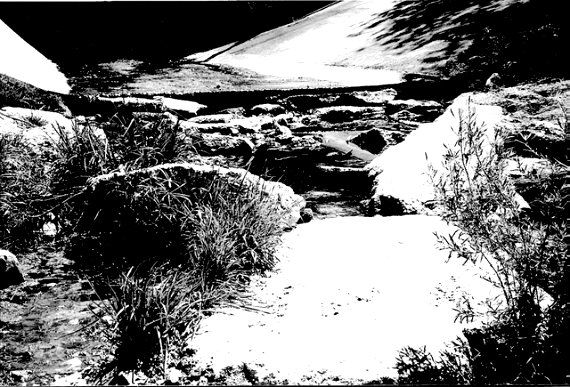 I haven't done anything from The Outlaw Bible of American Poetry in a while, so this week I have several poems by several different poets.

The first poem is by Bucky Sinister. According to the "Bible," Sinister is "an underground youth cult hero and former host of the notorious Chameleon Club open reading (where medically uninsured nationally acclaimed poets from around the U.S. Swan dived from a high stage into empty beer mugs." He is the author of King of the Roadkills.



I Was With Her Long Enough To Change Brands of Cigarettes

We had split a bottle of wine and a pint of rum
before we went into the fair.
It started with a kiss on the ferris wheel.
I didn't know that actually happened until then.
One of my favorite days of all time....

Six months later
I gave her money that she referred to as "fetus money."
We were long over as a romantic couple.
That day she listed why she hated me.

I had told her that I was sorry and I said so again
but those words can't take away a clumsy fuck.

The way she talked to me
it sounded like her mistakes
never hurt anyone but herself.
My mistakes have bad aim
and always seem to hit those near me.

She looked so young
I felt so old
I had driven another away
or she'd changed
or vice versa
whatever it was
it was done
and I was tired of looking.


The next poem from the "Bible" is by Danny Shot. He is described, simply, as cofounder and editor of Long Shot.


The Living Legend

put his dick
on the table
in the bar
on Avenue B.

I was shocked,
until I saw
what an unobtrusive
penis he owned.

Then I wanted
to put my dick
on the table,
to show him
how a true poet
was hung.

But my wife
wouldn't let me.

I drank another
beer, fighting
the urge to
plunk down
my shlong on
the wooden table.

I can see it,
everyone silent,
all eyes upon me,
the only sound
in the universe
my drunken pecker,
sloshing around in
a puddle of beer
on the table
in the bar
on Avenue B.

Thrown out on
my soon to be
immortal ass
into the wet
darkness
of
a
drunken
night.


Next, a poem by Jack Wiler, briefly described as author of I Have No Clue.


It's About the End of the World Stupid

I always see the hills of Persia as brown and fading.
The processions winding through the streets of Moscow
The crack of gunfire in Sarajevo
The sound of Allen Ginsberg's voice
in the cobbled rooks of Prague.
I'm putting on the veil.
I'm remembering my place.
I'm thinking of jobs long neglected.
I'm watching for signs.
Fractals dancing in the hills.
Whirling
Sufis
Singing all the praises to the lord
Transfigured
melting

We've lit the last big Roman Candle
It's late on the Fourth of July
We're turning out the lights
Come inside while you still can.


And, finally, the poet Klipschutz, a San Francisco poet and songwriter for the Living Wrecks and author of Good Neighbor Policy.


america

I want all the women
all the money
and all the fun

I want every rainbow
all the marbles
and a personalized introduction to God

I want a death list
transparent skin
and a cat with no fur

I want everything
I have nothing
I will negotiate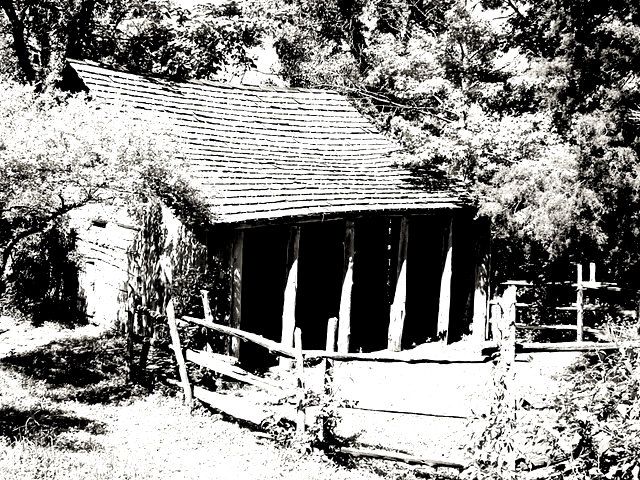 Next we have Jane Roken, a friend we haven't seen in a while. Jane is Norwegian, living in Denmark, on the interface between the hedgerows and the barley fields. She has been writing poetry, on and off, since she was five, starting under the combined inspiration of the Salvation Army and Calypso music. Now sixty, she has been working in many different trades, but says she has not yet decided what she wants to be when she grows up.



Charming Old Garden Shed

I know. It looks like something
out of the eighteenth century.
But all it needs is a paint job.
No foul smells, no mouseshit,
no ghosts daydream off the walls,
no lost souls snivel under the roof,
no unsavoury shadows lurk; look,
not even spiders come in here.
Every corner is innocent
of broken pots and carrion-potatoes.
The door never squeaks
(except on Sundays), never jams
(except in gruff weather),
the window doesn't whistle,
ever; not even at Hallowe'en.
Only....just this one thing:
there is a secret trapdoor.
And now I.ll show you wha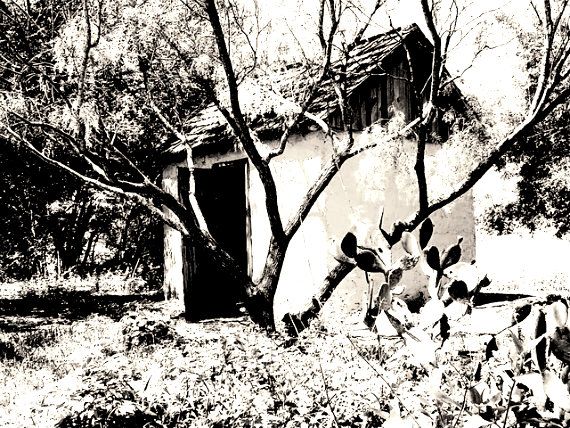 I'm a late starter, but, since I got off the line, I've been eager to catch up and, with each new book I pick up at the second-hand book store, my knowledge of the vast variety of poetry available grows. Many time I make a happy find of a poet that makes we wish I had started looking much sooner.

One such poet is R.G. Vliet who I discovered for the first time when I picked up his book Water And Stone, published by Random House in 1980.

Vliet, a poet, novelist, playwright, and short story writer was born in Chicago, in 1929. His father was a Naval medical officer, and the family lived in many parts of the U.S., largely in the south, and in American Samoa. R.G. Vliet attended Central High School in Texas City, Texas, just south of Houston, and attended Southwest Texas State University (now Texas State University) in San Marcos, Texas. Vliet received his B.S. degrees in Education in 1952, and went on to complete his Master's at SWT with the thesis, "Experiment in lyric and dramatic verse,", in 1953. Vliet then taught English at several Texas high schools for several years.

In 1955, he went from teaching English to attending Yale University School of Drama, where he studied playwrighting with Robert Penn Warren and others. He left Yale to start his own writing career, which began with a string of award winning plays. In 1957, his play, The Arid Spell, won the Wisconsin Award. In 1959, his play, The Regions of Noon, was named Southeastern Theatre Conference New Play of the Year. In 1960, while working as a Ford Foundation Fellow, his play, Rockspring, won the University of Nebraska Award. This play would later be worked into Vliet's first novel of the same name. During this time, Vliet and his family lived in Pennsylvania, Connecticut, and Morelos, Mexico, traveling and relocating as his wife's college English teaching career, the family's financial mainstay, required.

In 1966, at the age of 37, Vliet published his first book of poetry, Events and Celebrations. His second book of poetry, The Man with the Black Mouth, was published in 1970. Each of these books of poetry won the Voertman Poetry Award from the Texas Institute of Letters.

From 1971 to 1982, Vliet wrote, and worked a small farm in Stamford, Vermont. He published his first novel, Rockspring, in 1974, at age 44, which sold only a few thousand copies. Despite the novel's relatively low sales, Rockspring earned Vliet $25,000 from the sale of movie rights to the work, the most money he would receive for any of his literary efforts. His 1977 novel, Solitudes, (later reprinted under the name Soledad ) won the Texas Institute of Letters Jesse Jones Award. At a time when large publishing houses rarely took on poetry, Random House published his next book of poetry, Water & Stone. In 1983, he won a literary fellowship which allowed him to spend six months writing at the late J. Frank Dobie's ranch, Paisano. This brief period was essentially the only time Vliet spent in Texas after his schooldays and early teaching days. While there, he began writing what would be his last novel, Scorpio Rising,completing it just days before his death. This novel, set in both Massachusetts and Texas, is widely considered to be his best. Vliet died of lymphoma in Massachusetts, in 1984.

His poem.



To Die By Daylight

is the worst terror.
In the sanatorio the child
is held on the enameled
table. Nurses cut
the green wet gauze.
Me duele, me duele.
she cries in pulses
climactic, wellnigh sexual:
the putrefactic skin
hangs in rags. The doctor
sinks an injection in.
A senora bright-eyed
from fever, a campesino
with a broken foot wait
on a bench outside.
Sun lurches through a window.
Now it is quiet.
She lies
loose-necked, loose-limbed,
eyes part closed
as in death's noticias
while scissors trim.
Her breaths bubble.
I help the mother
to the market where
Nuestra Senora de Los Dolores
listens amongst candles.

Morir en el dia
es el miedo mas malo.

Today she smiles,
little Aztec on her straw
petate, bright cloth
in her braids, washed face
and borrowed clothes
and sticks for dolls,
and what died yesterday
only she knows.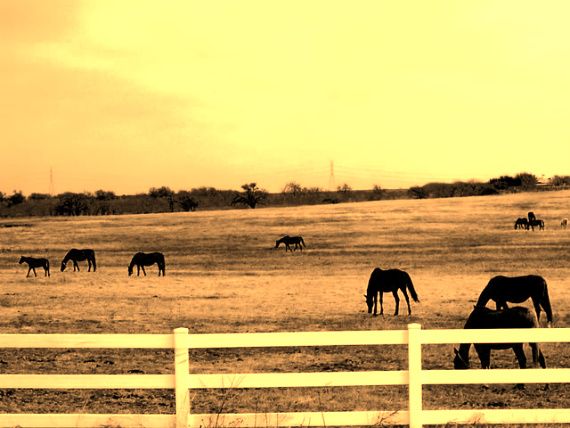 I'm very happy this week to have a visit from Teresa White.

I have been reading enjoying Teresa's work on the web just about as long as I've been posting myself. She is a Seattle native now living in Spokane, Washington. Her work has most recently appeared in Mannequin Envy, Eclectica, Stirring, and The Arabesque Review.. She is also been included in the anthology In the Arms of Words, Poems for Disaster Relief (Sherman Asher Publishng). Teresa has been twice nominated for the Pushcart Prize. Her second full-length collection of poems was praised by Billy Collins when he said: "She is a poet who not just deserves but requires our attention." Titled Gardenias for a Beast. it is available online at Auntie's Books.



A Horse Opera in Three Acts

1.
The gun
would have won a beauty
contest under a big yellow tent
where every man flaunts
his tattoos and cash
and walks away in love
for the first time.

2.
The victim
would have bled
on the cold macadam
in the parking lot behind
the stadium. Suppose
time mattered or the color of hair,
such startled eyes.


3.
The bullet
would have fed
the air its hot slug
if the gun had not been locked
under box springs
in a jaundiced cigar box
with paper peeling from its stiff lid.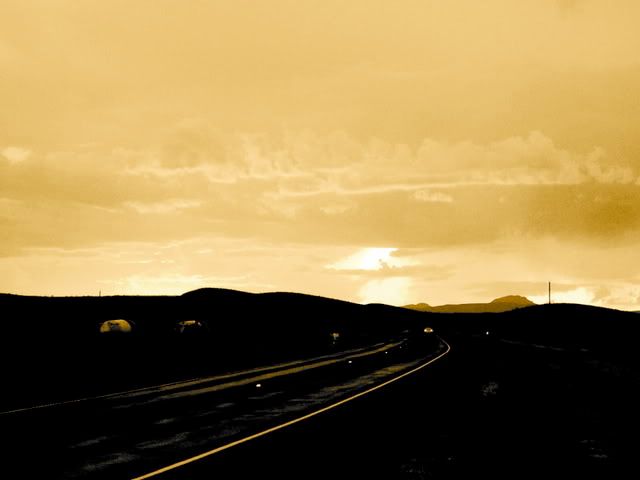 Now I have some travel prose from Lawrence Ferlinghetti. It's the second part of a two part piece titled Look Homeward, Jack: Two Correspondences from Ferlinghetti's book Wild Dreams of a New Beginning, first published as a a New Directions Paperbook in 1988.



Look Homeward, Jack: Two Correspondences

2.

In the Thomas Wolfe boardinghouse in Asheville...roooms he slept in...typewriter he once used...his books and clothes and photos...one early photo looking exactly like a young Jack Kerouac - set me musing, high on Mexican grass - Sweeping vision of America in Look Homeward, Angel, seen by the young Eugene Gat as he rode a train through the American dusk "to flash upon the window and be gone" - Wolfe's place, said Maxwell Perkins, was all America - So with Jack - Kerouac's vision a car vision, seen from Windows of old autos speeding cross-country - the same Wolfian old pre-War America, now all but gone, invisible, except in Greyhound bus stations in small lost towns....And Jack's Lowell, Mass...a mill town and Asherville like a mill town after the mills moved South early in the century, carrying Canuck ghost with them...Wolfe and Jack drinking together now in eternity...omniverous insatiable consumers of life, which consumed them both too early...Wolfe's stone angel skin to Jack's stone Stations of the Cross in Lowell graveyard, angels of mercy...Both never happy abroad, never happy expatriates - Wolfe drunk in Berlin, Jack stoned on a Mexican rooftop or staggering by the Seine...And which of them would know his brother?...Look Homeward, Jack.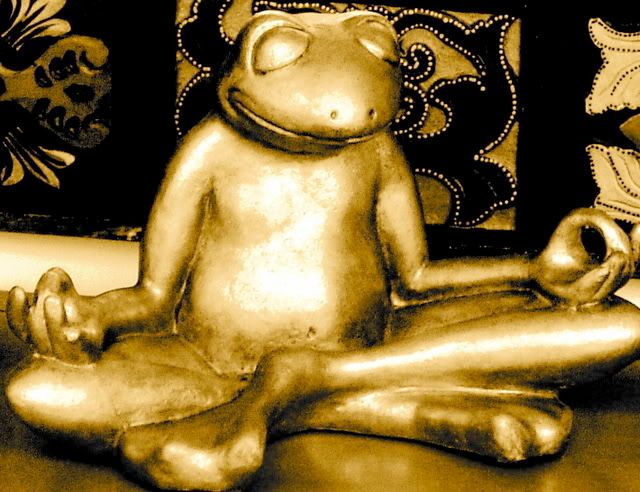 Seems like a lot of death and dying in this issue. Maybe it's just because I'm tired of typing, but it seems that way.

Maybe this will pick things up, a light piece to end the week.



astronomical considerations

Mercury
was the Greek guy
with wings
on his feet,
right,
or, was he Roman,
i don't know much
about old Greeks and Romans
so i might be wrong

but whoever
he was
he was important enough
to get a nice car
and a planet named after him

the car's pretty much
a goner
and today's gas prices,
but i saw new pictures of the planet
in the newspaper today,
you know,
the one named after the Greek
or Roman guy with wings
on his feet (how the hell does
that work, seems to me he'd probably
fly upside down with wings on his feet)

not much
interesting in the pictures,
except for a huge volcano
and even that's been dead
for several gazillion
years
so the time for packing up
and heading for higher ground
is long gone

mainly
pretty boring pictures
when you get
right down to it

anyway
not much interested
in planets
named after Greek
or Roman guys with wings on their feet

now,
Pluto,
that's another story

he was a hell'uv a dog,
though i do think
with the whole big universe
out there
and new planets discovered every day
they ought to be able to find one
for Goofy,
too

only
seems fair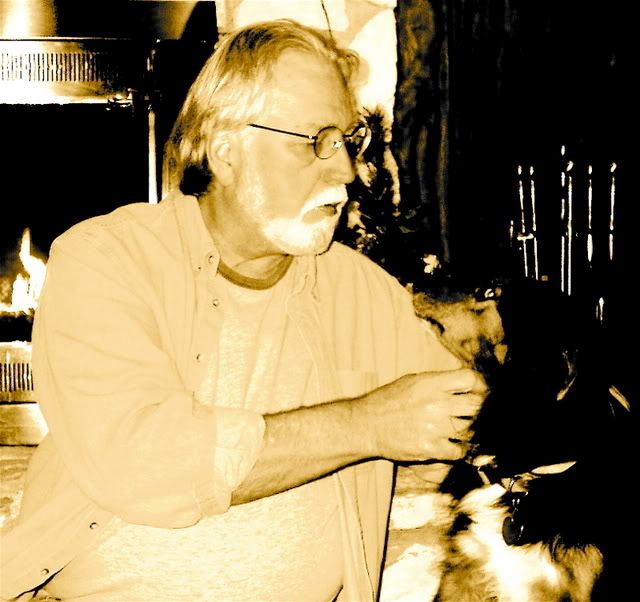 Another week ends, bringing us well into July and another week closer to the end of summer, something that, while I know it makes many sad, still makes me very happy. I'm just not a summer sunshine guy.

An interesting discussion ensued elsewhere. A couple of poets took me to task, saying they found it very unseemly that I would include my own work here on "Here and Now" side by side with the masters. As I understand their concerns were two, first, by putting a piece of mine next to a piece by, for example, Robert Frost, I am disrespecting him, and, second, by doing so I was also engaged in blatant self-promotion.

As to the second charge, I don't know that I would call it blatant, but I have to admit it is a fact I would not be unhappy if readers of "Here and Now" happen to click the link at the top of the page and slip over to the main 7beats website where they might notice that I have a book for sale. And I would certainly not be unhappy of they were to actually buy a book, if for no other reason than that I need the closet space.
Regarding their first bone of contention, I don't understand it. I see everyone attempting to engage in any creative activity as members of a common clan. To my mind, everyone in the clan is trying to do the same thing, the only difference between them being some are better at it than others. I see all persons similarly engaged as me as brothers and sisters in a common effort; many or most may be better than me, but none superior for it. We all come to dinner at the same family table and no one gets voted off the island.

Maybe I'm just not sufficiently serious about this whole poetry thing, for their taste. Anyway, I'm going to continue to do what I do, which includes not taking myself too seriously, as long as I find it entertaining.

While I continue to amuse myself, you should remember that all of the material presented on this blog remains the property of its creators. The blog, on the other hand, was produced by and is the property of me...allen itz.