High Grass Summer
Friday, June 06, 2008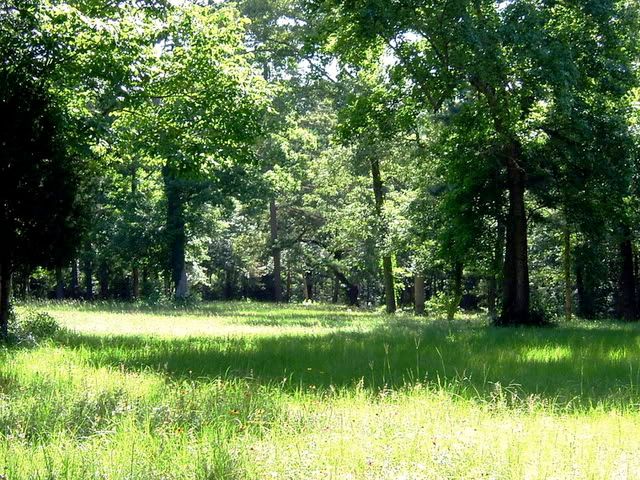 III.6.1.




It's been noted that since I don't provide any kind of table of contents, it's hard to find stuff in "Here and Now." I can't argue with that, since it's hard for me to find stuff too. The problem is, things like tables of contents just don't work with this format or with the free and easy approach I set out to maintain.

But maybe this will help, not a table of contents, but a preview of the issue.

Like so -

In this issue, you'll find poems from my personal poetry library, including:

Polish Nobel Prize winner Wislawa Szymborska

Irish poet Paul Durcan

American Poet Jane Hirshfield

Sapphire (if frank talk in frank language disturbs you, you might consider skipping Sapphire - though you'll miss a hugely talented and exciting writer if you do)

German Expressionist Arthur Stramm

Charles Bukowski, who writes like he and I like to read, one of my favorites

Former US Poet Laureate Billy Collins

Young Julia Alvarez, another of my favorites

Ralph Angel &

First-timer Manuel Paul Lopez

In this issue, you will also find some of my poet friends from the internet:

From the Netherlands, Francine

From Massachusetts, Jim Fowler

From Hawaii, frequent contributor Alice Folkart

From all around the world, Walter Durk

And, as you might expect, you'll find some of my own work as well. That part doesn't change

So that's what there is this week. There being no other business before the house, on with the reading.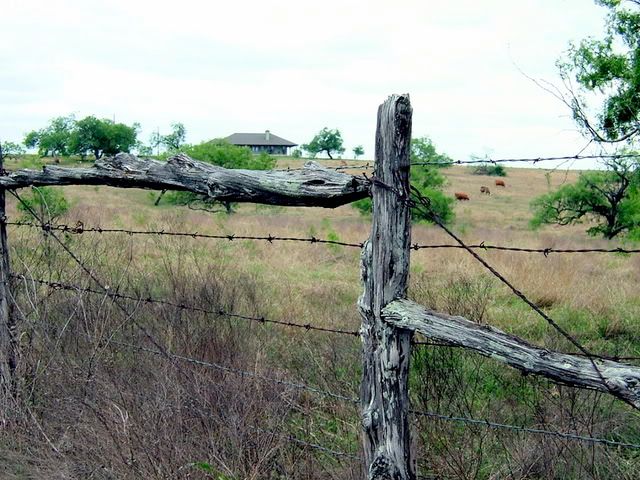 We're starting off this week with a Nobel Prize winner, a pretty good way to start most anything.

Wislawa Szymborska won the Nobel Prize for Literature in 1996. She was born in 1923 in Poland where she continues to live today. She has worked as a poetry editor, a columnist, and a translator.

This the first poem in a collection of her work, Wislawa Szymborska - Poems New And Collected published by Harcourt in 1998.

The poems were translated by Stanislaw Baranczak and Clare Cavanagh.



I'm Working On The World

I'm working on the world,
revised, improved edition,
featuring fun for fools,
blues for brooders,
combs for bald pates,
tricks for old dogs.

Here's one chapter: The Speech
of Animals and Plants.
Each species comes, of course,
with it's own dictionary.
Even a simple "Hi there,"
when traded with a fish,
makes both the fish and you
feel quite extraordinary.

The long-suspected meanings
of rustlings, chirps, and growls!
Soliloquies of forests!
The epic hoots of owls!
Those crafty hedgehogs drafting
aphorisms after dark,
while we blindly believe
they're sleeping in the park!

Time (Chapter Two) retains
its sacred right to meddle
in each earthly affair.
Still, time's unbounded power
that makes a mountain crumble,
moves seas, rotates a star,
won't be enough to tear
lovers apart: they are
too naked, too embraced,
too much like timid sparrows.

Old age is in my book,
the price that felons pay,
so don't whine that it's steep:
you'll stay young if you're good.
Suffering (Chapter Three)
doesn't insult the body.
Death? It comes in your sleep,
exactly as it should.

When it comes, you'll be dreaming
that you don't need to breath,
that breathless silence is
the music of the dark
and it's part of the rhythm
to vanish like a spark.

Only a death like that. A rose
could prick you harder, I suppose;
you'd feel more terror at the sound
of petals falling to the ground.

Only a world like that. To die
just that much. and to live just so.
And all the rest is Bach's fugue, played
for the time being
on a straw.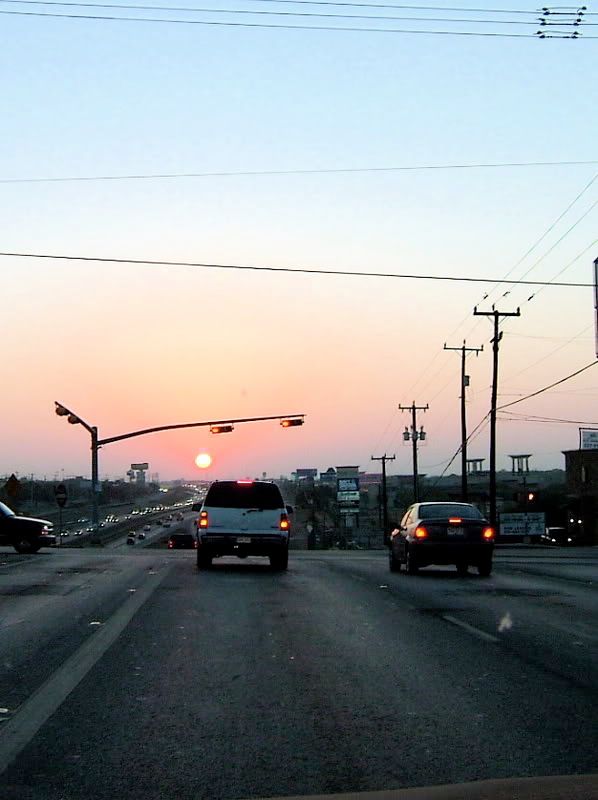 I was killing some time at work a couple of weeks ago, waiting for something to happen, which didn't, so I picked up a little post-it pad and wrote these.

I don't know if this will work or not, but the idea is that these are poem fragments seen from a quickly passing car (think Burma Shave), leaving the reader to complete the poem as they wish. This is either a great new idea in poetry or a great way to get readers to do my job as a writer. Whichever, I'll take it that I have finally achieved "greatness."




poems from the fast lane

waiting
for the mercy
of your smile

........

the night
is long
and ever darker

........

sunshine
in the desert
moonglow
on the sand

........

short conversation
on
better days

........

the tides
pushed forward
sucked back by the moon

........

white
rose opens
swallows
morning dew

........

bluejay
protects her nest
stares
me down

........

seven days
too little time
to fill a week
with love

........

children grow...
leave
behind
bright shades
of memory

........

free
to find the
time
that is my due

........

i lied...
she knows...
no truth can repair
the breach









Paul Durcan was born in Dublin in 1944, where he lives today. He was educated at University College, Cork, where he studied archaeology and medieval history.

In 1974 he won the Patrick Kavanagh Award, and published his first collection in 1975 and has published a number of other collections since.

He was Poet in Residence at the Frost Place, New Hampshire, in 1985, and Writer in Residence at Trinity College, Dublin, in 1990. He was awarded the Irish American Cultural Institute Poetry Award in 1989 and his collection Daddy, Daddy won the Whitbread Poetry Award 1990. He was joint winner of the 1995 Heinemann Award.

The next poem is from his collection Greetings to Our Friends in Brazil published by the Harville Press of London in 1999.



Tea-Drinking with the Gods

The telephone rings and I squeeze open my eyes.
My publisher tells me that he has sold the rights
To all the poetry I have ever written
For one hundred and seventy three pounds
And fifty pence. My beloved beside me in bed
With her back turned to me tells me
She plans to spend Christmas with her son.
Driving out the gate I catch my tail light
On the gate post and hear a short, sharp crunch.
In the newsagents when I stammer Good Morning
The newsagent does not hear me.
In the post office the postmistress
Insists that there is no mail for me.
My mother when I visit her for lunch
Scolds me that I do not eat enough.
When I decline her Ambrosia rice pudding
She casts up her eyes to heaven.

At 7 p.m. I arrive at the National Gallery
To give a poetry reading.
I stand up in front of five hundred people
And recite for an hour and fifteen minutes
Wondering if I will ever get to the end.
My mind is on other things.
In today's newspaper the British Government states
That its private stance is the same as its public stance.
Halfway through the reading a man in the audience
Stands up, walks up to the microphone
And whispers into my ear: Where is the toilet?
He walks out of the hall and two poems later
Walks back in with two bottles of whiskey.
At the end of the reading there are waves of applause.
People milling around me with books
To be autographed. One middle-aged couple
Trying to come forward, reluctant, reticent,
The husband pressing a carrier bag into my hand
Explaining: "My wife made this for you."

I walk home alone in the dark, wet, cold,
Past the palings of Merrion Square,
Past hundreds of silent spear-carriers;
Down the canyon of Mount Street,
Down along the Grand Canal,
Past Kitty O'Shea's,
Past the empty gasholders
Down along the South Lotts Road,
Through the deserted streets of Ringsend and Irishtown.
When I get in the door and switch on the light
The light does not come on. Another bulb gone
and I forgot to get spare bulbs
And I bet the battery in the torch is dead.

But the battery is not dead. The battery is alive.
By the light of the torch
I investigate the contents of the carrierbag,
A creased Post Office carrierbag.
Out of wads of tissue
Struggles a tea-cosy,
A patchwork tea-cosy
With in red thread
three words stitched;
CRAZY ABOUT PAUL,
I stand alone in the dark
Staring up at the street lamp
Through the dust-iced fanlight
Before tramping up to bed.
Between the sheets,
My spout sticking out,
Cosy, cosily, cosiness.
Wholly alive, wholly dead.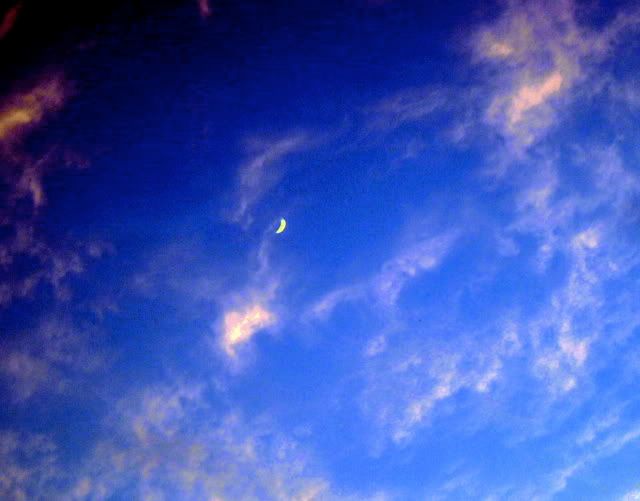 Next we have a poem from our much-traveled poet from The Netherlands, Francina. It a poem about the difficulty of writing a poem when all around is in flux. It is a poem about taking a white page of paper and filling it with words and lines that bring sense to some small,personal part of the universe.



Quiet Pen

The pen is quiet on the white paper,
my thoughts skip like stones, forever
skipping, none to land upon the bank.

My mind invaded by swift impressions
which travel with the wings of wind;
words silenced in the eye of a storm.

Turbulence from undercurrents, created
whirlpools; l can not find familiarity
in the depths of these stirred pools,
from where the pen has stopped flowing.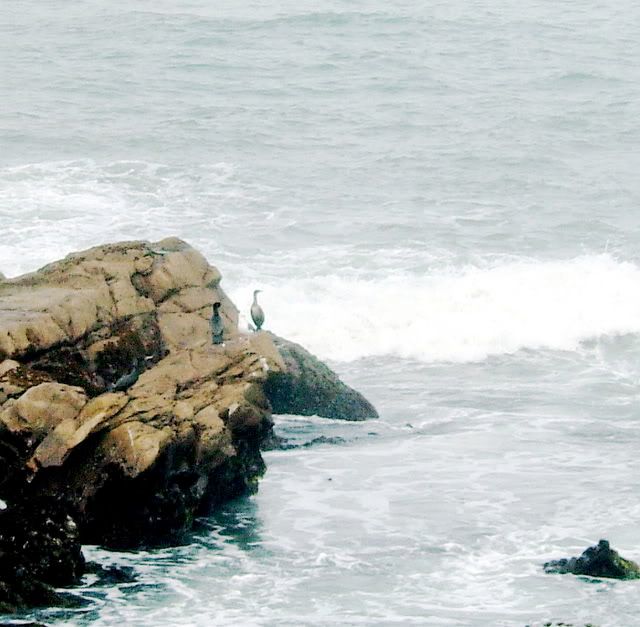 Jane Hirshfield was born in 1953 in New York City.

She received her bachelor's degree from Princeton University in the school's first graduating class to include women. She later studied at the San Francisco Zen Center.

Hirshfield has worked as a freelance writer and translator. She has also taught at the University of California, Berkeley, University of San Francisco, and as the Elliston Visiting Poet at the University of Cincinnati. She is currently on the faculty of the Bennington Master of Fine Arts Writing Seminars.

She has published six volumes of poetry and one book of essays. This next poem is from one of those six, The Lives of the Heart, a mid-career book published in 1997 by Harper Perennial.



Hope and Love

All winter
the blue heron
slept among the horses.
I do not know
the custom of herons,
do not know
if the solitary habit
is their way,
or if he listened for
some missing one -
not knowing even
that was what he did -
in the blowing
sounds in the dark.
I know that
hope is the hardest
love we carry.
He slept
with his long neck
folded, like a letter
put away.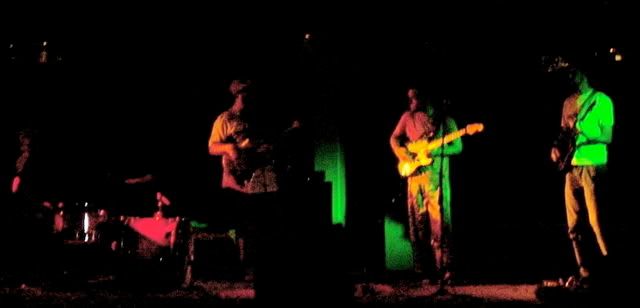 This poem came up last week pretty much as described. There I was, lost in busy routine broken up by a song unleashing a rush of memory, and with the memory, with the melancholy of one loss remembered, followed by the string of other losses that routine keeps at bay.




no more

proofing
my blog at Starbucks

weekly routine
broken
by a song

one of only two
covers
by a band i loved

weekly routine
broken
by sadness
by loss
by memories
of a band
that brought me
great pleasure
a band
that is no more

like
so much
that is no more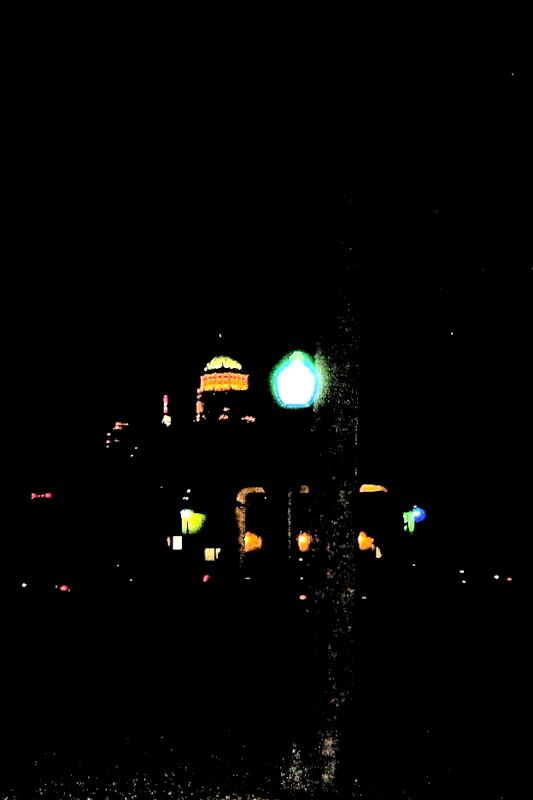 Now we go to the down low with a poem by Sapphire from her book American Dreams.

Born in California, Sapphire now lives and works in New York City. Her first collection of prose and poetry, American Dreams, was first published by Serpent's Tail/High Risk Books. The copy I'm working from was published by Vintage Books in 1996.

Sapphire's work has appeared in several anthologies, including High Risk 2: Writings on Sex, Death & Subversion; Critical Condition: Women on the Edge of Violence; and Women on Women: An Anthology of American Lesbian Short Fiction.

She graduated from City College in Harlem with a degree in Dance. She also has an M.F.A. from the writing program at Brooklyn College, where she was the 1994 recipient of the MacArthur Foundation Scholarship in Poetry. She was the first place winner in Downtown Magazine's Year of the Poet III Award for 1994.

This prose-poem is the first part of a trilogy too long to include here in full.



Trilogy

One

The sky is cryin' look at the tears roll down the trees.
- Elmore James

Just got off work, country dude - I shouldn't say that, he's nice, real nice - took me to the station. I was thinking weird thoughts all night while I was dancing - this train is so cold, I got wool tights, overalls, leotard, pullover, army jacket - weird thoughts about suicide and shooting myself, going to get me something to eat, something low, greasy worm-ham or pork chops, biscuits, butter pancakes, eggs, going to the hotel with the broad at the bar. She was brown, smooth-skinned, in a dress, hair pressed, makeup, fat. I think she was looking for a man, maybe money, maybe both. I was thinking of going to the hotel and not making love, my mind wasn't on that - but killing ourselves, a joint suicide. I'm not really depressed. I just don't see no progress. I feel old, degenerate, fat, saggy. I wouldn't put it in my mouth, the gun, but to the side of my head. Either way it'd probably be a closed-casket funeral. I don't really like myself.

I have been on a long journey twenty-seven years walking backwards. The rent is due next week. I just paid the motherfucker! It's always something - rent, phone, gas, Graham technique classes, tokens. I laid down and spread my legs for them funky, chump-change tips. Into the pink. I saw this fat dude I tricked with at this private party. That bastard could fuck. He took too long to come though. I don't think he ever did, come that is, least not with me.

Is this a poem? I mean, is there any beauty in this twenty-seven-year-old black bitch riding the tube home from New Jersey three o'clock in the morning? Is all the beauty in the stars?

DUE TO LOCAL TRACK MAINTENANCE SOUTHBOUND D TRAINS ARE RUNNING ON 8TH AVENUE. THOSE DESIRING SOUTHBOUND SERVICE SHOULD CATCH THE NORTHBOUND TRAIN TO 59TH STREET. WE ARE SORRY FOR THE INCONVENIENCE. The elevator is broke. I'm sitting here writhing in hate thinking about Smitty who took my poems, $100 and my picture six months ago talking about he was gonna publish my book. I hate these men when I dance. One black nigger, disgusting cussing slick son of a bitch, hands all over me, free feels. I was scared to kick him in the teeth like I wanted to. I could see his insane reaction. I could see my wig flying off, teeth knocked out, lips bruised, bloodied, because of a lifetime of failure, his crumpled losses, reduced specimen of a human being. He had this crumpled piece of paper he was pretending was a dollar so he could stick it in my g-string so he could touch me. I hate the sight of these filthy chimpanzee dick bastards. Rage chokes me, wears me. I am humiliated daily. I feel apprehensive about reading this aloud. Would you? If it were you poem, your life - if it was cold, going on four in the morning and your neck was contorted in hate and pain. If someone speaks to me I will start screaming. I sound like other poems I've read, other women I've felt, listened to.

I can't hardly breathe for the wine in the air. If you could see these early morning linty-head, green pants wearing dejections; these pieces of shit got the nerve to try to hit on someone. I won't cry next time I read about one of these motherfuckers freeze to death. Rock gut syphilitics sons of bitches got the nerve to leer at somebody. Cobweb red eyes. I'm exhausted. There is no express service at night. I want the world to die.


(Changed my mind - going to go ahead and do the second part of the trilogy also. It's not as long as it looks. Have to pass on the third part though, it's just too long for here.)


two

Don't pull a subway. I rather see you pull a train...
- Jimmy Reed

I had done a party
for Carl,
another one of those
bachelor parties,
nothing really unique -
regular crowd,
working class,
basement, red lights,
gin. I had got
drunk off that
gin so I could loosen up
and do my
thing;
freaked off the
Rolling Stones'
Miss You,
got down with the Spinners'
He'll Never Love You Like I Do
and
Love Don't Love Nobody.
Yeah, me and this
other bitch
was doin' it
to the "t"
gettin' 'em hard
and horny.
No tips,
75 off the top
plus whatever we could
get in tricks.
Sometimes I do good
on the trick side
sometimes I don't.
When it's a white set
I usually get over
or if it's niggers
and I ain't got
no hard competition
(latin or white)
I might do alright.
But this night
was kinda
the pits,
I had got 20
outta Carl;
and Teresa,
the other bitch,
was cleaning up.
So now Teresa was
getting down with
the groom-to-be,
the one they was
giving the party for,
and he says "Hows about
both of you,
how much would it cost
to get down with
both of you?"
and I said, "Just
gimme 20 honey
and we can get it on,"
like that, you know,
I was cool.
Anyway I felt like
the hoe was being greedy
and I knew he had already
upped 20 for her,
so it wasn't like
I was cutt'in
or nothin'.
We both humped him
for a tic,
he was taking a while to come,
a little head woulda
done it,
but Teresa wasn't
into that
and I didn't want to
rank her shit,
plus she had more business
to take care of
so we just pushed
him off.
He was kinda pissed
so I started rappin'
telling him how he was
such a heavy dude
the two of us
couldn't make him come,
how most of our tricks
usually come in 3 minutes
and how unique he was and shit.
Then we went in the bathroom
and started talking,
bout his getting married,
jobbing, he jobbed,
he was only 27
and how he'd always wanted to,
or thought he would
marry someone tall light skinny,
or not too heavy,
with plenty of tits and ass.
And how she was
dark chubby
and didn't give head;
he'd met her
and said in a month
he'd fuck her
forget her,
but something happened.
And about his job
$14 an hour in a factory,
he did some chemical shit
high risk,
the bosses don't give a fuck
long as they hauling
in the buck,
it means one little slip
and they could all be
blown to bits,
but you know
you need that job thang;
everything has risks
he told me,
just like the trip
you're doing,
someone could just
go OFF on you.
And he asked me
did I have to deal
with me who was
old and ugly and fat.
and I asked
what he'd do if just say
you know, he hadn't hooked up
and had plenty of bucks.
and he said like if I
won the lottery or some shit?
I said yeah.
And he said, "Oh
I would probably do
like photography,
not women and stuff
but animals and nature."
just then, someone started
banging on the bathroom door
talkin' bout, "Hey man
where's the girl? Hell,
you gonna keep her
all night!"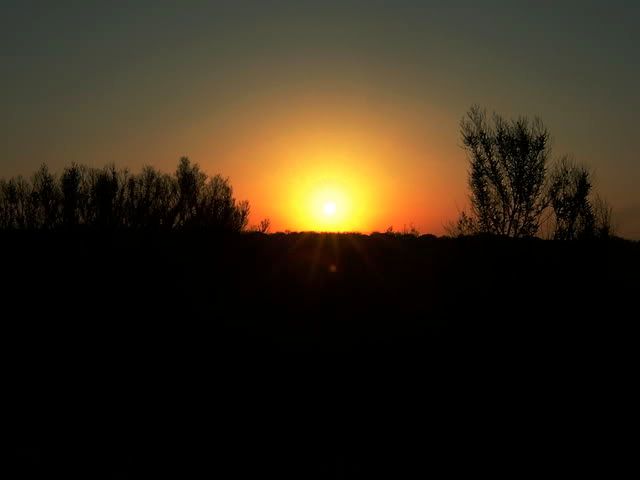 Jim Fowler, known to those of us who follow his work in the internet as "loisseau," lives in Massachusetts. He says he has eight grandkids who bring him joy. He also says he wants to retire, write poetry, garden, play tennis, cook and write some more poetry.

So here's a little piece of his about that certain rock and roller from the '50s whose ducktails we emulated, even as he was stealing the hearts of our girlfriends.



Heartbreak Hotel

She checked in to the Heartbreak
Hotel and never left. Her CDs
and albums spin far-away looks
and a low-throated hum of him.

He finally checked out, and I secretly
rejoiced. No more ball-bearing
white guy groove, petulant lips,
pomaded hair, and needy eyes.

She still swoons and sighs, "Don't
be cruel, and deny me this little
peccadillo. You'll spoil the trip
to Memphis and Graceland,"

Well, I've already checked in with
the Dixie Chicks. Let the party begin.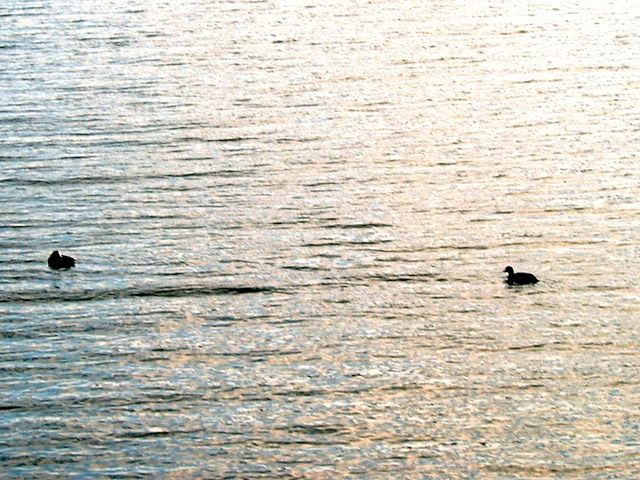 Expressionism was the dominant force in German art after World War I. It was a subjective art form, usually defined as the tendency of an artist to distort reality for an emotional effect. Often cited as a prime example of expressionism in painting is "The Scream" by Edvard Munch.

Expressionist poetry was similarly non referential and sought an ecstatic, hymn-like lyricism that would have considerable associative power. This condensed, stripped-down poetry, utilizing strings of nouns and a few adjectives and infinitive verbs, eliminated narrative and description to get at the essence of feeling. The dominant theme of Expressionist verse was horror over urban life and apocalyptic visions of the collapse of civilization.

August Stramm was one of the principal Expressionist poets. What I have next are three of his poems, taken from the book Music While Drowning. an anthology of German expressionist poems.

The first two poems were translated by Patrick Bridgwater and the last by Jeremy Adler.



Dream

Through the bushes wind stars
eyes submerge film sink
whispering babbles
blossoms cleave
perfumes spray
showers deluge
winds hurry flurry scurry
sheets tear
falling startles into deep night


Fickleness

My groping gropes!
Many thousand change I
I search I
and catch You
and clutch You!
Lose I.
And You and You and You
many thousand You
and always You
all ways You
mazed
maze
mazed
even more mazed
by
this mazement
You
To You
I!


Primal Death

Space
Time
Space
Waying
Rising
Righting
Space
Time
Space
Stretching
Joining
Swarming
Space
Time
Space
Turning
Spurning
Racking
Space
Time
Wrestling
Throwing
Throttling
Space
Time
Space
Falling
Sinking
Plunging
Space
Time
Space
Whirling
Space
Time
Whirring
Space
Time
Flirring
Space
Time Space
Erring
Nil.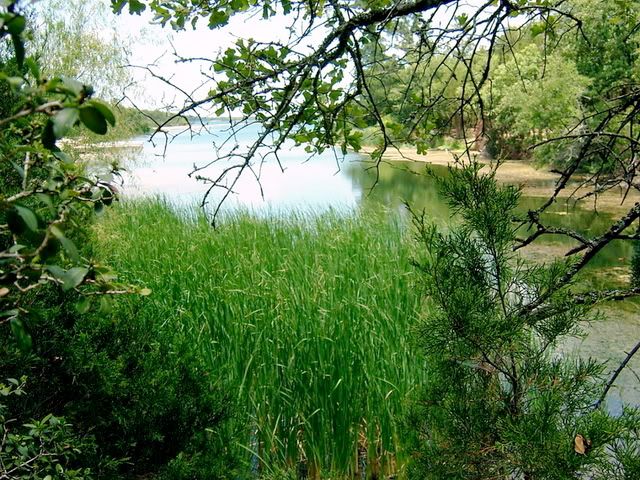 June Drive-Around - "Watch Out For Gators"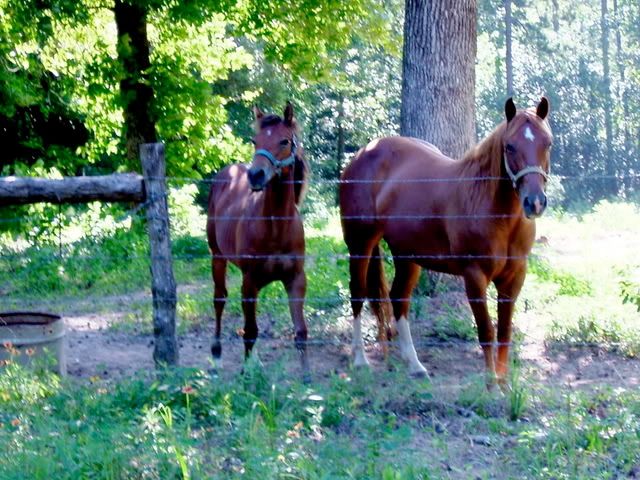 June Drive-Aroumd - "Just Dropped By To Say Hello"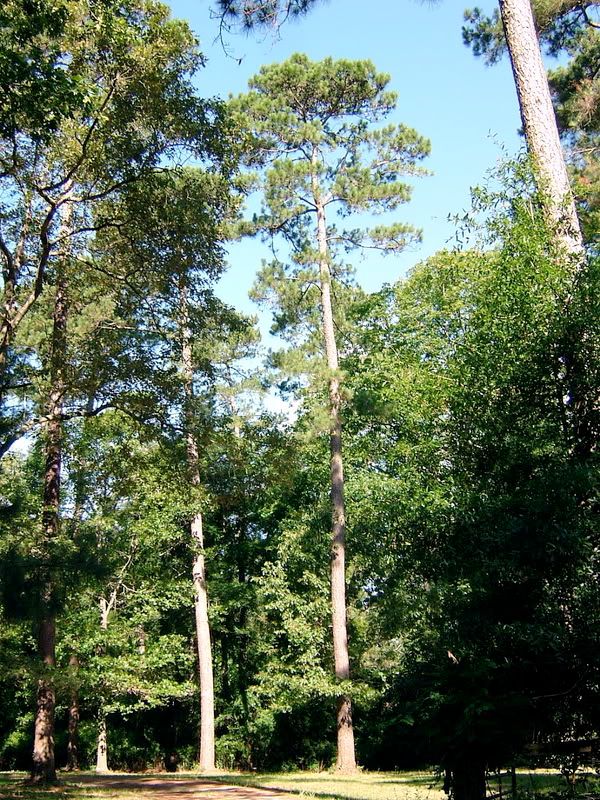 June Driver-Around - "Before It Was Your Dining Room Table"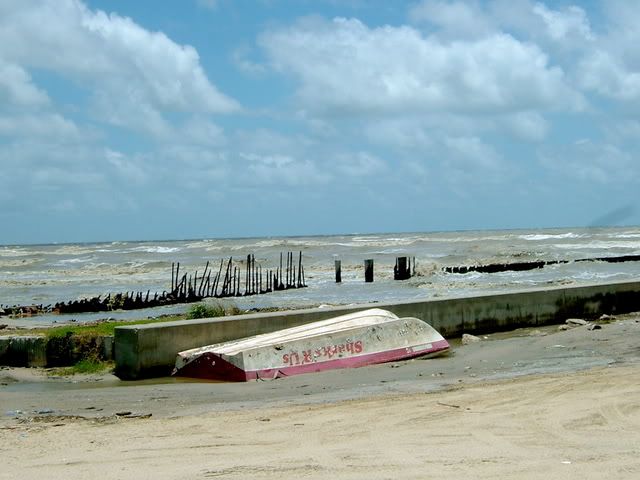 June Drive-Around - "Crew and Passengers All Accounted For"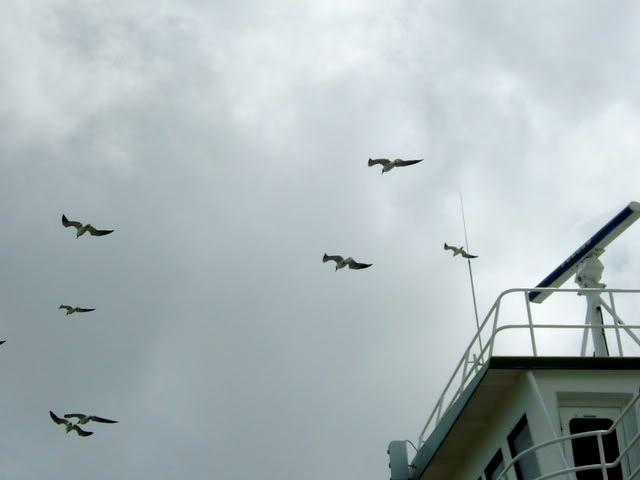 June Drive-Around - "Ferry Rule #1, Always Feed The Gulls From The Back Of The Boat"




A Three-Day Drive-Around

feeling restless,
i load up my new red toy
and head out
for a three-day drive-around,
not westerly
as i usually trek,
but to the northeast,
to the forests
and bayous
of the Texas, Arkansas,
Louisiana borderlands known as
the piney woods,
coming off the sun-baked hills
of home,
to drown myself in green
under a green filtered sun,
surround myself
with pine and magnolia, sweet gum, tupelo,
holly, hickory, oak, dogwood, redbud
and green rivers
slow-moving
and dense -
turning back on Wednesday
to follow the upper coast,
the little fishing villages,
High Island,
Gilchrist,
Port Bolivar,
Jamaica Beach,
Surfside,
Oyster Creek,
Quintana,
all places new to me,
or, so old as to be as good as new,
then home through the ricelands,
Bay City,
when i worked for the local
newspaper
forty-three years ago,
Palacios,
Port Lavaca,
Victoria,
where one brother lives
and the other died,
and from there, the oft-traveled
highway 87 home

a three-day drive-around,
a 1,000 mile circle
that takes me nowhere
but away
and
back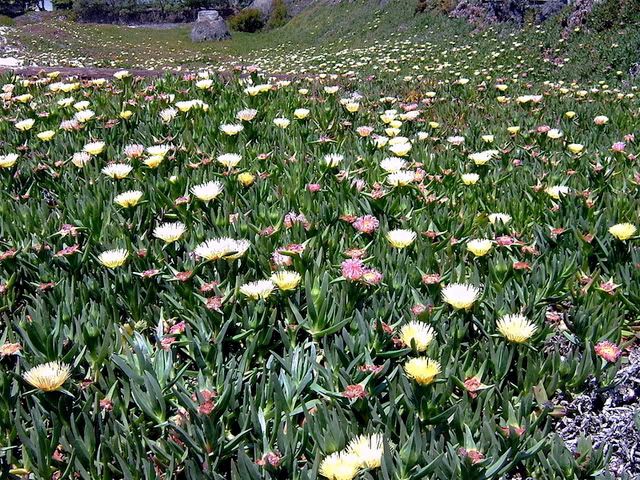 Now we'll continue this week's rush of outlaws with a poem by Charles Bukowski from his book New Poems, Book 2.



Soft And Fat Like Summer Roses

Rex was a two-fisted man
who drank like a fish
and looked like a purple anemone.
he married three others
before he found the right one.
they fought over cheap gin
were friendless
and satisfied
and frightened the landlord.
then she began to holler plenty
and he would listen dully,
then leap up red with choice words
until she began again.
it was a good life,
soft and fat like summer roses.

good bedmates
they were
until he got hurt at work, near
fatally, it seemed,
and he stayed in bed then
smiling it off
while she got a job as a waitress
in a cheap cafe
where the lads were rather rough,
sometimes drunk, slapping her rear while
Rex drank gin in bed while
she walked about, saying nothing,
thinking about a Greek who came in
mornings,
touched her hand, quietly said "eggs,
eggs again."

Rex continued to drink gin in bed
and one night she didn't come back.
nor the next nor the next.
and with a lurch, he got out of bed
and walked holding to walls
around and around and around
and fell, clutching the carpet,
saying "o, Christ! o Christ!"

the Greek was very different,
he didn't drink at all and
said he believed in God,
he loved diffidently, like a butterfly,
and he had a new refrigerator.

Rex was sitting in bed with the gin
one dark night
when she returned, saying nothing.

"bitch! cheap bitch!" he said as
she sat down on the bed, fully dressed,
and looked pleased to see him.
later he stood upright on the floor,
smiling and himself again, and
said, "I'm going back to work tomorrow
morning.
and you, you stay out of that goddamn cafe!"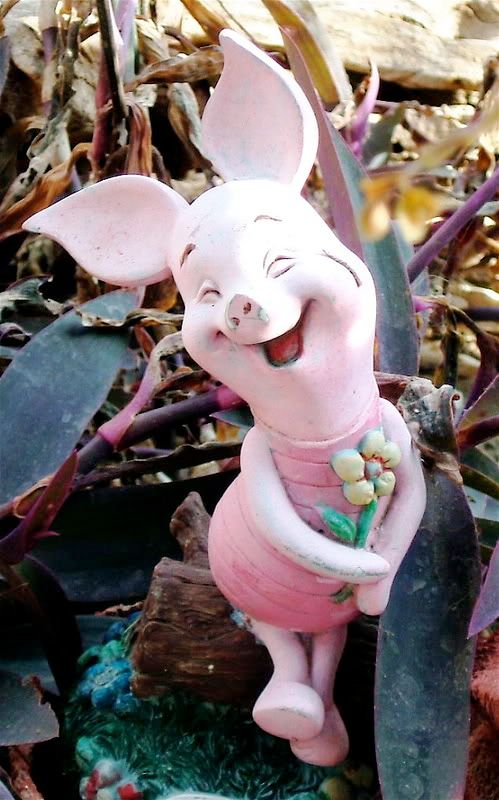 Here's a fun poem from our friend, Alice Folkart, who is adapting quite well to her new home in Hawaii, thank you.



Yes, they do sing!

Play it again.
Slam!

Walk the two toed way,
loath to be
a sloth
and sway
beneath a bended bow,
bulging bicep
of a sap-filled tree.

All for me,
the ants
and creeping aphids,
free for
me and my anteater
cousins
and Koala bearing
twins in Walla Walla,
tending
eucalyptus plants

while beavers,
overcome
with watery wilderness joy,
splat flat
and meaty tails
in hails
of sticks and mud,
play at sliding,
kerplunking,
spelunking
debunking
the myth
that animals
have no jazz.

So play it again
and I'll join in.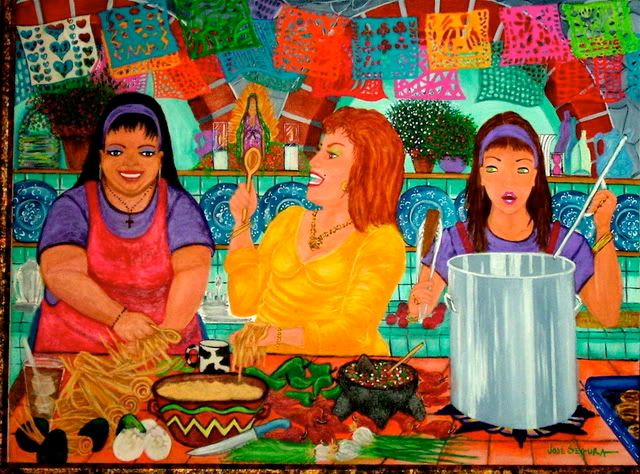 Painting by Jose Segura




Next, for the first time in a long time, I have a poem by one of my favorites, Julia Alvarez. The poem is from her book, Homecoming, published by Grove Press in 1984.



Rolling Dough

Mother lifted the roller, centered and rolled.
biting her lip to avoid a tear in the strudel-thin dough.
I waited to hold the handles of the pin
and roll out the soft ball in my palm
into a big, translucent circle.
Each time I made it out a little further
before a crack told I had gone too far
and must patch with a tap of iced-water
the slit she said no one could see
though the line worried us both.

Once I took her out to ends of our pastry cloth -
But the thing tore! We laughed
for I had explored my dough and got
three shells and some left over
to lattice the top of the cherry tart.
We did our best baking on late afternoons,
the light falling like glaze on the cabinets,
the pin clacking as she rolled out pastry enough
for eclairs, Napoleons, cream puffs,
while all I could do was pie shells.
By evening we had rolled, crimped,
sealed and jaggered everything!
The pies browned, the pastries puckered
in the cavernous oven I waited to open.
An aroma, thick as a bite, made my head light....
Gloved with two pot holders, I listened
while she told how not long ago
a girl could not marry until she could roll
her dough so transparent her beloved
could read his Bible through it.
I dreamed of stretching my pastry dough out
to cover the earth with a crust so fine
my love would think it was nothing
but the world at his feet,
baked by the summer sun,
dusted with cinnamon.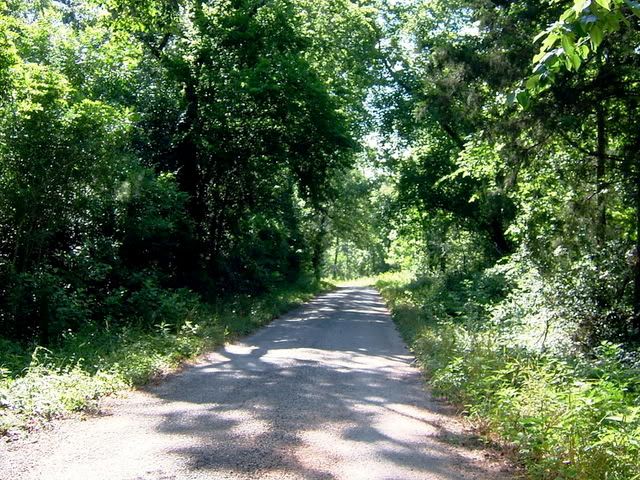 Here's a couple of little poems from my three-day drive-around.





the problem with forests

the problem with looking
at a forest
is that
all
you
can
see
is
trees


poor little pumpkin

little
Pumpkin
Texas -
hiding out
among the trees

KoKo's Gas-N-Grub

Faith Evergreen
Baptist
Church

poor little
pumpkin

population
43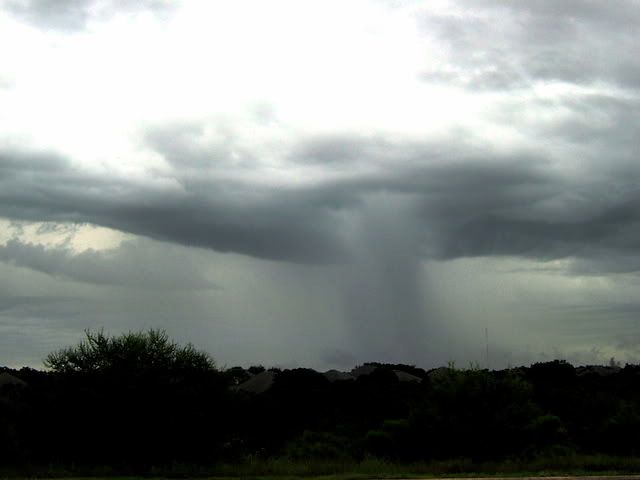 Time to slow down a bit with U.S. Poet Laureate Billy Collins and a poem from which he took the name of his book, Picnic, Lightning, published by the University of Pittsburgh Press in 1998.



Picnic, Lightning

"My very photogenic mother died in a freak accident (picnic, lightning) when I was three."
Lolita

It is possible to be struck by a meteor
or a single-engine plane
while reading in a chair at home.
Safes drop from rooftops
and flatten the odd pedestrian
mostly within the panels of the comic,
but still, we know it is possible,
as well as the flash of summer lightning.
the thermos toppling over,
spilling out on the grass.

And we know the message
can be delivered from within.
The heart, no valentine,
decides to quit after lunch,
the power shut off like a switch,
or a tiny dark ship is unmoored
into the flow of the body's rivers,
the brain a monastery,
defenseless on the shore.

This is what I think about
when I shovel compost
into a wheelbarrow,
and when I lift the long flower boxes,
and press into rows
the limp roots of red impatiens -
the instant hand of Death
always ready to burst forth
from the sleeve of his voluminous cloak.

Then the soil is full of marvels,
bits of leaf like flakes of fresco,
red-brown pine needles, a beetle quick
to burrow back under the loam.
The the wheelbarrow is wilder blue,
the clouds a brighter white,

and all I hear is the rasp of the steel edge
against a round stone,
the small plants singing
with lifted faces, and the click
of the sundial
as one hour sweeps into the next.









Walter Durk was born in New York City and has lived in Asia and numerous places in the United States.

Walter is a very active poet on the internet (where I first read his work) and he's been with us here before. I'm pleased to have him back.



Anticipation

There is a day that arrives every spring
that is warmed by the distance of winter

it makes you want to rush outside
to call new birds from their nests

clean gold dust from trees off the porch
and set a table and chairs there

walk to the mailbox in shorts and flip-flops
to retrieve an expected brown package

carry it back and tear it open
and as you sit on the porch

thin little book in your hands
release words to the air

as you read aloud to yourself
on this quiet spring night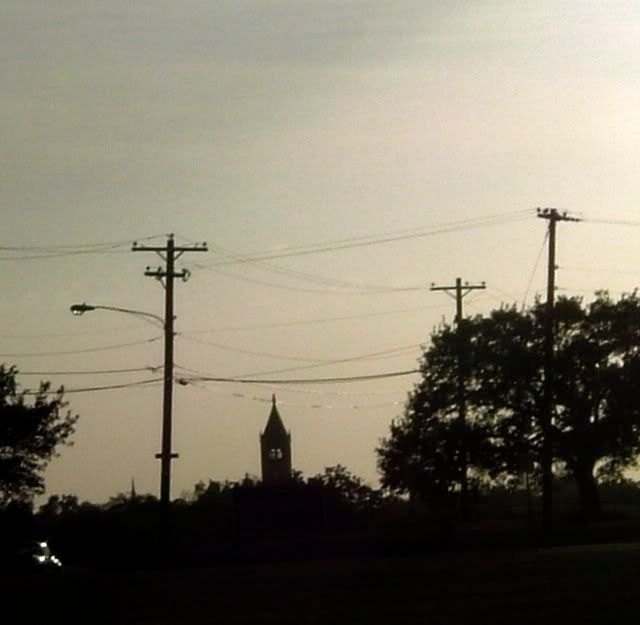 Ralph Angel, born in 1951, grew up in Seattle. He attended inner-city public schools there, and, while working freight trains for the Union Pacific Railroad, earned his Bachelor of Arts degree at the University of Washington. He received a Master of Fine Arts degree at the University of California, Irvine, and has lived in and around Los Angeles ever since. Since his early college days, he has traveled extensively in Europe, North Africa, and Central and South America. He is currently Edith R. White Chair of English and Creative Writing at the University of Redlands, and is a member of the MFA in Creative Writing faculty at Vermont College.

This poem is from his book Neither World published by the Miami University Press of Oxford, Ohio, in 1995.



The Privilege of Silence

No threats. Not the teaser
this time. Finally there is a random God.
And all the filthy laundry we've hung out to dry,
all the fingers we've grown used to pointing,
sneer, backbite, everything that worked
yesterday, nothing a little
breeze won't knock down.

Even wisdom, the pure heart the woman
who for six days among impatient nurses
choked on water, who knew a full
life when she saw one, who never asked of anybody,
begged for air, was made
to beg for something
she knew she was en route to.

Only the living take things for granted.
The dead don't leave; some part of us
is missing. And we sense
the echo, the wind in our
veins, faces like thin
curtains that let in the light
and let loose our shadows.

Even asleep, in the ancient dance,
we are turning away.
Turning down the ruckus
of jacarandas. A face in the crowd
that offers itself like early morning,
unknowingly, as we are drawn to it.
More strangely than that.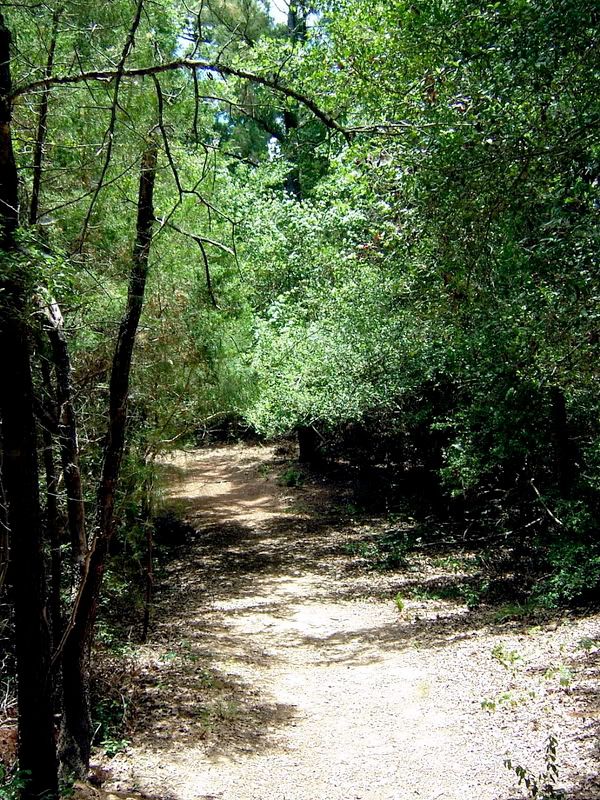 Here's from another stop from my break in routine from earlier last week.



finding French in the forest and i don't mean fries

last night,
Huntsville,
a beautiful little city,
with hills
and green, green,
green trees
and thick grass
fed by generous annual rain

headquarters
of the state prison system

bad vibe

eager to leave....

tonight,
Nacogdoches,
one of the oldest European settlements
in Texas, near the center of the Piney Woods,
historic downtown
beautiful
in shades of red,
red brick buildings
and red cobblestone streets,
but empty,
empty stores,
empty streets
and an empty look
from the old man sitting
in front of the old city hall

more people in the university district
and a coffee shop,
Java Jacks,
that offers a quiet place to write...

a quiet place to watch the three students,
then four,
then five,
practice their French,
a baffling language to me,
but as far as i can tell,
they're doing well,
trying hard,
even the cowboy-looking boy
who seems to have as much aw shucks
as French in his accent,
and the one girl, the best of the group,
speaking the most, all in French,
incorporating
even the best Gallic gestures
and facial expressions, looking
like a pretty French girl
in one of those
New Wave films playing art cinemas
back in the '50s

before leaving
i get a dinner recommendation
from the barrista,
a Mexican place down the street
that turned out really good

so now, overfed
and fully medicated
with all my nightly doses,
i'm ready for bed

tomorrow, the
coast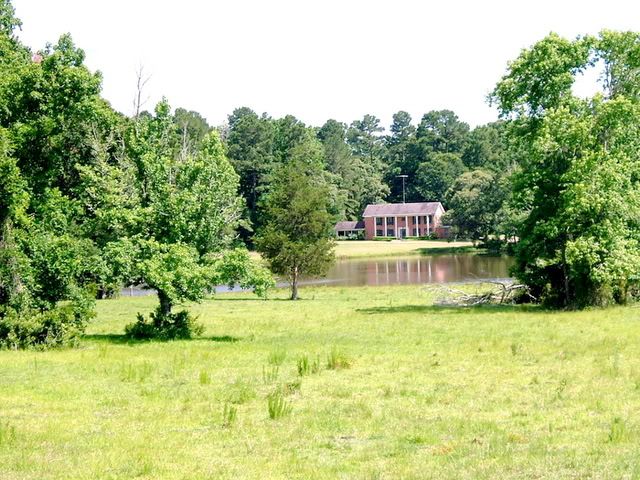 Now I have a piece by Manuel Paul Lopez from the Summer, 2001 issue of the anthology Rattle, Poetry for the 21st Century.

Little is said of Lopez, except that he worked for a county education department in California at the time the anthology was published and that he admitted being caught three times writing poetry on the job. I like what he does and hope he's been caught writing poetry many more times since.



The Neighbor

He cuts his grass three times a week,
Never more, never less
And sometimes I catch him on his porch at night
Small lump at his center dropping
Over the elastic of his shorts
Staring
His garage is an immaculate jewelry box,
So much so that I wouldn't be afraid
To lick a pipe, or rim a corkscrew.
His one car and two pick-up trucks
Glisten in the sun
Sitting on the carport
Like a queen aside the brawn
of two heavy generals.

I often wonder how he sleeps at night
If he dreams
If he wonders
If he's smelled romance

He's always outside,
Pestering the soil
The air
The peace
Like the mockingbird
That litters the hood of my car
With shit

He and his wife barely speak
Passing each other like two guards in a palace

As the grass grows and grows.

My mind wanders
What could he have e possibly done to her
Or she to him

What if, I thought , he strayed?
Fucked her best friend on bedsheets
That told the story like a newspaper

Or maybe he socked her one
Too many times beneath too much makeup

No,

Or maybe he simply did nothing
But watch the grass grow and grow.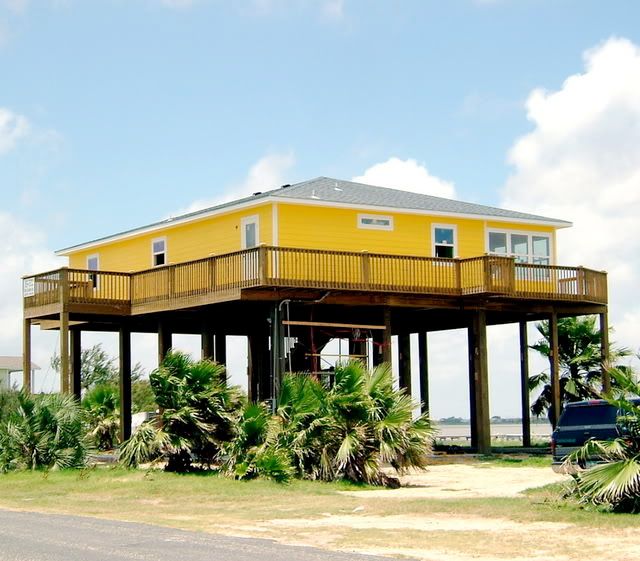 Now, for a final poem for the week, this from me.



living on stilts

Surfside,
Texas,
with West Bay
on one side
and the Gulf of Mexico
on the other,
susceptible to a flooding
tidal surge
across their narrow
little strip of mostly sand
from almost any
storm
anywhere in the restless
and often angry
gulf,
the whole village
built
on stilts
like the cranes
that fly past their windows
during calmer seas

a new model
for coastal living
in the global warming
future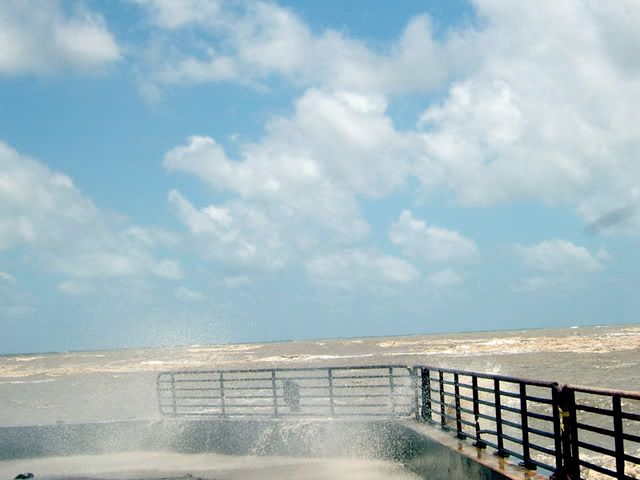 The tide comes in; the tide goes out.

As the tide goes out on this issue, remember, all of the material used in this blog remains the property of its creators; the blog itself was produced by and is the property of me...allen itz.