Catch Of The Day
Friday, June 27, 2008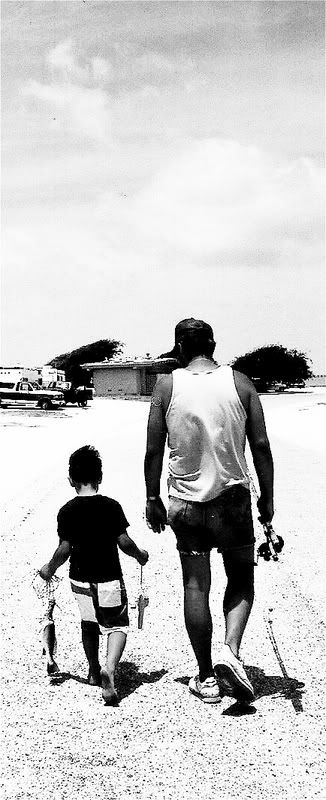 III.6.4.






it's not the fish we catch
that count
or the fish that get away

the catch of the day
is the time we stay
and the walking home
together



This week we have, in addition to that little poem above, the following:

From my library -

Pamela Uschuk
Mary Jo Salter
Marge Pierce
Federico Garcia Lorca
Larissa Szporluk
Cyra S. Dumitru
Ai Qing
John Oughton
Leroy V. Quintana

From the Web -

Dave Ruslander
David Anthony
Dan Cuddy
Cliff Keller

And several from me, new and old.

So here we go.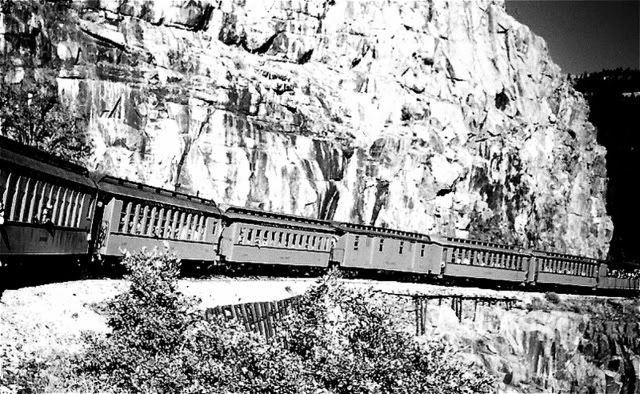 My first poem this week is by Pamela Uschuk from her book One-Legged Dancer published by Wings Press of San Antonio in 2002.

Uschuk was raised on a farm in Michigan. She holds a M.F.A. from the University of Montana. Prior to this book, she had published an earlier book, several chapbooks and had appeared in numerous literary journals. She previously taught poetry workshops and Native American literature at the University of Arizona's Writing Works Center and to Native students through ArtReach.

She is currently director of the Salem College Center for Women Writers in Winston-Salem, North Carolina.



A Donde Vas?

Like bullets, cockroaches crack
underfoot as we descend from the last train,
joining camposinos who gather
to sleep in the fruit-sweet dusk.
We imagine ourselves refugees
exiled, leaning against backpacks
whose contents could feed these people for weeks.

How conspicuous our blue jeans
and pale skin. Around us
banana palms darken and birds give
their final screechings to jungle air,
warm as broth. The one word
we understand is gringo.

Like moths who fly into bare bulbs overhead
these men wear unnerving white.
Their sleeves flutter, disturbing us
even before we close our eyes and imagine
everything that shines might be
a hidden knife.

At first when Federalse come,
we believe the whine of jeeps a dream
spinning gravel and midnight onto us.
Laughing behind the bruised mouths of machine guns
they raise clouds of camposinos
who stumble into
a single spotlight's fevered glare.

Federales need no joke
to laugh at this easy prey.
Their bandoleros growl commands.
Bullets furrow the dust near bare feet
that comply like good wives
to entertain, circling the steaming dark.

Andale, amigos!
Why hurry when there's nowhere to run?
Donde estan los papeles de trabajar?
Who needs papers when there is no work?
A donde vas?
A man goes no further than this leash of light.

We are shadows paler than our skins
as we watch rifle butts slam
kidneys, cheekbones,
white-shirted chests,
our words broken as stone
in the indecipherable night.

It's over quickly, the departing jeeps
and drunk laughter silenced by vines,
the thick dreaming leaves of palms
as we look into shadowy faces
whose eyes must deny the nightmare
and refuse to meet our own.
Heads bent like larvae,
those accustomed to insult
no longer resent the darkness
that spits fists and impossible commands.

Their averted eyes tell us
we are all homeless
in a world whose untranslatable rules
are tides we are lost to,
vulnerable ss the moon
whose white eye rises blind against us.
There is nothing we can say,
no comfort in the food we share
with these men who take it
as if it were finally being returned.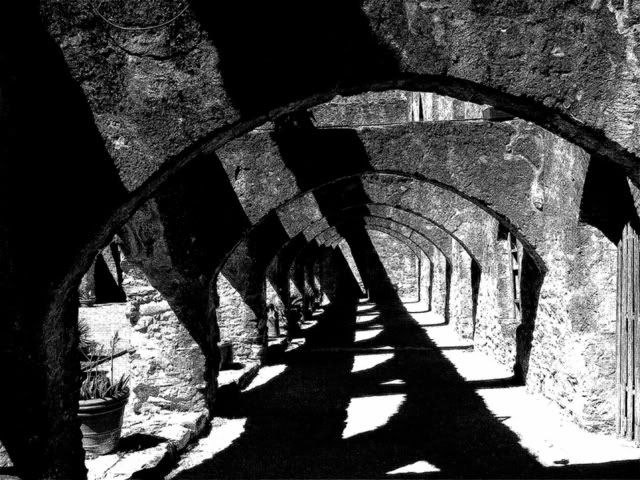 I continue to work around in my mind the idea of aging and the inevitabilities that come with that, as well as those things that we keep under out control. It's a process of defining perimeters that shift with the passing of each year, a process that goes on throughout our lives but seems to pass at a double-time march in our first and last years.

Anyway, this is a piece I wrote last week.



downsizing

the horizon
narrows
as the dark
closes in

marking the hour
to sort out
the truth
of the time remaining

time
to free myself
of the baggage

of goals
unmet

dreams
foreclosed

time to set a course
that recognizes
the reality
of time

time
to downsize
to fit the days

between
the horizon
and the final dark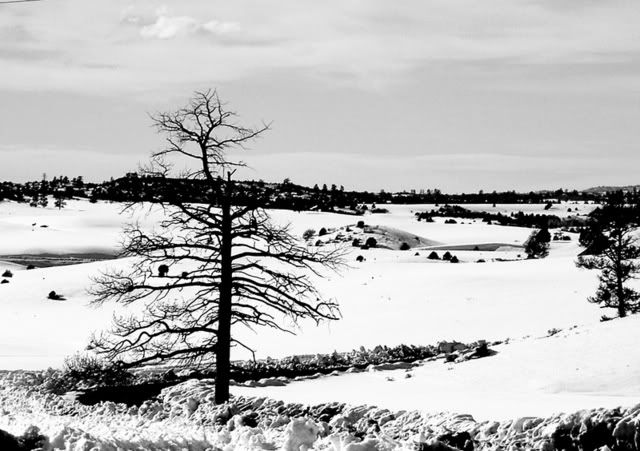 Mary Jo Salter was born in 1954 in Grand Rapids, Michigan.

She received her Bachelors Degree from Harvard University and a Masters Degree from Cambridge University and is the recipient of numerous poetry prizes and awards.

She is coeditor of The Norton Anthology of Poetry and a professor in the Writing Seminars program at Johns Hopkins University. In addition, she has been an editor at the Atlantic Monthly and at The New Republic.

She has taught at Mount Holyoke College since 1984 and has been vice president of the Poetry Society of America since 1995.

She has published a number of books of poetry. I selected this poem from her first collection, Henry Purcell in Japan, published in 1985 by Alfred A Knopf.



First Snow In Cambridge, England

I bring us a steaming pot
of tea on a tray
(your favorite: Earl Grey).
Happier than
I can explain, I play

Jeeves to you Wooster willingly.
Wodehouse seems
to us the proper thing
on a morning
that extends all day;

young though we are, we take
for a god
this man who produced one book
a year for each
of his ninety-odd.

No such hero is Bertie.
Sipping tea,
you read aloud his bedded
breakfast: "I tucked
into the eggs and b..."

How does the snow induce
such indolence?
So clear a cold in this year
mere mist and chill,
snow falls as if it means to -

lies like the crust of sun
that whitened the tops
of leaves last summer, a green
so bright it was gone.
Why does it seem

that today we must begin
and begin again?
Hot cereal for breakfast,
a lunch of eggs,
pancakes and milk for dinner.

As if it's not our first
day snowbound here,
but the last of this dark year
in which "one can pretend
one needn't care

what one shall ever do,"
we take a cue
that white is what we're after:
thin-skinned, we lie
awake and under cover.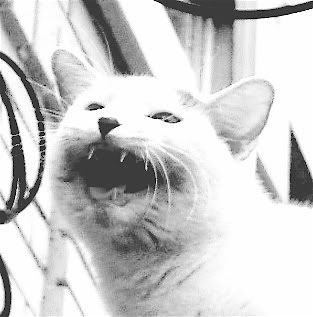 I received an email this week from Dave Ruslander, a friend whose work has appeared here frequently. Dave is suffering from some medical problems at the moment and I know I, along with all his other webpoet friends, wish him the best.

In the meantime, he sent along a couple of poems, including this one, a leap of imagination into another life in another dimension.



The 11th Dimension*

I'm writing this from the past, or maybe from the future.

I was born with a hole in my heart not a blue baby, rather one with no sense of well being
before I was aware I was an entity.
My parents told me I turned blue when I was pissed off
strange that I would try suicide before I could talk.

I can never turn off my mind, can you?
And I'm never sure what's real and isn't.
If I draw a picture of a cowgirl
is the picture real?
What about the cowgirl?

Twenty years have past, and my mind still whirs. I slow it down while
eating my coco puffs with large quantities of Valium floating in milk.
I hear, Tony Bennett all morning, but I don't think it's real.

By midnight Benny's gone
and DJrap is in the house after I swallow
ecstasy, me feel yummy.
I'm quivering putting on my silver serpent dress,
platinum wig and day-glow lipstick.

I am now, techno-vamp, just as real as the floating
Valium induced but now I feel the rush
I feel alive!

Love surrounds the rave.
It's palpable, it's real
so long as I keep letting ecstasy slide down my throat.

Lasers beam from all angles in sync to the music.
Globes dance over head; the DJrap mashes techno beats.
The crowd bounces as one. We are one fluorescent entity
moving to machine time.

Guys take turns rubbing their dicks against my ass - it turns them on.
Sometimes I fuck them for amusement,
they mean nothing to me.
Hell, on ecstasy it might only be a fantasy anyway.

*Cosmologists have discovered parallel universes at the eleventh dimension.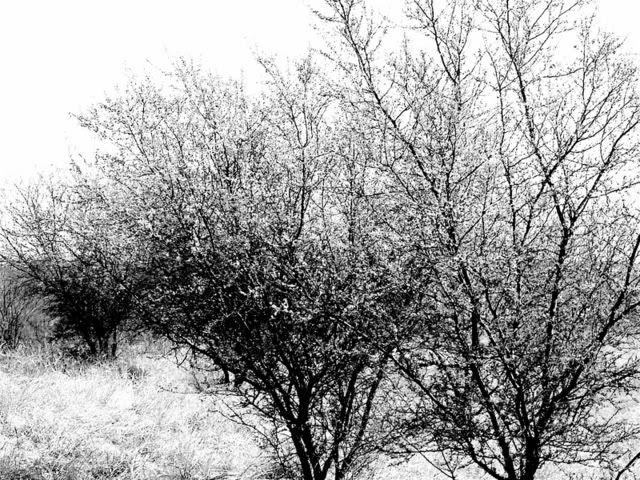 My next poem is by Marge Piercy, taken from her book The Twelve-Spoked Wheel Flashing published by Alfred A. Knopf in 1980.

Piercy, born in Detroit, Michigan in 1936, is a poet, novelist and social activist. She was the first in her family to attend college, studying at the University of Michigan. Winning a Hopwood Award for Poetry and Fiction enabled her to finish college and spend some time in France. Her formal schooling ended with an M.A. from Northwestern University. Her first book of poems, Breaking Camp, was published in 1968.

As of 2004 she is author of seventeen volumes of poems, among them The Moon is Always Female , considered a feminist classic, and The Art of Blessing the Day, as well as fifteen novels, one play, one collection of essays, one nonfiction book, and one memoir.

Her novels and poetry often focus on feminist or social concerns, although her settings vary. While Body of Glass is a science fiction novel that won the Arthur C. Clarke Award, City of Darkness, City of Light is set during the French Revolution. Other of her novels are set during the modern day. All of her books share a focus on women's lives.

Piercy's poetry often addresses the same concern with feminist and social issues in her poetry as in her novels.



the window of the woman burning

Woman dancing with hair
on fire, woman writhing in the
cone of orange snakes, flowering
into crackling lithe vines:
Woman
you are not the bound witch
at the stake, whole broiled alive
agonized screams
thrust from charred flesh
darkened Europe in the nine millions.
Woman
you are not the madonna impaled
whose sacrifice of self leaves her
empty and mad as wind,
or whore crucified
studded with nails.

Woman
you are the demon of a fountain of energy
rushing up from the coal hard
memories in the ancient spine,
flickering lights from the furnace in the solar
plexus, the winds up the hypothalamus
with its fibroids of pleasure and pain
twisted and braided like rope,
like the days of our living,
firing the lanterns of the forebrain
till they glow blood red.

You are the fire sprite
that charges leaping thighs,
that whips the supple back on its arc
as deer leap through the ankles:
dance of a woman strong
in beauty that crouches
inside like a cougar in the belly
not in the eyes of others measuring.

You are the icon of woman sexual
in herself like a great forest tree
in flower, liriondendron bearing sweet tulips,
cups of joy and drunkenness.
You drink strength from your dark fierce roots
and you hang at the sun's own fiery breast
and with the green cities of your boughs
you shelter and celebrate
woman, with the cauldrons of your energies
burning red, burning green.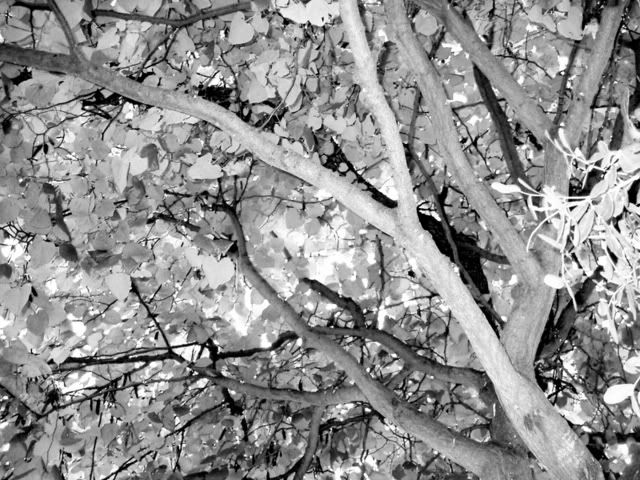 Here's something brought to mind by a story in the New York Times Tuesday science section, a source of frequent inspiration for me.



monkeyshines

when in heat
a female chimp

try to mate
with as many males
as possible

this,
for the purpose
of improving survival
chances

for her baby
since male chimps

are less likely
to kill
a baby they suspect

they might have
fathered,
such is male pride
specie to specie

to attract males when in heat
a female chimp will

vocalize

loudly

a kind of copulation cry
while being serviced

by one male
to attract other males
to the party

a come-and-get-it call,
a neon lights
and tight dress
split up to there

call

now
here's the part
that gets
tricky

miss hot-to-trot
chimp

only makes this
shout out
if other, higher ranking

females
are nowhere
in earshot of the call

this is because
higher ranking females

don't like poachers
in their part of the
jungle

and messing around
with higher-ranking females'
sugar daddies can be
fatal

to the lower ranked
interloper

who messes
with the natural order
of things

this
is the way things work
in the jungle
and the prevailing
social dynamic
of much adolescent
life
around the world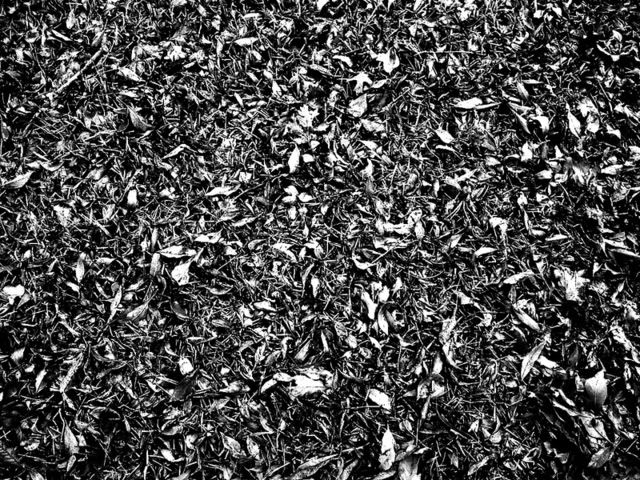 My next poem is by Federico Garcia Lorca, from his collection Poet in New York. It was translated into English by Greg Simon and Steven F. White.

Garcia Lorca's life and times were so interesting that I'm including just about the entire Wikipedia entry, with minimal editing by me.

He was born in 1898 into a family of minor, but wealthy, landowners in the small village of Fuente Vaqueros, Granada, He was a precocious child, although he did not excel at school. In 1909, his father moved the family to the city of Granada, Andalusia where in time he became deeply involved in local artistic circles. His first collection of prose pieces, Impresiones y paisajes, was published in 1918 to local acclaim but little commercial success.

Associations made at Granada's Arts Club were to stand him in good stead when he moved in 1919 to the famous Residencia de estudiantes in Madrid, where he would befriend Luis Bunuel and Salvador Dali, among many others who were or would become influential artists in Spain. In Madrid he met Gregorio Martinez Sierra, the Director of Madrid's Teatro Eslava, at whose invitation he wrote and staged his first play, El maleficio de la mariposa, in 1919-20. A verse play dramatizing the impossible love between a cockroach and a butterfly, with a supporting cast of other insects, it was laughed off stage by an unappreciative public after only four performances and influenced Garcia Lorca's attitude to the theatre-going public for the rest of his career; he would later claim that 1927's Mariana Pineda was his first play.

Over the next few years Garcia Lorca became increasingly involved in his art and Spain's avant-garde. He published three further collections of poems including Canciones (Songs) and Primer romancero gitano, translated as "Gypsy Ballads," his best known book of poetry. His second play Mariana Pineda, with stage settings by Dali, opened to great acclaim in Barcelona in 1927.

Although not shown for the first time until the early 1930s, Lorca wrote the play The Shoemake's Prodigious Wife in 1926, which was a farce about fantasy, based on the relationship between a flirtatious, petulant wife and a henpecked shoemaker.

However, towards the end of the 1920s, Garcia Lorca fell victim to increasing depression, a situation exacerbated by his anguish over his homosexuality. In this he was deeply affected by the success of his Romancero gitano, which increased - through the celebrity it brought him - the painful dichotomy of his life: he was trapped between the persona of the successful author, which he was forced to maintain in public, and the tortured self, which he could only acknowledge in private.

Growing estrangement between Garcia Lorca and his closest friends reached its climax when surrealists Dali and Bunuel collaborated on their 1929 film Un chien andalou (An Andalusian Dog), which Garcia Lorca interpreted, perhaps erroneously, as a vicious attack on him. The film ended his affair with Dali, along with Dal' meeting his future wife Gala. At the same time, his intensely passionate but fatally one-sided affair with the sculptor Emilio Aladren was collapsing as the latter became involved with his future wife. Aware of these problems (though not perhaps of their causes), Garcia Lorca's family arranged for him to take a lengthy visit to the United States in 1929-30.

While in America, Garcia Lorca stayed in particular in New York City, where he studied briefly at Columbia University School of General Studies. His collection of poems Poeta en Nueva York explores his alienation and isolation through some graphically experimental poetic techniques, and the two plays Asi que pasen cinco anos and El publico were far ahead of their time - indeed, El publico was not published until the late 1970s and has never been published in its entirety (the manuscript is lost.)

His return to Spain in 1930 coincided with the fall of the dictatorship of Primo de Rivera and the reestablishment of the Spanish Republic. In 1931, Garcia Lorca was appointed as director of a university student theater company, Teatro Universitario la Barraca ("The Shack"). This was funded by the Second Republic's Ministry of Education, and it was charged with touring Spain's remotest rural areas in order to introduce audiences to radically modern interpretations of classic Spanish theater. As well as directing, Lorca also acted. While touring with La Barraca, García Lorca wrote his best-known plays, the "rural trilogy" of Bodas de sangre, Yerma and La casa de Bernarda Alba. He distilled his theories on artistic creation and performance in a famous lecture entitled "Play and Theory of the Duende", first given in Buenos Aires in 1933, in which he argued that great art depends upon a vivid awareness of death, connection with a nation's soil, and an acknowledgment of the limitations of reason. The group's subsidy was cut in half by the new government in 1934, and la Barraca's last performance was in April 1936.

Garcia Lorca left Madrid for Granada only three days before the Civil War broke out, when the Spanish political and social climate, just after José Calvo Sotelo's murder, became unbreathable. He was aware that he was certainly heading towards a city reputed to have the most conservative oligarchy in Andalucía. After the war broke out, Garcia Lorca and his brother-in-law, the socialist mayor of Granada, were soon arrested. He was killed, shot by Nationalist militia on August 19, 1936 and was thrown into an unmarked grave somewhere between Viznar and Alfacar, near Granada. Significant controversy remains about the motives and details of his death. Personal nonpolitical motives have also been suggested. Lorca's biographer, Stainton, states that Lorca's killers had made remarks about Lorca's sexuality, suggesting that it played a role.

The dossier compiled at Franco's request has yet to surface.



Waltz in the Branches

One leaf fell,
a second
and a third.
A fish swam on the moon.
The water sleeps for only an hour,
but the white sea sleeps for a hundred.
There is a dead lady
in the branch of the tree.
The nun in her habit
sang inside the pomegranate.
This girl of mine
reached the pine cone from the pine.
And the pin went along
too look for the tiny feather's song.
But the wounded nightingale cried
though out the countryside.
And I did too,
because the first leaf fell,
a second
and a third.
And a head of crystal
and a paper fiddle.
And the snow could make its way in the world,
if the snow slept for a month,
and the branches wrestled with the world,
one by one
two by two
and three by three.
Oh, the hard ivory of invisible flesh
Oh, the dawn's abyss with no ants!
With the swish of the trees,
with the sighs of the ladies,
with the croaking frogs
and honey's yellow glub.
A shadow's torso will arrive,
wearing a laurel crown.
For the wind, the sky will
be as hard as a wall
and all the downed branches
will leave as they dance.
One by one
around the moon,
two by two
around the sun,
and three by three
let the pieces of ivory sleep.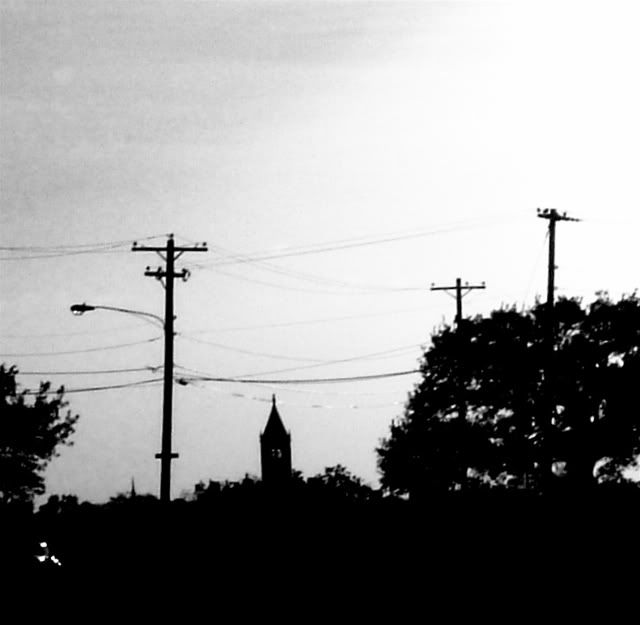 Now, a poem from one of our British friends, David Anthony.

David describes himself as a British businessman, born in North Wales and living near London in Stoke Poges close to the church where Gray wrote his 'Elegy', a source, David says, of much inspiration.

David has published two poetry collections: Words to Say in 2002 and Talking to Lord Newborough in 2004.

A selection of his poems visit his website at:



http://www.davidgwilymanthony.co.uk/index.html





Summer's End

Yesterday,
stealing from the sun,
dandelions
lit the shaded path
briefly. Now they're gone.

Hurry through
faded meadows, while
light still holds.
Days grow shorter; how
quickly evening comes.

Stirred to rise
by a falling foot,
feathered seeds,
graceful on the breeze,
drift towards the dawn.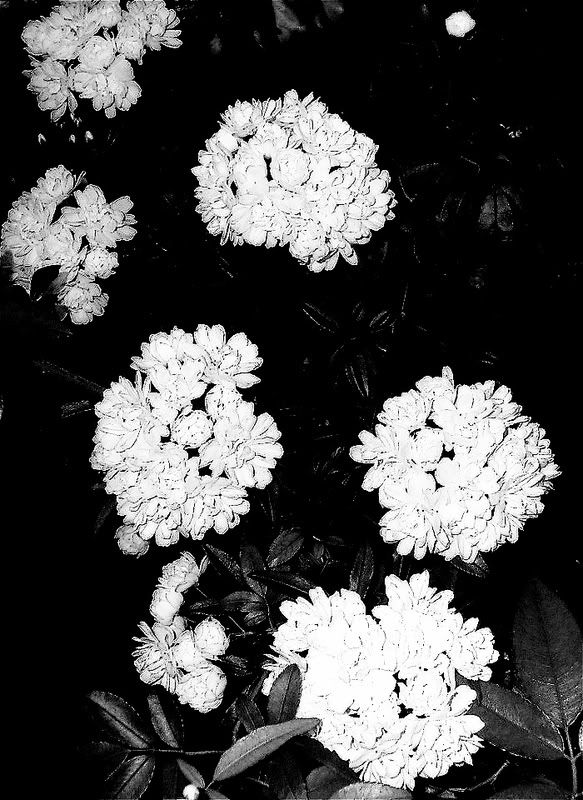 Larissa Szporluk was raised in Ann Arbor, Michigan and received her BA from the University of Michigan. She studied at the Iowa Writers' Workshop and received an MA in Literature at the University of California Berkeley, and an MFA from the University of Virginia. She began her full-time teaching career at Bowling Green State University in 2000 and has since become an associate professor of Creative Writing and Literature. In 2005, she was a visiting professor at Cornell University.

The poem I chose is from Dark Sky Question, published by Beacon Press in 1999, was winner of the Bernard Poetry Prize. She has published two other books of poetry and has been featured in many literary journals and anthologies. She was a recipient of an NEA in Poetry award for 2003-2004, and received an Ohio Arts Council Individual Award for Poetry, 2003-2004.



Krell

He arrives and looks around,
and doesn't know the word for wind,
and wind is the subject.

He finds a girl on a fence
hurting herself with a nail.
He pulls her away without speaking,

to her surprise, and wipes
the stuff from her hair that smells
like burning-out lights,

and suddenly it's not a burden
to be walking with her
in enemy land. When she tells him

"the best thing here is the moon,"
he feels happier that if he'd seen it
and remembers a parable

about a string that never meets
its ends, and she tells him then
about a warm place at the end

of a grove of horned trees.
If the night steadies, if it controls
their speed, they'll reach it

together, fusing in the meantime,
discarding all the nuance
that betrays them with disease.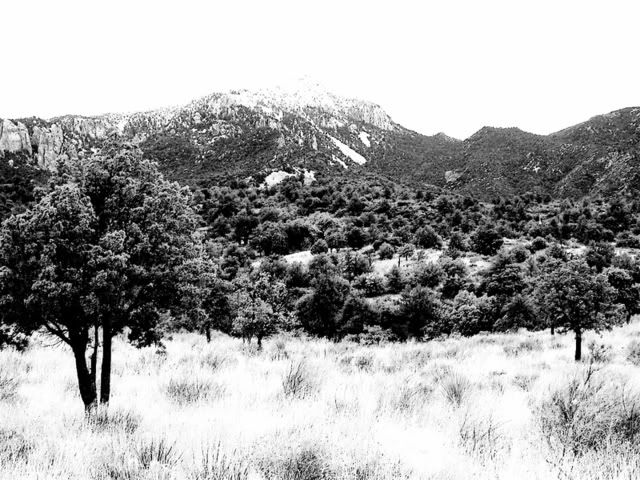 I went back in the files for this next piece, a short thing I wrote in summer of 2003. It was included in the December issue of The Muse Apprentice that same year.



dreams strewn like spring flowers

we live
in the context
of our dreams

stories
scattered
like spring flowers
on a mountain meadow

in each story
the hero
is the dreamer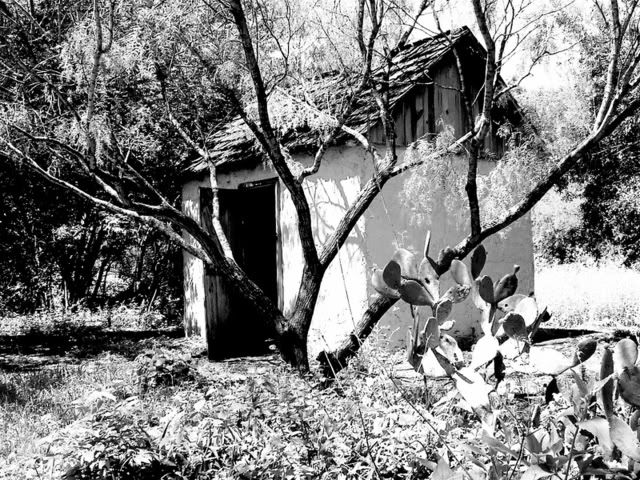 Cyra S. Dumitru was born in The Hague, Holland and raised in Old Greenwich, Connecticut, and Cincinnati, Ohio. She received degrees in English from Indiana University in Bllomington, Indiana, in 1979 and the University of Texas at San Antonio in 1995. Her professional life includes residencies as a Poet-in-the-Schools as well as years of medical writing in Norfolk, Virginia, and San Antonio, Texas. A passionate swimmer, she currently works as a poet, author of memoir, and meditative essay. She ives in San Antonio.

Dumitru has published several books. This poem is from Listening to Light, published by River Lily Press of San Antonio in 2003. In the book she writes of religious figures from the past, not as holy icons, but as if they were regular people, next door neighbors.



Mary's Midwife

You might like to think
the birth was spotless as the conception.
It was a baptism of water and blood.

Instead of crowning,
the baby tried to come feet first.
I reached far inside Mary

and turned him around.
On that cold night, we had no fire,
just the warmth radiating from cows and sheep.

While outside a great star filled the heavens
we had no windows either,
just cracks in the barn wall where light trickled in.

Gusts of wind blew out our lanterns.
Joseph plugged the biggest crack with his own woolen cloak
then returned to rubbing Mary's neck, back.

Her eyes shone like two moons
burning with a sad knowing.
But most of all, I remember,

how cushioned only by clean straw
Mary rode the hours of waves with hardly a moan.
How she reached for that child when he landed

squalling, skin patchy with her blood.
The moment she held him he stopped crying,
looked straight at her, opened his huge hands.






Photo by Dora Ramirez-Itz





My next poem is by frequent "Here and Now" contributor, Dan Cuddy.

Dan is a graduate of Loyola College of Baltimore. He was a contributing editor for Maryland Poetry Review and contributing editor to Lite Baltimore's Literary Newspaper. His work has been published in many magazines and journals, including the Loch Raven Review, and a book Handprint On The Window published by Three Conditions Press.



A Plate of Rainwater

When there's nothing
A plate of rainwater is easy to get

Yes, you could go for days
A dog with a tongue like a tail
Wagging and lapping up
The condensing steam off somebody else's coffee
Your eyes could get that far, far away look
A car with luggage piled in the back seat
The one white shirt, loosely draped tie
On a wire hanger holding on to the hook
Above a back window
Bumper stickers might say OBX
Or Yellowstone or Disney World
But your life is no vacation
Just a grubbing around for food, drink, shelter
Purpose? Staying alive
You hope your jive sells
You hope to sell your life
To the first corporation

What have you done?
Lately?
Worked a forklift?
Shaved?
Bathed?
Oh, you live on the street
Just one white shirt shirt, faded jeans
Bushy eyebrows, beard like a carwash brush
Attitude like a trash-talking adolescent
Looking for a first date
Employers are just clean preppy girls
That hold you by forefinger and thumb
An oily rag
Oooh, drop it in the can
And there you are
Now wearing that soiled tie and shirt
Showing up at the Franciscans' doorstep
One of those needy ones
Your dressed up dignity an unwiped backside
Hope?
A plate of rainwater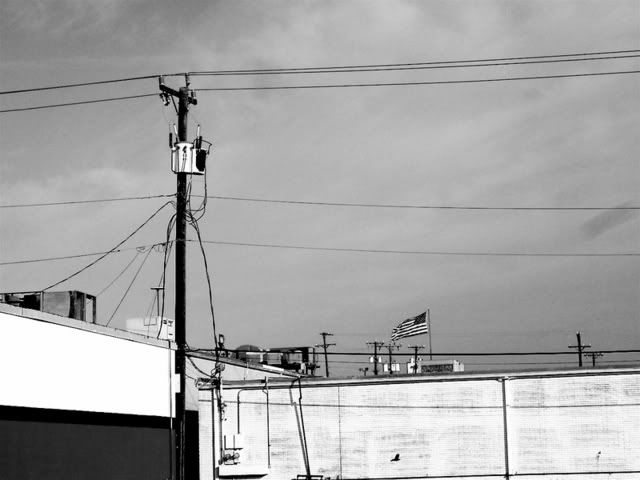 Ai Qing is the pen name of Jiang Zheghan, born in 1910 and died in 1996. He was a revolutionary free verse poet from Jinhua, Zhejiang Province. At the age of nineteen he went to France to study painting. Inspired by Western poetry, he shifted from painting to poetry. He returned to China in 1932 and, after joining the League of Left-Wing Artists in Shanghai, was arrested for sedition. Later, he was active in the resistance to the Japanese invasion.

In 1941 he taught in the Yenan Lu Xun Art Academy and became a communist. Though initially accepted in China's post-revolutionary society (he was dean of the College of Literature at the North China Associated University and editor of a nationally distributed journal), he was purged in the 1957 Anti-Rightist Campaign and sent to work in state farms in the provinces for eighteen years. After Mao's death in 1976, Ai Qing was able to return to writing and in 1979 became vice chairman of the China Writer's Association.

Despite his own experience with oppression, he participated in government attacks on the Misty Poets of 1980.

In addition to his poetry, he also published several books of criticism.

This poem and bio are from The Anchor Book of Chinese Poetry , From Ancient to Contemporary, The Full 3000-year Tradition, published by AnchorBooks.

You can get more information on the Misty Poets at:



http://en.wikipedia.org/wiki/Misty_Poet



The poem was translated by Michelle Yeh



Gambling Men

At the shady bottom of the city wall,
In the dark corner by the houses,
Gamblers squat in the middle of a crowd,
Anxiously awaiting the outcome of a throw.

Filthy, ragged, stupid - yet inflamed -
Their bodies tremble, their heads squirm.
Cheers and curses
Accompany the clink of coins.

Women and children with disheveled hair
Googgle at them;
A hungry child kicks and wails,
But the mother is entranced by her husband's game.

They squat, stand up,
Slap their thighs and cry out in surprise.
Their faces are flushed, their mouths open,
As they try to reverse their fate in one throw.

They lose, then win, win, then lose again;
What stay the same are filth, poverty and stupidity.
At nightfall they scatter, disappointed,
Returning to their dingy houses one by one.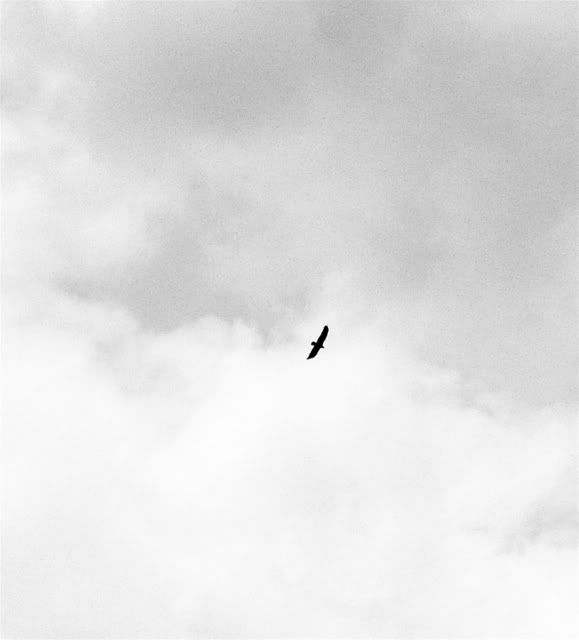 Actually, it's been nearly eight months since we've had any appreciable rain here in the hill country, with a total rainfall so far this year of less than four inches. For example, as we near the end of June, total rain for the month is one tenth of one inch. Luckily, the Edwards Aquifer, sole source of water for this entire area was full after a good rainy year last year. Had it not been full, we would have been in water rationing a month ago. As it is, rationing started this week.

How dry is it? This piece I wrote last week explains.





six months with no rain

1
grass
so dry
it crackles
as i walk on it,
as if walking
on the dry husks
of dead crickets

2
iron blue sky
devoid
of the softness
of even a single cloud
threatens
another day the only wet
a farmer's tears

3
grass
long gone
now dry gritty
powder
rising
in the slightest
wind

4
mesquites
born for the
dry heat
of south texas
wilt
branches hanging
to the ground
like weeping willow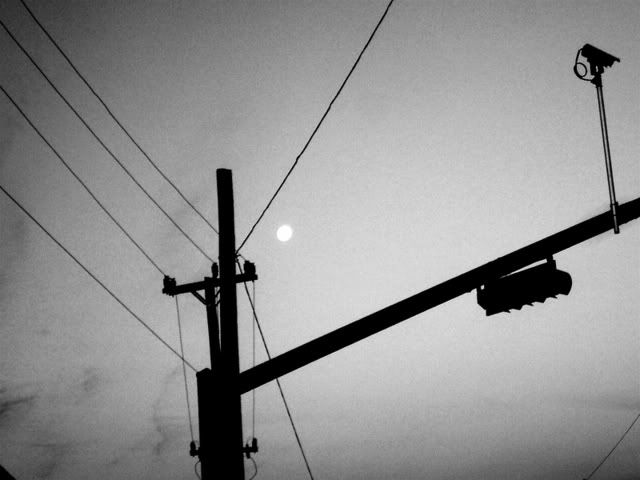 Next I have a fun poem by John Oughton from his book Counting Out the Millennium, published in 1996 by Pecan Grove Press of San Antonio.

Oughton is Canadian, born in Ontario, where he spent his formative years, except for two years in Egypt and Iraq. He has since lived in Japan and Nova Scotia, as well as Toronto. Oughton studied literature at York University in Toronto and the Naropa Institute in Boulder, Colorado where he worked closely with Ginsberg, Burroughs, and others.

He published three books of poetry before this one as well as numerous works of criticism and review. He is active with literary groups on the internet and currently teaches English at Centennial College in Toronto, and runs a micro-mini press, Sixth Floor, which produces chapbooks.



Notes From The Travel Journal Of Dr. Syntax

1. Signals
To be mad all that's required
is to stand in one place and
understand all signals passing through your head
radio TV radar microwaves shortwave DB RF
X-band K-band satellite voices data ghosts
cops pilots and lonely hearts
talk shows hot picks newsbits and traffic watches
static all the cellular and stellar babble
that one voice talking alone denies
even this voice

2. Saints
To name the habitations of Quebec
explorers ran through the whole canon of saints
and then some
to avoid yet another St Marie or Joseph
they revived some forgotten even by the Pope -
St. Zotique
roasted by a lightning bolt while praying
in his penitential iron underwear
St. Telesphore
poisoned by a mushroom he thought
would allow divines to communicate over a distance
St. Louis du - Ha! Ha!
who finally understood what it all meant
and died laughing
St. Eusebe
who swore he'd sit on a stalactite for 32 years
and pray
and did so until one day a voice mortified him
by informing him it was a stalagmite.
So many saints protect the landscape here
that they collide overhead
in the fog of prayers for intercession and release

3. National Unity
tis nation is a fiction
held together only by stamps and money
that proclaim it exists and confer value
the lobster fisherman in Souris
and the lumberjack in Fort St. John
understand totally different Canadas
from the stockbroker in Montreal
and the professor of advanced studies in
Winnipeg. They use the same name
for different nations
only I know my Canada
but I'll lend it to you in these words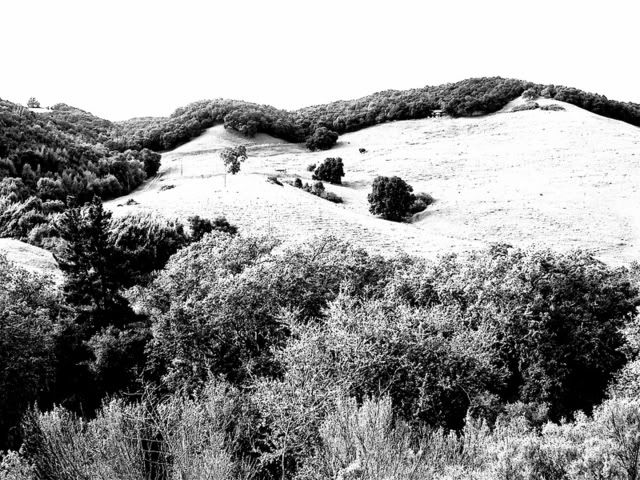 Next, I have a poem from Californian Cliff Keller.

Cliff reports that, with two bands going, both playing all original music, he hasn't had much time for poetry lately. But he did pass this poem along to me, together with several other earlier writes. We'll see those others in future issues.



Milano in 1925

Nothing is as fast as
the darting swallow at sunset
above the duomo
chasing the invisible.

And the blue haze
that veils the olive trees across the valley
is the clock that tells you
it's time to walk home for lunch

One's life is undefined
by self help magazines,
time steps to the pace
of love and aging bones

Never as fast as the swallow's quest
but certainly as graceful
as the falling leaf
on the slow walk home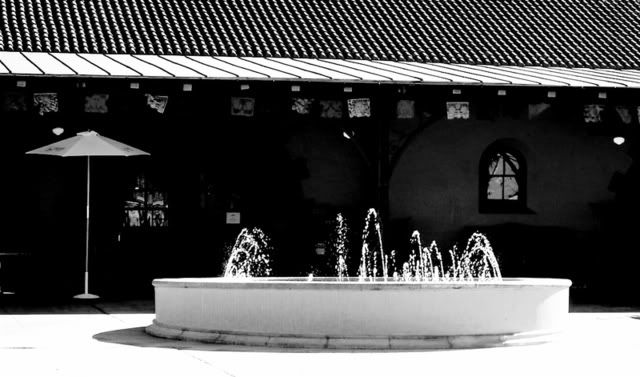 Now I have several short pieces by Leroy V. Quintana from his book The Great Whirl of Exile, published by Curbstone Press in 1999.

Quintana was born in Albuquerque, New Mexico, in 1944. He never knew his father and spent his early years moving between small northern New Mexico towns such as Raton and Questa, where the old cuentos (tales) had not yet been displaced by Anglo influence.

He served in Vietnam in the Army Airborne and a Long Range Reconnaissance Patrol unit in 1967-1968.

His work has appeared in numerous journals and anthologies and has published several other books. Quintana has taught literature at several colleges and universities, and, at the time this book was published, was on the English faculty at Mesa College in San Diego.

I really do like the stuff he does.



Drunk in English

Whenever don Andres got drunk with an Anglo
he'd tie the reins to the saddle horn,
let his old horse lead himself home,
and, slowly rocking in the saddle,
nod to everybody along the way,
mutter he was borracho en Ingles.


Tires So Thin You Could See the Air
& a Wedding ring Cheap as a Lugnut

Filemon says he was so poor
when he was first married
he was driving around on tires
so thin que se podia ver el aire.

As for Senaida, she can look back now and laugh,
as if amazed her wedding ring was so cheap,
and, oh, so dreadfully plain, no other way for her
to describe it than to call it her wedding tuerca.


With the Lights On All Night

In English, to say that somebody slept with the lights on
all night can be trusted to mean nothing else, but so much
is lost in Spanish when you say that Alfredo slept all night
con la luz prendida unless you know that his wife's name
is Luz which means light, and that prendida can mean the light
was left on, or that Luz was clinging to him, toda la noche.


The Corner of the Fish Market on
Broadway and Coal

Filemon says he had a hand in constructing
our culture, directly responsible for
some of the architecture. You see,
he was an ambulance driver and one time
he was going so fast, oh, ochenta maybe,
two wheels, turned and demolished the
corner of the Fish Market on Broadway
and Coal, the east end of the viaduct.

It's true. Drive by there, he says, and
you'll see how they didn't even bother
to build it back up at a right angle.


Poem for U-Haul

The highway was made for a morning like this.
A woman with two sad blackeyes. Never
again, never, never, again. Last night
was the last time, the last time, the last.


The Rockets' Red Glare

The Super Bowl had come to San Diego; the rich
rub elbows with Bob Hope.
We get fireworks.

The woman behind me asks her son
how so many rockets can be set off in succession.

You just hire a bunch of Mexicans to run around
with a lot of matches.

Isn't it great, she sighs, bombs bursting in air,
to be an American?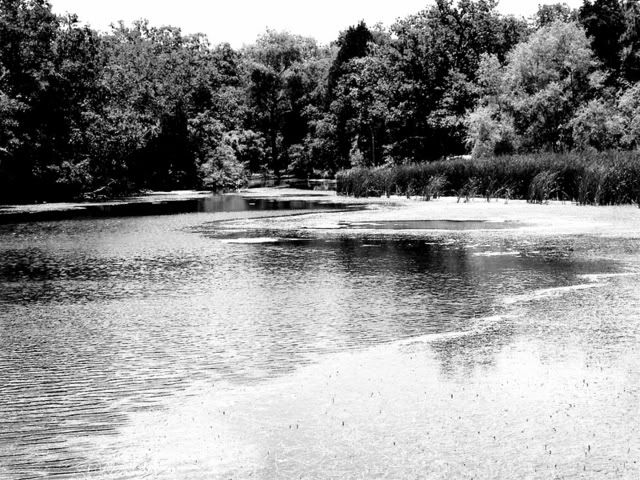 I'll finish up this week with a very old poem, something I wrote in 1969 under the tutelage of Doctor Norm Petersen of Southwest Texas State University (now Texas State University).

Dr. Petersen, retired airline pilot and short story writer, was my creative writing professor, a hugely entertaining teacher and a great influence on me, primarily in the sense that he convinced me I could write.

In the meantime, I wrote this short piece while finishing college on the GI Bill. (Actually, it was written in a cabin on Lake Travis near Austin when I was supposed to be studying for a final exam. I remember the evening well.) I quit writing upon graduation only to begin again thirty years later. And it was thirty years after it was written that the piece appeared in the July, 1999 issue of The Green Tricycle.

That's a lot of introduction, maybe more than this scant little piece can bear.





dusk

the midsummer lake
heaves and rustles
like some great animal
shuttering
in the gathering dark

under pins of
white and yellow light
crickets chip
the soft stone of night

smoke and scents
of campfires rise

quiet
falls with the sun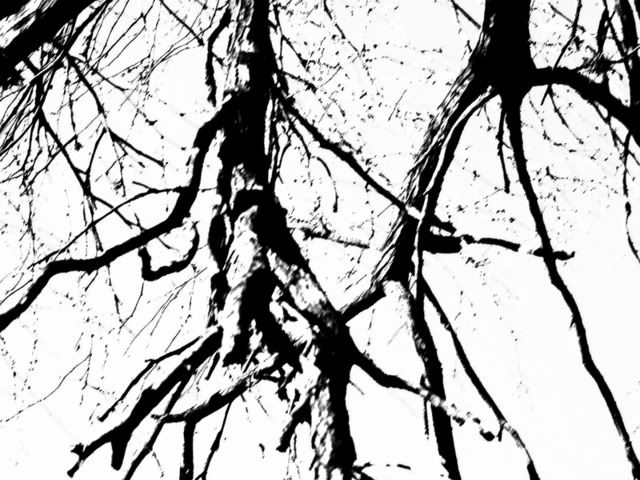 .



That's it for this week. I picked some more books this week from Half-Priced Books, including some stuff I really like, so come on back next week and I'll share it with you.

In the meantime, remember, all of the material presented on this blog remains the property of its creators. The blog itself is produced by and is the property of me....allen itz.