40-Acre Wood Outlet Mall - Opening Soon
Friday, March 14, 2008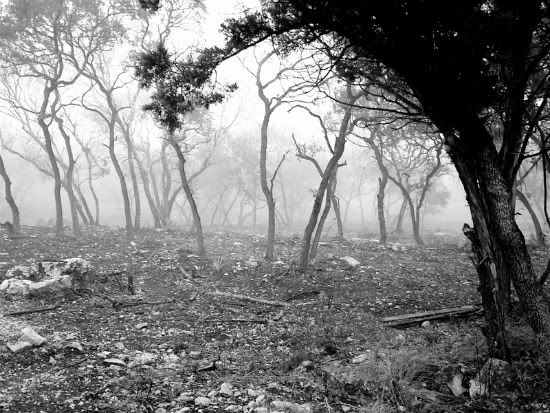 Can't say it's good to be back from our little Colorado trip. I have two work projects starting up in a week that will keep me out of the leisure class for about two months and a rental property mess to clean up in the time I have left before before reporting for misery....I mean duty.

So it's time for me to quit complaining and get on with the show.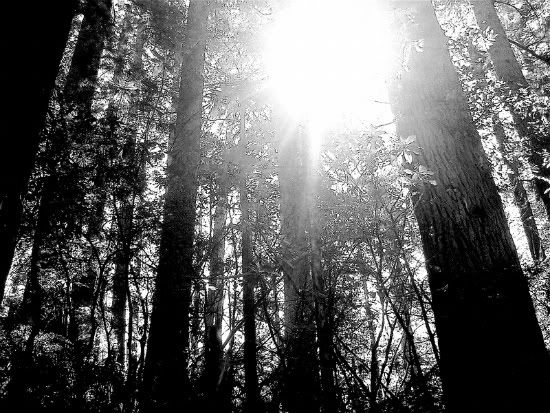 The first poem this week is by Indian poet Sudeep Sen. It is a description of a meeting with South African poet and academic Stephen Gray. It is from Sen's book Postmarked India, New and Selected Poems.

Also a poet and academic, Sen was born in New Delhi in 1964 and studied literature there and in the United States. He has an MS from the Graduate School of Journalism at Columbia University. He has published several poetry collections and is read worldwide.



97 6th Avenue, Mayfair

Under the strong shaft of the Johannesburg sun,
you sit in the old chair of your study, stroking
your cat, tiding the unsaid loneliness with the fingers

that know the beauty of rhythm, enacted variously
under arc-lights and real light. In this historic
sprawling, book-lined home, you re-script for me

the Hottentot tale, repairing Apollo Cafe
in this indeterminate season of violence, some of which
appears quietly in the diary columns in London,

the vicissitudes of the state. Across hemispheres,
both North and East, I carry your thoughts,
replay The Poet Speaks, hearing the gently cadence

of your voice, your voice that reverberates
even now, just as strongly as it did from behind
the posters at The Market Theatre, listing your cast.

The scent of the violet plant you hung on the porch,
still spreads, the sure solidity of an unstated friend:
I return to England after half a year away,

first in South Africa and then in India, to your card
and the SABC tape, to be reassured once again that
in time of darkness, the war child, born of man

can still be resurrected, perhaps with a small prayer,
a simple one invoking familiar things: the preserved
ticket stubs of Hottentot Venus, the fragrance

of uncared for weeds, the hand-woven Oriyan fabric,
your inscriptions on the title pages, and
the reiterated rhymes at University of Witwatersrand.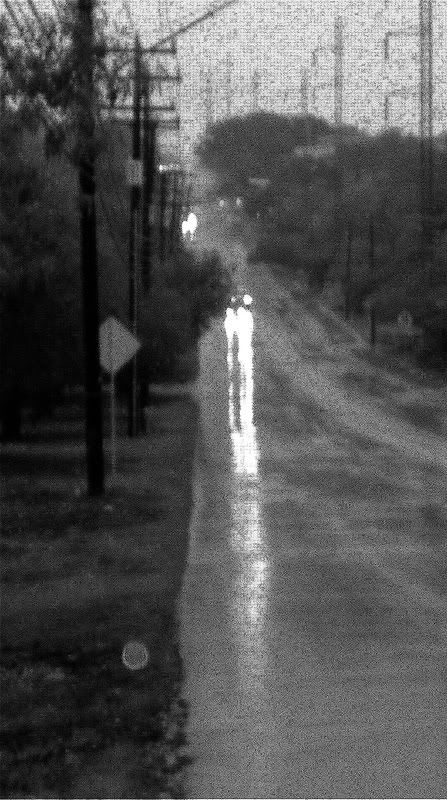 We returned from our mountain vacation to a wonderful day of rain, the first significant rain since mid-October.



rain today

rain today
glorious rain
today

i hear
the creek
rising
running high
and running
fast

glorious
rain today

i hear
the creek rising

running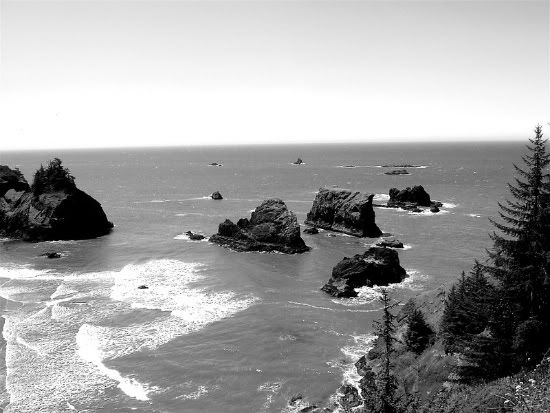 Charles Entrekin is an Alabama native who earned his Bachlor of Arts degree at Birmingham Southern College. He was a graduate student in philosophy at Vanderbilt University and the University of Alabama and completed an M.F.A. degree in Creative Writing at the University of Montana. He was one of the founders of the Berkeley Poets Cooperative and has taught at various colleges and universities.

Entrekin is also a founder and partner of a computer consulting firm in San Francisco.

This poem is from his book In This Hour.



Meditation At Point Reyes

Sir William Occam,
from whom we get the term,
Occam's razor, showed us how
to be efficient in our reasoning,
showed us the errors in Saint Thomas Aquinas,
on Aristotle and the Church...

Accused of heresy,
he fled on horseback, and
died of the plague in Italy.

We sit on a promontory,
flat surface of sheer black rock;
watch the heavy pound of surf,
the systalic violence in wave and ocean roar.
Higher up, not twenty feet away,
orange-red flowers flutter above the canyon's shore.
Ice plants are magnified in morning light.

In the fourteenth century,
the world shuddered and knew
that Occam was right,
that once again faith and reason
lived in separate camps,
like step sisters who would not
be reconciled.

End of the twentieth century,
computers track the stars, pulsars,
equidistant twin suns in nova,
trapped in a gravity well,
and no one reconciled.

Today, below the cliffs
we stand at the western most point,
watch as seals appear, lazily
navigate the brutal ocean wave
and rock of tidal flux.
To see it so easily done takes the breath;
the sea made suddenly serene.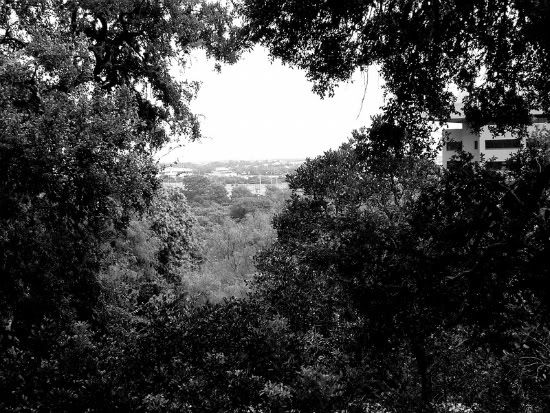 Now, here's another masterwork of in-the-moment poetry from our New Zealand friend, Thane Zander



A Day in the Life Of...

It's not any old Bus. No. It's a Japanese Import, runs on smelly diesel and choking the environment with it's endless emissions. I have to take this bus, against my better judgment, as it's the only means I have to my disposal to get into the University. I suck in a truckload of fresh air as I board it, and for the rest of the journey I exhale slowly. Bear in mind this trip takes twenty five minutes. Yup, Blue...

the colour of her top
she's too young for my eyes
but nonetheless
I can watch with a keen eye
she sees me looking at her
a silly giggle erupts
the campus suddenly stops
the world stops
she moves on
I too, run away.

The Massey Bus from Palmerston North bus depot is a "clean" bus. It uses biofuel and the atmosphere around the exhaust pipe is relatively clear. No need to suck in deep breaths for this one. I watch the road eat away behind us, the river flow under as we navigate the bridge, the onset of park-like settings and tall buildings poking above them. We enter the slow moving road zone, the start of the University proper. I admire one with a dark top....

she smiles,
in her Japanese way
her eyes avert
as is protocol,
the taste of sushi
wet on her lips,
she tucks her folders
under the other arm,
and moves on to another class,
I settle into a steady trot
looking this way,
observing that,
seeing groups chatting
as if class isn't enough,
the Sudanese Bus driver
passes by going the other way
his attention to the road,
mine to another young cutie,
this university thing
is doing my head in,
I stop at the Registry
all is well, I fit in
despite a biker beard
and Bulldog T shirt.

The road back resembles the road there, but in reverse. I'm no longer espying young ladies, tall trees, and dirty buses (for now). I'm concentrating on the work at hand, the papers passed in for administering. I feel a whole lot better (and not just because it's another clean bus), the sights well passed and forgotten, the knowledge I won't have to face that everyday of the campus year. Extramurally for me all the way.

The lady with the pram,
needing my attention,
the pram heavy, I smile
lift it for her
and take it off the bus,
my good deed for the day,
now sit and wait for my bus,
the dirty bus,
Japanese Import bus,
I chat with an old Maori man
we share whakapapa,
seems we have a lot in common,
the bus arrives, stinking
I palm the bus driver
a couple of bucks
and sit back gasping
as truckloads of evil fumes
make their way
through the back windows,
I detrain at the Golf Course
wave the stinking bus away
his last laugh
to cough in my face,
I walk home
deeds done
happy.

The staff welcome me home, ask if I had a good day, I just smile and say "great thanks" and meander up to my room. You'd think after a seriously testing day the internet would behave itself. Nope, not a chance. I sit here writing this as I can't get access and when I do it's slower than ten snails playing hopscotch. Wish me luck.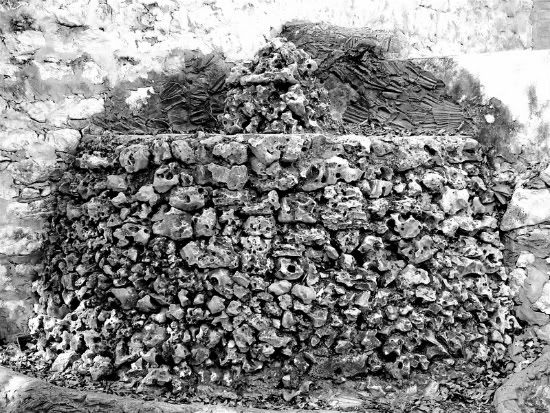 I added two books to my bookshelf this week. One is Incredible Good Fortune, a book of poems by Ursula K. Le Guin.

Born in 1929, Le Guin has written novels, poetry, children's books, essays, and short stories, most notably in the fantasy and science fiction genres.

She was first published in the 1960s. She has received several Hugo and Nebula awards, and was awarded the Gandalf Grand Master award in 1979 and the Science Fiction and Fantasy Writers of America Grand Master Award in 2003. Her novel The Farthest Shore won the National Book Award for Children's Books in 1973.



The Forsaken Shepherdess

I love to sit beside the stream
that runs so fast and fiery,
setting the forest trees aflame
with the joy of its desiring.

I watch the fishes of the stream,
the blinding trout, the blazing carp,
and hear its music go and come,
plucking the incandescent harp.

I'll sit beside the lava stream
as my lambs leap and gambol
like molten clouds at sunset time,
flocking crimson, fleeting nimble.

I'll pipe my tune of joy and shame,
a simple shepherdess alone,
while slower, blacker runs the stream
and all the lowlands turn to stone.


The Lorelei to Heinrich Heine

I don't know why I am so sad.
I watch the river ships go by
and see a harmless sailor lad
and call him and he comes to me
into my arms to die
and we sink down and down
he to drown, not I,

for what I breathe is not the air
when I sit lonely in the sun
and comb my hair and comb my hair
till there comes by another one,
some boy a mother had,
to sink with me and die.
O why am I so sad?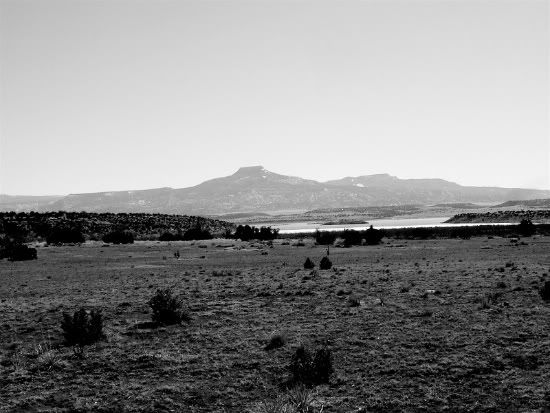 I had some interesting experiences while doing my military service, among them, more fun than interesting, I guess, was studying the Russian language for nearly a year at Indiana University. We were taught by Russian immigrants, though the designation they would consider more appropriate is something "refugees in exile." Reading of Fidel Castro's "retirement" reminded me me of some those who attempted to teach us, those who waited, not just for an individual leader to become weakened and die, but for a whole philosophical system and the society it controlled to collapse. They kept the faith, even those 70 years in exile. It finally came, just like they knew it would, only 20 years too late for them.

I wrote this in mid-february and don't remember if I used it here. One of the things I should do, but don't, is keep a record of what I use here. But, like I said, I don't, depending on a very slippery memory instead.



in 1966, still waiting to go home

now,
still tall and straight,
though very old,
bald head
all angles and planes
and scars
where a bullet
went in and through,
every rough word
a command

then,
a young officer
in the Czar's army,
defeated,
a refugee in Algiers,
taking his military skills
to the French Foreign Legion,
a refugee again
after
the battle of Algiers,
moving
from country to country,
finally to the United States,
contemptuous,
like the great gulag moralist
who would come later,
of everything American,
the softness, the decadence,
the ignorance of the harsh world outside,
surviving,
waiting for the inevitable collapse
of the Soviet state, the communist
more decadent in their evil
then even the Americans,
waiting
for the day
he could go home,
a survivor, a winner in the end,
he knew, any day, soon,
reduced,
at the end of his long life,
to teaching the great Russian language
to American soldiers, who,
with their softness
and disrespect
and lackadaisical commitment
to order and discipline,
shamed
the soldier traditions
he had lived for since his first days
as a child-cadet, born, trained,
to serve the Russian imperial state

still waiting,
certain,
the day of liberation would come

if not today,
tomorrow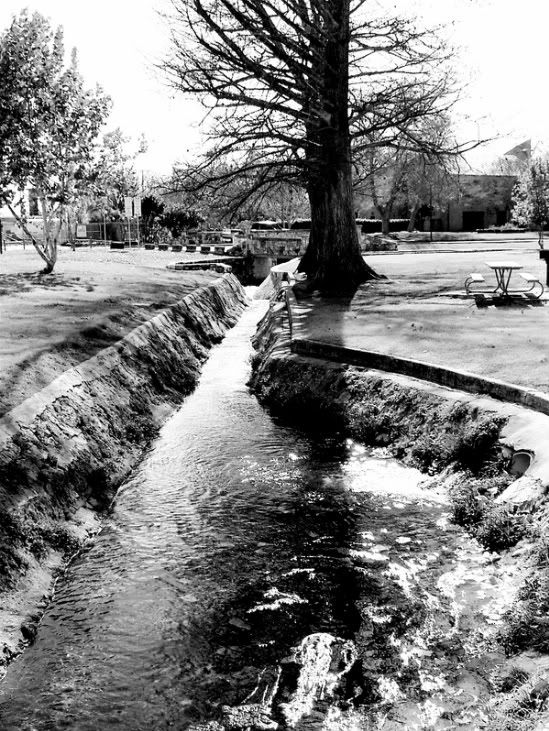 The second addition to my bookshelf this week is Song, a book of poems by Brigit Pegreen Kelly. The book, published by Boa Editions Ltd., was the 1994 Lamont Poetry Selection of The Academy of American Poets.

Kelly was born in Palo Alto, California in 1951. At the time the book was published, she taught in the creative writing program at the University of Illinois at Urbana-Champaign and in the Warren Wilson College M.F.A. program for writers.



Petition

These are the long weeks. The weeks
Of waiting. Let them be
Longer. Let the days smolder
Like the peat slung
In plastic sacks by the greenhouse
And let the seedlings not rush
Into growth but climb the air slowly
As if it were a ladder,
One small foot at a time.
Let the fetid smell of bone meal
Be the body unlocking
As the river does, slowing to a hazy laze
That pulls the boaters in
And makes the fish rise up. And
As the wide-wheeled yellow tractors
Roll along the highway,
Stalling traffic in their wakes,
And the dust from the playing fields
Settles over us like pollen,
Like the balls dropping softly
Into our mitts, let
The willow's love of water -
Its dark and beaded rain -
Be the only storm we long for.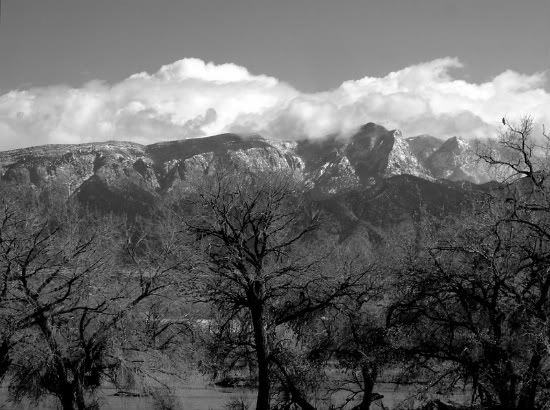 It's been a while since anything by Gary Blankenship has appeared here. To remedy that, here's a piece from his first book, A River Transformed: Wang Wei's River Wang Poems as Inspiration.

This is a wonderful book. Although Gary continues to write excellent poems, the poems from this book will remain special to me, for their elegance and for their beauty.

You can contact Gary through the link on the right. If he has any books left to sell, I recommend them to you highly.



Adrift on the River

(After Wang Wei's North Hill)

There is no color; the mountains white;
the valley thick with fog and cry of geese.
Once scarlet flowed across the green,
and green faded to yellow, gold and brown.

The forest black against winter's sky,
the river dark with the shade of naked trees,
every gray and masked bird as silent
as clouds heavy with the season's cold crop.

Pale as quiet nights, you tremble
as the last petal falls to an early frost.
Worry not, there will be other springs,
there will be other journeys after this.

I have lost our oars and whittle new
from oak leaves drifting past red hills.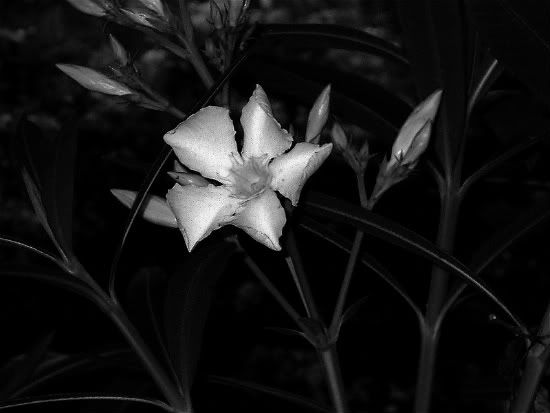 I've never done this before, but when I started "Here and Now" I said it would be about things I like. Well, there was a column in our local newspaper, the San Antonio Express-News that I didn't just like, I loved it.

The column was by regular Express-News writer Cary Clack and it was in response to former vice-presidential candidate Geraldine Ferraro's comment about how the only reason Barack Obama is where he is right now is because he's a black man.

The column is everything a great newspaper column ought to be, timely, sharp as a knife in its response when famous people say foolish things and hilarious in the reading.

Here it is.



Ferraro is so, uh, insightful

Last week, Geraldine Ferraro, the first woman to run as a major party's vice-presidential candidate and a fundraiser for Sen. Hillary Clinton's presidential campaign, had some perceptive things to say about Clinton's rival for the Democratic nomination, Sen. Barack Obama.

"If Obama was a white man, he would not be in this position," Ferraro told a California newspaper. "And if he was a woman (of any color) he would not be in this position. He happens to be very lucky to be what he is. And the country is caught up in the concept."

It should also be noted that if Obama were a woman, he would be his sister's children's aunt. It's also true that had Obama been born on Nov. 14, 1896, as Mamie Doud, and married Dwight David Eisenhower, he would have been Mamie Eisenhower.

Ferraro's thesis that Obama is lucky to be black is correct. For black men in the United States life has been a 289-year-long crystal staircase. It's been an experience akin to winning the Mega Millions lottery once a week.

I can understand people being jealous at all of the good fortune that has been showered upon black men. At least two of my great-great-grandfathers were white men and it pains me when I think of all of the suffering and injustices that they endured. But that's when I give thanks for being lucky enough to be a black man without a problem in the world, confident in the knowledge that all good things have come my way because of that fortunate meeting of ethnicity and gender.

Ferraro understands that in the history of the United States, white men have never been in a position to be the frontrunner for their party's nomination for president. The luck of being a black man was also instrumental in the successes of the administrations of President Jesse Jackson, President Alan Keyes and President Al Sharpton.

Now it can be argued that Ferraro was lucky to have been a woman when Walter Mondale chose her to be his running mate. Had she instead been a man, she would have simply been another white male running for vice president. Despite their abysmal failure at getting elected president, white males have had stunning success in being elected vice president.

The Ferraro theory of ethnicity as destiny holds true in all professions throughout the decades. Look at the incomparable Babe Ruth. Had he been lucky enough to be born a black man, all of his home runs would have been hit in the Negro Leagues. In other words, had Ruth been lucky enough to have been born a black man, he would have been Josh Gibson, who hit all of his home runs in the Negro Leagues.

If the great black writer Richard Wright hadn't been lucky enough to be a black male, he would have had to change the title of his classic autobiography, "Black Boy."

After Ferraro's comments were circulated and criticized, she told the same California newspaper, on Tuesday, that she was being "attacked because I'm white. How's that?"

That's yet another injustice, since black men lucky enough to be born black men can say and do anything without being criticized.

So Ferraro is right. Obama's lucky to be black and that and only that is from where his success flows. And now that he's so lucky that he has Secret Service protection, he doesn't have to worry about having to catch a cab.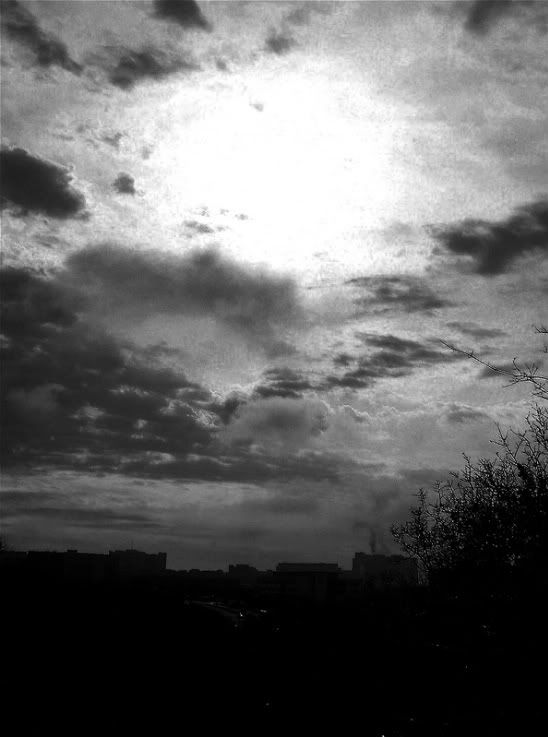 OK, I admit it. I've been reading the Times science section again. And here's the result.



the end is in sight

i wouldn't want
you
to lose any sleep
over this,
but you should
know

the end
is in sight

it will go
something
like this

the sun
will grow to 10% brighter

life will become
more and more
uncomfortable
until
finally
impossible
as the oceans
boil away
in a massive
hiss
of steam
rising

eventually
stable orbit will be lost
and we will fall
into the
expanding
fire

a cinder
blowing
in the solar winds
of the dying sun

all this
in about
7.59 billion years
give or take
a billion
or so

don't
make any long term
plans

it is
probably
unavoidable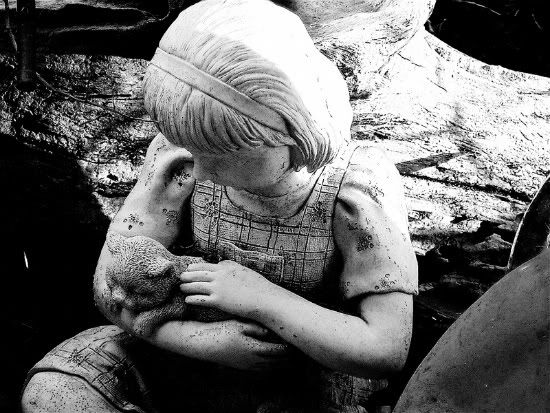 My next piece is by Susan Holahan from her book Sister Betty Reads the Whole You. The book was published by Giggs Smith, Publisher in 1998.

With a PhD. n English and a law degree from Yale, Holahan has taught writing at Yale and the University of Rochester, practiced law in Connecticut, worked as an editor at Newsday and the Yale University Press. She has published poetry in many periodicals, as well as essays, book reviews, columns, restaurant reviews and feature stories of all kinds. Her work has been nominated for a Pushcart Prize.

Every parent has a story like this.



Every Minute You Worry

Every public door you pull this week
bares the face of a four-year-old,
blond hair to her waist. Why leave a four-

year-old all that to tangle like
Isadora's scarf? Kid wears the full-
toothed blurry smile of a hostess

who doesn't trust her party. Tooling
around on a pink and white big-
wheel, she must've been picked up after

after supper, near garden apartments
where her mother lives. Wherever her
father lives he's not a suspect.

Her mother didn't see this kid from
when? The broken home, it's riven
roof to basement. At four my kid wasn't

out alone: I wasn't single
when he was four. At seven, though, he
walked to school three blocks alone. When

he was nine, I drove three hours a day
to work. One afternoon I came
back early and he wasn't there. No

note on the kitchen table. Then
my home was broken. With him gone all
bets were off. Kill yourself now, I

thought, it that's thinking, Why wait around
for cops to bring his body? An-
other hour and my friend had him

back, bubbling. She cried. I snarled, Go
away. For good. How forgive her for
failing to understand what I

was guilty of; how heavy, how you
hardly breathe, having your own your
only child living on you alone.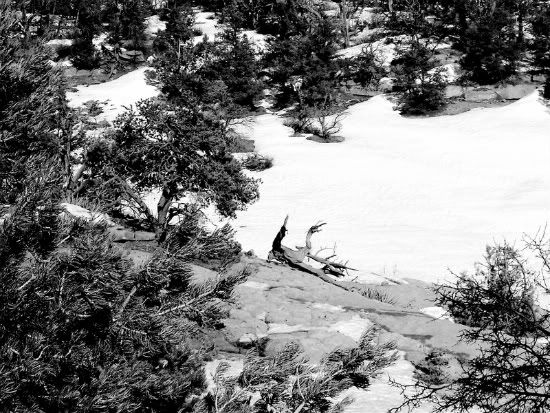 It's always a pleasure to have Christopher George back with us.

Chris was born in Liverpool, England in 1948 and first emigrated to the United States with his parents in 1955. He went back to Liverpool for a while, living with his grandparents while attending Rose Lane and Quarry Bank Schools. Chris returned to the U.S.A. in 1968 and has lived there ever since. He now lives in Baltimore, Maryland, near Johns Hopkins University with his wife Donna and two cats.

Chris's poetry has appeared in many on-line and print literary journals. He is the Editor of Desert Moon Review and an editor at Writer's Block Poetry Workshop. He is coeditor, with Jim Doss, of the electronic and print magazine Loch Raven Review. Chris also has a blog you can access by clicking on the link on the right.

He is also the lyricist for Jack - The Musicall, written with French composer Erik Sitbon (http://www.jack-themusical.com/).

Here three of Chris' newest pieces.



To the Blue Jay Furiously Digging
in the Smithsonian Rose Garden

You pay me no mind as I detour
to avoid workers blowing mulch into

a flowerbed on Independence Avenue:
you insistently jab your beak-arrow

into the ground, as I observe - bold
harlequin! Then you extract a pearl,

a wriggling grub you take airborne
to consume in an elm on the Mall.



The Wrong Zipper

I apologize, my love, I unzipped
the wrong zipper and everything

tumbled out, one sensation led
to another, and now we find
ourselves where we are -
none the wiser but fulfilled,
in a terrible fix, one more glitch.



Seen from a Train

A doe and two fawns
bound over the grass
white tails raised high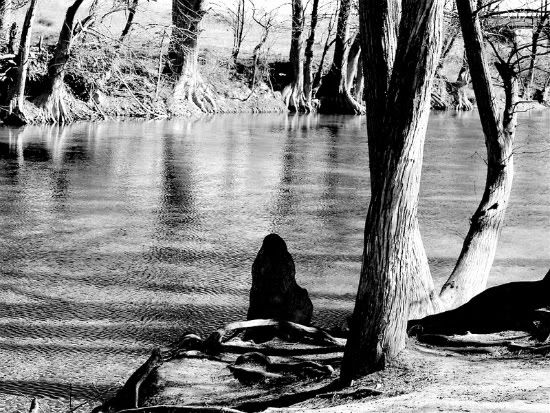 My next poem is by Tracie Morris. It's from The Outlaw Bible of American Poetry.



Morris is a multidisciplinary poet who has worked in theater, dance, music and film. She has toured extensively throughout the United States, Canada, Europe, Africa and Asia. Primarily known as a "musical poet," Tracie has worked with an extensive range of internationally recognized musicians and other artists. She has participated in a dozen recording projects. Her sound poetry has most recently been featured in the 2002 Whitney Biennial.

She is the recipient of numerous awards for poetry and is the author of two poetry collections, Intermission and Chap-T-her Woman.

She has delivered academic papers at the New York University's "Soul: Black Power, Politics and Pleasure Conference", The Hemispheric Conference in Lima, Peru, "The Langston Hughes Centenary Conference" at Yale University, "Poetry and the Public Sphere" at Rutgers University and the African-American Poetry Conference for the Poetry Society of America.

As a writer, Morris' poetry has been anthologized in many literary magazines, newspapers and books.

Tracie holds degrees from Hunter College and New York University. She also holds certificates from the Cave Canem Summer Institute and the Hemispheric Institute of NYU. She teaches at Sarah Lawrence College.



Project Princess

Teeny feet rock layered double socks
Popping side piping of
many colored loose lace-ups
Racing toe, keeps up with the fancy free gear,
slick slide, just pressed, recently weaved hair.

Jean oversized bely her hip, black, thighs have made guys sigh
for milleni-year.

Topped by an attractive jacket
her suit's not for flacking, flunkies, junkies or punk homies on the stroll.

Hands the mobile thrones of today's urban goddess
Clinking rings link dragon fingers no need to be modest.

One or two gap teeth coolin'
sport gold initials
Doubt you get to her name
Check from the side,
please chill.

Multidimensional shrimp earrings
frame her cinnamon face

Crimson with a compliment if a
comment hits the right place

Don't step to the plate with datelines from '88
Spare your simple, fragile feelings with same sense that you came

Color woman variation reworks the french twist
Crinkle-cut platinum frosted bangs from a spray can's mist

Never dissed, she insists: "No you can't touch this."
And, if pissed, bedecked fist stops boys who must persist.

She's the one. Give her some. Under fire. Smoking gun. Of which songs
are sung, raps are spun, bells are rung, rocked, pistols cocked,
unwanted advances blocked, well-stacked she's jock. It's all about you
girl. You go on. Don't you dare stop.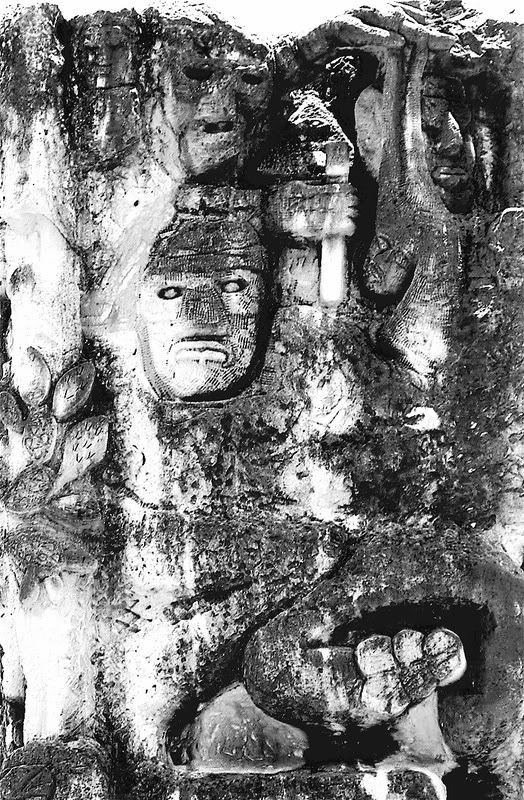 This is a rant I wrote last week after spending roughly five hours trying to get my last issue to post.

Not great poetry, but it did make me feel better after it was done.



help!!!

can
someone
tell me exactly
i mean exactly
how much frustration
we are required to endure
before we are empowered
to pull out our handy
38 police special
and shoot
the goddamn machine
square
between
it's cursor blinks
i mean
damnit
i'm a writer
my mind is seduced
by a higher calling
i'm not supposed
to know
about this stuff
help desk!!!
i mean
give me a break
i get as much help
from these people
as a pork chop
at an alkaida convention
"fuck you
and the horse you rode in on"
that's what they ought to call it
if truth in advertising
were of any importance to them
just never name them
"help"
although
"never help'
might work
too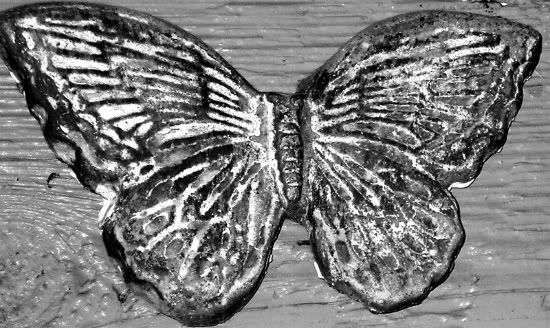 At mid-20th century, Frank Yerby was one of the most popular writers of historical fiction in the United States, huge market at the time. Despite that, I'll bet 75 percent of his readers didn't know he was African-American. I started reading his swashbucklers when I was about 13 and I didn't.

Neither did I know that he was a very fine poet.

This poem is from the anthology American Negro Poetry, first compiled and published by Arna Botemps in 1963 and revised and updated periodically since. The edition I'm pulling from was published in 1974.



You are a Part of Me

You are a part of me. I don not know
By what slow chemistry you first became
A vital fiber of my being. Go
Beyond the rim of time or space, the same
Inflections of your voice will sing their way
Into the depths of my mind still. Your hair
Will gleam as bright, the artless play
Of word and glance, gesture and the fair
Young fingers waving, have too deeply etched
The pattern of your soul on mine. Forget
Me quickly as a laughing picture sketched
On water, I shall never know regret
Knowing no magic ever can set free
That part of you that is a part of me.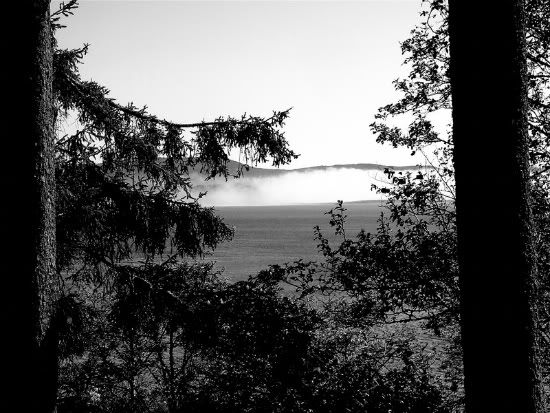 The next poem is by Steve Williams, from his book Skin Stretched Around the Hollow.

Steve currently lives in Portland, Oregon. He is co-administrator of the on-line poetry workshop Wild Poetry Forum.



Fate

Evergreens are taken by hewn men
who float the river on thumping rafts;
rough boots tread the spinning bark,
the logs run the men.

Tri-masts define deep ships,
anchor taut sails. As each prow
surges trough swell and spray,
the sea sails the ship.
She circumnavigates each day,
body seismographs the hours,
ink of sweat stains the mast,
She causes passage of the day.

Her breath is cool on molten glass
rotating on iron rod,
agate brass woven from behind
cool eyes, memory of glass

bottle is wide mouthed, soft bellied;
opal glow acquiesces to kelp-tinged clear;
a sunset rainbow that surrenders
to the broken dusk belly

of her hull that is pushed, precedes prow
through mouth of bottle. Common string
pulls masts upright, above her bronze body,
twisted hair, the varnished woman of the prow.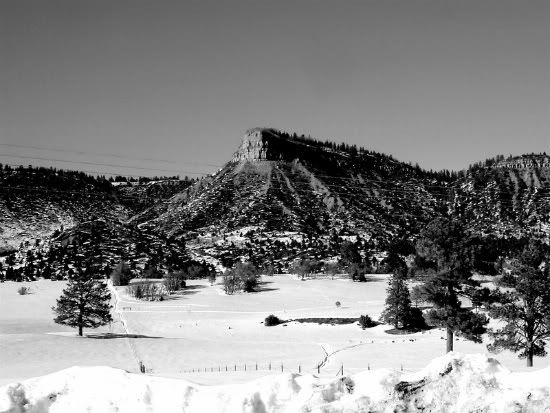 Here's a short piece by Robert Bly from Good Poems for Hard Times, put together by Garrison Keillor from his regular feature on National Public Radio, The Writer's Almanac.



Driving to Town Late to Mail a Letter

It is cold and snowy night. The main street is deserted.
The only things moving are swirls of snow.
As I lift the mailbox door, I feel its cold iron.
There is a privacy I love in a snowy night.
Driving around, I will waste more time.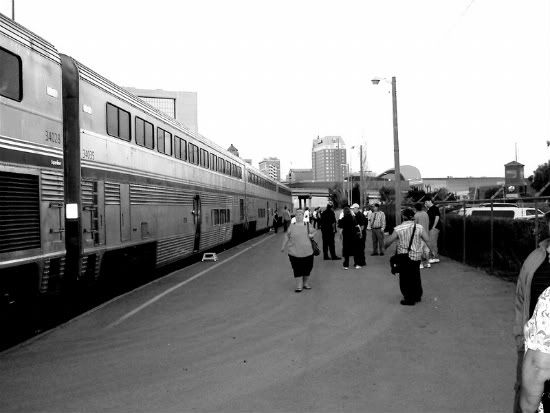 And now another short piece from Good Poems for Hard Times, this one by Carl Sandburg.



Still Life

Cool your heels on the rail of an observation car.
Let the engineer open her up to ninety miles an hour.
Take in the prairie right and left, rolling land and new hay crops,
swaths of new hay laid in the sun.
A gray village flecks by and the horses hitched in front of the
post office never blink an eye.
A barnyard and fifteen Holstein cows, dabs of white on a black
wall map, never blink an eye.
A signalman in a tower, the outpost of Kansas City, keeps his
place at a window with the serenity of a bronze statue on
a dark night when lovers pass whispering.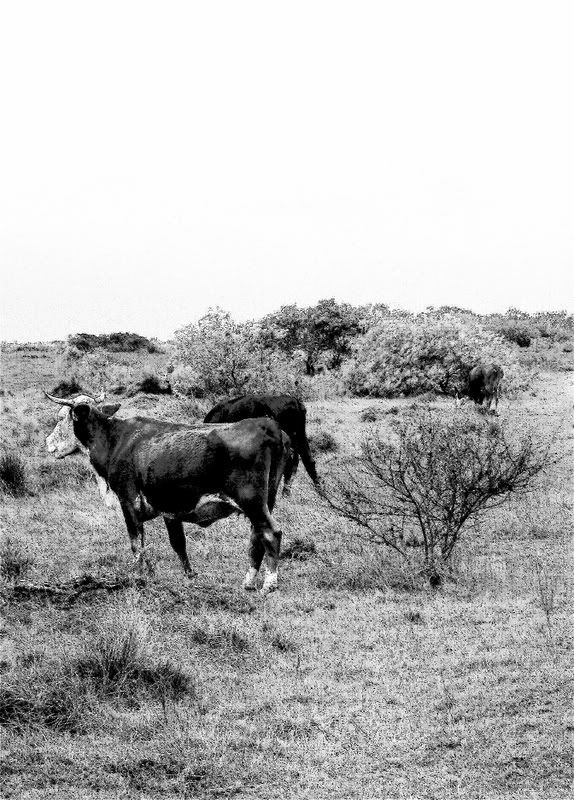 And here's a last one from Good Books for Hard Times, author unknown. I couldn't pass it up.



Carnation Milk

Carnation Milk is the best in the land;
Here I sit with a can in my hand -
No tits to pull, no hay to pitch,
You just punch a hole in the son of a bitch.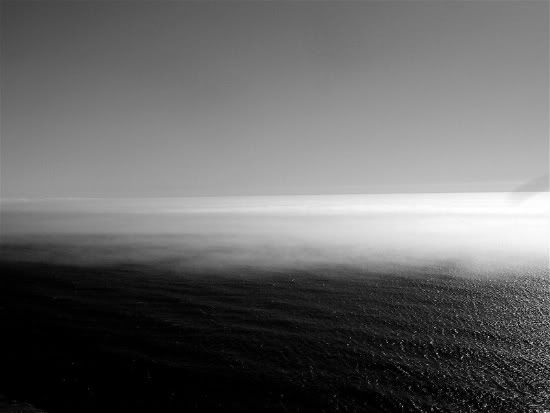 It's terrible, I take a week off and can't remember which poems I've used and which I haven't.
Either way, here's this one.

Litter conditions really do seem much worse than usual this year. But I feel better about it than I did before I went to Colorado and saw what all was being uncovered as the snow melted.



out of sight

trash lines the roadway
and along the sides
of the creek,
soda cans
milk cartons
plastic grocery bags
white bags
with mcdonald's
golden arch
or red and white
whataburger
stripes,
just trash
like white flags
everywhere you drive
or walk in this neighborhood

i've never seen it this bad before

maybe it's lack of rain
to take our garbage
out to sea,
down the creeks
to the river
that washes all
that comes to it
out to some deep
ocean abyss

out of sight

out
of mind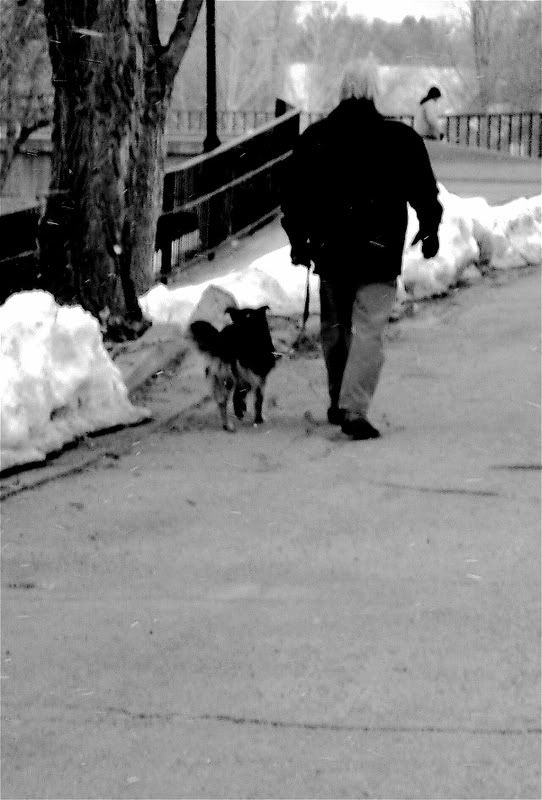 So far, I've kept this week's wanderings within bounds lengthwise, so I'm going to quit while I'm ahead.

Come back next week for more "Here and Now" poetry and inane introductions. In the meantime, remember, all of the work presented here remains the property of its creators. The blog itself was produced by and is the property of me...allen itz.