The Truth Is Out There, Somewhere
Friday, January 25, 2008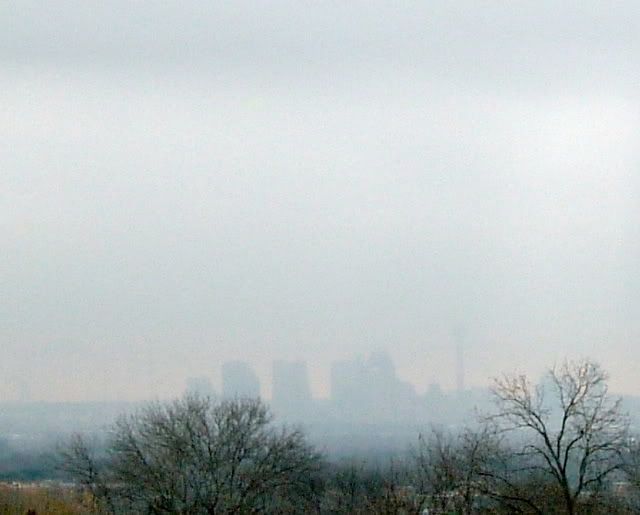 III.1.4.




Here we are again. Welcome.

No preamble this week, we'll just get right to it.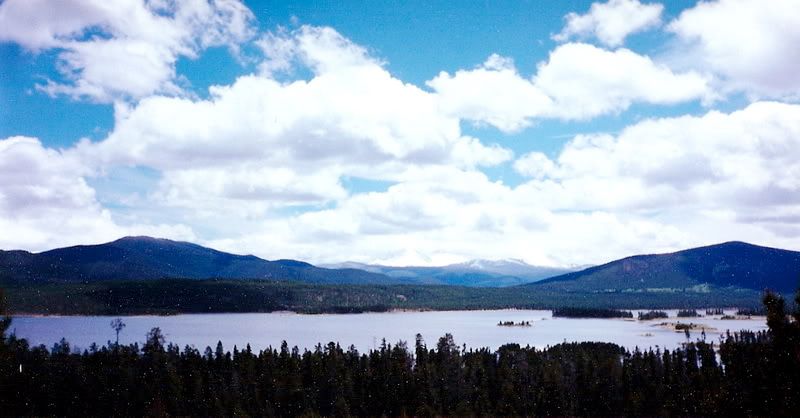 Our first poem this week is by Sylvia Plath from the book Poetry For The Earth, a collection of poems from around the world that celebrate nature.



Two Campers in Cloud Country
(Rock Lake, Canada)

In this country there is neither measure or balance
To redress the dominance of rocks and woods,
The passage, say, of man-eating clouds.

No gesture of yours or mine could catch their attention,
No word make them carry water or fire the kindling
Like local trolls in the spell of a superior being.


Well, one wearies of the Public Gardens: one wants a vacation
Where trees and clouds and animals pay no notice;
Away from the labeled elms, the tame tea-roses.

It took three days driving north to find a cloud
The polite skies over Boston couldn't possibly accommodate.
Here on the last frontier of the big, brash spirit

The horizons are too far off to be chummy as uncles;
The colors assert themselves with a sort of vengeance.
Each day concludes in a huge splurge of vermilions

And night arrives in one gigantic step.
It is comfortable, for a change, to mean so little.
These rocks offer no purchase to herbage or people:

They are conceiving a dynasty of perfect cold.
In a month we'll wonder what plates and forks are for.
I lean to you, numb as a fossil. Tell me I'm here.

The Pilgrims and Indians might never have happened.
Planets pulse in the lake like bright amoebas;
The pines blot our voices up in their lightest sighs.

Around our tent the old simplicities sough
Sleepily as Lethe, trying to get in.
We'll wake blankbrained as water in the dawn.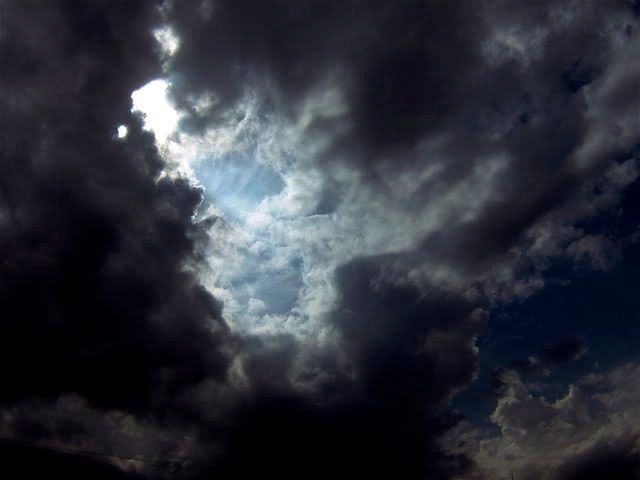 I remember the the event well, witnessed it on television as it happened and wondered at the grand new reach of ourselves.

Our friend Alice Folkart returns this week to share her remembrance of the day.



When the Moon Hits Your Eye....

July 20, 1969, Reita and I headed out of the Hotel Comercio, the cheapest hotel in San Sebastian, Spain. We wandered up and down the cobbled streets looking for a little tienda that would sell us some bread and cheese and maybe a bottle of cider. We were kinda on the wrong side of town.

A ruckus stirred the dust up ahead, men were running in and out of one of the many back-street bars, a black and white TV was set at the side of the doorway, tuned to some kind of Sci Fi show, space men walking around in the desert, and, "Hey, look, that one's got an American flag." One of the Spaniards saw us, we were obviously not from around there, "Americanas, Americanas!" he yelled into the bar, and then to us, "La Luna! La Luna! You comprend? You see?" And he pointed to the TV and pulled us into the bar. "Yes, yes, we are Americans," we said. Glasses of wine appeared before us, bits on ham on wedges of bread, and everyone singing, "La Luna! La Luna!" It seemed that all men really are brothers, and for that moment, we were their sisters.

We'd been traveling down through France and into Spain, snugly contained on an endless train ride, and had only got off because the town looked so nice. We weren't even sure where in Spain we were. We'd spent the day finding a room, wandering through shops and going down to look at the beach. We hadn't seen a newspaper, even a Spanish one, nor heard a radio or seen a TV, in days, and here our own country had gone off and landed on the moon without us.

La Luna, La Luna,
the moon in your eye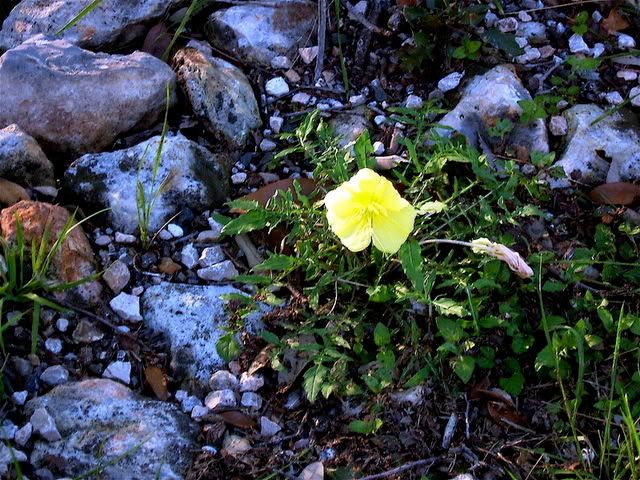 Julia Vinograd is a Berkeley street poet. She has published thirty-five books of poetry and won the American Book Award of the Before Columbus Foundation. Her poetry recently earned a Pushcart Prize.

This poem is from The Outlaw Bible of American Poetry.



In the Bookstore

I went down to the bookstore this evening
and found myself in the poetry section.
But for every thin book of poems
there was a thick biography of the poet
and an even thicker book
by someone who's supposed to know
explaining what the poet
is supposed to've said and why he didn't.
So you don't have to waste your time
on the best the writer could do,
the words he fought the darkness and himself for,
the unequal battle with beauty.
Instead you can read comfortably
about the worst the writer could do:
the mess he made of his life,
how he fought with his family,
cheated on his lovers, didn't pay his debts
and not only drank too much
but all the stupid things
he ever said to the bartender
just before getting 86'd will be printed for you
and they're just as stupid
as the things everyone says just before getting 86'd.
The books explaining the poet
are themselves inexplicable.
The students who have to read them
cheat.
I left the poetry section
thinking about burning the bookstore down.
Some of the poet's work comes from his life, ok.
But most of the poet's work comes
in spite of his life, in spite of everything,
even in spite of the bookstores.
So I went to the next section
and bought a murder mystery but I haven't read it yet.
I find I don't want to know who done it
and why;
I want to do it myself.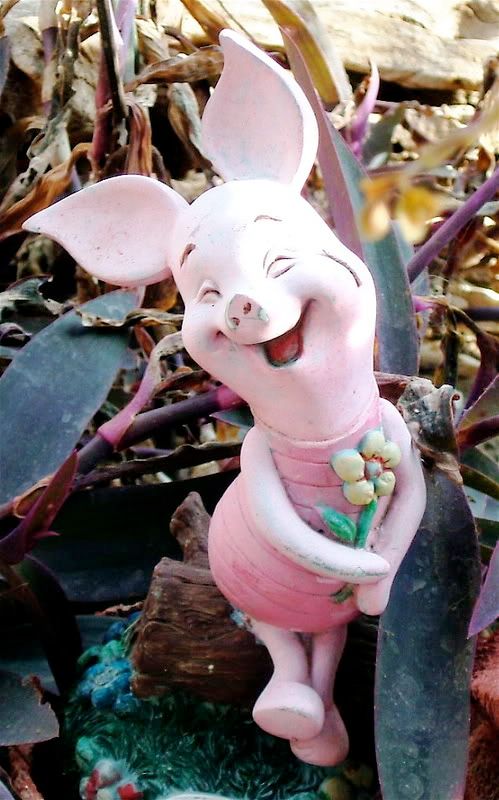 I was looking through some of my poems from last year and ran across this one that I wrote last April.



a glad poem

tired
of sad poems
of mad poems
looking for a
glad
poem
about a sunny day
when spirits are low
or a glad poem
about a rainy day
when gardens thirst
about a big orange moon
when lovers
flourish
or a moonless night
keeping werewolves
at bay
or trees in the desert
where Bedouins rest
or sand in a box
so a child can play
and dream
and
dream
and
dream

I want a
glad poem
for all like me
who need relief
and a friendly spirit
to make us
smile
a glad poem
so we can all be
overcome
by sad
and mad
poems
no
more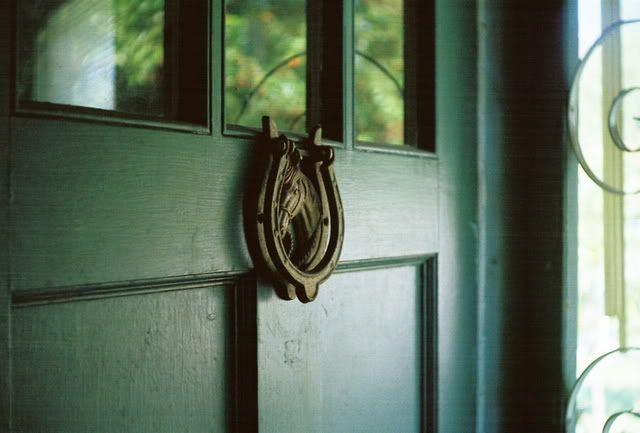 Photo by Jessica Reyna





I'm pleased to welcome back young San Antonio photographer Jessica Reyna, with five of her newest photos, the one above and the four below.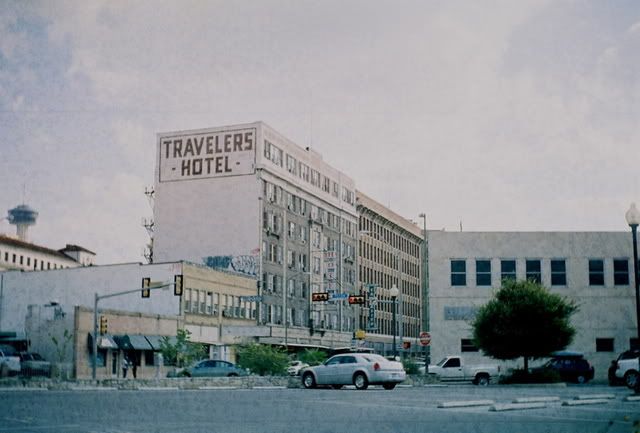 Downtown #1
Photo by Jessica Reyna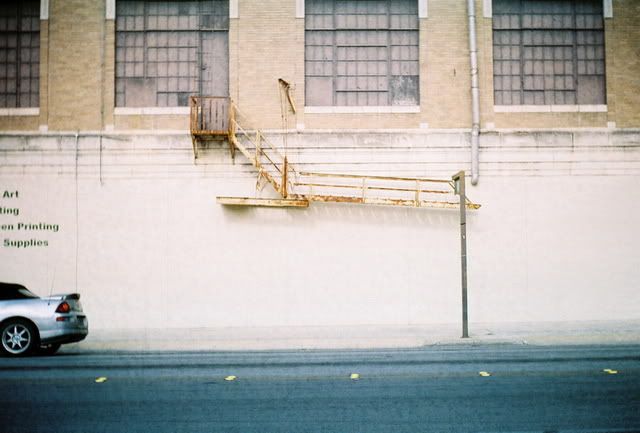 Downtown #4
Photo by Jessica Reyna




Downtown #9
Photo by Jessica Reyna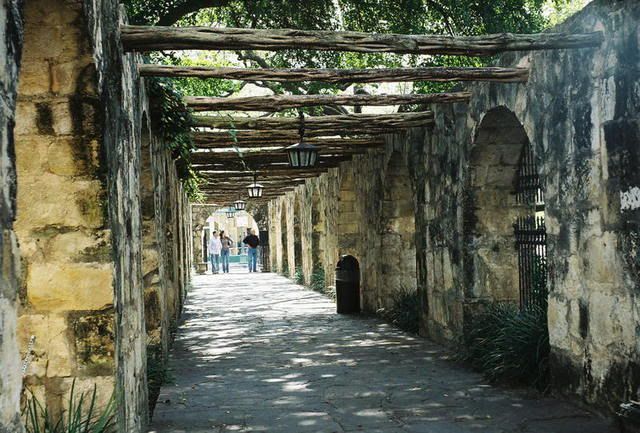 Passages at the Alamo
Photo by Jessica Reyna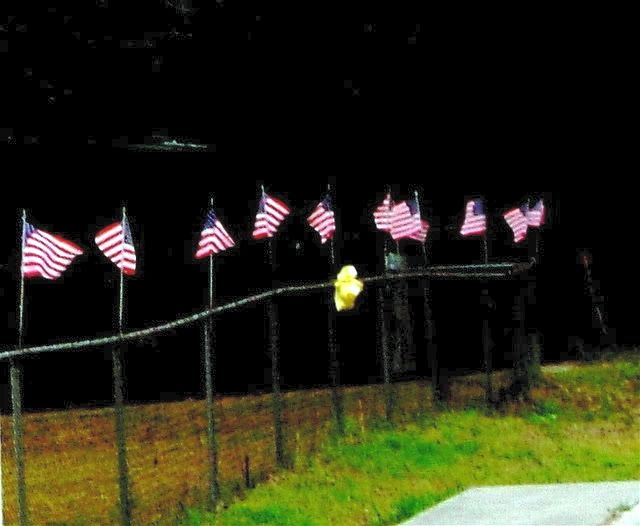 This being written on the birthday of Dr. Martin Luther King, I thought of Dr. King and his oratory, certainly a kind of poetry. I went through some of his speeches and settled on this one, the very last one, given on the night before his murder. Though lacking the elegance of his "I have a dream" speech, this one seems to me to hold the essence of his message.

I've read that King was extremely tired and busy and did not want to go to Memphis, but was convinced the sanitation workers strike would fail without him.

So he went.

The entire speech is too long, so I'm using the conclusion only.



Now, let me say as I move to my conclusion that we've got to give ourselves to this struggle until the end. Nothing would be more tragic than to stop at this point, in Memphis. We've got to see it through. And when we have our march, you need to be there. Be concerned about your brother. You may not be on strike. But either we go up together, or we go down together.

Let us develop a kind of dangerous unselfishness. One day a man came to Jesus; and he wanted to raise some questions about some vital matters in life. At points, he wanted to trick Jesus, and show him that he knew a little more than Jesus knew, and through this, throw him off base. Now that question could have easily ended up in a philosophical and theological debate. But Jesus immediately pulled that question from mid-air, and placed it on a dangerous curve between Jerusalem and Jericho. And he talked about a certain man, who fell among thieves. You remember that a Levite and a priest passed by on the other side. They didn't stop to help him. And finally a man of another race came by. He got down from his beast, decided not to be compassionate by proxy. But with him, administered first aid, and helped the man in need. Jesus ended up saying, this was the good man, because he had the capacity to project the "I" into the "thou," and to be concerned about his brother. Now you know, we use our imagination a great deal to try to determine why the priest and the Levite didn't stop. At times we say they were busy going to church meetings - an ecclesiastical gathering - and they had to get on down to Jerusalem so they wouldn't be late for their meeting. At other times we would speculate that there was a religious law that "One who was engaged in religious ceremonials was not to touch a human body twenty-four hours before the ceremony." And every now and then we begin to wonder whether maybe they were not going down to Jerusalem, or down to Jericho, rather to organize a "Jericho Road Improvement Association." That's a possibility. Maybe they felt that it was better to deal with the problem from the casual root, rather than to get bogged down with an individual effort.

But I'm going to tell you what my imagination tells me. It's possible that these men were afraid. You see, the Jericho road is a dangerous road. I remember when Mrs. King and I were first in Jerusalem. We rented a car and drove from Jerusalem down to Jericho. And as soon as we got on that road, I said to my wife, "I can see why Jesus used this as a setting for his parable." It's a winding, meandering road. It's really conducive for ambushing. You start out in Jerusalem, which is about 1200 miles, or rather 1200 feet above sea level. And by the time you get down to Jericho, fifteen or twenty minutes later, you're about 2200 feet below sea level. That's a dangerous road. In the day of Jesus it came to be known as the "Bloody Pass." And you know, it's possible that the priest and the Levite looked over that man on the ground and wondered if the robbers were still around. Or it's possible that they felt that the man on the ground was merely faking. And he was acting like he had been robbed and hurt, in order to seize them over there, lure them there for quick and easy seizure. And so the first question that the Levite asked was, "If I stop to help this man, what will happen to me?" But then the Good Samaritan came by. And he reversed the question: "If I do not stop to help this man, what will happen to him?".

That's the question before you tonight. Not, "If I stop to help the sanitation workers, what will happen to all of the hours that I usually spend in my office every day and every week as a pastor?" The question is not, "If I stop to help this man in need, what will happen to me?" "If I do not stop to help the sanitation workers, what will happen to them?" That's the question.

Let us rise up tonight with a greater readiness. Let us stand with a greater determination. And let us move on in these powerful days, these days of challenge to make America what it ought to be. We have an opportunity to make America a better nation. And I want to thank God, once more, for allowing me to be here with you.

You know, several years ago, I was in New York City autographing the first book that I had written. And while sitting there autographing books, a demented black woman came up. The only question I heard from her was, "Are you Martin Luther King?"

And I was looking down writing, and I said yes. And the next minute I felt something beating on my chest. Before I knew it I had been stabbed by this demented woman. I was rushed to Harlem Hospital. It was a dark Saturday afternoon. And that blade had gone through, and the X-rays revealed that the tip of the blade was on the edge of my aorta, the main artery. And once that's punctured, you drown in your own blood - that's the end of you.

It came out in the New York Times the next morning, that if I had sneezed, I would have died. Well, about four days later, they allowed me, after the operation, after my chest had been opened, and the blade had been taken out, to move around in the wheel chair in the hospital. They allowed me to read some of the mail that came in, and from all over the states, and the world, kind letters came in. I read a few, but one of them I will never forget. I had received one from the President and the Vice-President. I've forgotten what those telegrams said. I'd received a visit and a letter from the Governor of New York, but I've forgotten what the letter said. But there was another letter that came from a little girl, a young girl who was a student at the White Plains High School. And I looked at that letter, and I'll never forget it. It said simply, "Dear Dr. King: I am a ninth-grade student at the Whites Plains High School." She said, "While it should not matter, I would like to mention that I am a white girl. I read in the paper of your misfortune, and of your suffering. And I read that if you had sneezed, you would have died. And I'm simply writing you to say that I'm so happy that you didn't sneeze."

And I want to say tonight, I want to say that I am happy that I didn't sneeze. Because if I had sneezed, I wouldn't have been around here in 1960, when students all over the South started sitting-in at lunch counters. And I knew that as they were sitting in, they were really standing up for the best in the American dream. And taking the whole nation back to those great wells of democracy which were dug deep by the Founding Fathers in the Declaration of Independence and the Constitution. If I had sneezed, I wouldn't have been around in 1962, when Negroes in Albany, Georgia, decided to straighten their backs up. And whenever men and women straighten their backs up, they are going somewhere, because a man can't ride your back unless it is bent. If I had sneezed, I wouldn't have been here in 1963, when the black people of Birmingham, Alabama, aroused the conscience of this nation, and brought into being the Civil Rights Bill. If I had sneezed, I wouldn't have had a chance later that year, in August, to try to tell America about a dream that I had had. If I had sneezed, I wouldn't have been down in Selma, Alabama, to see the great movement there. If I had sneezed, I wouldn't have been in Memphis to see a community rally around those brothers and sisters who are suffering. I'm so happy that I didn't sneeze.

And they were telling me, now it doesn't matter now. It really doesn't matter what happens now. I left Atlanta this morning, and as we got started on the plane, there were six of us, the pilot said over the public address system, "We are sorry for the delay, but we have Dr. Martin Luther King on the plane. And to be sure that all of the bags were checked, and to be sure that nothing would be wrong with the plane, we had to check out everything carefully. And we've had the plane protected and guarded all night."

And then I got into Memphis. And some began to say that threats, or talk about the threats that were out. What would happen to me from some of our sick white brothers?

Well, I don't know what will happen now. We've got some difficult days ahead. But it doesn't matter with me now. Because I've been to the mountaintop. And I don't mind. Like anybody, I would like to live a long life. Longevity has its place. But I'm not concerned about that now. I just want to do God's will. And He's allowed me to go up to the mountain. And I've looked over. And I've seen the promised land. I may not get there with you. But I want you to know tonight, that we, as a people will get to the promised land. And I'm happy, tonight. I'm not worried about anything. I'm not fearing any man. Mine eyes have seen the glory of the coming of the Lord.









My next poem is by webpoet, Walter Durk. Walter was born in New York and has lived in Asia and in numerous places in the United States.



Leaving

I left you in your apartment
as I went about my business,
my own wants, own needs,
in another place where you were not.
We spoke briefly by phone
about when we would meet again
to share a few moments together,
father and son.

To talk about how you used to fish
and why you can't now,
about the medications
in amber vials on top of the dresser.
And other things
that meant so much to you,
and meant so little to me.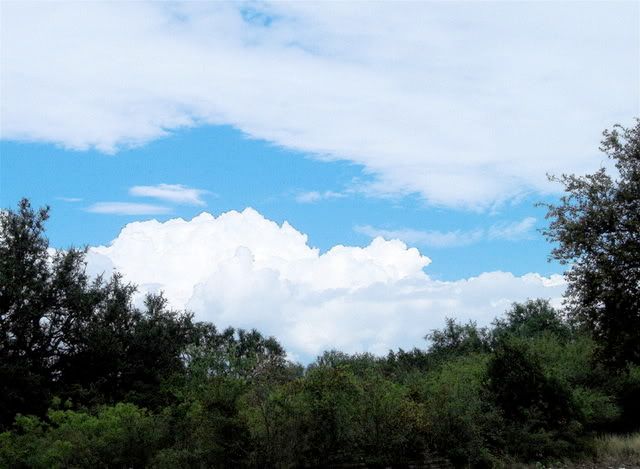 Next, I have two poets from The Anchor Book of Chinese Poetry. They are contemporaries, both from the same period during the Son Dynasty. The poems were translated by Tony Barnstone and Chou Ping.


First, Wang Anshi.

He was born in 1021 to a modest family with a history of government service. Although he started out as a provincial official, under the Emperor Shenzong he became the most important politician of his time, a reformer who sought to regulate many aspects of Northern Song culture, from education to the military. When the conservative forces in the government opposed his reforms, he fell from favor and resigned.

About fifteen hundred of his poems have survived, along with a number of his prose pieces.



Plum Blossoms

Where the wall turns, several branches of plum flowers
unfold blossoms on their own against the cold.
From afar I know they are not snow
as an invisible fragrance spreads

Late Spring, a Poem Improvised at Banshan

Spring wind took flowers away.
It paid me back with clear shade.
Dark flourishing trees quiet the road on the slope.
The garden house is deep behind waves of branches.
I take short rests when the seat is set up,
with a walking stick and sandals I look for hidden scenes
but see only Northern Mountain birds
passing by and leaving a sweet sound behind.


My next poet from the Song Dynasty is Su Shi.

He was bon in 1036 in Meishan in the Sichuan province to an illustrious family of officials and distinguished scholars. He and his brother and father were considered among the finest prose masters of both the Tang and Song dynasties.

His political career was was unstable and included demotions as well as promotions, twelve periods of exile and even three months in prison. Through it all, he was a renaissance man who, in addition to his unstable political career, was an innovative master of poetry, prose, calligraphy an painting.


Written on the North Tower Wall After Snow

In yellow dusk the slender rain still falls,
but the calm night comes windless and harsh.

My bedclothes feel like splashed water.
I don't know the courtyard in buried in salt.

Light dampens the study curtains before dawn.
With cold sound, half a moon falls from the painted eaves.

As I sweep the north tower I see Horse Ear Peak
buried except for two tips.


Boating at Night on West Lake

Wild rice stems endless on the vast lake.
Night-blooming lotus perfumes the wind and dew.
Gradually the light of a far temple appears.
When the moon goes black, I watch the lake gleam.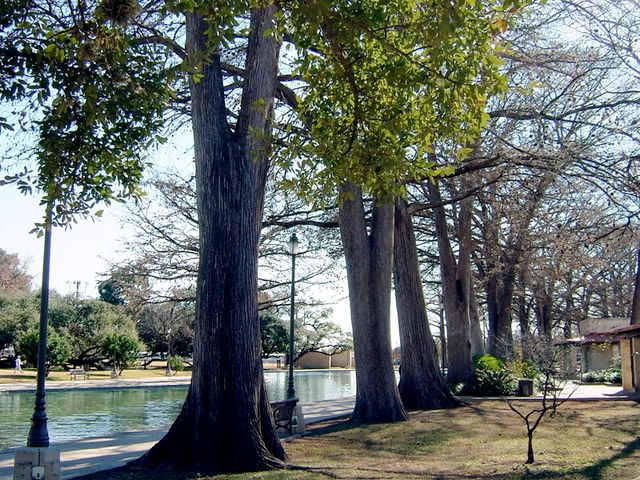 Here's another episode in the continuing story of me and my smarter dog.



weather woes


it's 35 degrees
with a fine mist
blown in lateral
sheets
by a brisk north
wind

it's not the coldest
night this year
but it is cold
enough
to keep me inside

I try to break the news
to reba
that she won't get
her walk tonight
and I can tell
she's not understanding
it at all

unlike kitty pride
who's been hiding
under the bed
since I got home
lest I grab her
and fling her into
outdoor
misery,
reba
has no thought
of weather

in her canine way
she knows only
day and night
and each one
that comes
comes
new in
every way
with no relation
to the ones
that came before
and weather
is just stuff that
happens
of no interest
of no consequence
in the dog-view
of the universe

but she accepts
as she always
accepts
and goes
quietly to her bed
head and tail
hung low to the floor
like an
innocent condemned
then denied the grace
of a last
meal
woe
woe
woe is me
her body cries
with each mournful step

I will make it up
to her tomorrow
with a slow pace
that allows
a double sniff
at every
tree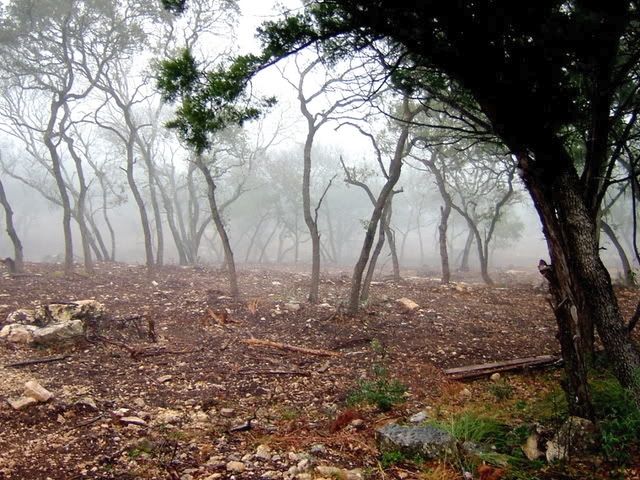 Linda Hogan is a Native American poet, storyteller, academic, playwright, novelist, environmentalist and writer of short stories.

Her ancestry is Chickasaw, but she has written that her family's military background meant that she grew up in a peripatetic way that denied her any sense of belonging to an individual Native community, mostly living in Colorado and Oklahoma.

She was the first member of her family to go to college, and not only did well there but went on to receive her MA from the University of Colorado in 1978. She began writing professionally while working in a career for orthopedically handicapped children.

Her poem is from Harper's Anthology of 20th Century Native American Poetry.



The Truth Is

In my left pocket a Chickasaw hand
rests on the bone of the pelvis.
In my right pocket
a white hand. Don't worry. It's mine
and not some thief's.
It belongs to a woman who sleeps in a twin bed
even though she falls in love too easily,
and walks along with hands
in her own empty pockets
even though she has put them in others
for love not money

About the hands, I'd like to say
I am a tree, grafted branches
bearing two kinds of fruit,
apricots maybe and pit cherries.
It's not that way. The truth is
we are crowded together
and knock against each other at night.
We want amnesty.

Linda, girl, I keep telling you
this is nonsense
about who loved who
and who killed who.

Here I am, taped together
like some old civilian conservation corps
passed by from the great depression
and my pockets are empty.
It's just as well since they are masks
for the soul, and since coins and keys
both have the sharp teeth of property.

Girl, I say,
it is dangerous to be a woman of two countries.
You've got your hands in the dark
of two empty pockets. Even though
you walk and whistle like you aren't afraid
you know which pocket the enemy lives in
and you remember how to fight
so you better keep on walking.
And you remember who killed who.
For this you want amnesty
and there's that knocking on the door
in the middle of the night.

Relax, there are other things to think about.
Shoes, for instance.
Now those are the true masks of the soul.
The left shoe
and the right one with its white foot.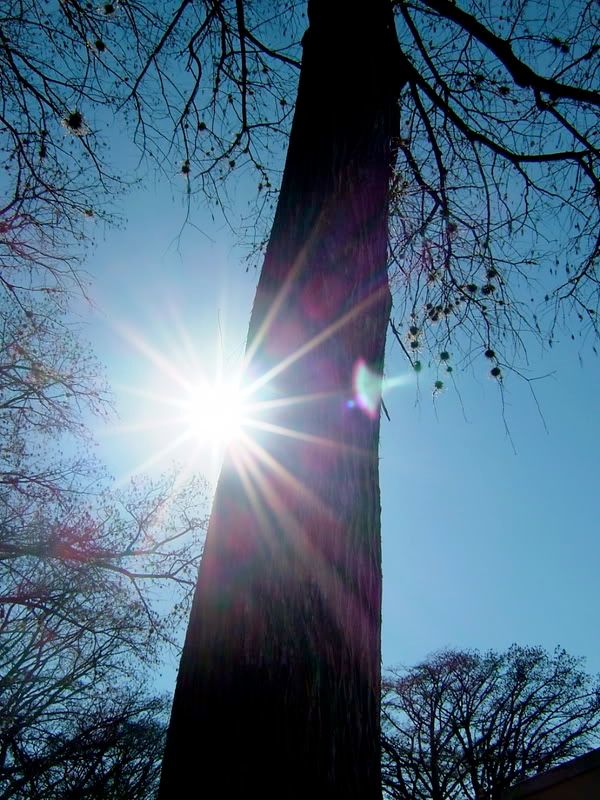 Francina has been with us before, but it was a long time ago.

She was born in 1947 and lived for the first thirteen years of her life on a riverboat delivering cargo to Belgium, France, The Netherlands, Germany and Switzerland. Later she studied accounting, French, English and German.

She has called many places home over the years, including the United States for 12 years before moving back to the The Netherlands 10 years ago. She has traveled extensively to North Africa, Thailand, and the Caribbean, and most countries in Europe as well.

She says her interest in poetry started in 1990 when she became a member of the Wallace Stevens Society . She says she is also especially likes Japanese and Chinese poetry.

Here is one of her poems.



Memory

A pine-cone on the windowsill,
its scent vanished with the years, gone,
nevertheless it will remind me still,
those days spent on a mountain side,
and night's transition into dawn,
when the world coloured by morning light.

Wildflowers, rustling corn and creek
and you, it is yourself you seek;
until that last one day in May,
when I could no longer stay,
and all was said and nothing left,
besides a pine-cone on the windowsill.

Its scent vanished with the years, gone,
nevertheless it will remind me still.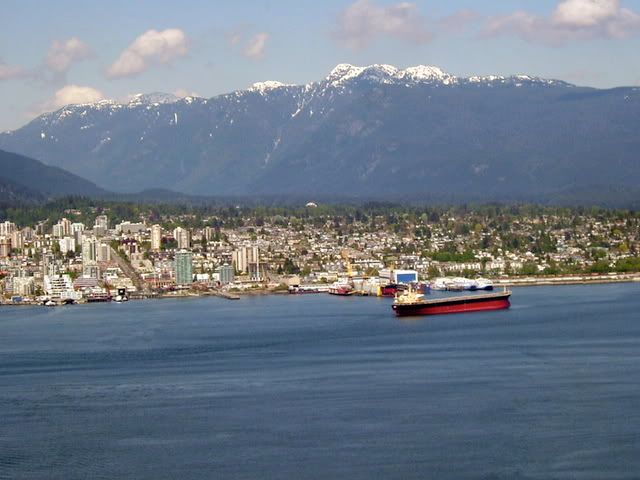 Donald Justice was born in Florida in 1925 and died in Iowa in 2004.

He graduated from the University of Miami and went on to teach for many years at Iowa Writers' Workshop, the nation's first graduate program in creative writing. He also taught at Syracuse University, the University of California at Irvine, Princeton University, the University of Virginia, and the University of Florida in Gainesville.

Justice published thirteen collections of his poetry. The first collection, The Summer Anniversaries, was the winner of the Lamont Poetry Prize given by the Academy of American Poets in 1961. Selected Poems won the Pulitzer Prize for Poetry in 1980. He was awarded the Bollingen Prize in Poetry in 1991, and the Lannan Literary Award for Poetry in 1996.

His honors also included grants from the Guggenheim Foundation, the Rockerfeller Foundation, and the National Endowment for the Arts. He was a member of the American Academy of Arts and Letters, and a Chancellor of the Academy of American Poets from 1997 to 2003. His Collected Poems was nominated for the National Book Award in 2004. He was also a National Book Award Finalist in 1961, 1974, and 1995.

This poem is taken from The Longman Anthology of Contemporary American Poetry.



Dreams of Water

1

An odd silence
Falls as we enter
the cozy ship's-bar.

The captain, smiling,
Unfolds his spyglass
And offers to show you

The obscene shapes
Of certain islands,
Low in the offing.

I sit by in silence.

2

People in raincoats
Stand looking out from
ends of piers.

A fog gathers;
And little tugs,
Growing uncertain
Of their position,
Start to complain
With the deep and bearded

Voices of fathers.

3

The season is ending.
White verandahs
Curve away.

The hotel seems empty
But, once inside,
I hear a great splashing.

Behind doors
Grandfathers loll
in steaming tubs,

Huge, unblushing.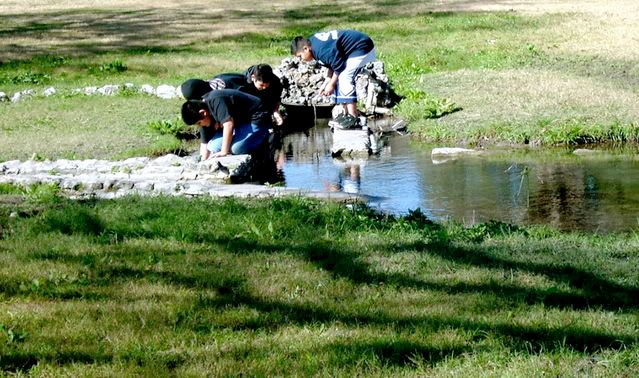 I wrote this early in the week.

Sometimes you just have to say enough's enough.



new year's resolution

it was a painful
terrible day,
but not the only
day of pain
and terror in our
past
or likely in our
future

it is a day to be
marked in black
on all the calendars
in our future
and it is time,
now, seven years
after the fact
to account for it
in ways beyond
bemoaning
the murder of innocents
and proud real estate
smashed
to the ground

time to consider the
consequences
of that day
we have
allowed

time to go past
the often repeated
litany
of 9/11 horrors
politicians use
to frighten us

time think of the
reality
of the years since
that day

and that reality
is....

two wars
killing thousands
of americans, with
hundreds of thousands
of other dead, guilty
and innocent buried
alike under
the rage of war

billions of dollars
stolen from our
grandchildren
and sent to burn
in the desert

our good reputation
destroyed,
bringing shame
to our friends
and comfort
to our enemies

paranoia
induced in the name
of "homeland security"

policies
that threaten our
freedoms more
than the worst
that could be done
by bearded radicals
hiding
in dry mountains
and dark caves
far away

our military
weakened,
true protectors
of our lives and fortunes
brought to near collapse
by armchair warriors
and ideologues,
always ready to fight
to the last someone
else

all this leaving us
weaker at home
and across the world
than we have ever been
in my lifetime

making it time to say
what most do not
want to hear

the cure
has been worse
than the disease;
our response to the evil
of that day
more harmful to us
than the evil itself

it is time
we grow up
as a people
and recognize
we will always have
enemies
and the best defense
against them
is not making more
enemies
but making more
friends;
that the best answer
to irrational hate
is rational love
of freedom and
justice
that is all inclusive
and not limited just
to those who seem
most like us

I propose a new year's
resolution
that this year will be the
end of our obsession
with 9/11,
an obsession
that has twisted us
and made us victims
not of a foreign
madness,
but of our own

that this year
we set aside fear
and those who would
frighten us
for their own benefit

that this year
we declare
we will not trade
liberty
for security

it is not our way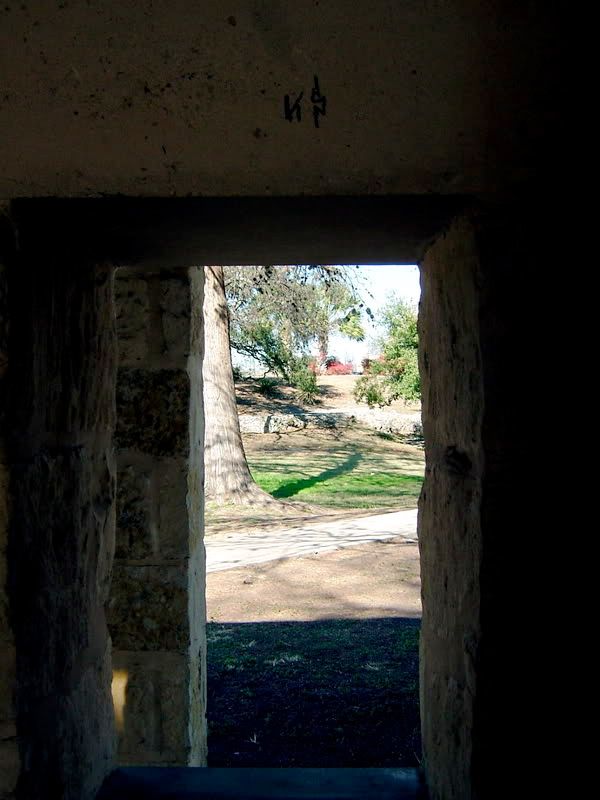 My next poem is by Pablo Neruda from the anthology This Same Sky with poems from around the world selected by Naomi Shihab Nye.

The poem was translated from Spanish by William O'Daly.



What is it that upsets the volcanoes
that spit fire, cold and rage?

Why wasn't Christopher Columbus
able to discover Spain?

How many questions does a cat have?

Do tears not yet spilled
wait in small lakes?

Or are they invisible rivers
that run through sadness?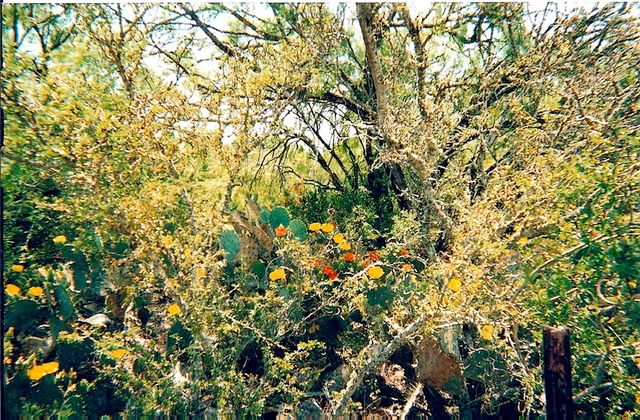 Now here's Thane Zander again, with more of his multilayered stories.



Purple Dyed Hair and other nuances.

You dye your graying hair purple, a sign that things aren't sitting well with your aging. No matter how many times people say things like "you look great" and "I wish I was in your shape at your age" don't weigh too heavily on your disposition. Even I have said you are great, but still, the changing of hair colour and lipstick (a deep reddish orange) signifies that things on your mind weigh heavily.

The presents unwrapped
playthings played with
the little ones
dancing to singsta
Great Aunty Neva
singing Green Green Grass of Home.

The planet shifted direction
last night
a minor readjustment
so as not to collide
with an errant Mars,
no one noticed
except Great Uncle Albert
eyes stuck to his old telescope
He sucked in a breath
and died peacefully
his secret
just that.

Yes we argued, the dress was just too skimpy, yes I like it on you, but the looks you'll get from the public just not marriage endearing. Knowing you're tarting yourself up for your 50's irks me, am I supposed to move with these changes, or dare I behave myself, set a good example and grow old graciously. There's not a lot I can do to hide my advance into netherworlds for aging rockers, my long haired mullet a sign I'm too fighting it, but at least it's a badge of office for my age. Looking like Mary Suffragette the Prostitute is not my cup of tea.

Although she danced
her heels kicking up
she still showed enough leg
to intimate a liaison,
she had golden hair then
even as a child it was gold
I made my move when she
moved into the neighbourhood
star struck from first meeting,
yes childhood love
that blossomed to eternity.

We argued, this time the kids were away at school, we argued about our changing lives, about the mellow me, and the indignant you, we argued to the blue blazes until the purple of your face matched you finely dyed hair (which started this anyway). We decided to settle amicably, the grey would come back, the dresses less eye catching, the lipstick less threatening. I promised to mow the mullet and to trim the long beard. Well we didn't actually agree to anything, but we both knew what each thought of the other at such a crucial stage of matrimony. I reminded her the other ladies of the school committee would have adverse things to say about her, she chortled, a sort of mellow "fuck them."

Kids, what were they
all that mattered
in a 19 year old's summer
was good times and sex
beggar the consequences,
yes she was on the Pill
but really, it didn't matter,
she'd know when the right moment
was to stop taking it
to test the fertility waters,
a few years yet,
maybe a few months
soon however marriage bloomed
happened so fast.

I made my bed and lay in it. I see this morning the dye has gone, replaced with a new golden look. The first thought was that street in Matamata where the removal truck stopped at 19 Rawiri Street, my neighbourhood. I walked up to her and kissed her cheek, muscled my way into a packed bathroom (school clothes strewn), sought the solace of the Wahl Sheers, and gave the mullet it's final rites. The beard I was asked to keep, my badge of office.

Time catches up with all
pregnancy speeds life up
driving children around
to get them asleep
the ladies in Plaid Dresses
marveling at earth science
the secret of Uncle Albert
kept in the family until news time
in a century when descendants
dance Maypole Dances
to a pagan ritual
"Who did he tell?"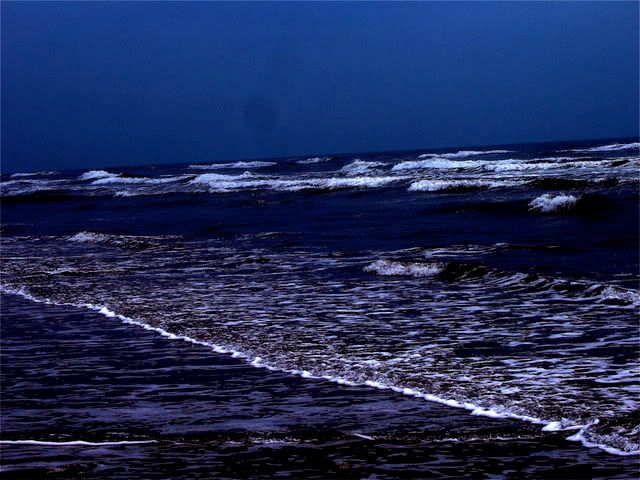 Some time ago, I was using little poems here by my favorite French turn-of-the-century traveler, Blaise Cendrars. I think I left him in Japan.

In my haste to get to Japan, I think I may have skipped these from around the area of the South China Sea. They are from a series he called Islands.

The translation from French was by Ron Padgett



IV. Japanese House

Bamboo stalks
Thin boards
Paper stretched across frames
There is no real heating system


VI. Rock Garden

In a basin filled with Chinese goldfish and fish with hideous mouths
A few have little silver rings through their gills


VII. Light and Delicate

The air is balmy
Amber musk and lemon flowers
Just being alive is true happiness


VIII. Keepsake

The sky and the sea
The waves come in to caress the roots of the coconut palms and the big
tamarinds with metallic leaves


IX. Fishy Cove

The water is so calm and so clear
In its depths you can see the white bushy coral
The prismatic sway of suspended jellyfish
The fish darting pink yellow lilac
And beneath the waving seaweed the azure sea cucumbers and the
green and violet sea urchins


X. Hatuara

She doesn't know anything about European styles
Her frizzy blue-black hair is swept up Japanese-style and held in place
by coral pins
She is naked under her silk kimono
Naked to her elbows
Strong lips
Drowsy eyes
Straight nose
Skin like light copper
Small breasts
Opulent hips

The way she moves is alive and direct
The young look of a charming animal

Her specialty: the grammar of walking

She swims the way you write a 400-page novel
Strong
Proud
Smooth
Beautiful sustained prose
She catches tiny fish which she holds in her mouth
Then she dives straight down
Gliding between the corals and multicolored seaweed
Soon to reappear
Smiling
Holding two big sea bream with silver bellies

So proud of her brand-new blue silk dress her houseshoes with gold
embroidery her pretty coral necklace given to her just this morning
She brings me a bucket of Spiny and weird crabs and some of those
tropical jumbo shrimp known as carrack that are as long as your hand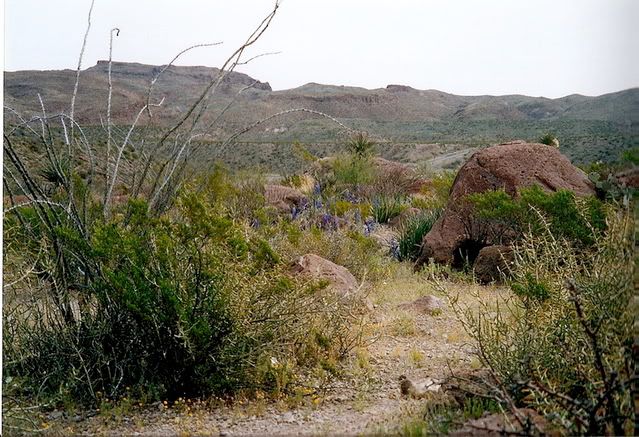 I went through one of my periodic episodes of employment last week, a two week project that I was able to finish up in a week. (Since I don't like gainful employment, I get it over with as quickly as possible so as to return to my ungainful employment here.) Without going into details, I'll just say that the work sometimes involves long periods of waiting for some one else to do something so you can do what you're supposed to.

I get bored easily and don't do nothing well, so I amused myself during one period of extended inactivity by writing these little pieces, a rare occasion when I was actually getting paid to write a poem.



bits and pieces from a tuesday morning that feels like monday


1
green lichen
on bare
branches
over brown
grass gathered
in the cold forest
like boy scouts
at camp


2
sunshine
on a foggy day

seen from my
high place
tree tops
float
in cotton swirl


3
the hive
buzzes
with low voices,
all eyes tight
on computer screens

every now and then
loud laughter
at something seen
in a child's writing
wakes
the room


3
a thermos top
pops
and brown coffee
eyes
open like
pavlov's
dog


4
green winter rain
anticipates spring

too soon


5
work done
wandering halls
waiting
for approval

will write a poem

soon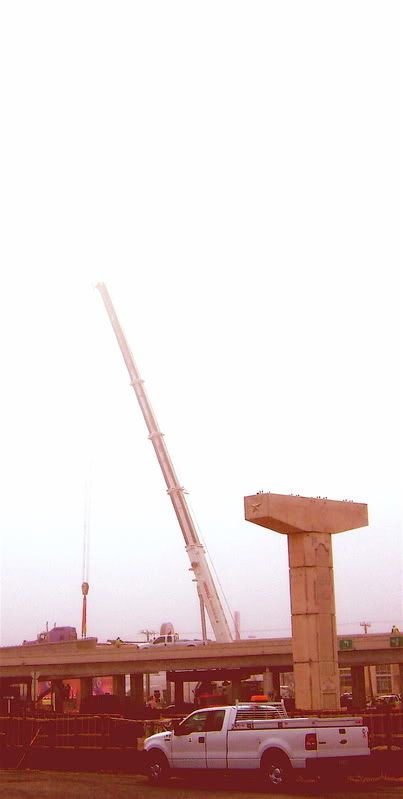 Here's a little piece by William Carlos Williams, the kind of clear, direct observational piece that is the WCW essence.



Proletarian Portrait

A big young bareheaded woman
in an apron

Her hair slicked back standing
on the street

One stockinged foot toeing
the sidewalk

Her shoe in her hand, looking
intently into it

She pulls out the paper insole
to find the nail

That has been hurting her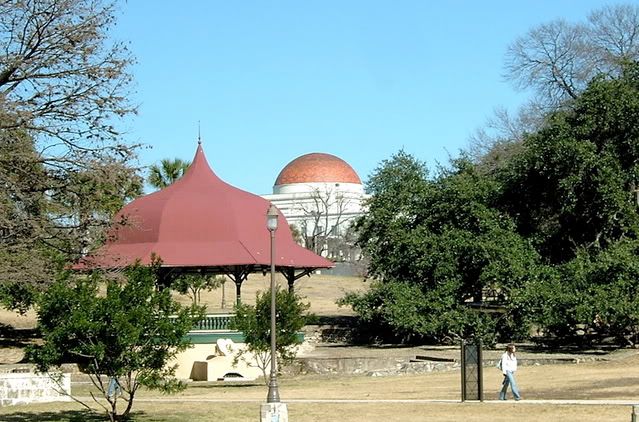 Now, here's a piece by our webpoet friend, Cliff Keller



Circles

I am
drawn to circles:
in sand, brushstrokes,
or doodling mischievously as I
toss a lasso around the margins
in someone else's book.
I nest in its
stasis


Of course,
my life proceeds
as yours does: nearly lost
on a walk with a strident gait.
This thought seems familiar,
perhaps that's why I'm
here on this page
again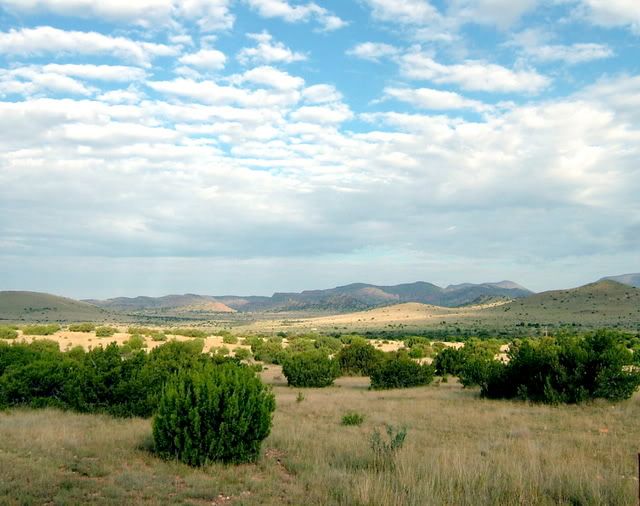 This poem is from a book I just picked up today. The book is Florida Poems and the poet is Campbell McGrath.

McGrath is an American poet, author of six full-length collections of poetry, including his most recent, Pax Atomica. This book was published by HarperCollins in 2002.

He received his B.A. from the University of Chicago and his MFA from Columbia University's creative writing program. He currently teaches creative writing at Florida International University.

McGrath has been recognized by some of the most prestigious American poetry awards, including the Kingsley Tufts Poetry Award, a Pushcart Prize, the Academy of American Poets Prize, a Ploughshares Cohen Award, a Guggenheim Fellowship, a Witter-Bynner Fellowship from the Library of Congress, and a MacArthur Foundation "Genius Award."

The poem I've chosen to use this week is the second in a series titled A City in the Clouds.



2. The Clouds

Times the clouds were like riven badlands, foils and arroyos and
alluvial fans, rough country best traversed with safety ropes as if
crossing polar seas over plates of tilting ice.

****

Times the clouds were umbels
or whale spouts,
fields of coreopsis, a vast mushroom farm.

****

Times the clouds lay smooth as a tabletop and children dangled their
feet as if to fish from an old trestle bridge;
here too one might try his luck, over coastal waters of aquamarine or
some green, bomb-sighted lake below,
though it took a great hoard of spooled line and a keen eye for
trajectory and wind shear and then there was

the small matter of a fish
to be hauled into the sky!

****

Times the clouds were gongs and temples, a rapture in pewter, grand
passions, coffers of incense and precious woods.

****

Times the clouds were battalions of tired oxen, cavalries of manta
rays, schooled dolphins carving a wake in blue glass,

an army of animals or
a wide plain of chairs and pillows,
a soft-focused Serengeti,
a wilderness of distant billows.

A new land, a new sea.
A new world.

A city.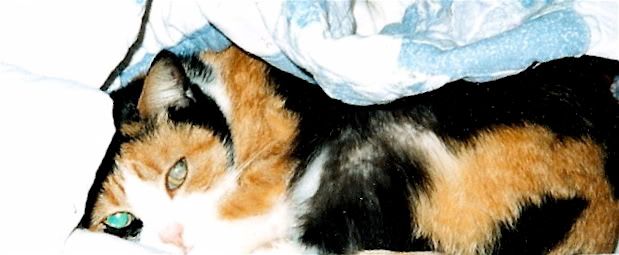 Something got me to thinking about short poems and short forms, which let to this little thing.



the shortest poem

the shortest
poem
is

the
sigh
in a lover's
good
bye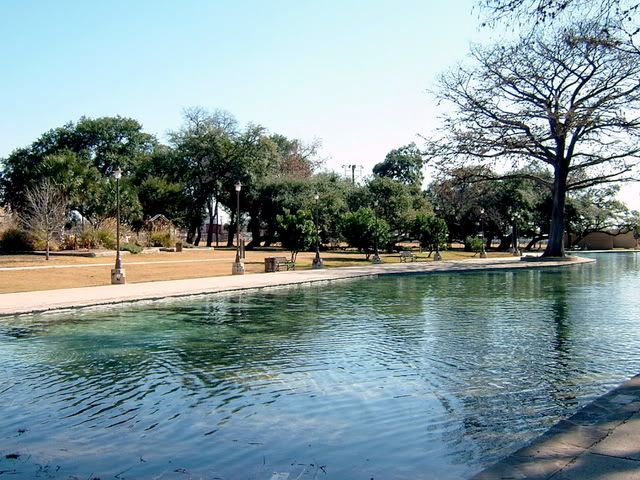 San Pedro Springs Park, on the edge of downtown San Antonio and right across San Pedro Avenue from San Antonio College, was established by grant of King Philip of Spain in 1729 and is the second oldest municipal park in the United States. The oldest, Boston Commons, was established 99 years earlier in 1630.

San Pedro Springs, as the name suggests, are a central feature of the park. The springs are among the those that are the source of the San Antonio River. The cool clear waters of the springs have drawn both passersby and more permanent residents to the park area for thousands of years.

Why am I telling you this - because I visited the park last week, took pictures, and read up on it's history and now that I know stuff I want to pass it on.

Before I forget, Gary Blankenship has had his series based on Whitman's Song of Myself published in the online journal Transparent Words. You can check it out, the whole thing instead of a little piece at a time, at the url below. You'll have to copy and paste the address to your browser.



http://www.poetrykit.org/pkl/tw10/tw4conte.htm



Quite a fine piece of work Gary did and a fitting use of the American master.

Until next week, remember, all the work presented in this blog remains the property of its creators. The blog itself was produced by and is the property of me....allen itz.