Badlands Bouquet
Saturday, November 10, 2007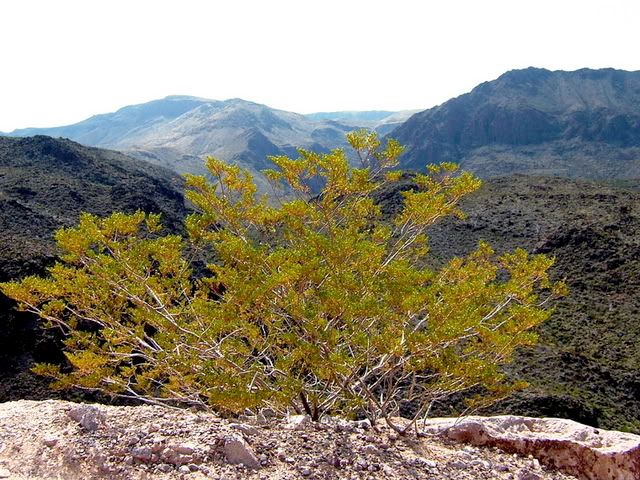 II.11.2





Welcome back "Here and Now" readers.

No chit chat this week, right to the good stuff instead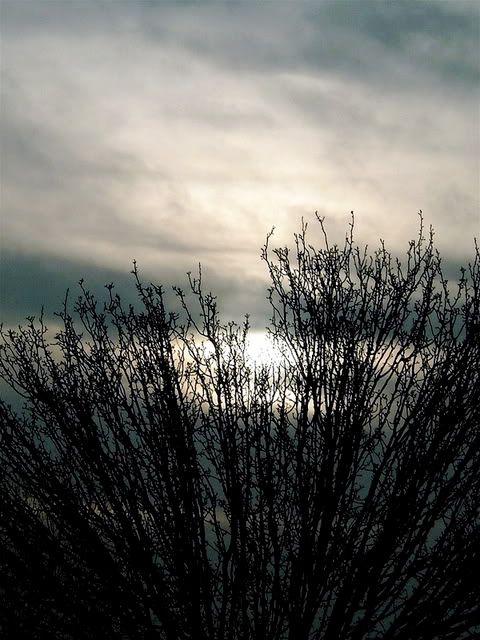 We begin this week, with a little weather report from me.



tides

october blue
gives way
to november
gray

and you can
feel
the tides
of an old
year
turning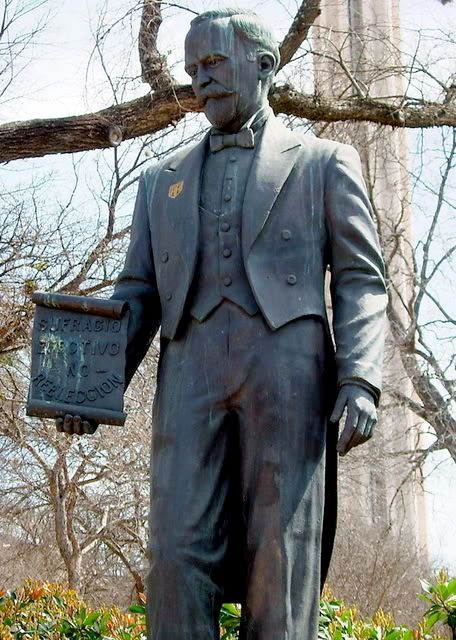 With typical self-deprecating good humor, William Barney makes his claim to be a "man of letters" based not on his sixty years as a poet, but on his 35 year career with the U.S. Postal Service.

His poems, like this one from his book A Cowtown Chronicle, are about people and things that interest him. Sometimes sounding a bit old-fashioned, they are clear and direct expressions of his interests.

The book, published by Browder Springs Books in 1999, is one of nine books of poetry he published in his lifetime.



Seneca Xenophon Swimme

Remembering, how can I stay a smile?
For his name alone sings. Think of it:
Seneca Xenophon Swimme. How can I help,
for a glorious classical name like that -
(look how the Roman and Greek entwine)...
A great tall man, with a large bald head.
I saw him once at a tent revival,
sitting up front, hat on his head,
and I thought, the fellow has poor piety.
Later I learned - he was an elder
in the Methodist church. And he kept his hat on
because his head was cold.
But once again,
that incredible names! Who was his father,
his mother, to set that grandiose name?

I met him in a newspaper shop
where I hoped to learn the trade of reporter.
He was using the Linotype to print
his book. A Composite Gospel,
all four of them, and no event missing.
I invited him to have dinner with us,
and he told us some of his life.
How he married a mountain girl
back East somewhere, I suppose.
She couldn't read, so he taught her -
reading, for one thing, who but Shakespeare?
From one thing he told he had a sharp eye:
that Mary (my wife) was one of two
of the prettiest girls in all Riverdale
(I had always thought she was The One).
I looked in the library to find his name
in a Methodist book but had no luck.

So I'll never know how, why, that name
makes history shout. And I'm envious.
There are William's, of course, in literature;
Shakespeare, Wordsworth, Bryant, and Yeats -
I'll never add mine to a list like that,
though Barney's a sound enough name, I think,
it doesn't quite ring like the name "Swimme,"
with "Seneca Xenophon" spreading their wings.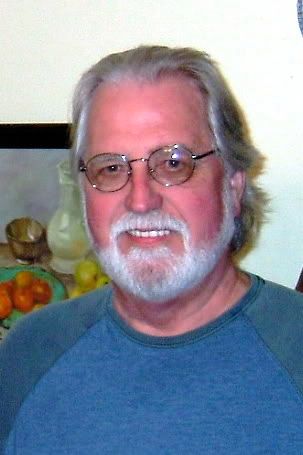 Here's a little poetic attaway to myself.



skin and bones

229.5
at seven this morning,
down from the peak 280
a couple of years
ago

that's
a whole big lotta
moonpies released
unharmed
to run
free
in the wild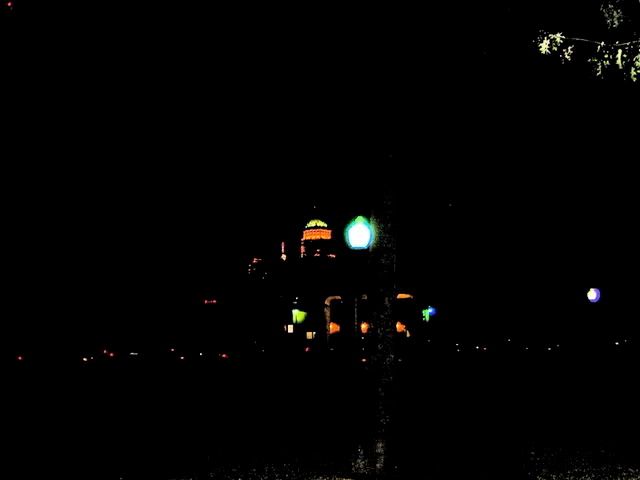 Charles Harper Webb was educated at Rice University, the University of Washington, and the University of Southern California. He worked as a professional rock singer and guitarist for fifteen years and, at the time this book was published, was a licensed psychotherapist and professor of English at California State University, Long Beach.

In addition to this book, Reading the Water, published by Northeastern University Press in 1997, he is also the author of a novel.



My Muse

He's short - shorter than I - thinner with frizzier,
redder hair: Woody Allenish, but gentile,
which makes it worse; he wanted Abdul Jabbar's
height, Schwarzenegger's muscles, Eastwood's face.
His skin is thinner than mine, too. He can't read
The Times without screaming. A distant mayoral race,

court ruling, car-jacking, mystery virus
makes him seethe. Picture the response to his own
termites, insurance hikes, full audit by the IRS!
He wrote a book called Everyday Outrages -
unpublished, naturally. He works as a lounge guitarist,
though he loathes club owners, Top 40 and drunks.

He's nearly scored eight record deals. (The Tantalus
Predicament, he calls it, hoping for a bestseller.)
He married a beautiful blond, but she wanted him
to be "more mainstream" - i.e., rich. After two years
of monochromatic bickering, they divorced.
A year later, she's sharing a one-bedroom

in Topanga with an apprentice psychic surgeon.
"The main theme of modern life is the humiliation
of the protagonist," he likes to say. Actually likes to.
Left on my own, I could never invent a man
who, to stand out from the crowd, replaced his legs
with a calliope blaring "Darktown Strutters Ball."

I see a light bulb as a glass shell surrounding
tungsten filaments, not a cell imprisoning a tiny
Thomas Edison, so irate his body glows. Lately
though, my muse has mellowed, or his level
of testosterone has dipped, or maybe he's worn out
from pummeling stupidities. At any rate, he's dictating
more words of praise, fewer of contempt.
He says that people need to hope more,
the less reason there is. He admits
he's been anorexic for acceptance,
bulimic for love. If he runs off and joins
a commune, my poems, will I still need you?









Here's Cliff Keller returning with a funny piece on, among other things, self-delusion and its benefits.



Disclaimer: I Plagiarized This

I read this poem last night and loved it!
So I ripped it off, folded
it into a pocket-sized thought;
now I call it my own.

Then,
I updated it with 41 small cuts,
one more than Mary Oliver mandates
in her textbook.
No biggie, took less time
than a cheap haircut.

I got rid of the "...ings" to sharpen my impact.
(Whoops! Forgot: show, don't tell)
"...ings" drop to the floor, cheeks red lined from
the switch of my hand.
Ooh, that's better.

Took both the elevator AND ran up a flight of stairs to make sure I could read each line without running out of breath.
Whew!

Finally,
I changed the title
to fit my own style.
Although I must admit, it was my lawyer's advice
(He also suggests a smiley emoticon
that winks; it may sway a jury).

I prefer the original,
but I think I found my "voice".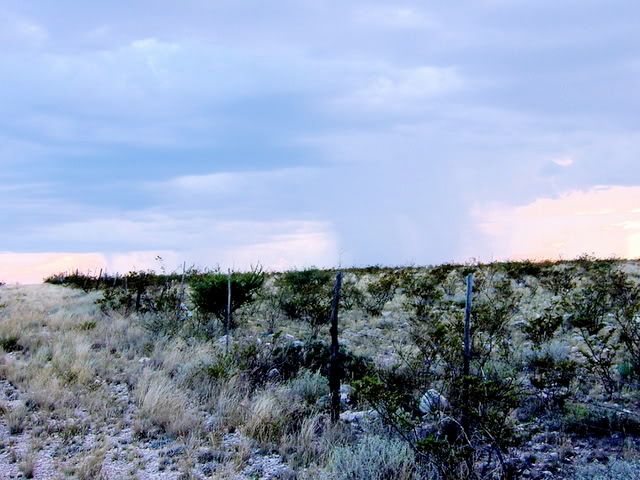 Luis J. Rodriguez, founding publisher of Tia Chucha Press and cofounder of Tia Chucha's Cafe Cultural in Los Angeles, is the author of Trochemoche, Always Running, and It Doesn't Have To Be This Way.

His poem is from bum rush the page, an anthology of spoken word poets and poetry. The book was published in 2001 by Three Rivers Press.



My Name's Not Rodriguez

It is a sigh of climbing feet,
the lather of gold lust,
the slave master's religion
with crippled hands gripping greed's tail.
My name's not Rodriguez.
It's an Indian mother's noiseless cry,
a warrior's saliva on arrow tip, a jaguar's claw,
a woman's enticing contours on a volcanic rock.
My real name's the ash of memory from burned trees.
It's the three-year-old child wandering in the plain
and shot by U.S. Calvary in the Sand Creek massacre.
I'm a Geronimo yell into the canyons of the old ones.
I'm the Comanche scout; the Raramuri shaman
in soiled bandanna running in the wretched rain.
I'm called Rodriguez and my tears leave rivers of salt.
I'm Rodriguez and my skin dries on the bones.
I'm Rodriguez and a diseased laughter enters the pores.
I'm Rodriguez and my father's insanity
blocks every passageway,
scorching the walls of every dwelling.
My name's not Rodriquez; it's a fiber in the wind,
it's what oceans have immersed,
it's what graceful and sublime over the top of peaks,
what grows red in desert sands.
It's the crawling life, the watery breaths between ledges.
It's taut drum and peyote dance.
It's the brew from fermented heartaches.
Don't call me Rodriguez unless you mean peon and sod carrier,
unless you mean slayer of truths and deep-sixer of hopes.
Unless you mean forget and then die.
My name's the black-hooded 9mm-wielding child in all our alleys.
I'm death row monk. The eight-year-old gumseller
in city bars and taco shops.
I'm unlicensed, uninsured, unregulated and unforgiven.
I'm free and therefore hungry.
I'm seed of resistance in pod of domesticity.
Call me Rodriguez and bleed in shame.
Call me Rodriguez and see if I whisper in your ear,
mouth stained with bitter wine.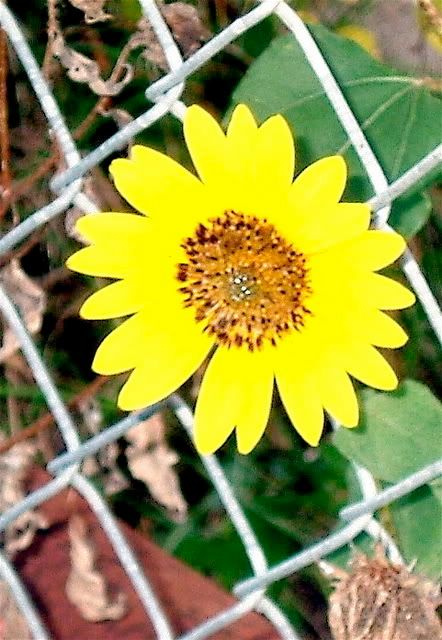 Here's another in my coffee shop series, this time on how easy it is to mis-judge people based on appearance.



strangers in the house

strange looking
group
for this middle-class
yuppy-puppy
coffee shop,
look like extras
in a barrio
gang-banger movie
or maybe the real
thing, banditos
or mexican mafia,
three mean-looking
dudes all dressed out
and a pretty girl
with stars tattooed up
her long lean legs

or
maybe not

freshman chemistry
it looks like
when they pick up
their textbooks and clean
their table before they leave,
I hear them talk about
going next door to
macaroni grill
on their way out,
no motorcycles
or lowriders in sight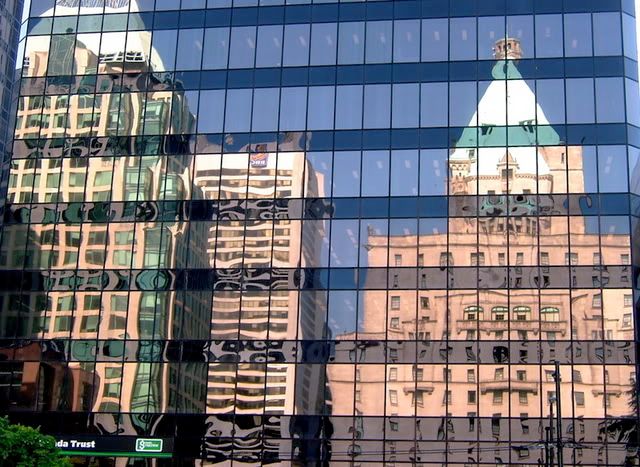 The next poem is from A Working Girl Can't Win and Other Poemsk by Deborah Garrison. Garrison was born in Michigan and worked on the editorial staff of The New Yorker. She is now poetry editor for Alfred A. Knopf and senior editor at Pantheon Books.



You Prune Your List in Summer

Where I am the sky has been trying
to clear all morning.
At noon the sea is sparking
green, a giant coin flipped and

falling, and there are warnings:
a plane towing an ad for cigarettes
(pleasures are dangerous),
the sun's fuzzy mouth sucking the day back

in through the haze
I am in search of the perfect stone
for you - as if it would help!
What good are stones to you

now, rose or black,
pointed, smooth?
Why remind you? Why be
heavy in your hand?

Where you are -
the truth is I don't know
where you are.
Maybe the city:

lunch date with a noisy woman,
rainstorm, the umbrella forgotten.
And more phone messages!
All afternoon you prune your list,

and I can see you crossing us off,
peeling back layers, working
down to the ribbed, worn
pit of your self, then

setting out, tons lighter,
like the prow of a boat without
its boat behind, and ladyless
in front: no more breasts to the wind


no more long, carved hair.
Don't worry. Already it's weeks
I lie in bed mourning your loss,
already I remember this summer

like a summer gone, and myself
like a woman who rented here years ago -
her radio and sunscreen, her stack
of paperbacks. It was she

paddling the warm wave of getting away,
she slender, on a diet from love
who was free. Free!
Best self, lost sister, I start

to forget her, wondering
if at the corner of your day
my colors don't still go up,
a small disturbance, a tat of flag

nicking the morning at the edge of your view.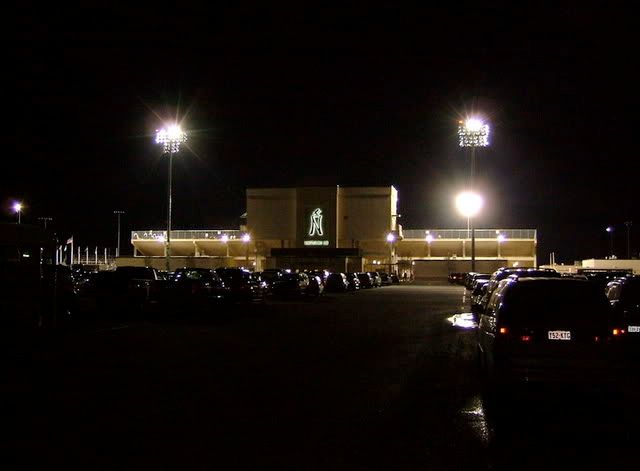 Here, from New Zealand, is our friend Thane Zander to remind us that fans and players are the same always, no matter what the game and no matter where it's played.



Days when rain makes for a gloomy time.

In a stadium, rugby being played
teams run to and fro, saturated
players displaying adept skill
as we the spectators stand drenched.

The wives at their Saturday Fair
crowds milling, the throng beating
drizzle puts off children playing,
profit down as the wet continues.

Out on the lake, rowers ply their trade
putting muscle to oar, back to the rain
sweat mingling as effort expended
days when tedium is broken by hardship.

A timer on a bench top oven chimes
seven trays of cookies ready for family
a picnic outside wrecked by precipitation,
Police give up the chase at 230kph.

Diehard supporters back their team
rain, hail or snow, the flow back and forward
as each team wrestles with a wet pill,
my mates wife stands transfixed at the door.

A players jersey is ripped asunder
another player pulls it more, for effect
the ground erupts in a roar, the rains gone,
the referee calls time, we have won, just.

A happy crowd wanders out to a full carpark,
find their vehicles, the losers with head bowed,
trudge wearily to the bar for a few quiets,
the winners off home to a promised picnic.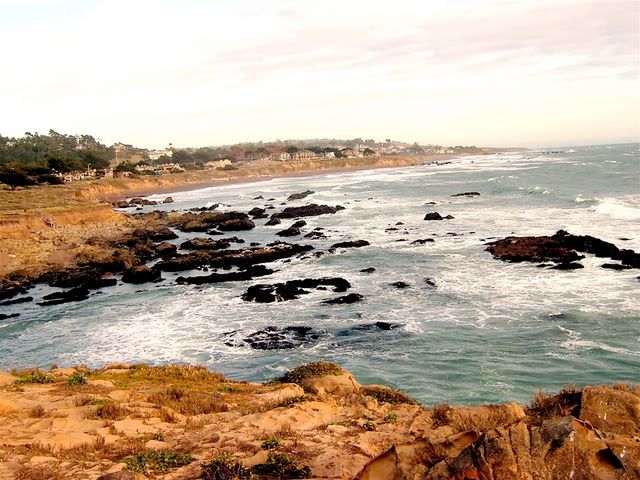 My next poem is by Irish poet Paul Durcan from his book Greetings To Our Friends In Brazil published by The Harvill Press in 1999.



Notes Towards a Supreme Reality

I

Because the supreme reality in life is fiction
It is vital not to meet the writer in person.
There is no necessary linkage between the egotist who is
overweight and vain
And the magic connections, dreams, constructions of his brain

II

Life's supreme reality is reading fiction
In poetry or prose, most likely prose,
(Fiction is scarce as water in poetry);
Afterwards telephoning Niall MacMonagle in Rathmines,
Conversing nonstop for three hours,
Putting on aerial displays for our sleeping daughters.
Flying low, fast, looping the loop;
Or taking a Super Low Floor
Green Engine Kneeling Suspension
Dublin Bus into the city centre
to Cormac Kinsella in the Dublin Waterstone's,
Stealing in half-hour Comac behind the bookshelves.

Thanks to Comac Kinsella
I have spent the last five years
Reading Richard Ford and Don DeLillo.
Oh yes! Behind the bookshelves!
Like two haymakers siesta-ing
Behind a hay cock in Provence
Cormac and I -
We repose vertically in a Ford sun
Cooled by a DeLillo breeze
Analyzing the universals of light,
The particular of power.

III

The evening is as long as life is short.
Reading Independence Day or Underworld
I am a tern detecting Dublin Bay
At a cruising altitude of thirteen feet;
Or a flock of swallows on a warm June evening
Trawling to an fro the mown lawn
Netting succulent midges, snaring thousands of 'em.
The evening is as long as life is short.









I wrote this last week, a last ditch effort to come up with my poem for the day.



supposed to be writing a poem

supposed
to be writing a poem
right now
or working on the blog,
one or the other,
but reba has been sitting
on the carpet by my feet
for twenty minutes now,
staring at me, letting me know
it's nine o'clock,
time now to sate her canine need
to walk, to sniff, to explore,
(if a piece of paper is on the path
that wasn't there the day before,
she will not move until it's been
properly investigated and peed on)

oops,
she caught me thinking about walking
and has moved in closer, eyes boring
into me, never blinking, never wavering

no poem tonight, I think, unless
you count this - the queen has
made her decision clear, we walk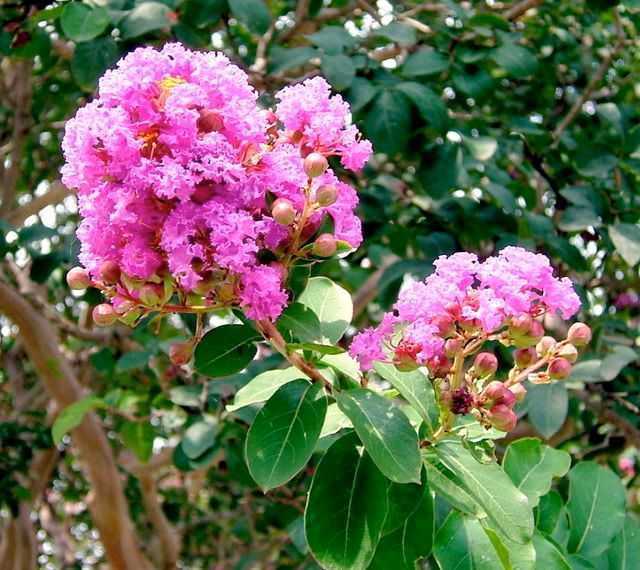 Next I have a poem by Mexican poet Ramon Lopez Velarde from Song of the Heart, published by University of Texas Press in 1995. It's a bilingual book with Spanish and English on facing pages, providing the first book length translation of Velarde's work into English. Translation to English was byMargaret Sayers Peden.

Velarde (1888-1921) was called "poet of the provinces" because of his love of rural Mexico and the old traditional ways of those regions. Much of his poetry dealt with old/new, rural/urban contrasts. He was particularly interested in recording many of the old ways in the countryside that were disappearing due to modernization.



To Sara

For F. de F. Nunez y Dominguez

You chanced, as I passed by, to drop free,
the most irreverent windfall
the summer's benevolent grace
could bestow on me.

(Blonde Sara, ripe grape; today's frank
fascination compels me to ridicule
my yesterday, and deny the foolish
credence I, the young Levite, placed
in my dubious vocation.)

Sara, Sara: you are as plaint as David's
sling, as bruising
as his lyric pebble;
with that dual essence come
both icy torment and the pyres candescence,
and although in the chasm's vertigo your hair may fall,
in the ever-more-dizzing descent your lover,
confident, is safe within heroic arms.

Sara, Sara: sweetmeat of hedonistic hours,
fruit so lush, so great with promise, you bow
the backs of two Hebrews;
may you be forever warmed by
blazing sun and carnation's flame; but should
the backbone of your being snap like and imperfect thread,
then may your brow, deep beneath
the grieving earth, somehow be spared,
and may your golden tresses shine
like buried treasure, and, like a royal seal,
may your arms, and the column of your throat
lie inviolate.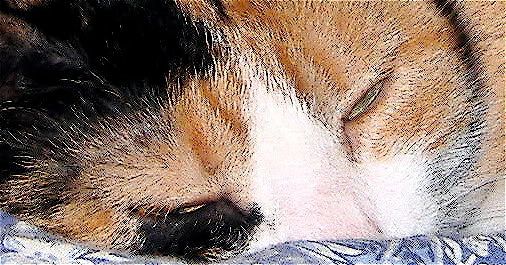 I try very hard not to take afternoon naps because I still work occasionally and don't want to get into the habit of going to sleep every afternoon. The truth is the job is boring enough with out such extra inducement to zzzz out.

Some days, though, are just too nap-friendly to ignore. So, I wrote this to ease my guilt.



sweet dreams

had
a lot to do
this afternoon,
all planned
and prioritized,
but slept it through
instead

three hours
of sunday afternoon
dreams,
the light
and happy kind
that make you want
to turn over
and pick them up
where you
left off,
but it never
works
they are like
clouds of sweet
smoke
in the air,
once the wind
of wakefulness
blows
they are lost
and gone forever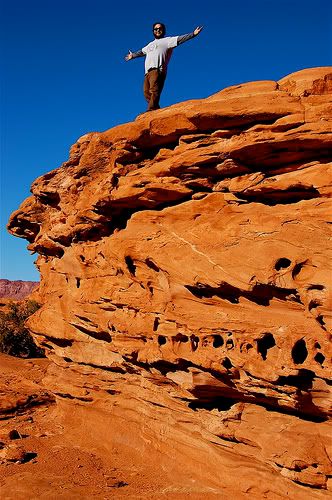 Chris on a Rock - Photo by Andre Lamar





Our son, Chris, recently moved to Colorado. He loves the mountains and deserts and is an avid primitive hiker and camper, always with camera in hand.

Here are pictures from his first foray into Utah's Canyonlands National Park.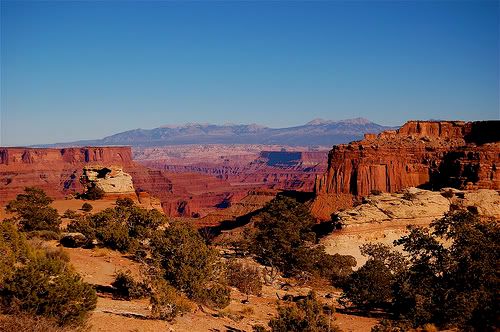 Canyonlands, Utah - Photo by Chris Itz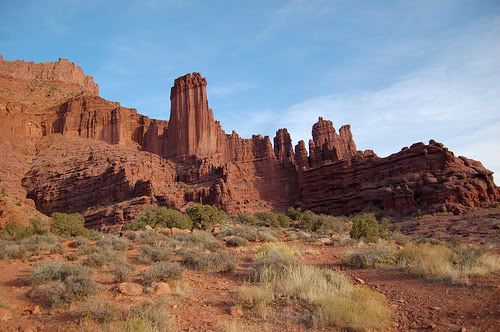 Fischer Towers - Photo by Chris Itz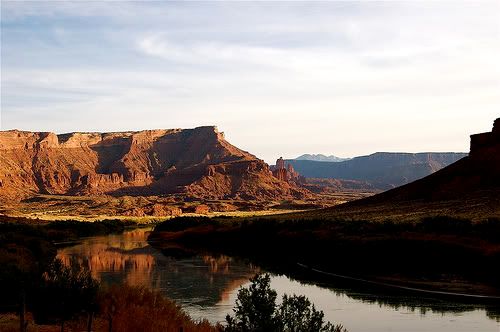 Colorado River - Photo by Chris Itz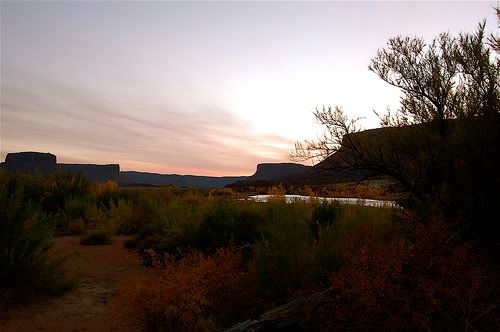 Fall in Utah - Photo by Chris Itz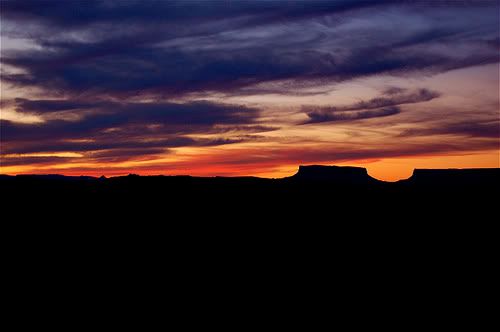 Desert Makes Sunset Fine - Photo by Chris Itz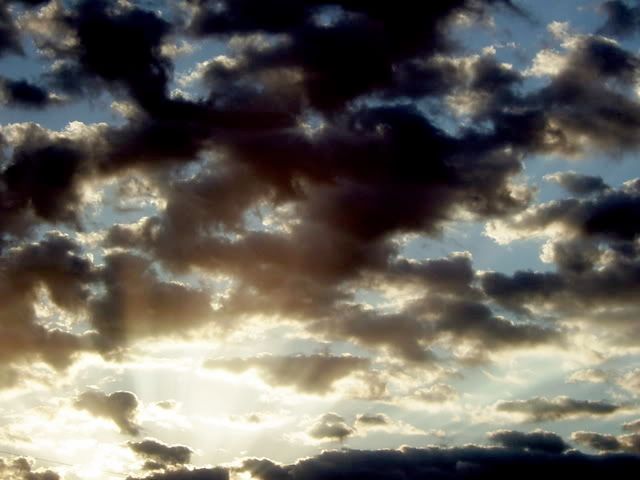 The next poem is by Al Mahmud of Bangladesh. It is from an anthology of poems from around the world titled, This Same Sky published Aladdin Paperbacks in 1995, edited by Naomi Shihab Ney.

The poem was translated by Marian Maddern



Wind's Foam

Nothing remains, see, leaves, flowers, village elders,
the river's dancing waves, brass pitchers and the hookah's coal;
groups of growing girls one by one dwindle like the ilish season,
yellow leaves in the wind on the rainless fields and meadows
drop rustling. The migrant geese go to,
their bodies like multitudinous bubbles
in the sky's blue cup.

Why does nothing remain? Corrugated iron, thatch or mud walls,
the ageless village bat tree uprooted in the terrible
Chittagong typhoon.
Plaster cracks, as vast as faith,
with a great crash, finally
crumbles and falls the local mosque.

Sparrows' nests, love, creepers' leaves, book covers
fall torn and twisted. Bitten by the Meghna's waters
the harvest's green cry shivers to the horizon.
Houses, water-pitchers, cowsheds float,
and an old pillow, flower-embroidered, sinks like childish affection.
After this, not a dwelling remains,
water-loving birds fly, wiping the wind's foam from their beaks.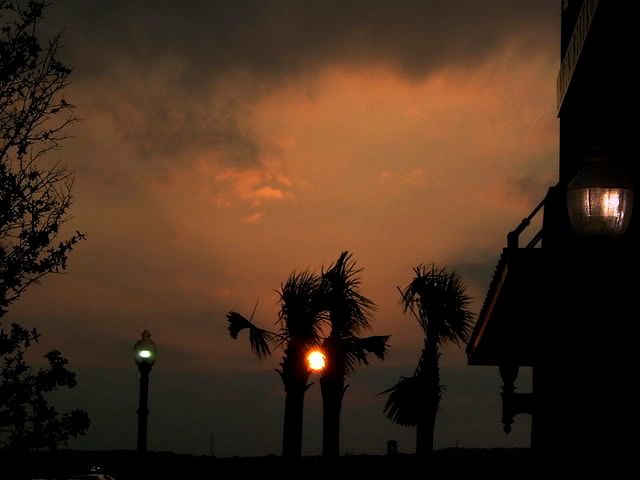 I welcome for his first visit to "Here and Now" fellow web-poet Walter Durk.

Walter was born in New York city in 1946 and he has lived in Asia and the United States. His experiences in Asia are evident in his poem.



journey to nowhere

Just bought a ticket
Taichung to Taipei.
First class.
Clean car with steward.
Hot towels for my face.
Not a cattle car
packed with peasants.
Not white globs of pork fat
shivering in tubs.

I used to watch
the slaughtered pig race by
slung on the rear of a motorcycle
right outside a rice factory
where children swept errant grains.

Taipei.
Hot, humid.
Air reeks of truck
and motorcycle exhaust.
Soot coats my face, sucks
into my nostrils.
About a mile to the hotel.
A fair place except for rats
racing above the ceiling at night.
Damned if I could sleep.
Scared the shit out of me.
Need to spend a little more,
I guess.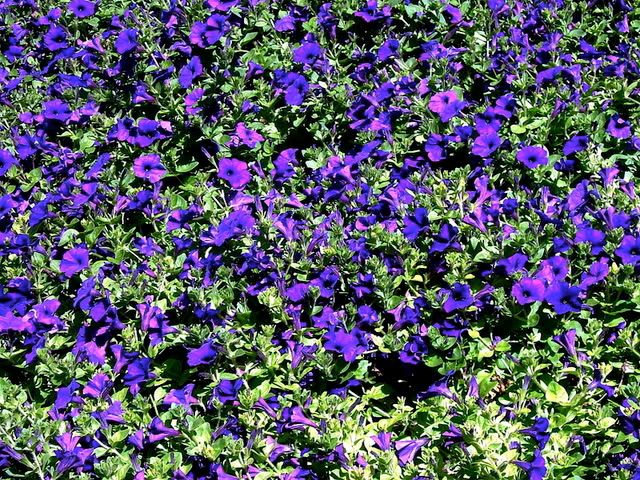 From The Outlaw Bible of American Poetry I have a poem by Kenneth Patchen.

Patchen (1911-1972 ) was born in Ohio. A poet, novelist and artist, his ambitious body of work also foreshadowed literary art-forms ranging from reading poetry to jazz accompaniment to his late experiments with visual poetry (which he called his "picture poems"). These experiments included a collaboration 1942 with the composer John Cage on the radio play The City Wears A Slouch Hat and collaborating with Charles Mingus in the 1950's, reading his poetry with Mingus' jazz combo.

This poem illustrates and illuminates Patchen's pacifism and refers to his continued opposition to American entry into the Second World War, positions that marginalized him in his own time. It is my first experience with Patchen and I'll certainly be looking for more of his work. It's a wonderful poem.



What is the Beautiful

The narrowing line.
Walking on the burning ground.
The ledges of stone.
Owlfish wading near the horizon.
Unrest in the outer districts.
And begin again.
Needles through the eye.
Bodies cracked open like nuts.
Must have a place.
Dog has a place.

Pause.

And begin again.
Tents in the sultry weather.
Rifles hate holds.
Who is right? Was Christ?
Is it wrong to love all men?

Pause.

And begin again
Contagion of murder.
But the small whip hits back.
This is my life, Caesar.
I think it is good to live.

Pause.

And begin again.
Perhaps the shapes will open.
Will flying fly?
Will singing have a song?
Will the shapes of evil fall?
Will the lives of men grow clean?
Will the power be for the good?
Will the power of man find its sun?
Will the power of man flame as a sun?
Will the power of man turn against death?
Who is right?
Is war?

Pause.

And begin again.
A narrow line.
Walking on the beautiful ground.
A ledge of fire.
It would take little to be free.
That no man hate another man,
Because he is black;
Because he is yellow;
Because he is white;
Or because he is English;
Or German;
Or rich;
Or poor;
Because we are everyman.

Pause.

And begin again.
I would take little to be free.
That no man live at the expense of another.
Because no man can own what belongs to all.
Because no man can kill what all must use.
Because no man can lie when all are betrayed.
Because no man can hate when all are hated.

And begin again.
I know that the shapes will open.
Flying will fly, and singing will sing.
Because the only power of man is in good.
And all evil shall fail.
Because evil does not work,
Because the white man and the black man,
The Englishman and the German,
Are not real things.
They are only pictures of things.
Their shapes, like the shapes of the tree
And the flower, have no lives in names or signs;
They are their lives, and the real is in them.
And what is real shall have life always.

Pause.

I believe in the truth.
I believe that every good thought I have,
All men shall have.
I believe that what is best in me,
Shall be found in every man.
I believe that only the beautiful
Shall survive on the earth.
I believe that the perfect shape of everything
Has been prepared;
And, that we do not fit our own
Is of little consequence.
Man beckons to men and this terrible road.
I believe that we are going into the darkness now;
Hundreds of years will pass before the light
Shines over the world of all men...
And I am blinded by its splendor.

Pause.

And begin again.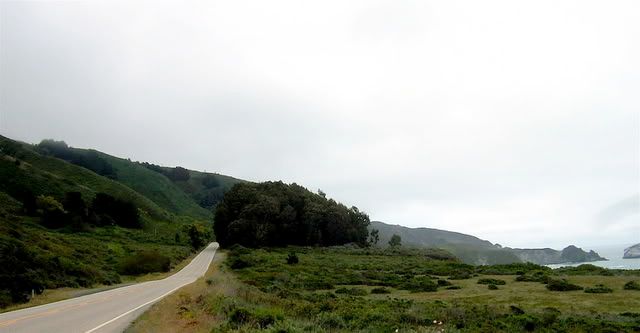 Wayne Scheer is back this week with another piece of flash fiction.



Haunted By Jack Kerouac's Ghost


Harlan hungered for the night, starved for the flashing of evening stars popping like paparazzi bulbs spotlighting the path to holy Vegas where greed lights the way to the American dream.

Harlan hankered for the night, after the streetlights zapped on and the safe suburban homes dim to only the ashen flicker of TVs and the sad gray gloom of computer screens - where sadsack souls hide in work stations by day and play stations by night dreaming of dancing like Ginger Rogers and Fred Astaire on the tables and walls of America.

Harlan howled into the night, searching for a pretty girl who'd sing sweet songs of love to a stranger, dance to the hip hop of her heart and Velcro green florescent strips to her bare ass and roller blade nude down the American Road into the starry evening sky.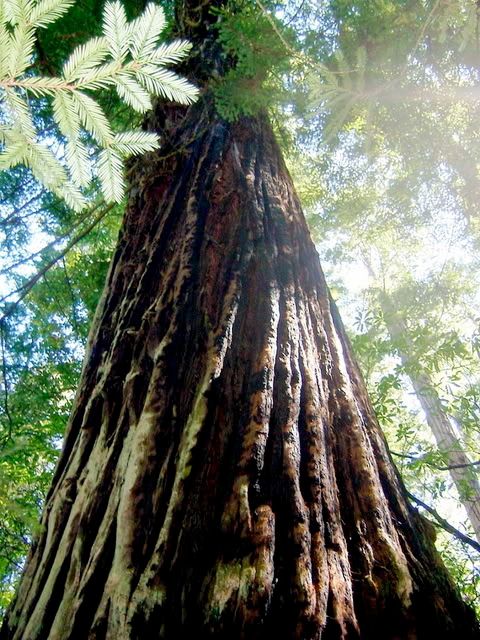 Now, from one of my favorite source books, Harper's Anthology of 20th Century Native American Poetry, I have this poem from Emma Lee Warrior.



New Indian Medicine

You can become a shaman,
it's easy, ask that guy,
what's his name,
the one by Spokane.
He charges $350,
payable in advance, of course.

There are other cult leaders
who also want your treasures
for a dose of Indian medicine.
They pretend to cure you
or put a hex on an enemy.
Again, it'll cost;
if you don't have the bread,
your car will do
or a favorite horse,
maybe some artifacts.
Allegiance alone
isn't quite enough.

They mix a bit of Sioux,
a little Northwest Coast,
a dab of Southwest,
and just for good measure
a pinch of Plateau
sprinkled all over with Plains.

Crazy Horse's pipe,
how they got it a mystery,
Sitting Bull sweats with them
every now and then.

Indian medicine, Hollywood style,
visions and visitations
brought with a welfare check.
Guardian spirits, Indian names,
plucked out of the air
like cottonwood in June.

Shamanism is lucrative,
a trip to New York,
Europe, around the world,
a book on the market,
a guest on a talk show,
awe, respect, fame,
paid for by the weak
grasping at straws,
seeking identity at any price;

government grants
for survival camps,
medicine people,
Indian Sun Myung Moons.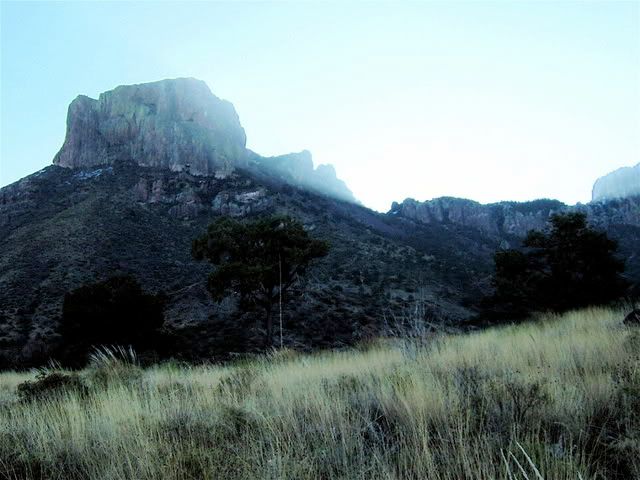 I welcome back Nancy Williams Lazar with a short poem reflecting her interests in places and cultures.



Bride Rock

The woods that remain in the hollow
stand like a bruise in the middle of the horse-
shoe curve of the mobile home park

wrapped like a blanket on the shoulders of
the snow paths of Mount Macungie.
They wait for the old ones who used to

hunt along the banks of Bear Creak
and sleep under the shelter of Bride Rock
who still hovers over her husband, defiantly

upright, even though the fires of their love
long ago lost their reason.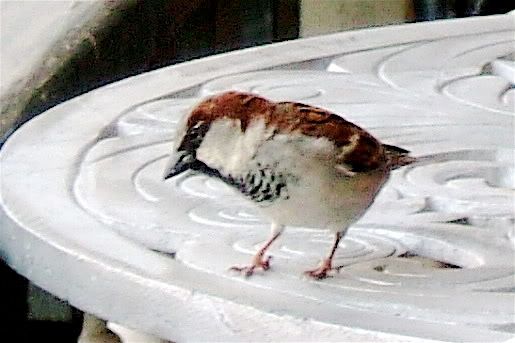 Sometimes I make the mistake of thinking too much about the art or the craft or whatever the hell it is I'm doing.Best to just do.



so who's the poet now

given that the origins
of poetry
lie around campfires
in preliterate societies
it's not possible to argue
that poetry
as performance art
is not a revival
of the truest
and most ancient
of poetic tradition

but why, then, do
I so miss the
architecture of words
arranged on a page
when I hear a poem
performed by a master
of that art
and why do I feel the
integrity of my words
debased
when performance
exploits them for sound
and mood rather than
image and meaning

could it be that
what I do
in managing lines
and breaks
and shapes
and forms is
not poetry at all,
just
manifestation
of industrial-age
bondage to the
tyranny
of movable type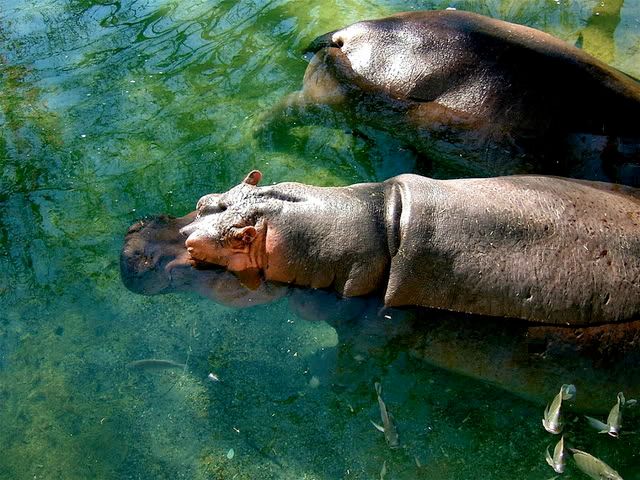 It's been several weeks since we checked in with our one-armed, turn of the century, French adventurer and poet Blaise Cendrars.

When last we saw him he was in Japan. We take up with him again in Africa, on the Behr el Zeraf, a section of the White Nile that passes through Sudan.

Try to imagine what these missives from mysterious lands must have meant to readers at the turn of the 20th century. How strange and exotic they must have seemed.



The Behr el Zeraf

There isn't any tall grass along the banks
Great flat stretches of lowlands fade away into the distance
Islands almost flush with the water level
Big crocs warming in the sun
Thousands of big birds cover the muddy or sandy banks

The country changes
Now there is some light brush with a sprinkling of stunted trees
There are some beautifully colored small birds and coveys of guinea
hens
Now and then in the evening a lion roars and his silhouette is seen on
the west bank
This morning I killed a varanian a yard and a half long

Still the same landscape of flooded plains
The Arab pilot has spotted some elephants
Everyone is excited
We go up to the upper deck
For each of us it's the first appearance of the emperor of animals
The elephants are about three hundred yards off two big ones a
medium-sized one three or four babies
During lunch ten big fat hippo heads are seen swimming ahead of us

The mercury hardly moves
Around 2 in the afternoon it's usually 90 to 100
The dress is khaki good shoes leggings and no shirt
One does justice to the good cooking on board and the bottles of brown
Turin
In the evening one simply adds a white jacket
Kites and vultures graze us with their wings
After dinner the boat moves out into the middle of the river to elude the
mosquitoes as much as possible
The banks drift by covered with papyrus and gigantic euphoria
We see a lot of rather tame antelope and gazelles
Then an old water buffalo but no rhinoceros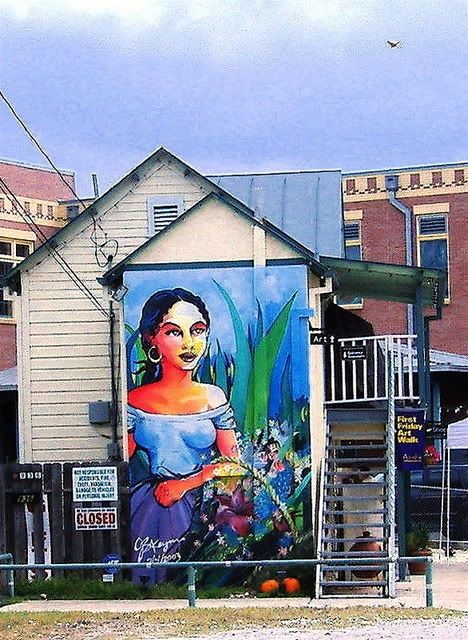 It's an event that happens the first friday of every month. I don't go that often (I'm crowdaphobic), but had special reason this month, as explained in the last issue. But, there's excitement in the crowds and the music and, of course, anytime you get a crowd together here, food.



southtown - first friday art walk



it's an art
fair
so there is much
to feed the soul

but
with funnel cake
turkey legs
bar b que
and
roasted corn
the more substantial
elements
of an art lovers
needs
are not ignored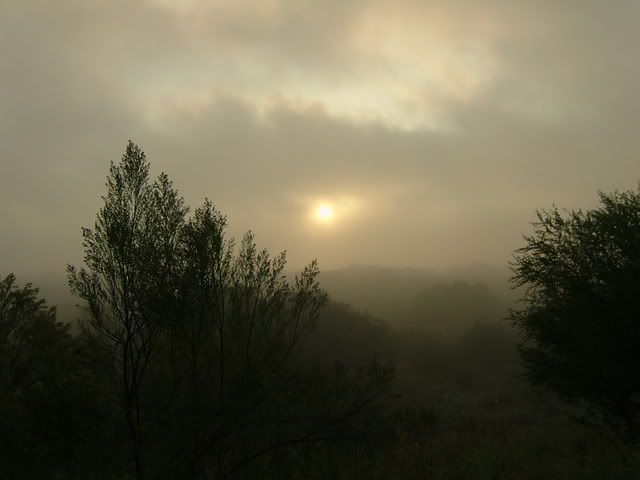 Time to fade back into the mist for another week.

As I do, remember, all of the works presented in the blog are the property of their creators. The blog itself is produced by and the property of me....allen itz.