Chasing Marfa Lights
Friday, October 05, 2007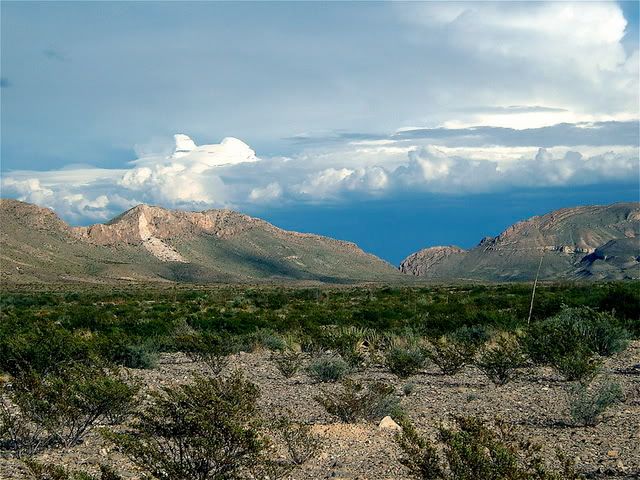 II.10.1.





I'm posting on Friday again this week because I'm leaving early tomorrow for Marfa, Texas, a little town of a couple of thousand West Texans way-out-in-the-middle-of-nowhere. I'm going to hang around and see what's happening at the Chinati Open House Weekend, sponsored annually by the Chinati foundation.

The Chinati Foundation is a contemporary art museum located in Marfa, conceived and founded by the late artist Donald Judd. The nonprofit museum opened to the public in 1986. It was Judd's goal at Chinati to bring art, architecture, and nature together in order to form a coherent whole.

The Chinati Foundation preserves and offers for public viewing large-scale, permanent installations by a limited number of artists. Originally conceived in order to present installations by Judd, Dan Flavin, and John Chamberlain, the museum's permanent exhibitions include works by Carl Andre, Ingolfur Arnarsson, Roni Horn, Ilya Kabakov, Richard Long, Claes Oldenburg and Coosje van Bruggen, David Rabinowitch, and John Wesley. Throughout the year, the museum hosts temporary exhibitions as well.

The whole enterprise just goes to show what you can do with a couple of empty aircraft hangers.

The weekend is a two day arts party that includes official foundation events as well as wide range of other activities scheduled around the Open House to take advantage of the several thousand arts enthusiasts (and hangers-on like me) who will come to Marfa from all around the world, doubling, or more, for the weekend, the town's population.

Sunday, I think I'm going to take a drive along the border on the southern edge of Big Bend State Ranch, passing through Terlingua, then Lejitas and on to Presidio and, finally, spend all day Monday doing the 500 or so miles to get back home. A nice little weekend plus one excursion.

I'm taking my camera and hope to come back with interesting pictures for next week's "Here and Now." Maybe I'll even get a shot of the famous "Marfa Lights."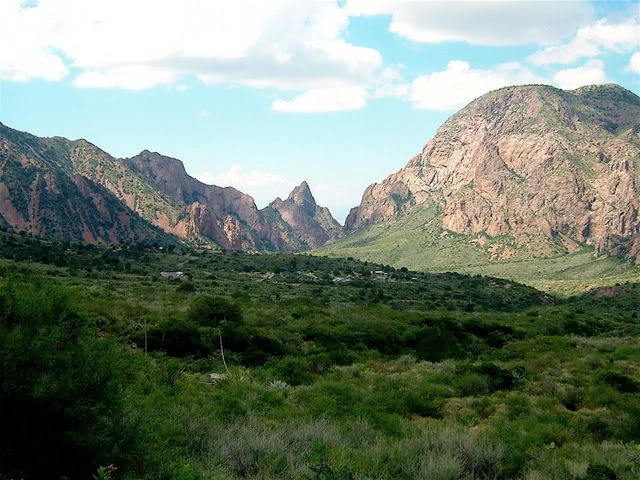 Since I'll be in Marfa tomorrow, it makes sense to start this issue off with selections from Marfan, the book of poems and other jottings by Peter Reading I introduced several weeks ago.

So, we begin with two pieces from the Marfan, one an explanation of how the town got its name and another that expresses the sense of most of us who live or have lived in the bi-national culture along the Texas-Mexico border

First, about the name....



from Marfan


In January 1881
work on the Galveston/San Antonio
Southern Pacific Railroads reached this site,
a water stop and freight headquarters which, then,
had no name. Southern Pacific's Engineer
was married to a woman who aspired
to higher things (was reading Dostoevski,
The Brothers Karamazov, 1880);
she dubbed the tank town Marfa, after the loyal
retainer of the Karamazov household,
omniscient old Marfa Ingatyevna
who did not see the fall but heard the scream,
the strange, foam-stifled, long familiar scream
of an epileptic falling in a fit.


And as to the "fence" and all such foolishness....



from Marfan

It's Xenophobia, but pretends to be
outraged concern that hundreds of tons of drugs
are flooding across the Mexico/US line
each year - the hatred's in the stupid faces,
the stupid quasi-military duds,
the stupid guns of off-duty Patrolmen
in Carmen's stuffing their porcine guts with shite
before resuming the cat-and-mouse charade
of rounding up the smooth-faced, terrified hijos,
viejas, campesinos crowded in scrub
this side of the Rio Grande....

Washington:
congressional Republicans are baying
for bigger fences, more technology,
more agents and the US military
to stem the tide; the House of Representatives
is calling for 10,000 soldiers to guard
2,000 miles of US/Mexican frontier,
elaborate triple-fencing barriers
(expecially whar tham mothers tries to crass
from Juarez to El Paso) and an entire
new agency for borderline enforcement
(our border's a national secur'ty threat,
and bah God, sah! bah God, sah! Congress better
start a-securin-of our border, pronto!)
The Senate is considering these demands
together with one to add 5,000 more
Border Patrol Gestapo and to provide
sophisticated high-tech apparatus
for the fat, trigger-happy, complacent twats.


(A pretty good rant, harder on Border Patrol agents than I would be, but otherwise expressing what a lot of people on the Texas border feel about the "wall" which they (me, too) see as having the same effect, if not purpose, of the Berlin Wall, sundering into two what has historically been one community, not to mention destruction of several long-established wildlife habitats. Don't let anyone tell you different. Whatever's going on elsewhere, opposition to "the wall" along the Texas border is widespread and intense, though probably futile.)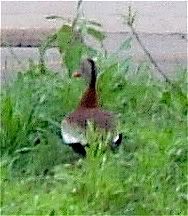 Sometimes you try your best to be sociable and it just doesn't work out.

I wrote this last week.



frankly, my dear

I spent a good part
of a day last week
trimming
the hedge in front
of my front porch

it was about chin
high
and I cut it back
to about knee high
with the idea
that we could sit
out there in front
and watch life go by

so far
life going by
amounts to cars
going by way too fast
for a nice Andy
Taylor/Aunt Bee
wave and howdy,
several dog walkers
mostly
with ugly dogs
who I suspect are
the producers of the
dog poop
I always find in the yard
- the dogs
not the walkers -
and the very large lady
in the very tight shorts
who jogs by
twice a day huffing
and puffing
and I guess there'd
be a story there,
a real slice of life
story, but frankly
my dear
I don't give a hoot
- I stole that line,
but cleaned
it up for general audience -

so that, as the say,
is life
on Clearview Street
in San Antonio
Texas,
not much
to spend a whole day
trimming hedges for

well
there was the young
girl
who missed the turn
at Callaghan & Clearview
and drove her Ranger
pickup
through my neighbor's
fence this afternoon
but that doesn't
count
because I didn't see it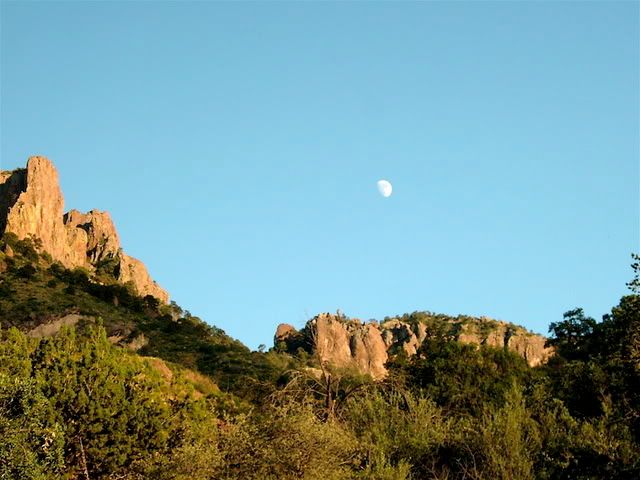 N. Scott Momaday is a member of the Kiowa tribe. Though born in 1939 in Oklahoma, he claims northern New Mexico as his spiritual home. He graduated from the University of New Mexico and holds an M.A. and Ph.D. degrees from Stanford University. He was awarded a Pulitzer Prize in 1969 for his novel House Made of Dawn. An artist in addition to being a poet and novelist, his work has been shown in the United States and Europe.

This poem is from Harper's Anthology of 20th Century Native American Poetry.



Four Notions of Love and Marriage

for Judith and Richardson Morese, their wedding

1.

Formerly I thought of you twice,
as it were.
Presently I think of you once
and for all

2.

I wish you well:
that you are the runners of wild vine,
that you are the roan and russet of dusk,
that you are a hawk and the hawk's shadow,
that you are grown old in love and delight,
I wish you well

3.

Be still, lovers.
When the moon falls away westward,
there is your story in the stars.

4.

In my regalia,
in moccasins,
with gourd and eagle-feather fan,
in my regalia
imagine me,
imagine that I sing
and dance at your wedding.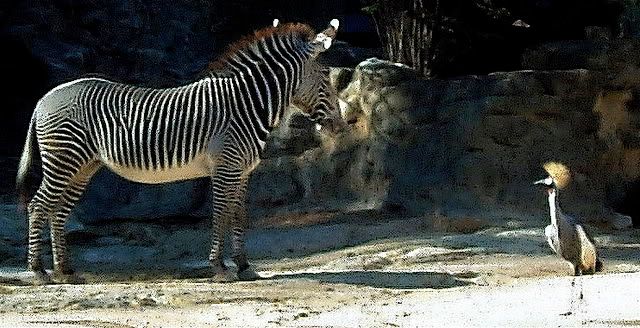 Beau Blue, a "Here and Now" first-timer, lives in the Santa Cruz Mountains, California. He calls himself the stage manager of Blue's Cruzio Cafe (http://www.cruziocafe.com), a virtual performance venue that features flash animations of contemporary poetry, but actually is its creator.

Here's a tip for you - check out Blue's Cruzio Cafe. It is terrific. Either copy the url above to your browser or go to it directly by clicking on the link on the right side of this page.

In the meantime, here's his poem.



The Camel in the Needle's Eye

sometimes through the door, a moose

Please announce yourself to the receptionist.
She'll notice your antlers immediately
and escort you to Pete's pristine cubicle.
If by chance she misses them,
you can bray at these gothic columns
until echoes fill the room,
which happens with incredible dispatch,
and brings prissy Huguenots who'll wave
every manner of banner and scream
about what's best and proper etiquette.
You can act surprised and point
to your jewel encrusted crown.
Then the big guy'll decide if some mistake's been made.
And if that is the case, he'll cancel the parade.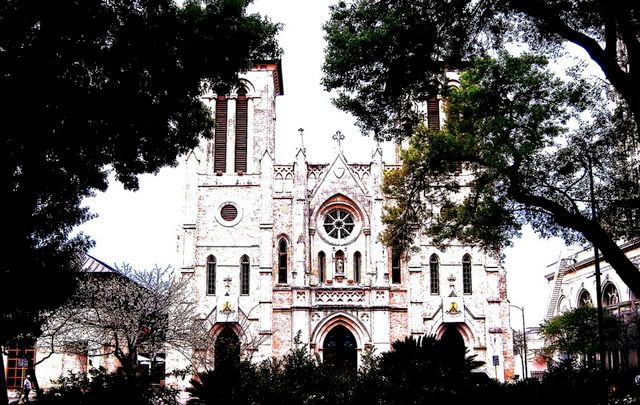 I like both the poems and the essays of Victor Hernandez Cruz.

Most of the essays in his book Red Beans, published by the Coffee House Press in 1991, are too long to use here. But I did find this one about Christmas in Puerto Rico that I'm sharing here today.



Celebrating Puerto Rican Style

For my children

Taking an airplane from one age to another was the highlight of my childhood.
You must get the picture of what it felt like to move, at five years old, from a small tropical village in Puerto Rico to New York city, the largest, most developed urban center on the planet. It was as if we penetrated another dimension. I remember my town, Aguas Buenas; small wooden homes with the touch of Spanish colonial, which in turn contained the Arabic influence of the Moorish occupation of Spain. The town's steep streets were surrounded by a green, lush flora from which descended the singing of the coqui, a unique Puerto Rican toad that permeates the island nights with its mating call.
The Puerto Rican migration of the late forties and early fifties was one of the great exoduses of recent times, emptying out much of the campesino population amid a collapse of the agricultural system, mainly sugar cane. The bulk of those immigrants arrived in the large northern cities of the U.S. mainland.
We are a people descended in part from the indigenous population that Columbus described as copper-skinned with straight jet black hair, living in oval-shaped villages of wooden homes that had palm-leaf rooftops. They had their own linguistic, religious and governmental systems until, the anthropologists tell us, this society was exterminated by the cruel policies of the Spaniards. In their quest for cheap labor, the Spaniards introduced Puerto Rico's African element, mostly Yorubas from that continent's west coast. And so the Indian, the Spaniard and the African are the ancestors of the Puerto Rican people - impart a lasting flavor in the language, music, food and spirituality which we describe as criollo.
On the island of Puerto Rico we never dream of a white christmas or of a Santa Claus being guided through the clouds by Rudolph the Reindeer. On Christmas Day on our island it might be 87 degrees with the gentle East Trade Winds blowing. Islanders begin their festive spirit some three weeks before Christmas Day and go on for another two weeks after. It is as if Christ's radiance were descending upon the earth.
I remember Christmases so joyful and full of music. Aguinaldo, a form of Puerto Rican carol, jumps with the vitality of life, using drums, guitars and maracas. The songs speak of Jesus as if he were being born again that very moment when the voice and the heart administer the lyric. The songs glorify the Virgen Maria and her divine conception. They venerate the divine, and - as if on the same note - the joys of drinking rum and dancing, of flirting and falling in love, of piercing a hog with a spear and roasting it in the open air.
Jesus wants us to have a beautiful time, to dance the traditional mapayes, plenas and bombas as well as any bugaloo of invention on the day of his birth.
A most important feature of Christmas in the traditional towns of Puerto Rico is the asaltos or musical assaults. Each town has its own groups of singing bards who go on a musical rampages, stopping at the entrance of homes or directly below balconies, singing the famous Christmas jingles or improvising their own on the spot. At the end of their rendition it is the custom for members of the household to bestow gifts of food or drink as a sign of appreciation.
Coquito, a blend of coconut milk and rum, is a traditional Christmas drink that should be sipped sparingly, for it gives you the illusion that you can gulp it down like milk - a great way to end up falling down a mountain and finding yourself in a bushel of guayabas. The Puerto Rican pastel is another must around the holidays - gated plantain, port meat, olives, garbanzos and hot peppers placed within a banana leaf and boiled. The aromas of this and other traditional dishes rise from Puerto Rico's towns on Christmas, waking the palates of the living and the dead.
In North America's cities, Christmas trees are purchased in lots set up under freeways. In Puerto Rico the tradition is different. The holiday of Los Tres Reyes Magos, the three wise kings, is celebrated on January 6th, and it on that date that Puerto Rican children receive their gifts. But first they must prepare for them. Each must go out into the countryside with a box and gather grass. They then place the boxes under their beds, and it is there that they discover their gifts on the morning of January 6th. This grass under the bed is Puerto Rico's Christmas tree.
My island home is fighting for its cultural values and economic survival under the pressure of North American control. But at Christmastime Puerto Rico may have the upper hand. All airlines going into San Juan around the holidays are booked down to every seat. If you fly standby, rumor has it that sometimes you can get in but you can't get out.
Well, if that happens to you, take to the mountains of the interior, for those are the pictures sent by Christ from the heavens.
Feliz Navidad.









My next poet, James Lineberger, is appearing in "Here and Now" for the first time.

James is a retired screenwriter, sometime playwright, and full-time poet. His work has appeared in a number of print and online publications. Some of his poems can be found through google. He also has eight volumes, and a full-length play, available here: http://www.lulu.com/james_lineberger



drought

there's an old southern tale
dating back to slave times
that water
is composed of lost souls seeking
a place to rest
but what was true back then
has somehow gone awry
much like the weather itself
in this deadly piedmont summer
where to hear tell it
even your dashboard jesus
needs a face mask
and red dust rains in a crazed rapture
upside down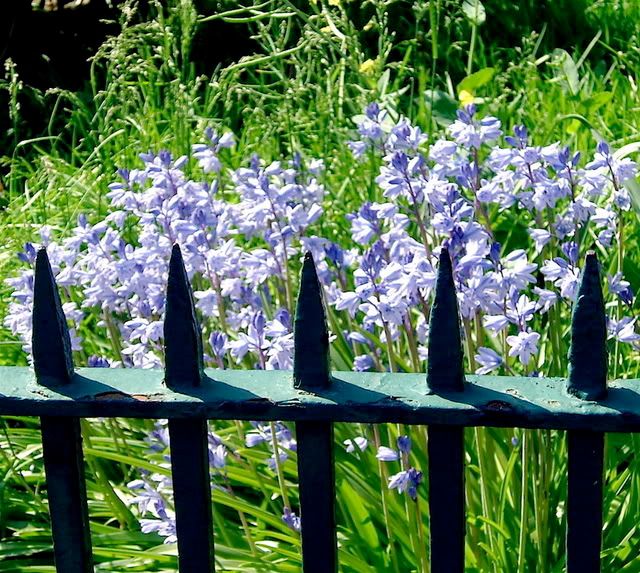 Next I have two poets from The Outlaw Bible of American Poetry I wrote about last week.

First, I have a poem by William Wantling who, in the brief 44 years of his life, went from hardened convict to underground poet to full-fledged academic.



Poetry

I've got to be honest. I can
make good word music and rhyme

at the right times and fit words
together to give people pleasure

and even sometimes take their
breath away - but it always

somehow turns out kind of phony.
Consonance and assonance and inner

rhyme won't make the real or the true
which we call Life. Like the other

day. The other day I was walking
on the lower exercise yard here

at San Quentin and this cat called
Turk came up to a friend of mine

and said Ernie, I hear you're
shooting on my kid. And Ernie

told his So what, punk? and Turk
pulled out his stuff and shanked

Ernie in the gut only Ernie had a
metal tray in his shirt. Turk's

shank bounced right off him and
Ernie pulled his stuff out and of

course Turk didn't have a tray and
caught it dead in the chest, a bad

one, and the blood that came to his
lips was a bright pink, lung blood,

and he just lad down in the grass
and said Shit. Fuck it. Sheeit.

Fuck it. and he laughed a soft long
laugh, 5 minutes, then died. Now

what could consonance or assonance or
even rhyme do with something like that?


Next from the "outlaw bible" is this Cleveland based poet, artist, and alternative publisher, d.a. levy. Levy was born in 1942 and died in 1968 from a self-inflicted gunshot wound to the head.



The Bells of the Cherokee Ponies

i thought they were
wind chimes
in the streets at night

with my young eyes
i looked to the east
and the distant ringing
of ghost ponies
rose from the ground

Ponies Ponies Ponies

(the young horse becomes
a funny sounding
word)

i looked to the east
seeking buddhas to
justify those bells
weeping in the darkness

The Underground Horses
are rising

Cherokee, Delaware, Huron
we will return your land to you

the young horses
will return your land to you

to purify the land
with their tears

The Underground Horses
are rising
to tell their fathers
"in the streets of night
the bells of cherokee ponies
are weeping."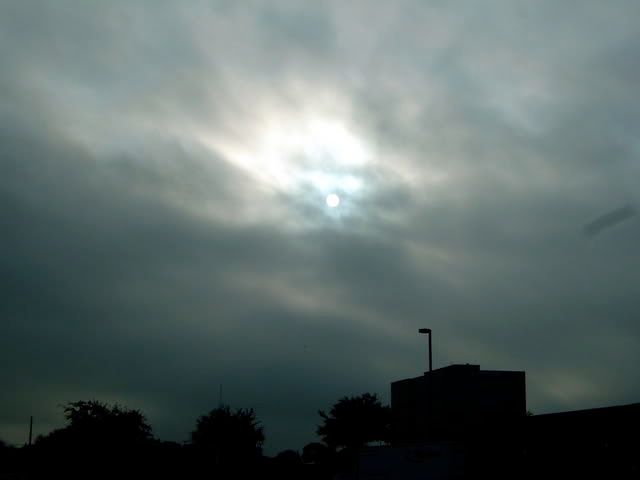 I was a huge reader of science fiction in my teens and twenties, but I drifted away as the writers I knew and looked for died off. There is so much crap in science fiction and it is such a struggle to get through the crap to find the really good stuff, I just kind of left it behind.

But I still remember those old science fiction stories that moved me and filled me with awe when I was young. And I still read the New York Times Science Section on Thursdays and often find new science that seems awful familiar to me.



sol brother

I read a story once
that imagined
stars
were sentient creatures,
unimaginably remote
from all others like themselves,
great lonely beings
who, through loneliness
and the weight of billions
of years of life,
grew wise as any god
ever imagined

I remember this story as,
just minutes ago,
I heard on the news
of the discovery of something
called "plasma dust,"
inorganic matter that
creates
little DNA-like links
that define it, that replicates
itself, that grows, and that, in all
other ways, demonstrates
something that looks like
a kind of inorganic life
flourishing in the blazing
furnace
of
stars like our own,
a kind of life
unimagined
by anyone but, maybe,
a science fiction writer
forty years ago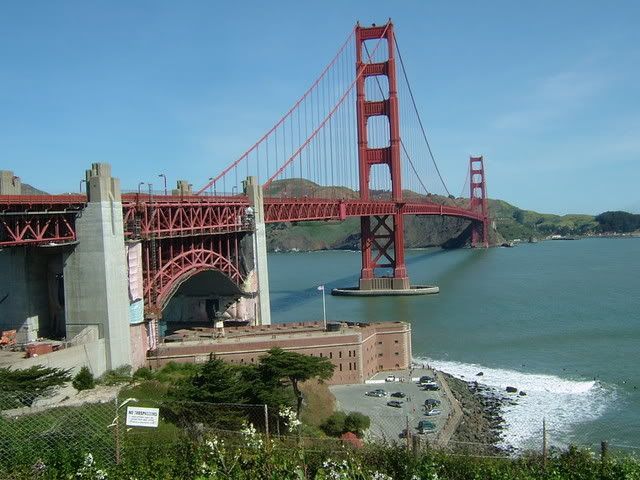 I made a run to my favorite used book store last week and picked up several poetry books. One Dark Sky Question is a collection by Larissa Szporluk. The book was published by Beacon Press in 1998.

Szporluk is author of two books of poetry in addition to this one, which won the Barnard Poetry Prize. They are Isolato, winner of the Iowa Poetry Prize; and The Wind, Master Cherry, the Wind with Alice James Books.

In addition to having received a 1998 Rona Jaffe Writers Award, her poems have been widely anthologized in Best American Poetry 1999, Best of Beacon 1999, New American Voices, and Young American Poets.

She is Assistant Professor of Creative Writing and Literature at Bowling Green State University.

I have to admit that, as something of a literalist, I have some trouble with "getting it" in a lot of her work.



Under the Bridge

You never know when someone will
stick a little knife
in your heart and walk away -

and the handle that smells of his hand
vibrates by your breast
as he ducks through the trees

and minutes later blows like a shirt pin
across the frozen lake.
And you're all wet, and he's in love

with what he's done.
And because of the cut,
the distance of your life pours out,

and because of the clouds
like fat that surround you,
you don't hear

for a long time
the tom-tom beating
in the sky, letting shadows

too heavy to be birds,
and yelling with a message
to forgive him

like the others did their father
under the bridge there
where ropes still linger

in remembrance of their necks,
where a flute in case lies cold
forgive him. Say

his name. It was only
power that he had to have,
and look what the one thrust gave him.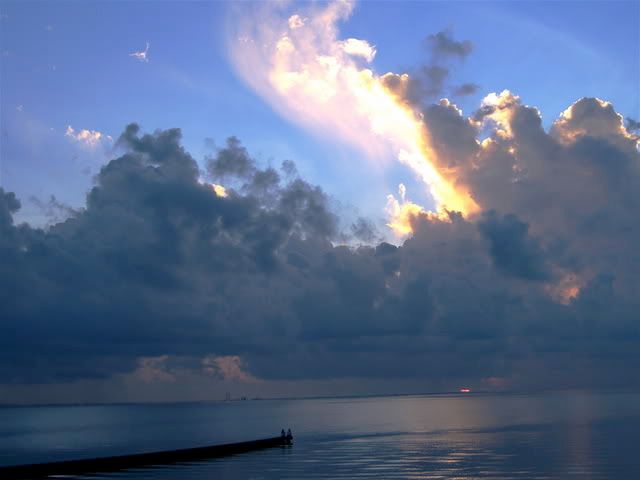 It has been a couple of years now since Gary Blankenship, a familiar name here, published his book A River Transformed: Wang Wei's River Wang Poem as Inspiration. In the book, Gary writes his own poems inspired by poems from Wang Wei's (701-761 AD) "Wang River Collection." With each of his original poems, Gary includes a literal translation of the original poem plus his own version of the original. If Gary still has any copies of his book available, you can get information on how to purchase one by visiting his web site. Just click on the "Gary Blankenship" link on the right.

I've used Gary's original poems from the book before. This time, to give readers a better perspective of the book, I will include all three elements.

All of the following is from the book.



After Wang Wei's South Hill - Leaving the City

A fisherman waves,
his skiff lifted by the ferry's wake
and curls from a tramp steamer headed north
to deliver toys to the river's children

A blackfish pod breaks the surface,
passengers crowd against wet windows;
the city's lights shatter behind,
the sun's last red radiance ahead.

I leave with too many questions.
Do the answers lie in firs near a gravel stream?
You seem certain, your smile without doubt,
except when you glance south, behind us.

Beneath the water, ghost nets, spotted shrimp,
shadows lost to a painter's palette.


The literal translation of the original from the Chinese web site is:

Light boat south hill go
North hill vast expanse hard reach
Separate bank see person home
Long way off not recognize


Gary's version is:

A light boat takes us to South Hill,
the north a long, hard voyage.
Across the wide lake, I see villagers,
strangers to us on this dark shore.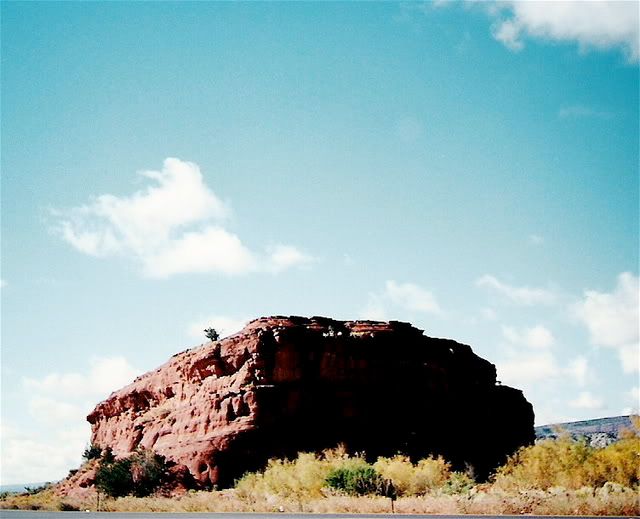 Another book I picked up this week is Poems 1959-1979, published by Alfred A. Knopf in 1989, which brings together under one cover two previous collections of work by Federick Seidel, Final Solutions, published in 1963, and Sunrise, published in 1980.

Since releasing this book, he has published his collection, The Cosmos Poems, which was commissioned by the American Museum of Natural History to celebrate the opening of the new Hayden Planetarium in 2000, Going Fast, which was a finalist for the 1999 Pulitzer Prize in poetry, and his most recent book, Ooga-Booga, which was a finalist for the National Book Critics Circle Award and was shortlisted for the 2007 International Griffin Poetry Prize.

Here are two poems from his 1980 collection.



Death Valley

Antonioni walks in the desert shooting
Zabriskie Point. He does not perspire
Because it is dry. His twill trousers stay pressed,
He wears desert boots and a viewfinder,
He has a profile he could shave with, sharp
And meek, like the eyesight of the deaf,
With which he is trying to find America,
A pick for prospecting passive as a dowser,
He has followed his nose into the desert.

Crew and cast mush over the burning lake
Shivering and floaty like a mirage.
The light makes it hard to see. Four million dollars
And cameras ripple over the alkali
Waiting for the director to breathe on them.
How even and epic his wingbeats are for a small fellow.
He sips cigarette after cigarette
And turns in Italian to consult his English
Girlfriend and screenwriter, who is beautiful.

In Arizona only the saguaros
And everybody else were taller that he was.
Selah. He draws in the gypsum dust sela
He squats on his heels for the love scent, finally
The technicians are spray-dying the dust darker.
It looks unreal, but it will dry lighter,
Puffs of quadroon smoke back out of the spray guns.
The Open Theater are naked and made up.
Between his name and neant are his eyes


Robert Kennedy

I turn from Yeats to sleep, and dream of Robert Kennedy,
Assassinated ten years ago tomorrow.
Ten years ago he was alive -
Asleep and dreaming at this hour, dreaming
His wish-fulfilling dreams.
He reaches from the grave.

Shirtsleeves rolled up, a boy's brown hair, icy eyes
Softened by the suffering of others, and doomed;
Younger brother of a murdered president,
Senator and candidate for president;
Shy, compassionate and fierce
Like a figure out of Yeats;
The only politician I have loved says You're dreaming and says
The gun is mightier than the word.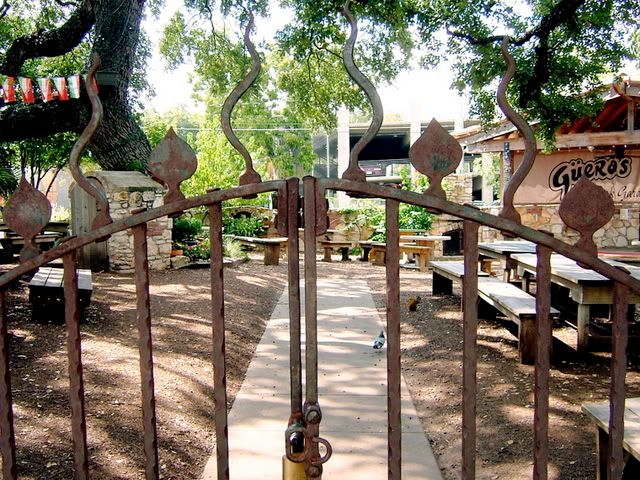 And now we have something I'd like to do more of, a piece of short fiction by another "Here and Now" first timer, Wayne Scheer.

After teaching writing and literature in college for twenty-five years, Wayne retired to follow his own advice and write. He's been nominated for a Pushcart Prize and a Best of the Net. His work has appeared in The Pedestal, Pindeldyboz, and Eclectica Magazine, among others.

Wayne lives in Atlanta with his wife and can be contacted at wvscheer@aol.com.

Here's his story.



Brooklyn, 1960


If ten year-old Arnie Goldbladt ever answered his relatives honestly when they asked the "so-what-do-you-want-to-be-when-you-grow-up" question, he would have answered, "Italian. I want to be Italian when I grow up."

Italian kids, it seemed to Arnie, had muscles where he had bones, never wore glasses and could mold their hair into a perfect pompadour while Arnie's hair, no matter how much Brylcreem he applied, formed ringlets, hardened curls his mother thought cute.

As stubble sprouted on Arnie's dimpled cheeks and his voice covered the range of a Doo Wop group in a single sentence, he held steadfast to his life's ambition. Although Arnie's family regaled him with lists of famous Jews in history, from Einstein to rock 'n' roll's Neil Sedaka, he knew that although Sedaka sang of his "Calendar Girl," the real Miss April dated Frankie Avalon.

So Arnie slicked back his hair as best he could and befriended Vinny Moreno, who lived across the hall of their Brooklyn apartment house.

In turn, Vinny and his friend Bobby Russo introduced Arnie to beer and girls. One hot, humid evening the three boys shared a six-pack and Mary Carbone. Mary, at sixteen, was one year and a lifetime older than the boys. For five dollars, she let each of them slip their sweaty hands under her shirt and touch her bare breasts.

With hands trembling, Arnie felt the quivering mounds of flesh, thinking how utterly wonderful it was being Italian.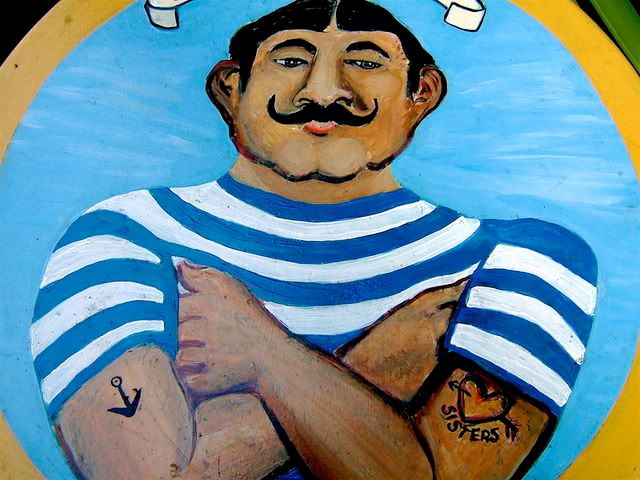 Of the four new-to-me poets I picked up this week. My favorite is Charles Harper Webb. The book I found is Reading the Water, published by Northeastern University Press in 1997.

Webb was educated at Rice University, the University of Washington, and the University of Southern California. He worked for fifteen years as a professional rock singer and guitarist and, as of publication of this book, was a licensed psychotherapist and professor of English at California State University. His poems are honest and direct, qualities I especially admire.




Prayer for the Man
Who Mugged My Father, 72

May there be an afterlife

May you meet him there, the same age as you.
May the meeting take place in a small, locked room.

May the bushes where you hid be there again, leaves tipped with
razor blades and acid.
May the rifle butt you bashed him with be in his hands.
May the glass in his car window, which you smashed as he sat
stopped at a red light, be embedded in the rifle butt and on the
floor to break your fall.

May the needles, the doctors used to close his eye, stab your pupils
every time you hit the wall and then the floor, which will be
often.
May my father let you cower for a while, whimpering, "Please don't
shoot me. Please."
May he laugh, unload your gun, toss it away,
Then may he take you with bare hands.

May those hands, which taught his son to throw a curve and drive
a nail and hold a frog, feel like cannonballs against your jaw.
May his arms, which powered handstands and made their muscles
jump to please me, wrap your head and grind your face like
stone.
May his chest, thick and hairy as a bear's, feel like a bear's snapping
your bones.
May his feet, which showed me the flutter kick and carried me
miles through the woods, feel like axes crushing your one claim
to manhood as he chops you down.

And when you are down, and he's done with you, which will be
soon, since, even one-eyed, with brain damage, he's a merciful
man,
May the door to the room open and let him stride away to the
Valhalla he deserves.
May you - bleeding, broken - drag yourself upright.

May you think the worst is over,
You've survived, and may still win.

Then may the door open once more, and let me in.


Here's Webb in a more mellow mood.


Back Flip

"Ten bucks says you can't do it," shrilled Zack Boles,
who didn't have ten bucks, but had a Junior
Gymnastics gold medal from the "Y."

Dad leaned his rake against our sweetgum tree,
lowered his hands, and sighed. His belly - soft
and rounded as a pile of leaves - flexed

with his knees before they straightened, shooting him
up higher than I could have dreamed, his arms
level to the ground, knees lifting to meet

his hands, which pulled his knees over his head
as he spun like a cam on a drive-shaft,
a Foosball-man on its shis kebab of steel.

For an instant he hung, a poor, tricked codger
upended in his chair, thin gray hair plummeting
straight down, I pictured him stretched

on the ground, spine snapped, heart burst,
white-coated medics mouthing, "...nothing
we can do." but he kept turning, his tuck

opening, legs feeling for the ground.
His feet hit hard . He staggered, took a half-step

a Victory V - as the lawn, a Texas sponge,
sprayed cresosote into Zack's face,
and streams of crystal glory over me.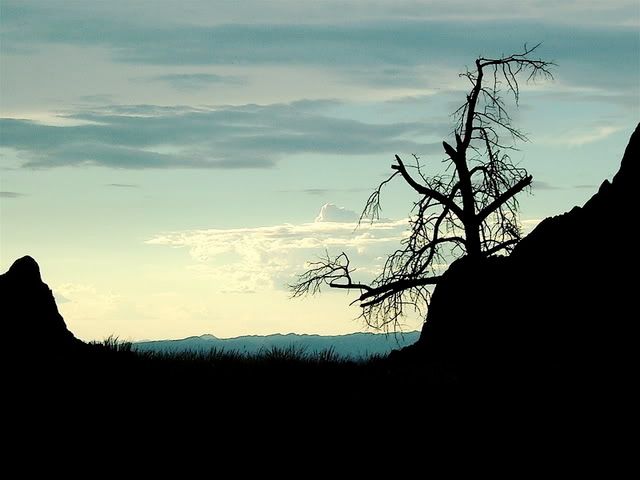 And now, even another contributor making his first appearance on "Here and Now," Billy Howell Sinnard.

Billy describes himself as a poet trying to find honor in life. He says he clearly believes, just as his poems change and grow, people can change and grow, or unfold.



Even The Child Sits Up Straight

He sits on mother's lap looking out the window
expecting to see something he's never seen before.

An old man smoothes a pant leg between thumb
and index finger, folding and putting away
another year. He is nearest the bed.
When the bed breathes, he breathes.

The others also wait.
The hands of the clock are a mime's.
Through the picture window, the day passes
as it did yesterday.

The bed is still.
The old man sighs.

The others breathe on their own again.
The child spies willow branches in the courtyard
lifting in the wind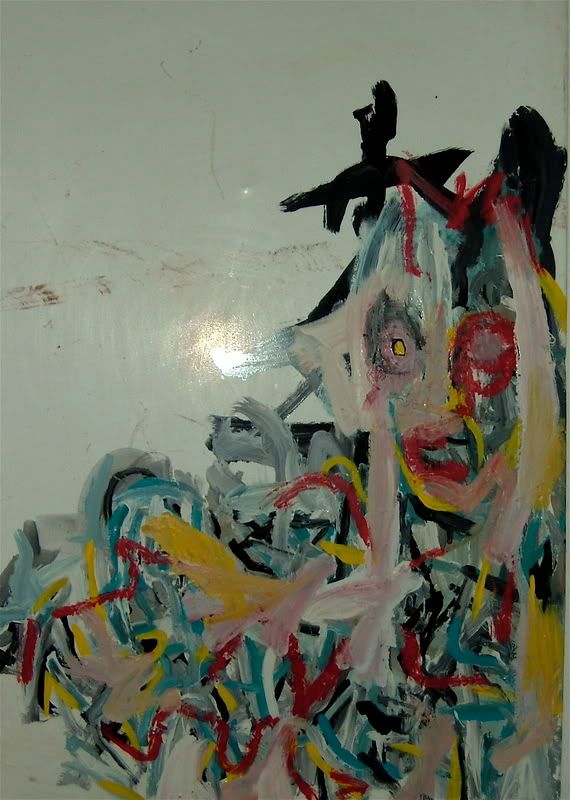 Painting by Vincent Martinez





I found a book with poems like screams. It is American Dreams by Sapphire published Vantage House in 1996.

Sapphire lives and works in New York City, and was born in Fort Ord, California. American Dreams is her first collection of prose and poetry. Her work has appeared in several anthologies, including High Risk 2: Writings on Sex, Death & Subversion, Critical Condition: Women on the Edge of Violence, and Women on Women: An Anthology of American Lesbian Short Fiction. She graduated from City College in Harlem with a degree in Dance. She also earned an M.F.A. from the writing program at Brooklyn College, where she was the 1994 recipient of the MacArthur Foundation Scholarship in Poetry. She was the first place winner in Downtown Magazine's Year of the Poet III Award for 1994.



boys love baseball (or a quarter
buys a lot in 1952)

the little boy
gets into the car
with father.
father drives,
father drives the car
fast.
father drives the car fast fast.
it scares the little boy
it excites the little boy,
little boys like to be scared
little boys like to be excited.
the car is brown.
it is a Pontiac,
can you spell that?
P-O-N-T-I-A-C
that's right,
Pontiac.
father is driving the brown Pontiac.
that's right
father is driving.

the little boy is riding
the little boy is riding in the car
the little boy is riding in the car to the baseball game
with father.
his sister is at home
with mother
getting her hair burned
& playing with dolls.
girls love dolls,
boys don't.
boys love baseball,
girls don't.

the car stops
the car stops in the light
the stops in the light on the road.
only father can stop the car.
only father can start the car.
father lifts the boy from the passenger seat
& pulls his pants down.
something hard hurts the boy
for the rest of his life,
splits the soft brown skin
of his buttocks and pushes him in.
father is fucking
father is fucking the boy in the light
father is fucking the boy in the light
stopped on a road.

father gives the boy a quarter.
a quarter buys a lot in 1952.

the little boy's mother had dressed him
so carefully (navy-blue short pants, milk white shirt,
bow tie, new shoes)
so he would look nice on Sunday]
when he went to the baseball game
with father.
when she asks,
"what happened to him?"
father is going to say the little boy
peed on himself, that the little boy didn't
speak up and say he had to go
to the bathroom.
it's not father's fault the little boy
doesn't look like the picture anymore.

father did the best he could!
why, no one ever took father to the baseball game
when he was a little boy.
why, when father was a little boy
they didn't even let black people
play on the same team as white people.

father is thoroughly disgusted with the little boy.
father is not taking the little boy anywhere
ever again.
why, next Sunday, after Mass,
after the Latin speaks in the priest for 30 minutes,
the little girl,
in her freshly ironed curls,
will go riding, riding with father.










I was sitting at my favorite bookstore/coffee shop the other watching the scene go by and this is what went by.



watching old folks

watching
old folks is different
now that it's clear
I am soon to be one -
for example,
I'm more ready than before
to forgive them
their
frailties
as I recognize that
they will be mine
in time

still,
it's a bit over-
whelming
when the bus
from the Rest Your Bones
Home
for the Chronologically
Challenged
pulls up outside
and drops a gaggle
of them on the sidewalk
and they all come in
at the same time,
all that white
hair
all that wrinkly
skin
all those slow
uncertain
steps
as they shuffle
around the store,
examining the merchandise
studying the price,
holding
the price tag
an inch and a half
from their droopy eyeballs

it is a sight not likely
to encourage happy
anticipation
of the days ahead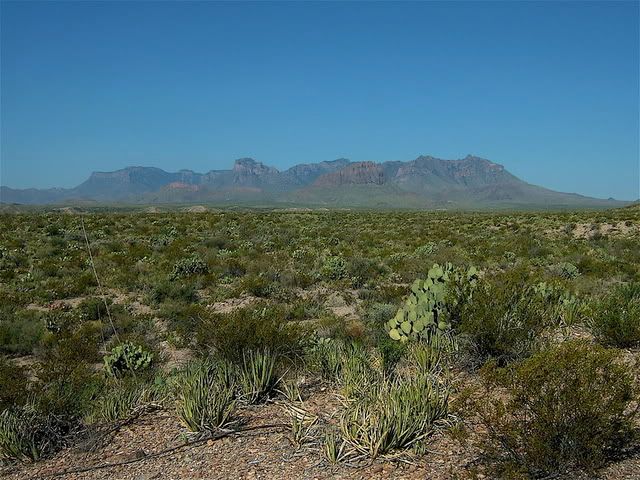 This is a bit of a longish poem, but I don't see any way that it could be presented other than whole. It is by Shirley Kaufman, born in Seattle, lived in San Francisco, and, now, 79 years old, a resident of Jerusalem since 1973. She is winner of two NEA fellowships and many other awards and has published eight books of poetry, the latest Threshold published by Copper Canyon Press May, 2003.

I found the poem in The Longman anthology of Contemporary American Poetry, Second Edition, a textbook I inherited from my son when the bookstore wouldn't buy it back because a new edition is now available.

Forget about writing the "Great American Novel," write a textbook that you can update every couple of years and you're set for life.

Anyway, here's the poem.



Looking at Henry Moore's Elephant Skull
Etchings in Jerusalem During the War

It wants to be somewhere else
remembering anything somewhere
private where it can lie down

floating in the warm belly
of the Dead Sea

so that the skull keeps
growing in the room
and the loose skin

until the whole head sees
its feet

from a great distance

* * * * * *

Heavy as earth is heavy
under its own weight

it's the same skin
wrinkled on the back of hills

gray in the early morning
on the Jericho Road.

* * * * * *

The brain scooped out of it
lets in the light
we knew at the beginning

when our eyes were dazzled

pushed
without wanting to be pushed

out of the dark.

* * * * * *

The mind of the elephant
has nothing to lose.

* * * * * *

I was begging you
not to go
when you closed the door

and left me
watching the skull's
round openings

the eyelids gone.

* * * * * *

There are caverns
under our feet
with rivers running deep in them.

They hide
in the sides of cliffs
at Rosh Hanikra
where the sea breaks in.

There is a way to enter
if you remember
where you came from

how to breathe under water
make love in a trap.

* * * * * *

Step over the small bones
lightly when you feel them
tripping your feet.

* * * * * *

Fear hangs over your shoulder
like a gun it digs in my arm

but the live head knows
that the eyes et used to darkness

fingers learn how to read
the signs they touch.

* * * * * *

Ditches where bones stand up
and shake their fists at us

sons in the shadows
and the shadows flattened
like grass rolled over

one-eyed Cyclops
slit of a concrete bunker
we bowl through
looking for flowers.

* * * * * *

We are going down a long slide
into the secret chamber
we bought our tickets for the ride

the passage is narrow
and we can't find ourselves
in the trick mirrors

we lie down in the fetal position
back to back
each of us in his own eye socket

marvelous holes
the mind looked out of
filling with dust.

* * * * * *

My lips on the small
rise of forehead above your eyes

mouths of the women in Ramallah
who spit when the soldiers go by

huge head of an infant
shoved out of the birth canal

faces stretched over us like tents
wet bandages over burns

and the white skull balder
than rock under the smile.

* * * * * *

If the smooth joining of the bone
makes arches from here to there

if the intricate structure yields
arms resting desert landscapes mother and child

if the thin membranes and the thick
weep in the naked bone

then the whole elephant can rise up
out of its flesh

as in the torso of Apollo

something is pulsing
in the vacant skull

making us change.

* * * * * *

I don't want to stand
on our balcony with the lights out
black buildings
street lamps
and headlights turned off

and nothing
against the sky

the stars get closer
but it's not the same
as when you plug in.

* * * * * *

There's an elephant inside me
crowding me out
he sees Jerusalem
through my eyes my skin
is stretched tight
over the elephant's skin his wrinkles
begin to break through
I taste the coarse hairs
crowding the back of my mouth
I fall down gagging over my four feet
my nose turns into a tongue with nostrils

it starts to grow.

* * * * * *

I see bodies in the morning kneel
over graves and bodies under them
the skin burned off
their bones laid out in all the cold
tunnels under the world.

There is a photograph in the next room
of a dead child
withered against its mother
between the dry beans of her breasts

there is no blood
under the shrunk skin

their skulls are already visible.

* * * * * *

The elephants come after us
in herds now

they will roll over us
like tanks

we are too sad to move

our skulls
much smaller than theirs
begin to shine.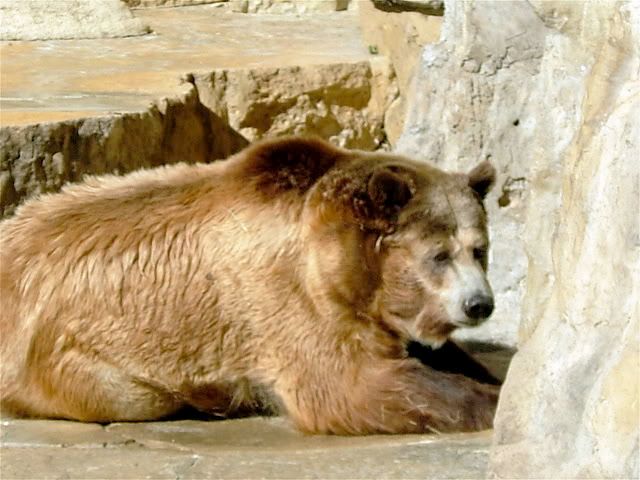 Same place as before, different scene.



watching the fat man sleep

several years older
then me,
five or so inches
shorter
and 100-150 pounds
heavier,
he's sitting at a table
in the coffee shop,
across the room
from me,
catty-corner
to the chair,
legs wide apart
belly
hanging between
them,
a little white slice
of skin
showing
between his t-shirt
and his pants

waiting
for his wife
would be my guess,
he has that look,
eyelids droopy
until finally they close
and his breathing
settles and
slowly
so slowly
he begins to tilt
to the side
until finally he's
very close
to that point
where gravity
will exercise its full
force,
but
just then
he wakes, blinks,
straightens in his chair
and just as quickly
his eyes begin to droop
again
and we're in a race
between
his wife's need to shop
and that old devil
gravity

I wait
for him to hit the floor
but he gets the breaks
this time
and his wife shows up just as
gravity prepares to announce itself,
and she shakes him
impatiently
until his eyes
clear, stuck wide open
like eyes do
when surprised or
when working very hard
not to close
and
together
they walk out the door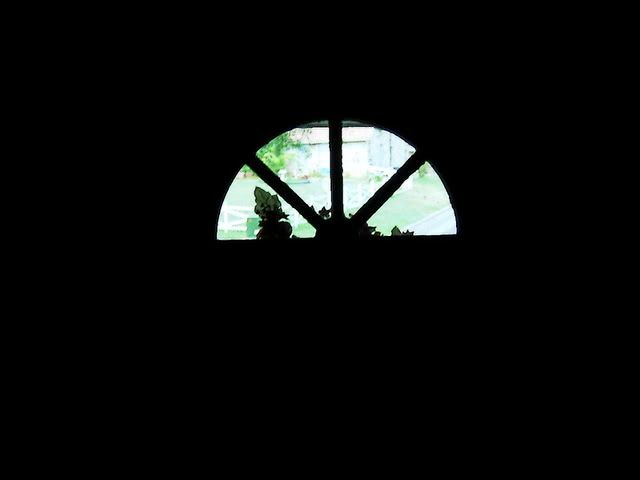 Next, appearing for the first time in "Here and Now" is Nadia Tarasova.

Nadia was born and raised in California where she attended U.C Santa Cruz. She says she loves surreal and experimental poetry.



Hard Journey Into NIght


The phone rings a man on the other end
breathing heavy

I want to make love to you!
What?
I want to make love to you!

My eyes are shiny with tears
as my father's gold watch

Why this feeling
I have already been possessed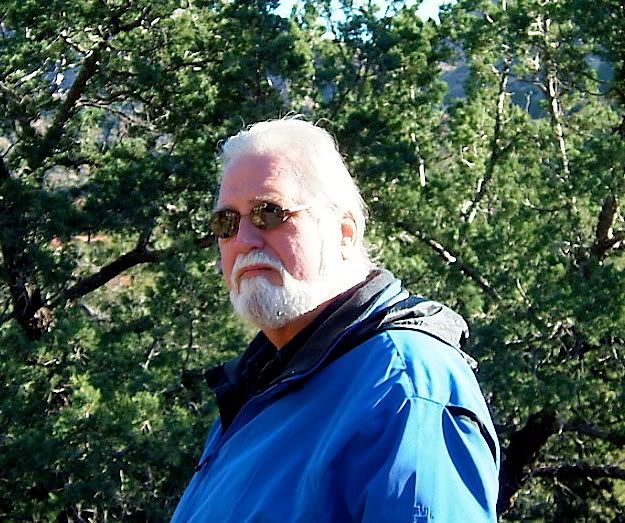 I had my first job when I was ten years old, then, except for some time off during rambling season, worked until I retired for the first time ten years ago. I retired again a second time five years ago. Despite doing it twice, I guess you could say I'm still not entirely comfortable with the concept.



an in-between season

it's not autumn
yet, but not summer
either, an in-between season
of dark,
cool
mornings,
with hot afternoons
and early dusk
and a million
cicadas
crying from the trees,
the end of their cycle
or the beginning,
I don't know
which, but
I feel it myself lately,
like somethings over
and I'm in a lull
waiting
for whatever's
next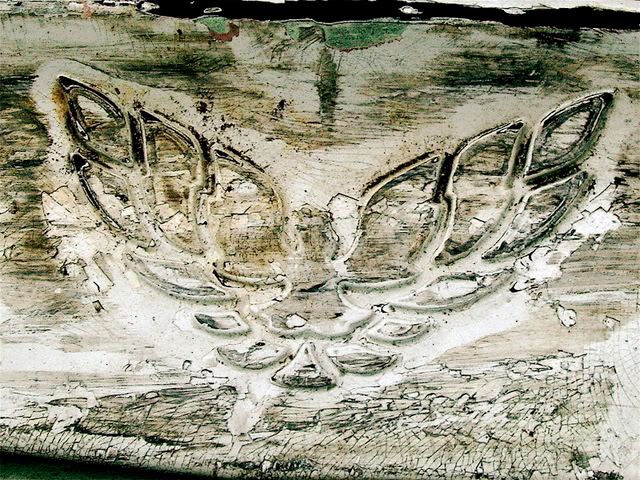 Speaking of the "R" word, it's time for us to retire for the week. But I don't want to do that without first giving myself an attaway.

Since I started doing "Here and Now," in addition to the other stuff I do on the web and in real life, I haven't had time to send my work out for possible publication. But I did, two months ago send several poems off to Loch Raven Review for their consideration. They selected two of the poems which now appear in their autumn issue. It's an excellent journal featuring good work from a number of writers. I recommend it to you and remind you that you can get there by clicking on the "Loch Raven Review" link on the right.

Until next week, I remind all and sundry that all work included in this blog is the property of its creators. The blog itself is produced by and the property of me - allen itz.