We're Back
Saturday, May 19, 2007



Eighteen days on the road, little over 5,000 miles - 1,000 via Amtrak and 4,000 by rental car- and we're home.

It was a beautiful trip, San Antonio to Los Angeles by rail, then hugging the coast on highways 1 and 101 to Vancouver, back to Seattle and finally home through Arizona and New Mexico.

We're worn out, but would not have missed a day.

We've had nothing new on "Here and Now" for three weeks. While we're putting together new material for a regular blissue, here's a little travel journal, photos and poems, we hope you enjoy.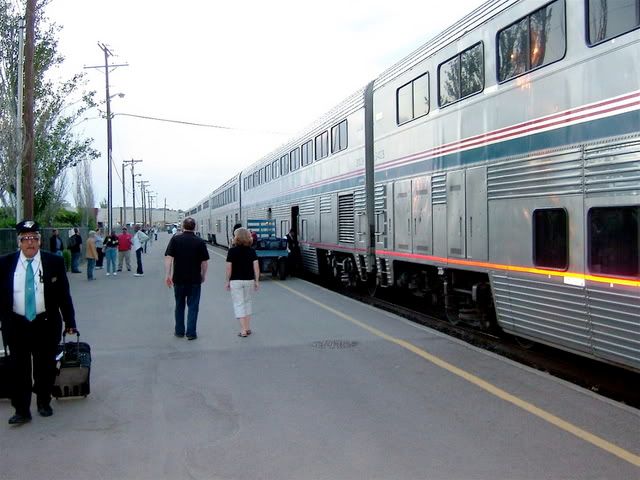 on a slow train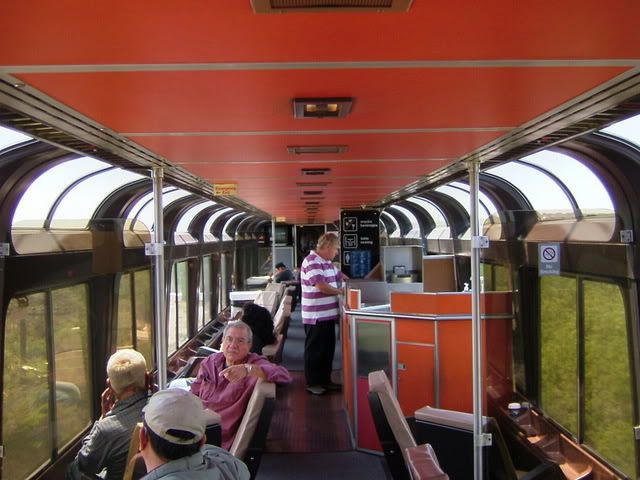 5:30
in the morning,
we settle back into our seats
and the journey begins

later I will see how easy
it can become to believe
the train is a bubble
in the rushing stream of reality
flashing by -
but tonight, for this first ride,
I am conscious of ever bump and rattle,
listening to the train's wail
at every road crossing
as we rumble through San Antonio's
south and west sides

wailing this time
for me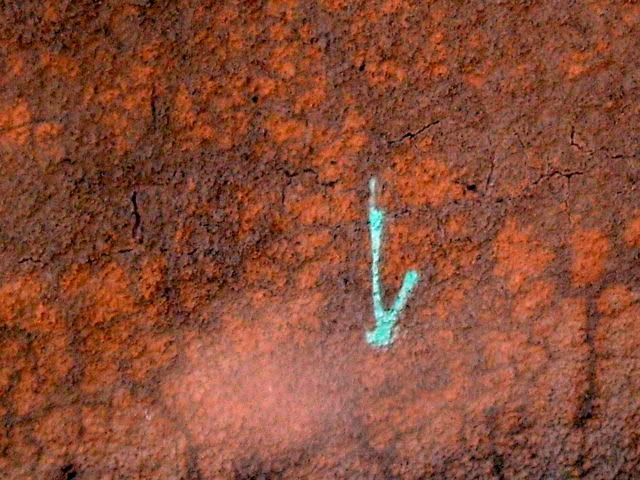 in the observation car,
two screen writers,
brother and sister,
sneer
their way through
alpine, texas
then return to their
blackberries

enough reality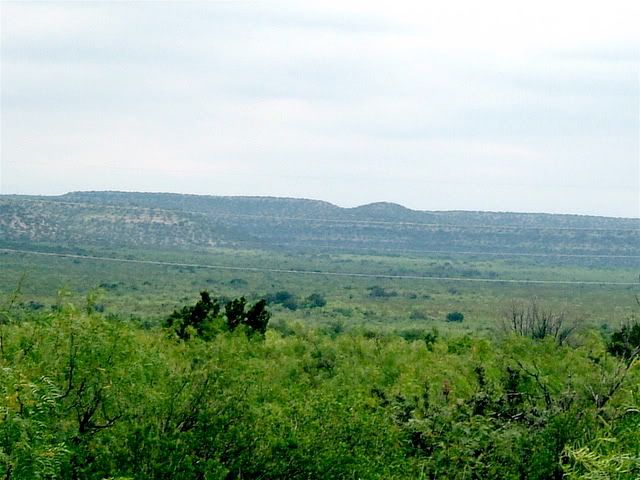 green
green
green
from buckets
of rain
then
like a switch
is thrown
brown
brown
brown
hills
rolling left
and righ

then past
the dry hills
and into a desert
blooming green
on every side from
great gushes
of rain
that swept through
a month ago
leaving
puddles in the desert
even
today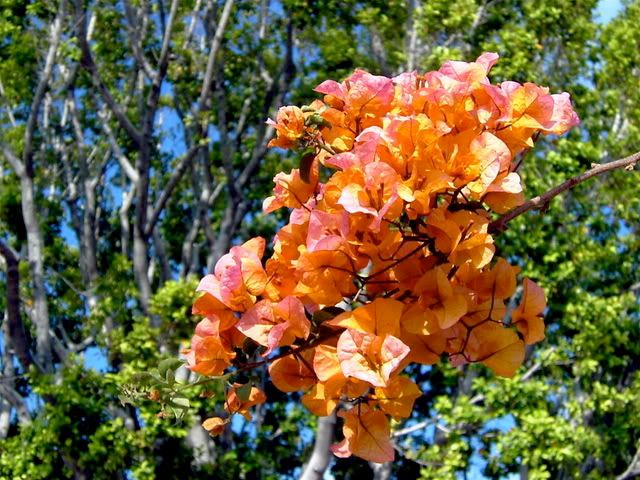 as has been said
before
old men
like to talk
especially
when young girls
can be cornered
on a train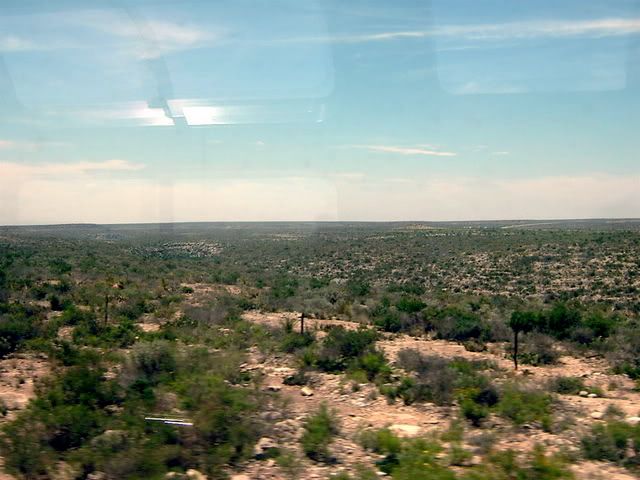 oceans
of sand
where tides
once ruled
the night
and the day

juniper bushes
like islands
in the stream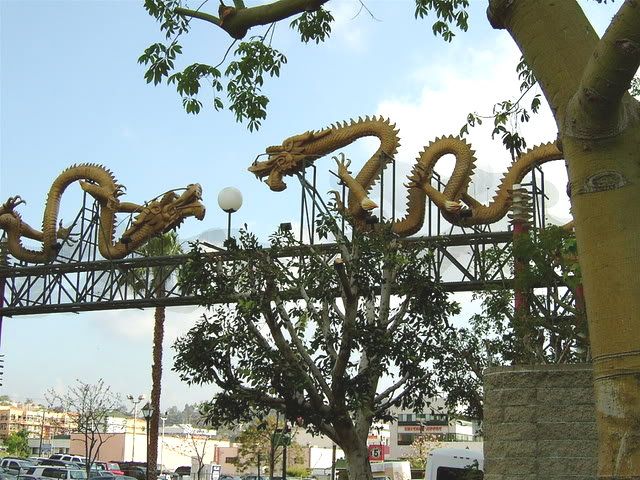 six hours late
to los angeles,
flowers everywhere,
a garden of color
where ever we look

to late to start
the first leg of
our drive
so it's early
to bed
after
a walk around
to see the sights

early breakfast
with a triple dose
of nine cent coffee
at phillipes,
then off,
for our first encounter
with the adventures
of california
road signage

we both decide
we've seen graffitti
that was more illuminating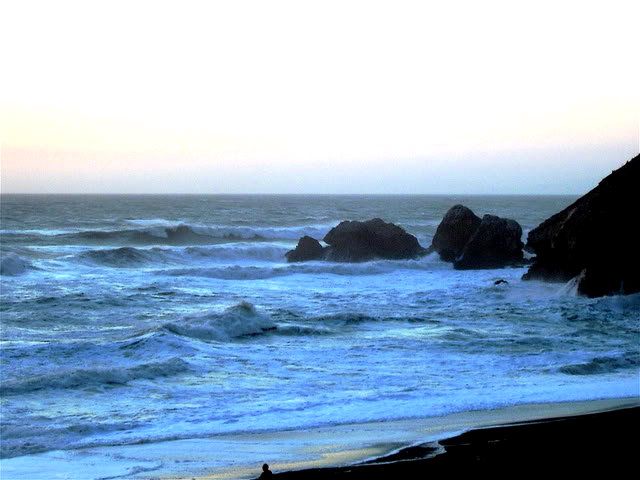 moonstone beach, cambria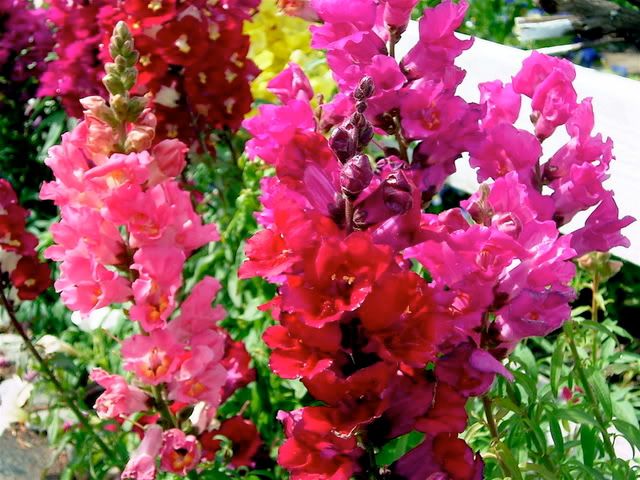 up early
for a drive
to the village
for coffee

follow
and man and his dog
to the only "open" sign
I can find

latte
and an LA times for me,
a table in the corner
for the man, his dog
sleeping
beside his chair

a woman
comes in,

why didn't you tell me
it would be so cold,
she says,
frizzy blond
hair
and a Diane Keaton
hat,
too old for her
pouty lips

why didn't you tell me
it'd be so
cold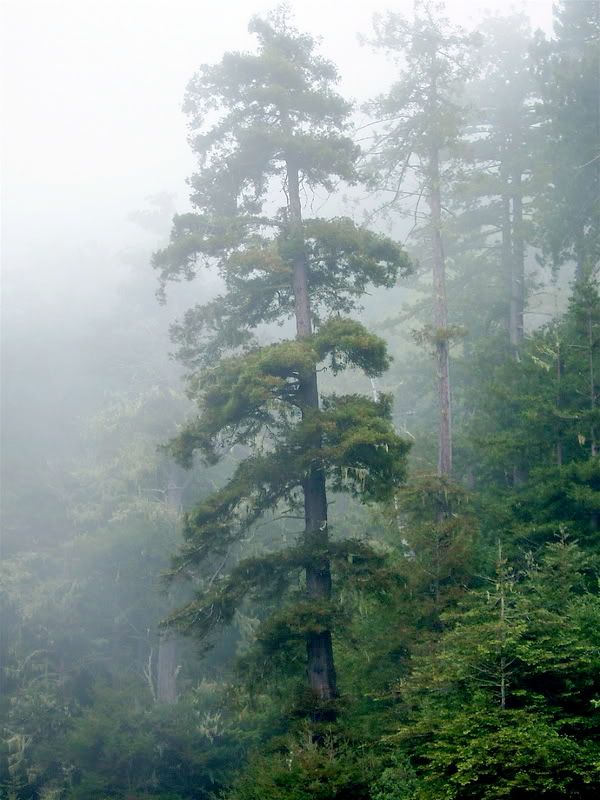 it is cold
on the boardwalk
and wet from fog
just now clearing
over the water,
still deep
and dense above,
topping the mountain
about half way

sun reaches
for the shore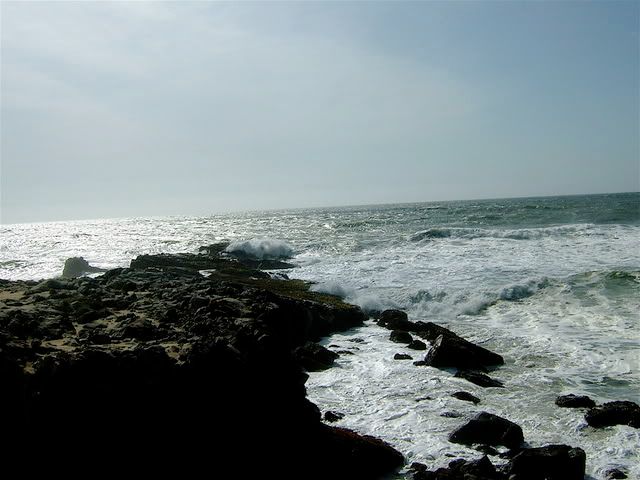 gulf surf whispers
on soft tan sand;
pacific surf crashes
against rocks

pounds them to tiny
bb sized
pebbles,
more stable than
sand
but slipperier
when wet








it's difficult
to walk on the beach
and the tide
is deceptive, every
fifth wave coming
high
on the sand
chasing
your feet,
catching your feet
and wetting your shoes
if you're not attentive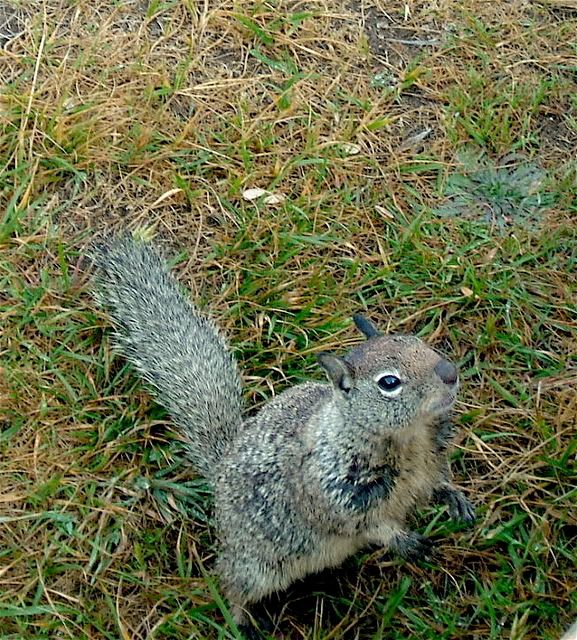 the sign beside
the boardwalk
says not to feed the
squirrels
but the squirrels
can't read
and don't care

down with the establishment
the rebel squirrels
seem to say
as they follow me
down the boardwalk,
run ahead
to stand and beg

I stop for a moment,
kneel down
for a close-up
of a brilliant yellow and white
flower,
look up to see
a battalion
of squirrels in an arc
around me, standing
ramrod straight,
front paws
held together
in supplicant pose
praying
for the beneficence
of the tall stranger
to the world
that was me

I leave
in a hurry
concerned the situation
might get ugly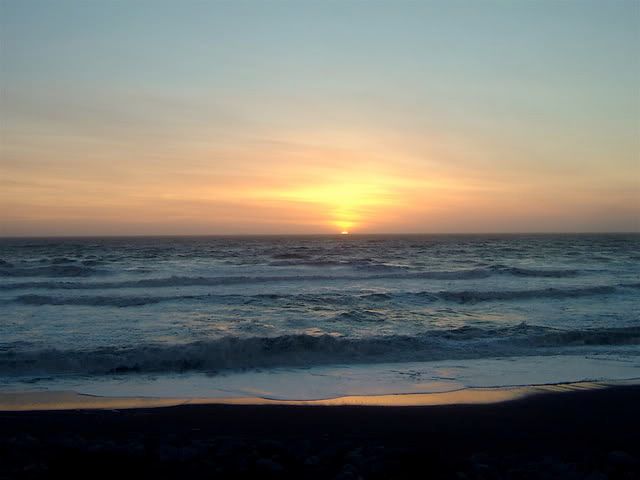 the sun sets,
my god,
the sun sets
in a golden sky
reflected
in ripples as far
as I can see

the sun sets,
my god,
it sets
and the ocean
seems to boil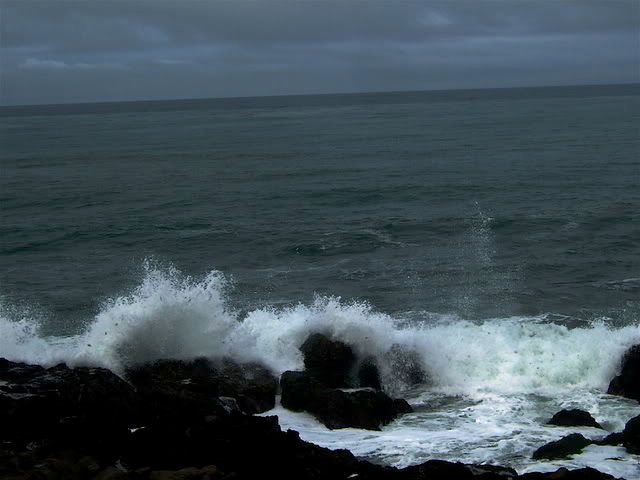 the waves
are monstrous
large
white in the
accumulating
dark
approaching
retreating
approaching again
over
and
over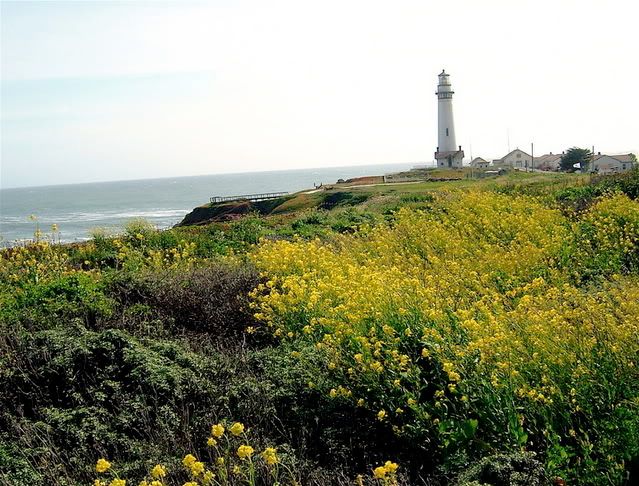 pacifica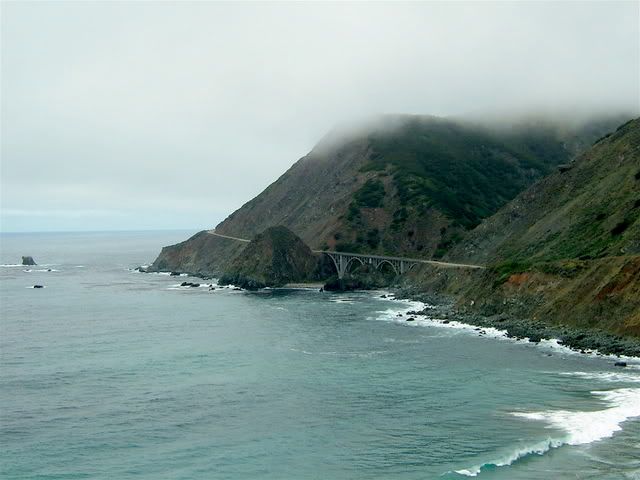 Kerrie's
Coffee Shop,
two eggs
sausage
wheat toast
and hash browns....

a good start,
then kerrie smiles
and the day is made
though the sun
has barely
risen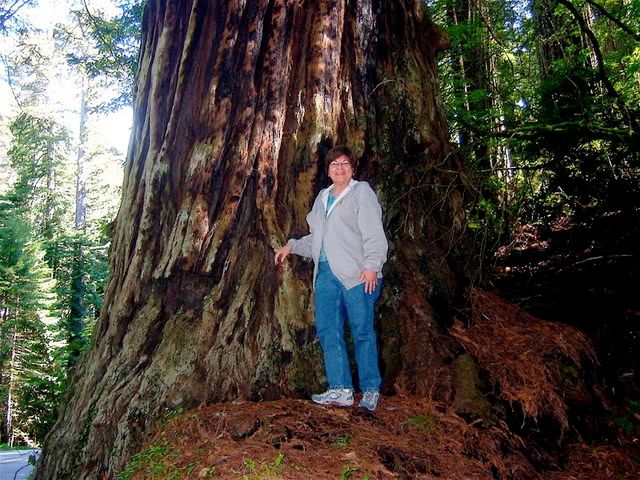 redwoods
close in
on either side
of the road,
like driving
a green-wrapped canyon,
green walls
towering,
channeling me
through
quick islands
of light
falling
through leafy
cover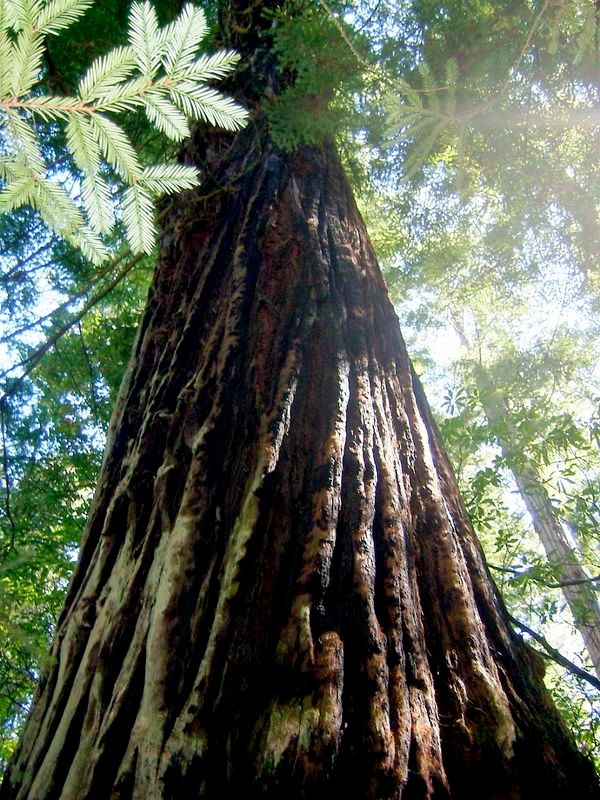 redwoods
defeat my camera,
its capacity
to see and record
too constricted
to capture
the vast life around me,
the height and breath
of the giants
recordable
only in pieces
that can never
aggregate
to the whole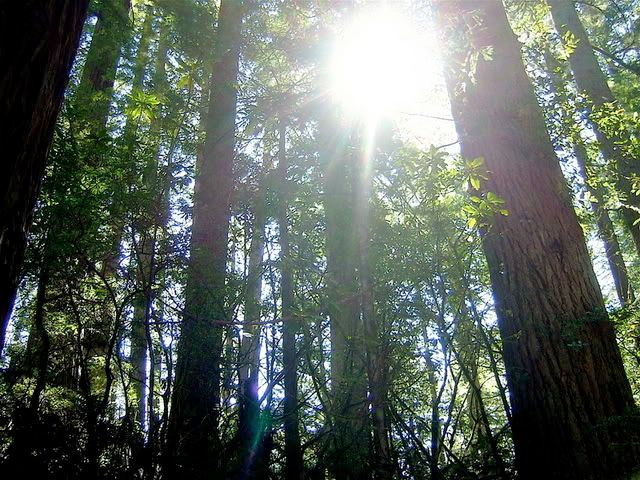 I am defeated, too,
by such giant
ancient
life,
two thousand years and more,
still living, still
spreading,
growing
to the blue above

the fullness
of such life is
beyond
my grasping

the pinched
souls
who would cut this life
and bring the giants down
before their time
are also beyond my
imagining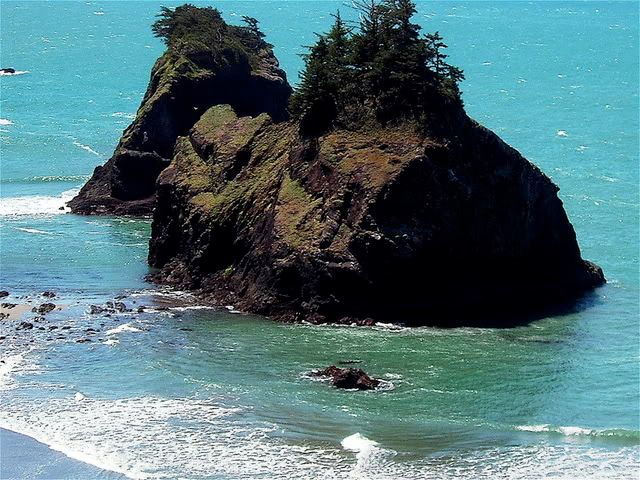 the power
of the tides,
white surf rolling
like thunder
make a hungry,physical presence,
eating the rocks,
bringing them down

given time,
they would eat
across this continent
and through
the shores of europe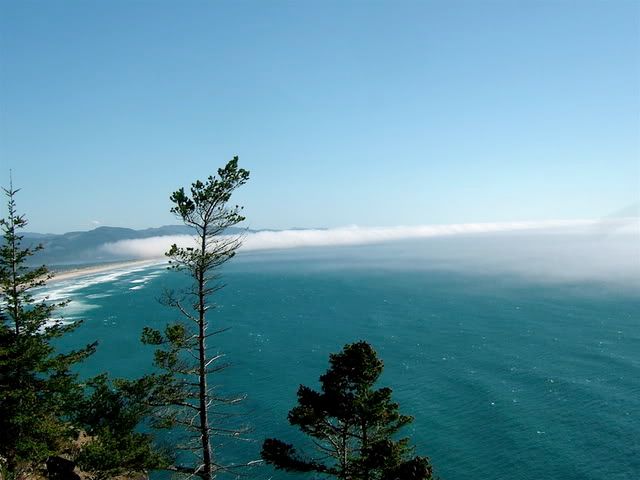 eureka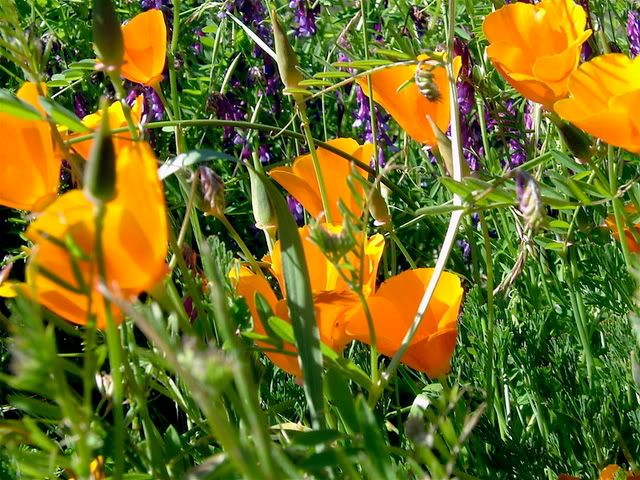 46 degrees
at 6 in the morning

up early
as usual and found
Starbucks
in Old Town,
with a covered porch
(heated)
at streetside

morning latte
and the Times,
almost
like being home

but better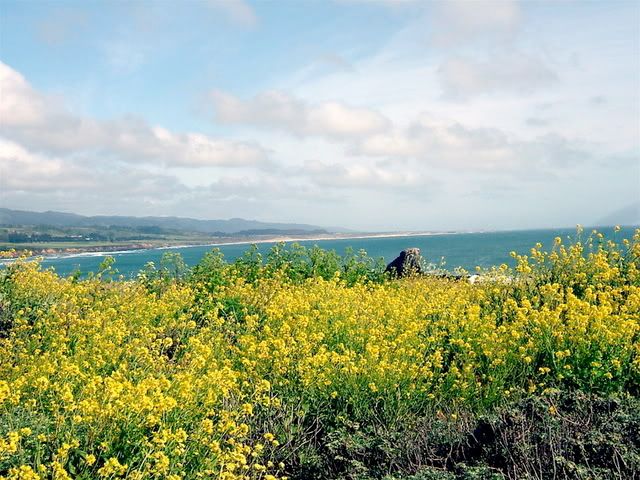 wild
wild
goldenrod
through the
light-patched forest,
the coastal tides and sand,
the green carpets
of farmland
and pastures
flowing
over the hills
through it all,
goldenrod,
flashes of nova
brilliance
exploding in the
green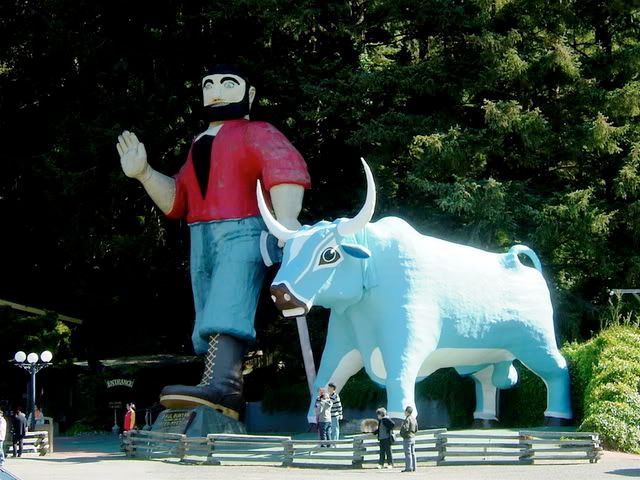 Trees
of Mystery,
worthwhile stop,

$40
for an elevated
tour through the trees

price
too steep
for me, but
great fudge
and clean restrooms

and a man
in a fringed leather coat
selling hand-carved flutes
he plays in little
improvisations

like whispers
through the trees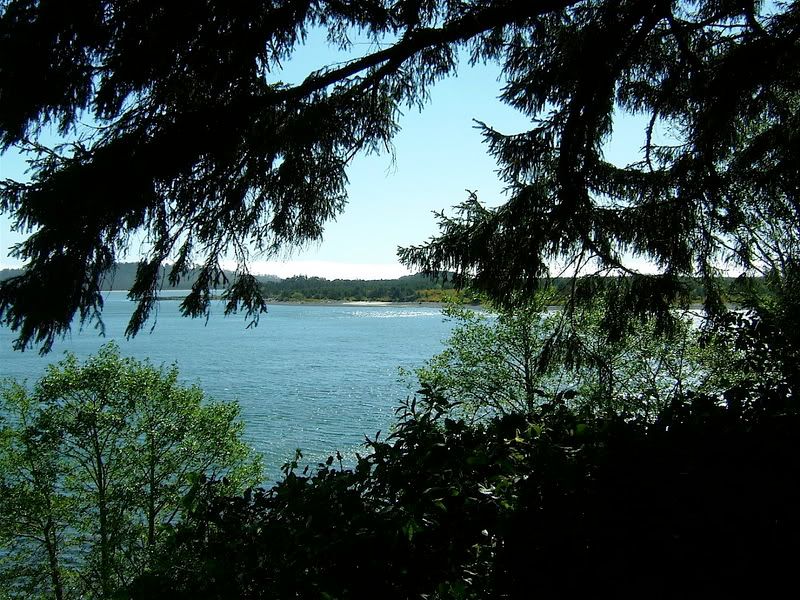 coos bay to astoria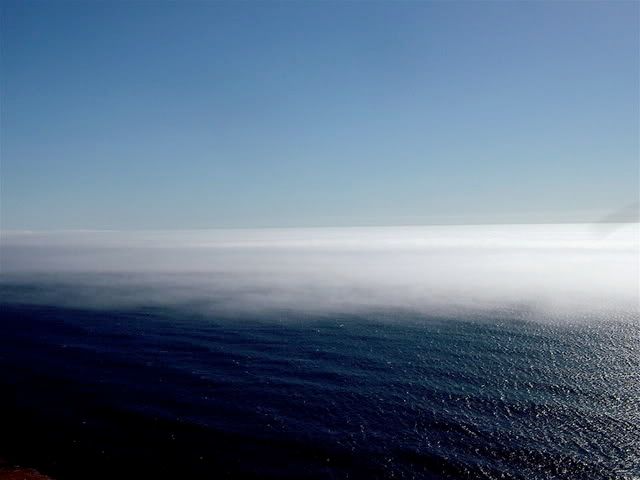 here's
the skinny
on coos bay

it closes
on sunday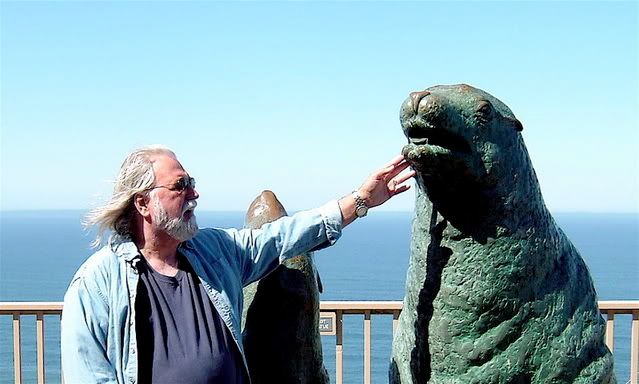 passing by
the Caves
of the Sea Lions,
we stop for a visit

great brown batches
of them bask in the sun
on the shore, their snores
reverberating
up and down the rocky coast

inside the cave
they are in constant movement
struggling for their preferred
rocky perch, the obvious kings
of the hill are big and gruff,
roaring at pretenders

snores
and roars,
like a bass choir
rehearsal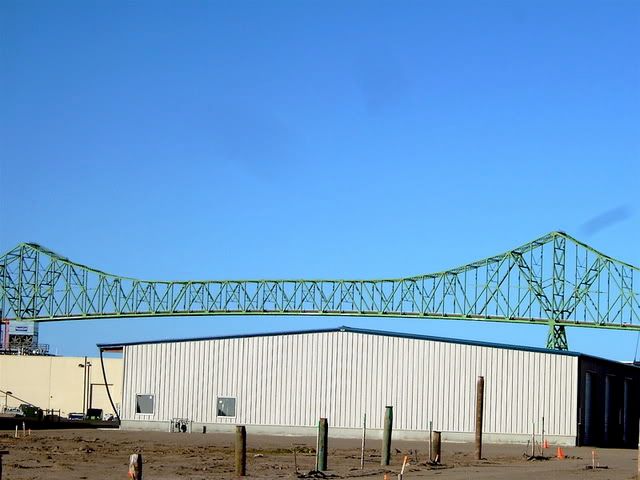 the strange thing
about astoria
is everything but
bars and fast food
franchises
closes at 9 pm

and,
as throughout
the northern coast,
road signs seem designed
to perplex rather than
enlighten

beyond that
the less said
the better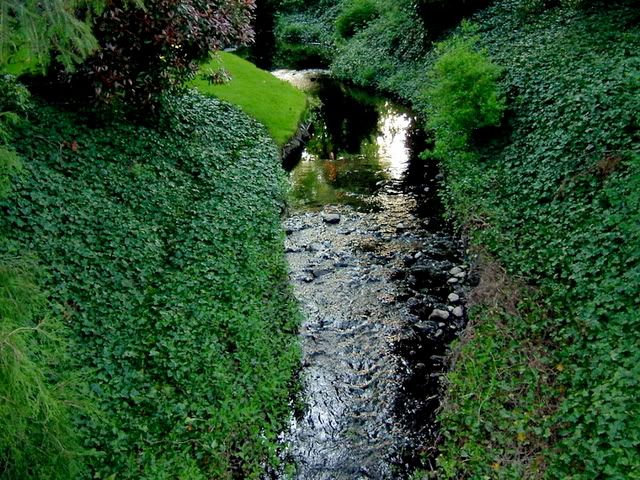 bellingham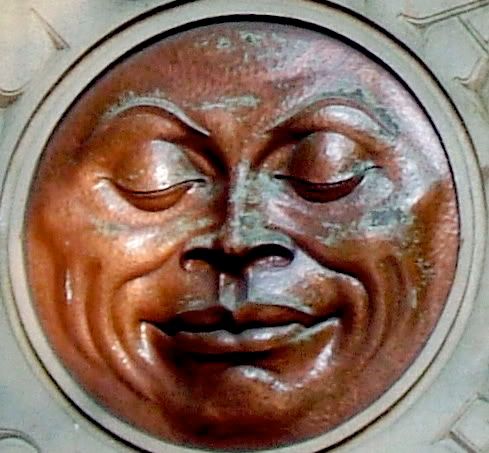 like with the first sighting
of an oasis
after crossing countless
desert dunes,
there is a near-desination
tunnel-vision
that blinds a traveler
when journey's end is near,
and I am a victim
of that blindness now,
seeing little of this small city
but the hotel and the shopping centers
that surround it on three sides

there's an historical district
I'm told is quite
beautiful

maybe
next time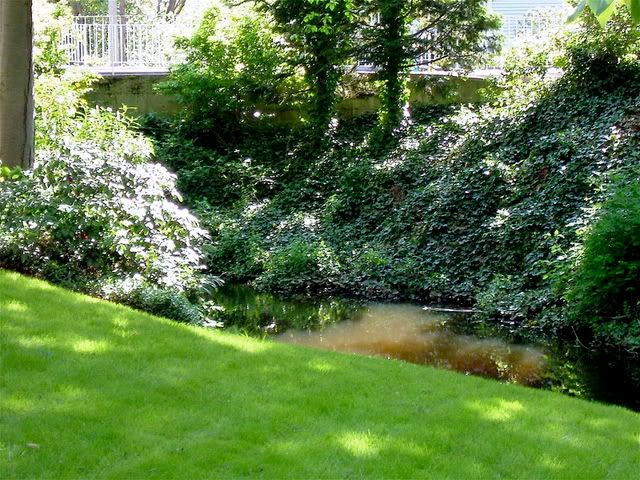 a brook
behind the hotel
runs clear,
water rippling
over rocks and under
fallen branches

creekside
is closely manicured,
captive
to the landscaper's
ambition

by the ornate iron gate,
the purple blooming
bush
we've seen since Los Angeles

all very pretty,
framed for inclusion
in the Chamber of Commerce
brochure









dinner
at "Mi Familia"
mexican restaurant
across the parking lot
from the hotel

the menu includes
fajitas
three times under different names
and descriptions
and pollo en mole twice

comfort food
from home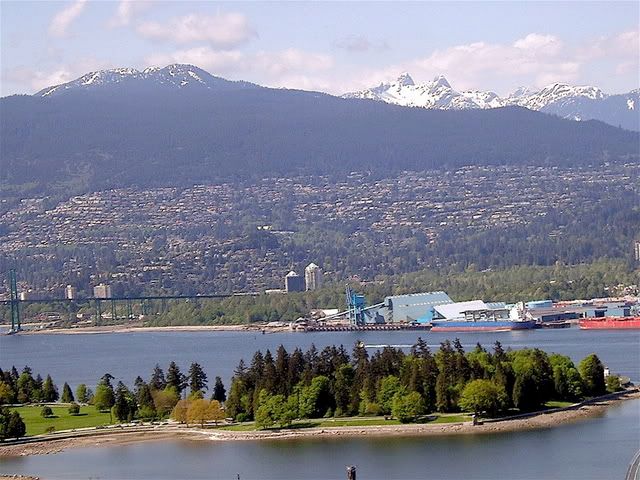 vancouver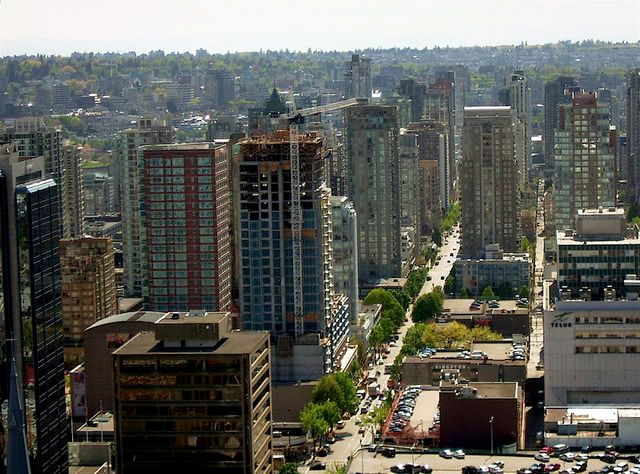 steel
glass
forest
sea
disparate elements
come to harmony
under a clean bright sun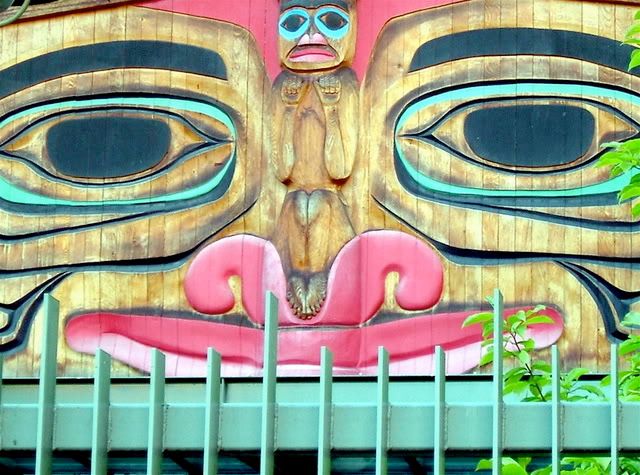 the city
is frantic alive
desperate rushing,
like the round black bomb
of a thousand cartoons
is real here
and everyone is running
to stay ahead of its long fuse
burning

not what I had expected

exciting at first,
but though I've only
idled
at a sidewalk cafe
and watched,
after two days
I am exhausted,
as if I had been racing, too

the drive of the place is
wearying
even to an observer,
like an afternoon
under a summer sun

I have done nothing
and it has left me
bone-tired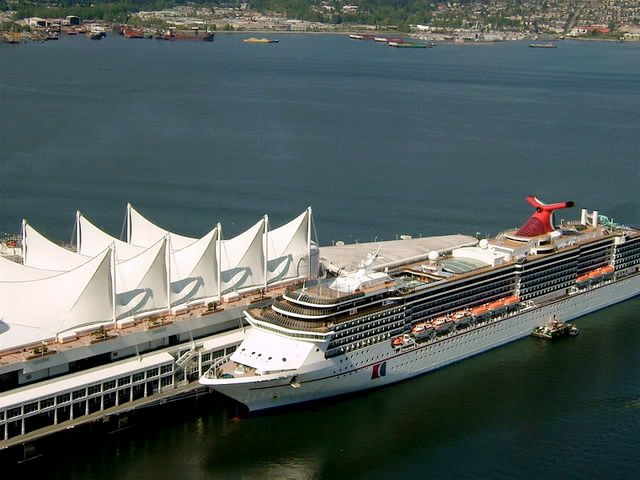 beautiful
spring day
and the locals
seem as amazed by it
as am I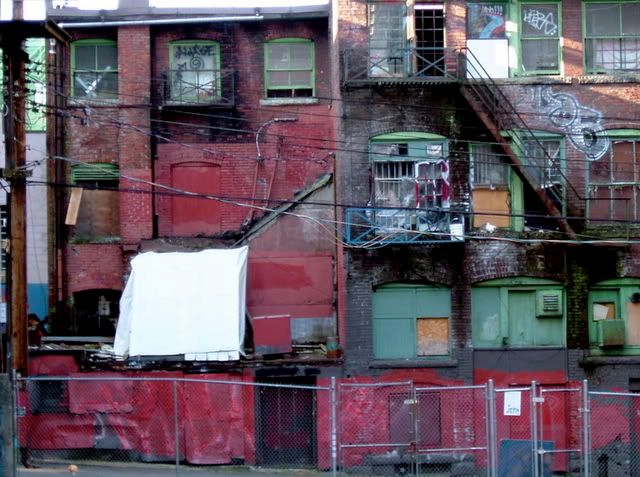 open a map
on a street corner
and three people will rush
to give you directions

sit
at a coffee shop
with a tourist brochure
on your table
and you will get advice
from every side
on the best places to go
and the best ways to get there

but there is another side
to these most friendly,
helpful people,
a mister hyde side
that blossoms
like a meat eating
jungle plant
the minute they get behind
the wheel of an automobile,
obnoxious
reckless
abusive
maestros of the unnecessary
honk,
treating every city street
as a race to the next stop light,
competitive as fifteen year olds
for each square inch of street surface

it's karma dis-equilibrium,
all the everyday niceness
creating a pressure-cooker
of pent-up aggression,
malice
unleashed by access
to motorized transport

but that's only a
theory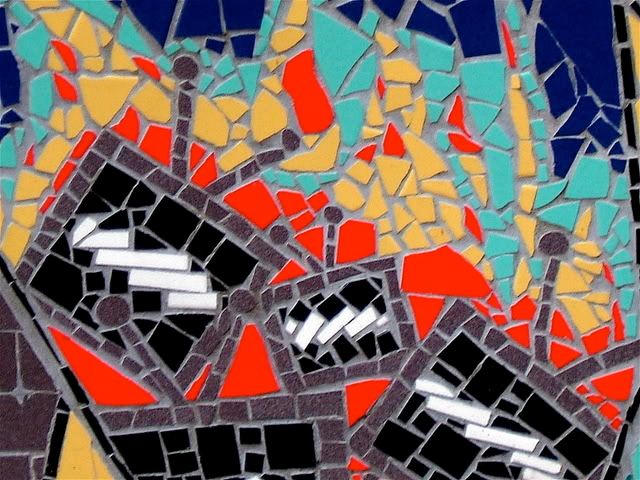 wondering

who talks to who?

what do they talk about?

why do they feel so strongly
about the need to talk
that they build a special
building
for it?

is there remediation for the incompetent
conversationalist?

all these questions
as I read
"The Morris J. Wore Center
for Dialogue"
chiseled into the facade
of the great stone building
across the street from me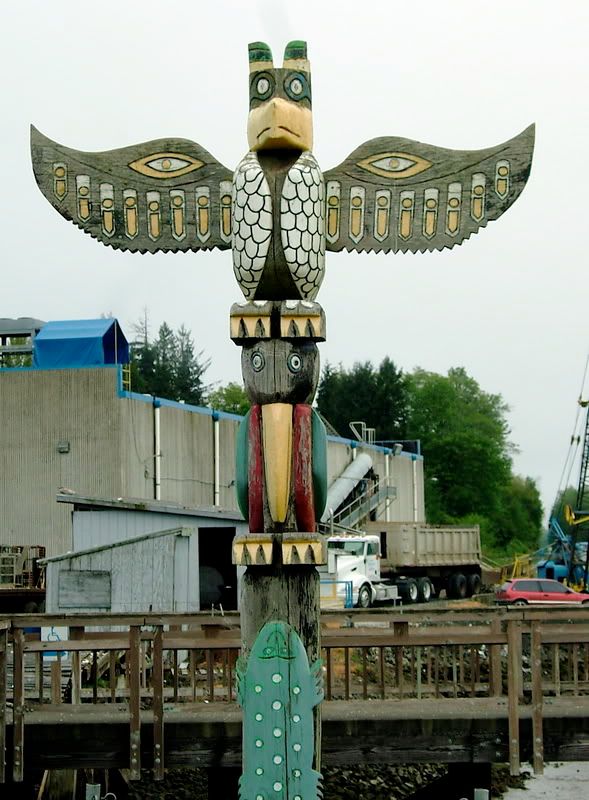 victoria,
capital of the province,
on an island
accessible only by
by ferry
at no inconsequential cost

if texas politicians
hear about this,
construction
on the moat around austin
will commence
immediately

alligators
to follow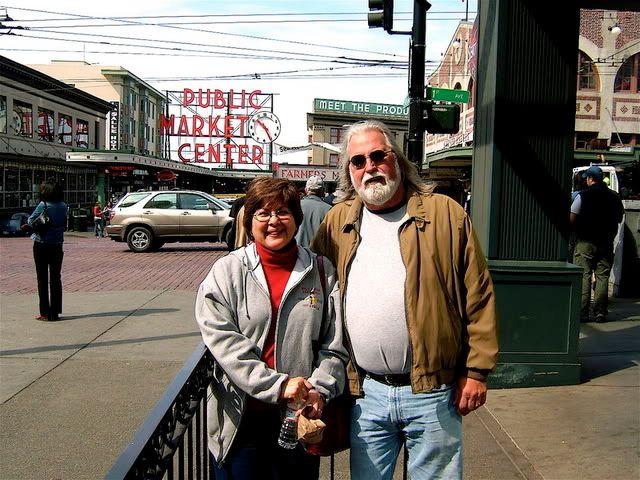 seattle to reddig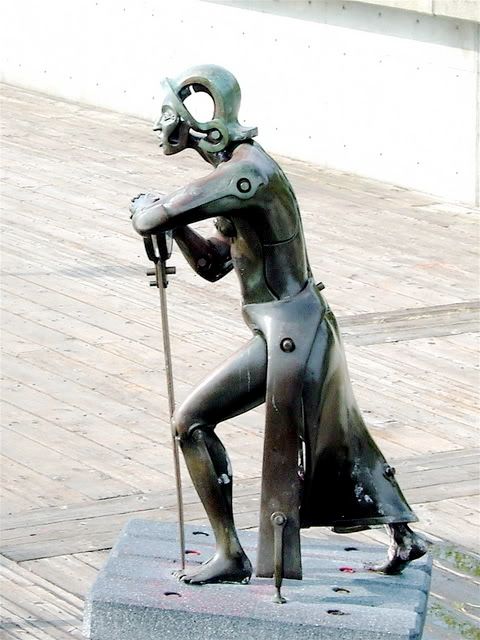 like vancouver
on decaf,
the city
hustles
and bustles
without losing
its mellow

even
in the tourist-rich
historic district
on two nights
of a three game series
with the Yankees,
cool is kept

even with tourists
alone,
in couples,
or as a protoplasmic
mass
following a tour leader
down one street
and up another,
seattle cool
is kept

while bums,
panhandlers
and mentally derailed
street corner
screamers
make their way
through the tourists
upstream
and down,
begging
for a quarter
a dollar
a cigarette,
whatever they think
the mark might part with,
mostly ignored,
eyes averted, by the whistle
britches brushed and spiffed,
their despair
and humiliation
and desperate scratch for life
enabled
by the northcoast culture
that claims to liberal values,
their social network of concern
boiled down to, may the best beggar
win

sometime
in the face
of our brothers'
degradation
cool
isn't enough








so many people
at the public market
on a saturday morning

so many people,
so many colors,
so many accents
in constant moving
converge
of flesh and camera
flash

musicians
on every corner,
guitar cases open
for cash
contributions to their
volunteered
art,
on one corner
two old men,
one an almost operatic tenor,
singing guthrie
in perfect harmony

on another
two young men,
acrobats
with back flips
and 21st century twists
on 70's pop

and food

pizza stands,
chowder emporia,
fried fish and chips,
tacos de pescada,
fresh vegetables,
and fresh fish
still with smell of
cold alaskan spray,
fish
and fish
and more fist,
an 8-pound
king salmon
fed-exed to our chef/musician
in austin

they'll be a party
on blueberry lane tomorrow night

worth the price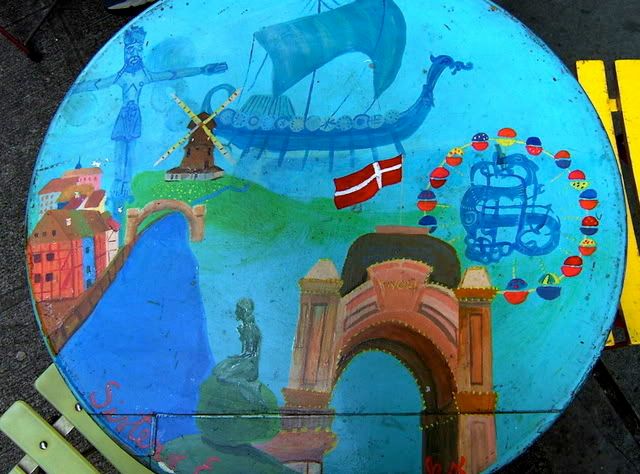 on the road
thirteen days now,
twelve nights in hotels
and one on a train,
and I've seen too much,
most of it passing too
quickly
and can't sort the images
properly,
like
listening to the radio
with two stations
overlapping,
bits and pieces of each,
snoop dog and rev. billy bob
barker completing each other's
sentences

discombobulation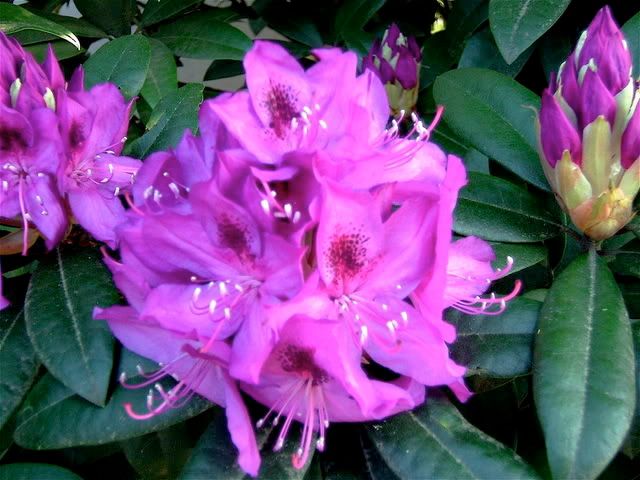 both of us with
the going home frantics
we scrap our plans to return
by rail via los angeles -
we'll drive instead,
2 days
through oregon and california,
a day for arizona and new mexico,
then a very long day from el paso
to san antonio

home
a day early

hope the dogs
remember
us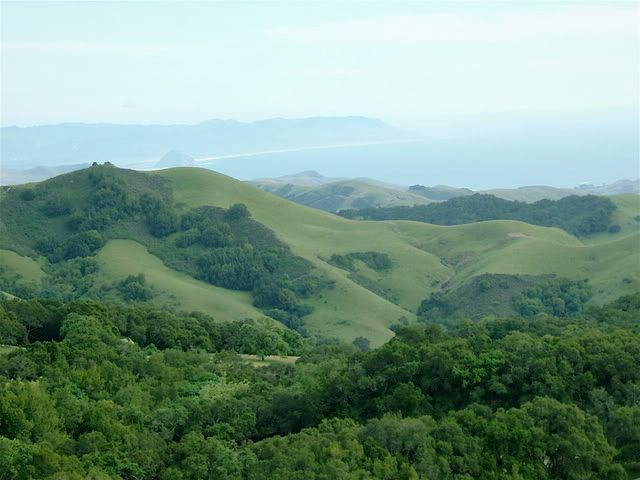 heading south
on I-5,
trees
on both sides
of the highway,
treetops
undulating
in the light breeze
like green surf,
green
like where green
comes from,
the prototype green
for all the universe

this is what it's supposed
to look like
I can say

this is green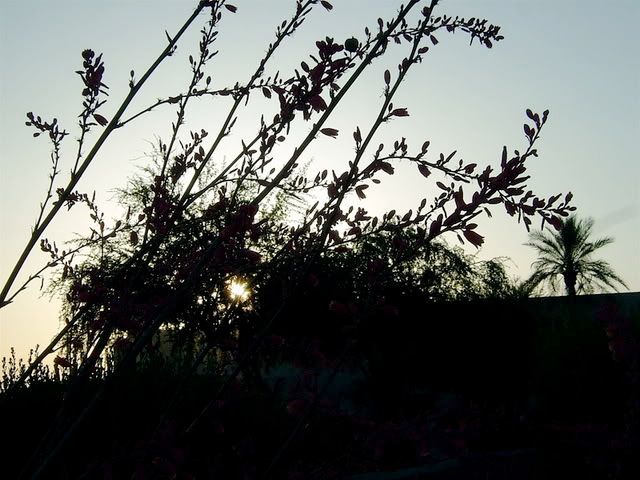 a good night
in eugene,
hotel computer
busted
but beds are good
and my back lets me sleep
through the night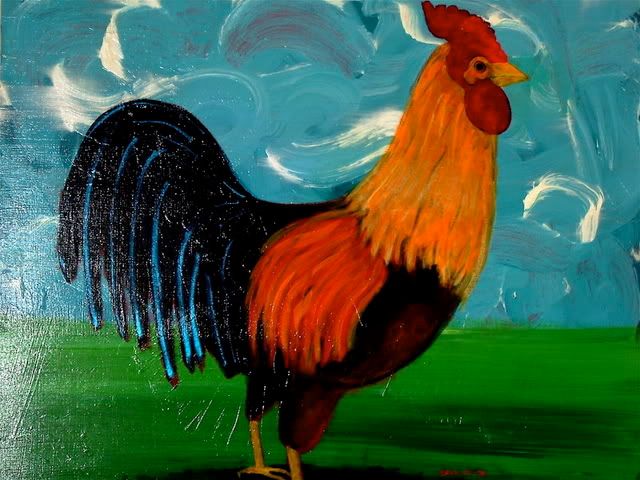 dinner at the
"Flying Dog Cafe & Deli,"
adjacent to the U of O campus,
the whole area
a hive of students,
teeming, like
the strip at UT was in the old days,
hippies
and cowboys,
frat brats,
jocks,
guitar strumming
dylan wannabes
and pink-haired girls
tattooed
like a street mural,
bright
fantasia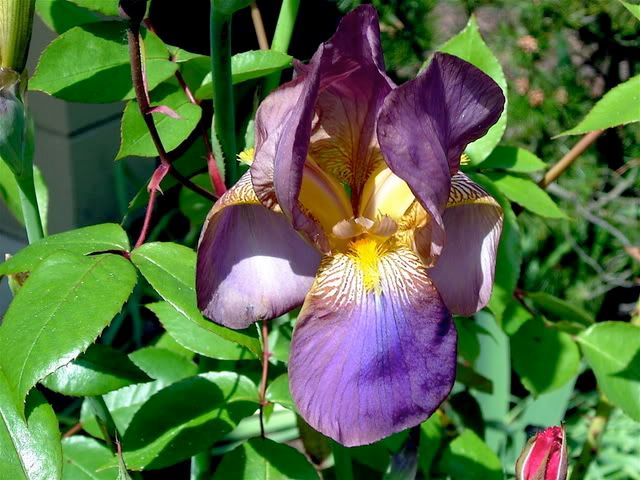 a sturdy, friendly girl,
the waitress
at the flying dog
tells about
a friend from dallas
who didn't know about kumquats,
then admits
she didn't know about armadillos
before meeting her friend

(basically a possum in a shell,
I tell her, eaten by some, mostly
by the same people who eat possum)

she laughs
and says she was happy
she and her friend
each learned something
from the other

a good thing
about friends,
she says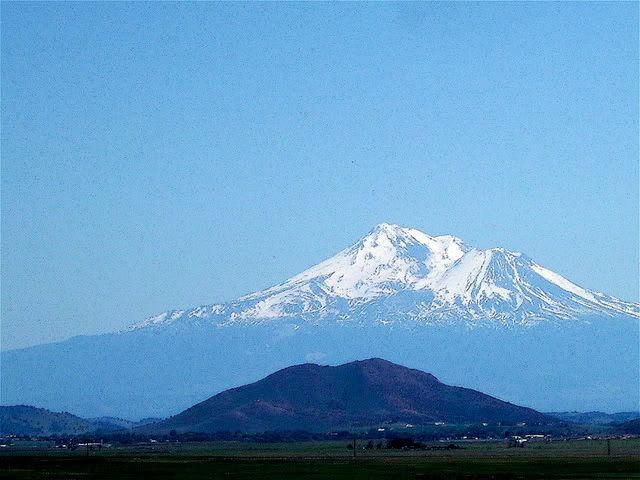 snowcap
on mount shasta
gleams
against the sky
like diamonds
on blue felt

hurry-up
intentions
set aside for a moment,
photos are required

another new friend
takes our
picture,
us together,
mountain top
behind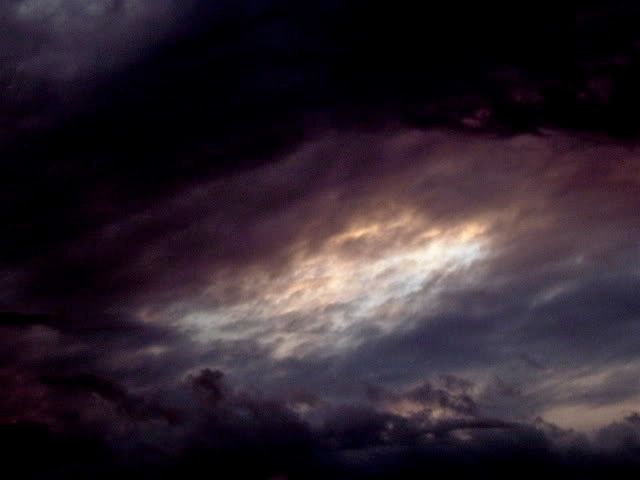 redding, california,
bed,
breakfast,
a starbucks
and a Times

that's enough
for
tonight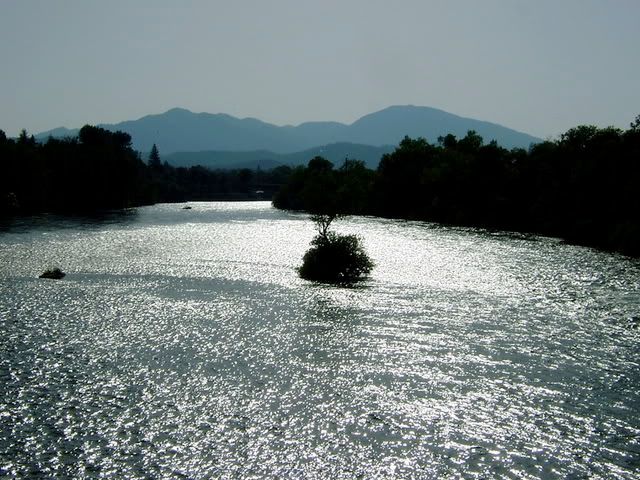 going home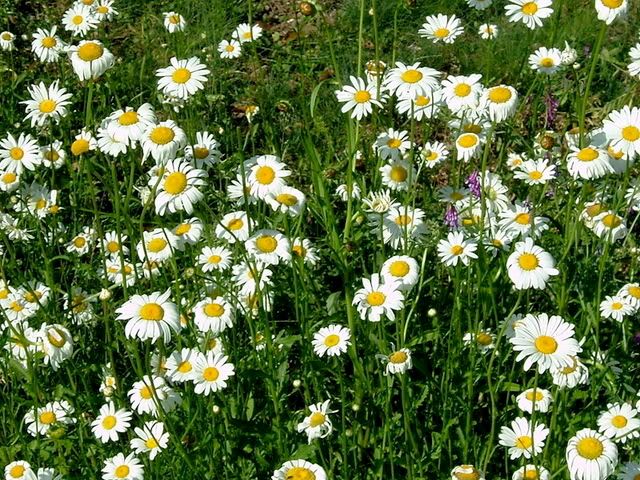 the green hills
flatten as we travel south
and, with the mountains
lost behind brown haze,
the drive past fresno
toward bakersville
takes me back fifty years
or more to the rio grande valley
farms I grew up around say back when

oranges,
ruby red grapefruit,
lemons, limes
and avocado
hung in orchards
all around our house,
and, in fields
within walking distance,
winter vegetables

anything would grow
they said,
bring in some water
from the rio grande,
poke a dry stick in the ground
and you'd have a tree
to hang a swing on before summer....

cabbage,
rotting in the field,
stinking in piles along the roadside
when the cost of harvest
was more the price at selling,
or, successive frosts,
a season's crop,
a year of planting, irrigating,
hoeing, lost in one overnight freeze,
that's how winter vegetables ended,
and the citrus was lost when an acre
of rv's parked overnight
was worth more to the owner
than an acre of fruit hanging
golden ripe, even in the best year

tractors parked behind the barn,
small farmers became school bus drivers
while the big farmers sold out,
banked their money in cd's
and took up a regular life,
put aside their sunrise to sunset
working days and constant watch on weather
that could come after them like an alley thug
and take everything they had ever
worked and cared for

the miles here in this california valley
flash past my windshield
and the fields pass
beautiful
in their richness

reminding me
how all good things
can pass from our hands
as fast as a dog's bark in the dark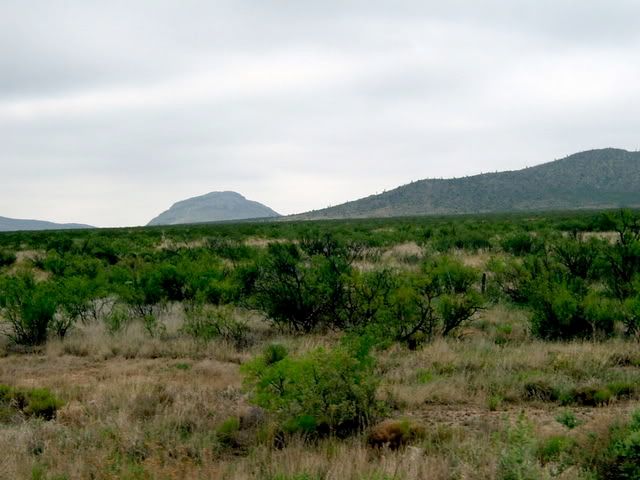 past bakersfield
and back into mountains,
not the soft green mountains
of the north, but stark
rugged

the beginning
of the harsher beauty
we will see as we ease
into the southwestern deserts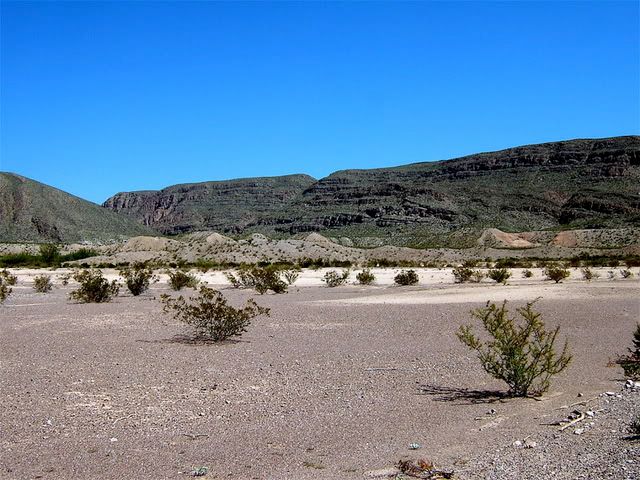 mojave,
sand stretching,
reaching up mountain
slopes,
dust storms
on mountain
peaks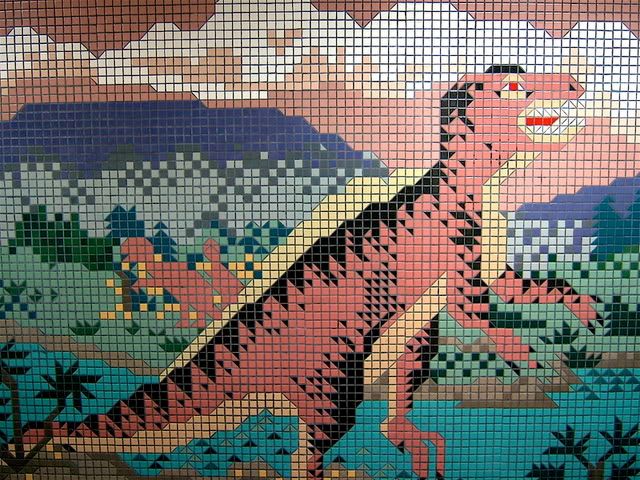 through
chemehuevs valley,
between
the turtle and the whipple mountains -
jokes about ninjas
and squeezing the charmin' -
past rocks
black as coal at night,
sharp shards scattered all around
volcano debris
or blowback from meteor impact,
something catastrophic
to throw these rocks
across hundreds of miles
of arizona terrain

we want to stop and look
but the road is too narrow,
with too many trucks
passing too fast in both directions

another mystery
to carry home with us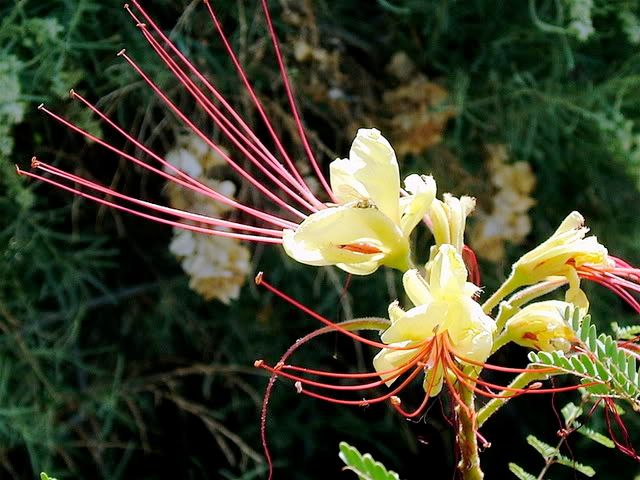 at least 100
motorcycles
arranged down the highway
in platoons, each with a
platoon leader and rear guard,
my age, just about all of them,
gray and grizzled
and heavier around the middle
then when they fought their war

a memorial day run we passed first
coming out of tehachapi,
then saw again hundreds of miles later,
past tucson,
two old warriors lying bloody on the road,
bikes crumpled into the rear of an rv.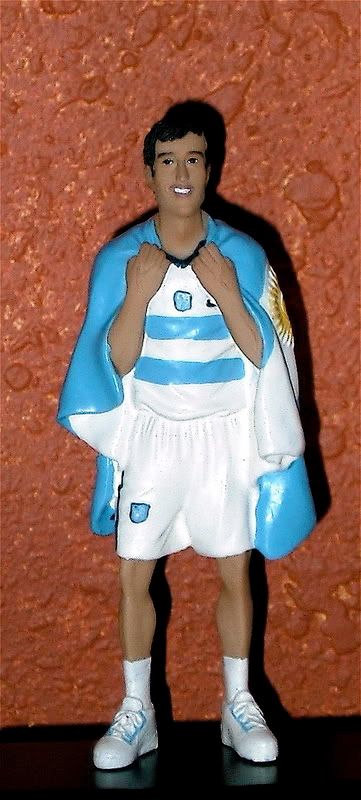 abed
in phoenix
the night of the fifth game
of the nba playoff series,
suns vs spurs

happy
our rented car
had california plates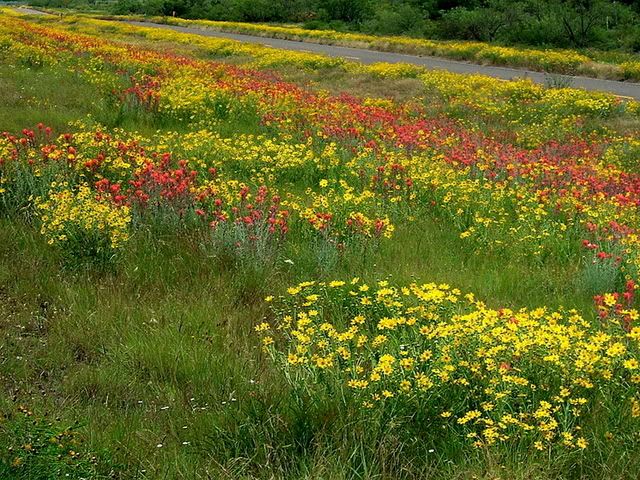 after seventeen days on the road,
good days,
better days,
no day we could not take
again,
it's the day,
las cruces
at last

el paso in sight

a long drive tommorrow,
near 600 miles,
but the stop at day's end
will be home...

80 miles an hour

still time for flowers

then

sierra blanca
van horn
ozona
senora
junction
kerrville
boerne
leon springs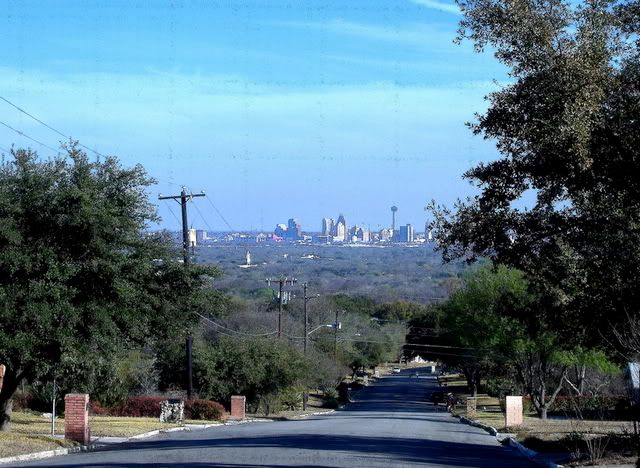 home

the dog
runs and jumps
and pees on the floor

the cat howls
her deepest, loudest growl,
the one she uses when she's
really
really
pissed

but
quickly
they're both in my lap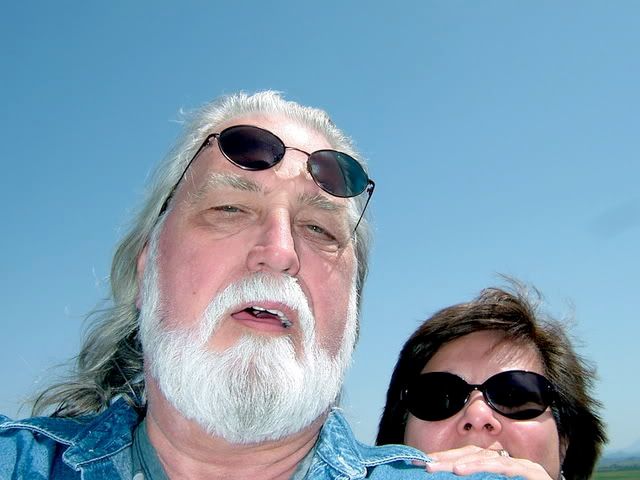 And that's what we did on our summer vacation.

We'll be back next week with a regular blissue. I visited a lot of used book shops along the way,
so have lots of poets I never heard of before for next week.

Thanks for visiting, as we say here; come again next Saturday for the latest.