Supersize It
Thursday, April 26, 2007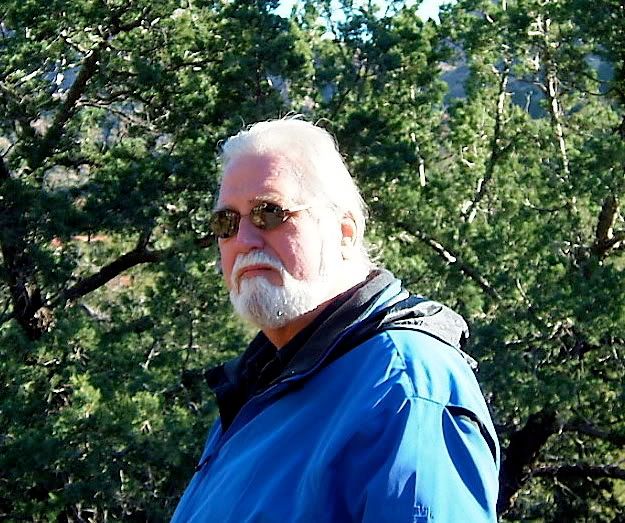 Welcome to this "Here and Now" number II.4.3. posted early due to travel preparations I need to make in the next two days.

This is a special, supersized bledition for a couple of reasons.

First, with this post, "Here and Now" completes it's first year on the web. (Cue kazoos and balloons.) Plus, this April blissue will be the first to meet my goal of 1,000 visits per month. Not big news for the big guys, but a big deal for me.

Also, after this post, we will shut down for three or four weeks. Dora and I will be taking an extended sojourn up the west coast of the United States and into British Columbia. We'll start via Amtrak from San Antonio to Los Angeles, then continue by rental car up the coast to Vancouver and maybe beyond.

We hope this extended blissue will keep you reading until we get back, at which point we hope to see you back, too.

So, to celebrate our first anniversary and to make up for our absence in May, we're making this blissue of "Here and Now" a "really big shew." (Please raise your hand if you're old enough to get that reference.

"And awayyyyyyyy we go!" (Another oldie point if you get that one, too.)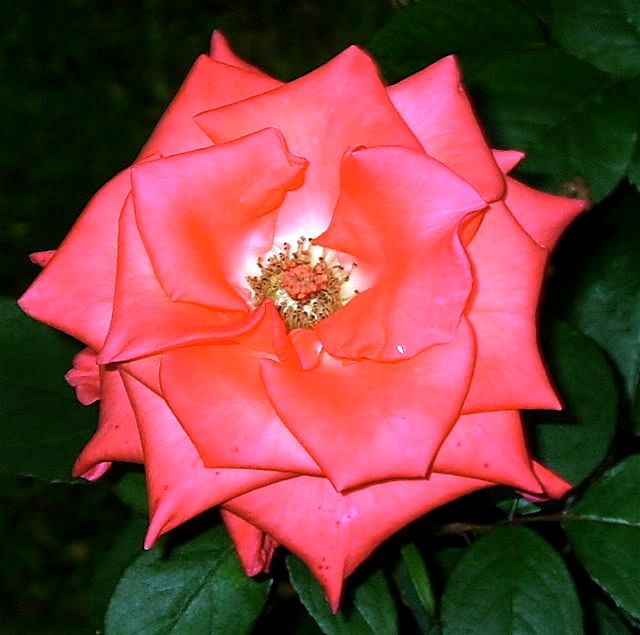 We begin with this powerful poem by Gary Blankenship. Gary says it is his favorite. Of it, he says, "I consider it the best I have done - the poem that if it was the only poem I wrote or will ever have written, would be enough."
The poem was previously published on line at the PK Poetry List and the Wild Poet's Anthology. He also read it in April 2007 at the Seattle Poetry Festival in a reading of poets from A Chaos of Angels.

Gary has written many outstanding poems that I've read and probably just as many I haven't, so I can't say it's the best of them all. Best or not, it is an extraordinarily powerful poem a difficult subject, one that Gary says he has avoided in the past. This one, he says, was written only in response to a challenge.


Sarah Jane Passed Through

When Sarah Jane was three,
she saw a camel in a cloud and a horse in a rock;
and when she told her mother, Mommy said
"Don't be silly. Rocks are rocks and clouds are clouds."
(and thinking of Emily, went back to feeding Baby Alice.)

When Sarah Jane was five,
she went to kindergarten dressed in her sister Dora's dress
which had been preworn by her sister Clara
and Bobby Mills pinched her and made her cry,
calling her white trash and saying she smelled.
(Only Sarah's socks and underwear were new.)

When Sarah Jane was nine,
Bobby offered her a quarter
to go under the bleachers and lift her dress;
when she said no, he told Tommy she wanted a dollar;
and when she told her mommy,
her daddy belted her for leading the boys on
(and saying he was sorry, comforted her later that night.)

when Sarah Jane was fourteen,
Bobby asked her to the homecoming dance;
but her mother said she was too young
and her sisters wouldn't let her wear their old dresses.
instead Bobby took Mary Ann Witherspoon
from over at the trailer park.
(while Sarah Jane sat on her bed
and wrote in her special book.)

when Sarah Jane was eighteen,
she married Bobby Mills
and they moved in with his stepmother,
next to Mary Ann's parents in the trailer park
(and her momma cried for her Baby Alice
and losing Emily.)

when Sarah Jane was nearly twenty
and expecting Little Donna's sister
they buried her in a cardboard casket
Bobby smashed her head for asking him
why he was out all night with Mary Ann Nelson
(and Alice's mother buried the special book with her)
When Donna was three.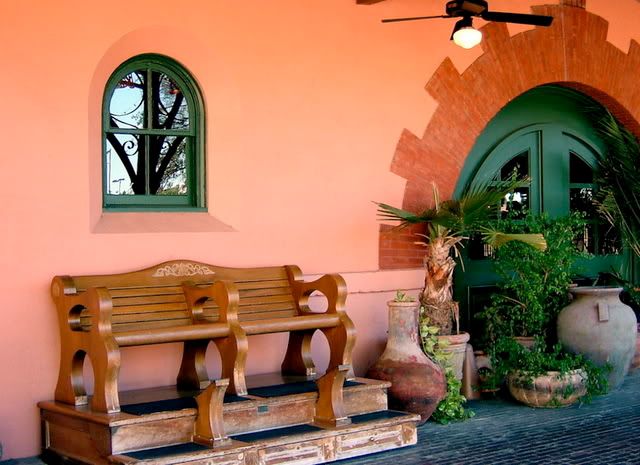 This is a recollection by Victor Hernandez Cruz of a reading he shared with New Orleans poet Andrei Codrescu in Taos, New Mexico. I took it from Cruz' book Red Beans

I've considered using this several times but always in the end decided it was too long. Since "too long" isn't a factor this week, here it is.




Taos: The Poetry Bout
Codrescu vs. Cruz



In Puerto Rico as well as Brazil there is a form known as Controversia in which two singing bards go into combat, throwing poetic jingles at each other. On the island of Puerto Rico it is carried out in the ten-line Spanish decima, accompanied by musicians playing guitars and gourds. The musicians, synchronized superbly with the poets, know exactly when to come in - so a poet singer better take care of his business within the allotted time. Infringement into the musical portion is already a sign of weakness and reason enough for defeat.

The idea is to insult and diminish our opponent, to list his bad qualities and exalt your superiority. Since these songs are improvised, many immediate things come into the jingles. Like the way one of the bards finds the other one dressed - if he is wearing a hat too big or a pair of pants hanging to high that becomes part of the ammunition. One of the singers might shoot:
If you cannot properly attire
yourself
How could you stand there
and sing
Go back home and start
all over again

The other might retort:
I'd rather have material
missing on my pants
Than to have it missing
from my brain
Besides look at your shoes
Perhaps it is your habit
to step on dog doo

The battle would go on until one of the singers runs out of decimas and the other tops him off.

The poetic bout which Codrescu and I participated in had none of these strict laws of meter. It went 9 rounds, each of which consisted of one poem read aloud from text. Only the last round was improvised, based upon a theme selected from a jar. We could say that these poetic bouts rely heavily on the mood of the audience and the judges. An audience might be in a social-realist mood, looking to see how the poet relates to social issues, how he or she uses craft to support political struggles. Or the audience might be into surrealism or concerned with language poetry, who knows exactly what that is. In Taos we were lucky in that the audience was not particularly dedicated to any poetic school; it was all delivery and drama, making poetry the winner. It became a heightened reading, with the both of us cutting our lines with nuclear razors, sometimes in Spanish and sometimes in Roumanmian and always with an accent.

My own accent out of the Spanish has its moods. It starts leaning toward Spanish at night. There are conscious moments when I try to charge into the English like Sir Lancelot and fill all the curves of its letters, take those syllables with coconut oil. When I was in Puerto Rico, I was surrounded by Spanish. Now that I am back in the U.S. of A. I am engulfed by English, so my Spanish stands up inside; phrases sail across in slow motion. Every time I hear English I give myself an immediate translation into Spanish. An accent is the lingering memory of the tongue true to its first formations, something that pulls back through the saliva to original utterances. Andrei Codrescu has an accent that's like a three-piece suit. His English is almost Roumanian. It is that Eastern European accent a la exaggerated Dracula. I threw a poem in Spanish and Codrescu threw a poem in Roumanian, the rest were in an English that tilted.

Taos has a Ibero-Indian flavor, making it feel Latin American. With a sensational landscape that makes one's eyes go out for miles like a glide through the clouds, to see Rio Grande Gorge - an immense opening in the mountains - is to come close to bliss. It was through this beautiful countryside that Andrei and I took off to prepare for out bout that evening. We crisscrossed roads that looked like lines disappearing into the horizon, finally coming to Ojo Caliente, where we dove into hot mineral baths full of rancheros with bellies full of Corona. They spoke to each other in Spanish so I joined them in chitchat while we soaked in water so hot it gave you immediate second thoughts.

After the pool we were wrapped with green blankets like some vegetable and laid out to dry. As I tried to put my bones back together from the meltdown, I thought of strategy for the evening. I had selected some poems but didn't know the order in which I would read them. I wanted to counter the poems that Codrescu read, so I would wait to hear the content, temperament, style of his poems and read something which would reflect an opposite area of concern. If he read a tragic or a philosophical poem I would resort to humor, or to counter metaphysics I would read a poem with a story line, where the simplicity of the events would add up to a similar inquiry. In other words, if he threw a left I would throw a right. I had to be aware of over-reading, of presenting poems that were too long and hermetic and possibly hard to follow. I had uppercuts in the form of haikus and sonnets, but when to throw those punches would be determined by Cordrescu's maneuverings. The gladiator spirit exists in poetry at many levels so thy not focus it with a poetry reading bout? Maybe in the future they could put some spice in it by having poets of differing schools read next to each other, e.g. feminist poets with anti-feminist poets. after all, it is a circus.

The moment of the bout, Andrei and I went up on stage as reserved as possible, with a bottle of Jack Daniels and smirks on our faces. The audience cheered and booed. According to Lewis MacAdams, who made twenty dollars on a bet, some money was being exchanged on the floor, perhaps as much as eighty dollars. According to the Taos News there were some 500 people in the audience.

When I first heard of the Poetry Bout I immediately thought: only in North American could poets engage in such leisurely activity. Most world poets are involved in questions of national identity and liberation. The act of writing could be deadly in most Hispanic countries. Writing must be specific to meaning to explore the center of spiritual and political existence. It is a personal and collective healing process. It is to fight oppression - whether it be of a family or governmental nature - that we express ourselves. Everything I do in poetry must have a meaning beyond itself that is the center of metaphor. In North American society the poet is isolated from the masses, making him a loner. Not so in the Hispanic culture. Many of the poems of Federico Garcia Lorca are now the popular songs of Spain. The same is the case throughout the Americas. To create is to find yourself in others. That is why we are involved in language, which is the height of communication. The public poetry reading is the great forum of mental and emotional meaning coming at us orally. It is the least expensive form of entertainment in the land of electric gadgetry. To keep that spirit up is why I entered the ring at the Taos Poetry Circus. These debates between poets can only sharpen the poetic presentation, and it must be done with a great sense of humor. So gua-gua-gua I say to my possible opponent next year. She or he better bring rhythm, content and flavor, for I am sharpening the nails of my rooster, and I don't care where their content is from, for I am a Caribbean frog - and those jump every-which-a-way.






for you and me

Poem by Allen Itz w/ Art by Vincent Martinez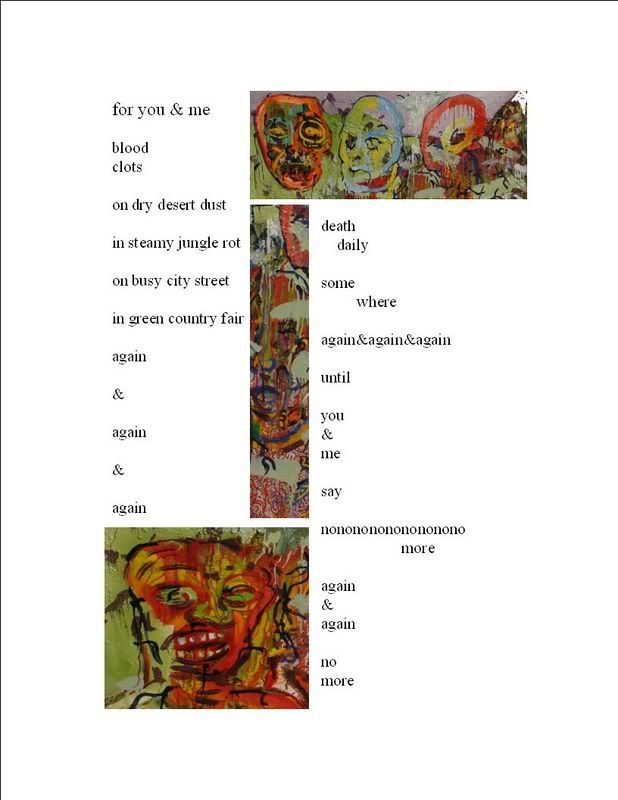 Seven Beats a Second - Page 86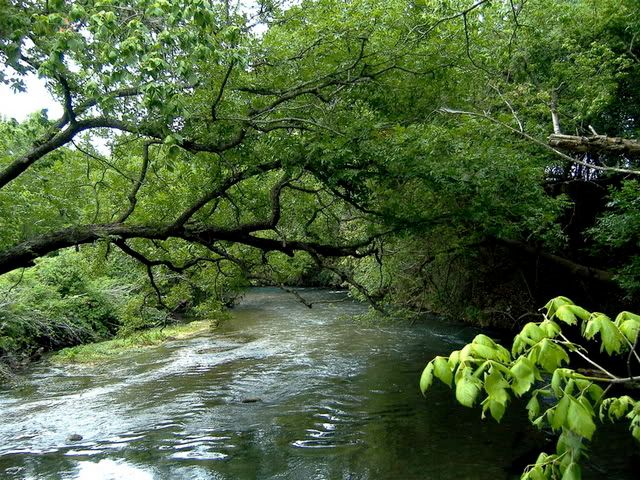 Here's a poem by Andre Lorde from the book Making Callaloo, 25 Years of Black Literature that I've mentioned before.


Fishing the White Water

Men claim the easiest spots
stand knee-deep in calm dark water
where the trout is proven.

I never intended to press beyond
the sharp lines set as boundary
named as the razor names
parting the skin
and seeing the shapes of our weakness
etched into afternoon
that sudden vegetarian hunger for meat
tears on the typewriter
tyrannies of the correct
we offer mercy forgiveness
to ourselves and our lovers
to the failures we underline daily
insisting upon next Thursday
yet forgetting to mention each other's name
the mother of desires
wrote them under our skin.

I call the stone sister who remembers
my grandmother's hand
bushed on her way to market
to the ships
you can choose not to live
near the graves where your grandmother sings
in wind through the corn.

There have been easier times
for loving different richness
if it were only the stars
we had wanted
to conquer
I could turn from your dear face
into the prism light makes
along my line
we cast into rapids
alone back to back
laboring the current.

In some distant summer
working our way farther from bone
we will lie in the river
silent as caribou
and the children will bring us food.

You carry the yellow tackle box
a fishnet over your shoulder
knapsacked
I balance the broken-down rods
our rhythms pass through the trees
staking a claim in difficult places
we head for the source.




Michaela Gabriel is a poet, artist and web guru. Among her many achievements, she designed and built 7beats.com and "Here and Now."

For this anniversary blissue, she sent this Haiga.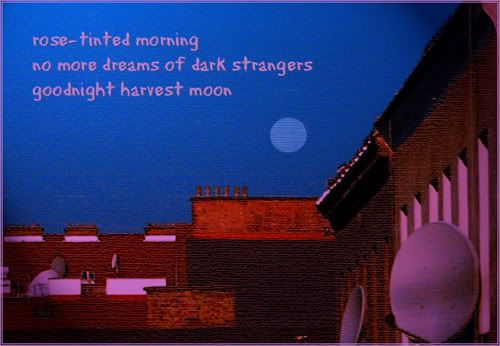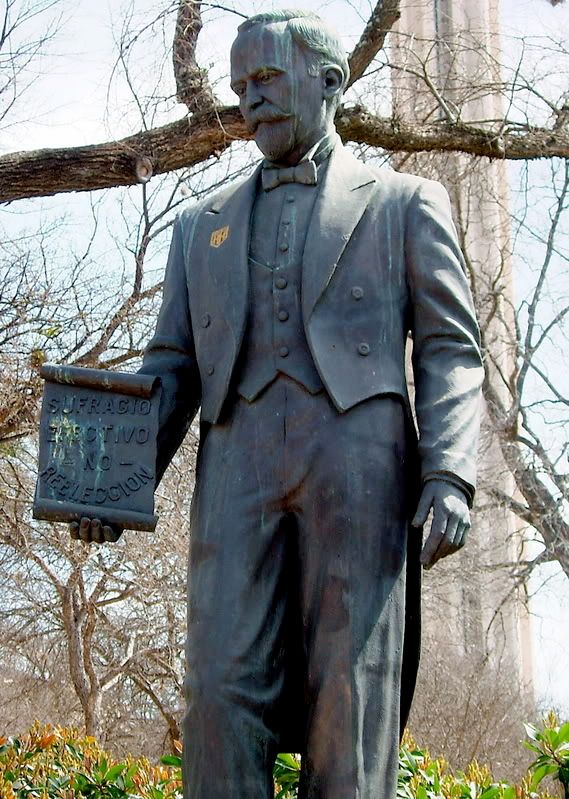 Diane di Prima was born in Brooklyn and attended Swarthmore College before dropping out to be a poet in Manhattan. She began writing as a child and by the age of nineteen was corresponding with Ezra Pound and Kenneth Patchen. Her first book of poetry, This Kind of Bird Flies Backwards was published in 1958s.

Di Prima spent the late 1950's and early 1960s in Manhattan, where she participated in the emerging Beat movement. She spent some time in California at Stinson Beach and Topanga Canyon, returned to New York City and eventually moved to San Francisco permanently. Di Prima was a bridge figure between the Beat movement and the later Hippies as well as between east coat and west coast artists. In 1966, she spent some time at Millbrook with Timothy Leary's psychedelic community. In 1969, she wrote a novel describing her experience of the Beat movement titled Memoirs of a Beatnik. She published her major work, the long poem Loba in 1978, with an enlarged edition in 1998. In 2001 she published Recollections of My Life as a Woman: The New York Years.

Her maternal grandfather, Domenico Mallozzi, was an active anarchist, and associate of Carlo Tresca and Emma Goldman.


April Fool Birthday Poem for Grandpa

Today is your
birthday and I have tried
writing these things before,
but now
in the gathering madness, I want to
thank you
for telling me what to expect
for pulling
no punches, back there in that scrubbed Bronx parlor
thank you
for honestly weeping in time to
innumerable heartbreaking
italian operas for
pulling my hair when I
pulled the leaves off the trees so I'd
know how it feels, we're
involved in it now, revolution, up to our
knees and the tide is rising, I embrace
strangers on the street, filled with their love and
mine, the love you told us had to come or we
die, told them all in that Bronx park, me listening in
spring Bronx dusk, breathing stars, so glorious
to me your white hair, your height your fierce
blue eyes, rare among italians, I stood
a ways off, looking up at you, my grandpa
people listened to, I stand
a ways off listening as I pour out soup
young men with light in their faces
at my table, talking love, talking revolution
which is love, spelled backwards, how
you would love us all, would thunder your anarchist wisdom
at us, would thunder Dane, and Giordano Bruno, orderly men
bent to your ends, well I want you to know
we do it for you, and your ilk, for Carlo Tresca,
for Sacco and Vanzetti, without knowing
it, or thinking about it, as we do it for Aubrey Bardsley
Oscar Wilde (all street lights
shall be purple), do it
for Trotsky and Shelley and big/dumb
Kropotkin
Eisenstein's Strike people, Jean Cocteau's ennui, we do it for
the stars over the Bronx
that they may look on earth
and not be ashamed.






life is

Poem by Allen Itz w/ Art by Vincent Martinez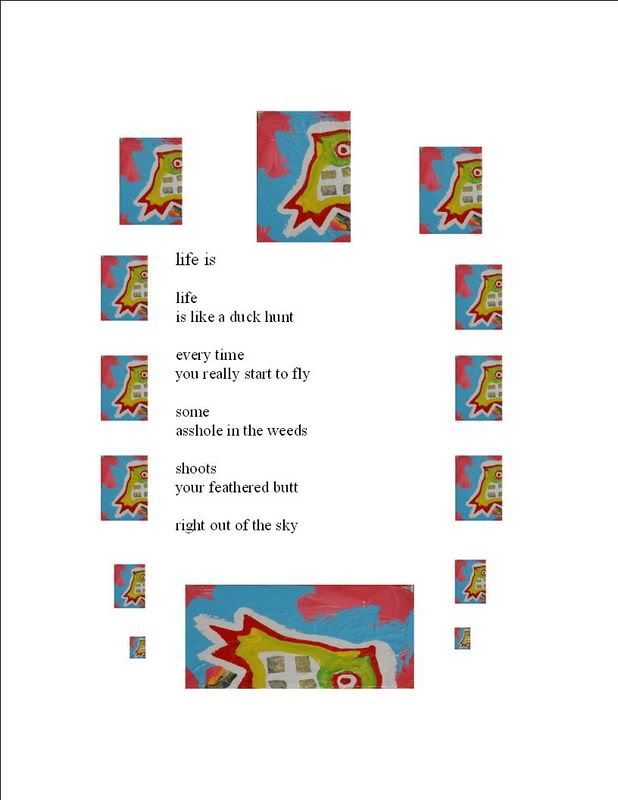 Seven Beats a Second - Page 28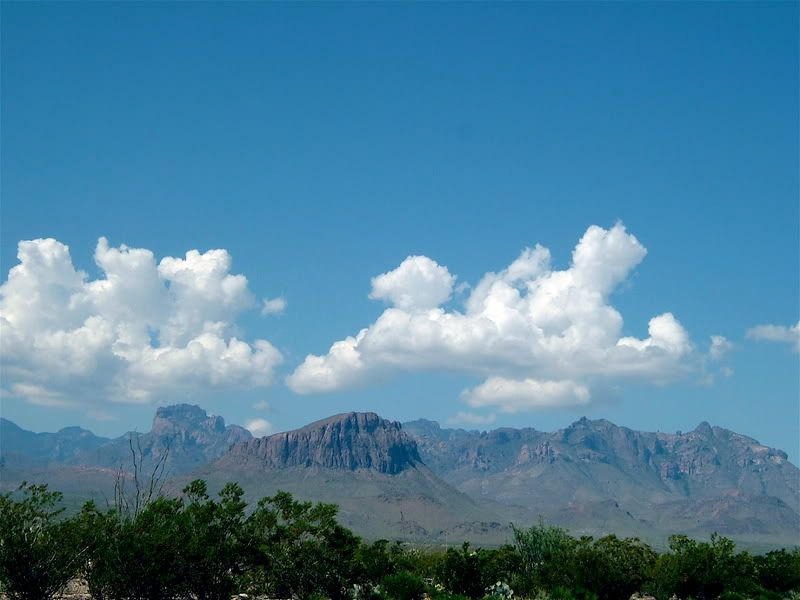 Here's another poem from the "Callaloo" book, this one by Harryette Mullen


Unspoken

I'm holding on to your, but you're gone already,
halfway up the mountain, maybe,
in a dream I cannot climb.
I lie awake outside the door
that leads to my own dreams of houses
with bookshelves in every room.

I'm holding your body the color of walnuts -
brown shell you've left behind,
a code I cannot crack -
and wishing you talked in your sleep,
so I could listen in.

Always, when I want to know what you're feeling,
"Here, let me show you,"
and you let your hands do the talking.
Oh yes, I like it and it feels good,
but of course that isn't what I meant.
"We don't need words for this," you tell me.
I wonder if that's what you like best
about our bodies side by side,
together and strange,
like words in two languages
trying to form a sentence.
There I go again,
talking of words and languages
while you've gone to sleep,
leaving me to find a message in your snoring.

Holding you,
I concentrate on the arcane language of your breathing.
Holding your hands in the dark,
I finger the lines of each curling palm,
as if they were braille I could learn to read.

Finally, I put my ear to your chest,
thinking I can eavesdrop on your heart,
hoping to hear a meaningful pattern of beats -
a telegram you stop to send
on your way down the far side of the mountain.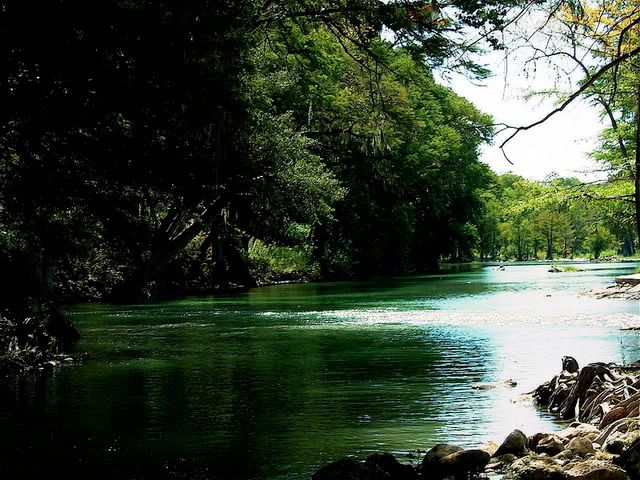 From her home in India, Ellen Kombiyil sent this piece for out use. Ellen notes that the piece originally appeared in Eclectica, a very fine journal that has also used my stuff.

To take a look at the current issue, just click on the link on the right.


Laura and the River

The bridge into town ran over the deep
part at the swimming hole. All summer,
sounds of splashing: jumping jackknives
and cannonballs from the iron rail.

We'd start upstream, at the tributary
behind the Sugar Creek Diner.
Our journey took us through shallow
water rushing over stones and into
deep wading pools, quiet under low
branches, the only sounds houseflies, dragon-
flies. Phlunk. Phlish. Lips and retreating fin.

it made me dizzy, trying
to keep straight what flowed into what
and where, which part was named river
and what merely brook, mountain flow.

The summer I stopped naming, let water
be water, all interconnected
and mixing, Laura climbed the bridge
with the boys, wearing her first bikini.
The whole time she was standing then falling,
I wanted to cry out No, no. Under
the bridge, a damp smell, murky water.
Emerging, she said she'd gone all the way,
touched bottom. Her words flashed silver
in the sharp air, her face a river
of droplets, eyes round like a fish.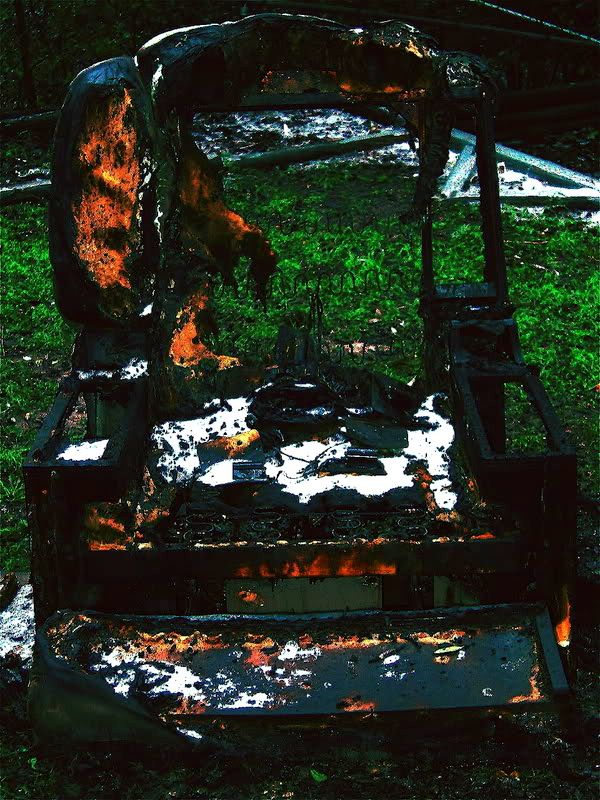 Stuart Dybek is a Guggenheim Fellow and professor of English at Western Michigan University. He published a novel-in-stories , I Sailed with Magellan, two collections of short stories, The Coast of Chicago and Childhood and other Neighborhoods and a collection of poetry, Brass Knuckles.


Current

The third rail
and the electric chair

are charged with the current
that glows tonight

in the bedside lamp
illuminating your body.






dark lover

Poem by Allen Itz w/ Art by Vincent Martinez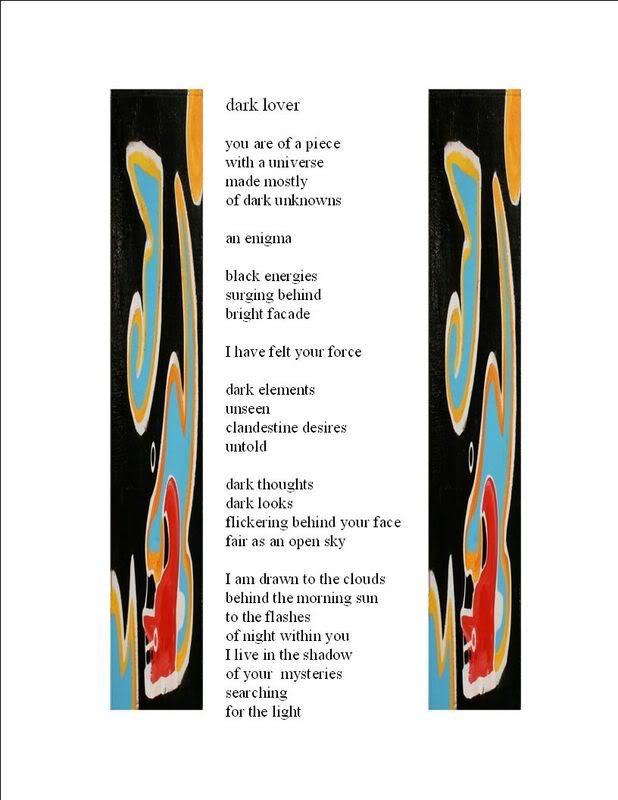 Seven Beats a Second - Page 148



From the book Jazz Poetry Anthology we have this poem by one of the book's editors, Sascha Feinstein. The other editor is Yusef Komunyakaa


Buying Wine

His alto leaks steam, a radiator of sound,
frozen breath shining on the bell. He's good,
and I can't help but lean against the bus stop

and watch someone's blue cotton hat with
a Yankees sticker not doing shit for heat,
cut-open gloves to finger the horn, a shiny

coat from the Salvation Army, and two blocks up
some fellow stuffed in a Santa suit clangs
for donations. There's a yellow haze

from the local food mart, carts for bags no doubt
full with fatty hams and cranberry relish,
sweet potatoes, flour for the thick gravy

and scones, tubs of butter, peaches, fresh
cream. The wheels scrape icy concrete, clatter
quickly by him, somehow blending with an off-

minor run so hip I yell to him, Do it, do it.
A hunched figure sorts his change, drops coins
that vaguely catch the light. I've got

seven bucks for a Chianti, bills twisting
in my pocket. When I return with a bottle
he's playing "Blue Monk," slow for the mood,

just up enough for circulation. I empty
what's left so fast he knows I can't be
counting, knows it can't be much

but pulls the sax from his mouth to thank me.
Wonderful holiday to you, sir, I wave,
and only when I reach the apartment

do the sounds disappear completely. You're
basting a roast, and my ears fill with blood.
We kiss, I pour the wine, and of course

it's delicious. I'm so glad you went out
for this, you say. Everything's just perfect.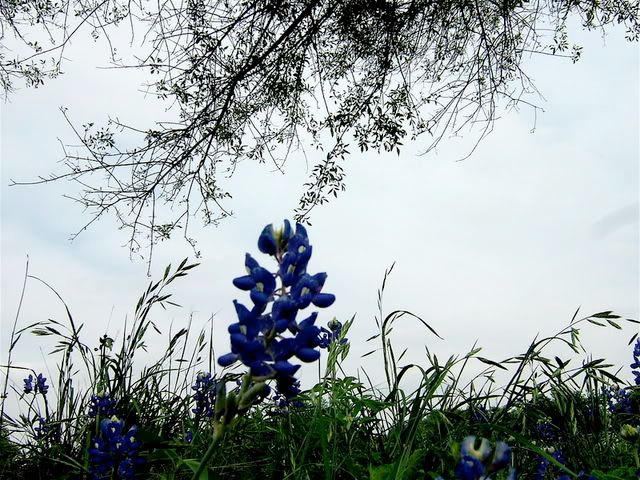 Now here's a poem sent to us for this issue by Amanda Evangelista of Battle Creek, Michigan.


Masterpiece

This puzzle that is life

So intricately shaped
Custom made by the Creator
With infinite solutions
Some pieces fit automatically
Divine, intertwined

Pulled, no, placed together
Without effort, struggle, or thought
Becoming a masterpiece
Of the perfect design
Nature, Earth, Space, Mankind

While other pieces
Just will not connect
No matter the reconfiguring
The blind attempts to force
Or sweet coercion

Still denied, and now
Rough around the edges
They need to be discarded
Not kept in fear of change
Flaws need not be forever

In this beautiful creation








Allen Ginsberg was born in 1926 in Newark, New Jersey. He died in 1997 of liver cancer.

The first of the two poems below was the last poem written before the final diagnosis of his illness. The second was written in the final week of his life, the only poem written during those final days.


Dream

There was a bulge in my right side, this dream recently - just now
I realized I had a baby, full grown that came out of my right abdomen
while I in hospital with dangerous hepatitis C.
I lay there a while, wondering what to do, half grateful, half appre-
hensive. It'll need milk, it'll need exercise, taken out into fresh air
with baby carriage.
Peter there sympathetic, he'll help me, bent over my bed, kissed
me, happy a child to care for. What compassion he has. Reassured I
felt the miracle was in Peter's reliable hands - but gee what if he
began drinking again? No this'll keep him straight. How care for a
baby, what can I do?
Worried & pleased since it was true I slowly woke, still thinking
it'd happened, consciousness returned slowly 2:29 AM I was awake
and there's no little mystic baby - naturally appeared, just disap-
peared -
A glow of happiness next morn, warm glow of pleasure half the
day

March 27, 1997, 4 A.M.


Things I'll Not Do (Nostalgias)

Never go to Bulgaria, had a booklet & invitation
Same Albania, invited last year, privately by Lottery scammers or
recovering alcoholics,
Or enlightened poets of the antique land of Hades Gates
Nor visit Lhasa live in Hilton or Ngawang Gelek's household & weary
ascend Potala
Nor ever return to Kashi "oldest continuously habited city in the world"
bathe in Ganges & sit again at Manikarnika ghat with Peter,
visit Lord Jagganath again in Puri, never back to Bibhum take
notes tales of Khaki B Baba
Or hear music festivals in Madras with Philip
Or enter to have Chai with older Sunil & Young coffeeshop poets,
Tie my head on a block in the Chinatown opium den, pass by Moslem
Hotel, its rooftop Tinsmith Street Choudui Chowh Nimtallah
Burning ground nor smoke ganja on the Hooghly
Nor the alleyways of Achmed's Fez, nevermore drink mint tea at Soco
Chico, visit Paul B. in Tangiers
Or see the Sphinx in Desert at Sunrise or sunset, morn & dusk in the
desert
Ancient sollapsed Beirut, sad bombed Babylon & Ur of old, Syria's
grim mysteries all Araby & Saudi Deserts, Yemen's sprightly
folk,
Old opium tribal Afghanistan, Tibet - Templed Beluchistan
See Shangha again, nor cares of Dunhuang
Nor climb E. 12th Street's stairway 3 flights again,
Nor go to literary Argentina, accompany Glass to Sao Paolo & live a
month in a flat Rio's beaches and favella boys, Bahia's great
Carnival
Nor more daydream of Bali, too far Adelaide's festival to get new scent
sticks
Not see the new slums of Jakarta, mysterious Borneo forests & painted
men and women
Nor mor Sunset Boulevard, Melrose Avenue, Oz on Ocean Way
Old cousin Danny Leegant, memories of Aunt Edith in Santa Monica
No mor sweet summers with lovers, teaching Blake at naropa,
Mind Writing Slogans, new modern American Poetics, Williams
Kerouac Reznikoff Rakosi Corso Creely Orlovsky
Any visits to B'nai Israel graves of Buda, Aunt Rose, Harry Meltzer and
Aunt Clara, Father Louis
Not myself except in an urn of ashes

March 30, 1997, A.M.






buggin' out

Poem by Allen Itz w/ Art by Vincent Martinez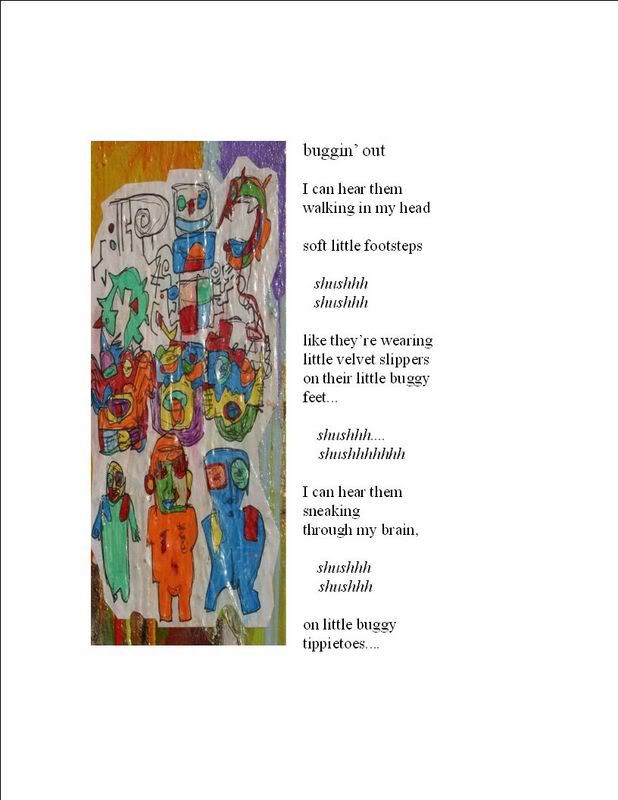 Seven Beats a Second - page 121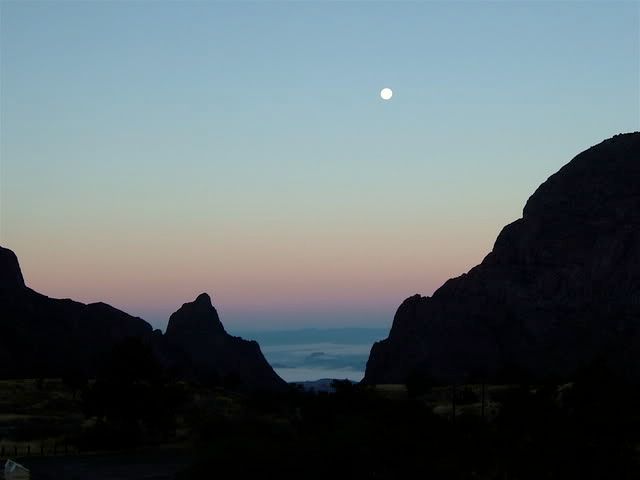 From The Anchor Book of Chinese Poetry we have this poem by Gong Peiyu, writing under the pen name Shu Ting, the leading woman poet in China in the 1980's. She was went to the countryside during the Cultural Revolution before she graduated from junior high school. Then she worked in a cement factory and later a textile mill and a lightbulb factory. In 1979 she published her first poem and in 1983 was asked to be a professional writer by the Writers's Association. Although she was attacked in the early 1980's during the Anti-Spiritual Pollution Campaign, she won the National Book Award in 1981 and 1983.

Her collections include Bigantines, and Selected Lyrics of Shu Ting and Gu Cheng. She has also published several books of prose.


Two or Three Incidents Recollected

An overturned cup of wine.
A stone path sailing in moonlight.
Where the blue grass is flattened,
an azalea flower abandoned.

The eucalyptus wood swirls.
Stars above teem into a kaleidoscope.
On a rusty anchor,
eyes mirror the dizzy sky.

Holding up a book to shade the candle
and with a finger in between the lips,
I sit in an eggshell quiet,
having a semitransparent dream.

(Translated by Chou Ping)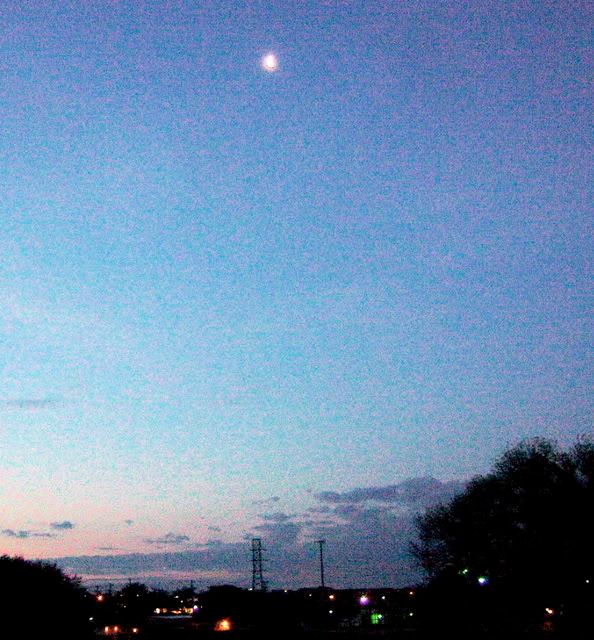 These poems are from Susan McDonough, another good friend of "Here and Now."


Just Past Sunrise

The sky is still white
too early to find its blue.
I water the Bougainvillea;
its red bracts silently
fill lonely spaces.


Sweet Talked

I'm slowly cleaved into
single-mindedness and
become a cloud collected
above the dusty earth,
to stage a rain dance
in the belly of a drought.

Sleep is seduction,
it grabs me
kisses my forehead,
parts my consciousness
like a lover parts ripe
thighs by degrees.

I tingle like dry roots
near water, beg
without shame for my
horizontal baptism.


Slacker Sunday

I'm dressed in pajamas and laptop,
Chenille afghan for flair. My dog coiled
in a C, gently leaning against a floral
pillow, not stationed at the back door.

The day is gray and I raked
leaves yesterday. So I'll pour
one more cup of coffee, drink
from another poem or two,

a stretch and a primal yawn
and maybe I'll take the stall
out of my engine and if I don't;
those red slippers sure look fine.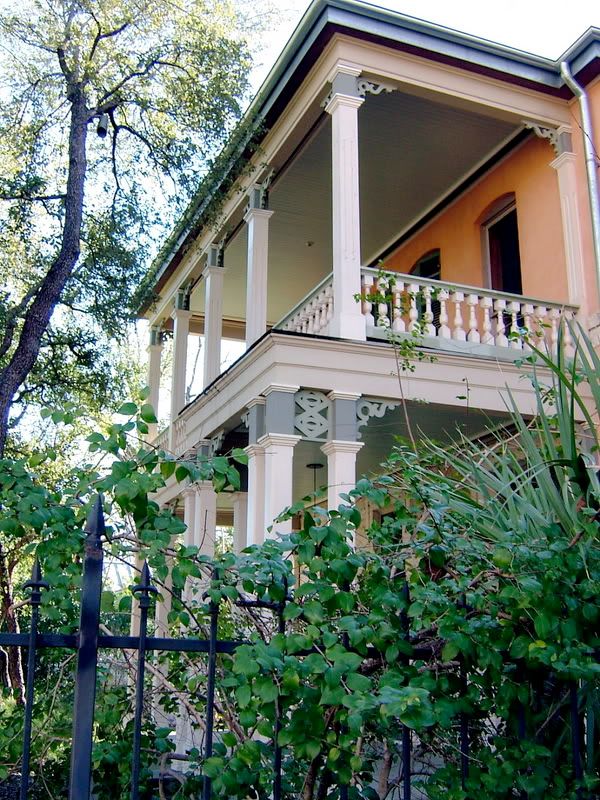 Here's the title poem from Nikki Giovanni from her book My House.


My House

i only want to
be there to kiss you
as you want to be kissed
when you need to be kissed
where i want to kiss you
cause it's my house
and i plan to live in it

i really need to hug you
when i want to hug you
as you like to hug me
does this sound like a silly poem

i mean it's my house
and i want to fry pork chops
and bake sweet potatoes
and call them yams
cause i run the kitchen
and i can stand the heat

i spent all winter in
carpet stores gathering
patches so i could make
a quilt
does this really sound
like a silly poem
i mean i want to keep you
warm

and my windows might be dirty
but it's my house
and if i can't see out sometimes
they can't see in either

english isn't a good language
to express emotion through
mostly i imagine because people
try to speak english instead
of trying to speak through it
i don't know maybe it is
a silly poem

i'm saying it's my house
and i'll make fudge and call
it love and touch my lips
to the chocolate warmth
and smile at old men and call
it revolution cause what's real
is really real
and i still like men in tight
pants cause everybody has some
thing to give and more
important need something to take

and this is my house and you make me
happy
so this is your poem

(26 feb 72)






lotsa hots

Poem by Allen Itz w/ Art by Vincent Martinez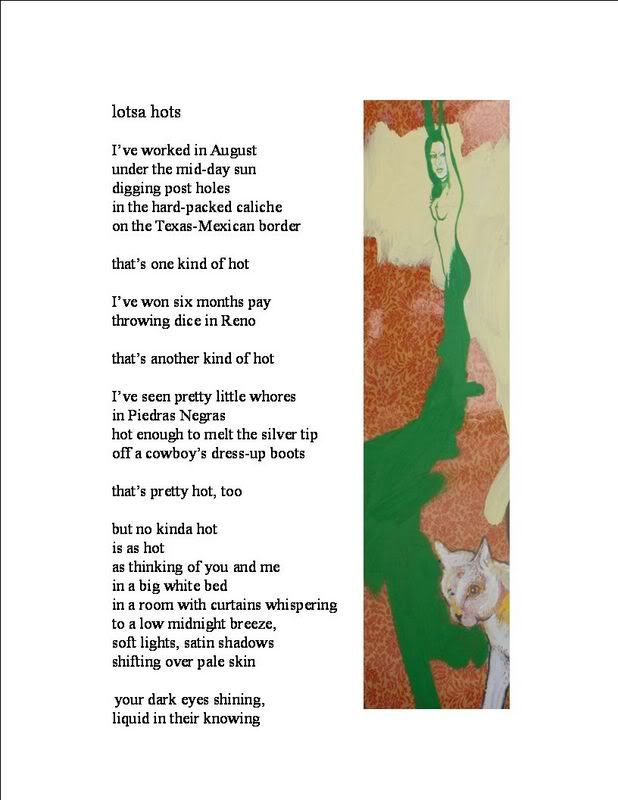 Seven Beats a Second - page 26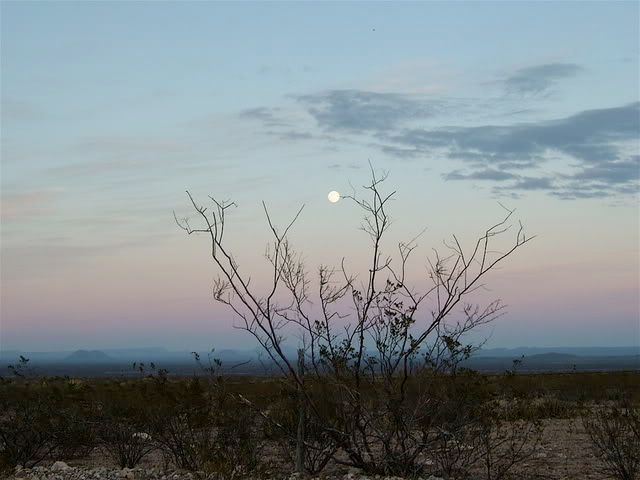 Now, from the anthology American Negro Poetry, a poem by Frank Yerby, a famous mid-century writer, much better known for his popular novels than his excellent poetry.


Wisdom

I have known nights rain-washed and crystal-clear
And heavy with the mellow, mingled scent
of honeysuckle, rose, and pine, while near
The shadowed ghosts of trees the new moon bent,
And touched your eyes with silvered ecstasy.

Then I believed in Magic, Youth, and Spring,
Then parting was synonymous with Death;
And every note I heard the night birds sing
Caused fitful haltings in my labored breath.

How strange that now I look into new eyes
In utter calm, yet with a deeper awe,
And know so well that when the old love dies
A new is born, as Spring from Winter's thaw
Arises in new light and loveliness.

And yet it is not quite the same to know
How transient grief, how fleeting, pain;
What prosaic love to stand and watch you go,
And, in a month, to be at peace again!




Next we gave some photos by long time amigo, John Strieb. John has the habit of winning photography contests with fifty year old cameras, including, in one instance, a fifty year old camera I gave to him because it didn't work and had been gathering dust in my attic for at least forty five years.

John used both his antiques and modern digital cameras in capturing these images. As you can see from his first picture of his 1922 Essex, John is a mechanic. He didn't tell me, but I assume this picture is before his repair work and not after.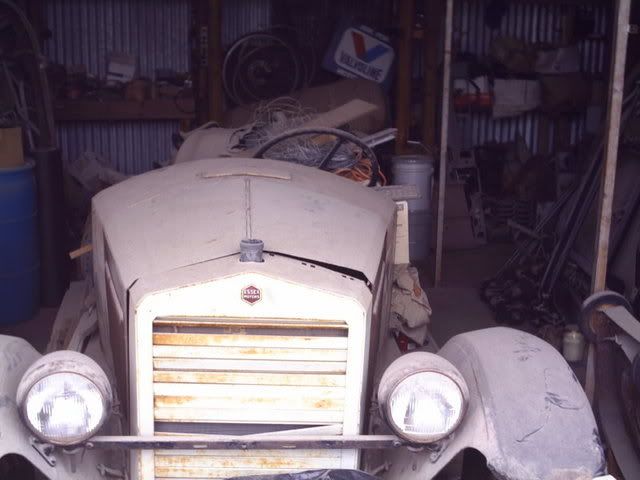 Photo by John Strieb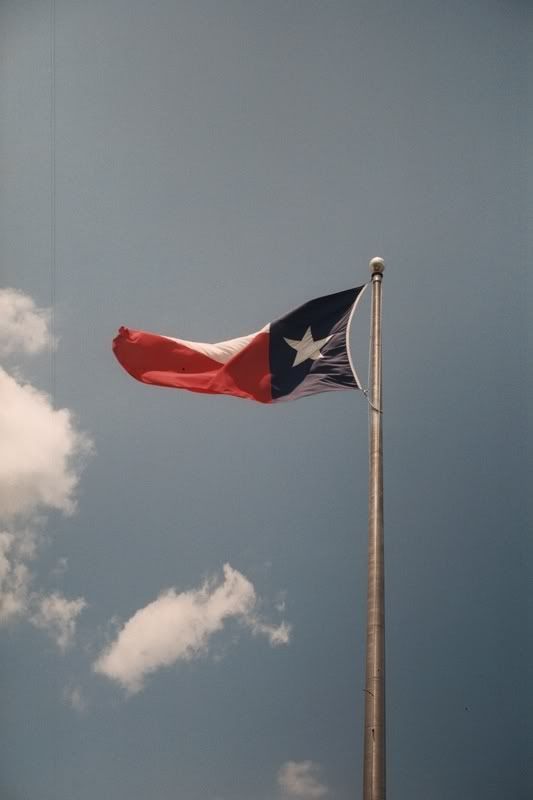 Photo by John Strieb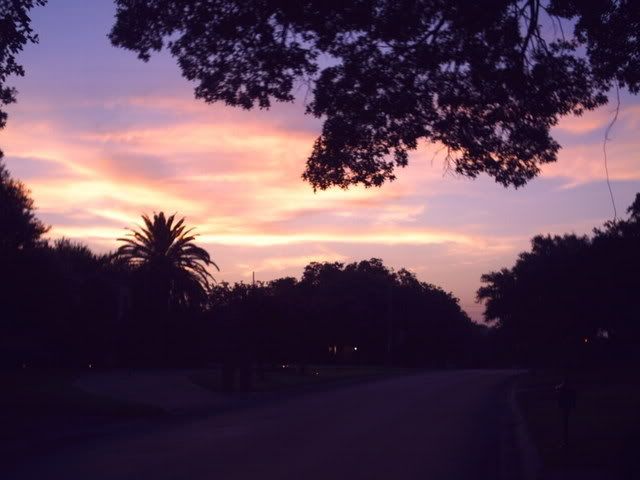 Photo by John Strieb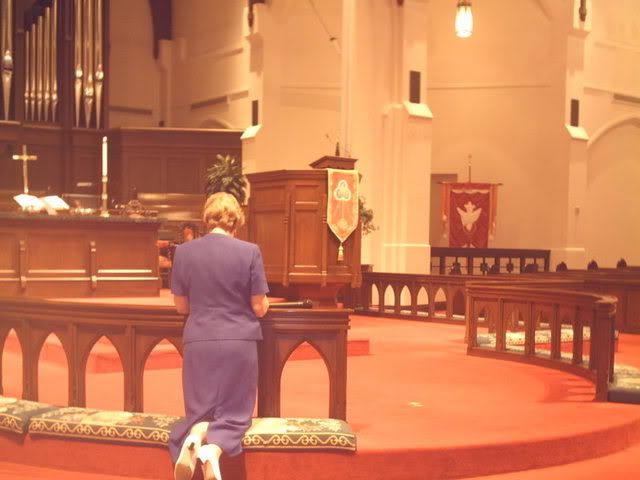 Photo by John Strieb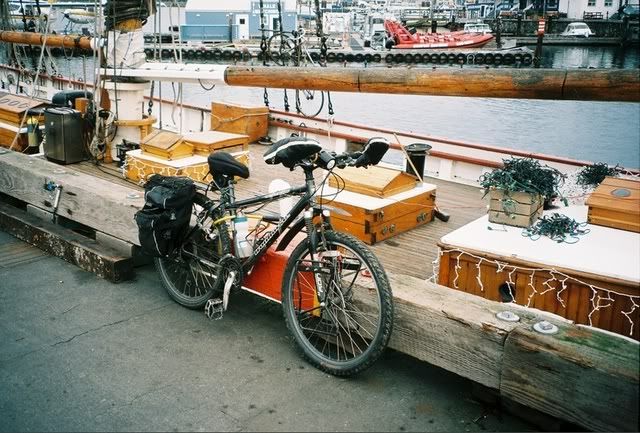 Photo by John Strieb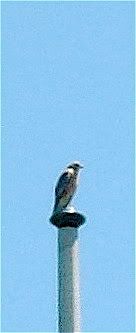 Here's a brief Bukowski.


Royal Standard

bad nights can't be cured by bad poems, you
have to wait, look at a doorknob, read the newspaper
over again

you are not the only one having a bad night, it's a
world full of bad nights

and it's enough sometimes just to have a typewriter
and to
smoke a cigarette
and just look at the machine

and wonder about all the good luck you've had
with that machine and
the other machines

yet
one is spoiled
one wants
more and more

and now my fingers
tap the keys
and tell you and
it
about all that.






eyes of sister jude

Poem by Allen Itz w/ Art by Vincent Martinez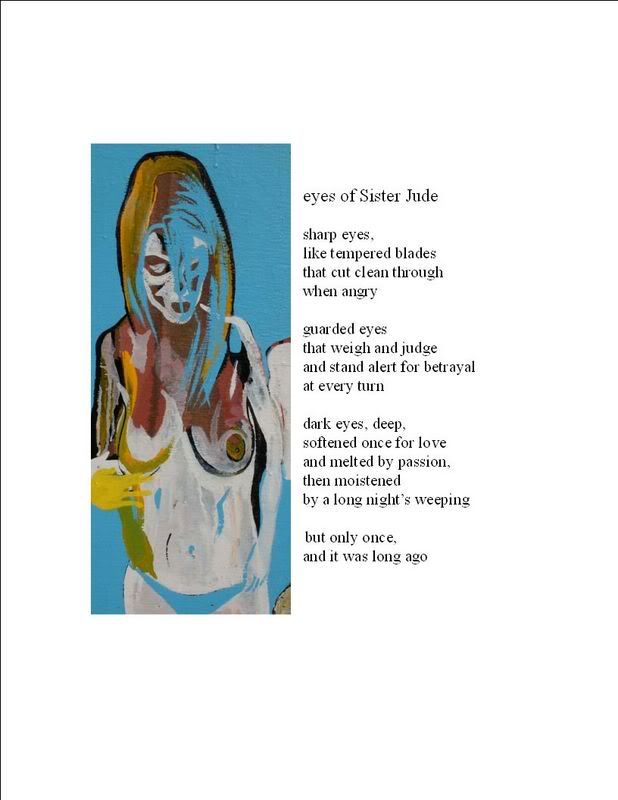 Seven Beats a Second - page 98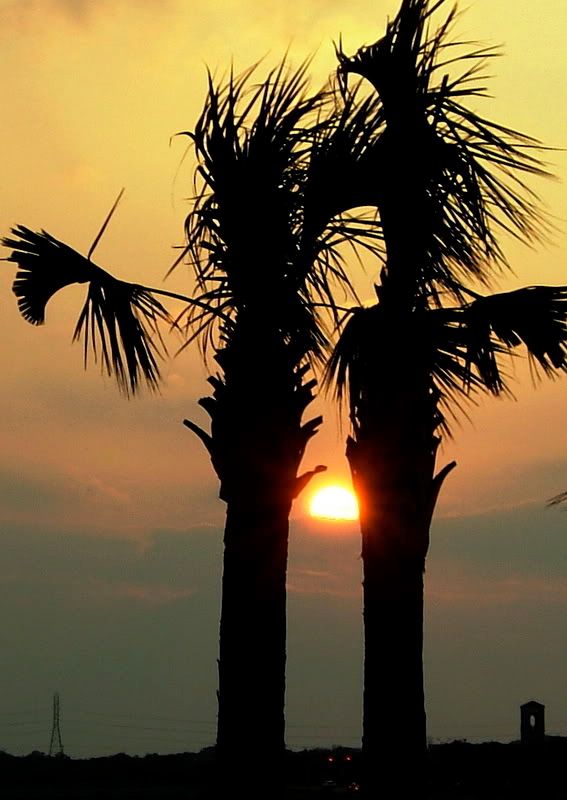 I keep using, probably overusing, these travel poems by Blaise Cendrars, but they are so light and easy and fun I can't pass them up. Here are a few more.


Sunsets

Everyone talks about sunsets
All travelers are happy to talk about the sunsets in these waters
There are hundreds of books that do nothing but describe sunsets
The tropical sunsets
Yes it's true they're wonderful
But I really prefer the sunrise
Dawn
I wouldn't miss one for the world
I'm always on deck
In the buff
And I'm always the only one there admiring them
But I'm not going to describe them the dawns
I'm going to keep them for me alone


Starry Nights

I spend the greater part of the night on deck
The familiar stars of our latitudes lean lean over the sky
The North Star descends further and further on the northern horizon
Orion - my constellation - is at the zenith
The Milky Way like a luminous slit grown larger every night
Ursa Major is a patch of fog
The south is darker and darker up ahead
And I can't wait for the Southern Cross to appear in the east
To help me wait Venus has doubled in size and quintupled in brightness
like the moon she makes a trail across the water
Tonight I saw a big shooting star


Cabin No. 6

I live here
I should always live here
I deserve no praise for staying shut in and working
Besides I don't work I write down everything that goes through my head
Well not really everything
Because tons of things go through my head but don't get out into the
cabin
I'm living in a breeze the porthole wide open and the fan whirring
Not reading


Orion

It's my star
It's in the form of a hand
It's my hand gone up into the sky
During the entire war I saw Orion through a lookout slip
When the zeppelins came to bomb Paris they always came from Orion
I have it above my head today
The main mast pierces the palm of the hand which must hurt
As my amputated hand hurts me pierced as it is by a continual stabbing
pain


The Equator

The ocean is dark blue the blue sky is pale next to it
The sea swells all around the horizon
It's as if the Atlantic were going to spill over into the sky
All around the steamer it's a vat of pure ultramarine


Sunday

It is Sunday on the water
It's hot
I'm in my cabin as if trapped in melting butter

(Translated by Ron Padgett)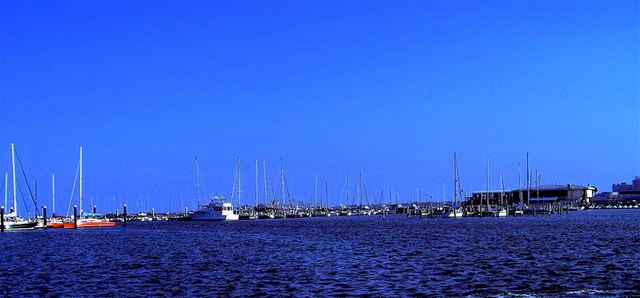 From the foothills of the Pocono Mountains in Pennsylvania Nancy Williams Lazar sends us this anniversary poem.


Playground Pirates

All's quiet in your playground tonight;
the swings are still, tables empty as hands,
but welcoming. Your grounded galleon

surveys a sea of grass and blacktop,
fence and diamond. I see the Visitors
have their place, and the Home team too,

until dusk, when they are rounded up-
all but the footprints. Last to leave
is a young couple pushing a baby carriage

who dream of the day they will let go,
and me, prone in the ship's hold missing
my boyfriends who would have warmed

this hiding place as we watched the moon
slide backwards through the gaps, pop out
of a pirates eye and slip into his pocket.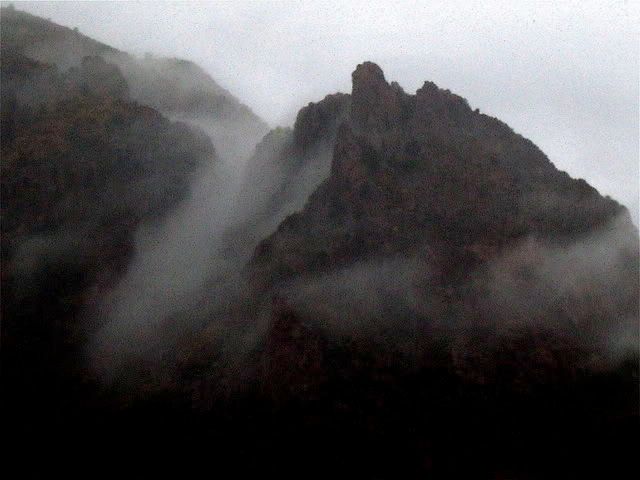 Polish poet Zbigniew Herbert wonders about the future of traditional poetry.


Wagon

What is he doing
this hundred-year-old man
with a face like an ancient book
his eyes without tears
lips pressed
watching over the memories
and mumblings of history

now
when winter mountains
are extinguished
and Fujiyama enters the constellation of Orion
Hirohito
a hundred-year-old man-emperor god and state official-
is writing

these are not acts
of mercy
or acts of anger
nominations
of generals
ingenious tortures
but a composition
for the annual competition
of traditional poetry

the subject
is a wagon
and form: the venerable tanka
five lines
thirty-one feet

"as I get on the train
of the state railway
I think of the world
of my grandfather Emperor Meji"

a poem
coarse in appearance
its breath held in check
with no artificial blushes

different
from shamelessly wet
modern productions
filled with triumphant howling

a crumb
about a railway
devoid of melancholy
of haste before a long journey
even
of sadness and hope

I think
with my heart rensed
about Hirohito

about his bent back
frozen head
the face of an old doll

I think of his
dried eyes
small hands
his thought slow
like the pause
between one owl calling
and another

I think
with my heart tensed
what will be the fate
of traditional poetry

will it depart
following the emperor's shadow
vanishing
weightless

(Translated by John and Bogdana Carpenter






through the 100 meter lens

Poem by Allen Itz w/ Art by Vincent Martinez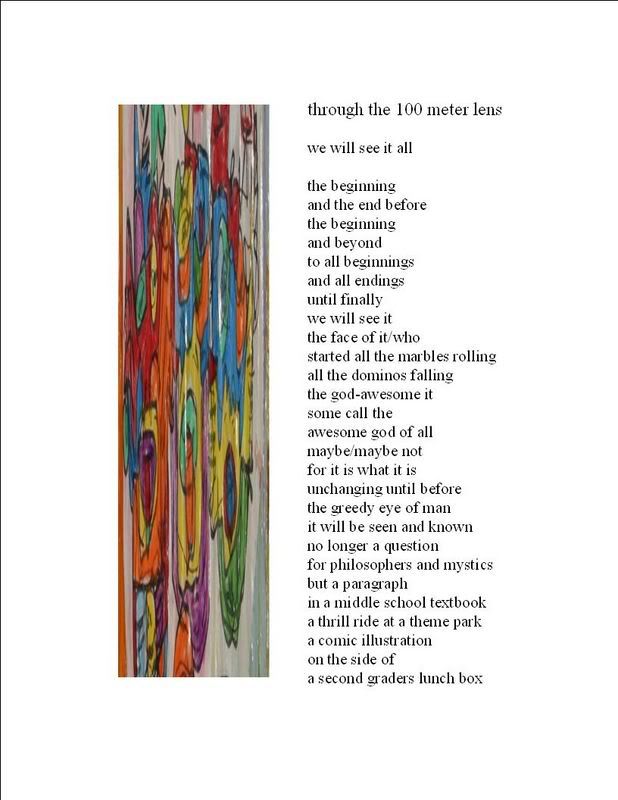 Seven Beats a Second - page 82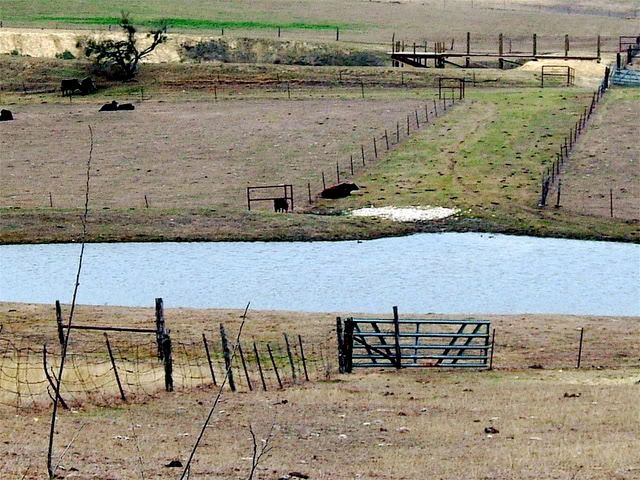 Now, here's another poem from The Anchor Book of Chinese Poetry (a very good book, by the way), this one by Ha Jin


Our Words

Although you were the strongest boy in our neighborhood
you could beat none of us. Whenever
we fought with you we would shout:
"Your father is a landlord.
You are bastard of a blackhearted landlord."
Or we would mimic your father's voice
when he was publicly denounced:
"My name is Li Wanbao. I was a landlord;
before liberation I exploited my hired hands
and the poor peasants. I am guilty
and my guilt deserves ten thousand deaths."
Then you would withdraw your hard fists
and flee home cursing and weeping like a wild cat.

You fought only with your hands,
but we fought with both our hands and our words.
We fought and fought and fought
until we overgrew you and overgrew ourselves,
until you and we were sent to the same village
working together in the fields
sharing tobacco and sorghum spirits at night
and cursing the brigade leader behind his back
when he said: "You, petty bourgeoisie,
must take your reeducation seriously!"

Until none of us had words.

(Translated by Tony Barnstone and Chou Ping)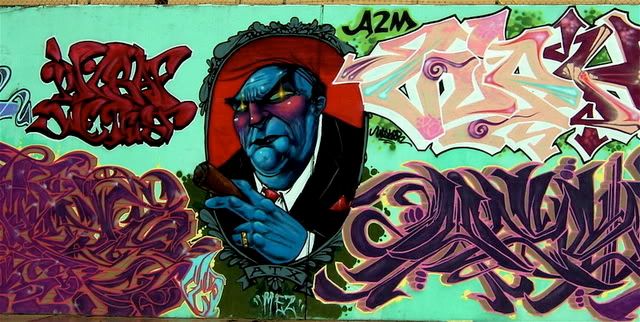 Next, two short prose pieces by our very good friend Alice Folkart.




Rapture



Traffic was light for a weekday, but then I was early. I switched on the radio, NPR News. All it seemed to spout lately was one disaster or boondoggle after another. It often left me feeling angry and helpless.

The highway lay across the flatlands behind the coastal dunes. Up until forty years ago this had been truck farms. The soil still held the moisture, so there was frequently ground fog in the mornings rendering the blocky buildings and burger joints in a soft haze. I sometimes felt as if I were driving through a painting by Monet, all pastels and indistinct shapes permeated by light from somewhere in the distance. I switched to music, a Mexican station, accordions and horns, a wailing song about love, poverty and sincerity.

This was an easy morning drive, always smooth. Every driver knew exactly where he or she was going. No decisions, no surprises. Nothing to disturb the meditation of the short journey that would put me in the proper, submissive, friendly frame of mind a secretary needs.

A tiny red car pulled up and kept pace next to me, the driver leered at me and moved his lips. The Mexican music stopped and his voice came out of my radio speaker.

"Hi, Babe! Wanna levitate?"

What?

He repeated himself, and, as he was speaking, a blue car just in front of mine floated upward, a few feet off the pavement and a khaki-colored Hummer on the right shot straight up.

What?

"See," said the soothing voice, "See what we can do?"

I punched the radio's OFF button. Around me more cars were rising in the air. The man was laughing, raising his huge eyebrows, waving one hand in the air as if conducting an orchestra. Lots of cars were floating now, and so was I. People were opening their doors and stepping out into the air and floating too, like astronauts in zero gravity.

Was it a dream? Or, did I step out of my car too, and let myself waft out into mid-air? The man in the red car joined me.

The sun rose above the trees that line the highway, a beautiful mix of music from all the car radios filled the air, mingling with the warm sunshine. The man kicked his feet, as if swimming, and floated over to me. He took my hand, an older woman joined us, we sang and twirled in the air, rising higher and higher, heading slowly for the light. I knew I was going to be late for work.





Want Ad



Jukebox, beautiful cond., money-operated, like new, $1,650.

Milo had loved surprising her - eight mature palms planted by a nursery to remind her of Hawaii, but palms don't do very well in the Ohio, and they'd had to pay someone to pull them out before they fell over dead Then there was that leopard kitten named Louella. She sure was cute, even with those claws. But, she grew and grew, ate ten pounds of chicken a day, and started watching out the bay window when people walked their Yorkies and Cockapoos. She'd astonished Pearl one day when she'd bounded through the glass, knocked over old Mrs. Belden, and devoured her pedigreed Princess in three bites. The zoo had been glad to get the cat. Mrs. Belden, on doctor's orders, had moved in with her daughter.

Milo had given Pearl so much. He'd loved to see the look on her face when he'd brought something really unusual: a one-ring circus tent and trapeze (with net), a python (for only one night, she'd made him take it away as soon as they'd been able to find it again), a freezer full of elk steaks (would have come in handy with the leopard), and an assortment of dusty rocks that had turned out to be radioactive.

Almost everything was gone now, even Milo. The last, the 1946 Wurlitzer 1015 Bubbler Jukebox, was going today, still loaded with all their favorite 78's. They'd had fun with it, admired the heavy double arch at the top glowing red and yellow, and the thick side columns of yellow catalin plastic pulsing blue, the chromed grill and gold lame that hid the speakers. They'd often fed it dimes and danced, just the two of them, and since they could get the money out if they wanted to, Milo called it their piggy bank. They'd only opened it up once a year, and spent whatever had accumulated on a splurge dinner.

But, all that was over. Time to move into a smaller place, get a little help with things. A man in Pittsburgh had seen her ad and wanted it for his collection. Said it was a real good price, he'd take it sight unseen. He'd be here by three. She'd polished it, taped the cord to the back, and checked the till. It was empty. He wouldn't be getting any more than he'd paid for.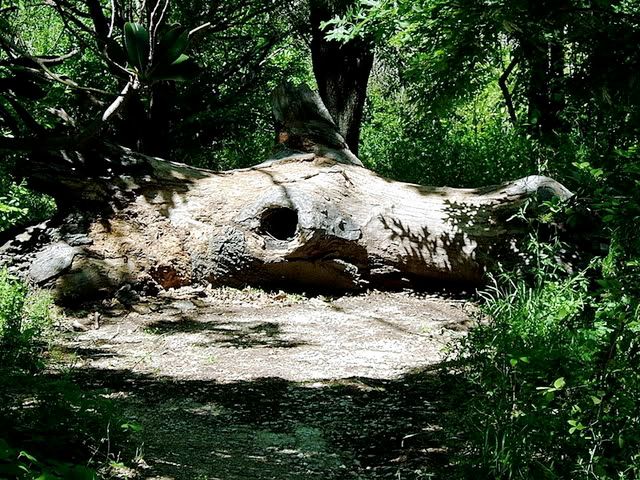 Luis J. Rodriguez is a poet, novelist, journalist, critic, and columnist.


He was born in the U.S.-Mexico border city of El Paso, Texas. His parents, natives of Ciudad Juárez, Chihuahua, had their children on the U.S. side of the border to ease the transition into the United States, where they had intentions of relocating. His father was a high school principal and his mother was a school secretary. The elder Rodriguez, who refused to be dominated by local politicians from the Institutional Revolutionary Party, relocated the family to South Los Angeles when Rodriguez was two. There he spent the first part of his childhood and witnessed the 1965 Watts Riots. The family later moved to the San Gabriel Valley, and he joined his first street gang at the age of 11.

His work has won several awards, and he is recognized as a major figure of contemporary Chicano literature. His best-known work, Always Running: La Vida Loca, Gang Days in L.A., is the recipient of the Carl Sandburg Literary Award, among others, and has been the subject of controversy when included on reading lists in California, Illinois, Michigan, and Texas schools due to its frank depictions of gang life. Rodriguez has also founded or co-founded numerous organizations, including the Tia Chucha Press, which publishes the work of unknown writers, Tia Chucha's Cafe & Centro Cultural, a San Fernando Valley cultural center, and the Chicago-based Youth Struggling for Survival, an organization for at-risk youth.

Here's one of his poems, taken from From Totems To Hip-Hop Edited by Ishmael Reed.


Hungry

My wife lef me, taking the two kids
and everything
but the stereo, TV and a few dishes.
Later in this squalid hour,
I began an affair
with my wife's best friend.
But she already had three kids and no man
and talked about love and marriage,
and I didn't know how to get out of it,
being also an alcoholic.
Soon I couldn't pay the rent
so I kept getting notices in death tones,
insinuating broken bones or whatever.
My friend Franco helped me sneak
out ot the place.
Franco and me arrived in the middle of the night,
and loaded what I had onto a pickup truck.
I would come back
on other late nights to get the mail.
And the woman, who was alone with three kids
and looking for a husband,
kept leaving notes,
and I kept throwing them away.
But the hunger had just begun.
My only property of value was a 1954
red Chevy in mint condition.
It had the original skirts, whitewalls,
and chrome hood ornament.
What a prize!
I never wanted to part with it,
even as layoff slips and parking tickets
accumulated on the dashboard,
even when I found my self living with Mom and Dad
and the '54 Chevy got stashed out in back.
But the hunger and the drinking
and looking for love in all the wrong faces
blurred into a sort of blindness
I stared out the back window,
at that red Chevy,
and thought how it resembled a large steak
with egg yolks for headlights.
No, no, I couldn't do it;
I couldn't turn my back on it now.
The days whiled away
and again I looked out that window,
with Mom yelling behind me
about getting a job,
and I could taste the last scotch,
the last carnitas burrito,
and perhaps take in the stale scent
of a one-room apartment somewhere.
Then the hunger became a fever.
The fever a pain in my head.
And as soon as some dude with 200 bucks came along
I sold it. God almighty,
I sold my red Chevy!
For 200 bucks!
For nothing, man.
Oh, I thought it would help
stop my wife's face
in every reflection;
her friends staring out of my coffee cup.
that it would help hold me
for more than a week,
and end the curses
ringing in my ears.
I sold it! My red Chevy.
Prized possession.
200 bucks.
Gone forever.
Days later, the 200 bucks spent,
I was still hungry.






lying in the sun with susan

Poem by Allen Itz w/ Art by Vincent Martinez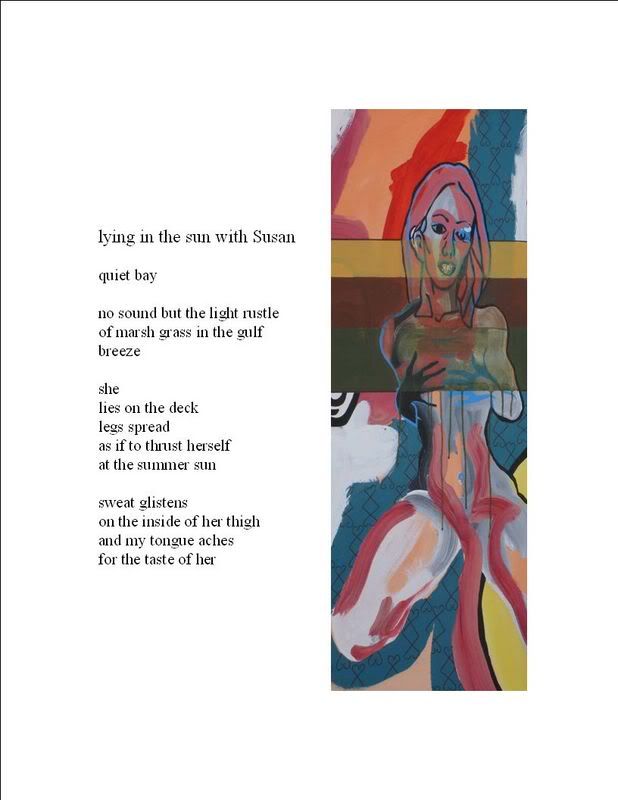 Seven Beats a Second - page 25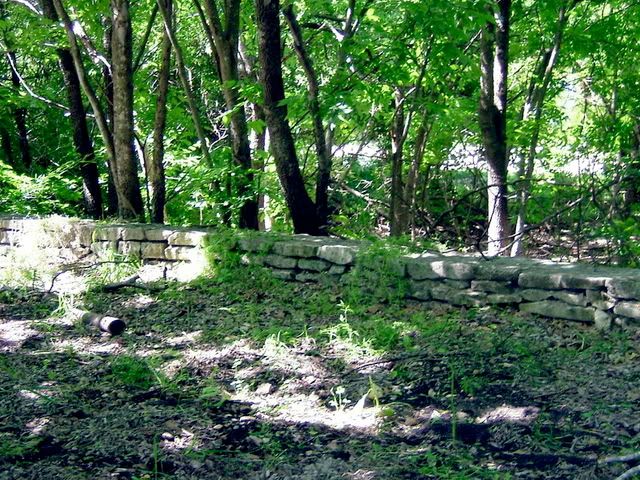 Next, we have this piece by Phillip Levine


Milkweed

Remember how unimportant
they seemed, growing loosely
in the open fields we crossed
on the way to school. We
would carve wooden swords
and slash at the luscious trunks
until the white milk started
and then flowed. Then we'd
go on to the long day after
day of the History of History
or the tables of numbers and order
as the clock slowly paid
out the moments. The windows
went dark first with rain
and then snow, and then the days,
then the years ran together and not
one mattered more than
another, and not one mattered.

Two days ago I walked
the empty woods, bent over,
crunching through oak leaves,
asking myself questions
without answers, From somewhere
a froth of seeds drifted by touched
with gold in the last light
of a lost day, going with
the wind as they always did.




Jane Roken, a "Here and Now" friend and regular contributor, proves she's a triple threat by sending poetry, art and photo images for this issue. We start with a few of her images, both drawing and photographs. We'll get to her tanka later on in the blissue.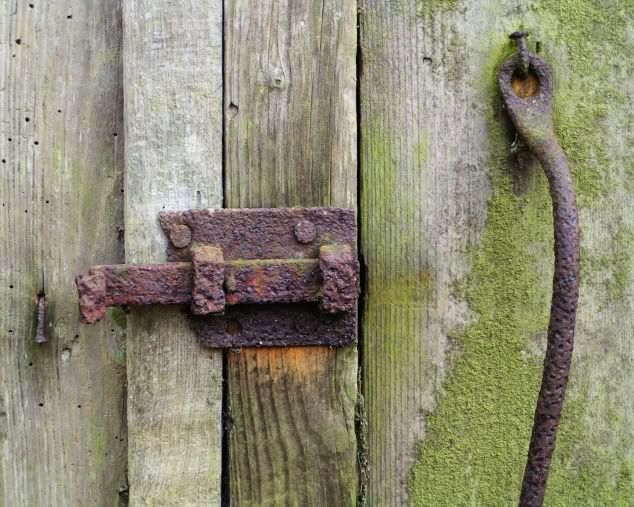 Image by jane Roken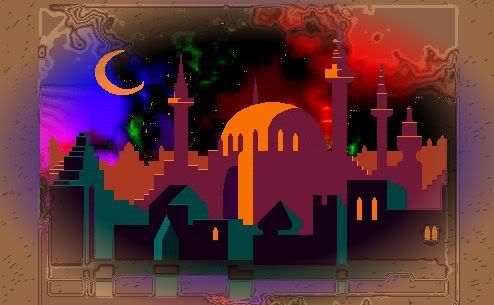 Image by Jane Roken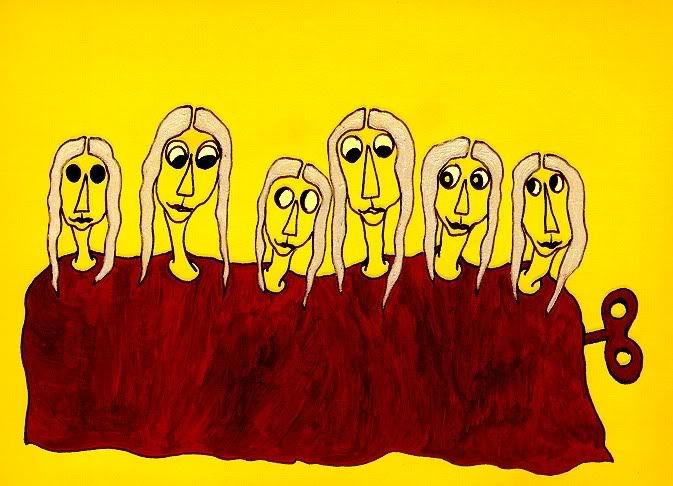 Image by Jane Roken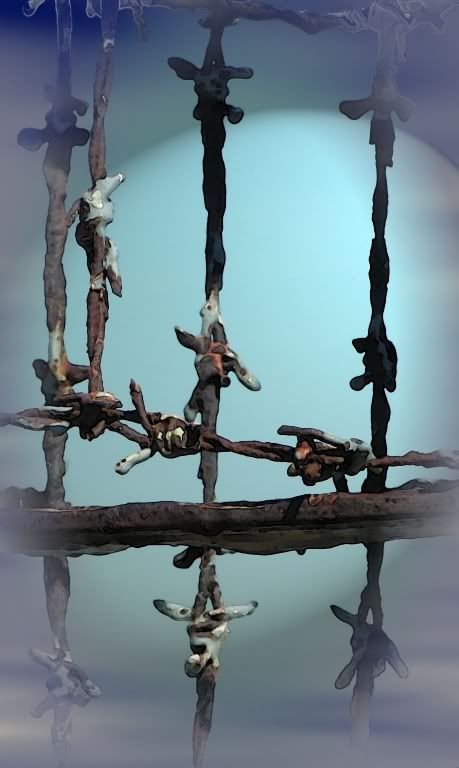 Image by Jane Roken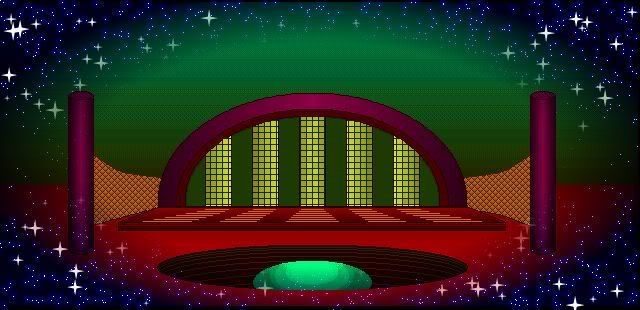 Image by Jane Roken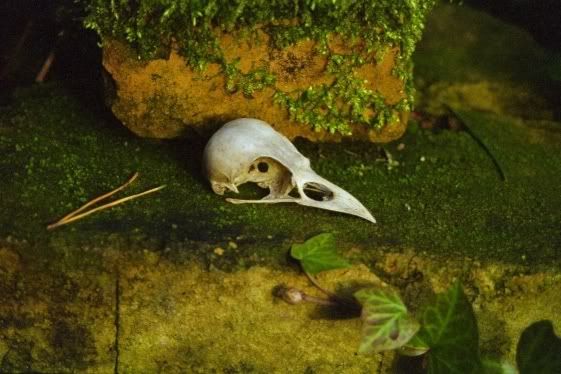 Image by Jane Roken



Now, two poems by Jane Hirshfield from her book Of Gravity & Angels.

Rain In May

The blackened iron
of the stove
is ticking into coolness
when the first drops
start against the roof.
It is late: the night
has darkened into this
like a fruit -
a sudden pear-aroma fills the room.

Just before dawn
it comes up harder again,
a white, steady drum of day-rain
caught in the moon's deep pail.
A battered tin-light
overspills ocean and sky,
hill opens to facing hill,
and I wake to a simple longing,
all I want of this ordinary hour,
this ordinary earth
that was long ago married to time:
to hear as a sand crab hears the waves,
loud as a second heart;
to see as a green thing sees the sun,
with the undividing attention of blind love.


This Ripeness

Thin roads splice field to field
in the early light;
under the trees, many pears
lie opening to the ground.
This ripeness is the landscape I want,
a hand on the kitchen table
passing from sunlight to shadow, warm wood
to cool, and back, behind me the bright jars
ranked on their shelves - harvest
of rutted lanes, to small for naming
that lead, one to another, through the day.






fleshware

Poem by Allen Itz w/ Art by Vincent Martinez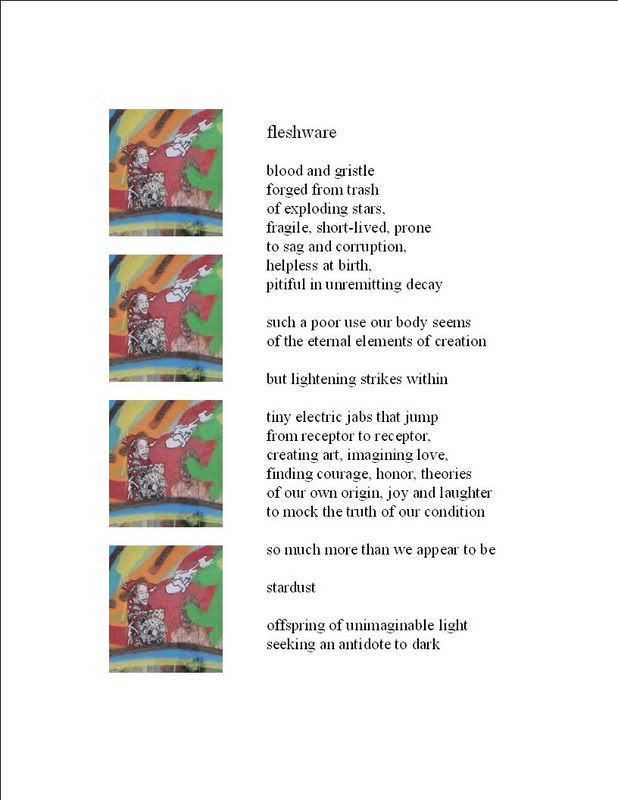 Seven Beats a Second - page 93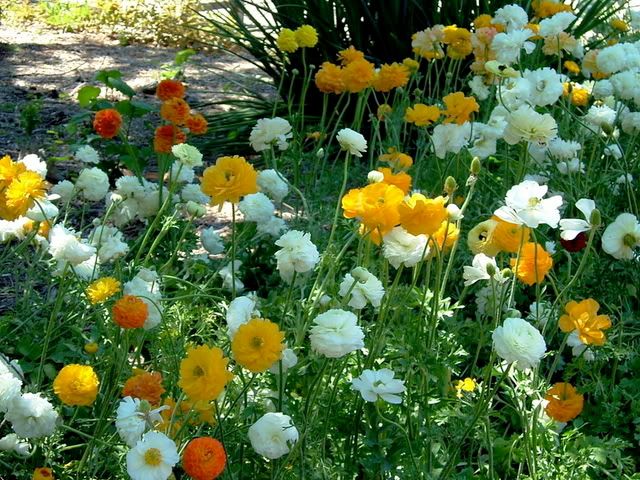 Here's a little piece from Rimbaud on the road.


The Shy Girl

In the brown dining room, perfumed
With an odor of varnish and fruit, leisurely
I gathered up some Belgian dish
Or other, and spread out in my huge chair.

While I ate, I listened to the clock - happy and quiet.
The kitchen door opened with a gust
- And a servant girl came, I don't know why,
Her neckerchief loose, her hair coyly dressed
And as she passed her small trembling finger
Over her cheek, a pink and white peach velvet skin,
And pouted with her childish mouth,

She arranged the plates, near me, to put me a ease;
- Then, just like that - to get a kiss, naturally -
Said softly: "Feel there: I've caught a cold on my cheek...."




James Fowler sent a poem for this blissue, along with his own photo to illustrate it.

Here they are.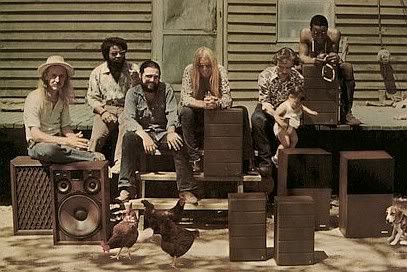 One Way Out

Damn, we're at that point again.
Can't figure out the sound
with Duane gone, and everyone
packing powder up their noses.

Dicky thinks it's the equipment.
After some weed and a fifth of Jack,
we decide he's right. What else
could it be? It's the only change.

So we toss those new raggedity-ass
speakers out in the yard behind Gregg's.
Let the roosters do the funky chicken
on 'em like those NY disco folks.

Make mighty fine seats, hounds howlin'
at the old Marshalls' sweet sound.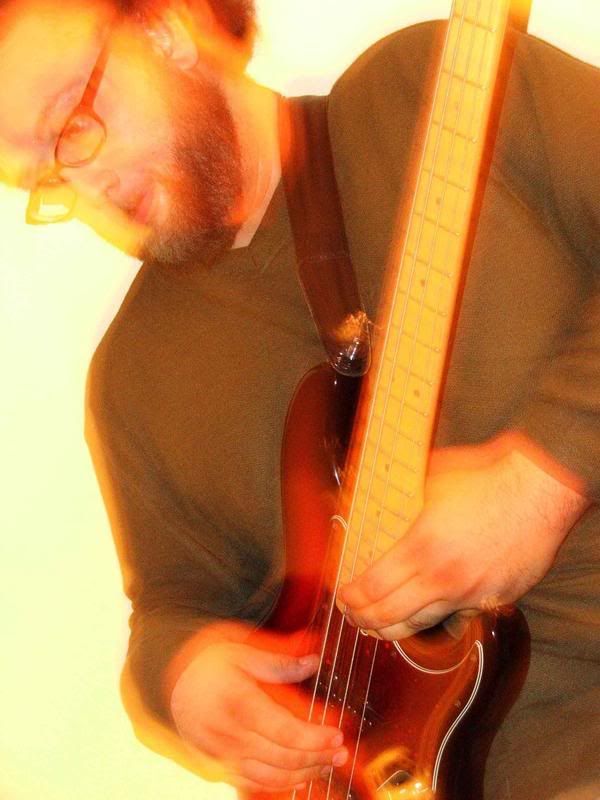 Photo by Josh Y'barbo




From Hazard, the Painter, a collection published in 1975, we have this poem by William Meredith


Music

I. LOUD

The neighbors have a teenaged girl. Below the hill
where Hazard works in an old barn with a stove,
the neighbors' house is throbbing. It doesn't move
visibly and he can't hear the Rolling Stones, still,
he can feel it throb. Will the decibels do structural harm
to the child's lovely ears, to the brick house,
to the frail culture of Jefferson and Adams,
Hazard and Franz Kline? They will do no good.
He would bring his own stereo the the barn
and make soft counter-seisms of Coltrane or Strauss,
but he can't paint to music, he never could

II THE LIFE OF THE ARTIST IN CAPITALIST SOCIETY (C. 1927)

When he was small, one day he was kept indoors
with a cold. His mother was hoovering the rug,
a new liberation then - the neighbors
still had carpet sweepers, One had a maid
with a dustpan on a stick and a little broom.

child Hazard sprawled on the hoovered part with the dog,
under the tall victrola. He played
his favorite of the thick black
hooting discs, with flus-de-lys stamped on the back,
he played "Then Land of the Sky-Blue Water" loud.
(To make it loud you opened all four doors
and with just a diaphragm it filled the room.)

When he asked her, "Mother, how do they get
the lady into the record so she sings?"
his mother said, or at least he thinks she said
over the hoover (who hadn't been president yet)
"When a person sings, they press him in hot wax"
(She was never much on scientific things.)

Shocked at the death of Jessica Dragonette,
he slipped her black corpse back into one of the books
and thought of the heavy cost an artist paid.
Then he thought how queer it was to own
all those pressed singers and a gramophone
and not be able to afford a live maid.






cinnamon dreams

Poem by Allen Itz w/ Art by Vincent Martinez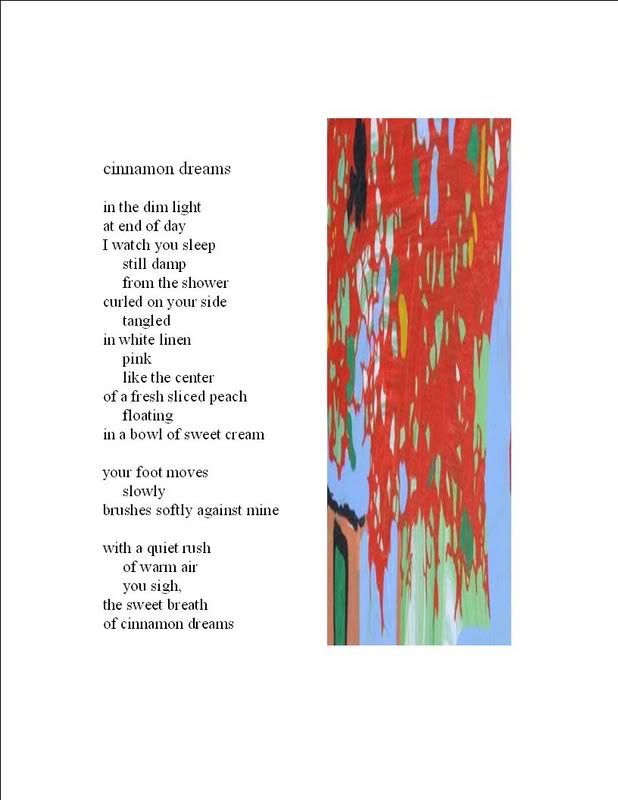 Seven Beats a Second - page 115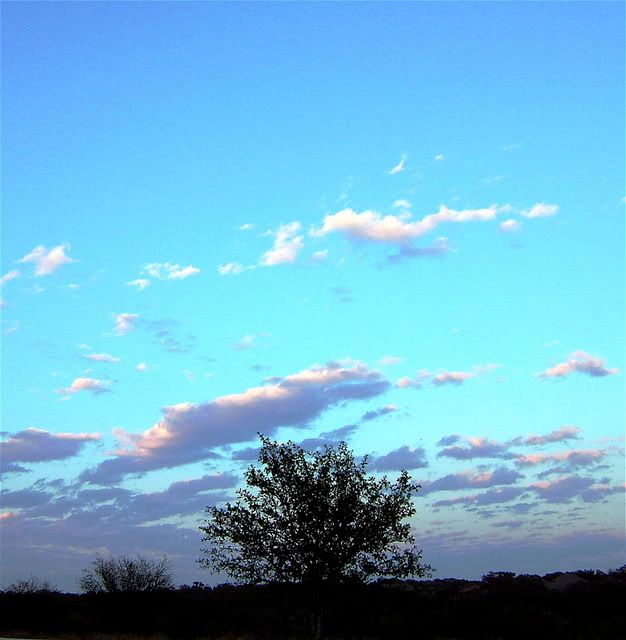 Now, three anonymous sanskrit songs from about 500 B.C.


When he comes back

When he comes back
in my arms
I'll make him feel
what nobody ever felt

everywhere
me
vanishing into him

like water
into the clay of a new jar


My husband

My husband
before leaving on a journey

is still in the house speaking
to the gods and already
separation is climbing like
bad monkeys to the window


He who stole my virginity

He who stole my virginity
is the same man
I am married to
and these are the same
spring nights and
this is the same moment of
the jasmine's opening
with winds just coming of age carrying
the scent of its flowers mingled
with pollen from Kadamba trees
to wake desire
in its nakedness
I am no different yet I
long with my heart
for the delicate
love-making back there under
the dense cane-trees
by the bank of the river
Namanda in
the Vindhya mountain

(Translated by W.S. Merwin and Moussaieff Mason)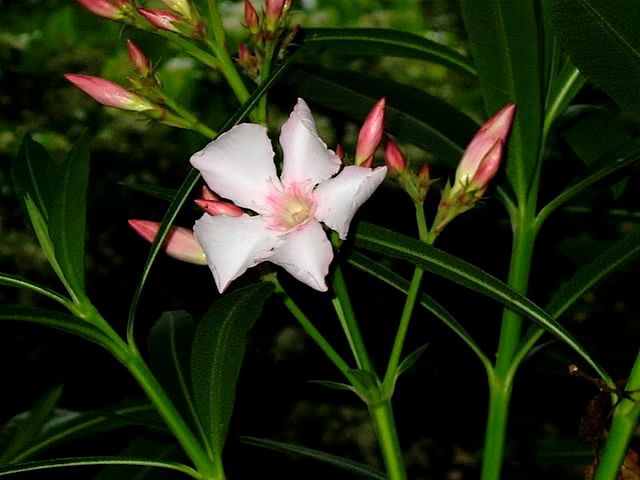 Christopher George sent this poem to us as he and his wife prepare for a trip to England. While there in his home city of Liverpool, he will be taking part in a couple of readings for a new anthology, Living on Hope Street, edited by Liverpool performance poet Jim Bennett, that includes his work.


Rain on New Windows

Spring in Baltimore: rain, a full-throated cardinal sings
in the gap between our apartment buildings. The windows
people have visited - father and daughter - and installed
double-paned delights - so clean compared to the paint-
peeled, dusty Twenties sash windows, so chiaroscuro.

My Mom's in a nursing home, 86 years on. Old pics I found
of her: strong, in control, and me the teenager in Beatles'
Liverpool, my grandfather's roses flowering in Mersey rain.
All the deaths that define my days. I see the baroque dome
of the D.C. basilica that delighted you, can no longer share

my thoughts with you. But the rain is falling and the cardinal
in a rain-soaked sycamore is singing spring into a new year.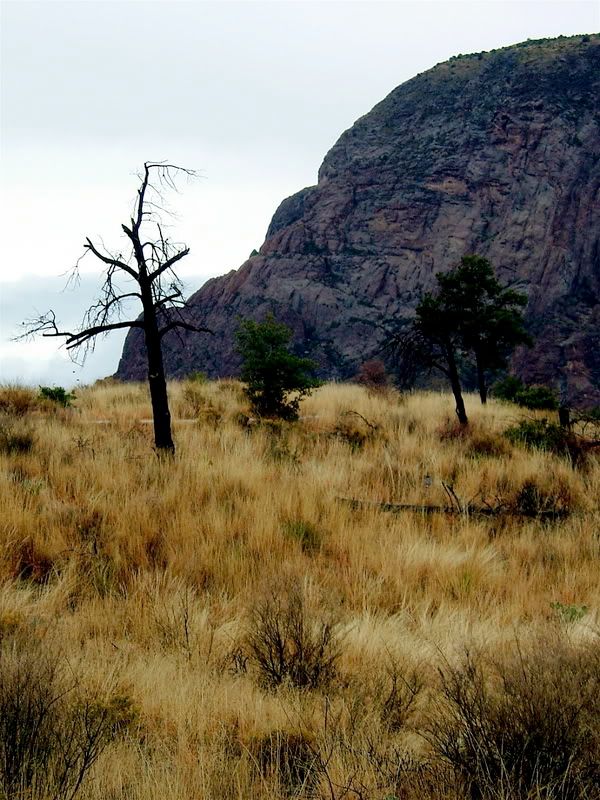 Here's a short one from the fabulous Gwendolyn Brooks. I heard an old interview with her the other day on, I think, NPR. How cool.


Old Mary

My last defense
is the present tense

It little hurts to me now to know
I shall not go

Cathedral-hunting in Spain
Nor cherrying in Michigan or Maine.






late news

Poem by Allen Itz w/ Art by Vincent Martinez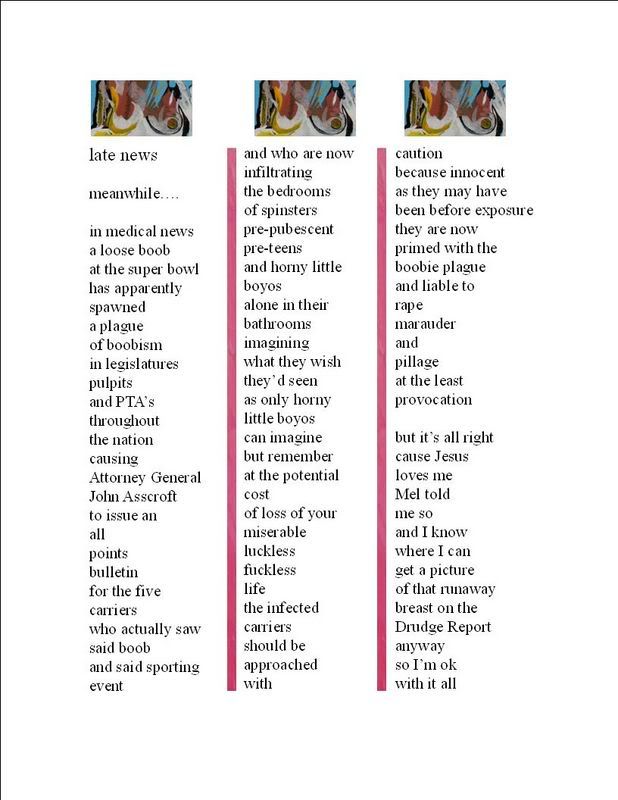 Seven Beats a Second - page 47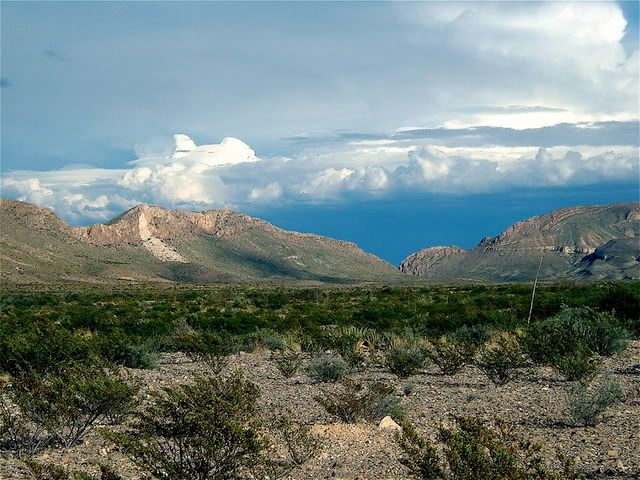 In the course of studying Chippewa, Hidatsa, and Sioux music, Frances Densmore made these early translations of these songs.


Song of the Thunder

Sometimes
I go about pitying
myself
while I am carried by the wind
across the sky.


Song of the Trees

The wind
only
I am afraid of.


The Noise of the Village

Whenever I pause
the noise
of the village.


Brown Owls

Brown owls come here in the blue evening.
They are hooting about.
They are shaking their wings and hooting.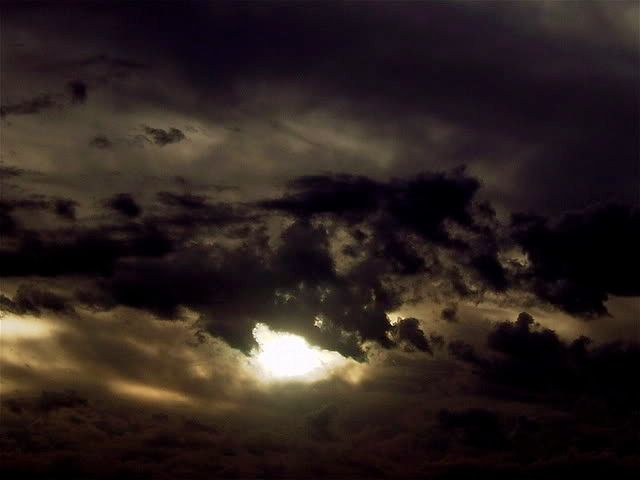 Michelle Beth Cronk sent this neat poem to us for this blissue.


A rough draft of January.

There is always something behind the dark. I saw
clouds roll in but did not see there was no light
until there was
no light to see by.

Now, I will be stunned by the way time
swallow and spits. You will be
properly amazed by the appearance
of the sky and we

will pretend this is new.
This sudden life.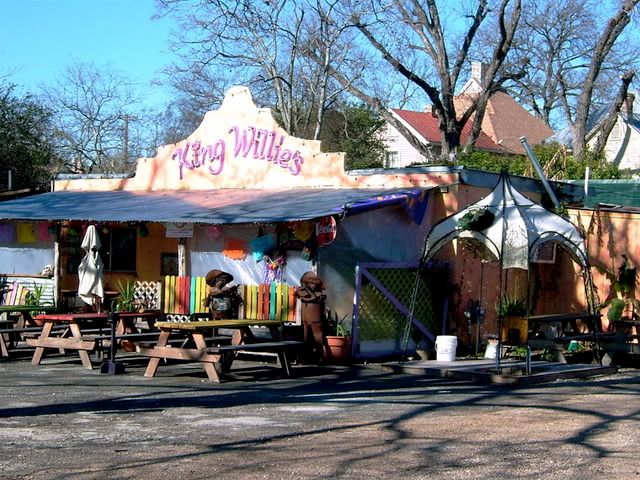 And now, two more from Charles Bukowski, in, as usual, story mode.


lunch

I parked in back
and went in to eat.
a new restaurant
a small place
a very small guy
almost a midget
behind the counter.
that's nice, I thought,
a little guy like that,
he's making it it, got his
own place but he's very
nervous, why is he so
nervous?
I gave him my order and
told him, "get it started,
I'll be back, I'm going
across the street for a
newspaper."
"o.k.," he said.
there was a Mexican girl
in there mopping the floor.

when I got back the
girl was still mopping and
the guy hadn't started my
order.
he was screaming at the
girl: "hurry up and
finish mopping! the people
are gonna be arriving
soon and you're gonna
have to help me
with the orders!"

"I'm here now," I said
"You got my order ready?"

"just a minute," he said.
he ran into the crapper
and leaving the door
half open he
flipped the seat down
yanking his pants and
his shorts down
in one motion
as he did so.

"put the god-damned
coffee on!" he screamed
at the girl
as he sat there.

then he was silent
head down
working on
this new problem.
I watched him
finish
making sure he
washed his
hands.

he did
then ran out
and got started on
my order.
the girl was still
mopping.

I sat down
at a small table and
read the headlines:
the Russians were
on the Polish
border again.

I checked the race
results and the
entries.

"o.k.," the little
guy screamed at
me, "it's ready!"

I went over
picked up my order
paid
went back to the table
began eating
reading:
city councilman accused of
having sex with three minors
giving them drugs
the girls were 14, 15 and
16.
the city councilman
denied the charges.

"finish the mopping!" the guy
screamed at the girl. "have you
made the coffee yet?"

the girl came mopping by my table,
the floor looking very good
she must have been about 20.
"help me," she said.
she had a thick accent.
"what?" I asked.
"help me!" she repeated
with more emphasis
her eyes were dark brown and
I could see the panic in
them.

"oh yeah," I smiled back.

she paused
then continued her work.

"come here!" the little guy
screamed at her.

she put her mop in the bucket
and went around behind the counter.

"you don't know nothing!" the little
guy screamed at her. "listen to me and
maybe you'll learn something!"

I finished eating
and walked out
to the back.

as I unlocked
my car
I could see through
the screen door in the
back of the cafe.
I could hear his
voice
but I couldn't
decipher the
words
all I could see
were his arms
waving
as he screamed

she was in a
short red dress and
flat white shoes
as she stood
before him
and listened.

I got into the car
started it and
backed out of the
parking lot
into the
alley
cut right
down the alley
took
a left
up the next
street
then
a right
and then
I was at
the freeway
and
on my way.


four young gang-bangers

you know how women can get
they can goad you.
I was fighting with my girlfriend
and I was fighting mad.
we were arguing over the phone
and I said that's it!
and she said that's it!
and we hung up.

I went to the racetrack that
night and played all the
longshots
and I bet heavily because I didn't care
and I kept winning damn near eve'y race
but that only made me angry
because here was nobody around to see
how good I was even when
I wasn't trying and that in particular
only made me even more unhappy.

then the races were over and I had
all that cash but it didn't matter to me
as I drove up 8th Avenue
and I stopped at a traffic signal.
it was a bad part of town
and the car behind me
began to push up against my rear bumper.

I looked back and there were four
young gang-bangers in the car behind me.

I pulled away from the signal
then pulled over to the curb and waited
to let them go by me
then I started up and got behind them
and began to tailgate them.
at every stop sign I rammed their
read bumper.

they started to speed up,
taking he corners and going down side streets.
I followed, making sharp turns,
skidding, I kept as close as I could to the rear
of their car.

then their car pulled up
and they just sat and waited
near a dark playground.
I pulled up behind them
opened my door
leaped out and
ran over to them.

their car jumped off
into the night.
I ran back, leaped into
my car, took off after them,
took a right where they
had turned but

they were gone....

I never told my girlfriend about it
after we got back together
but I did tell her
that I had won 12 or
13 hundred dollars.

"it was a lucky night for
you," she said.

"you're certainly right,"
I replied.






finding religion at 3 am

Poem by Allen Itz w/ Art by Vincent Martinez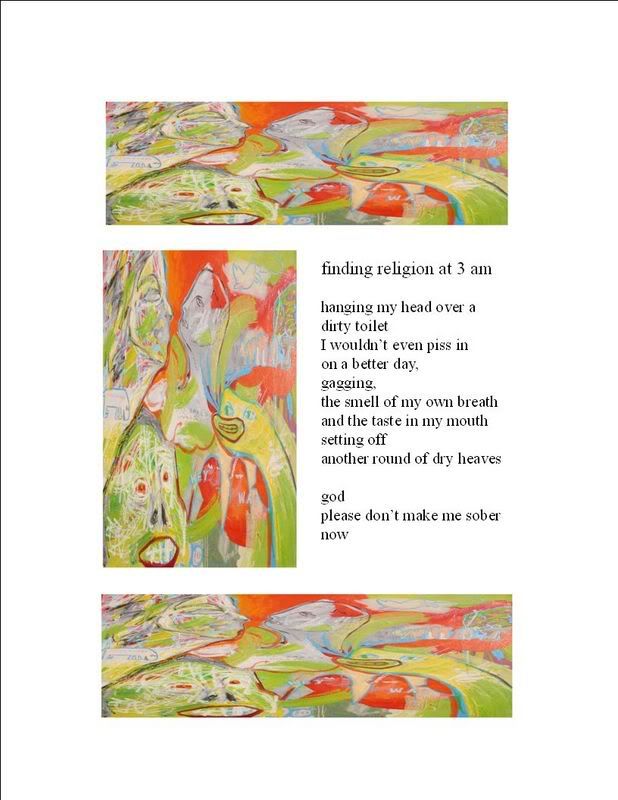 Seven Beats a Second - page 95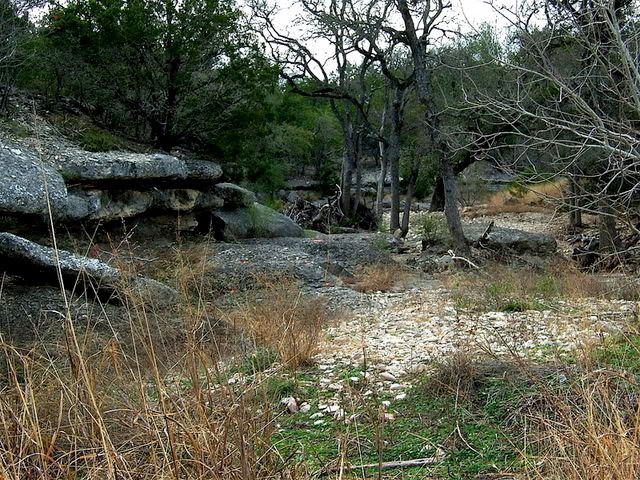 I was very pleased to get this piece from Justin Hyde. He's a very strong and intense writer, probably young, I would guess, and writing with great energy.


what I learned on the farm

we were in the middle
of john kearn's
fallow corn field.

grandpa
strapped wooden blocks
to the gas and brake
of his suburban
with bungee.

he showed me the gist
and where to stomp
the emergency-brake
if i lost nerve,

then he got out,
said certain things
a man needs to figure
alone.

sweat
ran from my asshole,
but i feathered the thing,
worked it
in a big slow circle.

my nerve didn't go,
i took it faster,
made a figure eight
and nosedived the fucker
clean into the little creek
at the south edge.

grandpa set his flask down,
put his hand on my back,
said a man usually
gets thrown by his first bull,
that i'd done well.

said it would be some time
before john kearn came back
from the indian casino
and could pull us out
with his tractor.

we sat in the sand
next to the creek,

gave me a small taste
of the flask.
told me someday
i'd want to ride a woman
like i'd done the suburban,

that the results
might be similar.

but i shouldn't
let that
deter me.






bopsheebop

Poem by Allen Itz w/ Art by Vincent Martinez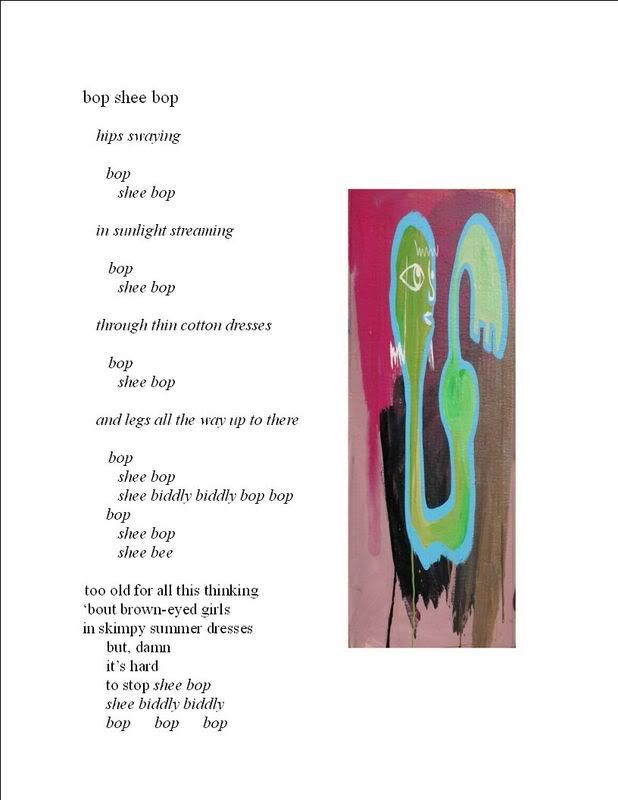 Seven Beats a Second - page 124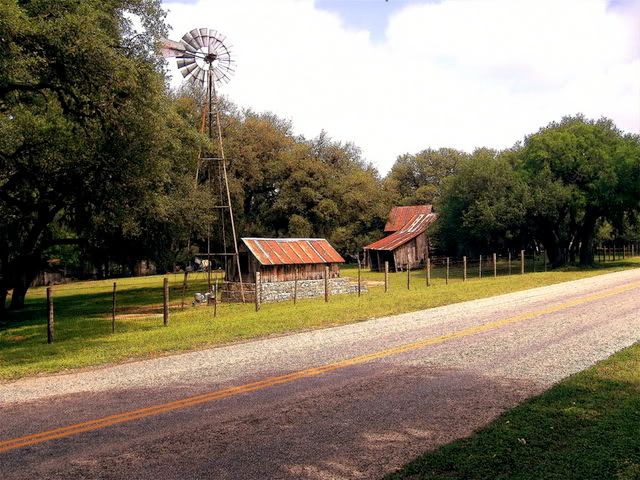 From one of my favorites, Langston Hughes, here are three poems from his Madam To You series.


Madam's Past History

My name is Johnson -
Madam Alberta K.
The Madam sands for business.
I'm smart that way.

I had a
HAIR-DRESSINIG PARLOR
Before
The depression put
The prices lower

Then I had a
BARBECUE STAND
Till I got mixed up
With a no-ood man.

Cause I had a insurance
The WPA
Said, We can't use you
Wealthy that way.

I said,
DON'T WORRY 'BOUT ME!
Just like the song
You WPA folks take care of yourself -
And I'll get along.

I do cooking.
Da's work, too!
Alberta K. Johnson -
Madam to you.


Madam and the Charity Child

Once I adopted
A little girl child.
She grew up and got ruint,
Nearly drove me wild.

Then I adopted
A little boy.
He used a switch-blade
For a Toy

What makes these charity
Children so bad?
Ain't had no luck
With none I had.

Poor little tings,
Born behind the 8-rock,
With parents that don't even
Stop to take stock.

The county won't pay me
But a few bucks a week
Can't raise no child on that,
So to speak.

And the lady from the
Juvenile Court
Always coming around
Wanting a report.

Last time I told her,
Report, my eye!
Things is bad -
You figure out why!


Madam and the Minister

Reverend Butler came by
My house last week.
He said, Have you got
A little time to speak?

He said, I am interested
In your soul.
Has it been saved,
Or is your heart stone-cold?

I said, Reverend,
I'll have you know
I was baptized
Long ago.

He said, What have you
done since then?
I said, None of your
business, friend.

He said, Sister
Have you back-slid?
I said, It felt good -
If I did!

He said, Sister,
Come time to die,
The Lord sill surely
Ask you why!
I'm gonna pray
For you!
Goodbye!


I felt kinda sorry
I talked that way
After Rev. Butler
Went away
So I ain't in no mood
For sin today.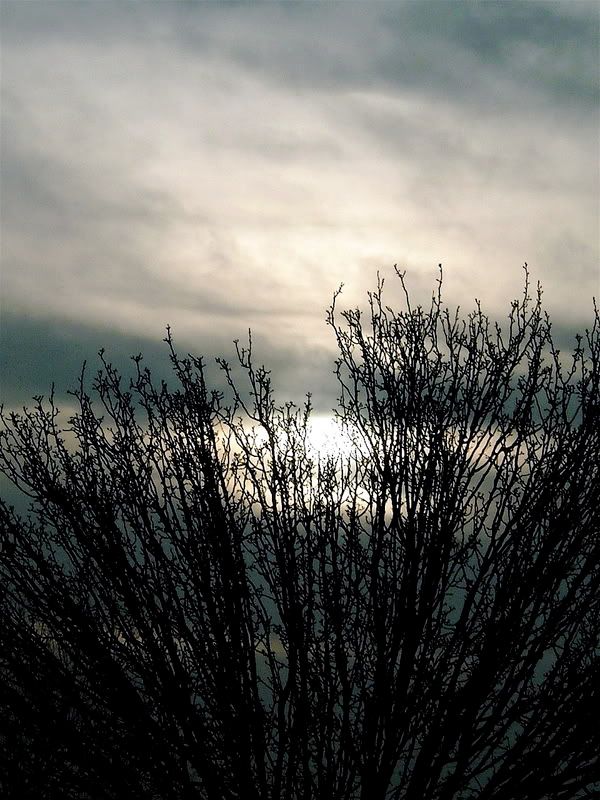 Here are Jane Roken's tanka, as promised.


rural rides

moorland fog
and a solitary barn
dark rhombus
slowly grown forth
on a chessboard

***

driveway to the farm
upright square stones
natty flower beds
and a dead pig -
churchyard caricature

***

abandoned stackyard
planks & wire sheltering
the little grass patch
we just flattened
so cheerfully

***

aerial hop garden
monumental mess
signal masts
designed for visitors
from outer space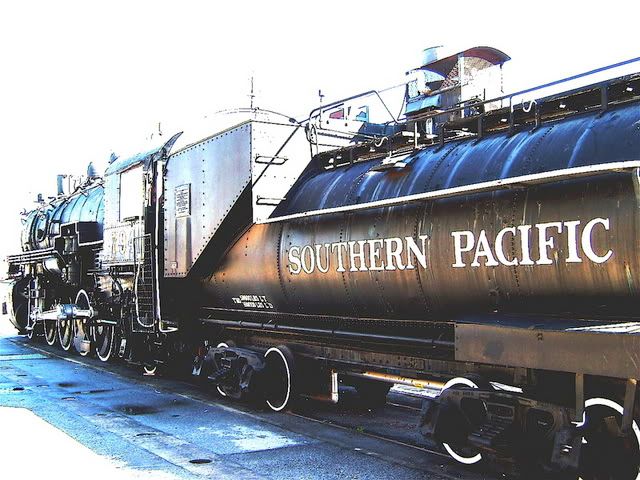 Across State Lines is an interesting collection by The American Poetry & Literary Project of a wide variety of well and lesser known poets with poems about each of the 50 states.

The poem representing Kansas is by Harley Elliott.


Outside Abilene

the full rage of kansas
turns loose upon us

On the mexican radio station
they are singing "Espiritu de mis suenos"
and that is
exactly it tonight.

The spirit of my dreams
rises in the storm like vapor.

Deep cloudy bulge together
and below them
we are in a tiny constellation of lights
the car
laid under sheets of lightning
moving straight in to the night.

Before us are miles
and miles of water and wind.



For Ohio, the book has this poem by Robert Kinsley


A Walk Along the Old Tracks

When I was young they had already been
abandoned for years
overgrown with sumac and sour apple,
the iron scrapped, the wood long
gone for other things.
In summer my father would send us along them
to fetch the cows from the back pasture,
a long walk to a far off place it seemed
for boys so young. Lost again for a moment
in that simple place,
I fling apples from a stick and look for snakes
in the gullies. There is
a music to the past, the sweet tones
of perfect octaves
even though we know it was never so.
My father had to sell the farm in that near perfect time
and once old Al Shott killed a six foot rattler on the tracks.
"And when the trolly was running" he said "you could jump
her as she went by and ride all the way to Cleveland,
and oh," he said, "what a time you could have there."



And finally, the book gives us Vermont in this poem by Hayden Carruth


The Cows at Night

The moon was like a full cup tonight,
too heavy, and sank in the mist
soon after dark, leaving for light

faint stars and the silver leaves
of milkweed beside the road,
gleaming before my car.

Yet I like driving at night
in summer and in Vermont
a brown road through the mist

of mountain-ark, among farms
so quiet and the roadside willows
opening out where I saw

the cows. Always a shock
to remember them there, those
great breathings close in the dark.

I stopped, taking my flashlight
to the pasture fence. Thy turned
to me where they lay, sad

and beautiful faces in the dark,
and I counted them - forty
near and far in the pasture,

turning to me, sad and beautiful
like girls very long ago
who were innocent, and sad

because they were innocent
and beautiful because they were
sad. I switched off my light.

But I did not want to go,
not yet, nor knew what to do
if I should stay, for how

in that great darkness could I explain
anything, anything at all
I stood by the fence. And then

very gently it began to rain.






about sex

Poem by Allen Itz w/ Art by Vincent Martinez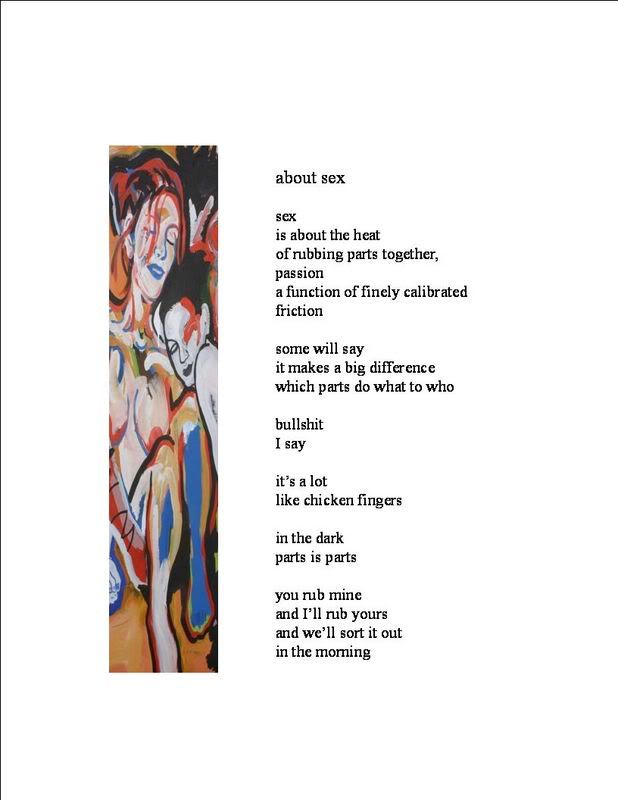 (Seven Beats a Second page 132)

)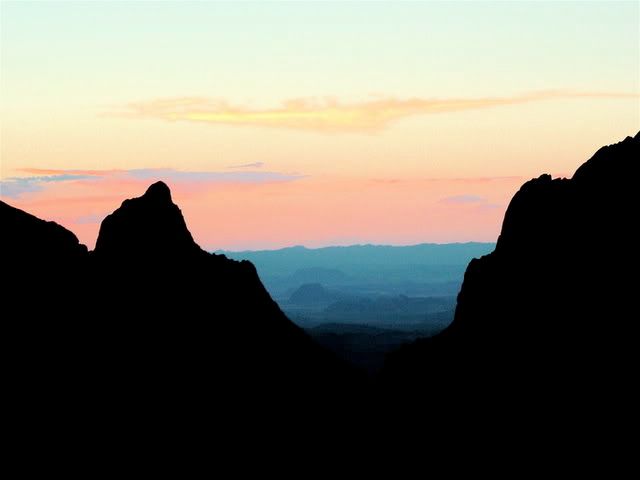 Mark Perlberg has published three books of poetry, The Burning Field, The Feel of the Sun and The Impossible Toystore. He is a founder and now director emeritus of the Poetry Center of Chicago.


Out There

The Chinese painters didn't use
a vanishing point to show perspective.
Washes of light and lighter color
indicated distances - past cliffs, streams
and humped bridges, past water falling
from the lip of a rock into a gorge,
out to farther pales and shallows,
where the Immortals ride great fishes and turtles,
sporting in the unseen world.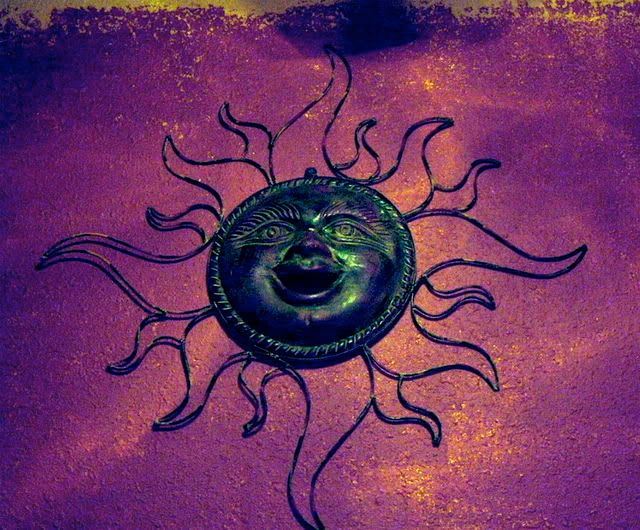 Next we have this poem from Mary Jo Caffrey about the condition our condition's in.


Wanting More

Some people say there's never enough.

The last Tootsie Roll is quite pathetic
among more than one dear lover of chocolate,
even the chewy kind so removed
from a smoothly soft Hershey's square,
tongued into a sweet memory,
not of chocolate glue.

Can't ever get the last glob
of toothpaste out of that tube,
teeth screaming - if they could -
for a minty-fresh scrubbing.

Never enough time, either,
for everything to do,
learn how to sky dive
and coast gravity-down to the ground,
time to learn a new language
and practice it on an immigrant street,
or eavesdrop so wisely in another tongue,
marveling at an ever-growing world.

Can't quite seem to master that tuba,
heavy silvered rings wrapped
around valves that could -
with the right embouchure and wind -
bellow out a fast-paced rhythm
for polka-loving dancers or
just those who love music
pounding in their ears.

Losing opportunities to learn
with every passing year,
a grocery trip, housework,
or nap somehow conspire
to preempt all those wonderful
new things we want to do, or try,
or sometimes just touch,
like the soft muzzle of a llama at the zoo.

So much to do, so much to choose,
practicality stands on the top of the hill
and pushes intentions down every time.
There's never enough time
and sometimes never enough will.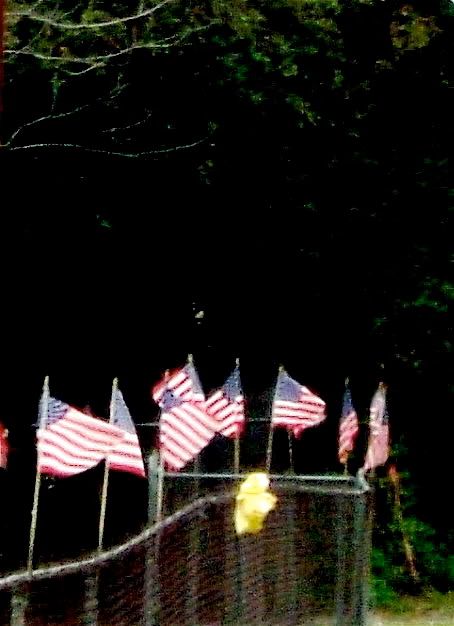 Yusef Komunyakaa teaches at Princeton University and is a member of the Fellowship of Southern Writers. He is a recipient of the the 1994 Kingsley Tufts Poetry Award (for Neon Vernacular: New and Selected Poems), the 1995 Pulitzer Prize for Poetry and the 2001 Ruth Lilly Poetry Prize. His subject matter ranges from the African-American experience through rural Southern life before civil rights and his experience as a soldier during the Vietnam War.

He was born and grew up in the small town of Bogalusa, Louisiana before and during the Civil Rights era. He served a tour of Army duty during the Vietnam War, when he acted as a journalist for the military paper, covering major actions, interviewing fellow soldiers and publishing articles on Vietnamese history and literature. Upon his return to the states he turned to poetry.

Komunyakaa obtained his bachelor's degree from the University of Colorado, an M.A. in creative writing from Colorado State University, and an M.F.A. in creating writing from the University of California, Irvine. After teaching at the University of New Orleans, Komunyakaa was a professor at Indiana University for over ten years, and, in the fall of 1997, began teaching at Princeton University.

After achieving some success as poet, his breakthrough moment came with the publication of Dien Cai Dau - pronounced "dinky dow," which means "crazy" in Vietnamese - which focused on his experiences as a soldier in Vietnam. Included was the poem Facing It which has become his signature poem.


Facing It

My black face fades,
hiding inside the black granite.
I said I wouldn't,
dammit; No tears.
I'm stone. I'm flesh.
My clouded reflection eyes me
like a bird of prey, the profile of night
slanted against morning. I turn
this way - the stone lets me go.
I turn that way - I'm inside
the Vietnam Veterans Memorial
again, depending on the light
to make a difference.
I go down the 58,022 names,
half-expecting to find
my own in letters like smoke.
I touch the name Andrew Johnson;
I see the booby trap's white flash.
Names shimmer on a woman's blouse
but when she walks away
the names stay on the wall.
Brushstrokes flash, a red bird's
wings cutting across my stare.
The sky. A plane in the sky.
A white vet's image floats
closer to me, then his pale eyes
look through mine. I'm a window.
He's lost his right arm
inside the stone. In the black mirror
a woman's trying to erase names:
No, she's bushing a boy's hair.






caress

Poem by Allen Itz w/ Art by Vincent Martinez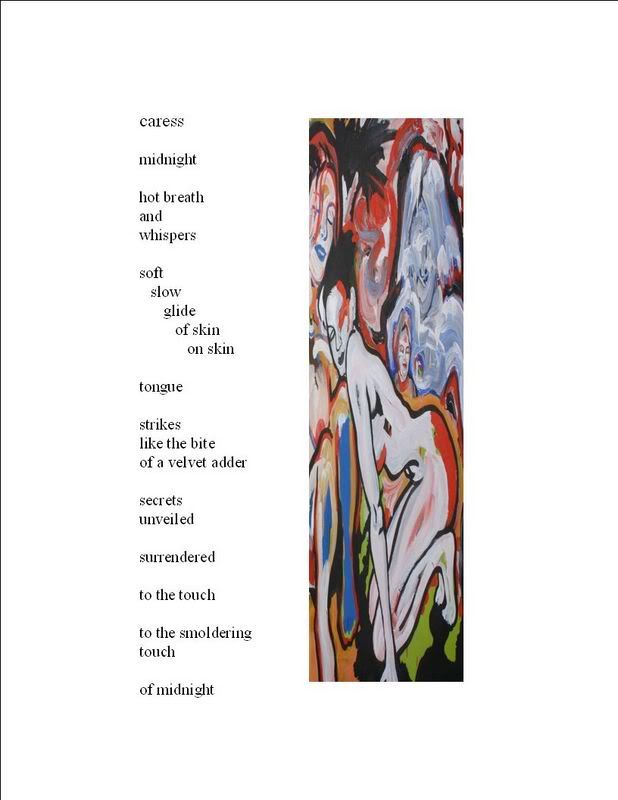 Seven Beats a Second - page 116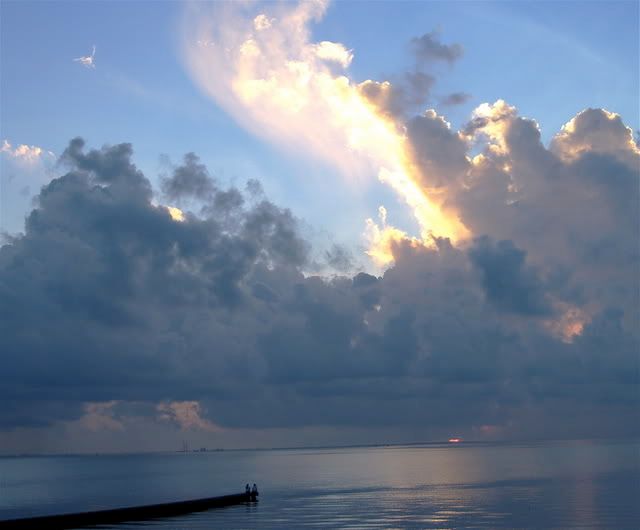 From Howard Moss, this short poem.


At Georgia Beach

How roughly ambivalent the seizure is
Of the sea to fix each wave it undoes
In the wake each time of the breakage it was,

Each coming in to the edge of drydock,
And then, underneath, the long drawing back,
Leaving the minor clatter of shellshock....

It's day. The wind's up. The ocean's gambling
With light. The dice thrown, the game is running
Away with itself in runnels and creases -

The long cliff-hangers, just as they strengthen
Their hold on the surface, break and capsize
Into the sinking spools and renewals

Of things getting ready only to be things.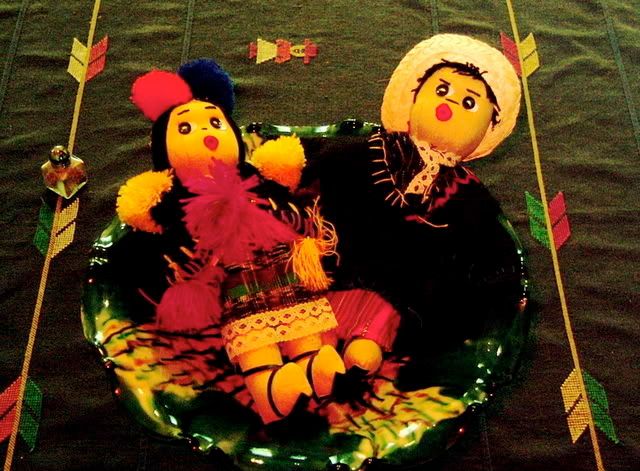 Now we have two pieces sent to us for this blissue by Jill Chan.


Once Again

We're at opposite ends
of a frayed rope,
feet digging into the sand.
The sky raining,
perhaps out of pity.
Perhaps it has nothing
to do with us.

I will remember
how we never fail
to walk side by side
after each game
and begin to ask
after each other,
when we've used up
the strength to
play ourselves.


Sometimes, I Fear Strength

Afraid that it might lead me,
boldly unaware
of this weakness,
this leaving out
of things.

The trees touch the sky,
not knowing where it begins.

Perhaps everyone who isn't strong
is somewhere standing,
feeling a beginning
too boundless to start.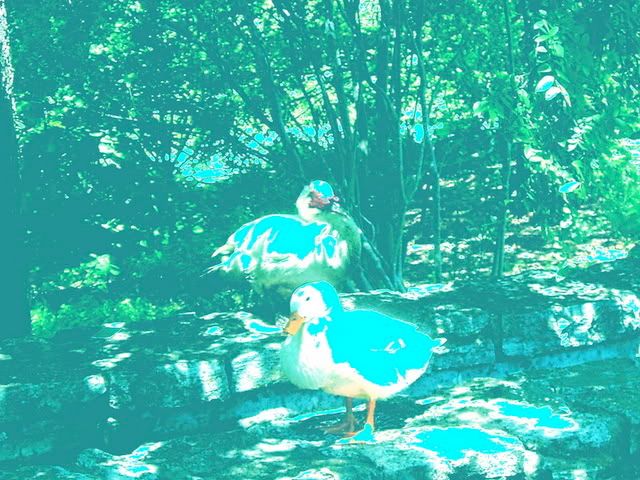 Lawrence Ferlinghetti tries on modern times, but doesn't fit.


Director of Alienation

Looking at the mirrors at Macy's
and thinking it's a subterranean plot
to make me feel like Chaplin
snuck in with his bent shoes & bent bowler
looking for a fair-haired angel
Who's this bum
crept in off he streets
blinking in the neon
an anarchist among the floorwalkers
a strike-breaker even
right past the pickets
and the picket line is the People yet?
I think I'll hook a new derby
on my cane
and put a sign on it reading
Director of Alienation
or The Real Revolution
So it's Mister Alienation is it
like he don't like nobody?
It's not me It's Them out of step
I came in looking for an angel
male or female dark or fair
so why does everyone look
so serious or unhappy
like as if everyone's alienated
from something or someone
from the whole earth even
and the green land
among the loud indignant birds
My land is your land
but "all is is changed, changed utterly"
Look at this alien face
in this elevator mirror
The Tele-tector scans me
He looks paranoid Better get him out
before he starts trying on the underwear
Keep you filthy mitts ofa
I better stick to the escalators
Too many nylon ladies in the lifts
too many two-way mirrors
I came in the looking for an angel
among the alien corn
I might get caught
fingering the lingerie
feeling up the mannequins
House dicks after me
Where's your credit cards
They'll find the hole in my sock
in the Shoe Department
The full-length mirrors all designed
to make you look your worst
so you'll get real depressed
and throw off all your old clothes
and buy new duds on the spot
Well I'll take them at their word
They asked for it
Off with these grungy threads
and slide down the escalators bare-ass
Slip between the on-sale sheets
into the on-sale bed
feeling for an angel in it
Try this new flush toilet
and the portable shower
emerging from the bath in something sexy
into a store window
among the Coquette Wigs by Eve Gabo
and freeze in one of the wigs
when the Keystone Cops come running
I came in looking for an angel
passion eyes and longing hair
in mirrors made of water
But that's the wrack of civilization
I've fallen into
This must be the end of something
the last days of somebody's empire
Seven floors of it
from Women's Wear to Men's Furnishings
Lost souls descending thru
Dante's seven circles
Ladies like bees avaricious
clustered at counters
I don't want to join them either
Always the Outsider
What a drag
Why don't you get with it
It's your country
What a cliche this outsider
a real bore
But is there anyone left inside
in this year of boring Bicentennial
Indians alienated Artists alienated
All those poets alienated
Parents husbands wives alienated
Kids alienated
Even billionaires alienated
hiding out in foreign countries
Don't let them tell you different
with their flags and their grants
so Buy Buy Buy
and get Inside
Get a loada this junk
You wanna belong
You gotta have it
Pull yourself together
and descend to Macy's basemen
And eat your way up
thru the seven stages
of this classless society
with the Credit Department on the top floor
where surely some revelation is at hand
Consume your way up
until you're consumed by it
at the very top
where surely a terrible beauty is born
Then jump off the roof
o dark of hair
o Ruth among the alien corn
waving plastic jewels and genitals






ripples

Poem by Allen Itz w/ Art by Vincent Martinez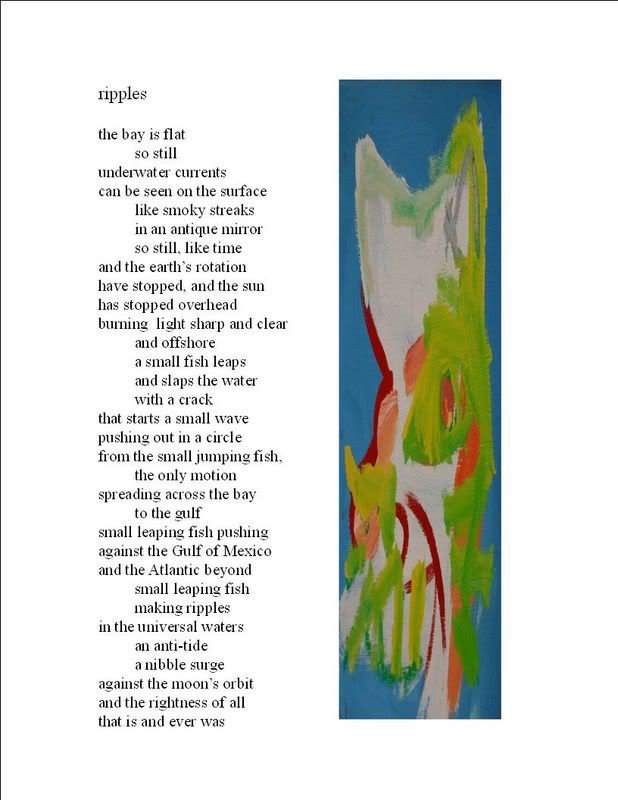 Seven Beats a Second - page 2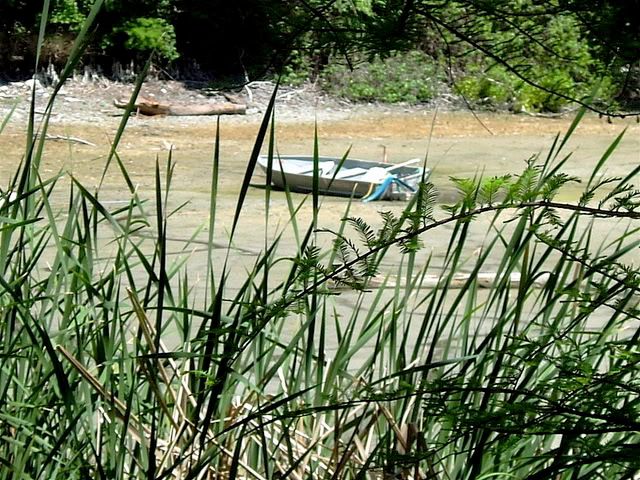 Galway Kinnel was born in Providence, Rhode Island. He graduated from Princeton University and received his master of arts degree from the University of Rochester. He traveled extensively in Europe and the Middle East, and went to Paris on a Fulbright Fellowship. During the 1960's, the Civil Rights Movement in the United States caught his attention. Upon returning to the US, he joined CORE (Congress of Racial Equality) and worked on voter registration and workplace integration in Hammond, Louisiana. This effort got him arrested. Kinnell draws upon both his involvement with the civil rights movement and his experiences protesting against the Vietnam War in his book-long poem The Book of Nightmares. His other work includes The Fundamental Project of Technology, The Dead Shall be Raised Incorruptible, Daybreak and After Making Love We Hear Footsteps.

In addition to his works of poetry and his translations, Kinnell published one novel, Black Light and one children's book How the Alligator Missed Breakfast. This poem is a casual and amusing tribute to Keats. The reference to Patrick Kavanaugh is an inside joke referring to Kavanaugh's best-known poem The Great Hunger


Oatmeal

I eat oatmeal for breakfast
I make it on the hot plate and put skimmed milk on it.
I eat it alone.
I am aware it is not good to ear oatmeal alone.
Its consistency is such that it is better for your mental health if somebody
eats it with you.
That is why I often think up an imaginary companion to have breakfast
with.
Possibly it is even worse to eat oatmeal with an imaginary companion.
Nevertheless, yesterday morning, I ate my oatmeal - porridge, as he
called it - with John Keats.
Keats said I was absolutely right to invite him due to its glutinous tex-
ture, gluey, lumpishness, hint of slime, and unusual willingness to dis-
integrate, oatmeal must never be eaten alone.
He said that, in his opinion, however, it is perfectly OK to eat it with an
imaginary companion,
and he himself had enjoyed memorable porridges with Edmund Spenser
and John Milton.
Even if eating oatmeal with an imaginary companion is not as wholesome
as Keats claims, still, you can learn something from it.
Yesterday morning, for instance, Keats told me about writing the "Ode
to a Nightingale."
He had a heck of a time finishing it - those were his words - "'oi 'ad a
'eck of a toime," he said, more or less, speaking through his porridge.
He wrote it quickly, on scraps of paper, which he then stuck in his pocket
but when he got home he couldn't figure out the order of the stanzas, and
he and a friend spread the papers on a table, and they made some sense
of them, but he isn't sure to this day if they got it right.
An entire stanza may have slipped into the lining of his jacket through a
hole in the pocket.
He still wonders about the occasional sense of drift between stanzas,
and the way here and there a line will go into the configuration of a
Moslem at prayer, then raise itself up and peer about, and then lay
itself down slightly off the mark, causing the poem to move forward
with God's reckless wobble.
He said someone told him that later in life Wordsworth heard about the
scraps of paper on the table, and tried shuffling some stanzas of his
own, but only made matters worse.
I could hot have known about any of this but for my reluctance to eat
oatmeal alone.
When breakfast was over, John recited "To Autumn."
He recited it slowly, with much feeling, and he articulated the words
lovingly, and his odd accent sounded sweet.
He didn't offer the story of writing "To Autumn." I doubt if there is
much of one.
But he did say the sigh of a just harvested oat field got him started on it,
and two of the lines, "For Summer has o'er brimmed their clammy cells"
and "Thou watchest the last oozings hours by hours," came to him
while eating oatmeal alone.
I can see him - drawing a spoon through the stuff, gazing into the glim-
mering furrows, muttering - and it occurs to me:
maybe there is no sublime; only the shining of the amnion's tatters,
For supper tonight I am going to have a baked potato left over from
lunch.
I am aware that a leftover baked potato is damp, slippery and simultane-
ously gummy and crumbly,
and therefore I'm going to invite Patrick Kavanagh to join me.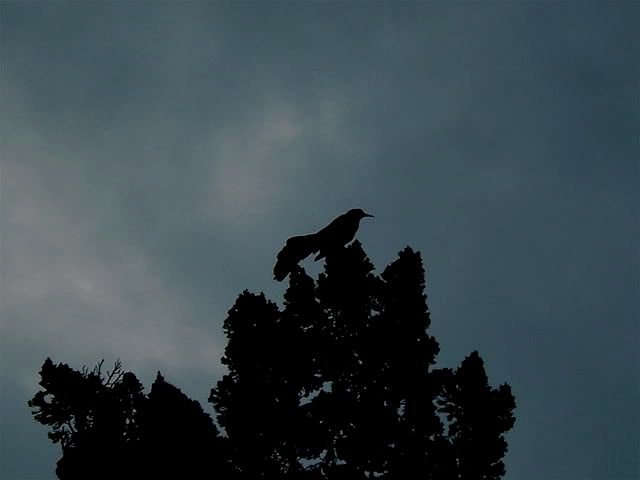 Canadian poet Don Schaeffer sent us this piece.


Teflon

Five AM
last time rising
from this bed
1007 California Avenue
Learning and Labor, Illinois.
No one says goodbye
two and one half cold years
they pretend to sleep.

Launch
for eight-thirty Trailways
at the cafe-bus-terminal
not a friend, but I'm young
friendship is in my hope.

I can leave this world
clean as a whistle.
Others leave
while I pretend to sleep.
Tears are only
for those you miss
and so far
my eyes are dry.


I slip
into the night
while she tells me
about her grip
and her underwear.
Hardly noticed.

The waters of infinity
are dark and rich as soup.
They do not ripple.








Thomas Lux lives in Atlanta and holds the Borne Chair in Poetry and is director of the McEvr Visiting Writers Program at the Georgia Institute of Technology. He has received three national Endowment for the Arts grants and the Kingsley Tufts Award and is a former Guggenheim Fellow. His most recent collection of poetry is The Cradle Place.


To Help the Monkey Cross the River

which he must
cross, by swimming, for fruit and nuts,
to help him
I sit, with my wife, on a platform
high in a tree, same side of the river
as the hungry monkey. How does this assist
him? When he swims for it
I look first up river: predators move faster with
the current than against it.
If a crocodile is aimed from up the river to eat the monkey
and an anaconda from down river burns
with the same ambition, I do
the math, algebra, angles, rate-of-monkey
croc and snake-speed and, if, if
it looks like the anaconda or the croc
will reach the monkey
before he attains the river's far bank,
I raise my rifle and fire
one, two, three, even four times, into the river
just behind the monkey
to hurry him up a little.

Shoot the snake, the crocodile?
They're just doing their jobs,
but the monkey, the monkey
has little hands, like a child's
and the smart ones, in a cage, can be taught to smile.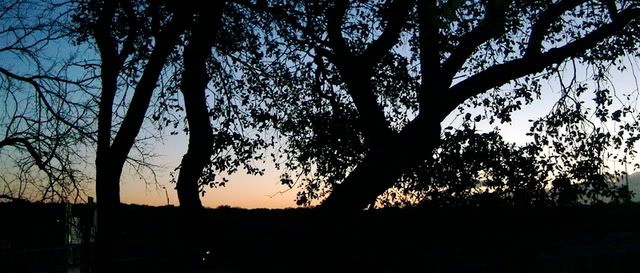 Sara Zang joins our special supersized issue with these two poems.


Fireflies

A slow moon
rolls over the hill,
It exaggerates
the height of trees,
stretches shadows
into oblique beings
exhilarated with the freedom
found only at midnight
in moonlight. A firefly,
or a wayward star,
lands on my hand.
I hold it for a moment,
then let it go.


Wind and Roses

What the wind gives
it takes away,

the soft scent of roses
and sea breeze,
the white capped waves,
the sails that fill the harbor
'til dawn when they sail again,
All leave with the wind.

I gave it my dry leaves
and my flowers
that bloomed by the fountain,
Now the wind is gone,
My feet are anchored in stone.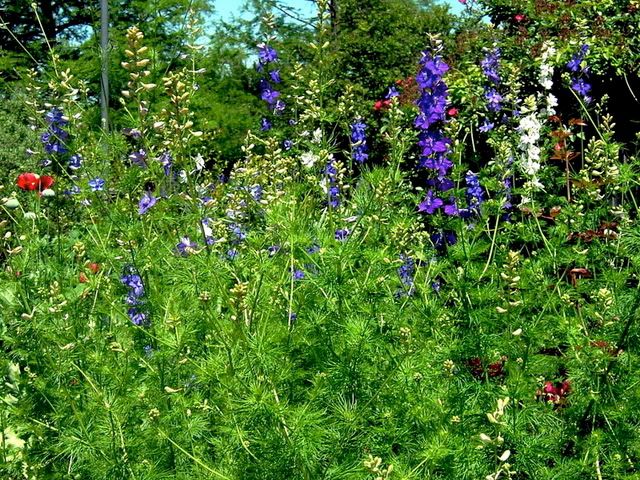 Now we have several poems from Emily Dickinson who could write anywhere and any time and still be the best natural poet in town.


I taste a liquor never brewed -

I taste a liquor never brewed -
From Tankards scooped in Pearl -
Not all the Vats upon the Rhine
Yield such an Alcohol!

Inebriate of Air - am I -
And Debauche of Dew -
Reeling - thru endless summer days -
From inns of Molten Blue -
When "Landlords" turn the drunken Bee
Out of the Foxglove's door -
When Butterflies - renounce their "drams" -
I shall but drink the more!

Till Seraphs swing their snowy Hats -
And Saints - to windows run -
To see the little tippler
Leaning against the - Sun -


I've nothing else - to bring, You know -

I've nothing else - to bring, You know
So I keep bringing These -
Just as the Night keeps fetching Stars
To our familiar eyes -

Maybe, we shouldn't mind them -
Unless they didn't come -
Then - maybe it would puzzle us
To find our way Home -


Wild Nights - Wild Nights!

Wild Nights - Wild Nights!
Were I with thee
Wild Nights should be
Our luxury!

Futile - the Winds -
To a Heart in port -
Done with the Compass -
Down with the Chart!

Rowing in Eden -
Ah, the Sea!
Might I but more - Tonight -
In Thee!


"Hope" is the thing with feathers -

"Hope" is the thing with feathers -
That perches in the soul
And sings the tune without the words -
And never stops - at all -

And sweetest - in the Gale - is heard
And sore must be the storm -
That could abash the little Bird
That kept so many warm -

I've heard it in the chilliest land -
And in the strangest Sea -
Yet, never, in Extremity,
It asked a crumb - of Me.


I died for Beauty - but was scarce

I died for Beauty - but was scarce
Adjusted in the Tomb
When One who died for Truth, was lain
In an adjoining room -

He questioned softly "Why I failed?"
"For beauty," I replied -
"And I-- for Truth - Themself are One -
We Brethren, are," He said -

And so, as Kinsmen, met a Night -
We talked between the Rooms -
Until the Moss had reached our lips -
And covered up - our names -






before you were flesh

Poem by Allen Itz w/ Art by Vincent Martinez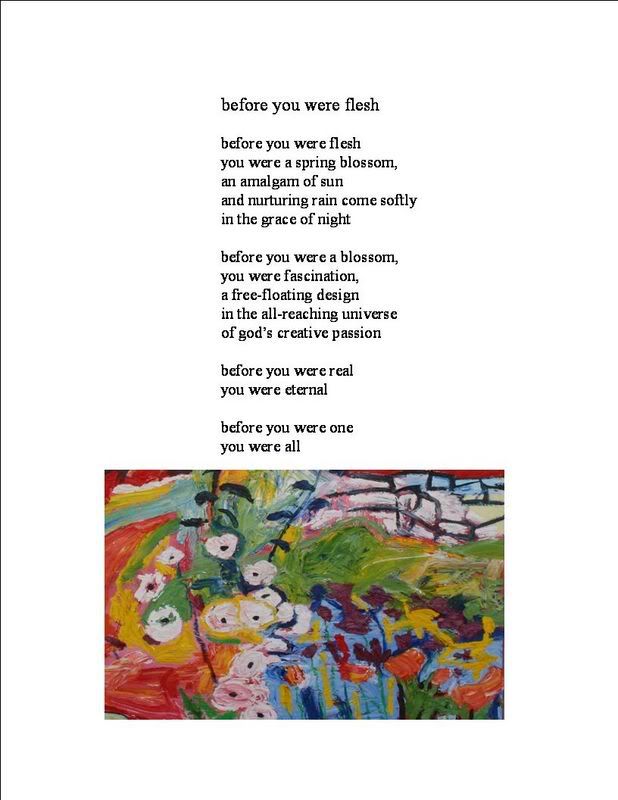 Seven Beats a Second - page 125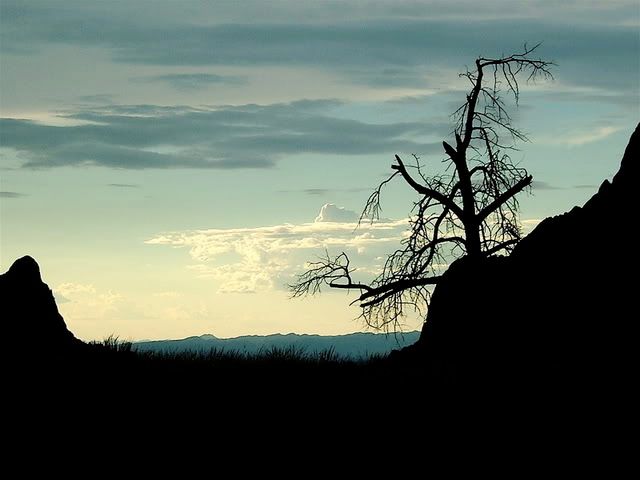 And this brings us to the end of this special extended blissue of "Here and Now." I thank all poets and artists for the use of their work, especially those "Friends of Here and Now" who aqnswered my call for material. This was a big one, and at this point, I feel like I've just put together a Russian novel.

But, it is late, almost midnight (that's pretty late for an old folk), so I might be exaggerating.

As usual, all material reproduced in this issue remains the sole property of its creators.

Back in three to four weeks; hope you'll join us then.