Rushing Through Spring
Saturday, March 10, 2007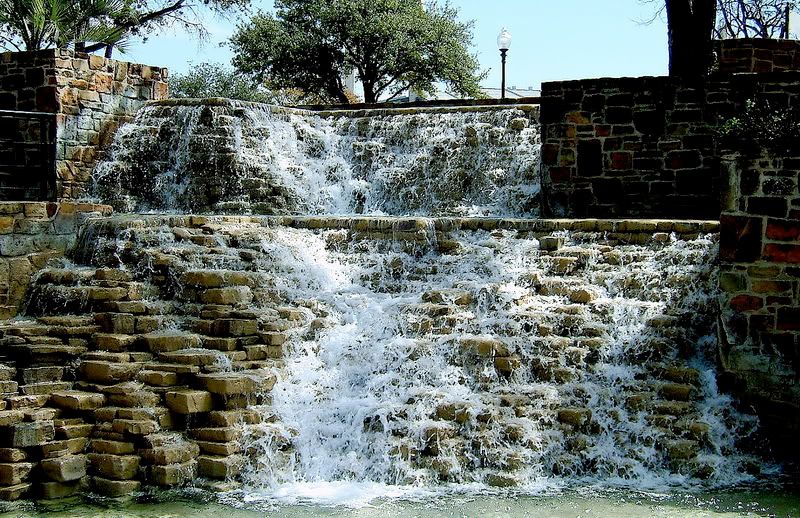 Number II.3.2. Here we are, "Here and Now."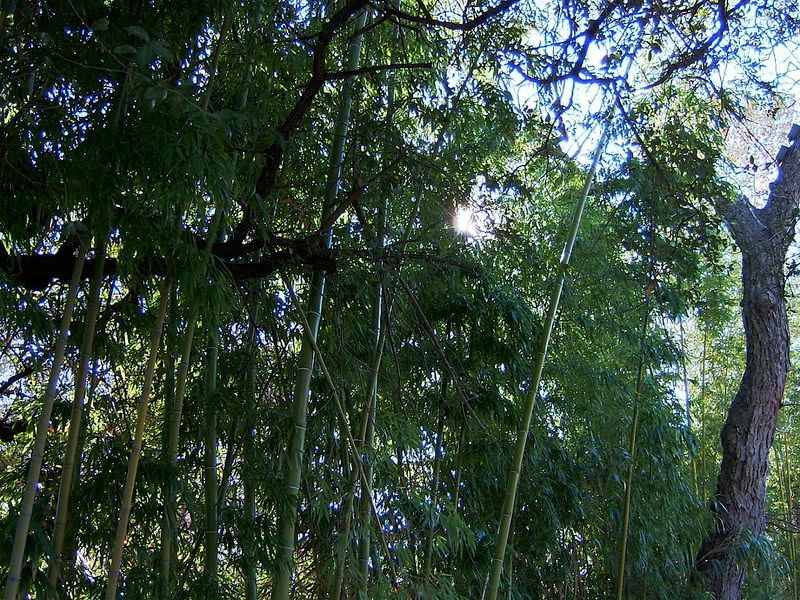 We start this week with is a new poem from Christopher T. George. In addition to creating his own poetry, Chris works with other poets as one of the editors of Loch Raven Review. To visit that journal, click on the link on the right.

This is his second or third appearance in "Here and Now."


Bamboo Growing Inside a Big Glass Front

I smoke a cigar outside
the Marshall Federal
Judiciary Building.
D.C. reflects in its five-

story atrium, with its
lush forty-foot-high bamboo:
seagulls swirl the majestic
grandeur of Union Station

and epic statues that
take no prisoners
- meanwhile, in Bagram,
a suicide bomber tries

to blow up
the Vice President.
I remember

on Halloween
how a man disguised
as a banana navigated
the metal detectors
to the guards' laughter.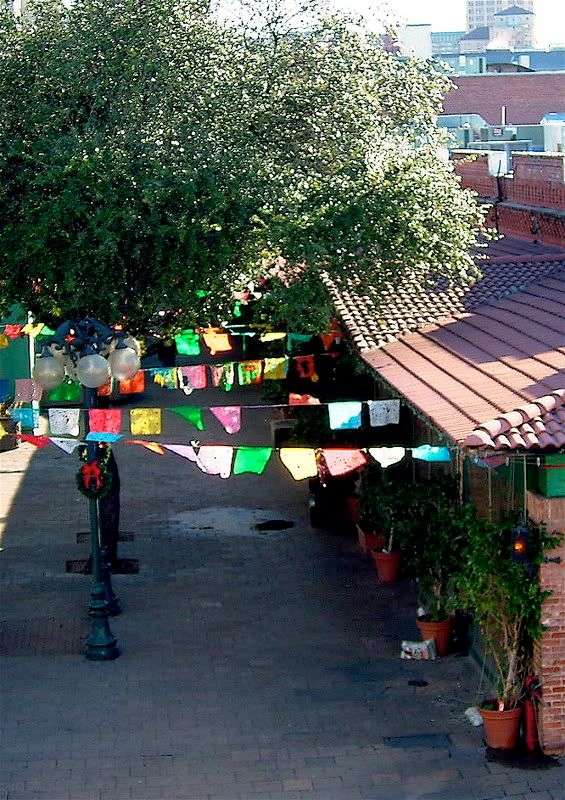 Frederic Louis Sauser, better known as Blaise Cendrars, was a Swiss novelist and poet, born in 1887 and naturalized French in 1916. He traveled throughout his life, visiting such places as China, Mongolia, Siberia, Persia, the Caucasus and Russia.

His writing career was interrupted by World War I when he fought in the French Foreign Legion. He was sent to the front line in the Somme where from mid-December 1914 until February 1915 he was in the line at Frise. He described this experience in his books The Severed Hand and I have killed. It was during the bloody attacks in Champagne in September of 1915 that he lost his right arm and was discharged from the army.

In the years after the war, he was friends with Ernest Hemingway and Henry Miller plus many of the writers, painters, and sculptors living in Paris. He became involved in the movie industry in Italy, France, and the United States. Needing to generate sufficient income, after 1925 he stopped publishing poetry and focused on novels or short stories.

During World War II, tragedy struck when his youngest son was killed in an accident while escorting American planes in Morocco.

In 1961, Cendrars was awarded the Paris Grand Prix for literature and died, in Paris, later that year.

Cendrars is my "discovery" for the week (one of the advantages of being not particularly well-read in poetry is that it makes discoveries relatively easy and frequent)

All poems are from Cendrars' series Nineteen Elastic Poems and all were translated by Ron Padgett.

This is the first of the nineteen.


1. Newspapers

Christ
It's been more than a year now since I stopped thinking about You
Since I wrote my next-to-last poem "Easter"
My life has changed a lot since
But I'm still the same
I've even wanted to become a painter
Here are the pictures I've done and which hang on the walls tonight
For me they open strange views onto myself which makes me think
of you

Christ
Life
That's what I've ransacked

My paintings hurt me
I'm too passionate
Everything is oranged up.

I spend a sad day thinking about my friends
And reading the paper
Christ
Life crucified in the wide-opened paper I hold at arm's length
Wing-spread
Rockets
Turmoil
Cries.
You'd think an airplane dropping.
It's me.
Passion
Fire
Serials
Newspaper
It's useless not wanting to talk about yourself
You have to cry out sometimes

I'm the other one
Too sensitive

August 1913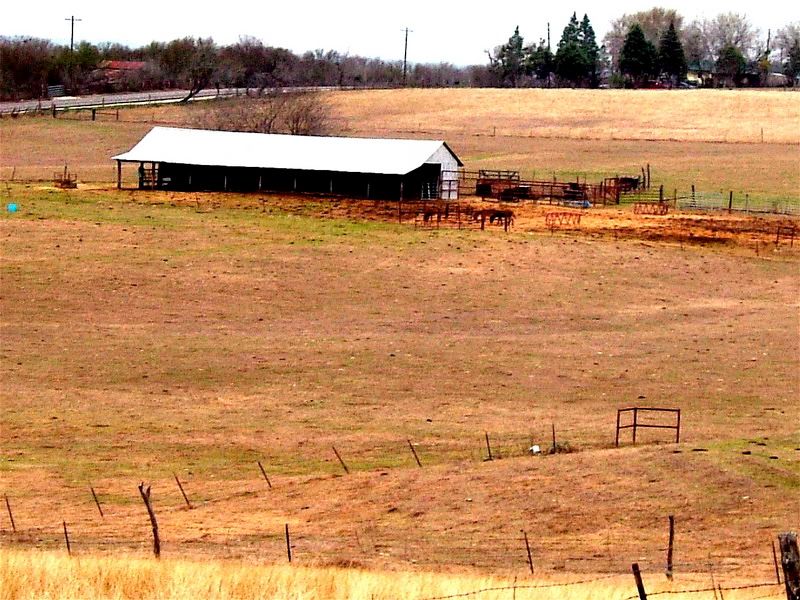 A new poem from me. Everyone who has read it so far hates the title. It's from an story in the New York Times Science section of several weeks ago where the term is used speaking of belief in some quarters that human beings are just "meat machines" with delusions of free will. That story led to this poem.


meat machines

that's what we are,
we're told

meat machines
with illusions of grandeur
and free will

love
joy
laughter
hope
charity
all just social ritual
to promote breeding
like a peacock's dance
or the cockroach courtship
twitch

honor
loyalty
empathy
all conditional
all tied
to the selfish need
to keep the meat alive
until it has fulfilled
its reproductive
purpose

but if this is true,
how do I write this
poem

and the larger question,
if this is true,
why do I write this
poem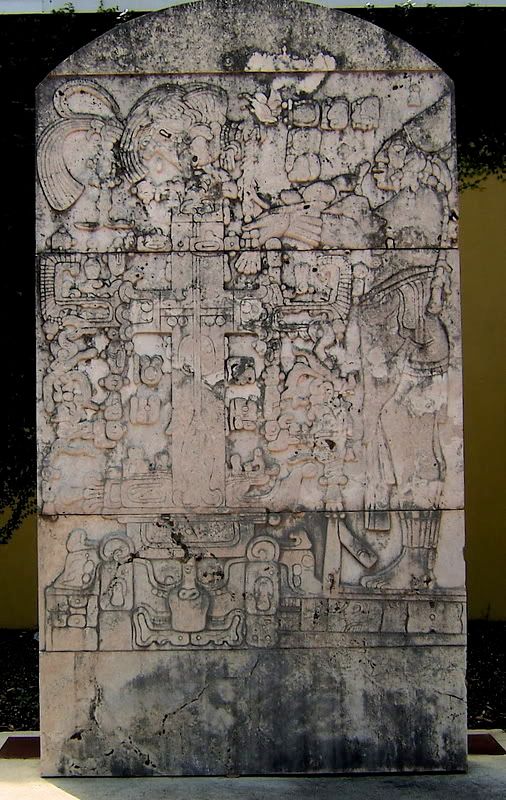 Now, traveling back in time to Egypt more than 3,000 years ago to a poem credited to Akhenaten, a Pharaoh of the Eighteenth dynasty of Egypt, especially notable for attempting to single-handedly restructure the Egyptian religion to monotheistically worship the Aten. Akhenaten's chief wife was Nefertiti, who has been made famous by her painted bust in the Altes Museum of Berlin.


Hymn to the Sun

A glory,
eternity in life,
the Undeposed.

beauty
flashing
powers,

Love,
the powering,
the Widening,
light
unraveling
all faces followers of

All the colors, beams of
woven thread,
the skin

a light that
warms itself
with life.

The Two Lands
shape themselves
with Love

flows
to the
making.

Place, man, cattle, creature-king,
& tree of every image
taking place.


Life-in-shining
shining
life

The Mother/Father,
sees the Seeing
rise upon our

hearts beat
dawn lights
earth entire

As you made. And as you
pass we settle
equal to the Dead.

linen wrapping
head nostril
plugged with

Earth that waits
return in Heaven
rises overturned

the
uplift
palms upturned to

Light your being is
the living
Acts the

Touch the voicing in
all Land
hears Man -

Womanson en-
throning
Truth

gives
heart the
Food.

This One, we give, to walk,
purely to your
Will, all

creatures
dance you
toward your coming every

Day, you gave your
Son, forever in your
Form he

Acts
in
Beauty, saying:

I am
your son, my heart
knows you the

strength
the seat
of powering

Eternal is the Light
you are the watchful
Maker,

solitary
every
life

Sees light that breathes
by light,
flowers

Seeding
Wilderness
light stunned by

Light before your
Face,
the dancing

creatures,
feathers
up from nests a

Wavering in wing
goes round
around

& praises
living
joy

you
Are.

(Translated by John Perlman)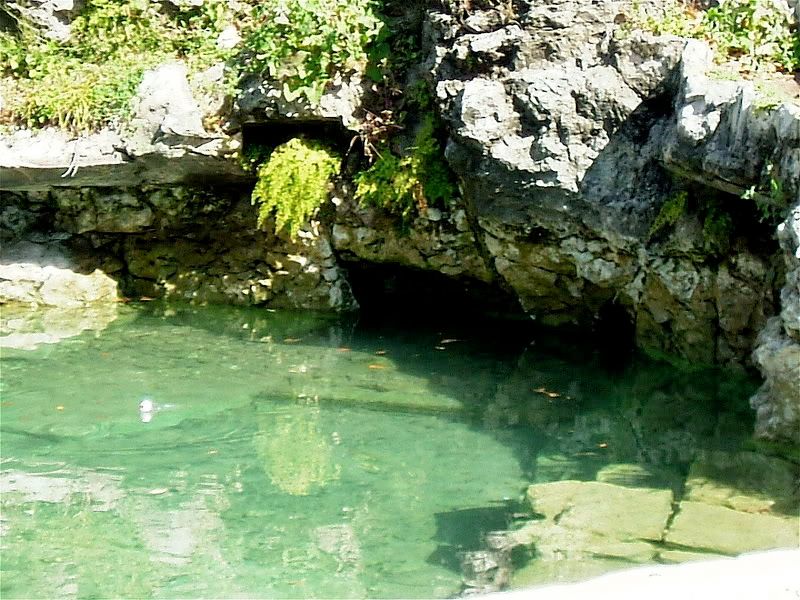 Here is a pastoral piece by frequent "Here and Now" contributor Dave Ruslander, from his book Voices In My Head




James River

Silver-blue water boils,
pounds boulders
roils alive

Whirlpools swirl and
I taste eddies.
Vortices rush my ears.
My eyes skitter over whitecaps
that tickle running water.

Up a path through the trees,
away from the river
a stagnant green pool waits.
A weathered pier reaches
toward pond's center
where a white-haired man
swishes his fly rod.

Back-and-forth rhythm:
nine o'clock, twelve o'clock three.
He casts an offering,
an optimistic whim.

The bait skates
and the line floats after
nothing that I can see.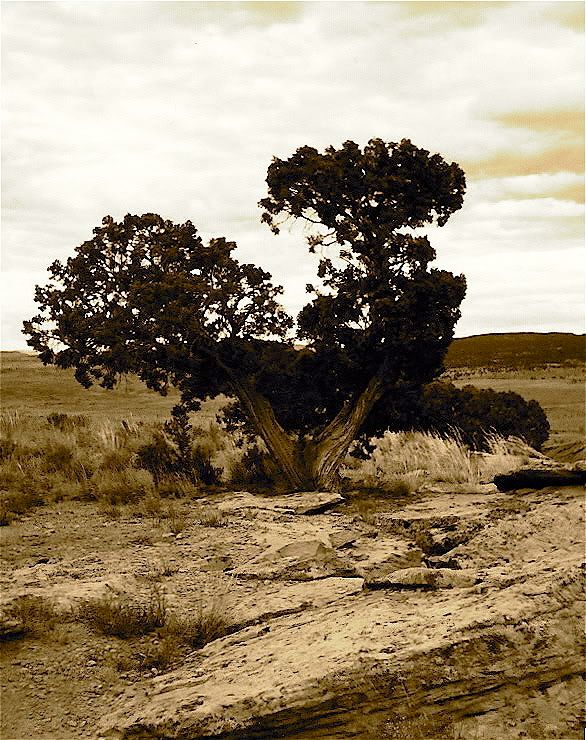 A tribute, written in 2000, published a year later in Hawkwind


Sheriff Jake Kane

Jake Kane was the picture of what a Texas sheriff
should be, six foot four and more in his pointed boots
and white Stetson, broad shouldered and rangy,
with a long, tan face all angles and edges.

He didn't care much for law enforcement
and, truth is, there wasn't much law to enforce.
Mostly he was a Peace Officer, keeping the peace,
cruising the streets in his '48 Mercury black and white,
v-8, sleek and streamlined, the fastest chase car in the county
even though he couldn't chase anyone more than two miles
in any direction without leaving his jurisdiction.

You can't be a Peace Office in Texas without a badassed car,
and small town or not, Jake Kane had the baddest.

He kept a clean jail and watched over all of us. He kept
the drinkers from drinking too much and the hot rodders
from driving too fast. He kept the family fights from getting
too loud and the bar fights from getting too bloody.
He kept the peace by being around, by being where trouble
might start before it got there, before anyone knew it was coming.

Jake was a single man, but watched over the kids in town
like we were his own, several generations of us, stopping us
in the humid dark of summer evening to tell us when it was time
to take our bikes and go home. He counseled us when our wildness
began to drive us and introduced us to the army recruiter when it took us too far.

Jake Kane was the law in my little town, keeper of the peace,
protector of our small town fortunes and guarantor of our public virtue,
killed in the summer of 1953, brought down by the bite of a rabid dog.









Growing up in and receiving my religious education from a conservative Lutheran church in the fifties, I was taught it was not just the divinity of Christ that was important, but his dual nature as both human and divine. That's one of the reasons I was surprised when the movieThe Last Temptation of Christ was so condemned by the publicly pious. It seemed to me that the movie had it just right. When the devil tempted Jesus, he had to tempt his human nature, since his divine nature could not be tempted. And, what greater temptation to the human side of his nature than the opportunity to set aside divine responsibilities and live a fully human life, there being no greater expression of a fully human life than love and family. I though the movie gave full and true expression the Christ story I had been taught as a child and, even as a nonbeliever, I was moved.

Poet (and former theology student) Cyra S. Dumitru gives this same attention to the humanity of many religious figures in her book Listening to Light.

In earlier issues of "Here and Now" she spoke on Eden and the curious Eve, Adam, Serpent triangle. In the three poems below she speaks to the Jesus/Mary connection.


Jesus Admits His Love

I thought she was an angel
when I first saw her ivory light
rippling through the crowd.
Yet those deep eyes carried gravity.

I have always known God's love
steady as my own heartbeat.
And, since looking into Mother's face
I have understood another love too.

But this - my skin quivers when she's near.
When the she leaves, the room grows dimmer.
Until I met Mary, I did not know I could be lonely,
thought the daily stream of God's voice enough.

When I close my eyes, release my light
to surge beyond these bones
I sometimes find her shining along the way.
We entwine, a pulsing orbit.

Last night, when she bathed my feet,
her thick black hair spread like a giant fan.
I longed to swaddle myself in her arms
and legs, live fully as a man.


But the longing of Jesus and Mary does not go unnoticed.


The Observations of Peter

He struggles because of her.
The part of him that is man.
I can imagine how she longs to lead
him into the orchard
unpeel the sweetest
of fruit.

The other disciples suspect too.
We see how he seats himself beside her
at meals. Praises the poetry of her prayers.
She says that because of his presence
her voice speaks clearly,
at hand.

God discloses constantly through him
a limitless well of pure water
in this arid land. To meet his eyes
is to fill with peace.
She will not be able to leave his side.


Others, also, sense the power of Mary.


Mary's Mother

What does a mother do with such a daughter?
She's not interested in marriage, having children.
Says she's too busy listening to God.

I've watched Mary sit with her back against a fig tree,
eyes shining, fixed on somewhere I can't see.
For hours she sits heedless to flies, dust, heavy sun.

Then suddenly she stands, shakes herself
breathes deeply and opens
her arms to the fading light.

When she embraces me
sparks flow from her fingers
down my arms and back.

I am afraid for Mary.
She speaks of hearing a voice deep within
of seeing angels as well.

I tremble because I believe her
but I am only a poor woman
who sees the way men look at her.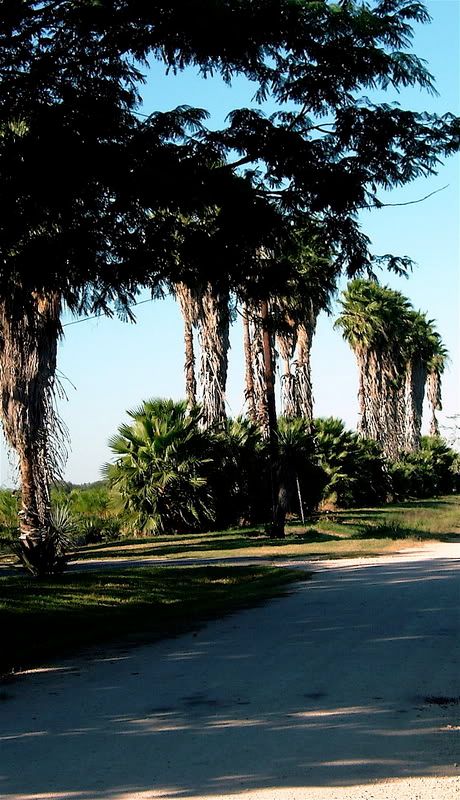 There is pain in even mundane loss, especially if it's loss of something you really, really like. Frequent "Here and Now" contributor Alice Folkart tells us about her loss.


A Very Good Orange

I sit and type,
not listening to
the bathroom tile
growing mold,
the dust sifting down
upon the furniture
and floors,
weeds sprouting
in the flower beds.

I sit and write,
and suck on
the very last orange
that made it to market
before the freeze,
the icy blast that wiped out a
generation of blameless, innocent,
oranges, grapefruit,
kumquats and lemons,
limes and tangerines.
The freeze of double aught seven.

Words flow onto the screen.
Tomorrow I'll clean, in the meantime,
this orange is very good.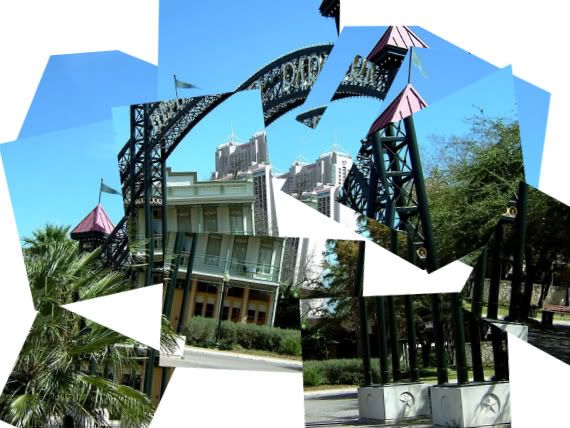 And now, another poem from Nineteen Elastic Poems by Blaise Cendrars


3. Contrasts

The windows of my poetry are wide open onto the boulevards and in its
shop windows
Shine
The jewels of light
Listen to the violins of the limousines and the xylophones of the
linotypes
The stenciler washes up in the washcloth of the sky
Everything is splashes of color
And the women's hats going by are comets in the burning evening

Unity
There is no more unity
all the clocks now say midnight after being set back ten minutes

At the bar
The workers in blue overalls drink red wine
Every Saturday, the numbers game
You play
You bet
From time to time a gangster goes by in a car
Or a child plays with the Arch of Triumph....
I advise M. Cochon to house his homeless in the Eiffel Tower.

Today
Under new management
The Holy Ghost is sold in small amounts in the smallest shops
I read with pure delight the calico rolls
Calla lily rows
It's only the pumice stones of the Sorbonne that have never flowered
On the other hand the Samaritan sign plows the Seine
And toward Saint-Severin
I hear
The relentless bells of the trolleys

lt's raining light bulbs
Montrouge Gare d l'Est Metro Nord-Sud Seine omnibus people
One big halo
Depth
Rue de Buci they yell "L'Intransigeant" and "Paris-Sports"
The acrodome of the sky is now, all fiery, a picture by Cimabue
And in front
The men are
Tall
Dark
Sad
And smoking, factory stacks

October 1913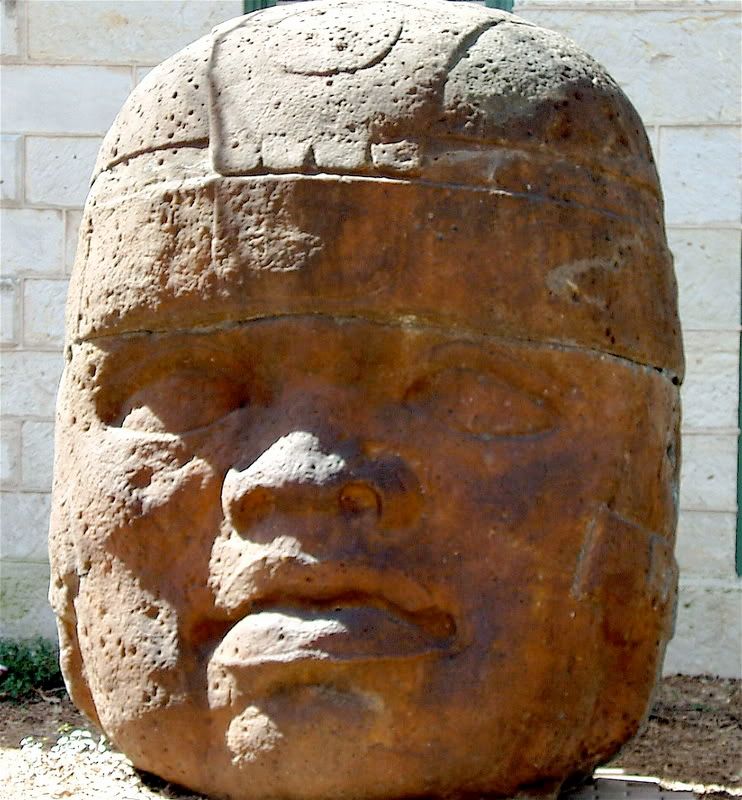 Bian Zhilin, born in 1910, was a teacher, poet and greatly respected translator of French and English literature into Chinese. He is credited with a strongly individual style, said to be the result of his study of 19th and 20th century French and English literature in combination with his background in classical Chinese poetry and Buddhist and Daoist philosophy. He died in 2000.

Here is an example of his work.


Entering the Dream

Imagine yourself slightly ill
(On a autumn afternoon),
Looking at the gray sky and the sparse tree shadows on the
windowpanes,
Lying on a pillow left by someone who has traveled far,
And thinking of the blurry lakes and hills, barely recognizable on
the pillow,
As if they were the elusive trail of an old friend who has vanished
in the wind,
As if they were things of the past written on faded stationery -
Traces of history visible under a lamp
In a book, yellowed with age, in front of an old man,
Will you not be lost
In the dream?

(Translated by Michelle Yeh)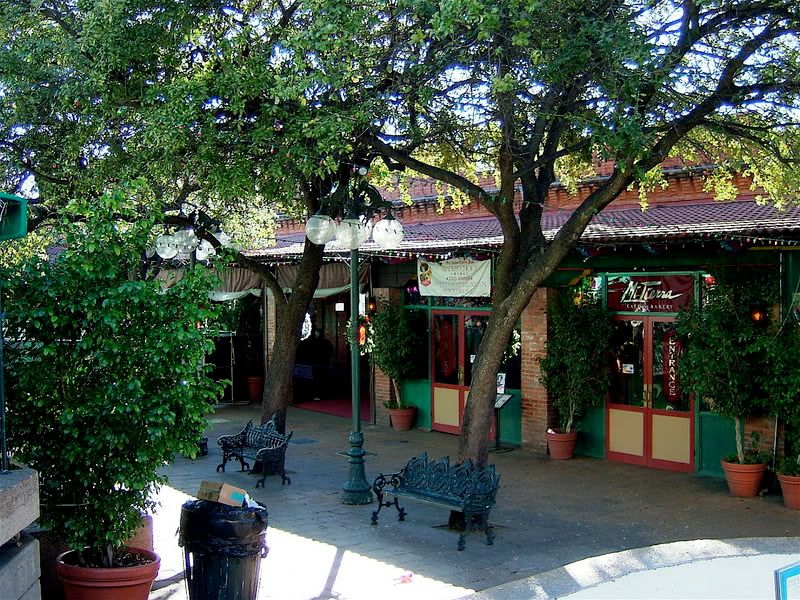 A poem by Howard Moss from his book Notes from the Castle.


At the Cafe

At the cafe, at an outdoor table
Fronting the last of the puppet shows,
We have come to sip a bit of brandy
And watch the rapidly descending evening.
Violinists scrape the bow of air,
Arguments begin and finish soon,
As if philosophy were running a cafe
Where nothing is served but old ideas;
Tensed against the wine-soaked washrag
Of the sky the trees erect themselves
In the last small oblivion of lights;
Talk grows animated....someone screams....
This passes, these days for Bohemian,
Still the knees of two bright things
Are touching....Everyone's lost the theme:
What is the mind compared to it,
To feeling's theater always in flames,
On the stage, its aging, ludicrous opera
Still faintly heard among the ruins?









Frequent contributor Jack Hill continues to write these achingly sharp love poems.


When love comes home

There will be, not so far from this place in time
a girl with soft hands, with sparkling eyes,
a lilting voice; the night will
whisper my name and
I will awaken to her touch.
An old man, that night, reborn
to the joy of a new old love....
we will be without end.








Next, from Cendrars, number 6 in his Nineteen Elastic Poems series.


6. She Has a Body on Her Dress

A woman's body is as bumpy as my skull
Glorious
If you're embodied with a little spirit
Fashion designers have a stupid job
As stupid as phrenology
My eyes are kilos that weigh the sensuality of women

Everything recedes, stands out comes forward into the depth
The stars deepen the sky
The colors undress
"She has a body on her dress"
Beneath her arms heathers hands lunules and pistils when the waters
flow into her back with its blue-green shoulder blades
Her belly a moving disk
The double-bottomed hull of her breasts goes under the bridge of
rainbows
Belly
Disk
Sun
The perpendicular cries of the colors fall on her thighs
"The Sword of Saint Michael"

There are hands that reach out
In its train the animal all the eyes all the fanfares all the regulars at the
Bal Bullier
And on her hip
The poet's signature

February 1914








I mentioned last week a new challenge I started on the Blueline forum. The challenge is to write a poem or poems about a president.

We've had some good poems so far in response to the challenge, including some that will appear in "Here and Now" after the challenge ends.

In the meantime, here's one I wrote to illustrate the challenge.


Dallas

in Austin
where he had been
only two days before

we lived
the dark days
of muffled drums

watching
the black and white
of national despair

**********

it was my second
year
at university

waking late,
about the time
the shots were fired

rushing to class
through campus turmoil,
too late to wonder why

a friend called out to me,
stopped me short,
he's been shot

and I think
who's been shot,
what kind of joke is this

our teacher tried
to carry on with the day's history lecture
while all around history

was being made,
jerked into new patterns and new directions
at Parkland Hospital

where the words were finally said,
the President is dead,
long live the new President

sworn in on Air Force 1
by an obscure local judge,
oath taken on a borrowed bible

bloody Jackie
at his side
our witness to transition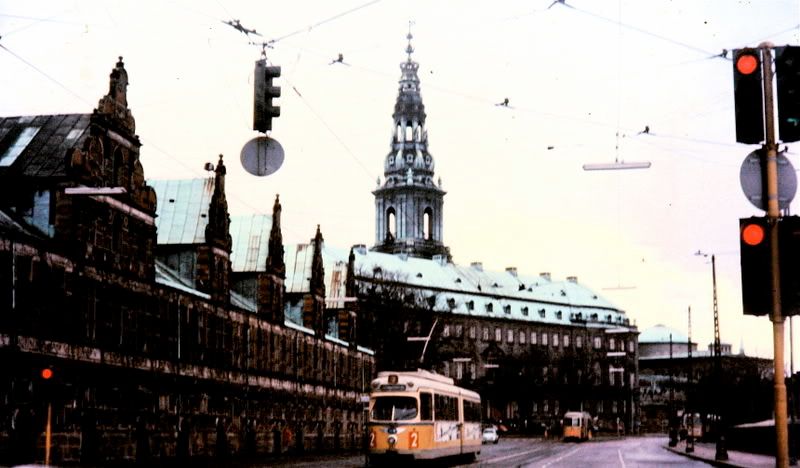 Now, a poem by Jane Hirshfield from her book Of Gravity & Angels


For the Women of Poland: December 1981


I think of you standing
at the crossing of two streets,
where even the leaves have turned
accomplices of the cold.
You yield of yourselves
a patience, a hunger,
as other women might, at market,
offer a simpler crop:
robust ears of corn,
potatoes with green-sprouting eyes.
Everywhere there are lines,
people hoping for butter, or freedom,
or meat.
There are cards
with names printed on them
to be sold - cigarettes for flour,
playwrights for engineers.
It is a kind of love, your fingers
grown raw rubbing the wool of your coats,
the bark of these trees;
to touch anything
by now like touching yourself.
And the days draw on inevitably
as those lights of a once-great city
that tell you now stop, now go,
long after you've made up your minds
to stay stubbornly on,
grinding out an old music
on a hand-cranked gramophone
of a heart.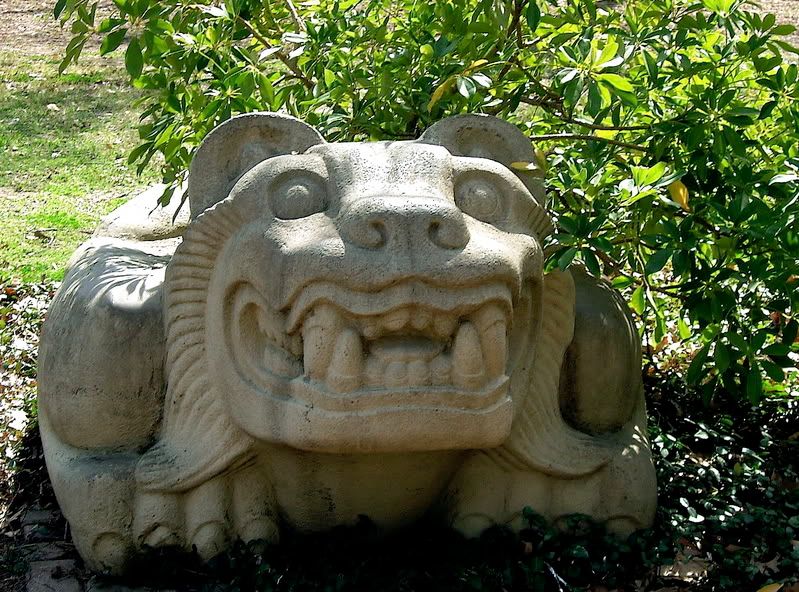 Now another poem from 8th century Chinese poet Li Bai.


Song of the North Wind

The fire dragon lives at Ice Gate
and light comes from its eyes at night,
yet why no sun or moon to light us here?
We have only the north wind howling furiously our of heaven.
On Yen Mountain snowflakes are as big as a floor mat
and every flake drops on us.
The woman of Yo Zhou in December
stops singing and laughing. Her eyebrows tighten.
Lounging against the door she watches people pass by
and remembers her husband at the north frontier
and the miserable cold.
When he left he took his sword to guard the border.
He left his tiger-striped quiver at home,
with its white-feathered arrows, now coated
with dust on which spiders spin their traps.
The arrows remain, useless. Her husband is dead
from the war. He won't return.
The widow won't look at the arrows.
Finally, it's too much, she burns them to ashes.
Easier to block the Yellow River with a few handfuls of sand,
than to scissor away her iron grief
here in the north wind, the rain, the snow.

(Translated by Tony Barnstone and Chou Ping)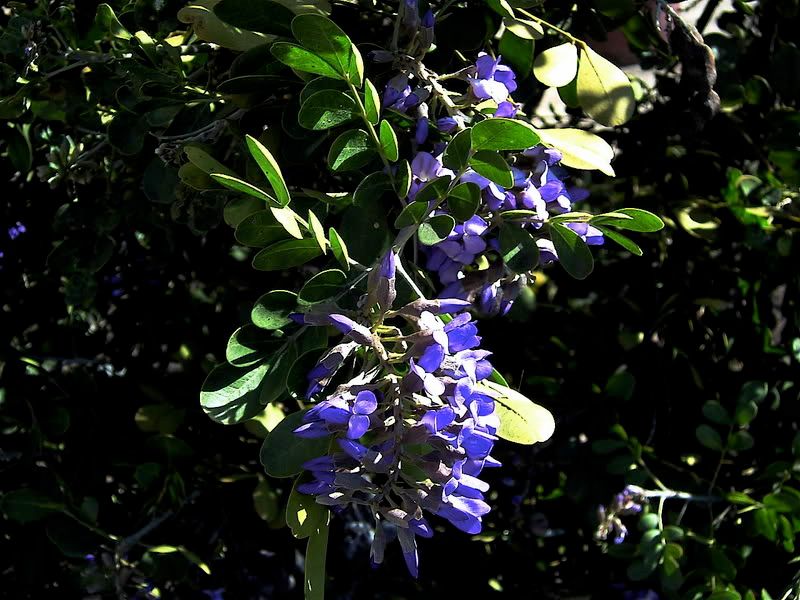 Here's a poem from Don Schaeffer who has made several appearances here.


The Concrete Man

I try to just
be beautiful
and politics comes out.

My breathing holds
patterns of beautiful
in sighs and exhales,

but these just translate
into explanations. I am
addicted to theory.

I can't be beautiful
but yearn to,
envy you who are.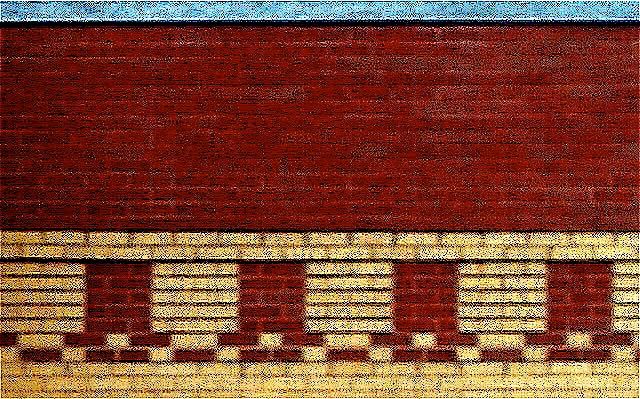 Another poem from Blaise Cendrars, number 8 in his Nineteen Elastic Poems series.


8. Mardi Gras

The skyscrapers are quartered
Way in the back I found Canudo pages uncut
For five cents
In a 14th Street bookshop
Religiously
Your improvisation on Beethoven's Ninth Symphony
New York is seen as the mercantile Venice of the western ocean

The Cross opens
Dances
There is no free commune
There are no Areopagites
There is no spiritual pyramid
I don't understand the word "Imperialism" very well
But in your attic
Among the wistitis the Indians the beautiful women
The poet came
Colored word

There are hours that sound
Montjoie!
Roland's Oliphant
My New York dump
The books
The telegrams
And the sun brings you today's beautiful body in newspaper clippings
These swaddling clothes

February 1914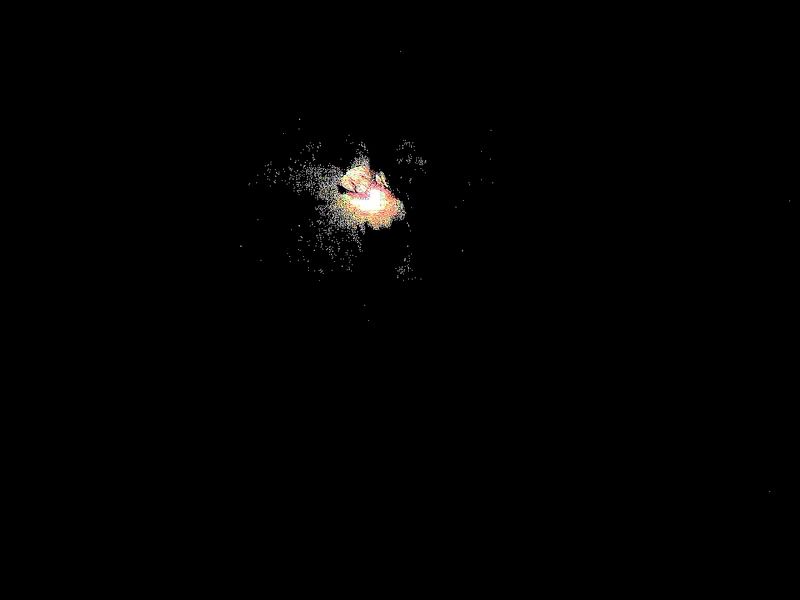 I wrote this poem in October, 1999. It was published in The Green Tricycle a couple of months later in December.

The poem refers to the first-earth orbiting satellite, built and put into space by the Russians. They called it Sputnik, which I was told at some later date can be roughly translated as "Traveling Companion."


Traveling Companion

There was no sunrise this morning,
because of an overcast sky.
It was dark, then light,
with only a moment between.
But during that moment,
a temporary thinning of the haze
let a single star shine through,
a single star that seemed
to race across the sky,
an illusion of the moving clouds.
Years dropped away, taking me back
to the cool October nights of 1957,
lying spread-eagle with my friends
on a football field, watching
the dark Texas sky, waiting
for the new Cossack star.
There it is, one of us would shout,
and we could see it, moving quickly
from horizon to horizon,
the material of our dreams,
manifestation of the paperback
prophesies of our secret heroes -
Clarke, Heinlein, Asimov, Burrough -
there it was, bright among the further stars,
beeping, blinking, speeding
across the virgin sky.
We knew it would come.
We knew and we waited,
and the future passed overhead.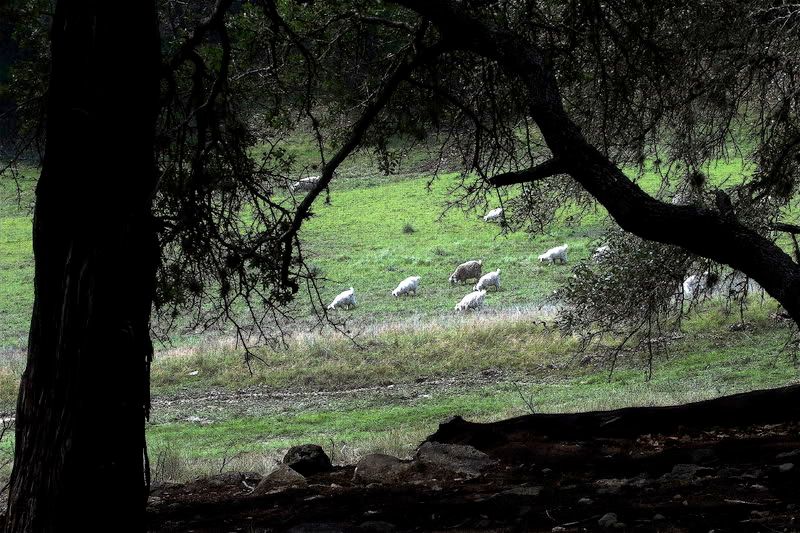 Robert Francis, born in 1901, lived most of his life in Amherst, Massachusetts. Mentored by Robert Frost, he won the Shelley Memorial Award in 1939. Francis died in 1987, leaving behind a number of volumes of poetry, including Stand Here With Me, The Face Against the Glass and The Orb Weaver.

Here are three of his poems.


Sheep

From where I stand the sheep stand still
As stones against the stony hill.

The stones are gray
And so are they.

And both are weatherworn and round,
leading the eye back to the ground.

Two mingled flocks --
The sheep, the rocks.

And still no sheep stirs from its place
Or lifts its Babylonian face.


Blue Winter

Winter uses all the blues there are.
One shade of blue for water, one for ice,
Another blue for shadows over snow.
The clear or cloudy sky uses blue twice -
Both different blues. And hills row after row
Are colored blue according to how far.
You know the bluejay's double-blue device
Shows best when there are no green leaves to show.
And Sirius is a winterbluegreen star.


Boy Riding Forward Backward

Presto, pronto! Two boys, two horses.
But the boy on backward riding forward
Is the boy to watch.

He rides the forward horse and laughs
In the face of the forward boy on the backward
Horse, and he laughs

Back and the horses laugh. They gallop.
The trick is the cool barefaced pretense
There is no trick.

They might be flying, face to face,
On a fast train. They might be whitecaps
Hot-cool-headed,

One curling backward, one curving forward,
Racing a rivalry of waves.
They might, they might -

Across a blue lake, through trees
And half a mile away I caught them:
Two boys, two horses

Through trees and through binoculars
Sweeping for birds. Oh, they were birds
All right, all right.

Swallows that weave and wave and sweep
And skim and swoop and skitter until
The last tree takes them.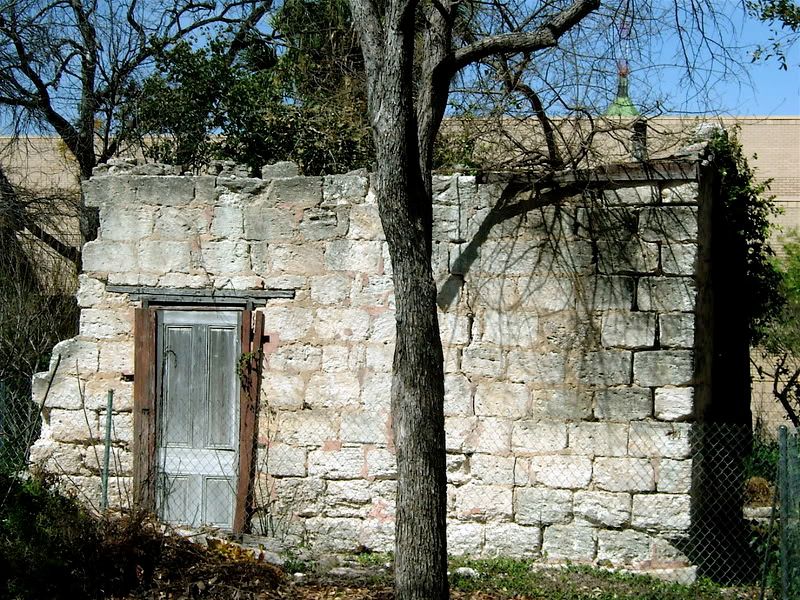 And, finally, the last of Blaise Cendrars for this week, number 10 in his Nineteen Elastic Poems series.


10. News Flash

Oklahoma, January 20, 1914
The convicts get hold of revolvers
They kill their guards and grab the prison keys
They come running out of their cells and kill four guards in the yard
Then they grab the young prison secretary
And get into a carriage waiting for them at the gate
The leave at top speed
While guards fire their revolvers in the direction of the fugitives

A few guards jump on horses and ride in pursuit of the convicts
Both side exchange shots
The girl is wounded by a shot fired by one of the guards

A bullet shoots down the horse pulling the carriage
The guards can move in
They find the prisoners dead their bodies riddled with bullets
Mr. Thomas, former member of Congress who was visiting the prison,
Congratulates the girl

Copied telegram-poem in "Paris-Midi"

January 1914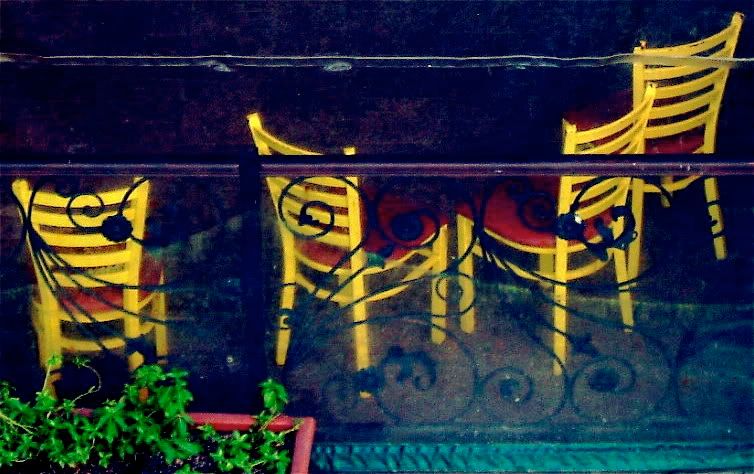 Conrad Kent Rivers was born in New Jersey in 1933 and died at the young age of 35. His books of poetry include Perchance to Dream, Othello, Three Black Bodies and This Sunburnt Face, and The Still Voices of Harlem.


Four Sheets to the Wind and a One-Way Ticket to France, 1933

As a Black Child I was a dreamer
I bought a red scarf and women told me how
Beautiful it looked.
Wandering through the heart of France
As France wandered through me.

In the evenings
I would watch the funny people make love,
My youth allowed me the opportunity to hear
All those strange
Verbs conjugated in erotic affirmations,
I knew love at twelve.

When Selassie went before his peers and
Africa gained dignity
I read in two languages, not really caring
Which one belonged to me.

My mother lit a candle for King George,
My father went broke, we died.
When I felt blue, the champs understood,
And when it was crowded, the alley
Behind Harry's New York bar soothed my
Restless spirit.

I liked to watch the Bohemians gaze at the
Paintings along Gauguin's bewildered paradise.

Bracque once passed me in front of the Cafe Musique
I used to watch those sneaky professors examine
The populace,
American never quite fitted in, but they
Tried, so we smiled.

I guess the money was too much for my folks,
Hitler was such a prig and a scare, they caught
the last boat.
I stayed.

Main street was never the same, I read Gide
And tried to
Translate Proust. (Now nothing is real except
French wine.)
For absurdity is reality, my loneliness unreal,

And I shall die an old Parisian, with much honor.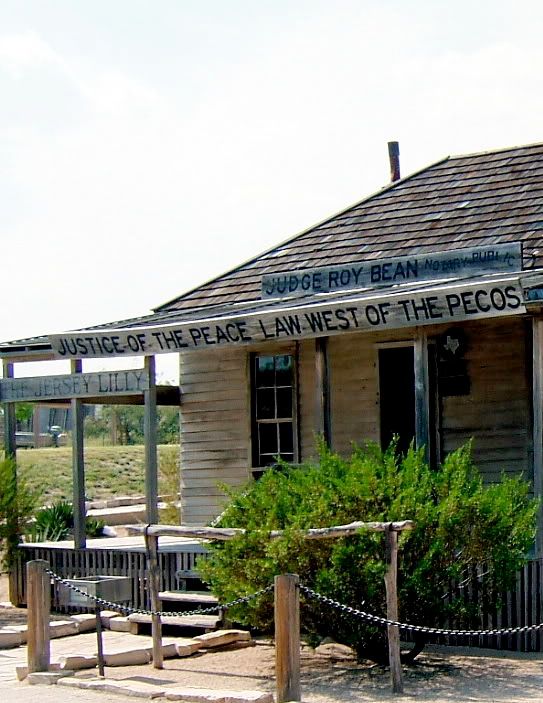 Back to Edward Lee Masters and Spoon River to meet a couple more of our neighbors.


Ida Chicken

After I had attended lectures
At our Chautauqua, and studied french
For twenty years committing the grammar
Almost by heart,
I thought I'd take a trip to Paris
To give my culture a final polish.
So I went to Peoria for a passport -
(Thomas Rhodes was on the train that morning.)
And there the clerk of the district Court
Made me swear to support and defend
The constitution - yes, even me -
Who couldn't defend or support it at all!
And what do you think? That very morning
The Federal Judge, in the very next room
To the room where I took the oath,
Decided the constitution
Exempted Rhodes from paying taxes
For the water works of Spoon River!


Penniwith, the Artist

I lost my patronage in Spoon River
From trying to put my mind in the camera
To catch the soul of the person.
The very best picture I ever took
Was of Judge Somers, attorney at law.
He sat upright and had me pause
Till he got his cross-eye straight.
Then when he was ready he said "all right."
And I yelled "overruled" and his eye turned up.
And I caught him just as he used to look
When saying "I except."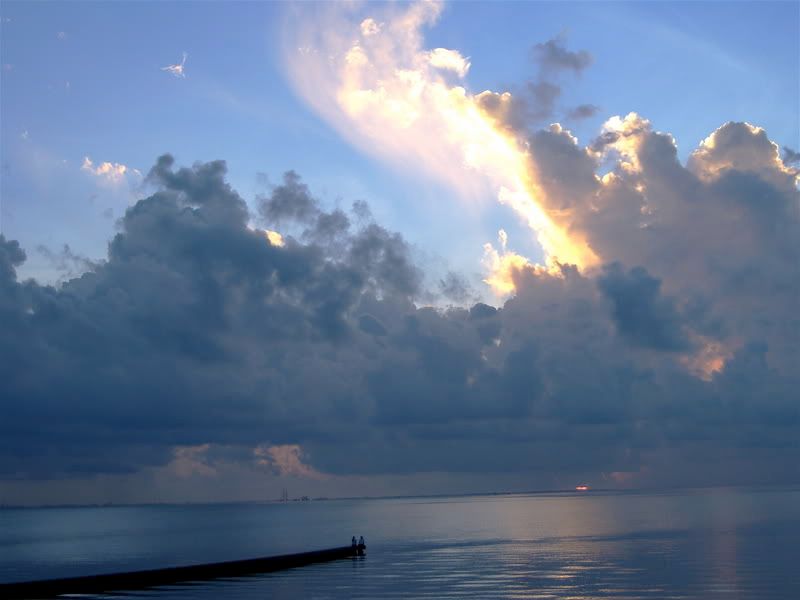 Here's a series of five haiku I wrote during the summer of 2003. They were published in Liquid Muse in early 2004.

At the time I had returned to the coast to take a job, commuting home to San Antonio every weekend. It was, mostly, a melancholy period, lasting for a year and a half. The middle Texas coast is a wonderful place to live, in fact, I did for fifteen years. But it wasn't home anymore.

Actually, assigning a title to haiku is considered a kind of a crutch and outside the tradition. But I don't remember if these were written as formal haiku or as short poems in the haiku spirit and titles are important to me. Besides as Lesley Gore might have said, I'm the poet and I'll title if I want to.




afterglow

cloudless sky
after summer rain
air neon bright


hang ten

fly high little gull
challenge the limitless sky
surf on gulf wet winds


morning sky

summer morning dew
rivulets on sun stained glass
blue through water falls


storm watch

summer clouds glower
trembling leaves in sunlight shimmer
waiting winds whisper


sunbright

tall grass burns brown
in fearsome summer sun
cactus blooms bask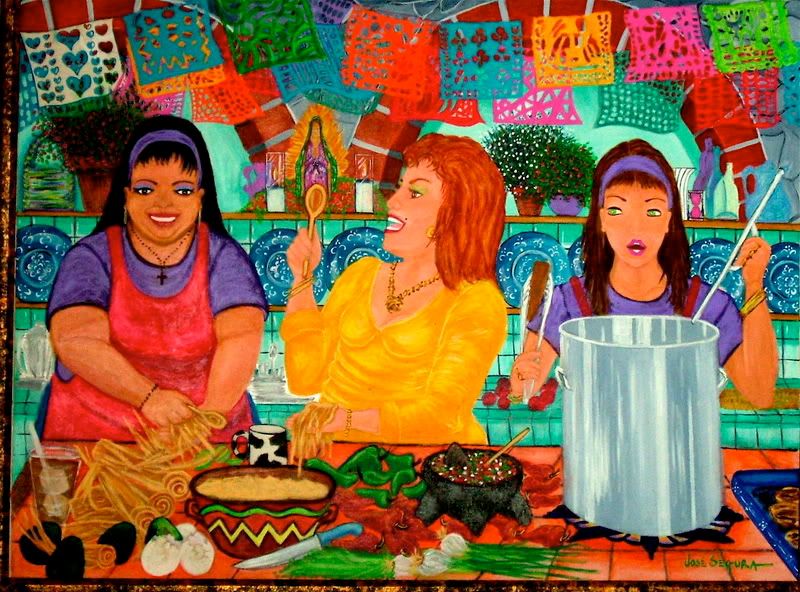 Painting by Jose Segura




We had a last minute postponement of Friday night's Poetry Table at Casa Chiapas due to circumstances beyond poetic control. For this month only, we will be bringing our poetically active table to Casa Chiapas next Friday, March 16th, where we will pick up where we stopped off last month. Those who couldn't make it this past Friday, now have a second chance next Friday.

To those who we couldn't get to in time regarding the postponement, sorry, I hope your were at least able to get a plate at the wedding rehearsal dinner that was there when you showed up.

Try again next week.

Until next week.