Like Lies of Lovers Is Spring Come Before Its Time
Saturday, March 03, 2007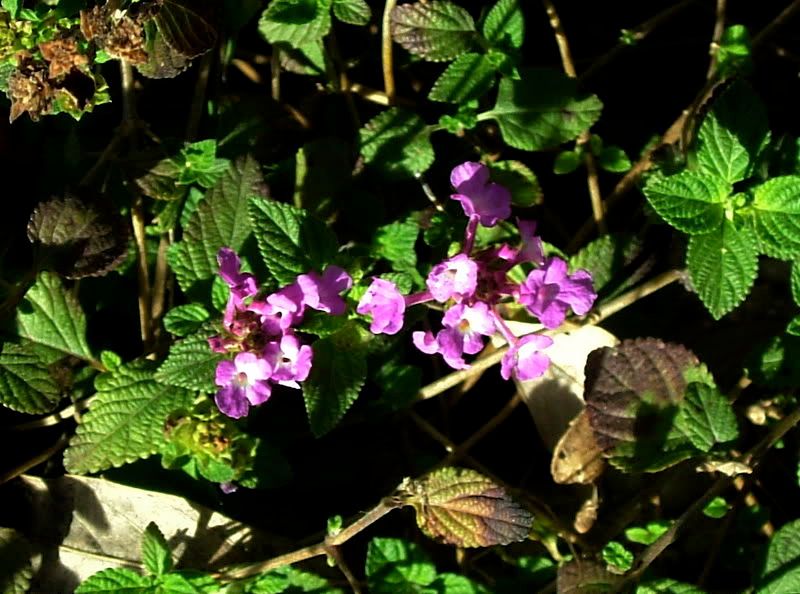 Well, I have some plans for tomorrow, so I'm posting this "Here and Now" number II.3.1 a little bit early. Same stuff, even fresher than usual.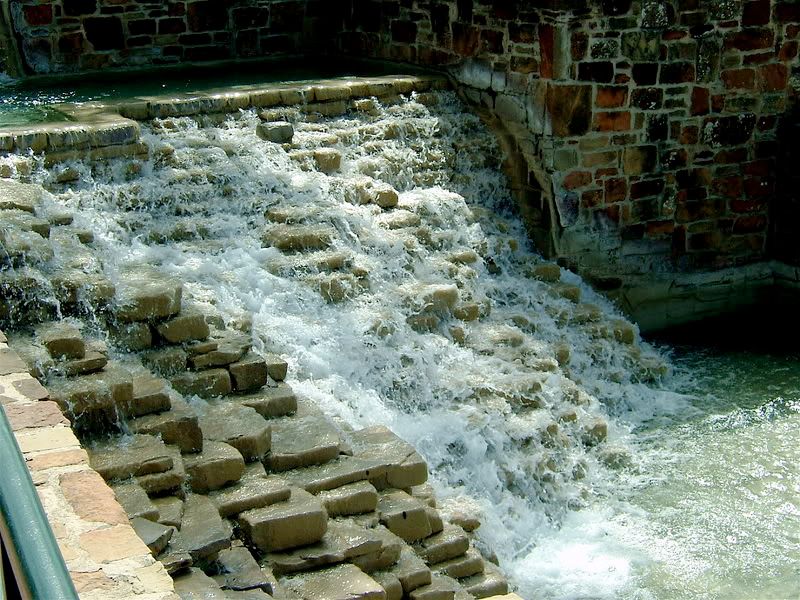 We start this week with a first-timer for "Here and Now," John Bellinger, writing from Syracuse, New York. John is currently Managing Editor of The Comstock Review. A link to the journal's website is among the links on the right side of the page.


Start this War

Sorrow is a thing without shoes. Weigh this dust
against redemption;
this barefoot thirst of miles.

If nothing is calling you,
listen again to the dry wind talking, at dusk
to the faint alphabet of twilight,
for all the screaming all across the unkempt world.

Stand in a room full of money. Stand

in a room filled with bright observations.
Gather nickels
in the undertow;
throw them at the poor. We are everything

on television;
the newspapers are full of us, full of us.
If not for wine and lack of time we could be holy.
Here I am

even now,
where the soup has gone cold, here
I sit, stuffing noise into delible stanzas.
This
is the heroism of the poet.
Throw down, you ganglion legions,

throw down.

We have filled these halls
with art and true, as ever my hands
have filled with words, have rested
in gloves
like small animals,
and words without task
or visible token
have fallen earthward, yet
the rice never grows,

never grows.

Give us dismay, our daily bread.
Everywhere a light goes out, you can see it,
you can tell that it has gone,
and there must be a way to bring candles,
there must be a way
for the villagers to love the monster
even with hands full of torches
in the dark.

They will stand on this hill until dawn.
They will sing something lovely,
like Oh, Shenandoah.
They will bring a frisbee. A good banana.
They will explore the possibilities of language.

They will start this war tonight.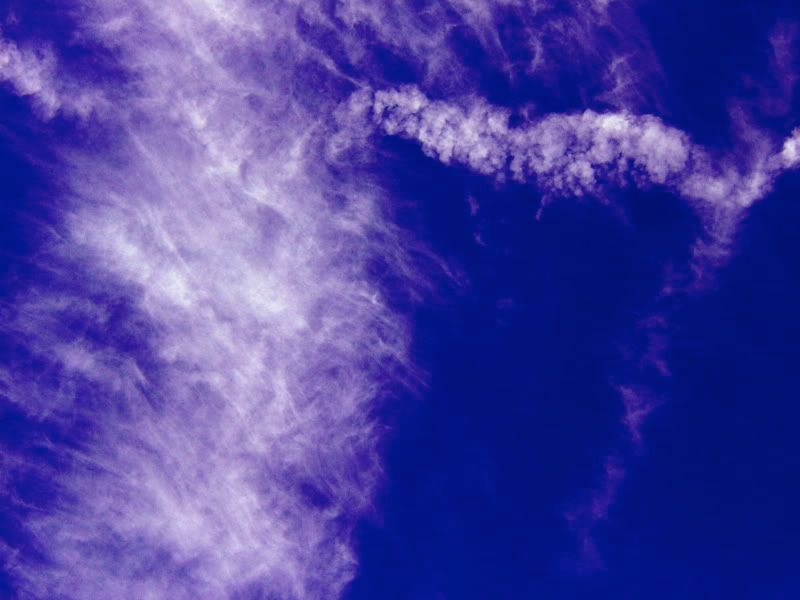 Born in 1915, Muriel Rukeyser was a poet and political activist, best known for her poems about equality, feminism, social justice, and Judaism.

One of her most powerful pieces was a group of poems entitled The Book of the Dead, documenting the details of the Hawk's Nest incident, an industrial disaster in which hundreds of miners died of silicosis.

Her literary career began in 1935 when her poem Theory of Flight, based on flying lessons she took, was chosen by the American poet Stephen Vincent Benet for publication in the Yale Younger Poets Series.

Rukeyser was active in progressive politics throughout her life. At age 18, she covered the Scottsboro case in Alabama, then worked for the International Labor Defense, which handled the defendants' appeals. She wrote for The Daily Worker and a variety of publications including Life & Letters Today for which she covered the Popular Olympiad in Barcelona, the Catalonian government's alternative to the Nazis' 1936 Berlin Olympics. While she was in Spain, the Spanish Civil War broke out.

In the 1960s and 1970s, a time when she presided over PEN's American center, her feminism and opposition to the Vietnam war drew a new generation to her poetry. Her feminism was grounded in her experience as a single mother and bisexual.

The title poem of her last book, The Gates, is based on her unsuccessful attempt to visit Korean poet Kim Chi-Ha on death row in South Korea.

Although she taught university classes and led workshops,she never became a career academic.


Waiting for Icarus

He said he would be back and we'd drink wine together
He said that everything would be better than before
He said we were on the edge of a new relation
He said he would never again cringe before his father
He said that he was going to invent full time
He said he loved me and that going into me
He said was going into the world and the sky
He said all the buckles were very firm
He said the wax was the best wax
He said Wait for me here on the beach
He said Just don't cry

I remember the gulls and the waves
I remember the islands going dark on the sea
I remember the girls laughing
I remember mother saying: Inventors are like poets, a trashy lot
I remember she told me those who try out inventions were worse
I remember she added: Women who love such are the worst of all

I have been waiting all day, perhaps longer.
I would have liked to try those wings myself.
It would have been better than this.








Here's a new poem of mine, written earlier this week, a bit of a counterpoint to this issue's title.


false springs are welcome, too

I was at the coffee shop
engaging in
suicide by donut
when I looked around
and noticed
that the place was
knee
deep in
fat old men with beards,
most of them,
the ones not dozing,
reeling
from the young girl
in little white shorts
who just walked through

it's a weather phenomenon
thing, you know,
false spring, bringing
warm days
and chill nights,
little green buds
on every tree,
and little twig nests
with little white eggs
and fierce and protective
mothers watching
every approach,
poor
misbegotten
little doomed buds,
poor little thin-shelled eggs
soon to be thrown to the ground
by the return of winter winds

but not so tragic, this false spring,
for the fat old men with beards,
for they only dream anyway
and dreams cannot be fooled,
will not freeze
or be blown away
by the fiercest wind,
so that long bare legs
scurrying
all around town,
like the bird
and the bud
on the tree
by the kitchen window,
only a whole bunch
better,
may return to winter
cover
soon,
but the dreams
they stirred will prevail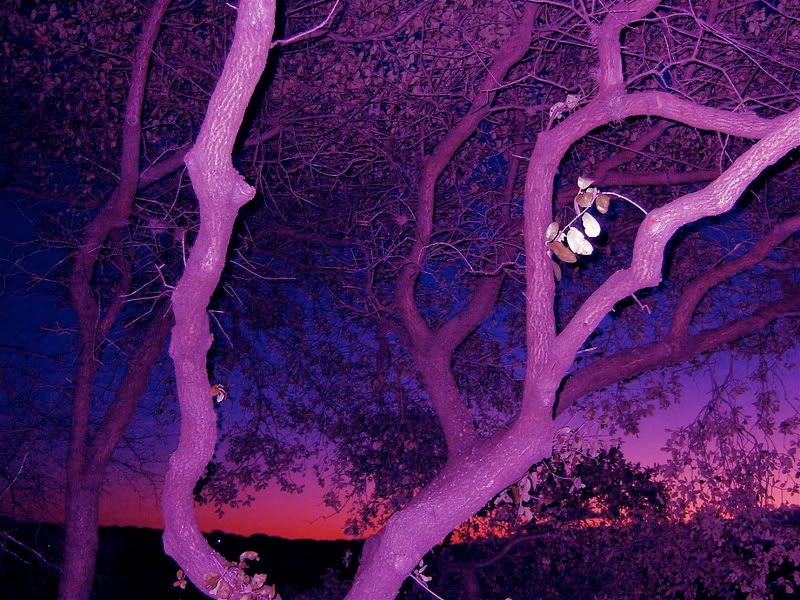 Without really meaning to, I selected several old time radicals and activists from the '30s and '40s for this issue. For a more contemporary version of those radical inclinations, here's Norman Nawrocki, a Montreal-based cabaret artist, actor, writer, and vocalist/violinist for the "rebel news orchestra" Rhythm Activism.


Make a Deal With El Tio

It's sugar cane liquor
in the early, early morn
but before you take a first swig
let a few drops fall
reverently
to the dirt floor at your feet
for El Tio

Some pray to the Virgin Mary
others stroke a lucky charm
but here in the highlands of Bolivia
in a mine so deep
you can never see the end
think before you speak
and thank El Tio

He owns the mine
and he owns all the wealth within
because "if God is in the sky
then El Tio is down below"
so ask no more
there's nothing else to know
just praise again El Tio

Out there he's cursed and scorned
he's evil they say he's a thorn
but in this mine down below
make your peace with him
and be happy it's done
or you won't make a dollar
from El Tio

Some say he wears a gold helmet
gold boots and a gold jacket
others swear he's yellow
made of sulfur so bright
with horns like a goat and a tail
but when you meet him you'll know
it's El Tio

Give him everything he needs
give him exactly what you use
to invite him to join you at work
or at home
but remember
strike it rich and you strike a deal
with El Tio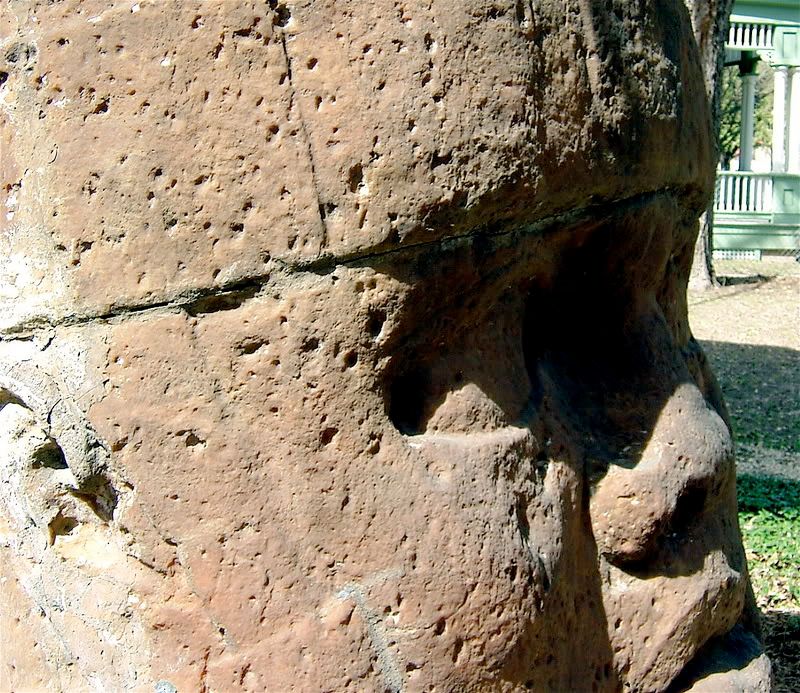 The Barku Challenge on the Blueline Forum is over, but I started a new challenge today, The "Hail to the Chief - or whatever" challenge. The challenge is to write poems about the president(s) of your choice. There's even a prize associated with this challenge. If you like challenges, click on the Blueline link on the right, then go to the Challenges Forum.

Here's a few more Barkus that came in after last week's "Here and Now."


From John Bellinger


Crucifix Barku

1.
Jesus
threw things
in the temple.
Then
he died,
sadly.

2.
Paul
found out
on his way,
wore letters:
Corinthians,
Ephesians.

3.
Constantine won:
raised banners,
broke
bread,
made holy
a book.

4.
You
still think of it.
Around
your neck:
crucifix;
string.


From Alice Folkart


Biting Words

I. Heated words.

Popcorn
words
jumping
sizzling hot
ready for
butter and salt


II. Grimmer Grammar

Primitive punctuation:
Pause. Stop.
Hesitate.
Neolithic period,
heavy
as stone.


III. Poetic Decision

Where
to turn
the idea?
Here?
Just
let it run!



IV. What He Heard

My words.
His words.
Yada
Yada
Is he listening?
No!


V. Promise

I said.
She said.
He said.
Yes.
No.
Maybe, Baby!


And a couple more from me.


Coffee Stains


1. story time

conversations
in twos
and threes
I listen
while
I write


2. cubicle vet

old man
sits alone
reading Dilbert
leans back
laughs
aloud


3. tattoo

she laughs
and laughs
butterfly
on her back
must
tickle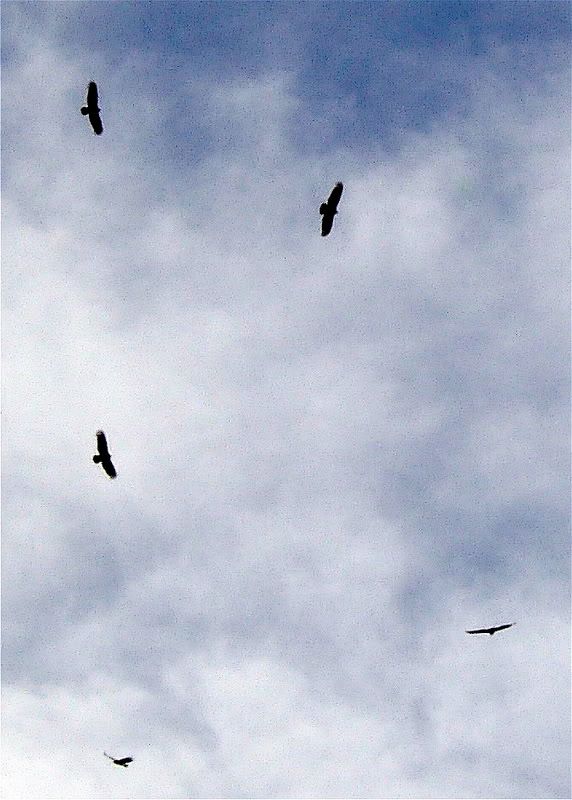 Randall Jarrel was born in 1914 in Nashville, Tennessee. A poet, teacher and critic, he died in 1965 after being struck by a car while walking along a road near Chapel Hill.

His creative work drew heavily on his military experience during the Second World War. This influence is seen in this poem.


Losses

It was not dying; everybody died.
It was not dying: we had died before
In the routine crashes - and our fields
Called up the papers, wrote home to our folks,
And the rates rose, all because of us.
We died on the wrong page of the almanac.
Scattered on mountains fifty miles away;
Diving on haystacks, fighting with a friend,
We blazed up on the lines we never saw.
We died like aunts of pets or foreigners.
(When we left high school nothing else had died
For us to figure we had died like.)

In our new planes, with our new crews, we bombed
The ranges by the desert or the shore,
Fired at towed targets, waited for our scores -
and turned into replacements and woke up
One morning, over England, operational.
It wasn't different: but if we died
It was not an accident but a mistake
(But and easy one for someone to make)
We read our mail and counted up our missions -
in bombers named for girls, we burned
The cities we had learned about in school -
Till our lives wore out; our bodies lay among
The people we had killed and never seen.
When we lasted long enough they gave us medals;
When we died they said, "Our casualties were low."

They said, "How are the maps;" we burned the cities.

It was not dying - no, not ever dying;
But the night I died I dreamed that I was dead,
And the cities said to me: "Why are you dying?
We are satisfied, if you are; but why did I die?"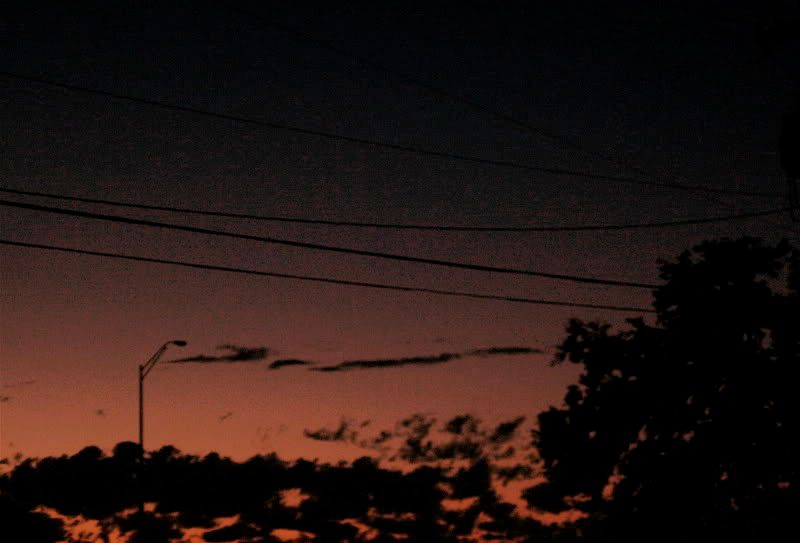 Now, writing from Denmark, a poem from frequent contributor, Jane Roken. I like her stuff.


divinations

lingering kisses, cloudscapes aplenty
and bagpipes, sounds of starless nights
there's always something there
and we're always eager to know what it is
the livid faces of black windows before thunder
the uncertain inventions of the dark
and the prowling wolves from the bay
slinking up the cove
they're here now, mighty close,
but we're safe my love, we're safe
and ever so hungry to know

the panorama fills the window, slowly
hinged with glowing harpstrings, heartstrings
sharpshooter bass strings
and beady blueprints of things to come

the unhurried strobe of Aldebaran
the sudden flame of Betelgeuse
fair galaxies emerging, merge again
in license, liberty, lodestone's light
lingering kisses, starfields galore

....and they still read chicken entrails down at the courthouse.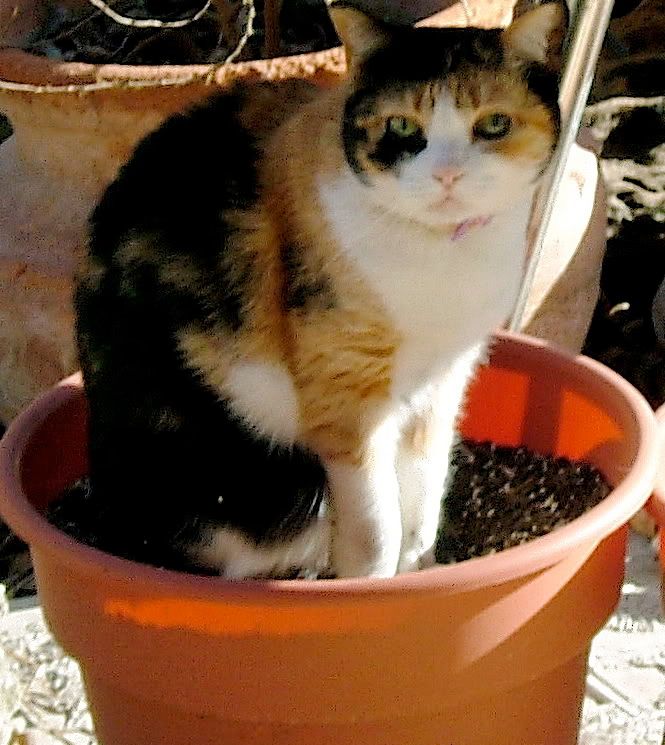 I usually save Bukowski for near the end, but things have been pretty dark so far and in need of lightening up.


pale pink Porsche

she's gotten very fat
since we split a year ago
(but I haven't lost weight either)

and she has her millionaire
who pays the bills
and I have my women that
come and go and then
return

she and I drink and
sleep together
but we no longer
make love

in the mornings I walk her out
to her Porsche

we were never married
yet now we are divorced

I wave goodbye to her
as she drives away

then I go in
fix breakfast
sit down
and type a
four-page love letter
to another lost lady in
Galveston,
Texas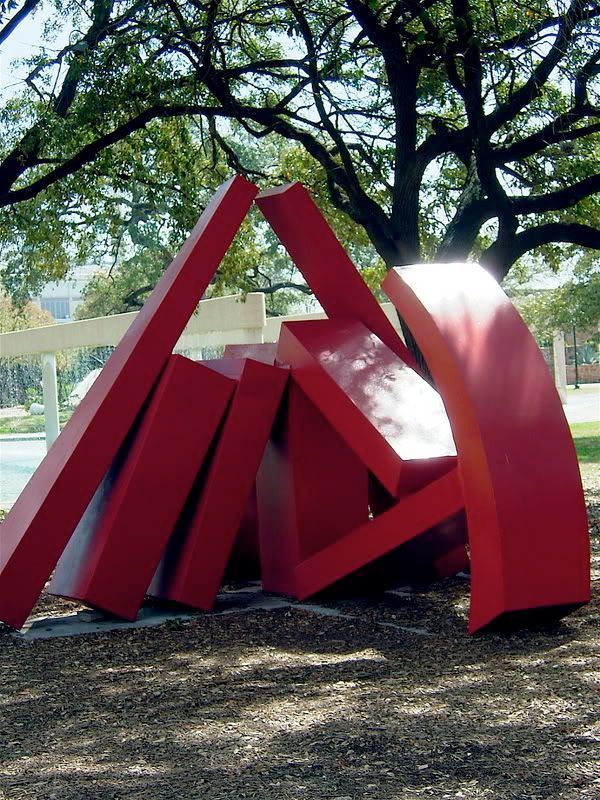 Here's a poem I just wrote yesterday. It's so new, it's still being workshopped.

The workshops are great things, providing opportunity to read others' work and to get a wide variety of critique on your own stuff. Part of the pleasure and the value of workshopping is that others often see the work in ways very different from your own view and from each other.

This poem is a good example of the range of ideas you get to work with. Comment has focused on the second stanza, with advice ranging from delete the whole thing to don't touch a word. In the end, you have to listen to what others say, learn what you can from them, then do with the poem what your own poet's eye and ear tells you to do. In the end, I'm sure I'll do some trimming on this poem, but for now, I'm leaving it alone.


hypnodrive

I was leaving Austin
on Interstate 35,
heading west to San Antonio,
in the middle of three lanes
of packed traffic
cruising at 75 miles per hour,
hemmed in on all sides,
tractor trailer rigs to left and right,
a dump truck in front
and a bald guy with a scarf
in a Miata behind, so small
and so close behind
I couldn't see much more
than his shiny head and scarf
blowing in the wind, reminded
me of the story of how Isadora Duncan
died, strangled by her long scarf
tangled in the wheels of her car
and I can imagine the bald guy
being jerked out of his car
by his scarf hooked on the mud flaps
of some semitrailer rig
and I'm seeing this whole thing
as a metaphor (watch out now)
for modern life, as we drive too fast,
live too fast, forget too fast,
everything new gone before
it can get old, nostalgia now
what you did last summer,
all the seasonal markers
coming and going so fast
its hard to remember
what to do, is it time for Halloween
treats or should I be shopping for
turkey, not to mention the whole
Christmas rush thing that starts
right after Presidents Day

all the seasonal markers
I looked forward to
and marked my internal calendar by,
like graduations meant it was May,
the crack of little league bats
meant it was June and the slap
of shoulder pads on a practice field
brought September which meant
a new school year and a trip
to the five and dime for school supplies,
all these things now, the rhythms of a year
played out now at a tempo
that leaves no time for savoring -
what kind of memories
will the young people of today have,
will they remember their lives as
a music video,
frantic, jump shots, millisecond images
all played at double time -
all this is too fast for me,
driving my internal clock awry;
I wake up in the mid-night dark
and wonder why the sun still hides
and when the sun final comes
I often have to ask the day

and the rush continues on IH-35,
with UT students rushing off
for whatever they do now
and tired bureaucrats fleeing the capital
and all the trucks on their way to Laredo
to pick up a new load of something from Mexico
and I'm thinking, Jeez, I remember when
we got drunk and wrestled on this road at night
when traffic was so light we could have
a three-round bout before oncoming lights
sent us back to our corner, ah, the good old days,
as I lean back, engage cruise control and slip
into hypnodrive; as long as nobody stops,
we may all survive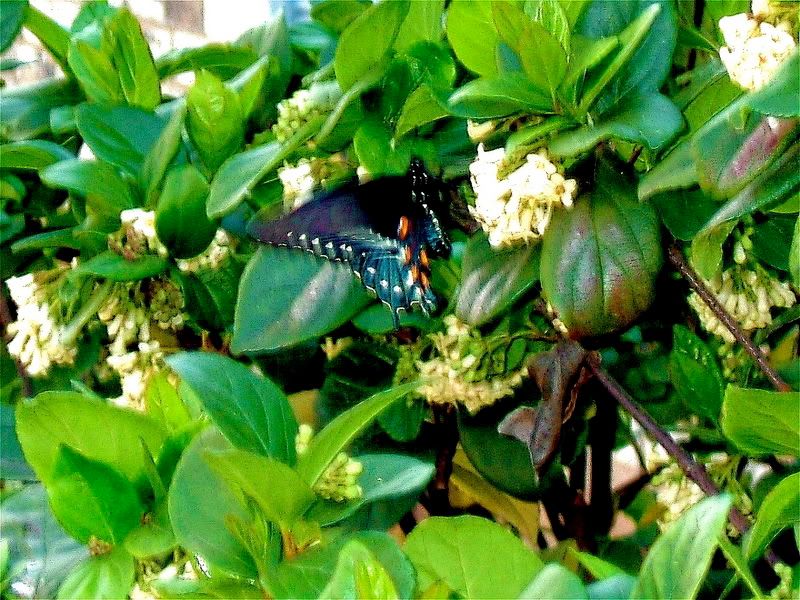 Now, the poem I think contains the true essence of America's greatest poet, Walt Whitman, part of all, in his mind, and all a part of him.


There was a Child Went Forth

There was a child went forth every day.
And the first object he look'd upon, that object he
became,
And that object became part of him for the day or a
certain part of the day,
Or for many years or stretching cycles of years.

The early lilacs became part of this child,
And grass and white and red morning-glories, and
white and red clover, and the song of the phoebe
bird,
And the Third month lambs and the sow's pink-faint
litter, and the mare's foal and the cow's calf,
And the noisy brood of the barnyard or by the mire of
pond-side,
And the fish suspending themselves so curiously below
there, and the beautiful curious liquid,
And the water plants with their graceful flat heads, all
became part of him,

The field-sprouts of Fourth-month and the Fifth-month
became part of him,
Winter-grain sprouts and those of the light-yellow
corn, and the esculent roots of the garden,
And the apple tree cover'd with blossoms and the fruit
afterward, and wood-berries, and the commonest
weeds by the road.
And the old drunkard staggering home from the
outhouse of the tavern whence he had lately risen,
And the schoolmistress that pass'd on her way to the
school,
and the friendly boys that pass'd, and the quarrelsome
boys,
And the tidy and fresh cheek'd girls and the barefoot
negro boy and girl,
And all the changes of city and country wherever he went.

His own parents, he that had father'd him, and she
that had conceiv'd him in her womb and birth'd
him.

The mother at home quietly placing the dishes on the
supper-table,
The mother with mild words, clean her cap and gown,
a wholesome odor falling off her person and clothes
as she walks by,
The father, strong, self-sufficient,manly, mean,
anger'd, unjust,
the blow, the quick loud word, the tight bargain, the
crafty lure,
The family usages, the language, the company the
furniture, the yearning and swelling heart,
Affection that will not be gainsay'd, the sense of what
is real, the thought if after all it should prove unreal,
The doubts of daytime and the doubts of nighttime
the curious whether and howl,
Whether that which appears so is so, or is it all flashes
and specks?
Men and women crowding fast in the streets, if they
are not flashes and specks what are they?

The streets themselves and the facades of houses, and
goods in the windows,
Vehicles, teams, the heavy-plank'd wharves, the huge
crossing at the ferries,
The village on the highland seen from afar at sunset,
the river between,
Shadows, aureola and mist, the light falling on roofs
and gables of white or brown two miles off,
The schooner near by sleepily dropping down the tide,
the little boat slack-towed astern,
The hurrying tumbling waves, quick-broken crests,
slapping,
The strata of color'd clouds, the long bar of maroon
siting away solitary by itself, the spread of purity it
lies motionless in,
The horizon's edge, the flying sea-crow, the fragrance
of salt marsh and shore mud,
These became part of that child who went forth every
day, and who now goes, and will always go forth
every day.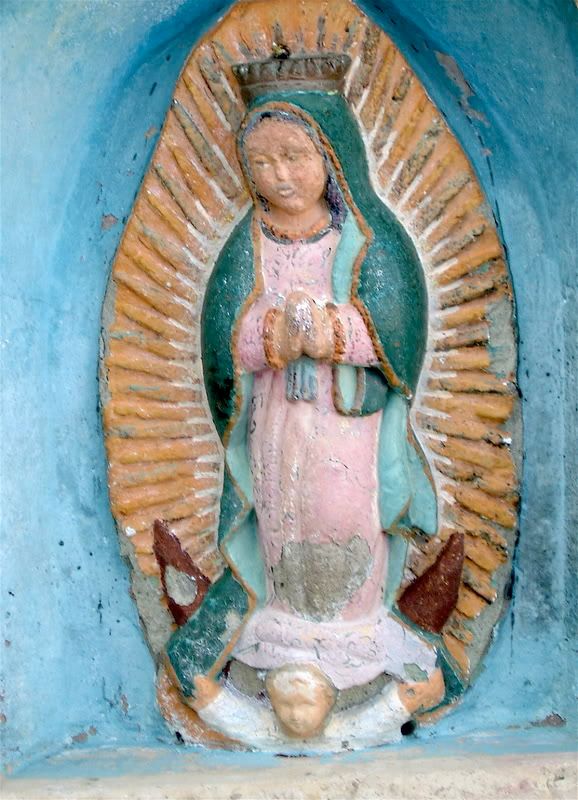 Jill Chan was born in Manila and migrated to New Zealand when she was 21. Her first book of poetry, The Smell of Oranges, was published by Earl of Seacliff Art Workshop in 2003 and her second book, Becoming Someone Who Isn't, is scheduled for release in July 2007.

She maintains a blog at http://navelorange.blogspot.com. I've set up a link to her site among the links on the right.

This is Jill's first appearance in "Here and Now."


Everything is a wind becoming strong

You've made me ignorant of biographies,
waking without a story to live in.

What are you doing now?
Perhaps looking into the eyes that awakened you, like I never could.
I've sent you away without meaning to, with my honesty.
You've taught me to lie.
Now even words have to be spoken, have to be turned into something we both
deemed unnecessary.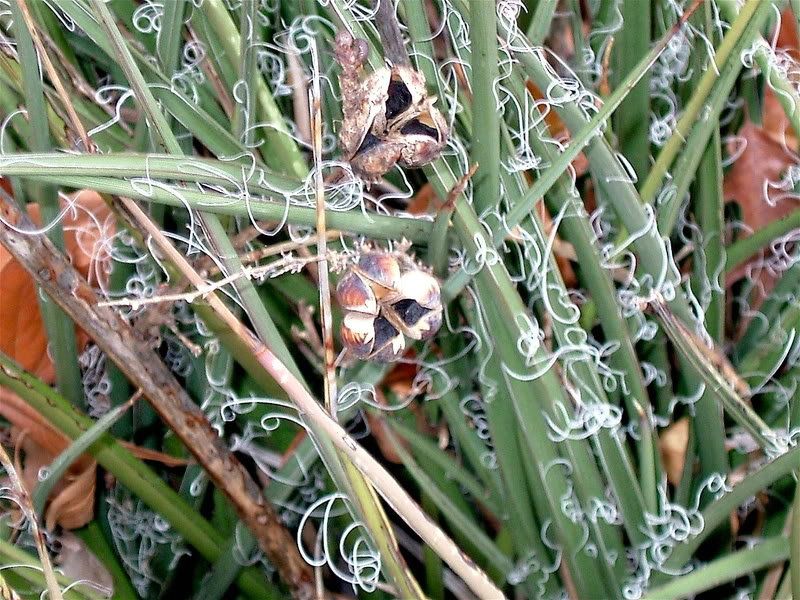 Poet and pacifist William Stafford was born in 1914. He didn't publish his first volume of poetry until he was nearly 50 years old. At the time of his death in 1993, he had published 57 books of poetry.


Serving with Gideon

Now I remember in our town the druggist
prescribed Coca-Cola mostly, in tapered
glasses to us, and to the elevator
man in a paper cup, so he could
drink it elsewhere because he was black.

And now I remember The Legion - gambling
in the back room, and no women but girls, old boys
who ran the town. They were generous,
to their sons or the sons of friends.
And of course I was almost one.

I remember winter light closing
it's great blue first slowly eastward
along the street, and the dark then, deep
as war, arched over a radio show
called the thirties in the great old U.S.A.

Look down, stars - I was almost
one of the boys. My mother was folding
her handkerchief; the library seethed and sparked;
right and wrong arched; and carefully
I walked with my cup toward the elevator man.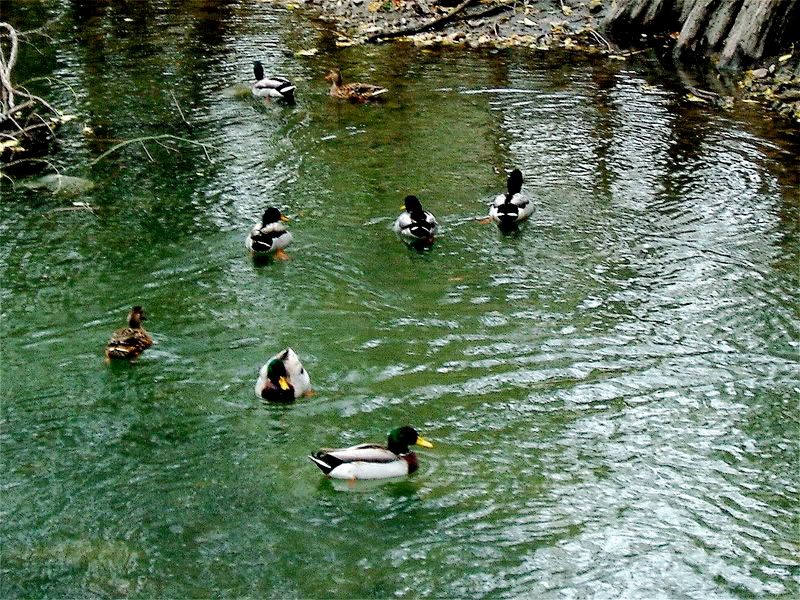 A tribute to Li Bai by 16th century Chinese poet, historian and scholar of the arts Wang Shizhen


Climbing Up the Taibai Tower

It is said in the past Li Bai
gave a long howl and climbed up this tower.
Once he paid a visit here,
and his high reputation remains for a hundred generations.
Behind the white clouds the sea dawns
with a bright moon, a celestial gate, and autumn.
As if to greet Li Bai's return,
The Ji River water flows with music.

(Translated by Tony Barnstone and Chou Ping)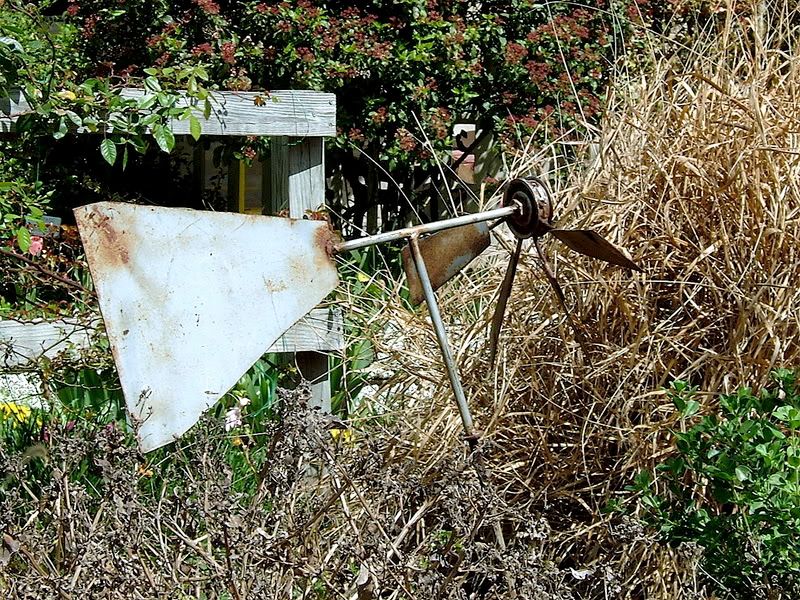 This is a very new poem. I wrote it this morning and haven't even workshopped it yet.

Again, it's a rambler, but that seems to be what I do now. The style drives some people nuts, especially they way I seem to wander off tangent and into what seems to be irrelevant to the rest of the poem.

I understand and appreciate that criticism, but sometimes disagree with it. To me, a poem written in this style is like the conversations we used to have sitting outside at night before air conditioning, kids chasing lightning bugs while the grown-ups talked. Those conversations were not structured or sharply focused, but in the end, they all came together in a kind of loose, homespun narrative.

That's what I'm aiming for with this style. Sometimes it works and sometimes it doesn't.


a nice day for memory interruptus

it is a wonderful place
to be, this morning,
here in San Antonio,
the sky,
deep blue and cloudless,
the day scheduled to warm up from the high 30s
to an expected mid-70s by afternoon

a quiet morning,
Friday,
the week too far gone
for anyone to be rushing anywhere,
and I'm at my favorite perch
on the porch at Cafe Chiapas
on South Alamo just off South St. Mary's

a tv crew was here this morning,
first thing,
doing remote weather breaks
for the 7 to 9 morning show

watching the on-camera guy
and his cameraman
reminded me of times past
when I did a lot of tv,
the go-to guy for a sound bite or a quote
on anything having to do with
the area economy and labor market -
I gave "good quote" according
to one of the newspaper guys
and I was always in demand
to fill the quote-quota on their stories

though I liked most of them,
I wasn't much impressed by most
of the tv guys , but it was a small market
and many of them were fresh from college,
trying out their journalistic wings for the first time
and most already had their stories written in their heads
- journalism school economic story template number 12 -
before they came to talk to me, so all they really wanted
were quotes that didn't contradict the story
they had all but already written -
some I helped make better writers
and better reporters, and some
I just gave up on and gave them what they wanted

it's funny I should think of this now,
on this beautiful day
but the tv guys
got me to thinking, reminded
me of some good times, good days
I still miss sometimes, even here,
even now, on this most wonderful
day in San Antonio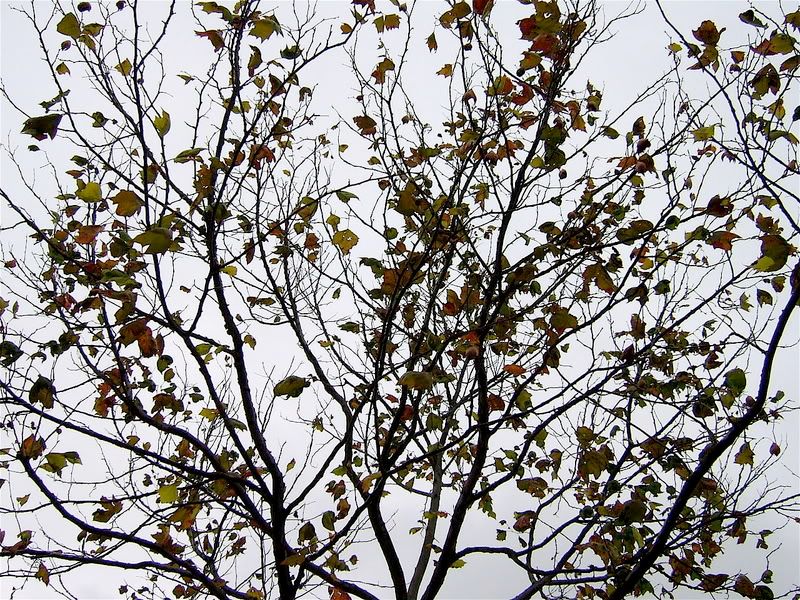 Alberta Turner, teacher, editor, critic and poet, was born in 1919. She taught at Cleveland State University for many years, beginning in 1964. She died in 2003.


Water Eased of Its Cliffs by Falling

Time to draw the left foot back and let it
take the weight, waggle the elbows, let out breath
and wait a moment before breathing in.
I need not say, "Yes, almost a relief,
Yes, I'm making do. Yes, I'm sleeping well."
Bringing me fruit has eased them. One by one
they close the door and go home.
I take my ease in the old way, in the bathroom:
house of ease, seat of ease, "The king comes
more kindly from his ease." Your tube of toothpaste
is half full. That pleases me.

* * * * * *

I didn't want to make a spectacle of myself by crying
at the funeral, so I walked across the field
and almost missed it - bawled through it anyway.
I'll invent a formula for answering the letters.
I'll be very careful to stick the stamps on
right side up. For once a decent respect.

Mornings I brought you a mug of tea,
and you thanked me and drank a swallow before I left.
Mondays you called out, "Have you any money?"
When I said no, you always found some in your bedside
drawer. I never went without lunch.

You had enough pocket knives for all
the grandsons. Shall I keep one? You wouldn't
let me see the rabbit the cat brought home.
You said it was already half skinned. Thank you.

Did I confuse you with God and my father?
Of course no self-respecting woman
would admit that. But sometimes I goaded
you until you almost hit me - almost.
"It grieves her to think of it,
yet it eases her stomach to tell it."

* * * * *

Again, I've burned the bacon. I know you
always say cook it on low, but I'm in a rush -
"Can't you slow down and just live?"
No. Anyone can be a wife.
"Will you ever grown up?"
If only I could. It's much warmer
to be good than proud.
"Easy girl, easy girl, easy - "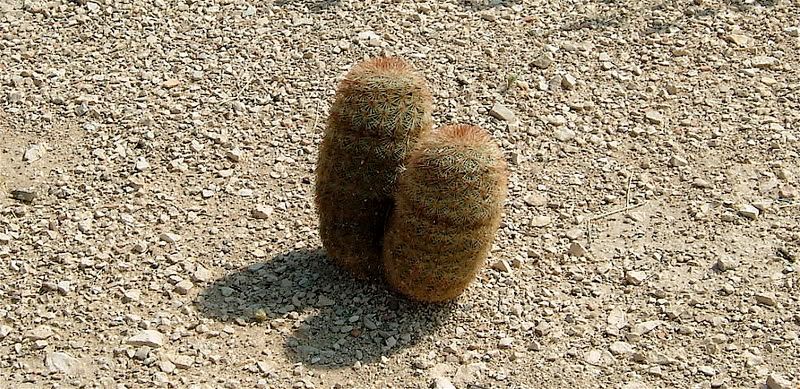 And now another "Here and Now" first-timer

Thane Zander is a 48 year old retired Navy Man. He's another New Zealander, which makes this issue of "Here and Now" a bit bottom of the planet heavy. But as Thane says, they may be at the bottom of the world, but they stay on top of things.

Thane has been writing for six years now and has a good cache of poems at his website http://thanezander.tripod.com. I've put a link to that site up, also, he says.

Thane says he considers himself a hit and run poet as well as a street poet so, according to Thane, what you see is what you get. He tends to bite deep in some areas.


Blew a Left Sandal to Bits

Shoulda spent wisely,
sixty bucks instead of a miserly twenty,
would have solved my blown sandal issue
by lasting five times as long as the current pair.

Now I have to walk with a self imposed limp
to be sure the rest of the thing holds together,
leastways till I can afford to buy another pair.

Must look bloody funny walking down the street,
people leaning the same way I lean
to see what the problem is,
people seem to be curious that way.

Oh well, another four months of wear I reckon,
enough to get me to winter and shoes again.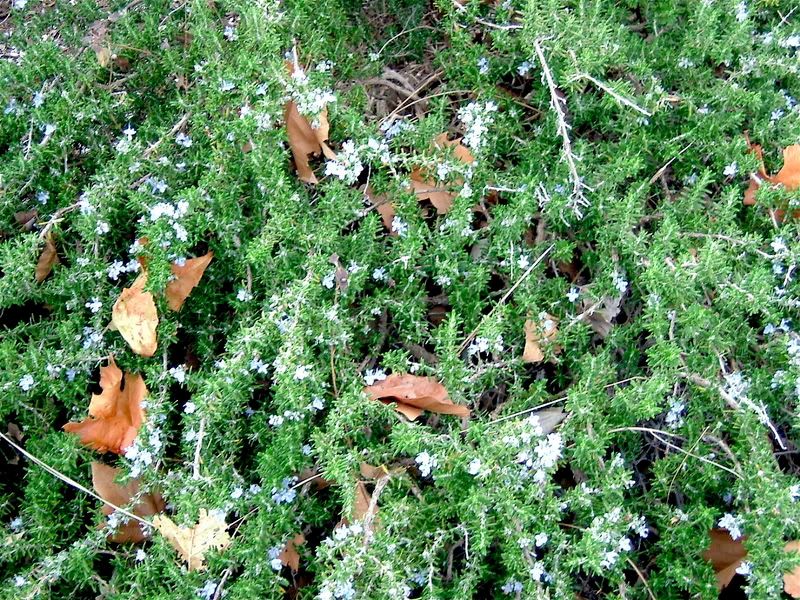 R. S. Thomas, born in 1913 and died in 2000, was a Welsh poet and Anglican Clergyman, noted for his nationalism and spirituality. He was the best known Welsh poet of his day.


Study

The flies walk upon the roof top.
The student's eyes are too keen
To miss them. The young girls walk
In the roadway; the wind ruffles
Their skirts. The student does not look.
He sees only the flies spread their wings
And take off into the sunlight
Without sound. There is nothing to do
Now but read in his book
Of how young girls walked in the roadway
In Tyre, and how young men
Sailed off into he red west
For gold, writing dry words
To the music the girls sang.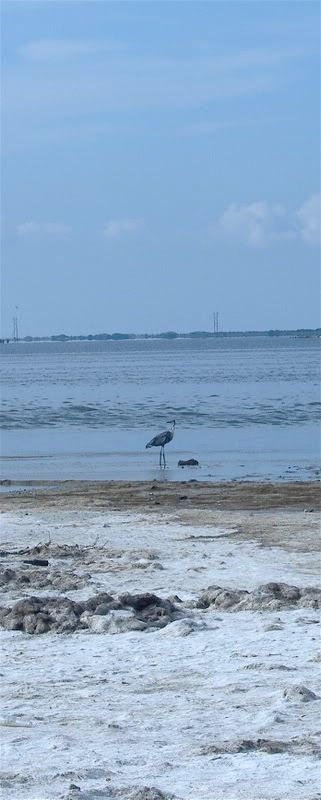 When using my own poems here, I've been using mostly new ones because, having done so many issues without maintaining an index as we went along, I'm not always sure anymore when I consider a poem from among the older poems if I've used it before or if I haven't.

The following poem I know we haven't used. It's a bit more abstract and avant garde than most of the stuff I do and, in fact, was published in a journal named Avant Garde Times in 2001.


while a bald man burns

three gulls circle
while
a bald man burns
in the fierce island sun
while
I trace gargoyles
in the sand
with my toe
while
you pretend to study
the book in your hand
while
three gulls circle
in the fierce island sun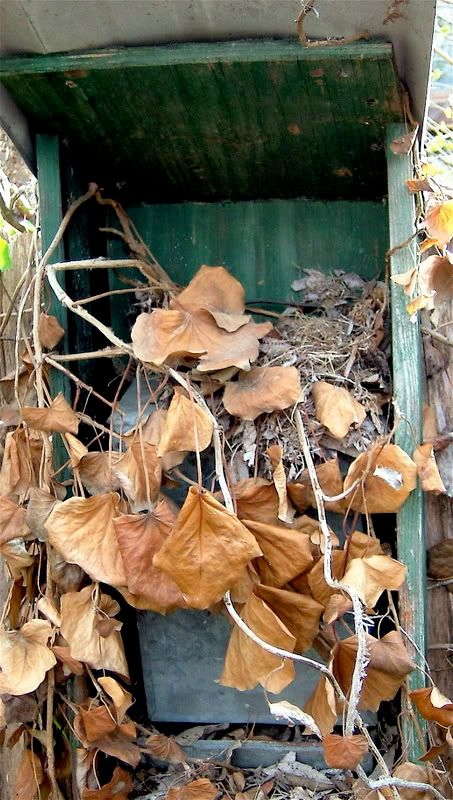 Robert Penn Warren, born in 1905 was a poet, novelist, and literary critic, and one of the founders of The New Criticism. While most famous from the success of his Pulitzer Prize winning novel All the King's Men, he also won two Pulitzer Prizes for his poetry.

He is the only writer ever to win the Pulitzer in both fiction and poetry.

He died in 1989 of complications from bone cancer.

In April 2005, the United States Postal Service issued a commemorative stamp to mark the 100th anniversary of his birth. Introduced at the Post Office in his native Guthrie, it depicts the author as he appeared in a 1948 photograph, with a background scene of a political rally designed to evoke the setting of All the King's Men.


From Tale of Time



I What Happened



It was October. It was the Depression. Money
Was tight. Hoover was not a bad
Man, and my mother
Died, and God
Kept on, and keeps on,
Trying to tie things together, but

It doesn't always work, and we put the body
Into the ground, dark
Fell soon, but not yet, and oh,
Have you seen the last oak leaf of autumn, high,
Not yet fallen, stung
By last sun to a gold
Painted beyond the pain one can ordinarily
Get? What

Was there in the interim
To do, the time being the time
Between the clod's chunk and
The full realization, which commonly comes only after
Midnight?That

Is when you will go to the bathroom for a drink of water
You wash your face in cold water.
You stare at your face in the mirror, wondering
Why now no tears come, for
You had been proud of your tears, and so
You think of copulation, of
Fluid ejected, of
Water deeper than daylight, of
The sun-dappled dark of deep woods and
Blood on green fern frond, of
The shedding of blood, and you will doubt
The significance of your own experience. Oh,
Desolation - oh, if
You were rich!
You try to think of a new position. Is this
Grief? You pray
To God that this be grief, for
You want to grieve.

This, you reflect, is no doubt the typical syndrome.

But all this will come later.
There will also be the dream of the eating of human flesh.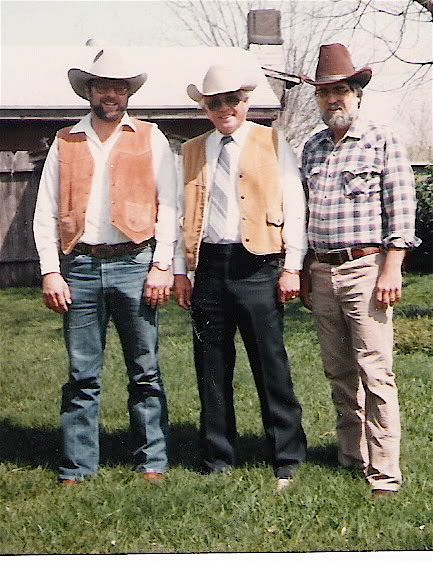 This is another old poem that I know we haven't used. It was my first publication in a print journal when I returned to writing in 1999. It appeared in a 2000 issue of Maelstrom.

It was written in the early '70s and is also more abstract than anything I'm doing now.


cowboy movie

comecomecome
she said to me
in her low voice
and sighed as I moved closer

comecomecome
she said to me

jjjjjjesus

stuttersam
crawled
into his corner
and sighed
and cried
in the shallow shadows
of his silver sombrero

comecomecome
she cried to me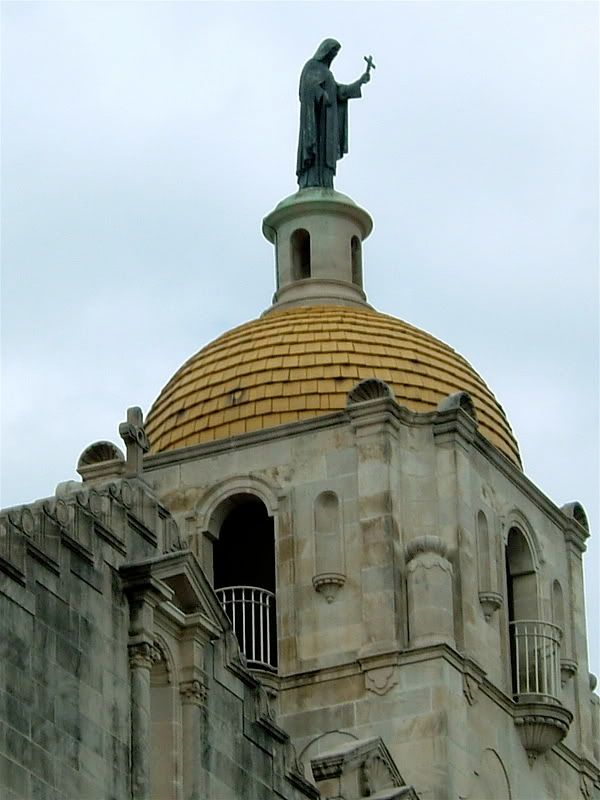 From the 17th century, John Milton, with one of the poems we all read in High School and whose lines we sometimes quote without remembering where they came from.


Sonnet On His Blindness

When I consider how my light is spent
Ere half my days, in this dark world and wide,
And that one talent, which is death to hide,
Lodged with me useless, though my shoulder more bent
To serve there with my Maker, and present
My true account, lest He, returning, chide;
"Doth God exact day labor, light denied?"
I fondly ask; but Patience, to prevent
that murmur, soon replies, "God doth not need
Either man's work, or His own gifts; who best
Bear his mild yoke, they serve Him best. His state
is kingly. Thousands at His bidding speed,
And post o'er land and ocean without rest;
They also serve who only stand and wait."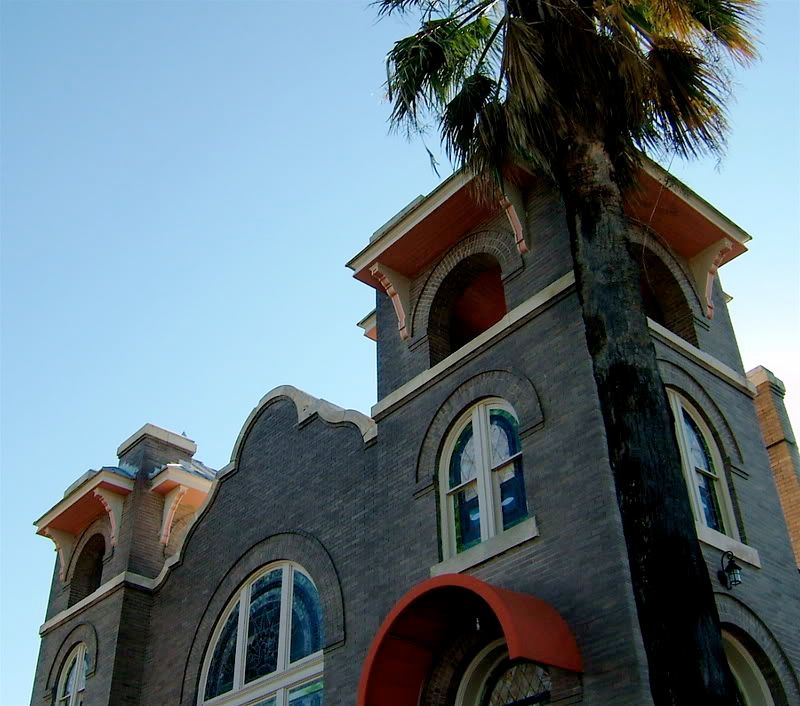 And now, Nobel Laureate Octavio Paz with two poems from A Tree Within.

The House of Glances
for Roberto Matta

You walk inside yourself, and the tenuous,meandering reflection that
guides you
is not the last glance of your eyes before closing, nor the timid sun
that beats at your lids:
it is a secret stream, not of water but of pulse-beats: calls and answers
and calls,
a thread of clarities among the tall grasses and the beasts of the mind
that crouch in the darkness.

You follow the murmur of our blood through the unknown territory
your eyes invent,
and you climb a stairway of glass and water, up to a terrace.
Made of the same intangible material as echoes and clanging,
the terrace, suspended in air, is a rectangle of light, a magnetic ring
that wraps around itself, rises, walks, and plants itself in the circus of
the eye,
a lunar geyser, a stalk of stream, a foliage of sparks, a great tree that
lights up, goes out, lights up:
your are in the interior of the reflections, you are in the house of
glances,
you have closed your eyes, and you enter and leave from yourself to
yourself on a bridge of pulse-beats:

The Heart Is An Eye

You are in the house of glances, the mirrors have hidden all their
ghosts,
there's nobody there and there's nothing to see, things have aban-
doned their bodies,
they are not things, they're not ideas: they're shots of green and red
and yellow and blue,
swarms turning and turning, spirals of fleshless legions,
a whirlwind of forms that still have yet to find their form,
your glance is the propeller that spins and drives the ghostly mobs,
your glance is the fixed idea that drills through time, the motionless
statue in the plaza of insomnia,
your glance weaves and unweaves the threads of the fabric of space,
your glance rubs one idea against another an lights a lamp in the
church of your skull.
a passage from enunciation to the annunciation, from conception to
the assumption,
your eye is a hand, your hand has five eyes, your glance has two
hands,
we are in the house of glances and there's nothing to see, we must
repopulate the house of the eye,
we must populate the world with eyes, we must be loyal to sight, we
must

Create In Order To see


(Translated by Eliot Weinberger)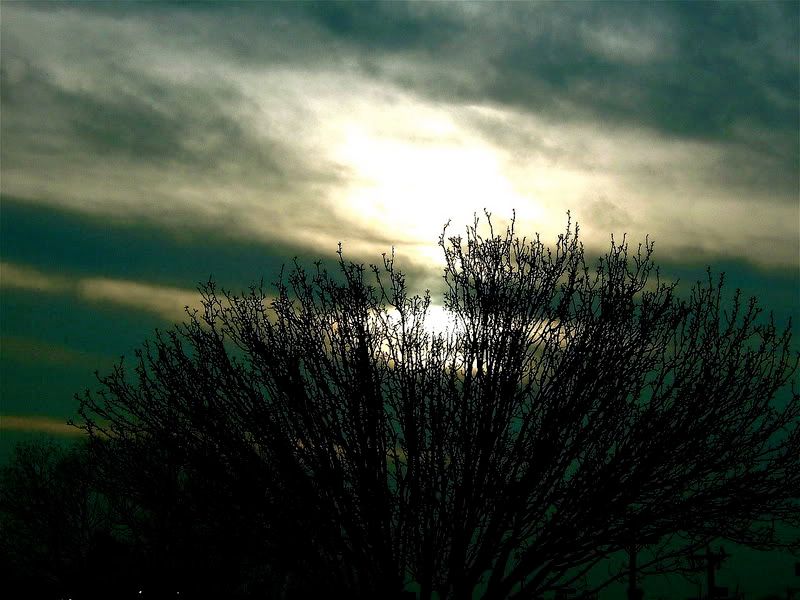 I warned in the first issue of "Here and Now" that there might be occasional rants.

Here comes one now.

Though I truly am not and do not want to be dismissive or disrespectful of a people or a culture or anyone's religioius beliefs, Thomas L. Friedman said some things today (Friday, March 2nd) in his New York Times column, with the help of Saudi poet Wajeha al-Huwaider, that bear repeating.

I will admit to a possible bias.

In the late 1960s I spent a year in a middle-eastern country. I did not like it. It's true, I was an American soldier and American are seldom welcome and usually resented wherever they are in the world, and that includes parts of the United States, but never in my life, in this country and in others, have I felt so foreign and so hated. Far from any of the larger cities, I felt like I had stepped back in time a thousand years, and, all romantic notions aside, that was not a good thing.

So, though possibly not entirely unbiased, I think this issue is so important and so unexamined that notice of it is well overdue.

The issue is the lack of visible, public moral outrage over the suicide bombings going on in Iraq and other parts of the middle-east.

Where is the outrage, asks Friedman, at these bombings that target normal people doing normal things, going to market to buy food, going to school, going to a clinic for medical service, getting a haircut for crying out loud, all on the apparent theory that if Arabs kill enough Arabs the Americans will go home.

Bush, given his own moral shortcomings, lacks the moral standing to creditably express moral outrage. Europeans and many Americans blame the whole mess on Bush and reserve any moral outrage for him and don't seem to have any outrage left for the animals who do this entirely discriminent killing, creatures who kill children because they want to kill children.

(Bush has much to be accountable for in terms of stupid decisions and moral blindness, but nowhere in his long catalogue of sins is the purposeful killing of children.)

Worse than the silence of the rest of the world, says Friedman, is the lack of outrage from Arab governments and the Arab "street." In those places where outrage could made a real difference, all is quiet.

Friedman concludes his dismal discussion with a ray of hope, a poem by Saudi author Wajeha al-Humaider that was posted on various Arab reform websites.

Though not specifically a response to the bombings, the poet is brave and the poem is honest and, maybe, the beginning of long overdue public condemnation of the anti-humanity of radical Islamists and the culture of fear and repression they foster.

Here's the poem, by, once again, Wajeha al-Humaider.


When you cannot find a single garden in our city, but there is a mosque on every corner - you know that you are in an Arab country.

When you see people living in the past with all the trappings of modernity - do not be surprised, your are in an Arab country.

When religion has control over science - you can be sure you are in an Arab country.

When clerics are referred to as "scholars" - don't be astonished, you are in an Arab country.

When you see the ruler transformed into a demigod who never dies or relinquishes his power, and nobody is permitted to criticize - do not be too upset, you are in an Arab country.

When you find that the large majority of people oppose freedom and find joy in slavery - do not be too distressed, you are in an Arab country.

When you hear the clerics saying that democracy is heresy, but seizing every opportunity provided by democracy to gab high positions - do not be surprised, you are in an Arab country....

When you discover that a woman is worth half of what a man is worth, or less - do not be surprised, you're in an Arab country....

When land is more important than human beings - you are in an Arab country....

When fear constantly lives in the eyes of the people - you can be certain your are in an Arab country.


So why is this any of my business, our business? A good question, a question that continues to challenge me.

In the end, I think it comes down to this.

We have our own radical fundamentalists in our country and our own radical Christian madrases that teach and preach a kind of holy war hatred against anyone not of their specific and minutely defined faith, people who would be pleased to make this an "Arab" country also, with all the characteristics of oppression and repression the poet describes.

That's why it's our business, because we have our own Christian Mulla Omars, waiting in the wings for a chance to reshape the world to their oppressive design.

I have no doubt these people would be sending their own suicide bombers to WalMarts and anywhere else where people gather in large numbers were it not for the legal consequences and, more important, the moral outrage and lose of potential support that would greet such action.

Now, of course I'm not talking about all Christians when I talk of those with murderous designs, just as I was not talking about all Muslims before, or even all fundamentalist Christians or Muslims. It is not their actions, but their silence in the face of murder that is the issue and for that silence I do indict them.

The kind of fear and hate that produces willingness to murder the innocent and defenseless for a "cause" is an infectious disease. It's appearance anywhere in the world, if not addressed, is a threat to everyone. And the way to address it is not, in most cases, through military force, which most often increases the infectiousness of the disease, but through moral force of millions of voices, Christian, Muslim and none-of-the-above like me, saying, no, you can not do this. Those who set purposefully out to kill innocents must be treated as a deviant species, not fully human and not fit to join the brotherhood of humankind.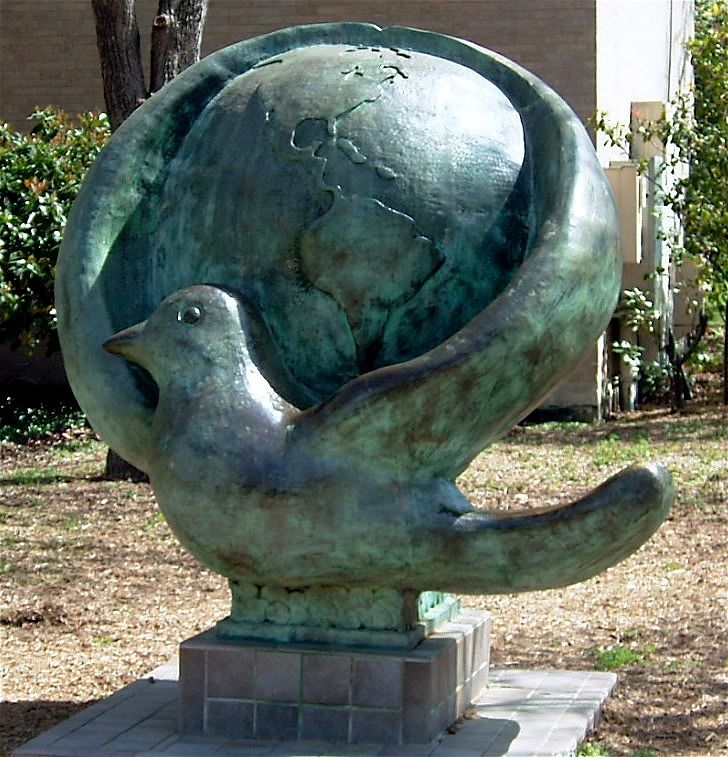 Almost forgot, next Friday is Poetry Table night at Casa Chiapas. I hope San Antonio area readers can come by. It's a relaxed, no pressure evening. You'll have fun, whether reading or just listening.


Until next week.