All Eyes East For The Fleet's Return
Monday, October 16, 2006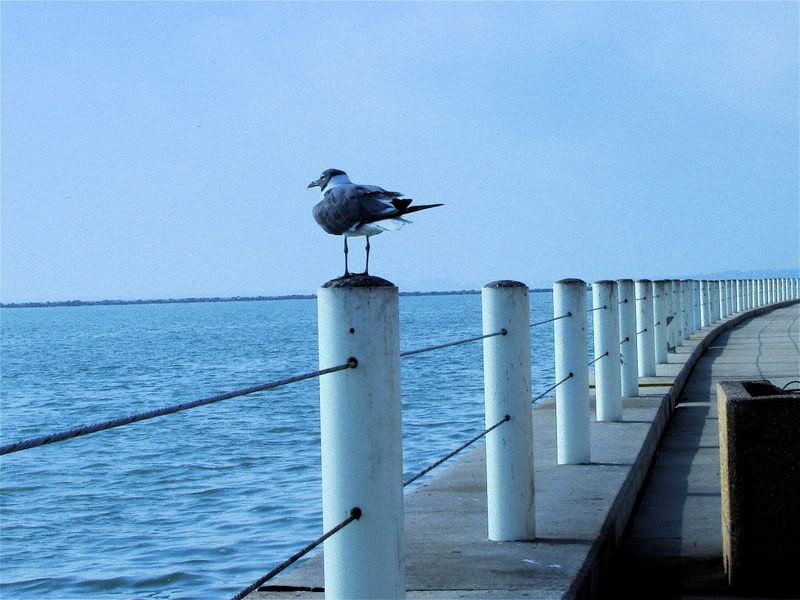 Well, we've gone to the birds for "Here and Now" number I.wviii.






(Photo supplied by Robert Anderson)




As to roadrunners....

A friend of many years emailed me about my roadrunner picture after last week's issue of "Here and Now" went on line.

Bob, who lives within sight of the Rio Grande River in a small city near Albuquerque several hundred miles from the Rio Grande River in Big Bend Park that I featured in last week's issue and 1,200 or so miles from that same river, which I grew up near in way-South Texas, reminded me that the roadrunner (of the genus Geococcyx of the cuckoo family, Cuculidae, native to North and Central America) is the State Bird of New Mexico.

Claiming a proprietary interest in this ground foraging cuckoo, he included in his email a picture he took of a New Mexico roadrunner in his backyard, insisting that his roadrunner was an outstanding example of roadrunnery and challenging anyone to come up with a picture of a superior roadrunner.

While clearly my roadrunner is better groomed than his roadrunner, it is equally clear from the two lizards (actually a lizard and a horned toad, I think) in his roadrunner's beak that his roadrunner, by preying in bulk (Sam's Club member, perhaps), is a better provider for mate and hatchlings.

So, as is often the case, the New Mexico creature is more industrious, while the Texas creature is better looking.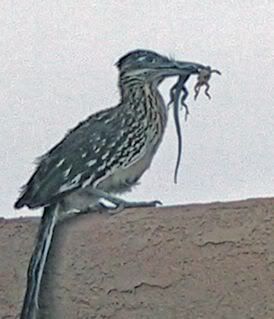 (photo by Robert Anderson)




More about roadrunners

Roadrunner are native to the deserts of the Southwestern United States, Mexico, and Central America.

They are large, slender, black-brown and white streaked ground birds with a distinctive head crest who generally range in size from 18-24 inches in length from tail to beak. They have long legs, strong feet, and an oversized dark bill. The tail is broad with white tips on the 3 outer tail feathers. They have a blank patch of skin behind the eye that is shaded blue proximally to red distally. They are long-legged birds with long thick dark bills and long dark tails. They are terrestrial, and although capable of flight, they spend most of their time on the ground. During flight the wings are short and rounded and reveal a white crescent in the primary feathers. Roadrunners and other members of the cuckoo family have zygodactyl feet (two toes in front and two toes in back) and are able to run up to 15 miles per hour and generally prefer sprinting to flying.

Roadrunners live in arid lowland or montane scrub and are often widely dispersed in the dry open country with scattered brush. They are non-migratory birds that reside in their breeding area all year.

They are omnivores and are opportunistic. Their diet normally consist of insects, small reptiles (such as lizards and snakes, including rattlesnakes), rodents and small mammals, tarantulas, scorpions, centipedes, spiders, small birds and fruits and seeds like prickly pear cactus and sumac. Roadrunners forage on the ground usually running after prey under cover, they may leap to catch insects, and commonly batter certain prey, like snakes, against the ground.

Roadrunners are commonly solitary birds or live in pairs. They are monogamous and a pair may mate for life. Pairs may hold a territory all year. During the courtship display, the male bows, alternately lifting and dropping his wings and spreading his tail. He parades in front of the female with his head high and his tail and wings drooped. It has also been documented that the male may bring an offering of food to the female.

Their nest is often on a platform composed of sticks, leaves, snake skins, or dung. The nest are commonly placed in a low tree, bush, or cactus. Hatching is asynchronous and average a 2-6 egg clutch. Eggs are generally a white color.

They have bi-parental care. Both sexes incubate the nest and feed the hatchlings, but males incubate the nest at night. For the first one to two weeks after the young hatch, one parent always remains at the nest. After the hatchlings are two to three weeks old they leave and never return to the nest. For a few day thereafter, the parents and young forage together.

During the cold desert night the roadrunner lowers its body temperature slightly, going into a slight torpor to conserve energy. To warm itself during the day, the roadrunner exposes dark patches of skin on its back to the sun.

The roadrunner has been called the war bird, the snake eater, and medicine bird by groups of Native Americans. To the Hopi and Pueblo Indian tribes the roadrunner is believed provided protection against evil spirits.

A Warner Brothers cartoon was created about Wile E. Coyote and Road Runner. While not doing much for the coyote, as a result of the cartoon series roadrunners have become a kind of folk hero in the minds of many, fast, feisty and flamboyant in their self-confidence. Watch one run across the road in front of you and you will recognize immediately how well the cartoonists caught the essence of the bird.

The bird's Spanish name is paisano, which means "countryman". The roadrunner's range extends to the chaparral country of South Texas where you'll find many Paisano Creeks, Paisano Canyons and Paisano Arroyos named after them, not to mention at least one community newspaper I can think of, convenience stores, streets, high school football teams and a state bank or two.

The roadrunner is also the mascot of the University of Texas at San Antonio, right down the road from me.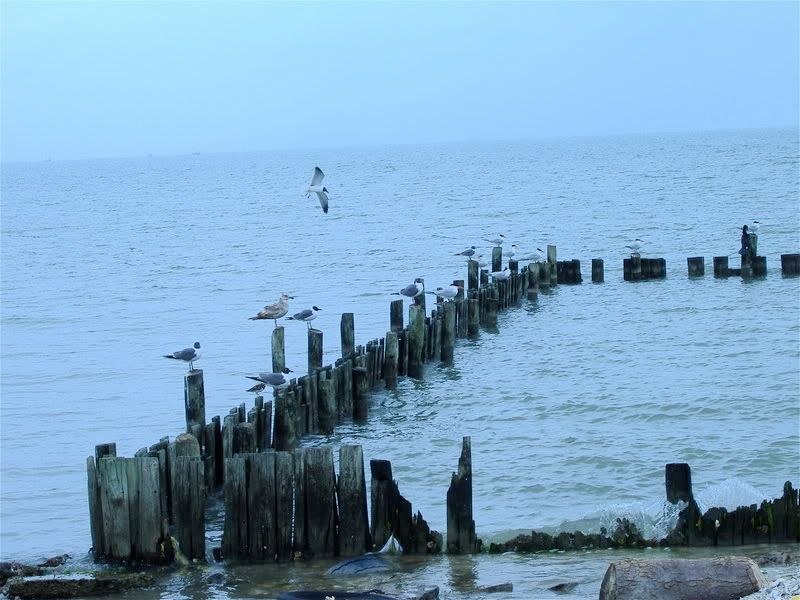 Speaking of birds

I wrote this last year. It was published late in the year in The Hiss Quarterly.


fast times in birdland

I hit a bird this morning

ran right over him
when he flew too low
or too slow

dumbass bird

I drove on

stuck in my cadillac's
checkerboard grill,
beak forward,
feathers
around his black bb eyes
ruffling in the wind,
he dies

thinking
goddamn, look at me go
I'm the fastest bird
in this whole freaking town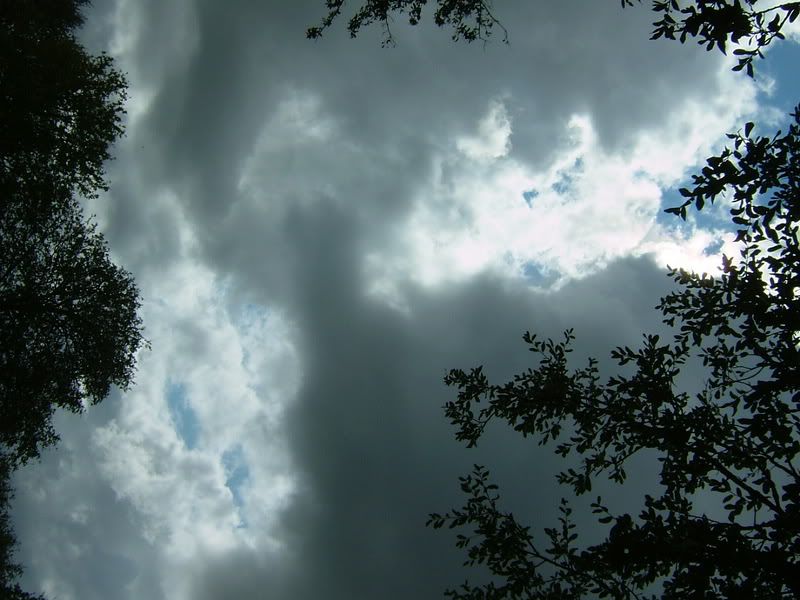 Let the winds blow

May Swenson was born in 1913 and died in 1989. She received a bachelor's degree from Utah State University in 1939 and taught poetry at Bryn Mawr, the University of North Carolina, the University of California at Riverside, Purdue University and Utah State University and was an editor at New Directions publishers from 1959 to 1966.

Her poems appeared in Antaeus, The Atlantic Monthly, Carleton Miscellany, The Nation, The New Yorker, Paris Review, Parnassus and Poetry. She served as a Chancellor of The Academy of American Poets from 1980 to 1989.

May Swenson was the eldest of 10 siblings and spoke Swedish from childhood, until she learned English as a second language.


Weather

I hope they never get a rope on you, weather.
I hope they never put a bit in your mouth.
I hope they never pack your snorts
into an engine or make you wear wheels

I hope the astronauts will always have to wait
till you get off the prairie
because your kick is lethal,
your temper worse than the megaton.

I hope your harsh mane will grow forever
and blow where it will,
that your slick hide will always shiver
and flick down your bright sweat

Reteach us terror, weather,
with your teeth on our ships,
your hoofs on our houses,
your tail swatting our planes down like flies.

Before they make a grenade of our planet
I hope you'll come like a comet,
oh mustang---fire-eyes, upreared belly---
bust the corral and stomp us to death.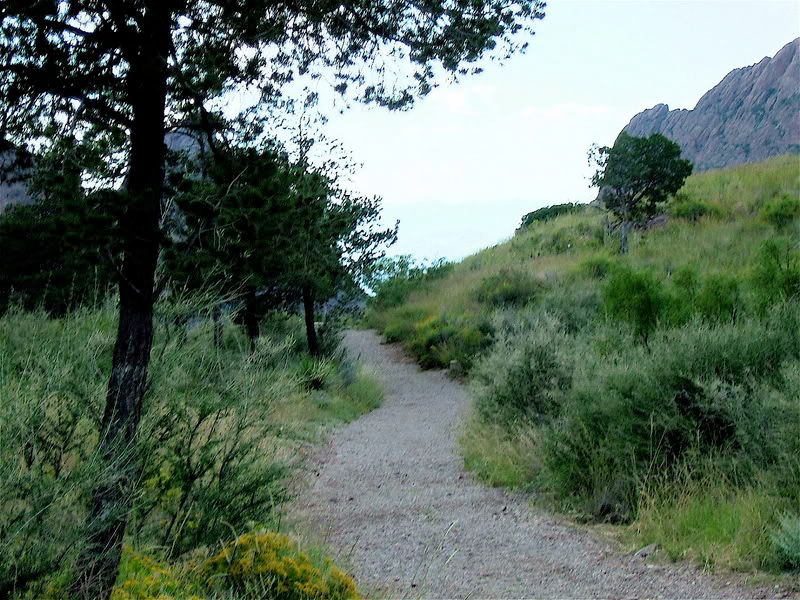 The last lesson from Lu Ji

This seems a kind of wrap, telling us why the lessons were important.


The Power of a Poem

The function of literature is
to express the nature of nature.
It can't be barred as it travels space
and boats across on hundred million years.
Gazing to the fore, I leave models for people to come;
looking aft, I learn from my ancestors.
It can save teetering governments and weak armies;
it gives voice to the dying wind of human virtue.
No matter how far, this road will take you there;
it will express the subtlest point.
It waters the heart like clouds and rain,
and shifts form like a changeable spirit.
Inscribed on metal and stone, it spreads virtue.
Flowing with pipes and strings, each day the poem is new.

(Translated by Tony Barnstone and Chou Ping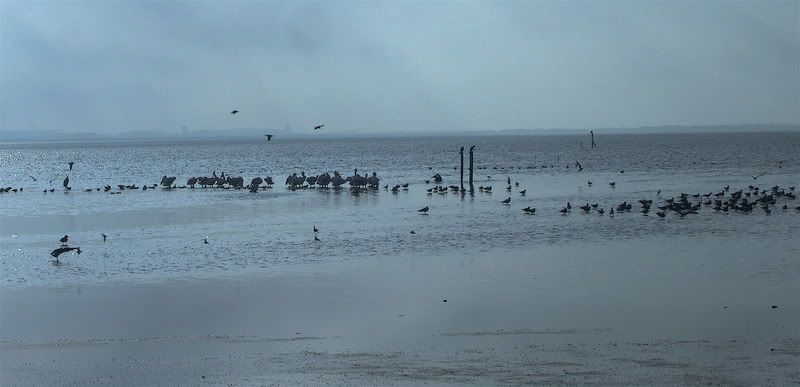 Roxie's back

The second chapter in the Roxie saga from Bobbie Kilzer Gogain.


After Two Years of Marital Bliss

She called him "Biffaroo,"
like he was a wild animal
out of the old west.
It made him feel as if he could
break any filly
with a quick flick
of his muscles.

She started calling at his home,
hoping to wrestle
him away for his family.
He'd call her Miss,
when his wife was near the phone
and called her Missy, my delta babe,
When Roxie was away.

She wasn't smart,
but could arouse his body parts,
long blond hair, that sculptured
her ass in strands as she walked.

Legs, so long, she could reach
cupboard tops
all on her own.

Eyes so blue there was no longer
a need to go to the gulf,
He swam within her gaze.

He had tired of his wife's sharp witted tongue
that would spring upon him
like a serpent
when he least expected it.

She no longer called him honey,
she called him snake.
He in turn called her mongoose

He was tired of the clutter
of paper filling the den.
Her writings were shoving
him out the door

She called them
the scraps of her life.
He called them junk.

She left one day,
taking the baby, the dog
and the sun bleached
papers of her existence,

Leaving Biff with the bills and the cockatoo.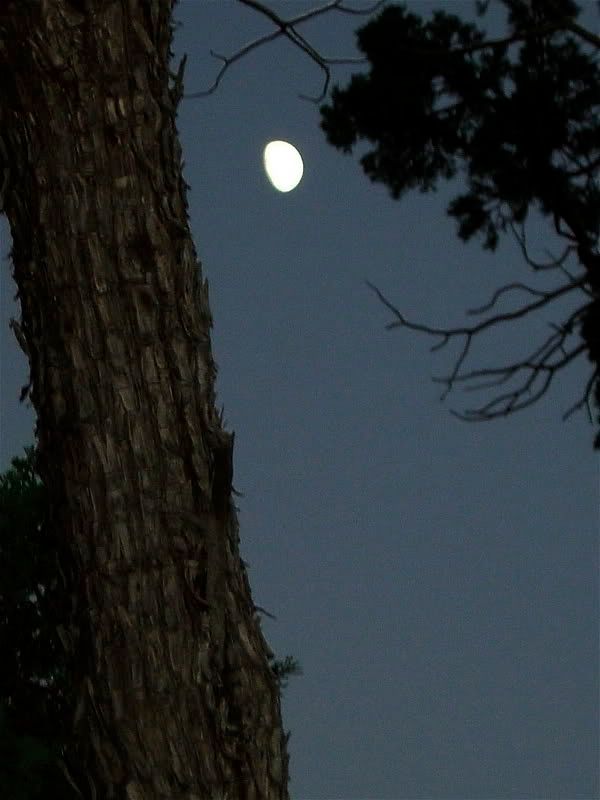 Frank Marshall Davis

Frank Marshall Davis was born in 1905, in Arkansas City, Kansas. At the age of seventeen, he moved to Wichita to attend Friends University and soon thereafter he transferred to the school of journalism at Kansas State Agricultural College. He began to write poems as the result of an assignment in college.

In 1927 Davis moved to Chicago, where he wrote articles and short stories for magazines and newspapers. In 1930, he moved to Atlanta to become an editor of a semiweekly paper. Under Davis' editorship, the Atlanta Daily World became the first successful black daily newspaper in America. He continued to write and publish poems, and his poetic work caught the attention of Frances Norton Manning, a bohemian intellectual, who introduced Davis to Norman Forge. Forge's Black Cat Press brought out Davis' first book, Black Man's Verse, in the summer of 1935. It was a critical success, bringing together Davis's interest in jazz and free verse with a condemnation of racial oppression.

Between 1935 and 1947, Davis was Executive Editor for the Associated Negro Press in Chicago. He also started a photography club, worked for numerous political parties, and participated in the League of American Writers. With the encouragement of authors such as Richard Wright and Margaret Walker, Davis completed what many consider to be his finest collection, 47th Street, which was published in 1948 and chronicles the varied life on Chicago's South Side. Whereas his earlier work focused exclusively on black life, this book presents a "rainbow race" of people, united more by class than color.

In 1948, Davis' vacation to Honolulu, Hawaii, turned into a permanent residence. He stayed on to raise five children, operate a small wholesale paper business, and write a weekly column for the Honolulu Record. Although his work fell slightly out of favor, it was rediscovered during the Black Arts Movement in the 1960's, and in 1978 he published his final volume, Awakening, and Other Poems.

Davis died in 1987. Black Moods: Collected Poems and Livin' the Blues: Memories of a Black Journalist and Poet were published posthumously.


Four Glimpses of Night

I

Eagerly
Like a woman hurrying to her lover
Night comes to the room of the world
And lies, yielding and content
Against the cool round face
Of the moon.

II

Night is a curious child, wandering
Between earth and sky, creeping
In windows and doors, daubing
The entire neighborhood
With purple paint .
Day
Is an apologetic mother
Cloth in hand
Following after.

III

Peddling
From door to door
Night sells
Black bags of peppermint stars
Heaping cones of vanilla moon
Until
His wares are gone
Then shuffles homeward
Jingling the gray coins
Of daybreak.

IV

Night;s brittle song, silver-thin,
Shatters into a billion fragments
Of quiet shadows
At the blaring jazz
Of a morning sun.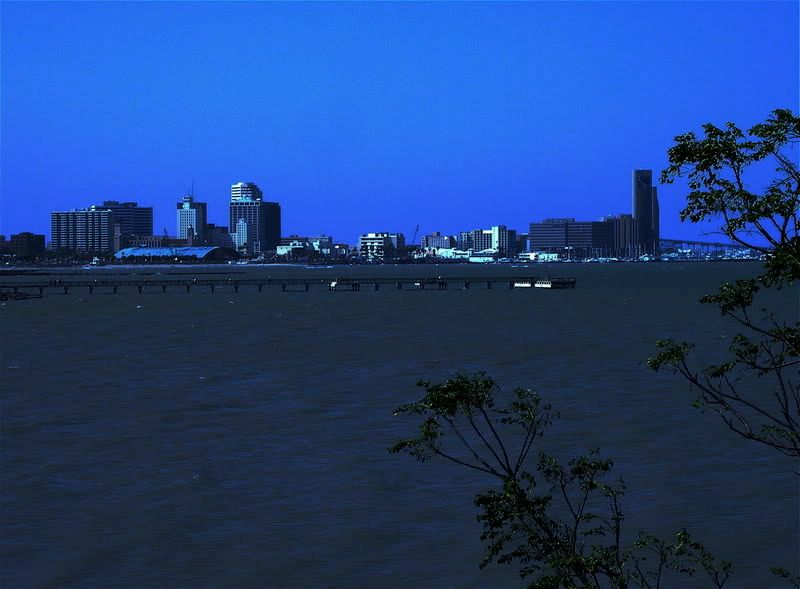 Another moon poem

Foolhardy as it might be to follow a master, here's one of my moon poems, this one from Seven Beats a Second


the moon rising

ripples of wind
ruffle bay waters
like a lover's hand
smoothing soft tangles
in her beloved's hair

gentle winds

quiet waters

bright stars warm
in the cool
autumn dark

the moon
rising,
empress
of the night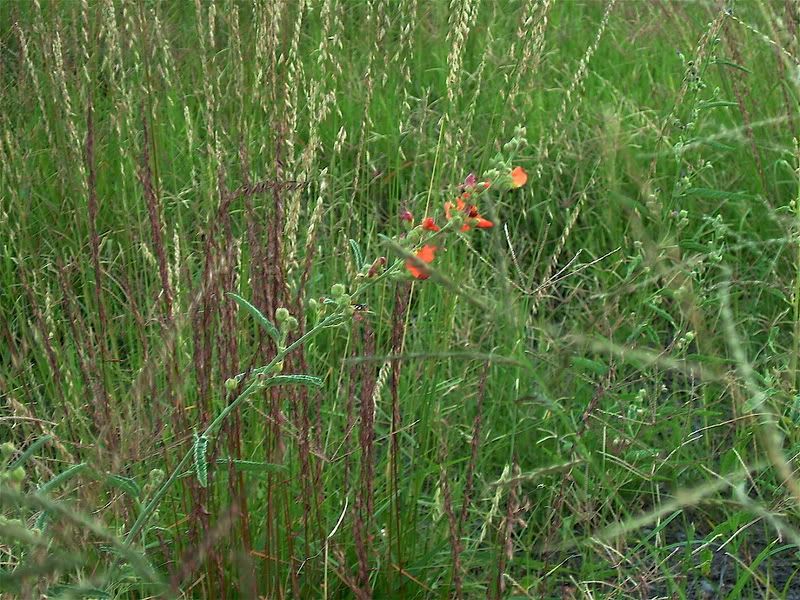 Anonymous Irish Gaelic poetry from the early 9th century

I had to look this up, so for those who share my ignorance of the word in this context, "glosses" are like liner notes scribes included on the margins of sacred text, bursts of creativity amid the drudgery of transcription, sometimes relevant and sometimes not.

Monastic Poems, Four Glosses

1
A wall of woodland overlooks me.
A blackbird sings me a song (no lie!).
Above my book, with its lines laid out;
the birds in their music sing to me.

The cuckoo sings clear in lovely voice
in his gray cloak from a bushy fort.
I swear it now, but God is good!
It is lovely writing out in the wood.

2
How lovely is today!
The sunlight breaks and flickers
on the margin of my book

3
A bird is calling from the willow
with lovely beak, a clean call.
Sweet yellow tip; he is black and strong.
It is doing a dance, the blackbird's song

4
The little bird
let out a whistle
from his beak tip
bright yellow.
He sends the note
across Loch Laig
- a blackbird, a branch
a mass of yellow

(Translated by Thomas Kinsella)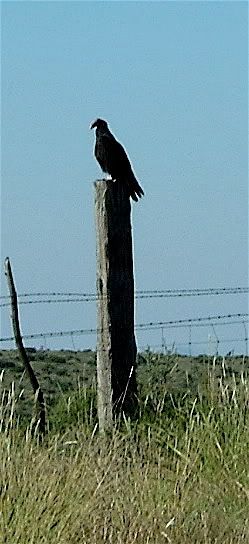 Adam Zagajewski

Poet, novelist, essayist Adam Zagajewski was born in Lwow in 1945. He spent his childhood in Silesia and then in Cracow, where he graduated from Jagiellonian University. Zagajewski first became well known as one of the leading poets of the Generation of '68' or the Polish New Wave (Nowa fala) and is one of Poland's most famous contemporary poets. Among his collections are Pragnienie, Ziemia ognista, Jechac do Lwowa, Sklepy miesne, and Komunikat. His books of poetry in English include Mysticism for Beginners, translated by Clare Cavanaugh, Tremor, translated by Renata Gorczynski, Canvas, translated, again, by Renata Gorczynski, along with B. Ivry, and C. K. Williams. He is also the author of a memoir, Another Beauty, translated by Clare Cavanagh and the prose collections, Two Cities and Solitude and Solidarity, both translated by Lillian Vallee. His poems and essays have been translated into many languages. Among his honors and awards are a fellowship from the Berliner Kunstlerprogramm, the Kurt Tucholsky Prize, a Prix de la Liberte, and a Guggenheim Fellowship. Since 1988, he has served as Visiting Associate Professor of English in the Creative Writing Program at the University of Houston. He is currently coeditor of Zeszyty literackie (Literary Review), which is published in Paris. Adam Zagajewski lives in Paris and Houston.


Long Afternoons

These were the long afternoons when poetry left me.
The river flowed patiently, nudging lazy boats to sea.
Long afternoons, the coast of ivory.
Shadows lounged in the streets, haughty mannequins in
storefronts
stared at me with bold and hostile eyes.

Professors left their schools with vacant faces,
as if the Iliad had finally done them in.
Evening papers brought disturbing news,
but nothing happened, no one hurried.
There was no one in the windows, you weren't there:
even nuns seemed ashamed of their lives.

Those were the long afternoons when poetry vanished
and I was left with the city's opaque demon,
like a poor traveler stranded outside the Gare du Nord
with his bulging suitcase wrapped in twine
and September's black rain falling.

Oh, tell me how to cure myself of irony, the gaze
that sees but doesn't penetrate; tell me how to cure myself
of silence.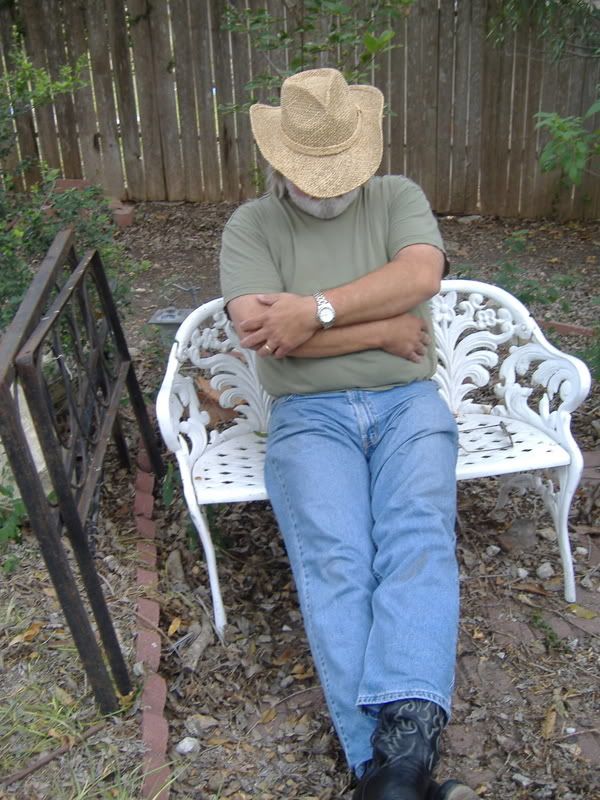 My take on writer's block

The ultimate act of desperation of a writer facing a writer's block is to write about the block as if it mattered to anyone but the writer. Despite that, we all do it because, for most of us, it is always on our mind.

In my experience with such a block, it is like there's a blank white wall in front of me that I can neither see through or around. I find that if I can get written on that wall the first line of a poem, or even just the first two or three words of the first line, I can break through the wall while the rest of the poem almost writes itself.

This poem is about looking for those first words that will bust the process loose. It was written six or seven years ago and was published in The Green Tricycle in 2001.


three little words

usually,
that's all it takes,
three little words, and I'm off,
like a racehorse, bolting from the gates,
heading for the homestretch

sometimes,
I'm like Lucy and Ethel
boxing candy at the factory,
with three little words and three little words
and three little words and three little words
coming faster and faster
and I can't keep up and half are lost
forever

other time,
like a cat lying in high grass,
I wait, maybe for days,
for the three little words,
then, in a flash, I have them,
and the cat leaps
and in a flurry of feathers,
the job is done

lately,
finding the three little words
that will get me started
is like digging in beach sand
at high tide, fighting the surf
to find the treasures buried below
the noisy tides of distraction
that engulf me,
the minutia of my everyday life

like today,
trying to set all aside,
working hard for those
three little words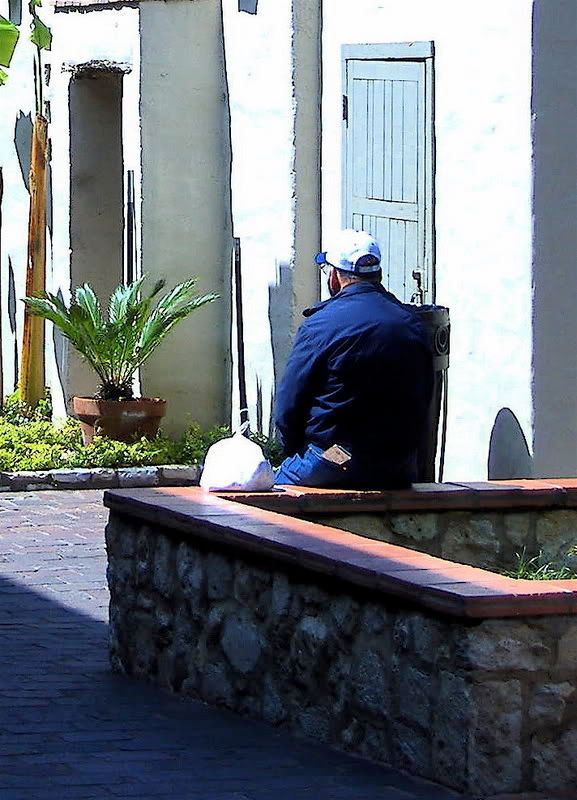 Claire Collett

This poem, by Claire Collett, is from the book The Jazz Poetry Anthology. The following, from contributor bios in the back of the book, is the entirety of what I can find out about Claire Collett.

She was born in Bradford, England, but brought up in South Wales.

So, Claire Collett, wherever you are, I really do like your poem.


Midsummer

Dad would turn up the stereo
sit on the back steps
to smoke and drink gin.
He'd play
Jack Teagarden and Lady Day -
talking to himself
as if my mother was still
there to disagree.
Unnoticed, I'd balance
on a thin window ledge,
watch the one constant
light on Fairwood common.
I'd listen to my father
argue himself silent
then pour another drink
Billie's voice rising
cool, bitter as magnolia,
thick in the gathering dark.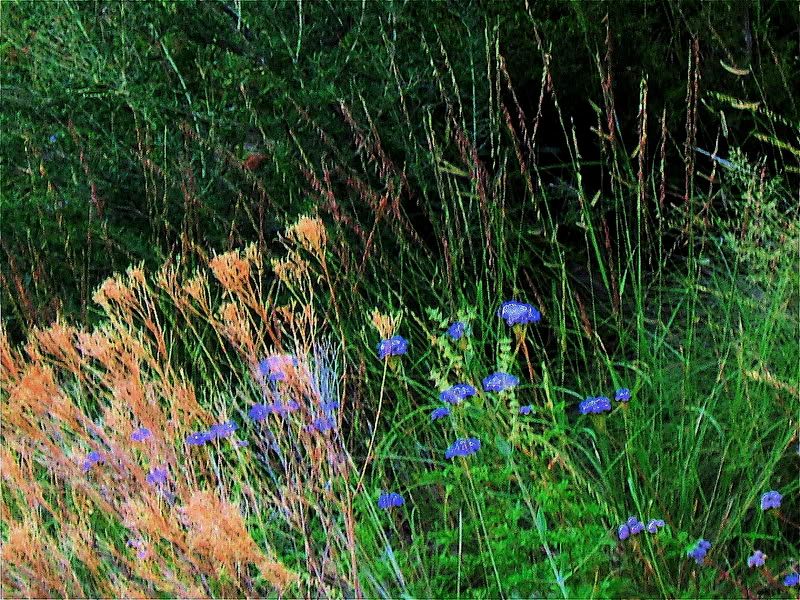 A "found" poem from the journals of Leonardo Da Vinci


light
is the chaser away
of darkness

look at light
and consider
its beauty

blink your eye
and look again

what you see
was not there
at first
and what was there
is no more

I found this terrific little book this morning, Leonardo Da Vinci In His Own Words at one of the stores of a Texas supermarket chain that has gone into the book business, along with groceries, school supplies, toothpaste and BBQ pits. They have both new hard and soft covers, as well as tables full of remainders at two to four dollars each.

The book was prepared by William Wray who I also can't find much about, except that he's probably not the painter and cartoonist who was involved with Ren and Stimpy.

The book is a collection of quotations from Da Vinci's journals, with illustrations and connecting material from Wray. Topic headings include painter and painting, the seeing eye, botany for painters, perspective, reason and observation, intimate knowledge, the four elements, the sun, inventions, flight, harmony, love, symbolism, reflections on life and others.

Maybe I'm just unusually receptive tonight, but I've been told of Da Vinci's greatness all my life and this thin little volume helped me get my head around that greatness in ways that have never connected with me before.

I suppose artists study this stuff in art school, but I'm not an artist and I didn't, so the intricacies of method and seeing he describes fascinated me.

Here's another found poem from his journals.

the air
moves like a river
and carries clouds with it,
just like running water
carries all things
that float upon it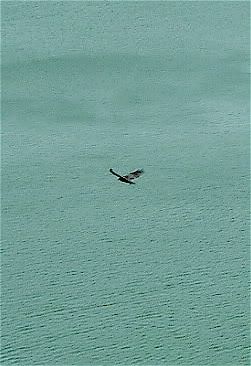 Langston Hughes
Dream Dust

Gather out of star-dust
Earth-dust,
Cloud-dust,
Storm-dust,
And splinters of hail,
One handful of dream-dust
not for sale.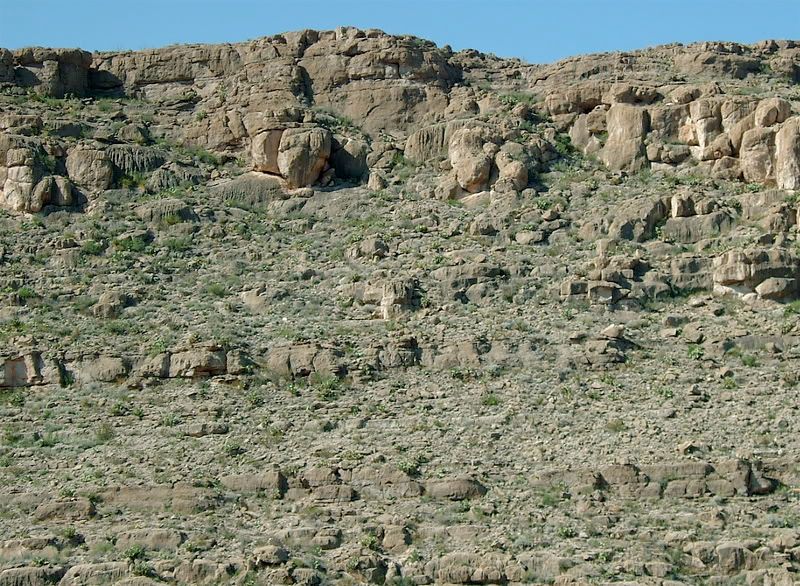 A matter of equal time

Peter Blue Cloud was born in 1933 into the Kanawake Mohawk Nation, on the south side of the St. Lawrence River in Quebec. He has worked as a steelworker, carpenter, brush clearer, logger and editor of Akwesasne Notes and Indian Magazine. His books include Alcatraz Is Not An Island, Bear and Wolf, Back Then Tomorrow, With Crows, The Other Side of Nowhere and Clans of Many Nations: Selected Poems. Back Then Tomorrow won the American Book Award in 1981.

Given the space Roadrunner received, it is only fair for Coyote to have his say, too, by way of this story by Peter Blue Cloud.

Coyote makes the First People

Coyote stopped to drink at a big lake and saw his reflection. "Now there's a really good-looking coyote," he said, leaning farther over.

And of course he fell in. And of course you will think this is an take-off on an old theme.

But what happened was, he drunk the whole lake to keep from drowning. And because he didn't really like the taste of certain fish, he spat them out. And because he felt sorry when he saw them flopping around, he sang a song to give them legs.

"Maybe they'll become the first people," Coyote mused aloud.

"Oh, no you don't," said the headman of that tribe of fish. "if it's all the same with you, could you just put us back where we were? And could you please take away these stupid legs?"

So Coyote regurgitated the lake and put everything back the way it was.

Again he saw his reflection and said, "Okay, you're pretty good-looking, but are your smart? I've been trying to make the first people for a long time now, but nothing wants to be people. So, what do I do, huh, can you tell me?"

His reflection studied him for a long time, then it squatted and dropped a big turd.

"Okay," said Coyote, "I guess that's as good an answer as any."

Then he himself squatted, and began to fashion the first people.



Music at Casa Chiapas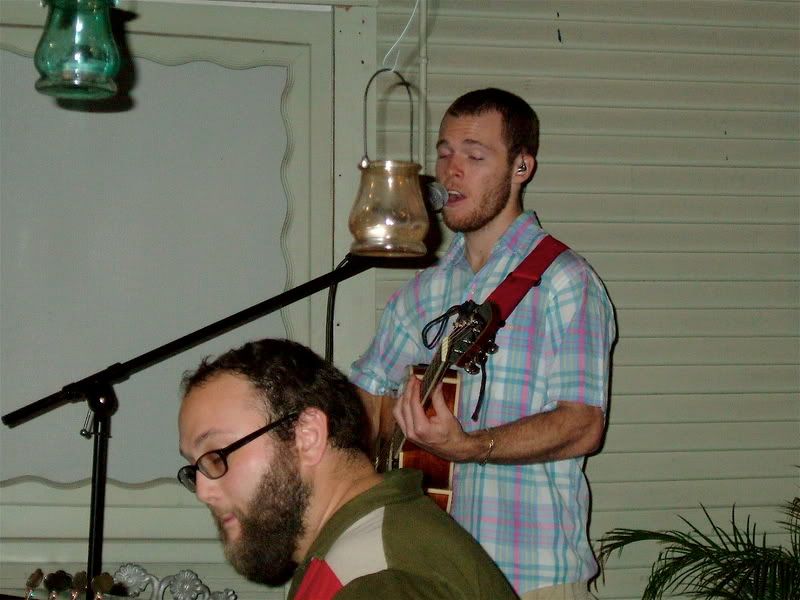 Singer/songwriter Andre Lamar and bassist Chris Itz play the front porch of Casa Chiapas on a damp San Antonio evening last weekend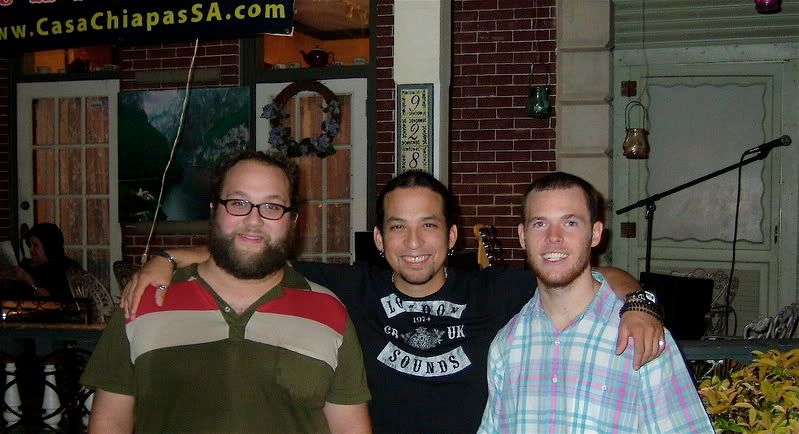 Casa Chiapas Impressario Eddie Martinez greets Chris and Andre between sets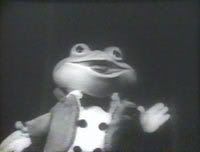 Froggy update

Everything you might want to know or remember about Andy's Place with Andy Devine and Froggy of "Plunk your magic twanger" fame is here.



http://www.tvparty.com/lostandy.html



God, I love the internet.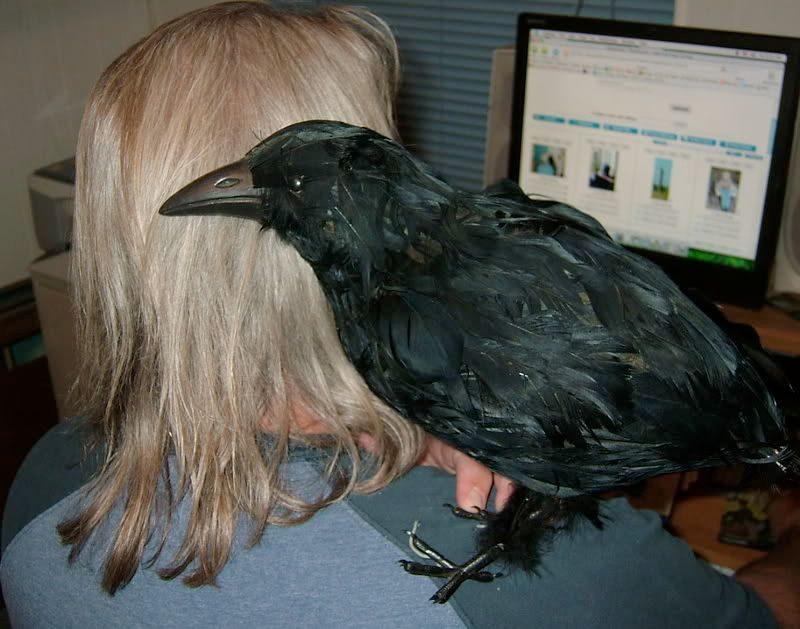 Until next week, time to go. Have this tap, tap, tapping thing I have to look into.