BOOGA BOOGA!!!
Monday, October 30, 2006



Halloween's in the air, or does that smell have to do with all the sweaty little kids at my front door.

Remember, it's cute.

Or, you could just turn out the porch light.

Welcome to "Here and Now" number I.xx.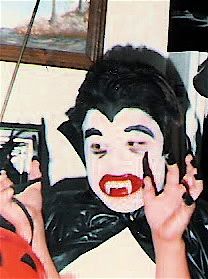 for Darren McGavin


I wrote this piece when Darren McGavin died. It was never published.


an evening with Mr. Kolchak

soft shadows

a window,
half open
to curtains
stirring
in steamy
summer breeze

inside, secrets,
hidden things
waiting for the dark
when clouds cover
moonlight

and pale shadows
turn thick
and haunting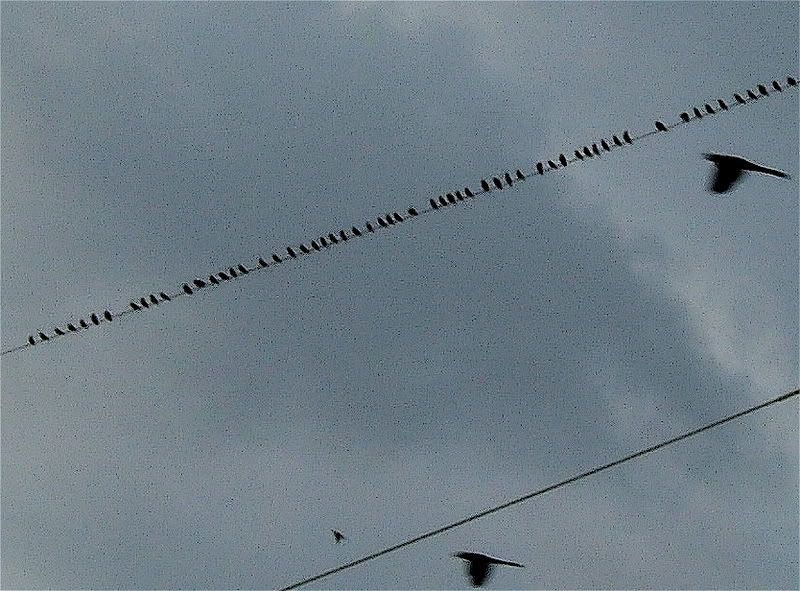 Cordelia Candelaria

A New Mexico native, Cordelia Candelaria is a scholar, teacher critic, and author who has been a leading advocate and mentor for Chicana literature. Her publications include a collection of poetry, Ojo de la Cueva/Cave Springs published by Maize Press in 1984 and two critical books published by Greenwood Press, Chicano Poetry, A Critical Introduction and Seeking the Perfect Game: Baseball in American Literature. She is presently chair of the department of Chicana and Chicano studies at Arizona State University.

I enjoyed this poem from the book From Totem to Hip-Hop, edited by Ishmael Reed.


Killers

The paper's merciless in reminding us
who shares the planet with our averageness.
They frighten and fascinate.
We have to read their stories.
We have to keep them in front of us
assaulting someone else, tearing her lingerie
to newsprint shreds, shooting his left ventricle
precisely. You wonder what they do. How
they live their lives. Up early? Late?
Flowered sheets? Jam on their toast?
When it rains like tonight, heavy and cold
do they sit cozy somewhere
reading poems or writing them or plotting how
to kill you couplets of murder, cups of rum
in front of a snug fire somewhere
warming toes, making small talk, marking time.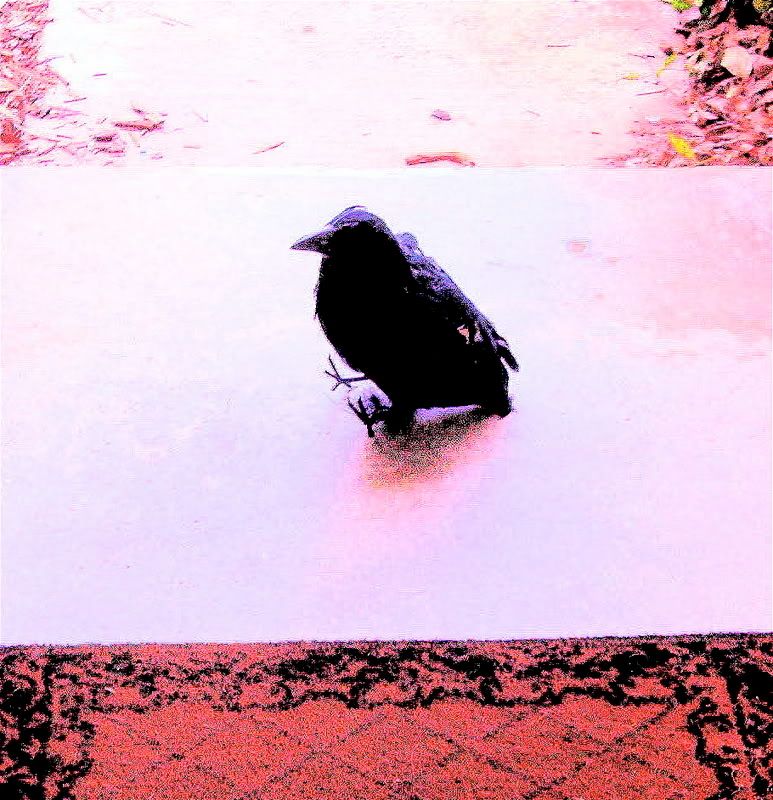 Pretend you're fourteen again, only not as bored by poetry as you were then.


Everyone who attended school in the Unites States read this poem once, usually when they were about fourteen years old. Few ever read it again. So here it is, a gift, the day before Halloween.


The Raven

Once upon a midnight dreary, while I pondered weak and weary,
Over many a quaint and curious volume of forgotten lore,
While I nodded, nearly napping, suddenly there came a tapping,
As of some one gently rapping, rapping at my chamber door.
"Tis some visitor," I muttered, "tapping at my chamber door -
Only this, and nothing more."

Ah, distinctly I remember it was in the bleak December,
And each separate dying ember wrought its ghost upon the floor.
Eagerly I wished the morrow; - vainly I had sought to borrow
From my books surcease of sorrow - sorrow for the lost Lenore -
For the rare and radiant maiden whom the angels named Lenore -
Nameless here for evermore.

And the silken sad uncertain rustling of each purple curtain
Thrilled me - filled me with fantastic terrors never felt before;
So that now, to still the beating of my heart, I stood repeating
"Tis some visitor entreating entrance at my chamber door -
Some late visitor entreating entrance at my chamber door; -
This it is, and nothing more."

Presently my soul grew stronger; hesitating then no longer,
"Sir," said I, "or Madam, truly your forgiveness I implore;
But the fact is I was napping, and so gently you came rapping,
And so faintly you came tapping, tapping at my chamber door,
That I scarce was sure I heard you" - here I opened wide the door; -
Darkness there, and nothing more.

Deep into that darkness peering, long I stood there wondering, fearing,
Doubting, dreaming dreams no mortal ever dared to dream before
But the silence was unbroken, and the darkness gave no token,
And the only word there spoken was the whispered word, "Lenore!"
This I whispered, and an echo murmured back the word, "Lenore!"
Merely this and nothing more.

Back into the chamber turning, all my soul within me burning,
Soon again I heard a tapping somewhat louder than before.
"Surely," said I, "surely that is something at my window lattice;
Let me see then, what thereat is, and this mystery explore -
Let my heart be still a moment and this mystery explore; -
'Tis the wind and nothing more!"

Open here I flung the shutter, when, with many a flirt and flutter,
In there stepped a stately raven of the saintly days of yore.
Not the least obeisance made he; not a minute stopped or stayed he;
But, with mien of lord or lady, perched above my chamber door -
Perched upon a bust of Pallas just above my chamber door -
Perched, and sat, and nothing more.

Then this ebony bird beguiling my sad fancy into smiling,
By the grave and stern decorum of the countenance it wore,
"Though thy crest be shorn and shaven, thou," I said, "art sure no craven.
Ghastly grim and ancient raven wandering from the nightly shore -
Tell me what thy lordly name is on the Night's Plutonian shore!"
Quote the raven, "Nevermore."

Much I marveled this ungainly fowl to hear discourse so plainly,
Though its answer little meaning - little relevancy bore;
For we cannot help agreeing that no living human being
Ever yet was blessed with seeing bird above his chamber door -
Bird or beast above the sculptured bust above his chamber door,
With such name as "Nevermore."

But the raven, sitting lonely on the placid bust, spoke only,
That one word, as if his soul in that one word he did outpour.
Nothing further then he uttered - not a feather then he fluttered -
Till I scarcely more than muttered "Other friends have flown before -
On the morrow will he leave me, as my hopes have flown before."
Then the bird said, "Nevermore."

Startled at the stillness broken by reply so aptly spoken,
"Doubtless," said I, "what it utters is its only stock and store,
Caught from some unhappy master whom unmerciful disaster
Followed fast and followed faster till his songs one burden bore -
Till the dirges of his hope that melancholy burden bore
Of 'Never-nevermore.'"

But the raven still beguiling all my sad soul into smiling,
Straight I wheeled a cushioned seat in front of bird and bust and door;
Then, upon the velvet sinking, I betook myself to linking
Fancy unto fancy, thinking what this ominous bird of yore -
What this grim, ungainly, gaunt, and ominous bird of yore
Meant in croaking "Nevermore."

This I sat engaged in guessing, but no syllable expressing
To the fowl whose fiery eyes now burned into my bosom's core;
This and more I sat divining, with my head at ease reclining
On the cushion's velvet lining that the lamp-light gloated o'er,
But whose velvet violet lining with the lamp-light gloating o'er,
She shall press, ah, nevermore!

Then, methought, the air grew denser, perfumed from an unseen censer
Swung by Seraphim whose foot-falls tinkled on the tufted floor.
"Wretch," I cried, "thy God hath lent thee - by these angels he has sent thee
Respite - respite and nepenthe from thy memories of Lenore!
Quaff, oh quaff this kind nepenthe, and forget this lost Lenore!"
Quote the raven, "Nevermore."

"Prophet!" said I, "thing of evil! - prophet still, if bird or devil! -
Whether tempter sent, or whether tempest tossed thee here ashore,
Desolate yet all undaunted, on this desert land enchanted -
On this home by horror haunted - tell me truly, I implore -
Is there - is there balm in Gilead? - tell me - tell me, I implore!"
Quote the raven, "Nevermore."

"Prophet!" said I, "thing of evil! - prophet still, if bird or devil!
By that Heaven that bends above us - by that God we both adore -
Tell this soul with sorrow laden if, within the distant Aidenn,
It shall clasp a sainted maiden whom the angels named Lenore -
Clasp a rare and radiant maiden, whom the angels named Lenore?"
Quote the raven, "Nevermore."

"Be that word our sign of parting, bird or fiend!" I shrieked upstarting -
"Get thee back into the tempest and the Night's Plutonian shore!
Leave no black plume as a token of that lie thy soul hath spoken!
Leave my loneliness unbroken! - quit the bust above my door!
Take thy beak from out my heart, and take thy form from off my door!"
Quote the raven, "Nevermore."

And the raven, never flitting, still is sitting, still is sitting
On the pallid bust of Pallas just above my chamber door;
And his eyes have all the seeming of a demon's that is dreaming,
And the lamp-light o'er him streaming throws his shadow on the floor;
And my soul from out that shadow that lies floating on the floor
Shall be lifted - nevermore!




On obsession, from Seven Beats a Second
the rules of silence

cold and silent as a winter night,
a glance, sharp
like the crack of breaking ice

sorry I'm late, I say

shhh, she says
I'm listening

to what? I ask,
I don't hear anything

I wouldn't think you would
she says, I wouldn't think so

and she turns her face
to the table, to the cold perfection
of the little squares she draws,
little squares, stacked atop
little squares, pages and pages
of little squares on little squares

I think of the warm summer night,
the summer sounds of children,
laughing, playing in the deepening dark,
laughing, playing in the summer night

shhh, she says, I'm listening

and I listen with her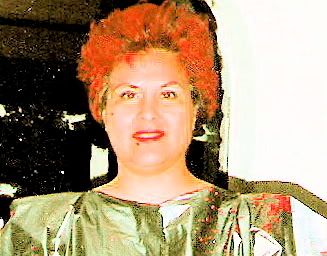 A recipe Rachael Ray hasn't tried yet (but she will, as soon as she can knock a few minutes off prep time)
WITCH 1 .
Thrice the brinded cat hath mew'd.

WITCH 2.
Thrice and once, the hedge-pig whin'd.

WITCH 3.
Harpier cries:'tis time! 'tis time!

WITCH 1.
Round about the caldron go;
In the poison'd entrails throw.
Toad, that under cold stone,
Days and nights has thirty-one;
Swelter'd venom sleeping got,
Boil thou first in the charmed pot!

ALL.
Double, double toil and trouble;
Fire burn, and caldron bubble.

WITCH 2.
Fillet of a fenny snake,
In the caldron boil and bake;
Eye of newt, and toe of frog,
Wool of bat, and tongue of dog,
Adder's fork, and blind-worm's sting,
Lizard's leg, and owlet's wing,
For a charm of powerful trouble,
Like a hell-broth boil and bubble.

ALL.
Double, double toil and trouble;
Fire burn, and caldron bubble.

WITCH 3.
Scale of dragon; tooth of wolf;
Witches' mummy; maw and gulf
Of the ravin'd salt-sea shark;
Root of hemlock digg'd in the dark;
Liver of blaspheming Jew;
Gall of goat, and slips of yew
Sliver'd in the moon's eclipse;
Nose of Turk, and Tartar's lips;
Finger of birth-strangled babe
Ditch-deliver'd by a drab,
Make the gruel thick and slab:
Add thereto a tiger's chaudron,
For the ingredients of our caldron.

ALL.
Double, double toil and trouble;
Fire burn, and caldron bubble.

WITCH 2.
Cool it with a baboon's blood,
Then the charm is firm and good.



Stephen King, eat your heart out


From the Book of Revelations, Chapter 8, Verse 1 to Chapter 9, Verse 12.




When he opened the seventh seal, there was silence in heaven for about half an hour.

I saw the seven angels who stand before God, and seven trumpets were given to them.

Another angel came and stood over the altar, having a golden censer. Much incense was given to him, that he should add it to the prayers of all the saints on the golden altar which was before the throne.

The smoke of the incense, with the prayers of the saints, went up before God out of the angel's hand.

The angel took the censer, and he filled it with the fire of the altar, and threw it on the earth. There followed thunders, sounds, lightnings, and an earthquake.

The seven angels who had the seven trumpets prepared themselves to sound.

The first sounded, and there followed hail and fire, mixed with blood, and they were thrown to the earth. One third of the earth was burnt up, and one third of the trees were burnt up, and all green grass was burnt up.

The second angel sounded, and something like a great burning mountain was thrown into the sea. One third of the sea became blood,

and one third of the living creatures which were in the sea died. One third of the ships were destroyed.

The third angel sounded, and a great star fell from the sky, burning like a torch, and it fell on one third of the rivers, and on the springs of the waters.

The name of the star is called "Wormwood." One third of the waters became wormwood. Many people died from the waters, because they were made bitter.

The fourth angel sounded, and one third of the sun was struck, and one third of the moon, and one third of the stars; so that one third of them would be darkened, and the day wouldn't shine for one third of it, and the night in the same way.

I saw, and I heard an eagle, flying in mid heaven, saying with a loud voice, "Woe! Woe! Woe for those who dwell on the earth, because of the other voices of the trumpets of the three angels, who are yet to sound!"

The fifth angel sounded, and I saw a star from the sky which had fallen to the earth. The key to the pit of the abyss was given to him.

He opened the pit of the abyss, and smoke went up out of the pit, like the smoke from a burning furnace. The sun and the air were darkened because of the smoke from the pit.

Then out of the smoke came forth locusts on the earth, and power was given to them, as the scorpions of the earth have power.

They were told that they should not hurt the grass of the earth, neither any green thing, neither any tree, but only those people who don't have God's seal on their foreheads.

They were given power not to kill them, but to torment them for five months. Their torment was like the torment of a scorpion, when it strikes a person.

In those days people will seek death, and will in no way find it. They will desire to die, and death will flee from them.

The shapes of the locusts were like horses prepared for war. On their heads were something like golden crowns, and their faces were like people's faces.

They had hair like women's hair, and their teeth were like those of lions.

They had breastplates, like breastplates of iron. The sound of their wings was like the sound of chariots, or of many horses rushing to war.

They have tails like those of scorpions, and stings. In their tails they have power to harm men for five months.

They have over them as king the angel of the abyss. His name in Hebrew is "Abaddon," but in Greek, he has the name "Apollyon."

The first woe is past. Behold, there are still two woes coming after this.





Jeez, that'd take the glow off a day.


Here's joke to make up for it. I was looking for a Halloween joke, which this is not, but rigidity in old age is a sign of decline so I'm using it anyway.


Bush Plans WW III

A guy walks in and asks the bartender, "Isn't that Bush and Powell sitting over there?" The bartender says, "Yep, that's them." So the guy walks over and says, "Wow, this is a real honor. What are you guys doing in here?"

Bush says, "We're planning WW III." And the guy says, "Really? What's going to happen?"

Bush says, "Well, we're going to kill 140 million Iraqis this time and one bicycle repairman."

The guy exclaimed, "A bicycle repairman!!! Why kill a bicycle repairman?"

Bush turns to Powell, punches him on the shoulder and says, "See, dummy! I told you no one would worry about the 140 million Iraqis!"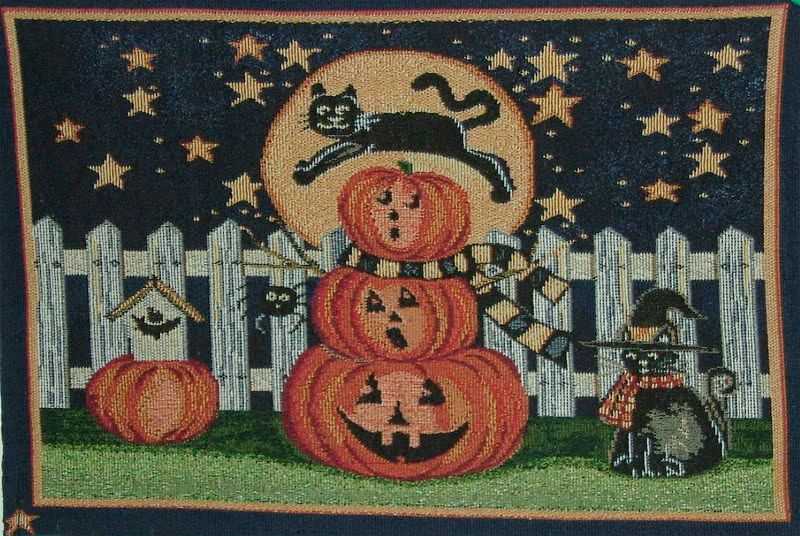 It was a graveyard smash


Some of us were around and listening to pop radio in 1962, so we heard this when it was new. But that doesn't matter. If you've listened to commercial radio on any Halloween in the 44 years since, you've heard it too.

The big surprise for me is that the performer is not Boris Karloff, but Bobbie "Boris" Pickett who was also the writer of the piece.




The Monster Mash

I was working in the lab late one night
When my eyes beheld an eerie sight
For my monster from his slab began to rise
And suddenly to my surprise

He did the mash
He did the monster mash
The monster mash
It was a graveyard smash
He did the mash
It caught on in a flash
He did the mash
He did the monster mash

From my laboratory in the castle east
To the master bedroom where the vampires feast
The ghouls came from their humble abodes
To get a jolt from my electrodes

They did the mash
They did the monster mash
The monster mash
It was a graveyard smash
They did the mash
It caught on in a flash
They did the mash
They did the monster mash

The zombies were having fun
They party had just begun
The guests included Wolf Man
Dracula and his son

The scene was rocking, all were digging the sounds
Igor on chains, backed by his baying hounds
The coffin-bangers were about to arrive
With their vocal group "The Crypt-Kicker Five"

They played the mash
They played the monster mash
The monster mash
It was a graveyard smash
They played the mash
It caught on in a flash
They played the mash
They played the monster mash

Out from his coffin Drac's voice did ring
Seems he's troubled by just one thing
He opened the lid and shook his fist
And said "Whatever happened to the Transylvania Twist?"

It's now the mash
It's now the monster mash
The monster mash
It was a graveyard smash
He did the mash
It caught on in a flash
It's now the mash
It's now the monster mash

Now everything's cool, Drac's a part of the band
And my monster mash is the hit of the land
For you, the living, this mash was meant too
When you get to the door, tell them Boris sent you

Then you can mash
Then you can monster mash
The monster mash
And do my graveyard smash
Then you can mash
You'll catch on in a flash
Then you can mash
Then you can monster mash









From Seven Beats a Second


Another form of obsession.


buggin' out

I can hear them
walking in my head

shushhh
shushhh

like they're wearing
little velvet slippers
on their little buggy feet

shushhh
shushhhhhhh

I can hear them
sneaking
through my brain

shushhh
shushhh

on little buggy
tippietoes...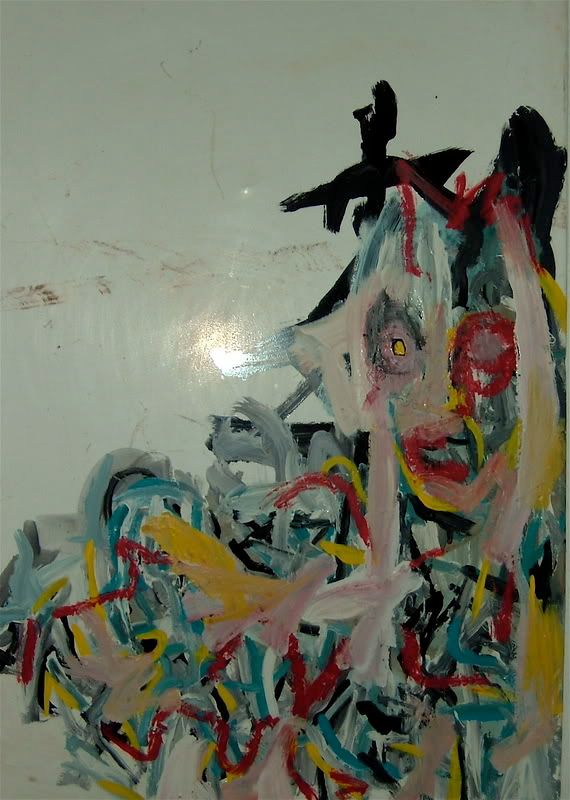 "untitled" by Vincent Martinez (enamel on washing machine scrap)




An anonymous Akkadian poem from about 2000 B.C.


There are several reasons for taking the year 2350 as a turning point in the history of Mesopotamia. For the first time, an empire arose on Mesopotamian soil. The driving force of that empire was the Akkadians, named after the city of Akkad, which Sargon (the Akkadian's first King, who ruled for 56 years) chose for his capital. The name Akkad became synonymous with a population group that stood side by side with the Sumerians. Southern Mesopotamia became known as the "land of Sumer and Akkad"; Akkadian became the name of a language, while its arts rose to new heights. However, even this turning point was not the first time the Akkadians had emerged in history. Semites [whether Akkadians or a Semitic language group that had settled before them] may have had a part in the urbanization that took place at the end of the 4th millennium. The earliest Akkadian names and words occur in written sources of the 27th century. In Mari the Akkadian language was probably written from the very beginning. The founders of the dynasty of Akkad were presumably members of a people who had been familiar for centuries with Mesopotamian culture in all its forms.

Mesopotamian mythology is the collective name given to Sumerian, Akkadian, Assyrian, and Babylonian mythologies from the land between the Tigris and Euphrates rivers in modern Iraq, Syria and Turkey.

The Sumerians practiced a polytheistic religion, with anthropomorphic gods or goddesses representing forces or presences in the world, much as in the later Greek mythology. The gods originally created humans as servants for themselves but freed them when they became too much to handle.

Many stories in Sumerian religion appear homologous to stories in other middle-eastern religions. For example, the Biblical account of the creation of man as well as Noah's flood narrative resemble the Sumerian tales very closely though fragments of the Sumerian myths were written many centuries earlier than the Tanakh (Old Testament) and the Bible. Gods and goddesses from Sumer have distinctly similar representations in the religions of the Akkadians, Caananites, and others. A number of related stories and deities have Greek parallels as well.

So far as I can determine from what I've read, the "Seven" spoken of in the poem refers to the seven judges of hell.

Over millennia after millennia, it seems that human kind must constantly invent new gods, each bloodier and even more vicious than the ones that came before.


The Seven

They are 7 in number, just 7
In the terrible depths they are 7
Bow down, in the sky they are 7

In the terrible depths, the dark houses
They swell, they grow tall
They are neither female nor male
they are a silence heavy with seastorms
They bear off no women their loins are empty of children
They are strangers to pity, compassion is far from them
They are deaf to men's prayers, entreaties can't reach them
They are horses that grow to great size that feed on mountains
They are the enemies of our friends
They feed on the gods
They tear up the highways they spread over the roads
They are the faces of evil they are the faces of evil
They are 7 they are 7 they are 7 times 7
In the name of heaven let them be torn from our sight
In the name of the Earth let them be torn from our sight

(Translated by Jerome Rothenberry)







Five little pumpkins


No matter it's violent, bloody beginnings, Halloween today is a game for kids. Somebody, no doubt, has earned their Ph.D. on the question of why it seems to be our nature to take our darkest fears and turn them into games and riddles for children.

Whatever.

Putting aside ghastliness of Revelations and the 7 judges from hell, I close with a poem my son learned in pre-school.


5 Little Pumpkins

5 Little Pumpkins
5 little pumpkins sitting on the fence
The first one said I'm so immense
The second one said there are witches in the air
The third one said I don't care
The fourth one said lets run and run and run
The fifth one said lets have some fun
Whoooohh went the wind and out went the light
And the five little pumpkins ran out of sight.


I've been feeling poorly for a couple of weeks now, like one of the pumpkins two or three weeks after Halloween. saggy, squishy and smelling overripe.

But, as much as I want to take drugs and go to bed right now, first, I want to remind everyone in the USA that November 7 is election day.

I'll be voting the straight Democratic ticket. I didn't used to do that, but with all that's happened, doing otherwise feels to me like I would be joining up with the "evil-doers."

I'm optimistic about the outcome of the election, optimism, that is, leavened with a large portion of concern. After all, the Democrats have not had a president in six years, despite winning the last two presidential elections, so it's hard to be optimistic about Democratic fortunes without reservation.

Speaking of horror shows, think about that for a while. Another Florida or Ohio, spread out over twenty of so states.