Fire on Callaghan Way
Tuesday, July 25, 2006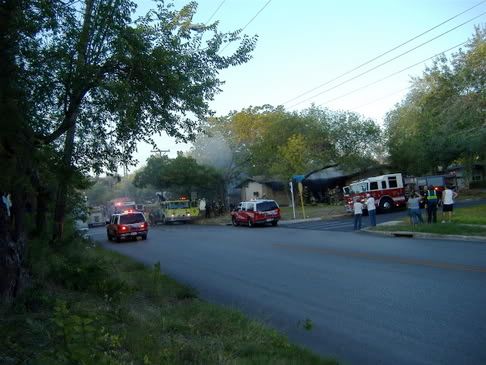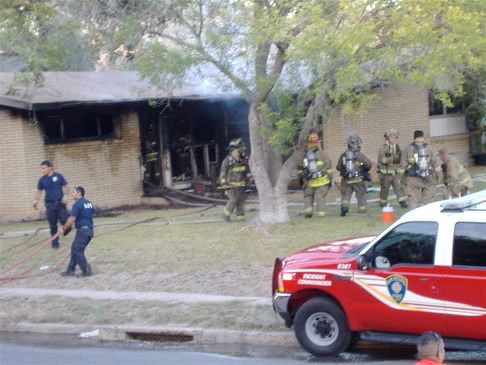 OK, move along, nothing to see here.

Cept Here and Now Number I-ix.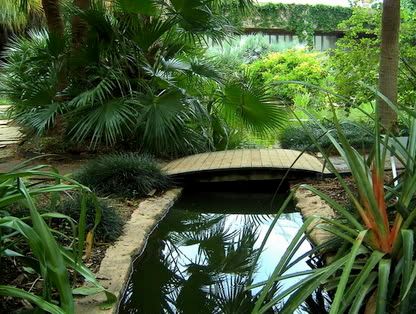 Two poems from guest poet, Christopher T. George

Chris George was born in Liverpool, England in 1948 and first emigrated to the United States with his parents in 1955. He went back to Liverpool for a refresher on his Scouse accent, living with his grandparents while attending Rose Lane and Quarry Bank Schools. Chris returned to the U.S.A. in 1968 and has lived there ever since. He now lives in Baltimore, Maryland, near Johns Hopkins University with his wife Donna and two cats.

Chris is a widely published poet, serving, also, as Editor of Desert Moon Review, http://www.desertmoonreview.com/, an editor at Writer's Block Poetry Workshop, http://www.the-writers-block.net/forum/, and coeditor, with Jim Doss, of the electronic and print magazine Loch Raven Review, http://www.lochravenreview.net/.

Pixie

For Laurie

A face peers out at me through the leaves.
Yes but did I ever believe in such things
even when I was Snookie-ookums crawling

on my Nanna's lawn? A funny little man
who comes and laughs he he he? No, I
sat in my high chair in a pink slouch hat,

plump as Winston Churchill, and demanded
vanilla ice cream, chocolate bickies. An only
child, a terror, a little bugger. The pixies hid

in the hydrangeas, the hollyhocks, peeked out
from the yellow petals of Grandad's rambler rose.


Silly Putty Down My Shorts

Wake up. Something stuck
to my bum. Very embarrassing. Very
sticky. It will take me all night to pick it

off the khaki fabric of my shorts. Feel
like a kid with chewing gum in his hair.
Screw the fabric and the pull into a peak.

Pick off the putty. Most comes off into
a ball. Day glo. Little bits detach,
add them to the ball. Feel much better.

Sense of achievement. Still feel stupid.

To see more of Chris, go to his blog at http://christophertgeorge.blogspot.com/.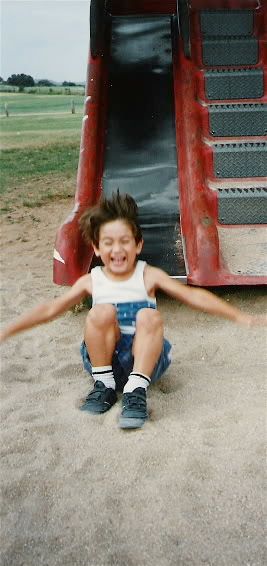 Things I wish I could do for the first time again - movie division.

Ten movies I'd like to see for the first time again in no particular order, except that Crouching Tiger Hidden Dragon is always number 1.

1. Crouching Tiger Hidden Dragon - The most beautiful melding of image, story, music, and dance ever.

2. Some Like It Hot - The funniest movie I had ever seen the first time I saw it and probably still the funniest movie I have ever seen if I could see it for the first time again. People raised in the age of Adam Sandler cannot possibly understand how funny (even daring) this movie was seen new for the first time.

3. Fist Full of Dollars - Not as good as many of the movies it inspired, but I remember seeing it in a theater in San Angelo, Texas, knowing almost from the first scene that it was the final nail in the coffin of old fashioned western movies. I don't think it's possible for people seeing it for the first time today to really feel the revolutionary "differentness" of it.

4. Dr. No - Like Fist Full of Dollars, Dr. No changed the rules of the game. The scene where one of the minor villains sneaks into Bond's room and empties his pistol into Bond's bed, only have Bond, relaxing in a chair in the corner of the room, shoot him dead with words to the effect, you've had your turn, now it's mine, created a new kind of hero, a hero that cooly kills the villain even after he is disarmed and defeated. Pulp Fiction couldn't have been made without that scene in the first James Bond movie 40 years before.

5. Oh Brother Where Art Thou - The Coen Brothers, hilarious performances, terrific music and a true odyssey of a story. I would love to be able to sit down in a dark theater and take it all in again for the first time.

6. Topsy Turvy - I don't know anyone who likes this movie as much as I do. In fact, I don't think I know anyone who even remembers it. I've watched it five or six times now. It's the fictionalized story of Gilbert and Sullivan's creation of The Mikado. Again, great actors make the difference, especially when helped along with terrific music and engaging story. The process of creating and rehearsing the play is fascinating to me.

7. Wild Bunch -The introductory scene of the boys playing with the scorpions while the bunch ride past into town sets up everything that happens in the movie. Peckinpah at his greatest, intense, graphic, and sad, with comic relief from Peckinpah regulars Strother Martin and L.Q. Jones. (It was terrific to see Jones in a small, but, as usual, important part in the new Prairie Home Companion movie.)

8. Laurel and Hardy - The compilation that includes the two of them trying to get a piano down a long flight of stairs. Laughter until it hurts, literally.

9. Indiana Jones - When movies are fun, they are like the first Indiana Jones.

10. All The Way Home - I don't remember a lot about this movie (in fact was confused about the name), except that it was highly emotional and deeply moving. Set in the early 20th century, it's about the death of a young father, seen through the eyes of his young son. Based on the novel A Death in the Family by James Agee, the movie was released in 1963. A Masterpiece Theater version was made for television in the early 1980's. (As a side note, a new movie version of Agee's greatest novel, All the King's Men, is in production now. The first film based on the book, staring Brodrick Crawford as the Governor, was OK, but not up to the level of the book. Maybe this version, starring Sean Penn, will do better.








A word or two for young smokers*

cigarette smoke
makes you smell like a bar in the morning

the stale stink of a butt-littered floor
and spilled beer
and piss from the overflowed urinal in the john

all overlaid by a reek of desperation

the desperation of limp cocks lost in lust-dreaming
losers lost in their own lies
redemption-dreams fading as the sun rises

in the squalor of crud-crusted eyes
and a lingering vomit-bile breath

*"warning label" from Seven Beats a Second, poems by Allen Itz and art by Vincent M artinez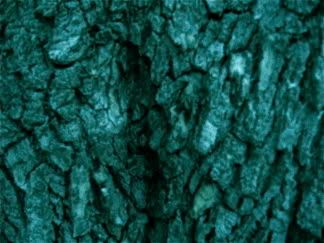 Disappointment

Dick Dale, is given credit for inventing surf guitar music and was known in his day for the way he would blow out (literally, they would catch on fire) his speakers during performances. I bought a CD, The Best of Dick Dale and His Del-Tones, last week based, I thought, on my memories of how great he was back in the day. Turns out what I remember being great was one piece, Misirlou, and the rest of his stuff was not so great at all. I would have done better spending my money on a Ventures compilation.

Most people now might not recognize the title, Misirlou, but if you say, the music over the opening credits of Pulp Fiction, everybody knows it.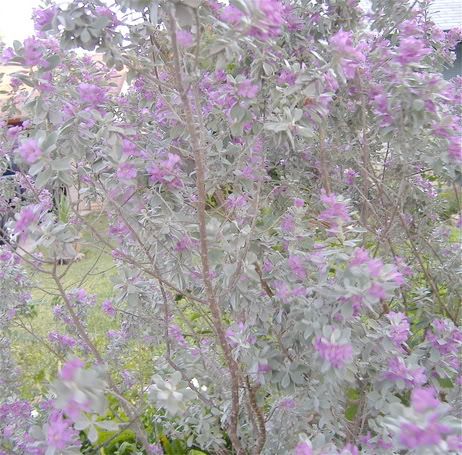 Why barku? Because I can.

i.
lazy night
jazz
in a thicket of
coffee
shop
chatter

ii.
lovers walk
through moon-cut
shadows
kissed by damp
summer
breezes

iii.
night hawk
dark
silent hunter
flits
from tree
to tree

iv.
charades
of love
and passion
balm
to the aching
lonely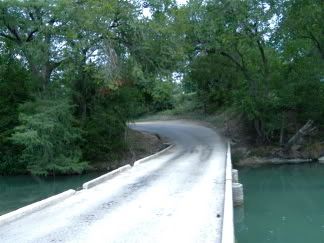 Lesson 3

This is the third poem in a series written by third century poet Lu Ji titled The Art of Writing. The poem was translated by Tony Barnstone and Chou Ping and is taken from their book The Anchor Book of Chinese Poetry. Lu Ji's advice is wonderfully practical and his descriptions of the writer's internal struggle are recognizable experiences to anyone who has ever tried to write anything, from the most renowned poet to fourth graders trying to grind out a two page essay on what they did last summer.

3. Process

Search for the words and sphere of thought,
then seek the proper order;
release their shinning forms
and tap images to hear how they sing.
Now leaves grow along a branching thought.
Now trace a current to its source.
Bring the hidden into light
or form the complex from simplicity.
Animals shake at the tiger's changing pattern
and birds ripple off when a dragon is seen;
some words belong together
and others don't join, like jagged teeth,
but when you're clear and calm
your spirit finds true words.
With heaven and earth contained in your head
nothing escapes the pen in your hand.
It's hard to get started at first,
painful like talking with cracked lips,
but words will flow with ink in the end.
Essence holds content as the trunk lifts the tree;
language is patterned into branches, leaves, and fruit.
Now words and content match
like your mood and face-
smile when you're happy
or sigh when your heart hurts.
Sometimes you can improvise easily.
Sometimes you only bite the brush and think.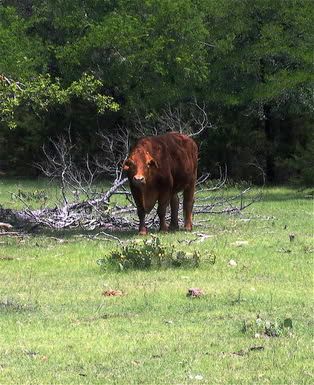 This week's Bukowski

Can't end without something from the old bull himself.

I inherit

the old guy next door died
last week,
he was 95 or 96,
I'm not sure.
but now I'm the oldest fart
in the neighborhood,
when I bend over to
pick up the morning
paper
I think of heart attack
or when I swim in my
pool
alone
I think,
Jesus Christ,
they'll come and
find me floating here
face down,
my 8 cats sitting on the
edge
licking and
scratching.
dying's not bad,
it's the little transition
from here to
there
that's strange
like flicking the light
switch
off

I'm now the old fart
in the neighborhood,
been working at it for
some time,
but now I have to work
in some new
moves;
I have to forget to zip up
all the way,
wear slippers instead of my
shoes,
hang my glasses around my
neck,
fart loudly in the
supermarket,
wear unmatched
socks,
back my car into a
garbage can.
I must shorten my
stride, take small
mincing steps,
develop a squint,
bow my head and
ask, "what? what
did you say?"

I've got to get ready,
whiten my hair,
forget to
shave.
I want you to know me
when you see
me:
I'm now the old fart
in the neighborhood
and you can't tell me
a damn thing I don't already
know.

respect your elders,
sonny, and get the
hell out of my
way!

And so, until next week, when we will be visited by another guest poet and artist, Allyn Garavaglia.


Photos by Allen Itz