Summertime...And The Cliches Are Abounding
Wednesday, June 21, 2006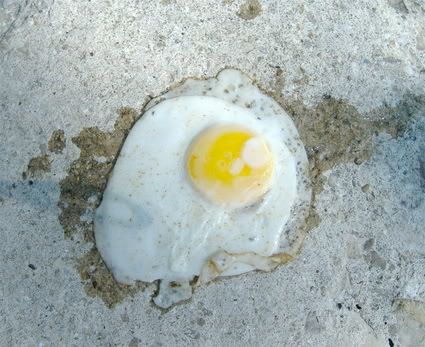 Welcome to "Here and Now" Issue IV, (Omigod, Roman Numerals, the classyfication begins.)



First, a mini-attaway for me in the way of old news

I've added a link on the right to The Angry Poet. it is an avant-gardish zine that I like. I surfed by yesterday and notice that they still have several of my poems up from a month ago.

Some good stuff there, if you are of a mind to visit.

Oh, just learned that a piece I wrote for Memoria Day is included in the supplemental to the recent War and Peace issue from Mindfire Renewed. It just went on-line this afternoon.

The title of the piece is regrets. You can read it, and the other fine pieces in the supplemental at:



http://www.mindfirerenew.com/fireweedjune06/WARPEACE.html





A gremlin I like.





Herzog the Vile is a creation of two students at The University of Texas - San Antonio, Stevin Zivadinovic and Daniel Morgan. Herzog began as a school project, but has now, through some 20-odd episodes, taken on a life as his own. He continues his quest, which doesn't seem to be entirely clear to him or anyone else, on a weekly basis, with a new episode posted on-line every Sunday. The art and characterizations in Herzog are clever and dramatic and the script is very funny, reminiscent, to one reader, of early Mad Magazine. Visit Herzog, start with him at the beginning of his quest and you will be checking in on the latest chapter first thing Sunday morning from then on, just like I do

A link to Herzog is included with the links on the right.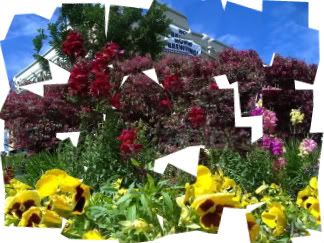 A dead poet I really like

Though I call myself a poet, my dirty little secret is that, except when working on the different poetry forums where I workshop my new stuff, I don't read much poetry.

I am a very fast reader, not a fan-the-pages speed-reader, but pretty fast. Even with poets I like, it is very hard for me to slow down and read the poem the way it deserves to be read.

Recently I began reading a poet, Charles Bukowski, who makes reading easy for me because his style of writing so well matches my mode of reading.

The reasons I avoided Bukowski in the past are not important. What is important is that, when I finally set aside my my prejudice and actually read his work, I found him to be an extraordinarily direct and honest poet of great depth. Bukowski is not just honest, but the hardest kind of honest, telling the truth about himself and all his failings. I also found him to be a terrific storyteller, usually in a page or less.

The poem below is not necessarily one of his best or even one of my favorites, but it does show him as he wrote. It also has a line that jumped out at me as the answer as to how is I feel so comfortable reading him. "I write mine the way I like to read it," he says, referring to his poetry.

The line led me to think about my own stuff and about how all the poems of mine I like best are written the way I like to read them. Those that I struggled with to meet some other standard almost never work.

So, the lesson I took from this poem is, not to try to write like Bukowski (though I think I do write in is style when I'm writing well), Instead, the lesson is to match my writing style to my reading style, so that, in the end, I will like what I have done. Maybe, as Bukowski says, if it doesn't bore me, it won't bore others either.

So, all that unnecessarily said, here's the poem.


Christmas poem to a man in jail - by Charles Bukowski

hello Bill Abbot:
I appreciate your passing around my books in
jail there, my poems and stories,
if I can lighten the load for some of those guys with
my books, fine,
but literature, you know, is difficult for the
average man to assimilate (and for the unaverage man too);
I don't like most poetry, for example,
so I write mine the way I like to read it.

poetry does seem to be getting better, more
human,
the clearing up of the language has something to
do with it. (w.c. williams came along and asked
everybody to clear up the language)
then
I came along

but writing's one thing, life's
another, we
seem to have improved the writing a bit
but life (ours and theirs)
doesn't seem to be improving very
much.

maybe if we write well enough
and live a little better
life will improve a bit
just out of shame.
maybe the artists haven't been powerful
enough,
maybe the politicians, the generals, the judges, the
priests, the police, the pimps, the businessmen have been too
strong? I don't
like that thought
but when I look at our pale and precious artists,
past and present, it does seem
possible.

(people don't like it when I talk this way,
Chinaski, get off it, they say,
you're not that great.
but
hell, I'm not talking about being
great.)

what I'm saying is
that art hasn't improved life like it
should, maybe because it has been too
private? and despite the fact that the old poets
and the new poets and myself
all seem to have had the same or similar troubles
with:

women
government
God
love
hate
penury
slavery
insomnia
transportation
weather
wives, and so
forth

you write me now
that the man in the cell next to yours
didn't like my punctuation
the placement of my commas (especially)
and also the way I digress
in order to say something precisely.
ah, he doesn't realize the intent
which is
to loosen up, humanize, relax,
and still make as real as possible
the word on the page, the word should be like
butter or avocados or
steak or hot biscuits, or onion rings or
whatever is really
needed. it should be almost
as if you could pick up the words and
eat them.

(there is some wise-ass somewhere
out there
who will say
if he reads this:
"Chinaski, if I want dinner I'll go out and
order it!")

however
an artist can wander and still maintain
essential form. Dostoevsky did it. he
usually old 3 or 4 stories on the side
while telling the one in the
center (in his novels, that is).
Bach taught us how to lay one melody down on
top of another and another melody on top of
that and
Mahler wandered more than anybody I know
and I find great meaning
in his so-called formlessness.
don't let the form-and-rule boys
like that guy in the cell next to you
put one over on you. just
hand him a copy of Time or Newsweek
and he'll be
happy.

but I'm not defending my work (to you or him)
I'm defending my right to do it the way
that makes me feel best.
I always figure if a writer is bored with his work
the reader is going to be
bored too

and I don't believe in
perfection. I believe in keeping the
bowels loose
so I've got to agree with my critics
when they say I write a lot of shit.

you're doing 19 and 1/2 years
and I've been writing about 40.
we all go on with our things.
we all go on with our lives.
we all write badly at times
or live badly at times,
we all have bad days
and nights.

I ought to send that guy in the next cell to yours
The Collected Works of Robert Browning for Christmas,
that'll give him the form he's looking for
but I need the money for the track,.
Santa Anita is opening on the
26th, so give him a copy of Newsweek
(the dead have no future, no past, no present,
they just worry about commas)
and I have placed the commas here
properly,
Abbott?

The poem ends with commas formed in the shape of a christmas tree.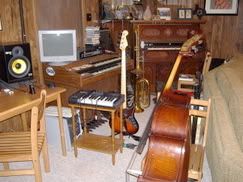 A CD I like

Chicano Zen is the latest from Charanga Cakewalk, otherwise known as Michael Ramos of Austin, Texas.

I was told by a certain music snob that it was a terrible CD. There is only one thing I can say to that.

Ppppbbbbbllllttttt!!!!

It is a great CD, a genera-bender, mixing everything from Tejano, folklorica, and merengue to garage, ska and raggae with instrumentation going from traditional mexican guitar and bajo sexto to electric and electronica.

Ramos, as a sideman, has worked with John Mellancamp , Patty Griffin and others. In 2004, he set out on his own one-man-band excursion as Charanga Cakewalk with his first CD Loteria de la Cumbia Lounge. Chicano Zen is his followup CD and it is a delight.

I got my copy through Amazon. I assume it is also available through all the other regular CD outlets.



News Break




Loch Ness Monster disappears from family home in Scotland; spotted in Texas, peeing on a rock. Film at eleven.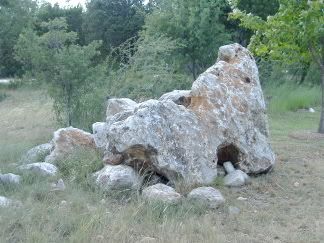 From Bertha's Box of Boffo Buffoonery

The new manager walks into his office and, while settling into his new desk, finds four envelopes. On one he finds the words "open me first," and the other three are numbered one to three.

He opens the first envelope and finds a letter from his predecessor saying: "These three envelopes will save you a world of trouble. In case of emergency, please open these envelopes in sequential order; envelope one first, envelope two second and envelope three third."

The manager shrugs, puts the envelopes back and forgets about them.

Six months later, the workers go on strike. The company closes and is losing money fast.

After a long night negotiating with the union, he remembers the three envelopes. So, he opens the first one and it says: "Blame me, your predecessor for every thing."

Wonderful idea he thinks, and indeed it works and the crisis comes to its end. His job is saved and everybody's happy.

A few months later, another strike hits. He goes to the drawer and opens the second envelope. It reads: "Blame the government for everything."

It works like a charm, and he breathes a sigh of relief as his job is, once again, saved.

A month later, the workers declare another strike. The manager goes to the third envelope and it reads: "Prepare four new envelopes."







Ok, gotta fly. See you back here in a week.

In the meantime, support net neutrality.

Herzog image by courtesy of Stevin Zivadinovic and Daniel Morgan
Photos by Allen Itz