Perhaps You Are Wondering Why I Asked You Here
Wednesday, June 14, 2006




Welcome to the 3rd issue of "Here and Now".


First, attaway me.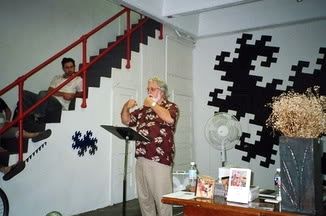 The latest of Tryst issue has two of my poems, do you take this bird... and and it's another fine day when nothing happens.

The issue also includes this mini-review of Seven Beats a Second by the editor:

Allen Itz's Seven Beats a Second is the bomb! I had so much fun reading this book, listening to the music CD, "The Ray -Guhn Show Choir" that accompanies the book and let me shout this, I am so proud of Allen for putting together this book. In collaboration with Vincent Martinez who provided the artwork for Allen's book, everything about this book is special. Allen's unique sense of humor and outlook on life comes through vibrantly and clearly. I don't know that I've laughed so hard over a book of poetry ever in my life, but what a treat and a nice surprise it was. Thank you, Allen for this tremendous gift, truly.

A full review is promised at a later date. Needless to say, I am looking forward to it.

Finally, a word about the journal, itself. Not only does it showcase excellent talent (ahem, ahem), its presentation also gets more beautiful and well-put-together with every issue.

A link to Tryst is in the link section on the right side of the page.


Also, attaway Vince.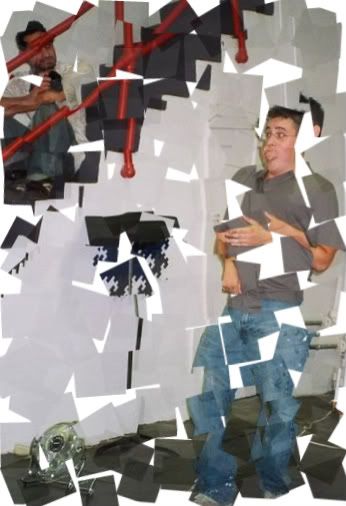 Vincent Martinez, in addition to his painting, also does rap poetry. In the picture above, he is shown performing his work at the Seven Beats a Second book release reception October.

The editor of Zafusy was looking through the 7beats website and ran across and liked Vince's art. He has included, Barbacoa, one of Vince's pieces that appears both on the website and in the book, Seven Beats a Second, in his latest issue.

Zafusy is a journal of experimental poetry and art. A link to the journal is in the link section on the right. Barbacoa is on page 7. Other good stuff is everywhere else.


A place I like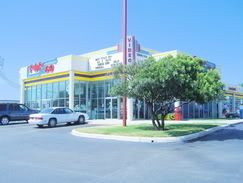 Popingo Videos is a place I like to go to rent my movies. I do not like the big chains.

Blockbuster I do not like because its size and market share is such that it has become an influence on which and how movies are made. especially now that theaters have been taken over mostly by "big" movies and other movies depend so much on the rental market to be seen.

Hollywood Video I do not like because, though it lacks the excessive market clout of Blockbuster, it shares the same "who the hell are you" approach to customer service. My last encounter with Hollywood Video was when a young rental clerk (too much picayune power to someone with not nearly enough experience to learn humility) who I have rented at least 100 movies from refused to rent a movie to me unless I went out to my car to get my drivers license.Let's face it, I'm 6 feet tall and, at 245 pounds, with a white beard and long, mostly white hair, I do not, exactly blend into the crowd. Either he did not recognize me, even though he should have, or he just decided to give me a hard time because he could. Either way, I am out the door and will not be back.

Popingo staff, on the other hand, recognize me every time I go in, no matter when I go in. They know enough about what I like to be able to recommend movies to me and I know them well enough to general take their recommendations. It is true, they do not have 750 copies of every popular movie, but they will hold one of their four or five copies for me if I call. Plus, if I hear of a movie I want that they don't have, they will usually order it for me. The thing is, the movies are the same everywhere. The difference is customer service and customer service is what Popingo does.

For those in the area, Popingo Video is located at 3655 Fredricksburg Road






Seven reasons I wish my son was 5 years old again

Yertle the Turtle
The Big Brag
Cat in the Hat
Green Eggs and Ham
One Fish Two Fish Red Fish Blue Fish
Sneetches
Fox in Sox


A note for writers

Telltale Tics and Tremors
Harlen Ellison
from The Complete Ellison, a Thirty Five Year Retrospective
Originally a 1977 column in Unearth Magazine,

Check it out somewhere if you can find it.


Warning Rant Beast Ahead






This might surprise people who know me, but there was a time when I had some affection for Republicans. In those days, the Republican Party and Republicans in general demonstrated healthy doses of common sense and a persistent libertarian inclination, both values/traits I support and admire.

Of course their hearts were usually as hard and a lump of anthracite coal, but that was ok, you just knew not to expect anything from Republicans on issues requiring empathy or human decency.

But now, with hearts no softer than they ever were, they seem to have lost all capacity for common sense. To demonstrate that, much could be said, but only one word is necessary. Iraq. If Iraq does not prove the complete disintegration of all Republican intelligence, then such people as are not convinced are obviously Republicans and not subject to the good sense that used to be a hallmark of their party,

Gone with their common sense is also any impulse to private liberty. Proof of that is their recent action on the so-called defense of marriage amendment.

Some of those involved seem sincere in their belief that same-sex marriage threatens the viability of marriage between men and women. This is based on their abhorrence of the sex acts likely to be committed in same-sex marriage. That, in itself, is not wrong. Abhorrence is in the eye of the beholder. But some go beyond that, to a belief that they have the right to stop such acts from happening through any means necessary, including a constitutional amendment which for the first time (excluding the 19th amendment, of course, which the country quickly ditched as soon as it came to its senses) reduces the freedom of individuals to live their lives unmolested by the intrusive hand of government rather than enhancing such freedom. That is wrong. Such people are closet Fascists (they have the inclination, but are still working on the salute). But you still have give them some credit for acting on true belief rather than political calculation.

Those others, those who do not really believe that Larry and Harry would threaten the institution of marriage by getting hitched, but, are none the less eager to demonize Larry and Harry for political advantage, are beneath contempt, where ever they live and where ever they serve .

This particular rant was brought on by news last week that one of the two or three most decent people I have ever known died some months ago of AIDS. For the entire twenty five years I knew this man, he was in a committed same-sex relationship with the same partner. The idea that he and his partner were, in any way, a threat to anyone else's marriage is, there is no other word, stupid. On the contrary, the fact that half of all heterosexual marriages today end up in divorce, suggests pretty plainly that legalizing the long-term same sex-relationships of such men and women as my friend would, in fact, strengthen the institution of marriage, not weaken it.

(I was originally thinking of a rant concerning Ann Coulter. but, considering the slime trail she leaves behind where ever she goes, I was concerned I would have to wash my blog out with soap afterward, which I am not technically up to at this point.)






Another poet I like

In addition to her work as a web designer (she created this site) and teacher (she taught me how to do some of the simpler things I wanted to do with the 7beats website), Michaela Gabriel is an excellent poet.

Michi lives in Vienna, Austria and, though she has published her poetry in her first language, German, as well as in Italian and Polish, she says she prefers to write in English. She is sometimes a deeply romantic poet, but also has a stark, powerful side, as shown in this poem from her website.

Abortion

Gloved hands take her from me
in a room with silent walls.
clusters of screams hang in corners,
scarlet and fierce.

A violent artificial sun
burns all hope to pale cinders,
dries up each drop of milk,
eclipses the fish's face inside me.

I awake from dreamless sleep
to the coldness of everything white;
walls, blankets, the women like corpses
on deathbeds not their own

A nurse urges me to talk;
her red lipstick offends me.
I crave dark colors, a weeping
winter sky, a black cat's pelt.

Clutching my bundle of clothes,
I watch blood trickle
from my empty body
and fail to understand

More information on Michi's chapbook, apples for adam, is available from Foothills Publishing at this address:



http.//www.foothillspublishing.com/id89.htm.



A link to her website, ekleipsis is in the link section on the right,

I like Michi's work a lot and think you might also. If the publishing company hasn't already sold all of her chapbooks, I recommend it to you.


Some old music I liked (but not too old)

Digging through some stuff the other day, I found a CD from a local ska band called The Alloys. It was their only CD.

My son, Chris, joined the band when he was a junior in high school and played with them until they broke up a couple of years later. It was a six piece band, with drums, guitar, bass guitar and three trombones, including Chris. It was happy music that could blow the doors off any place they played.

They played lots of different venues, punk and reggae clubs, straight out bars that none of them were old enough to go into except as performers, and a variety of special events, including a dusty little corner of VVan'sWarped Tour when it was in San Antonio. Where ever they played, they usually had people dancing by ten bars into their first song. They wrote most of their own music, but one piece that became identified with them was their own ska cover of the 1950's song, Dream, by, I think, the Everly Brothers.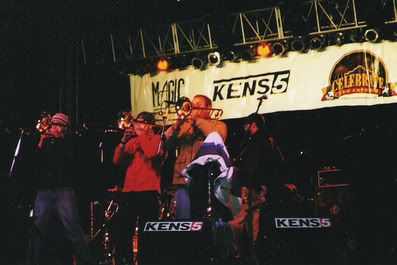 The picture is from the largest gig they played, and also one of the last. They had played the big downtown San Antonio New Year's Eve celebration the year before but that had been on a side stage. This time, December 31, 2002, they were on the main stage, playing for thousands of New Year's revelers.

Though the band is long gone and everyone in it has moved on to other things, I still remember the excitement of their live performance and miss the chance to go hear them play a couple of times a month.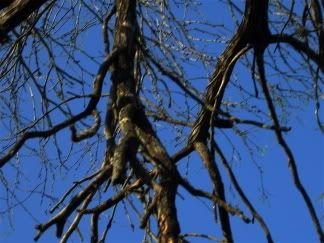 Lame joke of the week

Two guys are out at sea in a small boat. The boat is sinking.

The first guy says, "The boat's sinking. I think we're going to die."

The second guy says, "I think so, too."

The first guy says, "I'd like to pray, but I'm not a religious person and I don't know how to do it."

The second guy says, "Yeah, me too. But I lived next to a Catholic Church for years and could hear them pray often. Maybe I can pray like them."

"Well, let's do it, then," the first guy says, "maybe it'll make us feel better."

"OK," the second guy says. So they kneel down together and the second guy begins,

"N, 27......"







Oh, drat!!

Imagine my chagrin (it's brown, fuzzy and about the size of a small dog, if that helps) when I discovered that my monitor has been lying to me. I have learned that the beautiful, vivid photos I have posted only appear that way on my monitor. On every other computer monitor in the world they appear drab, lifeless, washed out and ugly. I think I have fixed them. If they still appear washed out and overexposed to you, please let me know.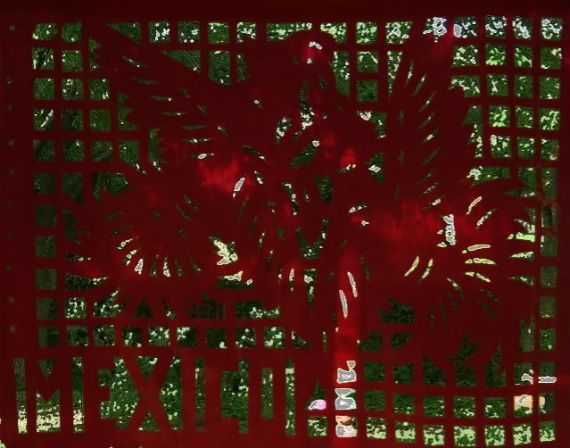 That's about it for this time around, I think. Have to save something for next week.


Book release reception photos by John Strieb
All oher photos by Allen Itz