Hello

Wednesday, May 31, 2006



The best thing about boring introductions is that they only need to be done once.

So,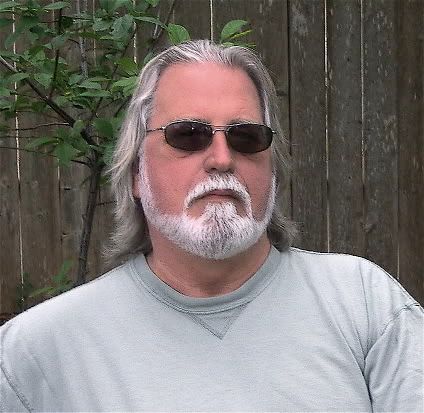 This is me.

And this is the place where I transcribe the things I write in various favorite coffee shops around San Antonio. Why coffee shops seem to be an essential environment for me to be creative is a question for another time, a very boring question, which, I promise, will not be brought up here again. I'm wondering if my pointing out the Gore and Clark campaign posters on my walls will negate their subliminal purpose of reminding you that elections are coming and that there is a chance that the good guys might beat the liars, thieves and war-monkeys this time around. I hope not.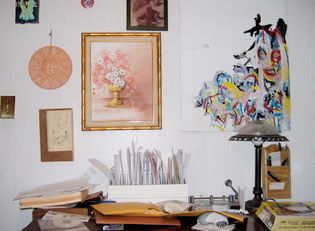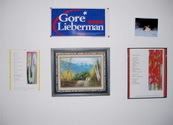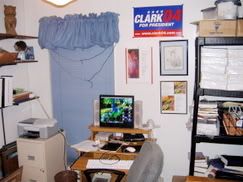 And this is my blog.

If you arrived here directly and not through my website, Seven Beats a Second, I invite you to visit there at www.7beats.com.

I originally had 7beats created to promote and sell my book and the art and music that was a part of the whole 7beats project. Then, ambition set in and new features were added, including a latest poetry page which I change frequently, deleting old and adding new poems. An even newer feature is the photo page that I'll be changing at least once a month. The current photo page gallery has pictures from a Sunday drive a couple of weeks ago in the central Texas hill country.

My friend and web design guru, Michaela Gabriel, created the website and gave me the training I needed to make it an alive, rather than, static site.

Michi also created this blog, the newest addition to the 7beats website.





When I returned to writing poetry eight years ago, after 30 years of writing nothing that wasn't business related, I was introduced to the world of web -based poetry, the poets, the poetry forums and the poetry web-zines that have multiplied the availability of good poetry and the writing space for want-to-be poets thousands-fold.

This blog is mostly about giving me an opportunity for a once a week report to whoever might be interested about the people, places and things I've found in this cyberworld that I really like. It will also serve as a place where I can crow a bit when work gets published. I might throw in occasional news, personal or otherwise, that I think interesting. And, almost certainly given current conditions, there may pop up a rabid rant or two against George Bush and his ilk.

So, setting aside all introductory foreplay, here's my first self-awarded attaway as well as an appreciation for a find web-zine and poet.

I have a new poem, "warrior queen" published this month in Mindfire Renewed. There was also supposed to be a cut from the Ray Guhn Show Choir CD, "chimeras, ideals, errors!", but technical problems arose that are still being worked on.

Mindfire Renewed is one of the great literary web-zines available to anyone with internet access. One of its primary creators in Gary Blankenship, an excellent poet from the Great Northwest. Gary's latest book is "A River Transformed: Wang Wei's River Wang Poems as Inspiration." In the book's foreword I describe Gary's work as having "a calm and contemplative center...graceful and in-the-moment". He is always a pleasure to read. Here, for example, is one of my many favorites from Gary's book.

A fisherman waves,
his skiff lifted by the ferry's wake
and curls from a tramp steamer headed north
to deliver toys to the river's children.

A blackfish pod breaks the surface,
passengers crowd against wet windows;
the city's lights shattered behind,
the sun's last red radiance ahead.

I leave with too many questions.
Do the answers lie in firs near a gravel stream?
you seem certain, your smile without doubt,
except when you glance south, behind us.

Beneath the water, ghost nets, spotted shrimp,
shadows lost to a painter's palette.

For information on how to buy Gary's book, go to http://www.lulu.com/content/178110.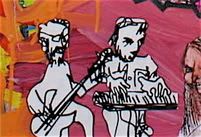 Speaking of the Ray Guhn Show Choir (Andres Londono and Chris Itz), they recently returned from several days in the desert near Carlsbad, New Mexico, camping and making music with their friends. No recordings are available, unfortunately.

Speaking also of readings (I know we weren't, but pretend), the last reading I did was a couple of months ago with a group associated with Texas State University in San Marcos. There was a good crowd and it was fun. I'm too old and slow to do slam type stuff, but I do enjoy more subdued settings. I'm available, if anyone has something I can get to.

Too long already, I end here. I do have more I'd like to talk about, including some more excellent web-zines and the latest Johnny Cash CD, "Personal File", but I'll save it for the next edition of, here it is .... HERE AND NOW

All photos by Allen Itz
Ray Guhn depiction - detail from painting "Jazz Splice" by Vincent Martinez